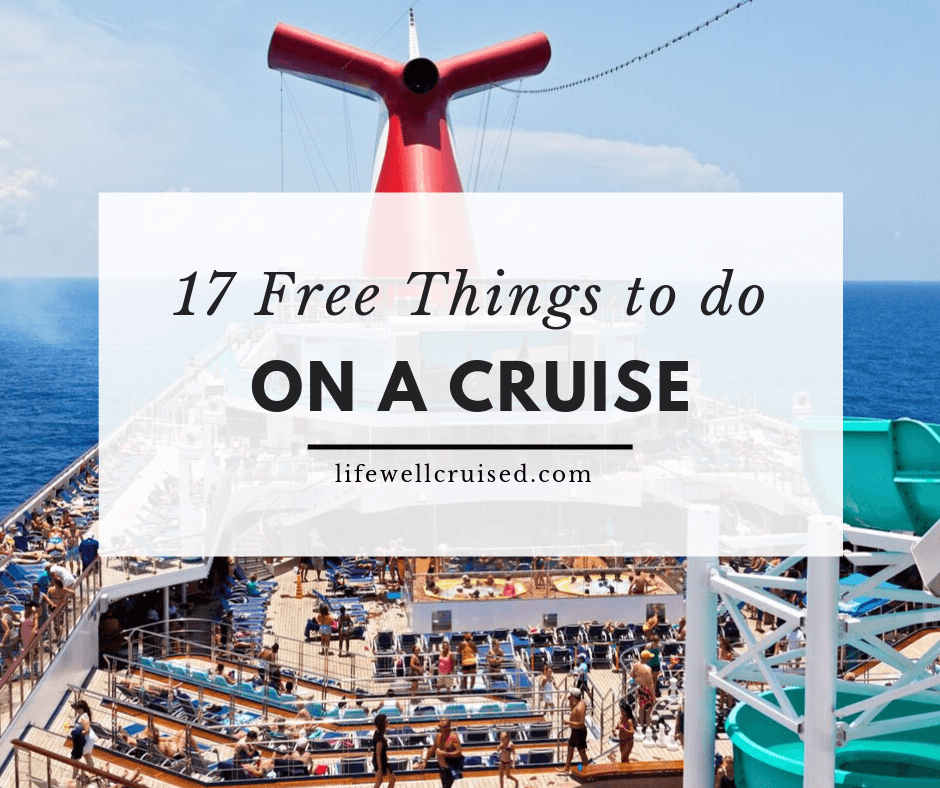 Cruise Freebies: Free Activities and Things to Do on a Cruise
Going on a cruise isn't cheap, however there's a lot included that's pretty amazing and worth doing. Here's a list of 17 free things to do on a cruise, that you likely wouldn't get to do on a land trip.
I remember when we first took our kids on a cruise, we were amazed at all we could do, see, and eat that was included! Although cruise lines definitely push and promote the extras that you can pay for (like specialty restaurants and more), there's so much great stuff offered for "free" or included.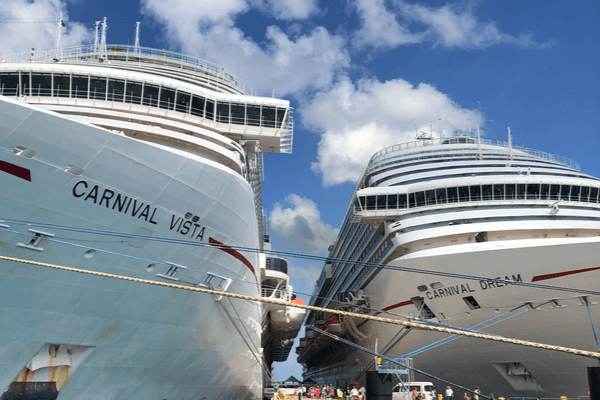 1. Broadway Style Shows
On a cruise you could see shows ranging from really good original Vegas style in-house productions with excellent singers and dancers, to actual Broadway run shows such as Hairspray on Royal Caribbean and Rock of Ages on Norwegian Cruise Line.
Don't miss out on cruise ship entertainment! Think how much you would pay for shows like this back home or even on a land trip to New York or another big city.
Tip: If you are booked on a very large cruise ship, check to see if you need to make reservations online before the cruise. They do this to control crowd capacity and you may not be able to just walk in.
2. Amazing Cruise Food (try new stuff!)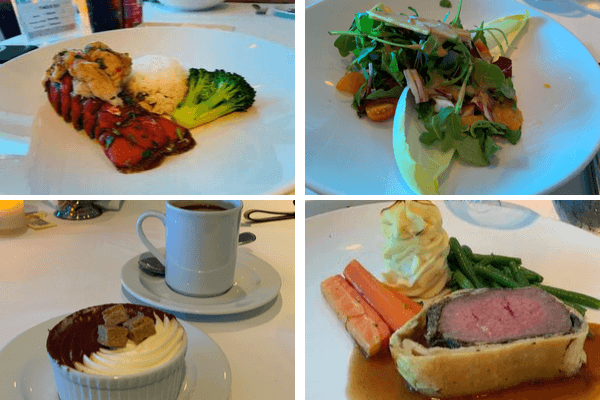 One of the things we love most when we are cruising, is the opportunity to try new foods. Let's face it, at home you couldn't just "try"escargots in a restaurant. Perhaps salmon tartar or a delicious new salad combination is tempting.
From different cuisines in the buffet (my kids loved the Indian food on Princess), to decadent desserts in the cafe or main dining room, the options are almost endless!
This is your chance – and if you don't love it, simply order something else.
A short anecdote:
On one of our first cruises, our family was sitting in the grand looking main dining-room when the waiter came over offered my children a "kid's menu". However, my kids had already seen both Filet Mignon steak and ricotta and spinach ravioli on the main menu.
They asked him "Do we need to order from the kid's menu?". They definitely wanted to order from the regular dining room menu! That's where the good stuff was!
Our thought was that they could eat chicken nuggets at a birthday party back home, however they could eat well and try delicious new foods on a cruise, without any pressure.
To this day, my kids talk about their memories of our family dinners on cruises. It's worth everything!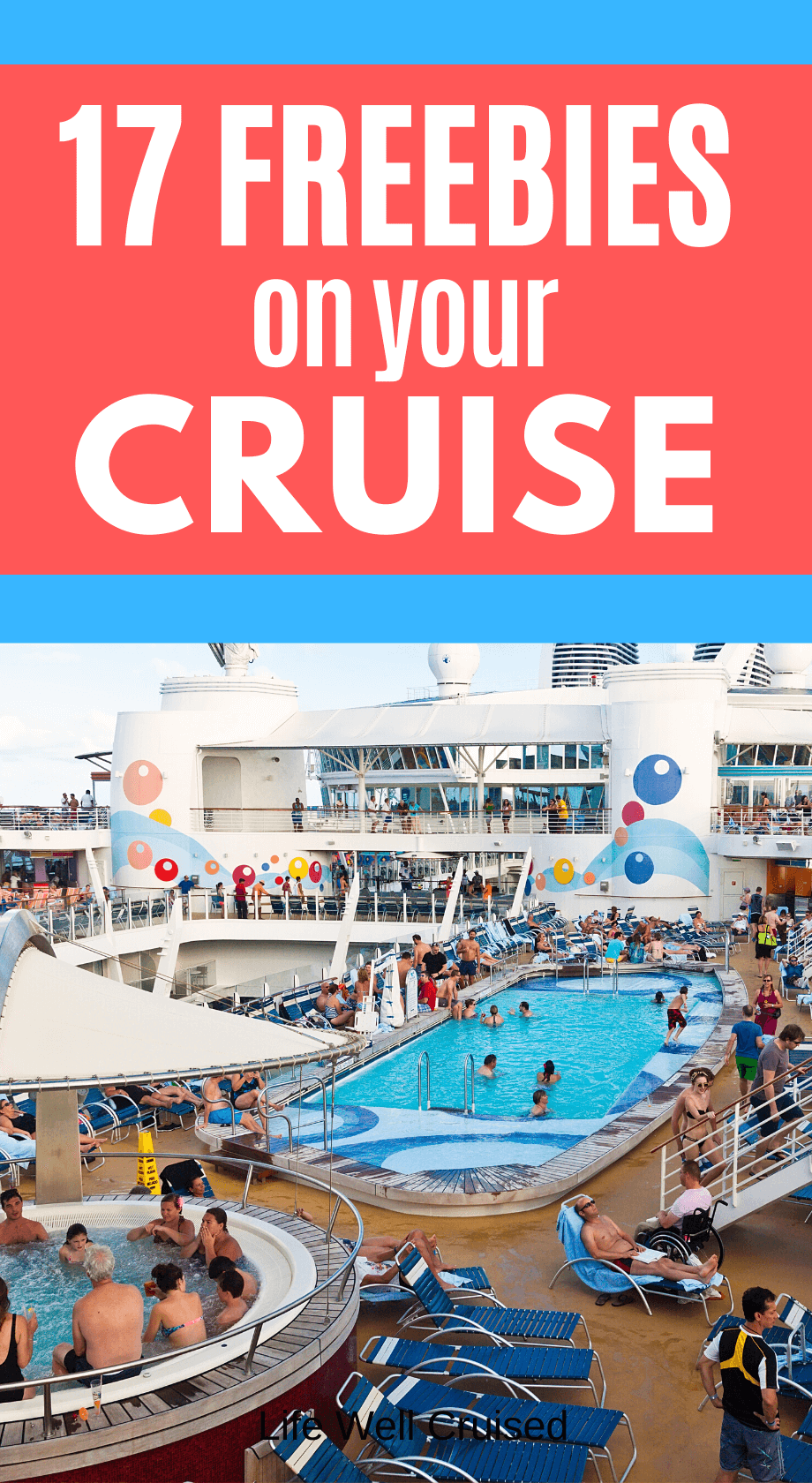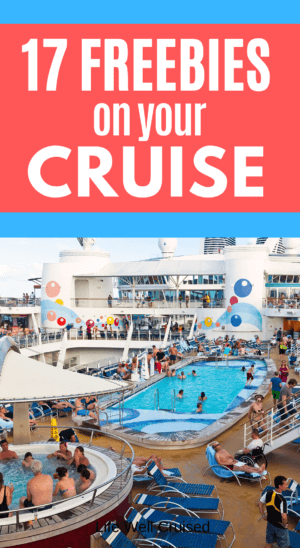 3. Go to a Deck Party
Does dancing to the band playing under the moonlight while at sea appeal to you? Then you must attend the Lido deck party!
It's usually a really fun atmosphere! Think of old episodes of the Love Boat, but in 2020! Dance, have a drink, take some photos and enjoy!
Tip: There will sometimes be a dress in white suggestion for a "White Party", so we like to pack white outfits just in case.
4. Have Breakfast on your Balcony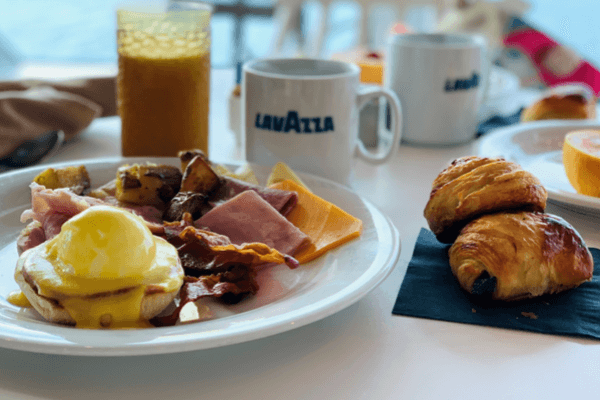 If you are cruising in a balcony or veranda cabin, one of the nicest ways to start off your morning is to have a light breakfast sitting outdoors on your deck chairs.
Depending on your cruise line, room service may be included. We love this when we cruise with Princess and Celebrity.
If you don't have a balcony, find a spot outdoors (often at the very back of the ship's buffet), where you can still get a gorgeous sea view!
Coffee and a seaview is one my favorite things on a cruise… along with a glass of wine and a seaview later in the day ;-). What about you?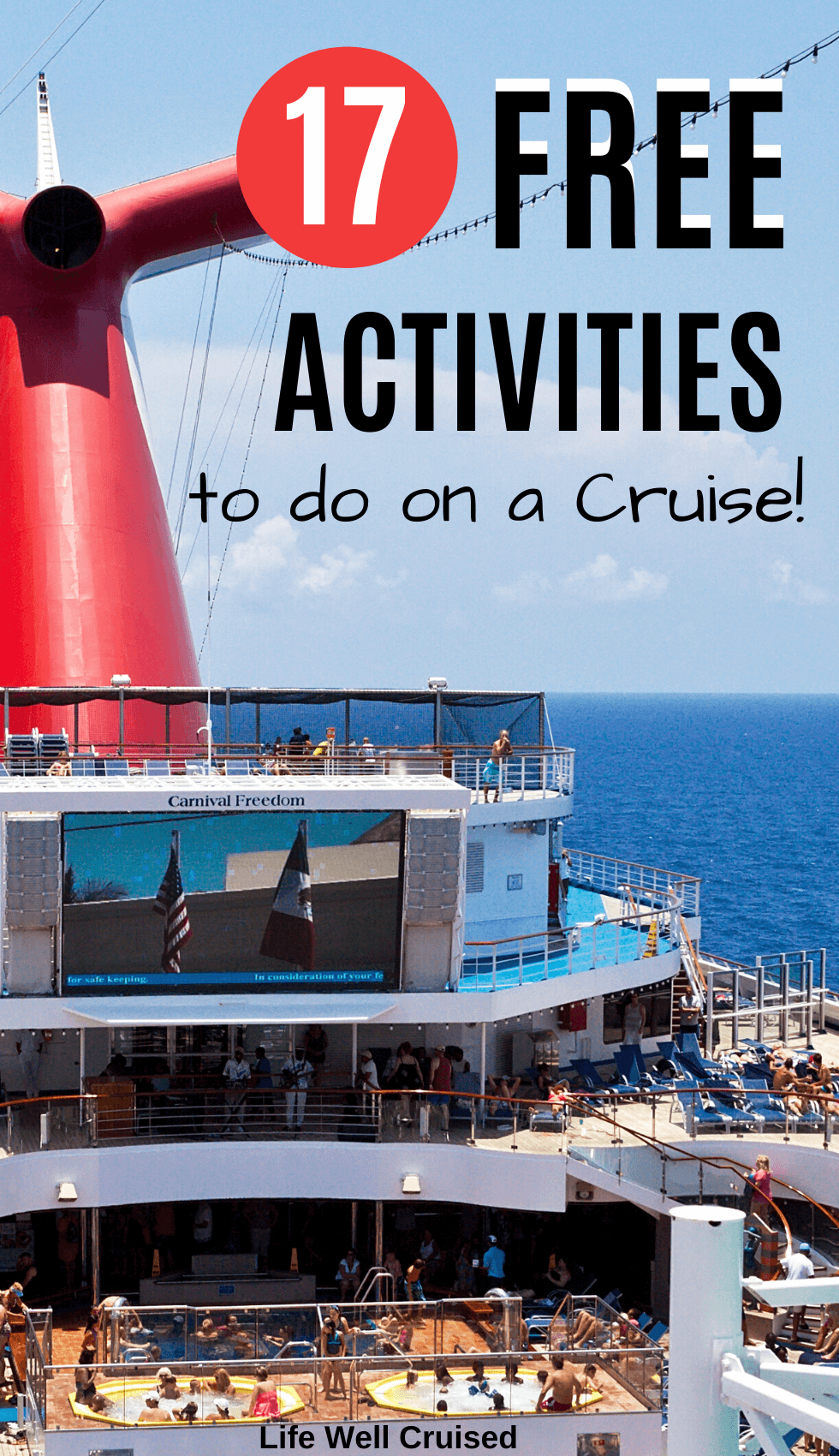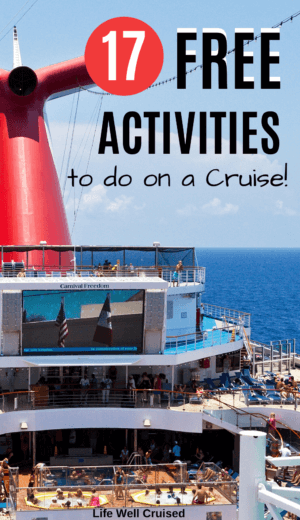 5. Try a New Class at the Cruise Ship Fitness Center
Cruise ships have amazing gyms that honestly put hotels and land resorts to shame. They usually have the most modern equipment, and there are loads of machines such as treadmills, ellipticals and stair-masters (stairs of death). Add in a sea view and what more can you ask for?
Plus, not only can you go to the gym while on your cruise, but you can sign up for a class. Some classes do have a extra charge, however there are some that are not extra, and definitely worth signing up for!
On a recent cruise, a friend and I did a cardio kick boxing class that really kicked our butts!! LOL.
I usually sign up for the stretching classes and truly find they are a great way to start off a sea day. Check out the fitness center on the first day of your cruise, to sign up early for your favorite free classes.
6. Join Cruise Ship Karaoke
Many ships have a pretty great karaoke show and contest,which is free to join. If you love singing, this is your chance to practice and later perform in a lounge or theater.
Not only is this a free cruise activity, it's an incredible experience that you'll always remember. We don't sing, but often attend the final show, and the talent out there among passengers is surprisingly good.
7. See Wildlife on a Cruise (for free!)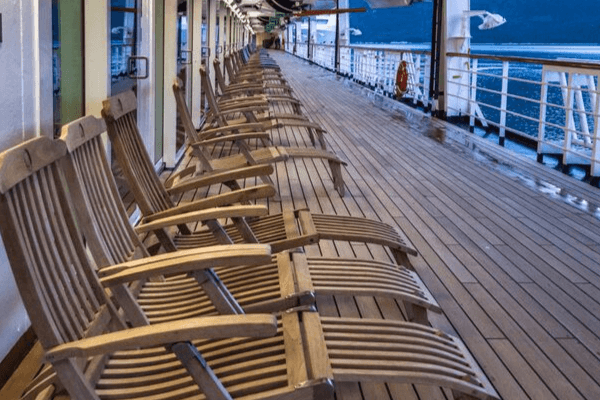 A dream for many when cruising, is seeing dolphins and whales in their natural habitat. If you're cruising to Alaska, you may hope to see bears or other wildlife.
While not super likely, it does actually happen sometimes! Of course, depending on your itinerary there can be more of a chance. You increase your likelihood by spending time looking at the sea from the top deck, balcony or even on the promenade deck.
We've seen whales while cruising a handful of times, and dolphins a couple of times. We do however see many flying fish, which we really enjoy. This is definitely a fun free perk of cruising!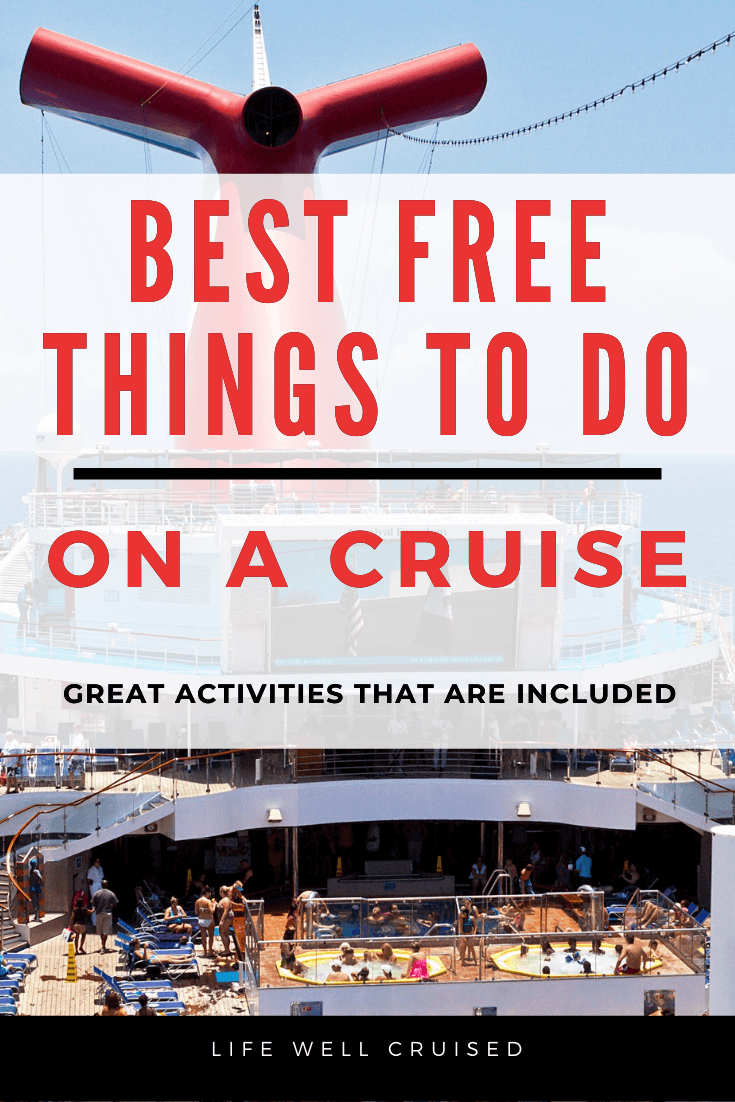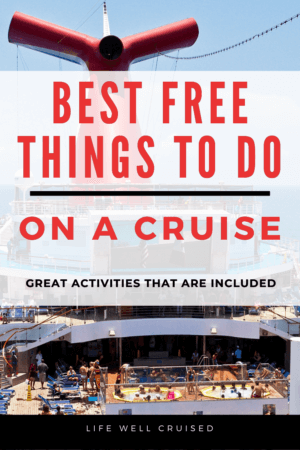 8. Participate in a Craft Workshop
On cruises you can participate in different workshops, free of charge. Do check on what your cruise line offers, as each ship has their specialty.
My niece and her friend learned origami on a recent cruise and my parents watercolor painted. These free classes were available to adults and kids, which is one of the nice things on family cruise lines or sailings that are popular with families.
If you'd like to read more about our multi-generational cruise, and all it offered for kids and adults, you can that post here: Princess Cruises Eve Multi-Generational Cruise Review
9. Enjoy a Free Glass of Champagne at an Art Auction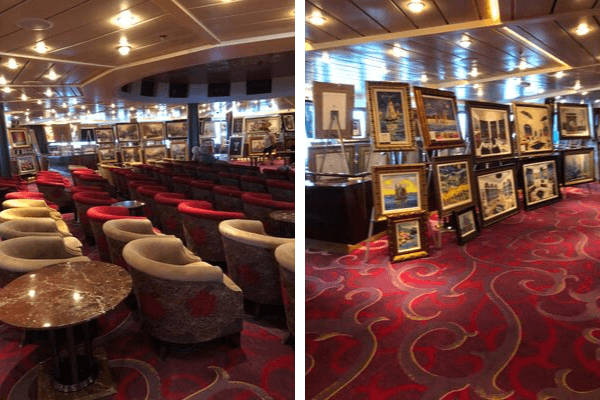 Yes, you can get some free champagne or sparkling wine on a cruise while attending a Champagne Art Auction. It's funny, as I sometimes read that art auctions are a waste of time on a cruise, but I disagree.
My husband and I first attended an art auction at sea about 10 years ago on a rainy sea day. Basically, we were looking for something to do, so we wouldn't be bored!
Well, I have to say – it was so interesting and we learned a lot about a variety of artists and their painting styles. We also chatted with collectors, who have interesting stories to tell. Plus, we didn't feel pressure to buy.
Since that time, we often attend an art auction or two during our cruise. If you enjoy art, don't listen to the naysayers, spend an hour at an art auction and see what you think.
10. Check out the Comedians and Illusionists
In addition to Broadway style shows, which may or may not be your thing, cruise ships bring in outside entertainment to perform.
In my opinion, the quality and caliber of these guest entertainers is way beyond the scope of what you will included at a land resort.
There are regular comedy show suitable for families' cruising, as well as later adult only comedy shows. Sometimes you'll see illusionists, incredible acrobats or hypnotists – all included without extra charge on your cruise!
11. Register Your children in the Cruise Line's Kid's Club
Most ships have really good kid's clubs with qualified staff that supervises as well as plans and hosts activities. While day supervision is included with your cruise fare for children ages 3 and up, do check with your cruise line and specific ship for offerings if you have younger children. Evenings after a certain hour will usually have an additional fee.
If you've got older kids, the club tends to be more of a place to hang out and participate in loosely run activities such as scavenger hunts, sports games and hot tub parties.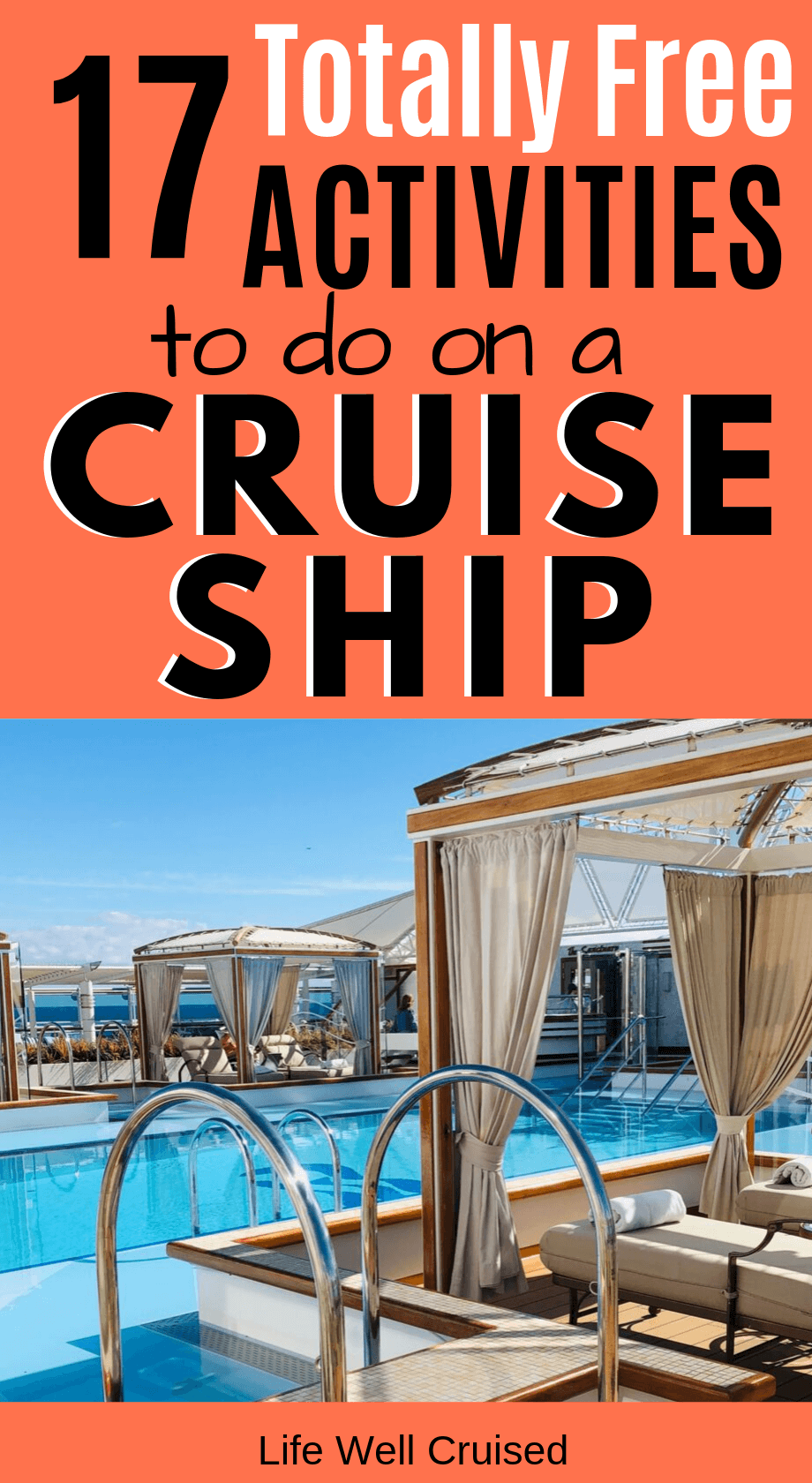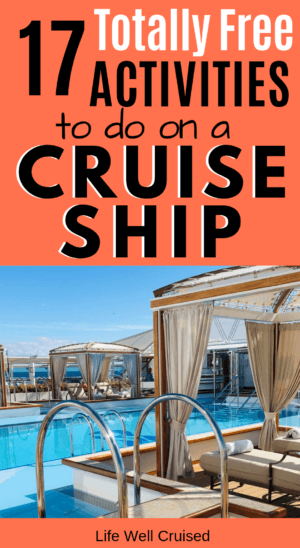 12. Attend Cruise Port of Call Talks
If you're interested, attend a talk about the various ports of call on your cruise. Learn about the most popular activities to do, the areas that are the most recommended for tourists and cruisers, local culture and handicrafts and more.
Often, these talks are held in a ship theater or lounge on a sea day.
13. Special Guest Lectures
In addition to these cruise port talks, there are other interesting lectures that are going on during your cruise. Sometimes there are authors on board giving talks, race car drivers, former astronauts. Although this does depend on the cruise line, you can find some great more cerebral activities onboard, all included of course!
On a recent cruise, we attended the Captain's talk, and I cannot tell you how much we learned!
14. Catch an Outdoor Movie on a Cruise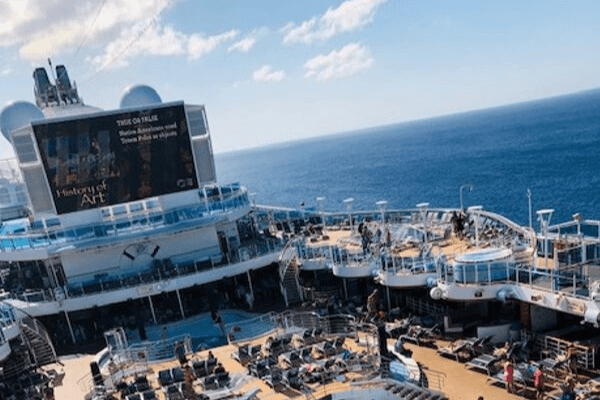 Do you remember the drive in? I still remember catching a movie with my boyfriend (now husband) at one of the last drive ins around in the early 90's. The sound was awful,the screen was blurry, but it was kind of fun.
You can actually experience this, but even better on several cruise ships. During the day, movies and videos are shown by the main pool. But at night, that's when Movies Under the Stars really shines.
We love taking a break from the shows and martini bars on occasion, and laying out on a lounge chair under the stars on the top deck and catching a movie. We can grab a blanket and some popcorn – it's pretty awesome!
If you've cruised, and have not yet done this, give it a try at least once.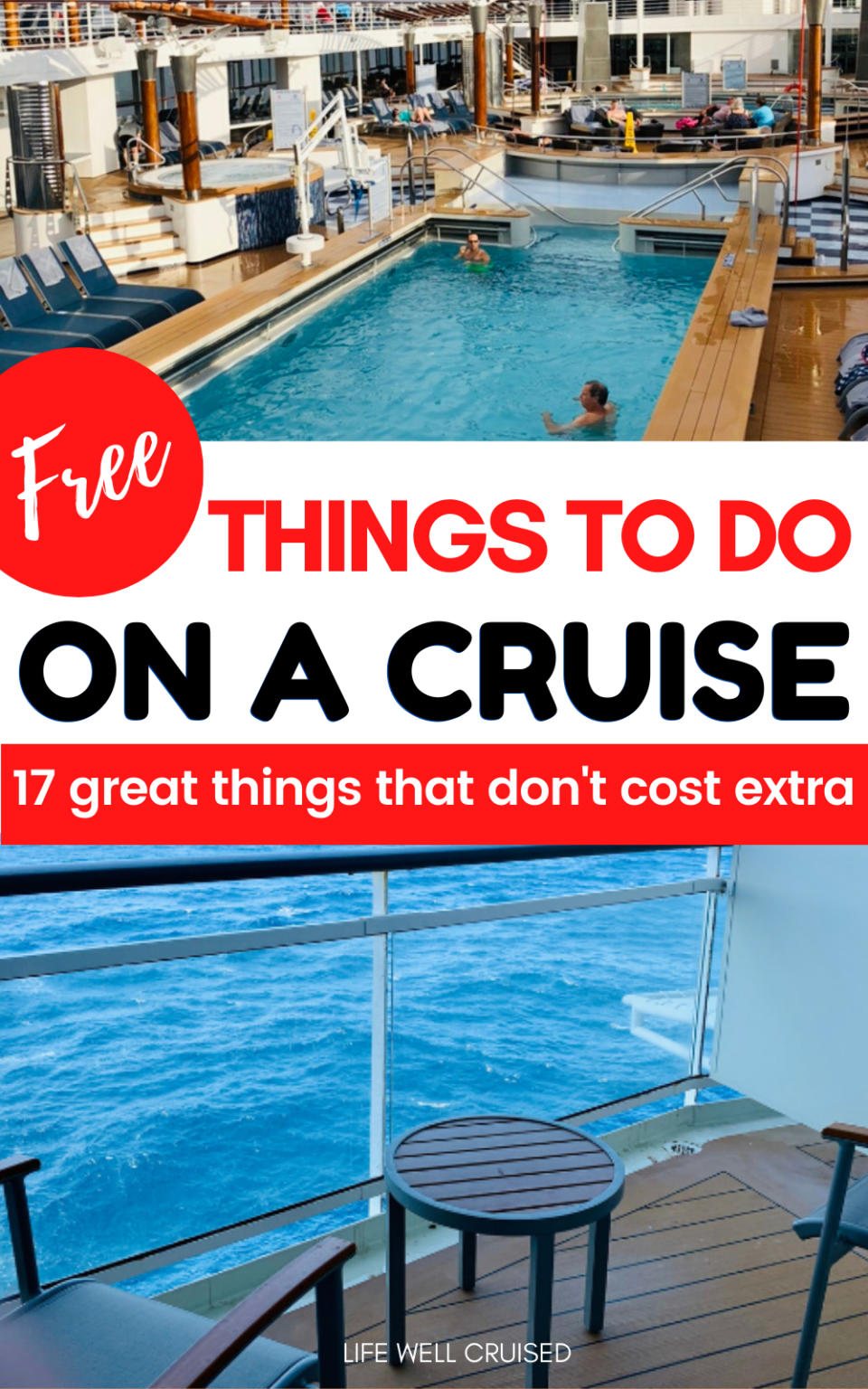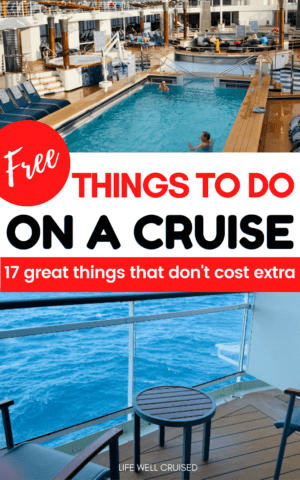 15. Challenge Yourself with an Activity that's Out of Your Comfort Zone
Are you ready to get out of your comfort zone on a cruise? Then maybe zip-lining, go-karting or death-defying water slides at sea will make this a cruise vacation to remember!
Some family oriented cruise ships have so much to do on board! Figure skate on a real skating rink, or do a ropes course and "walk the plank", or surf on a ship! Cruise ships in 2020 are pretty cool – and almost all these awesome activities are actually included with the price of your cruise.
Tip: It's really important to research your preferred cruise ship, so that the experience is what you really want. There are no bad cruises, but they need to be the right fit.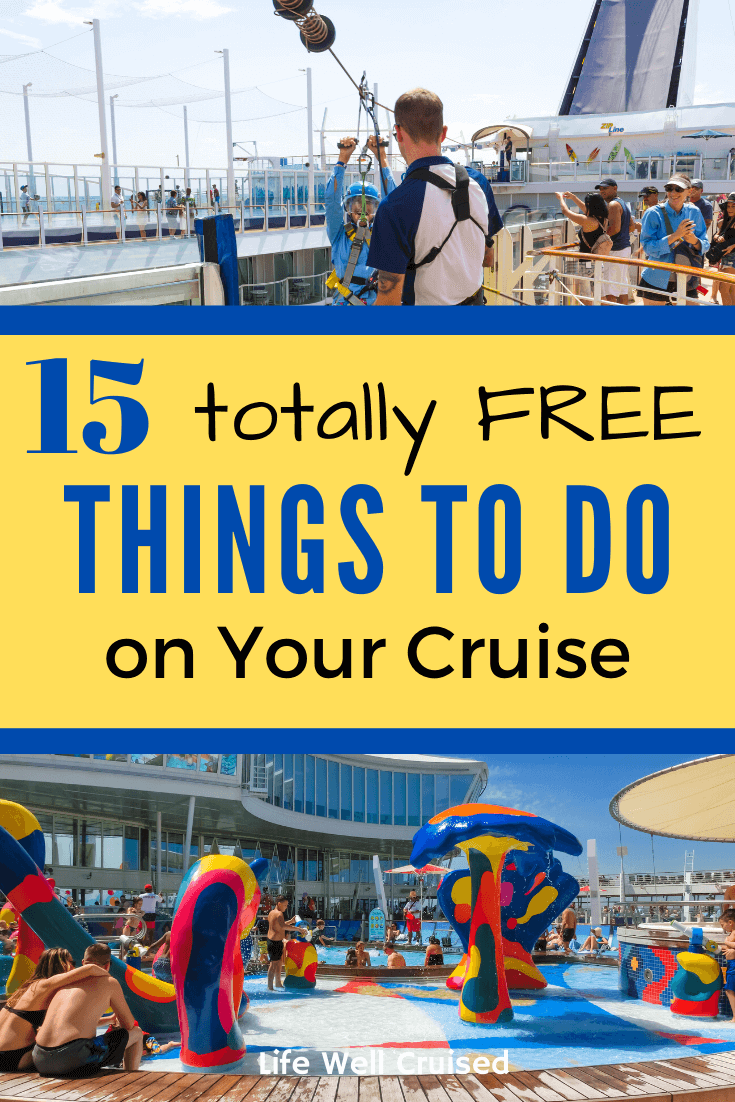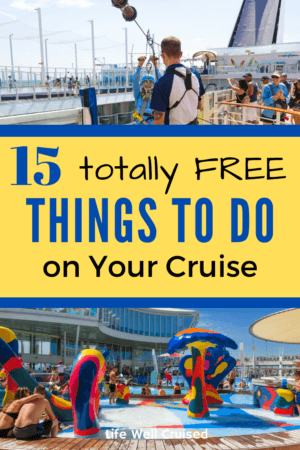 16. Dancing on the High Seas
Trying new things is one of the fun and great things about traveling, and why should cruising be any different? Sign up to learn salsa and other styles of dance with the cruise ship's dance and entertainment staff.
While you probably won't become a pro during 7 to 10 days on a cruise, you will pick up a few skills, and may find a new activity you'd like to pursue learning once home.
If you already enjoy dancing, sign up for the free dance classes on your cruise, and simply improve as you practice your skills with great teachers.
17. Enjoy Being Pampered
Ok, while this isn't an activity, being pampered is what comes included on a cruise. The truth is, you can't put a price on this.
Your cabin will be cleaned twice a day. We're talking beds made and turned down, sometimes with a chocolate left on your pillow.
You will be served and can order almost anything you want in the main dining room, cafes and casual venues around the ship. Waiters will be around to take your drink order. You kids will have the time of their lives in the kid's camp.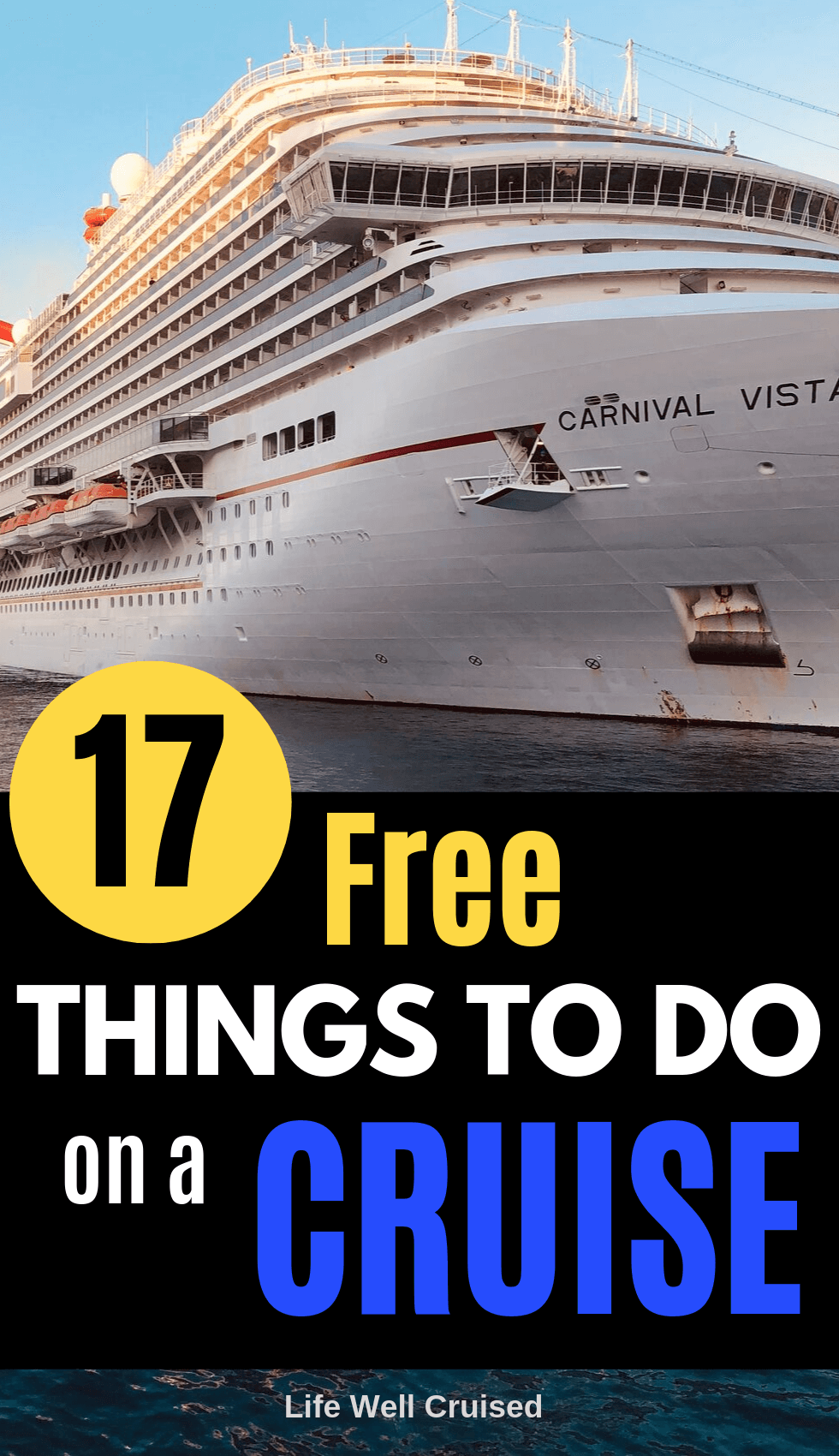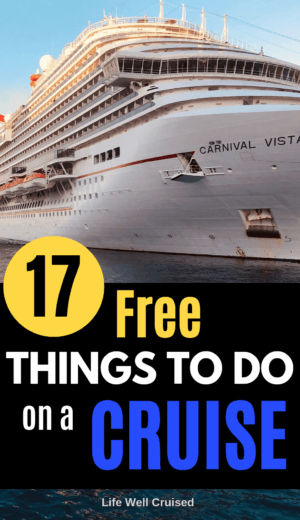 We lead busy lives and work hard at everything all the time. A cruise is a time that we can travel and be taken care of with amazing food, entertainment and friendly crew doing everything they can to make sure we have a great time!
Cruise Freebies Video
Have you been wondering how to get free things on a cruise? In this video I go over almost 50 cruise freebies, from ways to win prizes, get free drinks and even free perks on a cruise!
If you enjoy cruise videos on YouTube, I'd love it if you subscribed to the channel!
;
Recap:17 Free Things to Do on a Cruise (that are better than land resorts)
In this post we've gone over the many things that are free or included on your cruise vacation. From interesting things to do and learn, to amazing quality cruise food to eat, to entertainment options that you won't want to miss – cruise life is pretty darn good!
What are some of your favorite free things to do on a cruise? Let me know in the comments below.
Happy Cruising!!
Ilana xoxo
P.S. If you found this helpful, please don't keep it to yourself ;-). Please share on Facebook or PIN to your favorite Pinterest board (share buttons at the top). Thanks so much!
Popular Posts:
30 Cruise Cabin Hacks Every Cruiser Needs to Know
15 Cruise Embarkation Day Tips Straight from the Pros
27 things To Do on a Cruise Sea Day (and not be bored)
Let's connect:
Follow me on Facebook at Life Well Cruised
Follow me onYouTube at Life Well Cruised (Vlogs and cruise tips)
Follow me on Pinterest at Life Well Cruised
Follow me on Instagram at Life Well Cruised