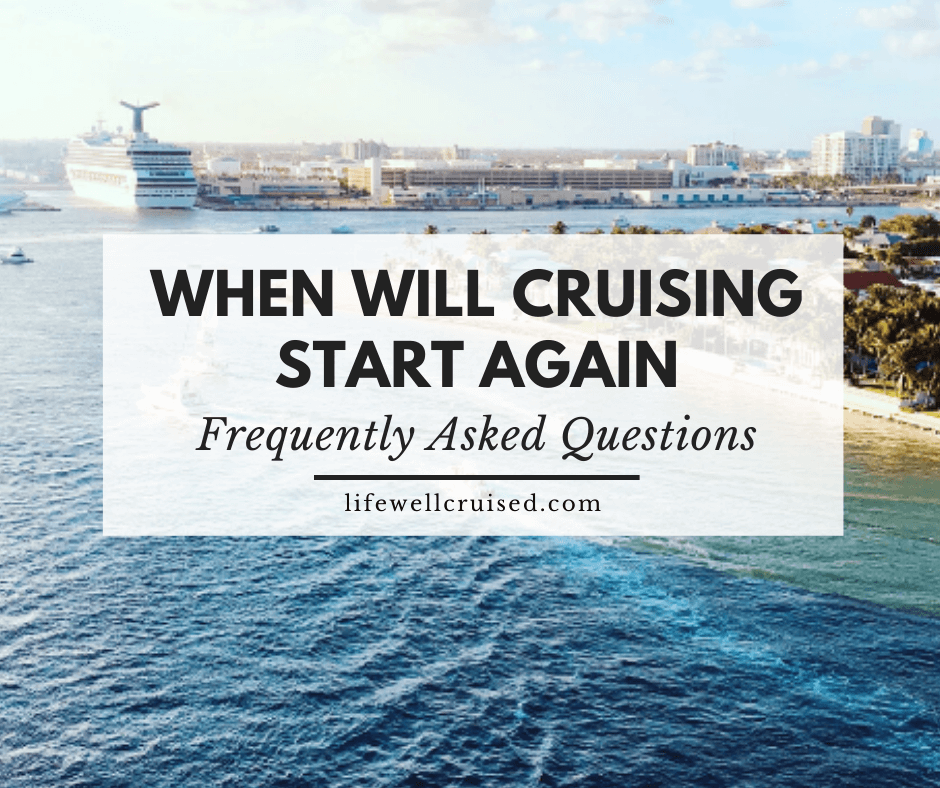 When will cruises return and sail again?
When can we get back to cruising? That's the question cruise lovers asking, and here's what we know.
Major cruiselines have voluntarily halted their cruises during this unprecedented time, and have announced dates for a return to service.
In the case of several cruiselines, including Carnival, Royal Caribbean, Celebrity, Norwegian Cruise Line, and Holland America Line, the pause in cruising was orginally set for 30 days (from mid-March 2020).
Princess cruises had announced a voluntary pause in service for 60 days. Still others, announced approximately a 6 week break in cruising.
There have been updates to cruise cancellations this as the situation evolves. Please see cruise line announcements as they change below.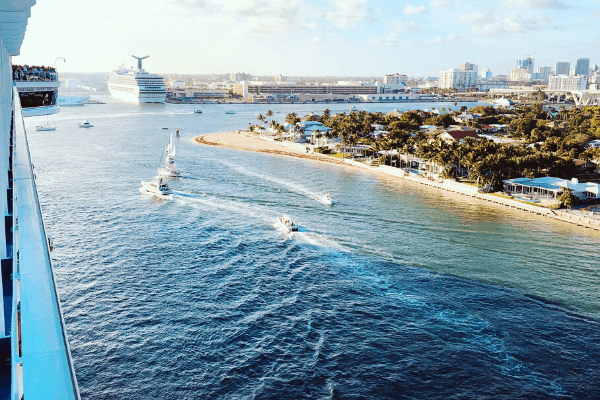 Here's a list of dates cruiselines have announced that they will sail again:
*UPDATED April 7
*Azamara May 12
*Carnival Cruise Line – May 11 plus other dates for different ships and itineraries
Carnival Alaska sailings – July 1
Carnival Legend – October 31
Carnival Radiance – November 2
Carnival Australia/NZ sailings – June 6
Important information for Carnival Cruisers
Here's Carnival's updated information, including a new compensation offer: Carnival Cruise Line Cancellation Compensation Options: The benefits for Carnival Cruisers
*Celebrity May 12
*Celebrity (Alaska) July 1
*Costa Cruises May 1
* Crystal Cruises June 1
*Cunard Line up to and inclusive of May 15
*Disney Cruise Line April 28
*Disney Alaska sailings July 1
*Holland America Line May 14
*MSC Cruises May 29
*Norwegian Cruise Line May 10
*Oceania Cruises May 11
*Paul Gauguin May 7
Princess Cruises May 10
Regent Seven Seas April 11
*Royal Caribbean May 12
*Royal Caribbean (Alaska) July 1
*Seabourn May 14
*Silversea May 13
*Viking Cruises June 30
Virgin Vovayes July 15
Windstar Cruises May 22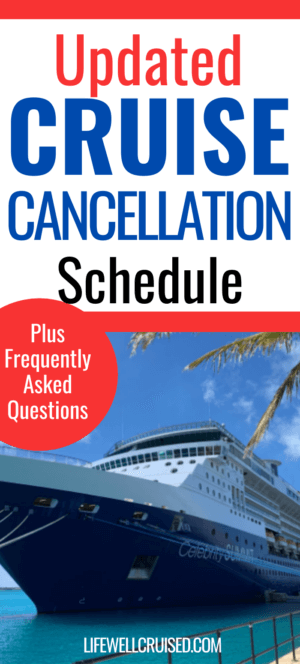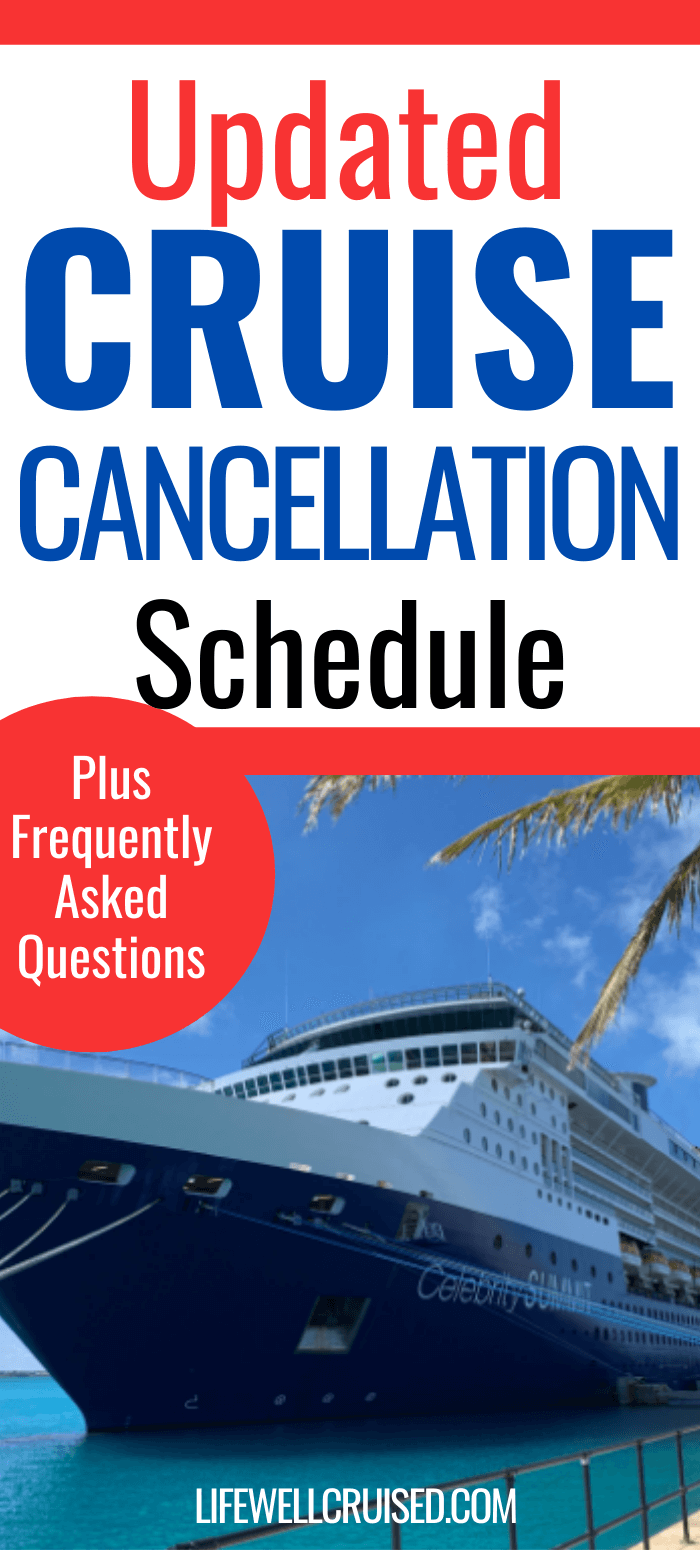 Questions Cruisers Are Asking About Cruise lines Pause in Service
Will cruises really resume on the dates each cruise line has announced?
Cruise lines have stated that their "back to cruising" dates, however we can assume that decisions will be made taking the world situation into account as the dates approach.
While uncertainty is difficult, we have to wait to hear more from cruise lines. They will surely assess the situation and advise passengers and travel agents should there be a change.
What happens if my cruise is canceled by the cruise line?
While we can't know what will happen in the future, we can look at recent cruises that were during the current pause in cruising for guidance. As well, recent cruises cancelled by Carnival, Celebrity, Royal Caribbean and other cruise lines indicate generous compensation.
As an example, Princess Cruises offered choice of refund or a substantial Future Cruise Credit. Celebrity Cruises, Royal Caribbean and Carnival also had a choice of refund or Future Cruise Credit which offered a better value.
While every cruise line differed in the exact compensation options, we did see advantages to individual cruisers whose cruises were canceled.
Related post: How Will Cruising Change, Recover and Restore Cruiser's Confidence Once Again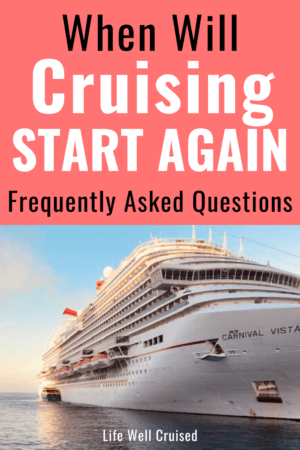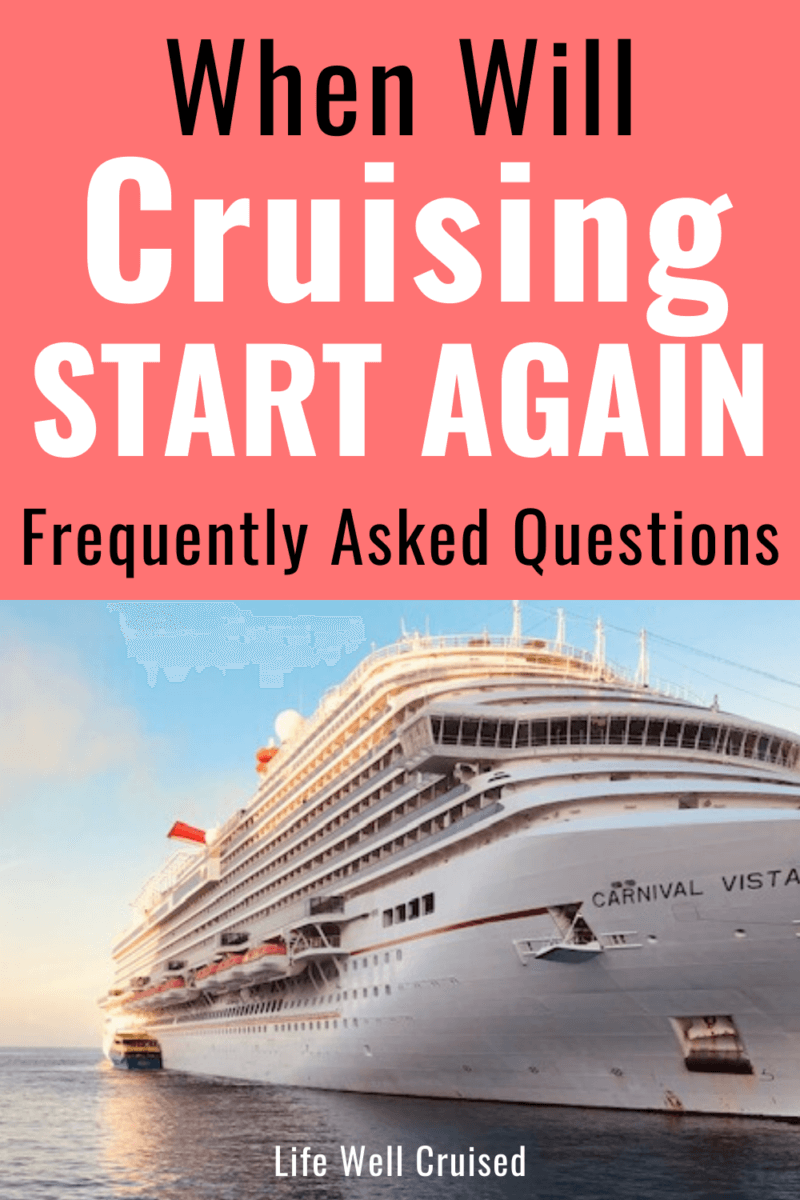 Can I cancel my cruise if I'm not comfortable cruising at this time?
Many cruise lines have implemented an option to cancel your cruise and receive a credit for any cancellation fees, in the form of a Future Cruise Credit. Always verify your cruise line's cancellation policy, which will be visible on the cruise line website.
In many cases, there is a "Cruise with Confidence" policy, which allows you to cancel your cruise up until 48 hours before youe cruise.
If you're working with a travel agent, the agent will be able to go through the details and your options, and make the best choice for your situation. You may also view your options on your cruise line website.
Related posts (that offer more detail):
Carnival Cruise Line Cancellation Compensation Options: The benefits for Carnival Cruisers
Celebrity Cruises Cancellation dates: Resumption of Service and Compensation Offers
How Will Cruising Change, Recover and Restore Cruiser's Confidence Once Again
Recap: When Will Cruising Resume? Frequently Asked Questions
According to cruise line announcements, cruises will begin again starting in Mid-May 2020 at the earliest. The situation continues to evolve and change, and cruise lines are adjusting based on the world situation and travel restrictions.
As we know more, I willl be updating this post to keep information as accurate as possible. As always, please verify specific information pertaining to your own booking with the cruise line or your travel agent.
Have you been affected by the cancellations or the current situation? Please let me know in the comments below.
Happy future cruising!
Ilana xoxo
P.S. If you enjoyed this post and found it helpful, please don't keep it to yourself ;-). Feel free to share on Pinterest, Facebook or Twitter (share buttons at the top). Thanks so much!
Popular posts:
30 Cruise Cabin Hacks Every Cruiser Needs to Know
What's included in your Cruise Price (and What Isn't)
25 most recommended Amazon Items to Bring on a cruise
Let's connect:
Follow me on Facebook at Life Well Cruised
Follow me onYouTube at Life Well Cruised (Vlogs and cruise tips)
Follow me on Pinterest at Life Well Cruised
Follow me on Instagram at Life Well Cruised