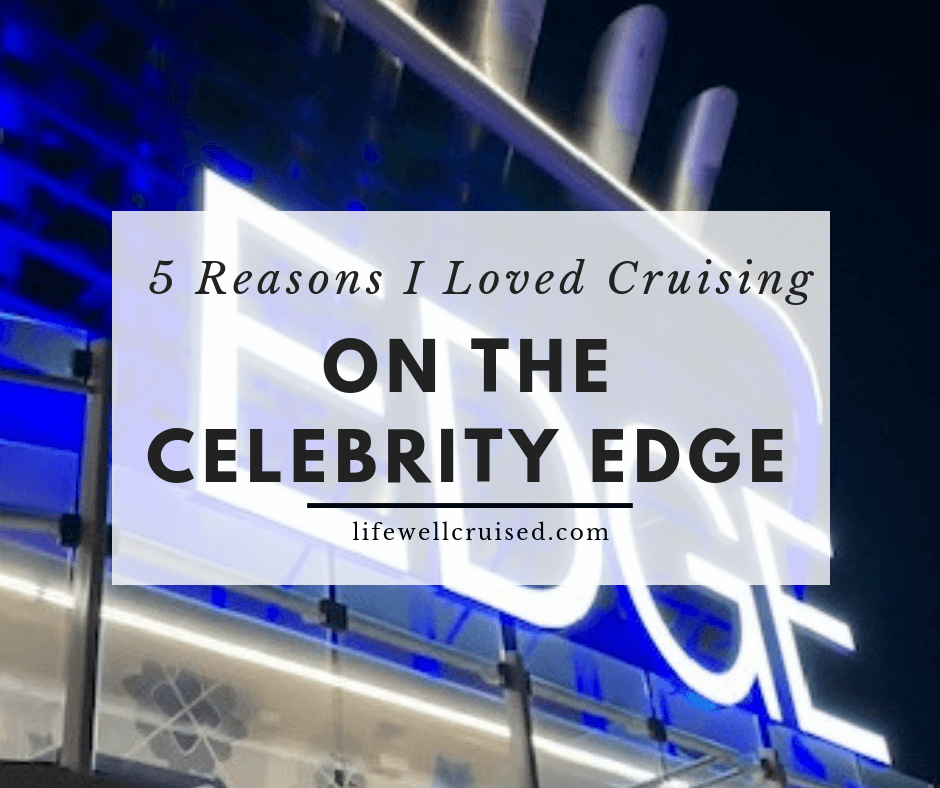 If you're like me, you've seen the many photos of the Celebrity Edge and can't help but be impressed. Even after all I've seen, I'm still so curious! This is why I'm thrilled that Life Well Cruised community member, Adrienne Jennings, is sharing her impressions of her 3 day preview cruise on the Celebrity Edge. Something I really appreciate about this "review", is that although Adrienne is an experienced cruiser, it was her first time on Celebrity. So I was especially excited to hear her perspective and thoughts. Here we go…
My Experience on a 3 day preview cruise on the Celebrity Edge
I had the privilege of taking a 3-night sailing aboard the Celebrity Edge with one of my dear friends. Though I have been on fourteen cruises, this was my first cruise with Celebrity and I loved it!
I have compiled a list of 5 things I LOVED about Celebrity Edge
1. Food and dining
There are four main dining rooms aboard Celebrity Edge. They are Normandie (French), Cyprus (Mediterranean), Cosmopolitan (American) and Tuscany (Italian). Each dining room has its own unique theme and menu items specific to the venue. Additionally, there are set menu items offered in all four dining rooms. I was on a 3-night preview sailing of the Edge, so I was only able to choose three restaurants. As I am not a huge fan of French food, I opted out of Normandie.
The food in all three dining rooms was incredibly delicious. There were numerous options and each of them was sumptuous. In addition to the main dining rooms, the Ocean-view Cafe (buffet) had a variety of menu options. Everything was freshly prepared, beautifully presented and delicious. I enjoyed everything I sampled!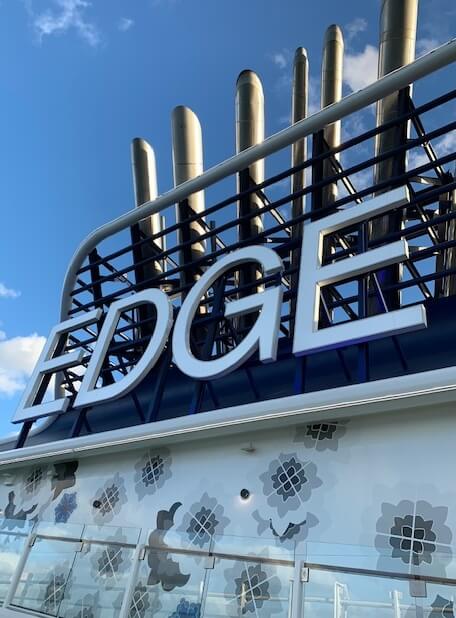 2. Décor
The Celebrity Edge is a gorgeous ship. I have sailed on some very pretty ships through the years but the Edge literally took my breath away. The clean lines and elegant furnishings chosen by designer, Kelly Hoppen, were incredible.
Each area of the ship was stunning in its own right. However, each space was also designed to transition seamlessly into it's adjacent space. For example, while moving from the quiet, sanctitude of the solarium into the upbeat, boisterous atmosphere of the pool deck, there was a very natural shift. This shift occurred in lighting, music, furnishing and mood. It did not seem jarring nor confusing. I walked the ship late one night to take photographs and enjoy each of the corridors, nooks and crannies aboard this beautiful vessel.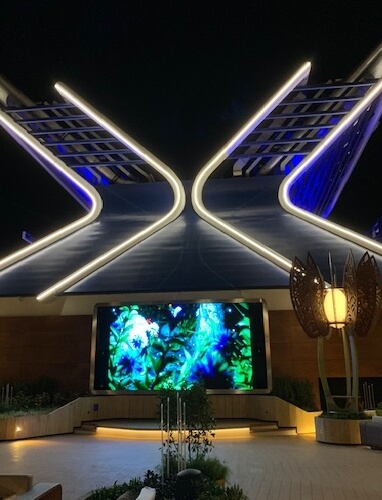 3. Impressive Customer service
The staff aboard the Celebrity Edge was incredibly impressive in so many ways. They often greeted you with a warm smile, an amicable laugh or an offer to help you find anything you may need. The staff literally could not do enough for you. One morning while having breakfast in Cosmopolitan, our table mate accidentally spilled her coffee. The wait staff immediately helped her by ensuring she was ok and getting her resettled into another seat. Within minutes, they'd refilled her coffee and covered the spill.
Shortly after the incident, one of the dining room attendants brought her a voucher for complimentary dry cleaning of the garments she'd soiled with her spilled coffee. I was so impressed with what I witnessed. This was definitely above and beyond!
In addition to the amazing dining staff, our stateroom attendant took amazing care of our room and made himself available to us whenever possible. He would greet us warmly in the halls, inquire about our day and laugh with us at our silly antics.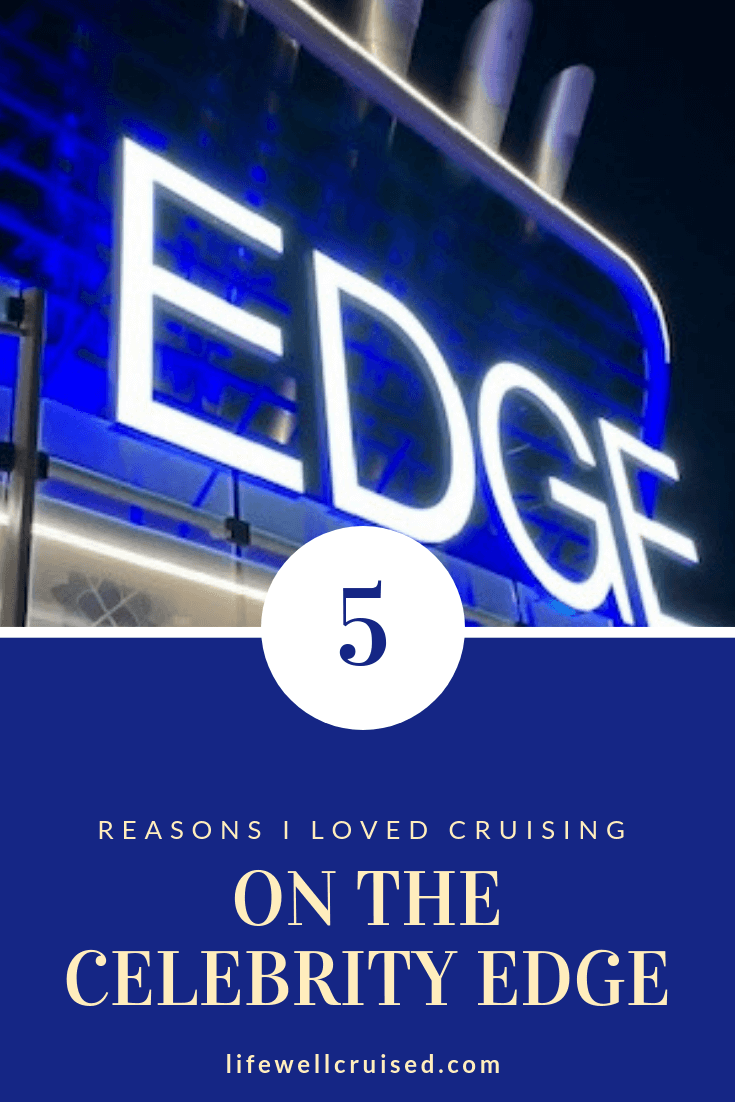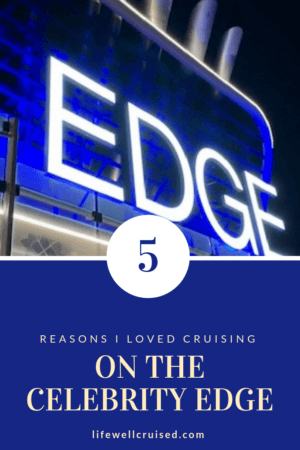 4. Unique Staterooms – the

Infinite

Veranda
I have historically been an interior stateroom cruiser. When I sail with my husband and two children, I may book an ocean view cabin for additional space. However, when I booked this cruise all interior or ocean view cabins were sold out. As such, I took the Infinite Veranda. This stateroom is touted to make better use of the space within the cabin, and it does!
The room extends to the end of the glass balcony, otherwise termed a veranda. This incredible use of space allows you to lie in your bed, sit on the couch or relax in chairs while experiencing the sounds and feels of the sea. The glass partition lowers with the touch of a button to allow air into the cabin. There are also folding glass doors to close off the balcony area from the rest of the room if you wish. We spent the entire cruise with our glass doors open so that we could see the ocean through the floor to ceiling veranda window.
This video by Cruise Fever is worth watching through for lots of details of the Infinite Veranda
5. Modern spaces and non-traditional entertainment
Though this was my first Celebrity cruise, I've read about Celebrity Cruises and heard all about the elegant, old world beauty of the Solstice class ships. The Edge class ship has none of these traditional touches and is definitely built to cater to a younger clientele.
The shows and entertainment aboard the Edge lend itself to a futuristic approach to storytelling. For example, Eden is a three-story space with greenery and entertainment. The space has a restaurant that serves futuristic cuisine while the performances in this space are quite exotic and somewhat "unexplainable". It is possible to hear live music in this space throughout the day or to relax with a cocktail and one of the many wooden puzzles scattered throughout the space.
Another non-traditional area of interest is The Club. Each night, there was a different theme to this after-hours location. There was a laser maze, silent disco, late night talks and dueling DJ's occurring in this space. The two-story club was a common night-time gathering place where everyone was guaranteed to have a great time!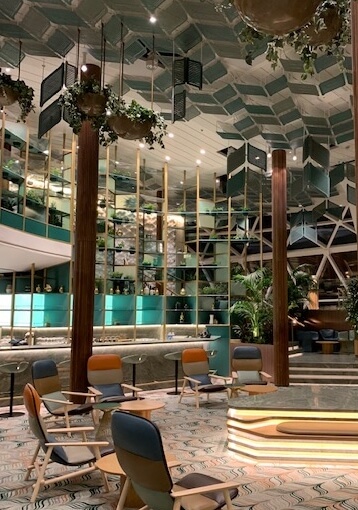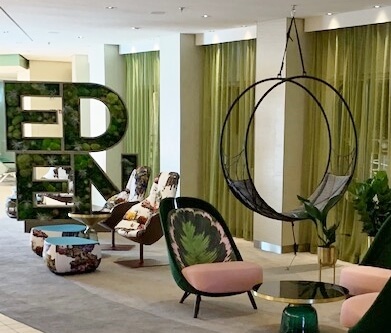 Although these were the 5 things I loved most on the Celebrity Edge, there were so many things to enjoy! I'm excited that I had the opportunity to take this short sailing. I hope to sail aboard the Edge again in the future on a much longer sailing.
Thoughts from Ilana:
Thanks Adrienne for this great review! I hope you enjoyed reading about the Celebrity Edge, as seen through Adrienne's eyes. Please follow Adrienne on Facebook at Grateful Getaways.
I'm not one to usually fawn over new cruise ships, but I have to say, the Celebrity Edge is an exception. I cannot wait for the updates to be brought throughout the fleet, can you?
Will you be cruising on the Edge in the near future? Are you a fan of this modern ship, or do you prefer to stick with some of the more traditional ships? Let me know if the comments below.
If you enjoyed this, you may also enjoy reading about our first experience on Celebrity Cruises, a 9 day Bermuda, Boston and Newport cruise.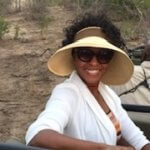 Adrienne has a love of travel and has dreamed of far away places since childhood. She especially has a great love of cruising and met her husband, Rick, on her first cruise in 2001. The couple has 2 young children who also have a great love of cruising. When not traveling, Adrienne works full time and enjoys spending time with her husband, children, parents and dear friends. She is an avid reader who enjoys working out and meeting new people.