Welcome new Cruise Friends!
Hi, I'm Ilana. I'm an avid cruiser and cruise industry expert. I sincerely believe that we can all have amazing travel experiences, all while enjoying cruise-ship life of course!
If you love cruising or would like to know more about #allthingscruise, then you're in the right place.
NEW CRUISERS
I get it. Planning a cruise can be surprisingly confusing. Even though it should be fun, the options can be overwhelming. Everyone has an opinion, but what's right for you?
Maybe you've decided on your cruise. Now what? There are so many details to think about.
Should you work with a travel agent? What about shore excursions? Should you buy a beverage package? The fact is, the more you know before your cruise, the more enjoyment you will have.
After all, isn't planning and anticipating half the fun?
SEASONED CRUISERS
Are you someone who is proud to call yourself a Cruise Addict? That's me too! Come hang out with me – I just know we'll get along great!
On this website you will find:
Cruise Planning Tips
Cruise Packing Lists
Cruise Ship Reviews
Port and Shore Excursion Reviews
Cruise Articles and Stories
Lots of Insider Tips!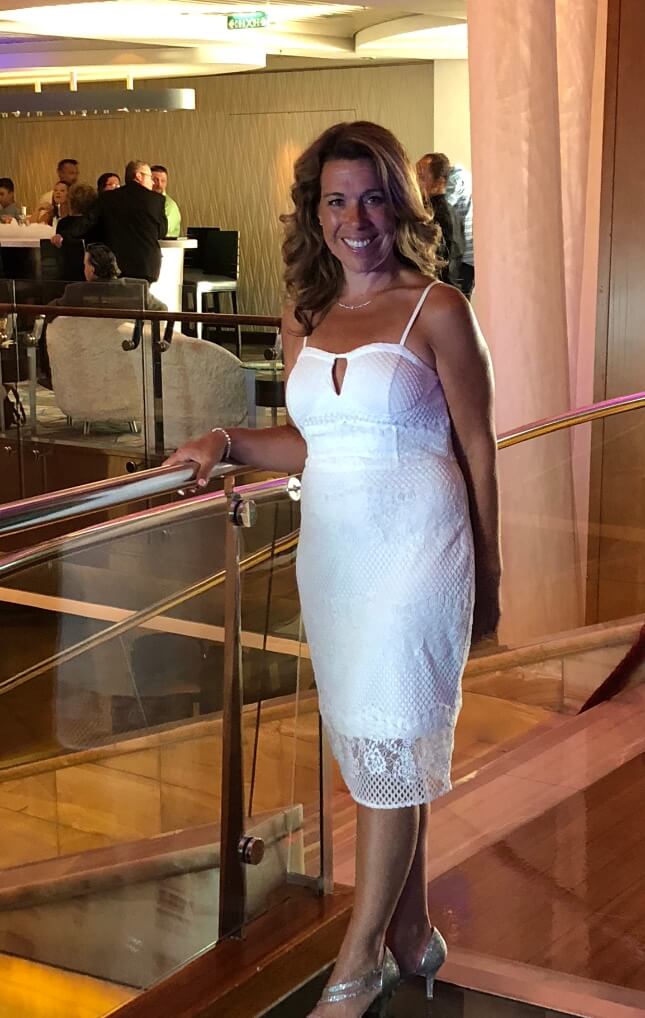 Here's my cruise story and why I started
Life Well Cruised®
My husband and I took our very first cruise back in September 2004, for our 10th Wedding Anniversary. It was something we had dreamed of and planned on doing once, maybe twice in our lifetime. It was on Royal Caribbean's Navigator of the Seas – and in my memory, it was the Best Cruise Ever.
We were blown away by the beauty and grandeur of this ship. With its spacious interior Promenade, glamorous 3 story dining-room, stunning theater, beautiful solarium adult pool – we definitely felt the "WOW factor"! On top of that, skating shows and production shows kept us entertained beyond our expectations.
Needless to say, we were hooked! We recently celebrated our 25th Anniversary, and as you can imagine, we are still cruising!
Since that very first cruise, I became obsessed with learning all I could about all things cruise related – the newest ships, destinations and ports, the best excursions, and all the "secrets" of each cruise line.
Less than a year later, we had another one booked (more on this story later, but it seemed like fate!) with our kids. After another incredible cruise experience, living the dream of travelling with our kids and making memories, I began thinking of how we could do this more often.
I looked for a way that I could combine my Cruise Passion with some extra income to make cruising, as often as possible, a reality for our family.
Sometimes opportunities arise and doors open at just the right time. In 2006, took on a "side hustle" with a local Cruise Travel agency. Combining my love of cruising, with helping people plan their ideal cruise, has been amazing.
And this, my Cruise Friends, is how my blog, Life Well Cruised® was born. I knew that I shared my cruise tips and expert knowledge with my clients and friends, but why not share with you as well?
I have lots of insider tips and great stories to tell! I never lose sight of the fact that I'm a cruiser myself, so you'll get some personal stuff too, as I believe they are the very best tips!
If there's something you like, please let me know by leaving a comment on a favorite article or by sending me an email (lifewellcruised@gmail.com). If you have a cruise question or a great idea for an article, please get in touch.
Keep up to date and follow me on social:
Instagram at Life Well Cruised
Pinterest at Life Well Cruised
Thanks so much for spending your time with me!
Ilana
Contact: lifewellcruised@gmail.com