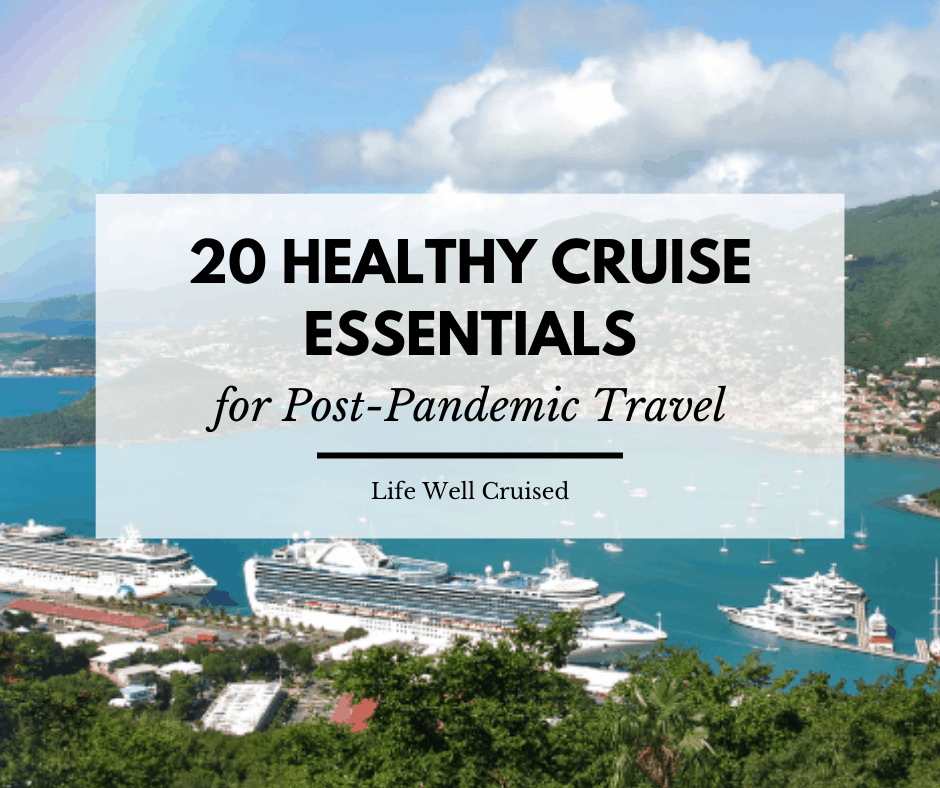 If you're planning a cruise, you'll want to be prepared with healthy cruise essentials for post pandemic travel. Cruise lines have measures in place to ensure cruises are a safe vacation. However, there are still precautions you'll want to take both on the cruise ship and as you're travelling to and from the cruise port.
In this post, I'll share the essential items to bring to keep healthy on a cruise and avoid getting sick when travelling. This includes new travel accessories that are designed to sanitize and disinfect using the latest technologies. Along with the health and safety protocols that you'll find on the cruise ship, this should help you to plan for a safe and healthy cruise vacation.
This post contains affiliate links which means if you click and buy that I may make a commission, at no cost to you. Please see my disclosure policy for details.
Life Well Cruised is a participant in the Amazon Services LLC Associates Program, an affiliate program designed to provide a means for sites to earn advertising fees by advertising and linking to Amazon.com.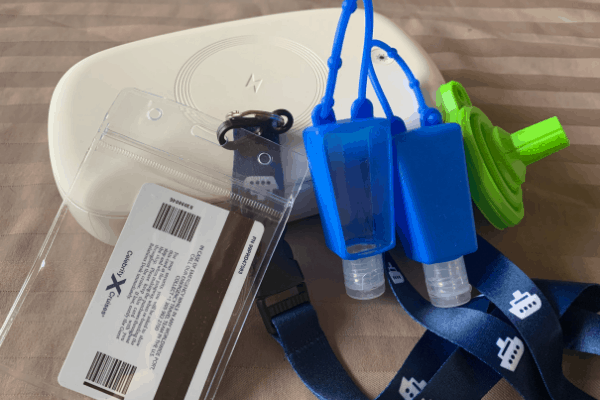 Essentials for a Healthy Cruise Vacation
Amazon Prime Free Trial
If you're ordering any items from Amazon (even in future), you may be interested in signing up for Amazon Prime . Benefits include faster shipping and free delivery, Prime TV and more. If you don't already have Amazon Prime, check out the FREE 30 day trial.
Travel Size Sanitizer Bottles with Silicone Holder
As we cruise and travel, having hand sanitizer handy is essential. These refillable bottles come with a silicone, adjustable holder to clip onto any purse, bag, strap or other. The 30ml (1 ounce) containers are perfect for hand sanitizer or other essential liquids. They're sized for travel and compatible with all airport regulations.
They also snap shut tightly so you're assured of no leakage. My favorite part is that these refillable hand sanitizer bottles come with a collapsible funnel for easy refills whenever needed.
Recommended: Travel size sanitizer bottles (refillable with funnel)
Sanitizer Bottles with Cruise Lanyards
Lanyards are a cruise essential for many, so you can keep hands free and never lose your cruise card. So this set which includes both the silicone sanitizer bottles and cruise lanyards is a great combo. In case you're wondering, yes, you do save money by purchasing these items as a set.
Recommended: Sanitizer bottles with lanyards (check pricing on Amazon here)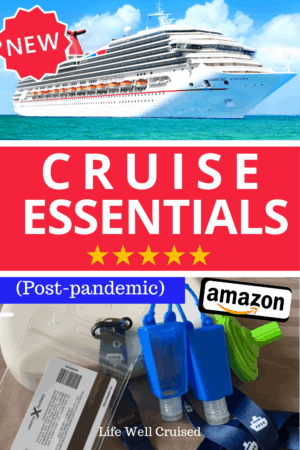 Travel Bottles with Keychain
These plastic refillable bottles are great for sanitizer, lotion, soap, moisturizer, or other liquids you'll need throughout your travels. The sturdy carabiner clips will easily attach to most accessories. They're built for durability and to assure there's never any leakage. You'll get two 30 ml and two 50 ml (1 ounce & 1.7 ounces) bottles, all FDA compliant.
Recommended: Travel bottles with keychain (variety of sizes)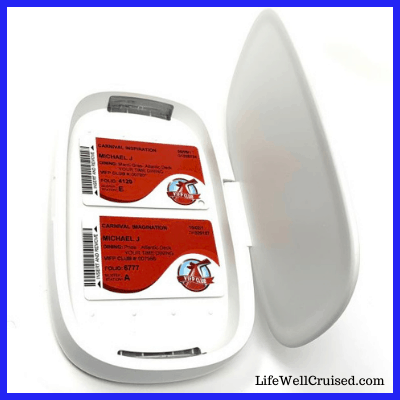 Waterproof Cell Phone Pouch (with Touch Screen) & Lanyards
As cruises resume, passengers and cruise lines will be more reliant on the use of technology. New eMusters will be replacing the traditional muster drill, and cruisers can expect to need their mobile phone to check in on boarding day, book activities and more.
These waterproof cell phone pouches are a new convenient cruise essential. The touchscreen pouch allows for easy use of the cruise line apps, without removing your phone from the case. Plus, since they're also waterproof, make sure to pack them in your shore excursion day bag so you can even take underwater pictures and videos.
Recommended: Waterproof Cell Phone Case with lanyards (see details on Amazon)
UV Light Sanitizer Box
This UV light sanitizer box is a quick way to properly sanitize your cell phone, masks, key card and more. It uses a UVC wavelength, an ultraviolet sanitizing frequency which kills bacteria. See details here on Amazon.
Recommended: UV light sanitizer box (check pricing & details on Amazon)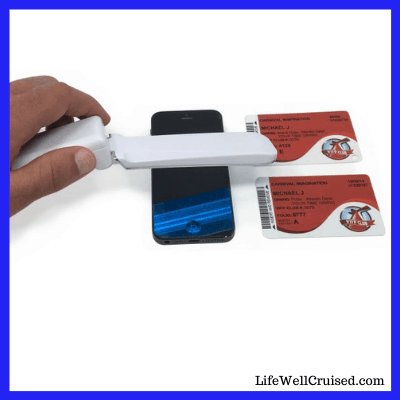 UV Sanitizer Wand
This handheld sanitizer wand is compact and perfect for cruise travel. Similar to the UV Box, this light wand uses ultraviolet rays to quickly sanitize any surface.
It folds to fit into a pocket or purse for disinfecting on the go. Whenever in need, simply wave the wand (face down) over your cruise key cards or other for 30 seconds. The UV-C light kills 99.9% of disease causing pathogens found on common surfaces.
Recommended: UV Sanitizer wand (see reviews & details on Amazon)
Toothbrush Sterilizer Case
Whether you're in a hotel or in your cruise cabin bathroom, the one item that you want covered and sterilized is your toothbrush. Like some of the other cruise essentials in this post, this item is designed to sterilize conveniently and quickly.
Recommended: Toothbrush Sterilizer Case (pack of two is better value – see details here)
Alcohol Free Disinfecting Wipes Travel Packs
These travel size packs of disinfecting wipes are alcohol and fragrance free, and contain Vitamin E and Aloe Vera to replenish and moisturize skin. The travel packs are resealable, making them perfect to bring with you on a cruise.
Recommended: Care Touch Alcohol-Free Hand Sanitizing Wipes
Mini Travel Soap Paper Sheets
Do you ever want to wash your hands when travelling, with real soap? I love these portable thin soap sheets that can easily fit in a pocket or purse so you can have soap available anywhere you go. They really are perfect for cruise travel, as well as on flights and road trips.
Recommended: Portable travel soap sheets (see pricing and quantity on Amazon here)
Travel laundry detergent packets
Perhaps not a true post pandemic travel essential, however after a long day of travel (or more), you may decide that you want to do a small load of laundry on your cruise or simply wash a few items.
These detergent packets are TSA approved (just the right size) even if you're packing carry on only. Make sure to pack a pop up laundry hamper and a few travel laundry packets and bring them on the cruise.
Recommended: Travel laundry packets & Pop up laundry hamper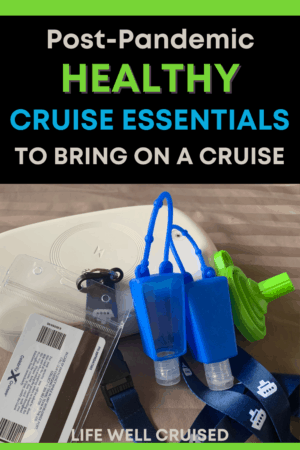 Selfie Stick Tripod
Why would a selfie stick be included in a post pandemic cruising packing list, you may wonder? Honestly, these things are fabulous to capture the great moments and memories on a cruise. However, more than that, you're probably not going to want to pass your cell phone to strangers anymore to take a photo for you.
I would imagine that the crew will be unlikely to oblige for the foreseeable future as well.
Recommended: Selfie stick & tripod (fits most cell phones but check details here)
Medications and First Aid Items
Along with disinfecting, you'll want to be prepared for mild illness or minor health issues. Packing first aid items is essential for a healthy cruise.
You may want to have a first aid kit or packing cube, and fill it with the more important items you need to stay healthy.
Travel first aid kit
If you'd like to buy a travel first aid kit with just about everything you need, I really like this one. Personally, I'd keep it in my car and use it at home when not cruising, and simply fill up as needed for every cruise vacation.
Recommended: Travel first aid kit (check price here)
Non contact travel thermometer
When traveling after the pandemic and into the foreseeable future, having a lightweight, non contact thermometer will be an essential item to pack for a cruise.
Recommended: Non contact thermometer (check pricing on Amazon)
Cold-Eeze
Bring Cold-Eeze zinc lozenges along in your toiletry bag in case you feel a cold coming on. Many people report that when they take the zinc lozenges as soon as the first symptoms appear, that it helps relieve symptoms like cough, nasal congestion and sore throat quicker.
Recommended: Cold-Eeze
Disposable face masks
As we travel during this time, and possibly even after, it's a good idea to be prepared with good quality, filtered face masks. You never know when they can be needed anywhere, and it's best to be prepared just in case.
For the time being, face masks will need to be worn on cruise ships and on shore excursions. Cruise lines have said that health protocols are subject to change as health directives change.
Recommended: Disposable face masks (see over 30,000 Amazon reviews here)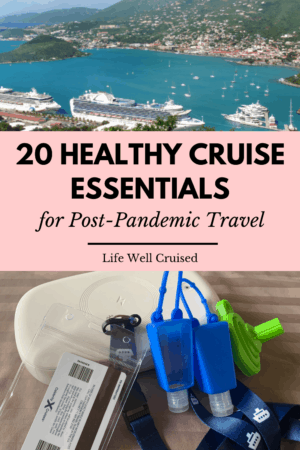 Motion sickness medication
In order to feel your best on a cruise, it's important to bring along some items to prevent and treat motion sickness.
Sea bands
Seabands are a favored product for many cruisers that are prone to motion sickness. These natural bands work with accupressure points and help to relieve motion sickness and nausea.
Recommended: Seabands (see reviews on Amazon)
Bonine motion sickness treatment
Bonine is an over the counter medication that's really useful to deal with any bouts of seasickness if the seas are rough on your cruise.
Recommended: Bonine motion sickness tablets
5 Important Cruise Essentials Not to Forget
Packing cubes – They really just make packing and unpacking easier, and nothing will make you feel more organized for your cruise (or any type travel)
Reusable luggage tags– It's a good idea to buy luggage tags before you cruise. You'll simply slip the printed luggage tags (from your cruise line) into the durable plastic sleeves and attach them to each suitcase. Make sure to check this link to find the tags for your specific cruise line.
Magnet hooks – Did you know that cruise cabin walls are metal? This is why magnet hooks are a top recommendation by avid cruisers to add extra hooks and storage to your stateroom.
Bonine (seasickness meds) – Make sure to bring along your favorite non drowsy motion sickness medication. Personally, I find Bonine to be very effective without negative side effects (for my family).
Power bar (non-surge cruise approved)
– Inevitably you'll need more electric outlets and USB outlets on your cruise. Do not bring a power strip from home as it is prohibited and will be confiscated. Instead, pack a cruise approved power bar (see details here)
Cruise Essentials for Safe Travels Video
In this video I share and show many of the items in this post. Plus, I've also included some of the other important cruise essentials you'll want to pack for your cruise.
Simply click the video below to watch, and if you enjoy cruise related content on YouTube, please subscribe to the Life Well Cruised channel.
Planning a cruise? Here are some related posts that might be helpful
7 Reasons You Need Travel Insurance for Your Next Cruise
Avoid Getting Sick on a Cruise: 10 Tips to Keep Healthy
What to Pack for a Caribbean Cruise (packing list included)
25+ Most Recommended Amazon Items to Bring on a Cruise
23 Essentials to Pack in Your Cruise Carry-On Bag
Recap: Healthy Cruise Essentials for Post Pandemic Travel
Going on a cruise and travelling these days comes with being more aware of taking precautions to avoid getting sick, as well as to wash hands, sanitize and disinfect. The items shared in this post will be helpful to have a healthy and safe cruise holiday.
What types of measures will you be taking to keep healthy while cruising? Have you used any of these travel accessories or do you have other essentials you recommend? Please let me know in the comments below.
Happy cruising!
Ilana
If you found this article helpful, please pass it along. Please feel free to share on Facebook or PIN to your favorite Pinterest board (share buttons at the top). Thanks so much!
Let's connect:
Follow me on Facebook at Life Well Cruised
Follow me on YouTube at Life Well Cruised
Follow me on Pinterest at Life Well Cruised
Follow me on Instagram at Life Well Cruised