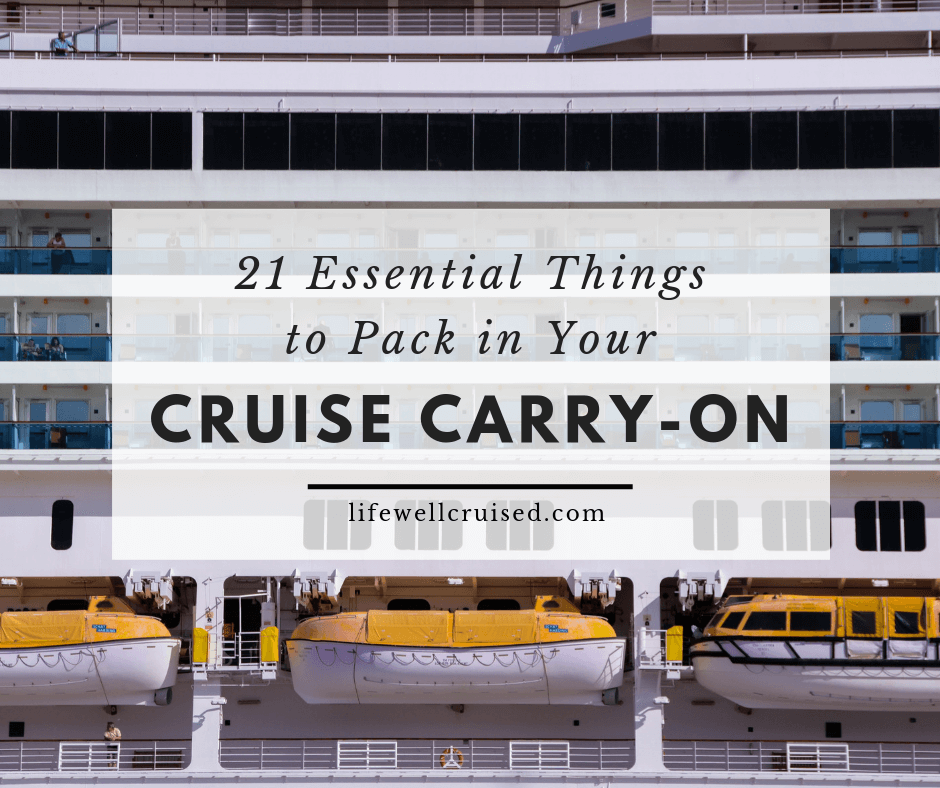 What to Pack in Your Cruise Carry-On Bag
There are a lot of things to think about when preparing and getting ready for your cruise vacation. While many people focus on packing for their cruise and what to bring, what's often forgotten is packing a cruise carry on bag.
A cruise carry on bag is essential for the first day of your cruise, when it can take several hours for your luggage to be delivered to your cabin. You'll want to make sure that you have everything you need to enjoy your embarkation day, as well as important items such as medications, valuables and children's items.
Even though I've been on over 20 cruises, I still stress just a little when I get ready for a cruise. So, it really helps when I keep organized with a good cruise packing list. This includes all the clothes and other essentials I need for my cruise, as well as the specific items I'll need for my carry on cruise bag.
In this post will I'll share a thorough cruise carry on packing list, as well as some recommendations for best cruise carry on luggage and travel essentials. This article was updated recently to share the best and most recent recommendations.
This post contains affiliate links which means if you click and buy that I may make a commission, at no cost to you. Please see my disclosure policy for details.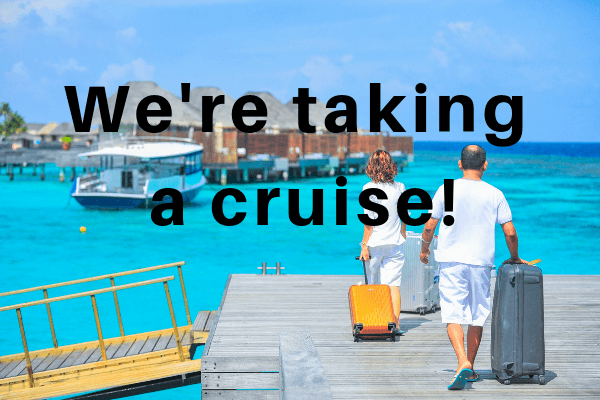 Embarkation day cruise carry-on tips
When you arrive at your cruise ship, you'll hand your luggage over to porters before you enter the cruise port terminal for boarding your ship. Your luggage will be handled safely, so don't worry, and will be delivered straight to your ship.
You'll want to bring a cruise ship carry on bag for those first few hours on the ship, as your luggage may only be delivered to your cabin several hours after you board.
Since you'll want to start enjoying your cruise vacation right away, having some first day essentials is going to be important. You'll also want to keep items that are valuable or fragile with you. Better safe than sorry.
Cruise carry-on bag recommendations
The type of cruise carry on bag you use is really a matter of personal preference.
I like a large tote or beach bag with a big shoulder strap, as this way we can use it on our excursion days. However, my son always uses his backpack as a carry on bag. Our friends use a small carry-on suitcase with spinner wheels, which is great as you never have to carry it.
More recently, we found a good size duffel bag that has wheels and a long handle, which was perfect for our last cruise.
We also decided to bring our formal wear in a separate garment bag and decided to carry it on with us as we boarded our cruise. It was very handy and kept my cocktail dresses and my husband's suit wrinkle free.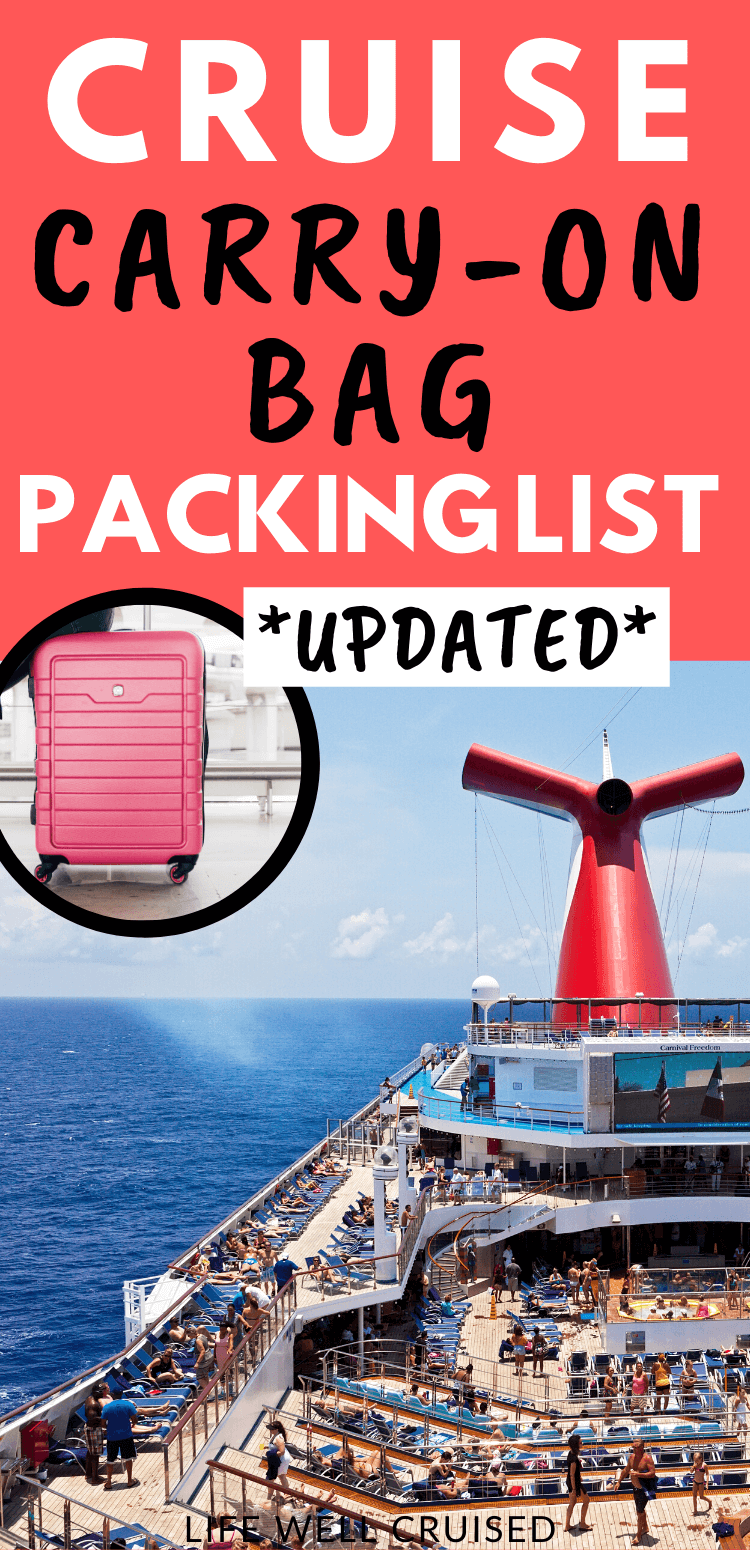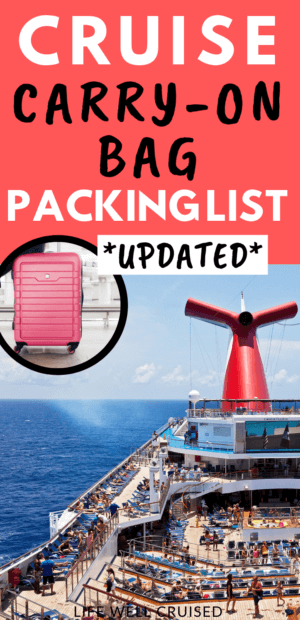 Here are a few of my top recommendations for carry-on luggage for your cruise:
1. Hardshell Spinner Wheel Carry on suitcase by Samsonite
If you're flying into your cruise port, consider a suitcase style carry on with spinner wheels for convenience. This hardshell piece is both reasonably priced and has excellent reviews.
This small carry on suitcase could be all you need for short cruises or might even be perfect if you prefer to pack light for your cruise.
Recommended: Hardshell Carry on luggage with easy roller wheels (check Amazon link for details)
2.Duffle Bag with wheels
Perhaps the most versatile, the duffle bag with wheels is a popular choice for a cruise carry on bag. This is what we've used on our last 2 cruises, which included pre-cruise hotel stays as well.
Recommended: Rolling wheeled duffel bag (different sizes available on Amazon)
3. Garment bag for travel (for formal or chic nights)
This garment bag folds up into a compact and travel friendly size. We used it on our last cruise and our clothing arrived wrinkle free.
Recommended: Travel hanging garment bag (see reviews and price on Amazon)
Read more about what clothing to pack for your cruise: What To Wear on a Cruise Vacation; formal nights, evening and day wear
4. Packing cubes
I'm a pretty recent convert to packing cubes, however when I finally gave them a shot on my last cruise, I was hooked!
They were great to keep our carry on luggage organized, especially since we like to arrive a day or two before our cruise. There are a few tips and tricks you can use, especially if you're traveling with a family (think color coded!).
Recommended: Packing Cube Set (this one gets 5 star reviews on Amazon)
Read more: Packing Cubes Pros and Cons – Our experience
Carry-On Packing List – 23 Things to Pack for the First Day of Your Cruise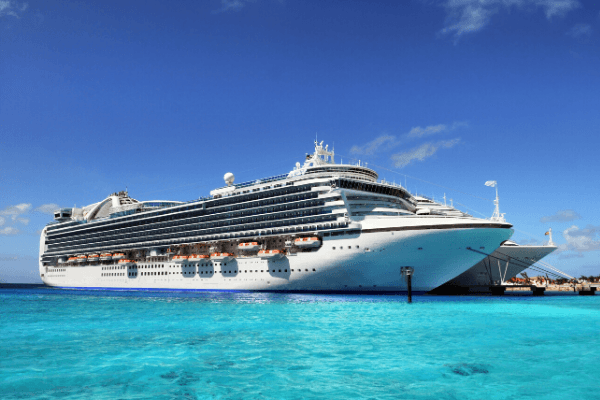 1. Passport and wallet with government issued ID
While I actually don't recommend, that you pack your passport or ID in your carry on bag, it is important to have with you as you board. Keep it on hand as you board in a secure location.
You may want to use a passport holder wallet that can go around your neck or waist like this one: Travel Neck Pouch Passport Holder (this one has over 3000 great reviews – Amazon)
Whatever you do, don't make the mistake of leaving it in your luggage, as this can result in denial of boarding. Sadly, it's happened to some (you can google it), so better to take every precaution with your passport.
2. Important documents
Your cruise boarding documents should be ready as you get to your cruise port. It's a good idea to print any excursions you've booked or other reservations and keep them together in an envelope or travel binder. This way you'll be organized once you get on the ship and into your cabin.
My friend Melissa, from Family on Time Out has this awesome organizational tip that she used for her last cruise. She puts a different colored elastic on each family member's passport, open to the picture (smart!). Then, all passports are placed safely, along with cruise docs and important papers in a good size see-through pencil case.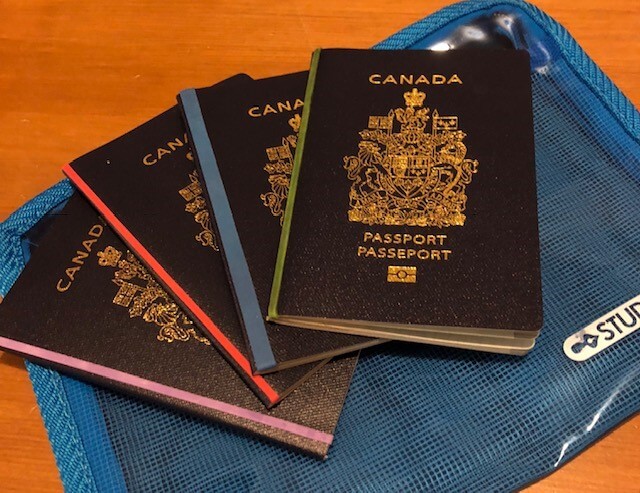 3. Cruise lanyard
You'll receive a cruise card when you board your cruise ship. This is your room key and is also used to buy drinks and any items from the cruise gift shops, as well as any other purchases.
A lanyard is a convenient way to carry your cruise card with you, both on your cruise ship and on port days.
One of the most popular and functional styles is made specifically for cruise passengers comes in a 2 pack, and includes a waterproof pouch so when you go on excursions you can also keep your government ID, a credit card and some cash inside.
You can view the recommended lanyard (Amazon) HERE.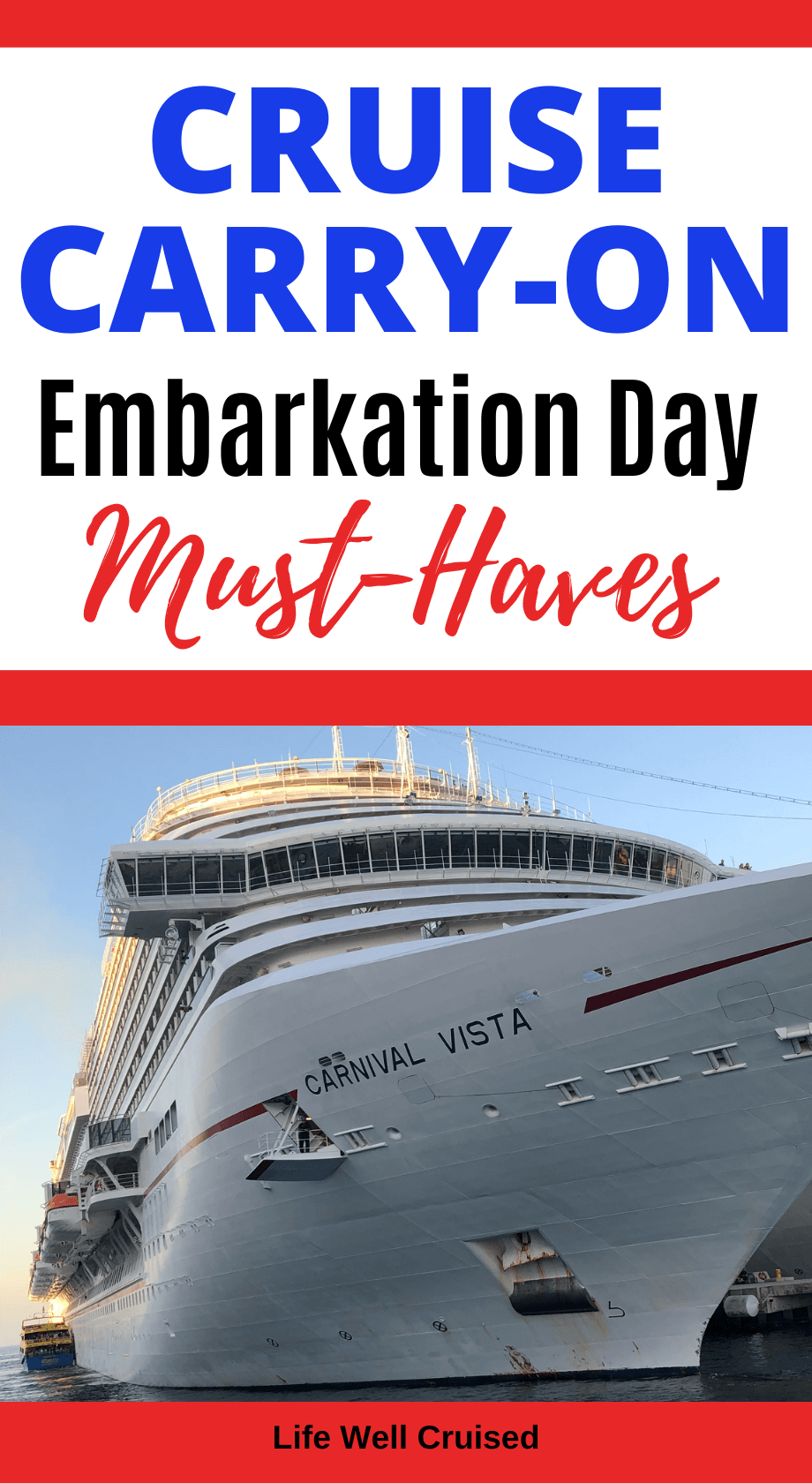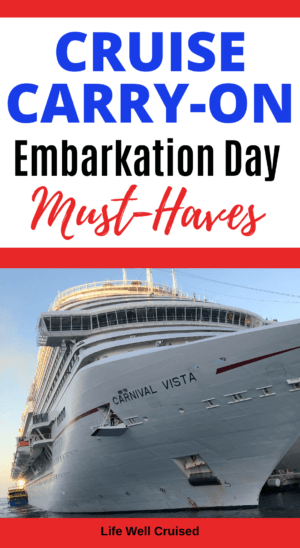 4. Medications
If you take prescription medications, make sure to keep them on you either in your hand bag or cruise day bag. I also like to make a mini cruise first-aid kit and keep a few things we may need for the day, like pain reliever (Advil or Tylenol) as well as some Tums or Rolaids.
5. Motion sickness medication
If you're prone to motion sickness, it's a good idea to bring along some seasickness medication just in case.
Here are a few of the most recommended items by seasoned cruisers.
Motion Sickness Patches (behind the ear) – top recommended Check here for current price on Amazon
Seabands – in sizes for children and adults
– Seabands are both natural and reusable and many cruisers use them regularly and report good results.
Dramamine (non-drowsy)
– this is tried and true and something to keep with you just in case! We actually used the children's dramamine with great success when our oldest son was young and got a little motion sickness the first day of the cruise.
Bonine
– this medication is our go-to on recent cruises. Our peronal experience was that Bonine was effective and fast working, and didn't cause us any side effects.
Ginger Candies
– I love ginger as a natural treatment for my occasional mild queasy stomach. I always bring some on my cruises, and have been known to pass a few around to my new cruise friends.
Read more: 10 Ways to Prevent and Avoid Seasickness on a Cruise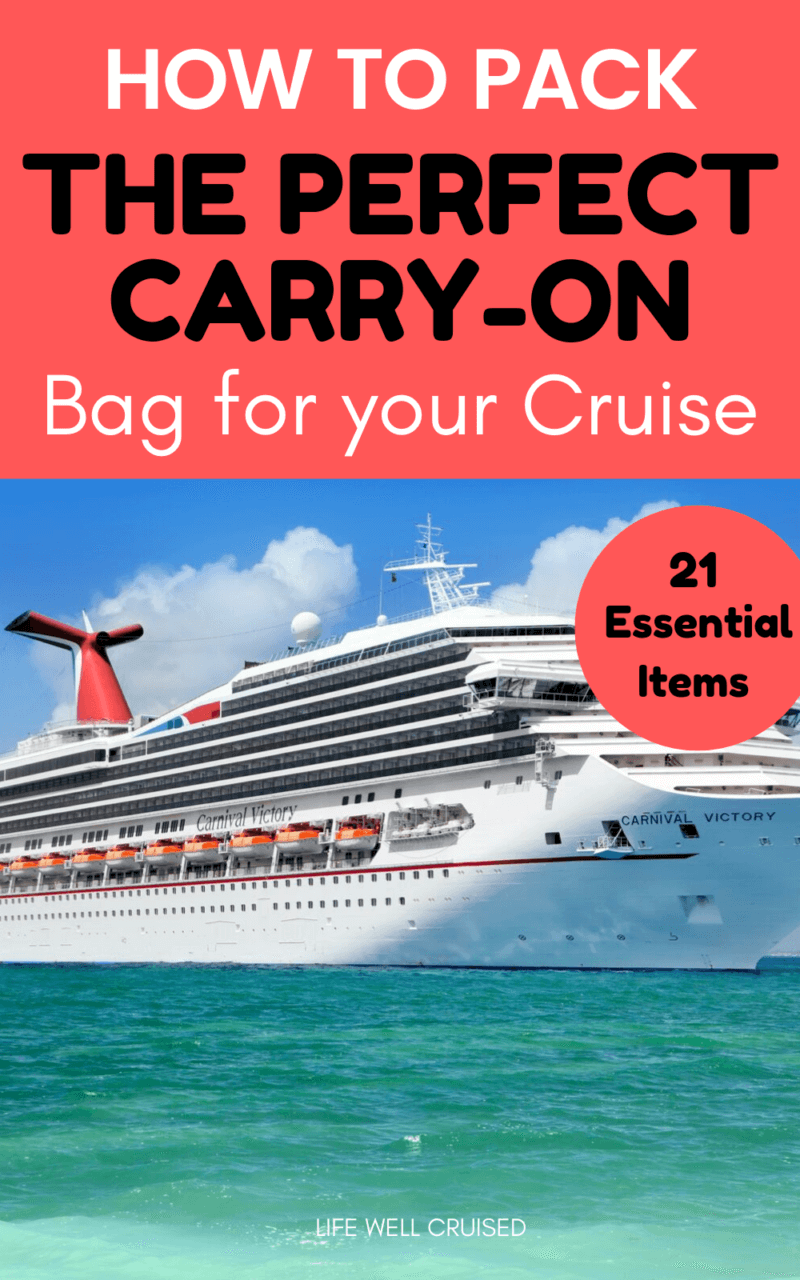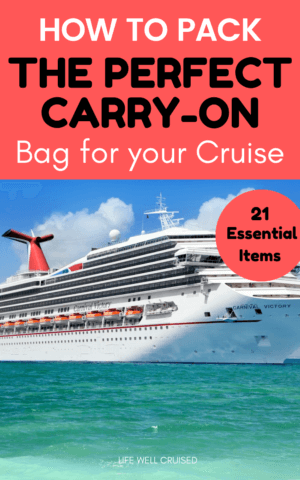 6. Toiletries
Make sure to keep toiletries that you may need for the day like a toothbrush, toothpaste, hairbrush, hair gel, deodorant etc.in your carry on bag.
This hanging toiletry bag (see it on Amazon) lays flat and can go straight from your cruise carry on luggage, to your cruise cabin bathroom door, where it can be hung. It's one of my very favorite stateroom organizing tools!
7. Jewelry
If you like to bring some of your better jewelry to match certain outfits, or if you have a dress watch that you wear in the evenings, these are items you'll want to keep on you in your purse or embarkation day bag. I like to bring a couple of pieces with me that I just don't have the occasion to wear in my day to day life. I enjoy wearing them when I dress up bit on a cruise.
Cruise Tip: Once in your cabin, place your valuables in your room safe until you need them.
Cruise packing checklist printable
Would you like to join my email list and keep up with all things "Life Well Cruised"? Please fill in your email address below and you'll also receive a free printable cruise packing list.
8. Wine or champagne
Many cruise lines will allow you to bring a couple of bottles or wine or champagne on board (check your cruise line policy). Keep it in your carry on bag or tote as you board, as you wouldn't want it breaking in your luggage.
9. Pool wear
Depending on the weather and itinerary, you may want to spend some time relaxing by the pool on your embarkation day. Bring a bathing suit, cover up and flip flops or sandals.
10. Sunscreen and lip balm
If the weather is hot and sunny and you plan to be by the pool, don't forget to bring sunscreen in your carry on bag. The sun really reflects off the water and its very easy to burn before you know it. I love lip balm, but I know this is a must-have packing item that many people forget.
11. Towel clips
While you may not need them the first cruise day, by the time you're cruising your second day, you'll notice that the sea breeze makes it hard to keep towels in place. I finally bought towel clips for my last cruise, and I can't believe I didn't just buy them for earlier cruises.
Towel clips are available in super cute Flamingo or Margarita designs (click for Amazon price and reviews), or for a bit less you can get an 8 pack (4 lounge chairs) of more simple but practical towel clips.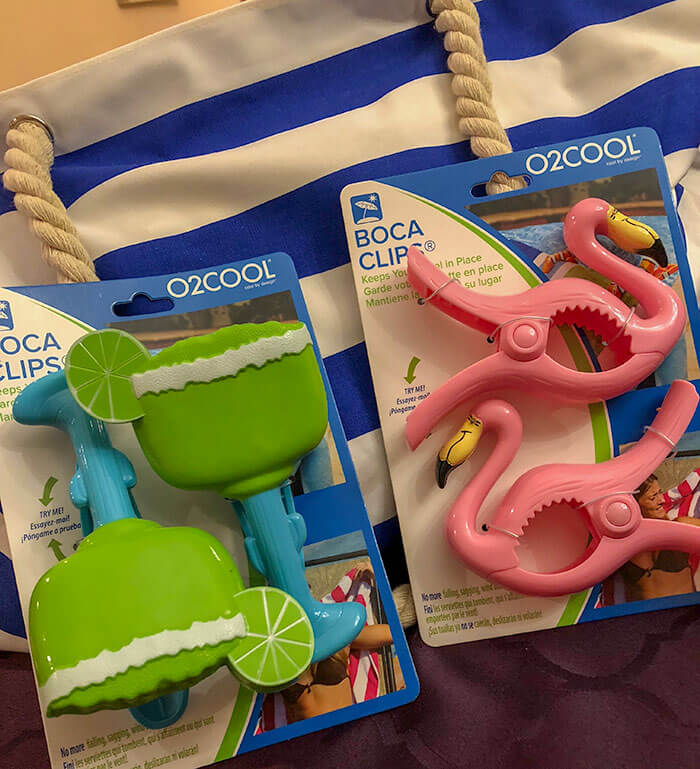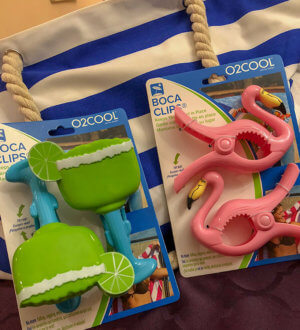 12. Sunglasses
Hopefully the weather will be nice and you'll need your sunglasses on a sunny Sailaway day. Remember to keep everyone's sunglasses in the carry-on bag, just in case they forget.
13. Camera
If you've brought a good camera on your cruise, this is definitely an item to keep in your carry on bag or backpack, rather than in your luggage.
14. Electronics and tech
Laptops, ipad, tablets and other "valuable" and possibly fragile electronic items should be kept in your carry-on bag. Once you get into your cabin, you can put these items away and leave them there.
15. Portable charger
Portable charges are so practical on the first day of the cruise, as well as throughout the cruise vacation. Cruise ship cabins are notorious for not having many plugs, which can make it hard for everyone in the cabin to charge your phones. We always travel with one (and often 2) of these and they've come in so handy.
This is the super fast charger I recommend. The INIU portable charger, check HERE for current pricing on Amazon.
16. Book or Kindle
Depending on your plans for the first day of your cruise, you may have some time to lounge on the pool deck or promenade, so keep some reading material for those moments.
17. Reading glasses
I know I don't need glasses "all the time", but at the risk of aging myself, it's been a few years that I've started to use reading glasses on occasion. You may want to pack a back up pair of glasses, in case one breaks or you lose them. This is a cruise tip from some past passengers who've made that mistake ;-).
18. Children's items
If you're cruising with kids, remember to pack some things in your embarkation day cruise bag to keep them busy. Books and markers, games and puzzles are all good things to have with you. Of course, any of the other items you'll need for the day like diapers, wipes and a change of clothes should be packed in your embarkation day bag as well.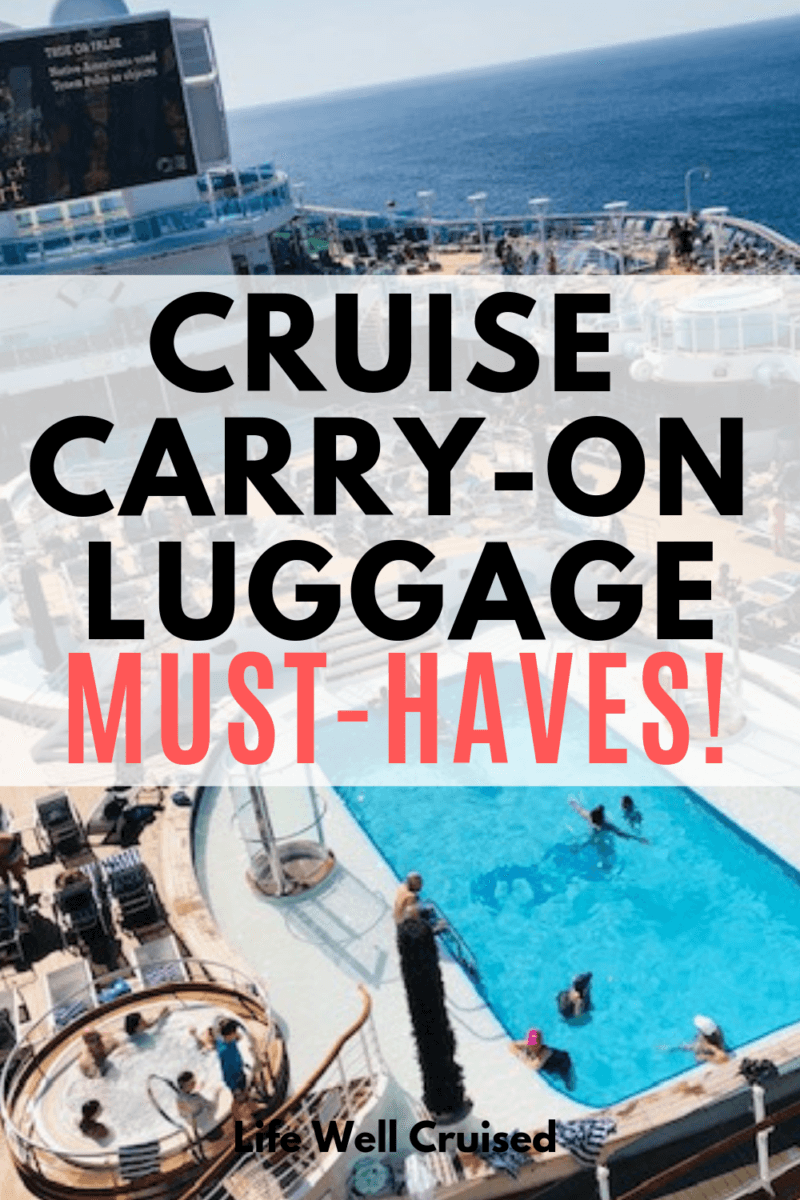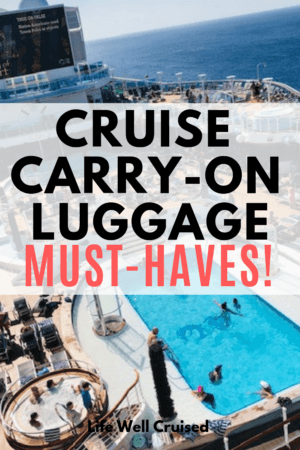 19. Refillable water bottles
Some cruise lines allow you to bring a case of water bottles on board, while others have stopped allowing this. Something more practical is to bring refillable water bottles which you can drink from both on the ship and off, on port days. Water on board your cruise ship is filtered and safe to drink.
While any plastic bottle will do, I personally like this foldable 21 oz water bottle (Amazon link here)
.
20. Cruise approved Power strip bar
Since your cruise ship cabin will likely have only 2 electric plugs, a power strip can be very practical. However, it is against cruise line policies to bring a surge-protected power strip (and will confiscate), so you need to be very careful to only buy one this "cruise approved".
See my recommended Cruise Power Strip with USB Outlets – Non Surge Protection & Ship Approved here.
21. Change of clothes
Since you may only get your luggage at the end of the day, consider bringing a change of clothes to refresh in the late afternoon, or even to wear to dinner.
If you're wondering about how to dress on a cruise (beyond what you can find in the cruise brochure), here's a good guide: What To Wear on a Cruise Vacation (when dress codes are changing)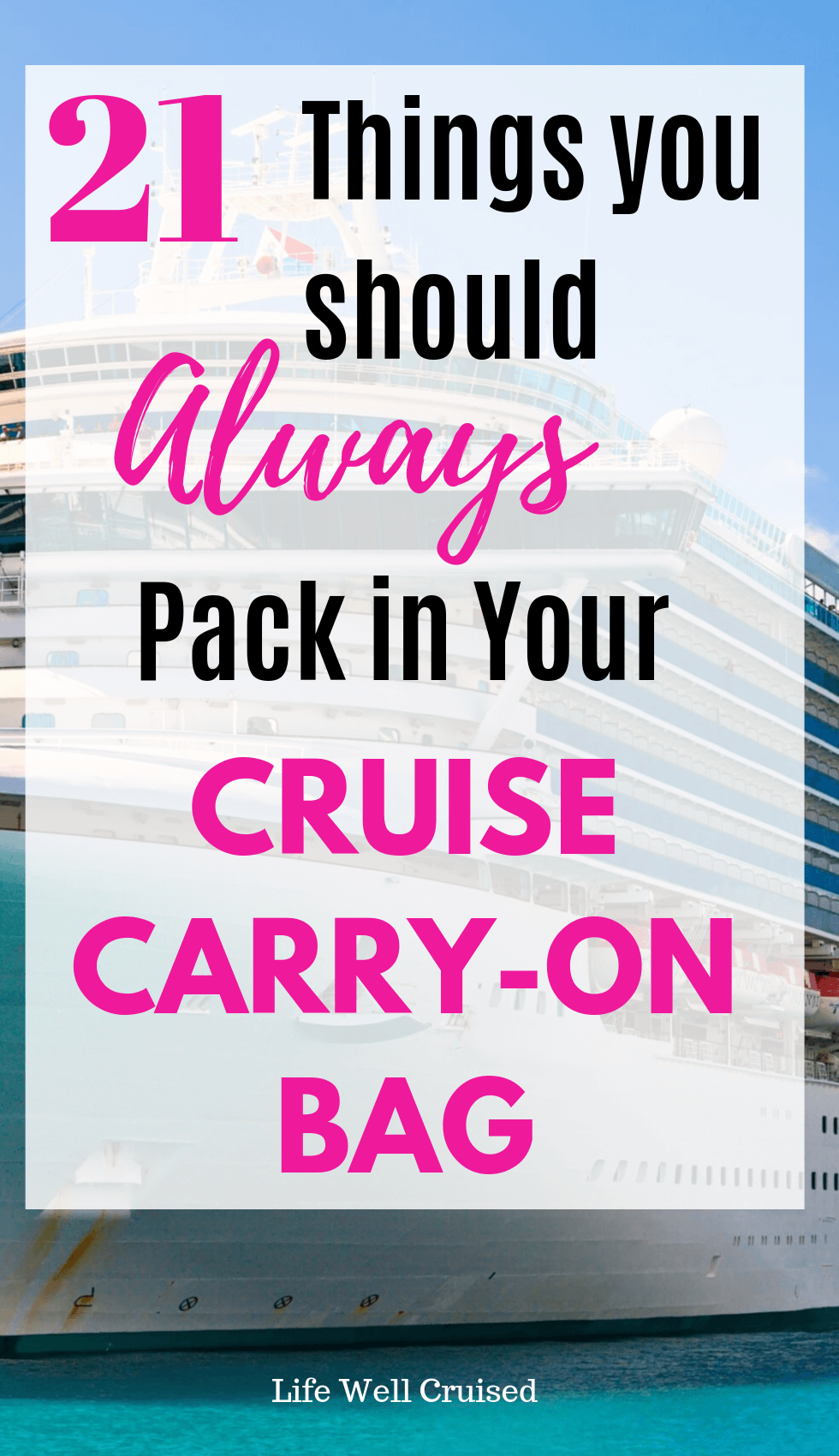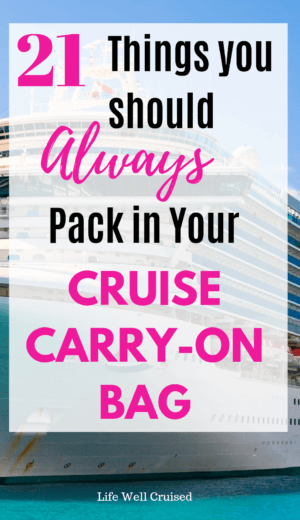 As part of the update to this post, I've added some extra packing items that are important as cruises resume.
22. Hand sanitizer bottles (travel size)
Although cruise ships have hand sanitizers everywhere, having your own small bottle of hand sanitizer when on the airplane on the way to the cruise, in the taxi will be handy.
Consider purchasing a few so you can bring them with you on shore excursions and pack them in your cruise port day bag.
Since disinfectant is so expensive these days, consider buying a large bottle and making your own travel size bottles that you can resuse.
Recommended: TSA approved Leakproof refillable containers (see amazing reviews on Amazon)
23. Disinfecting wipes
Travel size disinfecting wipes are great for a quick cabin disinfection on the first day of your cruise. Although your cabin will be cleaned when you arrive, you can use the wipes for the remote, telephone, mini fridge door and other items that might be touched more often.
You can buy them on Amazon here: Disinfectant wipes (check for which options are available and that you prefer)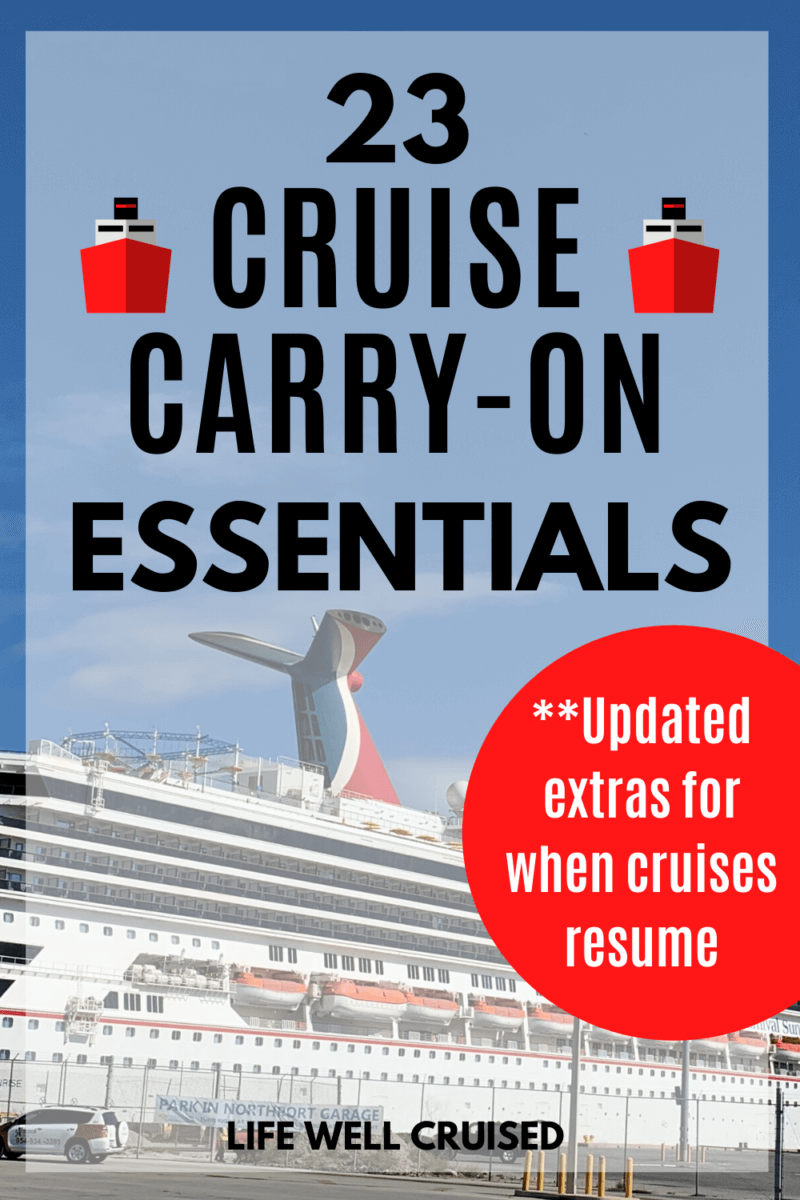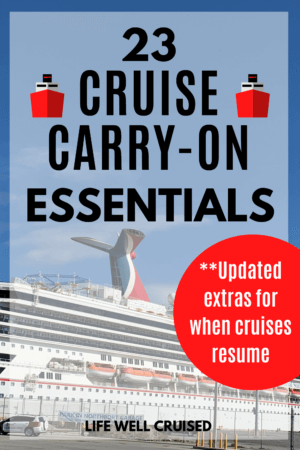 Things you CAN'T bring on a cruise
There are a couple of things that many new cruisers don't realize are absolute no-no's on a cruise. Don't bring these items, as they will likely get confiscated.
1. Iron or steamer – This is a fire hazard and you can't bring this on your cruise (not in your carry on and not in your luggage)
2. Household power strip bar – Since there aren't many electric outlets in the cruise ship staterooms, many cruisers have heard that it's a great idea to bring a power bar. It is, but you must only bring one that is cruise-approved.
This is my recommendation for a Cruise-Approved non-surge protected power bar.
Do you want even more cruise carry on advice?
Check out my YouTube video below – please like and subscribe to our Life Well Cruised YouTube channel if you enjoy this video. Thanks so much!!
Recap: 23 Most Important Items to Pack in Your Cruise Carry-On Bag
I hope this cruise carry on packing list has been helpful. Why not to create your own must-have cruise packing list, based on your travel preferences? In this way, you can personalize what you think you'll most need in your carry-on suitcase, backpack, or large tote for your cruise.
What are the most important items you bring in your carry-on bag for your cruise? Have you ever forgotten something and regretted it? Let me know if the comments below.
Happy Cruising!
Ilana xoxo
P.S. If you've enjoyed this, please don't keep it to yourself ;-)! Please share it on Facebook or save for later on Pinterest. Thanks so much!
Popular and related posts:
The Pros and Cons of Packing Cubes for Cruise Vacations
17 Cruise Stateroom Essentials Every Cruiser Needs
Let's connect:
Follow me on YouTube at Life Well Cruised
Follow me on Facebook at Life Well Cruised
Follow me on Pinterest at Life Well Cruised
Follow me on Instagram at Life Well Cruised