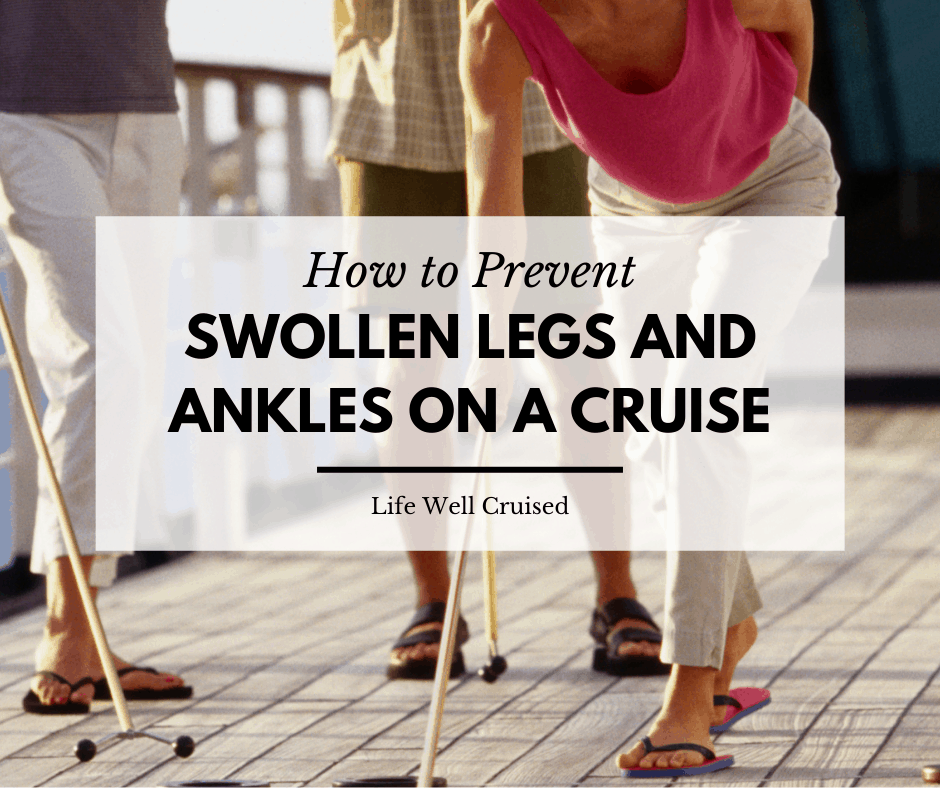 Have you ever gone on a cruise and found that after a couple of days your legs and ankles became swollen? Many cruisers say that they've suffered on occasion with swollen calves and puffy ankles, even if they're relatively fit and healthy.
However, there are ways to prevent fluid retention when cruising, and reduce the uncomfortable symptoms of swollen legs, ankles and feet.
In this post, I'll share some effective tips and remedies to help manage and prevent fluid retention when cruising, as well as answer some frequently asked questions about leg swelling on cruise ships.
Please note, this post is not intended to replace medical advice and it's a good idea to speak with your doctor if you have concerns.
Many of these awesome cruise tips, come from real cruisers who have shared their experiences. As well, as someone who has dealt with swollen calves and ankles while cruising, I share some things that have helped me to manage this well.
Why Do Legs Get Swollen on a Cruise?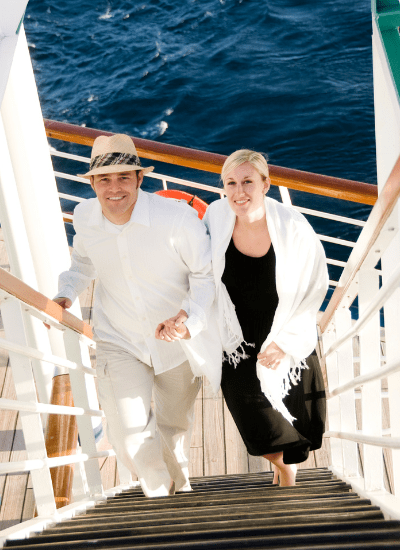 There are different theories as to why some people experience swelling in legs and ankles while cruising.
The most common and plausible answer is salt in the cruise food and drinks. When at home, most of us don't eat restaurant meals daily, which tend to have more salt then our own home cooking. As well, we tend to eat in larger quantities on a cruise, and drink more cocktails and alcoholic beverages. These foods and drinks that are high in sodium, likely lead to excess water retention in our legs.
There are many other theories floating around (pun intended), including that the sea air and even the ship's salt water contribute to this problem. All the theories are inconclusive, and cruise ships desalinate their drinking water, so this is unlikely to be a major contributor.
How to Stop Feet and Ankles from Swelling on a Cruise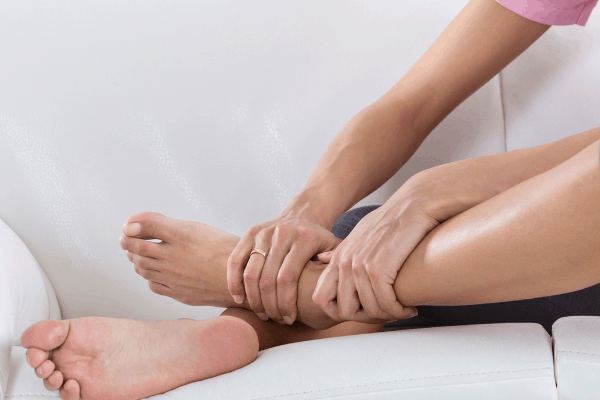 This post contains affiliate links which means if you click and buy that I may make a commission, at no cost to you. Please see my disclosure policy for details.
Life Well Cruised is a participant in the Amazon Services LLC Associates Program, an affiliate program designed to provide a means for sites to earn advertising fees by advertising and linking to Amazon.com.
Here are 15 helpful tips and remedies to prevent and relieve swollen legs, ankles and feet while on a cruise ship. These are all real cruise travel tips that have been effective for cruisers who've experienced puffy and swollen legs while cruising in the past.
Avoid salty foods
This is easier said than done, however, cruise lines are very accommodating and will prepare foods that are low in sodium if needed. Ask your travel agent to note this on your booking, and speak with the maitre'D once on the cruise ship. You may have lower sodium and "healthier" options on the main dining room menus as well.
Look for the "hidden" salt in foods that isn't obvious. Avoid olives, bacon and even soups and sauces, that may have high sodium content.
Get The Ultimate Cruise Planner
Regular price: $27 Now just $17!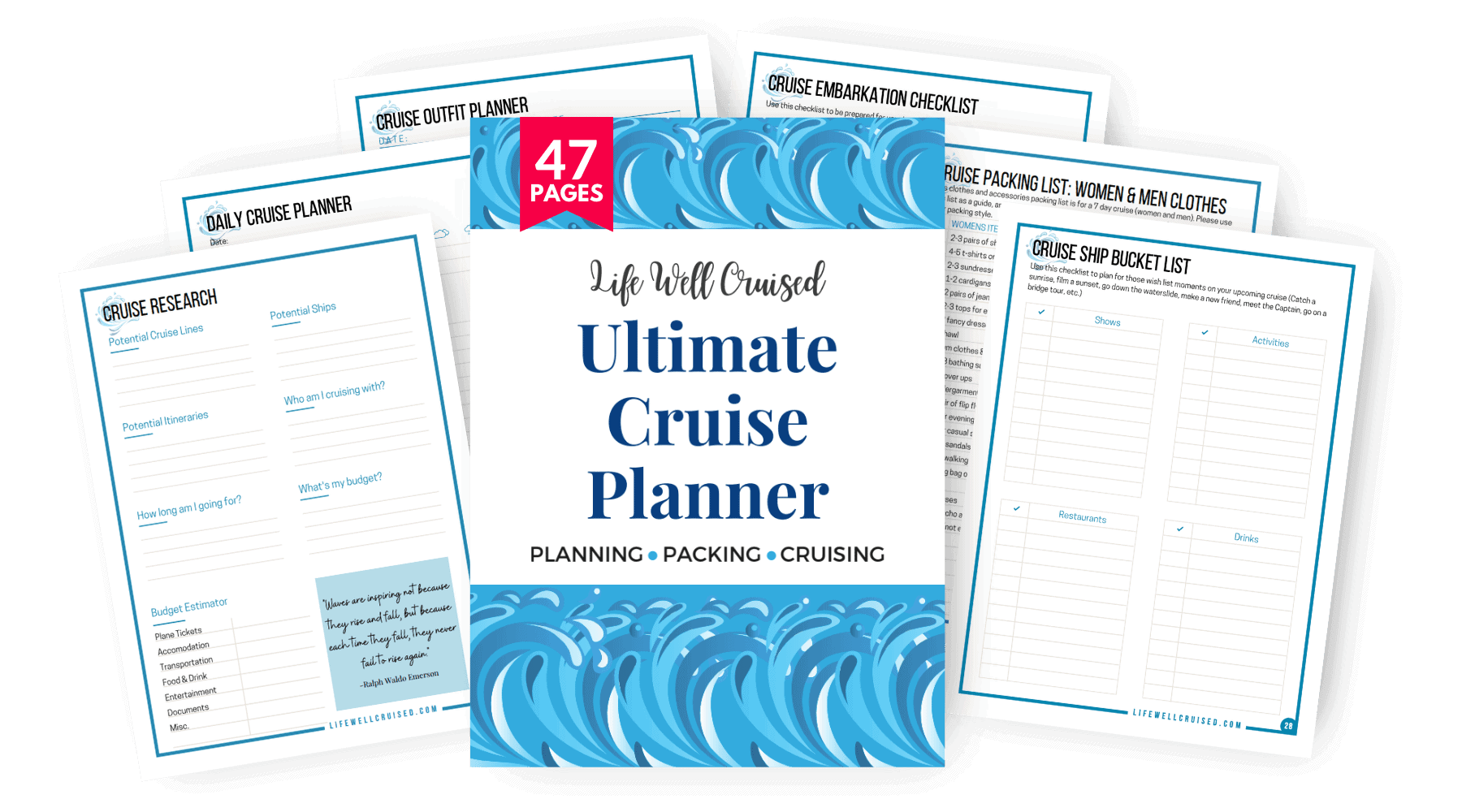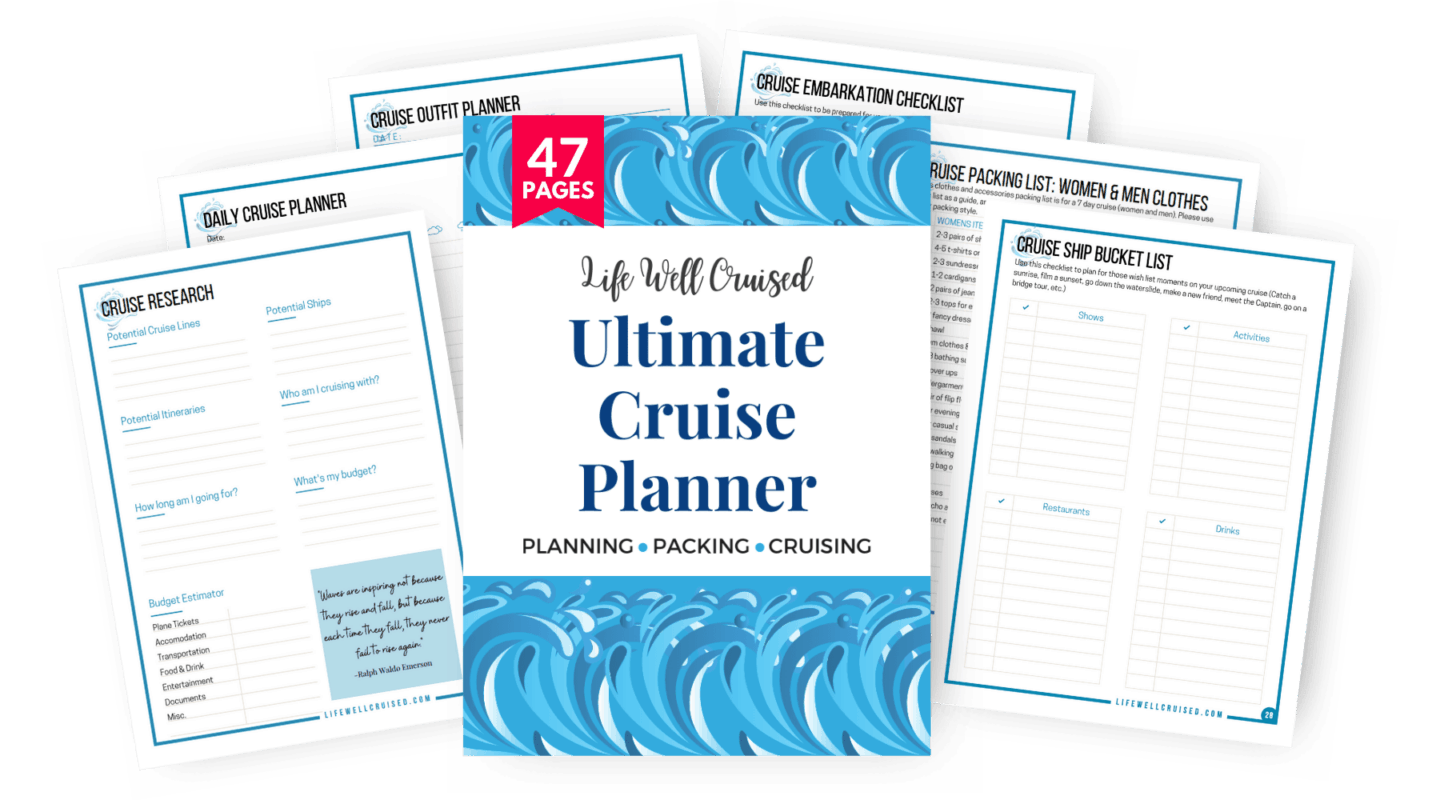 Lemon water
It's a good idea to drink a lot of water on a cruise. However, even better, is to drink lemon water. Lemon water is said to be a natural diuretic, reducing fluid retention. Simply add a slice into your glass or even your water bottle.
Bringing a refillable water bottle is a good way to make sure you drink water often.
I love these refillable water bottles with encouraging messages and reminders to drink more water.
Recommended: Leakproof "Motivational" water bottles (see over 7000 awesome Amazon reviews)
Drink bottled water
Some cruisers report that avoiding drinking the tap water on cruise ships, and instead opting for bottled water has been helpful.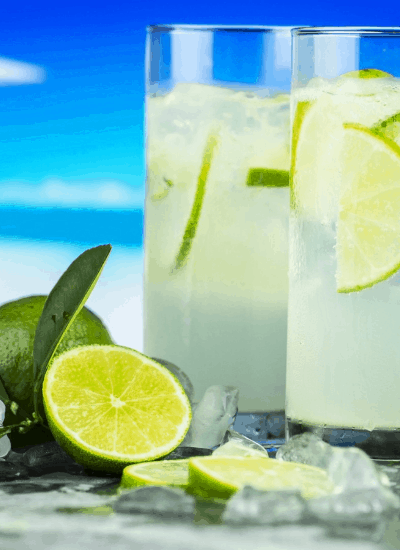 Ask for parsley
Parsley is a traditional remedy for water retention. Many cruise passengers say that eating a bit of parsley has been helpful in managing leg swelling while cruising. Ask your waiter if you can have some extra parsley with your meal each night.
Drink mint tea
Several herbal teas have been touted as helping to reduce fluid retention, including dandelion and parsley teas. However, many cruisers say that mint and peppermint teas have been helpful in so many ways when cruising. From managing bloat and swelling, to easing a queasy "seasick' stomach, if you're a tea drinker, give this a try.
Reduce your alcohol consumption
I drink much more on a week long cruise than I do at home, and I suspect some of the sugary cocktails and other alcoholic drinks contribute to my legs and ankles swelling.
Try and be conscious of how much you're drinking, especially if you've got a cruise line beverage package.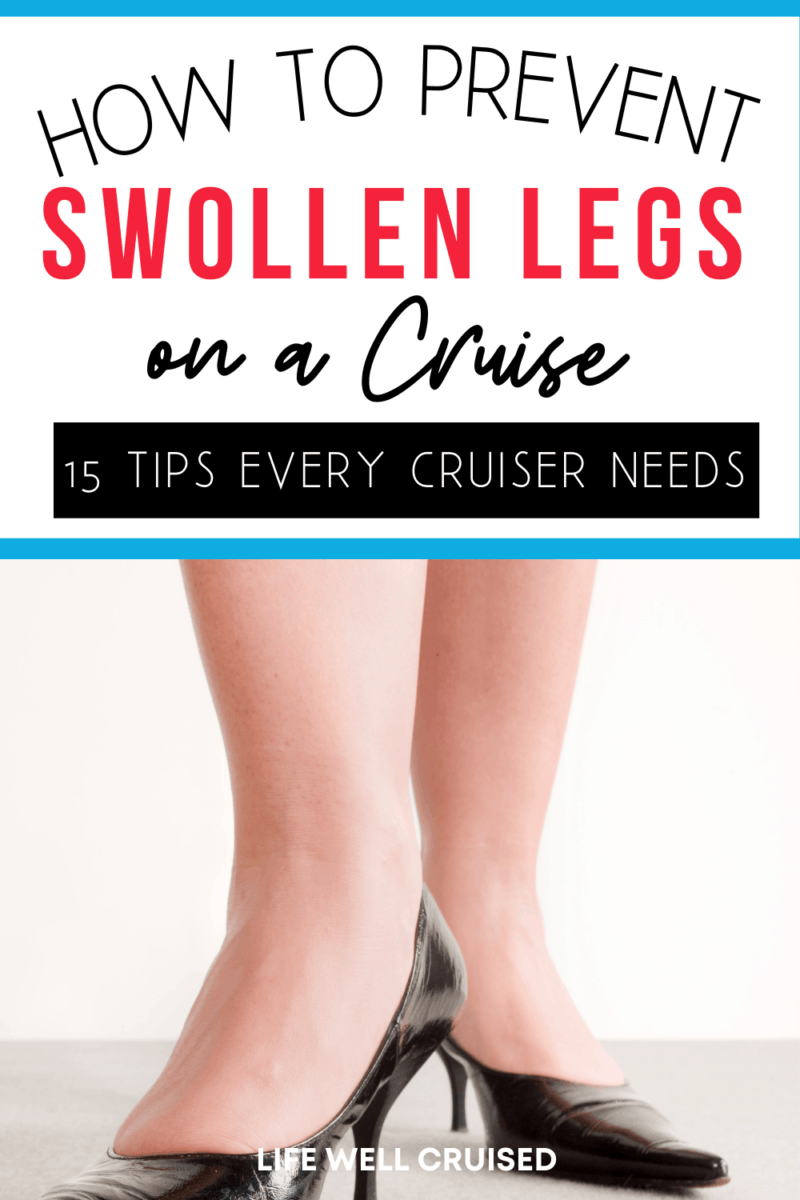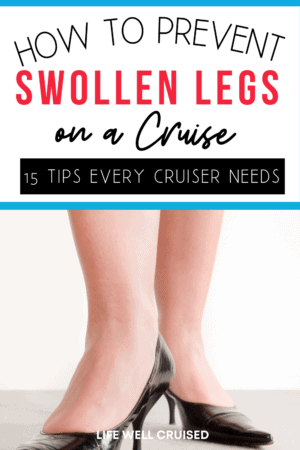 Compression stockings
Compression stockings reduce swelling in the legs, as well as discomfort. While you may not want to wear compression socks during the day, especially on a Caribbean cruise, it can be a good idea to wear them in the evening under pants, or even to sleep.
Wearing compression stockings can be really helpful when flying as well. If your legs tend to swell on flights and on cruises, it's really worth trying.
Recommended: Compression stockings for travel (see color choices & reviews on Amazon)
Go to the sauna
A sauna or steam room can help to reduce water retention. However do make sure to increase your water intake to prevent dehydration.
Be active
Keeping active can help reduce weight gain on a cruise, as well as fluid retention build up in the legs. This doesn't mean that you need must go to the gym or do fitness classes. Even getting up and walking around the promenade deck, taking the stairs or even dancing are great ways to move more and keep fit on a cruise.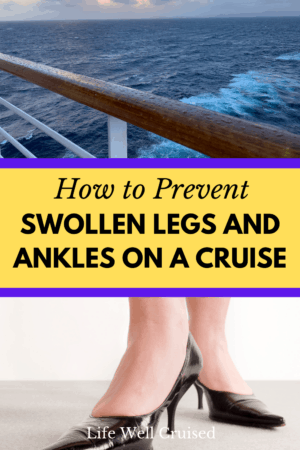 Elevate your feet at night
This handy tip is one I've heard from other cruisers. When going to bed, place a couple of pillows under your feet to elevate them while you sleep. While you may still experience some swelling the next day, it will start the morning off well and reduce the discomfort you may feel.
Massage with aloe
Doing a self massage of your lower legs, feet and ankles will help with circulation and reduce swelling. However, some great tips come from cruisers! Some cruisers report that massaging with aloe vera is the secret!
See your doctor
Some cruisers report seeing their physician and being prescribed medication, such as Laxis, to reduce excessive fluid retention. If this is serious problem for you, make sure to consult with your doctor.
Leg exercise /Yoga pose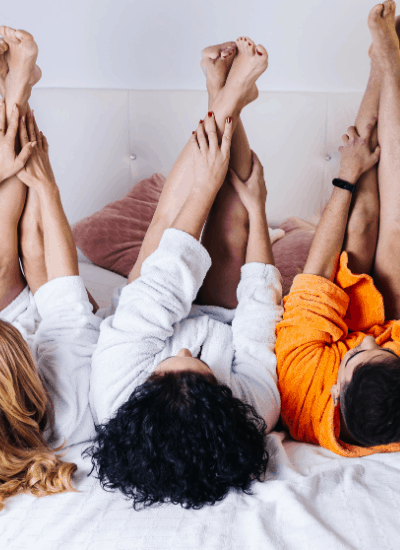 On our last cruise, I met some new friends who would lay on deck chairs with their legs up, and their heads down or flat. After seeing them do this for a couple of days, they told me about how this stopped their legs and ankles from swelling. She was a yoga teacher.
Because I suffered from this moderately on cruises, I tried it. I held my legs up against the back of the lounge chair or against the wall my cabin, while my back was on the bed for several minutes at a time. I did this every day in the morning when I woke up, mid-morning, afternoon and before bed.
Not only did my legs rarely swell up, but when I felt my legs or ankles starting to get puffy, this exercise reduced the swelling fast.
Bring an extra pair of comfortable shoes
This may go against some cruise packing advice which suggests bringing only 3 pairs of shoes, with 1 pair of dress shoes for the evenings. In my experience, if you're concerned about having swollen ankles and feet, you should bring at least one other pair of alternative, comfortable shoes on a cruise.
I like to have a pair of open back, wedge shoes that can still be worn with dresses or pants. These provide a lift for my heal and support my arch, reducing the pressure on my feet and ankles. As well, if my feet are a bit swollen, the open back of the shoe is comfortable.
Eat watermelon and cucumber
Fruits and vegetables such as watermelon, cucumber, celery and asparagus are said to contain chemicals that work as natural diuretics. Fruits and vegetables are plentiful and readily available on a cruise, and a great way to keep healthy when cruising as well.
Get The Ultimate Cruise Planner
Regular price: $27 Now just $17!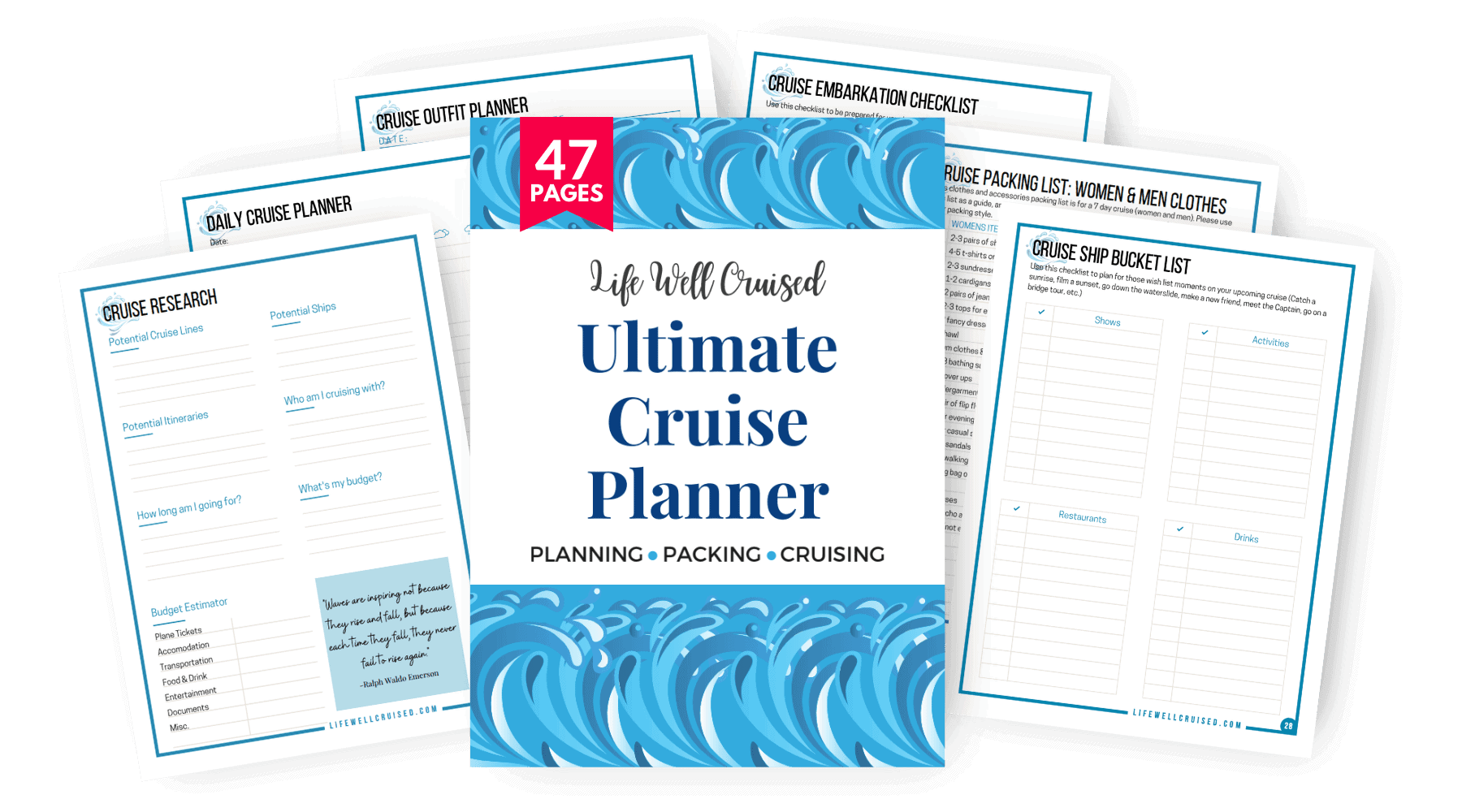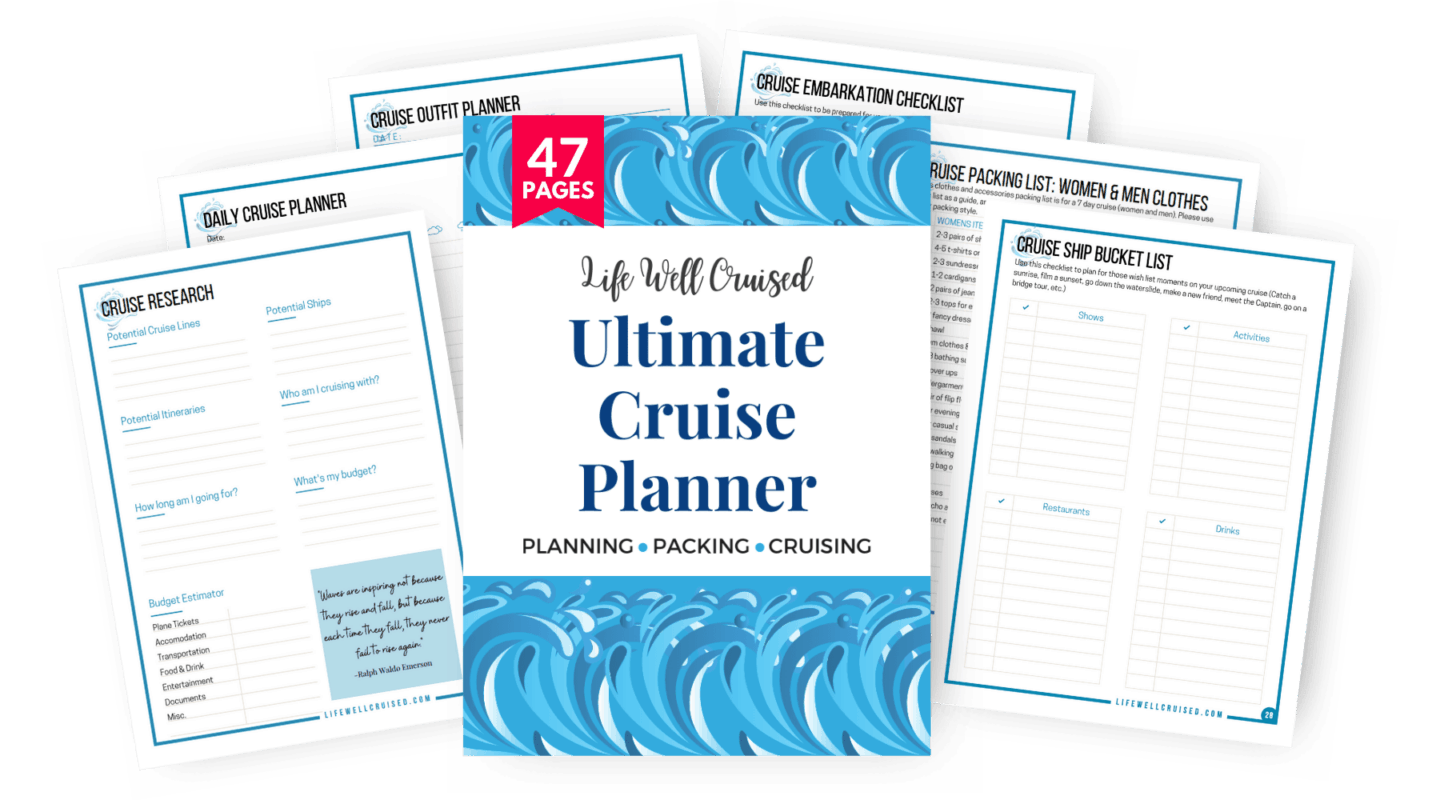 Planning a Cruise? Read these posts next:
25 Cruise Essentials Most Popular on Amazon
How to Prevent Seasickness on a Cruise: 10 Effective Remedies
What to Pack for a Caribbean Cruise
23 Essential Things to Pack in Your Cruise Carry-On Bag
What To Wear on a Cruise Vacation (when dress codes are changing)
Final thoughts: How to Prevent Swollen Legs and Ankles on a Cruise
Getting swollen feet and ankles while on a cruise is not uncommon. Whether it's the excess salt in our diets when cruising or the sea air or water, fluid retention can happen. Many of the natural remedies mentioned in this post will work best in combination. For example, drinking more fluids and avoiding excess salt in foods, plus elevating your legs at night, will yield better results.
Have you dealt with swollen legs on a cruise before? If so, how did you manage it and what products or tips were helpful? Please share in the comments below.
Happy Cruising!
Ilana
P.S. If you enjoyed this post and found it helpful, please don't keep it to yourself ;-). Please share on Facebook or PIN to your favorite Pinterest board (share buttons at the top). Thanks so much!
Let's connect:
Follow me on Facebook at Life Well Cruised
Follow me on YouTube at Life Well Cruised
Follow me on Pinterest at Life Well Cruised
Follow me on Instagram at Life Well Cruised