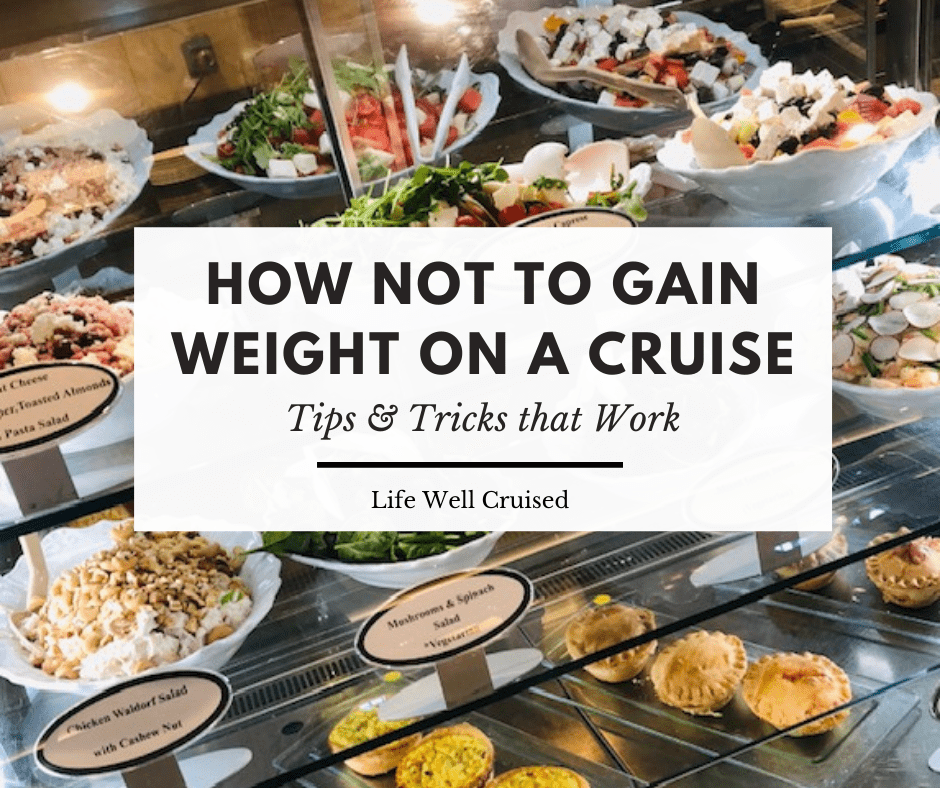 Are you wondering how not to gain weight on a cruise, while still enjoying cruise food and occasional drinks? Many cruisers say they put on about a pound a day on a cruise. However, this doesn't have to be the case.
I've been on several cruises, and have definitely struggled with this over the years. I love cruise food, but hate the idea of undoing any healthy habits I've developed, especially if I've worked at getting in shape and losing weight before my cruise.
In this post I share real, practical tips of how you can avoid bigger weight gains, as well as bloating and swelling during your cruise.
Please note that I am not a nutritionist and this is not medical advice. This article is based on my personal experience along with tips shared from other cruisers.
This post contains affiliate links which means if you click and buy that I may make a commission, at no cost to you. Please see my disclosure policy for details.
As an Amazon Associate I earn from qualifying purchases.
How to Avoid Gaining Weight on a Cruise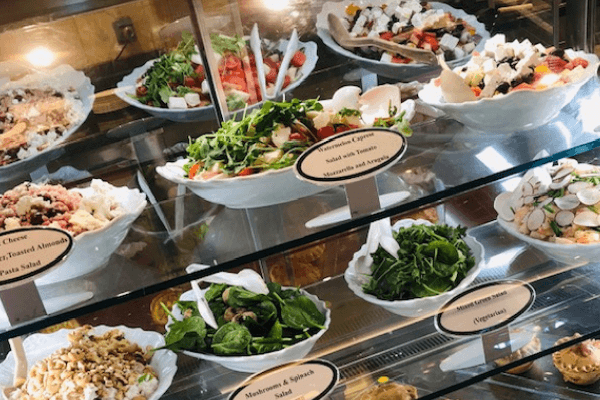 Even though cruising is know for its decadent and plentiful food, there are many ways to avoid gaining weight on a cruise, if this is your goal. These days I don't stress too much about it, however I try to do a few simple that feel good to me.
I hope some of these tips can be helpful. I'm still learning new tips, trying new food options and different activities on a cruise.
1. Take the Stairs When Possible
Take the stairs while cruising, and avoid the elevator whenever you can. Although this may not be new advice, I truly believe that taking the stairs most of the time, really helps to avoid weight gain on a cruise.
It's a good idea to choose a cabin strategically when booking your cruise. For instance, if you know you'll be going up to the Lido deck to the pool and buffet a couple of times a day, book a cabin that's 2-3 decks below. This way, you'll be able to walk up and down those stairs several times a day.
If you take the stairs instead of the elevator, you'll definitely burn some of the extra calories of the delicious cruise food.
2. Opt for Fresh Fruit, Veggies and Lean Proteins
Even though the food on cruises is plentiful and delicious, it's very possible to eat pretty healthy on a cruise. In fact, even in the cruise ship buffet, the variety and selection of fresh fruit and salads is amazing.
While you can definitely indulge in some decadent desserts and rich main dishes, try to eat and enjoy the fresh fruits, vegetables and lean proteins as much as possible. As an example, in Princess Cruises International Cafe, there is a delicious cold shrimp salad. This is so good on top of a bed of spinach.
For breakfast, opt for hard boiled eggs or a hearty veggie packed omelet. You can pair this with half a grapefruit, a bowl of fruit or a grilled tomato. You can even get a white egg omelet prepared if you enjoy this.
3. Go for a Morning Walk or Jog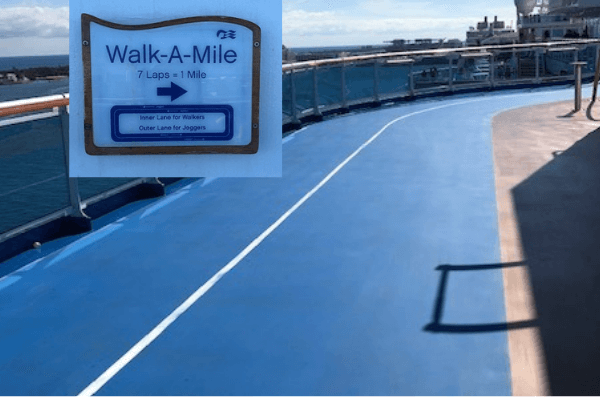 If you can add more movement to each day, this will really help you to avoid gaining weight during your cruise. One of the easiest ways is to walk around the cruise ship. Of course, you can walk around the inside, even going deck by deck. However, there are better places to walk on a cruise ship, that will come with an incredible ocean view!
Head up to the ship's jogging track and walk or run. The jogging track will let you know how many laps make a mile. Set a goal for yourself like walking 3-5 miles a day.
If you prefer a more leisurely pace, walk along the cruise ship's promenade deck. It's a great place for a stroll in the morning, evening and even at night after dinner or a show.
4. Join a Class at the Gym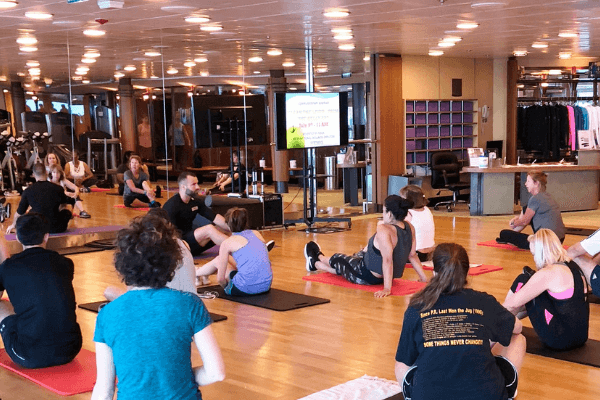 Even if you don't usually do classes at the gym, a cruise is a great time to try new things, so why not? Cruises have classes offered a few times each day, so you can pick the one you're most interested in.
Even if your intention is not weight related, this can be something really fun to do.
I really enjoy the morning stretching classes. You may enjoy the spinning or pilates class. There are fun cardio classes as well!
Something to note is that some classes are included, while others may have an additional charge of $10-15 per class. You'll be able to see this when you sign up.
5. Watch Your Drinks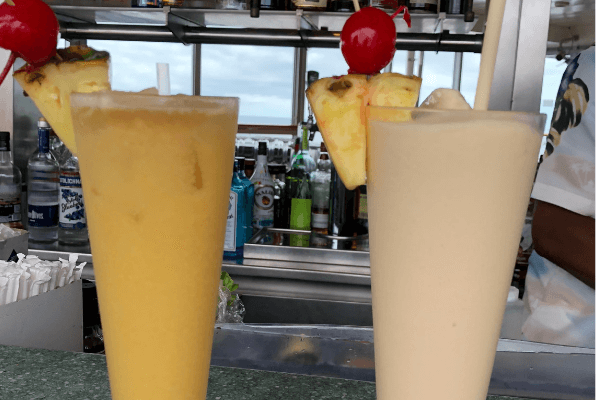 Cruise drinks can pack a lot of calories. Unfortunately, those liquid calories can really add up. I've dealt with swollen ankles on some cruises, and I've noticed this seems to affect me.
Drinks to watch out for are high calorie drinks like Pina Coladas, Daiquiris and Mudslides. I love these, but some have more calories than a milk shake at a diner. If you love them, like I do, try and limit yourself to one a day or less than usual.
If you drink alcohol, try to opt for lower calorie drink options most of the time. A Mojito or Malibu Bay Breeze is a better option than the frozen concoctions. A glass of white or red wine is lower in calories than most mixed drinks.
Did you know that champagne only has about 80-90 calories a glass? Consider a glass of champagne before or after dinner instead of a decadent dessert martini.
Get The Ultimate Cruise Planner
Regular price: $27 Now just $17!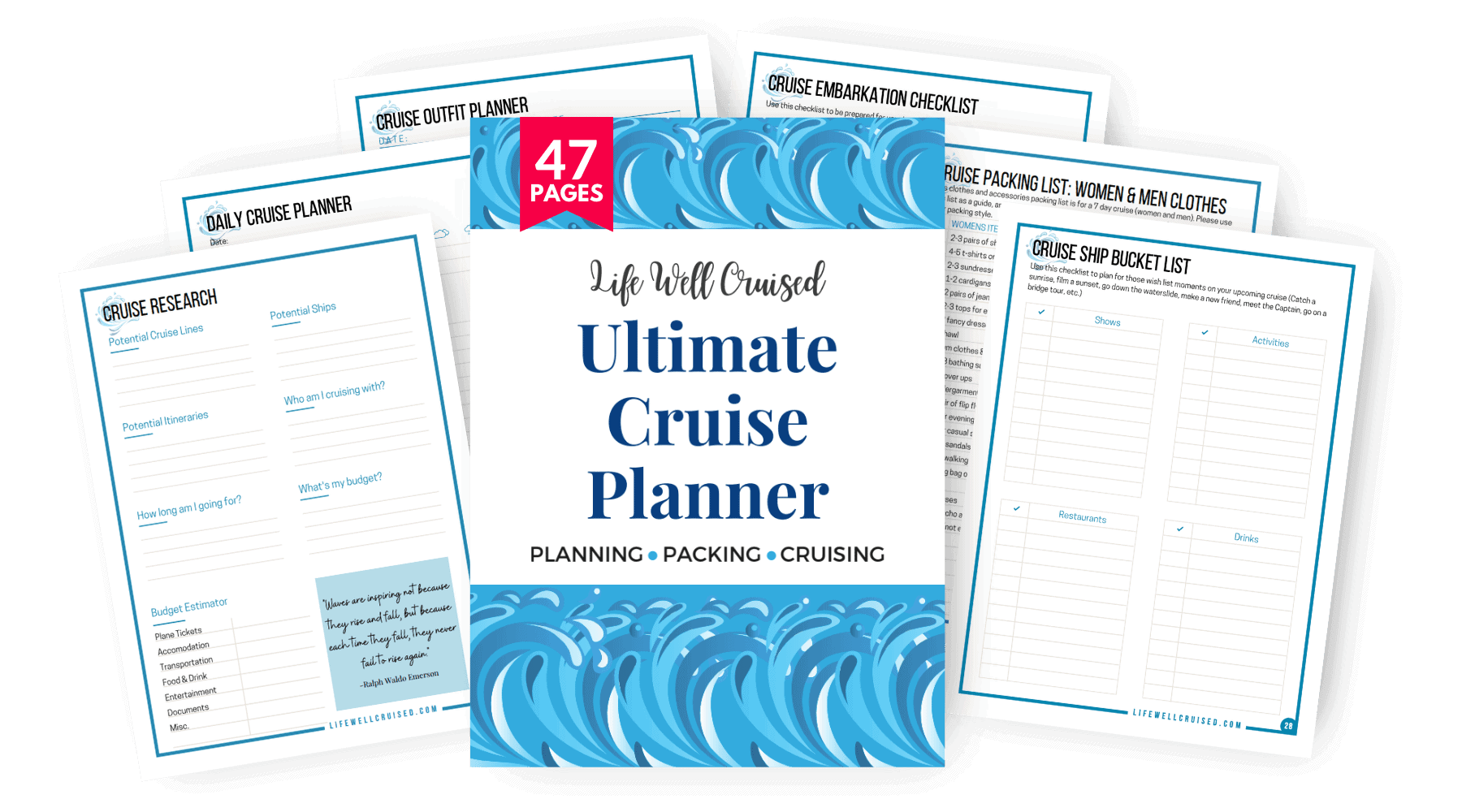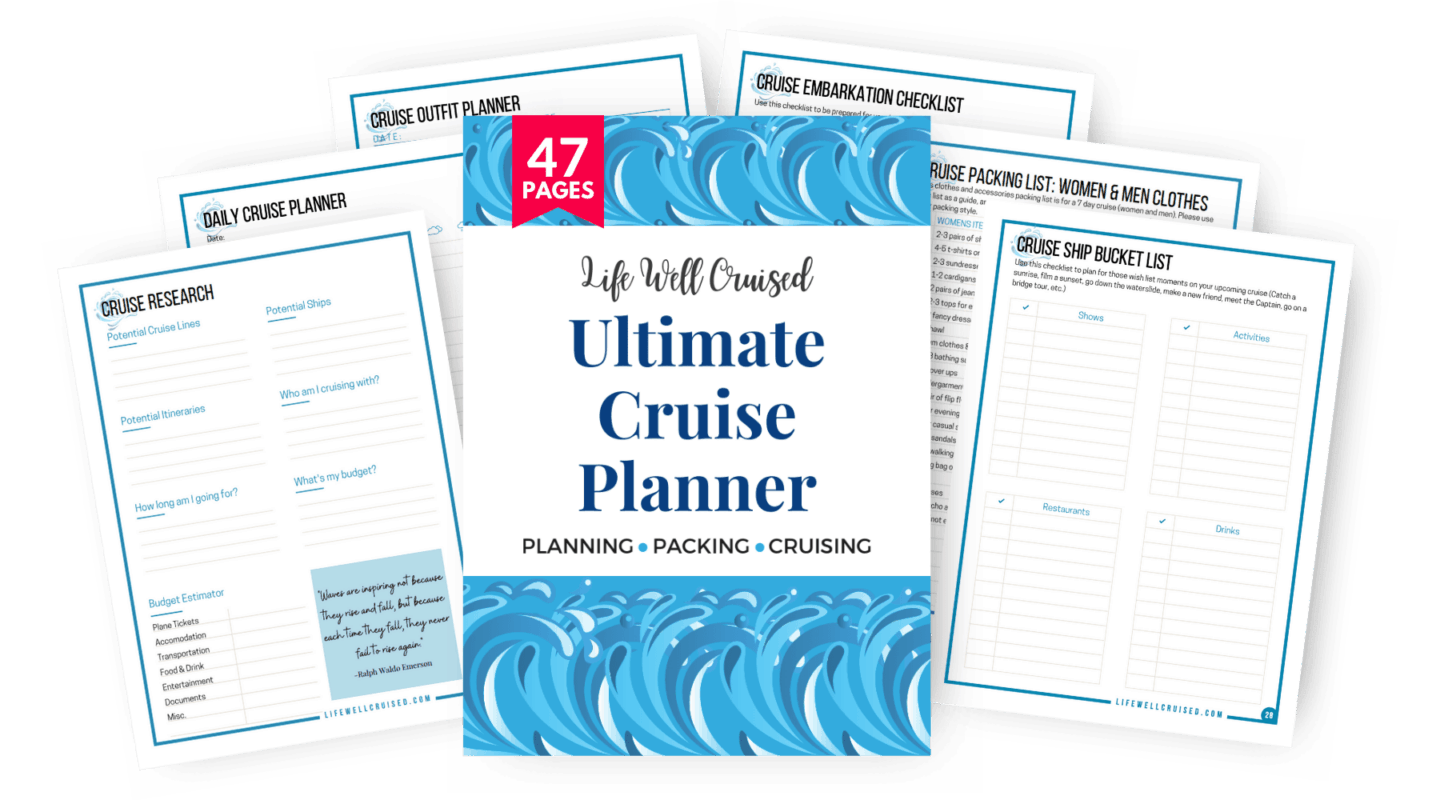 6. Skinny Drink Hacks
Here are a few skinny drink hacks or tips to have lower calorie drinks on a cruise. Remember that you don't need to order a drink from the bar menu, and can ask the bartender to make any drink you like.
This "skinny mojito" drink can be made with or without alcohol. Ask the bartender to use diet sprite rather than a sugar or simple syrup. Adding a flavored rum like mango or coconut rum really enhances the taste. The mint and lime will be fresh and tasty, and make a great lower calorie cruise drink.
You can also use soda water as a base for any drink, and ask for lemon or even orange slices to add flavor. Another lower calorie drink I like is a "skinny malibu". Ask the bartender to use diet sprite as a base, add coconut rum, then a splash of pineapple juice. If you have a couple or even a few drinks a day the calorie savings add up!
Related: 75 Genius Cruise Hacks and Tips: Get Organized, Save Money, Cruise Better
7. Do an Active Shore Excursion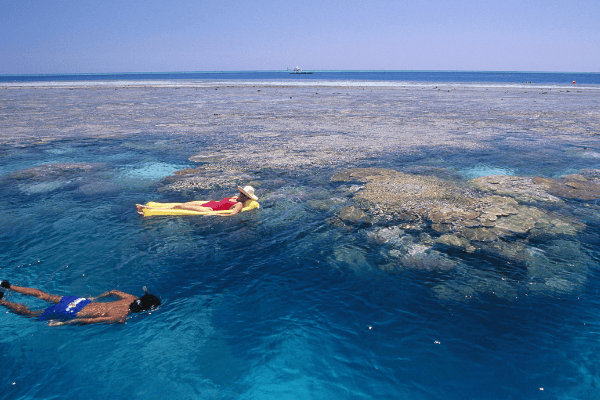 Cruises don't have to be sedentary vacations. If you like to keep active, consider booking a hiking, kayaking or even a snorkeling shore excursion.
You may want to try something new during your cruise, or choose an activity you already enjoy. Even walking around the cruise port or choosing a walking tour adds so much movement and activity to your days. Ladies, shopping counts 😉
8. Use a Step Counter
It's amazing how wearing a Fitbit or an Apple watch really does encourage us to take more steps and be more active. One of the best ways to not gain weight on a cruise and still eat and enjoy all the delicious cruise food, is to be active.
Of course, this doesn't mean that we have to do strenuous exercise. On a cruise it's possible to walk anywhere from 10,000 up to 30,000 steps a day, when including walking in cruise ports. Add the stairs if you can take them, and this really makes a difference.
I've had a FitBit in the past, and recently got my first Apple Watch. I'm excited to use it on my next cruise!
9. Better Restaurant Food Choices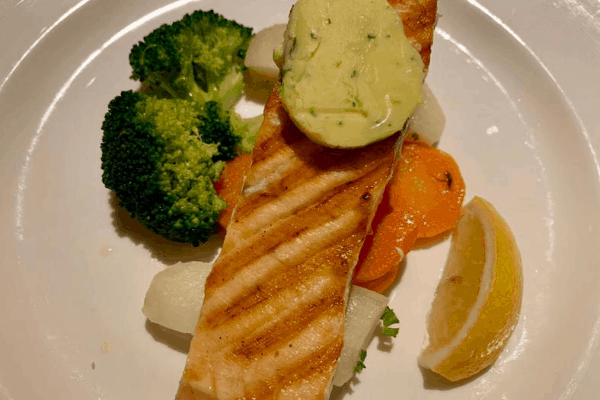 Here are a few tips for when eating in the main dining room and specialty restaurants:
Skip the bread basket
Unless you love bread and rolls, ask your waiter not to offer them to you each night. If you have the same waiter each night during your cruise, he'll remember and it just makes things easier.
Opt for healthier menu options
On the menu, you'll always find at least one "heart healthy" option. This usually means that the meal is prepared with less fat or butter, and is generally lower in calories than other options. If the meal appeals to you, give it a try.
Even if you don't see this, you can ask the waiter if it's possible to prepare the meal with less butter, oil or cream. You can ask for additional vegetables as well.
Order an appetizer as a main dish
If you love an appetizer, ask to have this as a main dish with a side salad. This is especially good if you've already eaten a lot during the day and aren't especially hungry.
Ask for an appetizer size main dish, rather than the full size. On Princess Cruises, I love the Fettuccini Alfredo. However, the main dish size is quite large and quite rich. The appetizer size with a salad is just perfect.
Split a dessert
Feel like a dessert after dinner? Try splitting one with your spouse or friend, or eating just half.
Order fresh fruit
Another tip is to order fresh fruit as a dessert, as you order your main dish. You can ask the waiter not even to show you the dessert menu if you've decided that you'll enjoy the fresh fruit after the meal.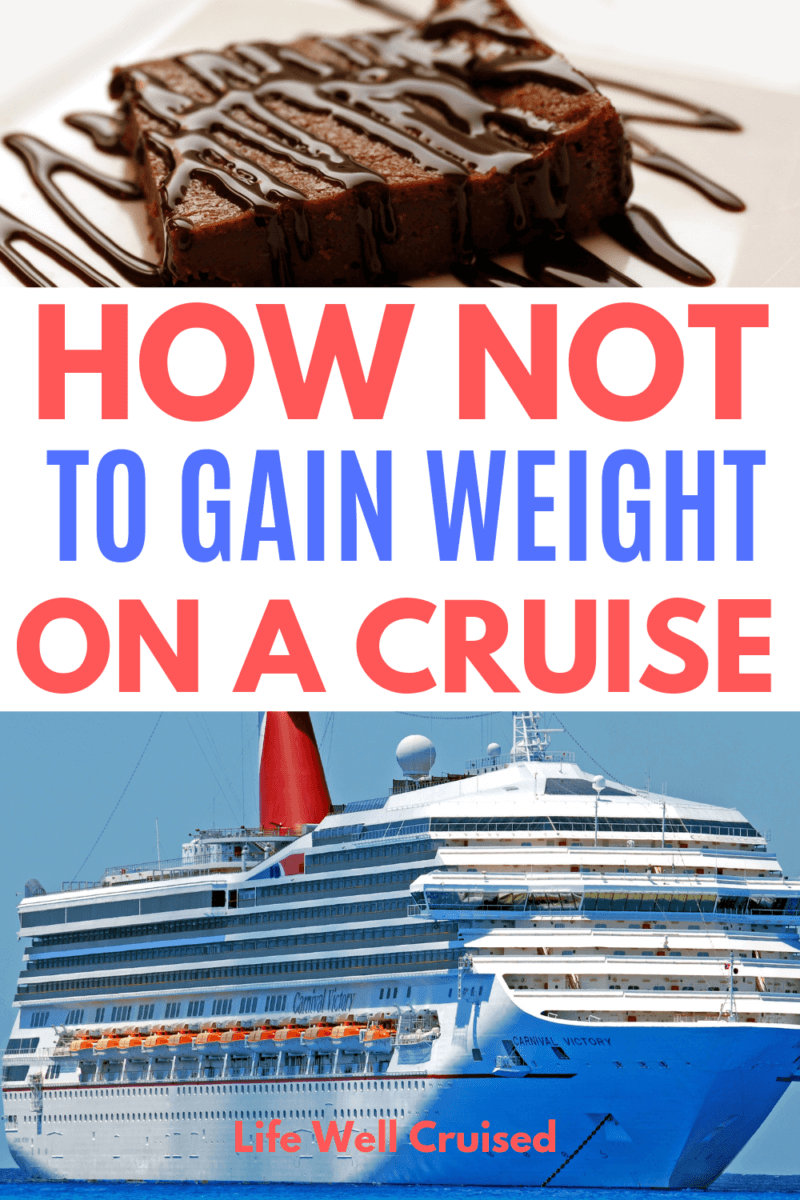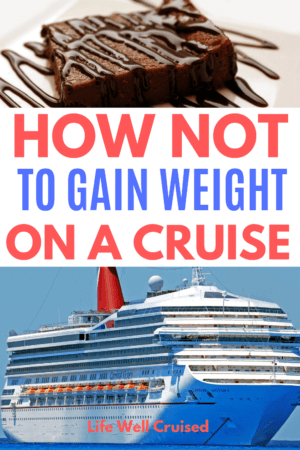 10. Work Out at the Gym
While you can walk outdoors or take classes, you can also work out at the gym anytime from early morning through late at night. If you enjoy walking on a treadmill, using an elliptical machine, bicycle or weights, you'll love the cruise ship fitness centre.
Most of the time, the gym is located at the front of the cruise ship and the view is just incredible! Even 30 minutes of activity at the gym really adds up!
11. Drink Water
It's really important to keep hydrated on a cruise by drinking water. Even better, if you add lemon to your water it can help to reduce swelling and bloating on a cruise.
It's a good idea to bring along a refillable water bottle for sea days on the cruise ship and to pack for shore excursions.
See on Amazon: Britta filtered water bottle (26 oz)
Read more: How to Prevent Swollen Legs and Ankles on a Cruise
12. Follow the 80/20 rule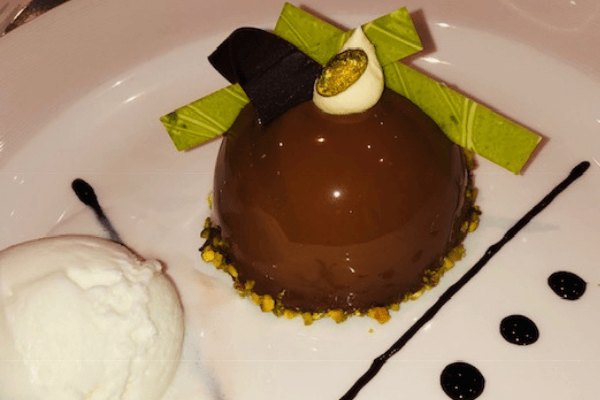 Yes, you can eat your dessert, have some wine, and eat the pizza. Just not all the time.
As a suggestion, when it comes to food on cruises, try to follow an 80/20 rule.
80% of the time, eat in a "healthy" and moderate way. However, you are on a cruise and there are some delicious foods and drinks, and you may want to indulge with some favorites.
I like to make a few choices that work for me. We're all different, and what might be important to me, might be less important to you. There are always so many choices so you can see what works best.
Personally, I enjoy eating more sensibly at breakfast and lunch, and enjoy splurging at dinner. I also love some dessert, although I may choose to eat just half, sometimes.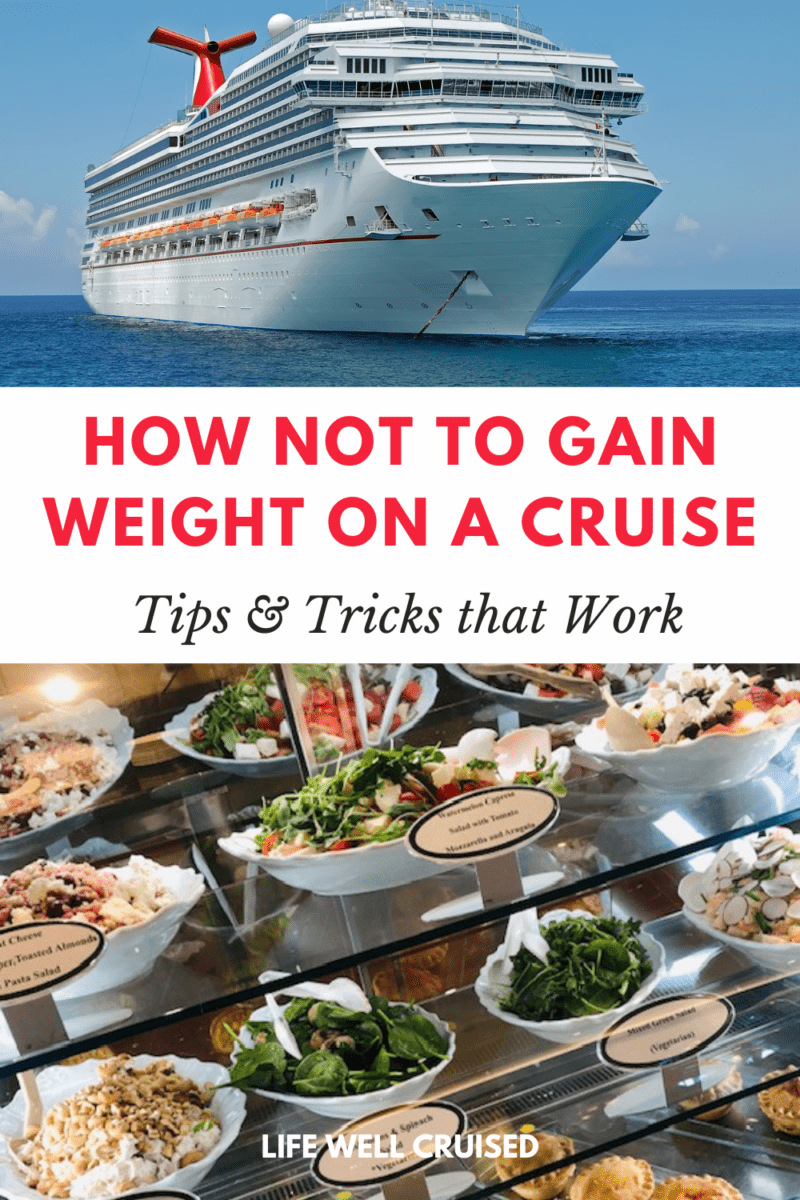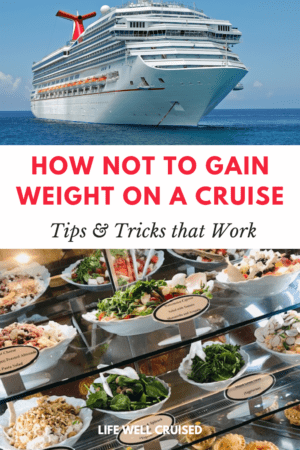 13. Eat in the Spa Cafe
Lucky for us, cruise ships are now offering some healthy and delicious food options, which makes it easier than ever to avoid putting on weight during our cruise.
Most cruise ships will have a healthier spa cafe or something similar, where you can get nice salads and sandwiches, vegetarian and vegan options and more. On Celebrity Cruises the Spa Cafe has appetizing choices, as does Royal Caribbean's Solarium Café.
14. Go Dancing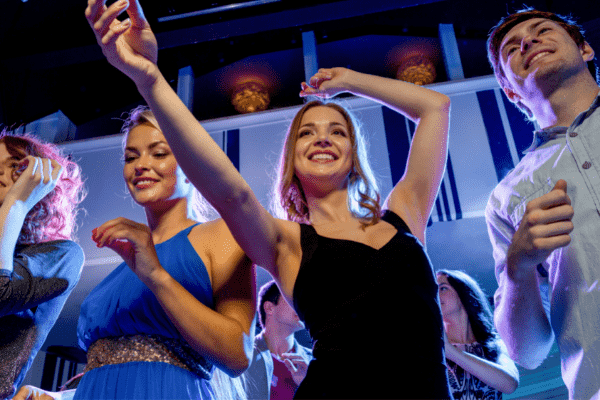 Do you love to dance? Why not go dancing at night during your cruise or take a dance class during the day? If you enjoy line dancing by the pool or doing the cha-cha slide, remember that you can eat more if you participate.
15. Play a Sport
Whether it's playing in a game of pick up basketball on the sports court or playing a game of mini-golf, there are many sports that you can do on a cruise ship! You can even climb on ropes course on some Carnival and Norwegian cruise ships. Why not go rock climbing or ice skating on some Royal Caribbean cruise ships?
When you book your cruise, make sure it has the types of activities that you'll enjoy, so that you're more likely to be active.
Get The Ultimate Cruise Planner
Regular price: $27 Now just $17!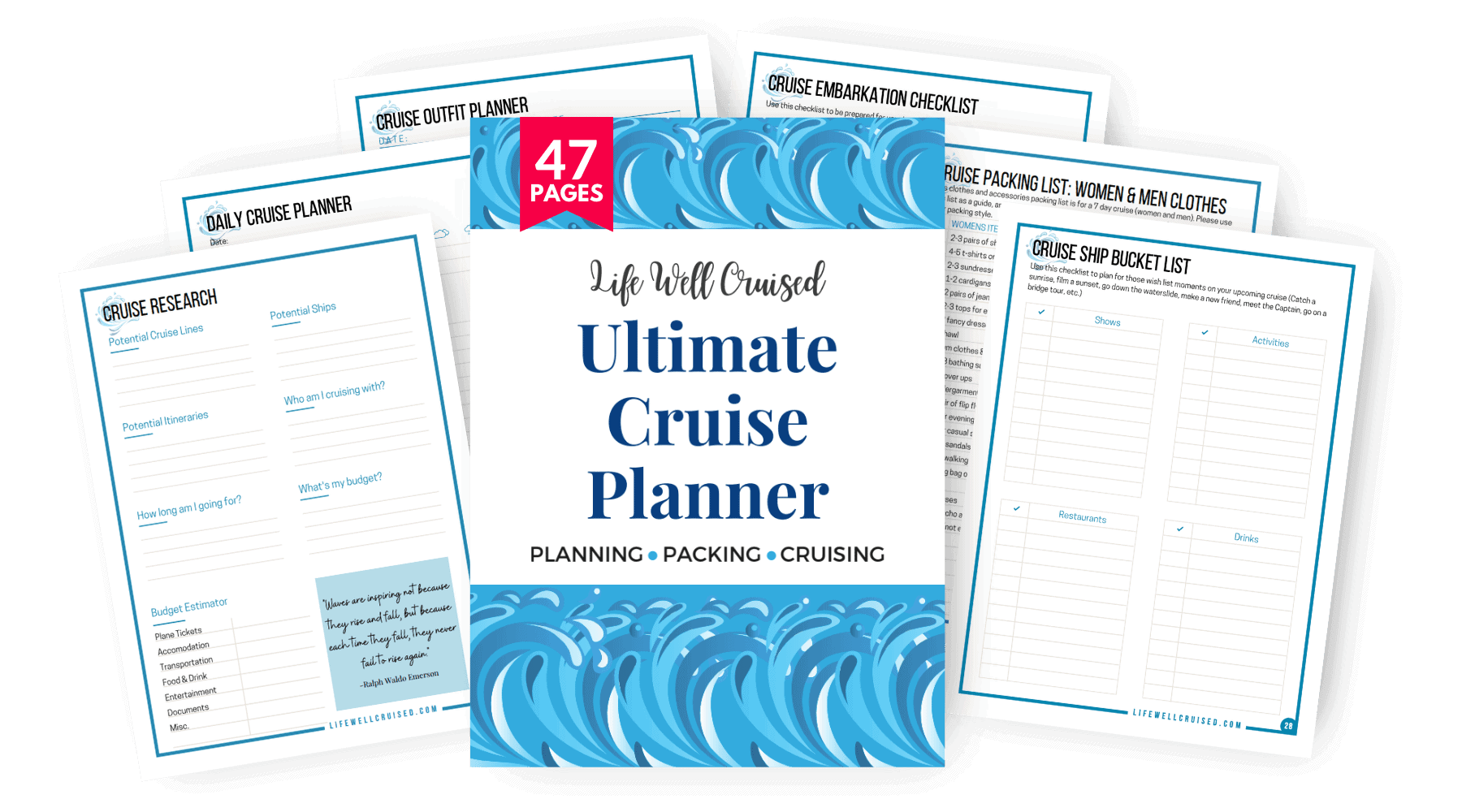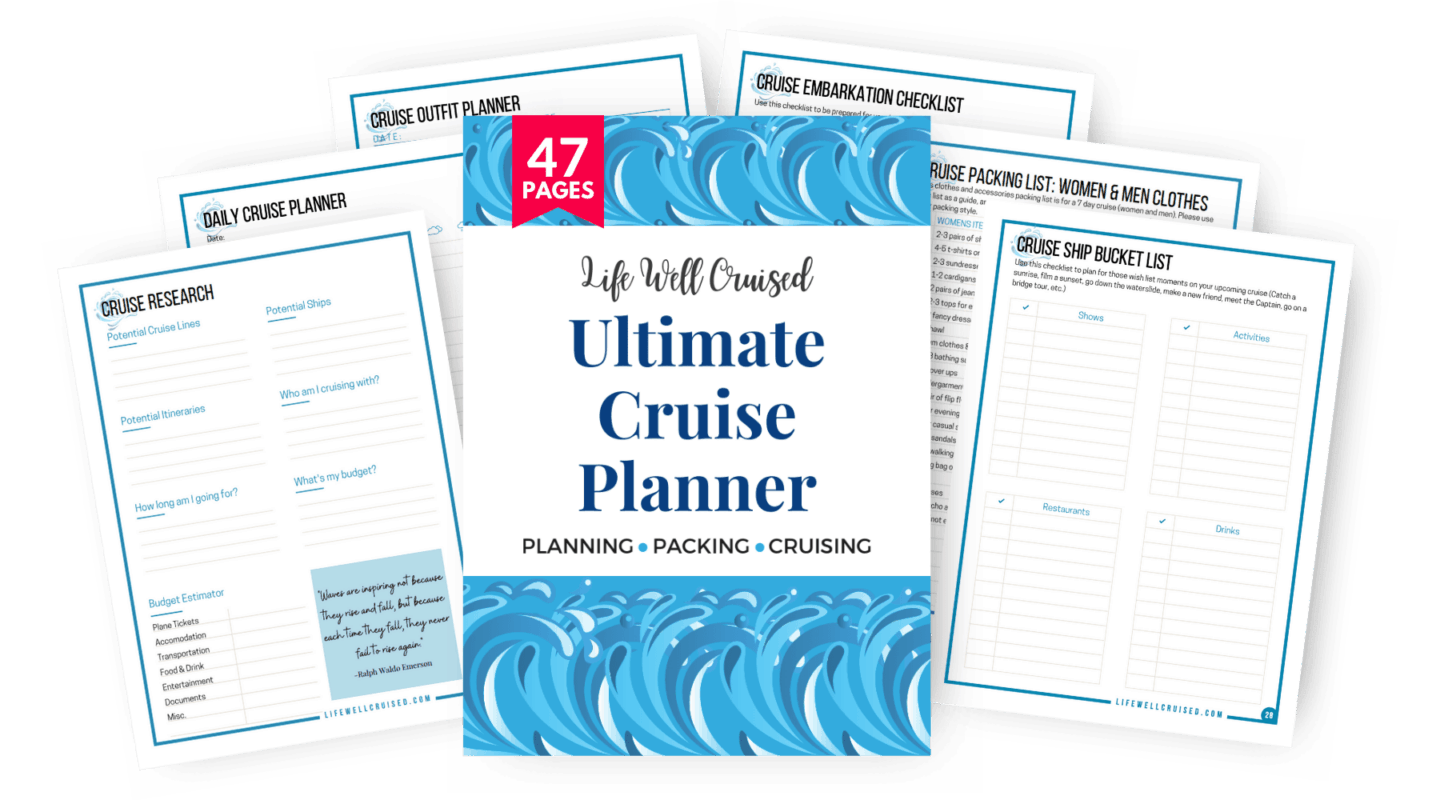 16. Mindset
Perhaps this one should be at the beginning, but I see it as a bit of a bonus tip. Mindset is more important than we give it credit for. We don't need to eat large quantities of food to enjoy it. We also have to free ourselves from the idea that because we paid for it, we need to get our monies worth.
I know I have difficulty with this when I go to a buffet restaurant at home. If you know that you may feel this way, consider the other things you get to do on a cruise that are included and that you paid for, including the exercise, dance classes and opportunities to explore the cruise ports of call!
Video: How to Avoid Gaining Weight on a Cruise
Here's a video with even more tips on maintaining your weight or not gaining weight during your cruise. You'll also hear some tips on how to reduce swelling and bloating.
Popular & Related Posts:
Holiday Gift Guide for Cruisers 2021-22
50 Most Recommended Amazon Cruise Essentials
17 Worst Cruise Ship Cabins to Avoid
What to Pack for a Caribbean Cruise
Final thoughts: How Not to Gain Weight on a Cruise
If you're going on a cruise and want to avoid gaining weight, you're not alone. Even though cruises have great food and drinks, there are many ways to keep from putting on weight. In this post we went over some tips to keep active during a cruise, which burns calories. As well, we shared tips on how to enjoy cruise food, but also make some healthier choices.
Do you have some tips and secrets that you've used to keep weight gain to a minimum? Please let me know in the comments below.
Happy cruising!!
Ilana
P.S. If you found this helpful, please don't keep it to yourself ;-). Please share on Facebook or PIN to your favorite Pinterest board (share buttons at the top). Thanks so much!
Let's connect:
Follow me on Facebook at Life Well Cruised
Follow me on YouTube at Life Well Cruised
Follow me on Pinterest at Life Well Cruised
Follow me on Instagram at Life Well Cruised