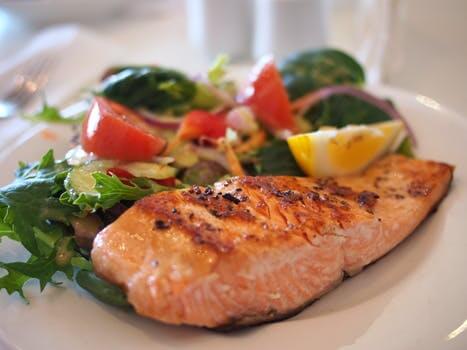 How you can avoid gaining weight on a cruise (and still eat dessert)
If you're anything like me, you may try and lose a little weight and get into shape before your cruise. The thing we don't want to do is put it back on, in just a few days. With all the delicious cruise food on board, is it even possible to not gain weight on a cruise (and still enjoy)?
So let's be real. If you love cruise food, (and who doesn't?), you are dreaming of some of the great food and drinks on board the cruise ship.
I've been on many cruises over the years and I still get excited about the cruise… and the cruise food. Seriously, I have a guilty pleasure. I will search the web and watch you tube videos of… you guessed it – Food Porn.
Carnival's decadent chocolate Lava Cake, Princess Cruises "to die for" Fettuccine Alfredo and Royal Caribbean's famous Central Park Roast Beef sandwich, just to name a few.
Let's face it, eating well during a cruise vacation is a major benefit of cruising. However, I also know that I do NOT want return from my cruise 10 pounds heavier.

Here are 7 ways to not gain weight on a cruise, when you love food!
These tips have personally helped me to keep weight gain to a minimum while cruising. Over the years, I've gotten better at making smarter choices and keeping a few healthier habits.
1. Take the stairs
Take the stairs while cruising, and avoid the elevator. Although this may not be new advice, I truly believe that taking the stairs most of the time, really helps to avoid weight gain on a cruise.
I don't mean one flight either. My husband and I take the stairs most of the time when we're on a cruise. Sometimes, we'll take a break halfway up, but we definitely climb a few flights of stairs, several times a day.
This extra movement really adds up. Just imagine if your cabin is on Deck 10 and the pool deck and buffet are on Deck 14. Each and every time you go up or down, take the stairs. If you do this throughout your cruise, the calories burned and the unintentional "cardio" will really have it's benefits!
This one daily habit you do 80-90% of the time will allow you some wiggle room to indulge in some of your favorite meals, desserts and drinks.
2. Work out at the Cruise Ship Fitness Center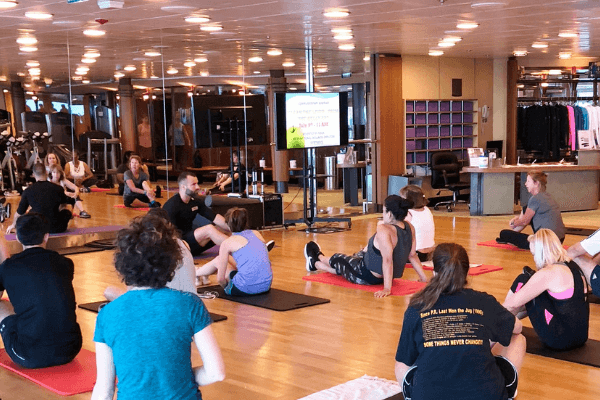 Have you seen the fitness centers on most cruise ships? They have quality machines and equipment, and I can tell you, all have been nicer than my local gym at home.
Plus, the gym is usually in the front of the ship comes with an inspiring view of the sea. That's absolutely motivating for me!
Exercising 30 minutes to an hour each day will help to keep you active and burning calories. It will also help you make better choices when it comes to food, and this is equally as important if you want to not gain weight on a cruise!
If you don't work out regularly, why not set up a schedule and try fitting in working out in the early morning or perhaps in the late afternoon? Even if you're new to the gym, you can walk on the treadmill for 30 minutes at your own pace.
Cruise ships also offer fitness classes. I suggest visiting the gym on the first day of your cruise and checking out the classes to see which are of interest so you can schedule a couple.
Just because you're not gym class person (I'm not), doesn't mean that you shouldn't do a class when cruising. One of the great things about cruising is the chance to try new things. So, why not try something new that you've always wanted to try?
I've done stretching classes on the last few cruises and it was such a great way to start the day! Last year, a friend and I did cardio kick-boxing on a cruise. I never would have done this at home, but it was so much fun!
Trying out a new class or exercise is a great way to recharge on your vacation and once again, it will help keep some extra pounds away! You may even go home with a new good habit, and wouldn't that be a bonus.
To quote Princess Cruises, perhaps you'll "Come Back New".
3. Use the cruise jogging track and walk some miles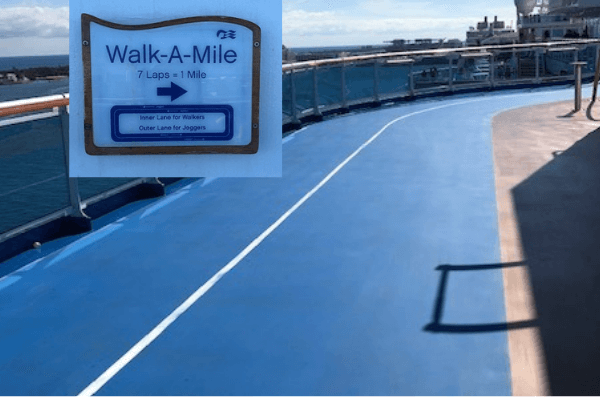 Most cruise ships have a large walking track either on the top deck or on the Promenade Deck. Why not take a break from the activities or from relaxing in the sun, by walking for 30 minutes or more a day?
A short anecdote:
This is a funny and true story. We were on a cruise about 10 years ago and met a fabulous couple who loved to cruise AND loved to eat and drink. They walked several hours a day. Every time I wanted a walking partner I knew where I could find one. This was a bit extreme, but it sure works.
I have to say, I am what I like to think of as balanced (some drinking, some eating, some exercise, some sun, some sleep, repeat) although some days I have more success at this than others.
If I don't go to the gym in the morning, I may walk or run on the jogging track as I just love to be outdoors, especially in the early morning.
My husband and I especially love our walks along the jogging track on sea days. It is a great chance to talk together and enjoy the ambiance of the ship and sea. We don't always walk super quick, but all the movement helps.
4. Keep active with cruise port excursions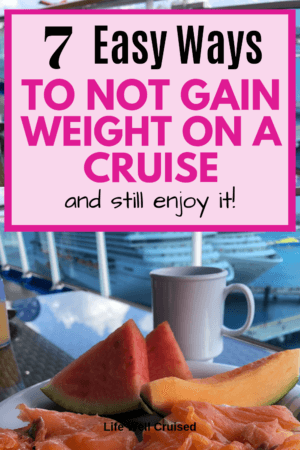 Whether you decide to walk up and down the beach, go snorkeling, or even choose a more strenuous activity like cycling or kayaking, these fun activities will keep you fit during your cruise!
Even if you don't book an excursion, if you enjoy sightseeing or hanging out near the cruise port, walk as long and as far as you can. We've been shocked at how many steps we've managed to get in on a port day. Walking several hours in a gorgeous destination beats a work day back home, right?
I encourage you to choose at least 1 excursion during your cruise that is active and outside of your comfort zone. Not only will it help you to NOT gain weight on a cruise, it will be a great experience and one that will help make this cruise vacation memorable.
5. Make some smart food choices, 70-80% of the time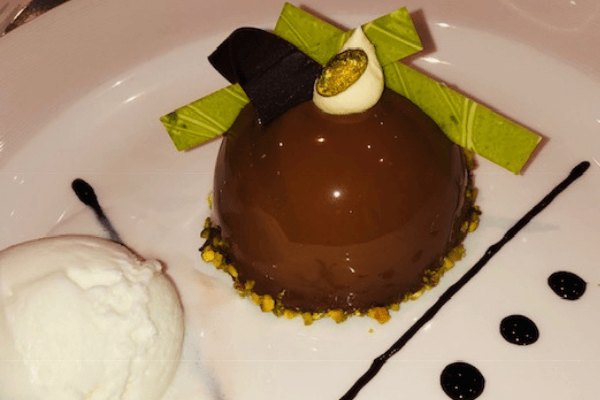 Yes, you can eat your dessert, have some wine, and eat the pizza. Just not all the time.
Of course getting movement and exercise in really helps to not gain weight, however the reality is that choices do need to be made. None of us can eat like it's an "All You Can Eat Buffet" for 7 days or more and NOT gain weight (oh how I wish).
In reality, eating too much junky food doesn't really feel good anyway, so we are better off with healthier choices most of the time. Lucky for us, cruise ships are now offering some healthy and delicious food options, which makes it easier than ever to NOT gain weight on a cruise ship.
For instance, on Royal Caribbean ships, you can try out the Solarium Café for a lighter buffet lunch featuring delicious salads as well as vegetarian fare. Most cruise lines also offer heart healthy main dish and dessert options in the dining room and restaurants in the evening.
I like to make a few choices that work for me and I encourage you to do the same. We're all different, and what might be important to me, might be less important to you. There are always so many choices so you can see what works best.
Personally, I enjoy eating more sensibly at breakfast and lunch, and enjoy splurging at dinner. I also love some dessert, although I may choose to eat just half, sometimes.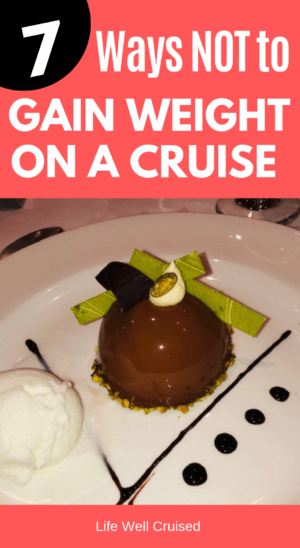 Eating suggestions if you enjoy keeping to lighter daytime meals:
Breakfast: If you like, you can always have eggs made to order, including egg white omelettes. Combine that with fresh fruit for a great start to the day. You may enjoy non-fat yogurt with fruits, or even a spoonful of peanut butter and a banana.
Lunch: There are some great protein choices like chicken, fish, eggs or legumes to go along with a colorful salad.
Dinner: If you love fine dining, indulge in wonderful pasta, meat and seafood dishes at dinner but skip the bread. Love dessert? Eat only half or try one of the sugar free desserts.
Practical Tips for Healthier Eating on a Cruise
*Eat meals in the dining room when possible, rather than the buffet. Portions will be ore reasonable and controlled.
*When in the buffet, look for the delicious array of fresh fruit and load up half your plate with berries and melon (or your favorites).
*Share a dessert, appetizer or even second main meal with your cruise mate.
Choose a strategy that works best for you! Cruise Ships have gotten a lot better over the years at offering more healthy and tasty choices. Take advantage of this as in most cases, it's better than what's offered at local restaurants back home.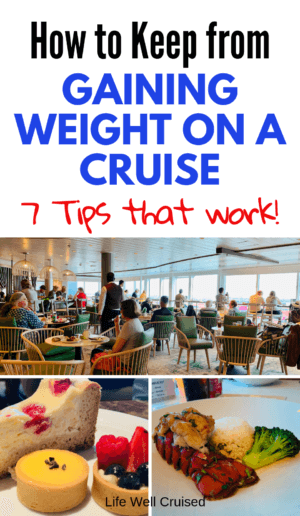 6. Wear a Fitbit or other activity tracker
My kids gave me a Fitbit a couple of years ago, and truly it's been one of the best things I've ever gotten. I didn't think I really needed it, but have been surprised how much I love it and use it.
I've found that tracking my steps, stairs (yes, every flight!), has been so motivating and encouraging. On a regular basis, I may try to get in 10,000-15,000 steps a day. However on a cruise I know we have much more time and opportunity to get in more steps.
We make it a goal to do 20,000-25,000 steps a day. By walking up and down the staircases, walking along the jogging track, working out a little at the gym, walking along passenger decks to head back and forth to our cabin, PLUS walking around on cruise port days. We are sure to get more movement in, and this goes a long way to controlling weight gain on a cruise.
7. Watch the alcohol and other beverages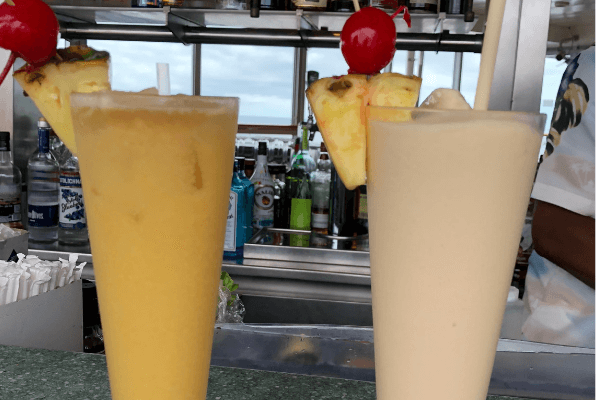 If you don't drink, this is easy for you. However, if you do like some wine and drinks while on vacation, as I do, the calories can really add up! While wine and beer might get a pass, the real culprits for weight gain and bloat are the fake fruity and sugary frozen drink concoctions sold by the pool.
Tip: Limit your servings of Pina Coladas, Daiquiris and Mudslides most of all. Some of these have more calories than a milk shake at a diner!
I had a favorite drink on a Norwegian Cruise a couple of years ago, the Banana Daiquiri. I just thought it was so decadent, creamy and yummy. Well, it turned out that vanilla ice cream was a main ingredient. No wonder it tasted so good!
Enjoy frozen drinks occasionally if this is what you like, however opt instead for lower calorie options like a Mojito or a Malibu Bay Breeze most of the time to save more than half the calories.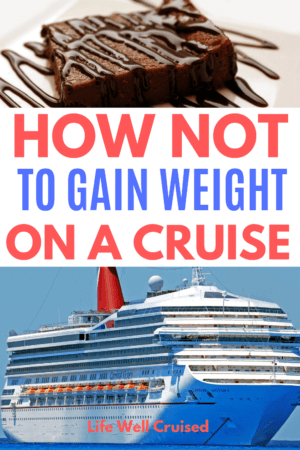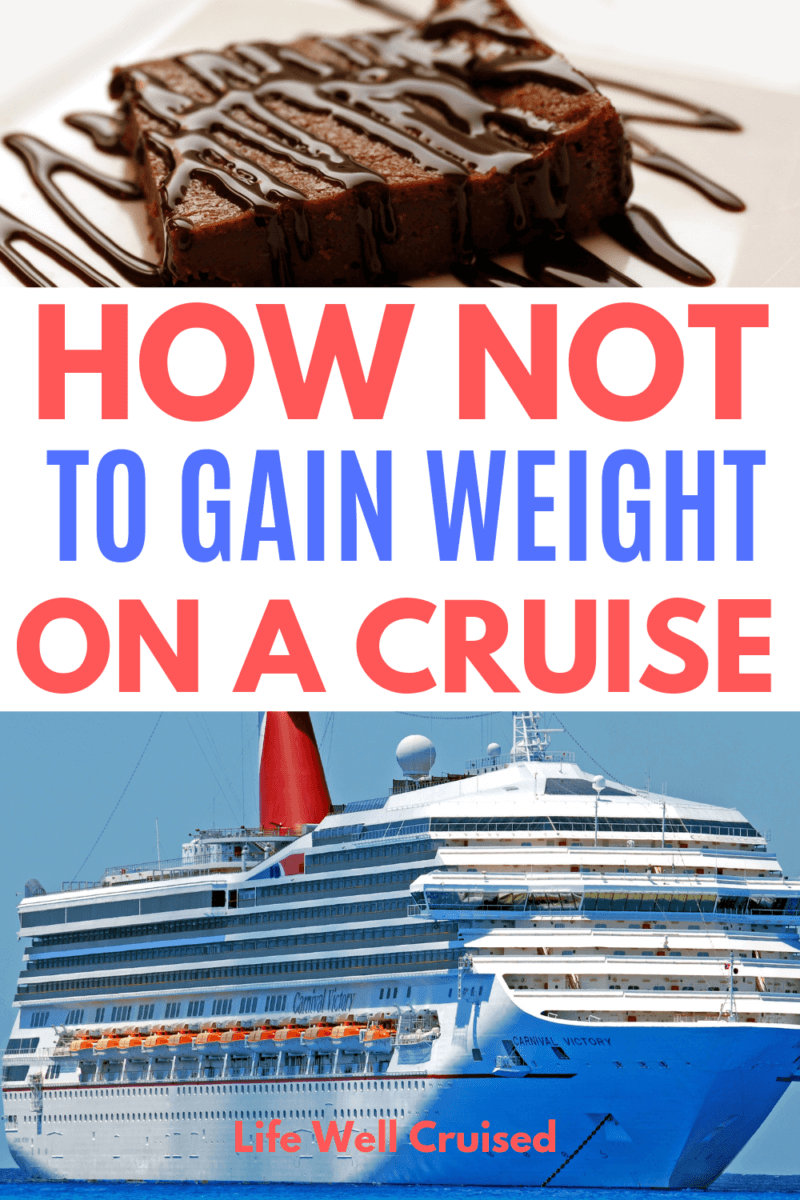 Recap: How not to gain weight on a cruise, even if you're a foodie!
We've gone over 7 things to do on a cruise, to help you keep from gaining weight while on a cruise. The main points are to keep as active as possible by taking the stairs often and keeping moving by walking, heading to the gym or even participating in excursions. Making positive food choices will also go a long way to help you feel healthy and fit throughout your cruise vacation.
I hope these tips help you to have a fabulous time on your cruise and not gain weight (or keep it to as little as possible)!
Do you have some tips and secrets that you've used to keep fit during your cruise? I'd love to hear them! Please let me know in the comments below.
Happy cruising!!
Ilana xoxo
P.S. If you enjoyed this post and found it helpful, don't keep it to yourself. Please share on Facebook or Pin to save for later on Pinterest (share buttons at the top). Thank you!
Are you going on a cruise? Here are some popular posts you may enjoy.
30 Cruise Cabin Hacks Every Cruiser Needs to Know
21 Essential Things to Pack in Your Cruise Carry-On
31 Cruise First Aid Kit Essentials You Need to Have