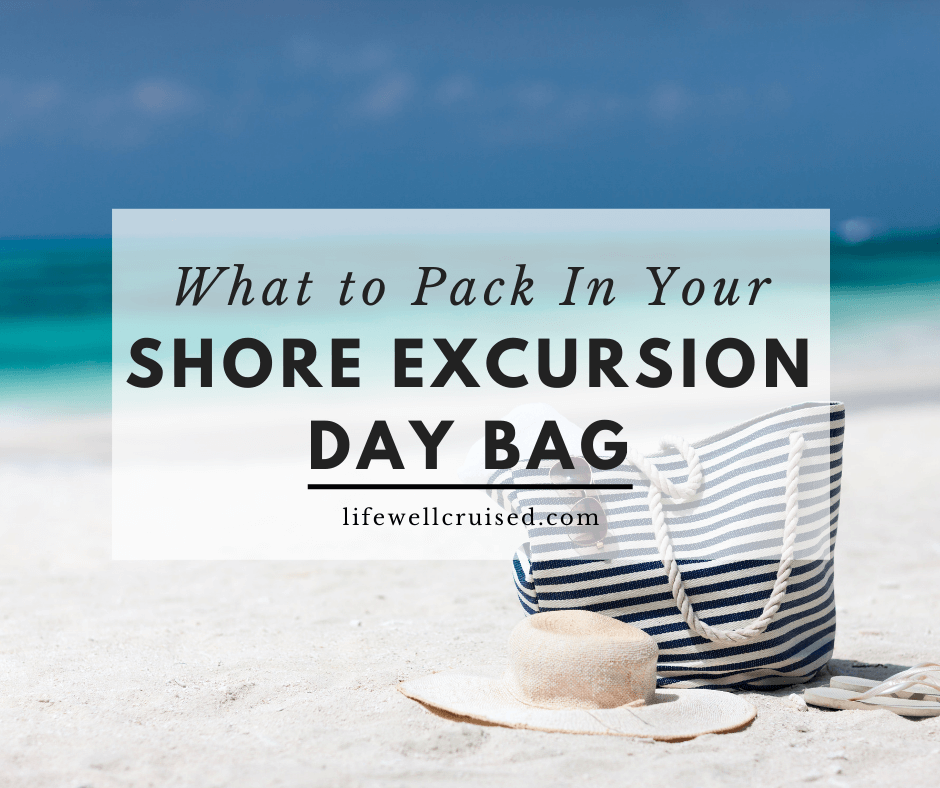 Packing a Shore Excursion Day Bag for a Port Day
If you're on a Caribbean, Bermuda or Bahamas cruise, you'll want to pack a good bag for your shore excursion, filled with the things you need most for the day.
It's the worst thing to be on a beach or snorkeling excursion and realize you forgot the sunscreen! Of course, you can borrow (hopefully) from a stranger, but best to be prepared with your essentials.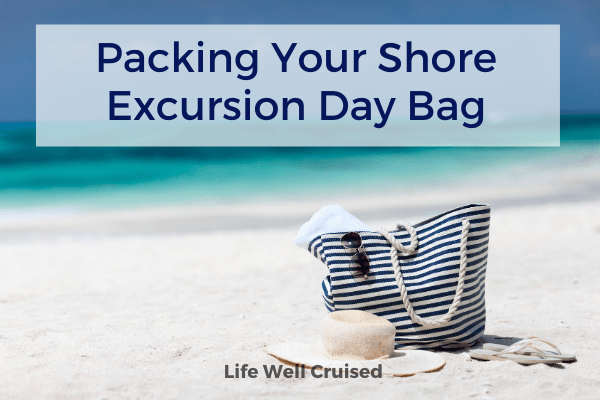 This post contains affiliate links which means if you click and buy that I may make a commission, at no cost to you. Please see my disclosure policy for details.
As an Amazon Associate I earn from qualifying purchases.
What Should You Pack in Your Cruise Shore Excursion Bag?
As you prepare for your cruise and are getting all your cruise packing items together, it's a good idea to think about your shore excursion day bag. What you put in your port day bag, will depend at least in part on what activity you're planning to do in the cruise port destination.
If you're going to the beach or even a catamaran excursion, you'll need some different things than if you're zip-lining through the jungle or even sightseeing.
We like to try, when possible, to use the same carry-on bag for embarkation day, for a beach excursion later on in our cruise.
Recommended (Amazon): Large duffel embarkation day and shore excursion bag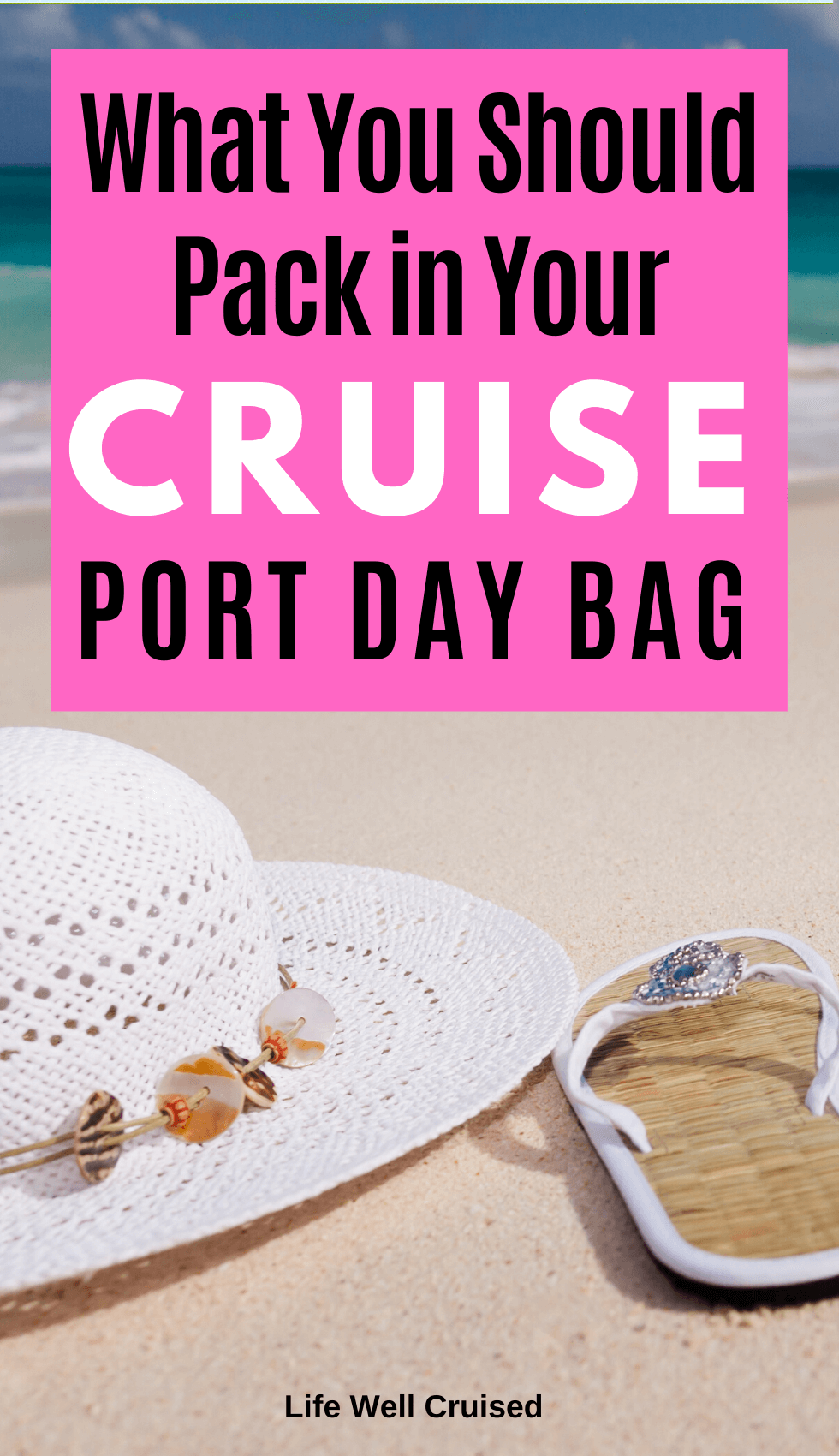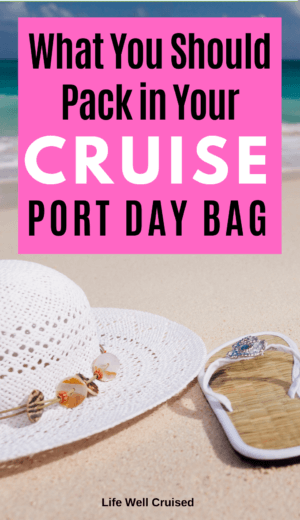 Shore Excursion Day Bag Essential Items
Whether you're heading to the beach or on a snorkeling or boat excursion, you should make sure that you have a good beach bag.
We like to have a large beach day bag that fits our towels and most of our other essentials.
If you can find one that is lined and water proof, that's even better! We've been on catamaran excursions where that water splashed.
Something like this one, is a good example.
Sold on Amazon, this bag is super large, water-proof inside and out, with several pockets (even inside) to keep organized.
Recomended: Large Nautical Shore Excursion Bag (read Amazon reviews here for more info)
What to Pack in Your Shore Excursion Day Bag for a Beach or Snorkeling Type Excursion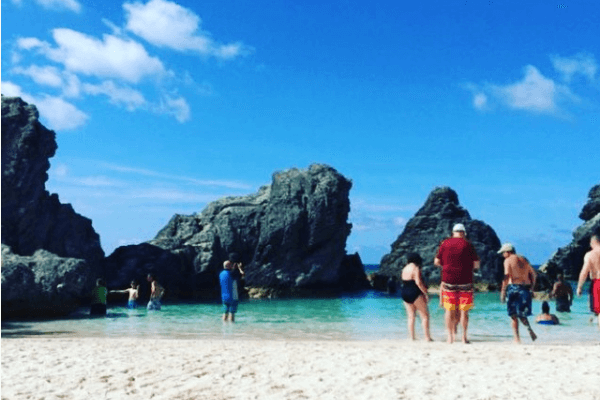 These are the must-have items to pack in your beach bag:
*Something to note is that many Caribbean islands are asking snorkelers to use coral reef safe sunscreen
Recommended: Coral Reef Repair Sunscreen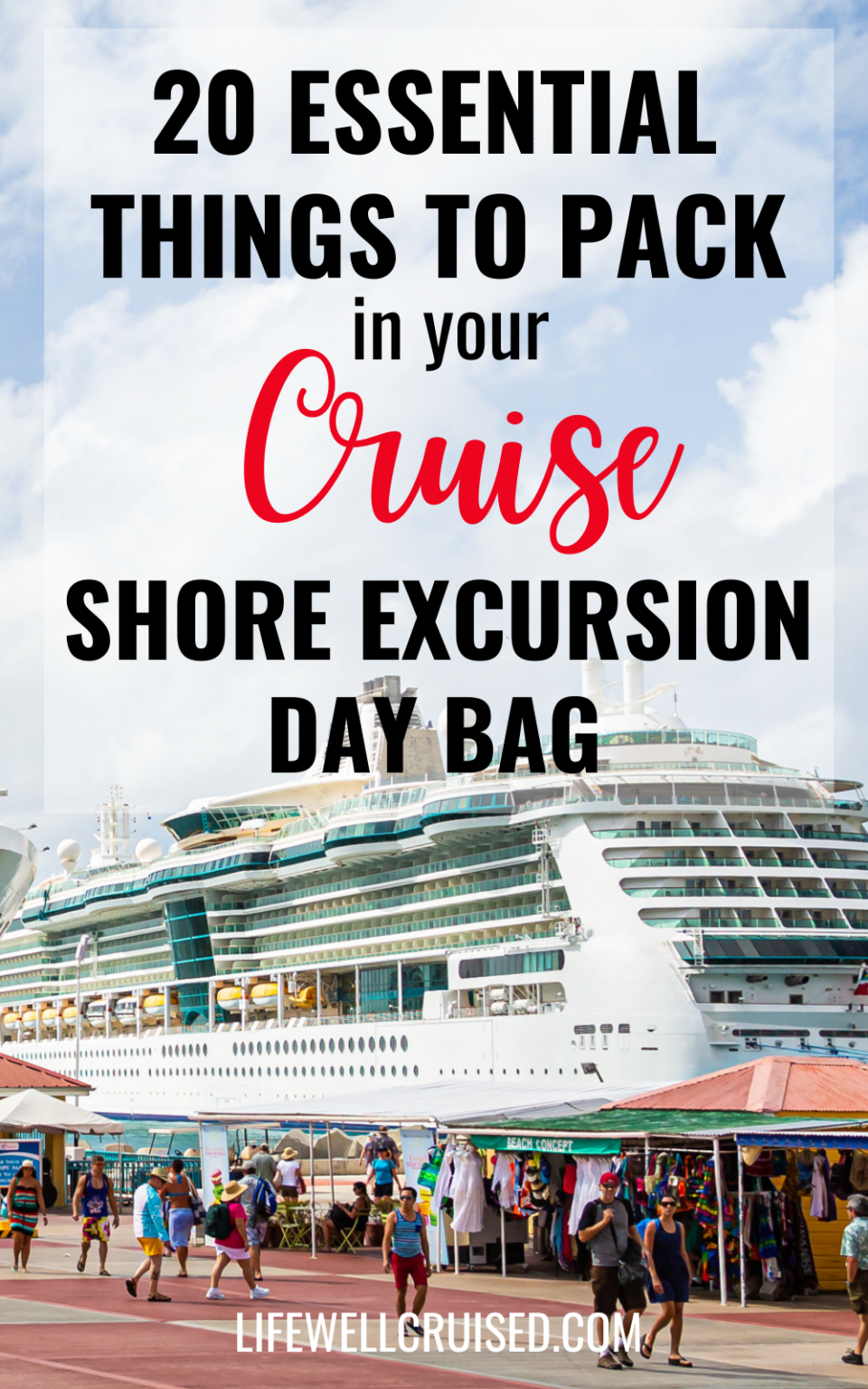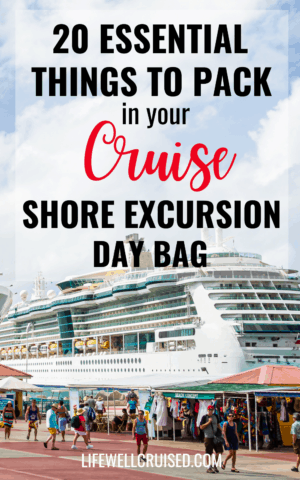 Optional/handy items for your shore excursion day bag:
You might enjoy: 31 Cruise First Aid Kit Essentials You Need to Have
Children's Items for Beach Day Excursions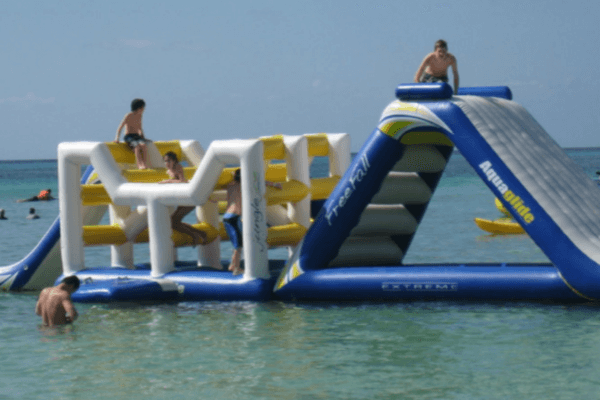 Remember to bring a few sand toys from home or other items your kids will enjoy during their day at port.
Consider keeping the beach toys in a mesh bag
that's easy to rinse out and clean off before bringing back to the cruise ship cabin.
Recommended: Mesh Beach Bag Extra Large (Amazon)
Pack a Separate Tote or Handbag for Your Important Personal Items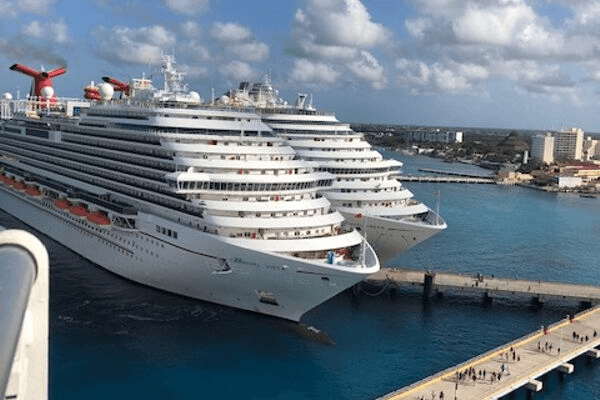 A nylon or straw beach bag or tote with a zipper is a perfect handbag for your port days. While you can keep everything in one large day bag, there are some things you may want to keep close to you to be safe.
Tote bag: Water resistant day bag (check price here)
Tip: If you bring your passports with you while at port, put them in a ziplock bag to keep safe and dry.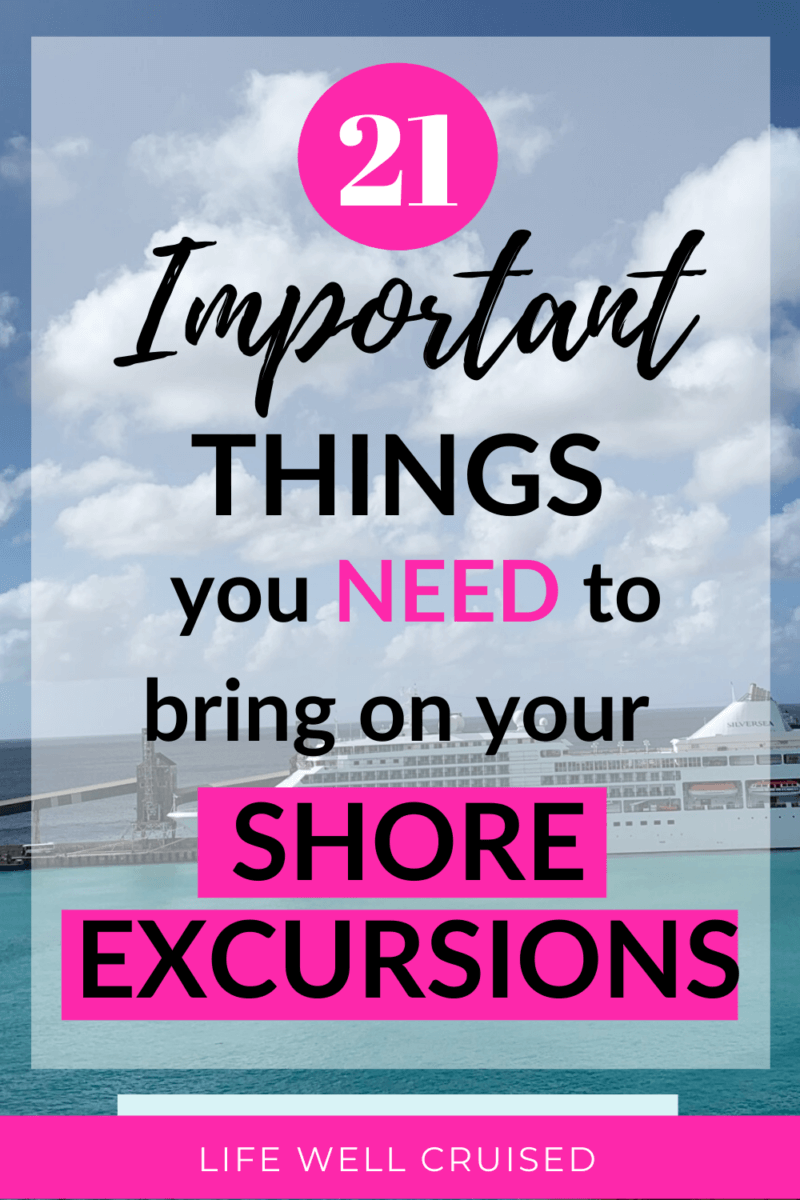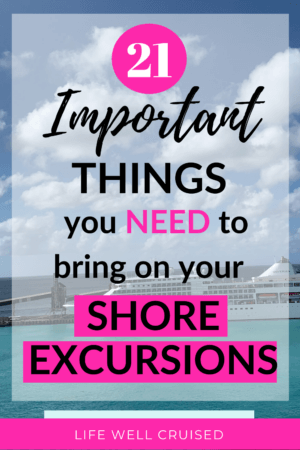 Nautical theme bags are always cute for cruising!
Recommended: Waterproof Beach Bag
Get The Ultimate Cruise Planner
Regular price: $27 Now just $17!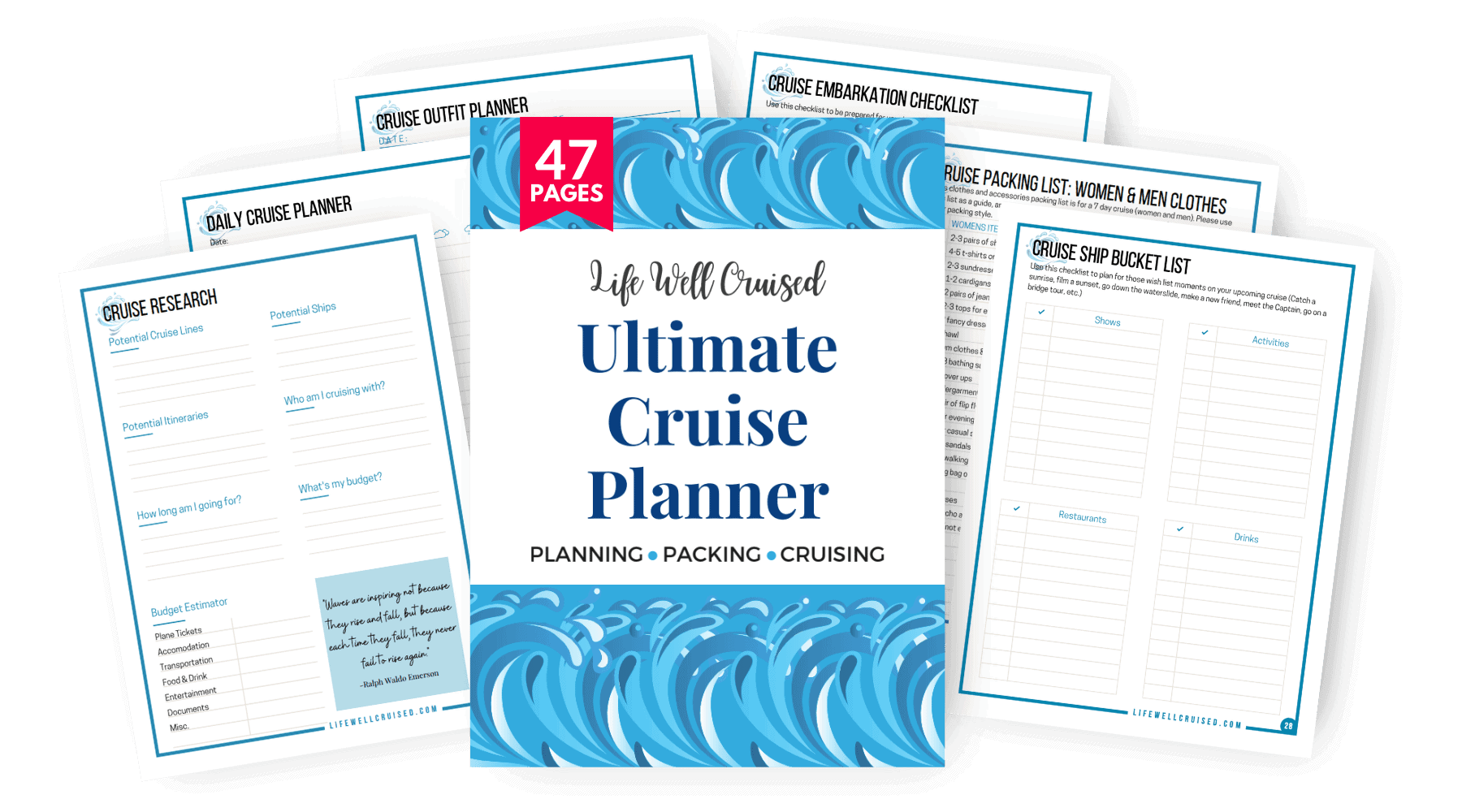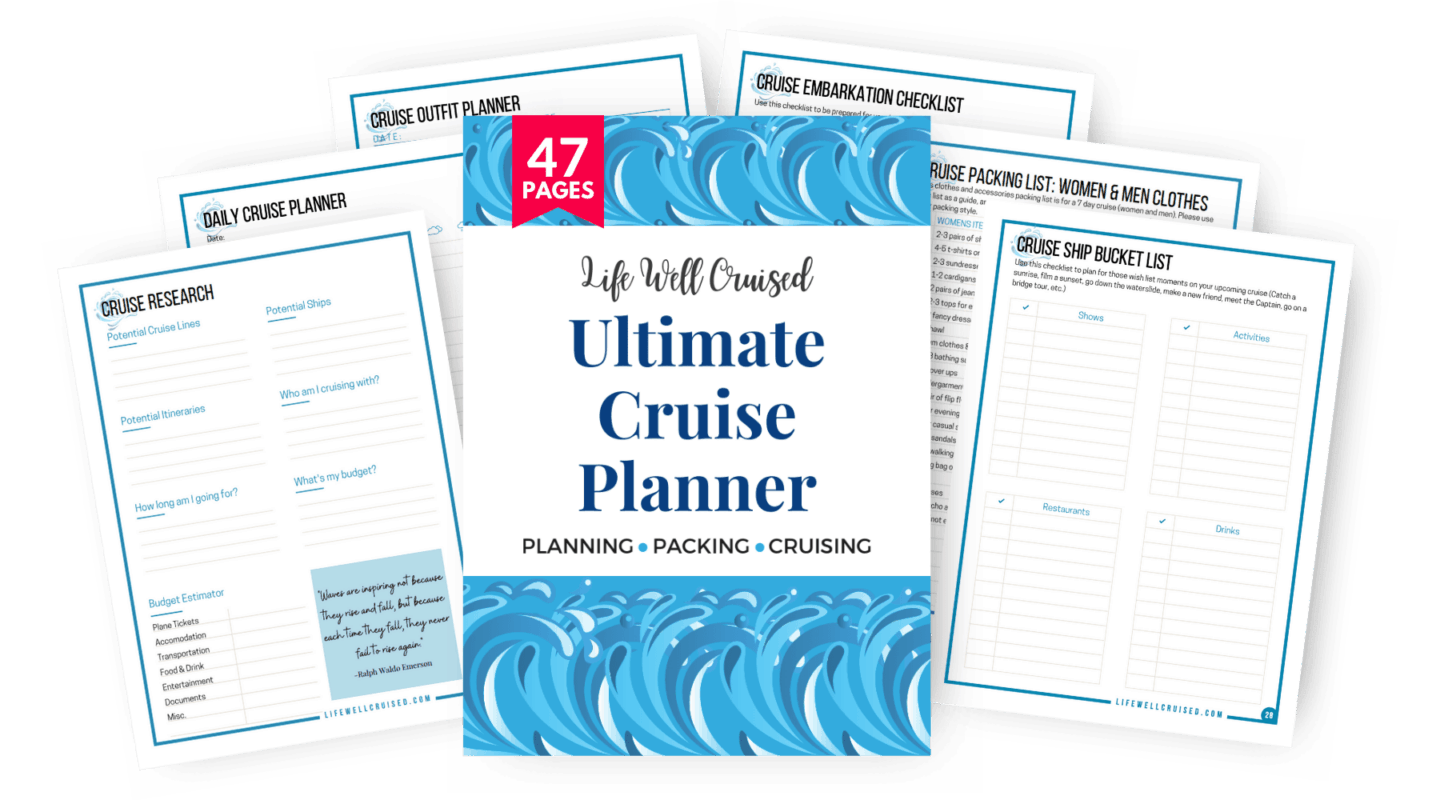 Bring a Backpack for Active Shore excursions
If you're going to be active on your port day with activities such as hiking, bringing a knapsack so you can have your hands free is best.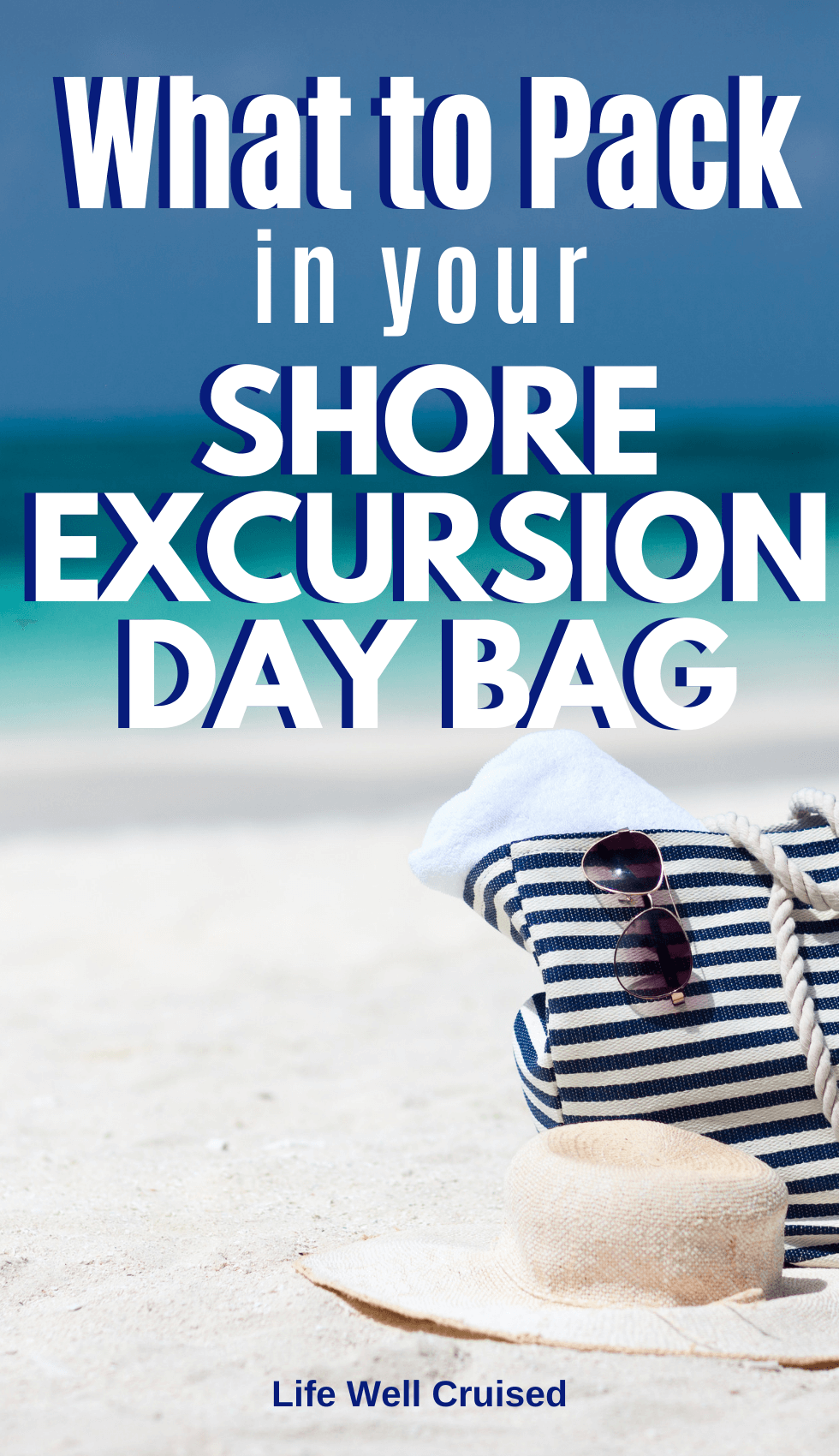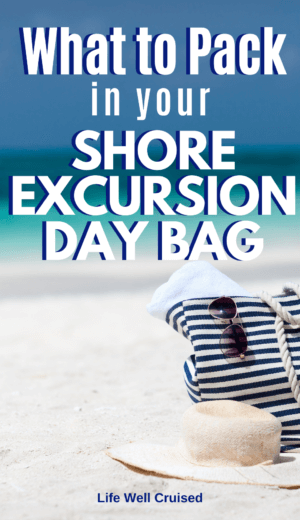 A Cruise Day Bag for Sightseeing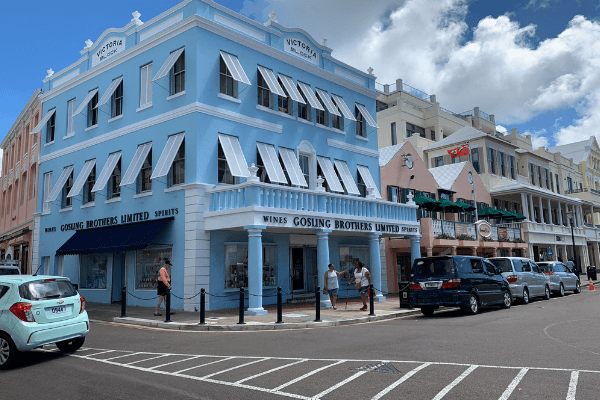 If you're sightseeing, you can skip all the beach stuff, but do want to have some basics to keep comfortable during your port day.
Consider that if you're planning on doing some shopping while in your cruise port, a large tote bag (with a zipper) is very convenient.
Tip: Don't forget to bring some water with you as you leave your cruise ship and visit the island. You'll want to make sure that you have safe water and bringing it from the ship, ensures that.
Recommended reading: Cruise Packing Tips all Cruisers Need
Video: What to Pack in Your Shore Excursion Bag
If you're getting prepared for an upcoming cruise, and would like current tips for what to pack and bring with you on cruise shore excursions, I think you'll find this video helpful.
If you enjoy cruise and packing tips on YouTube, please subscribe to our YouTube channel for more!
Here are some other posts to help you plan, pack and get ready for your cruise:
15 Best Beach, Tote Bags & Backpacks to Bring on a Cruise
What Shoes to Bring for a Cruise (for day, evening & shore excursions)
27 Things People Forget to Pack for a Cruise
What Toiletries to Pack for a Cruise (packing list)
15 Best Beauty Essentials to Pack for a Cruise
50 Must-have Cruise Essentials from Amazon
Get The Ultimate Cruise Planner
Regular price: $27 Now just $17!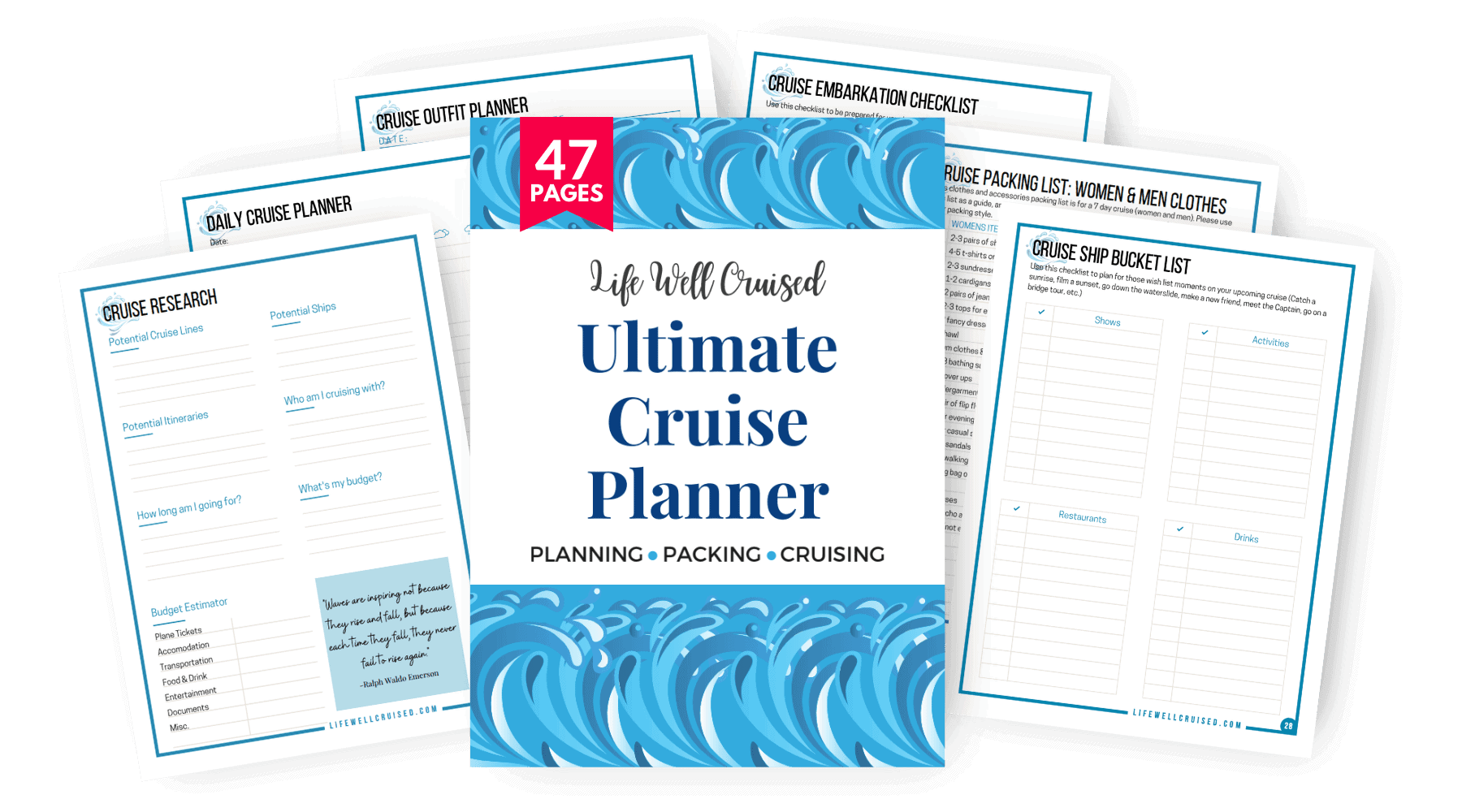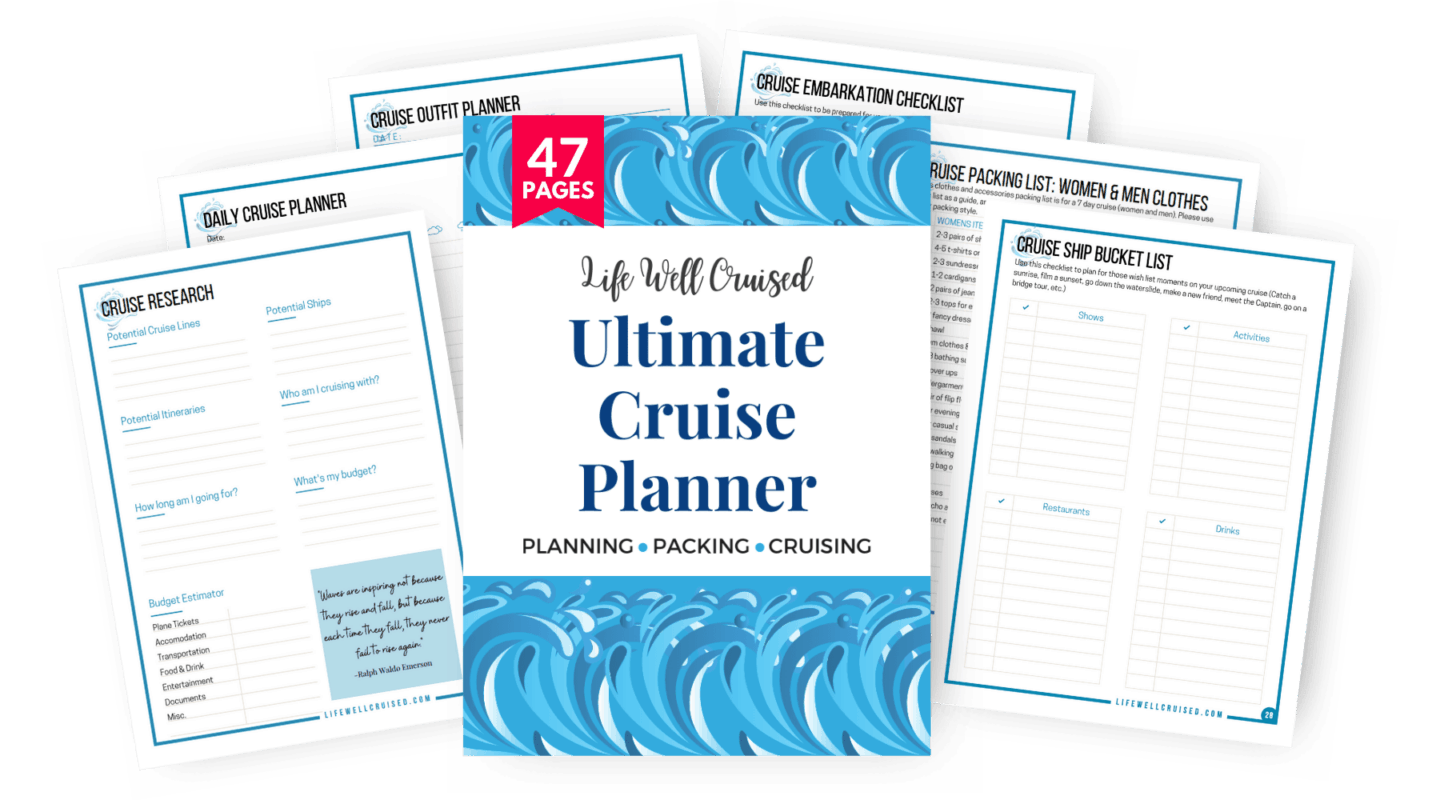 Recap: What to Pack in Your Shore Excursion Day Bag
In this post we went over the most essential items to pack in your cruise shore excursion day bag.
Having a good cruise day bag, whether a tote, beach bag or backpack is really important for port days, packed with the items you need most for your chosen activity.
Remember to take note of your all aboard time and be back to the ship with a little time to spare – as no one wants to end up a YouTube famous Pier Runner… true story 😉
What do you take with you and pack in your bag for shore excursion bag? Do you prefer a backpack, duffel or tote bag on port days?
Happy Cruising!!
Ilana
P.S. If you found this helpful, please don't keep it to yourself ;-). Please share on Facebook or PIN to your favorite Pinterest board (share buttons at the top). Thanks so much!
Let's connect:
Follow me on Facebook at Life Well Cruised
Follow me onYouTube at Life Well Cruised (Vlogs and cruise tips)
Follow me on Pinterest at Life Well Cruised
Follow me on Instagram at Life Well Cruised