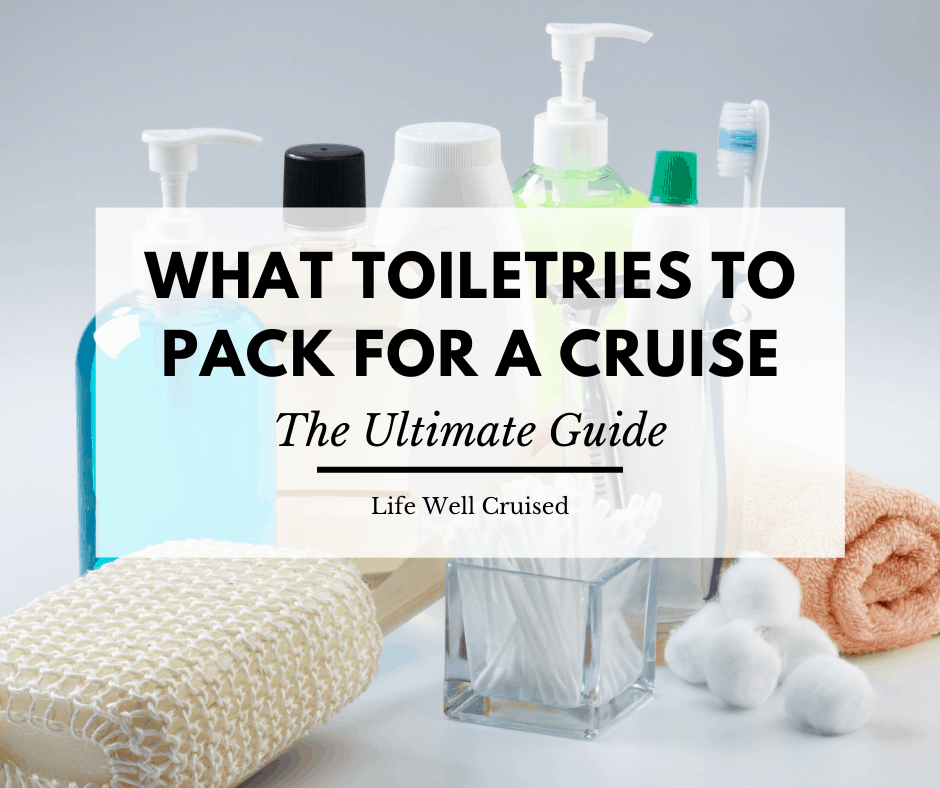 Planning a cruise and wondering what toiletries to pack? Making sure you're both organized and have everything you need can be a challenge. While packing toiletries for a cruise may seem like a small detail, it's one of the most important cruise packing lists you'll need.
In this post, you'll find a complete cruise toiletries packing list, which includes hygiene products, make up and hair products, basic first aid items and more. You'll also find the answers to the most frequently asked questions about bringing toiletries on a cruise ship, as well as useful packing tips.
This post contains affiliate links which means if you click and buy that I may make a commission, at no cost to you. Please see my disclosure policy for details.
Life Well Cruised is a participant in the Amazon Services in the Amazon Services LLC Associates Program, an affiliate program designed to provide a means for sites to earn advertising fees by advertising and linking to Amazon.com.
What to Pack in Your Toiletry Bag for a Cruise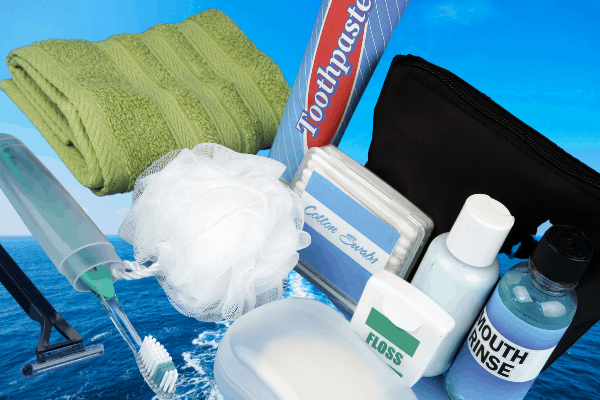 Cruise Toiletries Packing Checklist
Here's a complete cruise toiletries packing list. Please adjust items and quantities to your needs and preferences.
Personal Hygiene Items
These personal hygiene items are essentials on your cruise toiletries packing list. To keep organized, you can pack your items in a hanging toiletry bag or packing cube.
Toothbrushes
Toothpaste
Mouthwash
Dental floss
Deodorant
Shaving cream
Razors
Hair removal cream
Contact lens case and solution
Feminine hygiene products
Remember to pack a good hanging toiletry bag to save space in your cabin, and have everything you need in one place.
Recommended: Hanging toiletry bag (over 1300 4.5* ratings on Amazon)
Get The Ultimate Cruise Planner
Regular price: $27 Now just $17!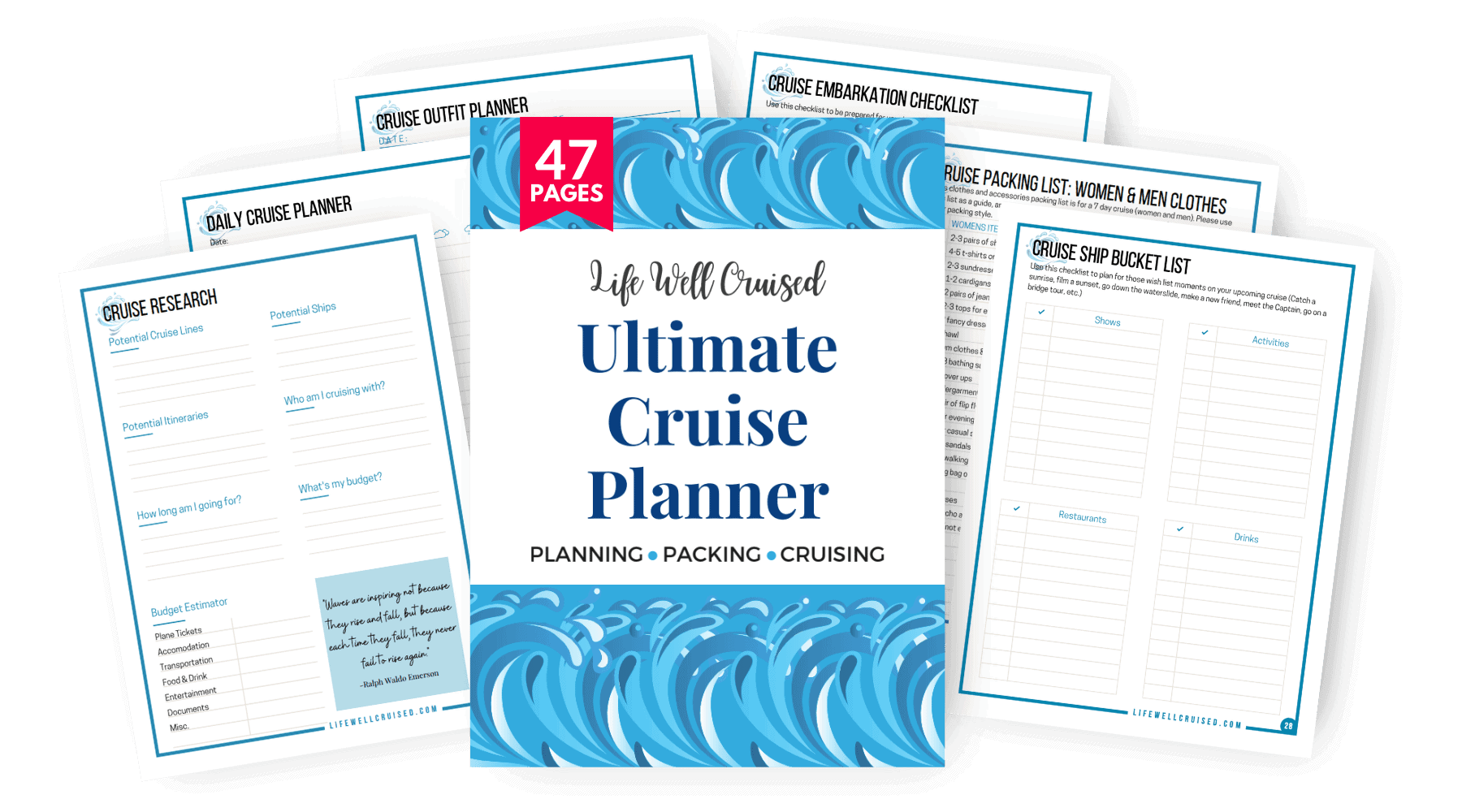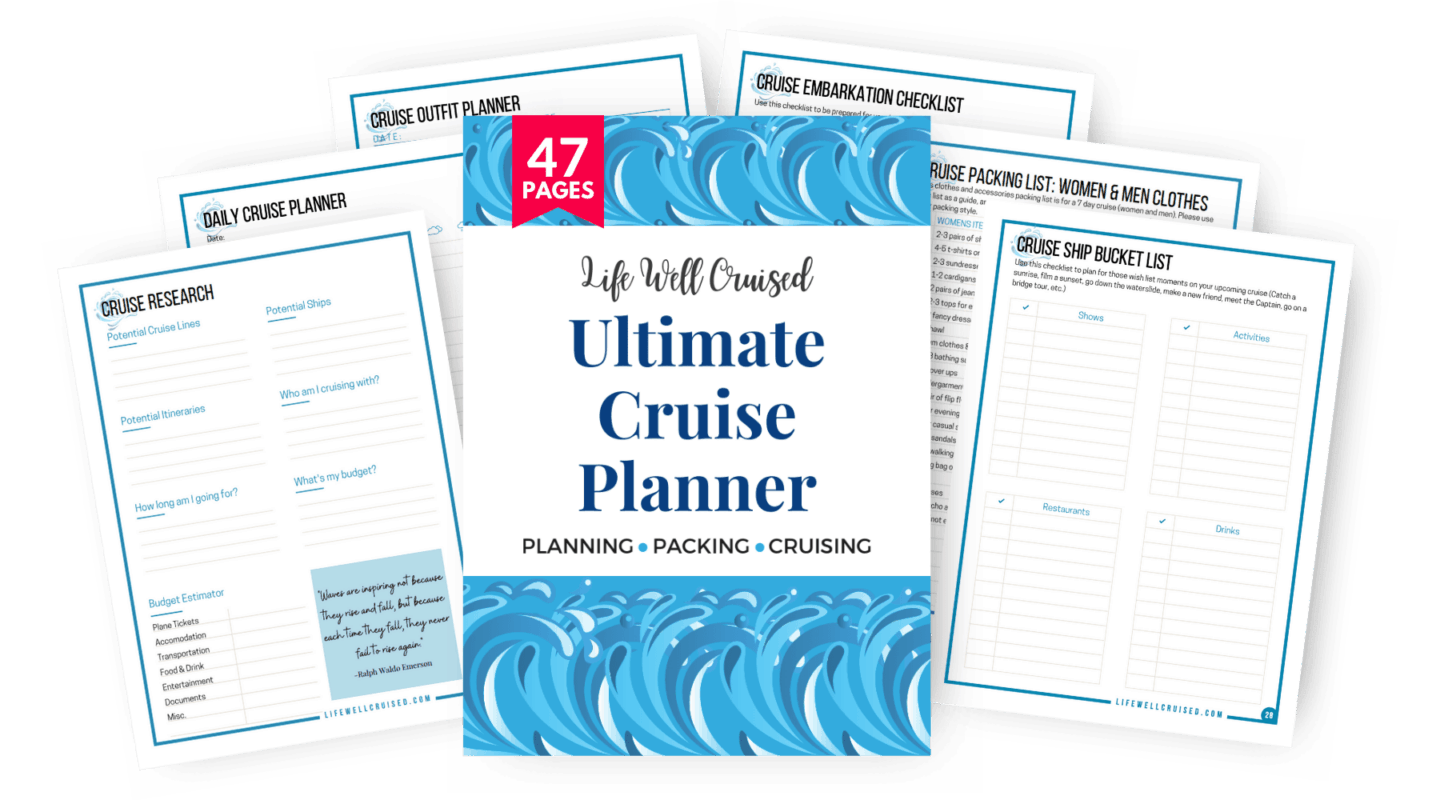 Makeup and Skincare
Adjust this list of beauty essentials to your own preferences and needs. You may find that you wear less make up than usual during the day, but still wear some make up in the evening. Remember to pack moisturizer, as the sun and ocean air can be drying.
Make up
Make up remover
Facial cleanser
Moisturizer (day and night)
Eye Cream
Perfume or body spray
Sunblock
Lip protection
Nail polish
Nail polish remover
Suggested: Travel Size Beauty Essentials to Pack for Your Cruise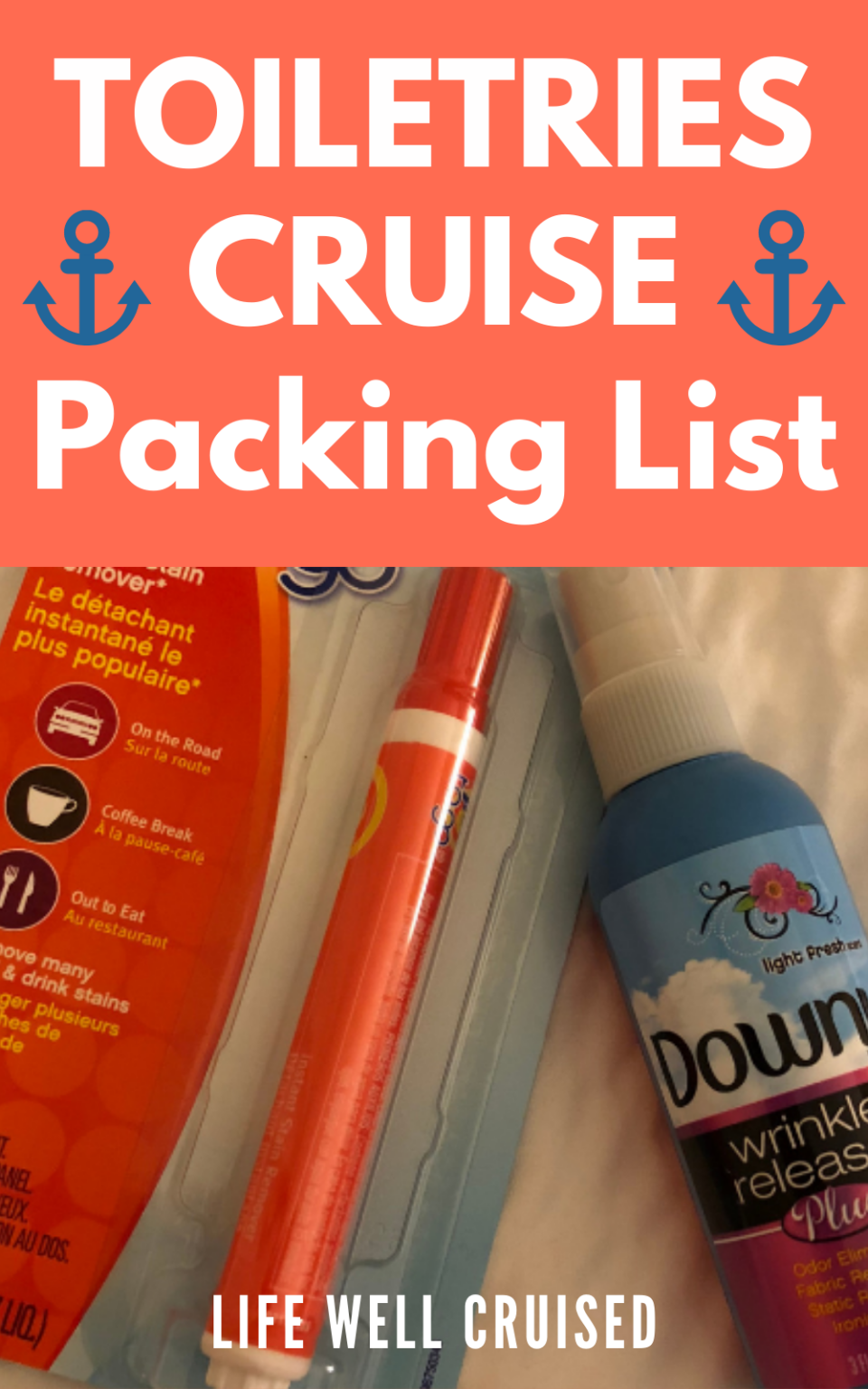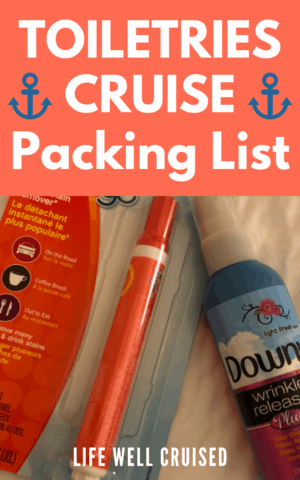 Health and Medication
One of the most important things to remember when packing for your cruise, is your medication and other first aid type items.
Over the counter medication
Vitamins
Prescription medication
Bandaids (variety of sizes)
Antibiotic ointment
Disinfectant wipes
Hand sanitizer (travel size)
Visine
Birth control
Cruise travel first aid kit
Suggested:
How to Prevent Seasickness on a Cruise Effectively
31 Most Important Cruise First Aid Kit Essentials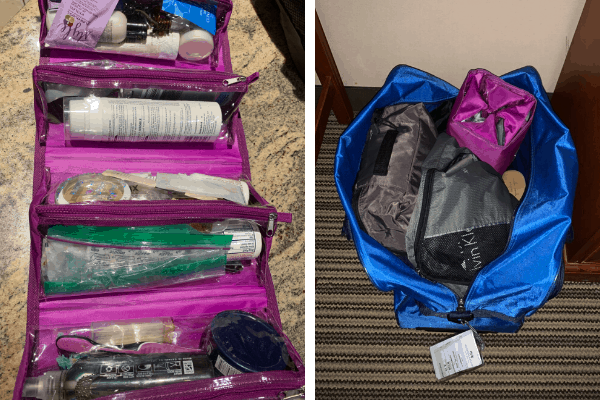 Hair Products
You'll find some basic toiletries provided in your stateroom bathroom. However, unless you're cruising in a suite, toiletries will be limited and the brands may be "meh". If you like a particular brand, consider bringing your own shampoo and conditioner.
Shampoo and conditioner (if you bring your own)
Leave in conditioner
Dry shampoo
Anti-frizz hair serum
Hair gels and mousse
Hair spray
Hair brush or comb
Hair elastics & scrunchies
Hair clips
Hair products (gels, hairspray)
Hair accessories (elastics & hair clips)
Suggested: 25 Practical and Unique Gifts for Women Who love to Travel
Travel Toiletry set
Recommended: Travel toiletry set – with all the basics (see Amazon reviews & value pricing)
Hair Tools
You might be wondering if you should bring your own hair dryer on a cruise. While you'll have one in your cruise state room, it will be similar in quality to a hotel blow dryer.
If this works for you, you'll be fine. However, if you need one that's more powerful, you'll want to bring your own. You can also bring along a curling iron or hair straightener, or even (my new favorite), the Revlon One Step Hair Dryer Volumizer. It really lives up to the hype and you can even leave the travel hairdryer at home.
Suggested: 15 Amazing Beauty Essentials to Pack for a Cruise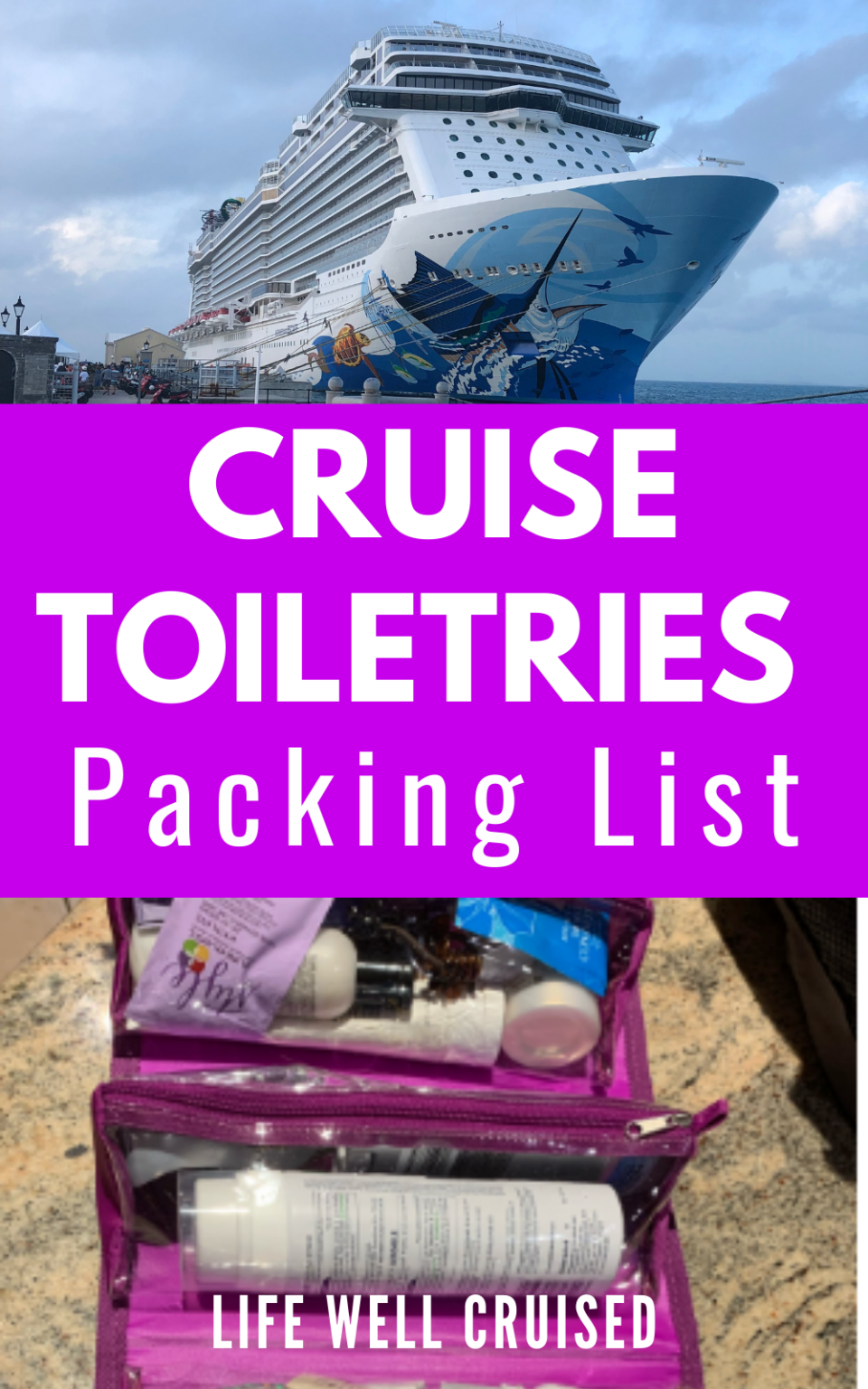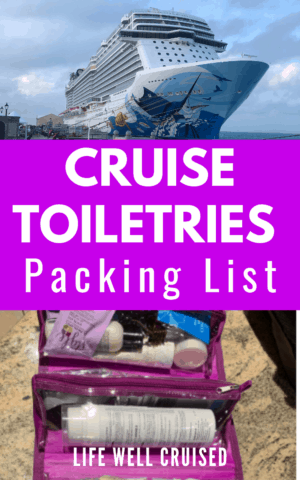 Toiletries – Personal Care Items
Remember to pack some of the personal care items you may need on your cruise vacation.
Nail clippers
Nail file
Small scissors
Suggested: 21 Best Cruise Luggage and Packing Accessories
Men's Travel Toiletry Set
If you prefer a set of travel sized toiletry items to bring on your cruise, this men's kit is TSA compliant and a very good value.
Laundry Items
If you're going on a longer cruise, or simply need a few items washed during your vacation, having a few laundry essentials is really helpful.
Recommended: 12 Genius Cruise Ship Bathroom Hacks and Organization Tips
DIY Cruise Laundry Kit (travel size)
Bring along travel size laundry detergent packets, that you can to hand wash items in your cruise stateroom bathroom sink, or in a washing machine if your cruise ship has a self serve laundry room.
To keep cruise outfits fresh and wrinkle free, these 2 items are lifesavers – wrinkle release spray and a stain remover stick. Don't forget to pack a mesh laundry bag for any dirty clothes.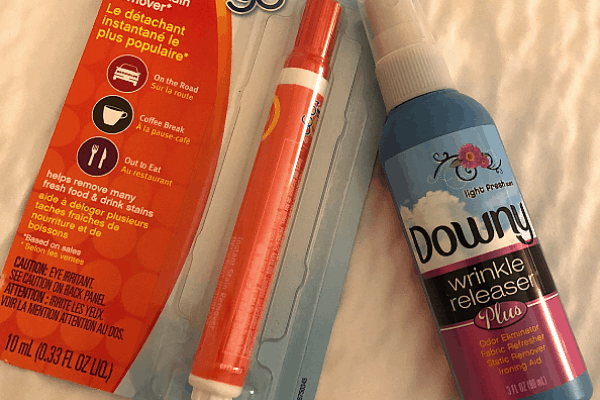 How to Pack Toiletry Items for a Cruise
Having the right luggage and packing accessories for a cruise will make all the difference. Make sure to bring along a hanging toiletry bag, a make up bag, an over the door organizer (if you have kids especially), and consider packing cubes for extra organization.
For couples, depending on how much toiletries each of you have, you may want to bring a HIS and HERS bag.
Hanging toiletry bag
This hanging toiletry bag comes in 3 colors and has clear pouches that actually come off – they are attached with velcro. We found this especially useful as we could could remove certain pouches (like the one with toothbrushes and toothpaste) to keep in our carry on bag for the first day of the cruise.
It was also so helpful to bring our overnight bag, as well as in our embarkation day carry-on bag.
Recommended: Space-saving hanging toiletry bag (available in pink, black and grey on Amazon)
Hanging Toiletry Make up Bag
If you bring make up and face creams on your cruise holiday, having a folding, hanging make up bag is so useful. I have this one, and love the clear pouches and separate sections that help me to keep organized.
*Note, I have the medium size bag and love it. It fits make up, creams, deodorant, medication and all travel size items. The large size can fit regular size toiletry items. I have the jewelry bag organizer (same brand) and love it too.
Recommended: Hanging Make up Toiletry Bag (see price & reviews here)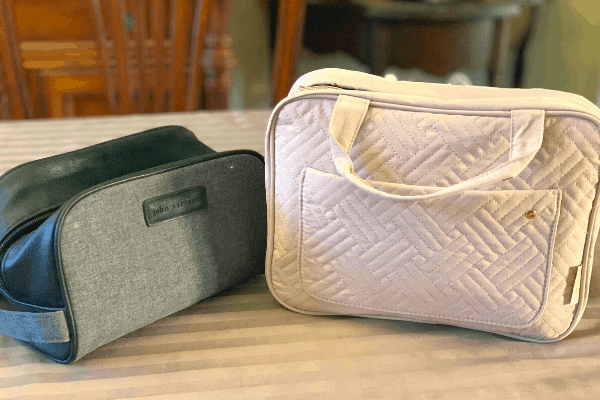 Packing Cubes
Packing cubes are a cruise traveler's dream! They really allow you to keep all you clothing and essentials well organized for your cruise.
Recommended: Packing cubes (see options of sizes & sets on Amazon)
Hanging "over the door" organizer
Cruisers swear by the hanging organizer for toiletries and other essentials on a cruise. This can be a great way to keep your cruise cabin organized.
Recommended: Hanging cabin organizer (see Amazon link for price & details)
Magnet Cabin Hooks
Since the walls in your state room are metal, these magnet hooks are the best hack to keep organized and add extra storage space to your cruise cabin. Just remember that they must be heavy duty, otherwise they won't hold up.
Recommended: 6 pack Magnetic Hooks (these are heavy duty)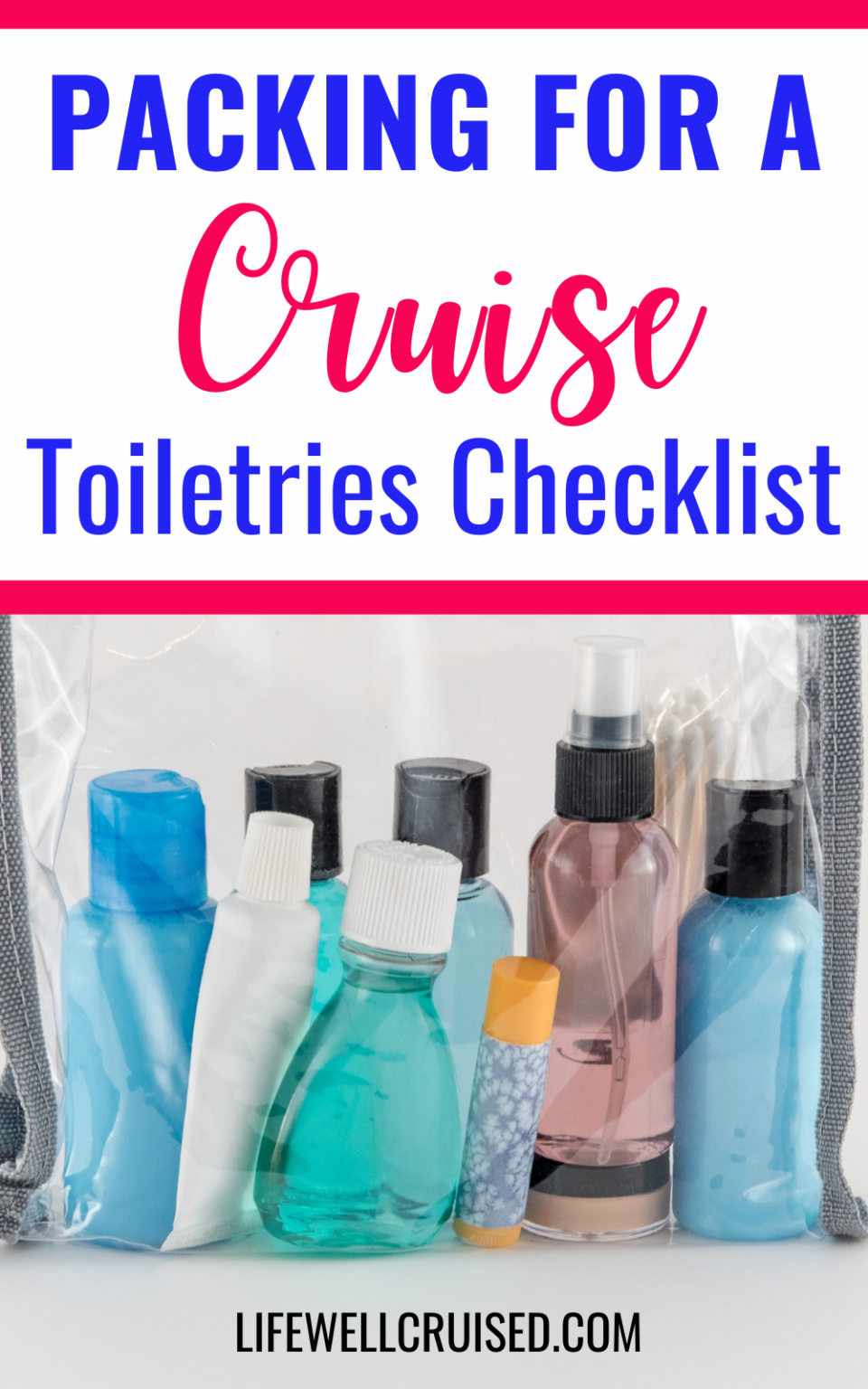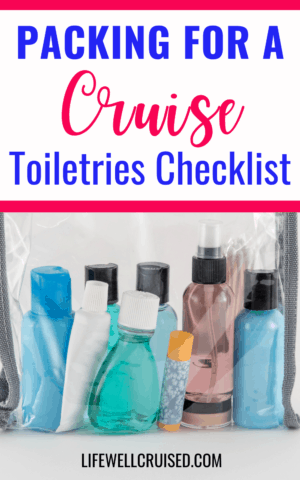 Frequently Asked Questions
What toiletries can I take on a cruise?
Cruise lines don't have restrictions on toiletries that you can take on your cruise. There are some items that are prohibited on a cruise, such as candles, irons and steamers, but toiletries are fine.
You can even bring full size toiletries if you like. However, keep in mind that if you fly to your cruise, you do need to follow the rules on packing liquids. Plus, cabins are small, so try to avoid over-packing as much as possible.
Do I need to take toiletries on a Cruise?
Most cruise lines will provide you with a basic shampoo, conditioner, body lotion and shower gel or bar soap. You'll need to bring along all other toiletries and hygiene products.
Depending on your preference, you may want to pack your favorite shampoo and conditioner from home.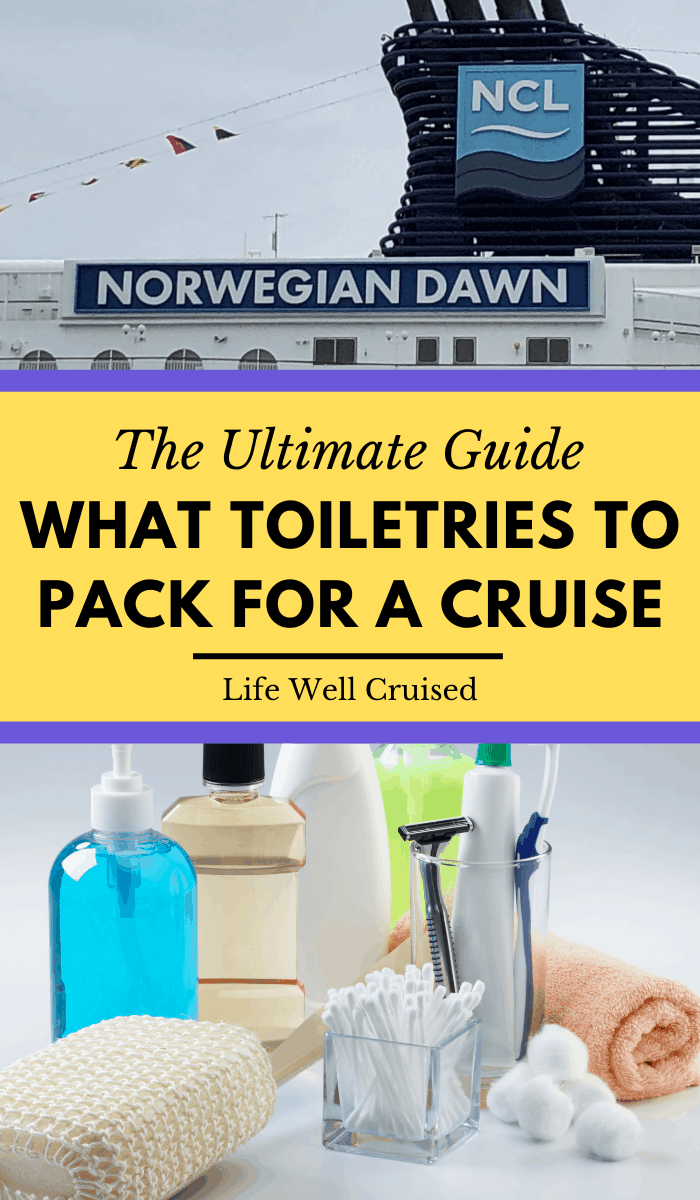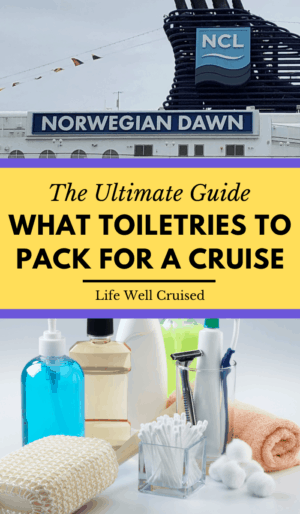 Can I take full size toiletries on a cruise?
While airlines have restrictions on what size of toiletries you can bring on a flight, at least in your carry on or personal bag, cruise lines do not. If you're not concerned about packing space, you can bring full size toiletry items including shampoo and conditioner bottles, shaving cream and other hygiene products.
Cruise Packing Must-have
Cruise cabins don't have many electric plugs and most don't have USB plugs, so you'll want to bring a non-surge protected power bar.
Very important – Cruise lines won't allow you to bring a regular surge-protected power bar from home (they will confiscate). It's very important to have a non-surge protected one that is "cruise approved".
Recommended: Cruise Power Strip with USB Outlets – Non Surge Protection & Ship Approved (verify price here)
Get The Ultimate Cruise Planner
Regular price: $27 Now just $17!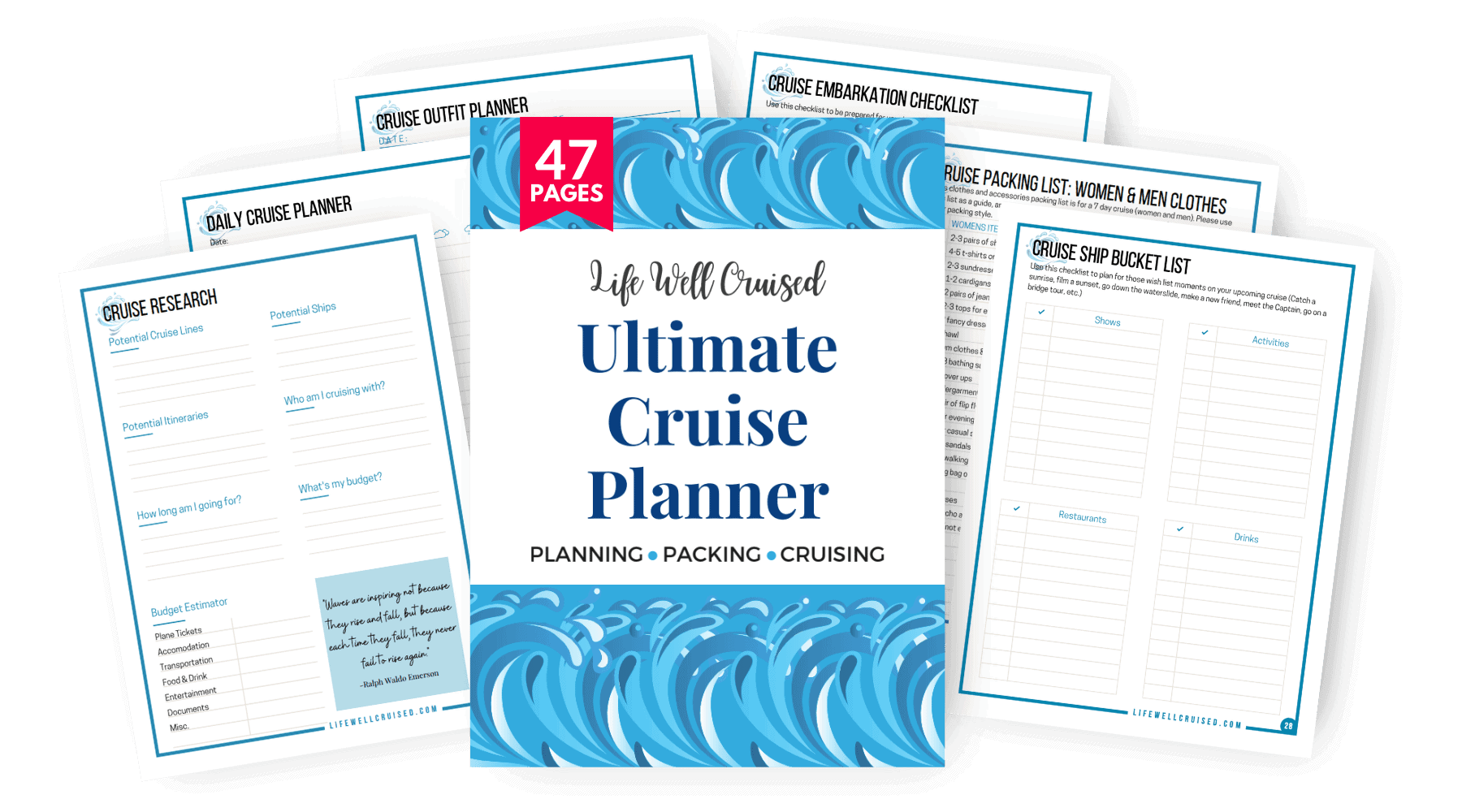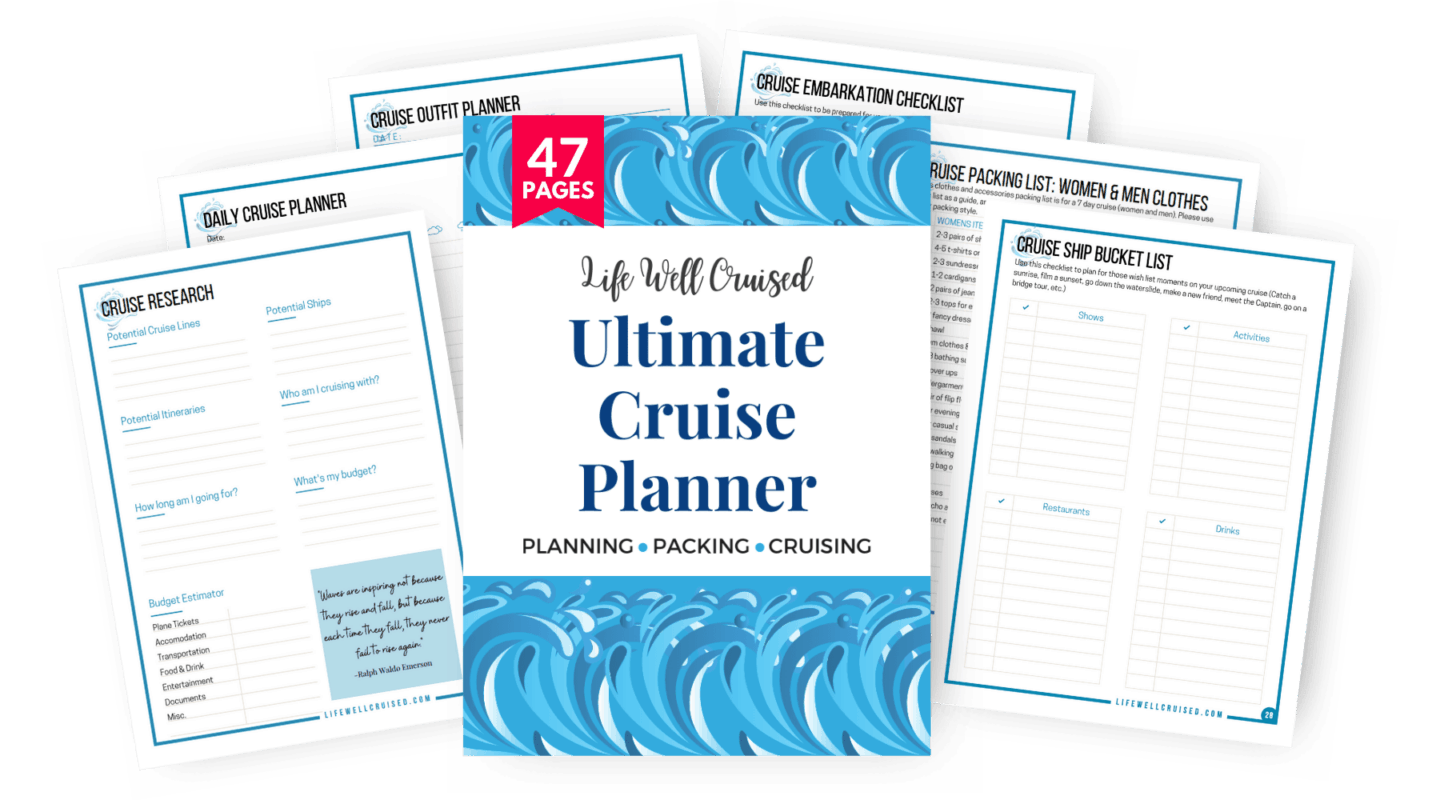 Planning a Cruise? Here are some of our most popular and helpful posts to read next:
Recap: What Toiletries to Pack for a Cruise Vacation
In this post we went over the essential toiletries to pack for your cruise vacation. From basic hygiene items to make up, hair care and medication, this list of toiletries should help you to be prepared for anything on your cruise.
Is there anything else that you'd add to this packing list of toiletries? Please let me know if the comments below.
Happy cruising!
Ilana
If you found this article helpful, please pass it along to others who love to cruise. Please share on Facebook or PIN to your favorite Pinterest board (share buttons at the top). Thanks so much!
Let's connect:
Follow me on Facebook at Life Well Cruised
Follow me on YouTube at Life Well Cruised
Follow me on Pinterest at Life Well Cruised
Follow me on Instagram at Life Well Cruised