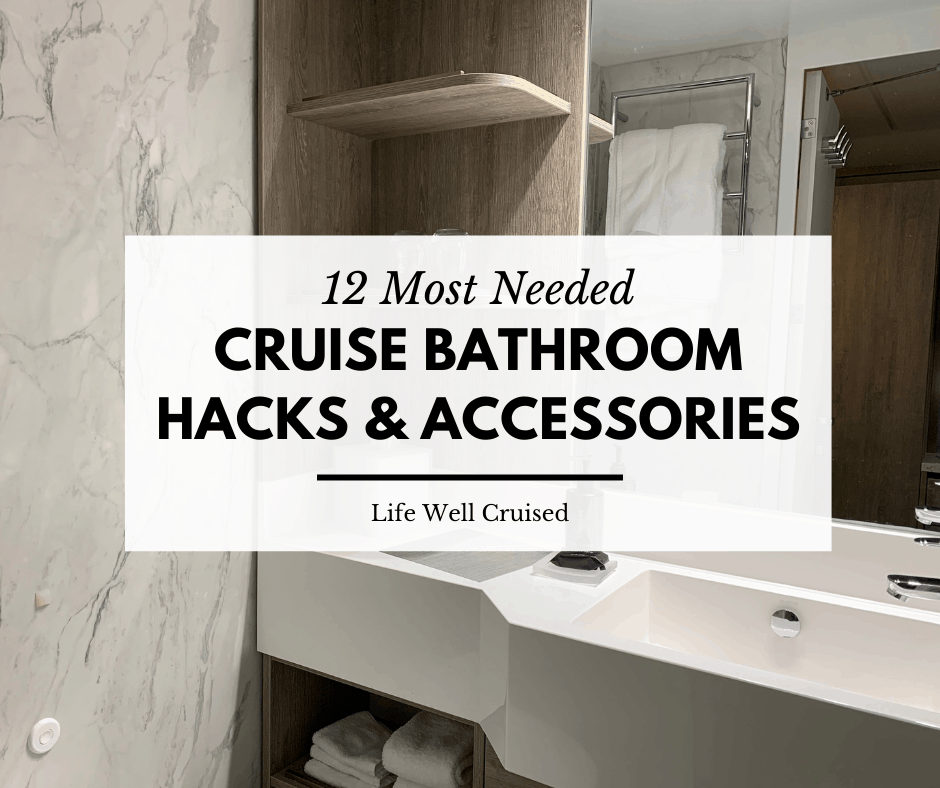 Cruise Bathroom Organization Tips and Useful Accessories
If cruise cabins are small, then cruise ship bathrooms are even smaller! Unless you're cruising in a suite, you'll find that your cabin is smaller and "cozier" than a hotel room.
For this reason, you'll want to keep your cruise cabin bathroom well organized. In this post, I'll share some awesome cruise bathroom hacks and organization tips, as well as the best cruise travel accessories to bring on your cruise.
I'll also include a cruise toiletry packing list at the bottom of this post.
Cruise Ship Bathrooms – What to Expect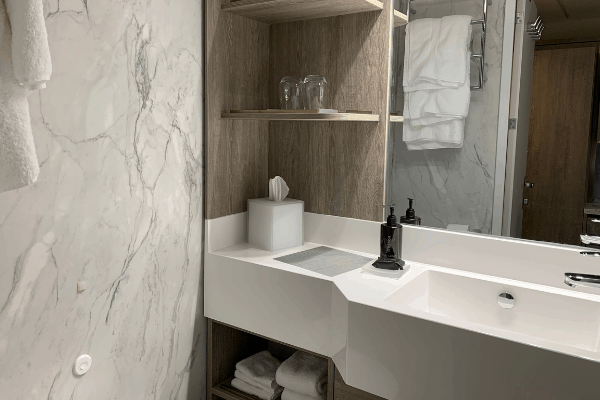 Just like cruise cabins are different than hotel rooms, so are the bathrooms. If you have a standard inside, ocean view or balcony cabin, you'll usually have a single sink, a few very small shelves, and a "cozy" sized shower.
On most cruise ships, you'll have to upgrade to a mini or junior suite to have a bathtub. If you do need a small bathtub for young children, I'll share a useful tip later on.
Some showers have glass doors, while others have shower curtains.
Cruise bathroom amenities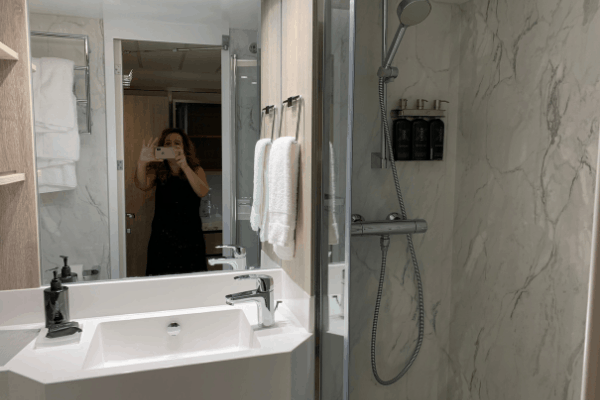 Bathroom amenities can vary from one cruise line to another, however you'll usually have shower gel, a basic shampoo and sometimes you'll be provided with conditioner. Personally, I bring my own favorite shampoo and conditioner, as well as other hair products.
The bathroom tissue and toilet paper is just fine – no need to bring from home ;-).
You'll be provided with fresh towels daily and as needed. Don't be shy if you need more towels. Your cabin steward will be happy to oblige.
In your stateroom, you'll find a hotel quality hairdryer.
12 Cruise Bathroom Cabin Organization Hacks & Accessories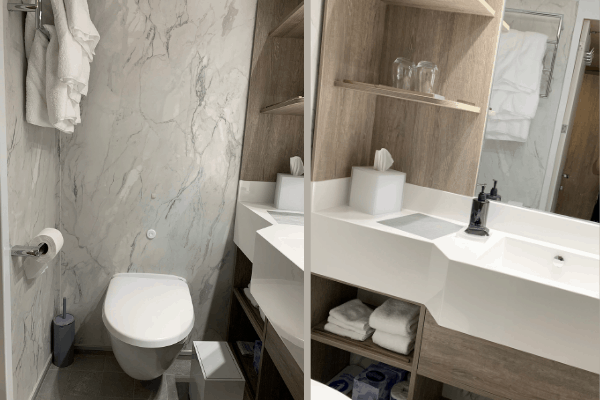 A few travel items and organization products can make your life much easier on a cruise. However, in this post I'll be sharing more than products – and some tips you can use that don't cost a thing. In many cases, you can even bring items from home.
Organizing Your Cruise Bathroom Shelves
Remember when I said cruise bathrooms are small? Well, that goes for the bathroom counter space too. So, a handy cruise bathroom hack is to use the small shelves to keep only the few items you use every day.
Your cruise bathroom will have small shelves, usually on the left and right of the mirror. Under the sink, you'll often have a shelf, and sometimes a small closed cupboard space. 2 glasses are usually provided.
Items that aren't used every day, are best stored off the counters and shelves, to avoid clutter.
Toothpaste, toothbrushes, mouthwash, floss and other items can go on one shelf. We usually use one of the glasses provided in the bathroom to hold our toothbrushes. You can still keep a cover on your toothbrushes to keep them clean, but this will keep things organized.
Other shelves can hold deodorant, face creams and other items that will be used at least once a day. They are pretty small shelves, so they won't hold much.
12 Useful Cruise Ship Bathroom Accessories
This post contains affiliate links which means if you click and buy that I may make a commission, at no cost to you. Please see my disclosure policy for details.
Life Well Cruised is a participant in the Amazon Services in the Amazon Services LLC Associates Program, an affiliate program designed to provide a means for sites to earn advertising fees by advertising and linking to Amazon.com.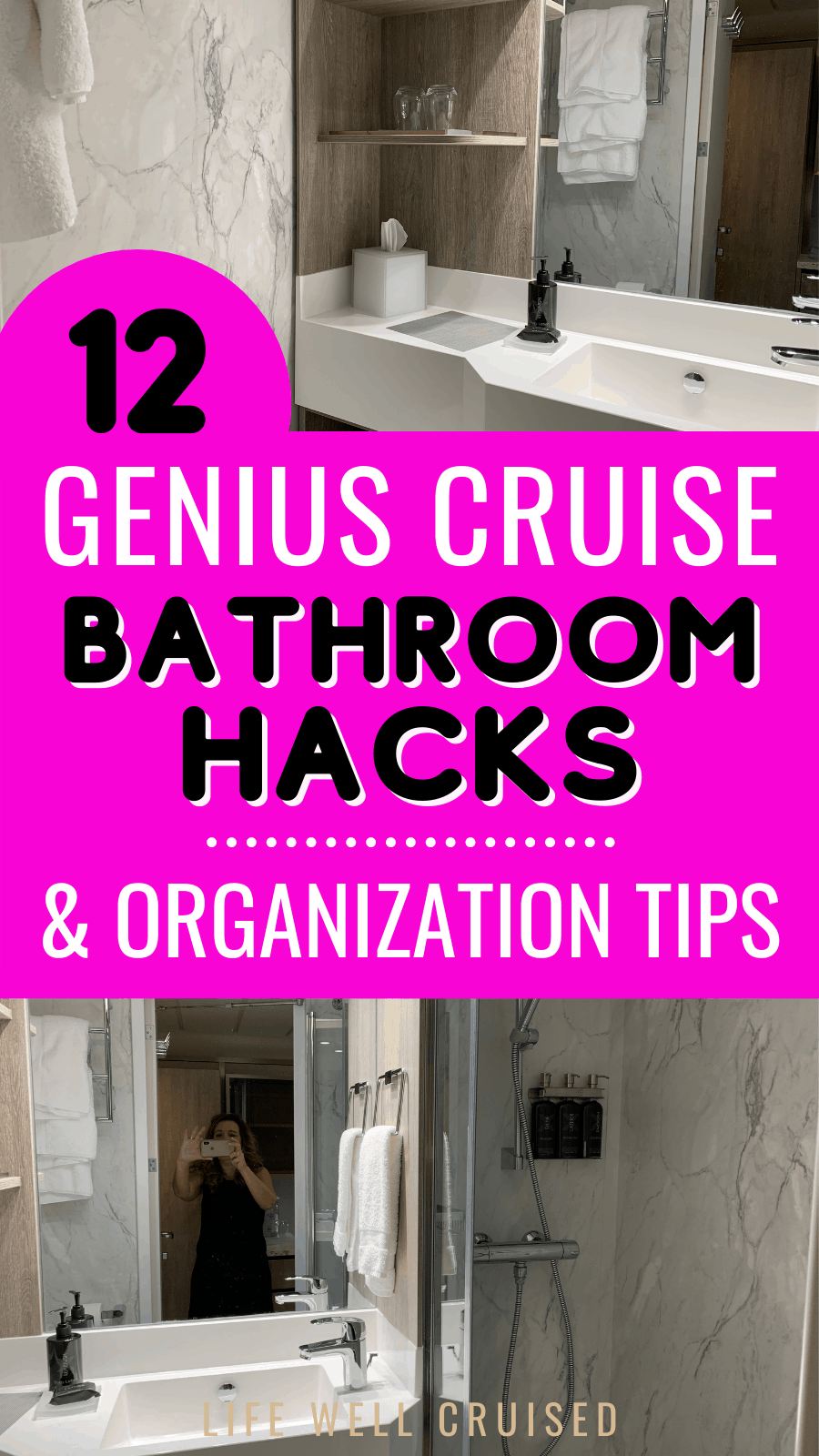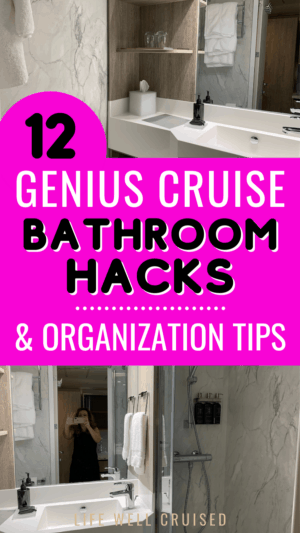 Here are some practical cruise accessories to keep your bathroom organized on a cruise.
1. Over the door organizer
An over the door organizer is one of the most recommended items to keep organized on a cruise. My suggestion, if you use this, is to hang it on the outside of the washroom door, closet door or even on a cabin wall.
The nice thing about this, is that you can keep so many things in it, yet everything has it's own space.
Whether it's sunscreen, hair brushes, ties and clips, disinfectant wipes, or laundry stain remover, it's all there. You can keep a pouch for every everything!
Cruise Packing Tip – A friend of mine packs the organizer ahead of time and puts in her luggage. When it's time to unpack, she simply hangs it up.
Recommended: Over the door organizer closet (check reviews on Amazon)
An FYI – On Disney Cruises, you aren't allowed to bring and hang over the door organizers, as they can damage the bathroom door. In this case, you can hang from the wall or ceiling with magnetic hooks, or inside a closet door.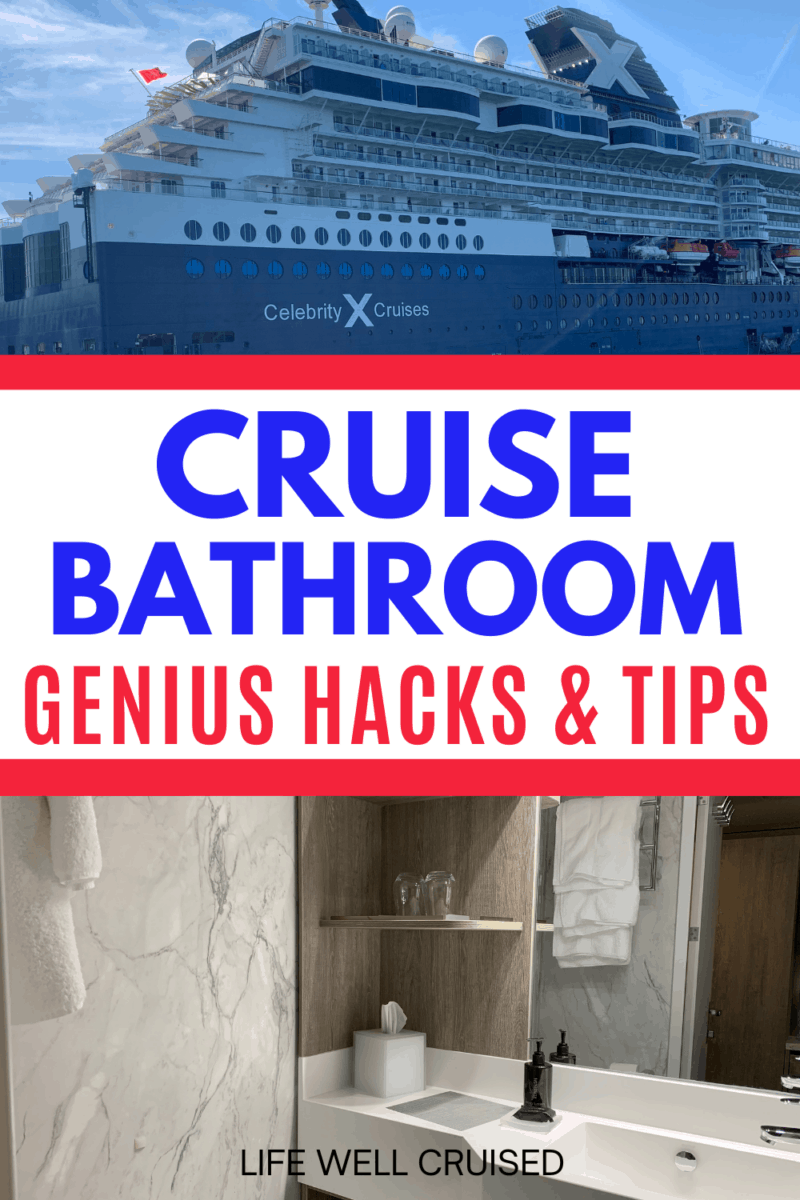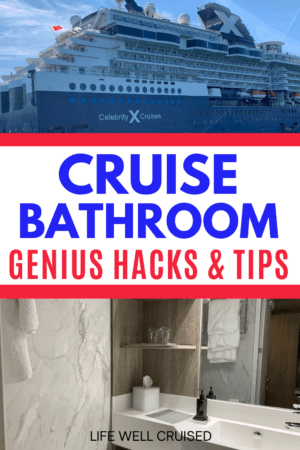 Here are the magnetic hooks I mentioned, which are very handy for keep your whole cabin organized.
2. Magnetic hooks for cruise cabin walls
Cruise cabin walls are magnetic – isn't that cool? Seriously, magnetic hooks are a lifesaver!
Recommended: Heavy duty magnet hooks (amazon)
3. Hanging toiletry bag
To keep your bathroom organized on your cruise, one of the best things is a space-saving hanging toiletry bag.
This one is my personal favorite (it's so cute!).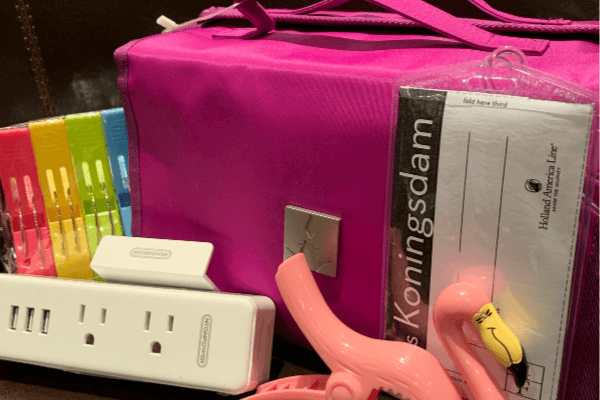 The separate clear plastic pouches attach and detach with velcro. It can be used as a makeup bag, or any other toiletry items. It hangs on the inside of the cruise ship bathroom, where there are hooks on the door.
It comes including silver grey, black and bright pink and it's the best toiletry bag I've ever had!
Recommended: Toiletry Bag for women and men (check reviews and color options on Amazon)
4. Bathroom Spray
One of the most important cruise bathroom hacks is managing bathroom smells. Since cruise cabins are small, your bathroom is pretty close to where you'll be sleeping or hanging out. Therefore, a bathroom spray is handy, for obvious reasons.
Handy tip – Spraying Poupourri into the toilet "before you go" is best to really eliminate odors. It does more than mask odors, which is why the original Poupourri (amazon link) is most often recommended.
Recommended: Poopourri bathroom spray
Managing Laundry on a Cruise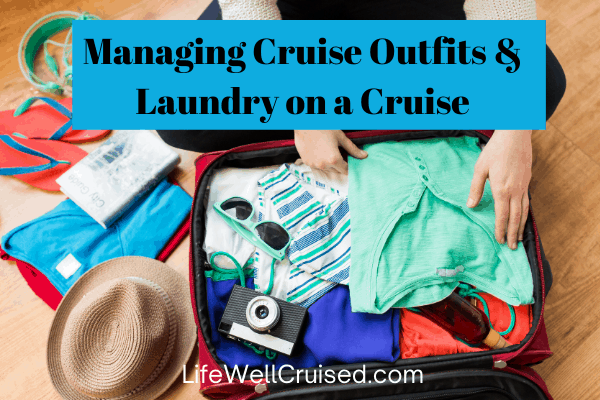 While not a specific cruise ship bathroom hack, managing cruise ship laundry definitely overlaps (and can lead to a messy and disorganized bathroom space).
Here are a few cruise laundry hacks that will be helpful, especially when traveling with children or for cruises longer than 5 days.
While some cruise ships have a self service laundrette, many cruise ships don't. You can definitely send clothing to be washed and pressed on your cruise ship, but it isn't cheap.
Using your cruise bathroom, you can manage pretty well, even during long cruises.
Here are a few tips and tricks for keep your outfits fresh, clean and wrinkle free during your cruise.
5. Travel Portable Mini Washing Machine
This handy little item is awesome for traveling, for washing a few items quickly. If you're cruising with kids, this might just be a life saver!
Recommended: Portable Mini Washing Machine (USB powered – see more info on Amazon)
Handwashing items in your bathroom sink
6. Travel size laundry detergent
If you plan on using this item, a laundrette, or hand washing items in your cruise bathroom sink, make sure to bring travel size laundry detergent as well.
Recommended: Travel size Sink packets (amazon)
7. Mesh laundry bags
As you have laundry, throw them in your mesh laundry bags and put them away in your suitcase. A handy tip to keep your cabin clutter free is to store your luggage under your bed.
This mesh pop up laundry hamper is good to keep near your bathroom or closet as laundry accumulates. It folds away quickly and doesn't take up room in your luggage.
Recommended: Pop up laundry hamper (see over 15,000 Amazon reviews)
8. Stain remover stick
I don't go anywhere without a travel size tide-to-go instant stain remover stick (on a cruise, it's even more important). For pen stains or coffee or anything else, it will save your cruise outfit!
Recommended: Tide to Go Stain remover sticks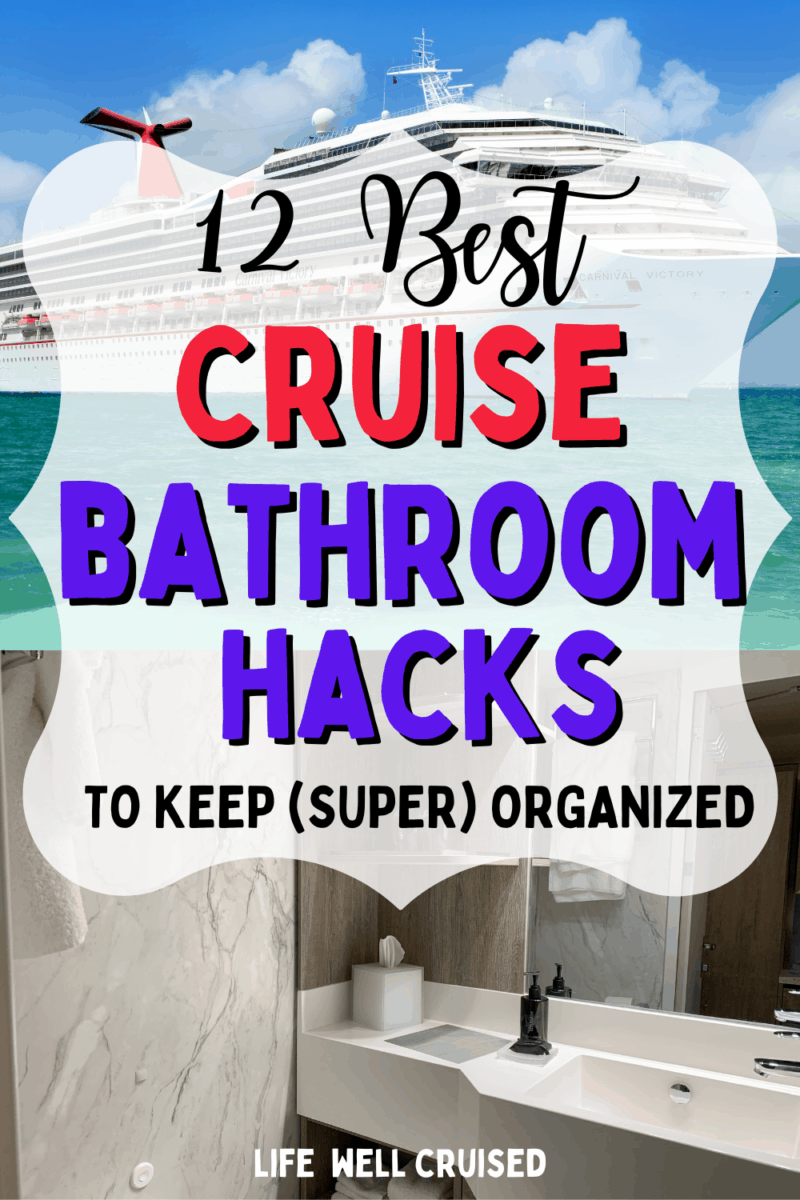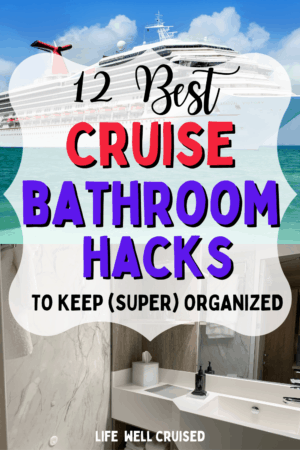 Remove Cruise Outfit Wrinkles – Bathroom Shower Trick
Did you know that there aren't any irons in cruise cabins? Since irons are a fire hazard, they are on a list of prohibited items on a cruise ship.
So, how do you get wrinkles out? Many people use the old hot shower trick. This is when you hand your outfit or clothing item in the bathroom during your hot shower. Hot water won't be enough – you really need the steam from the shower.
9. Wrinkle release spray
Personally, I like to combine it with a little Wrinkle Release Spray for better results.
Recommended: Wrinkle release spray
Read more: How to Pack Wrinkle Free for a Cruise.
10. Clothes pegs
There's often (but not always) a small clothes line in the cabin shower area. If you have some clothes pins at home, you can pack these for your cruise.
Alternatively, you can pack a portable clothesline that already has pegs attached.
Recommended: Easy travel clothesline (read over 4000 Amazon reviews)
Cruising with Babies Bathtub Hack
11. Inflatable baby pool
One of the tips I've learned from other cruisers traveling with very young kids and babies is to bring a very small blow up pool, which can be placed in the shower base. You can create your own baby bath tub, and then store it away.
Cruise Bathroom Items and Toiletries Packing List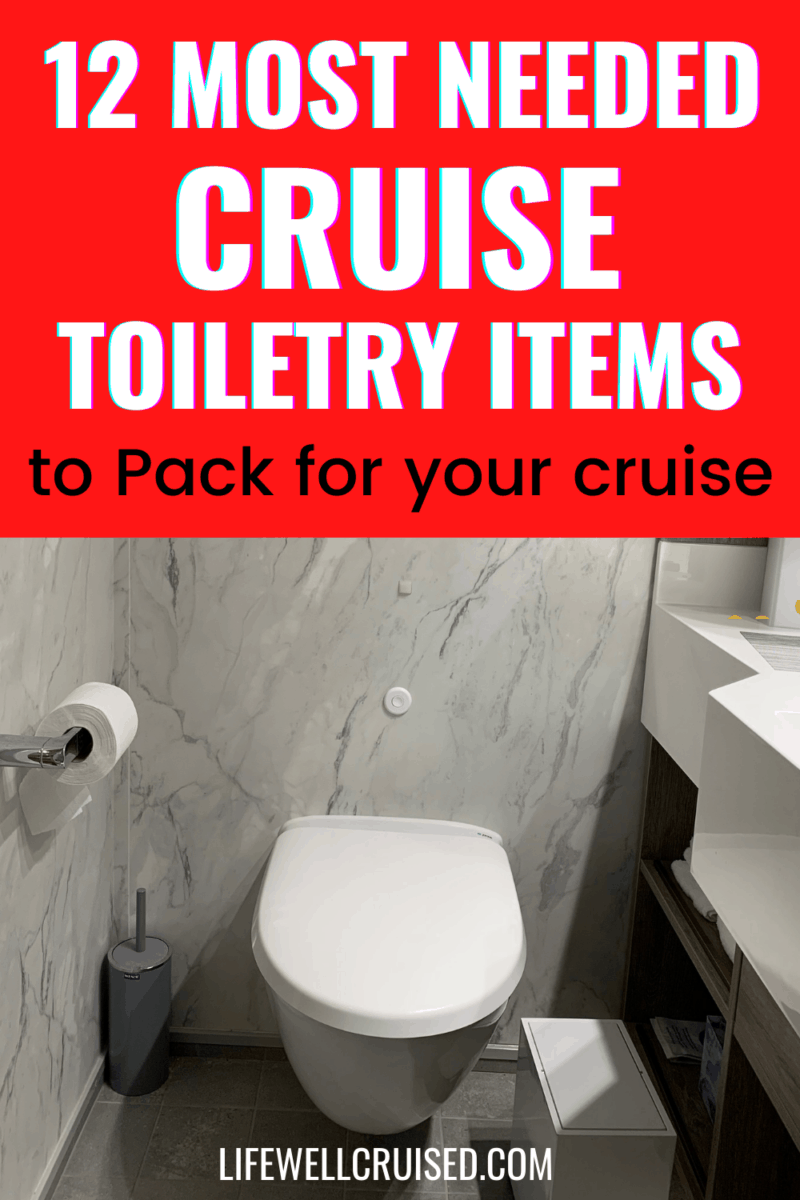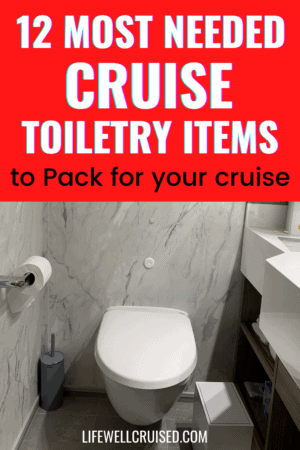 On most cruise ships, you'll have soap and shower gel provided, as well as shampoo and sometimes conditioner. Certain cabin categories may have more amenities.
12. Travel sized containers
It's a good idea to pack smaller quantities of your favorite toiletries for travels. If you're planning to cruise carry on only, or simple pack light for your cruise, these are perfect!
Remember to make sure that containers are leak-proof and TSA approved, so you can use them on travels for years to come.
Recommended: Leak proof travel bottles (TSA approved – see almost 2000 great reviews)
These are great for lotions and powders:
Recommended: Travel sized containers – TSA approved
Cruise Toiletries Packing List
Here's a toiletries packing list for your cruise. Please adapt this to your needs and preferences.
Shampoo and conditioner (if needed)
Hair products (gels, hairspray)
Hair accessories (elastics & hair clips)
Toothbrushes
Toothpaste
Mouthwash
Deodorant
Face wash
Face creams
Sunscreen
After sun care (aloe vera)
Make up remover
Make up
Over the counter medication (see first aid packing list here)
Disinfectant wipes
Stain remover sticks
Wrinkle Spray
Children's items
More Cruise Packing Guides:
31 Cruise First Aid Kit Essentials You Need to Have
23 Essential Things to Pack in Your Cruise Carry-On Bag
20 Cruise Packing Tips all Cruisers Need
What to Pack in Your Cruise Shore Excursion Day Bag
The Pros and Cons of Packing Cubes for Cruise Vacations
How to Pack Light for a Cruise
Final thoughts: Awesome Cruise Ship Bathroom Hacks, Toiletries and Accessories
Keeping your cruise bathroom organized and having some much needed cruise accessories can make a big difference in how you enjoy the time spent in your stateroom. I've included a cruise toiletry packing list, to help you have everything you need for your next cruise vacation!
What tips and cruise travel hacks do you have, for keeping your cruise cabin bathroom organized, and making sure you have everything you need? Please let me know in the comments below.
Happy Cruising!
Ilana xoxo
P.S. If you found this helpful, please don't keep it to yourself ;-). Please share on Facebook or PIN to your favorite Pinterest board (share buttons at the top). Thanks so much!
Let's connect:
Follow me on Facebook at Life Well Cruised
Follow me on YouTube at Life Well Cruised
Follow me on Pinterest at Life Well Cruised
Follow me on Instagram at Life Well Cruised
Would you like to join my mailing list and keep in touch each week? Please leave your name and email in the sign up box below