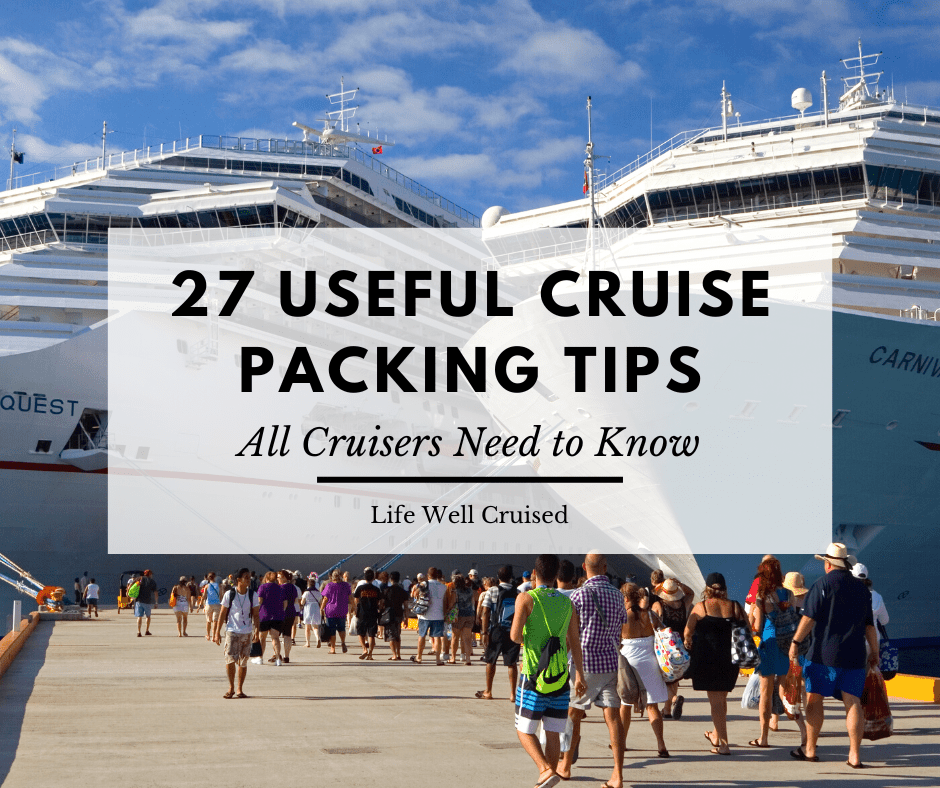 Are you wondering what to pack for a cruise? Cruises are such easy vacations, but cruise packing takes some planning.
In this post, I share the very best cruise packing tips you need to know. Whether you're a first time cruiser or cruise veteran, this cruise packing list will help you to keep organized and have everything you need for a cruise vacation.
If you're looking for a full list of Amazon cruise essentials, I'll include some resources at the bottom of this post.
27 Cruise Packing Tips and Tricks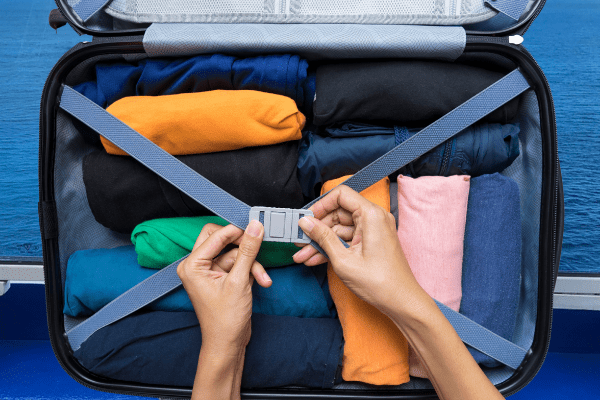 5 Things to Consider When Making Your Cruise Packing List
Before I share the top cruise packing tips, these are some things to think about as you create your own cruise packing list. All of these things will make a difference to what you decide to pack for your cruise vacation.
What will the weather be like? (hot or cold, or both?)
What's your cruise line dress code? (for cruise wear planning)
Will you be flying or driving to the cruise port?
How many people are in your cruise cabin? (for cabin organizing)
What excursions and cruise ship activities do you have planned?
What to Pack for your Cruise – Cruise Packing List Must-haves
This post contains affiliate links which means if you click and buy that I may make a commission, at no cost to you. Please see my disclosure policy for details.
As an Amazon Associate I earn from qualifying purchases.
1. Passports and Government ID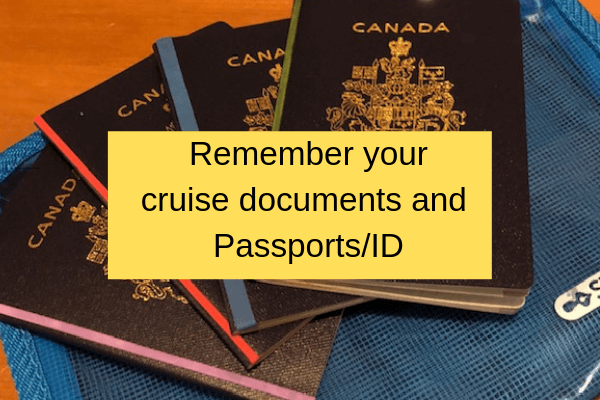 Firstly, have your cruise documents and your passports on you (in your purse or wallet) as you board your cruise, and not packed in your suitcase! You can be declined boarding if you do not have the proper ID and documents, so do not under any circumstances put them anywhere in your suitcase!
Cruise tip: As soon as you get to your stateroom, put your passports in your small cabin safe, along with any other valuables and cash you've brought on the trip.
2. Proof of Vaccine and Negative Covid 19 Test Results (check by itinerary & cruise)
Cruise line protocols have changed over the last year, and these days many cruises no longer require cruise passengers to show proof of a negative covid 19 test to board your cruise. However this can vary based on cruise itinerary, destination and the length of the cruise.
Proof of vaccine and vaccination requirements can vary as well, although may no longer be required.
Important – Please make sure to check your cruise line's current requirements and health protocols, and continue to check for updates.
3. Cruise Documents
After you complete your cruise online check-in and fill in health questionnaires, it's a good idea to print out your documents. While you may be using the cruise line app for boarding, it's always a good idea to have your cruise boarding documentation on hand.
As well, print out any shore excursion reservations, hotel reservations etc. to pack for your cruise.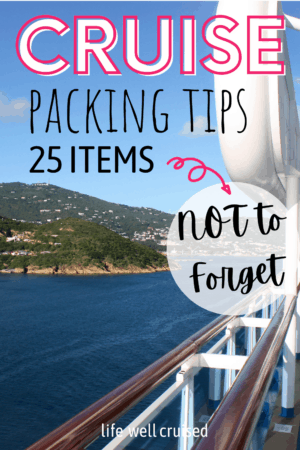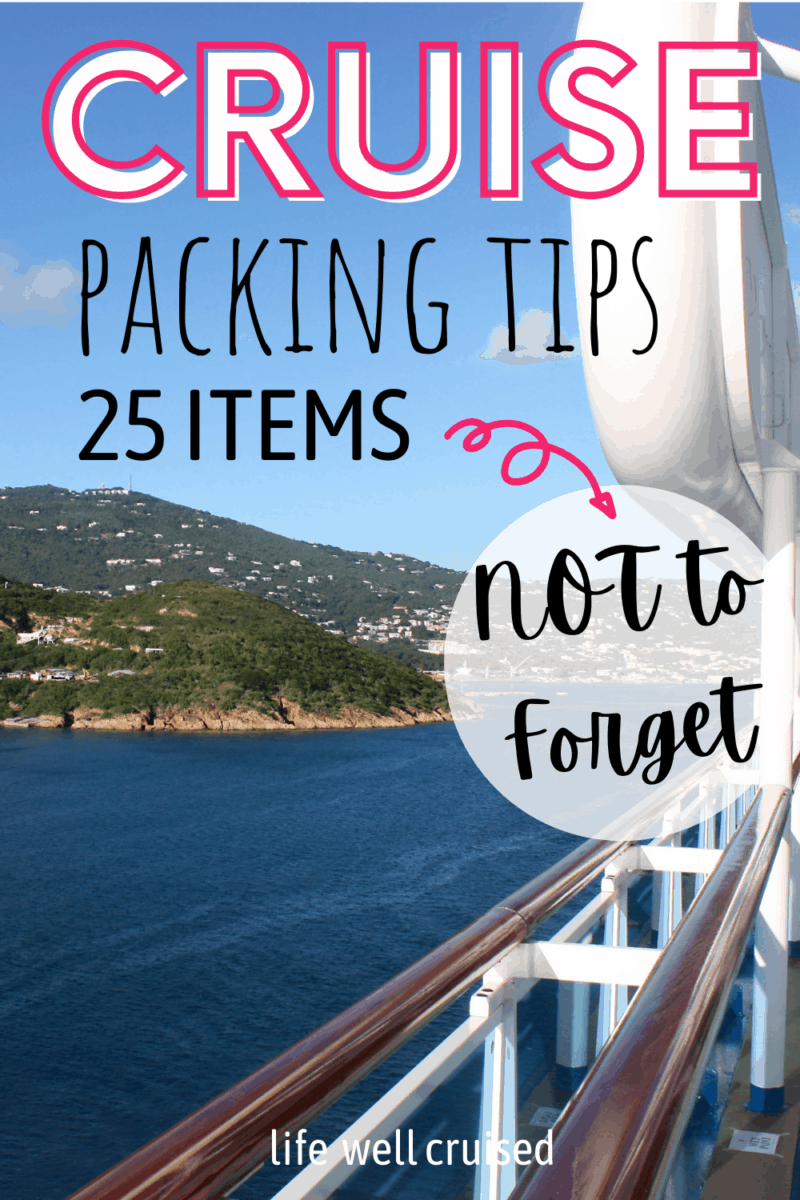 4. Embarkation Carry-on Bag
One of the things that first time cruisers often forget, is to pack an embarkation day carry on bag. Basically, you'll want to pack anything that you may need for the first day of your cruise, as it will take several hours for your luggage to be delivered to your stateroom.
Recommended: Nautical stripe carry on bag tote (check price & see Amazon reviews here)
Related: 23 Essential Things to Pack in Your Cruise Carry-On Bag
5. Shore Excursion Bag
Make sure to bring a shore excursion bag, that you can bring on beach shore excursions or other tours.
A big beach bag or good size backpack is essential to pack towels, sunscreen and everything you need for cruise shore excursions.
Recommended: Large beach bag with zippers (see details & reviews on Amazon here)
Cruise Tip: Do not pack a towel as they will be provided to you on the ship and can even be used in the ports of call.
6. Keep your Cell Phone Handy
While having a mobile phone isn't a necessity, it's a good idea with you as you travel. Many cruise lines are now using apps for check in and even for new muster drills.
These apps are free and a great addition to the paper daily planners that cruise lines put in your cabin each night. You can see what you want to do any any given hour of the day, and plan ahead for activities and reservations. You may even have a messaging service that can be used between guests, like with Princess Cruises Ocean Medallion.
Cruise tip: Remember to put your phone on airplane mode, as soon as you sailaway from the cruise port.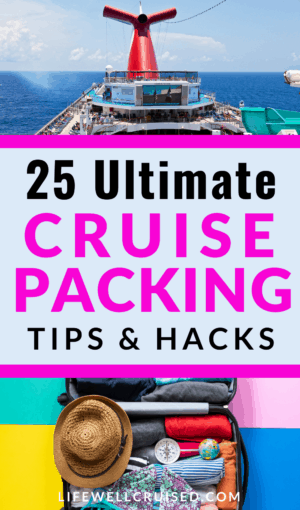 7. "Cruise Approved" Power-bar (non surge protected)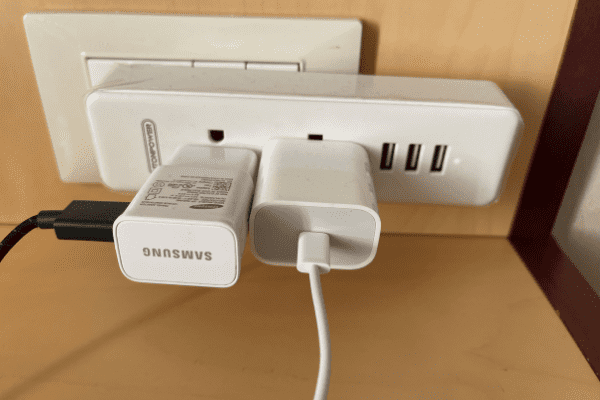 While there's a whole list of cruise accessories you could pack and bring with you, one thing not to forget is a non-surge protected "cruise approved" power bar.
Most cruise ship cabins just don't have enough outlets. Although newer build ships may have a couple of USB outlets, most do not. Given all our electronic equipment and chargers, most cruisers would agree that packing a power bar is a cruise cabin essential.
Note, for safety reasons, you cannot use a surge protector, iron or steamer. Click here to see my recommendation for a Cruise safe power bar (amazon).
8. Cruise Outfits and Comfortable Shoes
Overall, pack what you are comfortable wearing, but do check your cruise line's dress codes. Some are more casual (ie. Norwegian) and some are more formal (ie. Cunard), while others are somewhere in between.
No matter the dress code, make sure to pack cruise wear for the weather. If cruising in a cool climate, pack layers for the day if spending time outdoors. When cruising in the Caribbean, light clothing can be worn most of the time.
Don't forget to pack shoes for daytime activities and evenings. You don't need a pair of shoes for every cruise outfit, but you do want to pack comfortable shoes for the activities you plan to do.
Related: What I Wore on a 7 Day Caribbean Cruise (Cruise Outfits)
Recommended: How to Pack Light for a Cruise
9. Formal Wear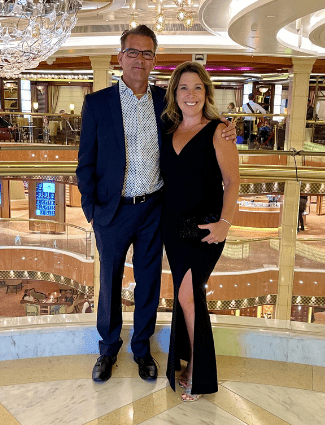 Not all cruise lines have formal nights, however most do have an evening where passengers tend to dress up. For instance, Celebrity Cruises has "evening chic" and Norwegian has "Norwegian night out".
While you don't need to attend or dress up, if you would like to participate, plan on bringing some fancier outfits. For men this can be a tuxedo, suit or dress pants and dress shirt. For ladies an evening gown, cocktail dress or "little black dress" are all appropriate.
Read more: What to Wear on a Cruise Formal Night (and frequently asked questions)
Get The Ultimate Cruise Planner
Regular price: $27 Now just $17!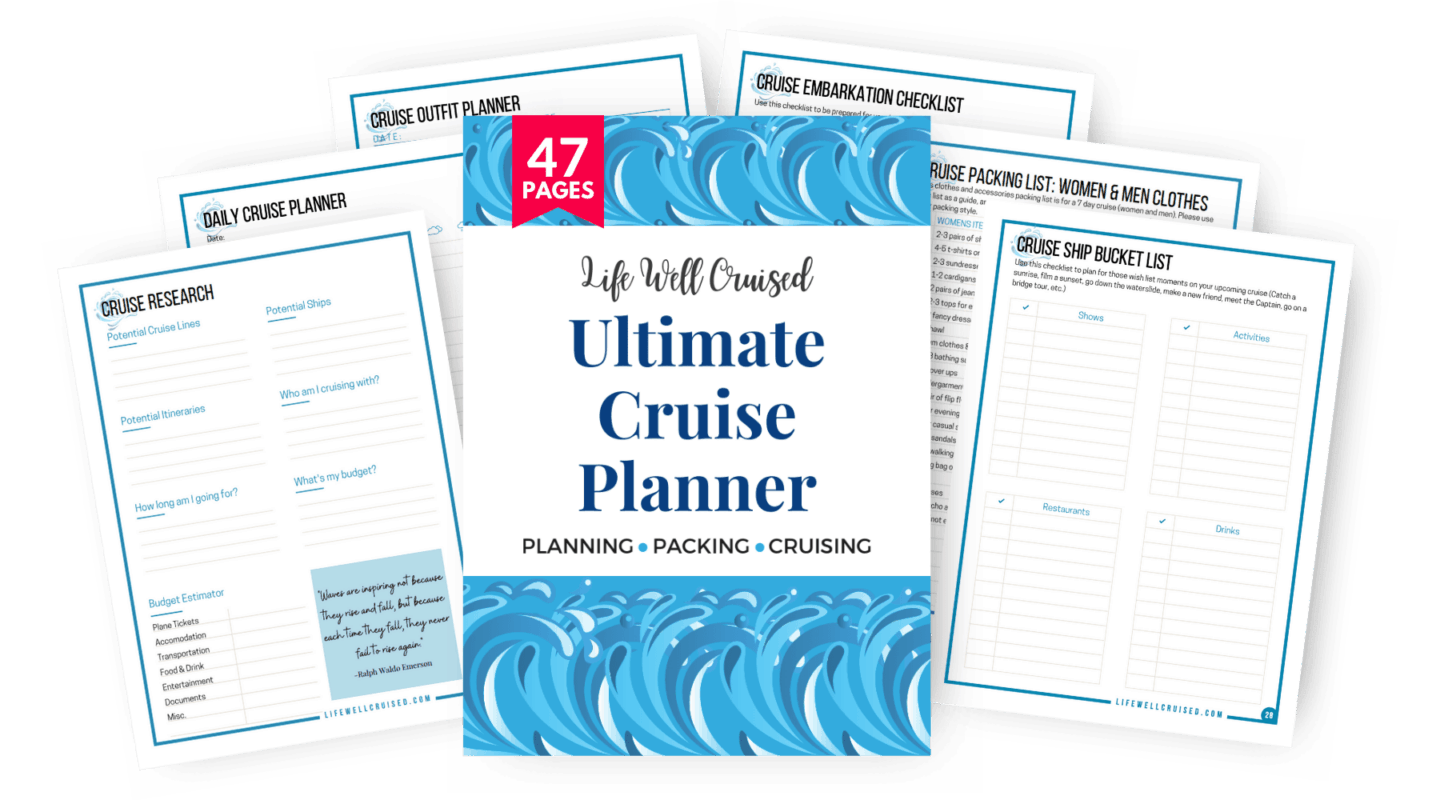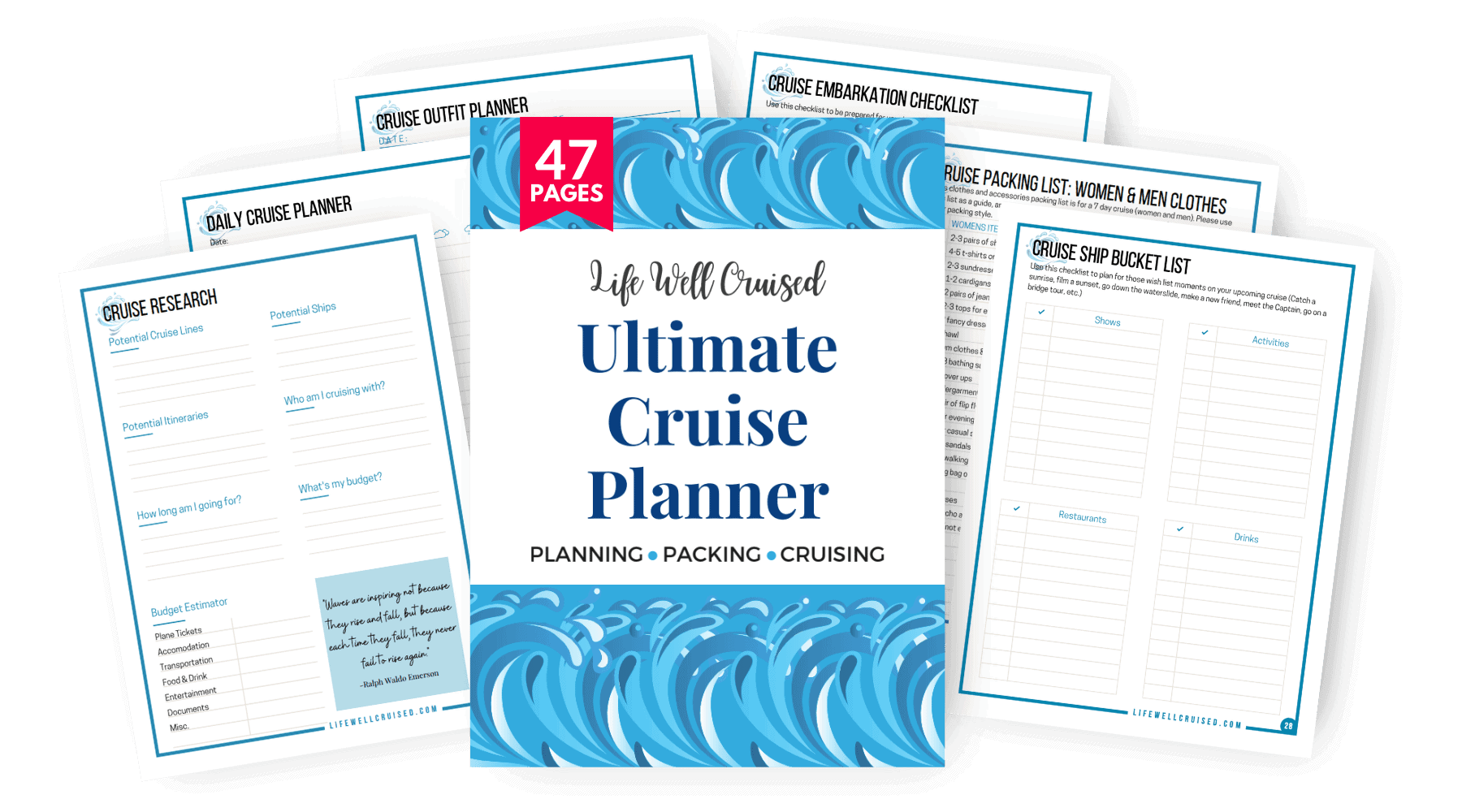 10. Wine
Check with your cruise line, however many cruise lines allow you bring a couple bottles of wine on board. There is a corkage fee of 15$, however when you consider what a bottle of wine will cost on the ship, this is likely worth it!
11. Travel Corkscrew
If you drink wine, I suggest you bring a small travel corkscrew (TSA approved), and keep it in your luggage for next time too. This really saves some time and energy for me when cruise packing!
Cruise tip: You can ask your room attendant to keep ice in your ice bucket every day and also for wine glasses to be kept in your cabin. Alternatively, you can also pick up glasses at any bar.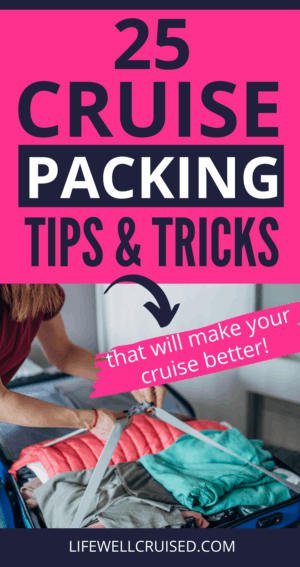 12. Refillable Water Bottles
The water on board the ship is filtered and totally safe to drink, so bring refillable water bottles to sip from while on the ship by the pool and especially in port when going to the beach.
Keep in mind that you will not want to drink the water in most ports of call so this item is a must on your cruise packing list. At about 3$ a bottle, you'll save a lot of money by bringing your own.
13. Packing Cubes
One of the best packing advice I ever received was to use packing cubes to pack for a cruise. They keep clothing organized, mostly wrinkle-free, and are especially helpful if you're cruising with kids.
You can pick up packing cube sets in various colors and sizes. Here is a set I've used and recommend: packing cubes (5 piece set on Amazon)
Related: Do Cruise Ships Provide Irons and Ironing Boards to Guests?
14. Wrinkle Release Spray and Tide To Go
These 2 laundry items are very useful when traveling, but especially on a cruise ship when you don't have easy access to laundry facilities.
Make sure to pack travel sizes of Tide to Go stain removal stick and Downy Wrinkle Release.
15. Bring a Pop up Mesh Laundry Bag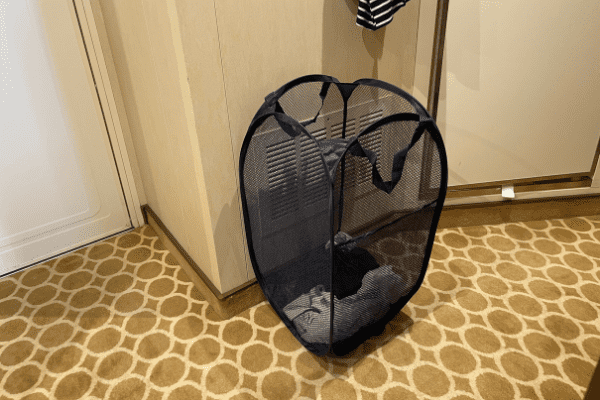 A great way to keep your cruise cabin organized is to bring along a collapsible mesh laundry hamper. This one actually folds up super small so it's easy and light to pack for your cruise.
Recommended: Mesh laundry hampers (see 1000+ reviews on Amazon)
16. Pharmaceutical Items
Some of the most overpriced items on a cruise are often pharmaceutical or health products sold in the cruise ship convenience store. So, avoid buying these items onboard, and pack them from home instead.
You'll need; waterproof bandaids, polysporin, immodium, pepto-bismal or tums tablets, re-hydrate tablets, pain reliever, throat lozenges, allergy medicine like benadryll, calamine lotion and cough candies.
This is what I bring and include on my cruise packing list, but I suggest you write out your own cruise first-aid kit packing list.
Read more: 31 Cruise First Aid Kit Essentials You Need to Have
17. Lanyards & Waterproof Phone Case
Putting a cruise key card on a lanyard is a convenient way for cruisers to be a bit more hands free on a cruise. You may also want to bring a waterproof phone case (great to pack for shore excursions) on a lanyard makes it a must-have cruise essential!
18. US small bills
Why bring small bills on a cruise? You won't need cash to pay cruise ship tips or gratuities, as this can be charged to your credit card during your cruise. For your convenience, you can even prepay gratuities before your cruise if you like.
However, it's a good idea to have small bills to tip the luggage porters as you drop off your luggage on embarkation day, or if they assist you for disembarkation. You may also want to tip tour guides in a cruise port and make small purchases in a shore side market.
Keep in mind that US dollars are welcome in most Caribbean cruise ports. However, when you cruise in Europe or outside of North America, make sure to use the local currency.
Cruise tip: Avoid using your credit card in cruise ports, unless it's for larger purchases. Even then, keep an eye on the currency being charged and that the amount is what was agreed upon.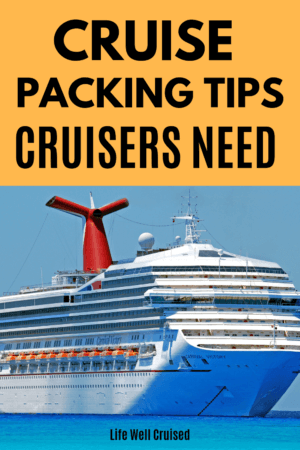 19. Seasickness Medication
Make sure to be prepared for possible motion sickness on a cruise. While we all hope not to get seasick, seasickness medication or prevention should be on your cruise packing list just in case.
Years ago I used to bring scopolamine or motion sickness patches, although we never used them. If you are prone to seasickness, I do suggest bringing them as people report that they work really well. You can also bring seabands, which are great for the cruise ship as well as boat excursions.
Nowadays, I bring some candied ginger as well as Bonine motion sickness medication, just in case.
Recommended: Natural ginger candies (check the reviews – these are awesome)
Related: How to Prevent Seasickness on a Cruise: 10 Effective Remedies
Bonine vs Dramamine: Which is the Best Motion Sickness Medicine on a Cruise
20. Masks
While masks are not required everywhere, we have been surprised that we've still needed them on occasion, depending on itinerary. They might also be good to have, just in case.
Recommended: 3 ply filtered disposable masks (read 4000+ reviews on Amazon here)
21. Sunscreen & Aloe Vera
If you're packing for a Caribbean or Bahamas cruise, make sure to pack reef-friendly sunscreen and aloe vera for potential sunburns.
Recommended: Reef-safe sunscreen (spf 50)
This is my favorite aloe vera gel! We used it on our last cruise when we got too much sun, and it was effective, non-sticky and moisturizing.
Recommended: Organic aloe vera gel (see price & amazon reviews here)
22. Lip balm
Protection from the sun goes beyond our skin. Don't forget to pack lip balm with an SPF for each member of the family, to avoid unwelcome swollen lips on a cruise.
I used this Neutrogena tinted lip balm on my Caribbean cruise and highly recommend it!
Recommended: Neutrogena tinted lip balm with SPF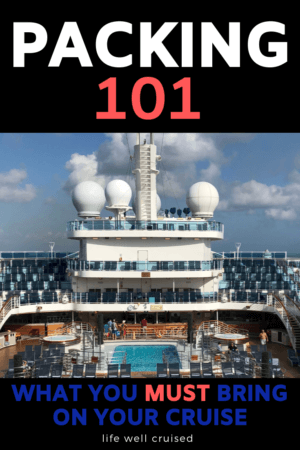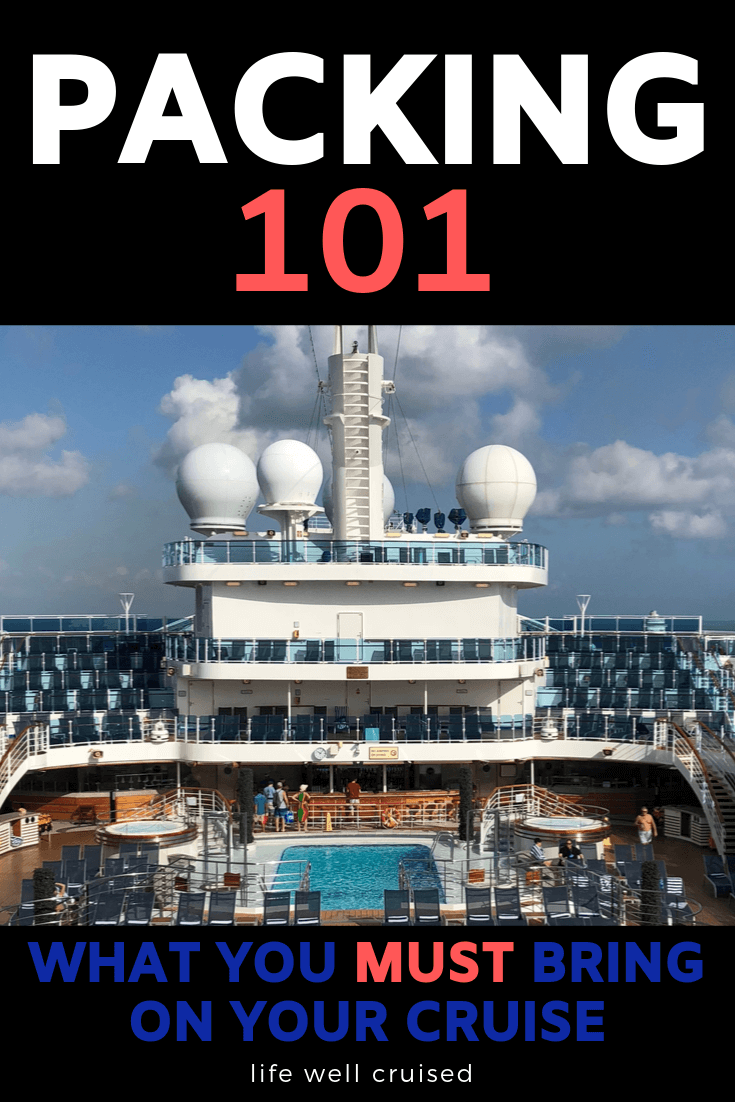 23. Ziplock Baggies
Even though I love packing cubes and hanging toiletry bags, sometimes, a good old ziplock baggy is what you need.
Pack a few bandaids in a baggy and throw them into your cruise shore excursion bag. Use baggies to pack a few snacks for your children from the buffet. You may even want to put wet bathing suits in large ziplocks after a beach excursion.
24. Water shoes
If you're going to the beach, water shoes will be very useful. We brought water shoes for a shore excursion to Virgin Gorda, the Baths and have decided to bring them on every Caribbean, Bermuda and hot weather cruise from now on!
Recommended: Water shoes (men's & women's sizes & styles)
25. Children's Items
If you're traveling with young children, bring what you would need for any trip: diapers, wipes, rash creams. Bring some children's tylenol or your preferred medication as well. Do check with the cruise line as to what will be provided as food, and what you may need to bring and add that to your own cruise packing list.
Related: 7 Best Cruise Lines for Families
26. Sand Toys
There really isn't much of a limit on what you can bring on a cruise, so if you're cruising with young children, why not pack sand and beach toys? These can really keep the kids busy on beach days, and having fun on your cruise!
27. Towel Clips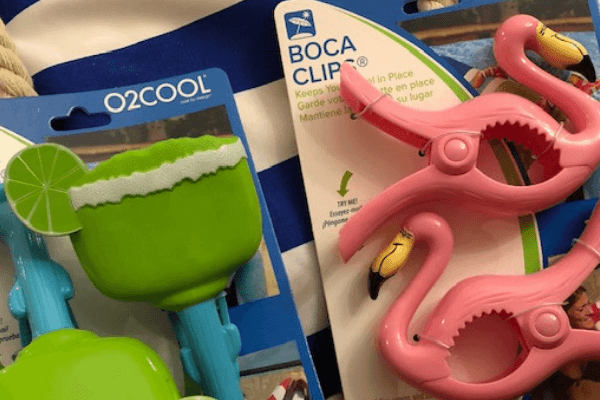 I bought these towel clips a few years ago. Not only are they probably my favorite cruise accessory, but they are so useful! When it's breezy on a cruise ship on sea days, or even on our beach days, I simply clip my towels to the lounge chairs and they stay in place.
There are a few options such as cute flamingo clips, or parrots and more!
Alternatively, you may want to pack towel bands, especially if you're trying to pack light on your cruise.
Recommended: Towel bands (check price & reviews here on Amazon)
Video: Cruise Packing Tips
Would you like to see more about packing for a cruise? In this video I share more cruise packing tips you'll enjoy!
More Useful Cruise Essentials
If you're looking for add to your cruise packing list, here are some of the best selling cruise accessories on Amazon, that may be useful to pack for your cruise.
Cruise luggage tag holders (short – Carnival, Princess, HAL)
Cruise luggage tag holders (long -Celebrity & Royal)
Cruise luggage tag holders (Norwegian Cruise Line)
Cruise power strip (non surge protected)
Get The Ultimate Cruise Planner
Regular price: $27 Now just $17!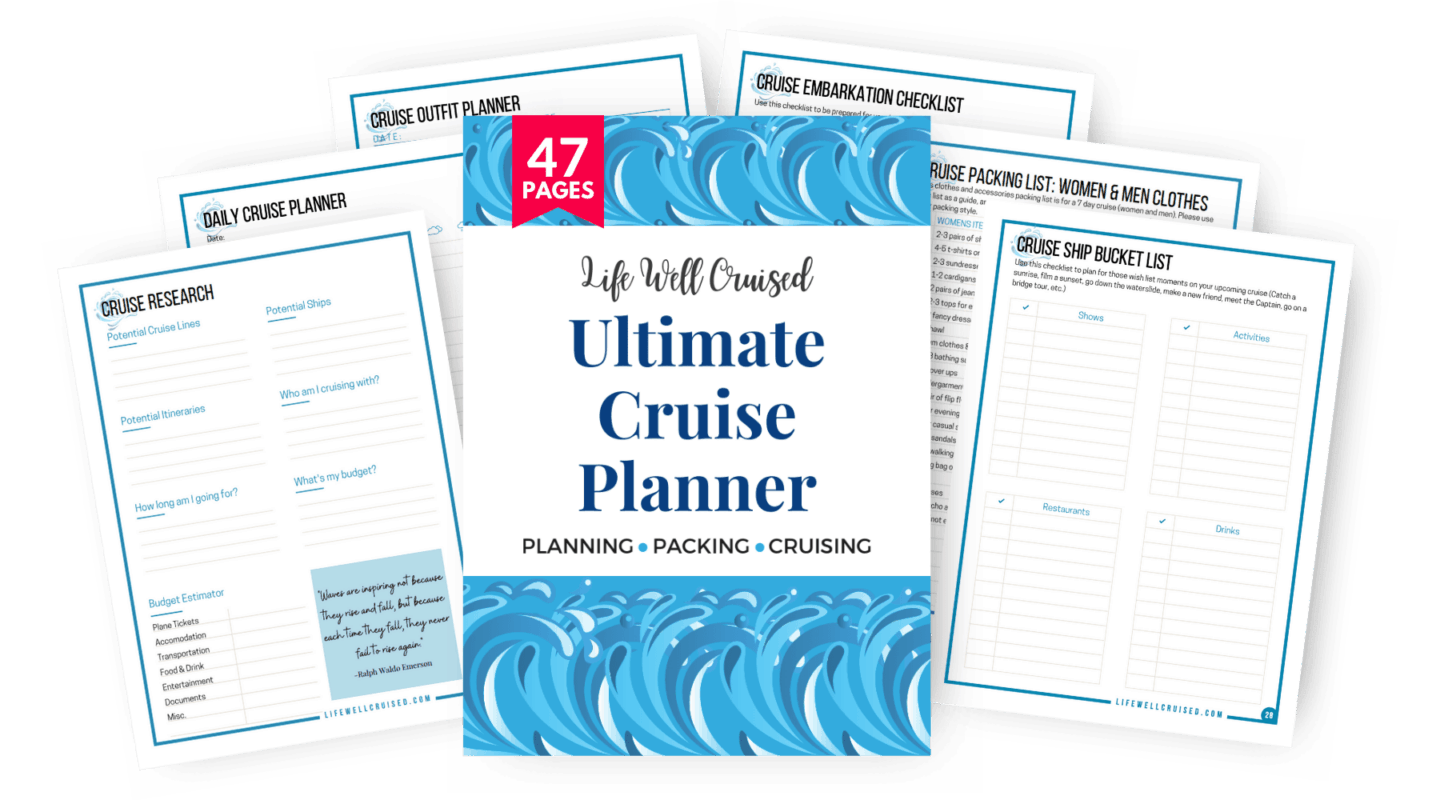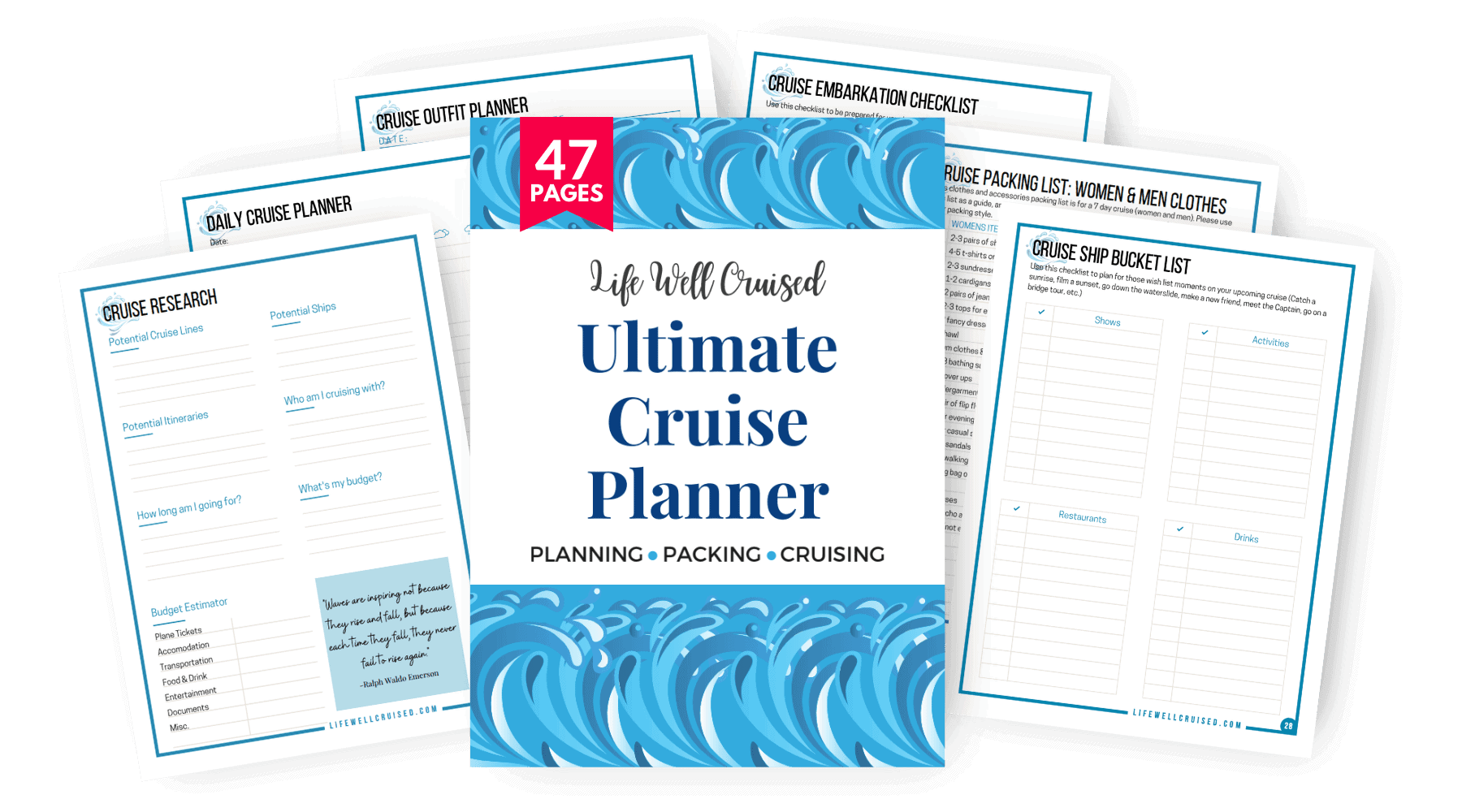 Related & Popular Posts:
50 Must-have Cruise Essentials from Amazon
What To Wear on a Cruise – The Ultimate Guide
21 Essential Things to Pack in Your Cruise Carry-On
What to Pack for a Caribbean Cruise
Cruise Wear over 50: Flattering Cruise Outfits for Women
Plus Size Cruise Wear: Beautiful Cruise Outfits for Curvy Women
Best Travel Gadgets to Bring on a Cruise (tech items & electronics)
Final Thoughts: 27 Cruise Packing Tips All Cruisers Need to Know
In this post we went over what to pack for a cruise, as well as 27 useful cruise packing tips for new and experienced cruisers. I've also included some of the most useful cruise items that can make your cruise easier as well.
I hope this post has been helpful to give you a good idea to know what to pack for your cruise vacation.
What are your cruise packing tips or must-haves items you bring on a cruise? Please let me know in the comments below.
Happy Cruising!
Ilana
If you found this post helpful, please don't keep it to yourself ;-). Share it on Facebook or Save for later Pinterest (share buttons at the top). Thanks so much!
Let's connect:
Follow me on Facebook at Life Well Cruised
Follow me on Pinterest at Life Well Cruised
Follow me on Instagram at Life Well Cruised
Follow me on Life Well Cruised on YouTube