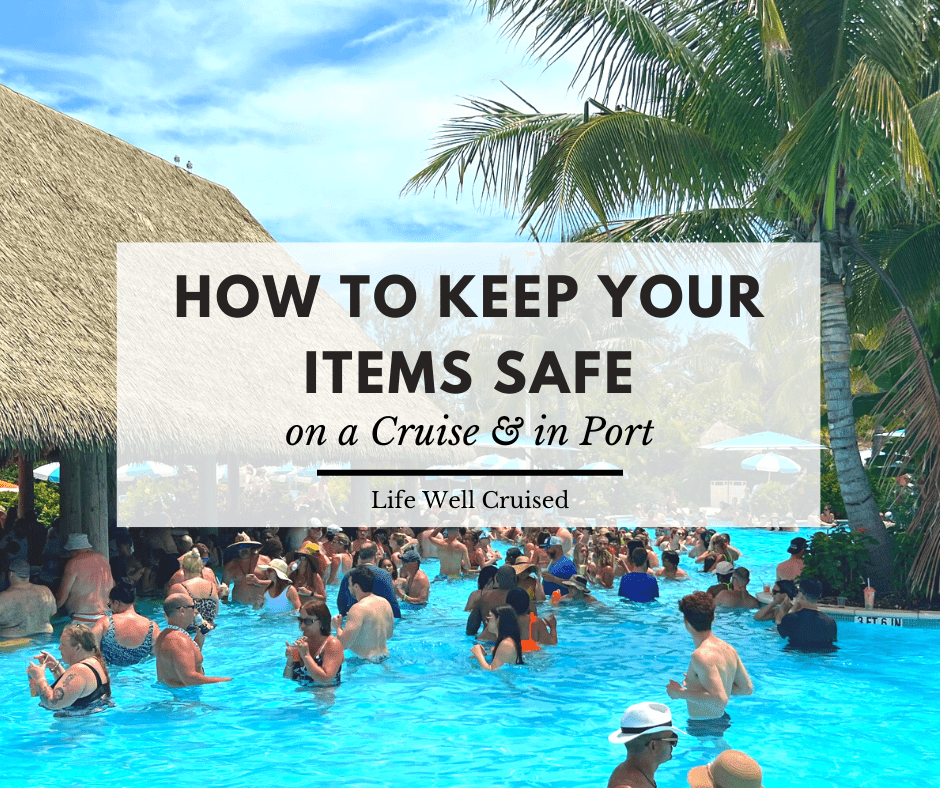 Being robbed while on a cruise isn't something we want to think about. However, many cruise travelers worry about how to keep their belongings safe on the cruise ship, as well as in cruise ports of call & on excursions.
Whether you're a first time cruiser or repeat cruise, these anti-theft travel tips will help you to avoid being a target during your cruise vacation.
In this post you'll find cruise tips & actionable things you can do to protect your valuable possessions at the pool, beach & cruise ship cabin.
This post contains affiliate links which means if you click and buy that I may make a commission, at no cost to you. Please see my disclosure policy for details.
As an Amazon Associate I earn from qualifying purchases.
8 Ways to Keep Your Items Safe on a Cruise
1. Leaving Expensive Items at Home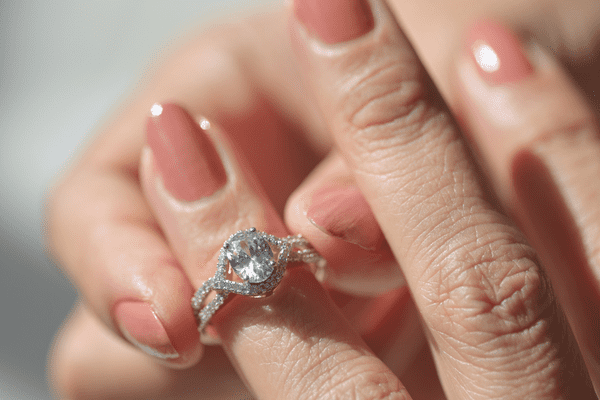 Before going on a cruise, consider what you really need. If possible, leave your most valuable and expensive items at home.
In particular, if you have items that are not only valuable, but also sentimental, don't bring them with you on a cruise. Things like your grandmother's diamond ring or an expensive Rolex watch, are best left at home.
However, if you decide to bring any valuable items, there are ways to keep your belongings safe in the following tips.
2. Never Carry Your Wallet on the Cruise Ship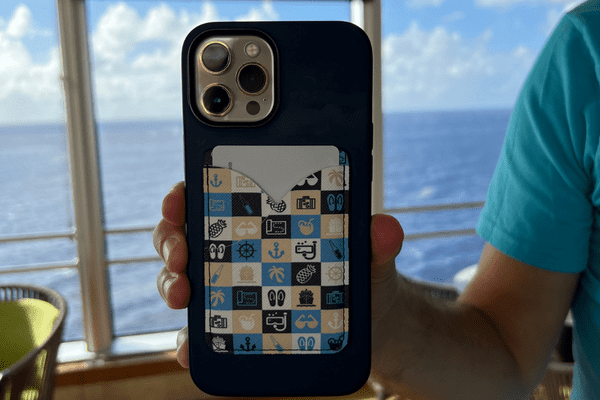 Cruises are cashless vacations. Your purchases will be charged to your room, where you've already set up a credit card or other method of payment.
You'll have a cruise card which can be used to buy drinks and anything else you need on a cruise. So, there really is no need to carry your wallet, cash, credit cards and ID around.
If you like to have a bit of cash with you to tip bartenders a little extra, you can always keep a few singles with you.
Tip: Prepay and prebook as much as you can before your cruise, such as excursions, beverage packages and crew gratuities.
3. Bringing Designer Bags
I'm often asked if you can bring designer bags on a cruise and how to keep them safe on the ship and in cruise ports of call.
If you like to wear designer luxury bags on a cruise, there are a few do's and don'ts.
Firstly. use the same caution you would when travelling anywhere. Don't leave your purse unattended in public.
When flying and traveling, make sure your designer or expensive purses are in your carry on and not in your checked luggage.
It's common for ladies to wear an evening bag or clutch in the evening to dinner. However, use your judgment in ports of call. If you have any concerns at all, it's best to leave designer bags in your cruise ship cabin.
4. Cabin Attendants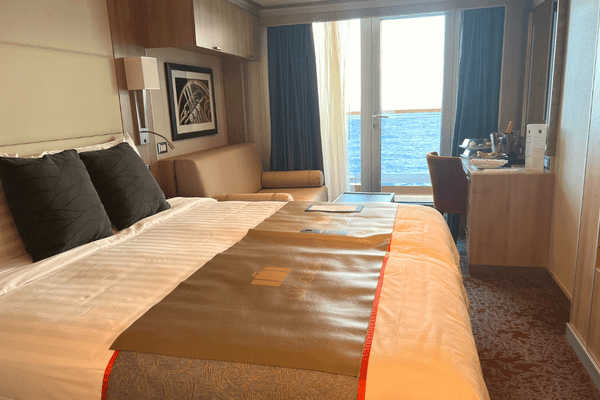 In general, your items should be safe in your cabin. However, there are times when we've seen cabin stewards leave stateroom doors open, so it's best to leave all valuable items out of sight.
Things like jewelry, laptops, cameras and other items of value should be put away.
You can put items away in a safe, in your luggage, or in the closed closets and drawers.
5. Keep Items Safe at the Pool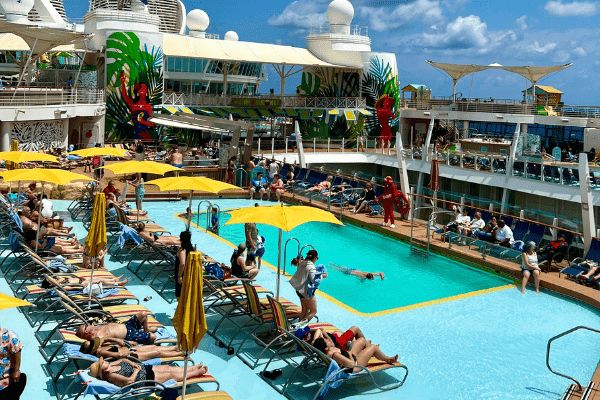 I really haven't heard much of theft on cruise ship lido decks. However, you still want to use some caution and common sense.
Only bring the items you need to the pool deck. Keep a beach bag or backpack to store items, so they aren't in plain sight and easy to grab quickly.
If you have a kindle, iPad or even your phone, make sure these things are put away, or bring them with you when you leave your lounge chair. If you're going into the pool, keep an eye on your items and consider putting your bag under a towel.
Get The Ultimate Cruise Planner
Regular price: $27 Now just $17!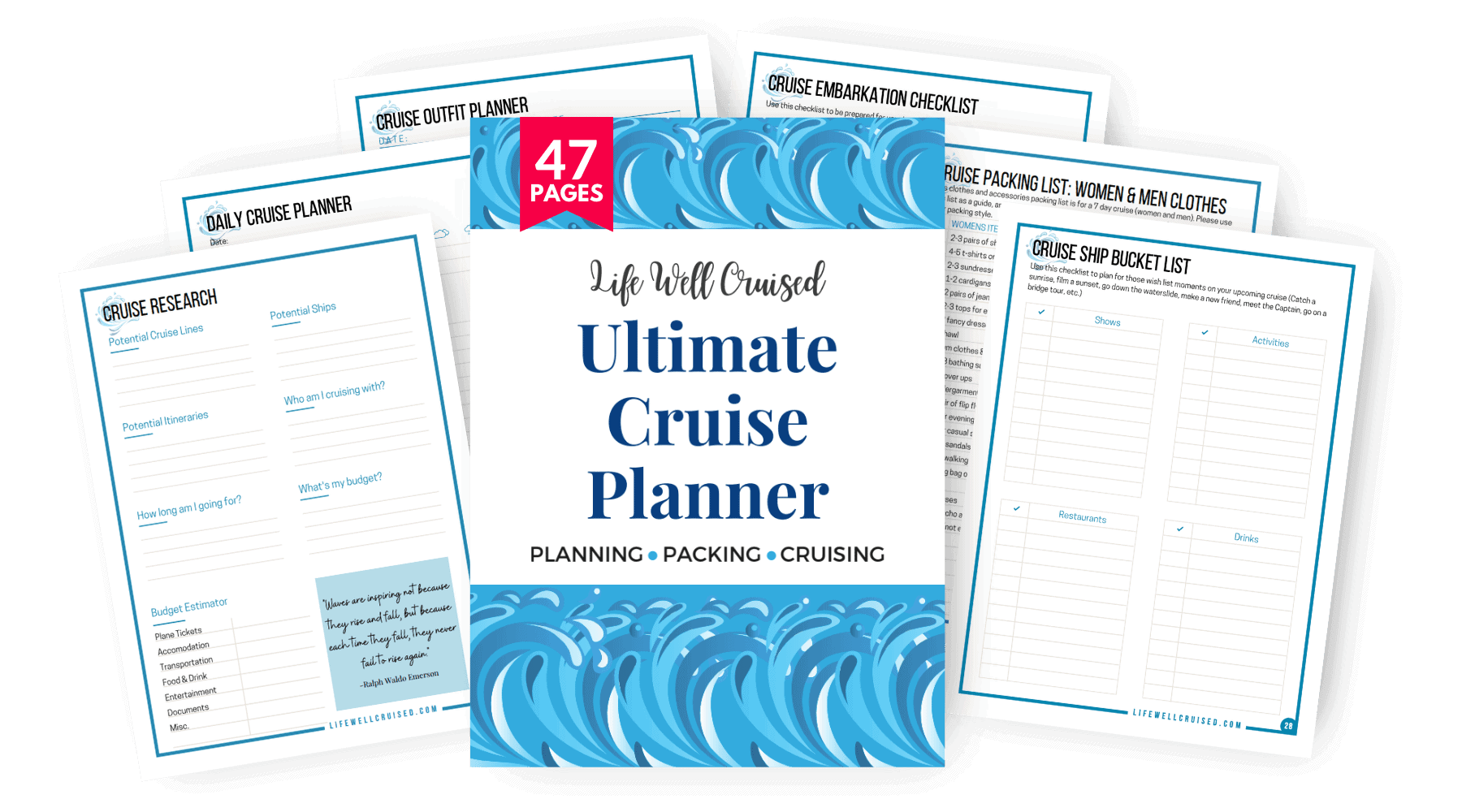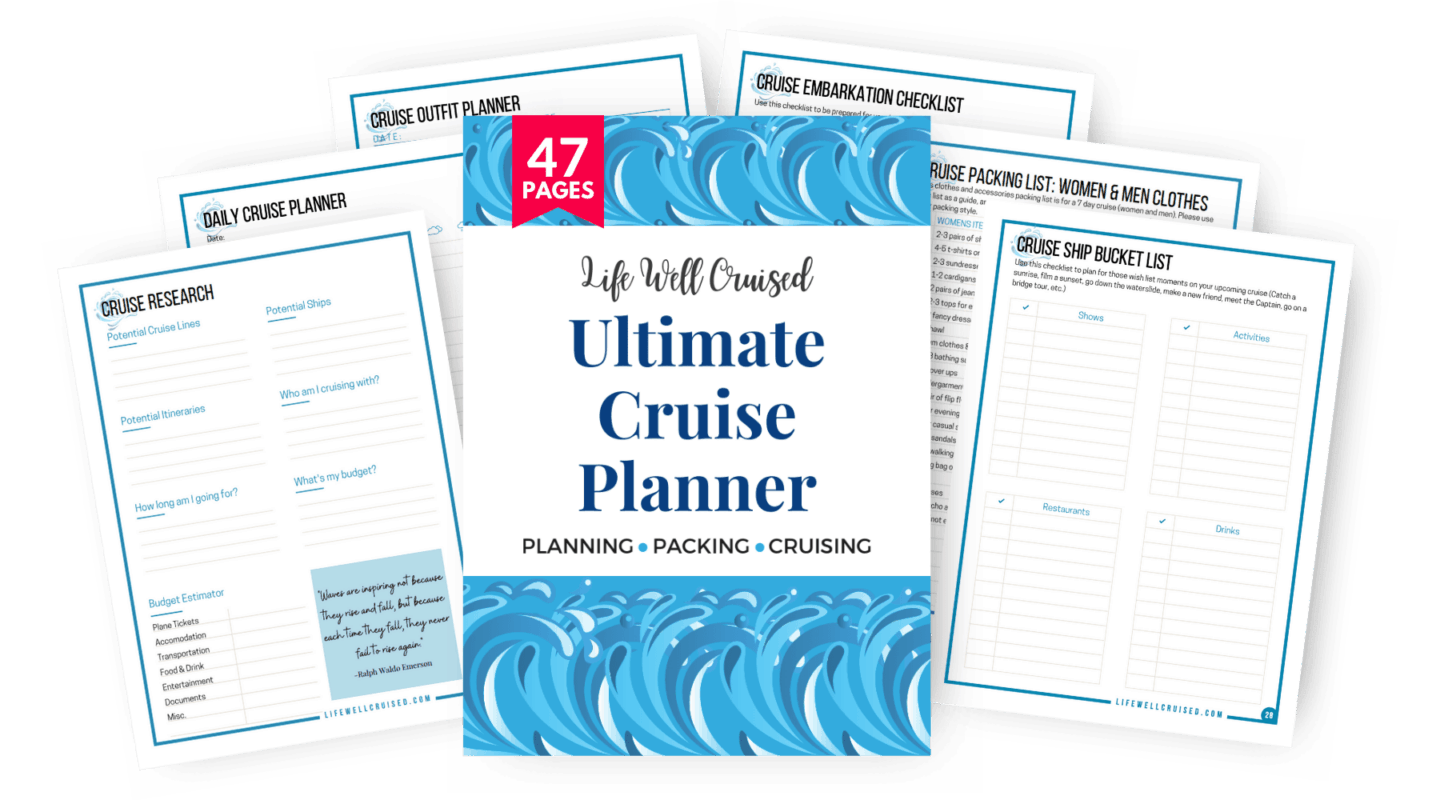 6. Keep Items Safe on Excursions
While cruise ships are pretty safe, you'll want to be a bit more careful on shore excursions and in cruise ports of call.
If you're sightseeing in a big city, be aware of pickpockets and travel scams.
Here are a few tips to travel safely when in port cities and port:
Wear an anti-theft crossbody purse
It's a good idea to have a slash proof anti-theft purse when traveling in some cities. If you're on a Mediterranean cruise, this is a must for your Mediterranean cruise packing list.
Recommended: Travelon crossbody bag (check price & 4.5* Amazon reviews here)
Money Belt Waist Pouch
Wearing a money belt waist pouch is especially good if you're staying a few days in a city before or after a cruise. These can be worn by men and women.
Recommended: Money belt waist pouch
Bring 1 credit card, and leave 1 on the cruise ship
Don't bring a lot of cash with you in ports of call, and have 1 credit card with you for expensive purchases and for emergencies. Always leave one credit card back on the cruise ship, just in case.
Have a Backpack or Beach bag
If you're going on an excursion to the beach or snorkeling, make sure to have your essentials for the day in a beach bag (with zipper) or backpack. Only bring what you need for the excursion, along with a few dollars for small purchases and tips.
Recommended: Beach bag
Beach Days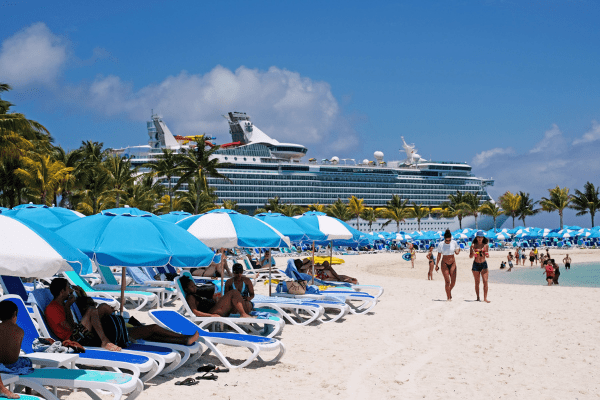 Many beaches can get really crowded, especially when more than one ship is in port. These are a few travel accessories that can be useful.
Waterproof Phone Case on Lanyard
I use my waterproof phone case a lot! It's so handy – it can hold my phone, cruise card, credit card, and even a few dollars.
Recommended: Waterproof phone case lanyard
Waterproof Waist Pouch
This waterproof waist pouch is useful if you're going into the water on the beach or snorkeling.
Recommended: Waterproof waist pouch (see over 8000 4.5* Amazon reviews)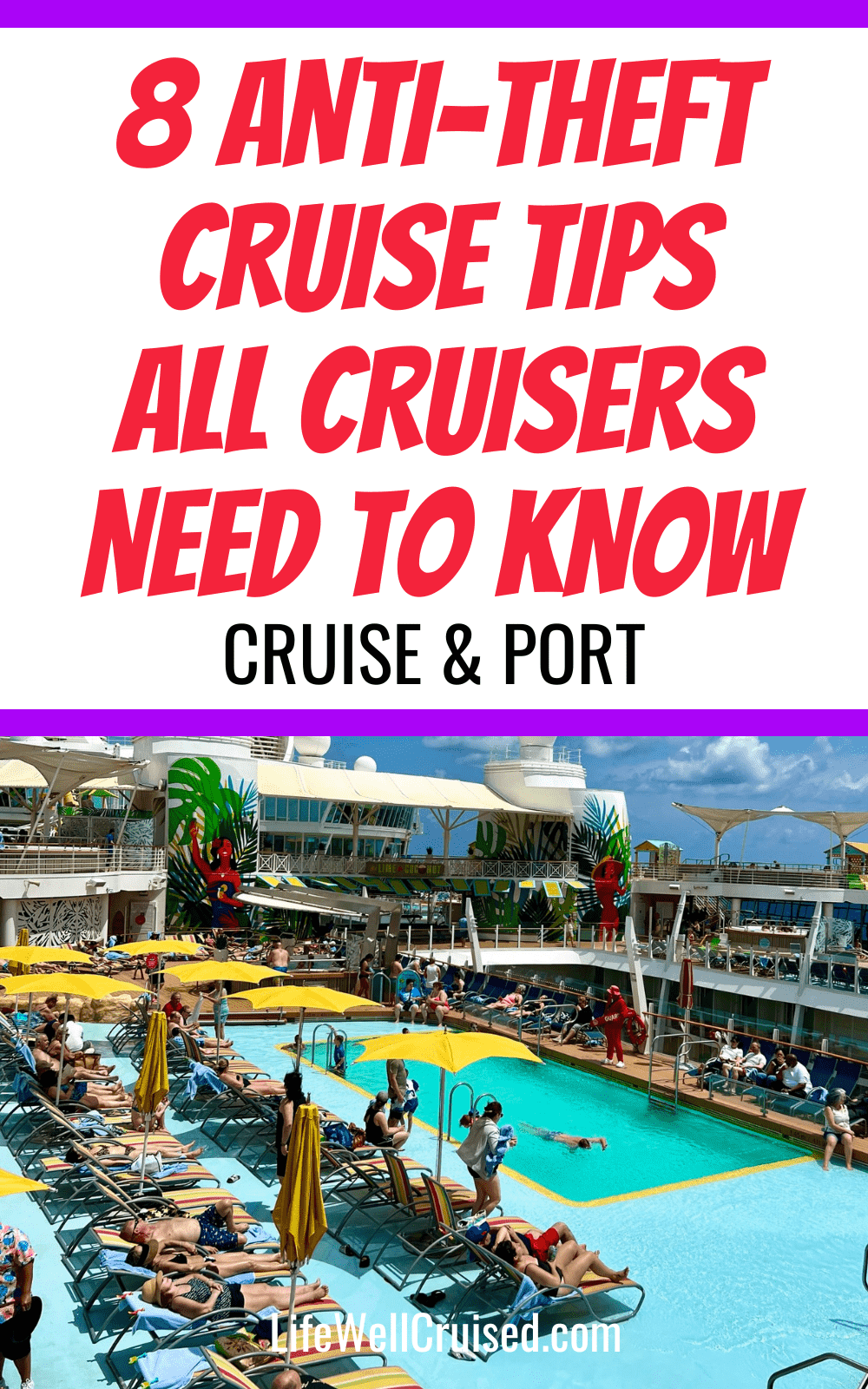 Lock Box Safe
A very useful cruise essential is this lockbox safe. It can be locked onto your beach chair and hold any valuable items.
Recommended: Lock box safe
Locker Rentals
Research your destination and excursions before you go on a cruise. Sometimes you'll have locker rentals, where you can keep your belongings safe and secure during your shore excursion.
7. Make Sure Your Luggage Is Properly Tagged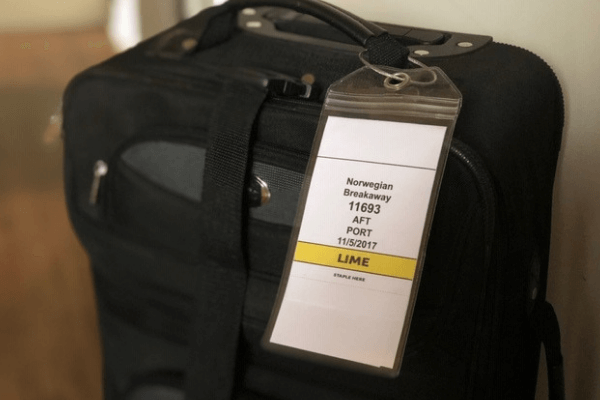 Make sure your luggage is properly tagged for your cruise ship and sail date, both for embarkation and disembarkation days.
It's a good idea to use plastic reusable luggage tag holders, to secure your paper luggage tags which you'll print out before the cruise.
Luggage Tag Holders by Cruise Line:
Video: Anti-Theft Cruise Tips Every Cruiser Needs to Know
8. Keep All Valuable Items in Your Carry On Bag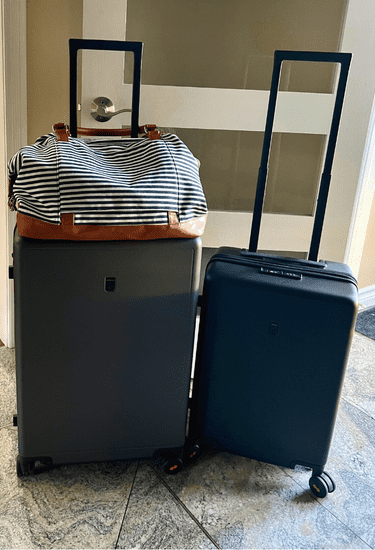 To keep items safe on a cruise, make sure to keep all valuables in your carry on bag on embarkation day.
This includes your passports and ID (keep them on you at all times), jewelry, laptop or iPad, medication and any other expensive or important item.
I like to use luggage with a TSA approved combination lock as well, especially if I'm flying to the cruise port.
Recommended: Level 8 Carry-on luggage (check price & reviews on Amazon here)
Get The Ultimate Cruise Planner
Regular price: $27 Now just $17!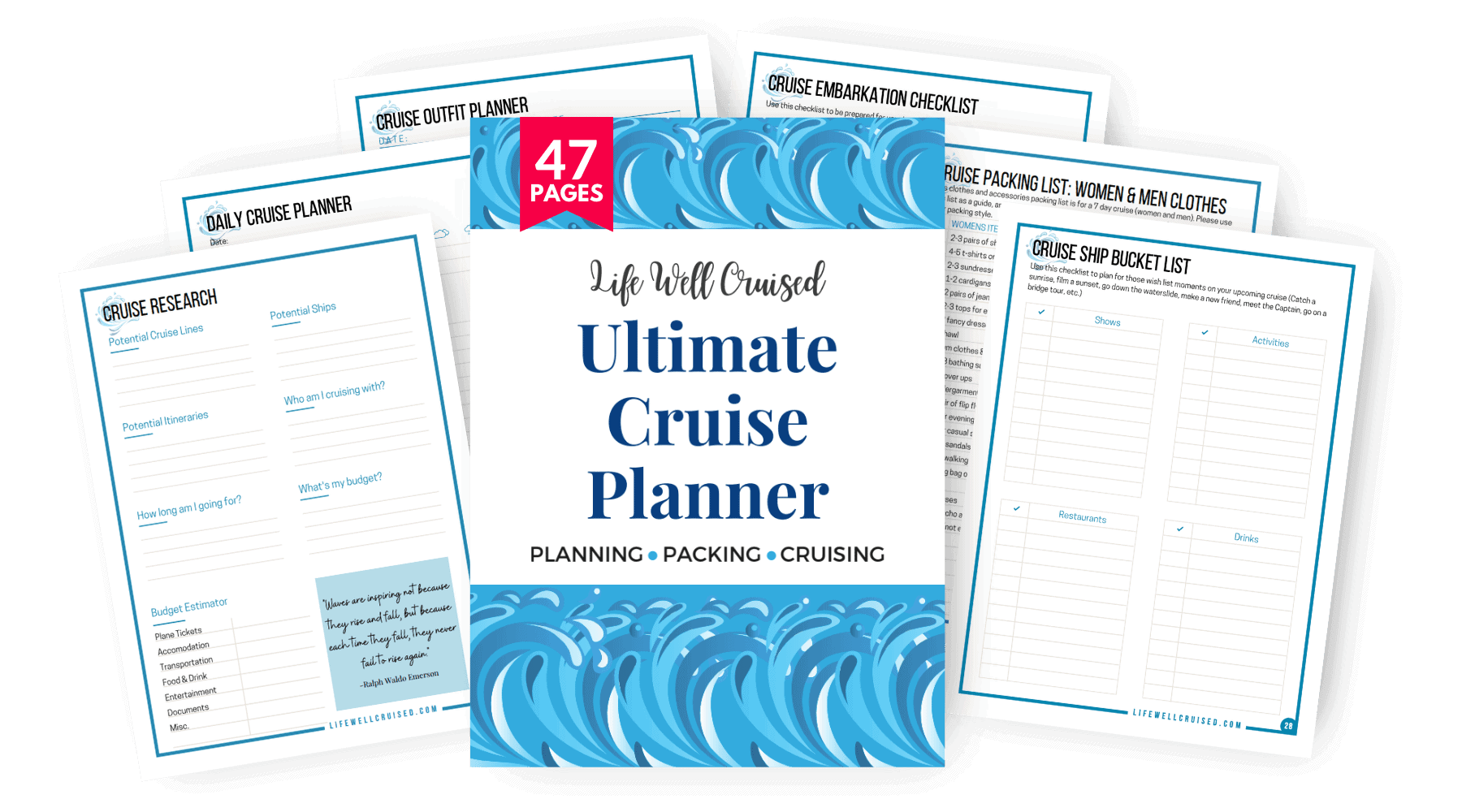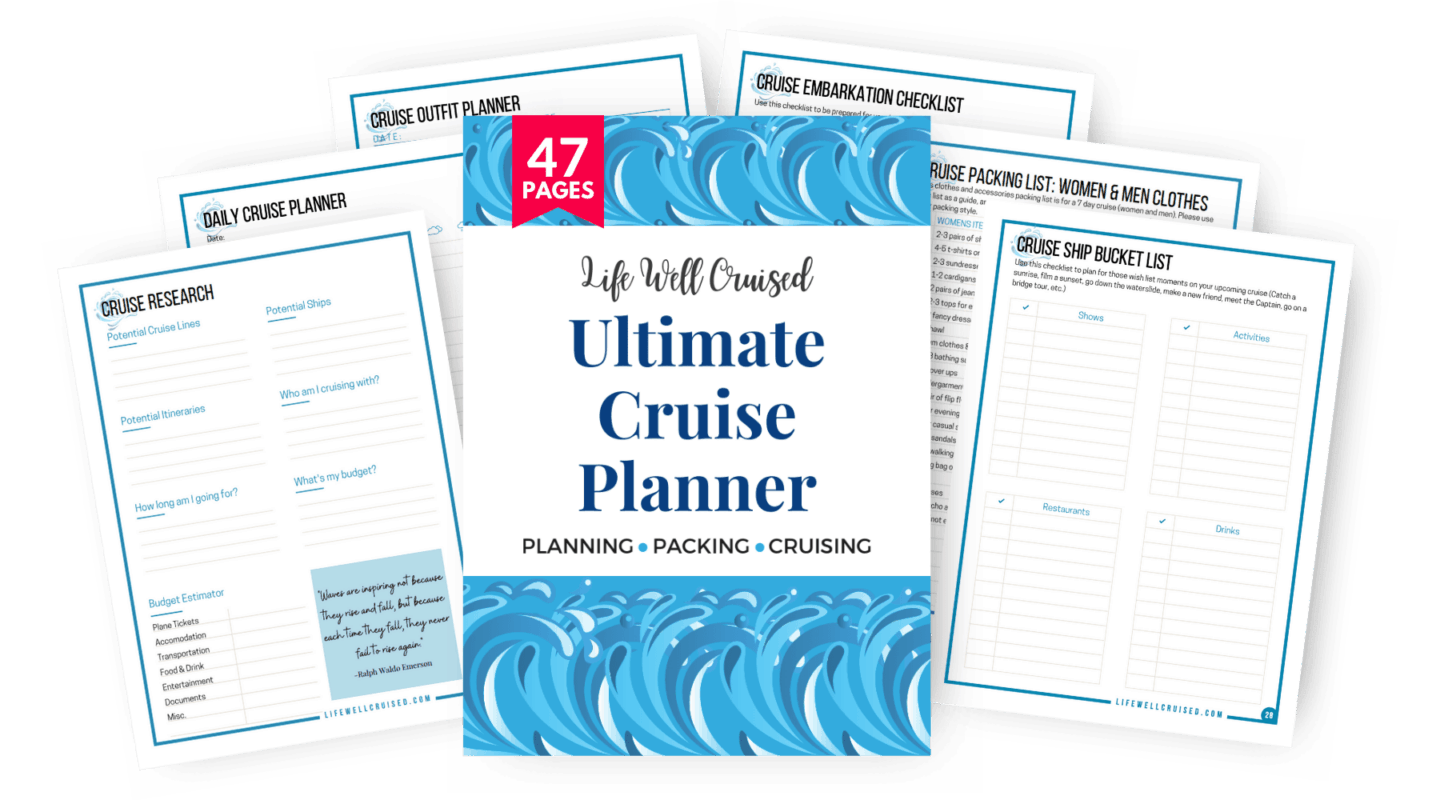 Related & Popular Posts
Final Thoughts on How to Keep Your Belongings Safe on a Cruise Vacation
While cruises are very safe vacations overall, unfortunately theft can still happen. It's important to keep safety in mind and plan on how you can keep your belongings safe on a cruise.
Have you encountered any issues during a cruise? Please let me know your experience and anti-theft cruise tips in the comments below.
Happy Cruising!
Ilana
If you enjoy this post please don't keep it to yourself ;-). Please feel free to share on Facebook or Pinterest (share buttons at the top). Thanks so much!