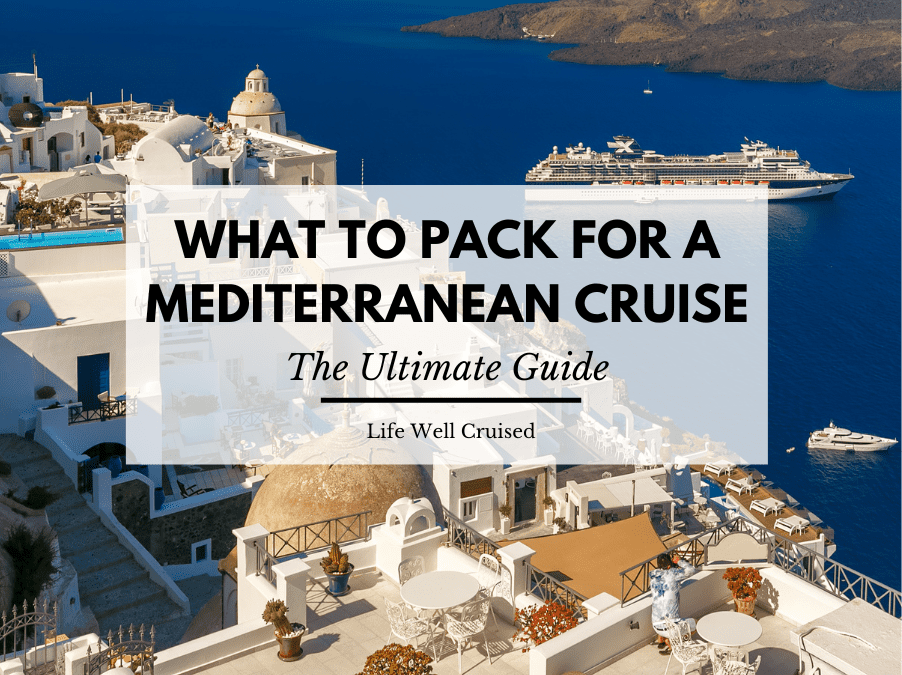 Are you going on a Mediterranean cruise and wondering what to pack? Even for experienced cruisers, packing for a Mediterranean cruise can be a challenge.
If you've been on a Caribbean cruise, your Mediterranean cruise packing list will have some similarities. You'll need cruise outfits for days and evenings, including formal nights on the cruise ship.
However, you'll want to dress for the culture in the cruise ports, as well as the weather depending on when you travel.
What to Bring on a Mediterranean Cruise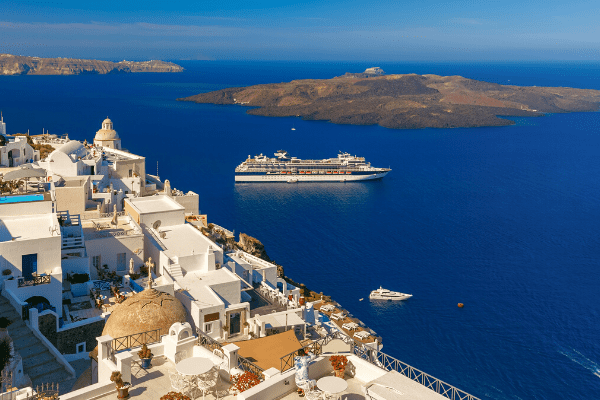 When planning what to wear on a Mediterranean cruise, you'll need to plan for the days and evening on your cruise ship, as well as days in port when shore excursions may be planned.
You'll also need your travel essentials for any pre and post stays in your embarkation or disembarkation port, as well as your cruise essentials for your cabin.
In this post we go over:
What to wear on a Mediterranean cruise (cruise ship & ports)
What to wear on a Mediterranean cruise (Summer, Spring, Fall & Winter)
What items to pack for a Mediterranean cruise (cruise & travel essentials)
This post contains affiliate links which means if you click and buy that I may make a commission, at no cost to you. Please see my disclosure policy for details.
As an Amazon Associate I earn from qualifying purchases.
What to Wear on a Mediterranean Cruise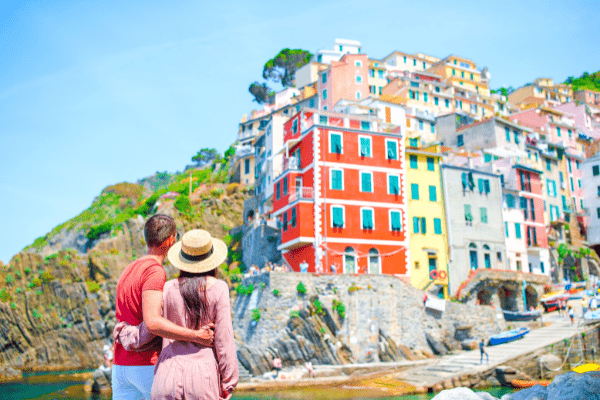 Whether you're taking a 7 day or a 12 day Mediterranean cruise, you'll need cruise outfits for sea days on the cruise ship, as well as days in port visiting. You'll also need to plan for evening wear on your cruise ship.
If you want to pack light for your cruise, and avoid bringing too much luggage, you can definitely wear items more than once and pack a capsule wardrobe.
It's a good idea to check your cruise line dress code, however in most cases a Mediterranean cruise will include 2 Formal, Elegant or Chic Evenings. On most cruise lines this can mean anything from a suit or dress pants and shirt for men and cocktail dress to a Little Black Dress for ladies.
The other evenings will be have a casual or smart casual dress code.
These days, cruise line dress codes are more relaxed than just a few years ago. However, during the evenings on European cruises, many people do still dress up for dinner in the main dining room or specialty restaurants.
What to Wear in Mediterranean Cruise Ports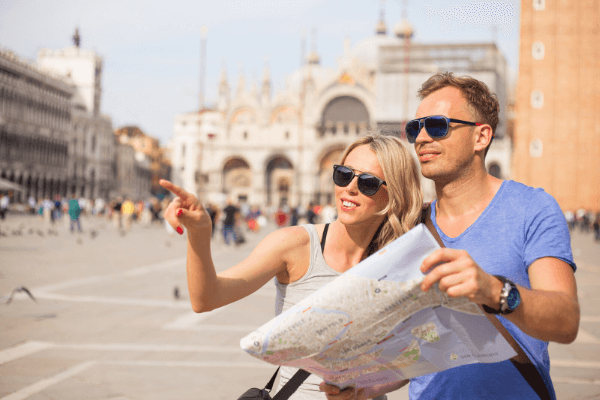 When planning what to wear in some of the cruise port cities in Italy, Greece, France or Spain, consider your shore excursions so you can plan accordingly.
You'll want to be comfortable, but if you want to blend in just a little, you'll want to be a bit stylish as well.
Casual clothing is just fine. However most Europeans don't wear workout wear or yoga pants as streetwear, so you may want to save this type of clothing for the gym or for hanging out on the cruise ship.
While you can dress as you like, many people pack "nicer outfits" than you might for a Bahamas cruise, for example.
Sightseeing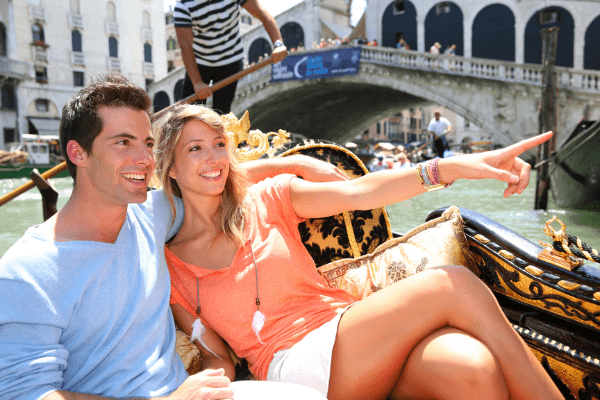 In historic cities like Venice, Rome, Florence, Athens, you'll likely spend time sightseeing, along with a lot of walking on uneven cobblestone streets. It's very important to bring comfortable walking shoes. Save your high heels for dinners, shows and the casino on the cruise ship.
Always pack a lightweight scarf or shawl, pashmina or cardigan for when visiting religious buildings during summer months (to cover your shoulders). I also like to have a light sweater or shawl for the evening on the cruise ship, when the air conditioning can be cool.
You'll also want to pack a money belt or neck wallet, and/or an anti-theft backpack or cross-body bag.
Unfortunately, pick-pocketing is not uncommon in many of the big cities including Rome and Barcelona. You'll want to protect your passport, travel documents and other valuables at your embarkation ports as well as when visiting the ports of call.
Greek Isles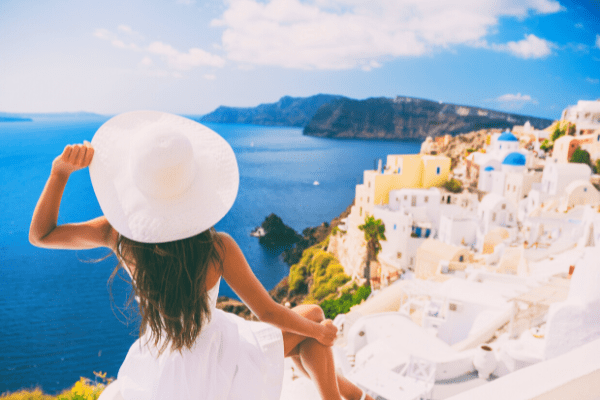 If you are going to Santorini, Mykonos or another Greek island, consider packing a white dress or white buttoned shirt and shorts. It looks striking against the backdrop of the azure blue sea and stunning landscape.
Beach Days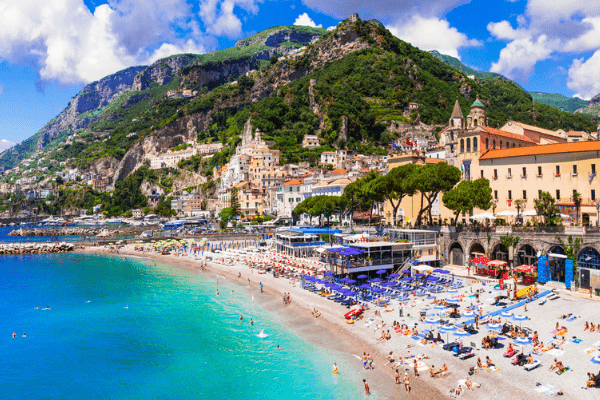 If you're doing a Western or Eastern Mediterranean cruise during the summer months and planning a beach day in Barcelona or Mykonos, you can wear a sundress or shorts and a t-shirt over a bathing suit.
Beach wear isn't welcome on the streets. It's a good idea to have a cover up to wear at the beach and pack a beach bag or large tote.
Get The Ultimate Cruise Planner
Regular price: $27 Now just $17!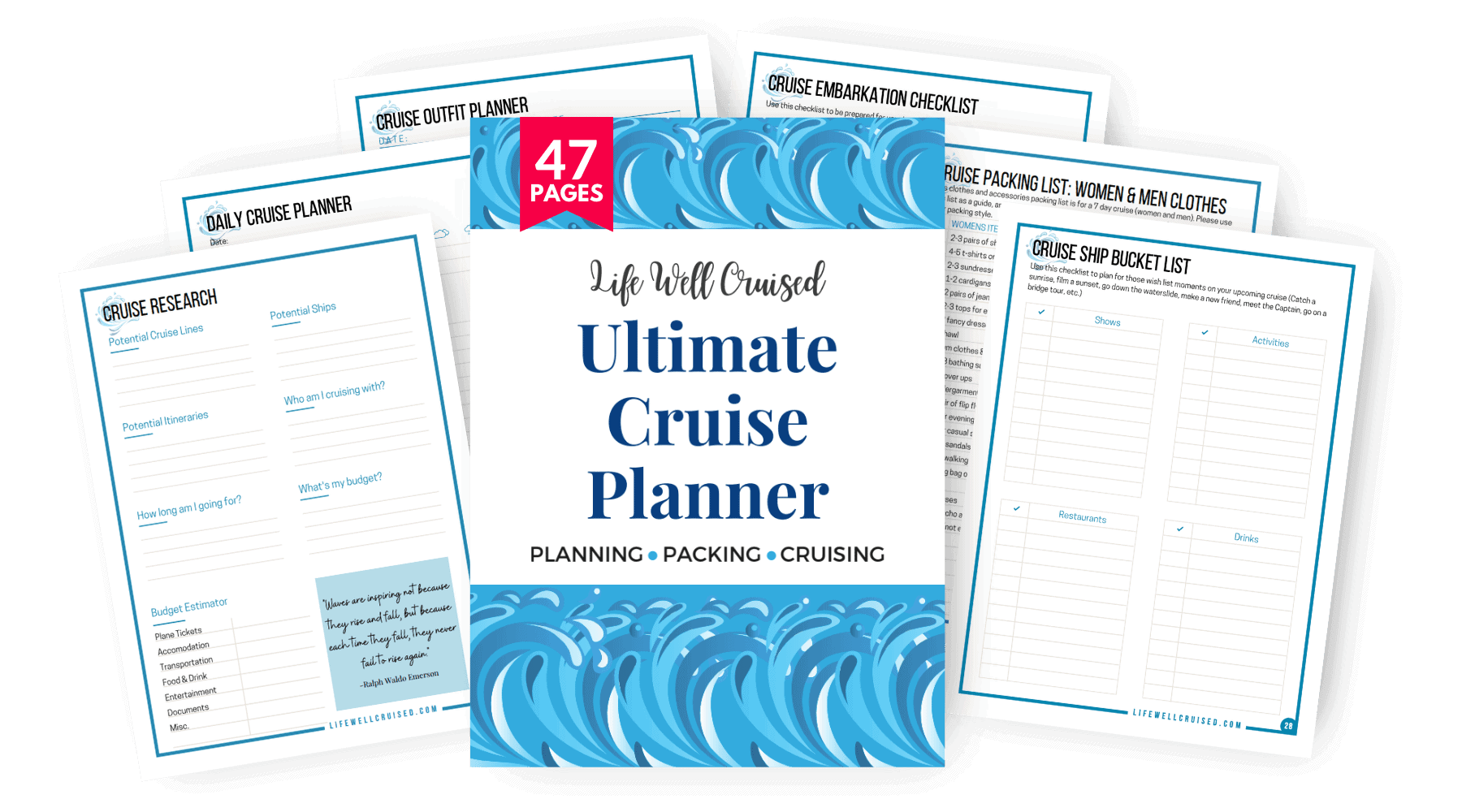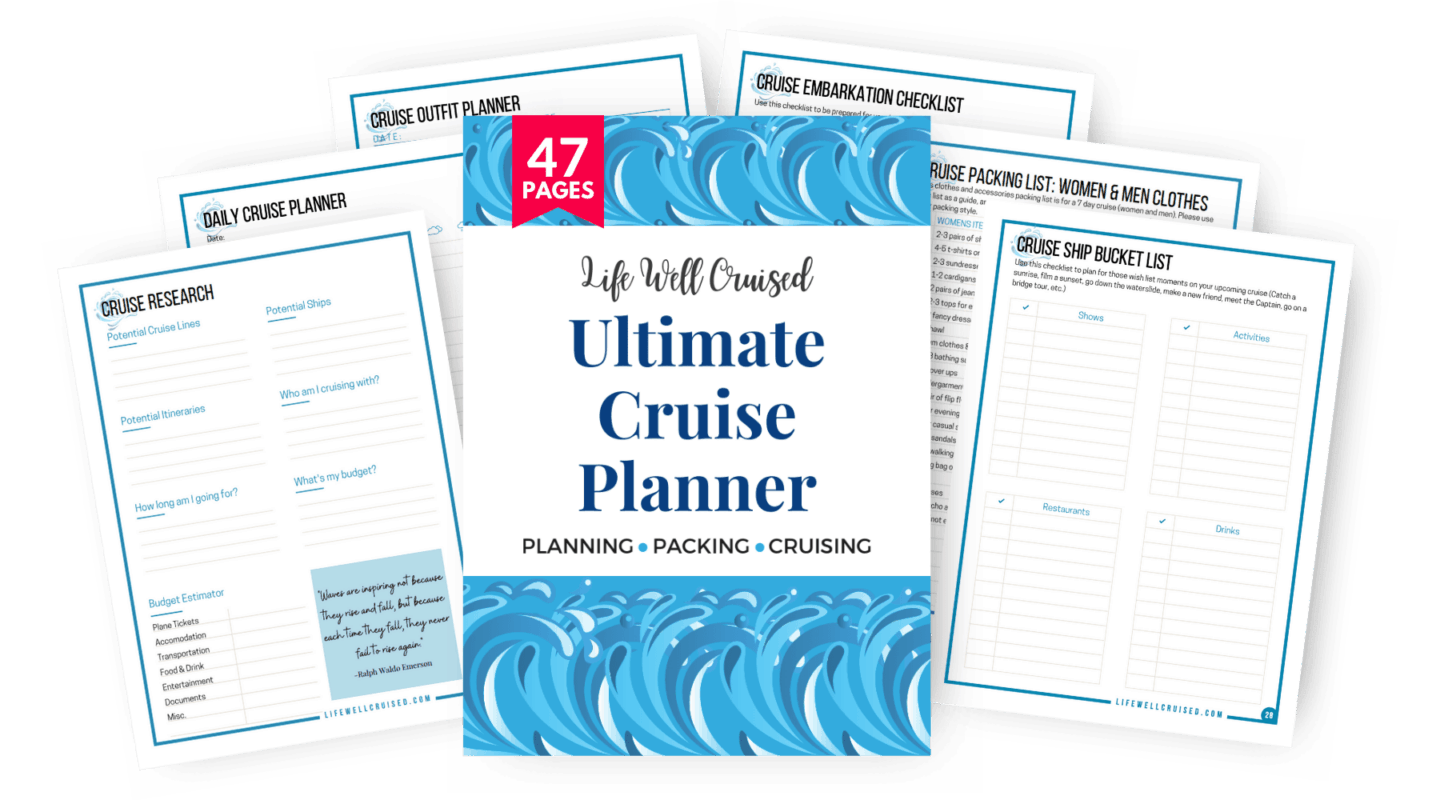 What to Pack for a Mediterranean Cruise in Summer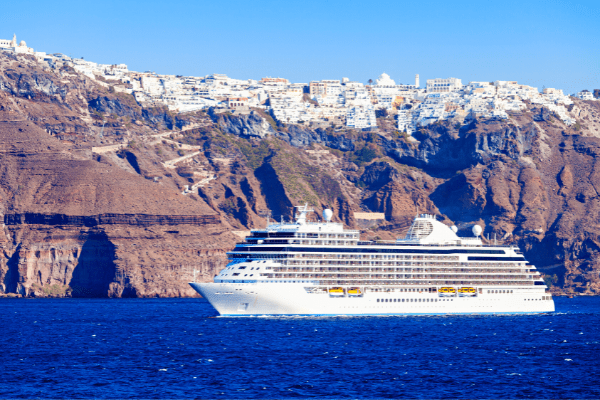 The most popular and busiest time time to go on a Mediterranean cruise is during the summer months. You'll want to pack for hot, sunny days if you cruise in June, July, August and even early September.
If you're going on a summer cruise, during the day you can dress quite casually. Shorts and a t-shirt or a sundress, or a bathing suit and cover up when hanging out on the Lido deck, are perfect!
Related: What I Wore on My Mediterranean Cruise
What to Pack for a Mediterranean Cruise In Fall & Spring
Early Spring and Fall months are consider shoulder season for Mediterranean cruises. Without the summer heat, April and May, and late September, October are are great times to visit ancient cities comfortably.
You'll still have warmer days, but packing a light jacket is a must. A pashmina or scarf is a good idea as well. Since the weather can vary, wear layers and make sure to pack long sleeve tops and jeans or pants.
What to Pack for a Mediterranean Cruise in Winter
The winter months are a less popular and common time to cruise to the Mediterranean, however some cruise lines, like MSC Cruises, do offer sailings through the coolest months of the year.
If you're going on a Mediterranean cruise in December or January, pack a jacket and scarf, as well as pants and sweaters to be comfortable when sightseeing.
Mediterranean Cruise Packing List
Here's a list of the most important things to pack for your cruise. I've included both cruise essentials that will be useful for any cruise, as well as things to bring that are specific for your Mediterranean Cruise.
Passport & Government ID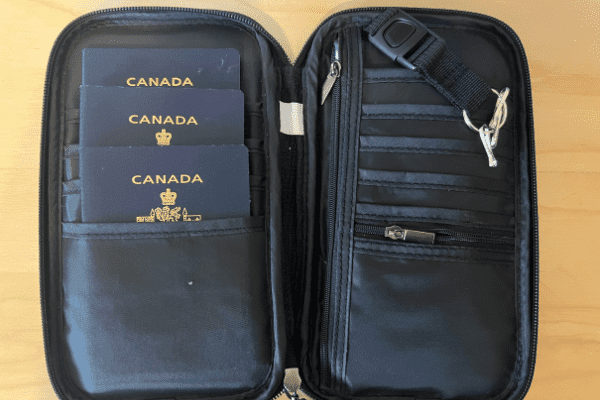 The most important things to pack for your Mediterranean cruise is your passport and government ID. Make sure to have this on you, and do not pack it in your checked luggage.
It's a good idea to have a passport holder, to keep your passports and other important documents safe and secure. Don't forget to make copies of your passport!
Recommended: Passport holder (RFID blocking)
Neck Wallet
An easy to conceal neck wallet is a very useful item to bring with you on a Mediterranean cruise. When traveling in crowded European cities, it's really important to protect your money, passports and credit cards from pickpockets and petty theft.
Recommended: Neck wallet (RFID blocking – see Amazon reviews here)
Cruise & Travel Documents
Check with the cruise line to see what travel documents you will need. You may need a proof of vaccine or have to provide test results. This can vary by cruise line and itinerary, and is ever evolving, so make sure to check back regularly.
Carry-on Bag
Pack a carry on bag for your flight as well as for your cruise embarkation day. You cruise carry on bag should have the essentials you'll need for the day you board your cruise, including medication, valuables, phone chargers and even a change of clothes.
A small carry-on suitcase, weekender bag or backpack all make great carry-on bags.
Recommended: Carry-on bag (check price & reviews on Amazon)
Medication
Make sure to pack your prescription and over the counter medication and keep it in your carry-on bag, just in case your luggage gets lost!
It's a good idea to bring at least 2 additional weeks of medication with you, and have a print out of your prescriptions as a precaution when traveling.
Packing Cubes
One of the best ways to stay organized and pack for your Mediterranean cruise is with packing cubes. A set of packing cubes in a different color for each person traveling is a good start.
Recommended: Packing cubes set (check price & over 15000 5* reviews)
International Power Adapter
An international power adapter is essential for any European cruise. You'll need to charge your items at the hotel before or after your cruise, even if your cruise ship has a US electric plug in the cruise cabin.
Recommended: International power adapter (check price & Amazon reviews here)
Bathing Suit
Whether your cruise is in June or July, or September or October, you'll want to pack at least 1 bathing suit for casual cruise sea days or for beach or sailing excursions.
Recommended: Bathing suit (most flattering!)
Swimsuit Cover Up
A swimsuit cover up is a must bring item for any cruise packing list. If you're on a longer Mediterranean cruise, consider packing 2-3 cover ups.
Recommended: Swimsuit cover up (check price & color options on Amazon here)
Sunhat
A sunhat is a must when in the Mediterranean cruise ports. I was shocked at how hot it got, and how there was so little shade, when we visited Ephesus on a Med cruise a few years ago.
The one packing mistake I made, and regretted, was not packing a sunhat and having to by sunhats on site.
Recommended: Sunhat (foldable – see 4.5* Amazon reviews here)
Travel Umbrella
If you're cruising in the Fall or winter months, you have a fair chance of having some rainy days. Rain is less common in the summer, but a windproof travel umbrella is smart to bring just in case.
It's can even be a good idea to pack a light rain jacket if your cruising to the Mediterranean in late September, October and November.
Recommended: Windproof compact travel umbrella (check price & 11000+ Amazon reviews)
Light Jacket or Sweater
If you're cruising during the shoulder seasons, you can expect some cooler weather in the evening and even during the day on shore excursions. Make sure to pack a light jacket for rain or cooler weather that fits easily in your day bag or back pack.
Recommended: Lightweight jacket (waterproof)
Comfortable Walking Shoes
You'll probably want to pack a few pairs of shoes for your cruise, including flip flops or sandals, casual shoes and dress shoes for formal nights.
However, the one pair of shoes that is non-negotiable is comfortable walking shoes.
These Reebok classic shoes are comfortable, supportive and cute. I have these shoes and they are my favorites!
Recommended: Reebok walking shoes (check price & see 6000+ Amazon reviews)
Anti-theft Cross-body bag
Some European cities are unfortunately notorious for pickpocketing. A great practical handbag to avoid any hassles, is a slash-proof anti-theft cross body bag.
Recommended: Travelon anti-theft crossbody bag (see ratings & color options)
Backpack
A useful item to bring along, is a backpack for excursions, which can double duty use as a personal bag on your flight. This travel backpack has over 65000 5* reviews on Amazon!
Recommended: Backpack (anti-theft for travel)
Lightweight Scarf or Pashmina
Pack a pashmina, shawl or lightweight scarf to wear on the cruise ship in the evening (the air conditioning can be cool), or on your flight.
You'll also need to cover your shoulders if you enter religious buildings when sightseeing in Italy, Greece and elsewhere, so a pashmina is a perfect choice.
Recommended: Pashmina scarf (see color options & pricing on Amazon)
Toiletry Bag
This hanging toiletry bag is great for any type of travel, but perfect fro cruise ship cabins, where space is limited.
Recommended: Hanging travel toiletry bag (see over 30,000 5* Amazon reviews)
Non-surge Protected Power Bar
Cruise ship cabins usually only have 1 or 2 electric outlets, so it's smart to pack a non-surge protected power bar to charge your phone and other tech items.
It's important to know that regular, surge-protected power bars are prohibited on cruise ships.
Recommended: Non-surge protected power bar with USB outlets
Magnet Hooks
Another handy item that will help to organize your cabin is heavy duty magnet hooks. Cruise cabin walls are almost always metal, so a smart cabin hack is to use magnet hooks to hang up items and keep them off the floor.
Recommended: Magnet hooks (check price & reviews on Amazon)
Magnet Clips
Clip your shore excursion tickets and important papers to the cabin wall with magnet clips.
Recommended: Magnet clips
Refillable Water Bottle
A refillable water bottle is really useful both on the cruise ship and on long days in port.
Recommended: Refillable water bottle with Brita filter (check price & over 35000 Amazon reviews here)
Cruise Lanyard
A best-selling cruise accessory is a lanyard to hold cruise key cards. I've been using lanyards for recent cruises and they are game-changing!
Recommended: Cruise lanyard (see price & 4000+ Amazon reviews)
Waterproof Phone Case on Lanyard
This water-proof phone case is great for beach and cruise vacations. It will also keep money and other items dry.
Recommendations: Waterproof phone case on lanyard
Seasickness Treatment
If you worry about getting seasick on a cruise, there a few things you can pack to prevent it or deal with motion sickness, if it does happen to you.
There are both natural remedies as well as medications for motion sickness that work effectively. If you have concerns, you may also want to see your doctor to ask about prescription medication.
Travel Alarm Clock
A simple travel alarm clock is handy to keep on ship's time, and ensure that you don't oversleep and miss an excursion.
Recommended: Travel alarm clock (over 11,000 4.5* Amazon reviews)
Hanging Organizer
One of the most popular items cruise travelers use to organize their cruise cabin is the hanging organizer, with pockets to keep everything in it's place.
This can be hung on the bathroom door (not on Disney Cruise Line) or on the ceiling or wall using magnet hooks.
Recommended: Hanging organizer (check price & 1000+ Amazon reviews here)
Cruise First Aid Kit
Make yourself a mini first aid kit for your cruise with blister bandaids, antibiotic ointment and other first aid items you just may need.
You can also purchase a ready made first aid kit and add to it as needed.
Recommended: First aid kit (check price & see 60,000 plus 5* reviews)
Poo-Pourri
Poo-Pourri Before-You-Go bathroom spray is a cruise cabin essential that's on every cruise packing list.
Recommended: Poo-Pourri (a cruise cabin essential)
Downy Wrinkle Release
A travel size bottle of Downy Wrinkle Release is fantastic to keep cruise outfits wrinkle free.
Recommended: Downy wrinkle release
Luggage Tag Holders
Remember to print out your cruise ship luggage tags and attach them to your luggage on embarkation day. Since they are made of paper, I like to buy reusable cruise luggage tag holders which are sturdy and convenient.
Here are luggage tag holders by cruise line (on Amazon):
Get The Ultimate Cruise Planner
Regular price: $27 Now just $17!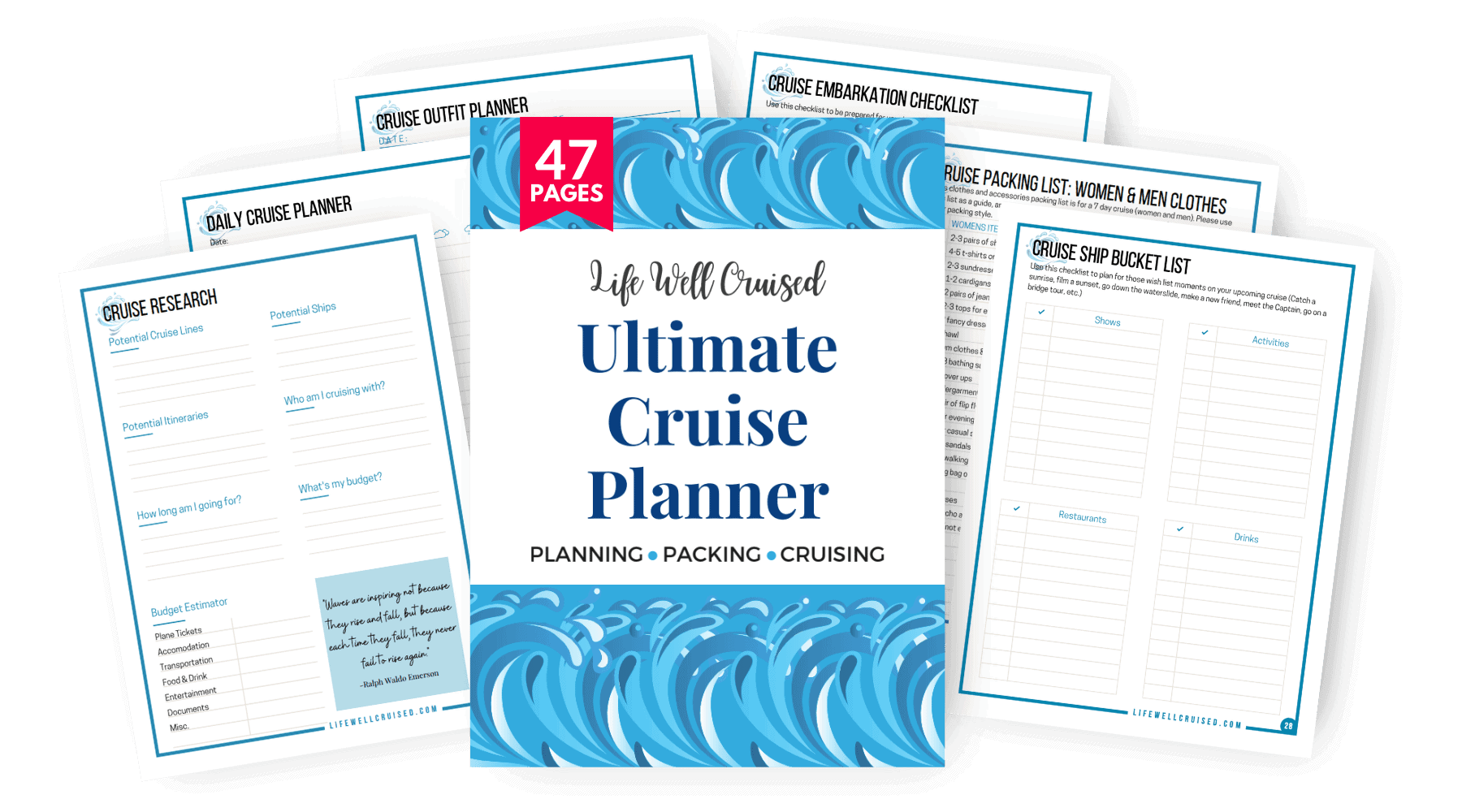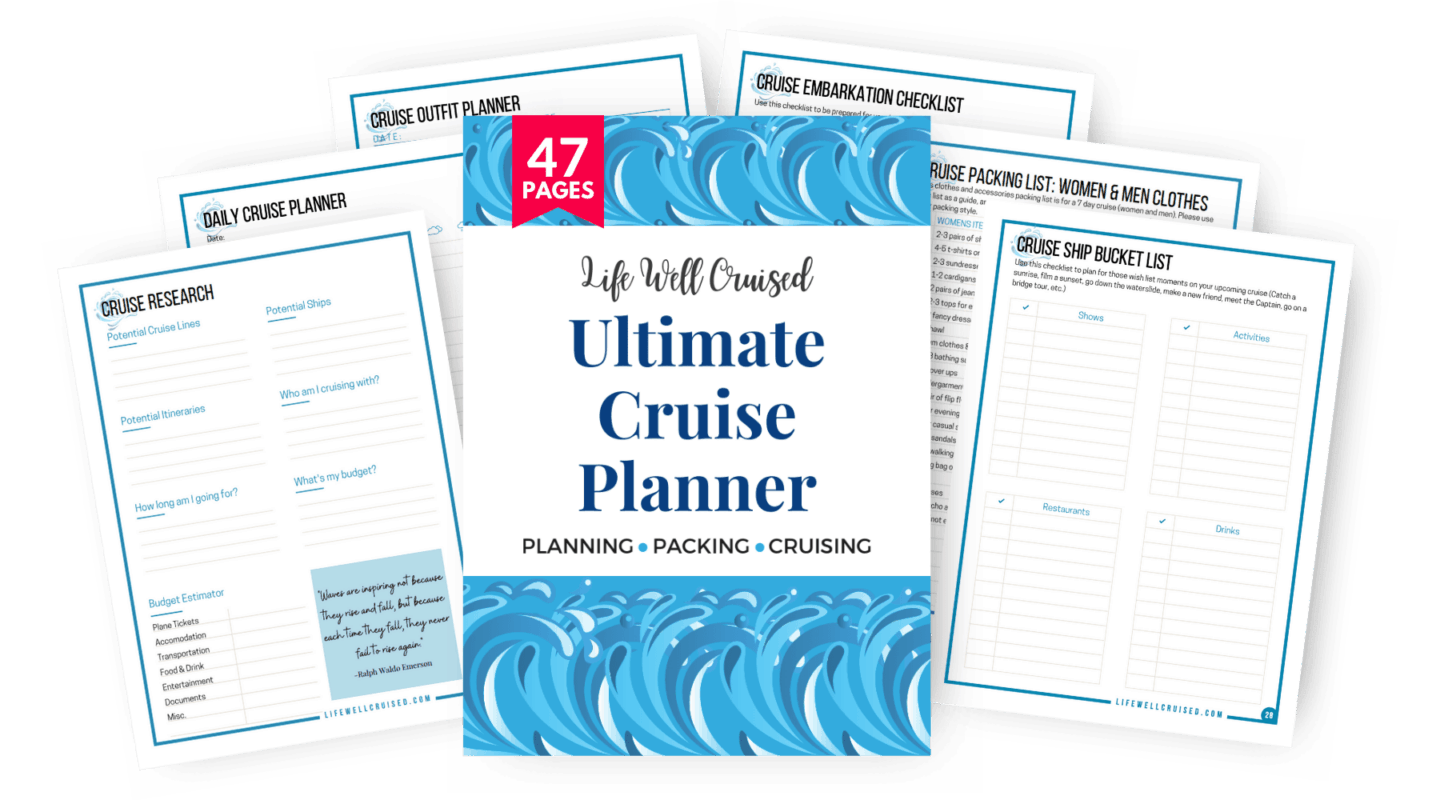 Other Travel Essentials
Here's a list suggestions for other items to pack for your Mediterranean cruise.
sunscreen
lip balm
toiletries
manicure set
money
credit card
sunglasses
make up
selfie stick
towel clips
travel fan
Jewelry (optional)
Travel books
travel insurance (make sure to purchase)
Popular & Related Posts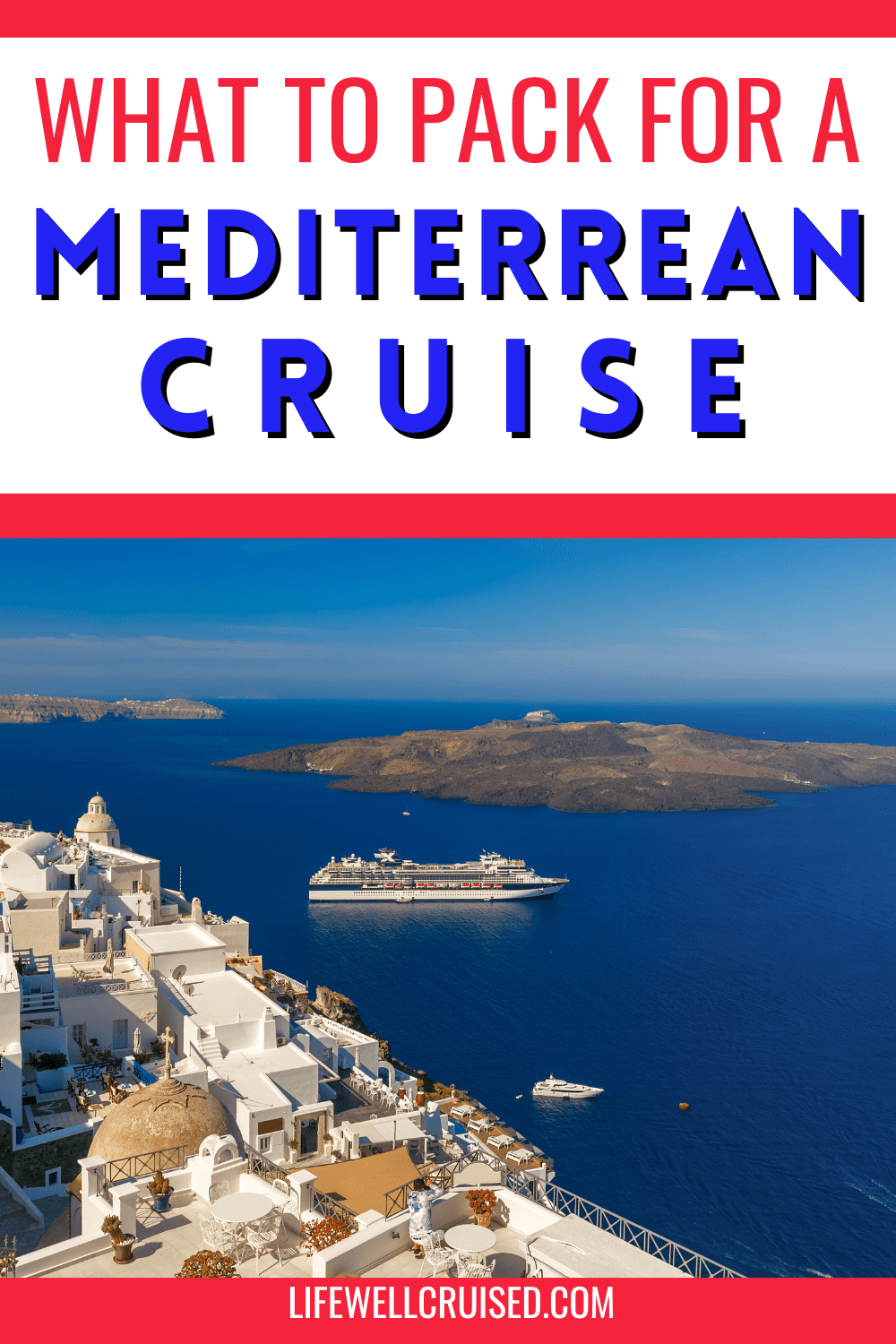 What to Pack for a Mediterranean Cruise
In this post we went over what to pack for a Mediterranean cruise, including the cruise and travel essentials you'll need when you go.
While you don't want to overpack, you do want to make sure you have everything you need. If you have a longer cruise, remember that you can do laundry or have a few clothing items washed if needed.
Are you going on a Mediterranean cruise? Please let me know your cruise packing tips and essential items in the comments below.
Happy Cruising!
Ilana
P.S. If you found this helpful, please don't keep it to yourself ;-). Please share on Facebook or PIN to your favorite Pinterest board (share buttons at the top). Thanks so much!
Let's connect: