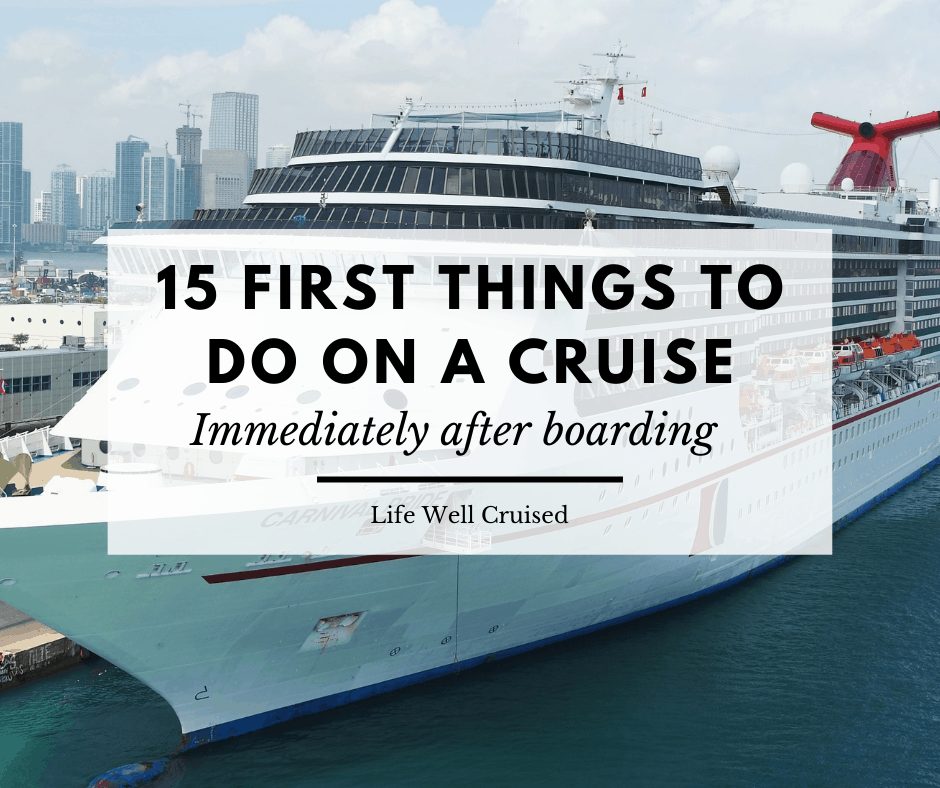 There's nothing like embarkation day! It's both exciting and stressful. After all, you've probably been dreaming and preparing for your cruise for months.
However, before you relax completely after the boarding process, here are the most important, and first things to do on your cruise.
What Should You Do Immediately when You Get on a Cruise?
This post contains affiliate links which means if you click and buy that I may make a commission, at no cost to you. Please see my disclosure policy for details.
Life Well Cruised is a participant in the Amazon Services LLC Associates Program, an affiliate program designed to provide a means for sites to earn advertising fees by advertising and linking to Amazon.com.
1. Drop your bags in your cabin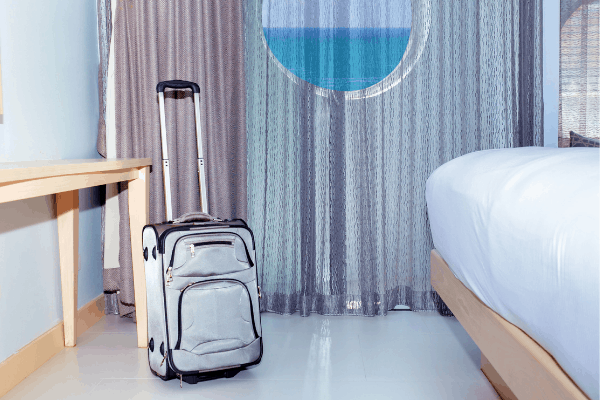 Depending on your cruise line, you may be able to access your cabin as soon as you board, at least to drop off your bags.
By dropping off your cruise carry-on bag and other items, you can explore the ship and have some lunch, without the hassle of carrying your luggage with you.
If you can't drop off your bags, you'll usually be able to sit in a bar or have lunch and go to your cabin by about 1:00 pm.
2. Put away your valuables
Even if you don't bring expensive jewelry on your cruise, you still have valuables that should be placed in your stateroom safe. Put away your passport and government identification, wallet with cash and credit cards, house and car keys. If you did bring a nice watch or any expensive jewelry, place it in the safe and lock it up as well.
3. Freshen up and change your clothes
Did you bring a bathing suit in your carry-on bag? Consider putting it on under your clothes, so that after lunch, you can relax by the pool or even head on the waterslide.
If you came from the airport or had a long drive to the cruise terminal, make sure to bring a change of clothes with you so you can freshen up.
Cruise tip: Pack a tote bag or beach bag, to have all your most important sea day items handy. This includes sunscreen, lip balm and other items within this list of 23 things to pack in your cruise carry on bag.
4. Have lunch (look for buffet alternatives)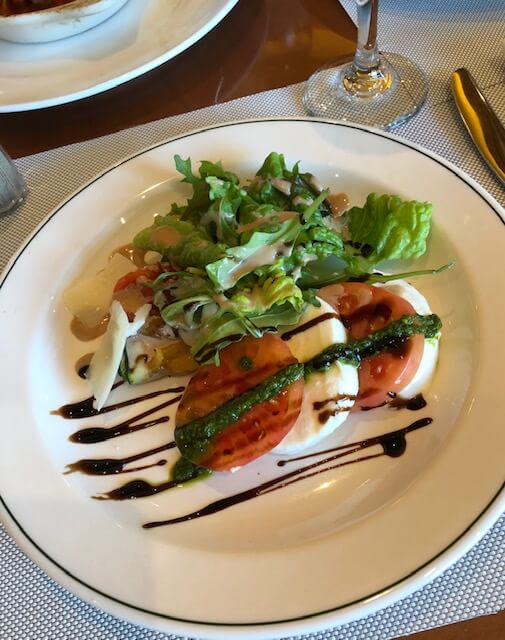 The buffet, the poolside grill and even the main dining room will often be open for lunch. If you can head to an alternative restaurant to the buffet, you'll avoid that first day chaos, and be very happy you did.
5. Do your emuster or safety drill
This is a recent change on cruises. Many cruise ships are opting for an electronic safety drill, which you can do from your mobile phone or stateroom TV, rather than the traditional muster drill.
Why not do the safety drill on your phone while you eat or get changed in your cabin, to save some time on the first day of your cruise?
6. Make reservations
Some cruise ships have popular adult only areas, such as Sanctuary on Princess Cruises and the Vibe Beach Club on Norwegian Cruise Line. These book up so quickly, that they may even sell out!
You may even want to make your reservations to this, as well as the spa and dining, before you eat lunch and relax.
7. Have a drink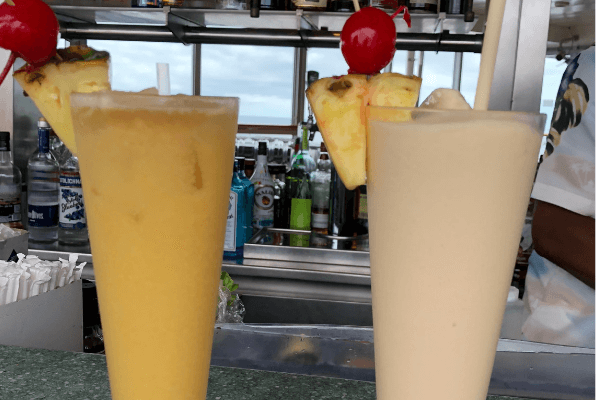 If you haven't yet had a cocktail, this may be the time! Take a few minutes before you explore your cruise ship, to relax and enjoy a drink with your family or friends.
8. Check the daily planner
Take a look at the daily planner, or the app with the cruise line activities. You'll be able to check the opening and closing hours for the different venues and attractions. As well, you'll see what time the shows are scheduled for in the evening.
9. Register and visit the kid's camp
If you're cruising with kids, make sure to visit and register for the kid's camp. You'll meet the counselors, see the planned activities, and your children may even make some friends. The kid's club will start the first activities the first night of the cruise, so make sure to sign up as soon as you can on the first day of your cruise.
10. Purchase an internet package
If you haven't already purchased an internet package from home before your cruise, make sure to buy one as soon as possible. Of course, this is if you will be using the internet to check emails, go on Facebook and social media, or even stream movies.
Internet can still be very pricey on cruise ships, so check into any promotions before you arrive on your cruise ship. You may also be offered a lower price option on the first day of your cruise.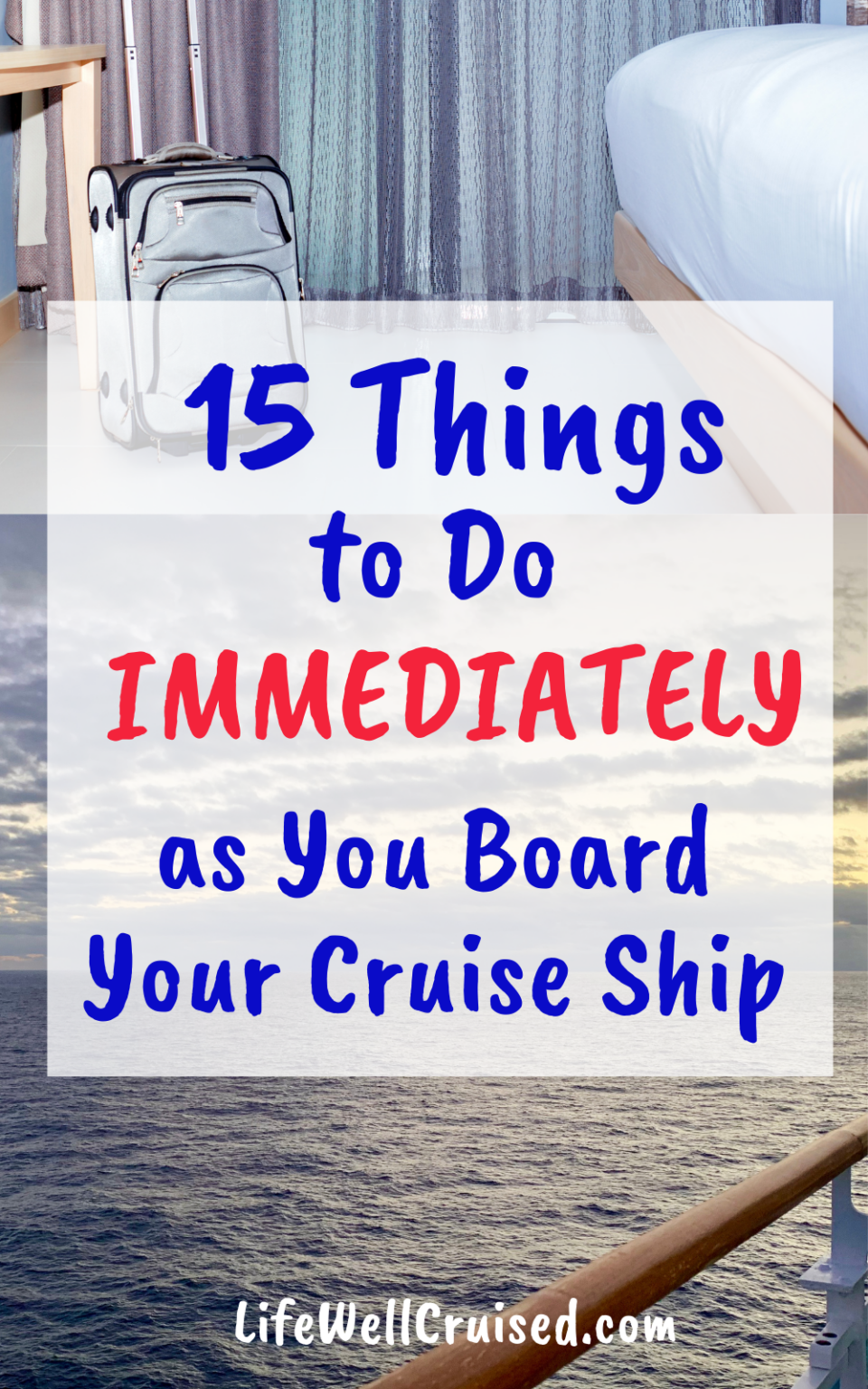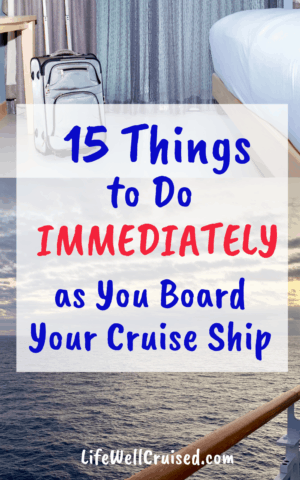 11. Purchase a soda or Coffee Package
While you don't need to purchase a beverage package, if you plan on buying a soda package, coffee or even upgrading a drink package perk, you'll want to do this as soon as possible on the first day of your cruise.
You can purchase it the next day, but it will no be prorated for the day that you missed. You may as well buy any drink packages before you board your cruise, or on the first day, as soon as possible.
12. Explore the cruise ship
Now that you've completed the things to do first as you get on your cruise ship, take the time to explore your cruise ship. As you check in at boarding time, you'll be given a small map of the ship. Follow your map to check out all the pools, the sports deck, the kids area, the lounges, public spaces, restaurants and bars.
Would you like to know more about what happens on embarkation day? Here are 15 embarkation day tips that will be helpful to read next.
13. Put your phone on airplane mode
Unless you want to be hit with a very expensive mobile phone bill, for using your phone and data in International waters, make sure to put your cell phone in airplane mode before Sailaway.
14. Get ready for Sailaway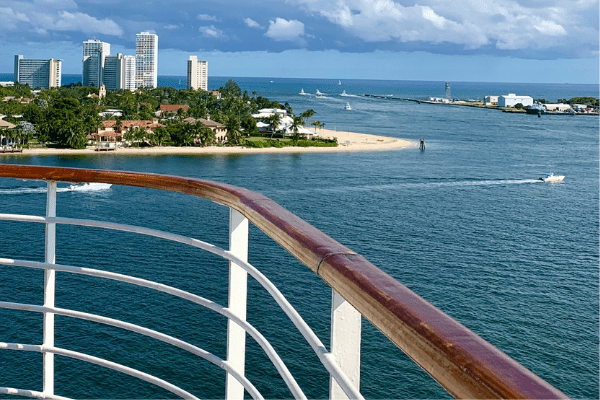 Sailaway is pretty special. While your cruise ship slips away from the shore line, you may actually physically feel yourself relaxing and feeling a sense of excitement for the adventures ahead.
15. Unpack
Unpacking is a bit of a chore, but should be done as soon as you can on the first day of your cruise. By the time your cruise sails away, your luggage will likely have been delivered to your cruise cabin.
Hang what you can, and use packing cubes to keep folded clothes organized on shelves and in drawers.
*Recommended items to bring on a cruise*
Here are some important items to consider bringing on your cruise:
I've included Amazon links so you can click and verify pricing and reviews of all items.
Packing cubes – They really just make packing and unpacking easier, and nothing will make you feel more organized for your cruise (or any type travel)
Reusable luggage tags– It's a good idea to buy luggage tag holders before you cruise. You'll simply slip the printed luggage tags (from your cruise line) into the durable plastic sleeves and attach them to each suitcase.
Magnet hooks – Cruise cabin walls are metal. This is why magnet hooks are a top recommendation by avid cruisers to add extra hooks and storage to your stateroom.
Bonine (seasickness meds) – Make sure to bring along your favorite non drowsy motion sickness medication. Personally, I find Bonine to be very effective without negative side effects (for my family).
Power bar (non-surge cruise approved)
– Inevitably you'll need more electric outlets and USB outlets on your cruise. Do not bring a power strip from home as it is prohibited and will be confiscated. Instead, pack a cruise approved power bar (see details here)
Video: First Day Cruise Tips – 15 Must-Do's Between Boarding and Sailaway
Here's a video about things to do immediately after you board your cruise ship, that might be helpful if you'd like to know more. If you enjoy cruise tip videos on YouTube, I'd love it if you'd subscribe to our channel.
Final Thoughts: Boarding Your Cruise – 15 First Things to Do on a Cruise
The first day of your cruise is for most, a very exciting and tiring day. These 15 first things to do on a cruise, are meant to be a guide to managing the first cruise day "to-do" list, and to make it as enjoyable and stress free as possible!
What do you think are the things you should do immediately, as you board your cruise? Please share your tips in the comments below.
Happy Cruising!
Ilana
If you found this post helpful, please don't keep it to yourself ;-). Share it on Facebook or Save for later Pinterest (share buttons at the top). Thanks so much!
Let's connect:
Follow me on Facebook at Life Well Cruised
Follow me on Pinterest at Life Well Cruised
Follow me on Instagram at Life Well Cruised