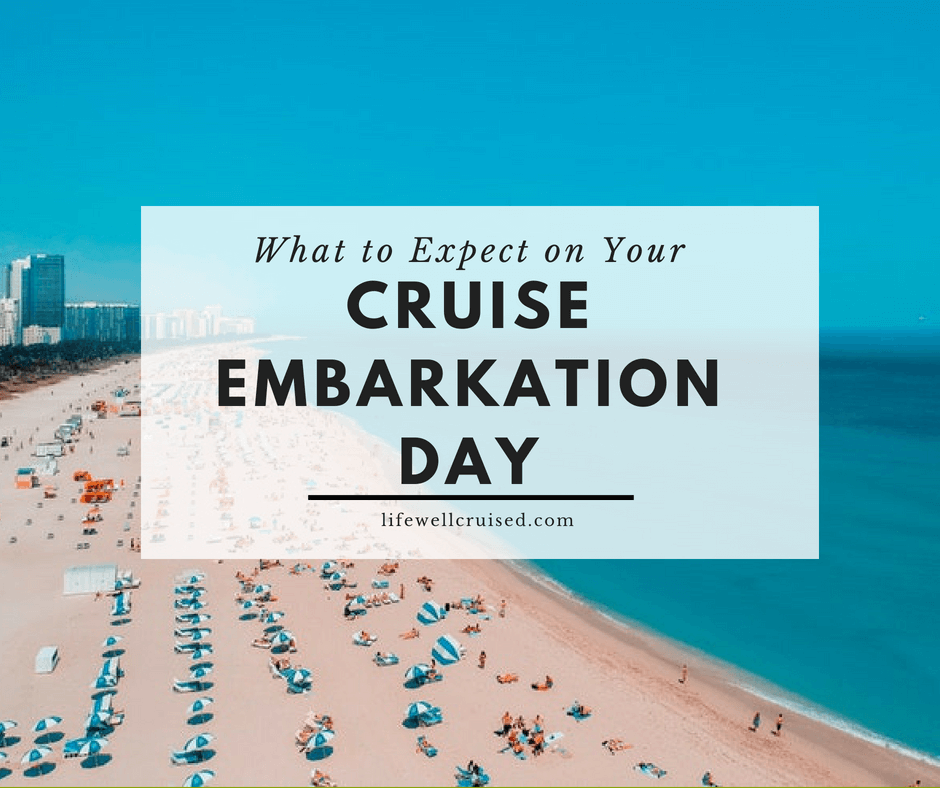 What to Expect on Your Cruise Embarkation Day
If this is your first cruise, or even if you've cruised before, you're probably wondering what to expect on your cruise embarkation day. There have been a few changes as cruises have restarted, and this is especially true for the first day of your cruise.
In this post, you'll find 25 cruise embarkation day tips, to make your first day as perfect and stress-free as possible.
I'll also answer some frequently asked questions including how early you can board your cruise ship, what to wear on embarkation day, where to eat lunch and more!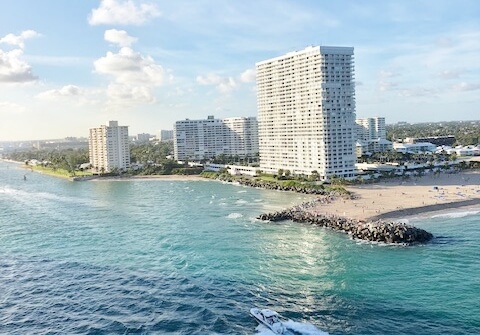 What is an Embarkation Day?
Simply put, embarkation day is the first day of your cruise, when you will embark your cruise ship. Cruise embarkation day is also be referred to as boarding day. While it's a busy day and there are embarkation procedures to be aware of, it's also the start of an amazing vacation ahead!
This post contains affiliate links which means if you click and buy that I may make a commission, at no cost to you. Please see my disclosure policy for details.
As an Amazon Associate I earn from qualifying purchases.
25 Tips for a Perfect Cruise Embarkation Day
Excited for the first day of your cruise? Here's how to make your embarkation day enjoyable and stress-free!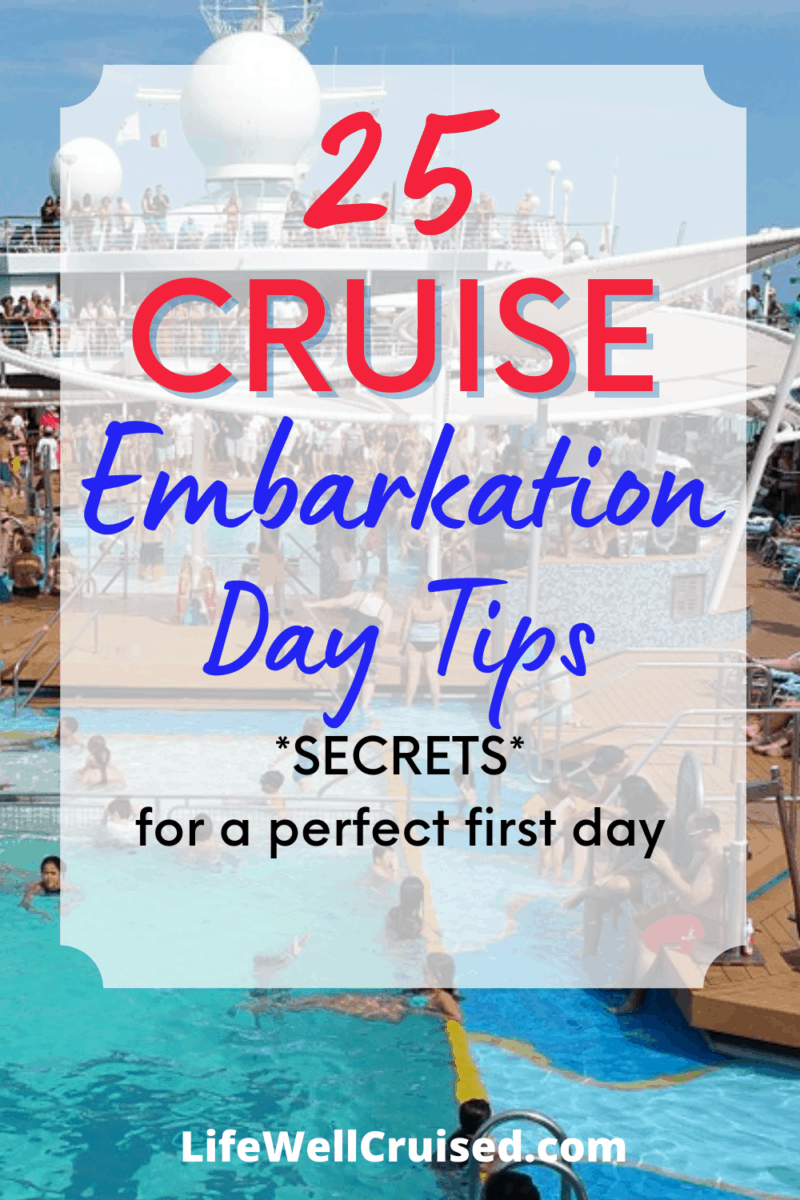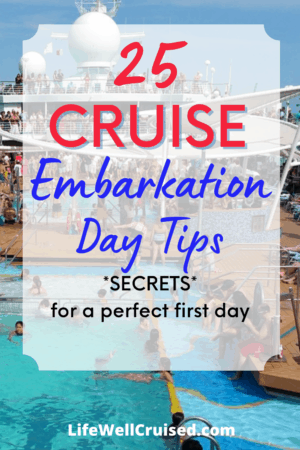 1. Complete Pre-cruise Online Check-in & Health Forms
Before you even get to the cruise terminal to board your cruise ship, remember to complete your online check in on the cruise line website or app. There's important personal information to enter that needs to be done prior to your cruise.
As well, you'll want to know the current cruise line health protocols, vaccine requirements and ensure you have all the documentation you need.
2. Print all Your Documents
Print your cruise documents including boarding pass and luggage tags and be ready for your cruise embarkation day! Do this as early as possible to avoid last minute stress.
Related post: Cruise Luggage Tag Holders (order by cruise line)
3. Pre-purchase Beverage Packages and Shore Excursions
While you can purchase a drink package or shore excursions on the cruise, it's often easier and even a little bit cheaper to book these things on the cruise line website before you board.
However, if you're not sure which shore excursions you want to take, don't stress. There will be a crew member working at the shore excursion desk once you board your cruise ship.
4. Arrive on Time
While in the past I recommended arriving at your cruise port early so you could board your cruise ship as soon as possible, this is no longer the case. As you complete your online check in, you'll be able to choose an arrival time. By having embarkation day time, there's less crowding in the cruise terminal and cruise lines can comply with the health and safety measures.
If you'd like more information about the Cruise Boarding Process, I wrote this post that I think you'll find helpful.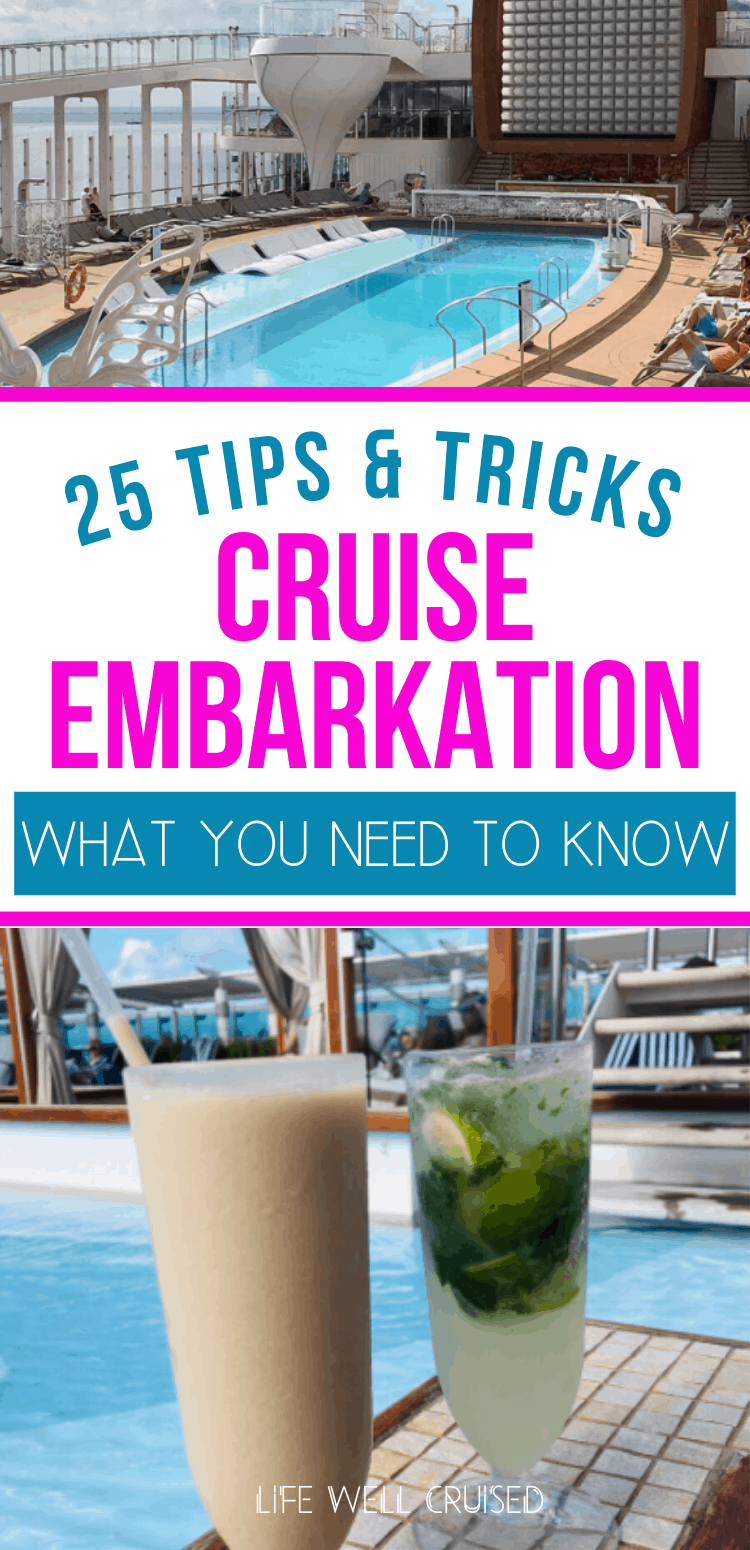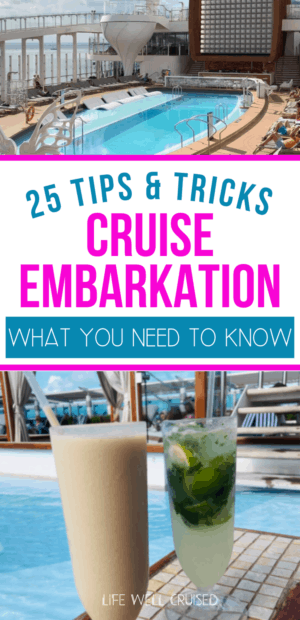 5. Drop Off Your Luggage
Once you're at the cruise terminal, drop your luggage off with the porters. It will be sent to the cruise ship and delivered to your cabin a few hours after you board.
Don't forget to keep your documentation and passports on you, and not in your checked luggage!
Cruise tip: Have a few dollars handy should you want to tip the porters.
6. Bring an Embarkation Day Bag
Since your luggage won't arrive at your cabin until later in the day, bring a cruise carry-on bag for the first day of your cruise. Whether you bring a small piece of luggage as a carry-on, a backpack or a small duffle bag, it's a must!
Things to pack in your embarkation day include medication, valuables, laptops and tech items, sunscreen and a change of clothes.
Read more: Cruise Carry-on Bag Packing List (all the essentials)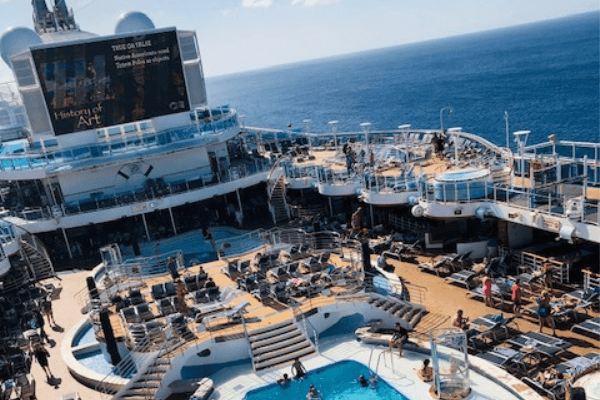 7. Dress Comfortably
One of the most common questions people have when going on a cruise, is what to wear for embarkation day. The first day of a cruise is pretty casual, so dress comfortably. T-shirts and shorts are fine, as are light sundresses or rompers.
If you're going on a Caribbean cruise you may want to wear a bathing suit under your clothes or pack a change of clothes in your cruise carry on bag.
Related post: 25 Fashionable Cruise Outfits for Ladies (affordable cruise wear)
8. Welcome Aboard Photos
After check in, expect a photo opportunity just before boarding. The ship's photographers will have a backdrop set up where you can take an official embarkation day photo!
Cruise tip: If you'd rather not take a photo, simply walk past the photo booth. There's no obligation to purchase a photo.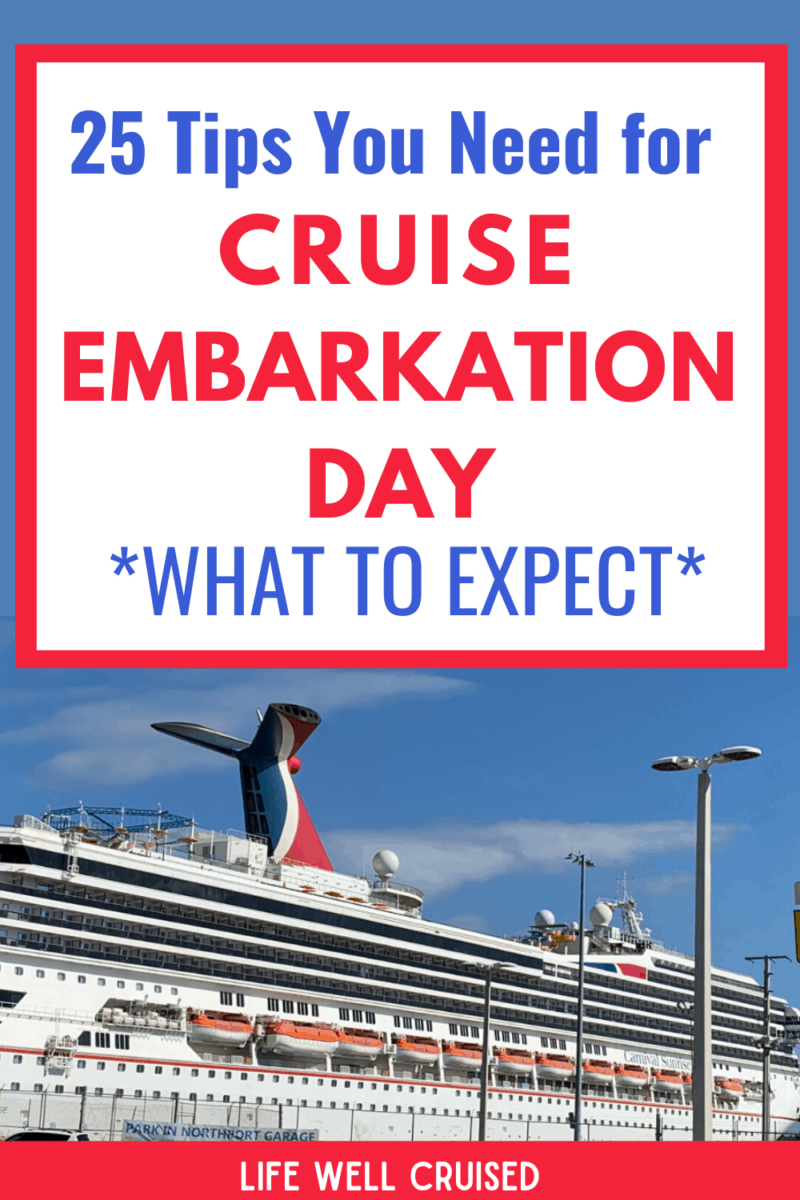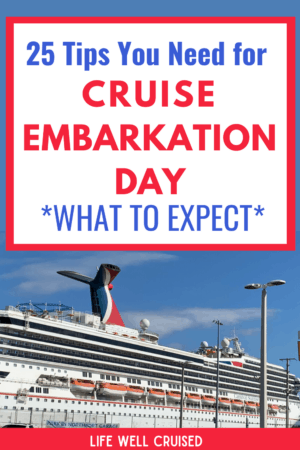 9. Walk up the Gangway
There's something special about walking from the cruise terminal after checking in and onto the gangway to board your cruise ship. You'll pass your cruise card or Medallion (for Princess cruises), hear a lovely little "bing" and be welcomed onto your cruise ship!
10. Enjoy a Glass of Champagne or a Cocktail
Every cruise line is different, however some cruise lines offer a glass of complimentary champagne as you embark on your cruise ship. This special touch is one of the things we enjoyed onboard Celebrity Cruises.
Alternatively, you might be offered a Pina Colada or other frozen cocktail, however it will likely not be complimentary.
11. Don't Expect to Go to Your Cabin Right Away
A surprise for many new cruisers, your cruise cabin probably won't be cleaned and ready as you board your cruise ship. Often this means waiting an hour or a bit longer before you can head to your stateroom and put down your bags. However, you can still eat, drink and explore the ship while you wait.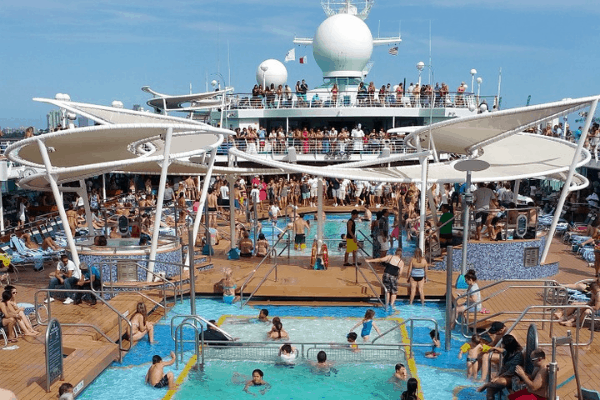 12. Find the Perfect Place to Eat Lunch
On embarkation day, there's often more than once place to eat lunch, although it might not be widely promoted. The obvious place to eat is the buffet, however you can expect it to be crowded as most people aren't aware of the other options.
Often the main dining room will be open for lunch, and you can have a nice sit down lunch while you wait for your stateroom to be ready. There are also casual restaurants open including the pool side grill and cafes.
Cruise tip: Research your cruise ship before your cruise to see what restaurants are most recommended on embarkation day. For example, Central Park Cafe on Oasis Class ships is a "best kept secret" as is Alfredo's on many of Princess Cruises' Royal Class ships.
13. Safety or EMuster Drill
If you've cruised in the past you'll remember the muster drill, the important safety briefing where we all grouped together at our muster stations at a specific time on embarkation day. While the safety briefing remains, the muster drill has changed.
Most cruise lines now have the safety information or EMuster on their cruise line App, available to view on your phone or mobile device, as well as your stateroom TV. Procedures may vary, however in most cases you can watch your safety briefing on your phone over lunch and then head over to your muster station to check in with a crew member.
Cruise tip: Do your safety briefing as soon as possible after you embark so that you can enjoy your day without interruptions before sailaway.
14. Check out Your Cabin and Drop off Your Bags
By the time you've eaten lunch and done your emuster, your stateroom will likely be ready. Check out your cabin, and if you want to take a photo or video, go ahead. It will look as perfect and welcoming as it will ever be, so now's the time.
While you'll want to drop off your bags and freshen up, try not to spend too much time in your cabin now, as there's still so much to do and see on your cruise ship before sailaway.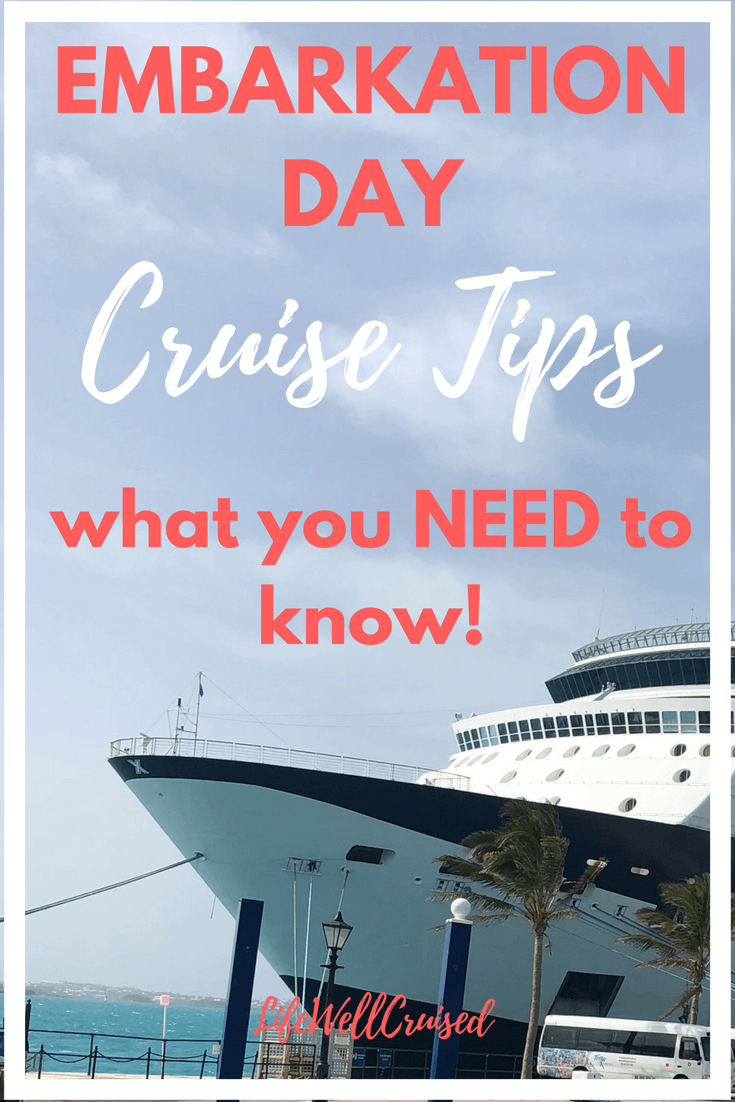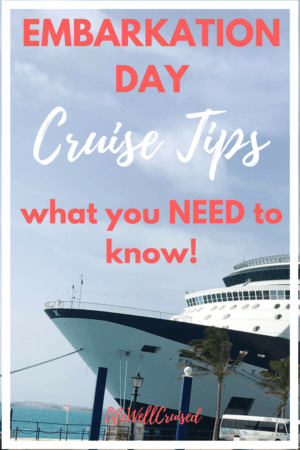 15. Put Your Valuables in the Cabin Safe
It's important to take a few minutes to put your valuable items into the cabin safe. This can include your money and wallet, jewelry, passports and even your keys.
Since any cruise purchases will be put on your onboard account, there's no need to walk around with a wallet or purse. It's a great feeling and just one of the reasons cruising is an amazing and pretty stress-free vacation!
16. Meet your Cabin Steward
On a cruise you'll have a cabin steward or attendant who will clean your stateroom daily, as well as ensure you have everything you need to be comfortable in your cabin.
Upon embarkation day, your cabin attendant will introduce themselves. Take a minute or two to chat, however keep in mind that this is a very busy time for them. If you have requests, now is the time to ask.
Here are some suggestions based on things I ask for on every cruise.
1. More hangers please
2. Please empty out the mini-bar fridge items
3. Please keep ice bucket full each day.
4. You may also need a mattress topper or extra towels.
Related post: Cruise Lingo You Need to Know (cruise terminology)
Get The Ultimate Cruise Planner
Regular price: $27 Now just $17!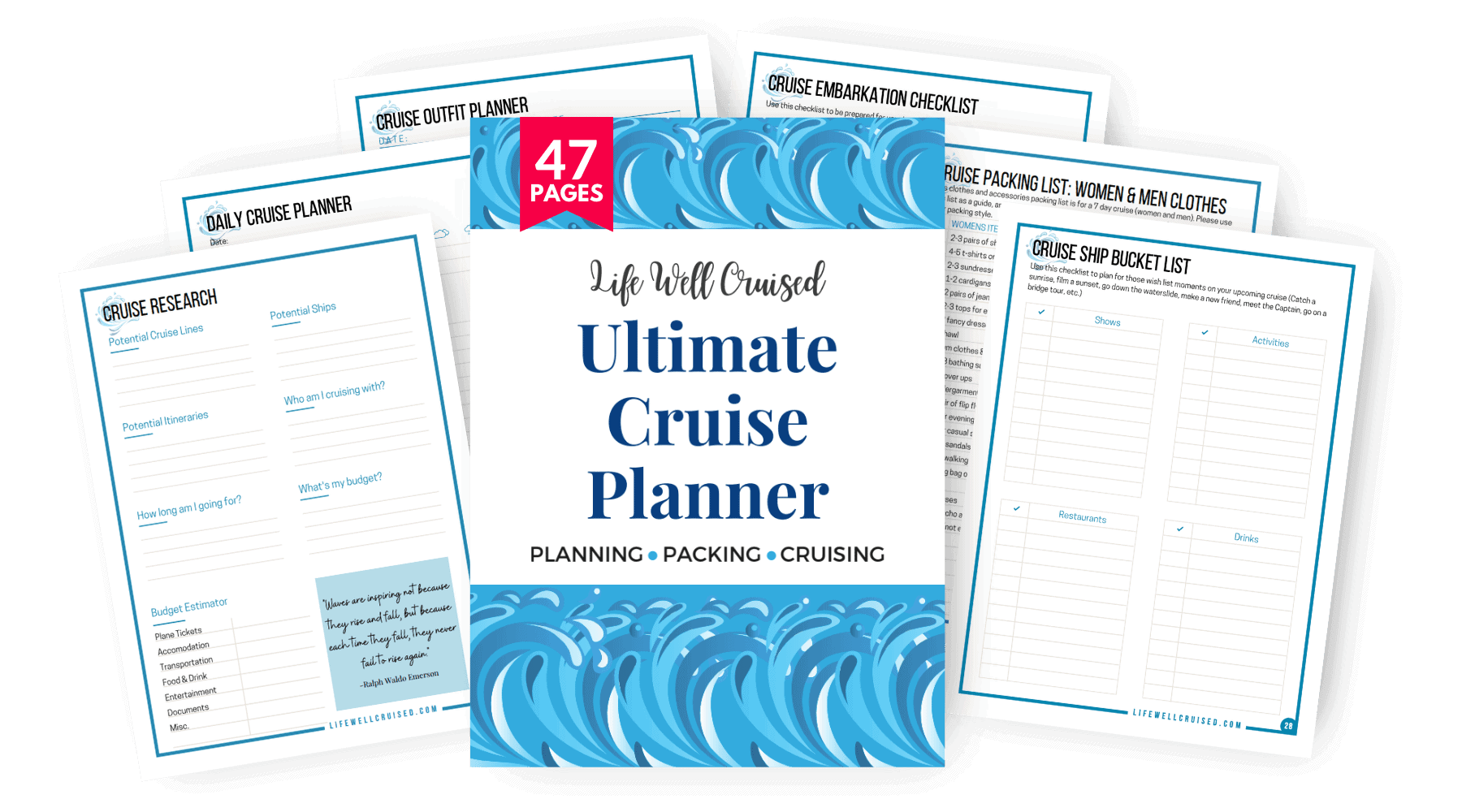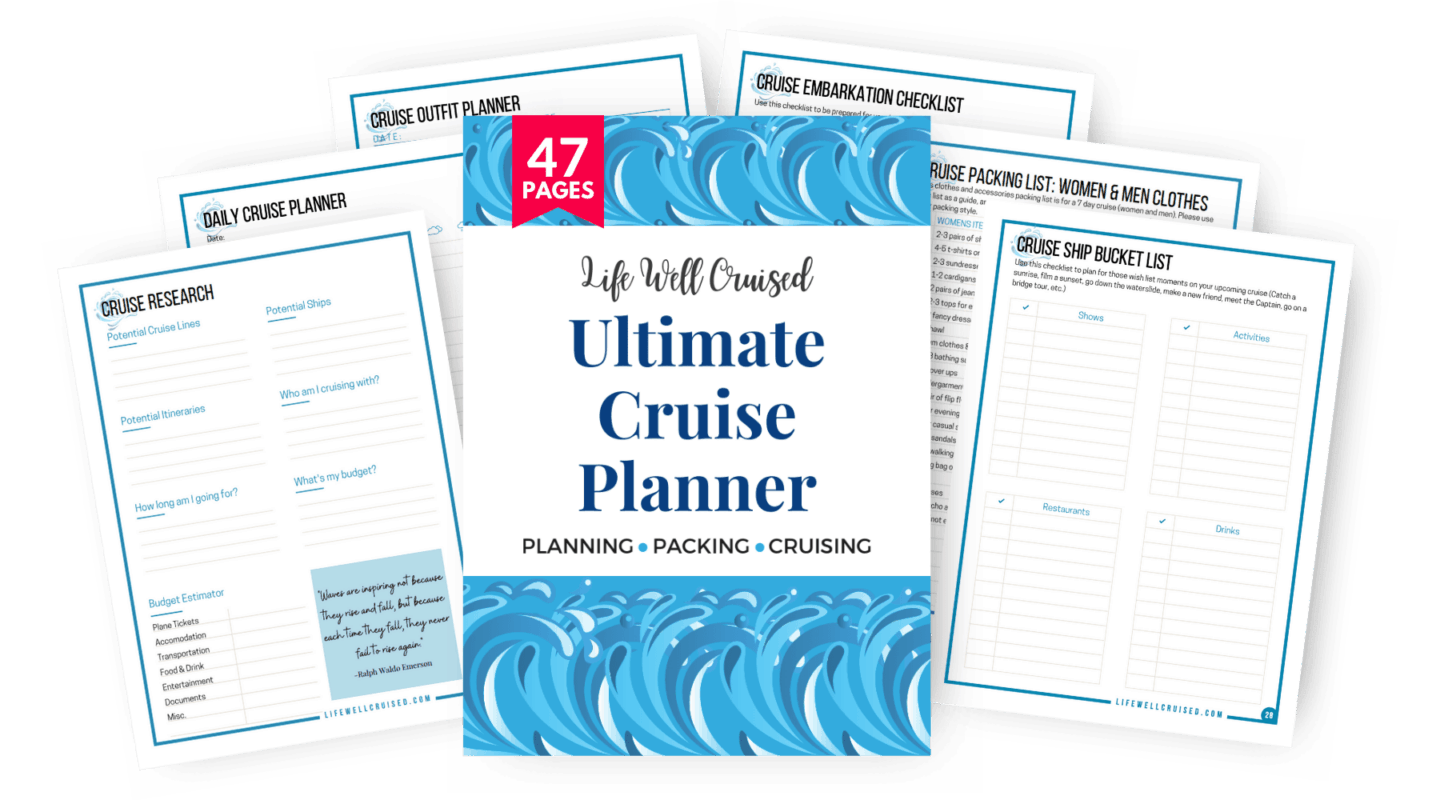 17. Check the Daily Planner or Cruise Line App
Cruise ships have a daily planner that's usually available in a print version and on the cruise line app. On the daily planner, you'll find a schedule of daily activities that are available, as well as entertainment options, opening hours for the gym, spa, restaurants etc.
However, on your cruise embarkation day, you will receive a planner that is more of a general overview of the big things that you can look forward to during the rest of your cruise.
This will include big productions shows, audience participation game-shows (such as Love and Marriage), and special guest entertainers such as comedians and illusionists. This will help you to plan your time on your cruise week as you look ahead.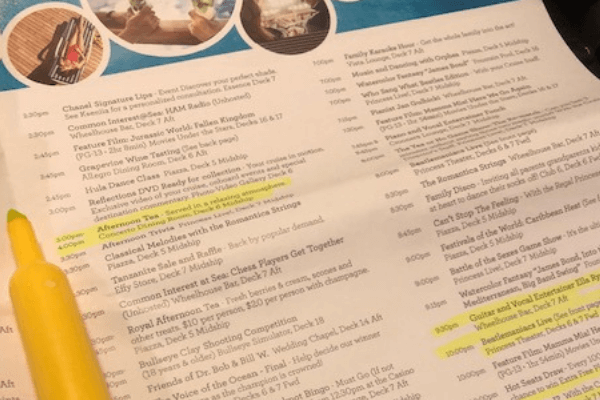 Cruise Tip: Bring a highlighter so you can mark things you really want to do and plan for right in the planner.
18. Use the Cruise Line App
Cruise lines are relying more on the cruise line apps to help you get ready for your cruise. The cruise line app is a great place to find out information, view and book activities and even use to message other cruise passengers.
While it's not a necessity to have a smart phone on a cruise, it can add more convenience.
Related posts: 21 Things You Need to Know About Ocean Medallion
Princess Cruises Ocean Medallion: Updates & New Features
19. Explore the ship
Cruise Lines will give you a little folding map of your ship and the decks. This is a great time to walk the whole top deck and view the sports deck, walking track, the pools from the very front to the very back.
You may want to take a tour of the spa or fitness centre and even some of the lounges. Some cruise ships will have ship tours and scavenger hunts, which is a great way to explore the ship on the first day of your cruise.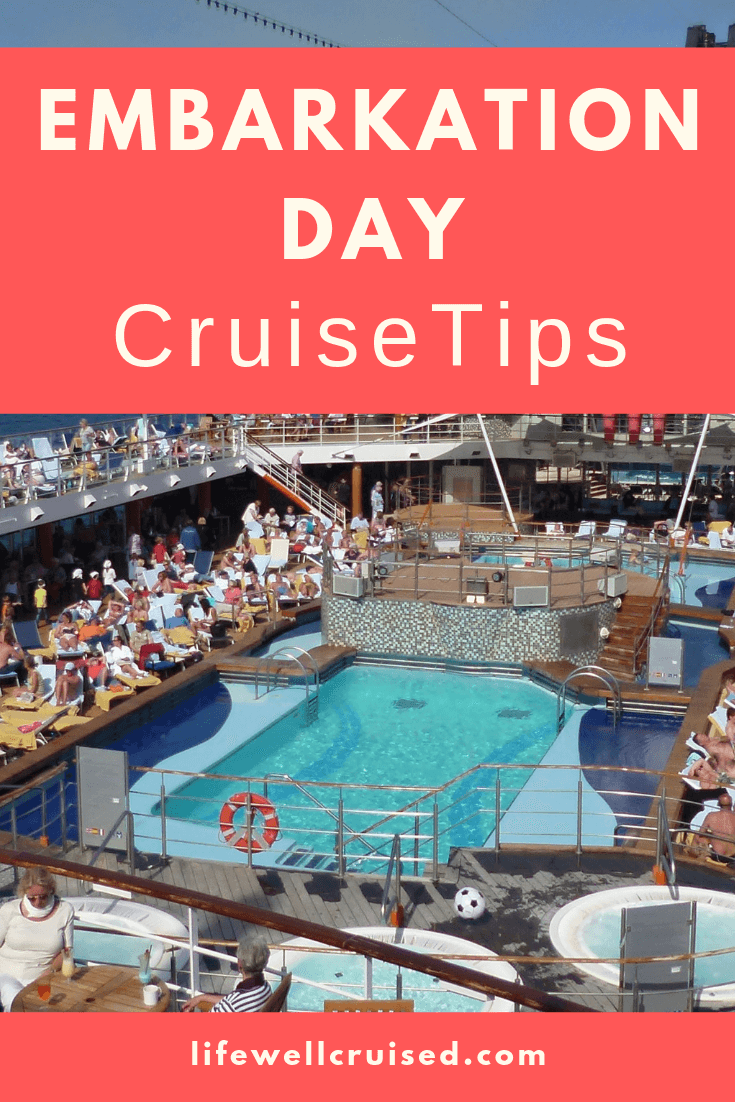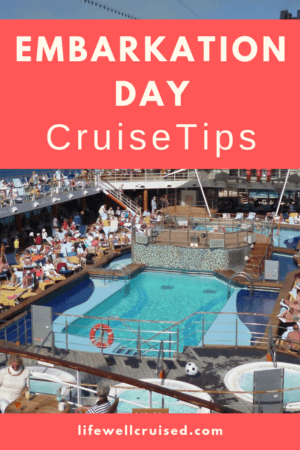 20. Register at the Kids Camp
If you have kids, one of the most important and first things to do after you board your cruise is to visit the kid's camp.
If you have not registered your children online before your cruise, do this now. However, even if your kids are signed up, it's a good idea to confirm in person during the opening hours of the kid's club on embarkation day.
You'll have a chance to meet the staff and you and your children will feel more comfortable. Plus, since the kid's club has an open house style welcome during this time, your kids may even meet some new friends. Even teens may meet other kids their age, which will make it easier for them to come back for activities.
21. Make Reservations
Sign up for reservations for specialty restaurants, adult only areas, spa appointments, and shows if you have not done so online before the cruise. Soda and drink packages can be purchased as well.
Don't forget to check out the fitness centre and sign up for any classes that interest you. Some will be included with your cruise, while others will have an additional charge.
Cruise tip: Save money during your cruise by the embarkation day promotions on spa treatments.
22. Relax by the pool
If you can't wait to hang out by the pool, this is a great thing to do on embarkation day.
Change into your bathing suit and grab a lounge chair, and take in the fun cruise atmosphere! If the weather is hot and sunny, we love to order a frozen cocktail and relax by the pool before Sailaway.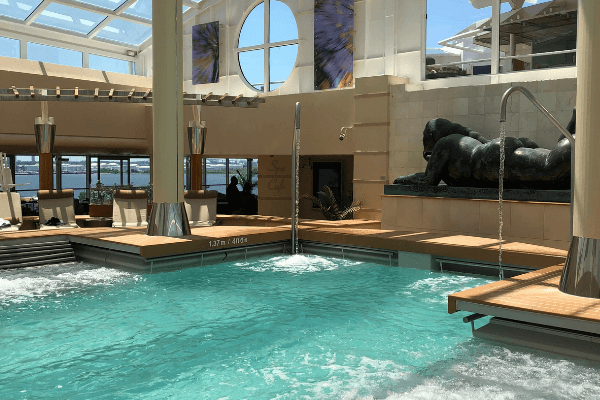 23. Unpack Your Luggage
It can be easy to have a few drinks and get caught up in the fun of the first day, and put off unpacking your luggage. However, one of the best cruise embarkation day tips I can give you is to take some time in the late afternoon to unpack and get your cabin organized.
By this time your luggage will likely have been delivered to your stateroom. Hang up any cruise outfits that are likely to wrinkle. I like to hang as much as I can, which is why I ask for extra hangers.
Using packing cubes may cut down on how long it takes to unpack your clothes, as you can often unzip them and place the entire cube onto a shelf.
Related post: 30 Cruise Cabin Hacks Every Cruiser Needs to Know
23. Put your Phone on Airplane Mode
This is a very practical cruise embarkation day tip – make sure to put your phone on airplane mode before your cruise ship sails away from the embarkation port. Cell phone plans are not usually applicable in International waters and the charges can be enormous.
Related: 15 Cruise WiFi Tips, Information Mistakes to Avoid
25. Enjoy Sailaway!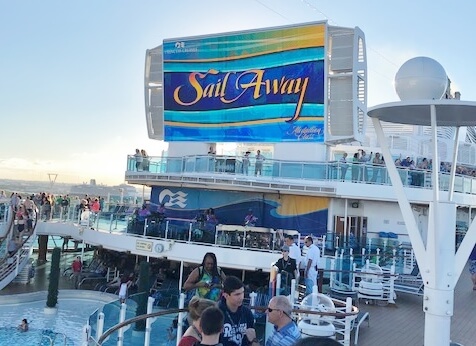 What happens at Sailaway?
As your cruise ship sails away from the shore, it's a special moment that's celebrated on a cruise! Weather permitting, you can expect a Sailaway party on the Lido deck complete with a DJ or live band. The cruise director and entertainment staff will be host a Sailaway party, and guests are encouraged to dance and have fun. Prizes may even be awarded to participants.
Alternatively, you may prefer to have a drink and people watch or even take in the sailaway from your private balcony.
However you choose to enjoy sailaway, make sure to take it all in and know that this is the beginning of a wonderful adventure ahead!
Get The Ultimate Cruise Planner
Regular price: $27 Now just $17!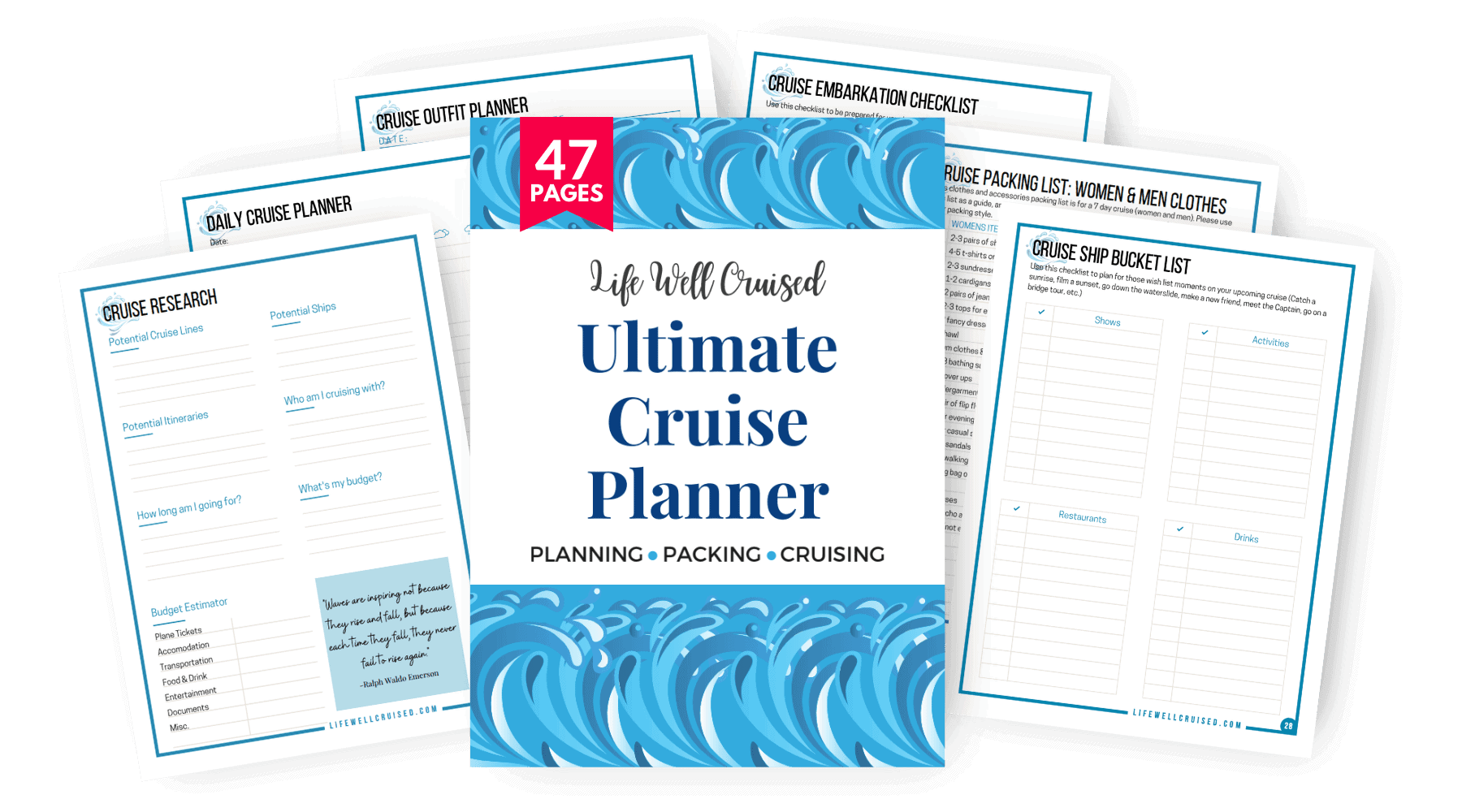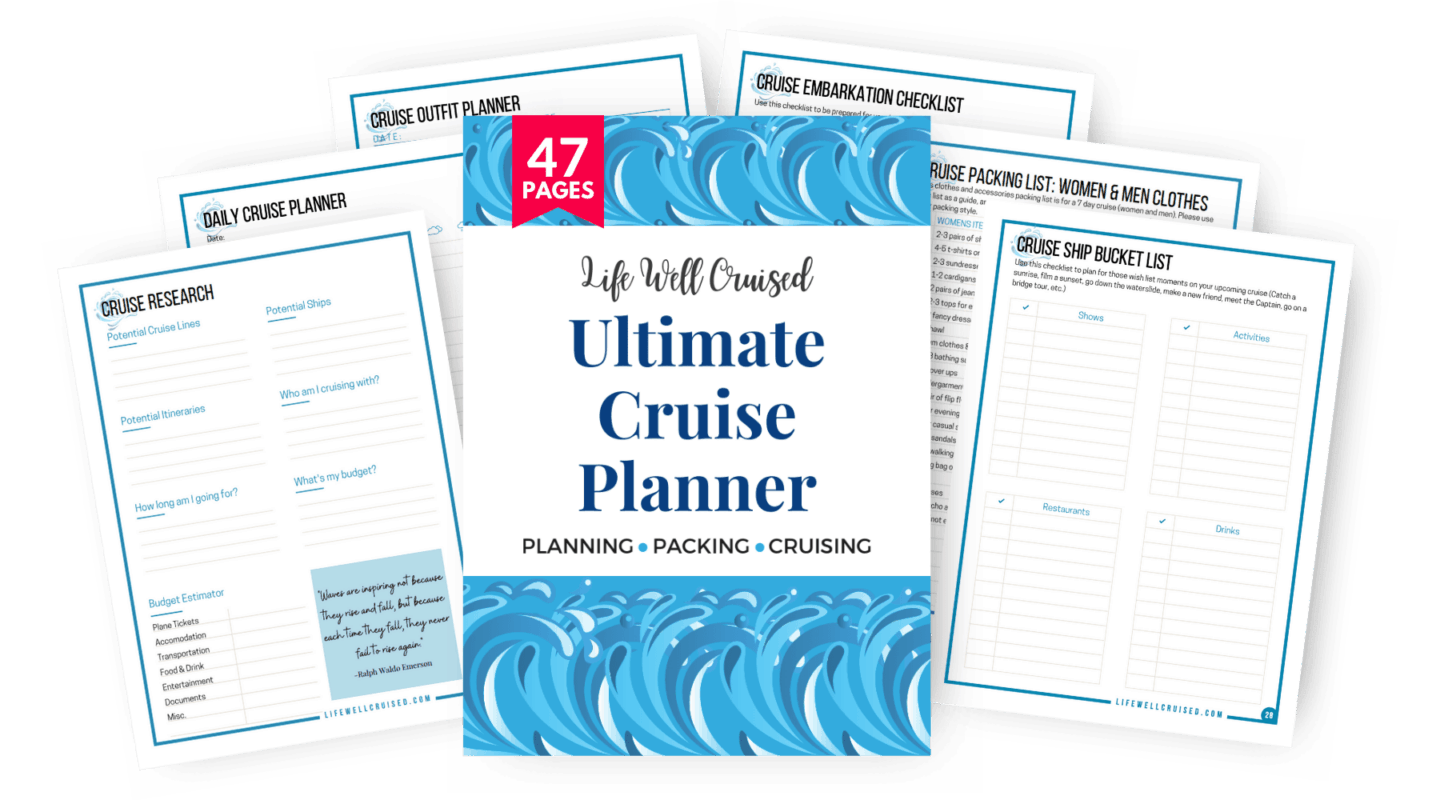 Video: Embarkation Day Cruise Tips – 15 Must-Do's Between Boarding and Sailaway
Here's a video about things to do on Embarkation Day, that might be helpful if you'd like to know more. If you enjoy cruise tip videos on YouTube, I'd love it if you'd subscribe to our channel.
READ NEXT – Popular and Related Posts:
Recap: 25 Cruise Embarkation Day Tips and Secrets
Cruise embarkation day is the most highly anticipated days of a cruise vacation. After all, this is the first day of the vacation you've probably been planning for months.
However, there are a lot of things to do on embarkation day, and it might feel overwhelming. In this post we've gone over 25 cruise embarkation day tips and secrets to having a stress-free and perfect start to an amazing vacation.
What tips do you have to make embarkation day even better? Please let me know your tips and questions in the comments below.
Happy Cruising!!
Ilana
P.S. If you've found this post helpful, don't keep it to yourself ;-). Please share on Facebook or save for later on Pinterest (share buttons at the top). Thanks so much!
Let's connect:
Follow me on Facebook at Life Well Cruised
Follow me on Pinterest at Life Well Cruised
Follow me on Instagram at Life Well Cruised