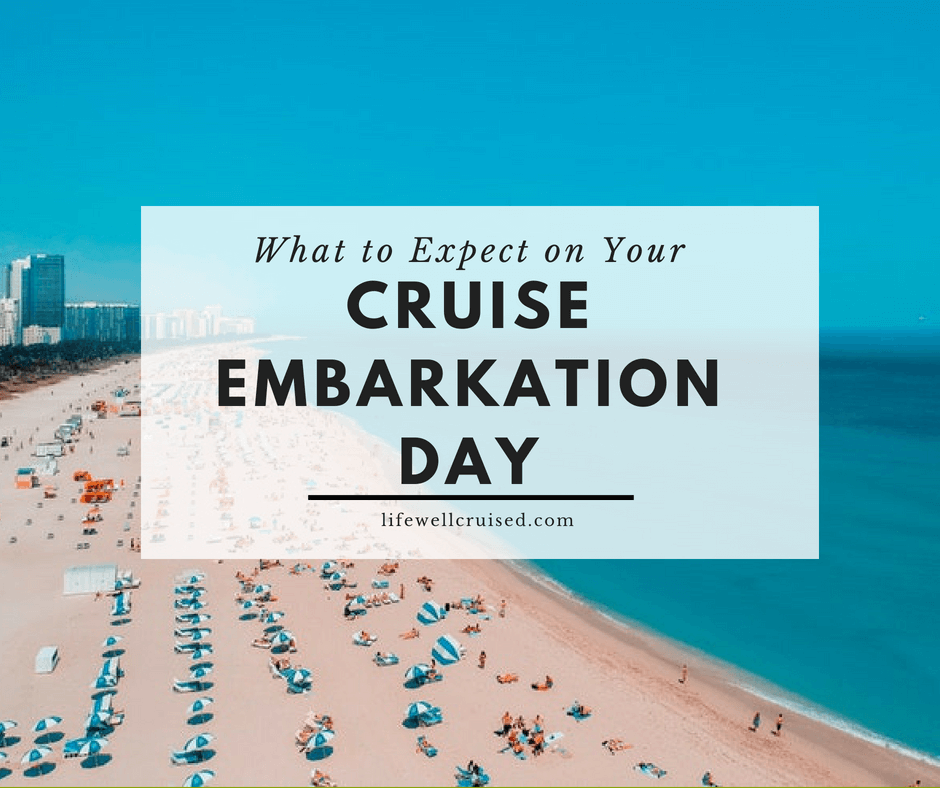 What to expect on your Cruise Embarkation Day
If this is your first cruise, you're probably wondering what to expect on your cruise embarkation day. You may even be wondering, what is an Embarkation Day? Cruising definitely has its own lingo and it simply means, the first day of your cruise.
There are some things you should know, so you have the very best start to the cruise that you've been dreaming of!
Here's a list of the top 15 cruise embarkation day tips that the pros swear by!
This post contains affiliate links which means if you click and buy that I may make a commission, at no cost to you. Please see my disclosure policy for details.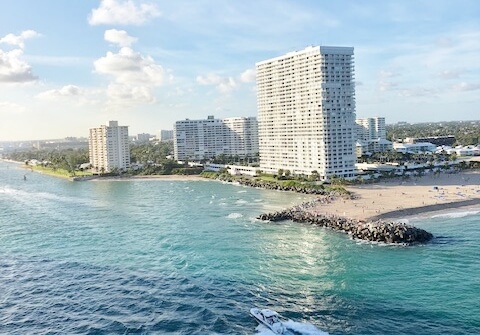 1. Arrive Early
You're probably getting contradictory advice on this one. Some people say arrive early, a few others say show up late once the crowds die down. I am 100% an ARRIVE EARLY cruiser and believe you should be too!
Firstly, it's the first day of your vacation. What else do you have to do? If you've stayed in a hotel pre-cruise, grab your breakfast and simply head over to the port. If you are one of the early ones, you'll be on your ship by about noon and ready to explore the ship and relax.
Secondly, cruiselines have become really efficient at reducing wait times and lines. Keep in mind that passengers have already completed check-in online before their cruise.
Although there is still a process of checking in to the ship itself, their is usually a minimal wait time. Most seasoned cruisers actually arrive around 10:30-11:30 am and can expect to be on the ship ready to grab a bite and relax, by about noon.
If you'd like more information about the Cruise Boarding Process, I wrote this post that I think you'll find helpful.
2. Bring a cruise carry-on bag or day bag
Since your luggage will not arrive at your cabin until much later in the day, bring a carry on with all you will need to enjoy the first afternoon of your cruise.
Your cruise carry-on bag should have include: valuables, tech stuff/cameras, medications, and a change of clothes if you're coming straight from the airport.
I usually bring a large beach bag, this way I can use it on excursion days as well.
Other things I always bring with me (to make the most of the day!!):
Sunscreen/sun lotion is really important, which we found out the hard way a few years ago.
My husband stubbornly refused to wear sunscreen as he insisted he wouldn't burn in just a couple of hours. Wrong! He was so red an uncomfortable. Thank goodness for after-sun aloe vera gel!!
The sun is really much hotter and more powerful when you are out at sea, so bring your sunscreen – you won't regret it!
Recommended: 25 Popular Cruise Vacation Essentials on Amazon
Tip: The cruise ship store will have some of these items. However, not only will they be more expensive, but the shops won't be open unless you are at sea. Don't get stuck, plan and bring from home.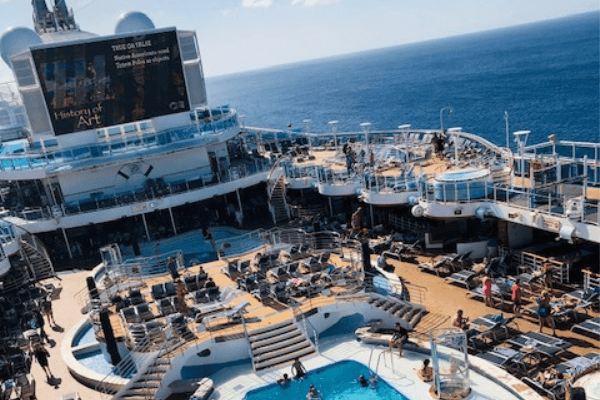 3. Don't expect to go to your cabin right away
Some cruise lines will have the cabins ready for you on your cruise embarkation day, however many times you will find that the cabins are only ready around 1:00 pm or later. Don't fret, this does not stop you from getting on the ship and enjoying your holiday right away.
After boarding your cruise ship, it's a perfect time to explore the ship, take first cruise vacation photos, have a first drink or bite to eat.
4. Find a place to eat lunch
Go grab some lunch in the buffet or in one of the alternative restaurants. Some ships have their dining-rooms open and most have their casual venues open too. On the Oasis of the Seas we had lunch in Central Park Café. It was amazing as it was early in the cruise and it was not yet discovered by 90% of the other passengers. It's incredible btw :-)!
On a recent cruise on the Regal Princess, we enjoyed lunch at Alfredo's, a casual sit down Italian restaurant that I highly recommend.
5. Go to your cabin (quickly)
Most of the time, by the time you've eaten lunch, your cabin will be ready. Do a quick stop at your cabin and check it out (your luggage will probably not be there yet).
Your cabin will never look this clean and spacious again, so if you want to take a photo of your cabin, do it now :-). Drop off your carry on and any items you don't need, and change into your pool clothes if you want.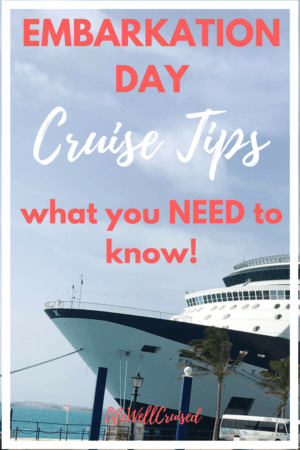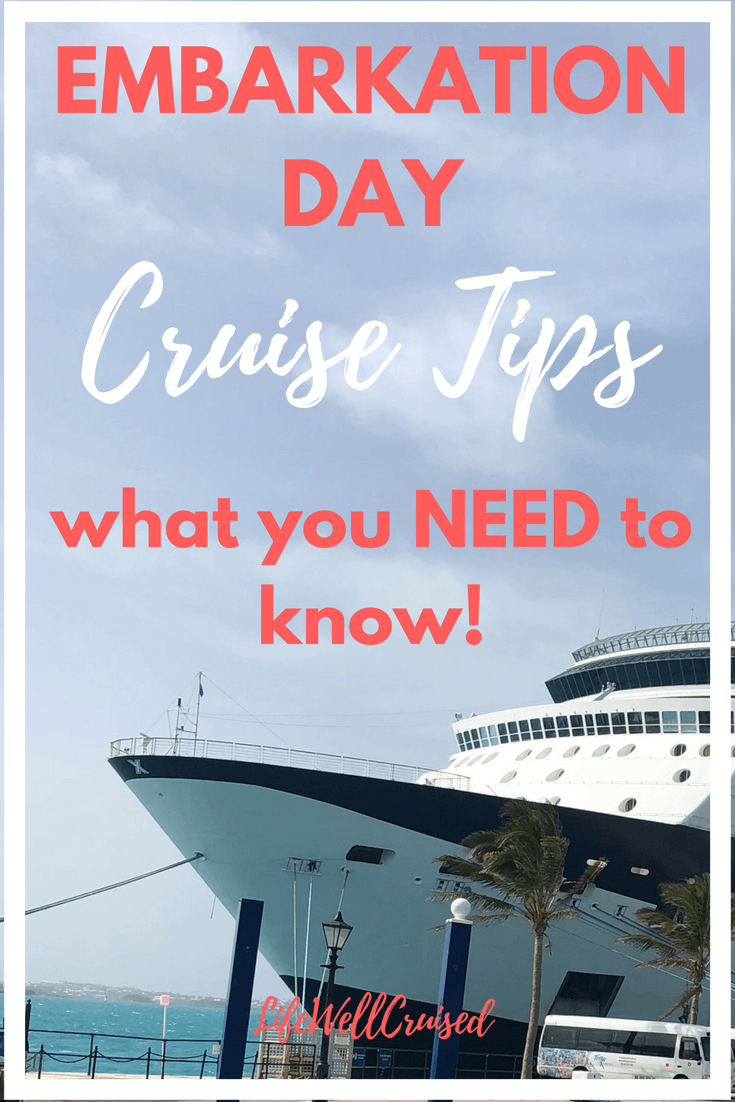 6. Put your valuables in your cabin safe
One of the great things about being on a cruise, is that it's cashless. You don't need to carry around a wallet or purse, which is a great feeling while on vacation!
One of the first things we do is set our cabin safe combination and put in our wallets with ID and credit cards, car keys, jewelry, and passports.
7. Meet your cabin steward
See, that's Cruise Lingo again. Your cabin steward or attendant will not only clean your room (twice daily – amazing!!), but also ensure that you get some of the thing that would make your cruise more comfortable.
Take a couple minutes and introduce yourselves and chat, however keep in mind that this is a super busy time for them. If you have requests, now is the time to ask.
Some things I ask for every cruise are 1. More hangers please 2. Please empty out the mini-bar fridge items 3. Please keep ice bucket full each day. You may also need a mattress topper or extra towels.
In my experience the room steward was incredibly accommodating and honestly contributed greatly to my cruise experience.
Recommended: Cruise Lingo You Need to Know
8. Check the Cruise Planner
Cruise ships have a sort of newsletter or planner that will be placed in your cabin each day. It will be a schedule of daily activities that are available, as well as entertainment options, opening hours for the gym, spa, restaurants etc.
However, on your cruise embarkation day, you will receive a planner that is more of a general overview of the big things that you can look forward to during the rest of your cruise.
This will include big productions shows, audience participation game-shows (such as Love and Marriage), and special guest entertainers such as comedians and illusionists. This will help you to plan your time on your cruise week as you look ahead.
Tip: Bring a highlighter and some post-its. You can highlight things you really want to do and plan for right in the planner. A few post-its can be handy to keep a little note on your cabin mirror as a reminder too.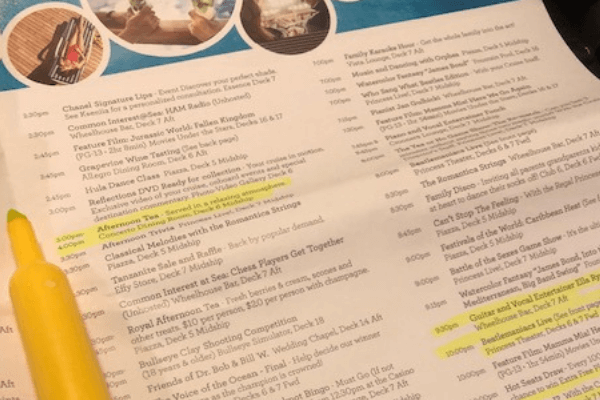 9. Download the cruise line app
Did you know that you can download a cruise line app to check the daily planner on your phone or even to message other passengers, all without using any data or wifi? Please be aware that some cruise lines have a charge for the message function and some do not.
Remember to turn your phone on airplane mode and do check with the cruise line if you wish to purchase an internet package. Your regular phone plan will not be sufficient for your days at sea and possibly not for your cruise ports, and substantial charges may apply. Be careful and check this out before your cruise.
If you are cruising on Princess Cruises, you may be cruising on a ship which has Ocean Medallion (it is being rolled out among the fleet). On our recent Regal Princess cruise, we had a chance to try it out – you can read our Ocean Medallion experience here.
Want even more Cruise Embarkation Day Tips? You may enjoy our new YouTube video here:
10. Explore the ship
Cruise Lines will give you a little folding map of your ships and the decks. Take the time to visit the gym, the adult pool, some of the lounges. Participate in some of the games, contests and tours. It's a great way to explore and get to know the ship, and who knows, you may even win something! On our last Princess Cruise the entertainment staff had a scavenger hunt which was a great first day family activity.
This is a great time to walk the whole top deck and view the sports deck, walking track, the pools from the very front to the very back. A few years ago, my parents were on a cruise and never realized there was an adult pool. They simply hadn't walked forward.
If you have kids, the most important thing that you will do today is visit the kids club!
If you have not signed them up already, do so now. However even if you have signed them up online before your cruise or if you are not sure they will want to attend, you absolutely must visit and let them see the kids club area and meet the staff.
This is done as an open house style during the day (check your cruise planner for the hours) and it is the best way for you child to be comfortable attending any programs. Many times my own children have met a couple of kids right at the open house, which made it a lot easier when coming back later or the next day for an activity.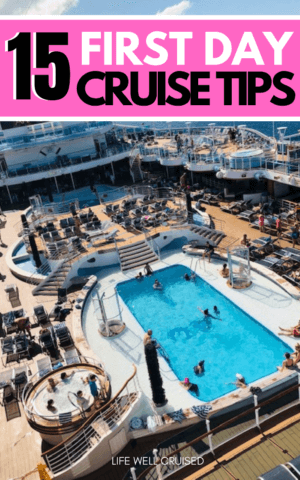 11. Make reservations and buy any "packages"
Sign up for reservations for specialty restaurants, spa appointments, shows if you have not done so already. Purchase soda or wine packages now too. There may even be some cruise embarkation day specials or promotions.
This is also the time to purchase internet packages, as they will usually be more expensive if you wait even until the next day.
Want a tip? Take advantage of some of the pay and free classes offered at the gym, that only accept a limited amount of participants. There will be some sign up sheets as you enter, so you can sign up right away for the classes you like best.
12. Relax by the pool
Why not? It's the first day of your cruise vacation and if you like hanging by the pool, grab a Pina Colada and basque in the sun and fun! If you don't feel like being with the masses at the buffet, consider grabbing a slice of pizza or a burger at the outdoor grill if your ship has one.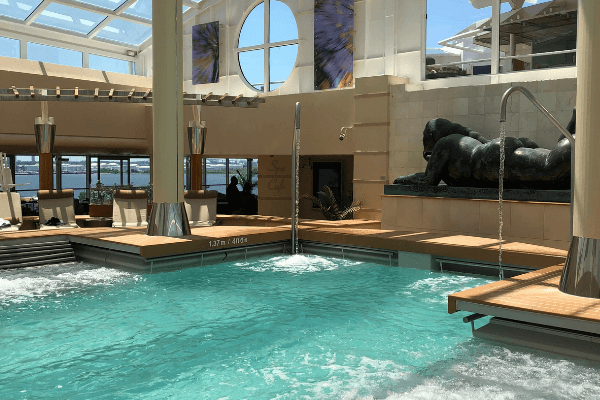 13. Unpack your luggage
So, I hate unpacking, but I've gotten good at getting it done like I am running a marathon. My husband and I tag team and get it all done in about 45 minutes or less.
If you've kept your suitcase organized by using packing cubes, it may go even faster!
I hang almost everything I can (just less wrinkles) including nice t-shirts and polos. Shorts, tanks, workout clothes and jeans go on the shelves. Undergarments and bathing suits
fit in the drawers. Fancy dresses and cute cruise wear can all be hung.
Make up and hair accessories in the desk area. Bathroom items and medications, you guessed it, in the bathroom. Most of it goes on the small shelves, however I keep some items we don't use much in a cosmetic bag below the sink.
If you've brought any organizational or space saving items, such as over-the-door organizers, go ahead and set those up.
One of my friends gave me a great tip that I'll share with you. Pre-pack your organizer at home with all your items in place before you go. This way, when you arrive on your cruise and unpack, this item will be read to be hung up and used right away, leaving you more time for vacation!
Want some cruise cabin hacks to make your cabin space WAY more organized? Check out 30 Cruise Cabin Hacks Every Cruiser Needs to Know
***If you'd like more packing tips, check out my super practical must-have packing list here.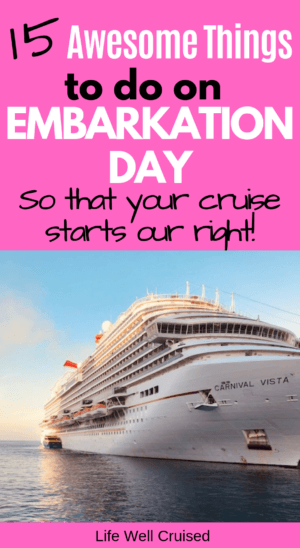 14. Muster Drill
Every cruise ship has this safety drill prior to sailing, so usually around 4 pm. The ship will give you instructions, but it does take about 30 minutes or so. I often plan my day so that I go back to my cabin to pack 45 minutes or so prior to the muster drill, as most of the time the luggage will have arrived.
Everyone must attend, and yes, they take attendance through your electronic room key.
15. Sailaway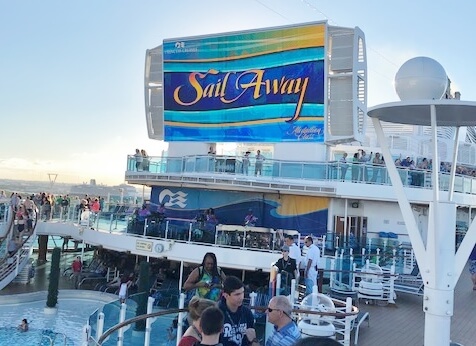 Attend the Sailaway party – Have fun, take photos, grab a drink and take it all in.
It is a special feeling to watch the shore as your cruise ship sails away and you can feel that the vacation that you've been dreaming of is finally here.
Many ships have a live band or DJ, and the entertainment staff if often leading some cruise-ship line dancing (think cha-cha slide). Often prizes are given out to participants it's a lot of fun.
Alternatively, you may want to head to your cabin if you have a balcony, and experience a quiet Sailaway from there. Perhaps pour a couple of glasses of champagne and toast to the perfect cruise ahead!
It's your cruise and you can experience it however suits you best. Smile, enjoy the view and appreciate this wonderful time with your loved ones.
I hope these embarkation day tips have been helpful!
Recap: What you need to know for your Cruise Embarkation Day
*Arrive early
*Avoid the buffet for lunch and choose an alternative if possible
*Register the kids in the kid's club
*Tour the ship
*Check out the pool – use sunscreen!
*Unpack
*Go to the Muster Drill
*Sailaway and enjoy!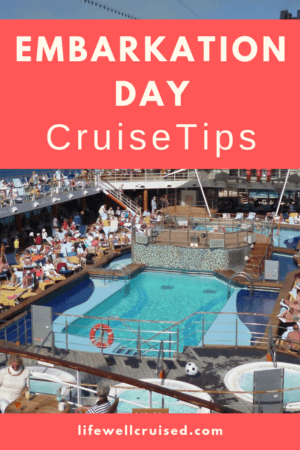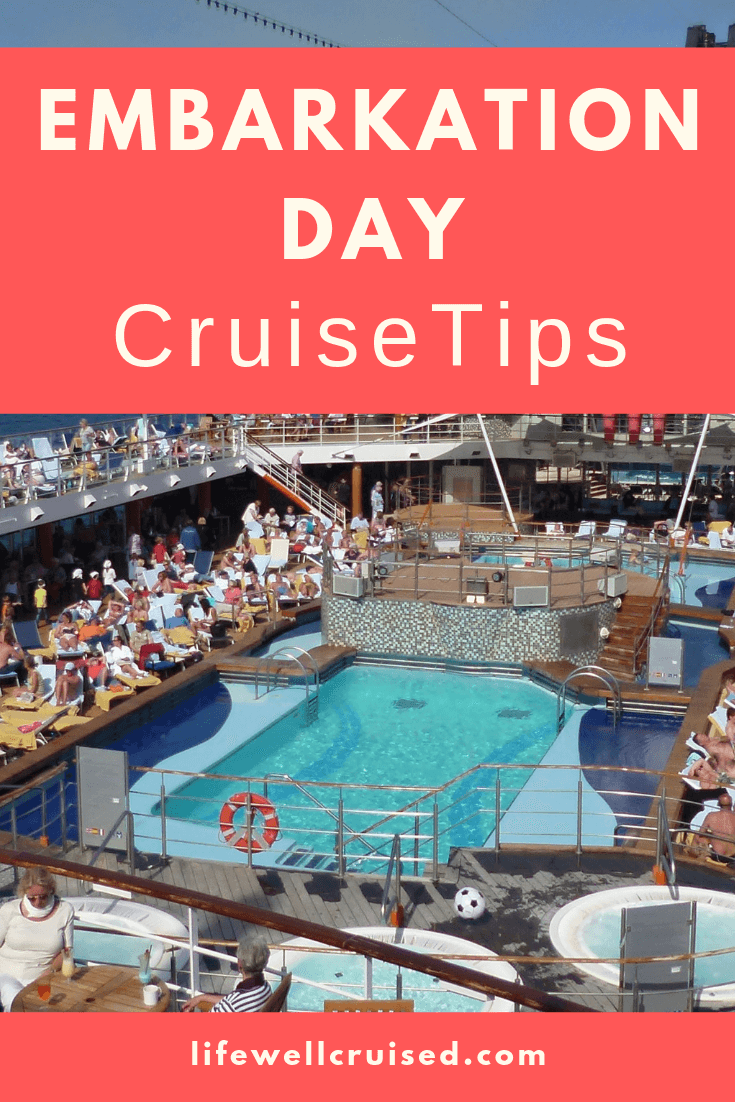 Once you've cruised a couple of times, you will find that you develop your own preferences and routine of what works best for you.
What do you enjoy most about Embarkation Day? Do you prefer joining the Sailaway party or do you prefer a quieter Sailaway on your private balcony?
Happy Cruising!!
Ilana xoxo
P.S. If you've found this post helpful, don't keep it to yourself ;-). Please share on Facebook or save for later on Pinterest (share buttons at the top). Thanks so much!
Recommended posts:
11 Cruise Boarding Tips You Need to Know
30 Cruise Cabin Hacks Every Cruiser Needs to Know
20 Super Practical Tips for first-time cruisers
Let's connect:
Follow me on Facebook at Life Well Cruised
Follow me on Pinterest at Life Well Cruised
Follow me on Instagram at Life Well Cruised