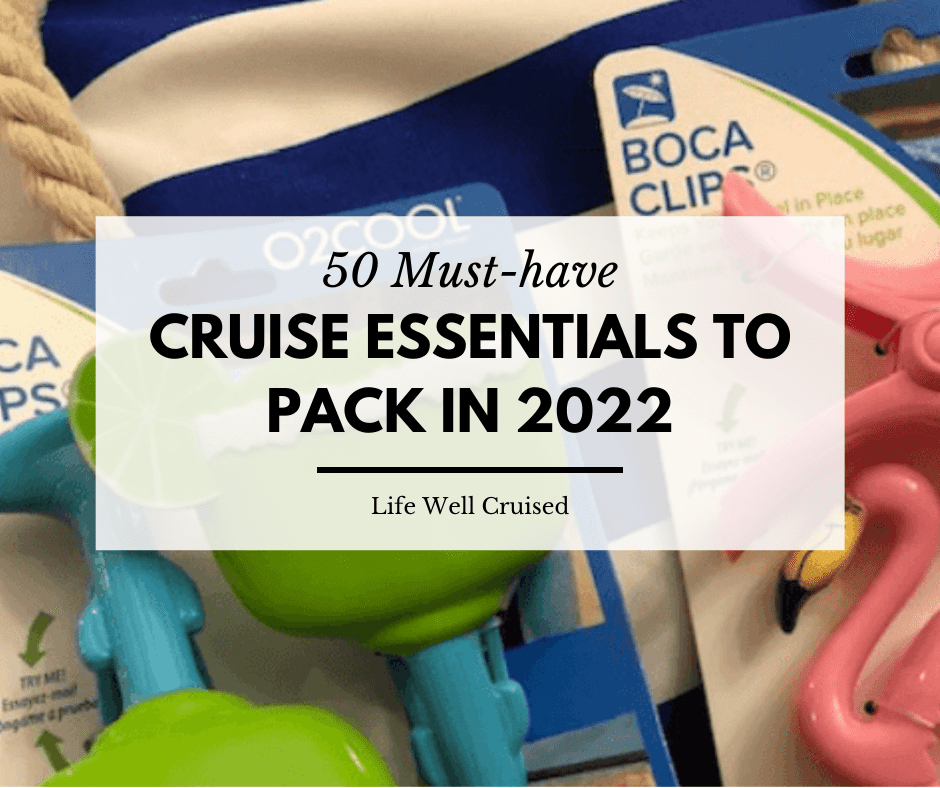 If you're cruising in the near future, you may be creating a list of Amazon cruise essentials to bring on your cruise. These cruise accessories and travel gadgets can be really useful for space-saving and more!
Cruising is the type of travel experience, where you want to be prepared with everything you need in advance. I've learned from experience, if you think you might need it, you better bring it from home.
In this post, I share some of the most useful things to bring on a cruise, from things that help with packing for a cruise to genius items that will organize your cruise cabin space.
In addition, I'll include a few items you may not have thought of bringing on a cruise, but really should be on your cruise packing list! You may even have some of these things at home already.
Cruise Essentials Packing List – Amazon Must-haves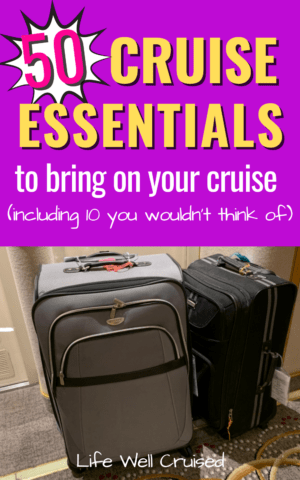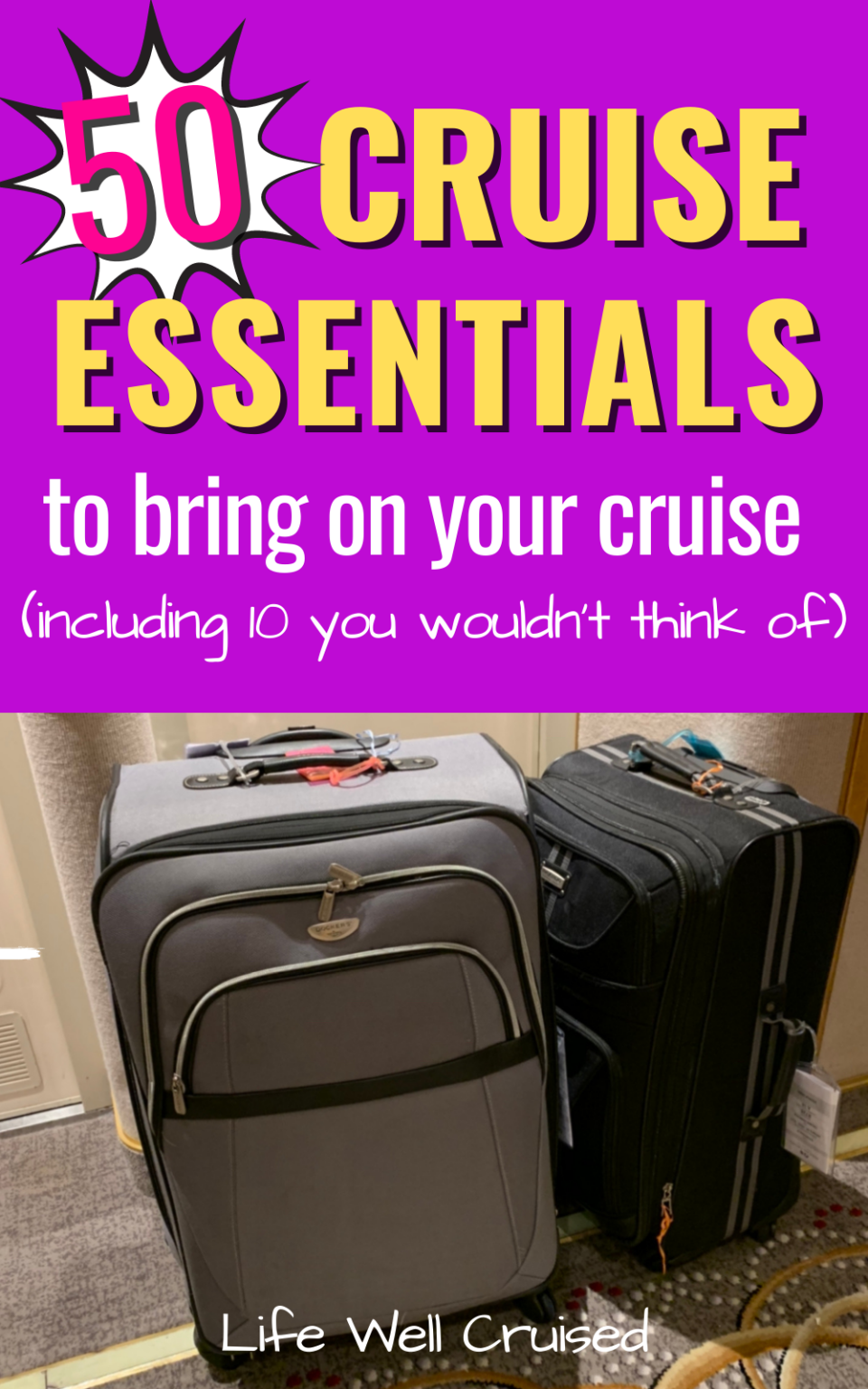 This post contains affiliate links which means if you click and buy that I may make a commission, at no cost to you. Please see my disclosure policy for details.
Life Well Cruised is a participant in the Amazon Services LLC Associates Program, an affiliate program designed to provide a means for sites to earn advertising fees by advertising and linking to Amazon.com.
Amazon Prime Free Trial
Amazon Prime comes with many benefits, including faster, free delivery, movies and TV shows (Prime TV) and even borrowing Kindle books. If you don't already have Amazon Prime, check out the FREE 30 day trial.
Here are some of Amazon's most popular cruise travel essentials and accessories that pro cruisers swear by!
Before we get started, you might be wondering if you need all 50 items on this list. Of course, you'll want to pick and choose, however the items that are included, are some of the most popular and well reviewed cruise essentials sold on Amazon. As well, this post has been updated to include some new cruising essentials for 2021.
Many of these items are things that I bring and use on my own cruises. I've included a couple videos below, if you'd like to see the items and have more info.
Recommended Cruise Accessories to Pack for a Cruise
These items are useful to organize your cruise stateroom, for packing and to use onboard your cruise ship.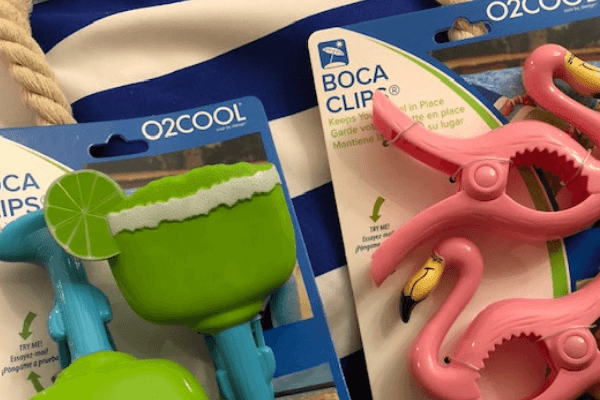 1. Cruise Approved Power Bar
It's surprising, but most cruise ship cabins have only 1 or 2 electric plugs. If you're bringing electronic items like phones, pads, speakers, go-pros and anything else, you'll really want more plugs, and even USB's.
Very important – Cruise lines don't allow you to bring a regular surge-protected power bar from home (they will confiscate). It's very important to have a non-surge protected one that is "cruise approved".
Recommended: Cruise Power Strip with USB Outlets – Non Surge Protection & Ship Approved (verify price here)
2. Over the Door Hanging Organizer
Cruisers are masters at using small cruise cabin space efficiently. An over the door organizer is very practical to store items you and your family will use often. You can hang this on your bathroom door or even use magnet hooks to hang on a cabin wall.
Pro tip: Pack your over the door organizer at home and place it in your suitcase, ready to hang. It will save so much time on your embarkation day.
Recommended: This OVER THE DOOR ORGANIZER is a favorite due to it's mesh pockets rather than plastic
3. Magnetic Cabin Hooks
One of the best ways to add storage space to your cruise stateroom is to use magnet hooks to hang backpacks, sunhats and bathing suits to dry. Cruise cabin walls are metal, so using magnets is an awesome cruise cabin hack!
Recommended: 6 pack Magnetic Hooks (tyhese are "heavy duty"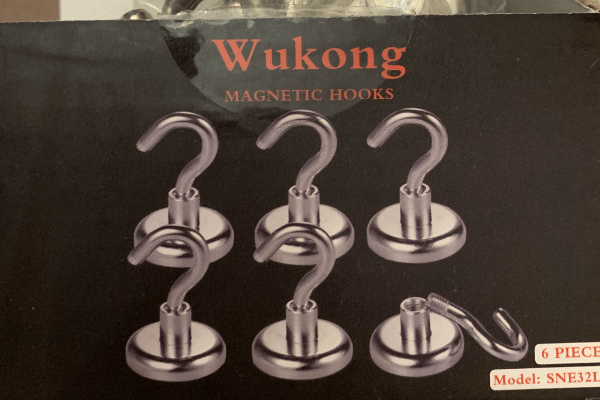 4. Magnetic Clips
Another cruise essential that really won't be on other types of travel packing lists, are magnetic wall clips. Funny but cool cruise fact – cruise cabin walls are metal.
Why bring magnet clips? On a cruise, you'll have some paper cruise planners, shore excursion tickets, and invitations to events on your cruise that tend to clutter up your desk and counter space. Use some magnetic hooks to hang these items on the wall.
Recommended: Magnetic clips (see 5* Amazon reviews)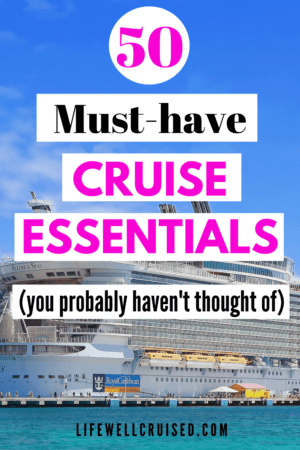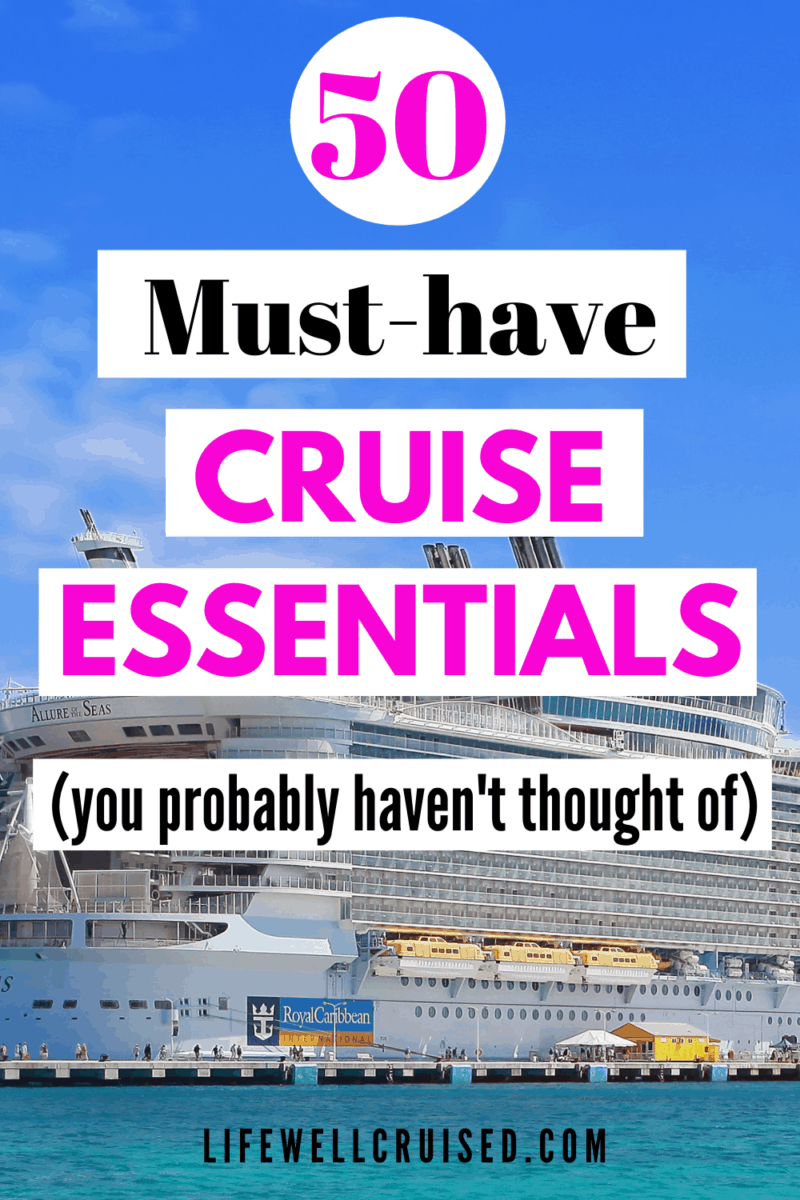 5. Cruise Luggage Tag Holders
Plastic reusable luggage tags holders are so practical. If you get nothing else, buy luggage tag holders! Not only are they reasonably priced, but they can be reused again and again.
In the past, I'd print out my paper cruise luggage tags. Then, I'd spend 45 minutes on the morning of the cruise stapling and then taping everyone's luggage tags. When I finally bought a set of luggage tag holders, I really wondered why I'd waited so long!
Recommended: Plastic Sleeve luggage tags (check for specific cruiseline)
Recommended: Cruise Luggage Tags 12 Pack Both Sizes (Wide and Narrow)
6. Packing Cubes
It's official. I'm a packing cube convert. While I wrote a blog post about the pros and cons of packing cubes, the fact is, there are very few cons.
In fact, I've now found even more cruise packing hacks and ways to use packing cubes to keep organized on my cruise. I recommend getting at least 2 packs of these packing cubes, with the various sizes, in different colors. This way you can have cubes for each member of the family.
Recommended: 5 star rated Packing Cubes
Read more: The Pros and Cons of Packing Cubes for Cruise Vacations
7. Luggage Set with Spinner Wheels
If you're anything like me, you might be due for some new luggage. Make sure it's lightweight and has 4 spinner wheels so that it's easy to board your cruise ship and disembark (even if you do self-disembarkation). This one, sold on Amazon, is a very good quality soft-sided luggage set, that's also very reasonably priced.
Pro tip – If you have a neutral or common color suitcase, like black, blue or grey, make sure to tie some colored yarn or ribbon around a handle so that it stands out and you can find it easily at the airport or cruise terminal.
Recommended: 3 Piece Luggage Set Suitcase – Spinner Softshell lightweight – Verify Current Price HERE
8. Portable Luggage Scale
Make sure to bring along a portable digital luggage scale when you're flying to and from your cruise. This handheld digital scale includes batteries and is a customer favorite.
Recommended: Handheld digital luggage scale (see product details & Amazon reviews here)
9. Lanyard and Keycard Holder
Cruise lanyards are one of the most popular cruise essentials. If you want to stay hands free or keep organized, putting your cruise key card in a plastic water-proof lanyard is super practical both on the cruise and as you get off the ship at a cruise port.
Recommended: Cruise Lanyard and Cruise Card Holder (waterproof)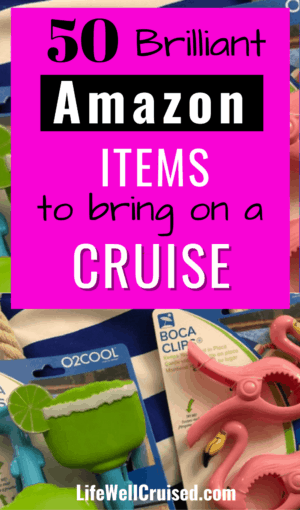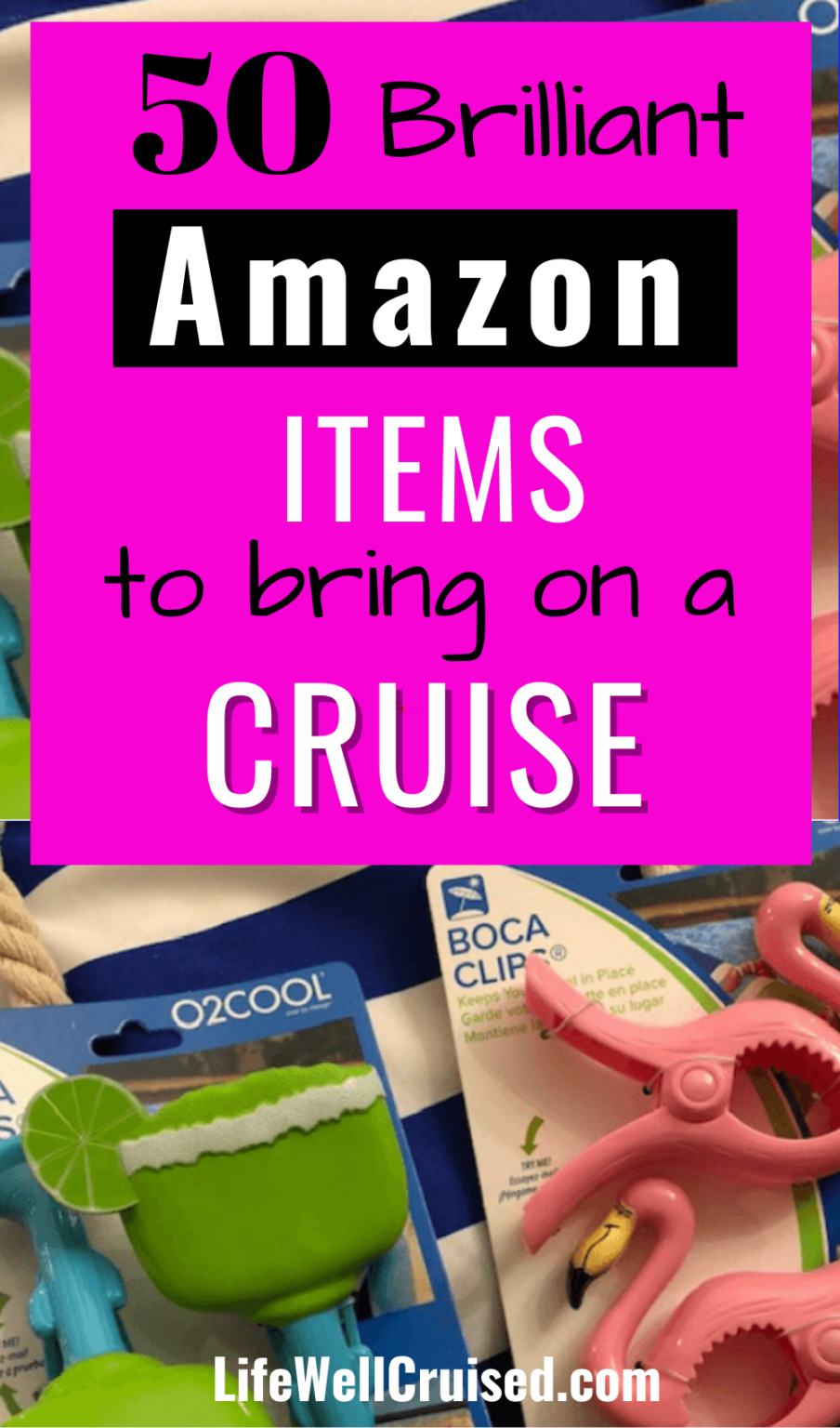 10. Refillable (and collapsible) Water Bottles
I love these space-saving roll-able and collapsible water bottles. While obviously convenient on the cruise ship, more than that I love how they don't take room in my luggage or beach bag when not being used.
Recommended: Collapsible 20 ounce water bottles
11. Thermal Coffee Mug
If you're a coffee lover, you know why you need a quality thermal travel mug
. These are fabulous for keeping cold drinks cold as well.
Recommended: Thermal Coffee Mug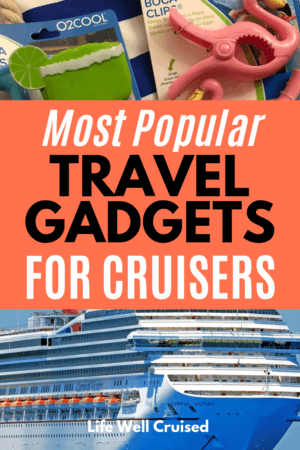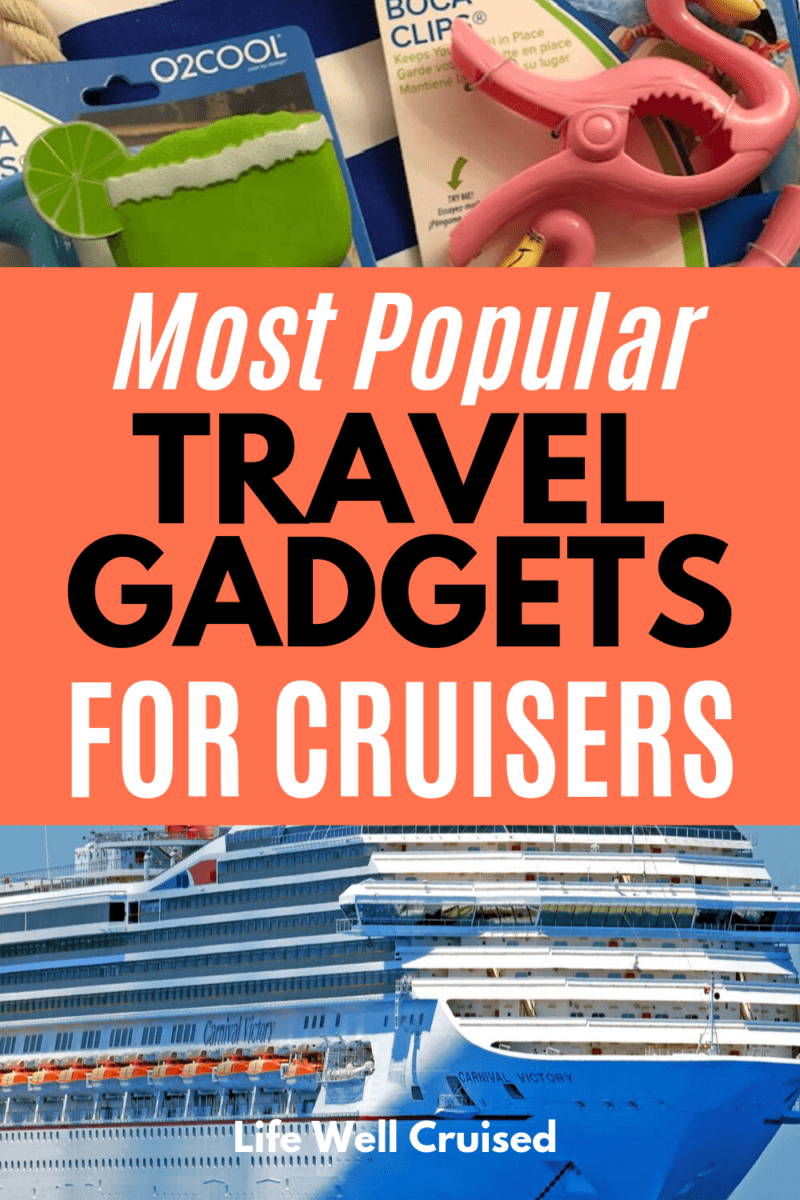 12. Towel Clips
It's very hard for me to hold in my enthusiasm for pool and beach towel clips. The ship is so breezy and towels would never stay put for me. It used to drive me crazy as I would try to read or relax.
This is honestly an item I'm so happy we bring on our cruises! We bought some boca clips with different styles (flamingo, margaritas, flip flops) and they're adorable!
Recommended: Flamingo BocaClips Beach Towel Holder (check link for variety of clips)
Another option for towel clips if you're not feeling the flamingos are these simple but cute pool towel clips.
Recommended: 16 Pack Beach Towel Clips Chair Clips (very good value)
13. Towel Bands for Beach Chairs
Some cruisers prefer towel bands to clips, as they're easier to pack and take up less room.
Recommended: Towel bands (see different color and set options)
14. Poo-Pourri Bathroom Spray
Poo-Pourri bathroom spray is a cruising essential that may not be talked about much, but it works. Cruise cabins and bathrooms are small, and the space is tight. A useful bathroom hack is to spray a little Poo-Pourri before you go.
Recommended: Poo-Pourri Before-You-Go Toilet Spray Bottle (verify Amazon price HERE)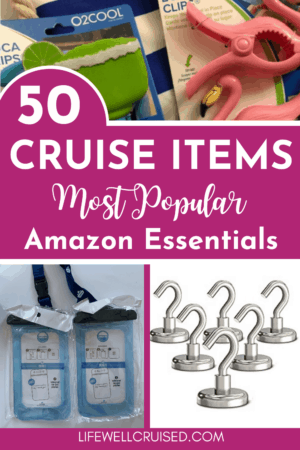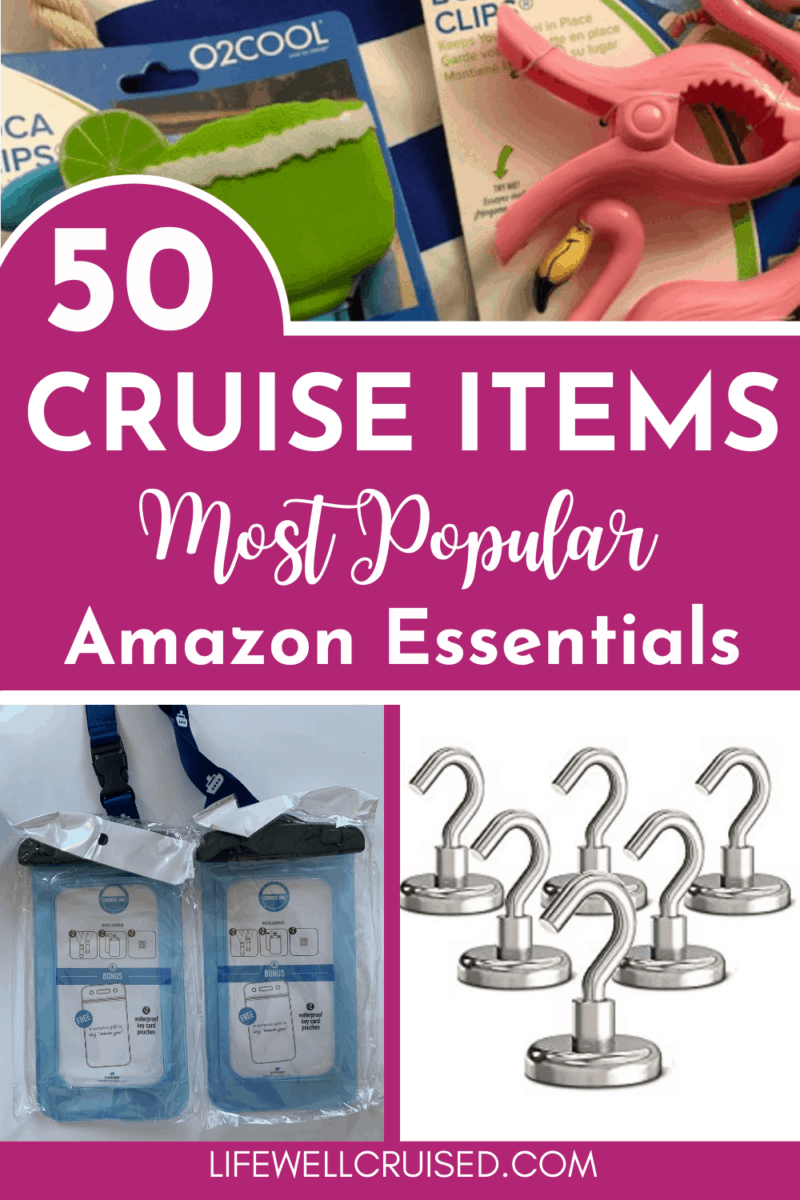 15. Cabin Alarm Clock
If you like to know the time during the night or don't want to rely on your cell phone, consider a simple travel battery operated clock. A lot of cruisers swear this is one of their favorite cruise accessories.
Recommended: Digital Travel Alarm Clock (battery powered with a light)
16. Cabin Nightlight
This portable nightlight gets great reviews by cruisers and is one of the best-selling Amazon cruise accessories.
If you're in an inside cabin especially, it will be pitch black. So having a touch of light for when someone has to go to the bathroom in the middle of the night will be appreciated!
Recommended: Cruise Cabin nightlight (best-seller)
17. Portable Fan
If you're someone who finds that small spaces can get hot and stuffy, consider bringing a small fan to make your cabin more comfortable. I like this one as it's battery operated, but rechargeable – plus it's quiet.
Recommended: Portable Travel Mini Fan
18. Ladies Carry-on Bag
I love the size and practicality of his weekender style carry-on bag. It's perfect to carry over your shoulder, but also fits right over the handles of your luggage.
Recommended: Carry-on bag with nautical stripe (see details & style options on Amazon here)
19. Hanging Toiletry Bag
These hanging toiletry bags are so practical to keep you organized in a tight cruise cabin bathroom, so it makes sense that this is quickly becoming one of the popular items to bring on a cruise. This one in particular is my favorite and has over 14,000 5* reviews (you can see it in my video at the bottom of this post).
Recommended: Hanging toiletry/cosmestic bag (different colors available – read 14,000+ 5 star reviews)
20. Travel Laundry Hamper (mesh)
A great way to keep your cabin organized, is by placing all dirty clothing in a mesh laundry hamper
(so useful!).
Recommended: Travel laundry hamper (check price and see Amazon reviews here)
Related: Do Cruise Ships Provide Irons and Ironing Boards to Guests?
21. Downy Wrinkle Release Spray
Make sure to bring along a travel size Downy Wrinkle Release spray to get any wrinkles out of your cruise wear.
Recommended: Downy Wrinkle Release Spray (travel size available on Amazon)
Read more: How to Pack Wrinkle Free for a Cruise
21. Tide to Go Stain Remover Stick
Tide to Go instant stain remover sticks will save your cruise outfits! Make sure to pack one or more for your cruise.
Recommended: Tide To Go stain remover stick (verify price on Amazon)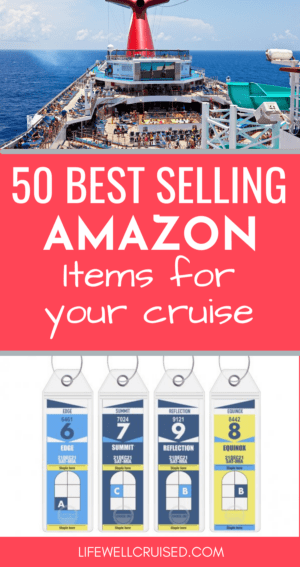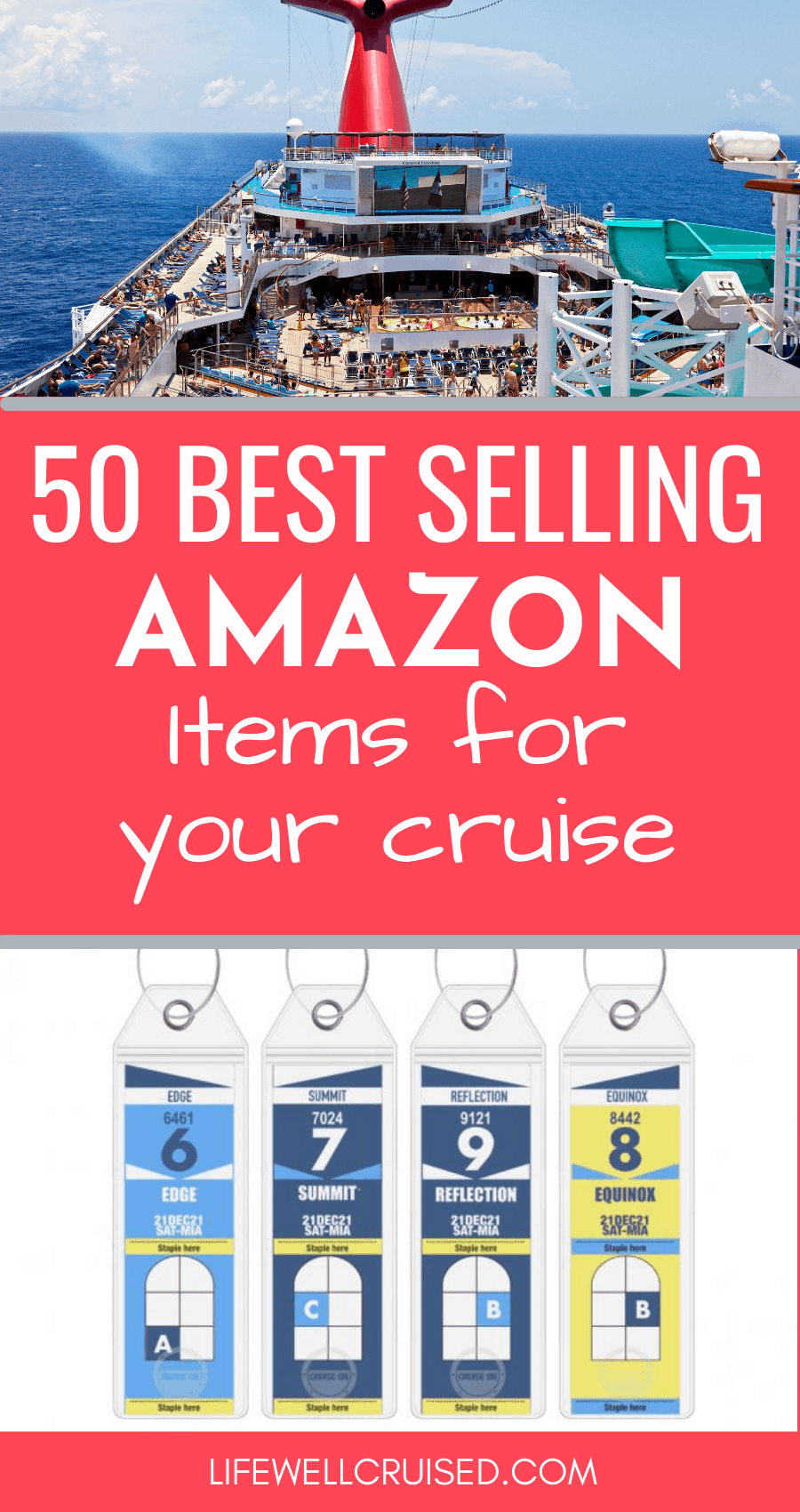 Cruise Shore Excursion Must-haves
22. Nautical Beach Bag
I love a good beach bag on a cruise. You can use this one as a carry on bag on embarkation day, as well as on shore excursions.
We brought it on our last 2 cruises and I can attest to the fact that it's a great size bag and super cute too!
.
Recommended: Nautical Beach Bag (with zipper)
23. Waterproof Drybag
If you plan on doing any kayaking or other water excursions, you'll get good use out of this waterproof drybag.
Recommended: Waterproof Dry Bag (see reviews & recommendations here)
24. Portable Lock Box
This portable safe is great for placing your id, phones, cash and other valuables and keeping them secure while on an excursion.
Recommended: Portable lock box for beach and pool
25. Water Shoes
Water shoes will be useful if you're going to a rocky beach or an excursion where water shoes are recommended. We made the mistake several years ago of going to Dunn's River Falls, Jamaica and needing to buy the shoes on site.
In fact on a recent cruise, we brought some new water shoes for an excursion to Virgin Gorda. These were awesome, and I'll be bringing my water shoes on all future Caribbean cruises!
Recommended: Water Shoes (men & women all sizes)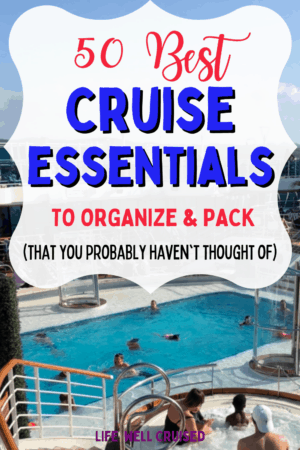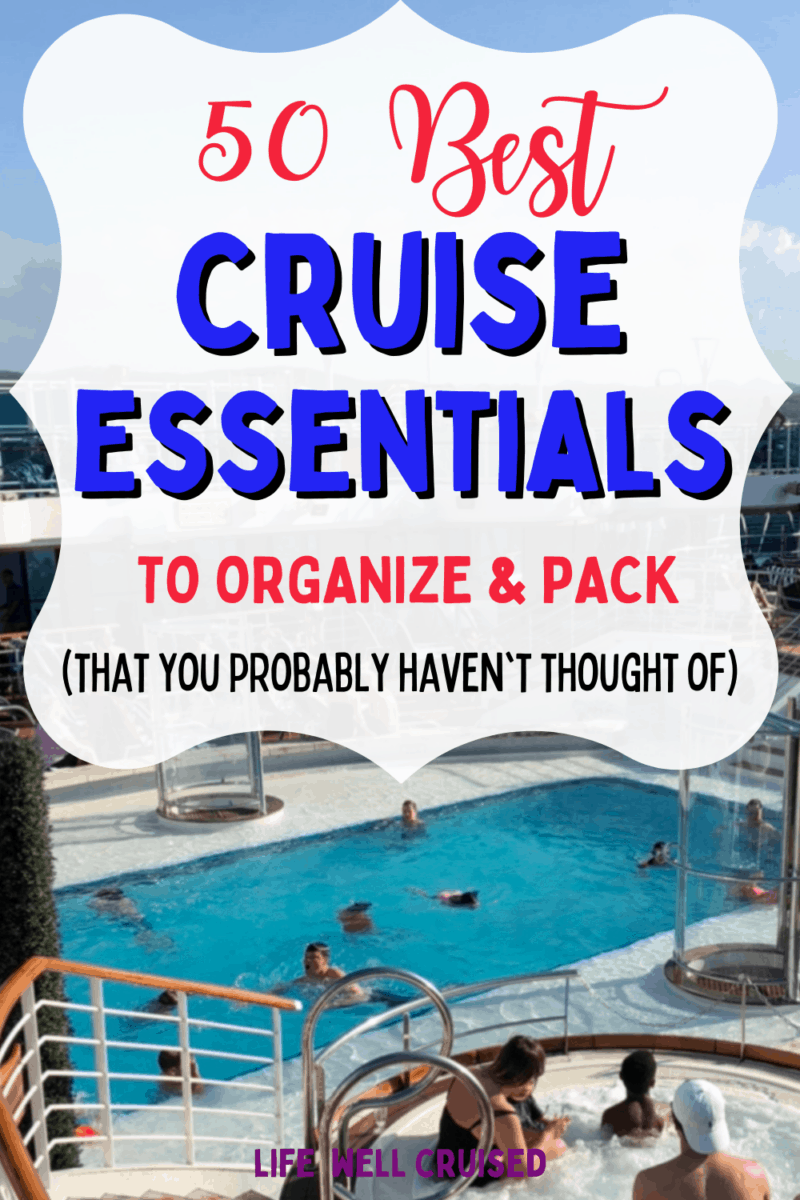 26. Snorkel and Mask
If you're going to be snorkeling more than once, it really pays to buy your own snorkel gear. These are two Amazon cruise items that are both recommended, but really depend on your preferences.
Check out the Amazon review for this full face mask style snorkel set (to see why people are loving it).
Recommended: Snorkel Set with Snorkel full face MASK and swim fins
This snorkel set is more traditional, but also very popular with cruisers.
Recommended: Snorkel Set – Panoramic Wide View
27. Mineral Sunscreen (reef friendly)
If you're going on a Caribbean cruise, it's really important to pack mineral sunscreen, as this is safer for the coral reefs. Many Caribbean islands have laws against using chemical sunscreen, and can issue fines. It's best bring the sunscreen from home, as it will be less expensive than buying it on site.
Recommended: Mineral sunscreen (see price & Amazon reviews here)
28. Aloe Vera After-Sun Gel
Always be prepared in case you get too much sun. A good quality pure aloe vera gel will actually be able to be worn under your clothes, as it won't be sticky like some gels with fillers.
Recommended: Pure Aloe Vera Gel (see over 40,000 reviews on Amazon)
29. Lip Balm with SPF
So many people forget to bring lip balm with SPF on a cruise. However, if your lips swell up like you had bad lip injections, you'll regret not packing lip balm (ideally in your cruise carry on bag).
Recommended: Sun Bum Lip balm with SPF
Get The Ultimate Cruise Planner
Regular price: $27 Now just $17!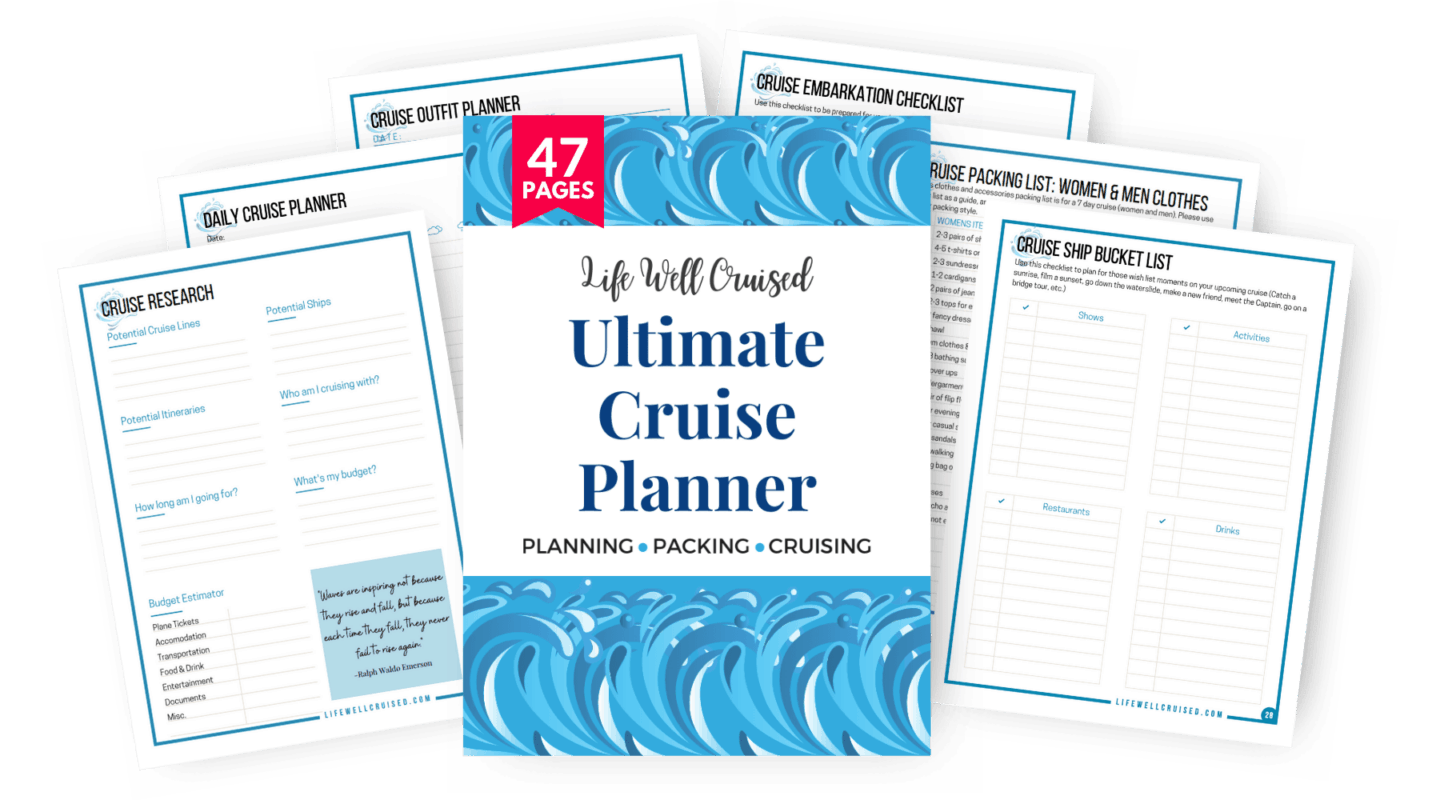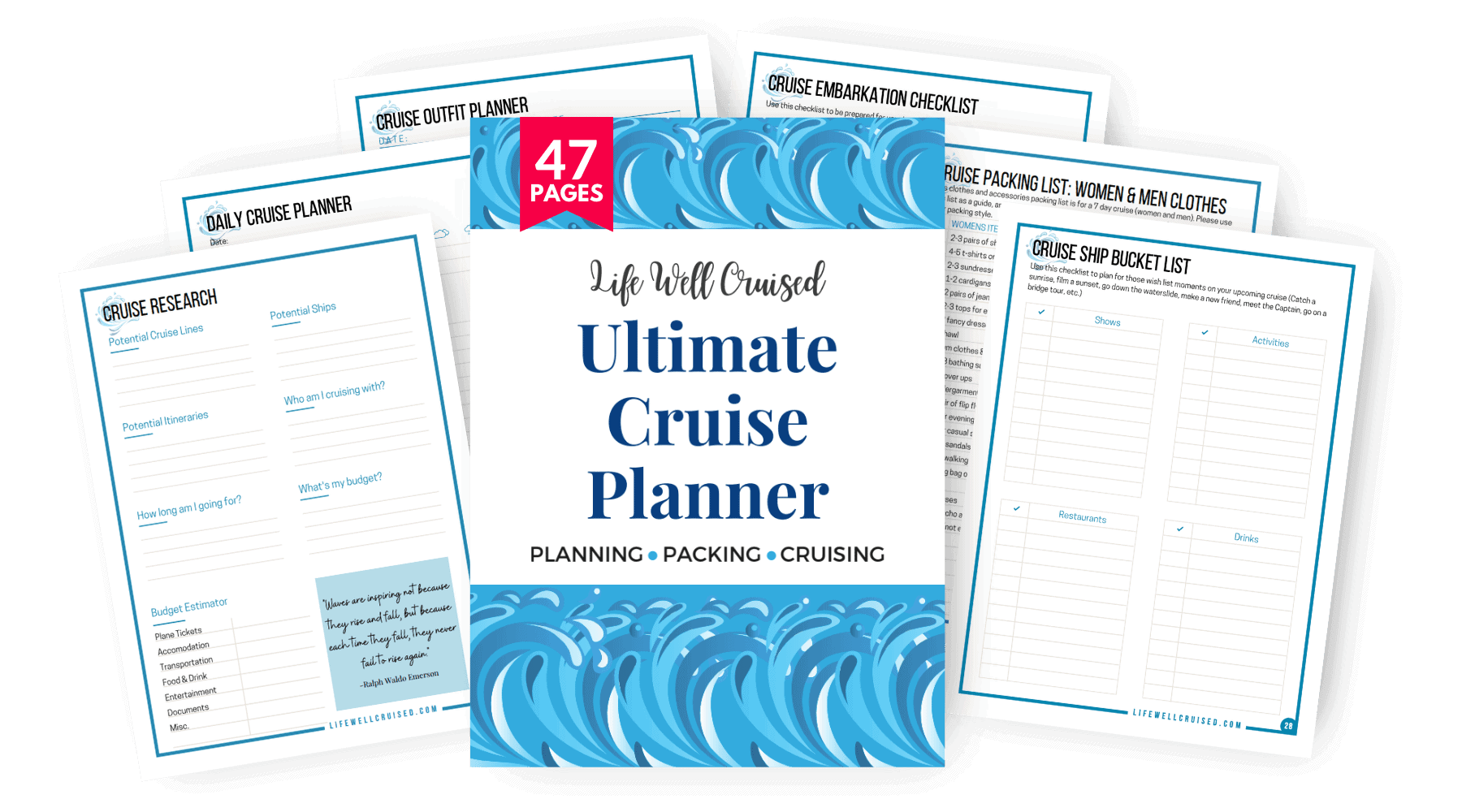 Tech Items to Bring on a Cruise
30. Portable Phone Charger
one While a cruise power bar might be the most important tech item to have on a cruise, a portable phone charger is super practical.
We used this one on our last cruise to charge two phones at a time! It was awesome and long lasting!
Recommended: INIU Portable Charger – compatible with most phones (but do verify)
31. Waterproof Phone Case
These waterproof phone cases with lanyards are great to keep your phone dry, and keep the sand out when you're at the beach. I love these in particular as these also have a touch screen (so important when cruising and traveling).
Recommended: Waterproof Phone Case with Cruise Lanyards
32. UV Light Sanitizer Box
This UV light sanitizer box is a quick way to properly sanitize your cell phone, masks, key card and more. It uses a UVC wavelength, an ultraviolet sanitizing frequency which kills bacteria. See details here on Amazon.
Recommended: UV light sanitizer box (check pricing & details on Amazon)
Wellness Items to Pack for a Cruise
33. Cruise First-aid kit
Having a travel first aid kit is one of the most important things you can pack for your cruise. Whether you use this one below, or put together your own, do make sure you bring the medications and general first-aid items with you on your cruise.
Recommended: Cruisepaks Cruise Essentials First Aid Travel Kit – 150 Pieces
For more cruise first-aid travel information, I recommended reading: 31 Cruise First Aid Kit Essentials You Need to Have
34. Non-Contact Travel Thermometer
When traveling after the pandemic and into the foreseeable future, having a lightweight, non contact thermometer will be an essential item to pack for a cruise.
Recommended: Non contact thermometer (check pricing on Amazon)
35. Seabands
If you're worried about getting seasick on a cruise, Seabands are a great, natural product that many frequent cruisers love.
Recommended: Seabands (available for adults and children)
36. Bonine Motion Sickness Tablets
Please don't make this common first time cruiser mistake. Even if you've cruised before, you can still be affected by the "motion of the ocean". Bonine really works well for my husband and I, without drowsy side effects.
Recommended: Bonine seasickness tablets
Read more: Cruise Toiletries Packing List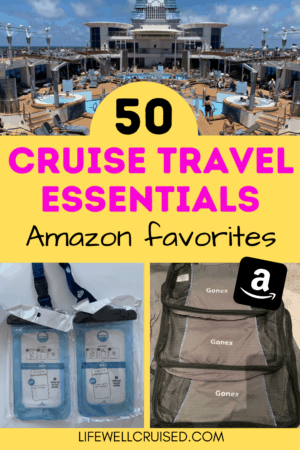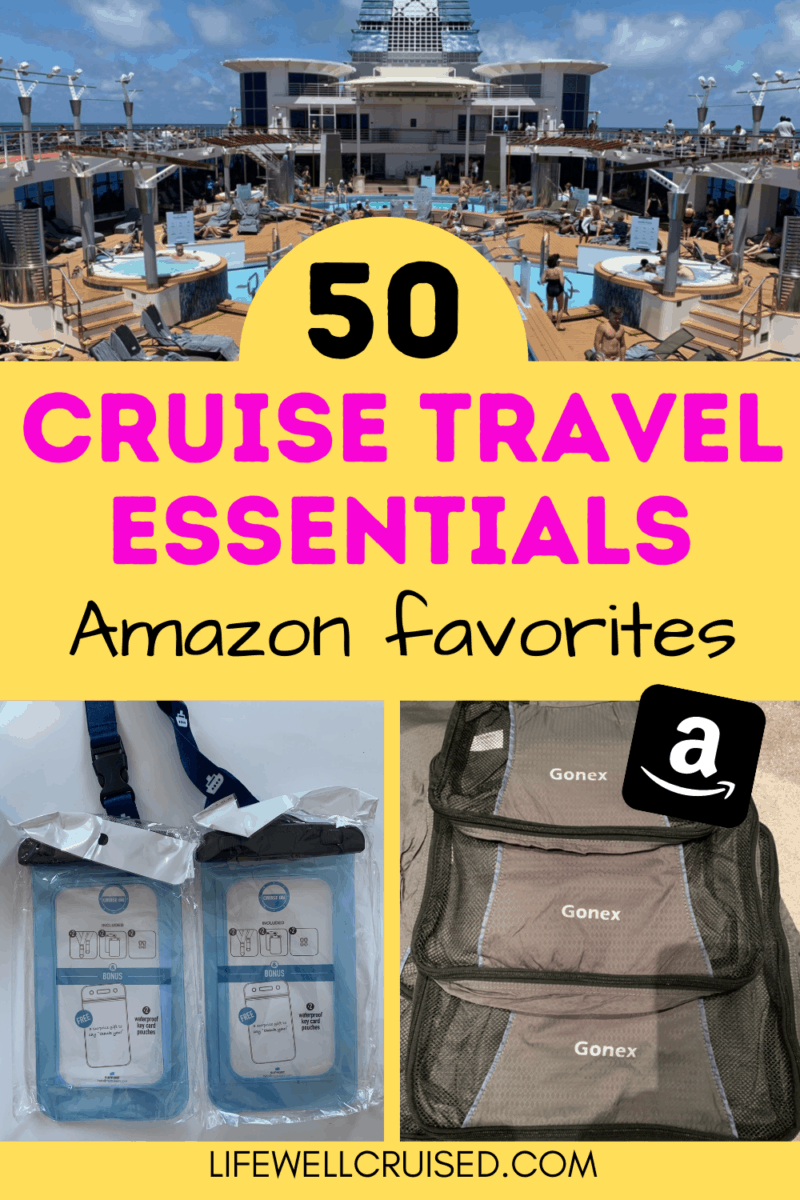 Travel Disinfectants and Sanitizers (for safe and healthy cruising)
In this video, I share (and show) 20 healthy cruise essentials for cruising this year and beyond. If you enjoy cruise YouTube videos, please susbcribe to our channel.
37. Travel Size Sanitizer Bottles (with Silicone Holder)
These handy, refillable sanitizer bottles are a healthy cruise essential for 2021 and beyond. The small silicone bottles can loop onto purse or carry on bag handles, and even belt loops. A small silicone funnel is included so that you can easily refill your hand sanitizer bottles when you need to leave the cruise ship.
Recommended: Travel size sanitizer bottles (refillable with funnel)
38. Disinfecting Wipes for Travel
It's a good idea to bring disinfecting wipes for your travels – in the airplane or even for the car ride if you're driving to the cruise ship. Once on the ship, you may find having these healthy cruise essentials useful as well.
We've occasionally used some at the washrooms if we need to stop on the way and prefer to wipe the door handle and so on.
Recommended: Clorox disinfecting wipes (check reviews on Amazon)
37. Individual hand sanitizer wipes
Keep these on hand for shore excursions or when you won't be able to wash your hands with soap and water. We like to keep some already packed in our shore excursion bag.
Either the little bottles or the travel size Purell wipes packages will do the job.
I like the wipes for convenience, especially since a pack can be kept in your carry on bag for the plane or car, then for the cabin and so on.
Recommended: Purell Hand Sanitizer wipes (see Amazon link for price and package options)
38. Sono Medical Grade Disinfectant Wipes
These medical grade wipes kill more bacteria than any other product available. This is best used as a good cabin wipe down when you first enter your stateroom and on occasions when you think it's needed.
Recommended: Sono Medical Grade Wipes (a cruiser's favorite on Amazon)
Cruise Items You Didn't Know You Needed
39. Binoculars
If you're cruising to Alaska, bringing a set of binoculars is a must! Whether on the cruise ship or on a whale watching tour, you'll regret not having this favorite cruise packing item.
However, we've cruised in the Caribbean and have actually seen whales and even dolphins a couple of times from afar. Of course flying fish are more common – but there's a lot you can see and appreciate sitting at a quiet spot on deck or on your balcony with your binoculars.
Recommended: Travel Folding Binoculars
(amazon)
40. Travel Corkscrew
Are you bringing wine bottles on your cruise? If so, make sure to pack a small affordable travel corkscrew to bring on your cruise vacation.
Recommended: Small travel corkscrew (see Amazon reviews)
41. Stainless Steel straws
In an attempt to use less plastic, many cruise lines have eliminated plastic straws on board. This means that either the drinks are served "strawless", or you may get a paper straw.
If you think a soggy paper straw will bother you, consider bringing along a set of your own reusable straws.
Recommended: Stainless Steel Reusable straws (this one has over 3000 5* reviews – Amazon)
42. Highlighter and post its
Bringing simple items from home like a highlighter and post it's can be useful. You can leave notes for your cabin steward or highlight activities on your cruise planner.
43. Cruise Staff Thank-you Cards
Even if you've never used thank you cards before, this may be the time to say a very big thank you to your favorite crew members!
Recommended: Cruise staff thank you cards
44. Extra Reading Glasses
If you wear reading glasses, make sure to bring along an extra pair , in case they break or get lost.
Recommended: Reading glasses (set including blue light)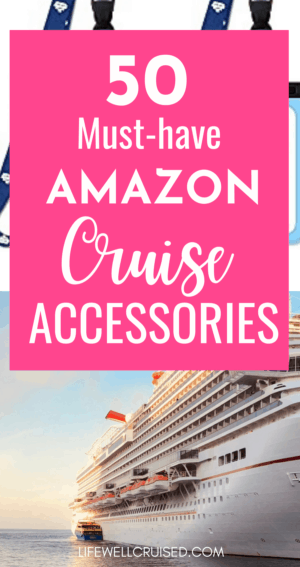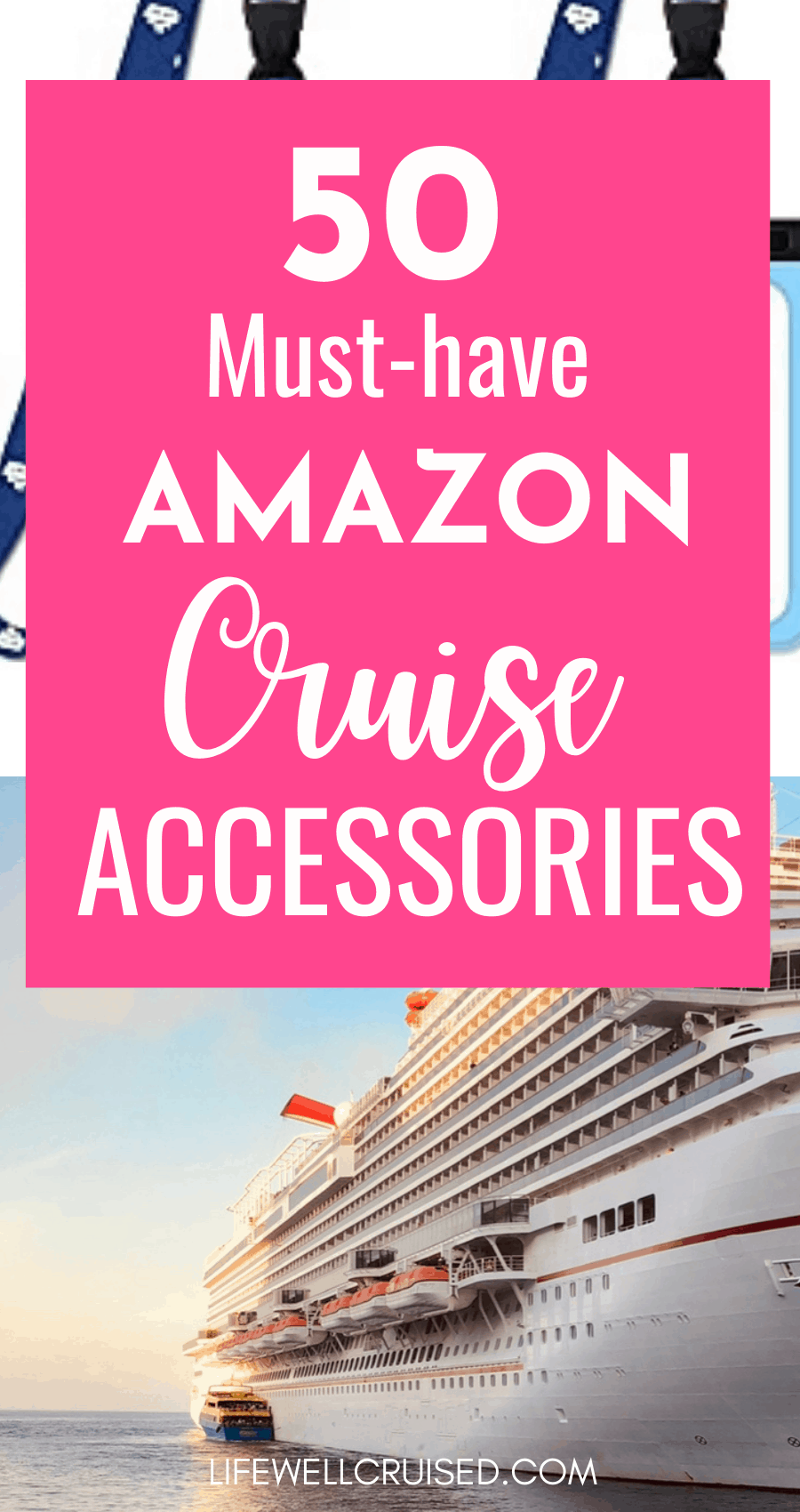 45. Emergency Dental Repair Kit
I've actually heard this tip from another cruiser, who pointed out that there aren't any dentists on board a cruise, and how handy an emergency dental repair kit could be.
Recommended: Temporary dental repair kit
46. Garment Bag
If you're packing a suit and/or cocktail dress for your cruise, the best way to pack them, wrinkle-free for a cruise, is by using a garment bag. This Samsonite soft-sided garment bag with wheels is a great quality at at affordable price.
Recommended: Samsonite garment bag (see pricing & Amazon reviews here)
47. Jewelry Organizer Travel Bag
If you like to pack jewelry for your cruise, this jewelry organizer bag keeps necklaces, earrings, rings, bracelets separated so they won't tangle. The clear pouches make it a cruise essential favorite!
I have the small size, and find it perfect, however it's available in 3 different sizes so it can suit your needs.
Recommended: Jewelry organizer travel bag (see sizes and color options)
48. Revlon One Step Hair Dryer and Volumizer
Ladies, this item is worth the hype. I absolutely will bring my Revlon One Step Hair Dryer and Volumizer on my next cruise, and not bring my regular hair dryer. It rally is so easy to use and gives a great blow out style, with some nice volume and waves. I've included this item in my list of cruise vacation beauty essentials if you're looking for more things like this.
Recommended: Revlon One Step Hair Dryer and Volumizer (see thousands of Amazon reviews for details)
49. Electronics Organizer
Stay organized by keeping your chargers, cables and plugs, and phone accessories together in one electronics bag. I love the Bagmart products – they are well made and sections are well thought out.
Recommended: Electronics organizer bag (see color options)
50. Water Bottle Tote Pouch
For the cruiser who has every cruise accessory, this is something new. How convenient is this water bottle tote pouch? Finally, a place to put that refillable water bottle while walking around on the cruise ship on a sea day, or even on an excursion.
Recommended: Water bottle tote pouch (verfit pricing on Amazon)
YouTube video: 30 Amazon Cruise Essentials (and new finds!)
Recap: 50 Must-have Cruise Essentials from Amazon in 2021
These are the some of the most popular and best-selling cruise essentials that cruisers buy for their cruise. I hope this has been helpful as you plan and prepare for your cruise.
While you may not need all the items, consider which cruise gadgets and accessories would make things most convenient while you're cruising.
Amazon Prime Free Trial
Do you have Amazon Prime? Amazon Prime comes with many benefits, including faster, free delivery, movies and TV shows (Prime TV) and even borrowing Kindle books. If you don't already have Amazon Prime, check out the FREE 30 day trial.
CRUISE PLANNING & PACKING LISTS
The Ultimate Cruise Planner
Do you need cruise packing lists, to-checklists, shore excursion forms and more? Check out the Life Well Cruised Ultimate Cruise Planner.
Over the last year, I put together a 47 page cruise travel planner that has everything you need as you plan and get ready for your cruise.
Plus, for a limited time, it's $10 off. Hope you enjoy!
See details here: Ultimate Cruise Planner -What's Included
Get The Ultimate Cruise Planner
Regular price: $27 Now just $17!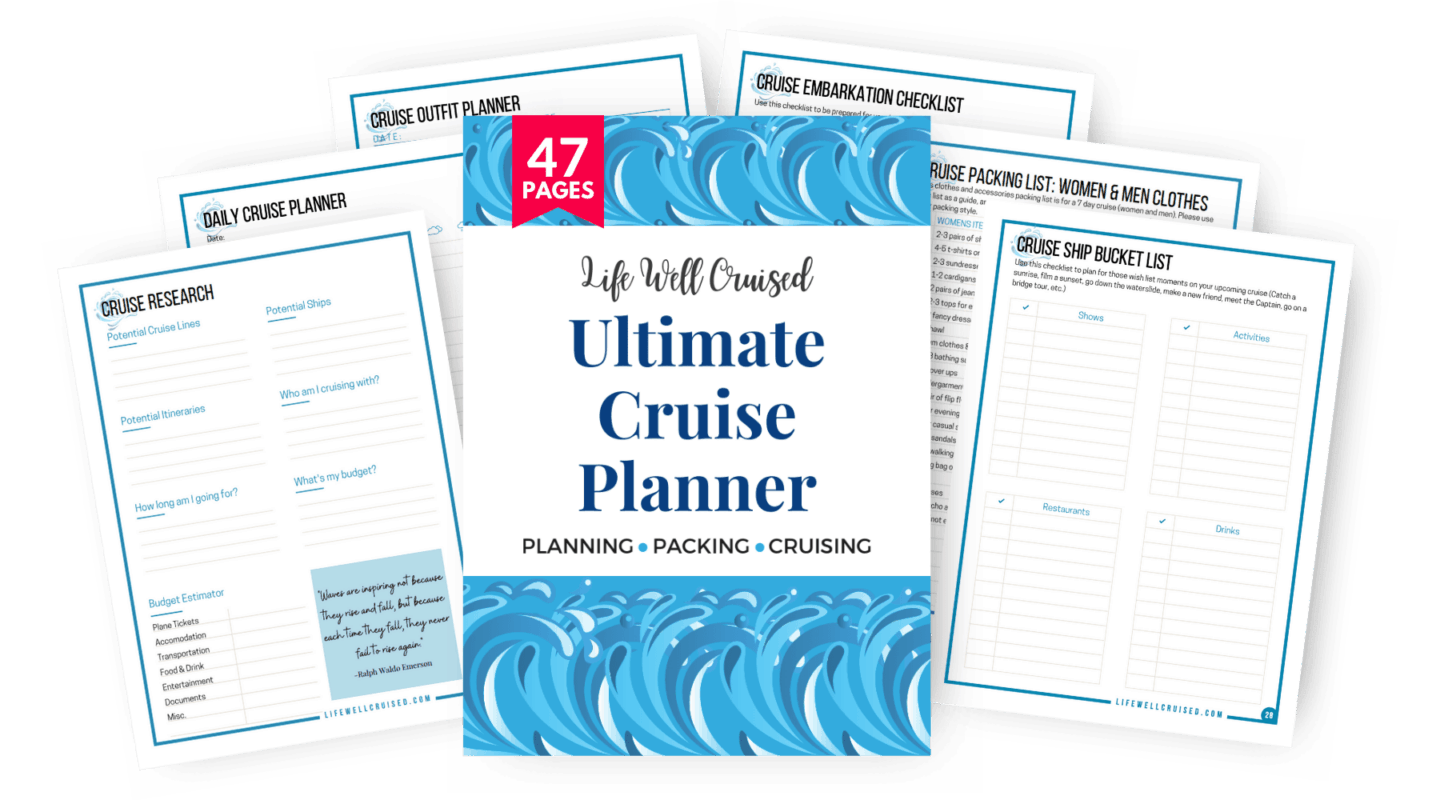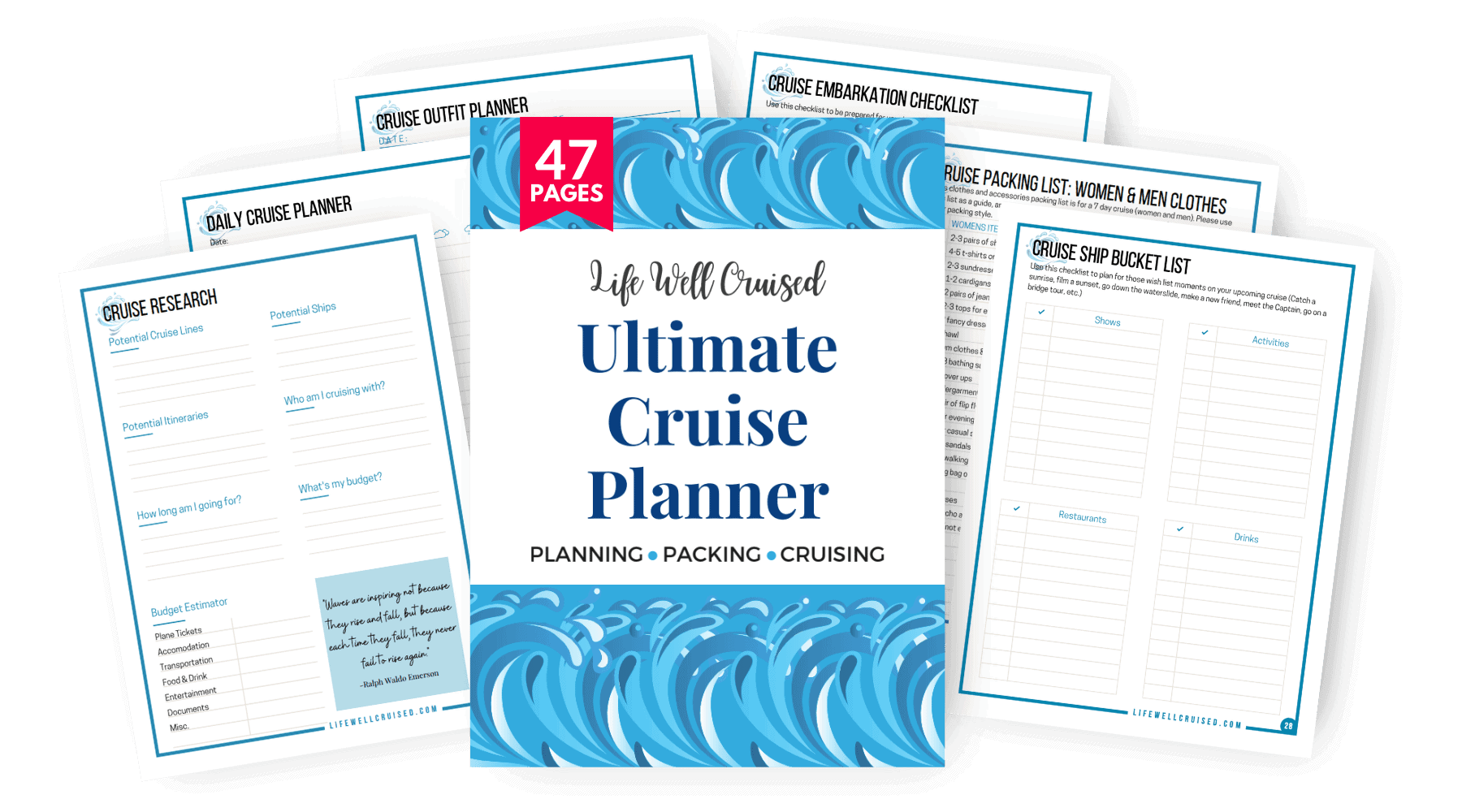 Need more cruise packing tips?
Here are 5 of the most useful cruise packing posts so you'll be sure to have all the essential things you need for your cruise.
What to Pack for a Caribbean Cruise
23 Essential Things to Pack in Your Cruise Carry-On Bag
21 Best Cruise Luggage and Packing Accessories
Cruise Wear over 50: Flattering Cruise Outfits for Women (plus packing list)
Note: Keep in mind that you cannot bring your own power bar from home, as it must be a cruise approved, non-surge protected power bar.
I recommend one with 2 USB outlets – click HERE to verify price on Amazon.
Are you a new or seasoned cruiser? What items do you most recommend people bring on a cruise? Let me know in the comments below.
Happy Cruising!
Ilana xoxo
P.S. If you've found this post helpful, please share it with others on Facebook or save it for later on Pinterest (share buttons at the top).
Let's connect:
Follow me on Facebook at Life Well Cruised
Follow me onYouTube at Life Well Cruised (Vlogs and cruise tips)
Follow me on Pinterest at Life Well Cruised
Follow me on Instagram at Life Well Cruised
Get The Ultimate Cruise Planner
Regular price: $27 Now just $17!