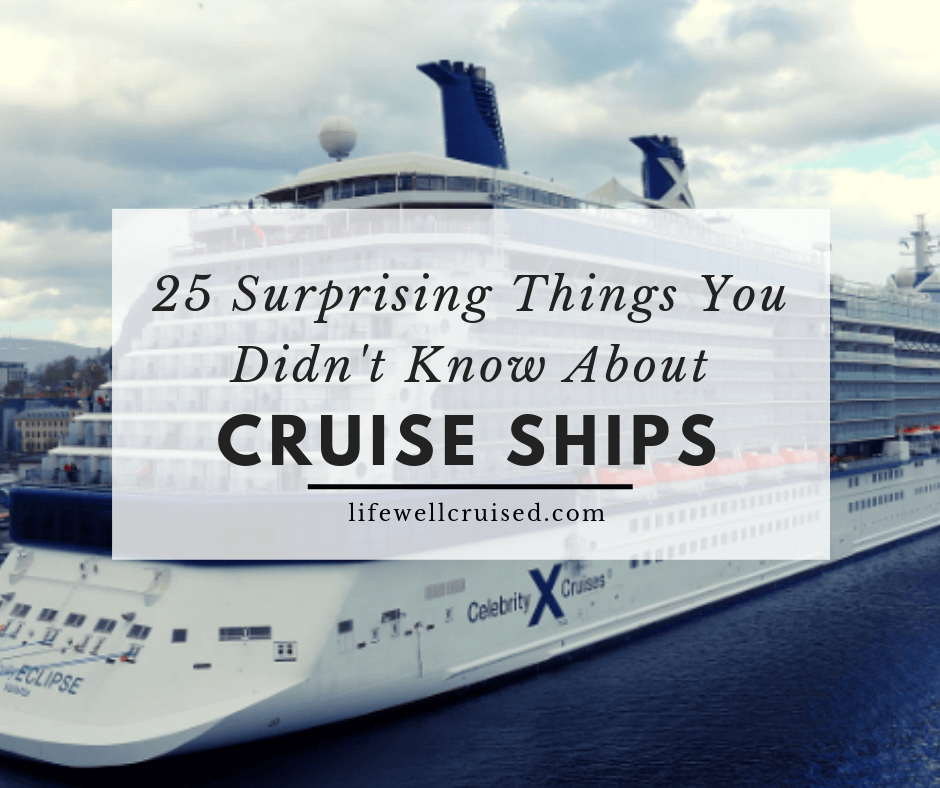 25 Interesting, strange, unique and funny things about cruise ships that will surprise you!
If you are new to cruising, or even if you're a little more seasoned, you may be surprised to find out some of these interesting and fun facts about cruise ships and cruise ship life.
If you're like me, and are relentlessly interested in #allthingscruise, let's make this fun!
Optional trivia: Why not test your knowledge and give yourself 1 point for each cruise fact you know? (If you like it, why not share it with you friends?)
At the end, if you're playing, calculate your score and write in the comments below.
It's out of 25. Ok go!
This post may contain affiliate links. Please see my full disclosure policy for details.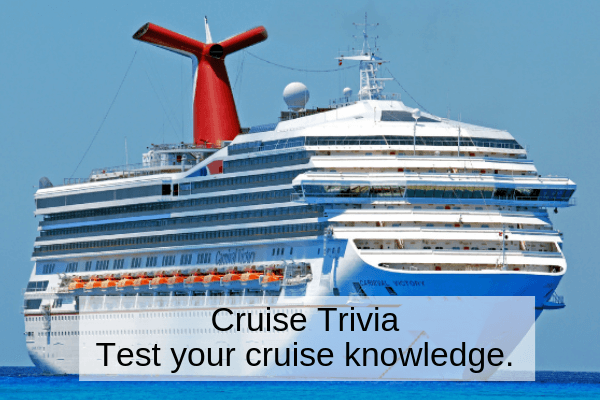 Things you didn't know about cruise ships (1 point each)
1. Cruiseships have a morgue on board
This is a fact that's just not a fun one, but it's true.
Makes sense right? On a 7 day cruise or longer, unfortunately it's just a possibility there may be a need.
2. There's no dentist on board
On your cruise ship, there will be a medical staff (usually a ship doctor and nurse). However, should you have a dental emergency, you're kind of stuck. You'll have to wait until you arrive at your next port to go see a dentist.
3. There's a water filtration plant on your ship
Seriously, I just find this amazing! On my first cruise, it surprised me how a cruise ship runs like a small city, with a water filtration plant right on board. Water is 100% safe to drink on a cruise ship. The process is pretty incredible.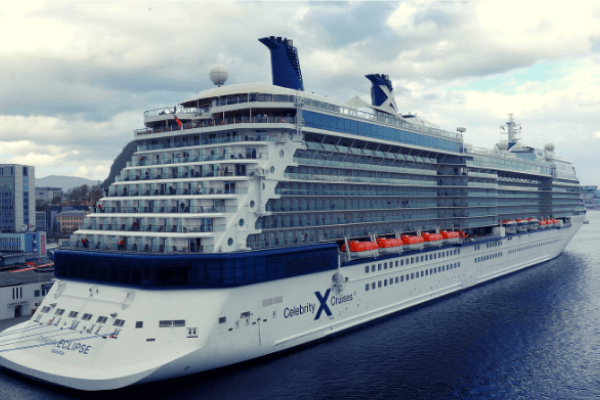 4. Waste disposal on the ship
Now, while some cruise ships have gotten into some trouble with this over the years, overall they do a pretty good job at handling lots of waste disposal on a big cruise ship. It's pretty surprising! They actually have an entire waste disposal facility right on board.
5. Each week a large cruise ship goes through 20,000 ice cream cones!
Despite most cruise lines doing away with the midnight buffet a few years ago, there is still sooooo much food being served and eaten on a cruise ship!
During a 7 day cruise, a large ship will use over 45000 eggs, 1800 pounds of coffee and 9000 pounds of lettuce! I can only imagine how much pizza they go through!
6. The average cruiser gains a pound a day
I will say from experience that this is probably true. Some cruisers will say it's even more!
The reality is on a cruise, we do eat and drink differently than at home. More salt is used and let's face it, we are probably really indulging. Taking the stairs, using the gym and the jogging track can help, otherwise it could be even more!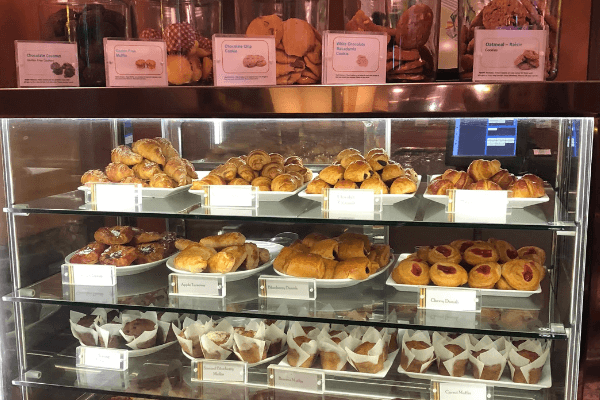 7. The crew have their own bars and buffet on the crew decks
Although the crew works so hard, they definitely have a good time while working on a ship. Cruise ship staff tell us they've got a pretty fun and active life on the lower decks, with some fun crew parties. Keep in mind, this area is off limits for cruise passengers.
8. Deck 13 is missing
Due to cruise ship superstitions, some cruise ships don't have a deck 13. It's a bit funny to be in the elevator and see numbers 11, 12, 14, 15 ect. Funny enough, while many cruise ships skip deck 13, the Italian cruise line MSC, doesn't have a deck 17 due to a similar Italian superstition.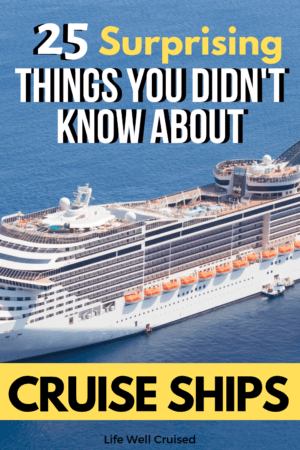 9. There's a naughty room
That's what many passengers call it when they are called down to a special room when the ship's crew has found something "naughty" in the luggage that has to be confiscated. It might be alcohol that you're not permitted, an iron or something else.
It's actually not the end of the world, but if you'd rather not end up there, best not to try to sneak in any alcohol on (which seems to be the most common reason).
10. There is a cruise ship jail or brig
This is a true fact. Cruise ships have a sort of lock-up room, just in case they need to keep someone who is unruly or is suspected to have committed a crime until they arrive at the next port.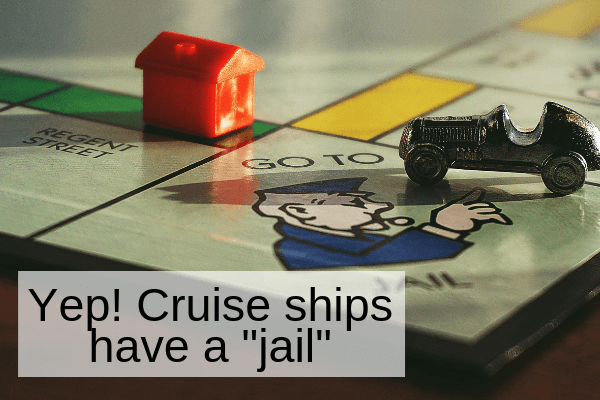 11. The cabin walls are metal
Cruise cabin walls are metal for numerous safety reasons, including fire safety. However, this can be a huge plus! This is often why cruiser's today use these cruise cabin hacks to organize their cabin.
For magnetic hooks and clips, here are a couple favorites from Amazon that cruisers use.
Small (but strong) Magnetic Hooks (pack of f 10)
Heavy Duty Super Strong Large Magnetic Hooks 50-60 lb 4 pack
Tip: Place magnetic hooks on the cabin ceiling if you're hanging heavier items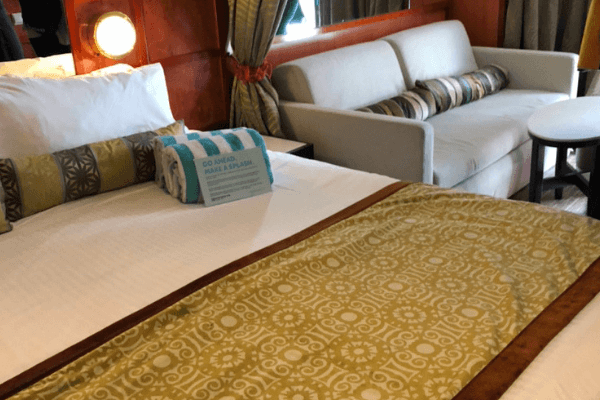 12. You can't bring an iron or steamer on board
While experienced cruisers know this, many first time cruisers ask about bringing an iron or steamer on board. Of course, cruise lines take fire safety very seriously, which is why you can't bring this onto the ship.
Tip: What to do? One of my cruise packing hacks is to bring along a travel size Downy Wrinkle Release.
13. Internet at sea isn't like internet on land
This may go without saying for seasoned cruisers, but this may surprise you if you are new to cruising. Wifi has been limited, slow and pretty expensive for years!
However, I can see that this is really changing quickly in 2019, but it hasn't been easy. Remember those metal cabins? This is a big reason why cruise ships have difficulty having good wifi signals everywhere on the ship, like a hotel.
Fun fact: You know those great new flat screen tv's in Princess Cruises cabins? They were custom-made with a router in them so that each cabin could now have surprisingly good internet.
14. There's a kennel on board some cruise ships
Awe, can you imagine bringing your family pet on your cruise? It's actually an Ocean Liner, however you can book a cruise for your dog (kind of) on the Queen Mary 2, as they have a kennel on board.
Tip: If you do want to book this, there's limited space for a small number of small as well as larger dogs, so do inquire early.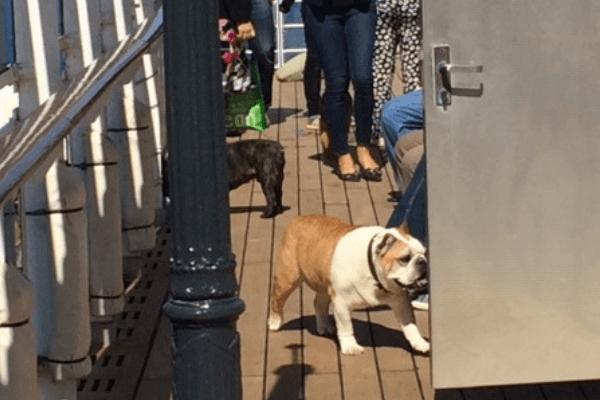 15. Some people retire on a cruise ship
Oh, in my dream life, this will be me! All joking aside, there are a few people who have actually retired on a cruise ship, and claim that it's more affordable than a quality senior's residence.
16. Most cabins don't really have queen or king size beds
Cruise cabins aren't equipped with a queen or king bed. Instead, twin beds are usually pushed together those who want to sleep in a larger bed. So, the same cabin with two twins, will "convert" to a King.
Tip: Cruise ships do have "egg-crates" or mattress covers available to make it more comfortable, however I suggest requesting this from your cabin steward as soon as possible.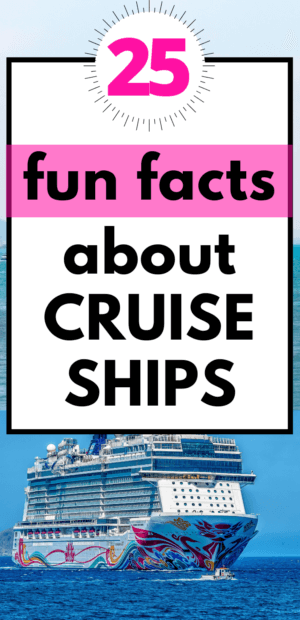 17. Just who is Bill W. and Dorothy, and why do they have friends on every cruise?
Have you ever noticed in the daily planner or perhaps written on a billboard, that there may be a meeting or gathering for "friends of Bill W" or "Friends of Dorothy"? Absolutely no judgement, but I wondered on my first few cruises just what that was about, so I figure some of you do too.
Friends of Bill W is Alcoholics Anonymous (AA) and Friends of Dorothy are gatherings for those that are gay, lesbian, transgender and bisexual.
18. Cabin Door decorations may be sending a message
Cabin door decorating on cruises is a thing to do, on some cruise ships more than others.
Being honest, I already over pack and just don't need to bring more stuff. So my cabin door is as plain as can be.
However, many attest to giving this thought and preparing stateroom door decorations which they bring on board.
Well, I recently found out that pineapples on a door actually have a meaning!! Who knew? Well, apparently other people lol. I'll let you google that ;-).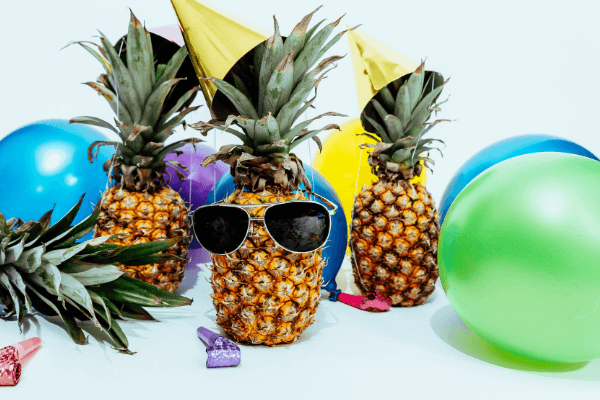 19. Not all cruises have "formal" nights
As much as some people love the idea of getting dressed up on a cruise, some don't. They may even hesitate to book a cruise, worrying they've got to be dressed to the nines.
While there are cruises where you can really get fancy (tuxes and gowns if that's your thing), the majority of cruise lines are easing those dress codes. Check out your options to find the best fit.
20. The cruise ship pools are filled with sea water
I'm not sure why this surprises people, after all, the ship is at "sea" and it only makes sense that water is abundant. However, I had to add this as people ask this frequently on message boards and "google".
Sea water is used to fill cruise ship pools, however it does go through a filtering process to remove sand and other unwanted stuff. Some cruise lines also use a desalination process which gives a feeling of a freshwater pool.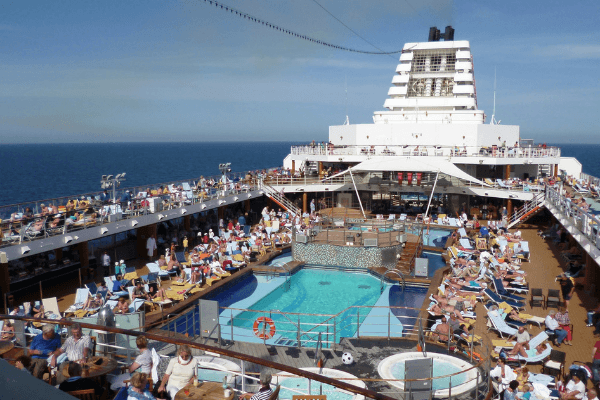 21. Cruise ship Iced tea is unsweetened
This causes some controversy online, with people questioning, "but why?".
People like their "sweet tea". I remember being surprised about this on our first cruise, but we're used to it now.
Tip: To make it taste sweet, adding sugar won't work as it won't dissolve in cold water. Instead, add a sweetener and a slice or lemon and it's perfect. Sweeten to taste.
22. Cruise ships have God-Mothers
As tradition would have it, cruise ships are Christened and each has a God-mother.
Some pretty famous ones are Princess Kate for Royal Princess, Oprah Winfrey for Nieuw Statendam, Reba McEntire for Norwegian Epic, Sophie Loren for MSC Divina, Malala Yousafzai for Celebrity Edge (see video) and Jennifer Hudson for Disney Dream… just to name a few!
Did you see this already? If you did, go ahead and give yourself a bonus point!
23. There are ice skating rinks on cruise ships
Although I would be exaggerating if I made it seem as though this is common, several of Royal Caribbean's cruise ships have actual indoor skating rink where you can see a fantastic show. You can even "rent" skates and try it for yourself during certain hours.
24. The Church of Scientology has a cruise ship
If you cruise to Aruba or Curacao, there's a good chance you'll come upon what looks like a small luxury cruise ship called Freewinds. This is the Church of Scientology ship and it makes some short cruise runs in the Southern Caribbean. I believe they are conferences, but truthfully haven't looked into it.
I warn you, if you google it, you'll go own a rabbit hole. Don't say I didn't warn you 😉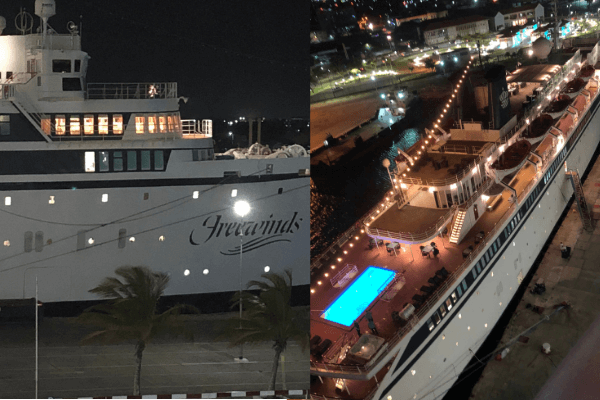 25. Passenger hallway carpets are there to help you
Did you know that many cruise ships have different colored or patterned carpets on the port side (left) and starboard side (right) of the passenger decks? This is so helpful as a cruise passenger when trying to find your cabin, especially in those early days of the cruise.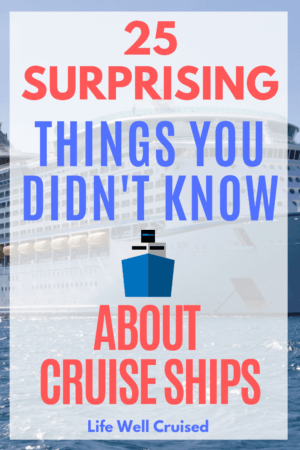 Recap: 25 Surprising things you didn't know about cruise ships
We went through 25 interesting things you may not have known about cruise ships and cruise ship life.
Which things surprised you the most?
True story: My brother was surprised by the salt water in the pool as he jumped in during his first cruise. In all fairness, he did ask us all to not tell him anything, so he could be "surprised". He was ;-).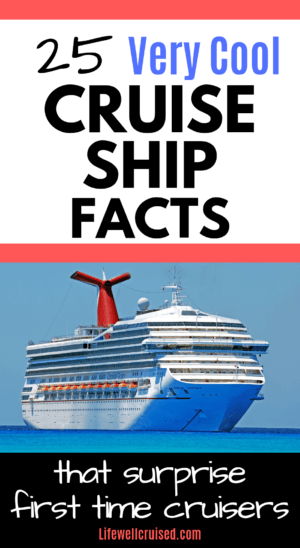 Ok, so how many points did you get? Let me know 🙂
If you know an interesting cruise fact, please share it in the comments below.
Happy Cruising!
Ilana xoxo
P.S. If you enjoyed this, I bet your cruise friends will too ;-). Thanks for sharing!!
Popular posts:
15 Cruise Embarkation Day Tips
10 Ways to Prevent and Avoid Seasickness on a Cruise
Let's connect:
Follow me on Facebook at Life Well Cruised
Follow me on Pinterest at Life Well Cruised
Follow me on Instagram at Life Well Cruised