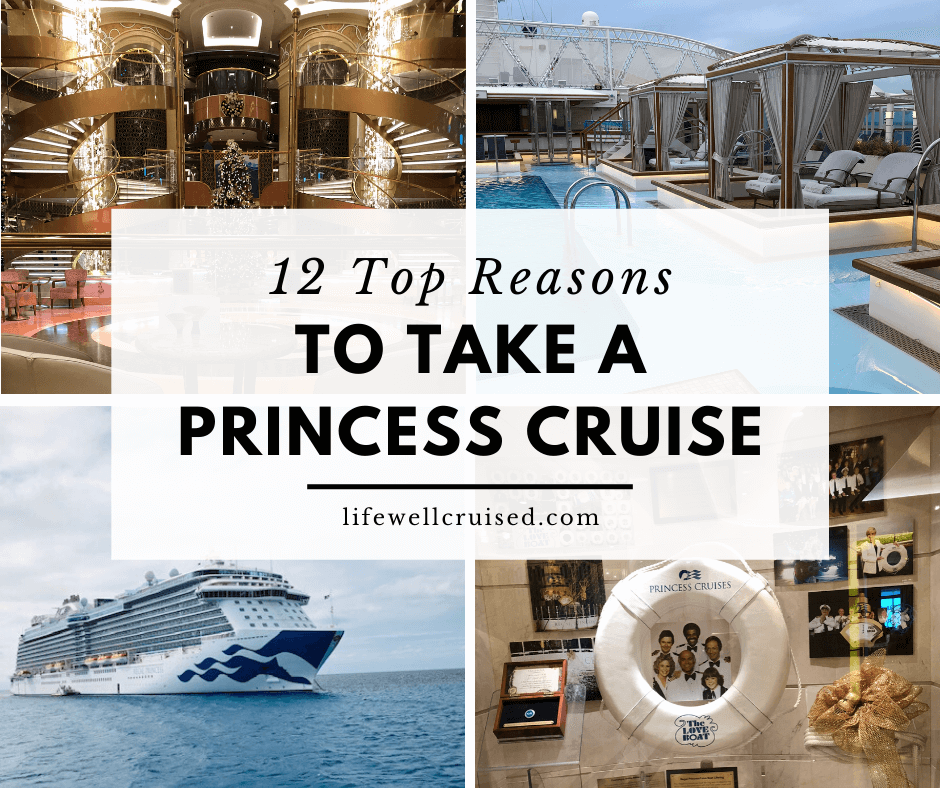 12 Best Reasons to Take a Princess Cruise
Over the years we've been on quite a few cruises, but we always get excited about cruising again with Princess Cruises. We just know that we'll have a great time, with a combination of activities and relax time that fits our vacation style.
In this post, I'll go through some of the best reasons to cruise with Princess. Hopefully, this will give you a good idea of what to expect if you're thinking of booking a Princess Cruise or if you're heading on a Princess Cruise soon.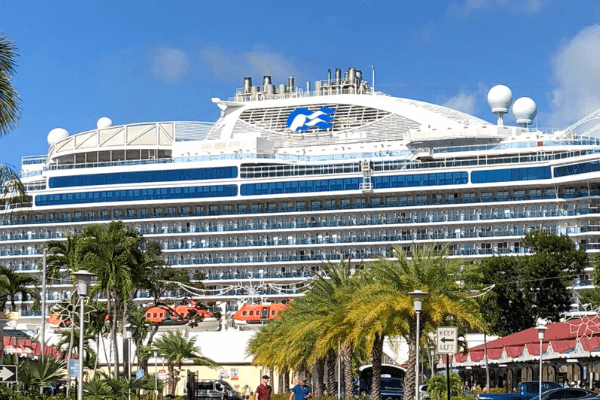 About Princess Cruises
Full disclosure: I LOVE "The Love Boat" and this is my bias 😉
Princess has been around for more than 50 years, and for many of us, they were our first introduction to "cruise life".
THE LOVE BOAT
Do you remember the scenes and images?
Streamers and Bon Voyage Parties. That glamorous, but oh-so-friendly cruise experience that we watched every week. Fine dining, new friendship and love, and the best crew and ship staff!
"The Love Boat, promises something for everyone…" Did you sing it with me ;-)?
I know I'm totally dating myself. If you haven't watched an episode, check them out on YouTube!
Fun facts: The original Pacific Princess and Island Princess were both the starring ships of the Love Boat TV show, 1977-1987. The original cast of the Love Boat are the the Godparents of the "new" Regal Princess.
Princess Cruises Today
While cruising has certainly changed and The Love Boat was a fictional TV show, Princess retains some of that nostalgia and romance, while actually being very modern and forward thinking.
We started cruising with Princess more than 10 years ago, both on our own as a couple, and with our kids when they were young, and later as teenagers. It's crazy to think how our family grew up on Princess!
We're getting ready for our next cruise, on the Crown Princess. We're pretty excited for both the refurbished Ocean Medallion cruise ship, as well as an incredible Southern Caribbean itinerary!
If you'd like to follow our journeys and see both ship life, and some pretty awesome local excursions planned, please join me on Facebook and/or Instagram at Life Well Cruised (I'll remind you at the end).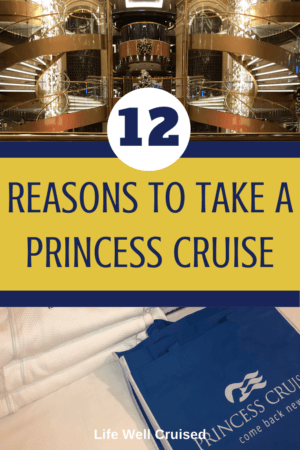 What we love most about cruising with Princess Cruises (and think you will too)
1. Beautiful and Glamorous Cruise Ships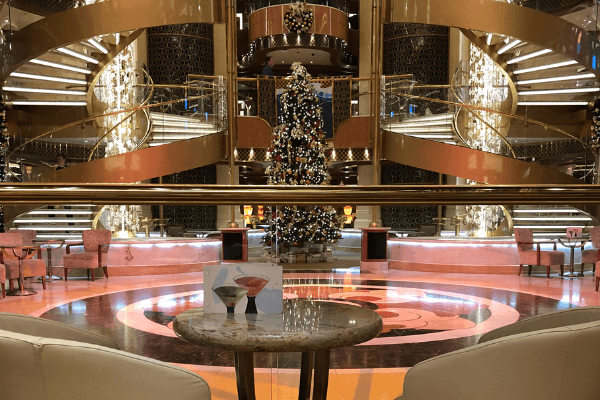 Princess Ships are just beautiful. A few months ago we did a wonderful cruise on the Regal Princess, and I can honestly say she's the most beautiful ship we've cruised on.
Now, in all fairness, we haven't been on every ship in the world, but I'm not kidding when I say that she gleamed!
I love the glamorous golds and crystal and glass highlights found throughout the Piazza. It just feels so elegant.
Beyond the Piazza, there's attention to detail on the pool decks and lounges and other public spaces. Princess just has really beautiful cruise ships.
2. The Princess Piazza
While other cruise lines have atriums, Princess has a Piazza. This center area in the middle interior of the ship house bars, shops, guest services and casual restaurants.
What makes it unique, is that it takes on a bit of a town square type of feel. This is where you can sit and meet others for a coffee or glass of wine. You can also see one of the many entertainers that will perform there throughout the week.
The Piazza is one of our favorite places to be on a Princess Cruise.
Whether we want to sit and watch one of game-show style contests, dance to an amazing live band, or just sit and read while drinking coffee on a rainy sea day (yup – did that) – the Piazza is cruise ship heaven.
Plus, the Piazza houses the well-loved International Cafe, with delicious breakfast, lunch, snack and dessert options. Of course, the coffee is great too!
On certain ships, you'll also have Alfredo's Pizzeria, a casual sit down Italian restaurant that's sooooo good! Both are complimentary.
Aldredo's info: Alfredo's Pizzeria: Menus and review
3. Princess Cruise Ship Cabin Design
The cruise cabin layout might be the most practical reason to love cruising with Princess. While not the largest or most luxurious staterooms I've ever seen, we LOVE the practical spacious design of these cabins.
When you enter the cabin, there's a separate area which includes your washroom and a sort of open closet area, sectioned off from the main bedroom by the closet wall. There's both shelving and loads of space for hanging cruise outfits. Plus, 2 full length mirrors.
This area feels spacious and makes a perfect dressing area when getting ready in the evening especially.
I like to hang my clothes as much as possible while on a cruise, and there is so much room for both clothes and shoes. As a bit of an over-packer, this takes some of the cruise packing stress away ;-).
4. Princess Cruise Food (YUM!)
We'd all be lying if we said cruise food wasn't an important part of cruising.
In my opinion, Princess has some of the best food at sea. In particular, we love the casual food options.
From the International Cafe in the Piazza, to the Pizza by the pool, and everything in between. It is so good!
There are even special food experiences (that are actually included with your cruise fare) like the British Pub Lunch on sea days. We look forward to the fish and chips and prawns and chips every cruise!
For more detailed information about the food on Princess, as well as other tips specific to Princess Cruises, bookmark this post to read for later: Princess Cruises: 15 Best Tips for First Timers
5. Princess Movies Under the Stars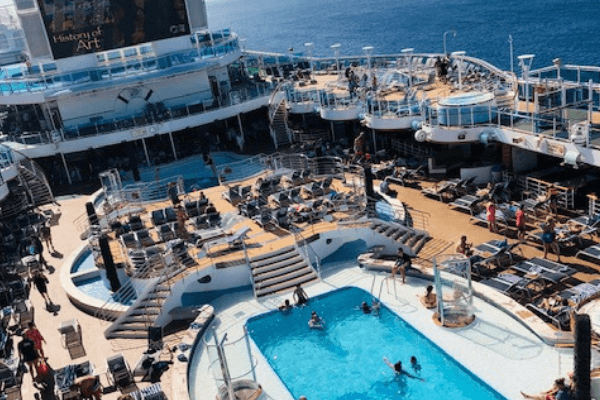 Did you know that Princess Cruises were the originators of the Movies Under the Stars experience, also known as MUTS? While many cruise ships today have a big screen by the pool, in my opinion, Princess does outdoor movies better than anyone.
With Princess, MUTS is an experience. The pool deck transforms at night as lounge chairs are covered with Movies Under the Stars chair coverings. Cozy blankets are provided, popcorn is ready, plus, there's amazing pizza at almost an arm's reach.
I LOVE Princess Pizza (who doesn't?).
Catching a movie on the pool deck under the stars is a great entertainment option when you're not feeling up to one of the theater shows or a disco.
Give it a try on your next Princess cruise – it may become one of your favorite cruise ship activities. You never know ;-).
6. Princess Cruises Ocean Medallion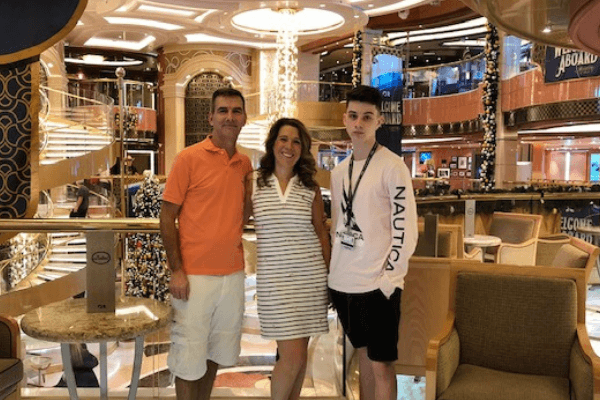 Princess Cruises Ocean Medallion and MedallionClass ships have gotten a lot of buzz over the last year or so. It really is game changing in many ways.
Have you heard about Ocean Medallion?
It's basically a wearable disk that replaces the cruise card, however it does quite a lot more. It pretty much adds a lot of convenience to the cruise experience, and helps you to stay connected with the people you're traveling with.
On top of this, there's an entertainment component to Ocean Medallion in interactive games, interesting original programming, as well casino games.
We first experienced Ocean Medallion on the Regal Princess and enjoyed it (especially Find Your Shipmates – our story here if you're curious why, lol.)
Now, we can't wait for our next Ocean Medallion cruise on the Crown Princess!
7. Medallion Net (Cruise Ship Internet)
Through the technology upgrades to the Princess cruise ships, it's also facilitated internet connectivity that's fast, reliable and reasonably priced. If you're a cruiser, you know how this seemed impossible just a couple of years ago.
More info and FAQ's about Ocean Medallion? Check THIS popular post. I'll also link it at the end.
8. Princess Lido Decks and Pool areas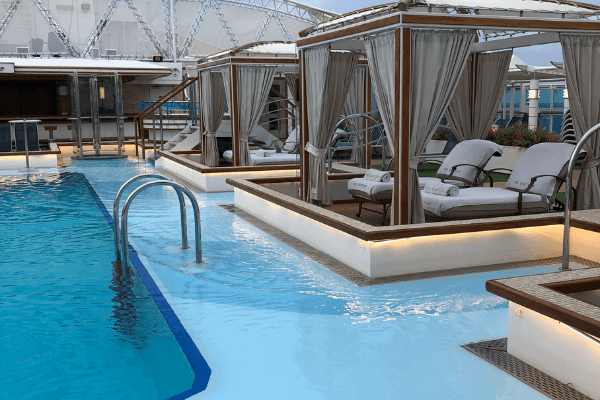 One of the things we really love when we cruise with Princess, is the pool and deck space. Now, I know everyone is different, and not everyone who cruises loves to hang out by the pool.
But I live in Canada where are seasons are winter, pre-winter, post-winter, and about 8 weeks of summer in a good year – so when I go on a cruise vacation, I NEED my Vitamin Sea and D ;-).
Seriously, we love relaxing by one of the gorgeous Princess pools.
Whether it's the aft or Terrace pool on the Crown Princess, the adult only Retreat pool on Regal Princess, or one of the main pools on any Princess ship where we can hear the calypso band play while drinking Pina Coladas, they are awesome!
Most Princess cruise ships have 3-4 pools, and ample deck chairs all along the lido and top decks. I love not having to even worry about the dreaded "chair hogs".
If you enjoy your sea days by the pool, you'll love cruising with Princess!
9. Princess Romance: The Love Boat, Vow Renewals and More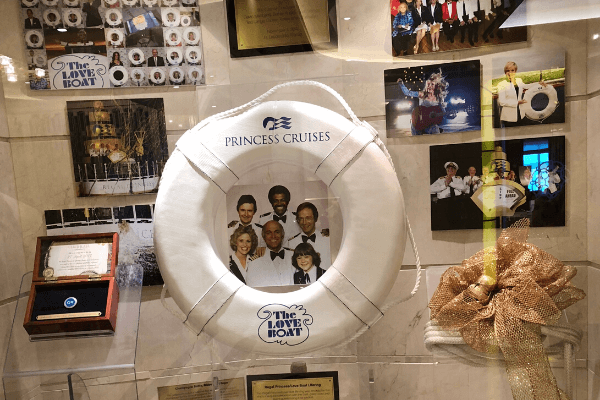 Perhaps it's just in their DNA, but Princess Cruises are romantic!
Did you know you can get married at sea by a Princess Cruise Captain? If that's not possible, perhaps a vow renewal at sea?
Vow renewals
While you can opt for a very special, intimate vow renewal ceremony (check your cruise personalizer for details – I've heard it's wonderful), you might want to join in one of the group vow renewals that appear to be happening on several Princess Cruise ships.
I can't recall this in past years, but my parents were recently on a beautiful Mediterranean cruise on the Emerald Princess, and raved about the group vow renewal which was done in the Piazza.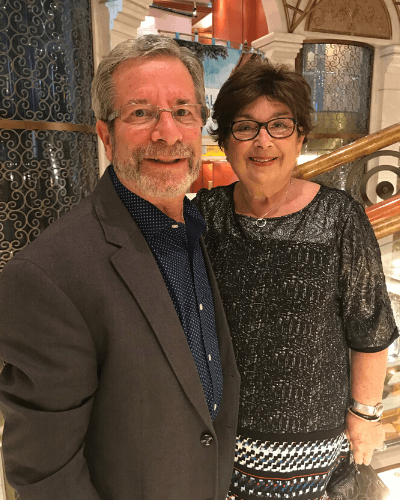 This wasn't something they planned, but it was really meaningful to them. They have their certificate and took photos, and messaged us all back home from the ship. It's a very special memory.
I hope one day to be able to do this… I wonder if it's on every cruise ship? If you're aware, please let me know in the comments below.
The Love Boat
Did you know that Princess Cruises is going for the world's record for the "World Largest Renewal of Wows Ceremony at Sea" during a cruise on February 9-16 (Valentine's day – see… romance!?!).
It will be officiated by The Love Boat's Gavin McLeod, AKA Captain Stubing and Jill Whelan, AKA Vicki, the Captain's daughter, who will be matron of honor to the Princess couples.
I so love this!! If only I had more vacation time….
Balcony Dining
Although there are many romantic experiences that can be had on your Princess Cruise, having breakfast or dinner set up and served to you and your love, on your private balcony… WOW!
Just imagine… now that's romantic!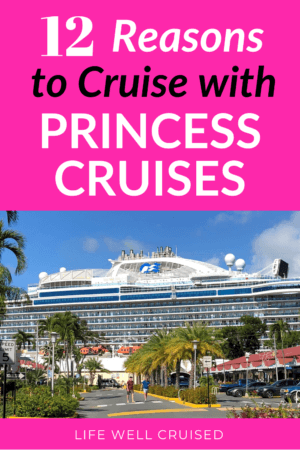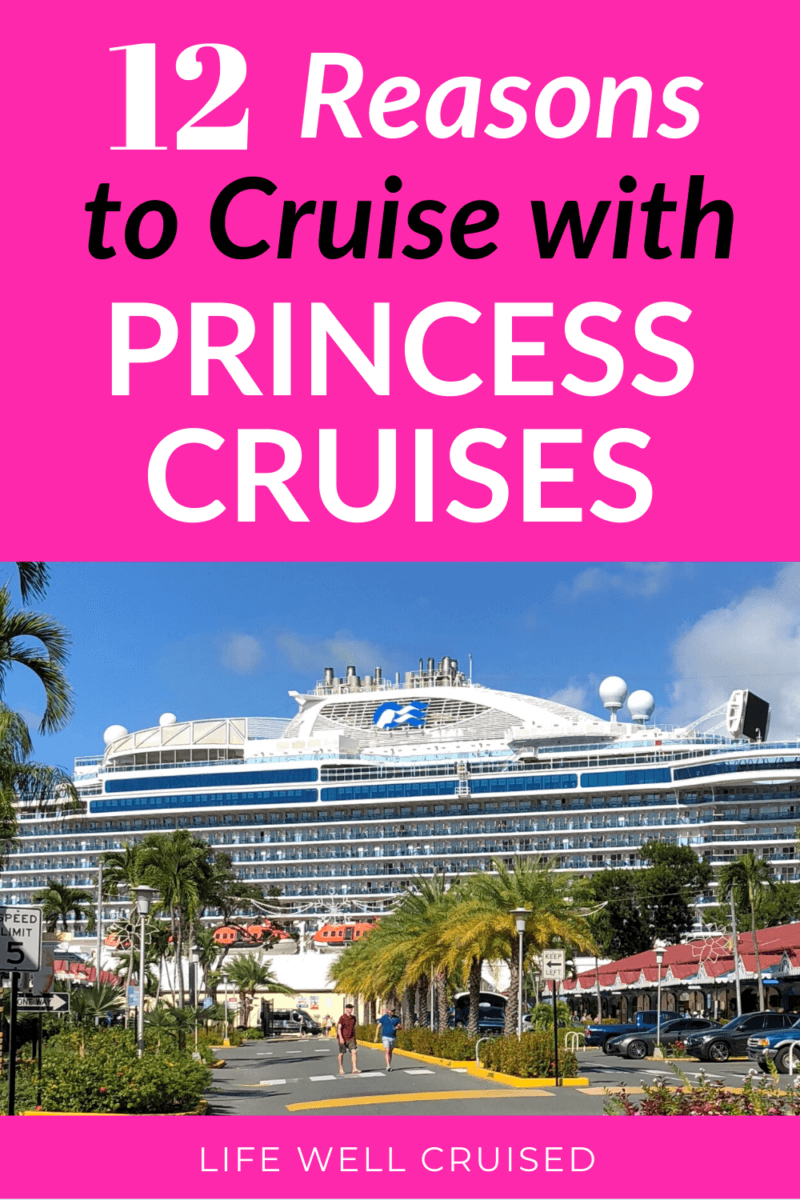 10. Princess Value
When we looked at cruise vacation options, even when our children were young, we always considered the value.
In the early years, we used to joke we were cruising on a camping budget. We drove to cruise ports when we could (still do as I don't love to fly), took inside cabins, and budgeted for once-a-year cruises.
We truly believe that vacations and travel experiences are important and meaningful and lived this with our family.
We looked at the overall value, which meant that Princess wasn't always the cheapest option. But for us, we always felt we got more than our money's worth for our vacation dollars.
Even today, Princess offers quite a lot included in their cruise fare. If you're not a super fan of the "nickel and diming", I think you'll appreciate this.
Room service
For instance, room service is included with Princess. I love this! It's a little luxury that can actually be super convenient on port days and even for late night snacks for the teen boys and hubby.
Fair shore excursion pricing
One thing we don't do, is skimp on shore excursions and experiences. Now, this doesn't mean that we never DIY in a port when we can, or that we don't sometimes use a local tour operator.
However, there are times when we prefer to have the reassurance of using a ship sponsored excursion, and we find Princess' tours to be reasonably priced.
Plus, when you do find the same excursion with another tour operator online for less, Princess has a Best Shore Excursion Price Guarantee and will actually match the lower price and refund you an additional 10% of the difference as an OBC.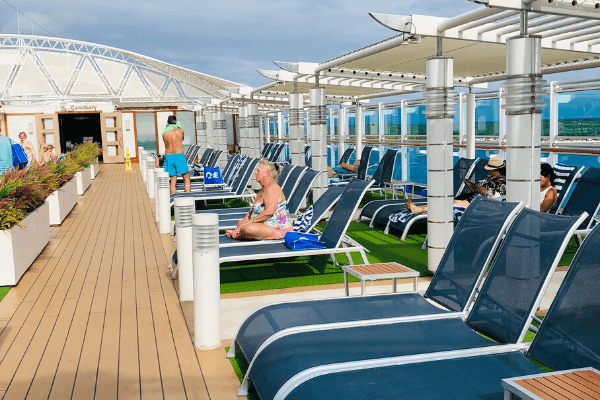 Past passenger benefits/Captain's Circle Program
The loyalty program on Princess is generous, with some of the best perks, in my opinion, for past passengers.
From past passenger discounts even in early membership tiers, growing to free internet minutes, free mini-bar and complimentary laundry services at higher tiers. If you're cruising with kids, Princess extends loyalty benefits to young cruisers as well.
Truthfully, I could go on and on about ways to get extra OBCs, the quality food and entertainment that's included… but I have all that info in this blog post: Princess Cruises: 15 Best Tips for First Timers
If you're cruising with Princess for the first time, or even if you're already a Princess fan and want to make sure you know all the tricks, it's a must-read (if I do say so myself lol). I'll leave a link at the end of this post as well.
11. Princess Cruises Multi-generational Travel
If you're a family planning a large group cruise, I can't recommend Princess highly enough. The fact is, Princess truly has something for everyone.
We celebrated my parents 50th anniversary with a Caribbean cruise over New Year's with family and friends ages 7-75.
The kids had a blast in the kid's club as well as participating in family activities, like scavenger hunts and family movies. The teens loved the cool, relaxed vibe of the teen club where they could come and go as they pleased, but also have organized parties in the disco and hot tub nights.
Adults enjoyed trivia, being part of a fashion show on board, participating in painting class, hanging out by the pool eating nachos and drinking Mango Coladas (oh that's me;-).
If you're thinking about a way to travel with a large group of people, this is the way to go!
Read our review: Princess Cruises New Year's Eve Multi-Generational Cruise Review
12. Friendly Staff
Finally, this probably goes without saying, but the Princess Cruises staff are friendly and accommodating. It's nice to be on holiday and really feel so taken care of, and… ok this sounds corny, but a little bit like family.
We experienced this feeling on our last cruise, even when chatting with the musicians on board (who were so fabulous btw!!). There was a feeling of genuine friendliness.
We always know that when we cruise with Princess, we feel at home.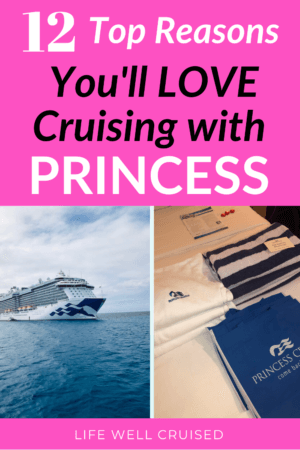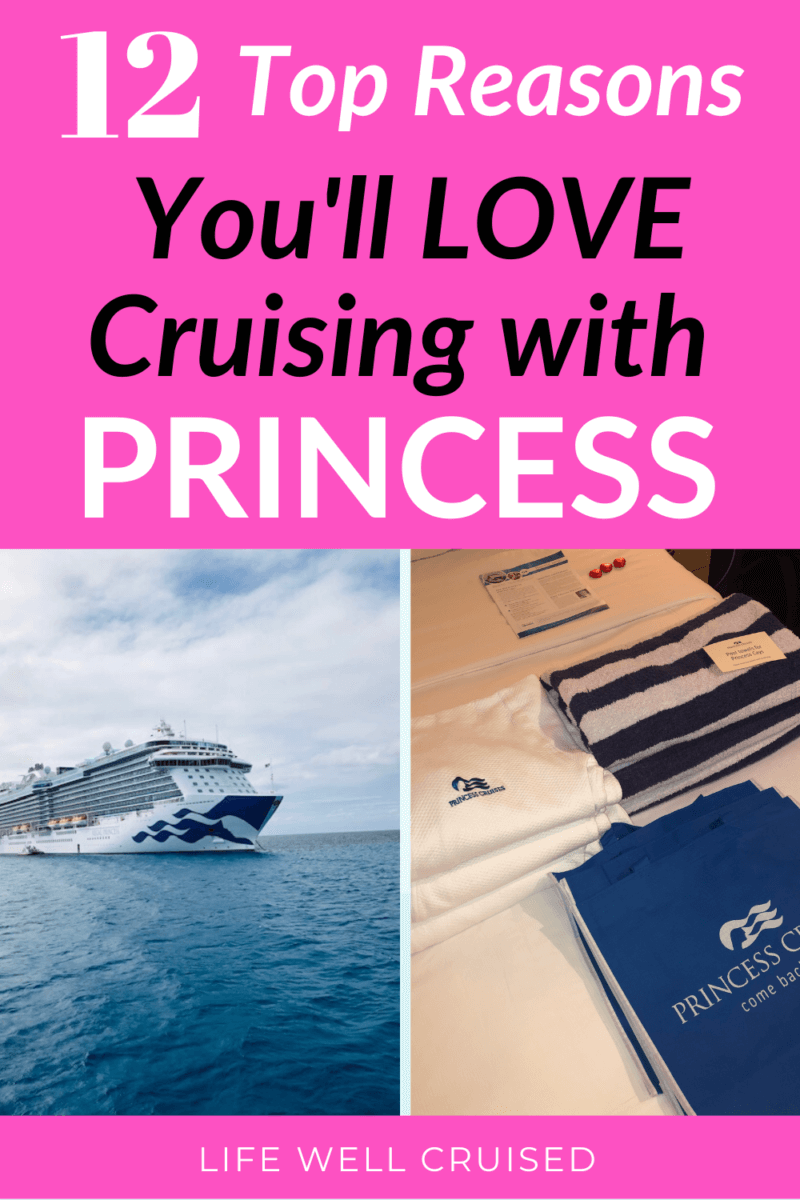 Recap: 12 Top Reasons to Cruise with Princess Cruises
In this post, we've gone over some of the best things about cruising with Princess. As a premium cruise line, Princess Cruises offers a good quality cruise experience, with beautiful ships, great food, and quality entertainment for a wide variety of cruisers.
*Just so you know I didn't forget, here are the links I mentioned in this blog post. If you're going on a Princess Cruise in the near future, these may be helpful.
If you'd like to see our cruise experiences, both on and off the Crown Princess, on a 10 day Southern Caribbean itinerary, here are the links to connect with me on social media.
Yes, there will be some videos/vlogs so please subscribe to our YouTube channel if you enjoy that.
Instagram at Life Well Cruised
Pinterest at Life Well Cruised
In this blog post, I mentioned 12 reasons to cruise with Princess, but I know there are probably way more than that! If you have some of your own, please leave them in the comments below, as they'll be so helpful to others :-).
Are you going on a Princess cruise? What are you most looking forward to?
Happy Cruising!!
Ilana xoxo