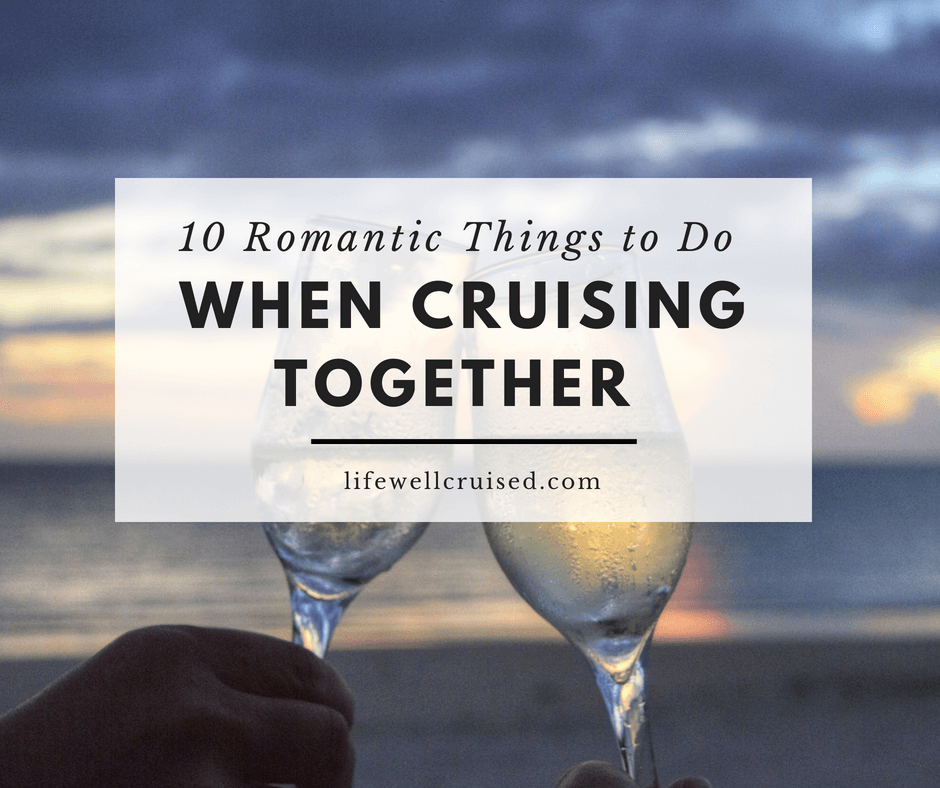 There are so many romantic things to do for couples on a cruise. Many couples plan cruises to celebrate an anniversary, honeymoon, special occasion like a birthday, and even Valentine's Day!
These are great and meaningful occasions to celebrate, and being together on a cruise vacation is the ultimate in relaxation, fun, adventure and pampering.
However, even when there isn't a specific celebration, every day can be romantic on a cruise!
This post may contain affiliate links. Please see my full disclosure policy for details.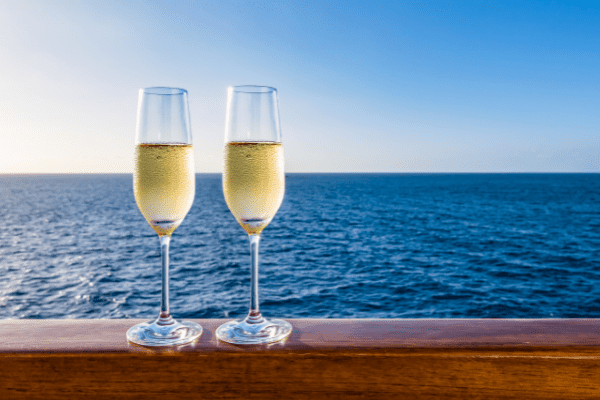 Planning a Romantic Cruise Vacation
If you're planning a couples cruise, consider if you'll be booking your cruise as a surprise, or planning it together. If you've cruised before, you may have a favorite cruise line or even have a bucket list cruise in mind.
However, if this is your first cruise, it's a good idea to do some research by watching cruise vlogs, reading cruise reviews and working with a travel agent. Since all cruise lines and ships offer a different experience, it's important to make sure you choose the right cruise for you.
Which Cruise Itinerary is the Most Romantic?
There are so many choices when planning a romantic cruise, but these are 3 popular cruise itineraries for couples.
1. Caribbean Cruise Itinerary
Many couples who love the beach and warm, tropical weather enjoy cruising in the Caribbean. The different Caribbean islands offer a variety of beautiful and fun ports of call. If relaxing, water sports and perhaps a little bit of jewelry shopping sounds ideal, a Caribbean Cruise won't disappoint.
Related: What to Pack for a Caribbean Cruise
2. Mediterranean Cruise Itinerary
If as a couple, you enjoy history, art, good food and architecture, there is so much to see and do in the Mediterranean. No wonder this is a bucket list destination cruise! There is no shortage of romantic opportunities in incredible destinations such as Venice and Santorini, just to name a couple.
3. Alaskan Cruise Itinerary
If seeing nature, wildlife and exploring and having adventures appeals, then Alaska is a perfect cruise for couples. The landscape is magnificent and there are many opportunities for romantic and exhilarating times together!
Related: 5 Practical Alaska Whale Watching Tips You Need to Know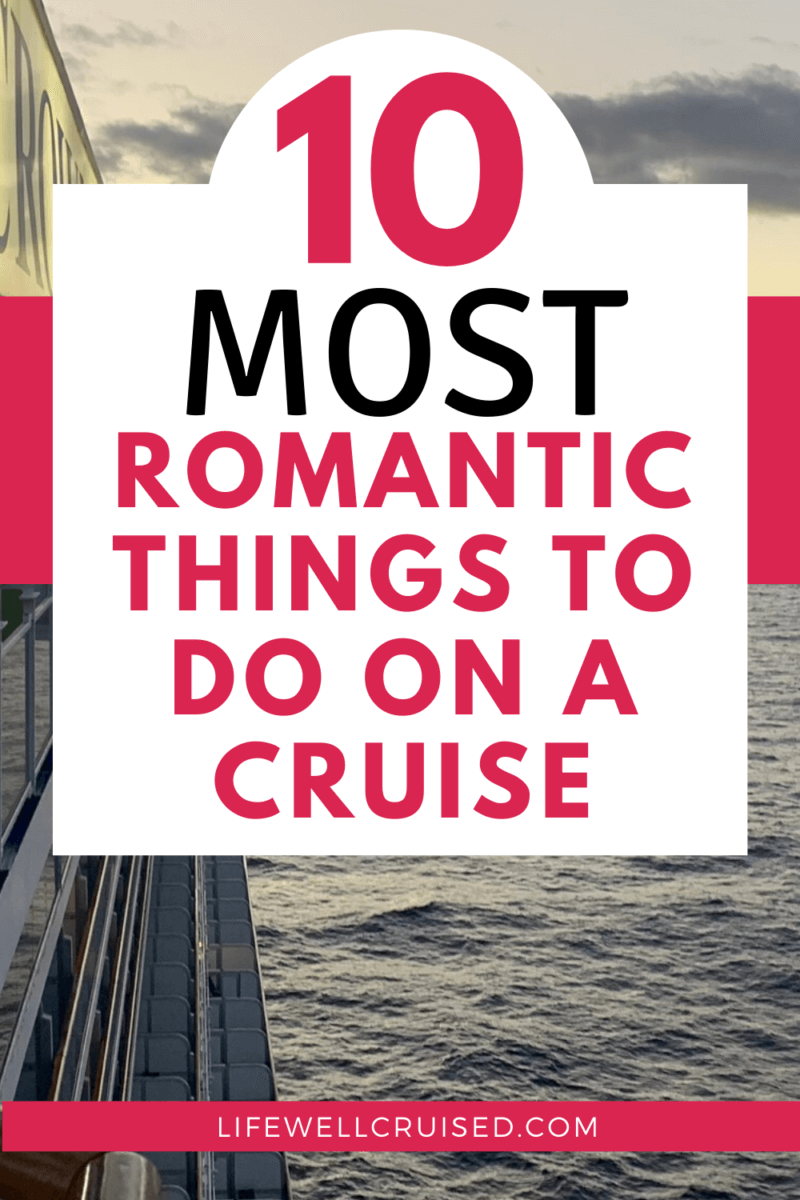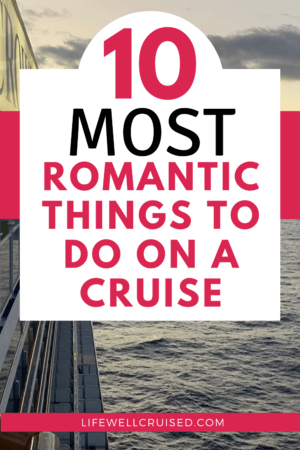 Top 10 Most Romantic Things for Couples to Do on a Cruise
Cruising is definitely romantic! Here are a few of the most romantic ideas for couples on a cruise.
1. Watch a Sunrise or Sunset Together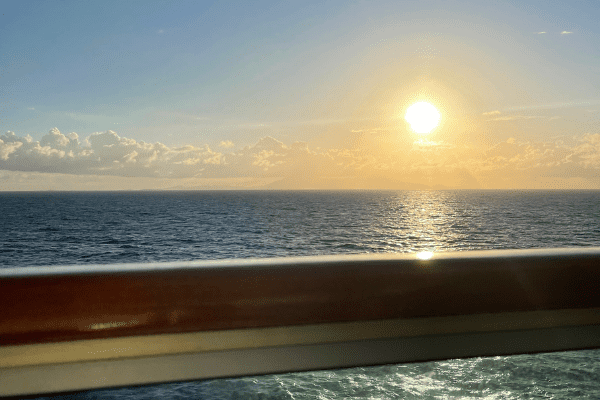 Sunrises and sunsets at sea are like nothing you've seen on land. Consider setting your alarm one morning and catching a sunrise before anyone else is up.
If you're not early risers, don't despair. The sunsets might even be better! The open sea as the sun goes down is special! Perhaps have a glass of wine and a pre-dinner snack as you enjoy each other's company.
Whether you have your own balcony cabin or head up to the top deck of your cruise ship, these are great moments to share on a cruise.
Get The Ultimate Cruise Planner
Regular price: $27 Now just $17!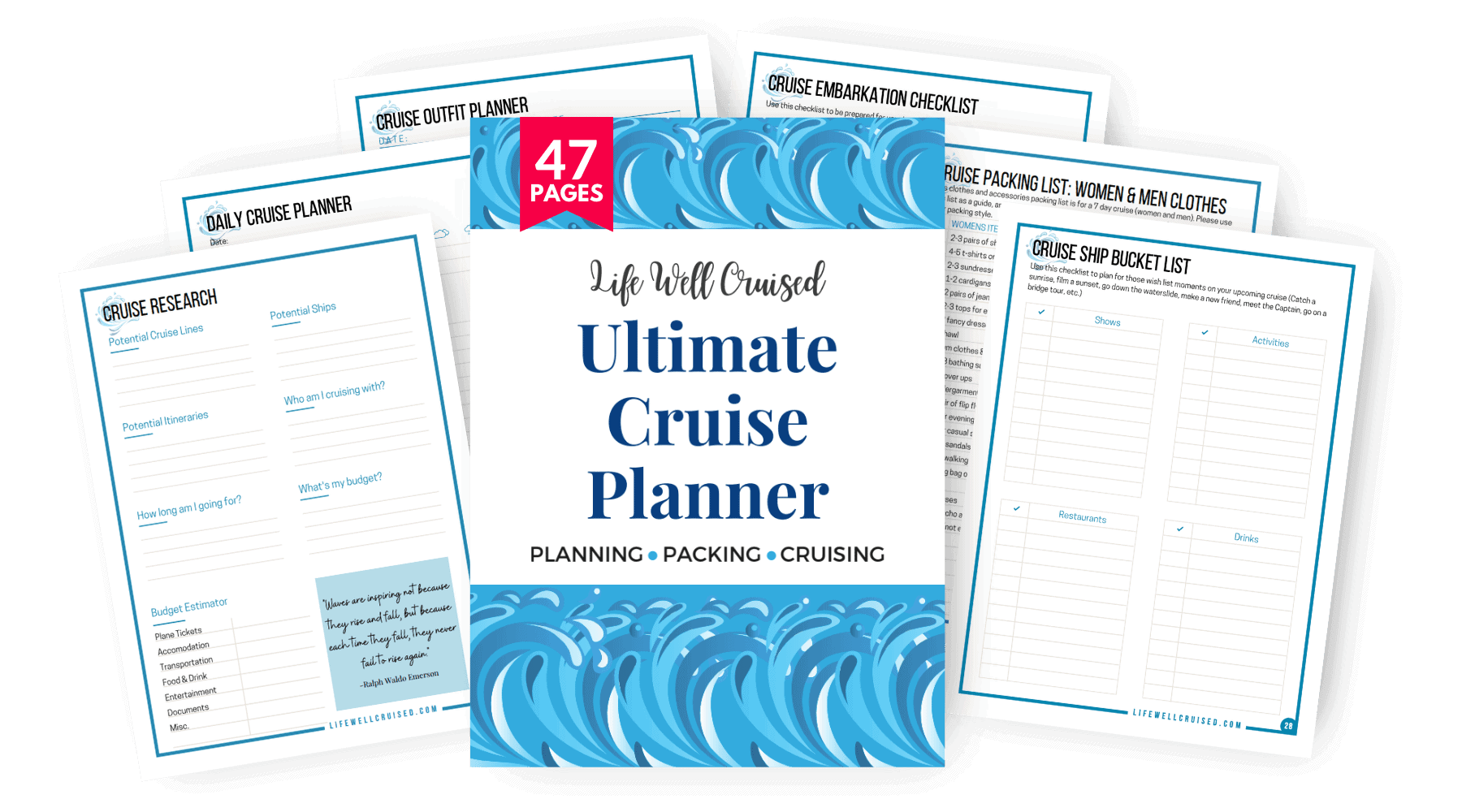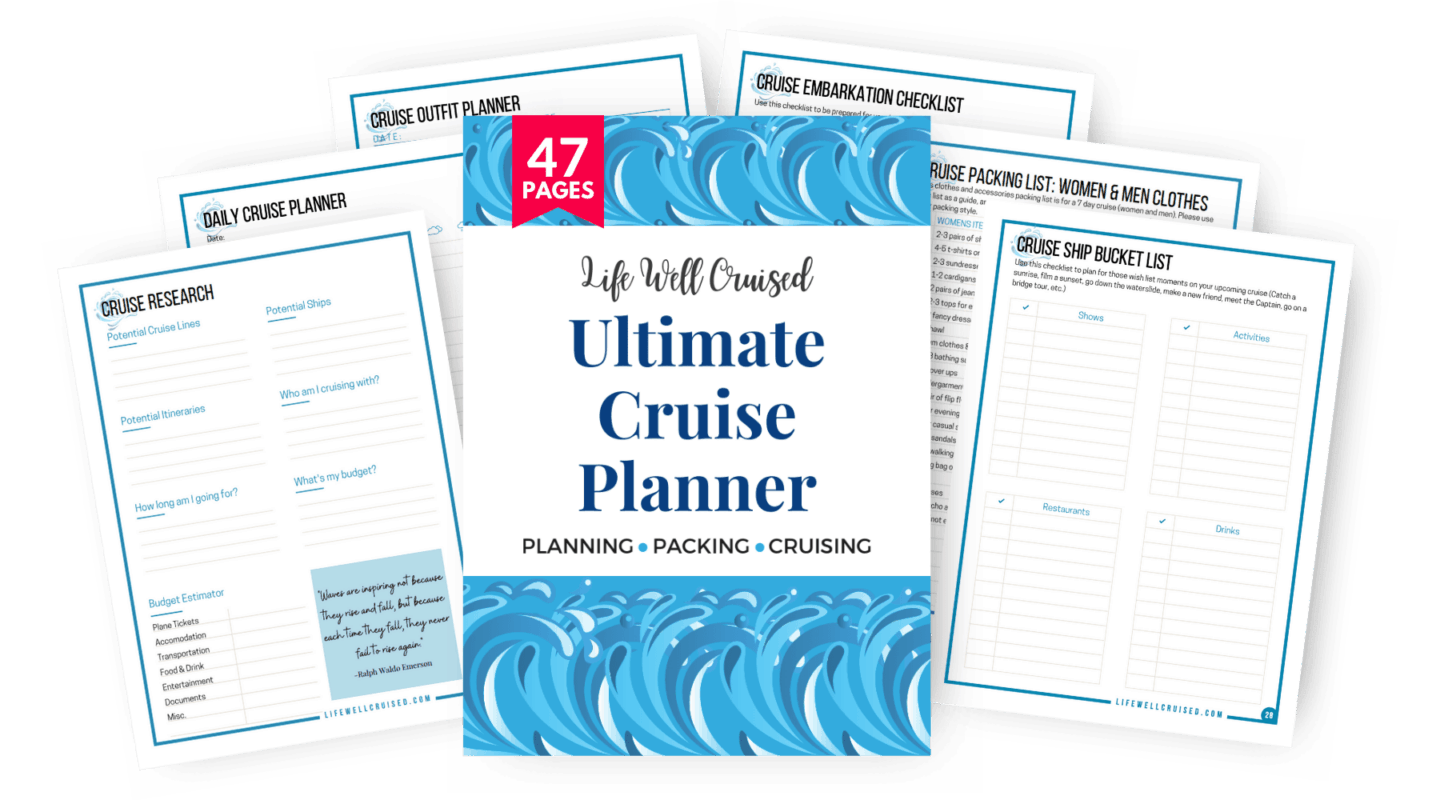 2. Plan a Romantic Excursion
Part of cruising is getting the chance to see and experience different ports of call. Doing new things together is a great way to keep the romance alive! Whether it's sightseeing or heading on a snorkeling excursion, hiking or ziplining, there are so many things to do on a cruise!
For something special, consider a day trip to a romantic and secluded beach or a champagne catamaran excursion.
3. Make Reservations at a Specialty Restaurant
Are you celebrating a special anniversary or just want a more intimate dinner as a couple? Be sure to make reservations at one of your cruise ship's specialty restaurants. Not only will the food be even better than the main dining room, but it will be quieter and more romantic.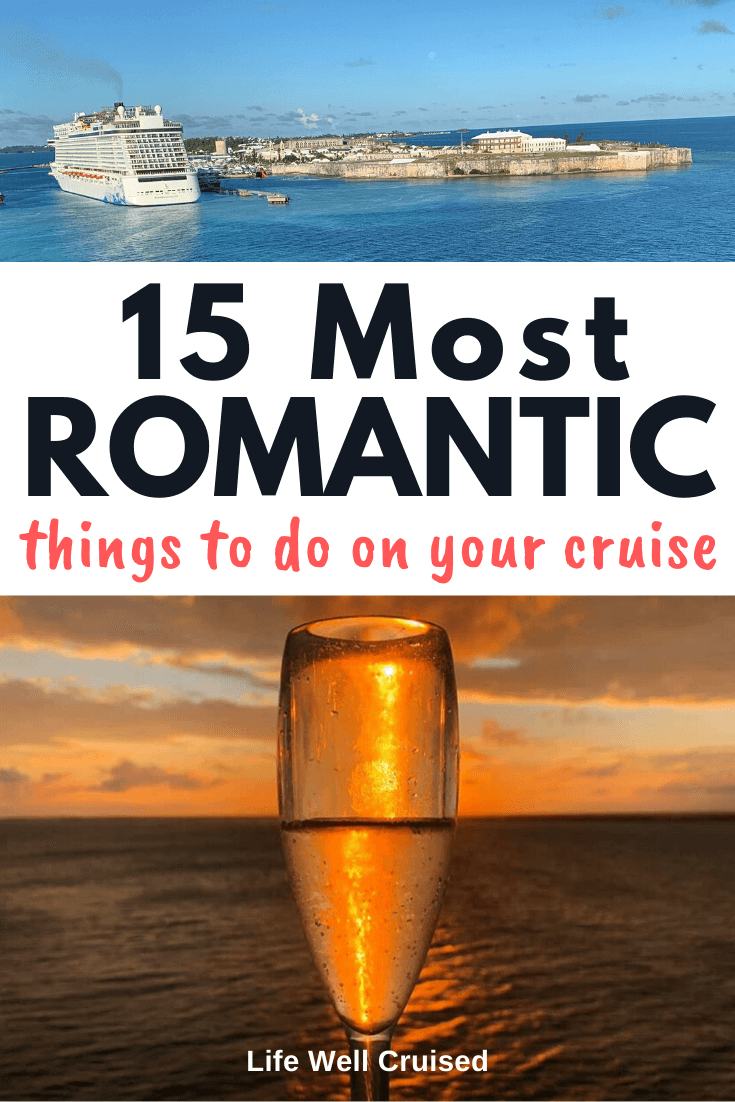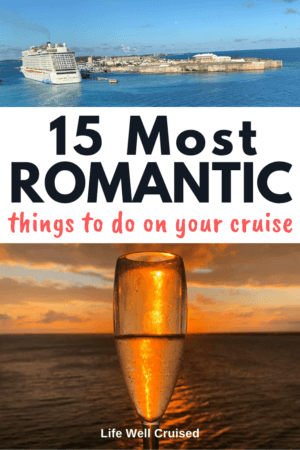 4. Get a Couples Massage or Spa Pass
What could be better than unwinding and distressing together as a couple on a cruise than a couples massage? Check out some of the services offered at the spa and take some time to pamper yourselves. Studies show that destressing and romance go hand in hand.
It's a good idea to make reservations in your planner before your cruise or on embarkation day for the best deals.
Related: 15 Best Things to Do on a Cruise After Boarding
5. Walk on the Promenade Deck
Walking on the promenade deck or along the cruise ship jogging track is one of my favorite things to do when my husband and I cruise together. It's so simple, but the ocean views are amazing and it's a great way to spend time together.
Whether you stroll, walk quickly or jog, this is a great thing for couples to do on a cruise!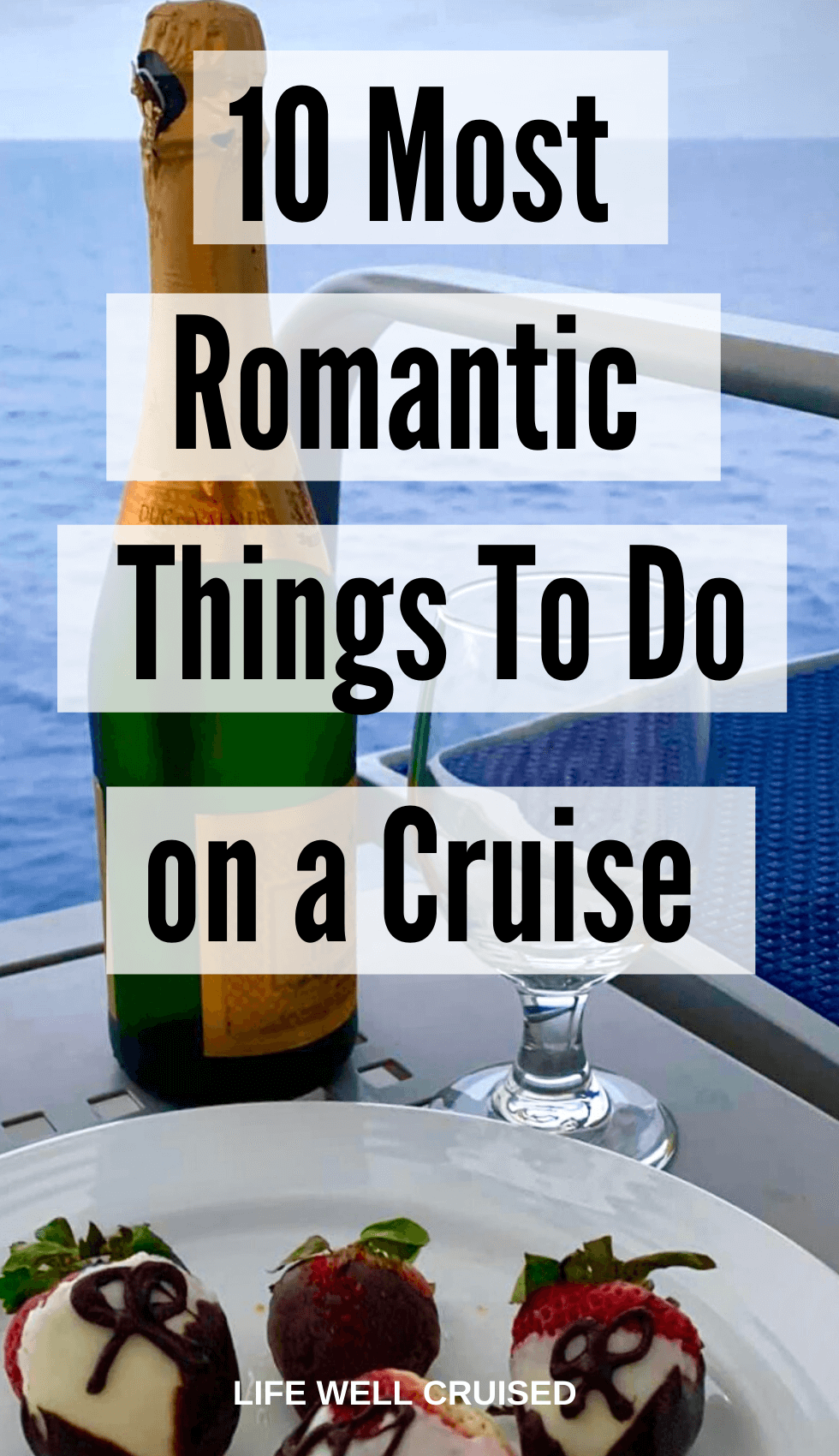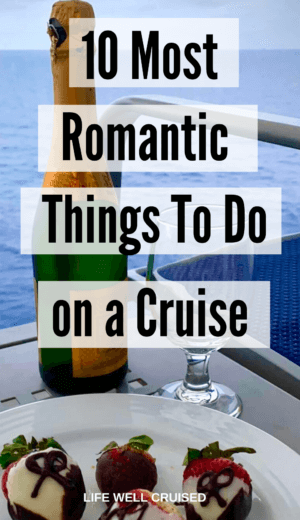 6. Go Dancing
Do you dance as a couple or would you like to learn? There are so many opportunities for couples to dance and it's really beautiful to watch!
Even if you aren't already dancers, you can join Watching couples dance in free dance classes available on many cruises. Have you always wanted to learn how to Salsa? Now's your chance! Even if you're not very good, what fun you'll have trying!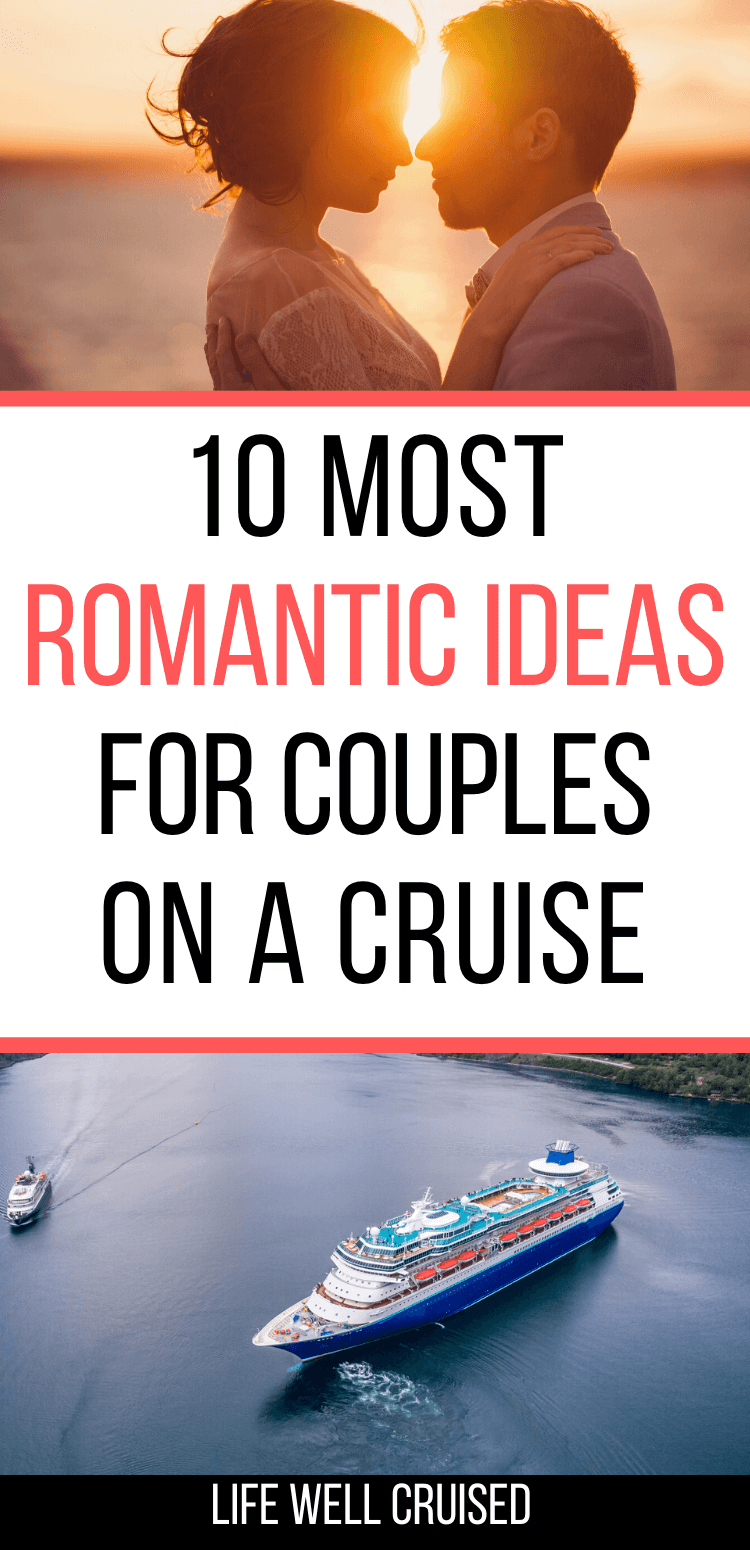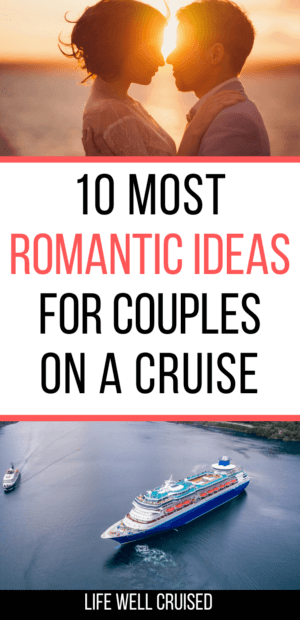 7. Wear Matching Couples Cruise T-Shirts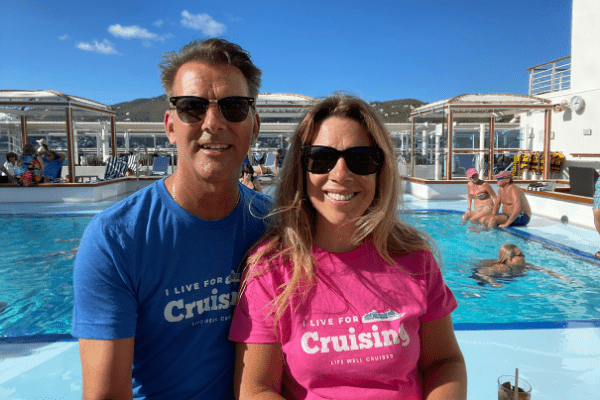 If you're going on a couple's cruise or even a family cruise, it can be fun to have matching cruise t-shirts. Whether you wear them on embarkation day or sea days, it's a fun item to wear on a cruise!
If you're looking for cruise t-shirts, even as a gift for cruise lovers, we have some fun cruise Life Well Cruised t-shirts and mugs sold on Spring.
Here are some links to some popular designs:
I Live for Cruising T-shirt (ladies)
I Live for Cruising T-shirt (mens)
Cruising Together T-shirts (white)
Cruising Together T-shirts (black)
8. Movies Under the Stars
Cruises have amazing entertainment and shows, but sometimes you just want to relax and watch a movie with your love. Many cruise ships have large drive in style outdoor movie screens where you can plan a movie night, complete with popcorn!
One of our favorites is Princess Cruises "Movies Under the Stars", where deck chairs come with blankets! It's feels like a drive in, with an ocean breeze!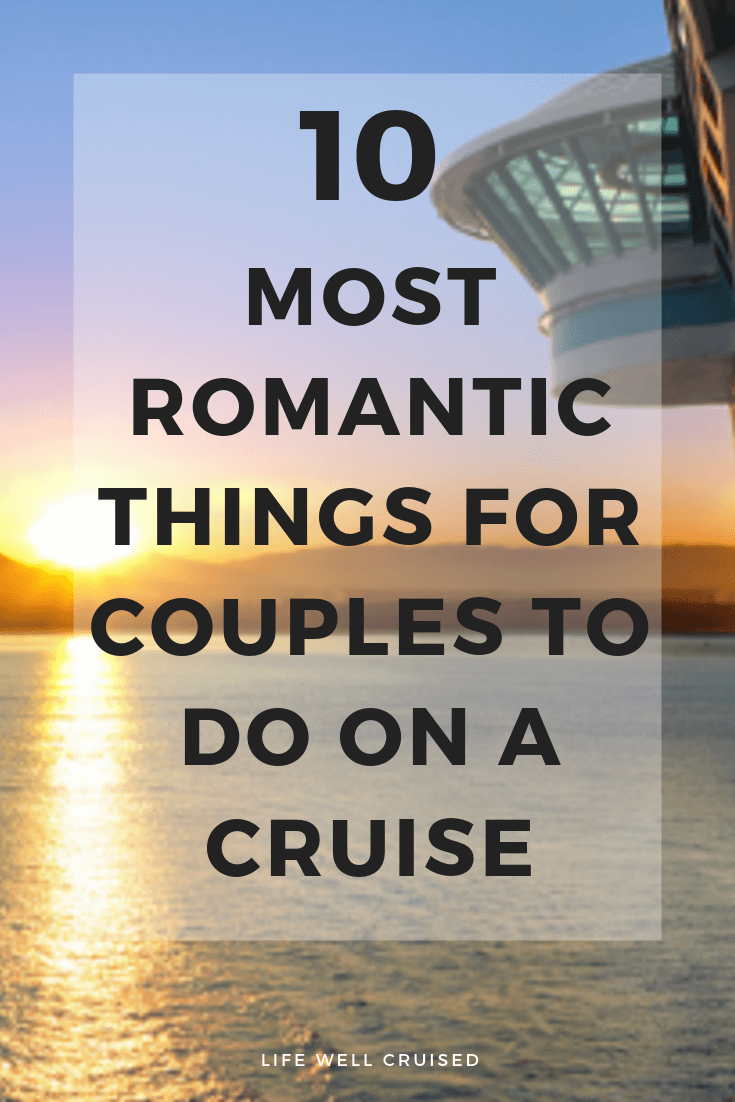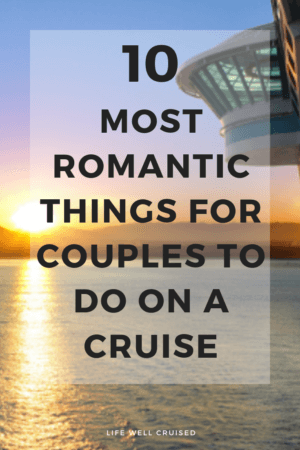 9. Participate in a Couples Game Show
Couples audience participation game shows like Love & Marriage and the Newlywed Game are tons of fun! I like to be part of the audience, but why not try to be in the show? You'll probably win a nice prize, but more importantly, think of the stories you will tell to your friends and family when you get back home.
10. Upgrade a Wedding Ring
I admit I like to show while on a cruise, and while I hadn't upgrade my diamond ring, a know a few ladies who have. Whether you shop duty free on the cruise ship or in a popular port like St. Thomas, upgrading a ring or buying a new piece of jewelry is a tangible way to commemorate your love.
Bonus – Renew your vows
You've had an amazing time and loved being together. Why not consider surprising your love with by renewing your vows on the ship? Different packages are available; however I do suggest that you book this before your cruise, which you can find in your online cruise planner.
Although these are 10 of the most romantic things you can do together on a cruise ship, I hope this list has inspired you to think about what you enjoy as a couple, and personalize your preferences. Cruise ships have so many opportunities for relaxing, fun and adventure, that you are sure to have your most romantic vacation yet!
Get The Ultimate Cruise Planner
Regular price: $27 Now just $17!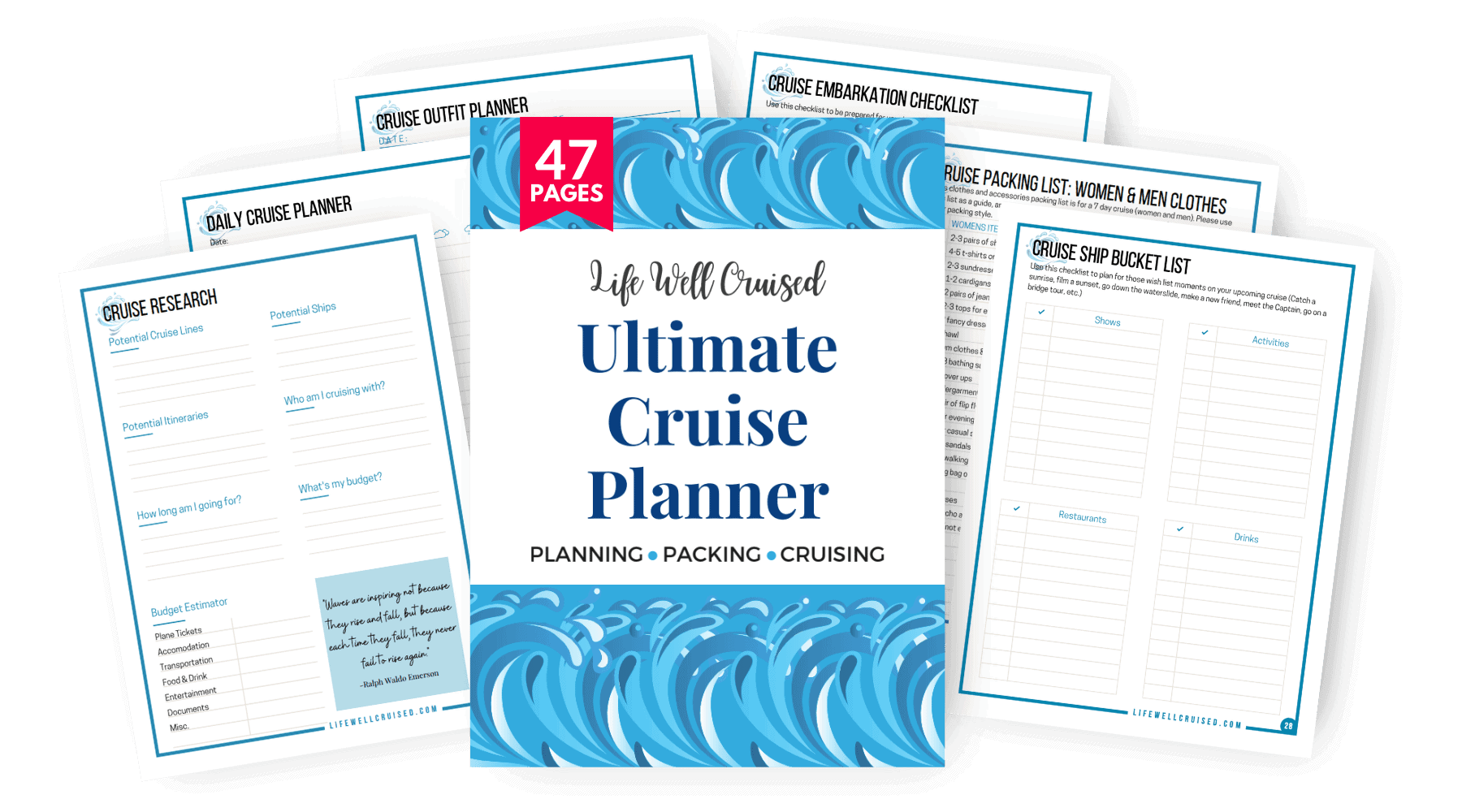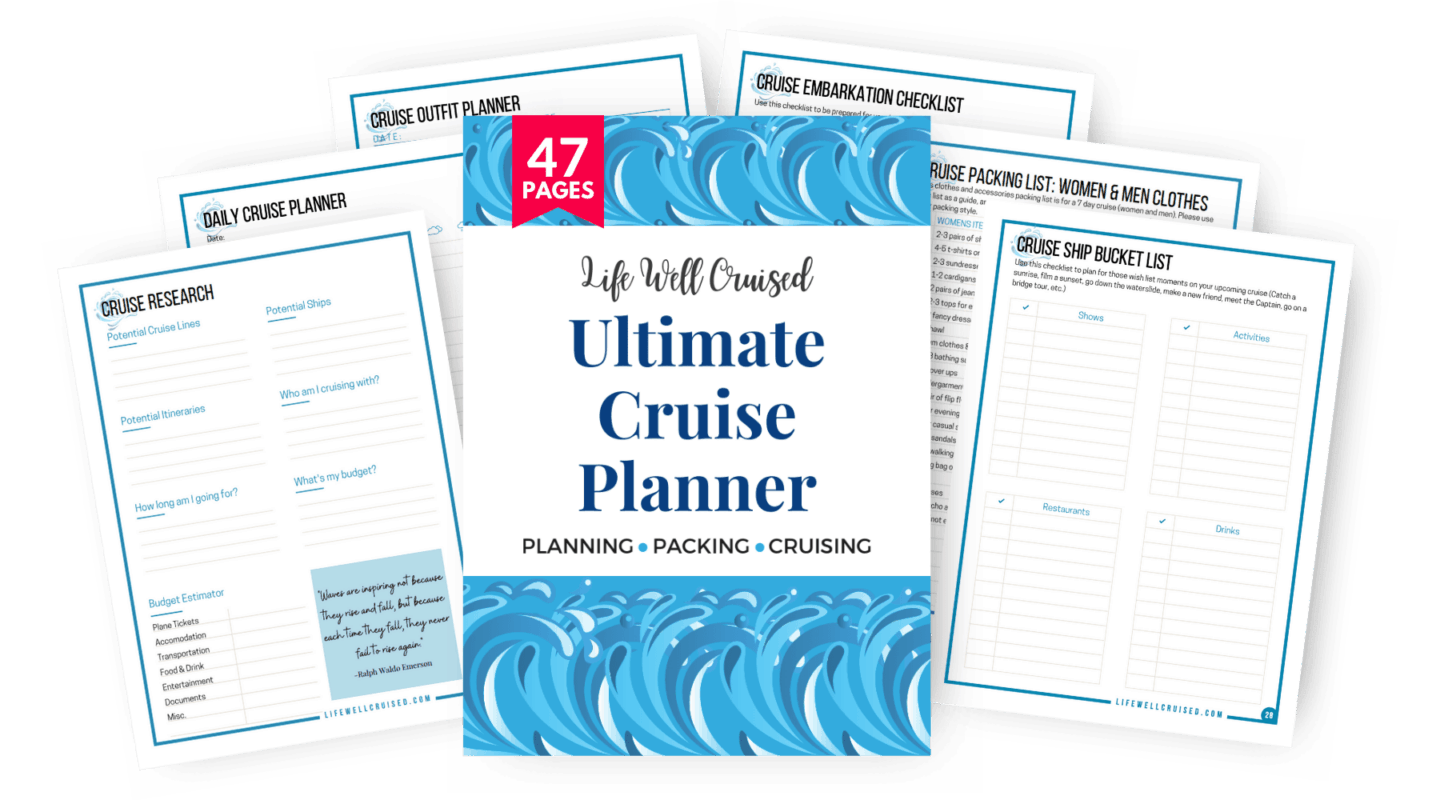 Related & Popular Posts:
50 Must-have Cruise Essentials from Amazon
The Ultimate Guide to Cruise Gratuities
What To Wear on a Cruise – The Ultimate Guide
15 Things to Do Before Your Cruise (in last 30 days)
What to Pack for a Caribbean Cruise
17 Worst Cruise Ship Cabins to Avoid
How to Book a Cruise for the First Time: a Comprehensive Step-by-step Guide
Are you planning a couples cruise to celebrate a special occasion? What have been some of your favorite things to do together on a cruise?
Happy Cruising!
Ilana
If you found this post helpful, please don't keep it to yourself ;-). Share it on Facebook or Save for later Pinterest (share buttons at the top). Thanks so much!
Let's connect:
Follow me on Facebook at Life Well Cruised
Follow me on Pinterest at Life Well Cruised
Follow me on Instagram at Life Well Cruised