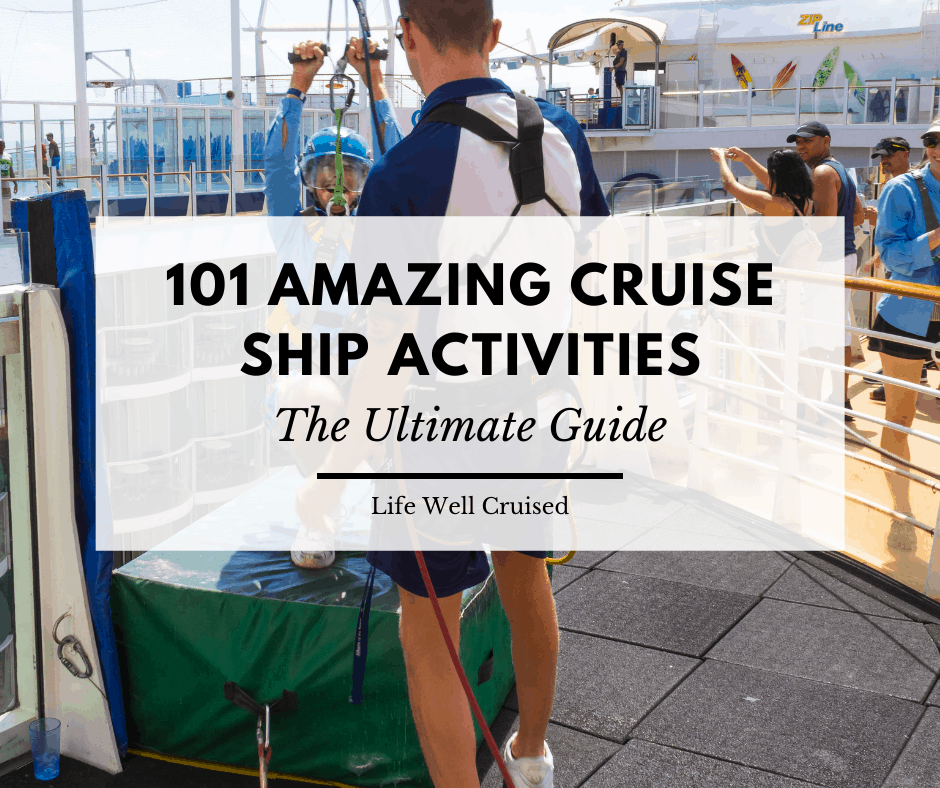 If you're thinking of going on a cruise, you might be wondering what there is to do on a cruise ship? Will there be enough interesting and fun cruise ship activities that you'll enjoy?
I get it, because before my first cruise, my husband wondered the same thing. Even though we had friends who loved cruising, was it for us?
Of course, we loved it! However, more importantly, through our years of cruising, we've discovered that on a cruise there truly is something for everyone.
In this post, you'll find more than 100 amazing things to do on a cruise. Whether you prefer to be active or to relax, this extensive list of cruise ship activities will help you to discover all there is to do on a cruise.
What Can You Do on a Cruise? The Ultimate Guide to Cruise Ship Activities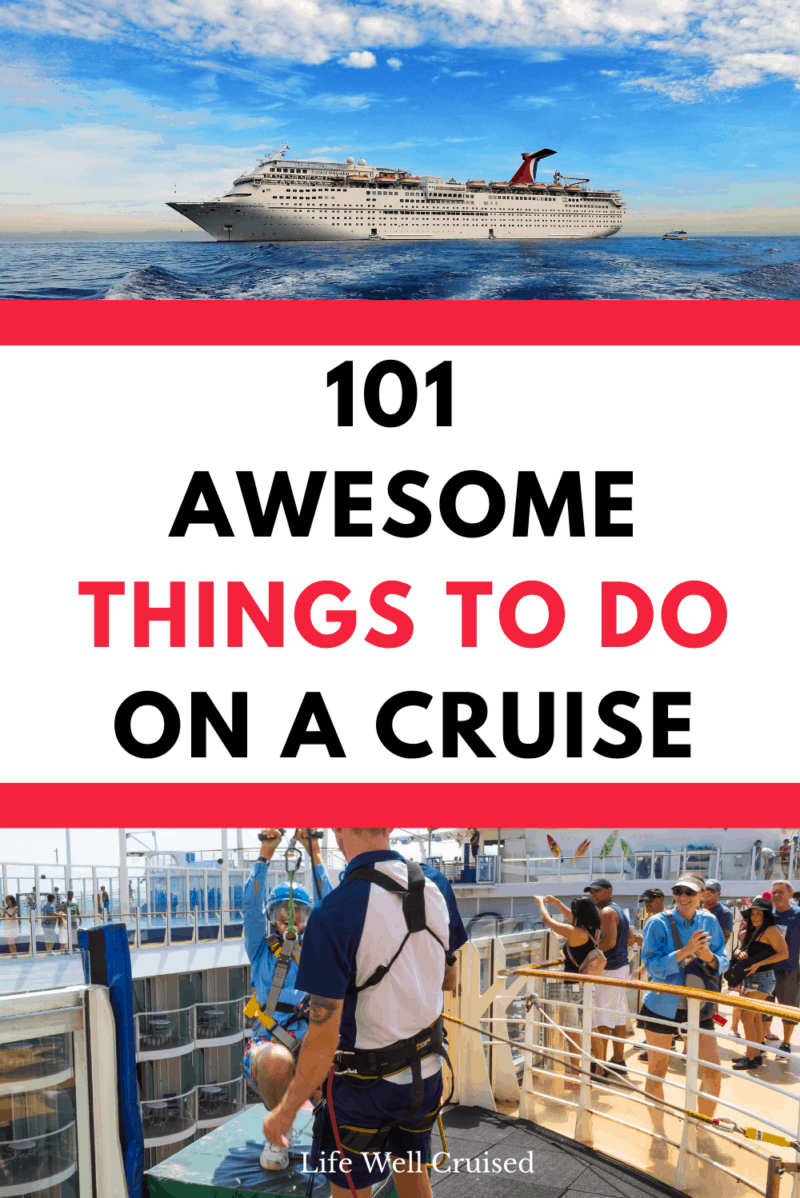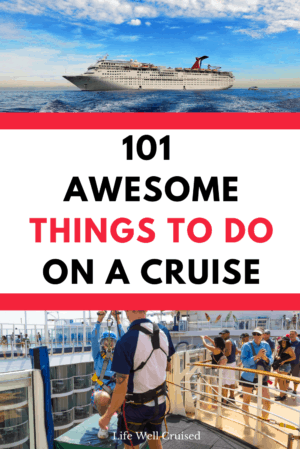 From the moment you get on your cruise ship on embarkation day, you'll have access to a plethora of activities and amenities. But how can you know what there is to do?
Most cruise lines now have an app, where you'll be able to see a list of daily activities available. This daily planner, is often available in a paper format as well. It will list the starting and ending time of a scheduled activity (like pool volleyball), as well as the opening and closing hours of some of the onboard attractions and venues (like the fitness centre, race cars or ice skating).
Something to note is that each cruise line and cruise ship is different, a bit like resorts. Choose wisely before you book so that you have the perfect cruise ship for the type of vacation you like best.
This post contains affiliate links which means if you click and buy that I may make a commission, at no cost to you. Please see my disclosure policy for details.
As an Amazon Associate I earn from qualifying purchases.
Exciting Cruise Ship Activities
Cruise ships can feel like an exciting playground at sea, for both children and adults. While years ago, the most exciting activity might be shuffleboard and some pool volleyball – these days, there is a LOT to do on a cruise!
1. Waterslides & Aquaparks
Waterslides and aquaparks can be found on many family friendly cruise ships. If you're cruising on a newer Royal Caribbean, Carnival, NCL, or even MSC cruise ship, you have to check out the incredible waterslides!
2. Roller Coaster at Sea
On Carnival's newest cruise ships, Carnival Mardi Gras & Celebration, you'll find a Sea Coaster, the world's first roller coaster at sea. How cool is that?
3. Flowrider Surf Pools
Have you ever wanted to learn to surf? The surf simulator on several Royal Caribbean cruise ships is a great way to have fun and practice!
4. Zipline
Royal Caribbean's Oasis class cruise ships are some of the coolest cruise ships at sea! On these 220,000 ton mega ships, you'll find some incredible activities and attractions, including a zip line that rises 14 decks over the cruise ship's boardwalk neighborhood.
5. Indoor Skydiving
People who've experienced IFly by RipCord, and indoor skydiving activity of some Royal Caribbean ships, have great memories and cool photos to show how exciting cruising can actually be.
6. Ropes Course (& Walk the Plank)
Carnival and Norwegian Cruise line both have ropes courses available on some of their cruise ships. If you really want to take up the thrills, you can "walk the plank", which literally shoots out several feet from the cruise ship. It's not for me, but will make a great photo and memory!
7. Race Cars
Check out the Norwegian Bliss and Norwegian Joy for a chance to drive an electric race car at sea!
8. Bumper Cars
Royal Caribbean's Quantum Class ships have an interior entertainment area, called the SeaPlex. One of the fun activities is bumper cars, but there are so many others as well.
9. Laser Tag
Check your cruise ship to see if it has a laser tag game. Some newer as well as refurbished cruise ships on family friendly cruise lines offer this.
10. Ice Skate
Some Royal Caribbean cruise ships have small indoor ice skating rinks where you can see an incredible show, as well as rent ice skates for "free skating". If you don't have a chance to ice skate where you live, why not give this fun activity a try?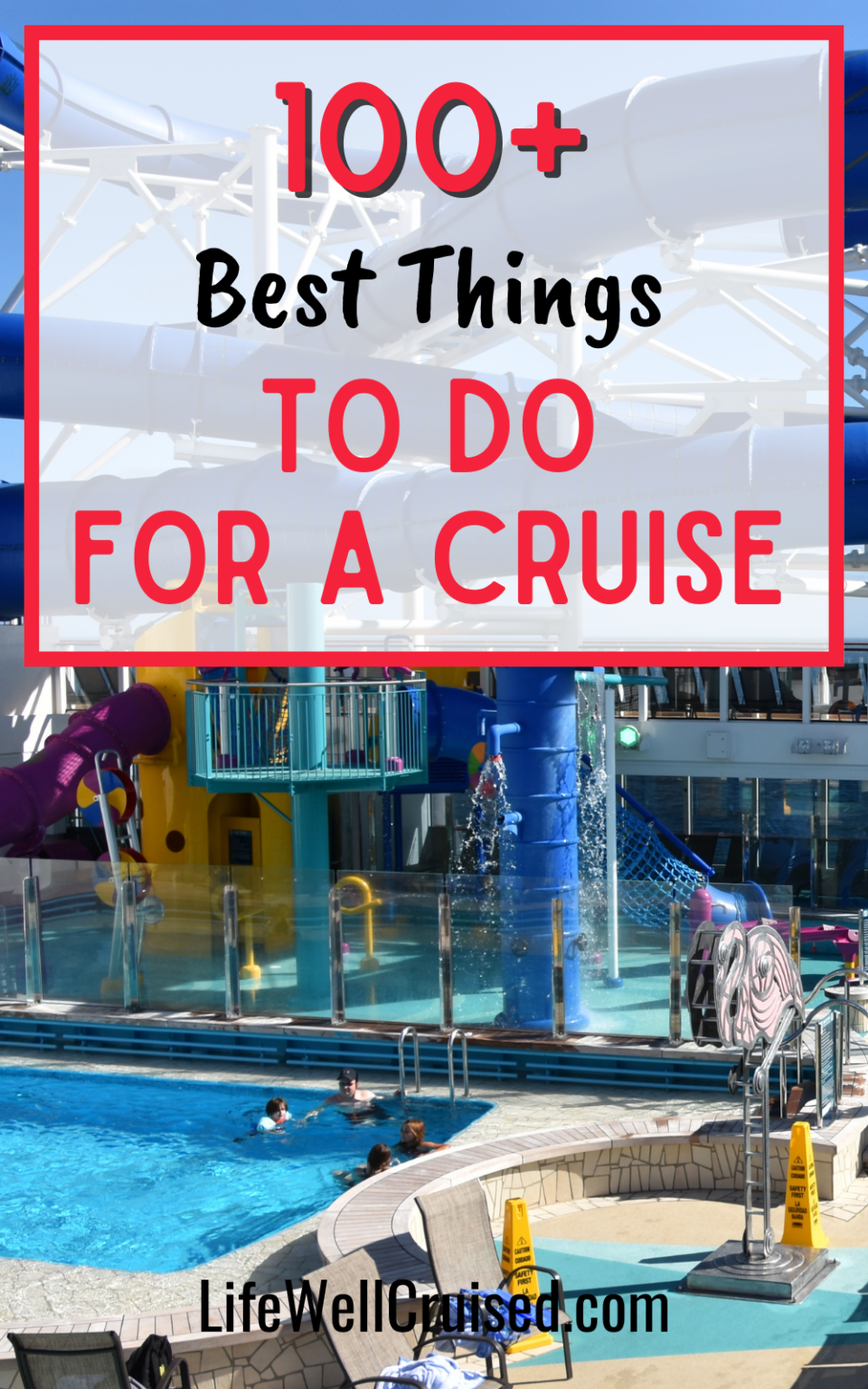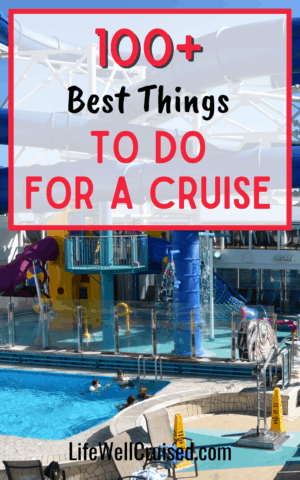 Free Activities on a Cruise
11. Trivia
Most cruise ships will have daily trivia available with the cruise ship entertainment staff. Check your cruise planner for times and show up early for this popular free cruise activity.
12. Fitness Center
Gyms on cruise ships are modern and beautiful, with an incredible sea view! You can use the equipment free of charge and some classes will be free as well. Others may have an additional fee, so do check as you sign up.
13. Zumba
Avoid cruise ship weight gain by joining free activities like a Zumba class on the sports deck or cruise ship atrium.
14. Dance class
Learn ballroom dances including salsa and meringue and then impress yourselves dancing later in the cruise to the live band.
15. Mini Golf
This might be a traditional cruise ship activity, but it's still fun and pretty popular.
16. Painting class
Try water color painting and take home a beautiful work of art you've made on a cruise.
17. Napkin Folding Class
If you've always wanted to learn how to fold napkins like in fancy restaurants, join a class and demonstration and pick up a new skill.
18. Ice Carving Demonstration
Did you know that ice carving is an art and a skill that takes substantial training? It's amazing to see the cruise ship Ice Carvers complete a beautiful ice sculpture before your eyes. Check you cruise planner for this demonstration, often done on a sea day by the main pool
19. Cruise Ship Planetarium
Did you know that the QM2 has a real planetarium where you can view the stars from indoors?
Read next: More FREE Things to do on a Cruise
Things for Kids to Do on a Cruise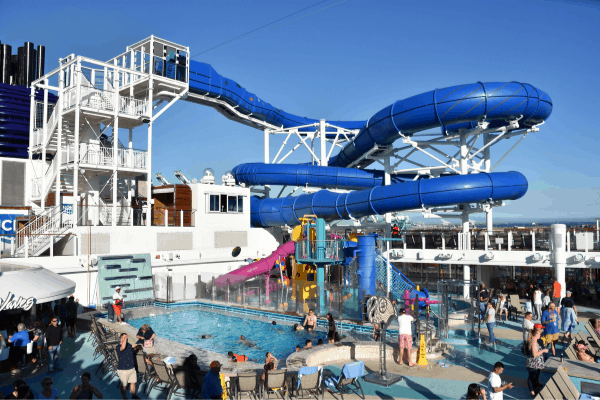 Cruising with Kids? Here are just a few of the cruise ship activities planned specifically for young children and teens.
20. Kid's Camp
Most cruise line's have an a Kid's Club with excellent supervision and fun activities. However, family friendly cruise lines like Disney, Royal Caribbean, Carnival, Norwegian, MSC and Princess Cruises have some of the best kid's camps at sea.
21. Scavenger Hunts
Taking your tweens or teens on a cruise? Scavenger hunts around the ship are just one of the fun cruise activities they'll enjoy with their new friends.
22. Arts & Crafts
If your son or daughter enjoys crafts like making bracelets, gimp, painting or coloring, they'll have a blast in the kid's club. There are so many materials and fun projects that they can create during their cruise vacation.
23. Lego & More
Young children will have so much fun with lego and other fun toys in an amazing Kid's Club. Make sure to visit the kid's camp and register as soon as possible after board your cruise.
24. Xbox competitions
Cruise kid's and teen clubs have awesome video game consoles and opportunities to hang out playing the most popular video games. In some cases, there will be planned Xbox competitions on the big screen!
25. Pirate Parades
I've got great memories of my boys dressing up and joining a group pirate parade through the centre of the cruise ship. They are older now, but we did several fabulous family cruises and they have great memories of those times!
26. Movie Nights
Kid's can hang out and chill while watching a movie.
27. Group Dinners
A couple times during your cruise, optional group dinners may be planned. While this is usually in the buffet, there may be a special "make your own pizza" dinner or other planned activity.
28. Pyjama Parties
Mom and Dad can stay out late while the kids hang out at fun pyjama parties.
29. Hot Tub Parties
Teens will often have a hot tub located near the teen club on a cruise. Expect a few hot tub parties on a cruise.
30. Disco and Dance Parties
Kids and teens will have events planned in the cruise ship night club. Often, young children will have dance parties or even play games of tag in the disco during the day, while teens may have a special evening in the evening.
31. Arcade
If you and/or your kids like an old school arcade, with air hockey and some classic games, you'll have a great time playing in this often under-utilized area.
Related posts: 20 Amazing Ways to Save Money on Your Family Cruise
10 Cruise Experts Share Their Best Tips for Cruising with Kids
Things to Do for Couples on a Cruise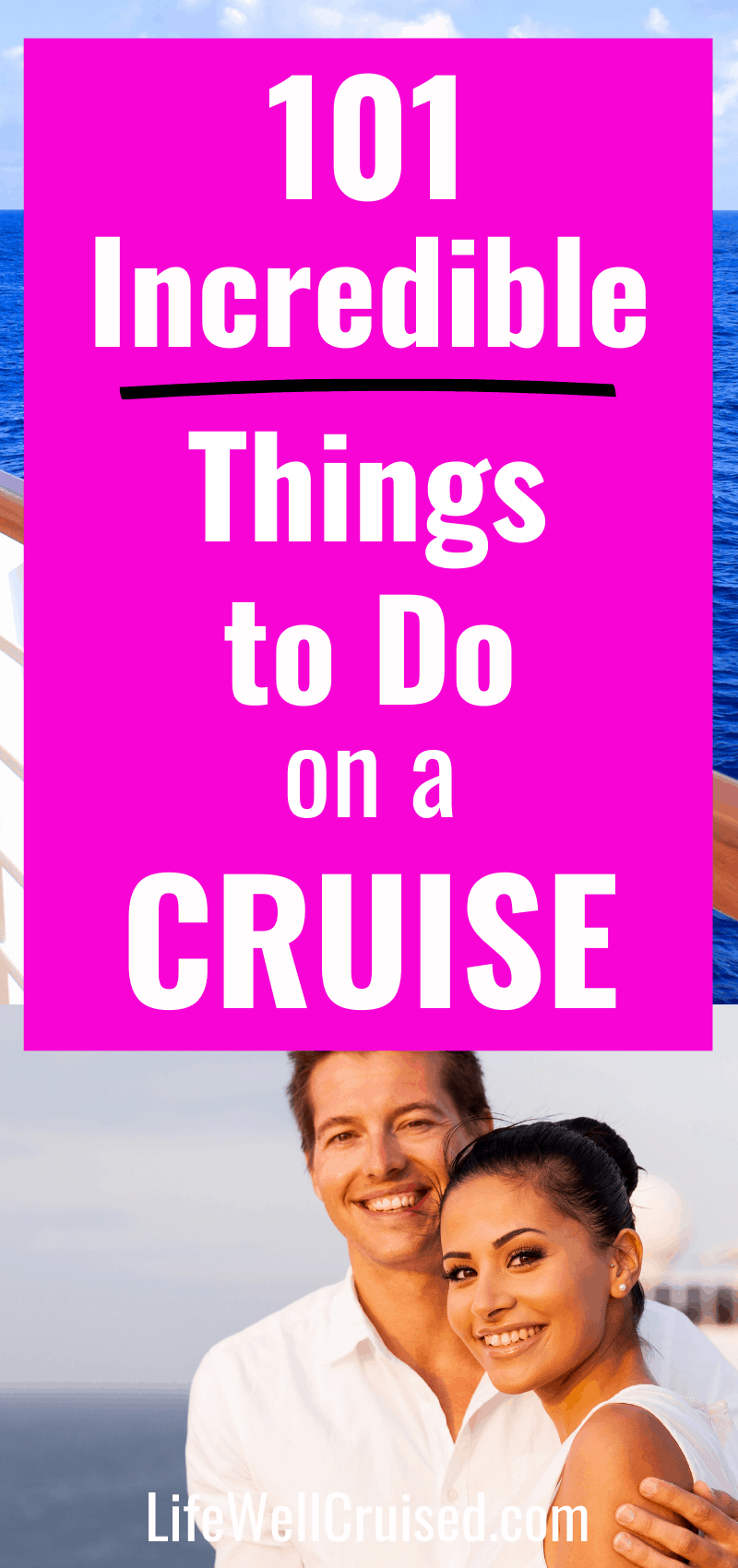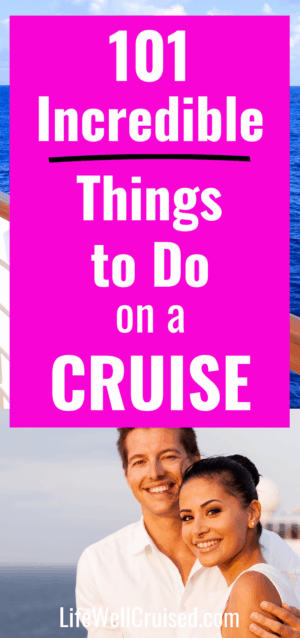 Cruises make great romantic getaways for couples. Here are some of the best cruise activities for couples to enjoy.
32. Balcony breakfast
Order room service and enjoy a cup of coffee and some breakfast, while enjoying your own private balcony in the morning. While continental room service is often free on a cruise, you may want to splurge for an extra special romantic experience.
33. Movies Under the Stars
Most cruise ships have a big screen movie screen showing movies during the evening on a cruise. On Princess Cruises you'll get a blush blanket and some popcorn and it's like a cozy drive in under the stars!
34. Exciting Shore Excursions
On shore adventures can be romantic! Plan a shore excursion to the beach, snorkeling or zip-lining for a special and fun day with your love.
35. Vow Renewal
Why not participate in either a group vow renewal ceremony, or plan a private vow renewal and celebration on your cruise? You can invite friends and family, or keep it a very private.
36. Get Married at Sea
Did you know that you can get married by the Captain on many cruise ships? Check this out before your cruise, to make all the arrangements.
37. Dinner for 2
Have a romantic dinner for 2 in the main dining room or one of the wonderful specialty restaurants. Celebrity's Tuscan Grill offers a very special dinner and experience.
38. Stargaze
The sky is so clear at night while out to sea. Sit out on your private balcony or head to the top deck to enjoy the most spectacular view of the stars.
39. Couples Massage
Cruise ship spas are some of the best in the world. Combine a massage with an ocean view and the one you love – perfect!
Related post: 10 Romantic Things to Do When Cruising Together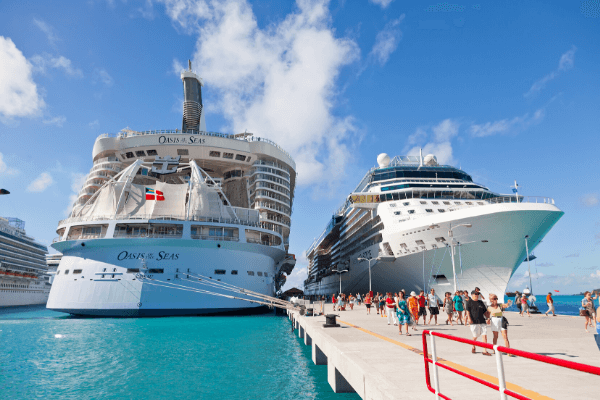 Rainy Day Activities
Unfortunately not every day on a cruise will be sunshine and blue skies. However there's still so much to do on rainy days on a cruise.
40. Art Auction
You don't need to wait for a rainy day to attend an art auction, but if you are looking for something to do, why not give it a try? Art auctions are about more than the purchase. If you enjoy art and learning about the history of some well known and up and coming artists, you might be pleasantly surprised.
41. Port Lecture
Port talks happen on sea days, rain or shine. If you are new to a cruise port of call and would like to know what to expect, port lectures can be informative.
42. Matinee Show or Movie
Rainy days are perfect days to attend an afternoon showing of a popular production show or even a movie in the ship's theatre or one of the lounges.
43. Board Games
On rainy days, or even hot days on a cruise, there will often be people playing cards and a variety of board games around the cruise ship. While you can actually borrow some on a cruise, I'd consider bringing your own.
Here are more great ideas: 37 Things to Do on a Cruise When it Rains
Popular Cruise Ship Activities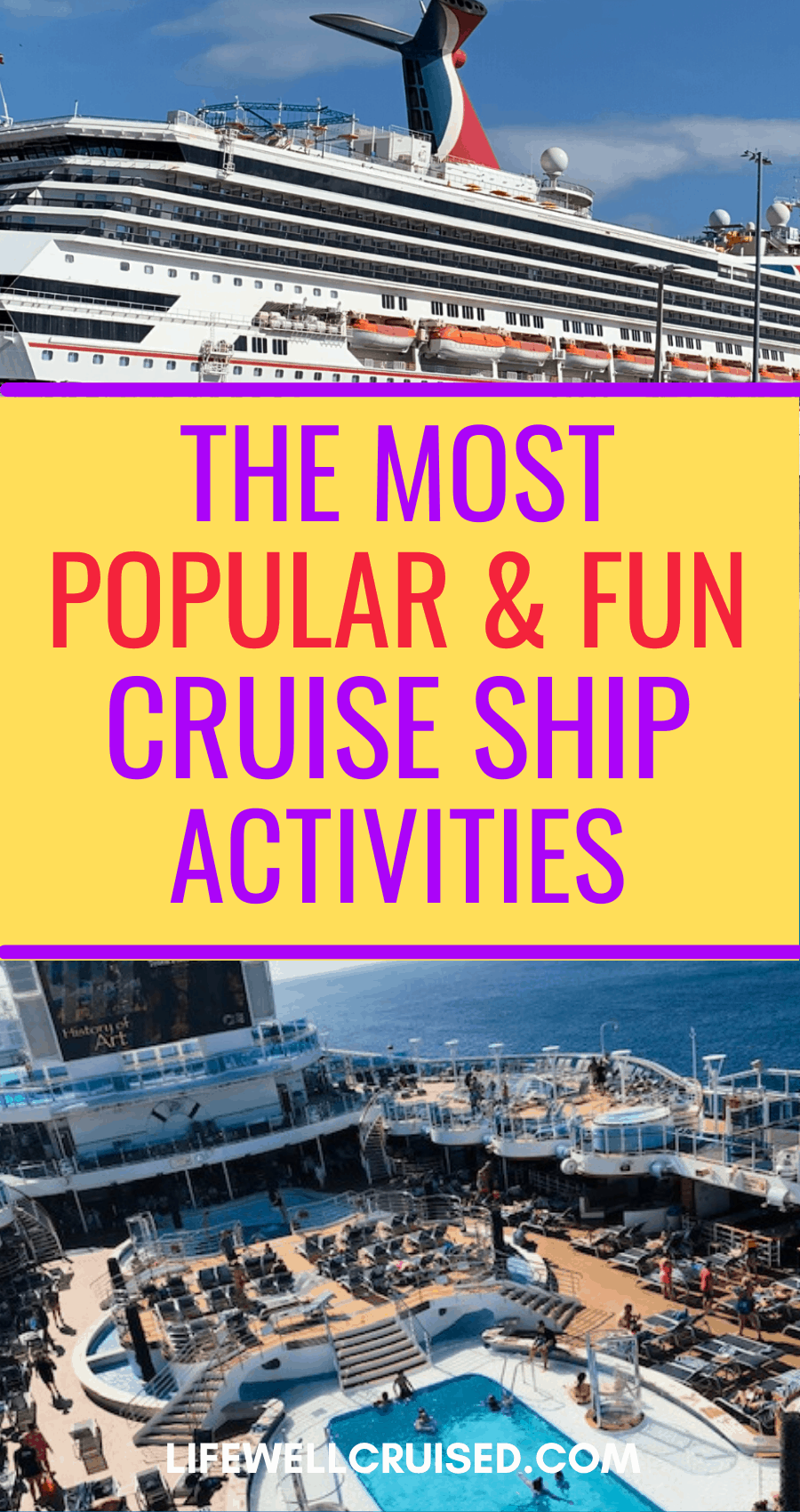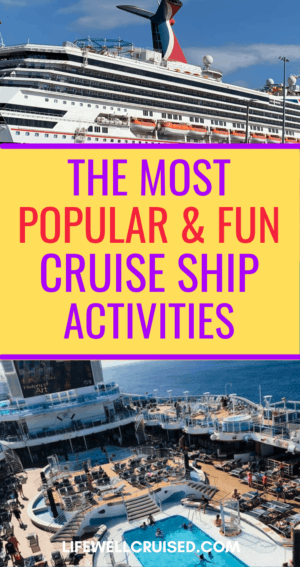 The entertainment on cruise ships often rivals Las Vegas. From production shows to guest entertainers, you'll find tons of things to do in the evening on your cruise.
44. Welcome Show
If this is your first cruise, make sure to attend the Welcome Show the first evening of your cruise vacation. This is a fun and informative glimpse into the activities and entertainment planned over the next few days.
45. Audience Participation Gameshows
One of the most fun and unpredictable events on a cruise are the live audience participation game shows. Games like "Love & Marriage" and "Battle of the Sexes" are often hilarious, because you just never know what the participants will actually say.
If you decide to join, there are often prizes and you'll be "famous" during your cruise vacation!
46. Production Shows
Expect at least a couple amazing production shows performed by the cruise ship's singers and dancers.
47. Comedy Shows
Each cruise you'll get a chance to see some very talented and often hilarious comedians. Some cruise lines even often an "adult" show late into the night.
48. Illusionists & More
Guest entertainers are brought onto the cruise ship each sailing to entertain the passengers. You may get a chance to see illusionists, hypnotists, impersonators and more.
49. Piano Bar
One of the most popular venues on many cruise ships is the Piano Bar. Enjoy a martini or favorite drink and join in on the fun.
50. Live Bands
Whether you want to dance, or hang out and take in a show, the live bands on cruises are fabulous. Make sure to go to the lounge or club early to get some seats.
51. Casino
If you love to gamble and play at the Casino, you'll enjoy this energetic environment on your cruise. The Casino is open on sea days and late into the night.
52. Champagne Art Auction
A pretty popular cruise ship activity is the champagne art auction. It's exactly as it sounds – attend an art auction and get a free glass of sparkling wine at the same time.
53. Past Passenger Events
One of the very popular events on a cruise is a past passenger party. There will actually be more than one, depending on your loyalty level. The Captain and officers will often be there to greet you and you may be offered free drinks as well.
54. Afternoon Tea
If you're a foodie and enjoy food experiences, make sure to go to the "afternoon tea" offered in the main dining room on many traditional cruise lines.
Read next: How NOT to Gain Weight on a Cruise, Even When You're a Foodie!
Sea Day Activities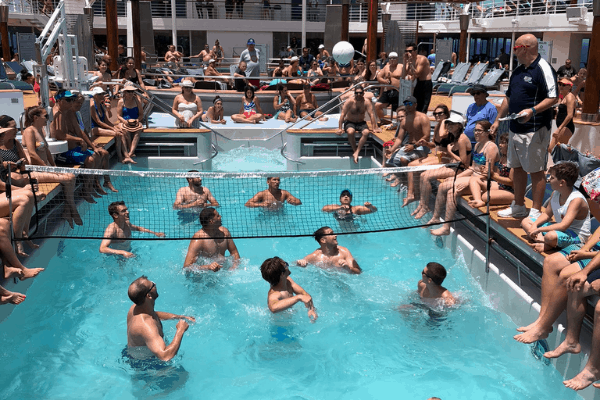 There's so much to do (or not do) on sea days, that these are often some of the best times on a cruise. While I could list off a lot, here are just a few sea day activities to look forward to.
More fun things to do on a sea day can be found in this post.
55. Pool time
If you're on a Caribbean cruise, one of the favorite hangouts on the cruise ship will be the pools and hot tubs. Most large cruise ships, have 3-4 pools, or more.
Some pools areas will be quieter and more relaxing, while other pools are meant for activities and a more "party-like" atmosphere.
56. Get a Massage
Sea days can be the perfect time to indulge in some self-care at the spa. Book a massage or other rejuvenating treatment and enjoy!
Cruise tip: Spa treatments will often be on promotion if you book on embarkation day. Check more money saving cruise tips in this post: 27 Hacks to Save Money on a Cruise
57. The Sanctuary
Hang out in the exclusive Sanctuary, Princess Cruises' adults only refuge at the front of the cruise ship. Enjoy a special menu of spa type foods, and healthy fare delivered right to your plush lounger.
58. The Vibe
Norwegian Cruise Line offers an adult only place to chill which is perfect on sea days. Check with your cruise line for similar venues.
59. Bingo
Bingo is one of the most popular things to do on a cruise ship, for many ages. There are often great cash prizes as well as a grand prize of a free cruise!
60. Work Remotely
While this isn't for everyone, cruise ship internet is improving and some cruise line's are making it easy and affordable to work remotely. On recent cruises, we found Princess Cruises' MedallionNet to be fast and efficient.
61. Frozen Drinks
Have a cruise beverage package? Whether you have one or not, having a frozen cocktail on the Lido deck is a pretty awesome way to pass some time on your cruise!
Related posts: Norwegian Cruise Line Drink Packages
Princess Cruises Drink Packages (with bar menus and drink photos)
Celebrity Cruises Always Included; Everything You Need to Know
62. Bar Crawl
Why not try out the drinks and atmosphere at many of the bars on your ship? From the martini bar to the sports bar, you can create your own pub crawl.
63. Specialty Restaurant
The food on cruise ships is great, but specialty restaurants take it up a notch. Sea days can be a great time to have lunch in a specialty restaurant for a reduced price as well.
Adult Only Activities on a Cruise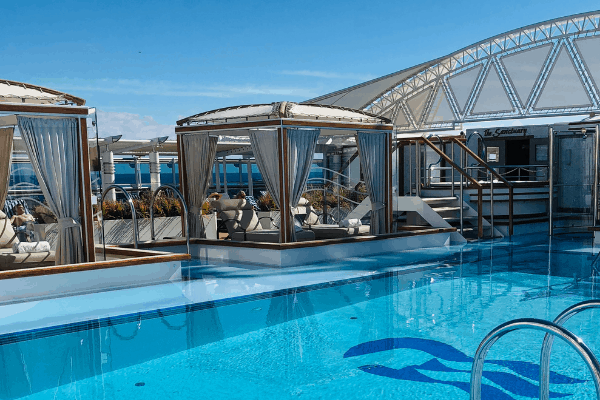 Often, even on family friendly cruise ships there will be activities adults or those 18+. Many of these may be during evenings on a cruise.
64. 18+ Comedy Shows
Adult topics and cursey words come out late at night at 18+ comedy shows.
65. The Quest
Some cruise lines have an adult only game show called The Quest. It's a very fun scavenger hunt that can get a bit inappropriate for kids.
66. The Solarium
Most cruise ships have an adult only Solarium or pool area. If you're looking for a quiet place away from kids or even louder pool games and activities. this is the place to be.
67. Night Club
Kids aren't allowed in the night club or disco after a certain hour. Check the cruise planner for the hours of operation and activities.
68. Wine Tasting Event
While there's an additional charge for a wine tasting, it's a great chance to sample different wines and learn, all while on a cruise.
Related post: 37 Interesting Cruise Ship Facts that Will Surprise You
Traditional Fun Cruise Ship Activities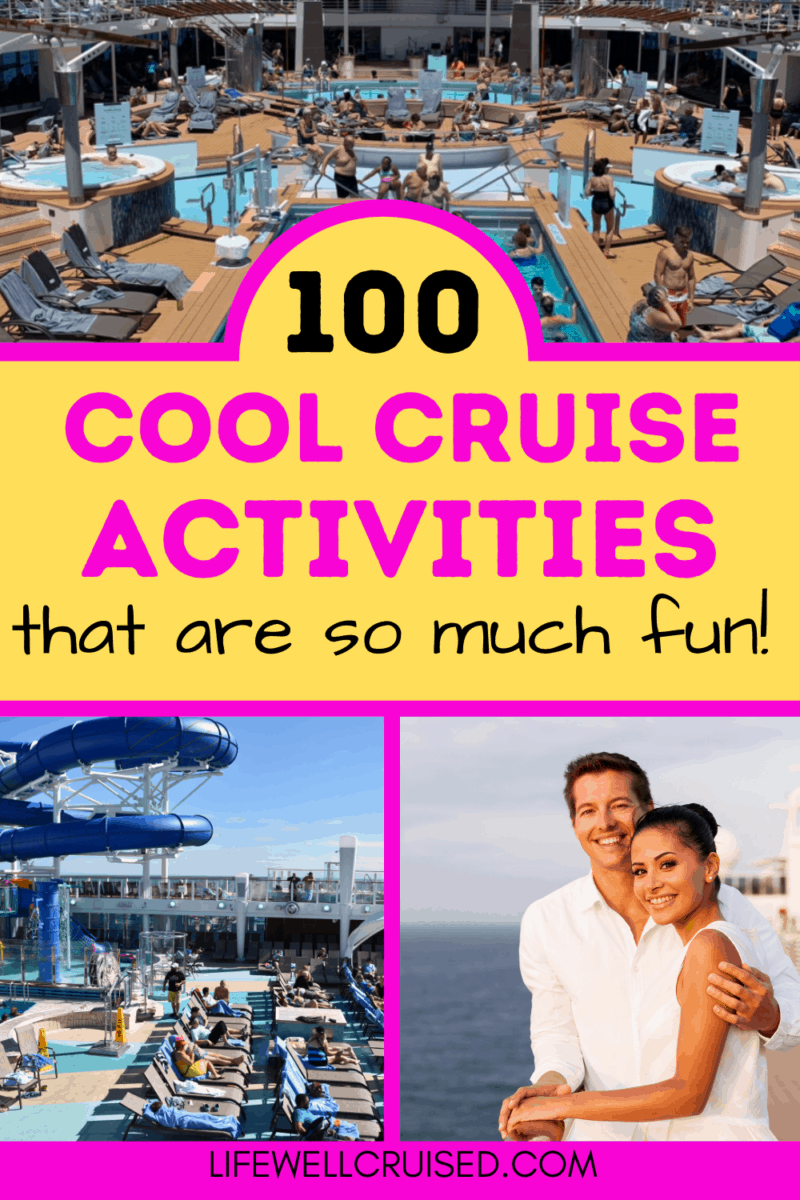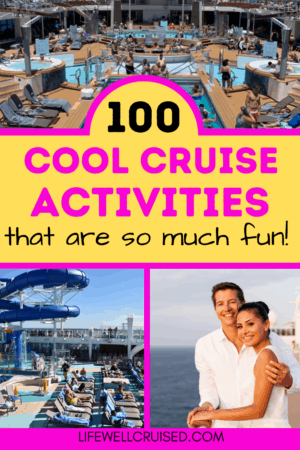 There's just so much to do on a cruise, and some of it is simple fun.
69. Table Tennis
Play a game of ping pong with new or old friends.
70. Bean Bag Toss
Often, on a sea day there may be a bean bag toss and other games set up near the pool.
71. Shuffle board
Shuffle board can be found on the promenade deck and sometimes on the sports deck of the cruise ship.
72. Giant Checkers Game
Giant chess or checkers games can often be found near the kid's club, pool or on the promenade deck.
73. Deck Parties
There's something about being on a Caribbean cruise and dancing as the live band plays under the stars during a deck party!
74. Chocolate Buffet
While in the past midnight buffets were common, these days you can often find a decadent chocolate buffet being served.
75. Line Dancing
Do the Cha-Cha slide and other line dances on a cruise by the pool at Sailaway or at other times and venues during your cruise.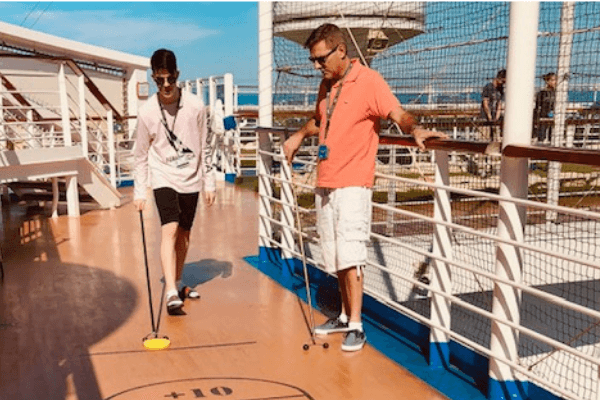 More Things to Do on a Cruise
There are so many great things to do on a cruise, from planned activities and events to simple and enjoyable ways to pass the time. Here a few more ideas to get you dreaming of your next cruise vacation!
76. Cooking Demonstration
Learn to make one of your favorite cruise ship dishes by attending a cooking demonstration.
77. Galley Tour
Often a free galley tour is offered where you can see the behind the scenes of where and how the cruise ship food is prepared for thousands of cruisers.
78. Catch a Sunset on the Magic Carpet
The Celebrity Edge, Apex and Beyond all have the incredible Magic Carpet. In the evening, make sure to check out the sunset for a most unique cruise experience.
79. Go on a Shore Excursion
Plan shore excursions for your port days. It's a great way to visit and have a taste of a destination.
80. Musical Tributes
See Beatlemania or other musical tributes on a cruise.
81. Guest Speakers
When we think of cruise activities, many of us think of waterslides and belly flop contests. However, many cruise ships have more cerebral activities available.
On many cruise ships, you'll find a broad range of interesting guest speakers. You may encounter authors, actors, astronauts, race car drivers and more.
82. Poolside Activities
On many cruise ships, you'll be able to participate or watch pool games and antics. Water volleyball, sexy leg contests, belly flop contests and more may just on schedule at the main pool. Keep in mind that different cruise lines offer different activities and a different experience.
If you do need advice on the best cruise line for you, read this next: Best Way to Book a Cruise: Travel Agent or Direct with the Cruise Line
83. Rock climbing
Rock climbing on a cruise ship? Why not?
84. Karaoke
If you love karaoke, make sure to sign up for awesome Karaoke contests. It's fun to watch too if you'e looking for something different to do in the evening on your cruise.
85. Go to a Robot Bar
As crazy as it sounds, MSC Cruises and Royal Caribbean both have ships with robot bartenders.
86. Walk on the Promenade Deck
The promenade deck wraps around the entire cruise ship and is the best place to get a 360 degree ocean view!
87. Shop on Board
You can enjoy a little retail therapy by shopping in the duty free shops. You'll find perfume and make up, jewelry and watches, clothing and cruise wear, souvenir items and more.
88. Watch Shows in your Cabin
If you're tired and don't make it to the shows in the evening, many will be shown on your stateroom TV and you can view them at another time.
89. Order Room Service
Breakfast, snacks or a meal – you may enjoy ordering room service to your cabin.
Cruise tip: Check with your cruise line to see if and when there are additional charges. Room service may or may not be included in your cruise.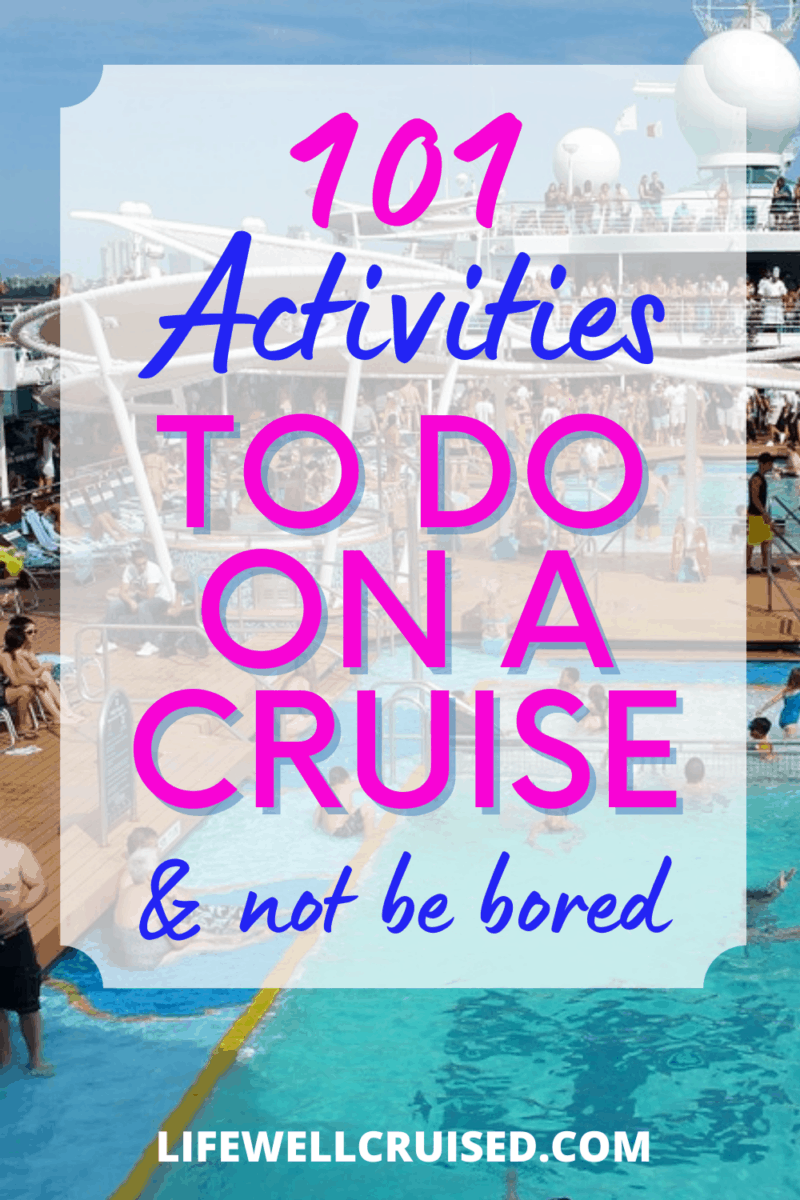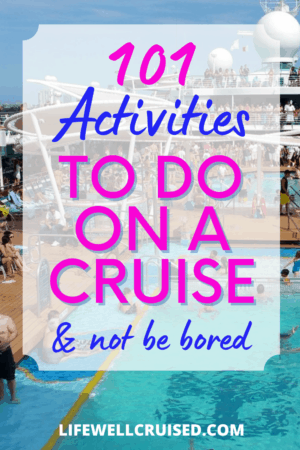 90. Learn a New Skill
Origami, napkin folding, water color painting, cake decorating… the list goes on and on. While you're on a cruise, you can sign up to learn new and interesting skills.
91. Drink Making Classes
Are you interested in learning more about scotch, wine or even bartending and making certain drinks? On many cruise ships, you can participate in tastings as well as workshops, so you can learn how to make the perfect cocktail. Of course, a little sampling of the concoctions is part of the experience.
91. Get Acupuncture
Most cruise lines have an acupuncturist on board. You can often do a ship tour on the first day of your cruise, and get more information. Often, there will be specials and promotions, so keep an eye on this.
92. Go to the Chiropractor
While not all cruise lines have a Chiropractor on board, Cunard's Canyon Ranch SpaClub on Queen Mary 2 enjoys a great reputation. As with other services and treatments, it's a good idea to research what is offered before you go on your cruise.
93. Get Cosmetic and "Medi-Spa" Treatments
Cruise lines have specialists who can do a wide variety of cosmetic treatments, from teeth whitening to botox and dermal fillers. Check your cruise line's spa services before you go, to see what treatments are offered.
94. Basketball
The sports courts on many newer ships are amazing. Check the daily planner for when you can join a scheduled game, or shoot some hoops on your own.
95. Captain's Night
As much as cruise ships have incredible and innovative activities onboard, their are certain cruise traditions that are maintained on many cruise lines. Unless you're cruising on NCL, you can expect an elegant Captain's Night or Formal Night.
While not obligatory, if you participate in formal night, expect to dress up more than other evenings and enjoy lobster, surf and turf or another special meal in the main dining room.
96. White Party
Some cruise lines might have a White Hot Party or a Glow Party, so plan on bringing one white outfit just in case. If you're cruising on Norwegian, this has been the case for years. You can see suggestions of what to wear on a Freestyle cruise here.
97. Take Photos
Take photos on your own or get a professional photo or package with the ship's photographers. You'll have amazing photos and great memories!
98. Sleep In
You might just find that you have the best sleep ever on a cruise. Whether it's the luxury beds or the lull of the cruise ship, many cruisers say they just love sleeping on a cruise!
99. Cruise Food
Whether you want to eat healthy or indulge in some of the most decadent foods, eating is an activity unto itself on a cruise!
100. Bridge Tour
While this isn't included with your cruise fare, if you're interested in what happens on the cruise ship bridge you won't be disappointed with this behind the scenes cruise ship tour.
101. Book Another Cruise
Don't head home on debarkation day without having another cruise to look forward to. Booking your next cruise onboard, or simply placing a deposit on a future cruise with date unknown is a great way to save money. Plus, you'll avoid some of the inevitable post-cruise blues.
READ NEXT – Popular and Related Posts:
Final Thoughts: 101 Awesome Things to Do on a Cruise
If you've been wondering what to do on your cruise vacation, I hope this list of more than 100 cruise ship activities has given you some good ideas. Cruise vacations really do have something for everyone. Whether you're cruising with kids and need a lot of fun activities, or planning a romantic cruise and are looking for a luxurious spa experience, you can have it on a cruise!
What type of cruise ship activities do you like best? Please let me know your favorite things to do on a cruise in the comments below.
Happy Cruising!
Ilana
If you found this article helpful, please pass it along. Please feel free to share on Facebook or PIN to your favorite Pinterest board (share buttons at the top). Thanks so much!
Let's connect:
Follow me on Facebook at Life Well Cruised
Follow me on YouTube at Life Well Cruised
Follow me on Pinterest at Life Well Cruised
Follow me on Instagram at Life Well Cruised