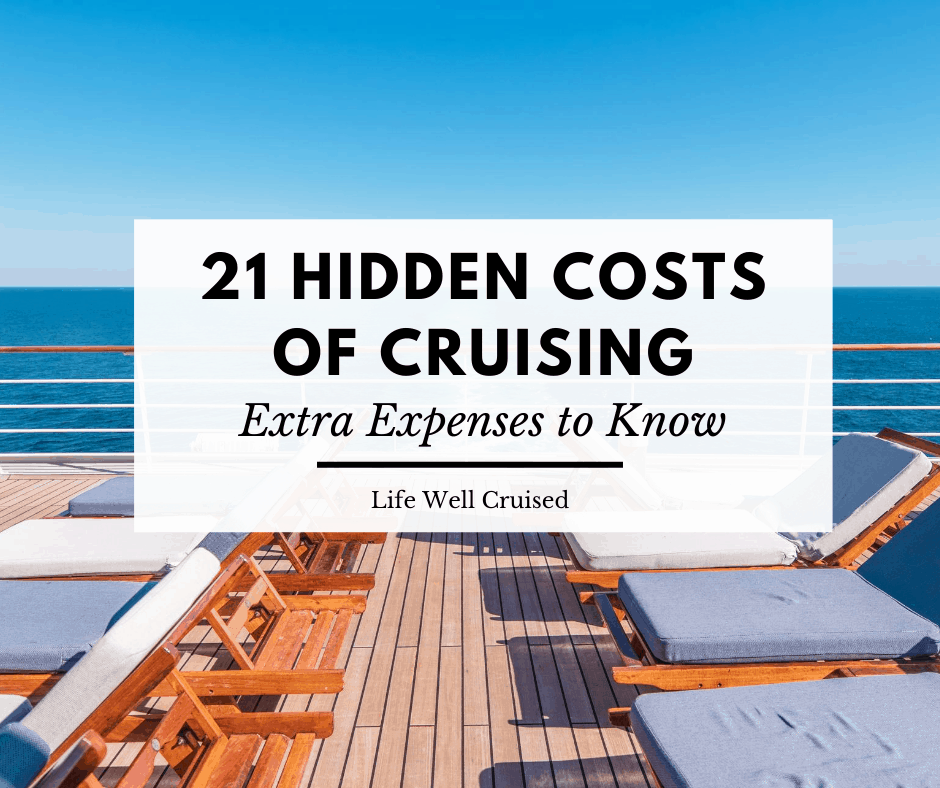 Extra Expenses on a Cruise that Are Often Overlooked
Cruises are well known for being a great value. However, unless you're cruising with a luxury line, cruise vacations aren't all-inclusive. This means that there will be some surprise or even some extra "hidden costs" of cruising.
These fees and extra expenses, can greatly affect how much your cruise will cost. Beyond a flight to get to your cruise ship, things like port fees, taxes, gratuities, excursions, beverages and even some onboard activities can add up quickly.
There's nothing worse than getting a HUGE unexpected bill at the end of your cruise, as you're almost ready to disembark. We've been with friends when this happened, and it wasn't pretty!
In this post, I'll share both common and lesser known extra expenses on a cruise. This way, you'll avoid nasty surprises that will blow your cruise budget!
Let's start briefly with how much a cruise costs and what's included in the cruise fare.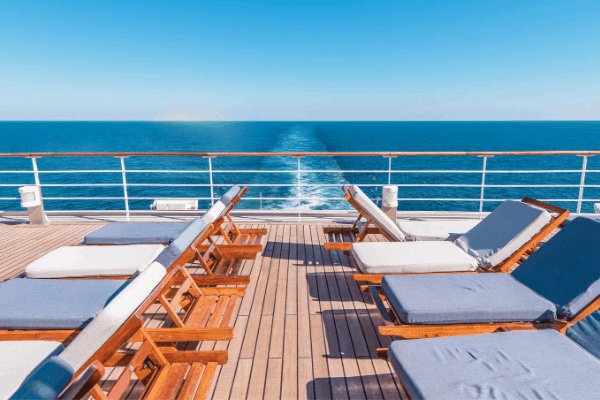 How Much Does an Average Cruise Cost?
The base cost of a cruise can vary based on:
Cruise line and cruise ship (newer ships cost more)
Itinerary
Season (shoulder season is cheapest)
Cabin type (inside is cheapest)
How many people are in your cabin
If you have "perks" included – a newer option for cruisers available on some cruise lines
Past passenger status and special rates
Even though according to cruise industry market reports, the average cost of a cruise is approximately $160 USD per person/per day for cruise fare or ticket price, the above factors can bring the fare down or up.
We've seen costs of repositioning cruises for as low as $50 a day, while an Alaskan cruise may average $200 a day. Caribbean cruises tend to have the most variety and affordable options, with many cruises selling for $70-$100 a day.
The advertised pricing will always be for the least expensive cabin available, usually an interior stateroom.
As you can see, there are many factors that determine the price of a cruise, even before we add on flights and any extra expenses.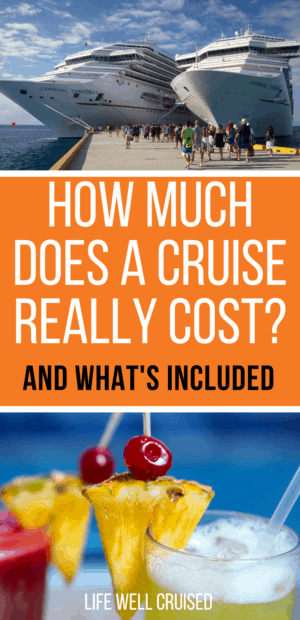 Hidden Costs and Extra Charges on Cruises
What else, on top of cruise fare and flights, can you expect to add on to the total price of a cruise?
Rather than simply listing the extra expenses to be aware of, I'll include a few tips and tricks that can be helpful if you do want to save in a few places.
1. Taxes
Most of the time, the taxes on your cruise will be hidden and not seen at first look. Always check the fine print in the advertisements from cruise lines including Carnival, Norwegian Cruise Line, Royal Caribbean or your favorite brand.
You may need to go all the way through the booking to find the taxes at the end!
The same thing will often apply to large online travel websites and agencies, so when comparing prices, do make sure all taxes are inluded.
2. Port fees
For the last several year, the port fees are included in your cruise fare. For this reason, I don't consider this to be a hidden fee of cruising. Although you certainly are paying them, they aren't optional and there's no way to get around it.
3. Flights
Unless you have a promotion or book as a package, your flights will be extra. You may want to check out cruise line air options, which have greatly improved over the last couple of years.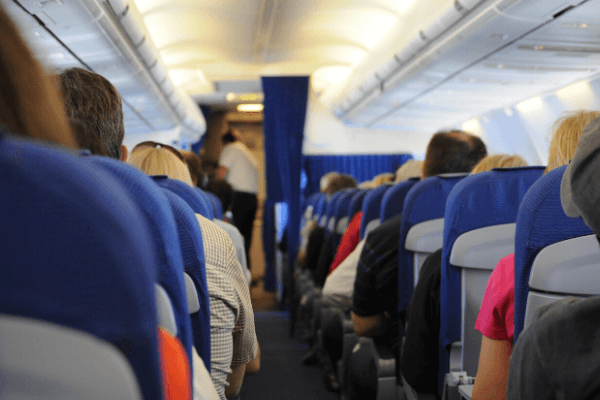 4. Pre or Post Cruise Hotel Stays
Don't forget to budget for a hotel stay before your cruise, or even after. It can cost about $200 a night or more for a one night hotel stay in a major city, so this adds to the cost of your cruise.
Whether you cruise out of South Florida and want to stay and visit Miami, or you want to visit Rome before your Mediterranean cruise, it's worth it!
To reduce the cost of hotels, consider using hotel aggregator or discount websites like Priceline and Hotwire. For longer stays, consider an AirBnb for great values.
5. Ship transfers or taxis
The cost of a transfer or taxi from your airport or hotel to the cruise port will vary depending on the distance from the cruise port.
Pro Tip: When booking a hotel, see if they offer a free or inexpensive shuttle to the cruise port.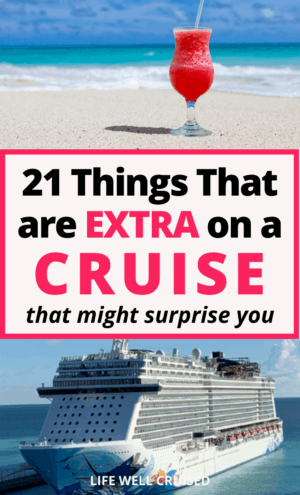 6. Gratuities for the ship's crew
All major cruise lines will charge a daily gratuity fee or service charge to your stateroom account. Although this can vary slightly, most cruise lines have set the daily gratuity to between $13-20 USD per person/per day, depending on your cabin class.
While most cruise lines allow you to request a removal of gratuities, this isn't recommended. You'll see how the crew work really hard cleaning and making up your cabin twice a day, serving you in the dining room, buffet and poolside grills.
If you do have a complaint on a cruise about the service, it's best to bring it to the attention of guest services so it can be rectified during your vacation.
Pro Tip: You may want to prepay your gratuities so you don't have to think about this once on your cruise. Read more about Tipping HERE.
7. Shore excursions
When you get to each cruise port, you'll want to budget some money for ship excursions or local guides and tours.
Shore excursions can be pricey, however it's always a good idea to research and compare ahead of time. You can also decide which cruise port requires an organized excursion, and where you can easily hop on a cab to a beach or walk around the town.
On a Caribbean cruise, shore excursions are typically about $50-100 per person.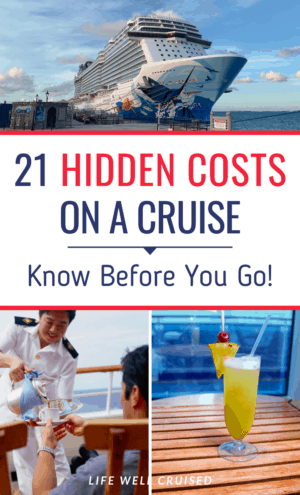 Many beverages are additional on a cruise
8. Alcoholic beverages, soft drinks and water bottles
This is where the expenses on a cruise can really add up. Cocktails and other alcoholic drinks cost about $10-14 each.
Soft drinks and even water bottles are extra as well.
However, if you're wondering what you can drink, there will be juice, fruit drinks and safe "tap" water available. You'll also be able to have coffee or tea.
If you think this will add up for you, do take a look at the cruise line beverage packages as in some cases, this is the best value and will save you money at the end of the day.
Tip: Check out any promotions or perks where a beverage package is offered. Many cruisers enjoy Norwegian's Free at Sea, Celebrity's perks promotions, and Princess Cruises "Princess Plus" option, where a beverage package is included with the cost of the cruise.
9. Specialty coffee and tea
Unless you're on a luxury cruise, specialty coffee like a cappuccino, latte or Affogato (my favorite at Celebrity's Cafe Al Bacio) will have an extra charge.
Specialty coffees range in price from about $3-6 each, however coffee packages are available on most cruise lines and are a pretty good value.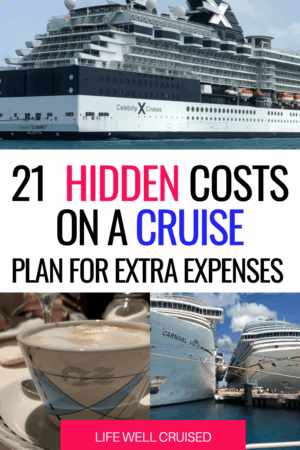 Optional expenses on a cruise vacation
The following expenses are optional, and whether you spend on these "extras" or not really depends on what you'll enjoy.
That said, cruise lines make a lot of money from cruise passengers who do spend on these things on a cruise. Despite cruise lines"pushing" specialty dining and other "pay to play" activities, there is a lot available and included on a cruise.
Don't feel pressured to blow your budget – instead first check what is included and available, and pay extra only for what really matters to you.
10. Photos and photo packages
Personally, I find the professional photos reasonable for what you get. After all, when do we go to a photo studio at home?
Photos are about $20 each, while packages may start at about $100 and go up from there.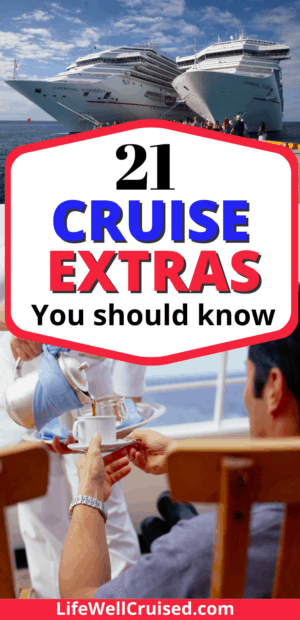 11. Premium or Specialty dining
The main dining room and buffets are included on your cruise, but if you want a special and more intimate dining experience, check out the specialty restaurants onboard.
The average cost ranges from $25-50 per person, depending on the restaurant and cruise line.
12. Spa treatments
Spa treatments, massages, and hair and nail salon appointments are available. You may even want to have tooth whitening or an anti aging treatment done while on board, at an additional cost of course.
Tip: One way to save on any of these options is to look out for port day discounts.
13. Fitness classes (varies)
The fitness center is included on your cruise, and often there are some free classes as well. However, often yoga, pilates and spinning will have an extra charge of about $10 a class.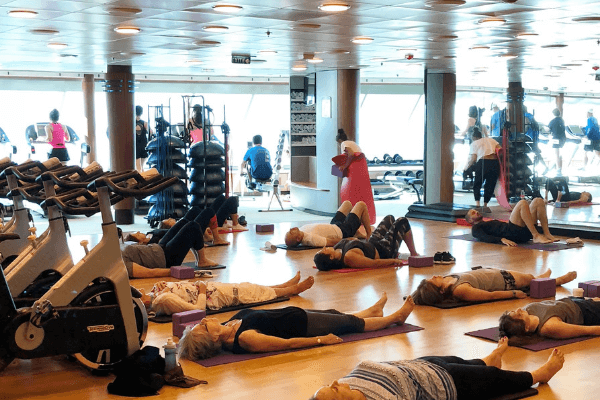 14. Wifi or Internet
Cruise ship internet can be much more expensive than on land, so do watch out for this. make sure to put your phone on airplane mode, and purchase an onboard internet package if you'll need one.
This is getting better than just a few years ago, and internet packages are now faster and less expensive than before.
As an example, Princess Cruises Medallion Net is about $10 a day (or less) for unlimited usage. Do check the terms and conditions and purchase on the first day of your cruise or before.
15. BINGO
Do you love Bingo on a sea day? So many cruisers do. If you enjoy this, check out the specials on multi cards.
16. Casino
One of the most popular things to do on a cruise ship is to play the slots and other casino games. This is a personal decision, but of course only budget what you can afford to lose ;-).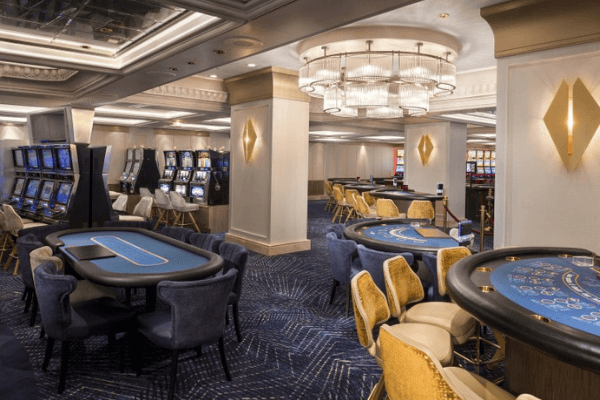 17. Meals and drinks in port and pre/post cruise
While your meals and snacks are included on your cruise, you aren't able to bring food off the ship.
It's a good idea to keep some cash with you for a light meal or snack, while you're in a cruise port. You may want to budget $20 to $50 a person depending on the port and your tastes and preferences.
18. Onboard shopping
Shopping on a cruise ship is full of temptations. From duty free liqueur, designer handbags and even higher end jewelry, you might want to do a little "gift" shopping, even for yourself.
Something to note is that on the last sea day, there will often be a "sale" and this can be a good time to pick up some souvenir t-shirts or other items.
Pro tip: 11 Best Duty-Free Shopping Deals on a Cruise Ship
19. Activities on the cruise ship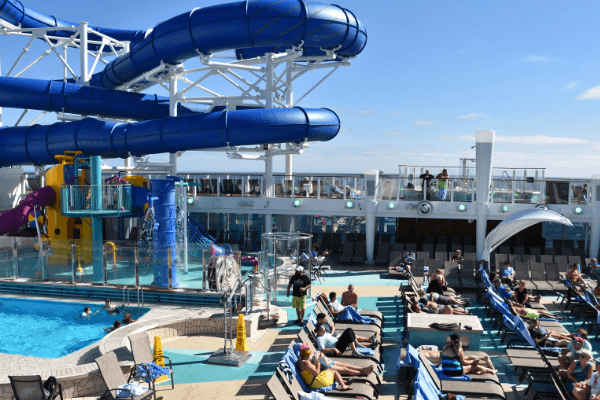 I saved this to the end, as most entertainment and activities are included on a cruise. This includes Broadway and Vegas style shows, comedians and the kid's club.
However, on some cruise ships there are some activities that have a nominal fee. As an example, the race track on Norwegian Joy costs $15 per person.
You may also have additional charges for room service and for child care services after 10 pm. Please verify details for your specific ship and cruise line.
Pro Tip: 27 Best Tips – How to Save Money on a Cruise
20. Travel insurance
Travel insurance for a cruise might be "optional", but it shouldn't be. The fact is, if you need medical care including air lifting from the cruise ship or hospitalization, the costs can be astronomical. Please look into travel insurance or speak with your travel advisor for the best options for you.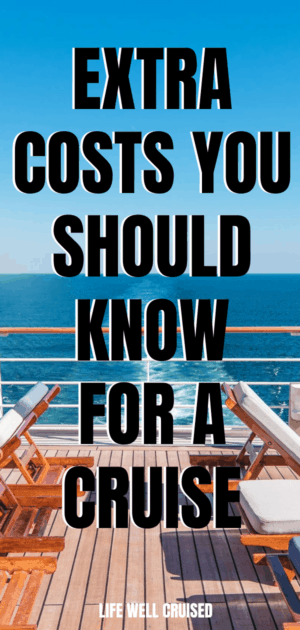 21. Cruise outfits, luggage and cruise essentials
While not a direct cruise expense, I've found that we tend to spend some (lots of) money "getting ready" for our cruises. If you have a cruise planned, try picking up a few outfits in the months ahead as you see them.
It's also a good idea to have a good light set of luggage and some cruise travel accessories. You can also buy these as you go, and of course only buy the "essentials" you'd actually use.
Here's a list of 25 popular cruise items recommended by cruisers, that you may want to read and save (to your favorite Pinterest board).
Read next:
25+ Most Recommended Amazon Items to Bring on a cruise
How to Pack Light for a Cruise
You may also enjoy:
27 Cruise Travel Hacks Repeat Cruisers Swear By
Final thoughts: 21 Hidden Costs of Cruising – How Much Does a Cruise Really Cost?
Even though cruising is still a great value, knowing what extra costs to expect and plan for will avoid surprises. By researching in advance, you'll be able to budget for your cruise ports, as well as what extra expenses you'd enjoy on the cruise ship.
A final tip is to make sure that you're signed up to receive your cruise line's emails. Often, beverage packages, shore excursions and other cruise purchases will be discounted if you buy them online before your cruise.
I hope these tips and the information is helpful as you plan and get ready for your cruise.
What other "extras" have you encountered on cruise ships or while planning your cruise? Please let me know in the comments below.
Happy cruising!
Ilana
P.S. If you've enjoyed this, please don't keep it to yourself ;-)! Please share it on Facebook or save for later on Pinterest. Thanks so much!
Let's connect:
Follow me on YouTube at Life Well Cruised
Follow me on Facebook at Life Well Cruised
Follow me on Pinterest at Life Well Cruised
Follow me on Instagram at Life Well Cruised