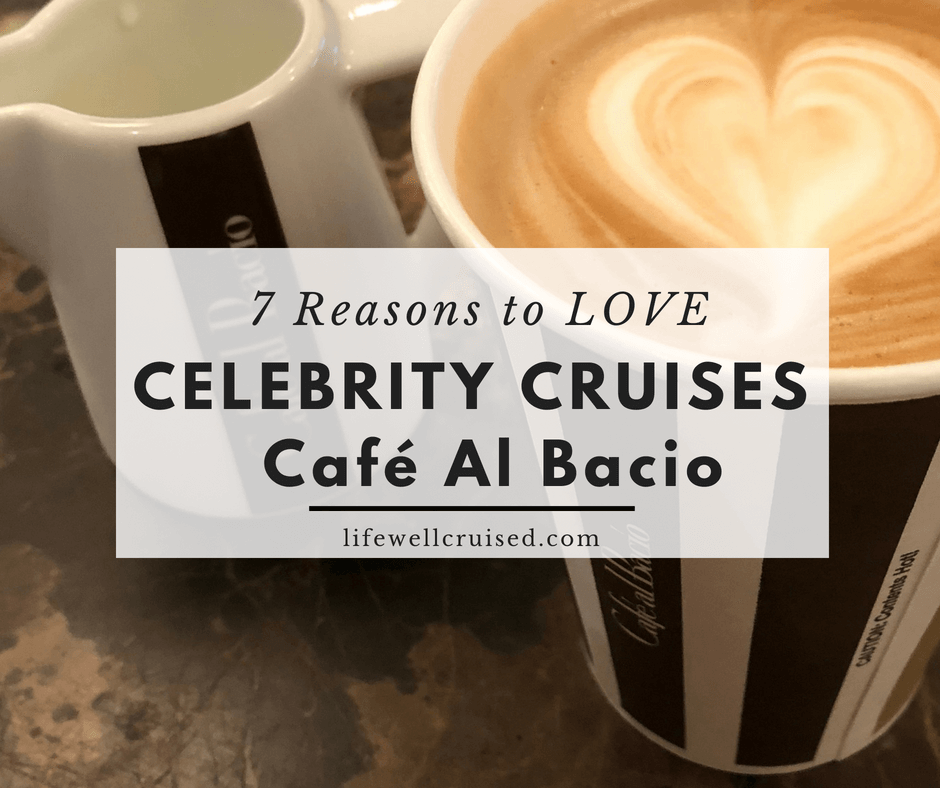 The quality of Celebrity Cruises Cafe Al Bacio is impressive
I recently cruised on the Celebrity Summit to Bermuda, and one of my very favorite places on board was the Café Al Bacio. Café Al Bacio is Celebrity Cruises European inspired Café which serves up gourmet coffees and premium teas alongside complimentary pastries and other sweet treats.
However, Café Al Bacio is more than your average cruise café that serves up "fancy" coffee. The menu is extensive and offers truly unique and inspired coffee creations. All of this is served with many "special touches", which totally compliments the Celebrity Cruise vacation experience.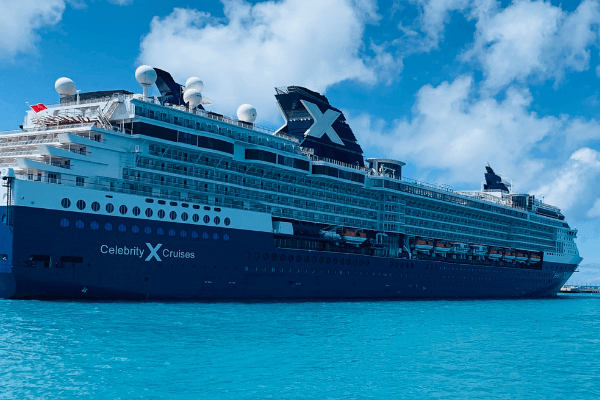 7 reasons you will love Café Al Bacio
Before I list the Top 7 Reasons You Will LOVE Café Al Bacio, I'll let you know something AMAZING! Although there is a fee for the "fancy' coffee and tea (see menus for price list), if you have the Classic Beverage Package, specialty coffee and tea is included. This is a huge bonus and in my opinion, well worth it!
I have included photos of the menus at the end of this post for your viewing pleasure :-)!
1. Café Al Bacio is gorgeous!
Café Al Bacio is a spacious, upscale, yet inviting venue where you will find intimate seating areas for two, as well as small groupings of stately plush high back chairs which seem to invite conversation. The decor is rich and warm, with dark leather banquette seating adding to the ambiance. The atmosphere was always just right for sitting and chatting.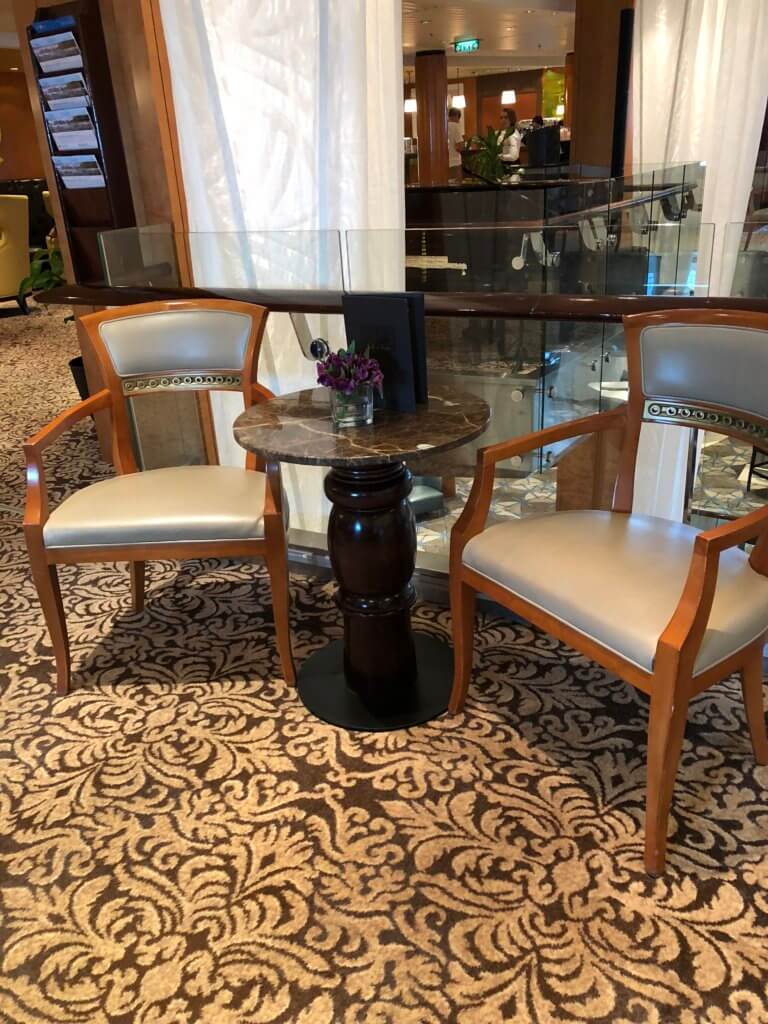 2. Delectable pastries and treats
Pastries and delicious cakes are available throughout the afternoon and evening, while a variety of muffins, pastries and small donuts were offered in the morning. Why not wake up and start the day with a cappuccino and delicious blueberry streusel or a banana walnut muffin? I did this when we had to be out early for an excursion. Yummy. My husband particularly liked the small sugar donuts that he would sometimes have as a "pre-breakfast" snack (something he only does this on a cruise ;-)!
Many evenings, we went to Café Al Bacio after a show and had a slice of cheesecake, small éclair, or red velvet cake (my fave). We enjoyed our favorite coffees, served so elegantly. The dessert choices varied each day and truly were decadent!
Something to note is that there are some gluten-free choices of muffins, cookies and pastries as well as sugar-free choices.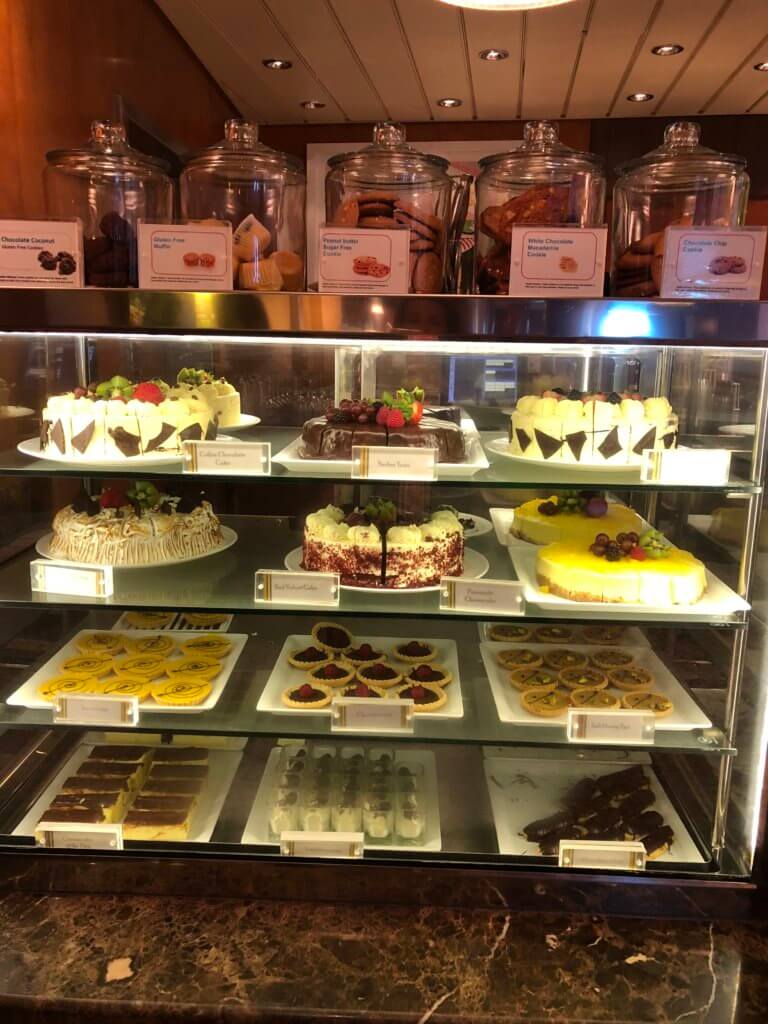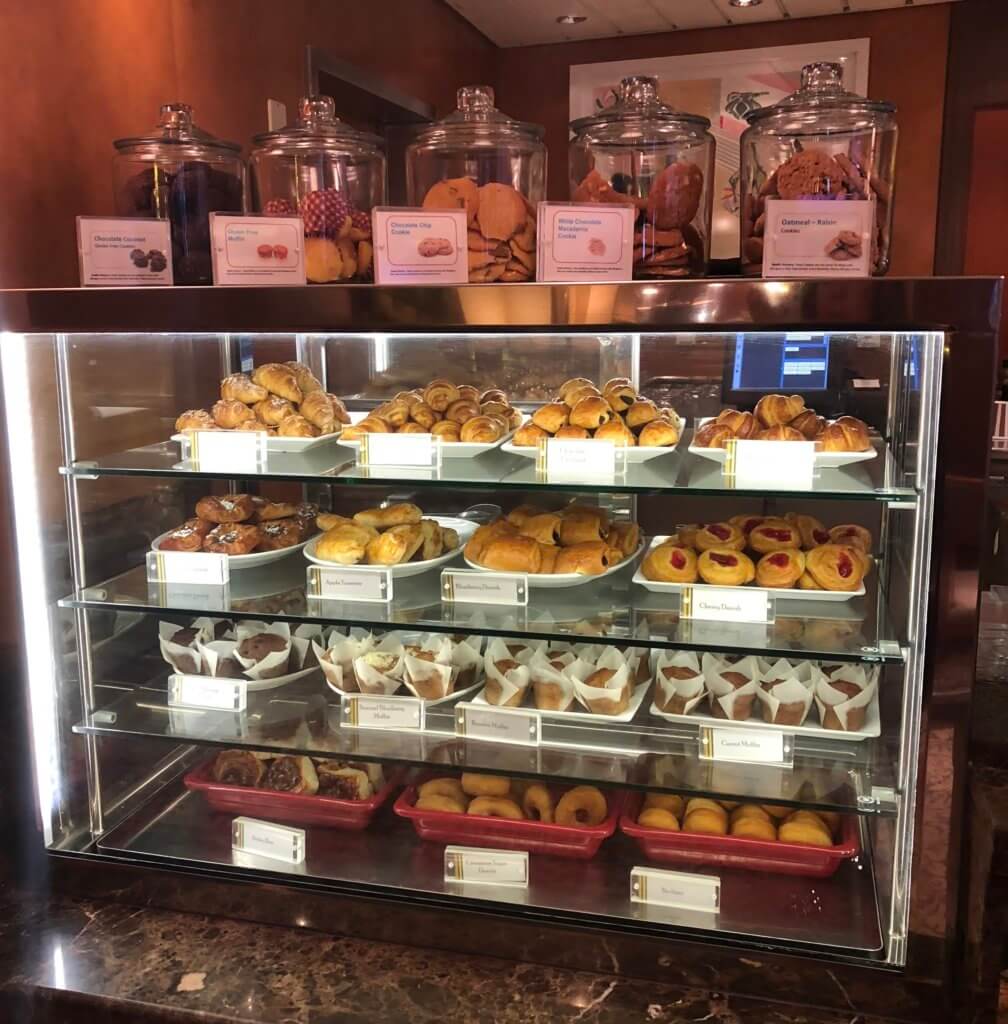 3. Top Quality Delicious Coffee
Cafe Al Bacio serves the top quality Italian brand of coffee, Lavazza, which has been producing premium coffee since 1895.
I love the various coffee creations that rival any popular coffee chain that starts with an S ;-)! Whether you have an espresso (the quintessential Italian coffee), a latte or a cold brew, you are sure to have one of the very best coffees you have ever had! Although I love the cappuccino, my go-to is the Americana, and it was done perfectly every time. I also have a few special favorites, but more on that in number 4.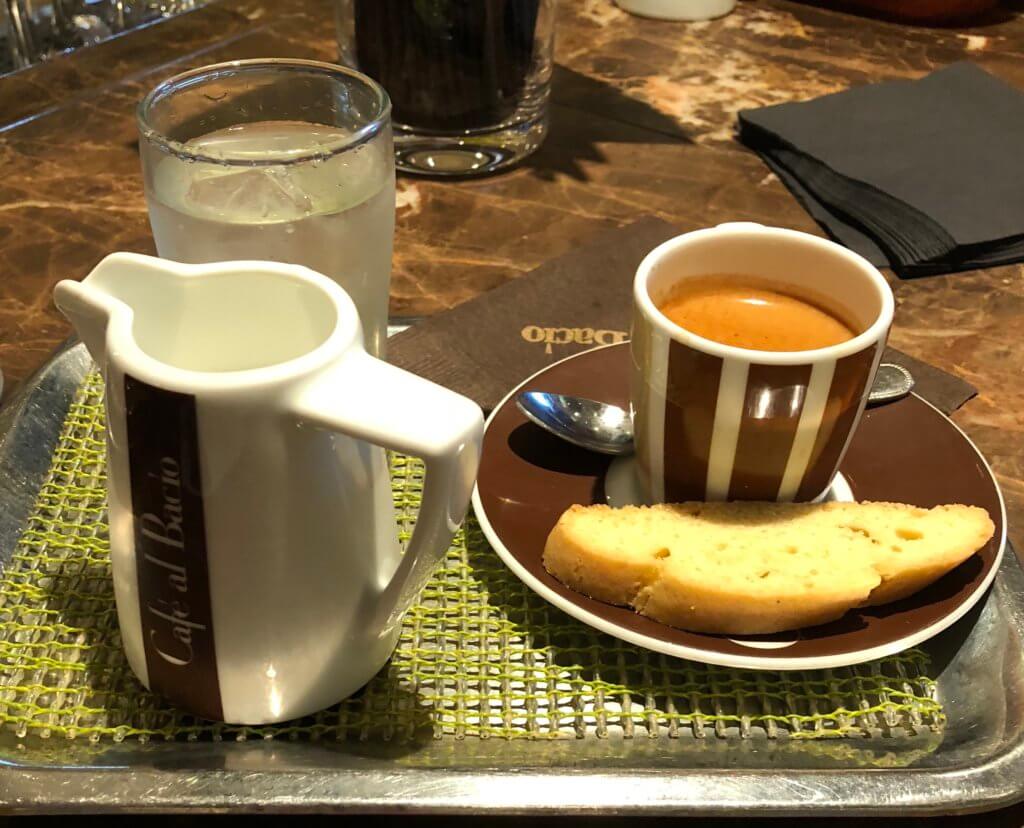 4. Decadent Dessert Coffees
While I am not sure that these coffees can actually be described as dessert coffees, this is how they felt to me. My absolute favorite (the one I actually dream about) is the Affogato, which is espresso poured over a small scoop of vanilla gelato, then drizzled with chocolate and served in a martini glass. Enough said, right?
The IGLU cafe frappé was a favorite of my teen son; the ultimate beverage on a hot cruise day! There were many great ones, so take a look at the menu and give a new one a try.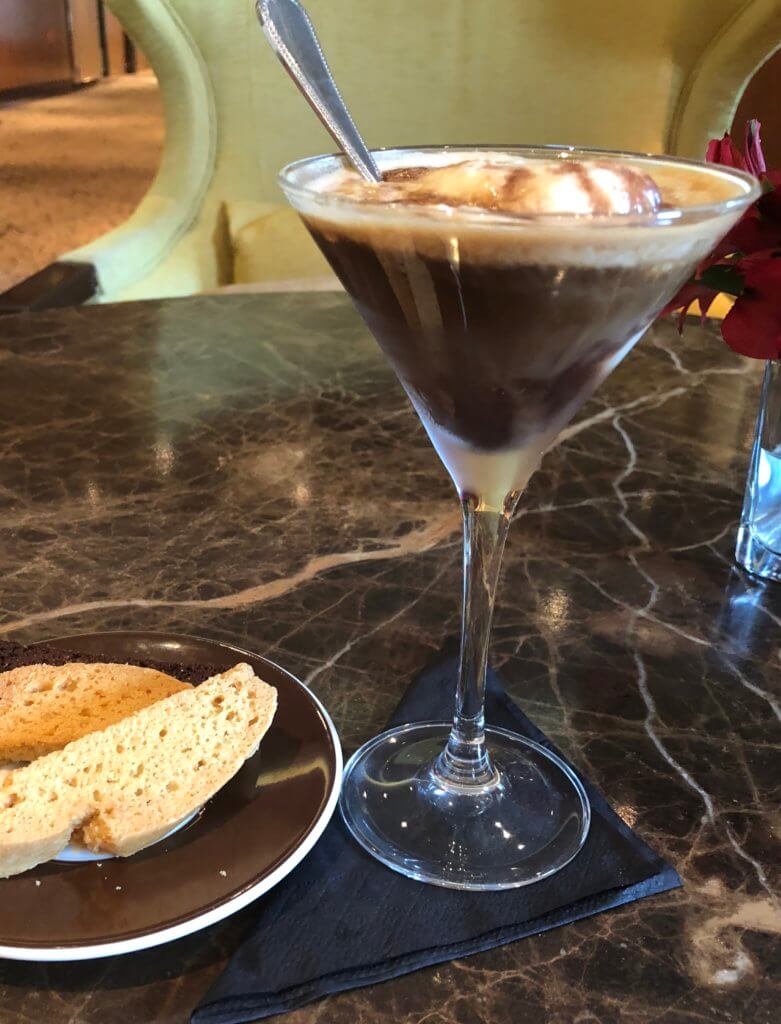 And here is the menu of a few other decadent favorites you must try! The Espresso Melba was a favorite of friends.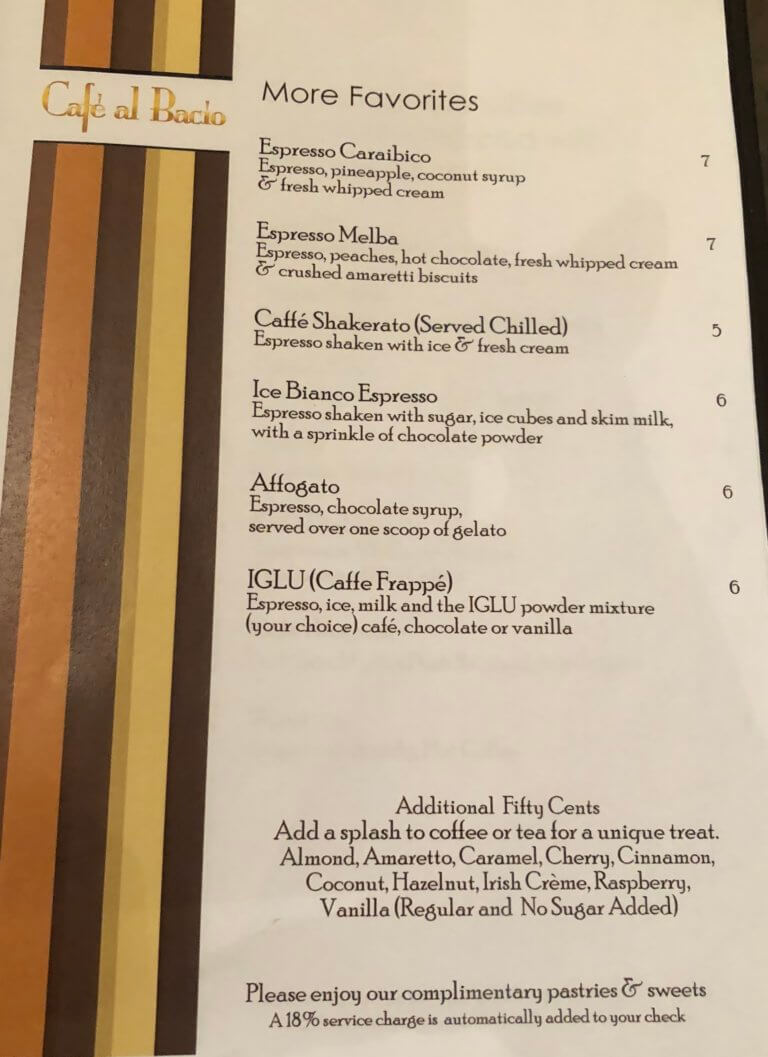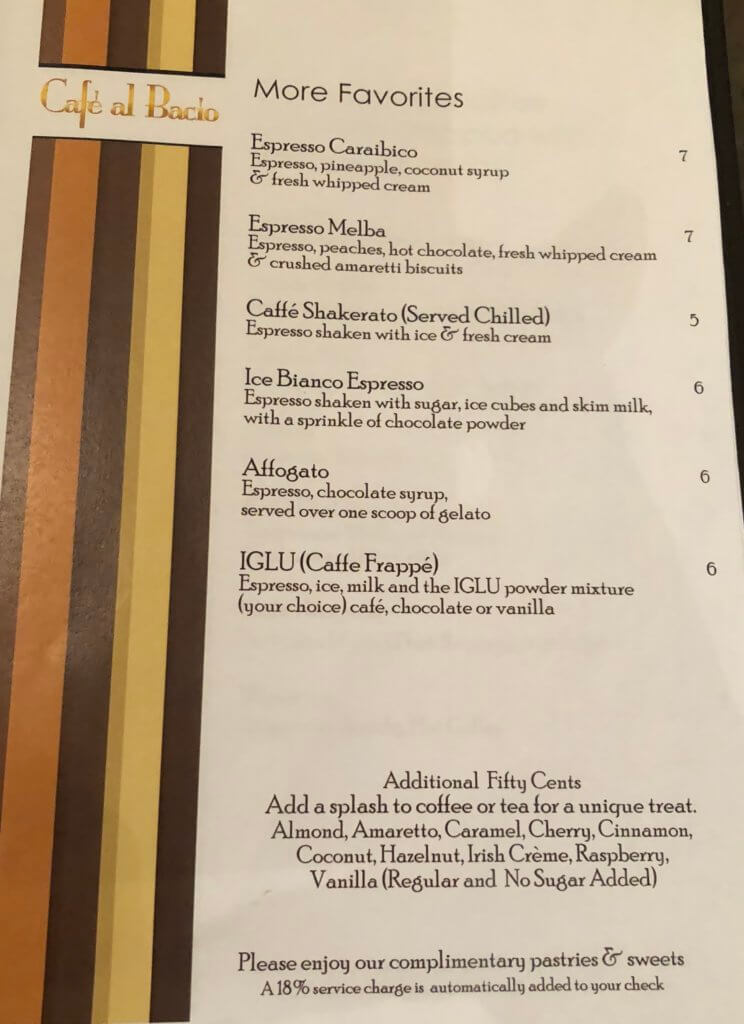 5. Impeccable service
The service is friendly and refined, and never feels hectic or rushed. Whether you sit down and a waitress comes and takes your order (yes, really), or you take your coffee to go, you will have a great experience. We noticed by the end of the cruise, the barristas seemed to know most of the guests preferences. With over 2000 passengers on board, I am truly in awe of how they manage this.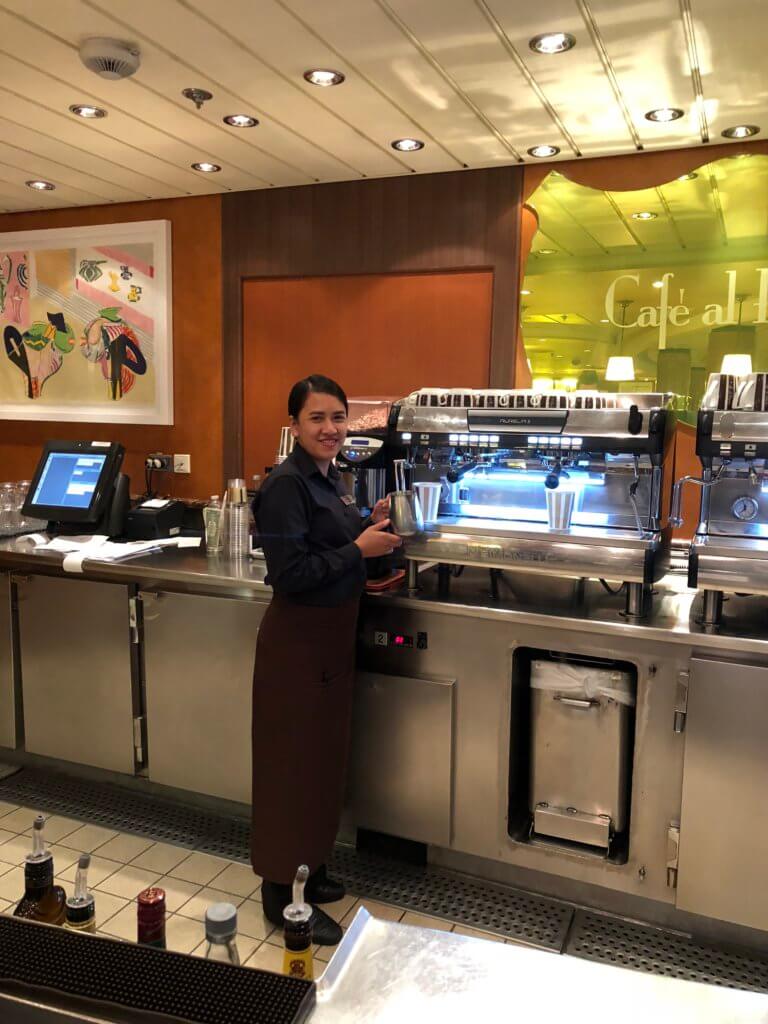 Lovely Coffee Barista who always served perfect coffee with a smile! And YES, this is on a cruise ship!
6. Thoughtful Presentation
Whether we ordered our coffees at Café Al Bacio to our small table or took it "to go", the presentation was so wonderful and just made every cup of coffee taste all the more delicious. Take a look at some of the lovely coffees we enjoyed.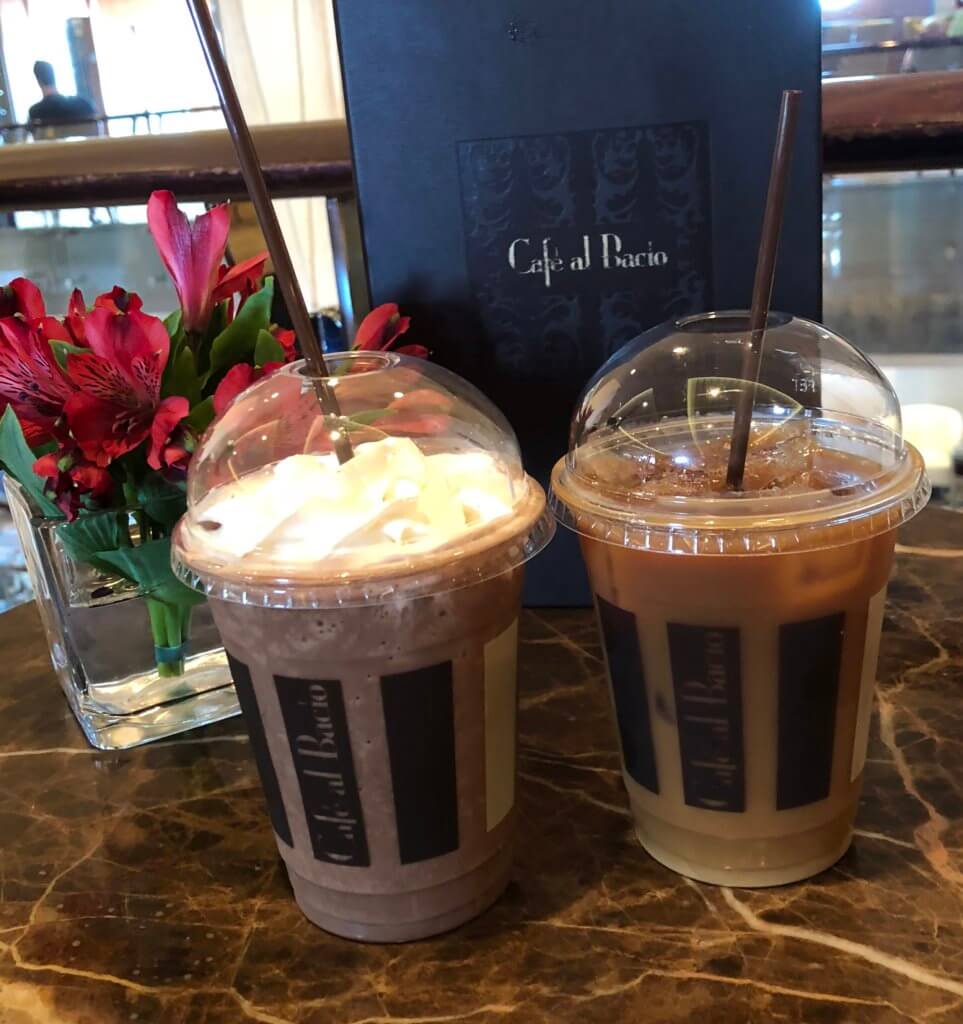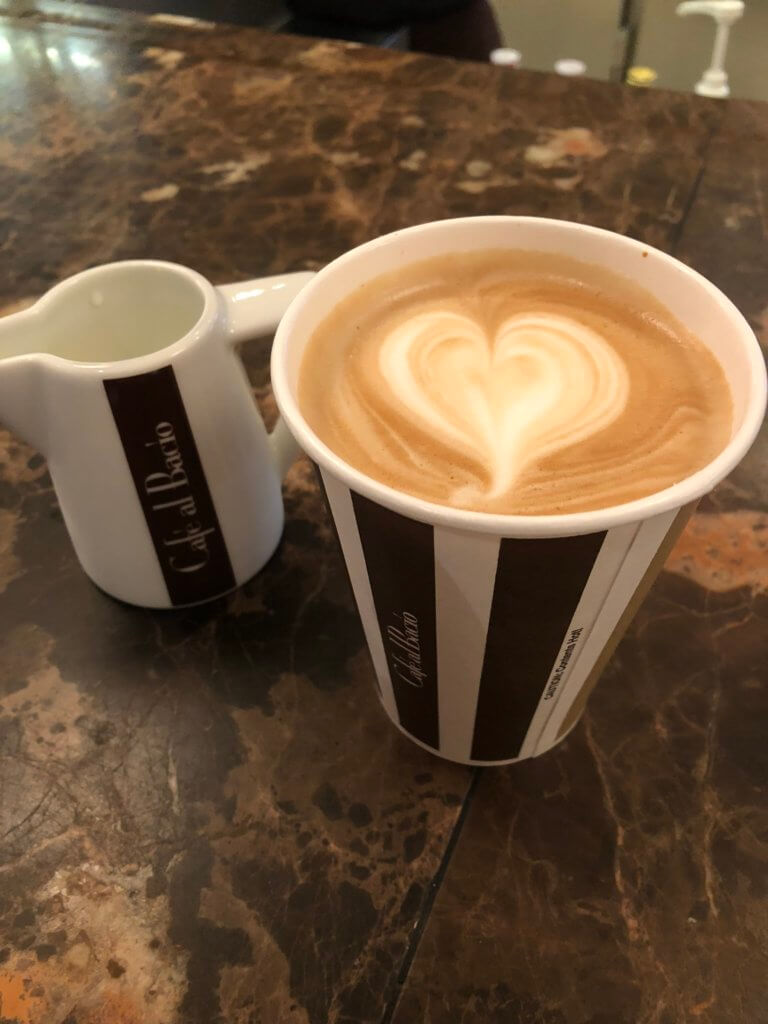 7. Tea and Tisanes
The choice of premium teas, herbal teas and tisanes is extensive. If you are a tea lover, you will find a lot to love at Cafe Al Bacio. I will be the first to tell you, I am a COFFEE LOVER (and martinis), so I did not have any tea on board. However, friends of ours did and they enjoyed the selection and presentation.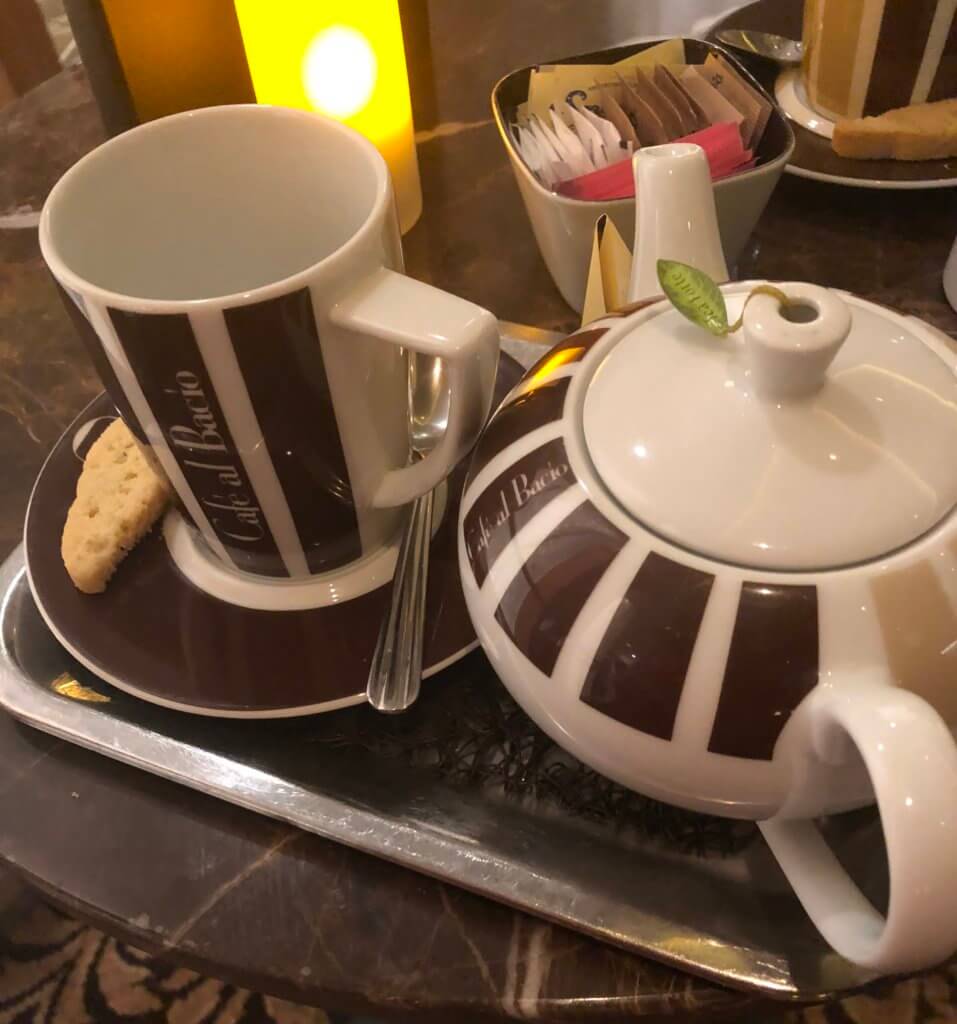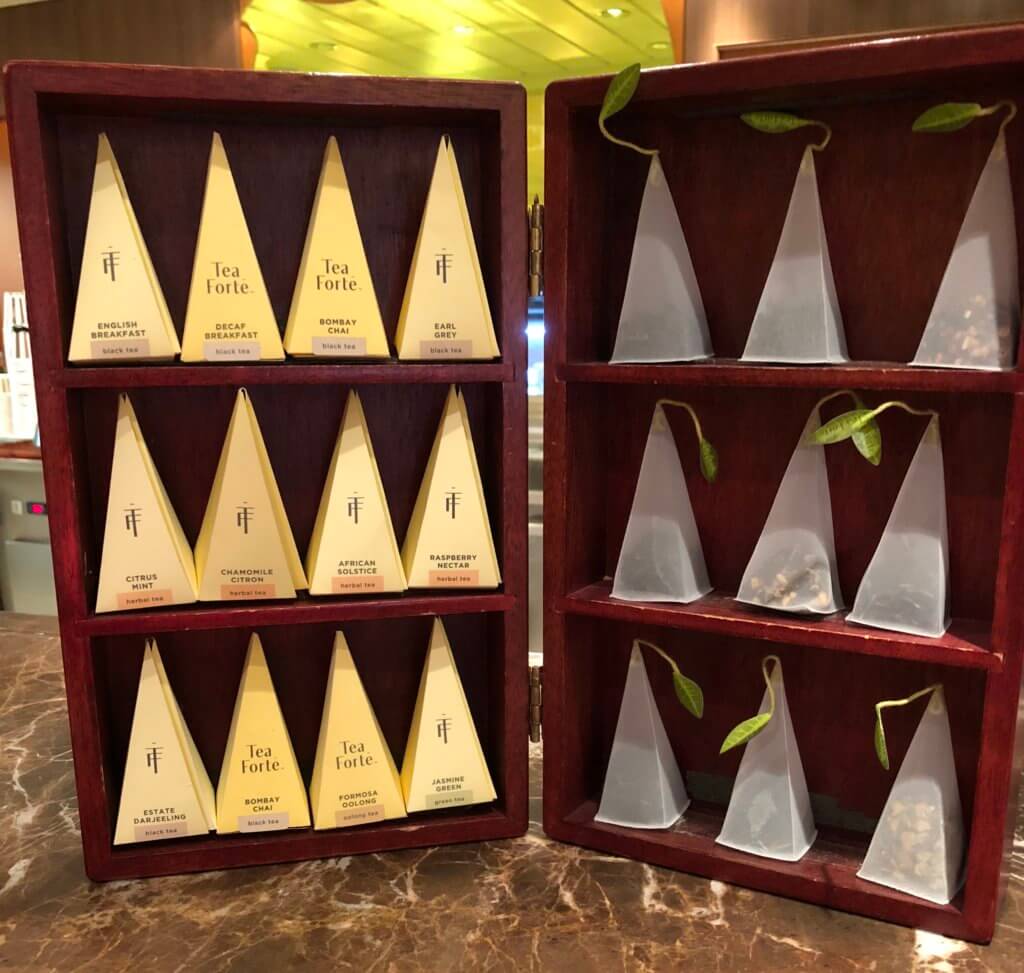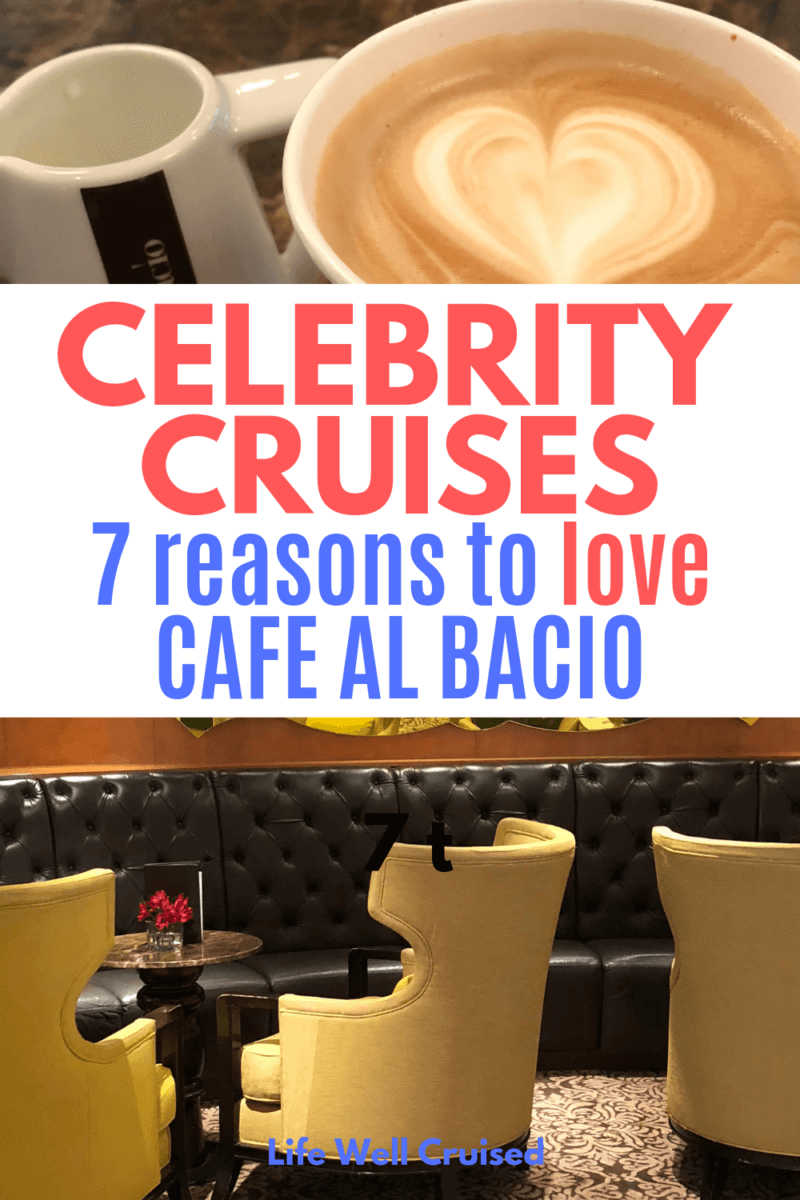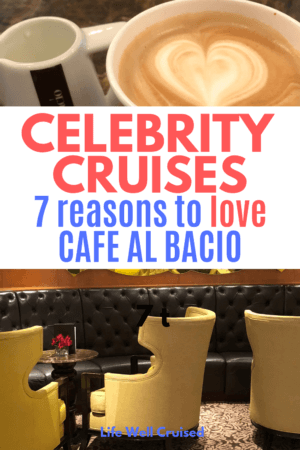 Recap: 7 reasons you will LOVE Café Al Bacio
We really enjoyed our cruise on the Celebrity Summit, and a big part of that enjoyment came from Café Al Bacio. We always felt like we were a little bit spoiled, which is so nice when on vacation. The coffees were excellent and consistently well prepared. The delicious desserts and treats varied from day to day and were a yummy addition to our coffees, whether we sat at Café Al Bacio, or if we took our coffee "to go".
Something to note, if you have the Classic Beverage Package, specialty coffees are included whether in Cafe Al Bacio, or in the dining room. If you are a coffee lover, do consider adding the beverage package or taking this as a perk.
If you've enjoyed reading this, you may enjoy reading an accompanying post inspired by our cruise on the Celebrity Summit 12 Special Touches That Will Make You LOVE Celebrity Cruises.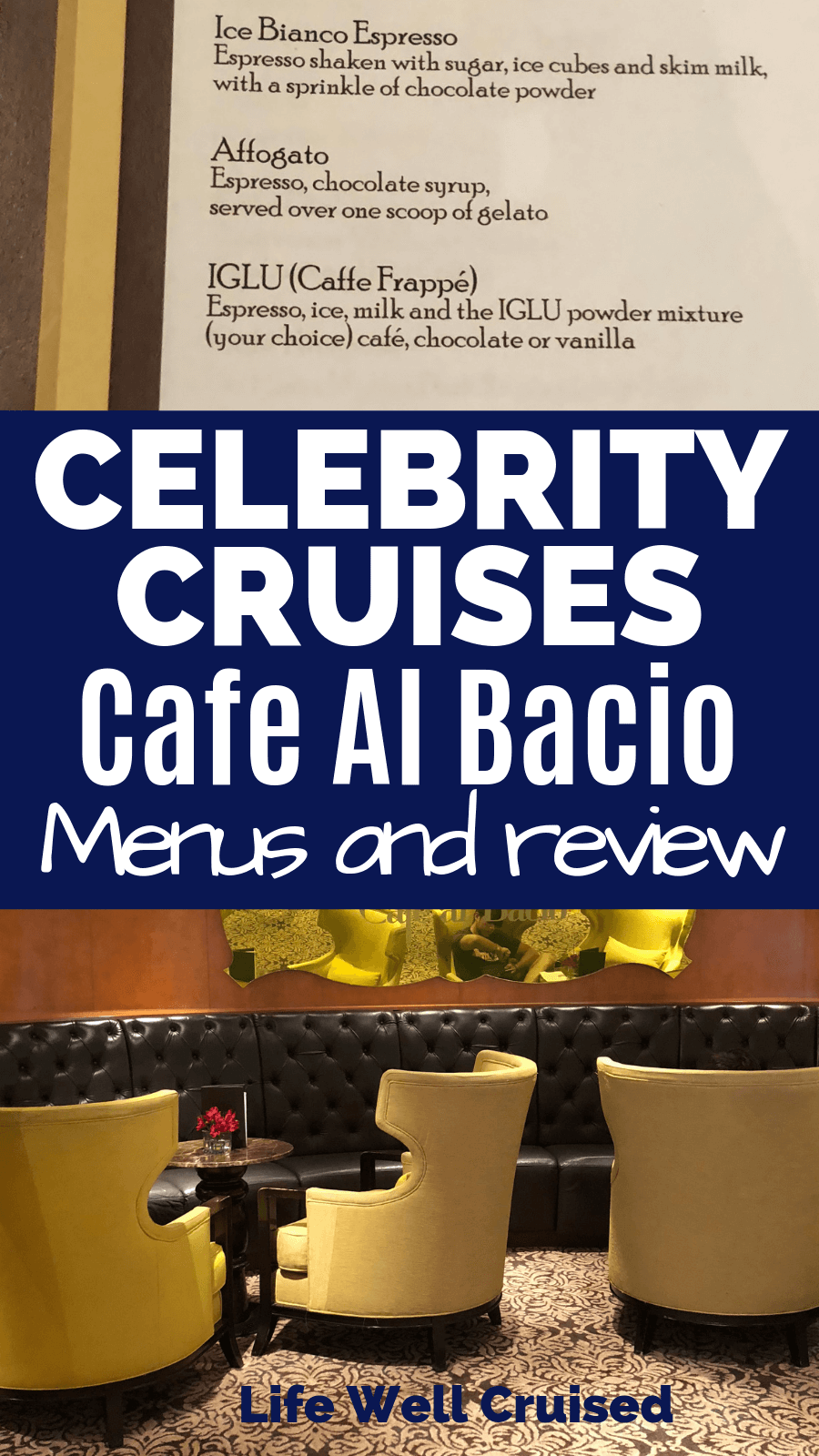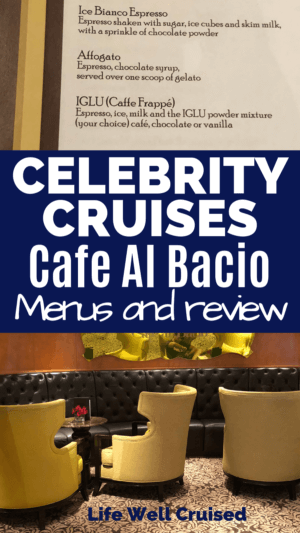 Thanks for taking the time to read about my Celebrity Cruise experience.
If you are wondering about specialty restaurants, read about our dinner experience at Tuscan Grille (spoiler alert – was TOO good!).
What are your thoughts about Café Al Bacio? Do you have a favorite that you just love? Questions? I'm happy to dish the details. Let me know in the comments below.
Happy Cruising!!
Ilana xoxo
P.S. If you've enjoyed this post, please share it with your friends on social media. Thanks so much!
As promised, below are some menu pages from Café Al Bacio.