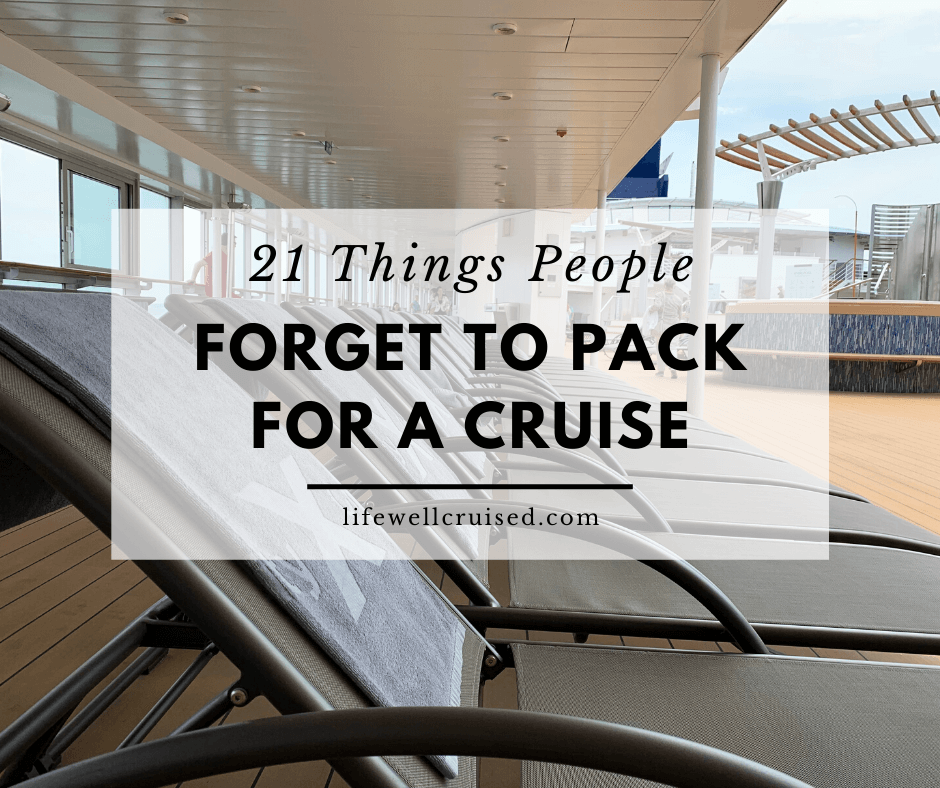 21 Items that People Forget to Bring for a Cruise
If you're going on a cruise, you've likely thought about what to bring and hopefully found a couple of good cruise packing lists that you like.
But, even with the lists, both new and seasoned cruisers have tales to tell about the things they forgot to pack for a cruise, and regretted!
Thinking about and planning for potential seasickness, getting too much sun, and shoes…
Yes, shoes!
Don't worry, I'll explain why, as well as what kind of shoes you may need, to participate in some of the activities on board your cruise ship.
This post contains affiliate links which means if you click and buy that I may make a commission, at no cost to you. Please see my disclosure policy for details.
Don't forget to Pack These Things When Going on a Cruise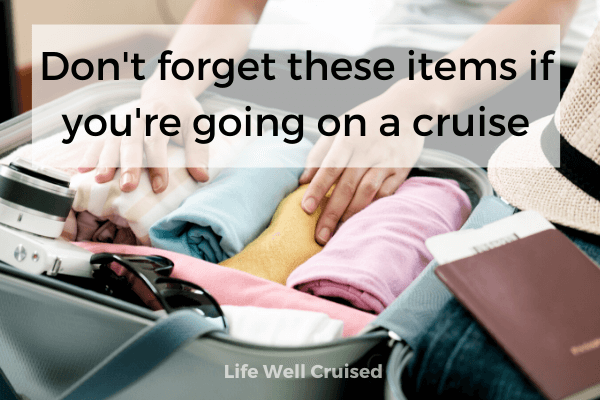 Let's start with the really important items for your cruise, that you really don't want to forget!
1. Passports and Government ID
Super obvious, most people remember to bring their required ID to board. After all, it's a must to be able to even get on a cruise.
However, a mistake that some cruise passengers have made is to actually pack this in their luggage, rather than keeping it on them in a handbag or even a neck passport holder (recommended Amazon link).
This has actually resulted in people being denied boarding, and it happens every year.
A warning – try not to even keep your ID or passport in your cruise carry on bag. As sometimes, we tend to put these down.
Here's what happened to a lady heading to her Caribbean Cruise
This person was taking a cruise transfer from the airport to the cruise ship, and put her carry-on bag down, as she was handing over luggage to the driver of the shuttle.
When she was about to board the shuttle, she realized her carry-on bag was missing. Having been reassured that is must have been put into the coach section of the bus, (along with the luggage of 50 other people), she thought she'd get it when she arrived at the ship.
Sadly for her, it was not. She was unable to board her ship and ultimately missed her cruise.
If you don't have a specific spot for your passport, I recommend this neck wallet for your passport as you seriously will never lose it and it will always be safe.
Recommended: Neck Wallet & Passport Holder (verify price and reviews on Amazon)
2. Cruise Documents
Always print your cruise documents. Firstly, it has all your cruise information and security will ask for it as part of the cruise boarding process.
Secondly, it has your cruise port and boarding time and other information that's handy for you to have on hand when heading to your cruise ship.
If you do forget this, the cruise line can often still look up your information if need be, so most of the time the only thing that happens is a delayed process.
Note: Even Princess Cruise passengers on Ocean Medallion ships, should print out their cruise boarding passes, in addition to getting Ocean Ready with the MedallionClass app.
Recommended: All You Need to Know About Ocean Medallion (Princess Cruises)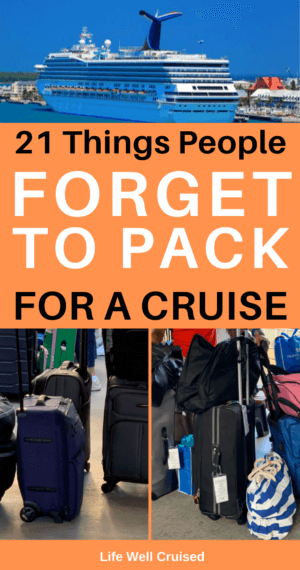 3. Luggage Tags
As part of the online check in process for your cruise (required), you'll be guided to print out your paper luggage tags.
As a suggestion, print out a few extra copies, in case you mess a couple up when folding and stapling to your luggage.
True story:
I recently bought plastic luggage tags, and after more than 20 cruises, I seriously don't know what took me so long!
After all, they're reusable…
This is where even seasoned cruisers get into a cruise prep rut and don't even realize what they're missing!
I was able to quickly fold my paper luggage tags into the plastic sleeve and attach a little handle. Thinking about the time, and hassle, it will save me on the morning of my cruise makes me a happy cruiser :-)!
Note: If you do buy luggage tags, check to make sure they are specific to your cruise line. There are 2 sizes, so each work for many and are reusable, but you want to get the right ones (see below).
Recommended: Plastic luggage tags – ROYAL CARIBBEAN & CELEBRITY (Amazon)
Recommended: Plastic luggage tags – Carnival, Princess, Holland America and more (see details on Amazon)
4. Shore Excursion Confirmations
Keep paper copies of any shore excursions booked, to bring with you on your cruise. You can also keep photos in your phone if you like, if this is most convenient.
It can be a hassle if you forget to bring these on your cruise!
If you've booked online with a local tour operator, you'll want their contact info and meeting place information handy, just in case.
Even if you have it in an email, sometimes it can be hard to access internet in a cruise port, so you'll avoid frustrations.
I'm super simple with this, and put all my excursion info in a legal size envelope. You may want prefer to keep a binder to keep all your paperwork organized.
Personal Stuff People Forget to Pack for a Cruise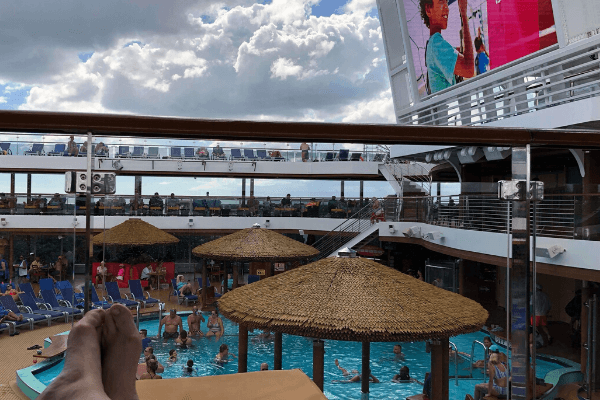 5. Sunscreen
So many people forget sunscreen, but make sure you take it, even for the first day of your cruise.
Something to note is that the convenience store on your cruise ship won't be open until you actually sail away (as shops on board aren't open in port), so you're pretty stuck if you forget it.
Recommended: Water resistant high quality sunscreen (check reviews on Amazon)
6. Aloe Vera
Aloe Vera or a good after sun lotion to ease any sunburns is a must. The sun in the Caribbean is something else, so best to have the essentials.
Recommended: Aloe Vera Gel – 99.75 % Organic (check reviews and price on Amazon)
7. Lip Balm
This is one thing that so many cruisers say they forgot to bring on a cruise, and have seriously regretted it!
When I asked about this in my Life Well Cruised community on Facebook, a few people said this was a big whoops!
Lips swelling up and getting raw. No one wants that on vacation!
Recommended: Organic lip balm (check reviews on Amazon)
8. Over the Counter Medication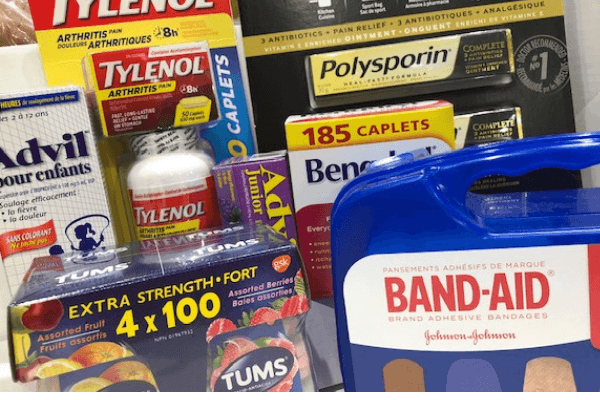 While there are some basic over the counter meds sold on cruise ships, the selection is very basic and expensive.
I like to travel with a bit of a pharmacy – this way you have everything you need just in case. In this blog post, 31 Cruise First Aid Kit Essentials You Need to Have, you'll find a good list of all the necessities.
9. Over the Counter Medication for Kids
Cruisers have said that they've forgotten to bring cold and cough medicines for their kids, and have really regretted it. Medications for children are especially hard to find on a cruise, which can sometimes mean a visit to the infirmary.
Now, on the positive side, you'll see a doctor or nurse and get necessary medication. However, unfortunately the medication will be expensive and you'll be charged for the medical center visit.
10. Bandaids for Blisters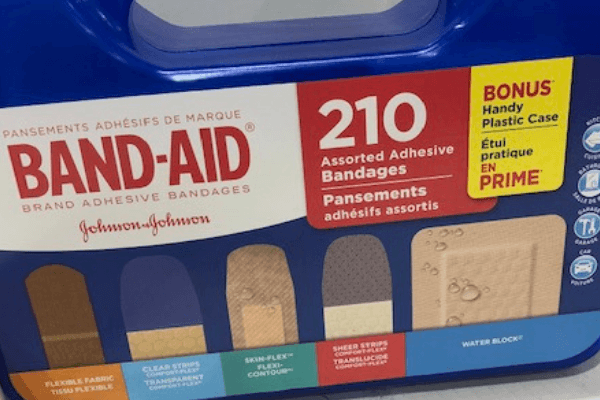 This one makes a lot sense!
Cruise passengers have said that although they may have brought regular bandaids, they didn't think about the different kinds they may need.
When we're cruising, we're walking both on the ship (and most are big), and off in the cruise ports, so having a bandaids for possible blisters is a good idea.
Recommended: Bandaids for blisters (Amazon link)
Cruise Outfits and Shoes
10. Dress code attire
Different cruise lines have different dress codes and suggestions. Even though cruising has overall become way less formal over the years, some things are strictly adhered to.
I know a couple who went on a Caribbean cruise, and they decided not to do formal nights, so they didn't bring formal attire. They planned on just eating in the Main Dining Room on casual nights.
Totally fine.
But do you know what they didn't think about?
Pants.
Yes, pants.
On this cruise, shorts weren't allowed in the Main Dining room (as they often aren't), and her husband didn't pack any pants for his cruise.
It's a good idea to bring at least one pair of pants or nice jeans for evening – don't forget to bring this on a cruise.
You may enjoy: What To Wear on a Cruise; The Ultimate Guide
11. Socks and Shoes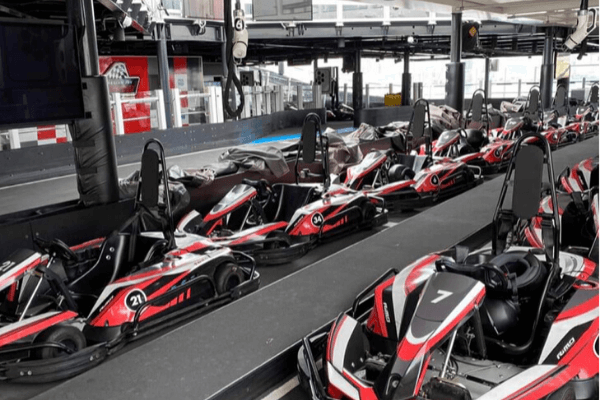 Don't laugh… hehe.
You'll want to bring closed toe shoes and socks for some of the activities on your cruise ship. This is especially true for ships that have Ziplines, slides, ropes courses and other cool stuff (both for adults and kids).
I cannot tell you how many parents have said they just didn't think they'd need this for their kids, however the cruise line is strict about this for safety reasons, and won't allow participation in some of these fun ship activities without them.
Clothing and Laundry Needs on a Cruise
12. Mini Laundry Detergent Packs
I don't usually do laundry on a cruise, but on our last cruise I sent a few items (truly very few) to the ship's laundry and it cost me $45.
So, when some cruisers said that they regretted not bringing travel sized laundry packets, I think I get it. Sometimes washing just a few items either in the ship's laundromat, if available, or in your cruise cabin sink, could be helpful.
Recommended: Laundry detergent travel packets (Amazon)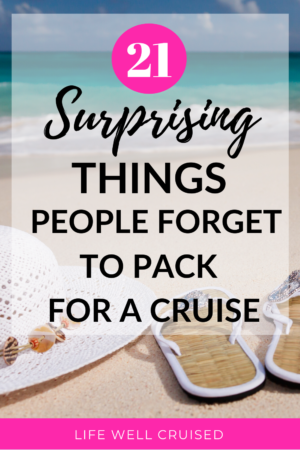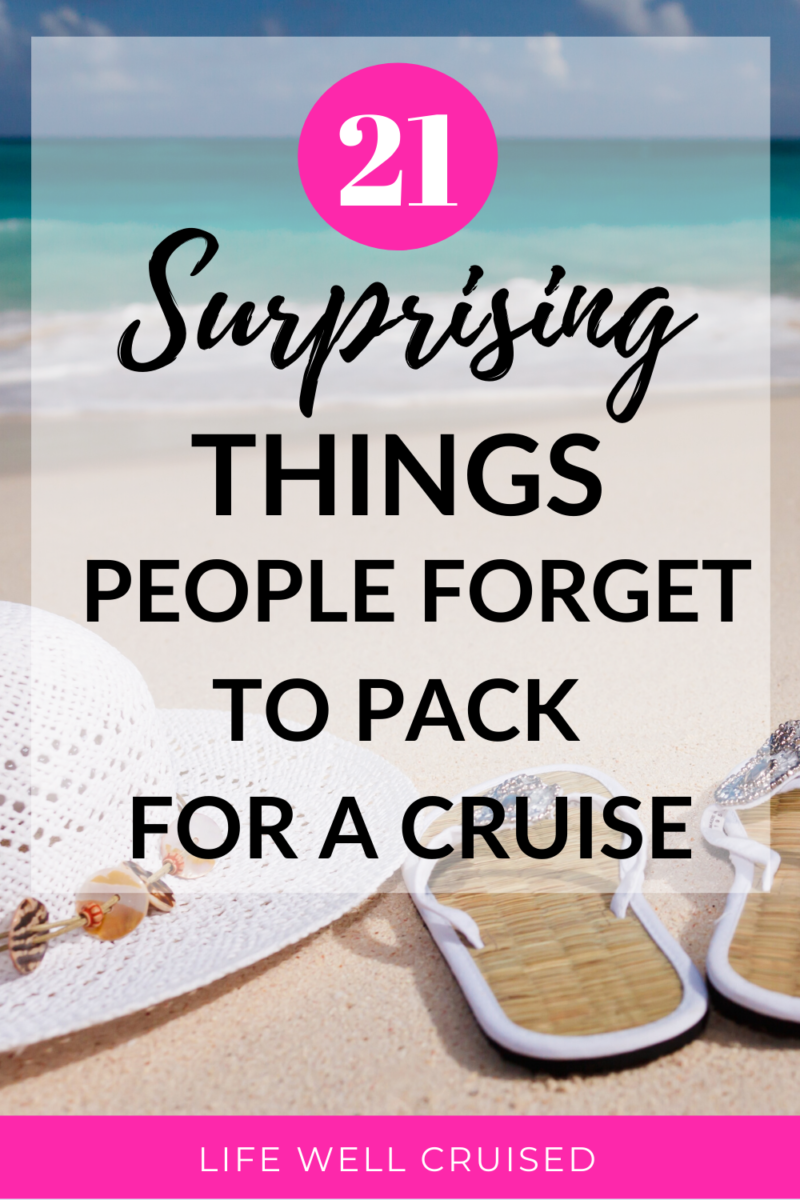 13. Downy Wrinkle Release
Since we can't take irons or steamers on board a cruise, and sending items to the cruise ship's laundry service to press can be expensive, having a travel size Downy Wrinkle Release is the best thing ever!
Recommended: Downy Wrinkle Release – travel size (check price on Amazon)
14. Laundry Stain Stick
I'm a huge fan of the Tide-to-Go pen and literally bring it everywhere! It's so handy and can save a good outfit when you get the tiniest stain at dinner, or anytime ;-).
Try and remember this when you're going on a cruise.
Recommended: Tide To Go stain stick for travel (Amazon)
Remember Your Cruise Essentials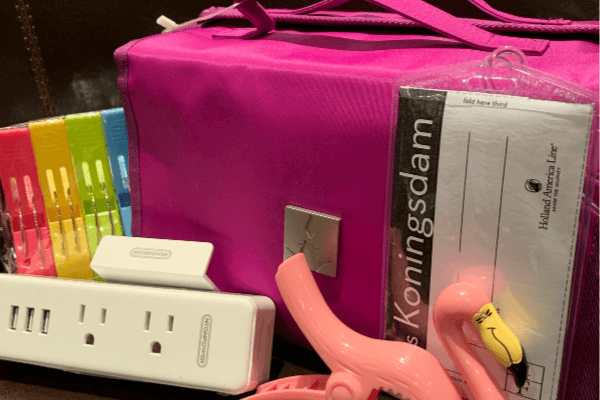 Now, let's face it, what's essential to one person, may not be to another. However, there are items that many people miss if they don't pack them for their cruise.
15. Power Adapter
Depending on where you're traveling from, you may need an international adapter for your cruise, or even your hotel. It's definitely a must-have travel item in some cases, so judge this based on your own cruise travel plans.
16. Power Bar with USB Outlets (non-surge protected)
A must for many cruisers, remember to bring a "cruise-approved" power bar to have some extra electric and USB outlets in your cabin.
While some newer ships, have installed USB outlets, most cruise cabins have 1 or 2 electric sockets, and that's it!
Cruisers have said when they've forgotten this, they noticed!
Important – You cannot bring a regular power bar and it will be confiscated. It MUST be non-surge protected.
Recommended: Non-surge protected power bar (check price/reviews on Amazon)
17. Towel Clips
Towel clips are so handy to keep towels from blowing in the sea breeze both on the ship and off, cruisers who forget these items say they wish they had brought some!
Personally, I love them!
You can find simple colorful ones or fun ones to suit your personality!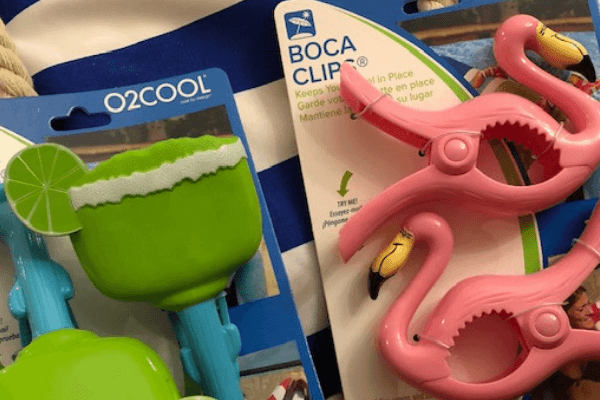 Recommended: Towel clips (Amazon)
18. Refillable water bottles
Whether you want to bring water with you on a cruise port day, or if you want to have some water or even hot coffee with you while on a cruise, this is something any cruisers love (and are sad when they forget it).
Recommended: Thermal mug for water or coffee (see reviews on Amazon)
19. Seasickness Medication
Being affected by motion sickness is one of the worst feelings! Even if you haven't been seasick before, pack some preventative motion sickness medication just in case.
I can tell you, even though I seriously bring a lot of stuff we may need, on out last cruise I forgot to bring any Bonine or other really good seasickness meds.
Being honest, we got a bit over confident as we don't really get very affected by motion on a cruise ship, at least not usually!
Total REGRET as my husband was not feeling well at all one night, as the seas were rough when we departed Bermuda.
Thank goodness for our MDR table neighbor who went back to her cabin to get my husband some Bonine for the evening and next day.
This stuff was awesome and didn't leave him feeling groggy – I highly recommend bringing Bonine!
Cruiser favorites include (all links are to Amazon):
Bonine Motion Sickness Relief tablets
Seabands – available in adult and child sizes
Ginger candies (natural anti-nausea relief)
You might enjoy this blog post: 10 Ways to Prevent and Avoid Seasickness on a Cruise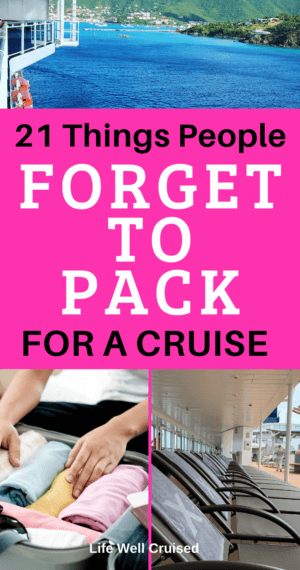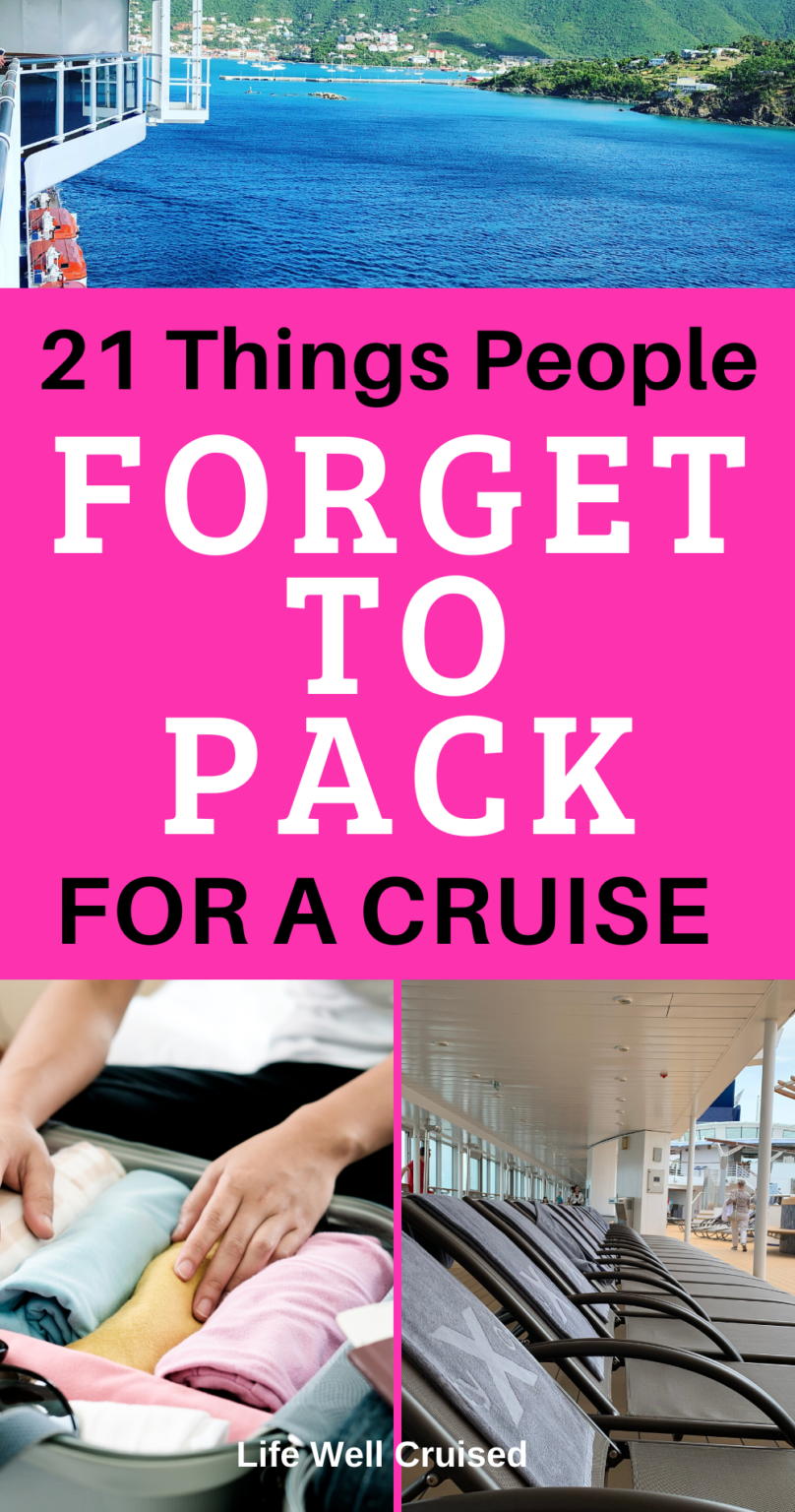 Other items you don't want to forget to bring on your cruise
20. Credit Card
Having a credit card, even if you plan to use cash, is a good idea in case of emergencies. If you don't use it often, it can be a good idea to call your credit card company to let the know you're traveling, so they don't block a legitimate purchase.
21. Ziplock Baggies
The ultimate easy and waterproof organization system, I just love ziplock baggies!
You can take mini-first aid packs with you when you head out on an excursion, keep your hair elastics and clips, and even pack a dry snack for the kids (do check port regulations and note it's against the law in most places to take fruit, vegetables and meat items off the cruise ship)
YouTube video: Don't forget to Pack These Things for Your Cruise
22. Extra Mobile Phone Charger Wire
Who hasn't misplaced or forgotten a cell phone charger wire while on vacation? They are so expensive if you need to pick one up at the airport of convenience store.
Pack an extra one, just in case (and don't forget it).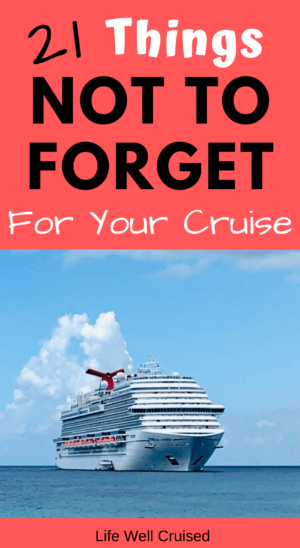 Do you need a good packing list for your cruise? Here's a favorite article with some great cruise packing tips that might be helpful: 20 Cruise Packing Tips all Cruisers Need
Recap: 21 Things People Forget to Bring on Their Cruise (and regret)
From cruise clothing items, to medications, to protection from the hot sun, past cruisers have forgotten any essentials! In this post, we went through 21 common things that you want to make sure you remember to pack for your cruise vacation.
Have you ever forgotten anything for a cruise, that you really should have packed? Please let me know in the comments below.
Happy Cruising!!
Ilana xoxo
P.S. If you found this helpful, please don't keep it to yourself ;-). Please share on Facebook or PIN to your favorite Pinterest board (share buttons at the top). Thanks so much!
Read more:
25 Cruise Essentials Most Popular on Amazon
30 Cruise Cabin Hacks Every Cruiser Needs to Know
15 Cruise Embarkation Day Tips Straight from the Pros
Let's connect:
Follow me on Facebook at Life Well Cruised
Follow me onYouTube at Life Well Cruised (Vlogs and cruise tips)
Follow me on Pinterest at Life Well Cruised
Follow me on Instagram at Life Well Cruised