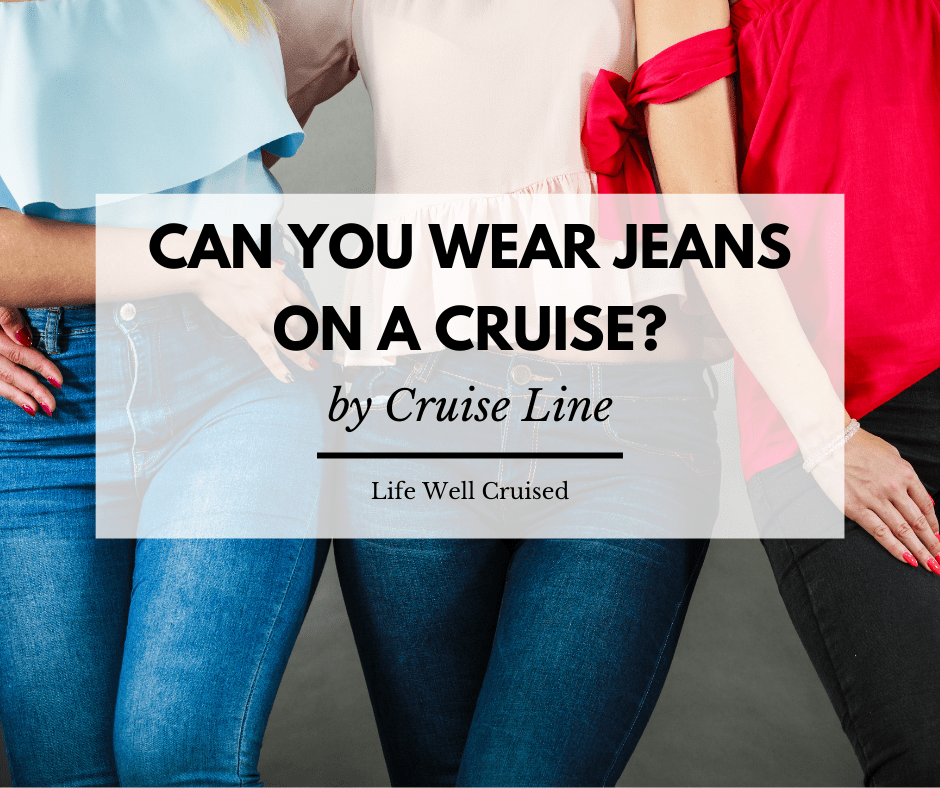 If you're going on a cruise and planning your packing list and cruise outfits, you might be wondering if you can wear jeans on a cruise.
"Casual cruise" attire, "smart casual" and "resort wear" are all common cruise line dress codes, but what do they really mean? Cruise line dress codes can be confusing, and where and when jeans are appropriate even more so.
Can You Wear Jeans on a Cruise Ship?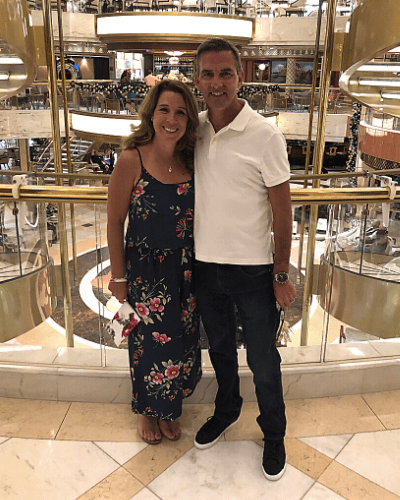 The short answer is yes, although there is a time and a place. While a few years ago, jeans were frowned upon anywhere but the buffet, cruise line dress codes have relaxed with the changing times. Most cruise lines permit wearing clean, nice jeans in the main dining room and specialty restaurant on "casual" and "smart casual" evenings.
On cruise lines where there is a formal night, jeans are not permitted in the main dining room. However, you can always eat in the casual restaurants and the buffet.
In this post, we'll look at some of the most popular cruise lines, and answer the question, "Can I wear jeans on my cruise?". If so, when and where is it appropriate?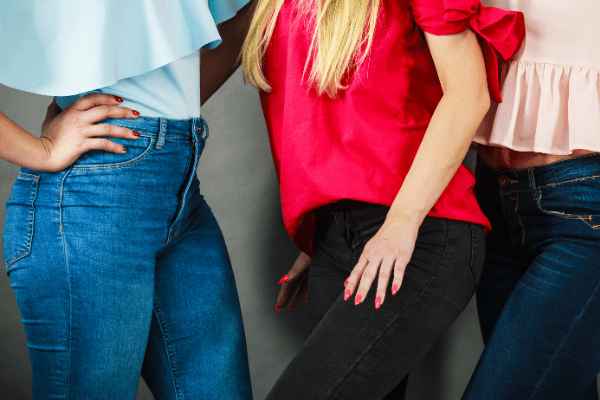 Can you wear jeans on (insert cruise line)?
Carnival Cruise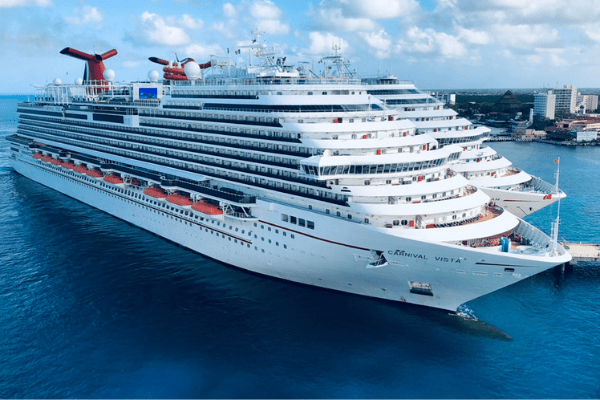 On a Carnival cruise, jeans are acceptable in the Main Dining Room and restaurants for "cruise casual" nights, which are most nights on your cruise. Carnival has 1 or 2 elegant nights during a cruise, where guests are encouraged to dress up. Suggestions include dress pants, dress shirts and optional sport coats for men, and cocktail dresses, pantsuits or a blouse and skirt for ladies. While Carnival is not the most formal cruise line, it's best not to wear jeans on Elegant Nights.
Suggested: What Not to Wear on a Cruise; Rules and Guidelines
Celebrity Cruises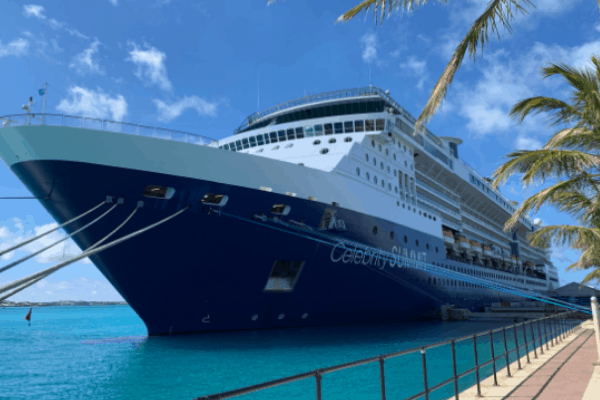 Most nights are smart casual on Celebrity Cruises. This includes jeans, khakis, sundresses and other casual cruise wear for women and men.
Celebrity's Evening Chic dress code is applicable 1 or more nights during a cruise. Celebrity's take on formal night, the dress code encourages dressing elegantly, which can include formal wear (suits, cocktail dresses), or dress pants or designer jeans with a stylish top, sweater or blazer.
Please note that shorts are never allowed in the main dining room in the evening, even nice ones.
Planning a Celebrity Cruise? Here are some helpful posts:
What to Wear on a Celebrity Cruise (including Evening Chic)
Celebrity Cruises Always Included Package (drinks, wifi, tips)
How to Keep Fit on a Celebrity Cruise Vacation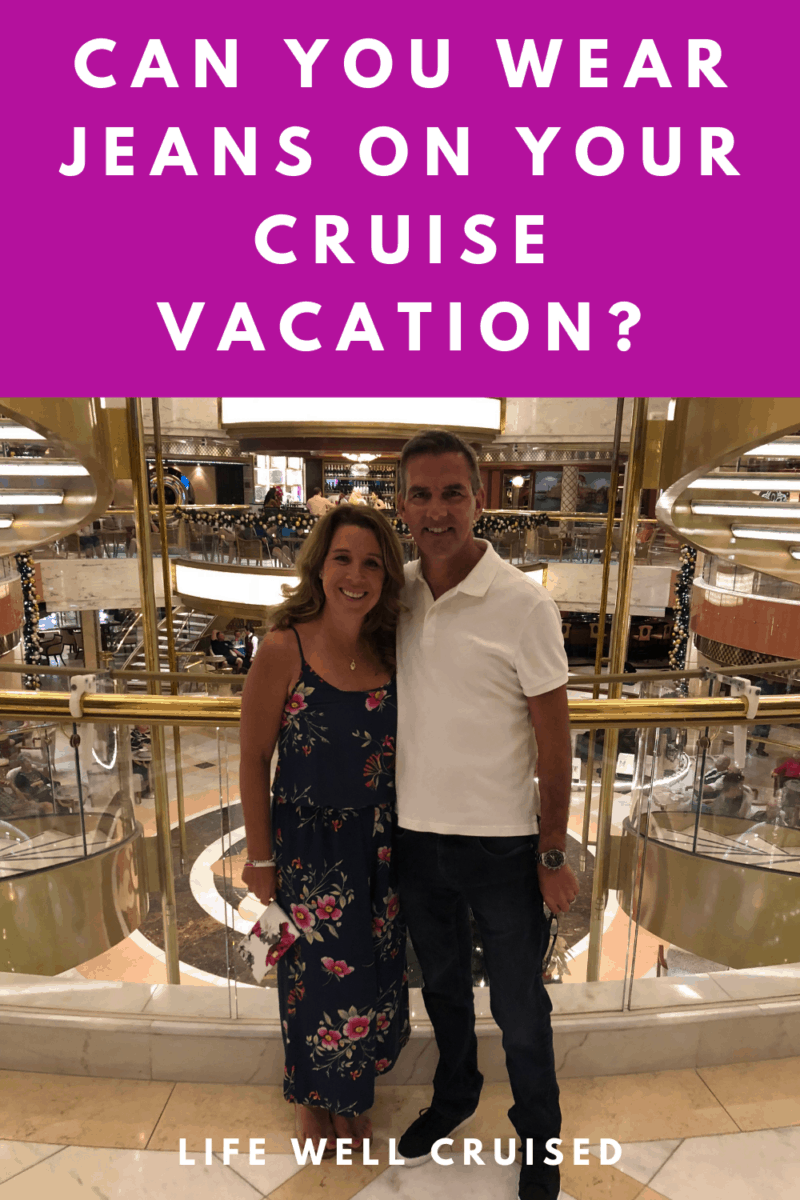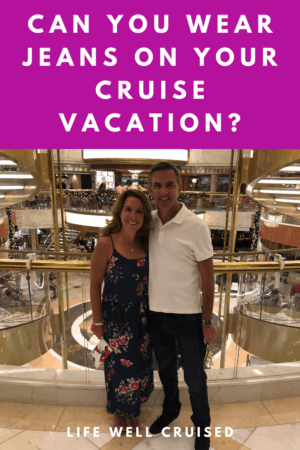 Cunard
Cunard's dress code is more formal and traditional than most cruise lines. Jeans are not acceptable in the main dining room in the evening.
Cunard's dress code is "smart attire" or "formal" in the evening on most nights. Although not black tie, a sports jacket or blazer is a must for men. On a 7 day Cunard cruise or crossing, there will be 2-3 Gala evenings, where you can "dress to impress". Black tie and evening gowns are the perfect style for these elegant occasions.
On Cunard's website, it is noted that if you prefer relaxed attire, a selection of casual dining and entertainment venues are always available.
Cruising with Cunard? Here is a post you might enjoy next:
Queen Mary 2 Crossing Review and Tips
Disney Cruise Line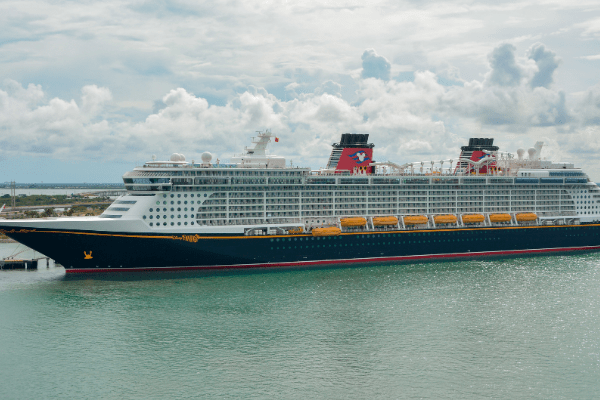 Most Disney cruise ship restaurants are cruise casual, where you can wear very casual attire such as shorts and t-shirts. Jeans are appropriate.
On dress-up nights(short cruises), and optional semi-formal and formal nights (longer cruises), elegant attire is suggested. This includes suits and jackets for men and dresses, pantsuits or cocktail dresses for ladies.
At the adult only restaurant Palo, jeans are permitted. At Remy, jeans are not permitted.
Suggested: 25 Most Recommended Amazon Items to Bring on a cruise
Holland America Line
On Holland America, most evenings are smart casual. According to the cruise line brochure, jeans, shorts and t-shirts are only allowed in casual dining restaurants. However, there is clarification that in particular, distressed jeans are not allowed, so nice jeans are acceptable.
There are also Gala Nights, where formal cruise wear is appropriate.
Norwegian Cruise Line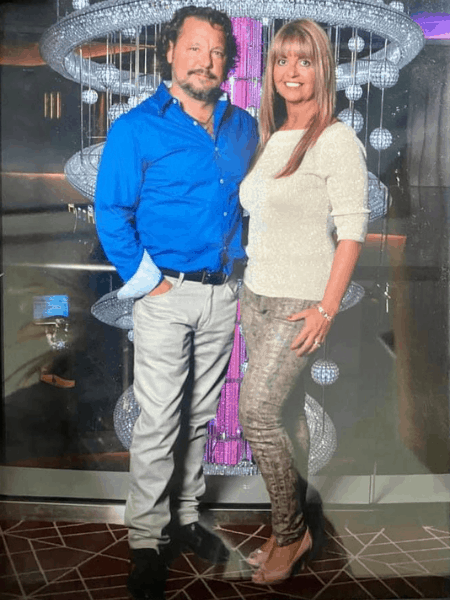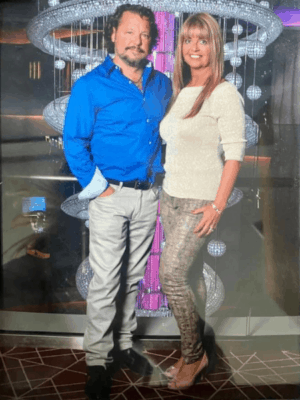 Norwegian Cruise Line is Freestyle Cruising and resort casual is the overall dress code. Smart casual dress is suggested for the dining room and upscale specialty restaurants, which does include wearing jeans paired with a nice shirt.
There is also a Norwegian Night Out evening with optional elegant attire.
Cruising with Norwegian? Here are some helpful posts:
Norwegian Cruise Line Dress Code: What to Wear on a Freestyle Cruise
Norwegian Cruise Line – Free at Sea Perks Explained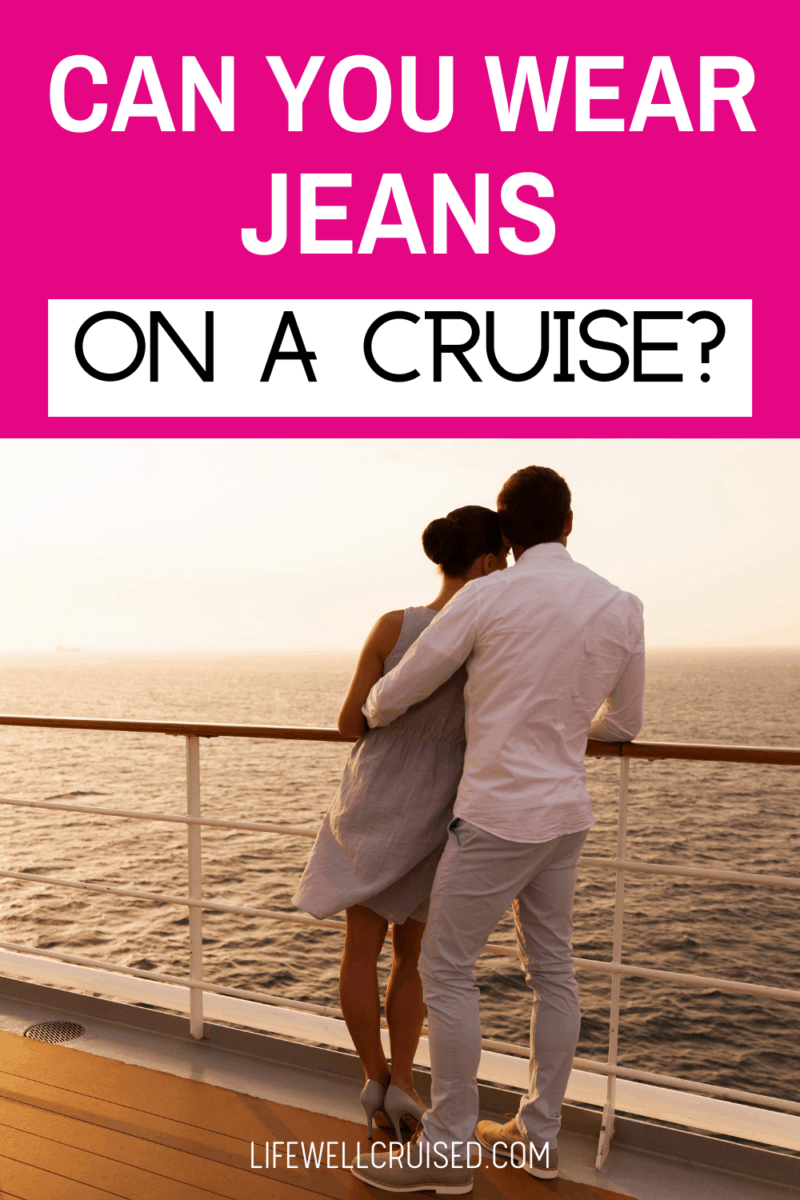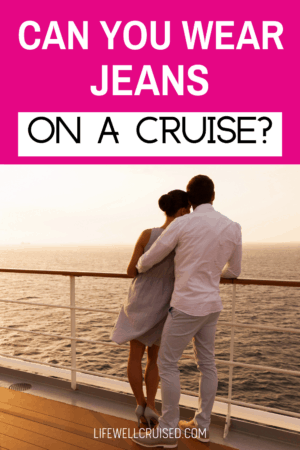 MSC Cruises
Most evenings on MSC Cruises are casual wear. Nice jeans (not torn) and other resort style clothing are appropriate. MSC cruises have a couple of Gala evenings, where formal attire is appropriate. Make sure to pack a "white outfit" for the White Party. Be sure to keep an eye out for other theme nights and outfits you may want to plan for.
Cruising with MSC? Here is a post you might enjoy:
How Cruises Are Restarting; Safety Measures & Protocols MSC
Oceania Cruises
Oceania's evening dress code is elegant casual resort wear. All casual clothing including casual jeans, shorts t-shirts and tennis shoes cannot be worn in the onboard restaurants after 6 pm.
Princess Cruise Line
Princess has both smart casual and formal dress codes for evening dining. Smart casual options include casual dresses and skirts, or pants and a nice top. Nice jeans (clean and not torn) are permitted in Princess' main dining room and specialty restaurants on smart casual evenings.
On Princess' formal nights suits, elegant attire like tuxedos, suits, cocktail dresses and pantsuits are appropriate.
Going on a Princess Cruise? Here are some popular posts:
Princess Cruises: 15 Tips, Tricks and Insider Secrets
Princess Cruises Drink Packages (with bar menus and drink photos)
Princess Plus – What's Included and Is it Worth it?
Royal Caribbean Cruise line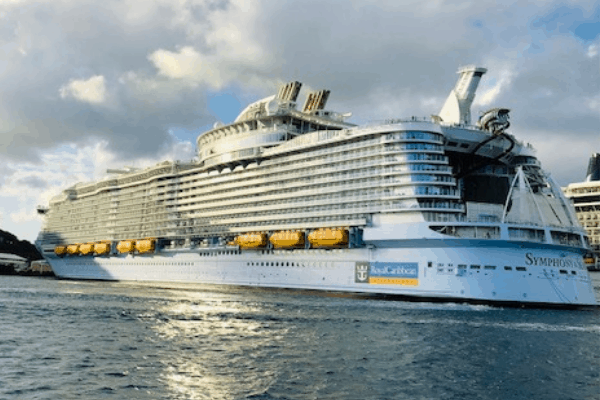 Royal Caribbean has 3 evening dress codes on it's ships, casual, smart casual and formal. You can wear jeans on casual nights on a Royal Caribbean cruise. In practice, it's not uncommon to see nice jeans worn by passengers on smart casual evenings as well.
Royal Caribbean's formal night suggestions include suits and ties, tuxedos, cocktail dresses or evening gowns.
Cruising with Royal Caribbean? Here is a post you might enjoy: 10 Best Tips for Cruising with Kids
Going on a Cruise? These posts will help to get prepared:
What to Pack for a Caribbean Cruise (full packing list included)
23 Essential Things to Pack in Your Cruise Carry-On Bag
Cruise Wear over 50: Flattering Cruise Outfits for Women (plus packing list)
17 Cruise Stateroom Essentials Every Cruiser Needs
25+ Most Popular Cruise Accessories
Final thoughts: Can you wear jeans on your cruise?
When planning what to wear on your cruise, knowing your cruise line dress code can help. If you're comfortable wearing jeans, not to worry as many cruise lines permit wearing jeans in the dining room and restaurants most nights of the cruise.
Make sure that your jeans are without holes, even if it's the style. As a rule of thumb, stick with dark jeans for a more elegant look.
How do you prefer to dress on a cruise, casually or more dressy? Please let me know in the comments below.
Happy cruising!
Ilana
P.S. If you enjoyed this post and found this helpful, please pass it along to others who love cruising too! You can share on Facebook, Twitter or even save to your favorite Pinterest board (share buttons at the top). Thanks so much!
Let's connect:
Follow me on Facebook at Life Well Cruised
Follow me on YouTube at Life Well Cruised
Follow me on Pinterest at Life Well Cruised
Follow me on Instagram at Life Well Cruised