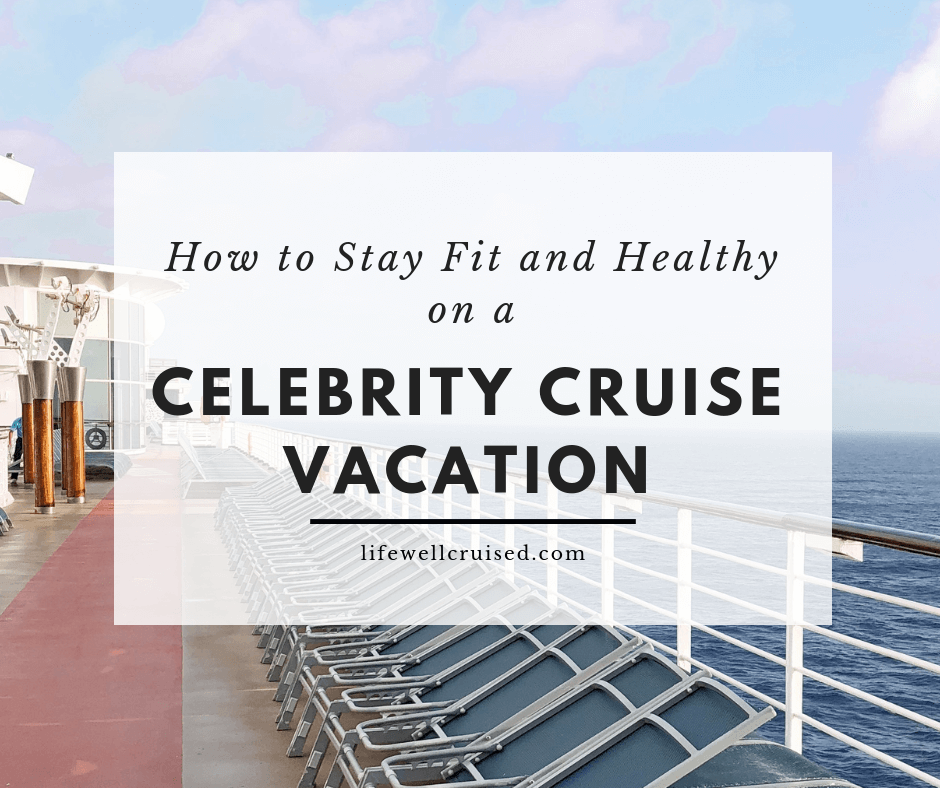 Enjoying a healthy cruise vacation is possible
On my recent Celebrity Cruise, I was quite determined to cruise as healthily as possible. Yes, a cruise vacation means indulgence and pampering, but can't wellness be part of this? I was hoping so!
While I may reference this cruise in particular, these tips and strategies to not gain weight while cruising, apply no matter which cruise you are on!
I should let you now, I am not perfect and I certainly do enjoy my cocktails and decadent cruise food (probably too much, lol!).
However, I am also a Lifetime Member of Weight Watchers, and this means that I do try to look for ways to make good choices, most of the time. I find that although cruises have so many food options, that there are also a lot of opportunities to be active, so there's a way to find some balance.
I have to say, although I've discovered many ways to cruise healthier over the years, and not gain (much) weight, I am not one of those people who claims to have lost weight on a cruise. Kudos to them! But I just love food too much!!
This post may contain affiliate links. Please see my full disclosure policy for details.
Here are my top 10 Ways to have a healthy cruise vacation, based on my experiences on the Celebrity Summit
1. First and foremost, adjust your mind-set before your cruise
Get excited about seeking out healthy food choices and trying some new activities at the fitness center. If you have a Fitbit
, wear it and set a big goal for steps each day! Know that while you don't want to deprive yourself, you can pace yourself. And you don't need to eat 7 days worth of food in 1, right?
With the right mind-set, you're more likely to achieve your goals. So if you want to stay the same weight, or keep to a very small gain that doesn't derail your weight loss efforts, plan on a few things ahead of time and try your best to stick with the plan.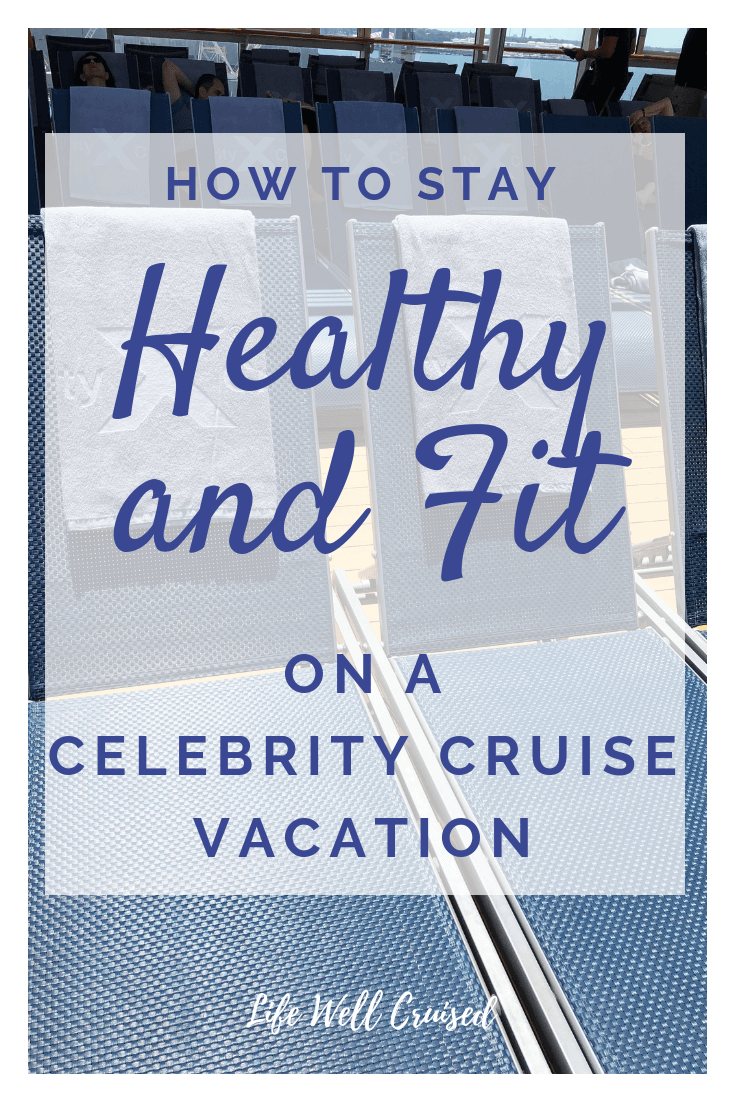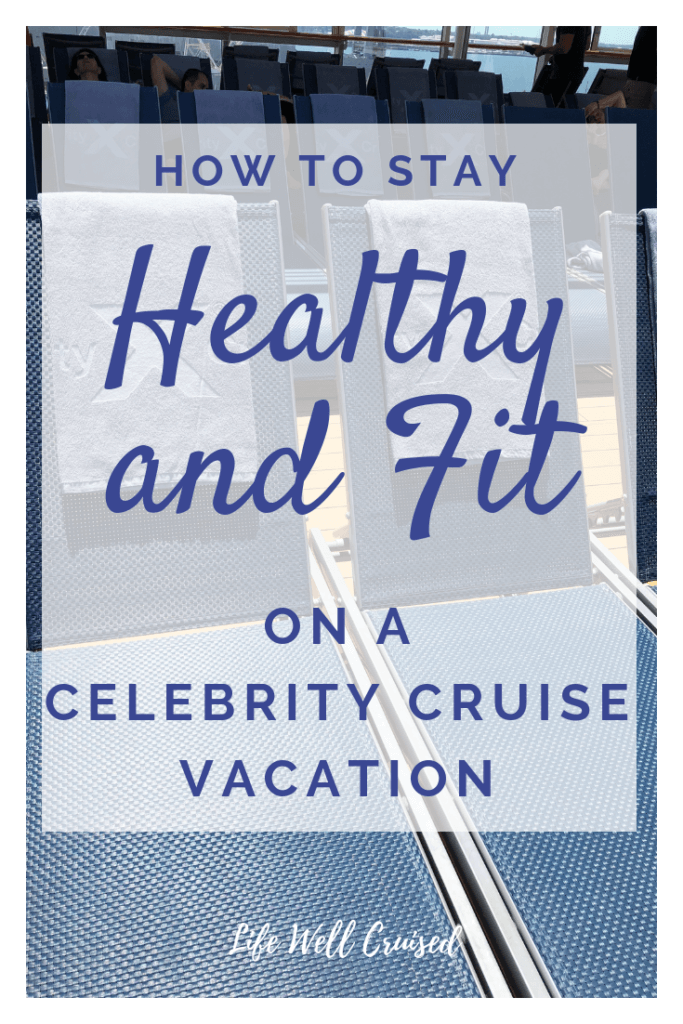 2. Look for healthy food options at the buffet
I say buffet because I know that's one of the first places we go for lunch when we board the ship the first day. Making a good choice right away can help to set the pace for the rest of the cruise and keep you on the right track.
Do you know what? The healthy food options weren't boring! Our first day we went to the buffet and I scanned all the food, which I love to do anyway. Well, at the very back of the buffet there was this fabulous grill with fresh chicken, fish and steak. I loved this (and my husband did too by the way)!! I put together a delicious salad with grilled tilapia and couldn't have been happier!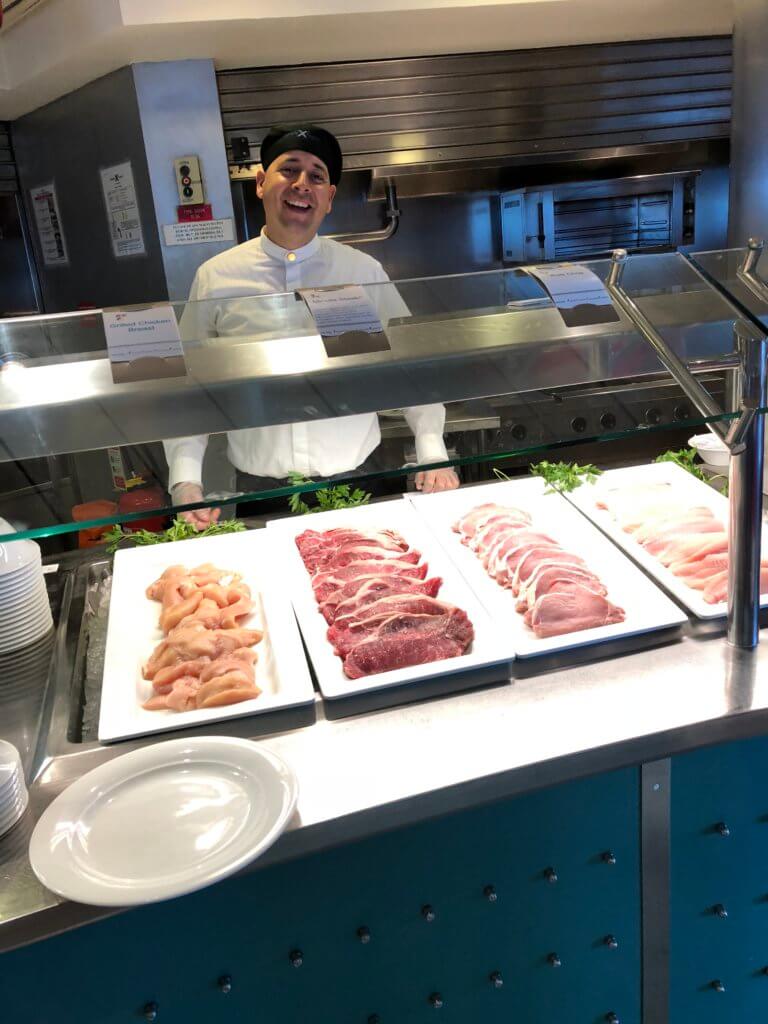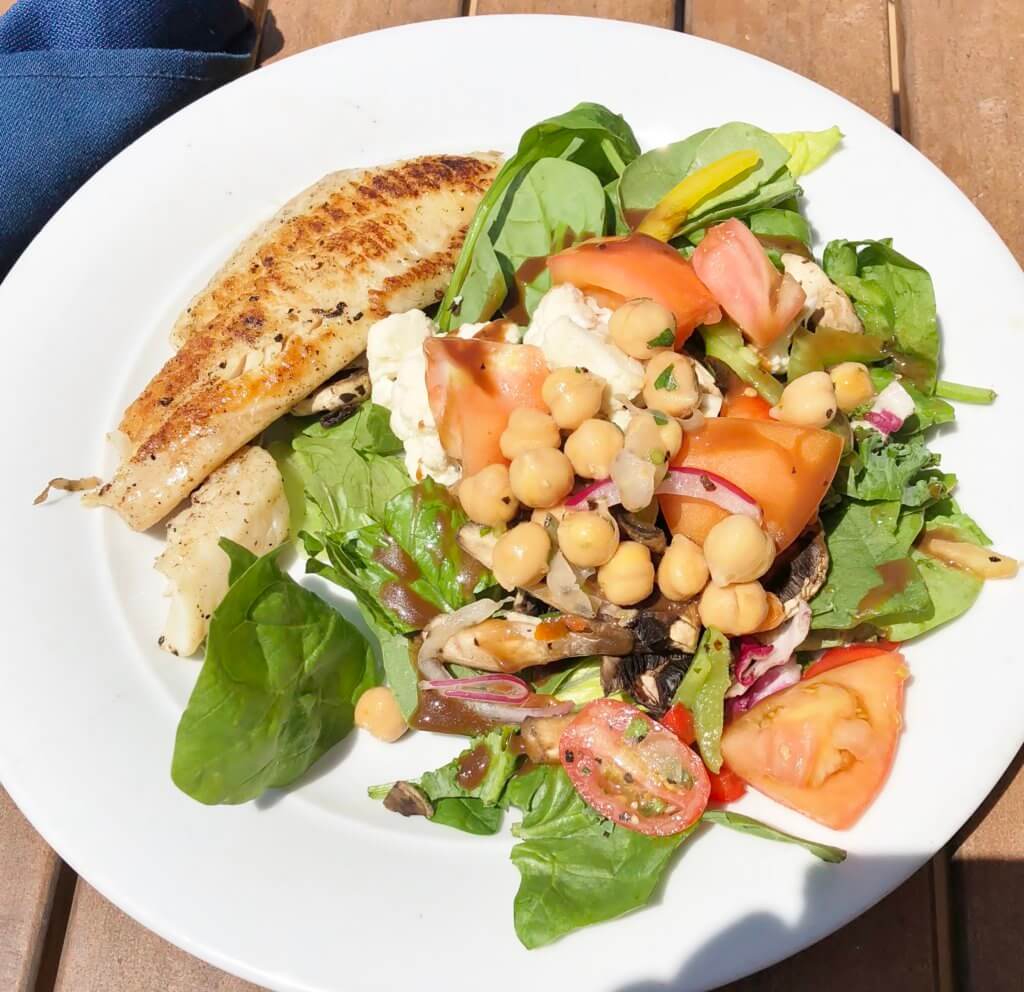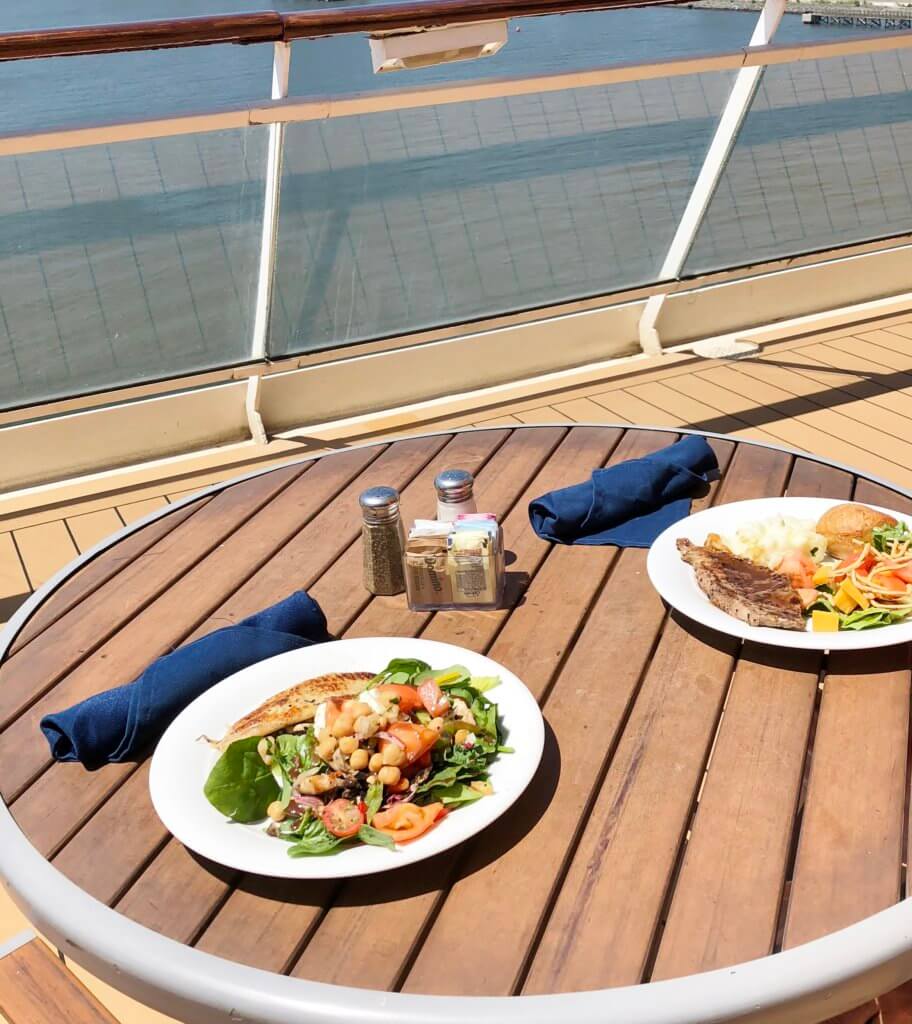 3. Use the fitness center
If you already go to the gym at home, it shouldn't be very hard to keep up your fitness routine. Cruise ship gyms are really quite nice and very well equipped. If you are not working out at home, this could be a fun place to give some of the equipment a try.
I've met quite a few cruisers who will walk on a treadmill or use the elliptical machine, as they are trying to make some changes and figure they have time on a cruise to devote to themselves. Even if you're not a regular fitness freak at home, do bring some workout clothes like stretchy yoga pants, yoga tank tops
and running shoes, so you'll be ready.
My favorite is to join the fitness classes. I actually don't really join them at home. Perhaps I feel too busy or don't want to commit to weekly classes. But somehow, when on a cruise, I feel so good when I join a stretching class!
My friend and I actually joined a cardio-boxing class a couple of times and it was so much fun!! And hard!! However, after some indulging, we both felt better getting those workouts in.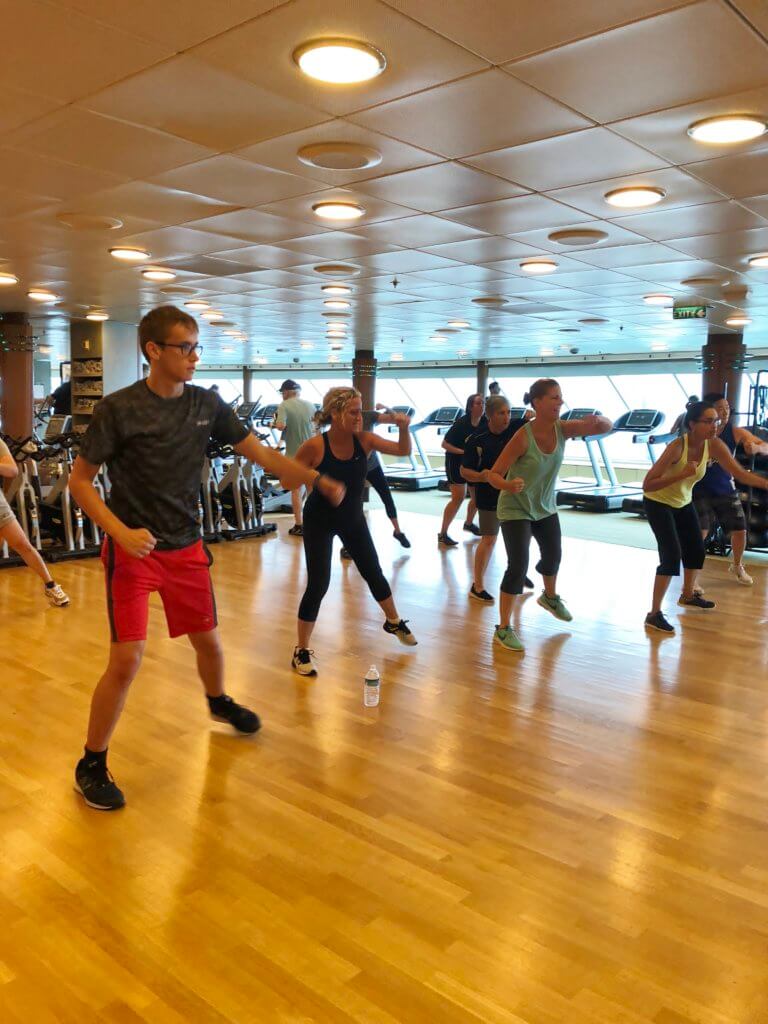 4. Watch your alcoholic beverage intake
I know this goes without saying. If you drink alcohol this is definitely an area to pay attention to. However there are ways to make better choices, and avoid some of the higher calorie and sugary concoctions.
Avoid the Pina Coladas, Mango Meltdowns, Miami Vices and sadly, the BBC's (which I have newly found and they are my favorite!!). This where I remind you that I am not perfect, and yes, I did indulge, and enjoyed. You can too, but try not to have too many. Another option, that was delicious and far less calories, was the Citrus Mojito. Very refreshing indeed!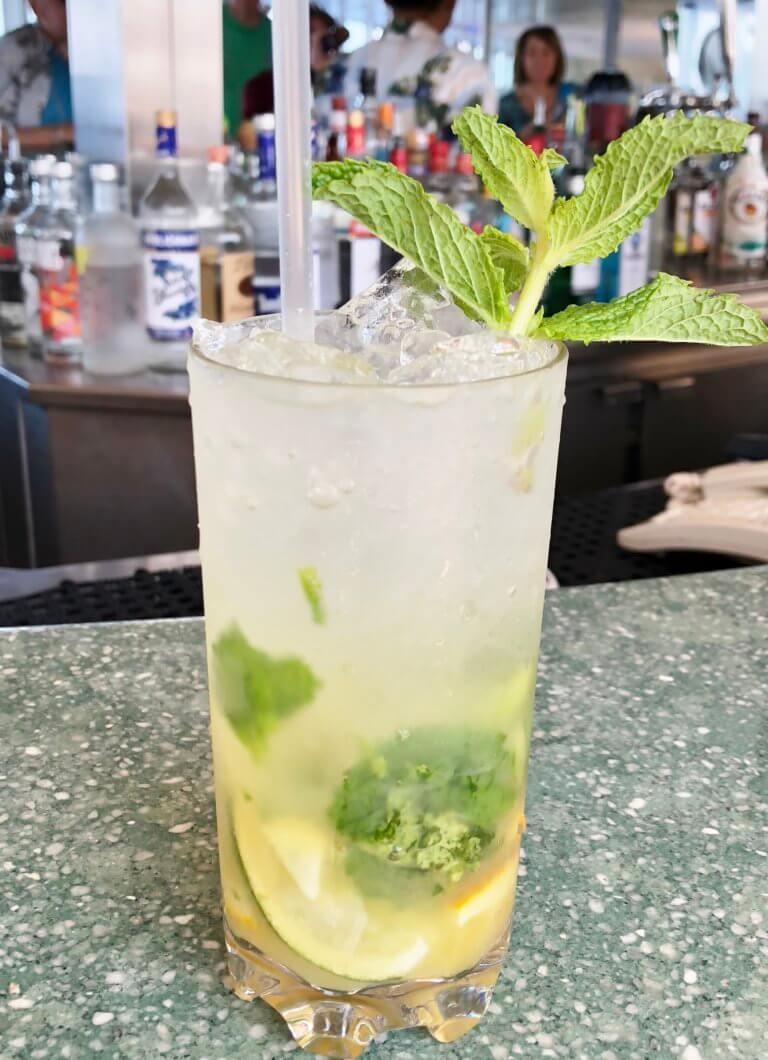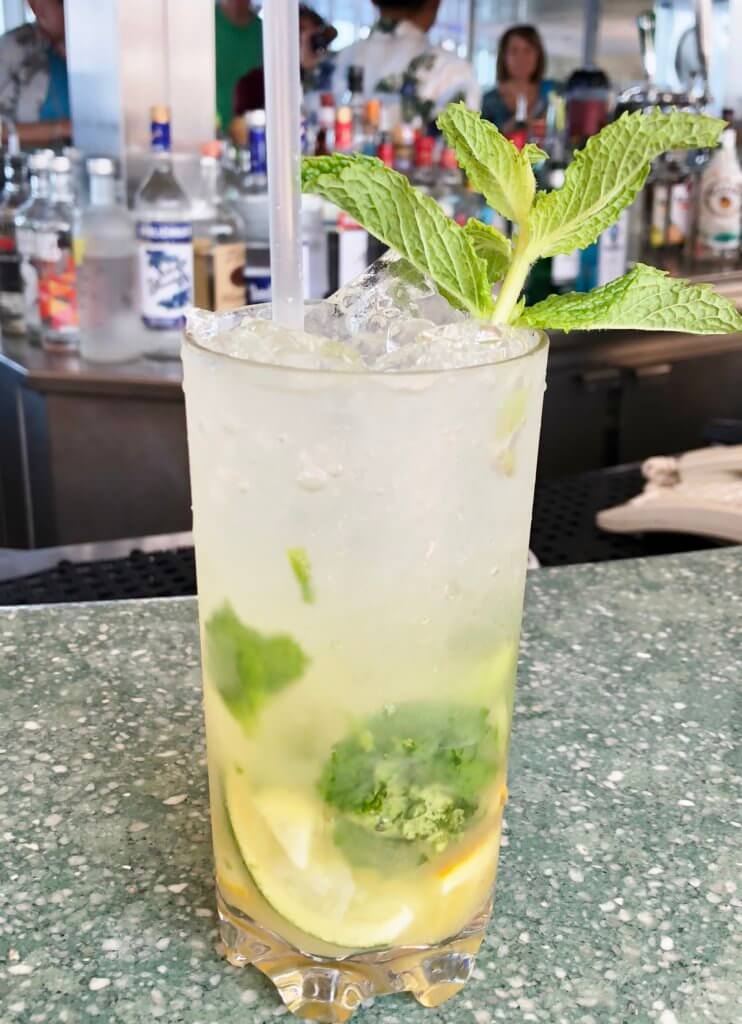 5. Drink a lot of water
There's nothing better than water to keep you hydrated, especially on a hot weather cruise vacation! So there were 2 things I really loved about this (I know – its just water) and Celebrity Cruises. Firstly, outside of the gym there is a table with citrus infused water. I love these special touches that I found on Celebrity. It made it so much more appealing for me to drink water as much as I knew I should. They had the same infused water by the pool too, which was really great on the hot days!
Secondly, if you have the Classic Beverage Package, which I did as a perk, then water bottles were included. This was really nice as I was more apt to grab a bottle of water if I was on the go.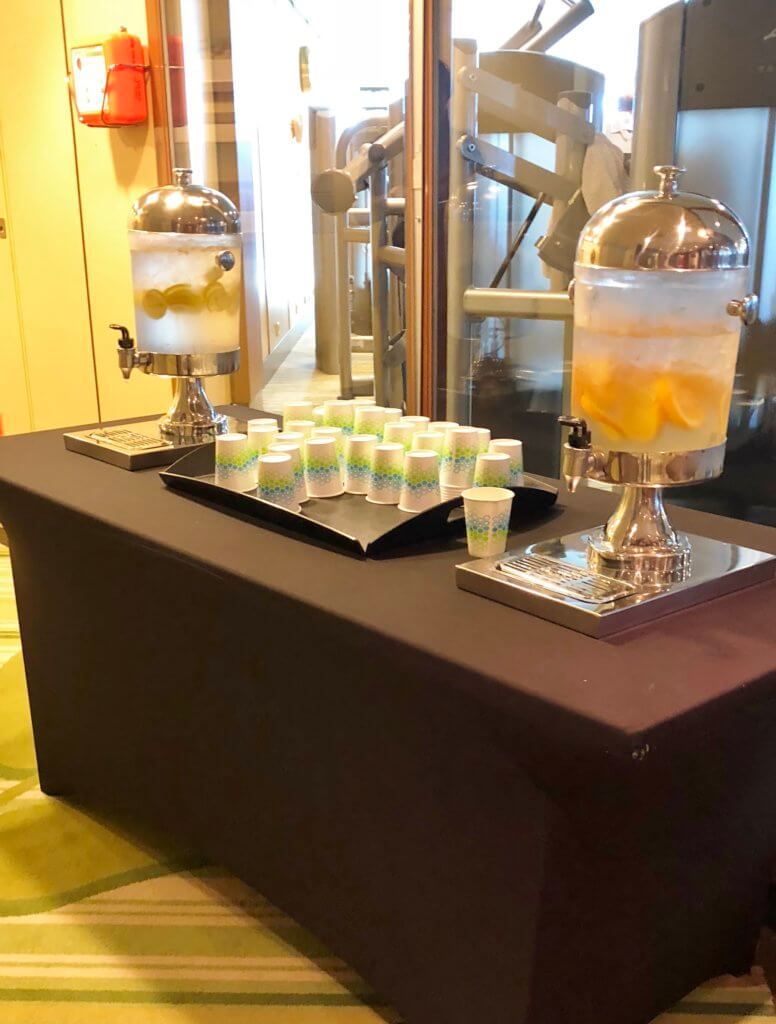 6. Eat at the Aqua Spa Cafe
The Aqua Spa Cafe, near the Solarium outdoor pool, has small plates of food prepared and displayed. There was really so much choice, and it was very appealing. There were always fresh fruit plates available, so you didn't have to run into the buffet and perhaps get tempted with some less healthy options.
I loved the plates of tomato, mozzarella and pesto and the Moroccan style quinoa salad. There were so many options for people that had a variety of eating preferences and restrictions including high protein, gluten free, low carb, clean eating etc.
And a big plus for healthy smoothie lovers – if you enjoy vitamin packed fruit smoothies, this is the place to get them! Fresh fruit, yogurt, chia seeds, spinach, kale all went into a variety of smoothies. There was a charge for this, however if you have the Premium Beverage Package, it is included. Full disclosure, I did not partake. However our friends did and gave them a big thumbs up!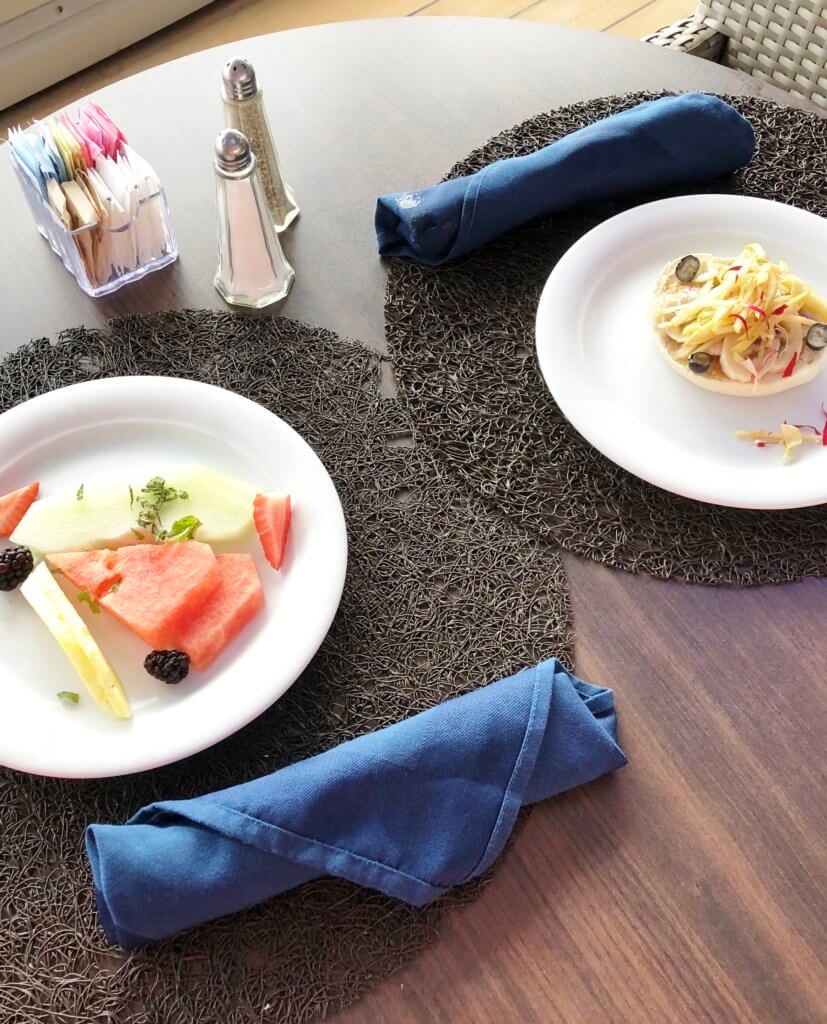 7. Get active on the ship by using the walking and jogging track
Using the walking/jogging track is actually one of my favorite things to do on any cruise vacation. I love walking around the perimeter of the ship and taking in the gorgeous and vast sea view. Early morning is one of my favorite times to go, before it gets too hot. However, you can walk at any time of the day.
If you have a Fibit definitely bring it along. One of the best things I did for myself was to get a Fitbit.
It counts my steps in a fun way and even counts how many times I go up an own the stairs. It was even fun to set step and stair goals which helped keep me on track.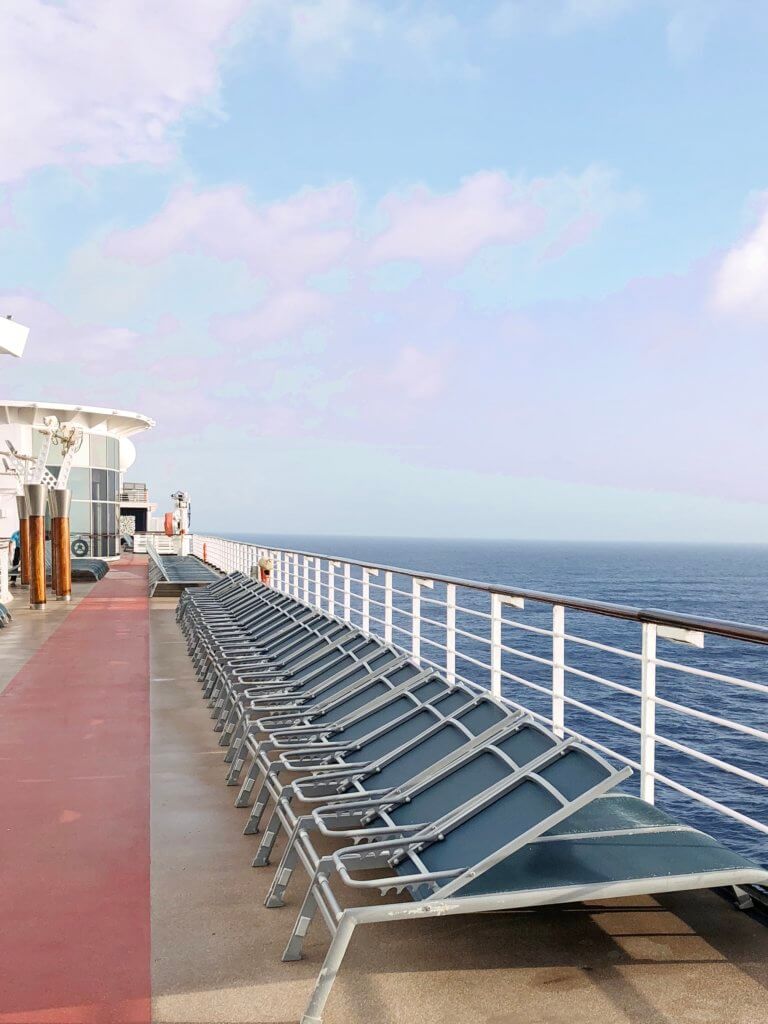 Walking with this view is the best!
8. Indulge in some self-care
If you've begun your cruise vacation with some leftover work stress, there's nothing better than relaxing at sea. You might enjoy a massage or other service from the spa. As much as eating well and keeping active are good for you and will keep you feeling fit, taking care of yourself is part of wellness.
My husband started our last cruise with some achy shoulders and lower neck pain, and one of the first things we did was book a massage for him. He felt great and was able to completely relax throughout the cruise.
Personally, I really like the sauna. Most of the time the sauna has a great big window with a view on the sea, like this one below. After working out, I enjoy spending about 15 minutes relaxing here. It just puts my mind at ease – the great view doesn't hurt!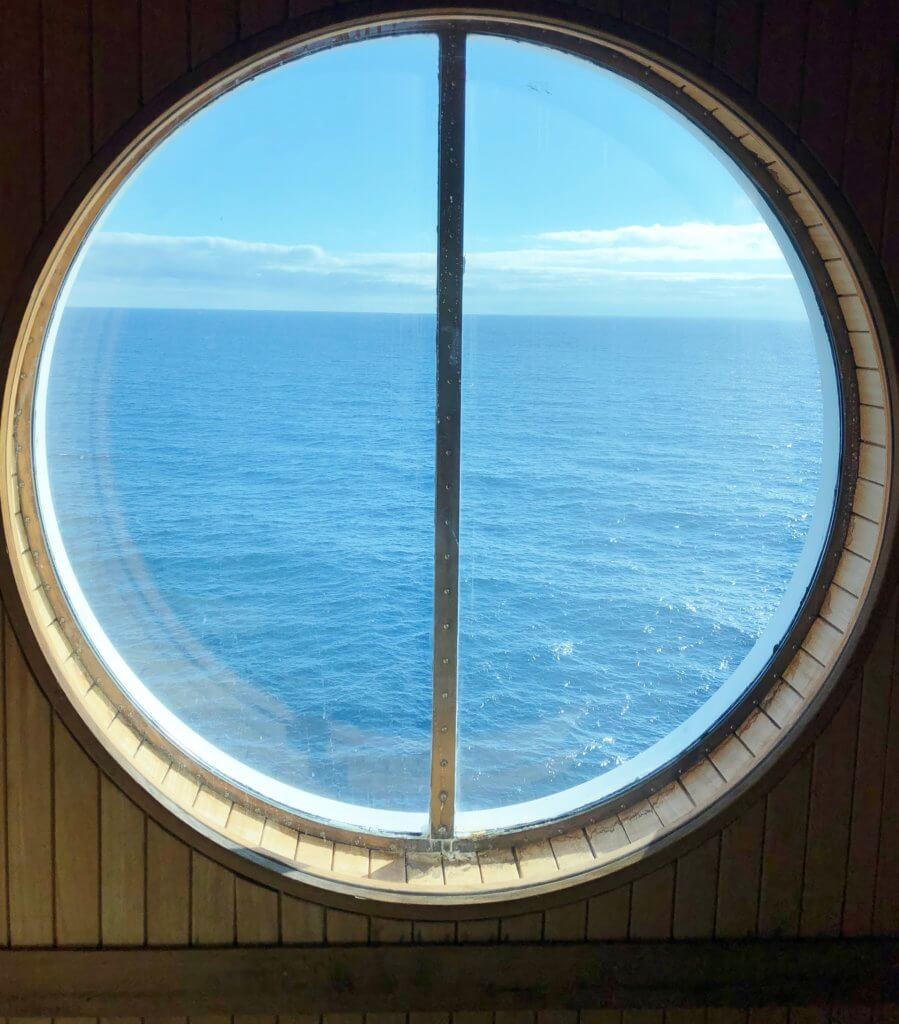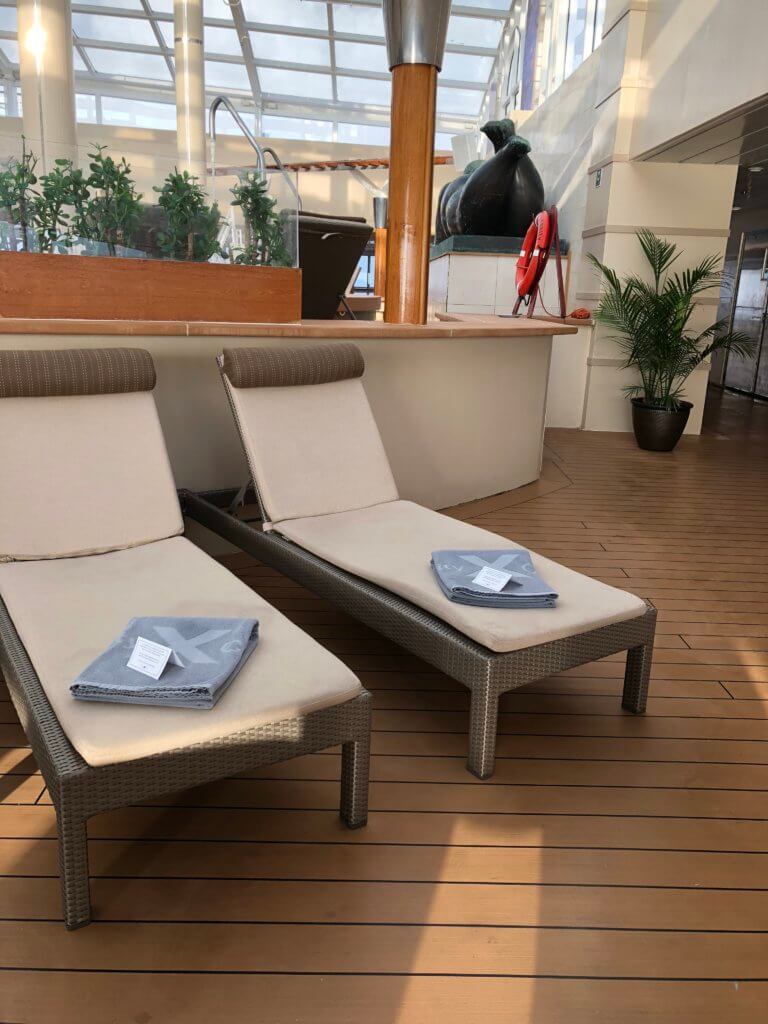 9. When in port, choose an active excursion or do a walking sightseeing tour
When you're in port, why not choose an excursion that gets you active and moving? If you've always wanted to learn to scuba dive, why not sign up for an excursion and lessons? If that's not for you there's snorkeling, biking, kayaking and more. A cruise is a great time to try something new, and that's pretty good for you too!
If you're not up for that and prefer to sight-see , there are often so many places you can visit on foot. All the extra steps you take really add up. If you're heading to the beach, take a few walks. Bring your Bring your Fitbit and see how well you do!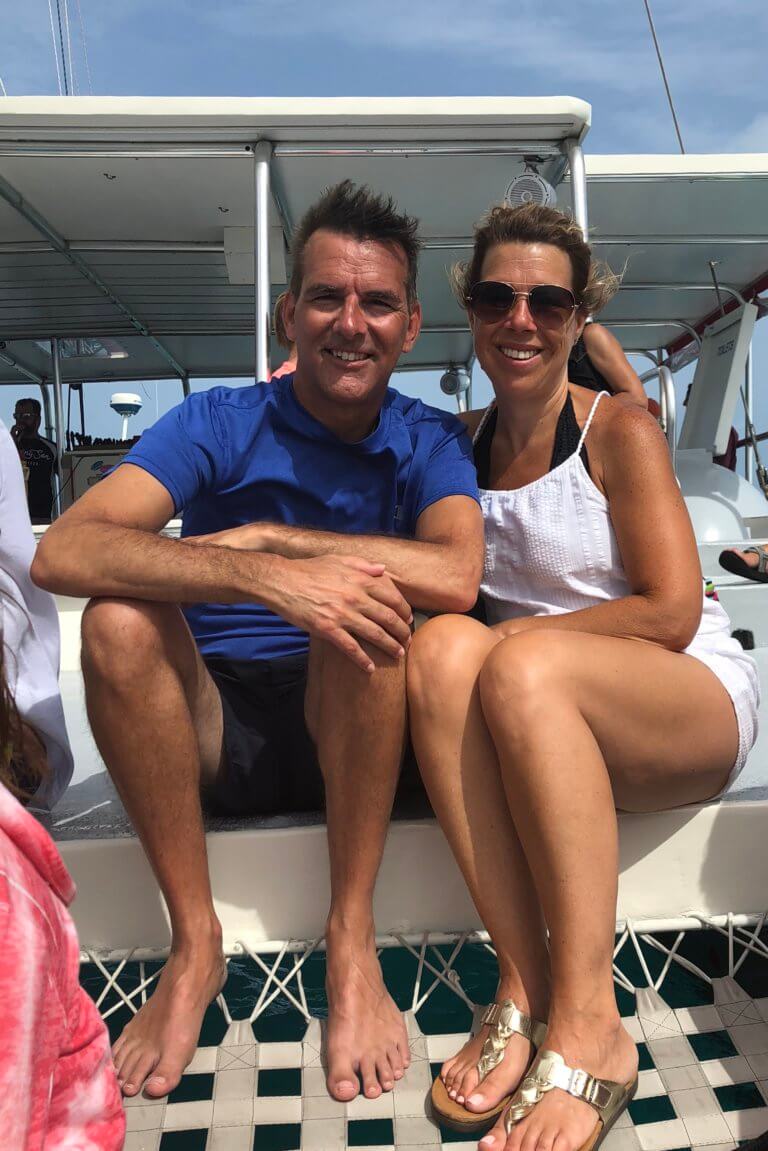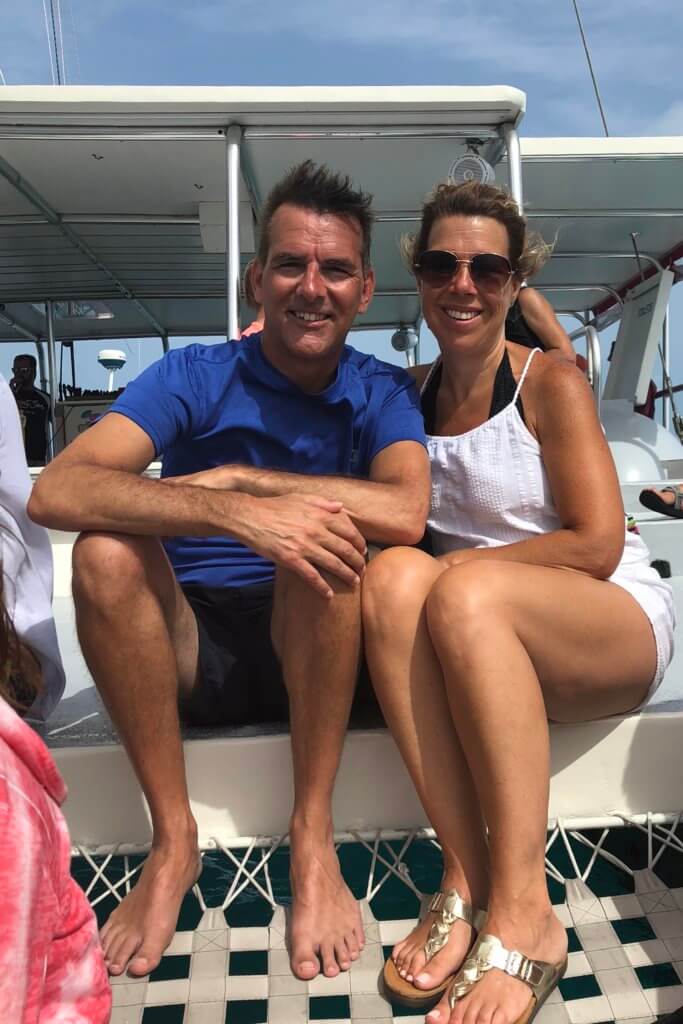 10. Evening dining in the main dining room
It wouldn't be a cruise if I didn't talk about dinner and the fabulous food. There are quite a few delicious options that you can choose while eating dinner in the main dining room or buffet if you choose. Personally, I just love being served and eating well in the main dining room, so this is where we choose to be, 90% of the time.
What I really like about the meals in the main dining room, is that they are delicious, but they are not overly huge. You can opt for salad or appetizer and a main meal, and there are healthier options if you choose. I'll be honest, when on a cruise vacation, I really try to keep a balance, and because I love food so much, I eat what I want in the evening. Most nights I eat dessert, because I love it.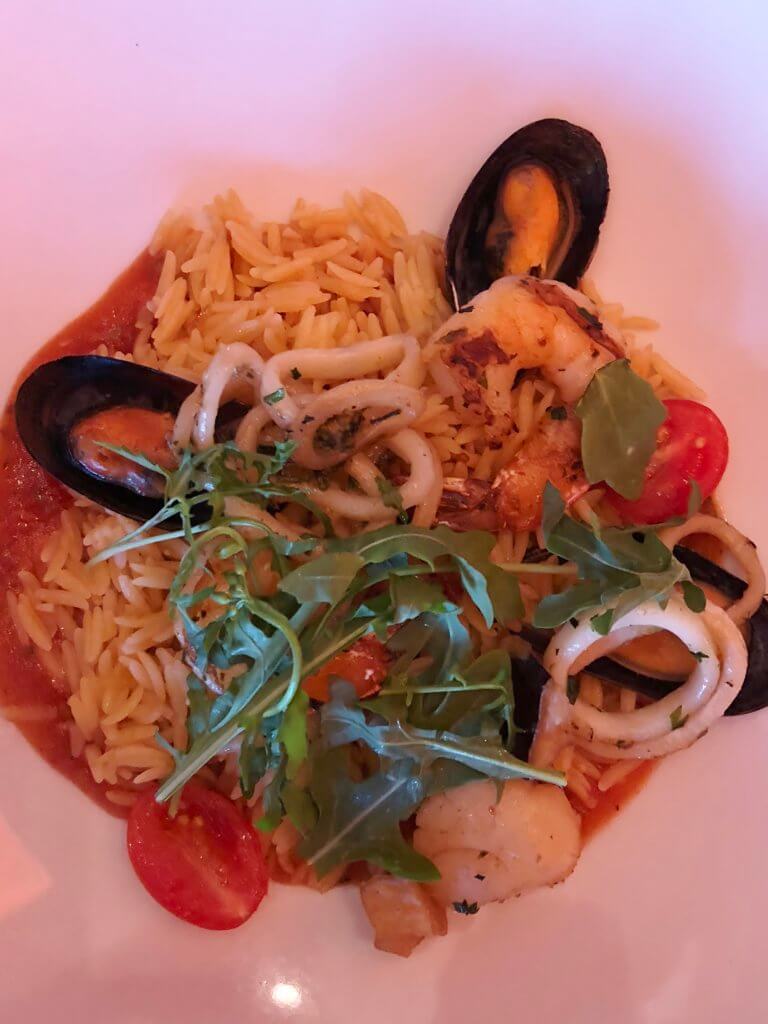 Yum!!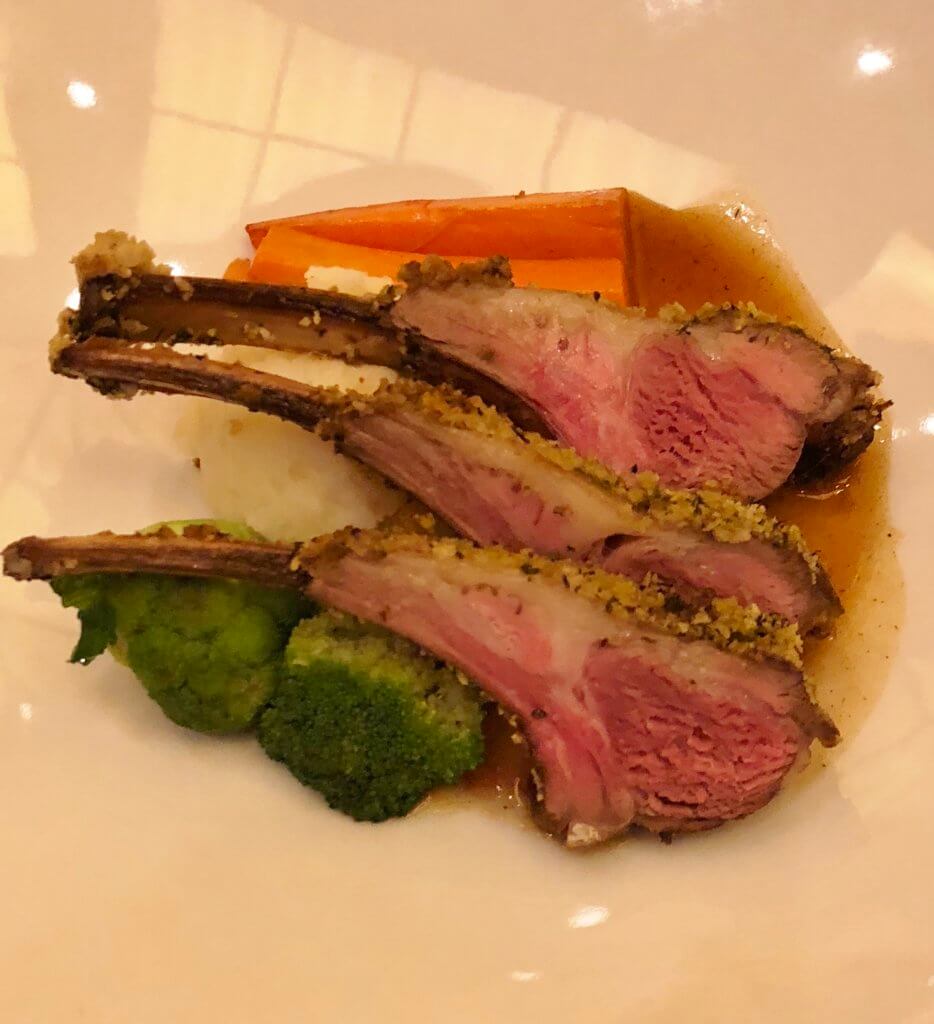 Aqua Class Staterooms
It just wouldn't be fair if I didn't mention the Aqua Class Staterooms. If you really want to relax and indulge in the healthiest of ways, do check out this stateroom option. Aqua Class comes with access to a beautiful area of the spa called Persian Gardens, and includes a clean cuisine menu at in a specialty dining restaurant Blu, among other benefits. I did not stay in an Aqua Class cabin, although I would love to try it one day.
Here's a recap of some of my favorite ways to stay healthy and fit on my cruise vacation
Whether you are on a Celebrity Cruise vacation, or cruising with another cruise line, the basics still apply.
1. Adjust your mind-set to know that you can enjoy, but find some balance.
2. Try your best to make good food choices as much as possible.
3. Enjoy activity and movement and try new things.
Finally, relax and enjoy. The cruise is only 1 or 2 weeks, and any small weight gain can be undone with a couple weeks back at home and back to routine.
If you've enjoyed this, here are more of my favorite tips about How Not to Gain Weight While on a Cruise.
What has your experience been? Do you find it challenging to go on a cruise vacation and not gain weight? Let me know your own tips and tricks in the comments below.
Happy Cruising!
Ilana xoxo
Most popular posts/recommended reading
12 Special Touches That Will Make You LOVE Celebrity Cruises
Celebrity Cruises: 7 Reasons You Will LOVE Cafe Al Bacio
Cruise Organization Hacks Every Cruiser Can Use
What to Pack in Your Cruise Carry-On Luggage
P.S. Can I ask you a favor? If you enjoy reading this blog, can you help me out and share you favorite post on the social media of your choice? I really appreciate it :-).
Let's connect:
Follow me on Facebook at Life Well Cruised
Follow me on Pinterest at Life Well Cruised
Follow me on Instagram at Life Well Cruised