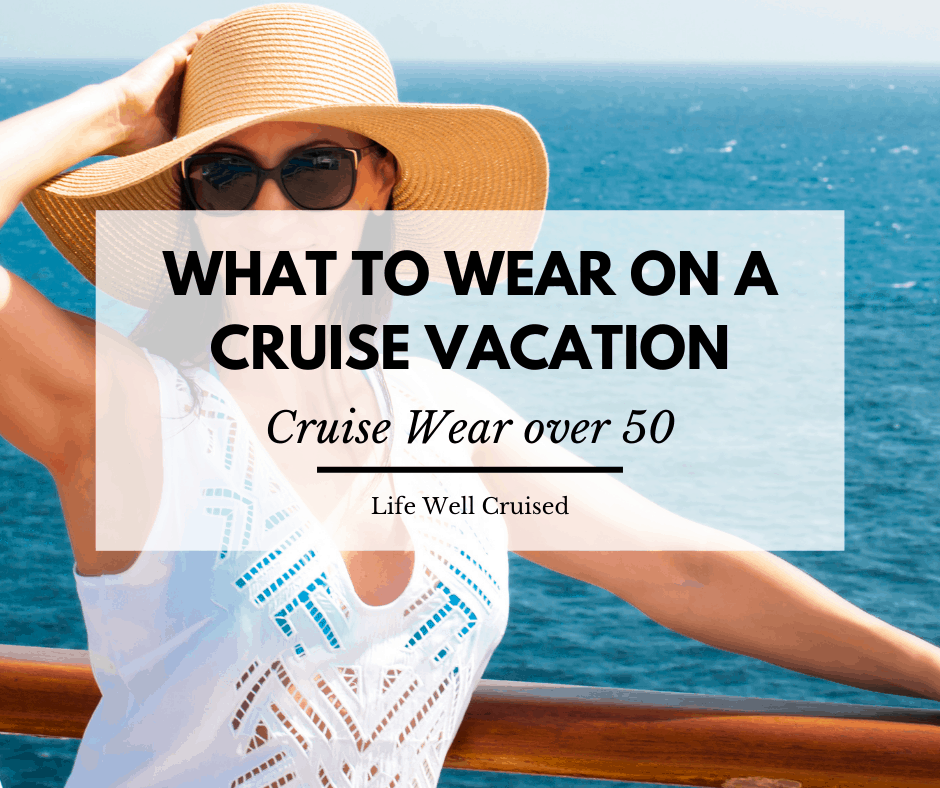 It's so much fun packing up and preparing for a cruise. For me, this often starts with thinking about what cruise outfits to wear. While this post is about cruise wear over 50, these cruise fashions can work well for women of all ages!
Please keep in mind that you should always wear what makes you look and feel good. It just happens that I'm turning 50 this summer, but I would wear these cruise outfits at 40 and at 60, and every age in between.
In this post, I share casual cruise wear ideas and formal wear options (all quite affordable). Whether you're looking for a cute maxi dress or an elegant cocktail dress, I think you'll like these styles. These outfits aren't too tight, are versatile, and most importantly, look fabulous!
I've also included a few bathing suits and cover ups, shawls, tote bags and evening bags – accessories often complete the look, but are also really useful on a cruise.
I've also included photos of some of my own cruise outfits from past cruises. Now, I am by no means a model, but I have a theory that everyone looks good on a cruise.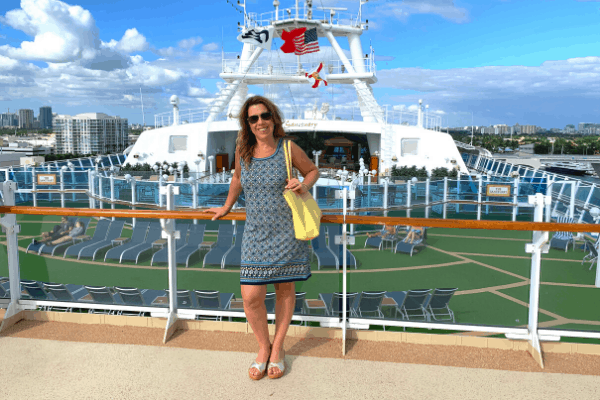 What to Wear on a Cruise (over 40, 50, 60)
Let's start with what cruise wear you'll need for your cruise vacation. On a 7 day Caribbean cruise, you'll want to be prepared with casual resort style clothing for the day, and a mix of cruise casual and dressy outfits for evening.
Cruise Outfit Packing List for Ladies
Here's a simple women's clothing packing list for a 7 day cruise, to use as a guide. Some people like to bring more and some people less, so adjust quantities of your favorite items accordingly.
2-3 sundresses and maxi dresses
2-3 pair of shorts
3-5 tops (day & evening)
2-3 pair of dark jeans, capri pants or a skirt
2-3 smart casual dresses or Little Black Dress
1-2 fancy dresses or outfits
2 Bathing suits
2 Cover ups
2 shawls or cardigans
gym shoes or comfortable walking shoes
flip flops or sandals for the pool
Heels or dressy flats for evening wear
Wedge shoes or espadrilles for day or evening
Evening bag or clutch
Tote bag for cruise ship and excursion days
Sunhat
Sunglasses
**Looking for a printable cruise travel planner to keep organized? See what's included in the 47 page Ultimate Cruise Planner
Get The Ultimate Cruise Planner
Regular price: $27 Now just $17!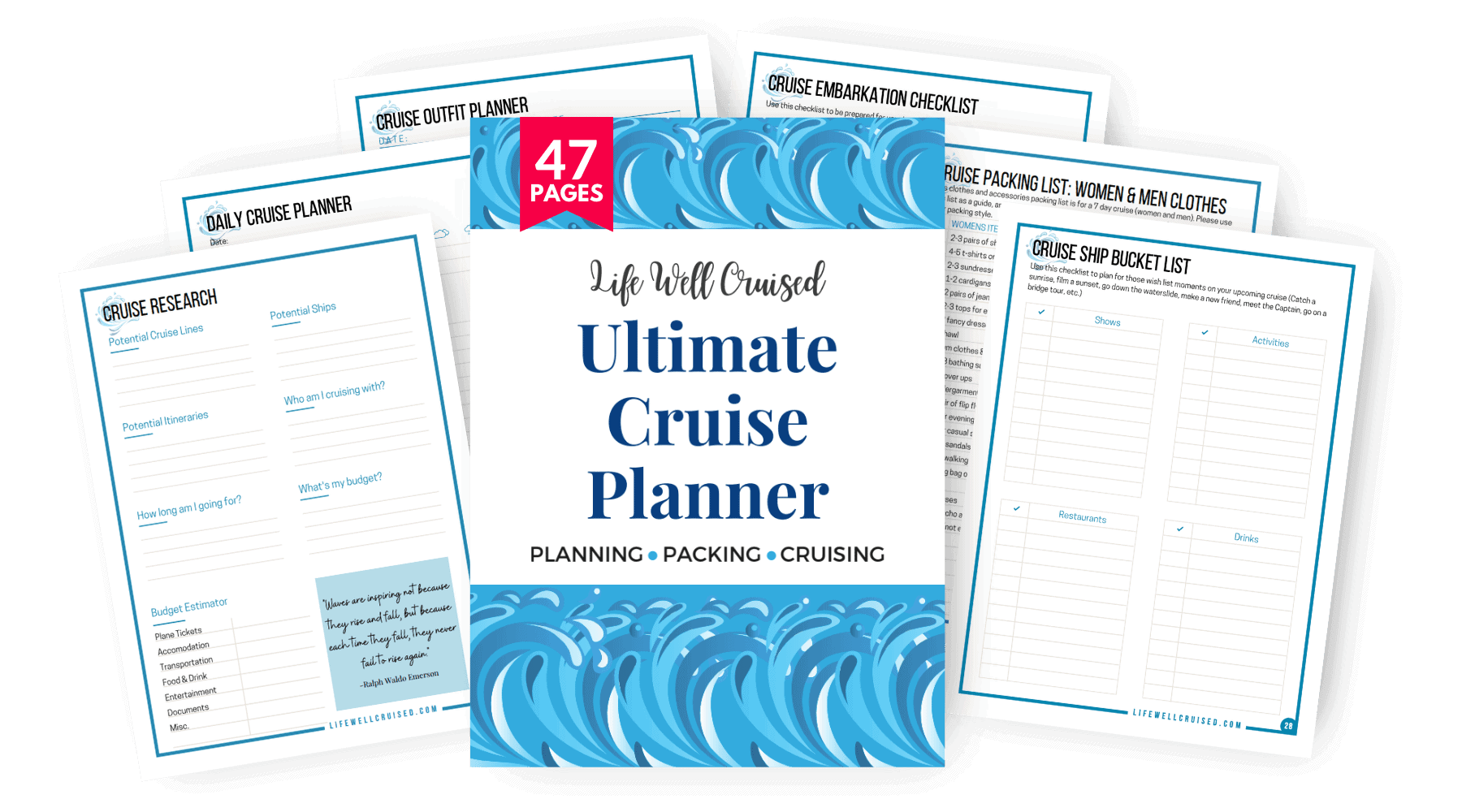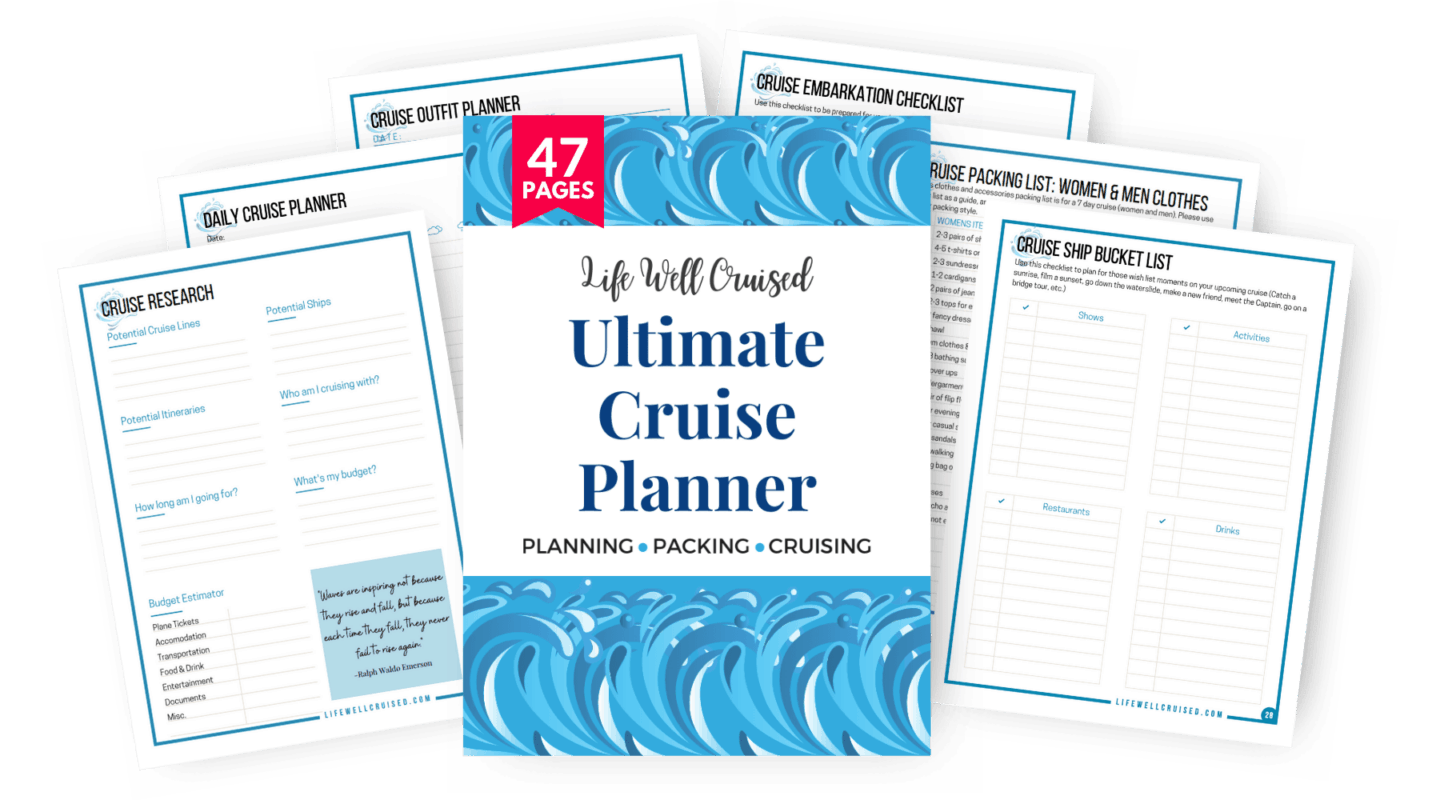 This post contains affiliate links which means if you click and buy that I may make a commission, at no cost to you. Please see my disclosure policy for details.
Life Well Cruised is a participant in the Amazon Services in the Amazon Services LLC Associates Program, an affiliate program designed to provide a means for sites to earn advertising fees by advertising and linking to Amazon.com.
Cruise Outfits for Ladies over 50
Cruise Daywear
On most cruises you can dress casually during the day, in shorts and a t-shirt, or a sundress.
For port days, consider your shore excursion plans and decide what to wear. If you're heading to a beach, a bathing suit and cover up are perfect. If you're sightseeing, a cute top and shorts or a sundress or maxi dress is the way to go.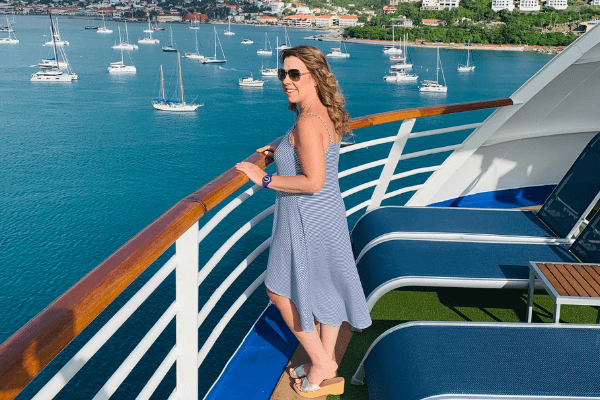 Casual Dresses – Sundresses & Maxi Dresses
Casual spaghetti strap sundress
This casual spaghetti strap sundress is comfortable and cute, and would make a great embarkation day outfit. If you want to pack light for a cruise, you could even wear this dress in the evening with accessories.
Recommended: Casual sundress (see pricing and Amazon reviews here)
Romper /shorts
This one piece romper is casual, but looks a little bit cruisey just the same. Great on the ship or to wear on port days. It's available in this nautical stripe, as well as solid colors and is very affordable (shhhh).
Recommended: Nautical shorts romper (check price & amazing Amazon reviews here)
Maxi dresses
This striped maxi dress makes a great sundress or bathing suit cover up (that's how I wear it). However, depending on the color or print, this maxi dress can look a bit more dressy.
Recommended: Maxi dress (see colors and pricing on Amazon)
This spaghetti strap maxi dress is comfortable and casual for strolling on a port day, but will also look great in the evening on your cruise. Take a look at the different colors and patterns. My favorites are the black, navy floral, and boho.
However, I love a deep blue dress when I'm cruising, so I always pack at least one of this color. Please note that this dress runs a little small, so you may want to size up.
Recommended: Cute maxi with pockets (see color options & pricing here)
Evening Wear on a Cruise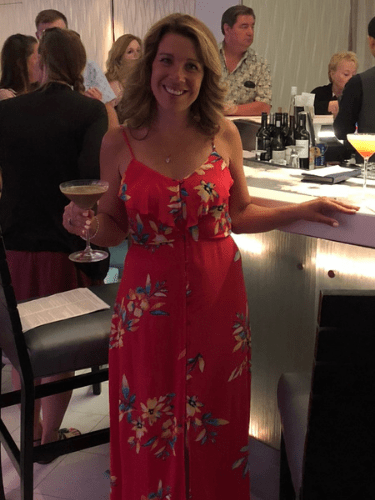 On a 7 day cruise, you'll usually have 4-5 casual or smart casual evenings, sometimes called cruise casual. 2 evenings are usually formal or "chic" wear.
Casual & smart casual dress code: Wear a stylish top and jeans, or Capri pants or a comfortable maxi dress. A little black dress or floral dress are great too.
Casual & Smart Casual Outfits on a Cruise
This beautiful floral dress is perfect cruise wear for the dining room or specialty restaurants. Loose fitting and stylish, (the v neck and 3/4 bell sleeves) it's very flattering for women who are fabulous at 40 or 50!
This dress is available in very small to plus size, and in more than 20 solid colors and prints. It might be worth getting 2!
Recommended: Ladies V neck shift dress (see colors & pricing here)
Elegant long maxi dress
This halter neck maxi dress is so pretty. Don't forget to add a shawl for cool evenings on the cruise ship.
Recommended: Cruise casual halter style maxi dress (see price & details on Amazon)
Off the shoulder top
Pair a pretty top with a pair of white capri pants or jeans for a casual evening on a cruise. This off the shoulder top comes in different color stripes as well as solids and other patterns.
Recommended: Pretty off the shoulder top (check thousands of 4.5 * reviews)
Resort style top
A loose short sleeve or bell sleeve top looks great with dark jeans or capri pants for a comfortable cruise casual look. This style is available in a "sexier" version with a spaghetti strap.
Recommended: Floral casual top (see variations & options here)
Capris, jeans or trousers
These days cruises are much more casual than in the past. Wearing nice capri pants or white or dark jeans in the evening will look great paired with a pretty top.
Recommended: White capri pants (with tummy support)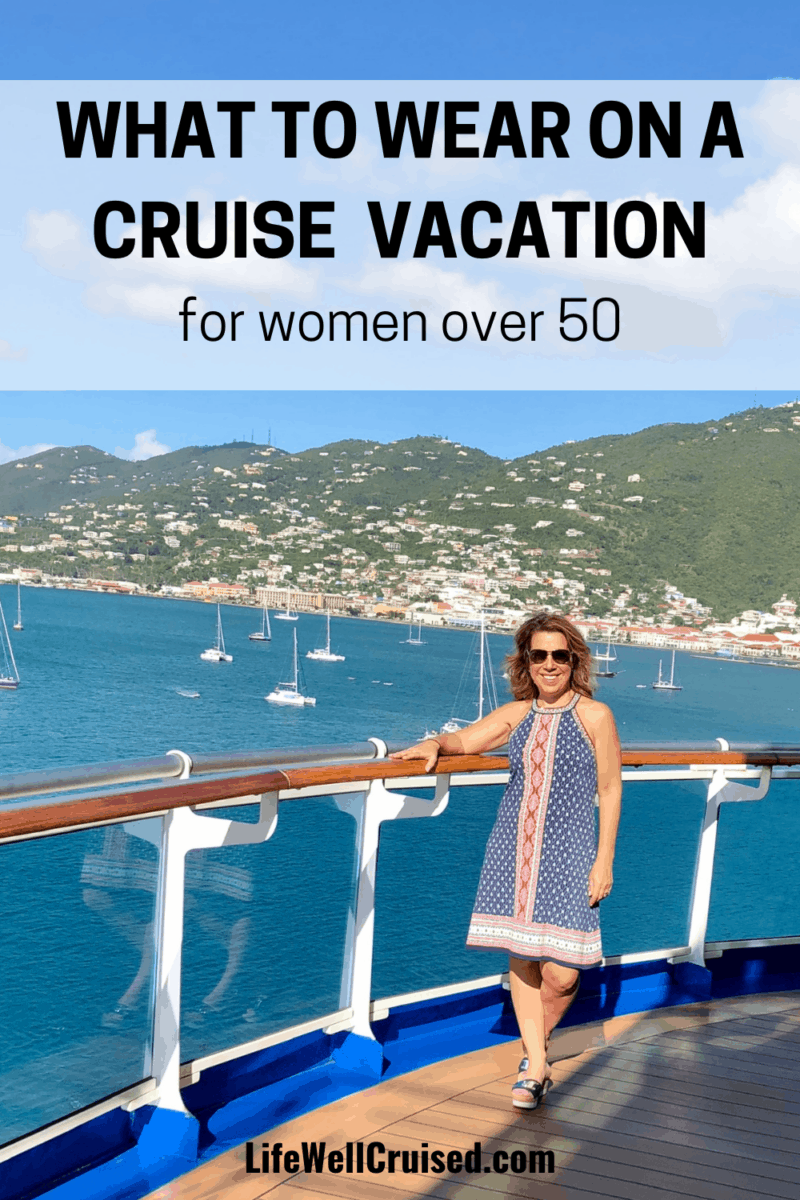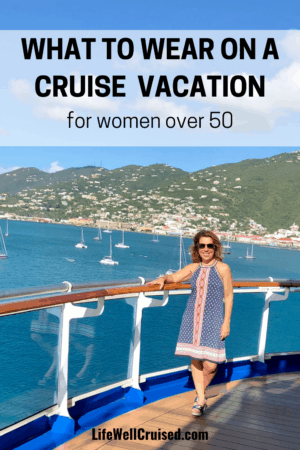 Plus size cruise casual dress
I love this pretty dress style that can be dressed up or down on a cruise. It's available in several colors and so flattering. The black and navy blue version of this dress are simple and gorgeous!
Recommended: Women Plus Size Dresses Short Sleeve Swing Dress with Pockets (check price here)
Cruise wear doesn't have to be a dress, even in the main dining room. Unless it's a formal night, dark jeans and a top, capri pants or a jumpsuit are great outfits that feel chic and modern.
Romper jumpsuit
Isn't this outfit cute? Women of every age will look elegantly casual in a romper jumpsuit. Dress it up or down with your favorite shoes.
Recommended: Off the shoulder romper jumpsuit (check sizing, color options here)
Read: What to Wear on a Norwegian Cruise
Cruise Formal Night Outfits
Formal dress code: On most cruises you'll have 1-2 formal nights, chic nights or "dress your best" nights. These cocktail dresses are beautiful and flattering for ladies over 40 or 50, but really for any age. Always check your cruise line dress code as a guide.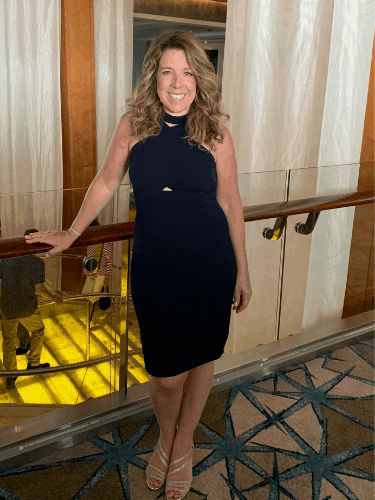 Cocktail Dresses
Long cocktail dress
I love this long black evening dress, that is both simple and elegant (look at the side detail). It's available in other colors as well, even red, if you want to stand out.
Recommended: Long elegant cocktail dress (see details and reviews on Amazon)
Mid length pencil dress
This pencil dress is perfect for formal night or smart casual evenings on a cruise, but isn't too fancy that it can't be worn at home.
Personally, I love the wine color, however the black, blue and red are gorgeous too!
Recommended: Elegant evening short dress (see details & excellent reviews here)
Read: What to Wear on a Celebrity Cruise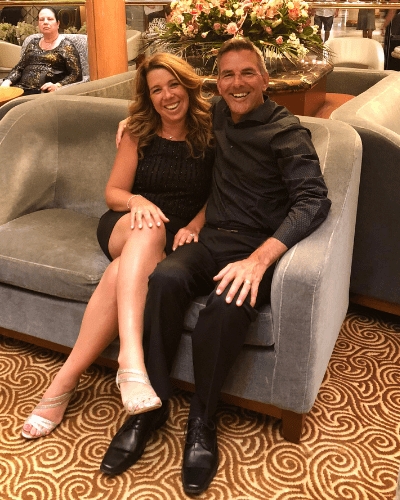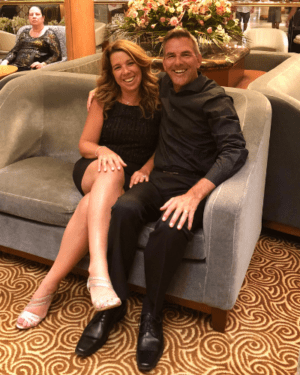 Lace detail shift dress – Plus size cruise cruise wear
This lace detail short cocktail dress is a great dress for evenings on a cruise. It's available in different colors and sizes, and a good option if you're looking for plus size cruise wear.
Recommended: Plus size cruise cocktail dress (see price and Amazon reviews here)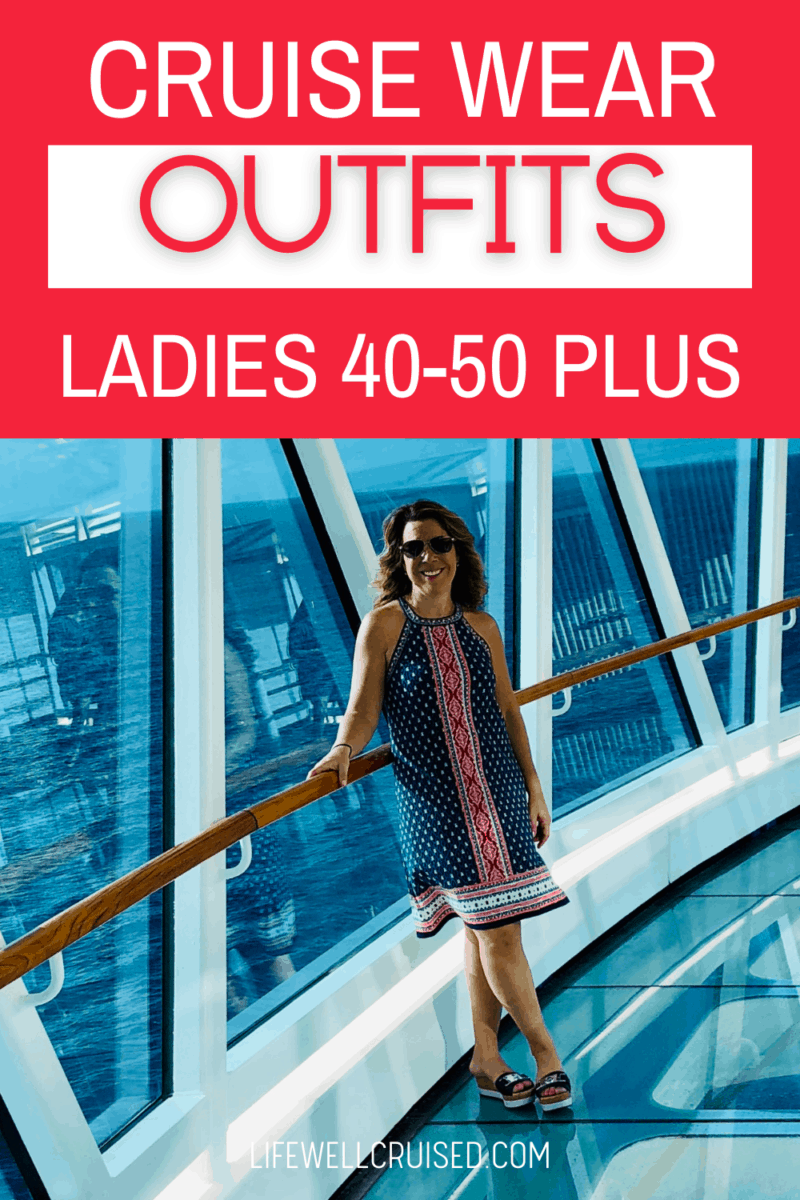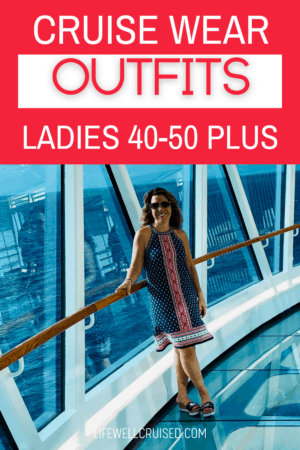 Ladies Bathing Suits & Cover Ups
Bathing suit cover ups
You'll want to put on a bathing suit cover up when heading indoors on your cruise or to eat at one of the restaurants. Make sure to pack 2 cover ups, so you can change your look and always have a clean, dry one available.
Swimsuit cover up dress
This stylish 3/4 length sleeve bathing suit cover up dress comes in black, white and beautiful tropical patterns. If you're going on a Caribbean cruise, it's perfect for beach excursions.
Recommended: Loose fitting bathing suit cover up
Bikini wrap cover up
A short chiffon sarong wrap is a perfect cover up for bikinis or or one piece bathing suits.
Recommended: Sheer wrap cover up (check colors & price on Amazon)
Versatile cover up
This v neck swimsuit cover up is very flattering over a one piece or bikini. I love the white cover up, however there are several different colors to choose from.
Recommended: Women's swimwear cover up (popular amazon choice)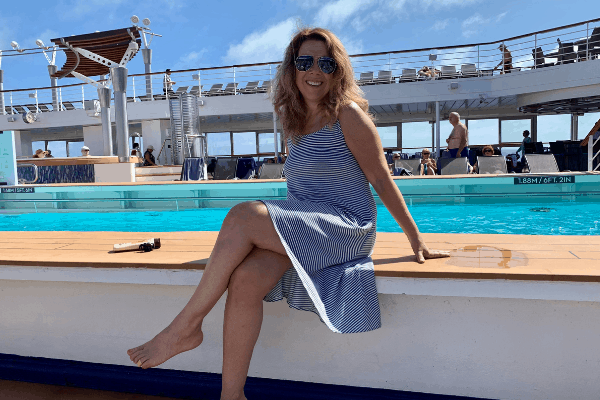 Bathing suits
Make sure to pack at least 2 bathing suits for your cruise, so when one is wet the other is dry.
Cupshe tummy control one piece swim suit
This one piece Cupshe brand bathing suit has tummy control and is very flattering on real women's bodies. It's also available in a few slightly different styles and colors.
Recommended: One piece tummy control swim suit (see styles & read over 3000 reviews)
One piece off the shoulder bathing suit
This attractive one piece off the shoulder bathing suit fits women of every age, shape and size. See the color and pattern options available.
Tip – make sure to choose one size up for best fit (snug but comfortable)
Recommended: Off the shoulder one piece bathing suit (see 7000+ 4.5 star Amazon reviews)
Halter bathing suit swimdress
If you prefer a little more coverage, this halter top swimdress bathing suit is very flattering. It's available in very small to plus size cruise wear.
Recommended: Halter top swimdress bathing suit (see amazing Amazon reviews here)
Related: 25 Best Selling Amazon Cruise Essentials
The Ultimate Cruise Planner
Do you need cruise packing lists, to-do checklists, shore excursion forms and more? Over the last year, I put together a 47 page cruise travel planner that has everything you need as you plan and get ready for your cruise.
Check out the Life Well Cruised Ultimate Cruise Planner. Plus, for a limited time, it's $10 off. Hope you enjoy!
See details here: Ultimate Cruise Planner -What's Included
Get The Ultimate Cruise Planner
Regular price: $27 Now just $17!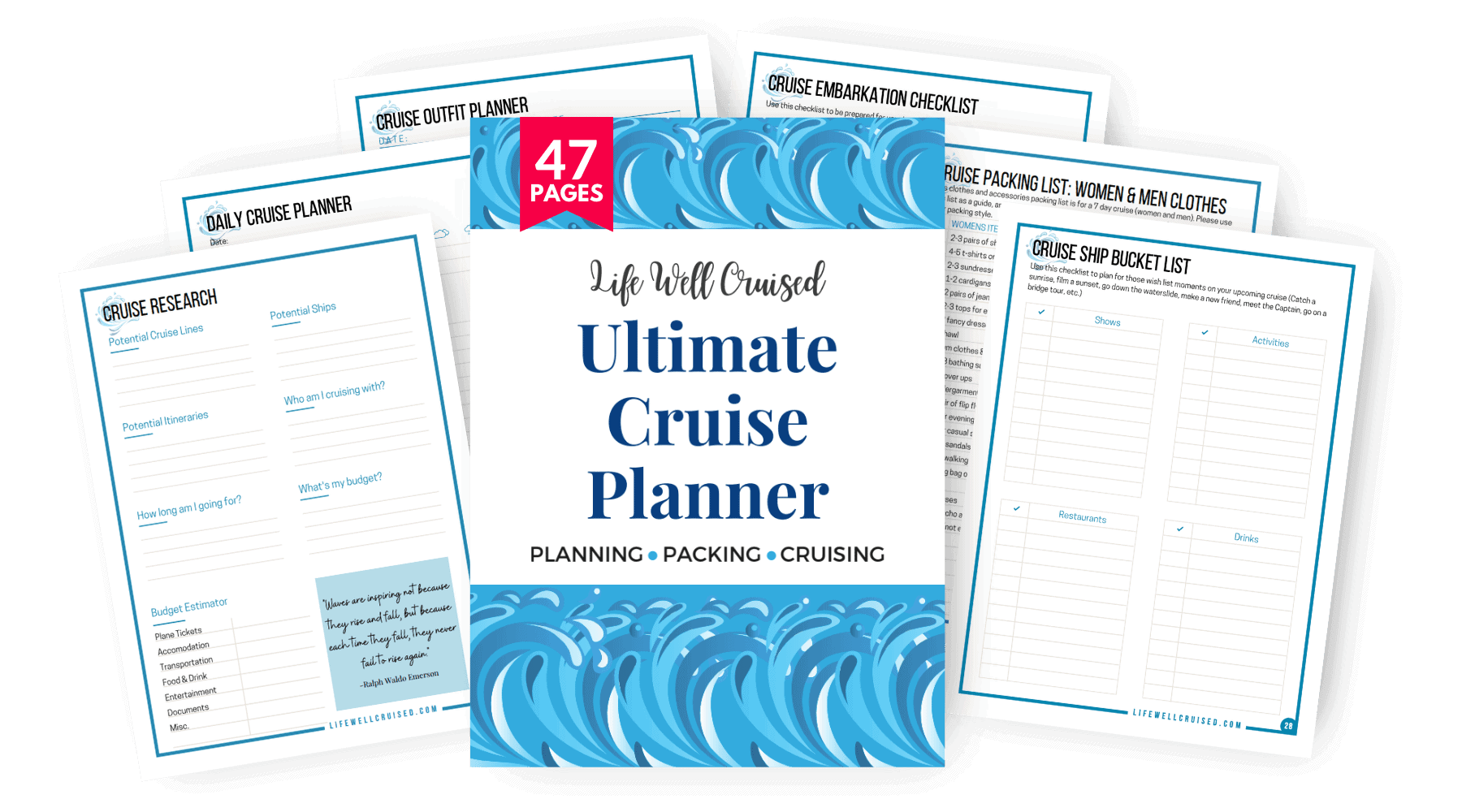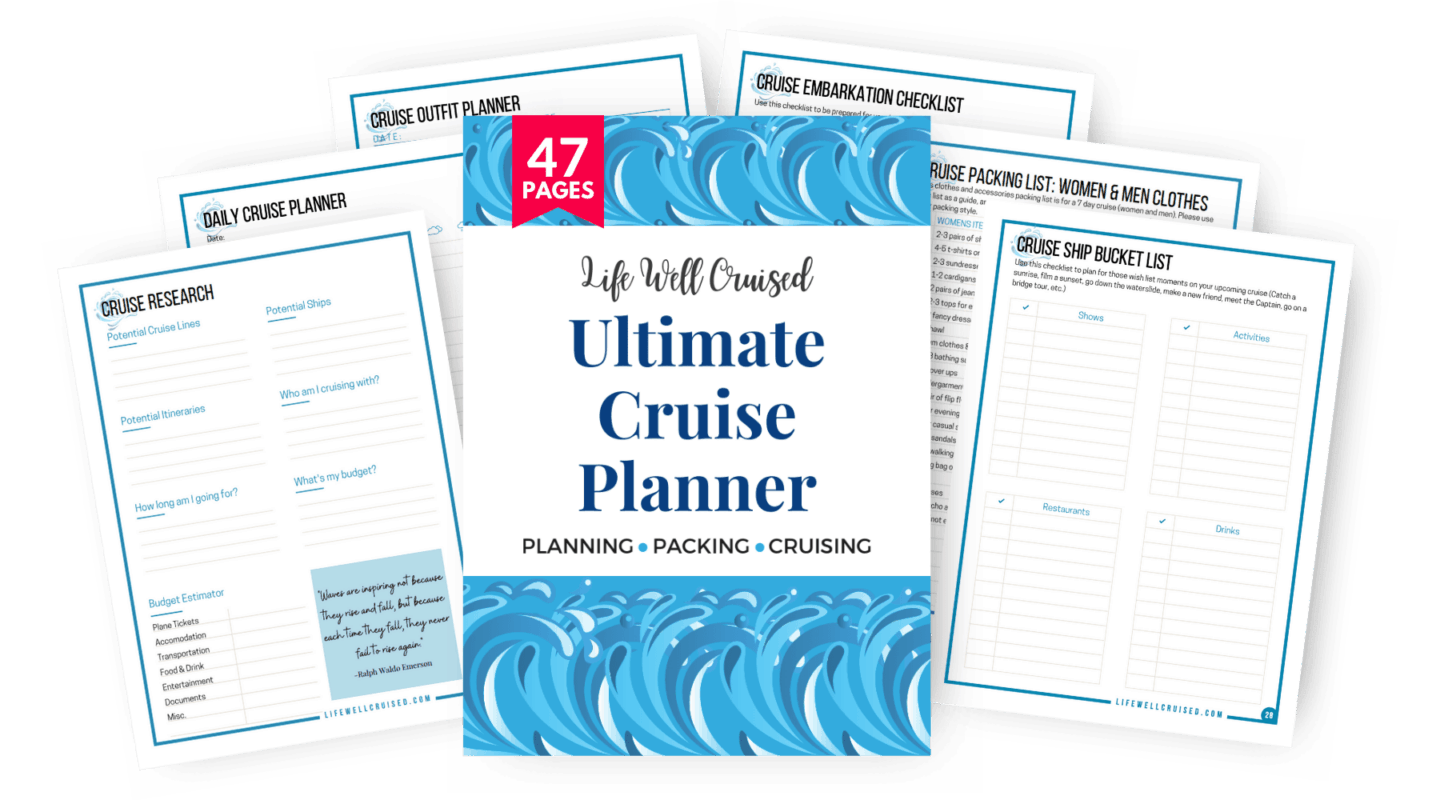 Shawls, Sunhats and Accessories
It gets a bit cool on a cruise ship in the evening, between the air conditioning and the evening sea breeze. Make sure to bring along a shawl, scarf or cardigan or two – it's really a must.
Pashmina shawl wrap
A pashmina shawl wrap will looks great over an evening dress. I like to have one in black and ivory, however it's available in several colors.
Recommended: Pashmina wrap shawl (check price here)
Sunhat
Make sure to bring a foldable sunhat on your cruise. Along with sunscreen and lip balm, a good sunhat is definitely a cruise essential.
Recommended: Ladies wide brim sunhat (see color options here)
Flip flops
Make sure to bring comfortable flip flops that you could actually walk in, whether on the cruise ship on sea days, or in a port of call. These Reef's Cushion Sands Flip flops offer support, a cushioned sole and traction.
Recommended: Reef's Cushion Sands flip flops (check price & Amazon reviews here)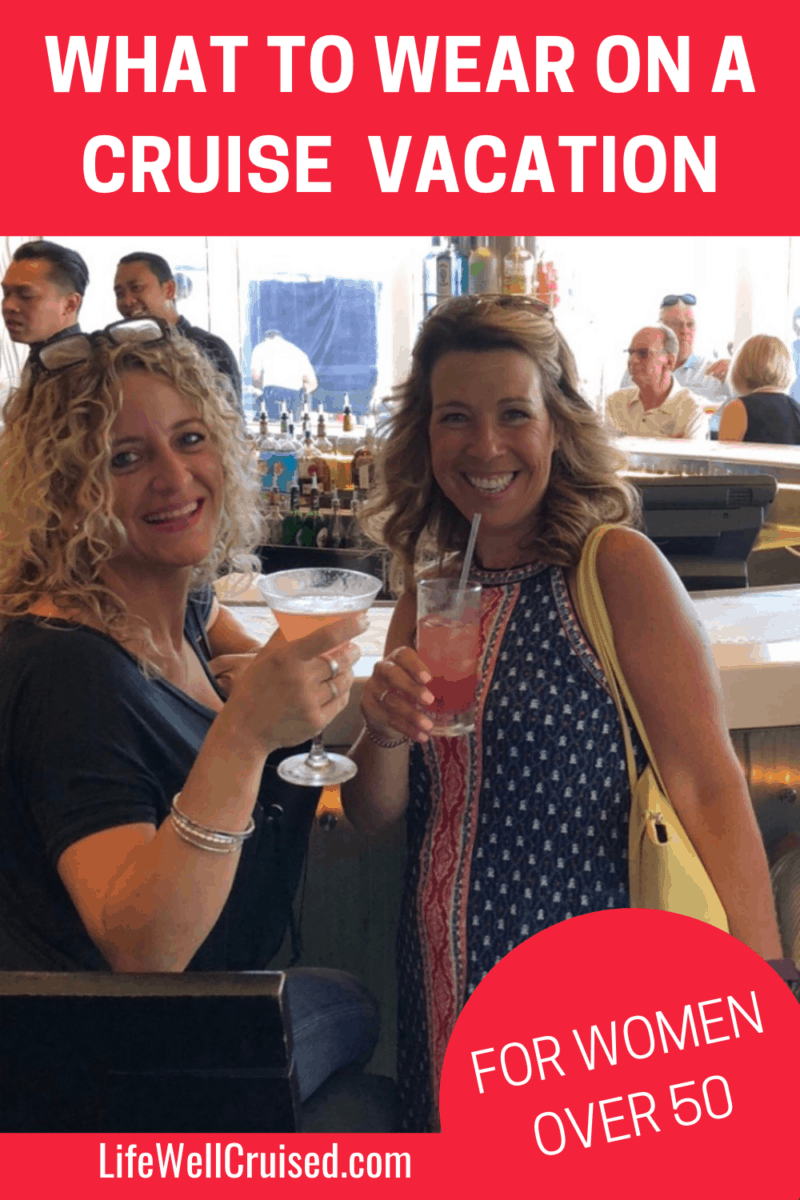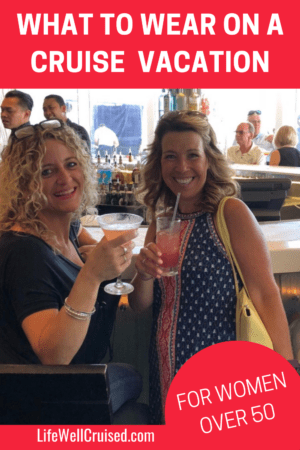 Should you carry a purse on a cruise?
You won't need to carry a purse or wallet on a cruise. However, you may want to carry a casual tote bag to the pool, with your lip balm, sunscreen, reading glasses, a book, phone etc. It's also great to have for when you get off the ship on a port day. In the evening, a small clutch or evening bag can hold your cruise card, cell phone and lipstick.
Read: Best Cruise Luggage and Packing Accessories
Tote bag and Evening Bags for a Cruise
It's a good idea to pack a clutch or small evening bag to wear to the dining room at night. Pack your cruise card, lipstick, pills and anything else you might need when out of your cabin.
Recommended: Evening bag clutch (see reviews & different colors here)
Tote bags
A good tote bag is a must for a cruise! This large nautical beach bag will fit everything you need for a beach or pool day. I put together this post full of great tips for packing your shore excursion day bag.
Recommended: Nautical tote bag (check pricing & awesome Amazon reviews here)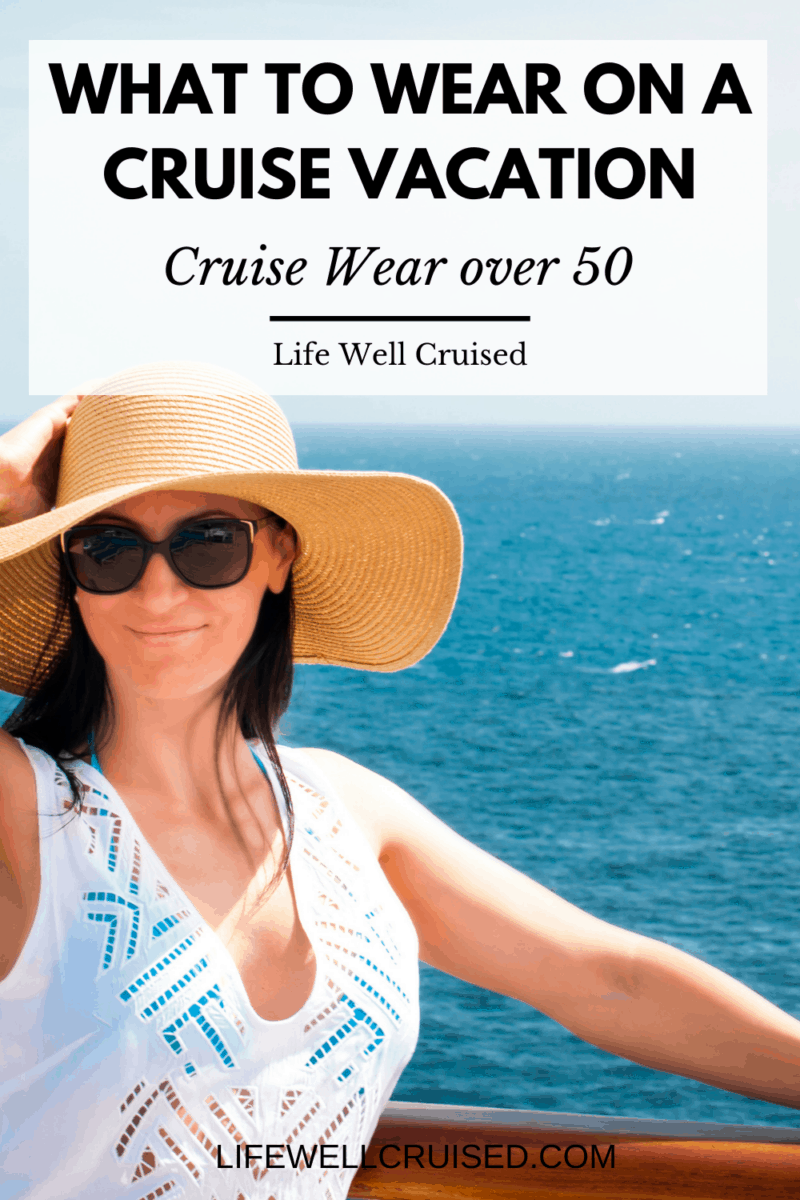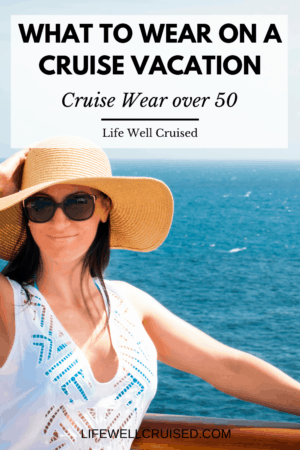 Amazon Prime Wardrobe
I recently found out about Amazon Prime Wardrobe and it's perfect for "trying on" cruise outfits. Here's the information about this service if you'd like to find out more. Sign up is free if you're a member of Amazon Prime.
Free 30 day Amazon Prime trial (benefits include faster shipping, Prime TV, borrow Kindle books and more).
Get The Ultimate Cruise Planner
Regular price: $27 Now just $17!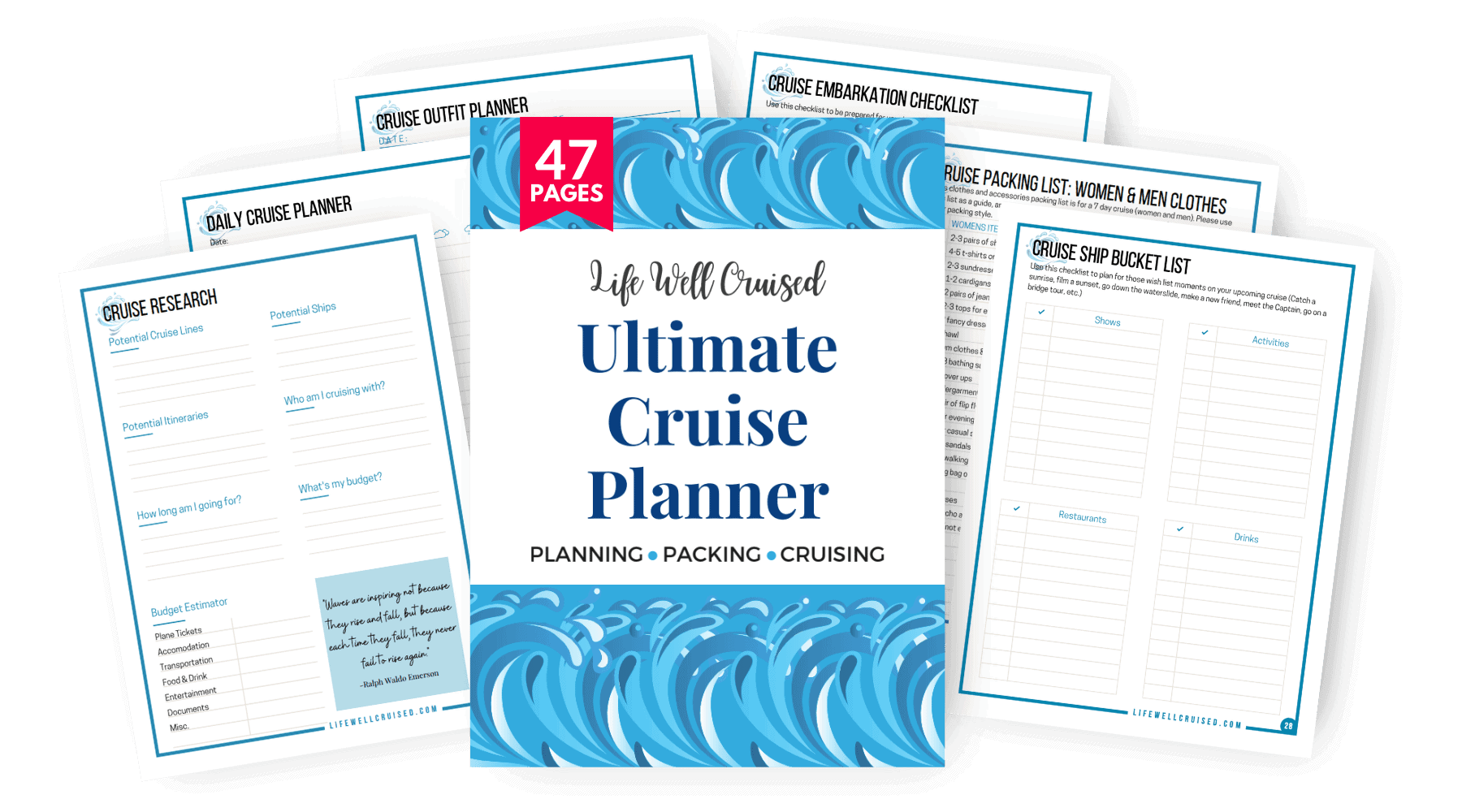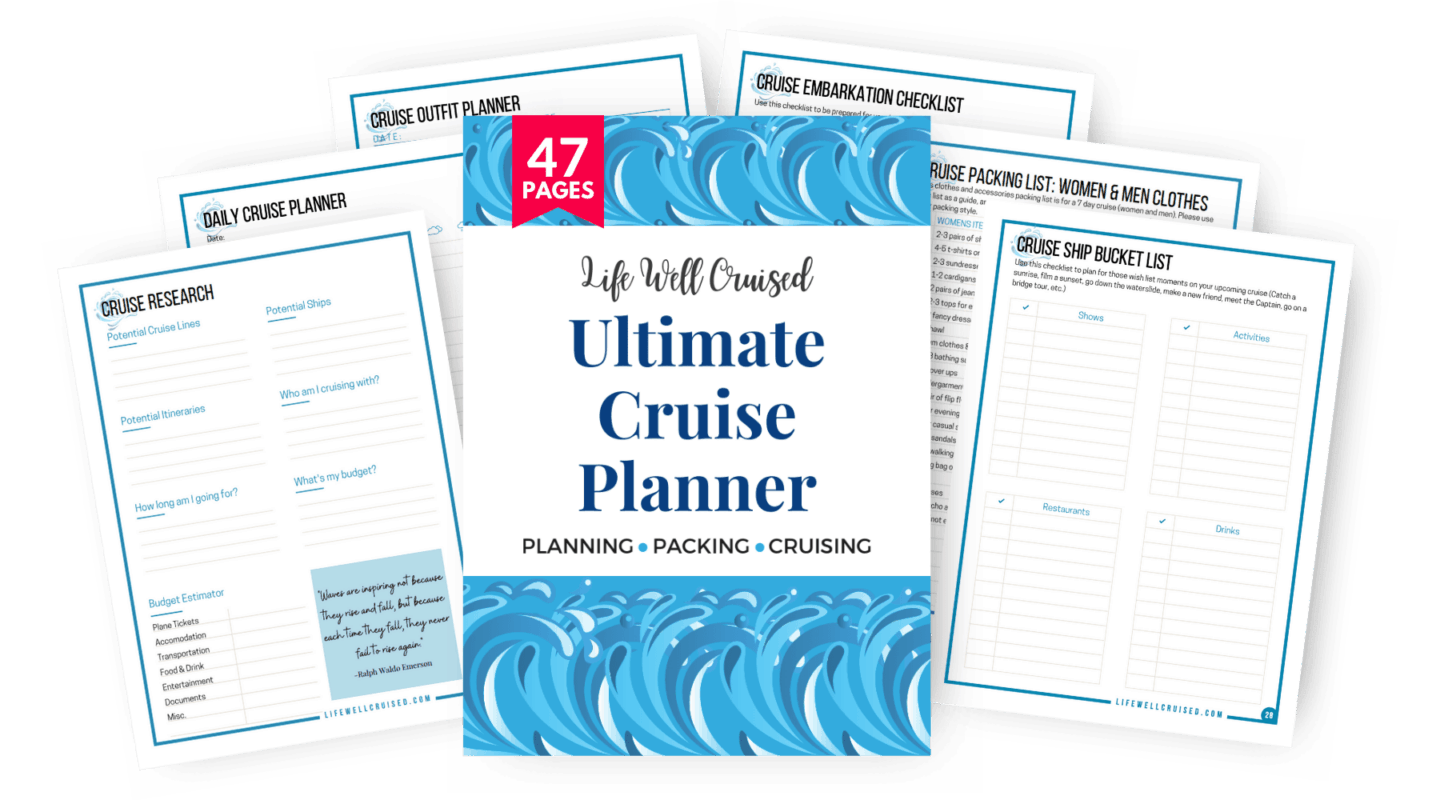 Related posts:
Best Shoes to Pack for a Cruise
What to Pack for a Caribbean Cruise
15 Best Beauty Essentials to Pack for a Cruise
50 Most Recommended Items to Bring on a Cruise
27 Cruise Travel Hacks Repeat Cruisers Swear By
What Not to Wear on a Cruise; Rules and Guidelines
Final thoughts: Cruise Wear over 50
In this post we shared what to wear on a cruise when you're over 50. However, always remember that how you dress isn't determined by age. Wear what looks good on you, what you like, and most importantly, what makes you feel good!
When is your next cruise and do you enjoy shopping and planning your outfits to wear? Please let me know in the comments below.
Happy cruising!
Ilana xoxo
P.S. If you enjoyed this post and found this helpful, please pass it along to others who love cruising too! You can share on Facebook, Twitter or even save to your favorite Pinterest board (share buttons at the top). Thanks so much!
Let's connect:
Follow me on Facebook at Life Well Cruised
Follow me on YouTube at Life Well Cruised
Follow me on Pinterest at Life Well Cruised
Follow me on Instagram at Life Well Cruised