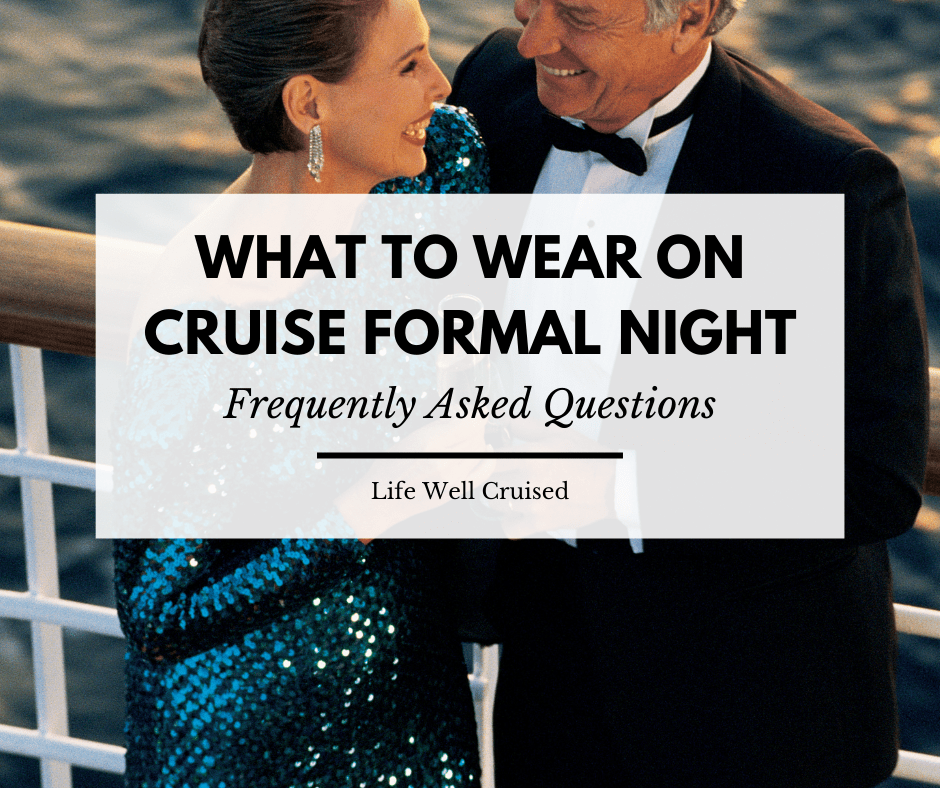 Wondering what to wear on a cruise formal night? One of the most fun, but surprisingly stressful parts of planning a cruise, is planning your formal wear attire.
You might be wondering what to expect on cruise formal nights, how many there are, and even if you can skip them if you like.
In this post, I'll answer some questions you may have about formal nights on a cruise and how they work. Plus, I'll share some recommendations for cruise formal wear to make it easy.
What is Formal Night on a Cruise?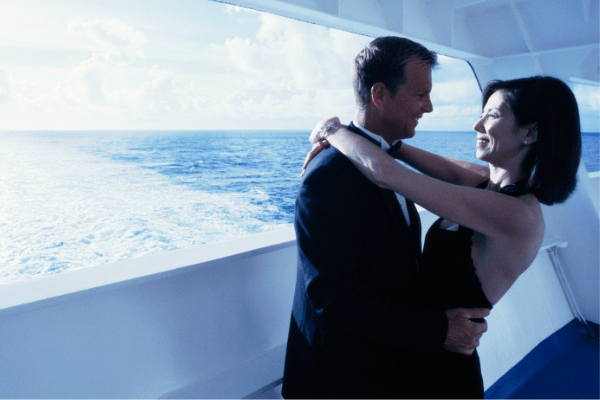 Formal night is a special evening during the cruise when cruise passengers dress up in fancy or formal attire. However it doesn't stop there. There is usually a special meal served in the Main Dining Room, where guests might be treated to a choice of menu which includes loster tail or prime rib, or a "surf and turf". This is often a passenger favorite!
Formal night is sometimes referred to as Captain's Night, and the Cruise Ship Captain will often make a speech welcoming all guests to his ship. The Captain will often be available for a photo opportunity with one of the cruise ship's professional photographers.
In addition, there may be other formal night traditions to enjoy. For example, Princess Cruises have a champagne waterfall, where guests can participate and have a photo as well. If there are "welcome back" parties for past passengers, they often occur on formal night as well.
Formal Night Photos
Cruise ship formal nights are a great time to get professional photos taken. Whether you're cruising as a couple for an anniversary or special occasion, or cruising as a family, there is no better time to capture the memories.
Truthfully, some way wonder if buying photos or a photo package on a cruise ship is worth it. However, at about $25 for an 8 x 10 photo or about $200 for a larger photo package, I think it's a splurge that may be worth it on a cruise. Professional photo shoots in most cities will cost more than this, and will be much less convenient.
Read more: 10 Cruise "Extras" that Are Totally Worth It
Cruise Formal Night Attire – What to Expect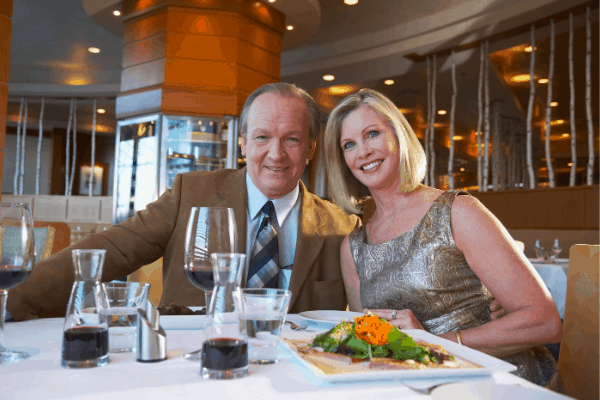 What's considered formal wear on a cruise?
On most cruise lines, a tuxedo or suit for men, and an evening gown or cocktail dress for ladies is appropriate formal wear for a cruise. In practice, there will be a wide variety of "formal wear" seen on a cruise. Simply put, some people dress up more, and some less.
Men can feel comfortable wearing a suit or dress pants and a dress shirt. Ladies can wear a nice dress or nice pant suit. Shorts and other casual wear are best left to the buffet or to other more casual restaurant choices.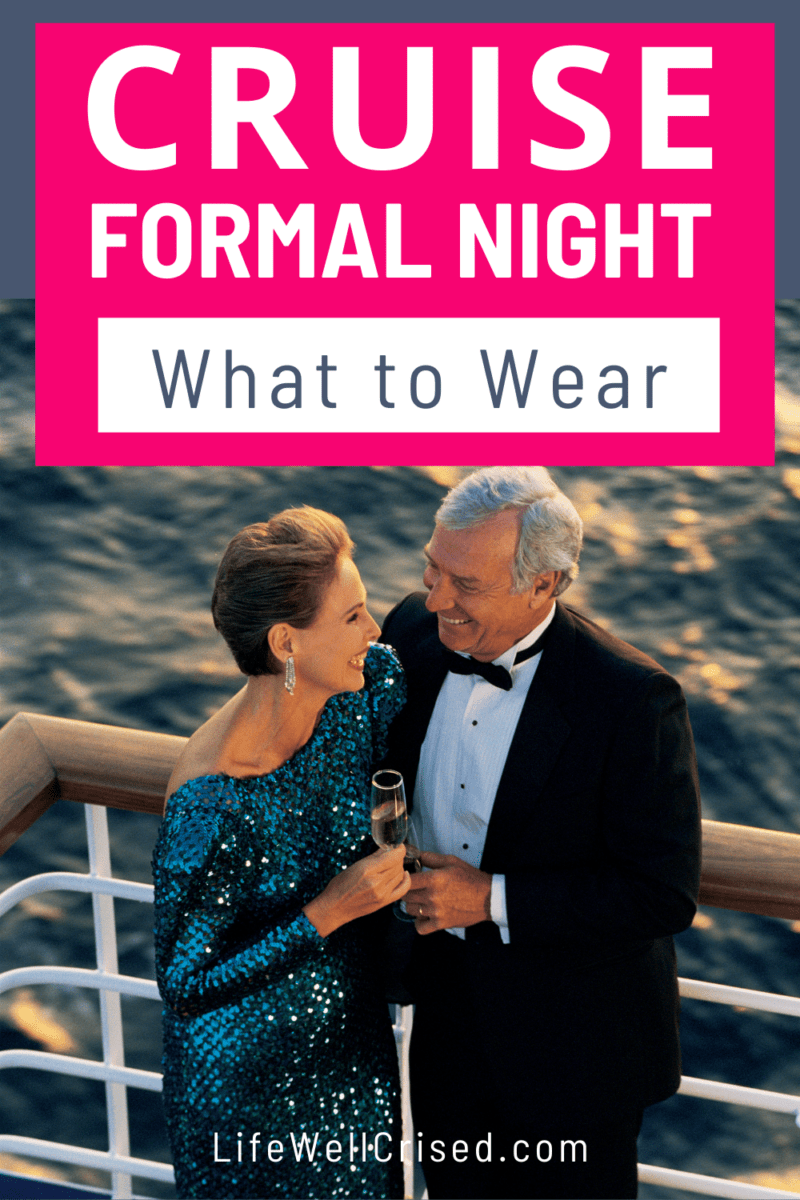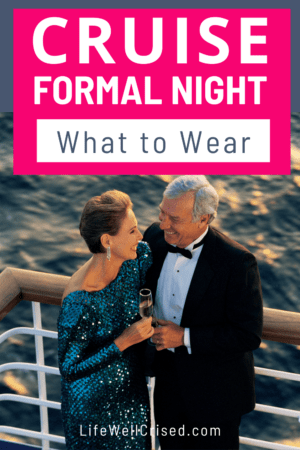 How formal are cruise formal nights?
Years ago, formal nights on cruises were very formal. It was common for men to be dressed in tuxedos and ladies in long evening gowns. Nowadays, you'll see a wide variety of dress on formal nights.
If you want to get a feeling for how formal is formal on a cruise, simply think about what clothing you'll see at a wedding. On most cruise lines, dressing in formal attire will mean cocktail dresses or elegant pant suits for ladies, and a dark suit or dress pants and sports coat for men.
Remember to check your cruise line dress codes. Cunard is one of the most formal and you'll want to be prepared with proper formal attire. Norwegian Cruise Line does not have a formal dress code, however do have optional dress up nights.
However, on most cruise ships, ladies can also feel comfortable to wear a nice dress (like a Little Black Dress) and men a pair on black dress pants and a dress shirt, with or without tie.
Read more: Norwegian Cruise Line Dress Code: What to Wear on a Freestyle Cruise
Cruise Formal Night Recommendations for Cruise Travel Wear
This post contains affiliate links which means if you click and buy that I may make a commission, at no cost to you. Please see my disclosure policy for details.
Life Well Cruised is a participant in the Amazon Services LLC Associates Program, an affiliate program designed to provide a means for sites to earn advertising fees by advertising and linking to Amazon.com.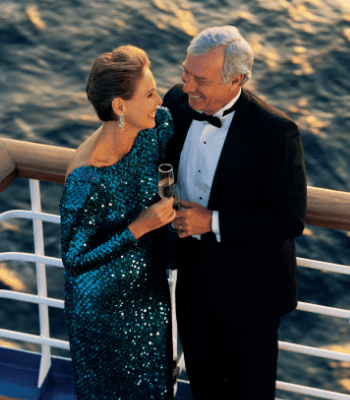 You might be wondering about what outfits are too dressy or not dressy enough for formal nights on a cruise. Here are a few examples and recommendations for formal night cruise wear, to give you a idea.
These cruise formal wear outfits are all affordable suggestions that you could wear on your cruise.
Ladies Dresses for Formal Night
Long Evening Gown Cocktail Dress
This flattering long cocktail dress is available in several colors, including black. It's high neck and beautiful detail along the skirt, make this simple design a winner for any cruise line formal night.
Recommended: Mermaid Evening Gown Cocktail Dress – See on Amazon here
Little Black Dress
If you already own a LBD (little black dress), you can definitely wear it on a cruise for formal night. If you don't, it's a good time to get one, since you can wear it literally for years. I love this flattering pencil style dress (see it on Amazon).
Recommended: Little black dress (see over 13,000 Amazon reviews here)
Halter Neck Sleeveless Dress
You formal night dress doesn't have to be super traditional. A flowing halter top dress paired with an evening bag clutch is perfect for an evening on a cruise.
Recommended: Halter neck sleeveless dress (see dress and Amazon reviews here)
Beaded Cocktail Dress with Caplet Sleeves
This plus size dress is flattering and made for real size women. I love this navy color dress with sheer detail, however it's available in paler colors including pale pink and silver.
Recommended: Beaded cocktails dress with caplet sleeves (see pricing and details on Amazon here)
Off the Shoulder Evening Cocktail Dress
This gorgeous cocktail dress is a good example of a dress that you can wear on any cruise for formal night. It also fits perfectly well on any cruise line, from Princess to Celebrity Cruises and from Carnival to NCL.
Recommended: Off the shoulder cocktail dress – see colors and pricing here (Amazon)
Read more: Cruise Wear over 50: Flattering Cruise Outfits for Women
Men's Formal Wear Dress Suggestions
Calvin Klein Slim Fit Suit Separates
Men's formal cruise wear is less "complicated" than ladies. Men can wear a dark suit, or even dress pants and a dress shirt. This Calvin Klein suit example comes in separates, so you can mix and match the jacket size and pants. Choose a nice tie and dress shirt and you're all set.
Don't forget dress shoes and a belt. I mention it because these are items that cruisers have reported forgetting bringing on a cruise, and regretting.
Recommended: Calvin Klein slim fit suit separates (see affordable options on Amazon)
Tuxedo Style Suit – Men's Blazer, Vest and Dress Pants
This suit gets amazing reviews on Amazon and is available in smaller and larger sizes. This suit is modern and fashionable, and the separates can be worn at home to restaurants and even the office.
Recommended: 4 piece Suit! This includes a jacket, pants, vest and tie (see options here)
Cruise Formal Night – Frequently Asked Questions (and answers)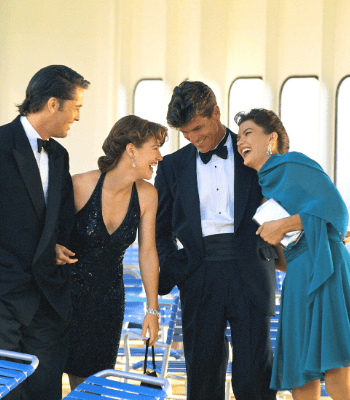 Can you skip formal night?
Can you skip formal nights? Of course you can. If you're not feeling like dressing up or you've had a long day and you're a bit tired, you have alternatives to formal night for evening dinner.
If you want to skip formal night on your cruise, you can always eat in the buffet or one of the other casual restaurants. You might even want to order room service and have dinner on your private balcony.
As well, many cruise lines don't extend the formal dress code to specialty dining restaurants on "formal night". If you prefer to be served but would rather dress in smart casual wear, consider making reservations at one of your cruise ship's specialty restaurants.
Read more: 25+ Most Recommended Amazon Items to Bring on a cruise
Do all cruise lines have formal nights?
Most popular cruise lines have a formal night, or a version of it by a different name, during each cruise. In recent years, cruises are becoming more casual and dress codes are changing, however, having a special "dress up" night is still very common.
Some cruise line's formal nights may be called Gala Nights, which are usually quite formal. Other cruise dress codes include Celebrity's "Evening Chic" and Carnival's "Cruise Elegant", which leave more leeway for dressing up with less formality. Norwegian Cruise Line does not have a formal night, however they do have an optional dress up night called "Norwegian Night Out".
Since cruise lines can really differ on what type of attire is expected on formal nights, it's important to check your cruise line's dress codes to make sure you pack the appropriate cruise wear.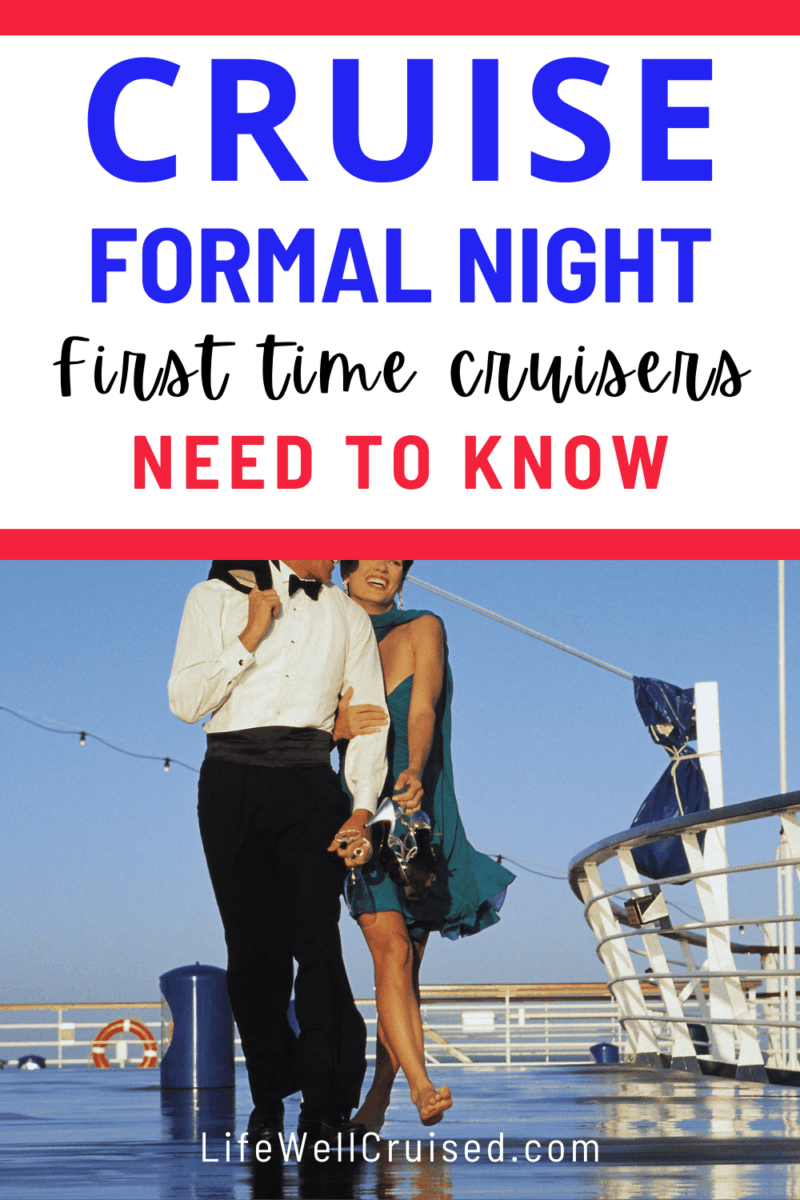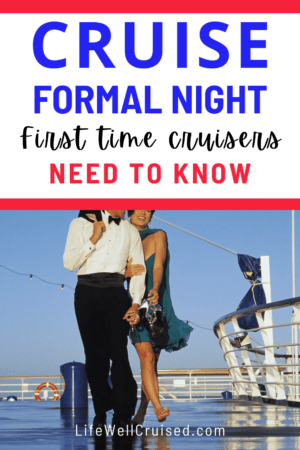 How many formal nights are there on a cruise?
Most cruise lines have 1 formal night on cruises that are 6 days and less, and 2 formal nights on cruises 7 days and more.
In short, if you're sailing on a 3, 4 or 5 night cruise, there will be one formal or dress up night. Typical 7 night cruises will have 2 formal nights.
Some cruise lines, including Holland America and Princess Cruises, will have 3 formal nights on cruises that are 14 days and longer.
What to Wear on a Cruise YouTube Video
Planning a cruise? Here are some related posts that might be helpful
25+ Most Recommended Amazon Items to Bring on a Cruise
20 Healthy Cruise Essentials for Post Pandemic Travel
23 Essentials to Pack in Your Cruise Carry-On Bag
Packing Cubes for Cruise Vacations
21 Best Luggage and Packing Accessories for a Cruise
What to Pack for a Caribbean Cruise (packing list included)
Recap: What to Wear on a Cruise Formal Night
In this post we've gone over what to expect on cruise formal nights, and why they are a special part of many cruises. We've also answered many frequently asked questions about formal nights on cruises, the traditions and offored suggestions showing what people might wear on formal nights.
Do you enjoy cruise formal nights and if so, what traditions do you enjoy most? Do you have questions about how formal nights, or "chic evenings", work? Please let me know in the comments below.
Happy cruising!
Ilana
If you found this article helpful, please pass it along. Please feel free to share on Facebook or PIN to your favorite Pinterest board (share buttons at the top). Thanks so much!
Let's connect:
Follow me on Facebook at Life Well Cruised
Follow me on YouTube at Life Well Cruised
Follow me on Pinterest at Life Well Cruised
Follow me on Instagram at Life Well Cruised