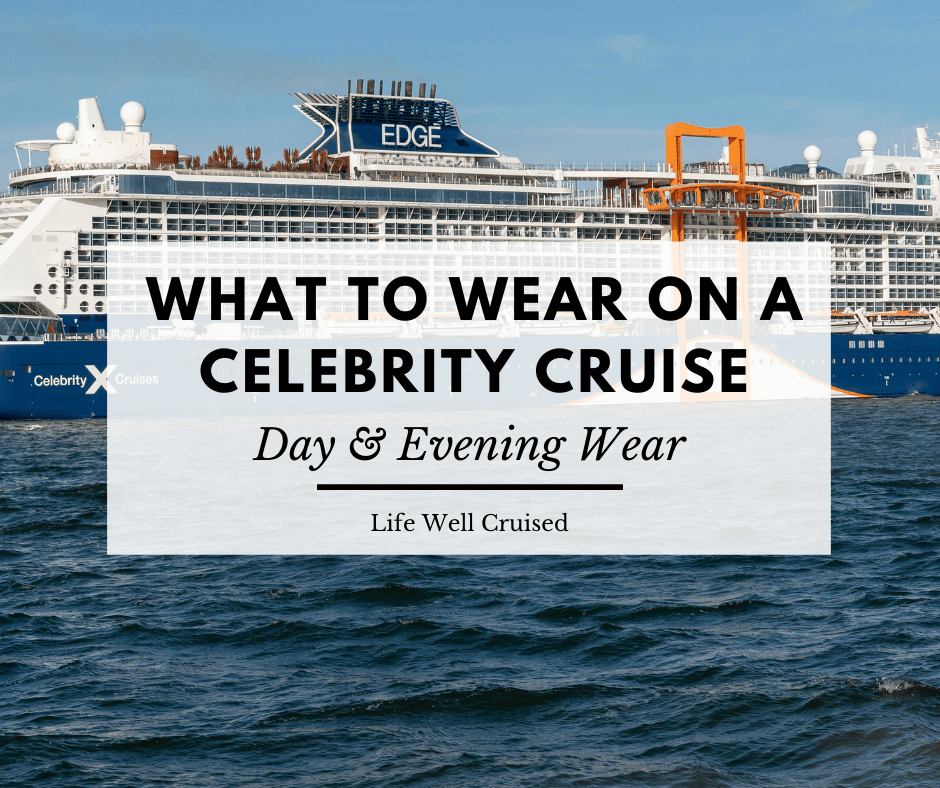 Have you been wondering what to wear and how to dress on a Celebrity Cruise? While Celebrity is a premium cruise line, it's dress code may surprise you a little.
Before we look at the Celebrity Cruises dress code and what to wear during both day and evening, let's go over what to expect on a Celebrity Cruise.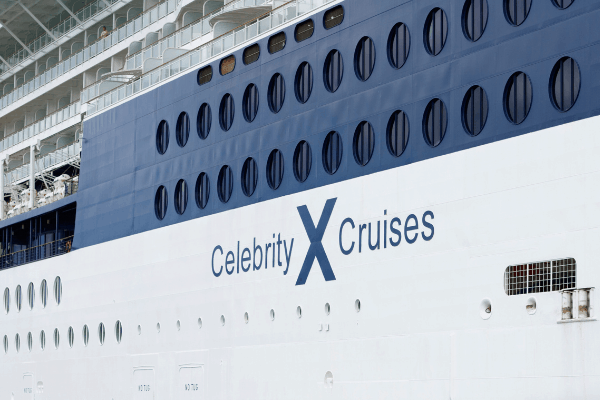 Celebrity Cruises – What to Expect
Celebrity Cruises is an upscale cruise line, that doesn't feel stuffy. Onboard a Celebrity cruise ship, you'll find the atmosphere relaxed, but not loud or boisterous. The food, service and attention to small details make Celebrity stand out even among other cruise lines in it's class.
The dress code on Celebrity is less traditional than other premium cruise lines. In fact, the traditional cruise Formal Night has been replaced by Celebrity's Evening Chic night.
However, this doesn't mean that people don't "dress up" either. In this post, I'll share the Celebrity cruise line dress codes, as well as several real life examples of what cruise passengers actually wear.
Celebrity Cruises Dress Code: What to Wear During the Day and Evening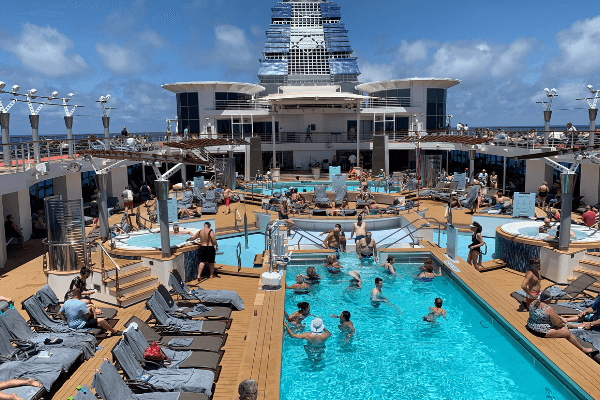 What to wear during the day on a Celebrity Cruise – Casual Dress Code
During the day, Celebrity Cruises is comfortable and casual. If you're hanging around the pool, a bathing suit, flip flops and a cover up are perfect. This applies even if you're at the pool bar or even outdoors at the grill.
However, when you head indoors to eat in the buffet or have a coffee in Cafe Al Bacio, make sure to put on some shorts and a t-shirt or sundress. In the restaurants, pool wear, tank tops and baseball caps are not permitted.
As a rule of thumb, keep the pool wear for the lido deck, and dress in casual or resort casual wear around the rest of the ship.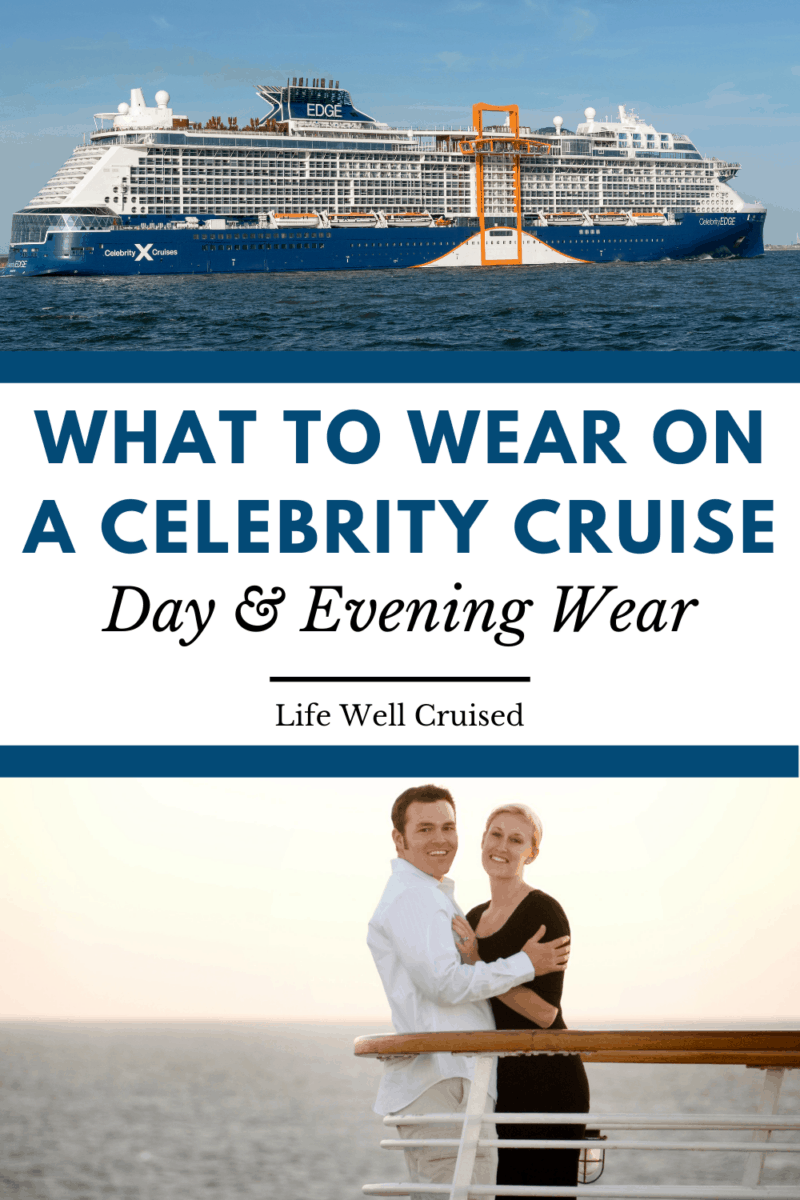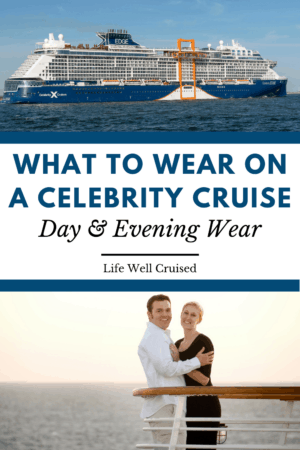 Video: Celebrity New Cruise Tips & Secrets
Celebrity Cruise Dining Room Attire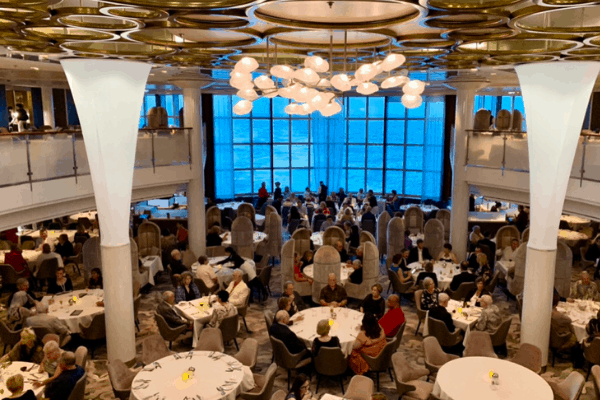 During the evening, in the Main Dining Room and Restaurants, Celebrity has two dress codes: Smart Casual and Evening Chic.
On 7 night cruises and longer, there are 2 Evening Chic nights. Cruises that are 6 nights or shorter will have one. All other evenings are Smart Casual.
Evening Wear – Smart Casual Dress Code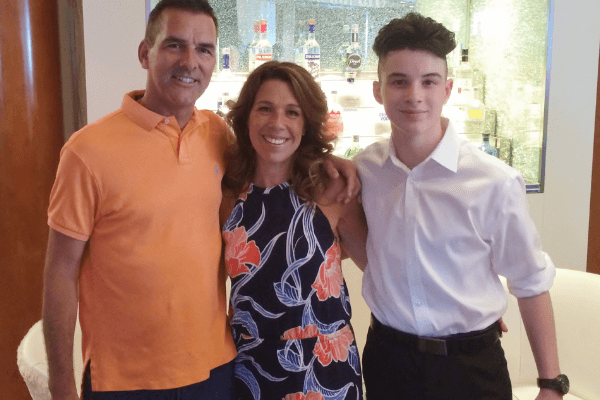 Most evenings the dress code on Celebrity Cruises is Smart Casual.
Ladies:
For women a smart casual dress code includes a dress or skirt, pants or jeans and a casual top. Outfits like white or black pants and and a flowy blouse work perfectly, as does a a Little Black Dress.
Men:
Men can feel comfortable wearing a pair of khakis or jeans, with a short sleeve Polo style shirt or casual dress shirt. Add a pair of casual Sperry's shoes for a great vacation look.
**Please not that shorts are not permitted in the main dining room or restaurants in the evening. Jeans are allowed.
Evening Wear – Evening Chic Dress Code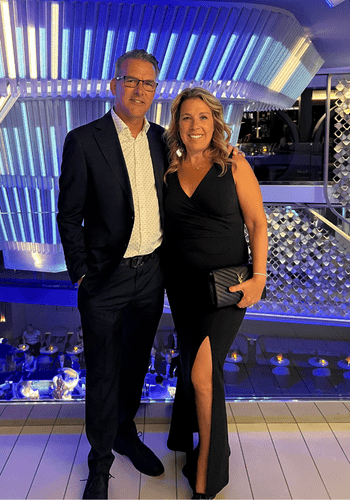 If you've been wondering how to dress on a Formal Night on Celebrity Cruises, there isn't one. Instead, Celebrity has an Evening Chic Night.
I love this dress code, as it's still dressy, without the formality and stuffiness that sometimes comes with a traditional cruise formal night.
People are encouraged to dress their best. However, as you'll see from the real photos of Celebrity cruisers throughout this post, there's room for personal style and choice.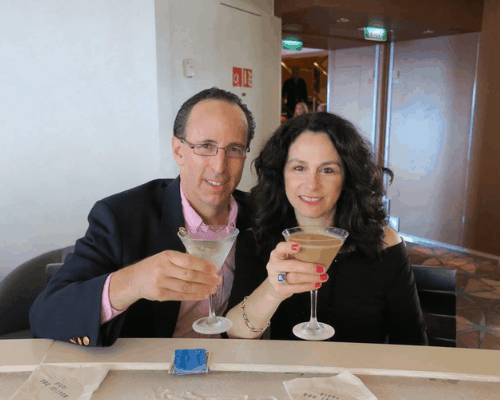 First, Celebrity's Evening Chic dress code:
Ladies:
On Evening Chic nights, ladies may want to wear a cocktail dress or another "dressy" outfit. Celebrity encourages elegance and sophistication, and includes pants and designer jeans and a blazer as possible outfit choices.
Men:
According to Celebrity's website, the Evening Chic dress code for men includes dress pants or designer jeans, and a dress shirt, button down shirt or sweater, and an optional blazer or sport coat.
How to dress for dinner on Celebrity Evening Chic Nights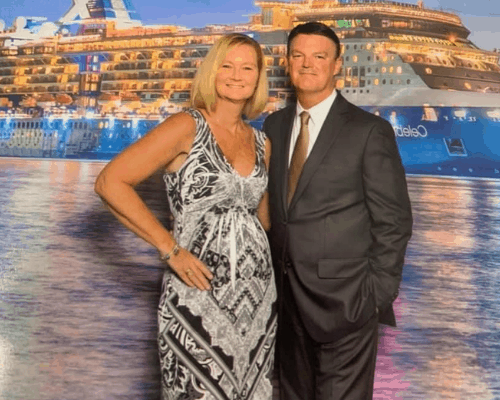 If you're going on a Celebrity cruise, you might be wondering what to wear on Evening Chic Nights.
In practice, many cruise passengers do dress up on Celebrity Cruises. However, there is a lot of personal leeway.
While men aren't obliged, it's common to see suits and sports coats on Evening Chic nights, with or without a tie. For ladies, cocktail dresses and fancier dresses are often seen on chic nights.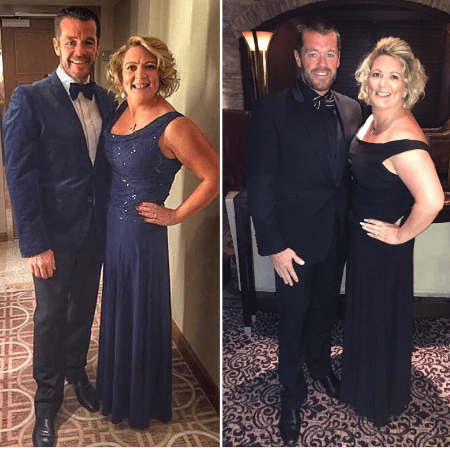 If you prefer more formal attire like a Tuxedo for men and an evening gown for ladies, you wouldn't be out of place. Celebrity does encourage you to dress how you are most comfortable, while still maintaining an elegant style.
Please keep in mind that the dress codes and suggestions also extend to the evening shows and main theater productions.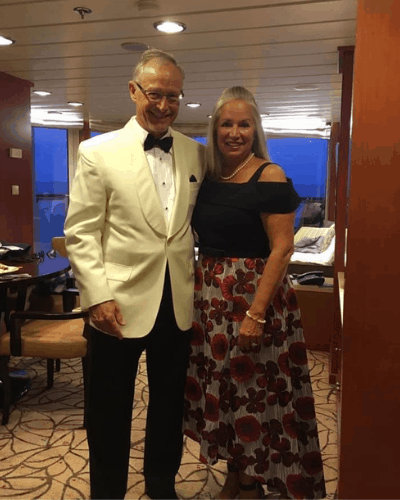 Evening Wear in the Buffet
If you aren't feeling like dressing for dinner, and prefer being very casual for dinner, the buffet is a very good option. Keep in mind that shorts are never allowed in the Main Dining Room in the evening, even on a Caribbean cruise.
What to People Really Wear in the Evening on a Celebrity Cruise?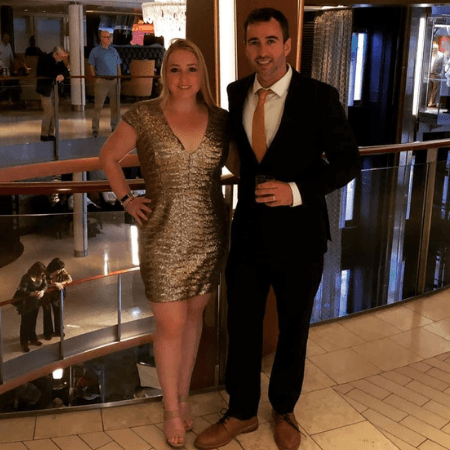 Cruise line dress codes are changing and cruise passengers tend to bring less luggage than in the past. Yet, a cruise is still something special, and many do enjoy getting more dressed up than they might for a restaurant at home.
On a personal note, I like to look beyond the cruise brochure and hear from real people. For this reason, I asked cruisers in some large Celebrity Facebook groups, to share their experiences and real life photos of their "evening chic" outfits.
All the photos in this post are of real Celebrity cruise passengers. Here are a few more gorgeous cruisers, who kindly shared their photos with us.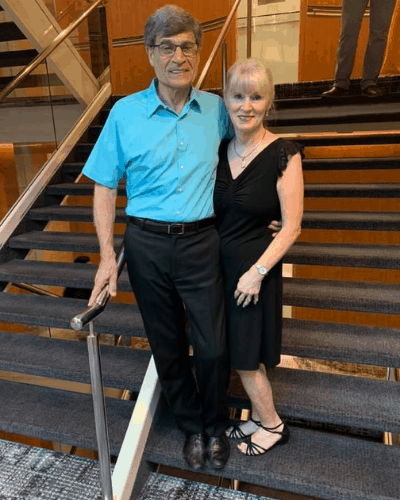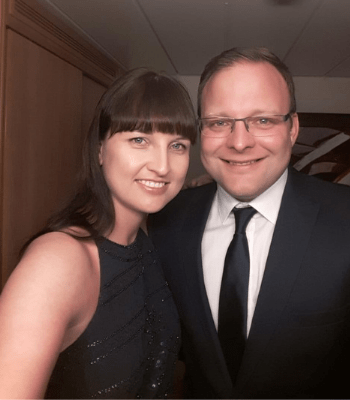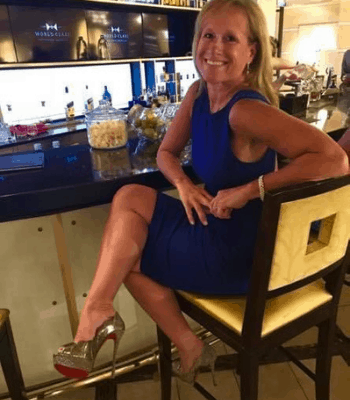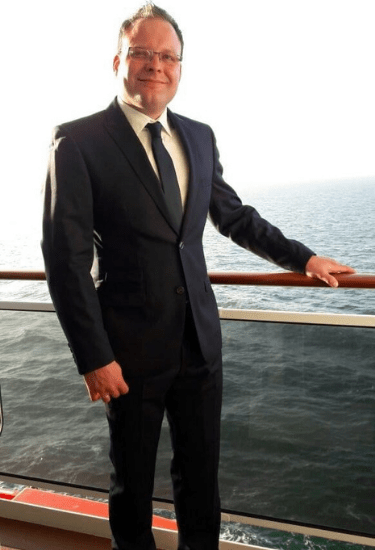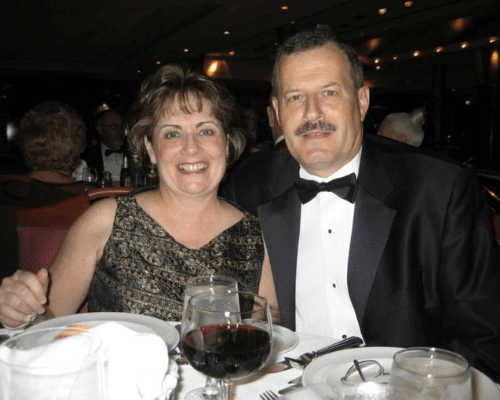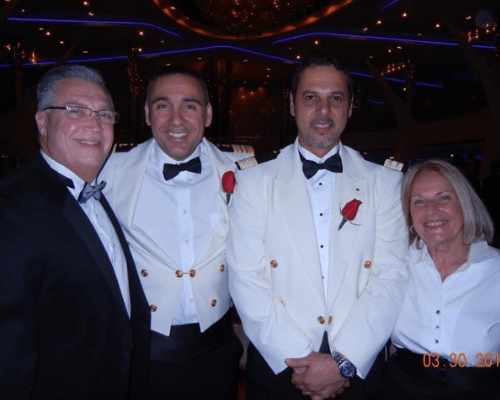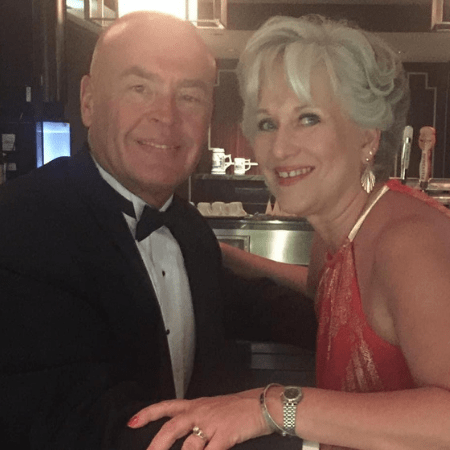 Thank you so much to all who contributed your photos to this blog post. It's much appreciated!!
Suggested posts to read next:
Celebrity Summit Cruise Ship Tour
If you'd like to see for yourself what people wear on a cruise, both during the day and in the evening, make sure to watch this Celebrity Summit cruise ship tour and review (my apologies for the audio – this is one of our first videos).
If you enjoy cruise vlogs, cruise tips and cruise news, please subscribe to the channel. I'd love to have you in our Life Well Cruised YouTube community!
Final Thoughts: What to Wear on a Celebrity Cruise
In this post we went over the Celebrity Cruise line dress code and shared some ideas of what to wear on a Celebrity cruise, especially evening cruise attire. Even though Celebrity does not have a formal night, it's evening chic dress code is the equivalent, with room for personal choice.
Have you cruised with Celebrity and do you prefer dressing up or being more casual? Please let me know in the comments below.
Happy cruising!
Ilana
P.S. If you found this helpful, please don't keep it to yourself ;-). Please share on Facebook or PIN to your favorite Pinterest board (share buttons at the top). Thanks so much!
Let's connect:
Follow me on Facebook at Life Well Cruised
Follow me on YouTube at Life Well Cruised
Follow me on Pinterest at Life Well Cruised
Follow me on Instagram at Life Well Cruised