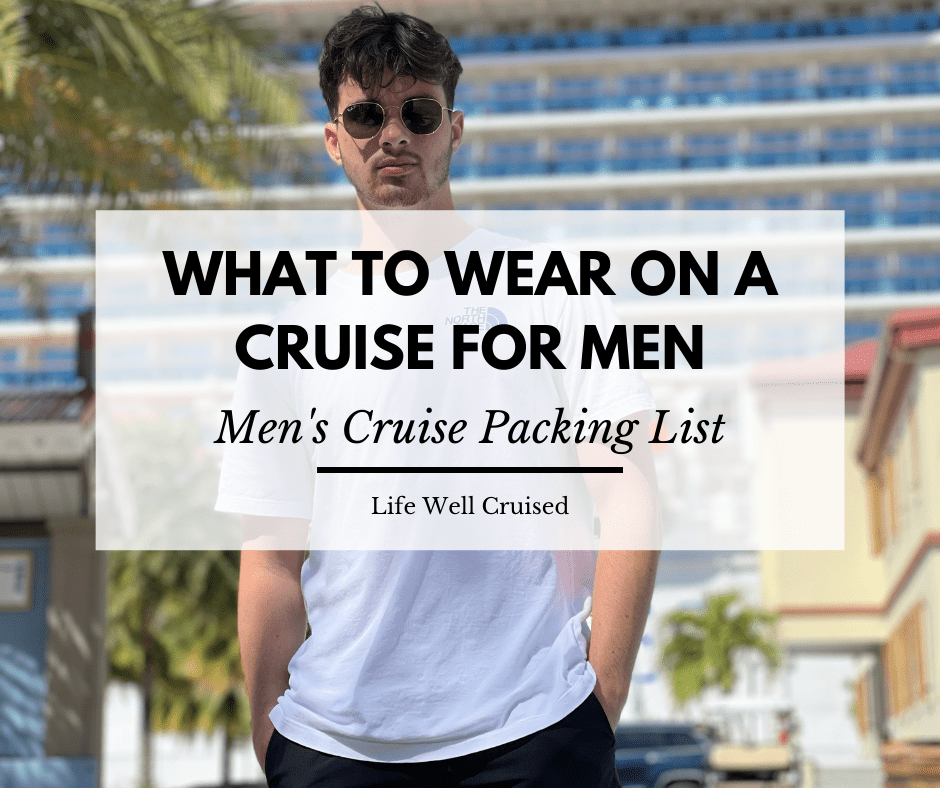 There are so many cruise packing lists for women, but men need cruise packing advice as well. If you're looking for suggestions for cruise wear for men, along with a men's packing list for a cruise, I've got you covered.
In my household, my husband often struggles with what to pack when we cruise. We use a cruise packing list to keep organized and to make sure that nothing is forgotten at home. Yes, this has happened in the past (dress shoes!).
In this post I share what to wear for men on a Caribbean or warm weather cruise, along with some cruise items that will make both packing and cruising easier.
This post contains affiliate links which means if you click and buy that I may make a commission, at no cost to you. Please see my disclosure policy for details.
As an Amazon Associate I earn from qualifying purchases.
What to Wear on a Cruise for Men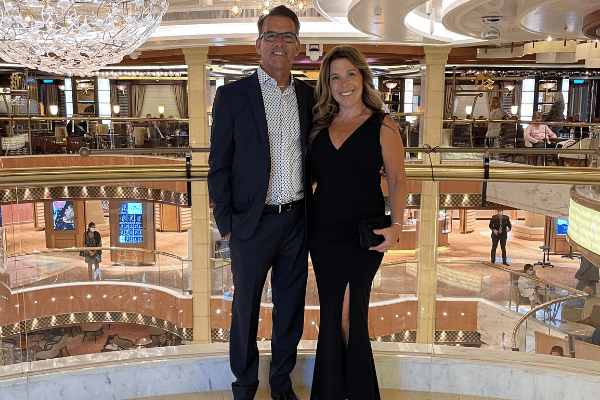 Evening
When planning what to wear on a cruise for men, consider the cruise line dress code as a starting point to help you plan what to wear in the evening. These days, most cruises are less formal than just a few years ago.
However many cruise lines will have one or two formal nights, or dress- up evenings, where suits or dress pants and a dress shirt are appropriate. Make sure to pack dress shoes, dress socks and a belt.
The other evenings will be a casual or smart casual dress code. Most men will be wearing beige chinos or dark pants or jeans, with a polo style shirt. What you'd wear to a nice restaurant is perfect for dining rooms and restaurants on board.
Daytime
Caribbean and other warm weather cruises (Mexico, Bahamas, Bermuda) call for casual cruise wear during the day. When planning what to wear on a cruise, pack bathing suits for sea days and beach shore excursions, and shorts and t-shirts.
Remember comfortable walking shoes and sandals or flip flops for the pool.
Related: What to Pack for a Caribbean Cruise
Men's Packing List for a Cruise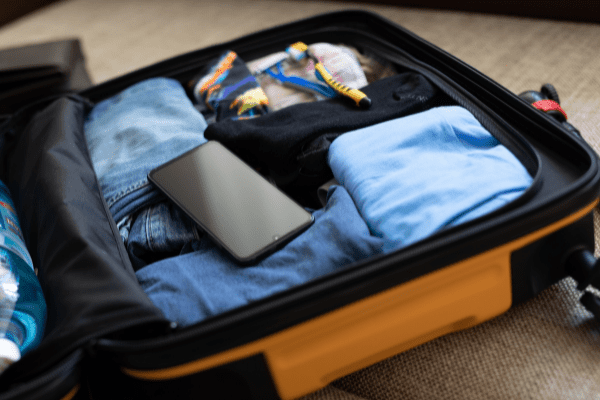 Here's a men's packing list for a 7 day cruise to use as a guide. Bring more or less, depending on if you plan to do laundry and how often you'll change clothes.
3-4 pairs of shorts
5 t-shirts
2-3 bathing suits
underwear
sport & dress socks
2 pyjamas
work-out clothes
1-2 pairs jeans
1-2 khakis
3-4 polo style shirts
1-2 buttoned or Hawaiian shirts
1 suit
2 dress shirts
1-2 ties
belt
1 sweatshirt or light jacket
sandals or flip flops
running or walking shoes
dress shoes
casual shoes
baseball cap or hat
sunglasses
Related: What Not to Wear on a Cruise
Get The Ultimate Cruise Planner
Regular price: $27 Now just $17!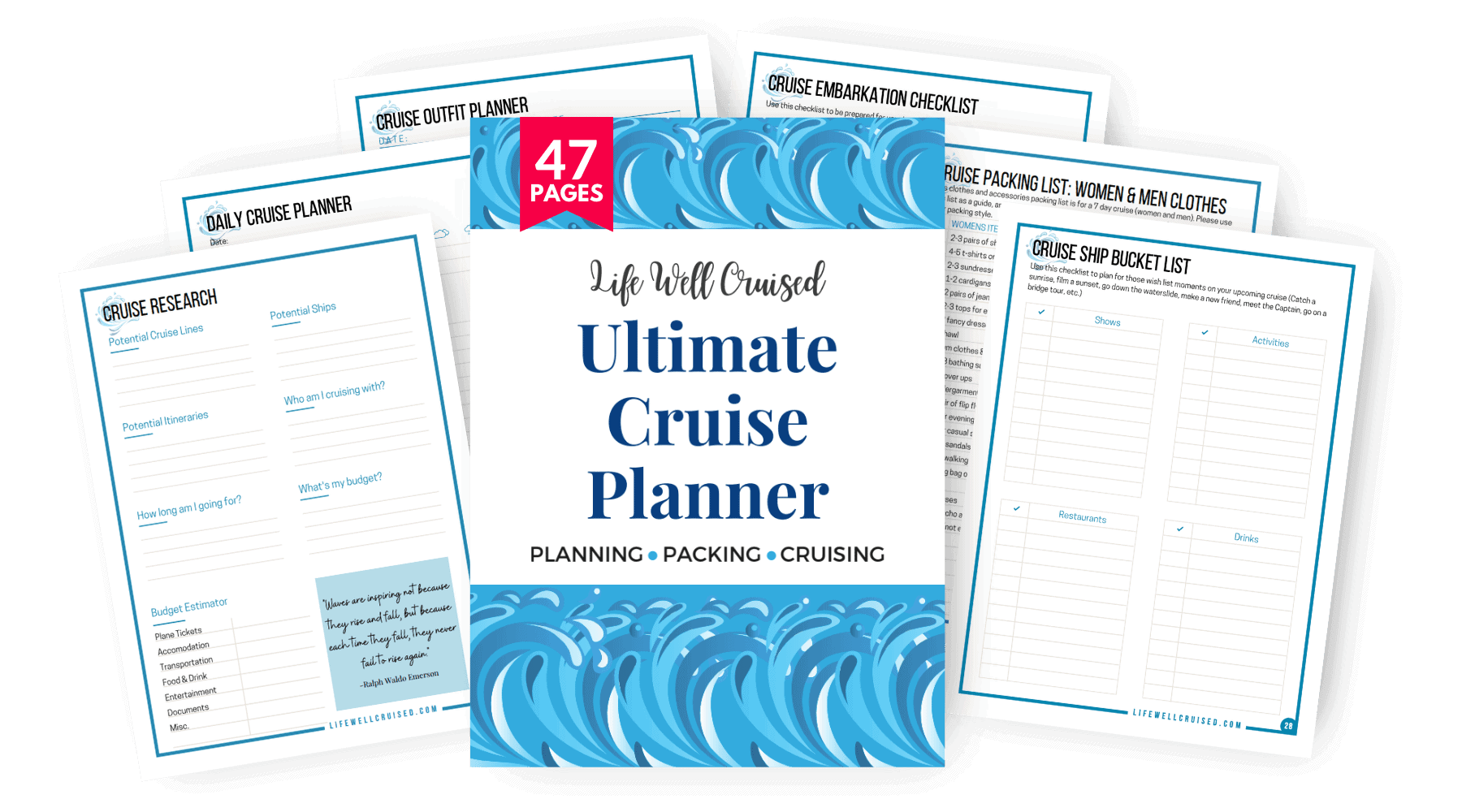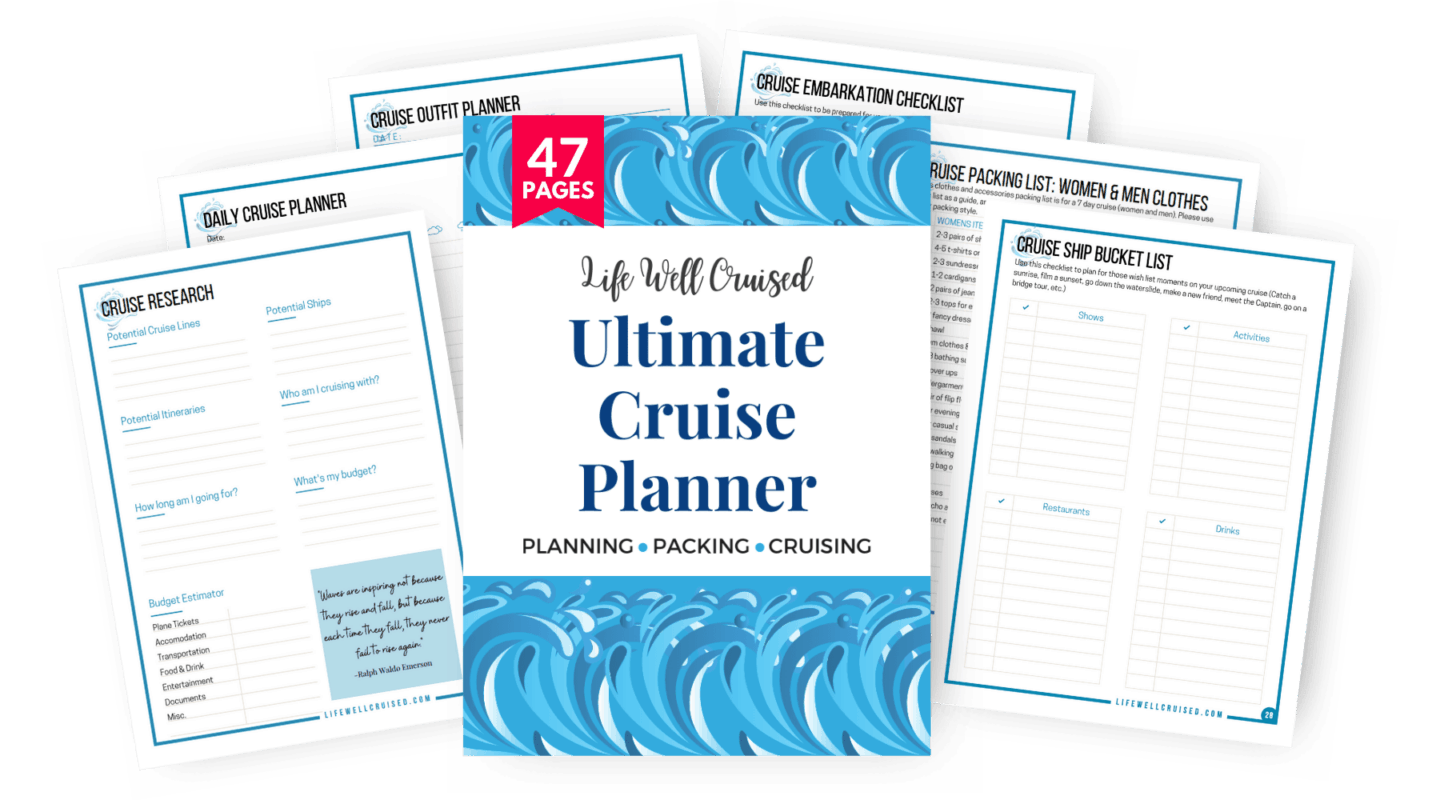 Cruise Wear for Men
Here are a few suggested men's clothing items to pack for a cruise.
As we were getting ready for a recent cruise, my husband had a hard time finding resort wear and cruise attire for men in stores. We were pleasantly surprised at the stylish and affordable items we found on Amazon.
Classic Polo Shirt
Solid color classic polo shirts are perfect worn with shorts for sightseeing during the day in a cruise port. However, this is also great to wear for dinner in the evening with a pair of khakis or dark jeans.
Nautica is one of my husband and son's favorite brands for casual men's cruisewear for quality and comfort at a reasonable price.
Recommended: Nautica classic polo (dual tipped collar)
Classic Fit Shorts
Classic fit tan or beige shorts will go with t-shirts and polo shirts on a cruise, and always look nice.
Recommended: Dockers classic fit shorts (check price & style options on Amazon)
Comfortable Jersey Shorts
Lightweight casual jersey shorts with pockets are great to wear by the pool and around the cruise ship and ports. The material isn't heavy and is great for warm weather cruises.
These men's shorts are available in classic grey, navy blue, black and other colors.
Recommended: Champion jersey shorts (see price & over 40,000 Amazon reviews)
Sports t-shirts
Even if you aren't working out, sports style short sleeve t-shirts will keep you cooler in the sun and heat on a Caribbean cruise. These shirts also look great when worn casually on a cruise.
Recommended: Underarmour sports t-shirt (see reviews & price on Amazon)
Men's Hawaiian shirt
If you're going on a Caribbean or any other tropical weather cruise, a Hawaiian shirt could come in handy for day and evening. Many cruise lines have a Caribbean deck party and Hawaiian shirts are perfect.
Men's Swimsuit
Bring along at least 2 swim suits for a cruise. These men's swim shorts are quick drying and comfortable, and great for beach and catamaran snorkeling excursions.
Recommended: Men's swimsuit (quick dry & comfortable)
Classic Fit Men's Khakis
Classic khakis are perfect for smart casual evenings on a cruise, especially worn in main dining rooms and restaurants. Pack one or two pairs of these classic pants and pair them with a buttoned shirt or polo.
Recommended: Docker's mens khakis (available in standard & big & tall sizes)
Men's Dress Shirt
If you'll be participating in formal or chic night, a white men's dress shirt is great to have. This Calvin Klein dress shirt is non-iron, making it a good choice to pack for cruising.
Recommended: Calvin Klein non-iron dress shirt (see price & amazon reviews here)
Men's Suit
A dark well fitting suit is great to have if you plan on dressing for chic evenings (on Celebrity Cruises) or formal nights on any cruise line (even Cunard). If you're packing a suit, dress shirt and any other items that are best kept wrinkle free, consider using a garment bag.
Garment Bag for Travel
A rolling garment bag for travel is a good idea if you're packing suits and other dressy clothes.
Recommended: Rolling garment bag (see Amazon reviews here)
Cruise Gear
Here are a few items that are useful to pack and bring on a cruise.
Men's large hanging shaving/toiletry bag
Cruise power strip (Non-surge protected power bar with USBs)
Electronics and charger wire case
Waterproof phone case on lanyard
Electronic portable travel luggage scale
Get The Ultimate Cruise Planner
Regular price: $27 Now just $17!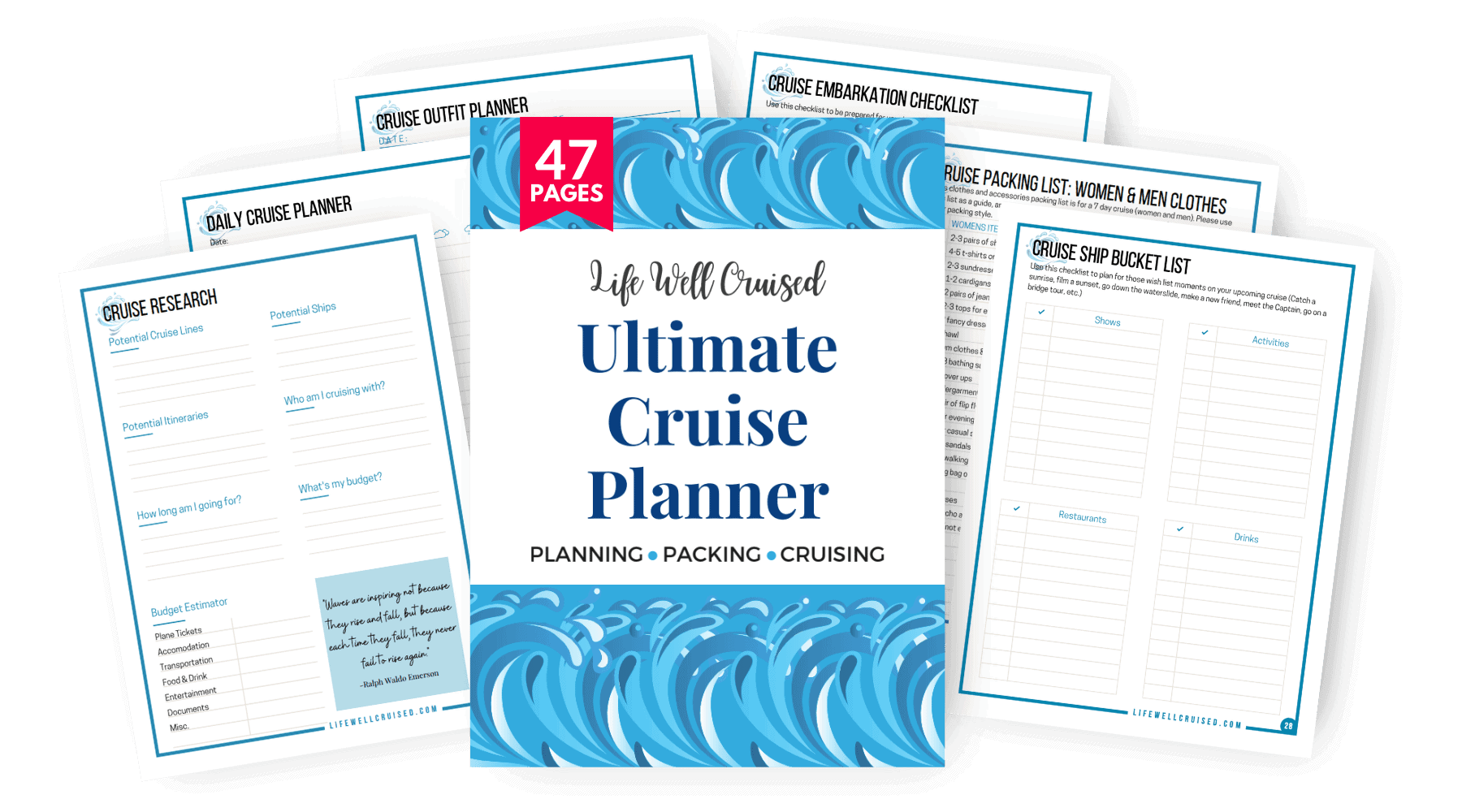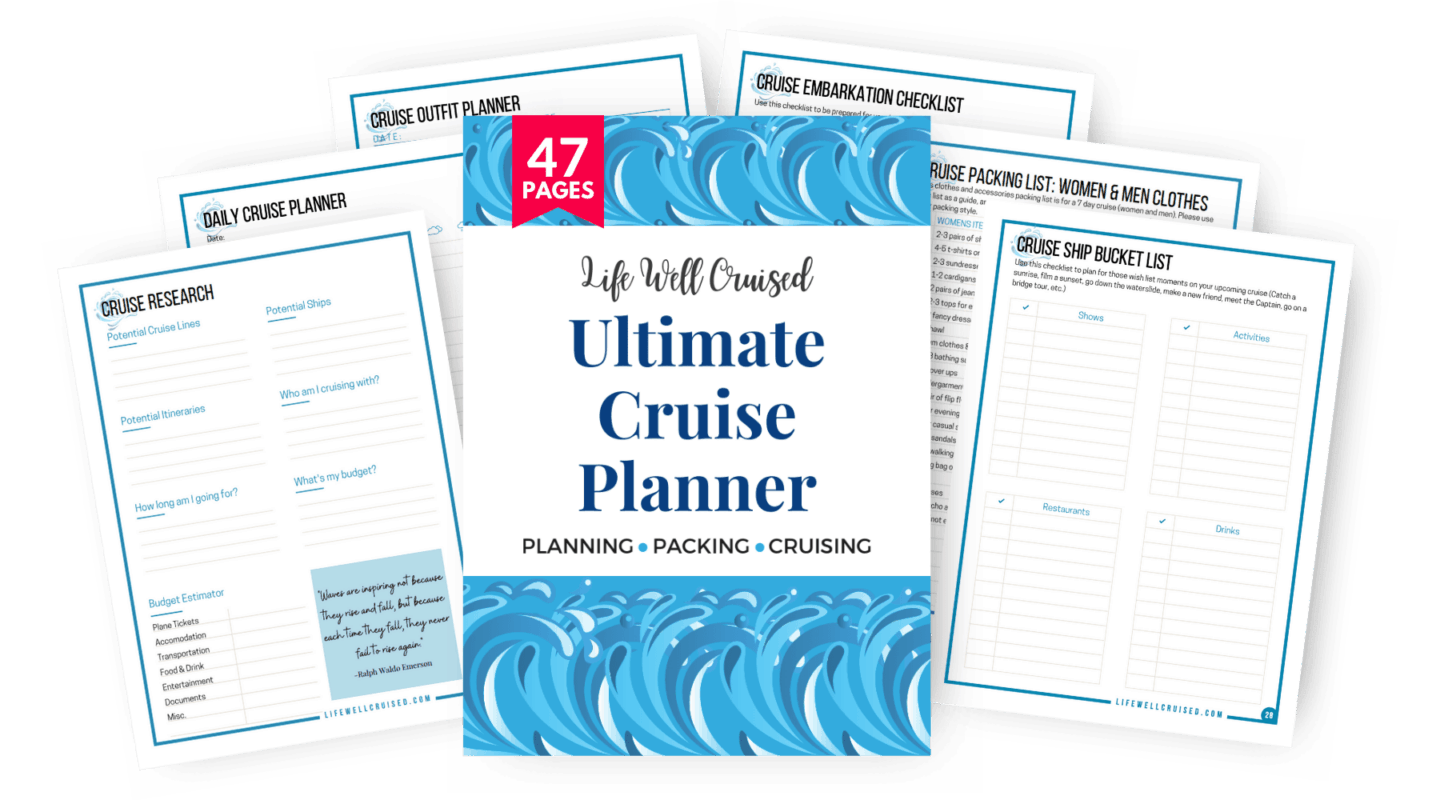 Video: What to Pack for Men on a Cruise
Related & Popular Posts:
Final Thoughts on Cruise Wear for Men
I hope this men's cruise packing list was helpful as you plan and get ready for your cruise. While this men's packing list was geared for a Caribbean cruise, it can be adapted for Alaska cruises by adding warm clothes to layer, along with an outdoor waterproof jacket and waterproof shoes.
What items do you pack for a cruise that we can add to his list? Please let me know in the comments below.
Happy Cruising!
Ilana
If you found this post helpful, please don't keep it to yourself ;-). Share it on Facebook or Save for later Pinterest (share buttons at the top). Thanks so much!
Let's connect:
Follow me on Facebook at Life Well Cruised
Follow me on Pinterest at Life Well Cruised
Follow me on Instagram at Life Well Cruised