A Guide to What to Wear on a Cruise in 2021
One of the biggest questions cruisers have is, "What should I wear on my cruise?". The fact is, the answer today will be quite different from 5 or 10 years ago!
It's a good idea to check your cruise lines' official dress code policy or suggestions, which will be available on their website. However, if you're like me, you want to know what that really means in practical packing and shopping terms ;-).
In this post, I'll go over the basics of cruise "day wear", "evening wear", and everything else you might want to know about what to wear on your cruise vacation.
Everything you want to know about what to wear on your cruise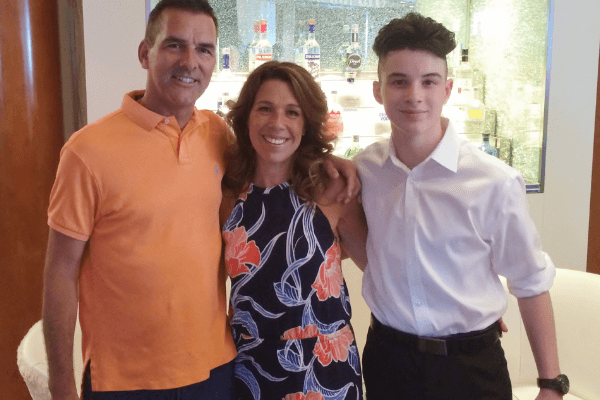 You may imagine, or even remember, the days of dressing to the nines on a cruise. The reality is, as times have changed, so have the cruise line dress codes and expectations.
My first cruise was on the Navigator of the Seas in 2004 (it was amazing!), and do you know how we dressed for Formal Night? My husband wore a black tux and I wore a floor length champagne gown with a simple but elegant row of beading at the top.
True story – My brother got married just a month before, and these were our wedding party clothes. I was so thankful to be able to have a place to wear them again!
The fact is, we weren't out of place and certainly at that time, most men were either in a dark suit or tux, and most ladies dressed in long gowns or cocktail dresses on Formal Nights.
However, I have seen across most popular cruise lines, a relaxing of the dress codes in recent years.
This post contains affiliate links which means if you click and buy that I may make a commission, at no cost to you. Please see my disclosure policy for details.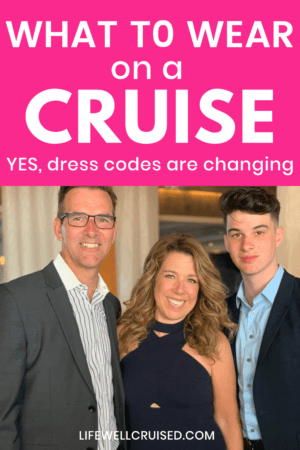 How to dress on a cruise vacation: day wear and evening wear
Cruise line dress codes
Something to note, is that Cruise line dress codes mostly apply to dinner in the Main Dining Room, and not in the buffet. Although there are dress suggestions and basic rules of decorum, including during the day, the dress codes mostly apply to your evening wear.
The majority of mainstream cruise lines offer the opportunity to "dress up" at least twice during a 7 night cruise, however your cruise line will be able to give you all the details for your specific cruise.
Keep in mind, that if you're not feeling like "dressing up", you can always eat in more casual clothes in the buffet and most casual restaurants.
Cruise Day Wear (around the ship)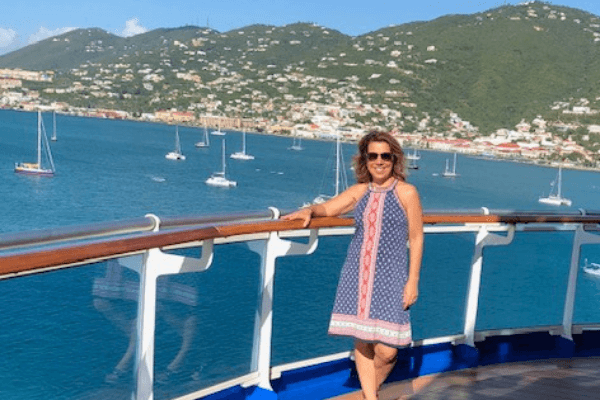 Most cruise lines are quite casual during the day.In our experience, family oriented cruise lines are understandably much more "casual" than "higher-end" cruise lines. Cruise casual, resort wear or country club casual are all terms used by the cruise lines as a recommendation.
Shorts, t-shirts, tank tops, sundresses are all appropriate day wear. If you're by the pool, something to note is that bathing suits won't be allowed inside the buffet areas or ship, so make sure you've got a cover up.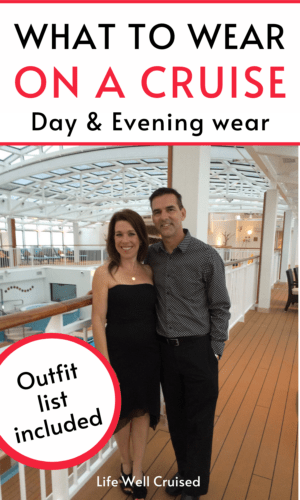 Cruise Port Days
What you'll want to wear on a cruise port day, will probably depend on your plans and excursions. For instance, we often head to the beach. So I wear a bathing suit under a light sundress, pack a cover up in my beach bag, and throw some flip flops on my feet.
However, if you're going on a tour and walking quite a bit, dress casually and make sure that you're wearing comfortable shoes.
Keep in mind that if you are visiting religious buildings, such as a church or synagogue, it's often suggested to cover your shoulders. I usually throw a very light cardigan or scarf in my handbag for these occasions.
Cruise Evening Wear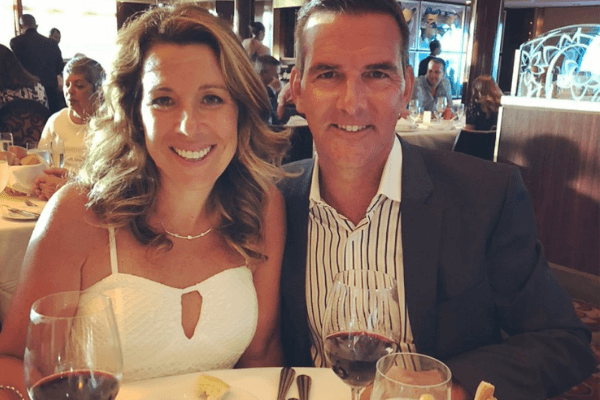 Cruise lines have somewhat different dress code suggestions, however the majority have a version of Casual, Smart Casual, and Formal nights. The terminology that cruise lines are using may be different, and reflects subtle changes to the dress code.
Casual:
This often means casual, clean looking pants or jeans for men (no holes), along with a nice shirt or polo. For ladies, capri pants, nice jeans and a cute top, or a sundress are all great. Often the first and last evenings of your cruise, will be a Casual dress suggestion.
Cruise tip: Most cruise lines don't allow shorts in the dining room, so men, make sure you pack at least a pair or two of pants.
Smart Casual:
I think of this as just a little bit more put together than a casual night. Dress pants or khakis for men and a nice polo, short or long sleeve buttoned shirt is common.
Ladies, casual dresses or pants and a flowy top are perfect. I like to think about this as dressing like you would to go to a nice restaurant at home.
Cruise tip: The ship's air conditioning may be quite cool in the dining room, so ladies, bring a shawl or light sweater with you.
Formal Night/Chic Night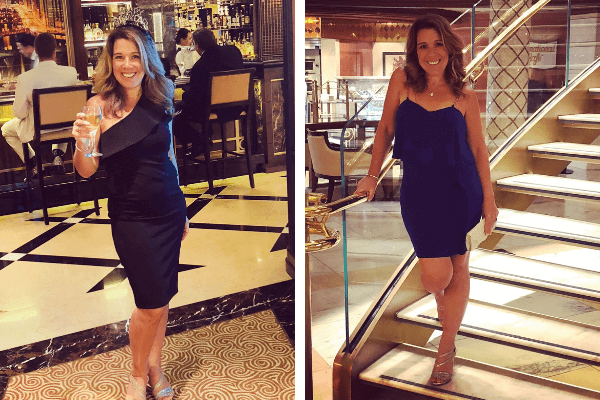 When we first started cruising, most cruise lines had a formal night that was pretty strictly adhered to. Now, some cruise lines have changed this dressier night to "Chic" night or "Gala" night or another variation of cruise lingo.
Generally, Formal or Chic night means tuxes, suits or dress pants and jackets for men. However, in our experience in recent years, this has relaxed quite a bit and tuxes in particular are far less common. Suits and dress pants, with or without a jacket and tie, has become the norm.
For ladies, dressing in a gown, cocktail dress, or fancy outfit is perfect. I like to think of it as "wedding guest" attire.
Something to remember is to dress in what you enjoy. If you love the glamour of a long gown and tux, go for it! If you prefer a little black dress, that works well too (plus you can wear it for years!)
Check your cruise line dress code and judge accordingly, however I would also check Facebook message boards to find out what is really happening on the ships. In some cases, in practice, things are more or less in keeping with the dress code.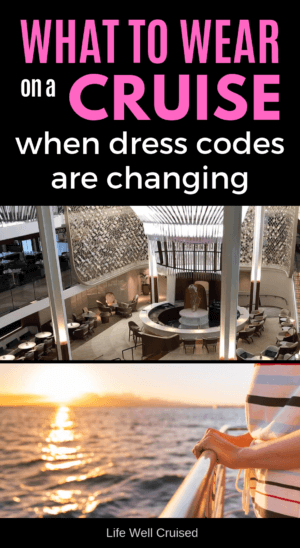 Cruise line exceptions to note
There are a couple of exceptions out of the mainstream cruise lines, that fall on either end of the cruise dress code spectrum.
Norwegian Cruise Line: NCL has a Freestyle concept and therefore does not impose a dress code in it's dining rooms (however rules of decorum* are in place). You can feel comfortable either dressing up or dressing down. Think of it as "You do you".
Cunard: On the other end of the pendulum is Cunard, which prides itself on tradition and a more formal dining experience and therefore jackets are required nightly by men and it is quite common to see tuxes and gowns on Formal nights. For more information on what to expect on a Cunard Cruise, you may enjoy this post (Queen Mary 2 Cunard Cruise) that details it.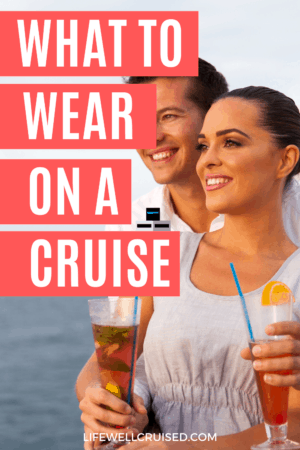 Luxury Cruise Lines
Luxury cruise line dress codes vary from one cruise line to the other, however it may surprise you (it did me) to know that many upscale cruise lines don't have Formal Nights, and instead are Country Club Casual.
Oceania and Azamara are elegant, but not formal, however Silverseas does have Formal Nights. Check with your cruise line for details.
Cruise clothing packing list for women
Here's a list of clothing to bring on a 7 day Cruise, however adjust the guidelines to your personal preferences and style.
Full disclosure – I like to shop, I over-pack and I bring too many shoes.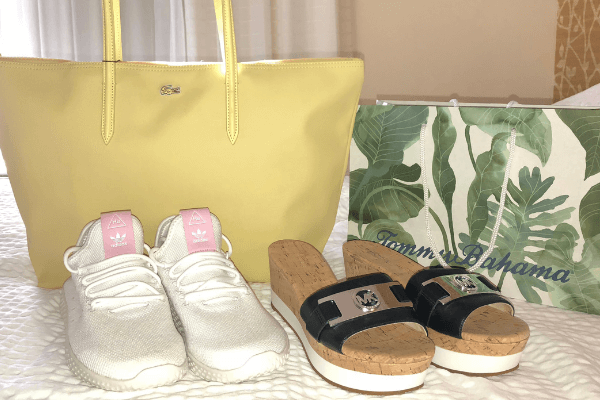 My own cruise outfit list is larger than this, but based on feedback in my Life Well Cruised Facebook page, I think this is a sufficient base. Adjust to your own preferences, style and luggage allowance ;-).
Caribbean Cruise clothing packing list for ladies
Shorts and t-shirts
2-3 bathing suits
1-2 cover ups
undergarments and sleepwear
pool flip flops
sundresses for day
gym clothes and sports shoes
Capri pants and/or nice jeans
Cute flowy tops to pair with pants or jeans
casual dresses
1-2 fancy dresses (maybe one Little Black Dress)
shawl or light sweater
sweatshirt or sweater
evening bag or clutch (optional)
1-2 evening dress shoes
1-2 comfortable day shoes or wedges
Sunhat
Sunglasses
Cruise Outfit Packing List for Men
shorts and t-shirts
2-3 bathing suits
undergarments and sleepwear
work-out clothes
1-2 pairs jeans
1-2 khakis
3-4 polos
1-2 buttoned shirts
1 suit
2 dress shirts
sweater or sweatshirt
pool shoes
running or walking shoes
dress shoes
casual shoes (suggestion – Sperrys)
basecall cap or hat
sunglasses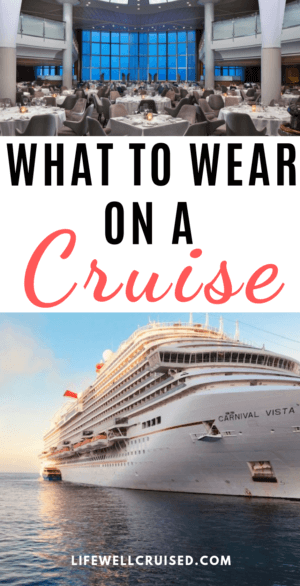 What kids can wear on a cruise
If you're cruising with kids, dress codes are quite relaxed. That being said, you'll find many families do have the children "dress up" for formal nights.
Tip: When everyone is dressed up, it can be a great time to take family photos. You might want to get an individual photo or two from the ship's photographers, or buy a photo package. It does preserve the memories, and when compared to photo studio costs at home, is pretty reasonable priced.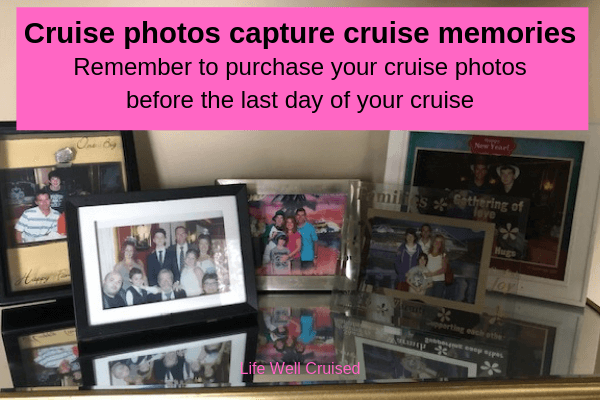 Recommended: For more cruise packing tips that can be helpful, read –
20 Cruise Packing Tips all Cruisers Need
21 Essential Things to Pack in Your Cruise Carry-On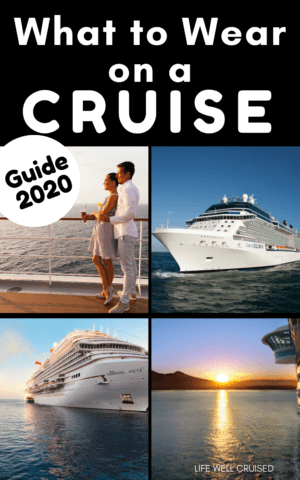 Cruise Outfit Tips
A good way to re-purpose outfits is to use accessories to change them up from one evening to the other. Scarves, belts and jewelry can make an outfit feel new again. The reality is, no one cares or even notices if you wear the same outfit more than once.
You can also bring one pair of pants or jeans, and have a couple of light tops to go with them.
I personally love shoes and have to restrain myself from bringing too many. However, you really need shoes for the beach or pool, comfortable shoes for walking, and a pair of shoes for the evening. If you bring black or neutral shoes, they may even be able to go with several outfits.
Tip: If you don't have to pack light, don't worry about it too much. Cruise lines don't actually really have a luggage restriction, so if wearing a different dress every night makes you happy, don't feel guilty about that ;-).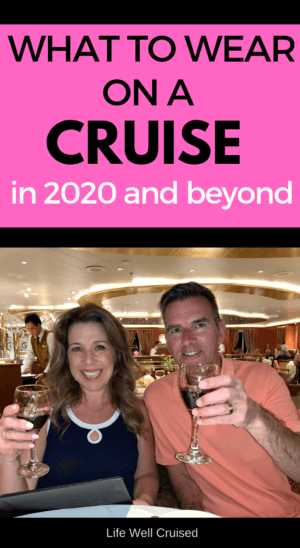 How to pack your cruise clothing
If you're bring formal wear, a garment bag (like this one on Amazon) for suits and dresses keeps things nice and neat and easy to put away when you get to your cabin.
You may also want to pack your clothing in packing cubes. The benefit to this is keeping organized, which makes unpacking so much easier, on the first day of your cruise.
I like these packing cubes, which come with a laundry bag and get 5 * reviews on Amazon.
Tip: Bring a little travel size bottle of Downy Wrinkle Release to get rid of wrinkles in your clothing.
Have you been wondering if packing cubes are for you?
Then check out this review post I wrote after testing out 2 packing cube brands on a recent cruise: The Pros and Cons of Packing Cubes for Cruise Vacations
Laundry options on board your cruise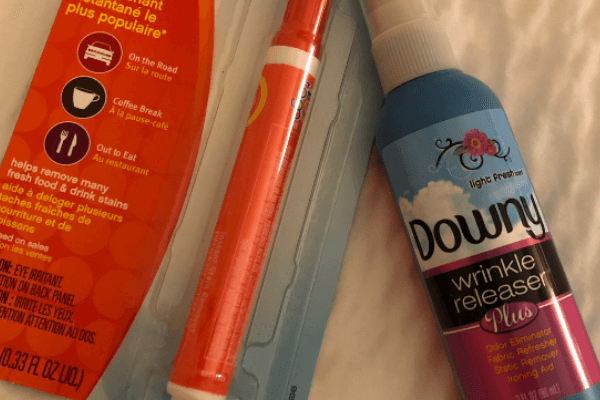 If you need to wash your clothing, some cruise ships have self-service laundry, and some only offer a laundry service which is available at an extra fee.
We've sent our formal wear to be pressed on occasion for a few dollars, so this is always something you can do.
Also, many cruise lines will offer a "bag of laundry" special about halfway through your cruise. It runs between 25$ and 50$, depending on your cruise.
Personally, I pack enough so that I don't need to do laundry, at least on a 7 day cruise. For longer cruises this has been useful for us.
Tip: Small stains can be taken care of with a little Tide-to-Go. You may wish to bring a small amount of laundry detergent if you do want to wash a few items either at the self service laundry (when available), or in your cabin bathroom.
If you're interested in watching and hearing more about "What to wear on a cruise", you can check out my YouTube video below. If you enjoy it and would like to see other cruise tips and cruise news, please subscribe to the channel.
Recap: What to wear on a Cruise
Cruise wear is much more casual than it was several years ago. You can likely keep it pretty casual during the day, and dress up as uch as you like in the evening, depending on your cruise line dress code. Keep in mind your preference, when choosing a cruise ship or cruise line.
I'll be the first one to tell you that I enjoy dressing up when I'm on a cruise. It makes me feel like it's an escape from my regular life, just a little bit.
However, we've had our nights when we were somewhat tired and kept it very casual and ate in the buffet or casual restaurant.
Do you enjoy dressing up when on a cruise or do you prefer to keep it casual? Let me know in the comments below.
Happy cruising!
Ilana xoxo
If you've found this helpful, please don't keep it to yourself ;-)! Please share on Facebook or Pin and save for later on Pinterest (buttons at the top). Thanks so much!
You may enjoy:
30 Cruise Cabin Hacks Every Cruiser Needs to Know
27 things To Do on a Cruise Sea Day (and not be bored)
Let's connect:
Follow me on Facebook at Life Well Cruised
*NEW* Follow me on YouTube at Life Well Cruised
Follow me on Pinterest at Life Well Cruised
Follow me on Instagram at Life Well Cruised