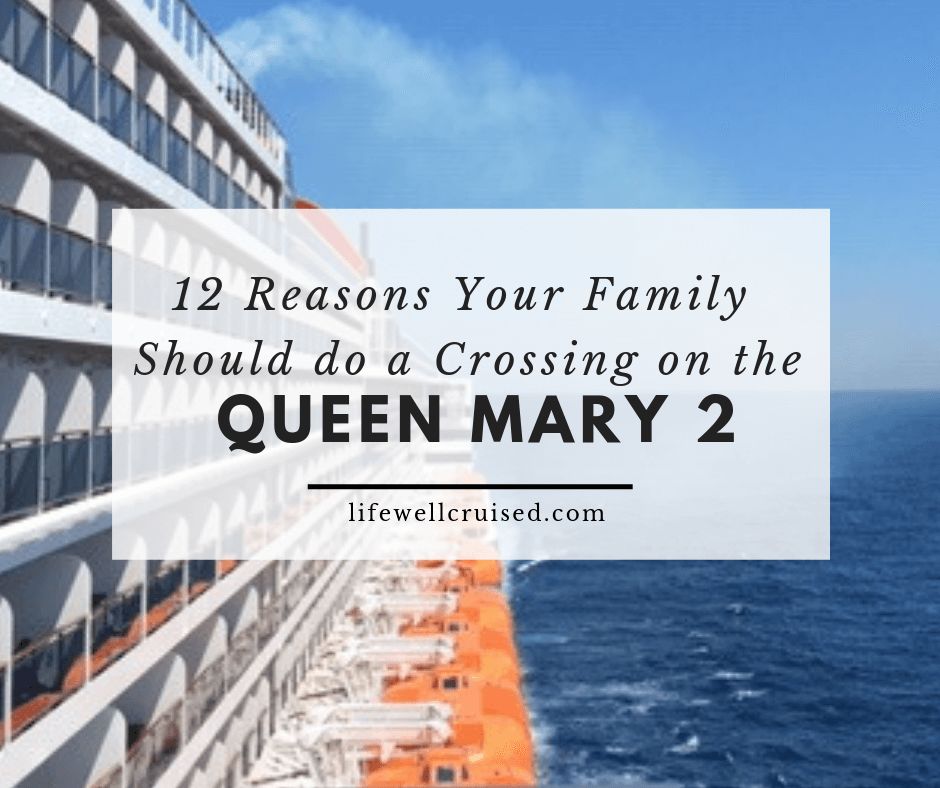 How a trans-Atlantic crossing QM2 became our families' favorite cruise travel experience
When planning the ultimate family cruise vacation, most people aren't thinking of a trans-Atlantic Crossing on Cunard's Queen Mary 2. After all, there aren't waterslides, ziplines, or even beach breaks at private islands.
But for Heather and her family, who've now done a crossing more than once, cruising on the QM2 has become their preferred family cruise!
Drawn in by their experiences and genuine enjoyment of all things Cunard, I wanted to know more.
Today I'm sharing their cruise travel story – and I think there are many families that will be impressed and consider this as a future family travel experience. After all, travel is so beneficial and meaningful.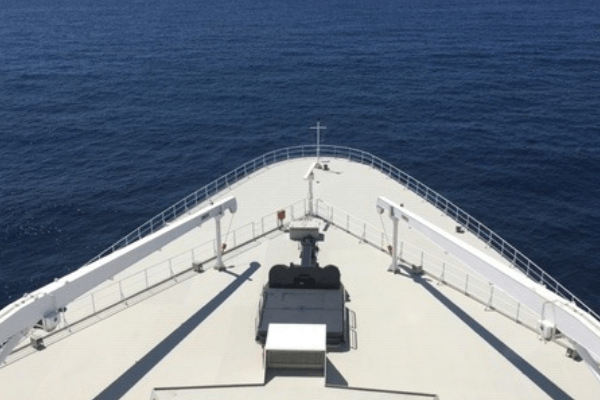 My favorite Cunarder
Firstly, let me introduce my good friend and passionate Cunarder. Heather has cruised on Cunard 5 times, in addition to cruises on Royal Caribbean, Norwegian Cruise Line and Carnival.
I'll take total credit for getting her and her husband hooked on cruising when we took a very fun, short cruise to Bermuda together in 2009! We laugh because because they were our friends who thought cruising just wasn't for them (we all have these friends, right?). Now they cruise just as much as me, and sometimes more!
Before we get into the interview, let's start with Heather's words as I asked her to describe what comes to mind when she thinks of a crossing on Cunard's QM2.
Nostalgia, History, Adventure.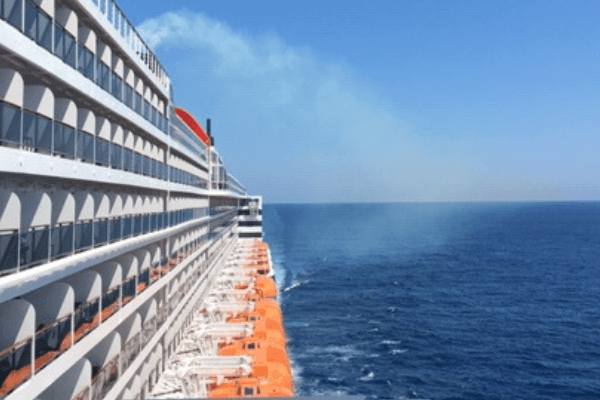 1. What was your first experience with Cunard and the QM2?
Our first experience with Cunard was when my father took our oldest son on a trip to Europe when he was 12 years old. It was a first cruise for both, and we knew when planning it that it would fit in perfectly with the trip, as well as with their personalities and interests.
They both had a keen interest in History and this trip brought them to London, England and to Vimy, France. Here they would retrace a part of our family history – that of a great uncle who had been killed in the first World War.
Following sightseeing and traveling, they embarked on the trans-Atlantic voyage that was nostalgic for my father.
He and his family came over from London to North America, when he was only 12 years old. This was a cherished family memory. To relive it with his own grandson so meaningful.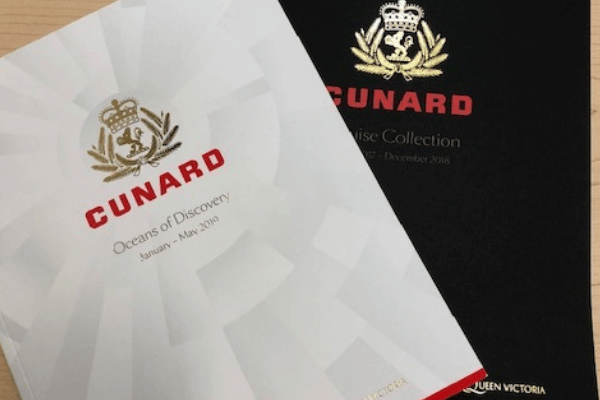 1. Why did you take your first trans-Atlantic crossing on the Queen Mary 2?
Following the journey my father and son took, we knew we wanted to experience this journey as a larger family. We would be 6 of us; my father, myself and my husband, and our 3 kids ages 13, 15 and 17 at that time.
I always imagined the history – people (families) from Southampton crossing over to the New World. In some way I wanted to try and relive that nostalgia with my own family.
Seeing the Statue of Liberty knowing what it represented to people was emotional. Reliving somehow what people were feeling.
We actually got up really early as the ship was going under the Verrazano Bridge and saw the Statue of Liberty as we approached New York. There's nothing like it.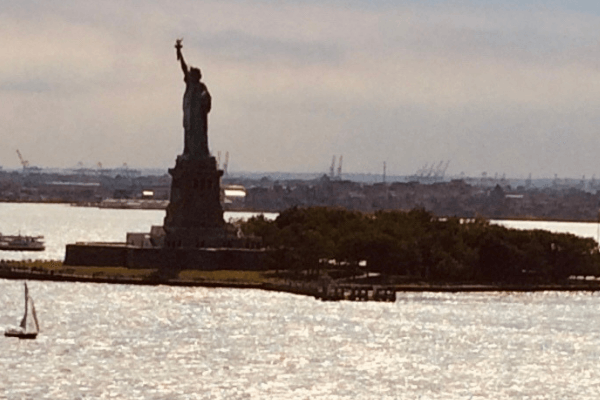 2. What were your impressions of the Queen Mary 2?
It's as good as it gets. The decor, beautiful venues, the food, the service, the space.
Yes, the space. Can you imagine a ship as big as the Norwegian Breakaway with only 2600 passengers when full (compared t0 a ship of approx 4000)? The staff to passenger ratio is 2:1. It's really different than a typical cruise experience.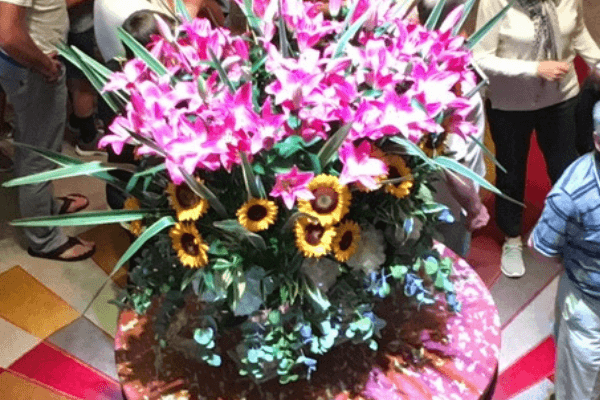 3. What makes a crossing on the QM2 different than other cruise experiences?
In some ways it's like you're living a different life for a week. It's an escape, but not from reality, more like from modern day life and routines. There's an ease and civility on the ship that I don't think any of us experience in the real world.
Keep in mind that on a crossing you're not stressed or pressed for time. It's not like a Caribbean or Mediterranean cruise where you're coming and going.
You have time to relax, to dress and prepare for dinner. It's part of your day.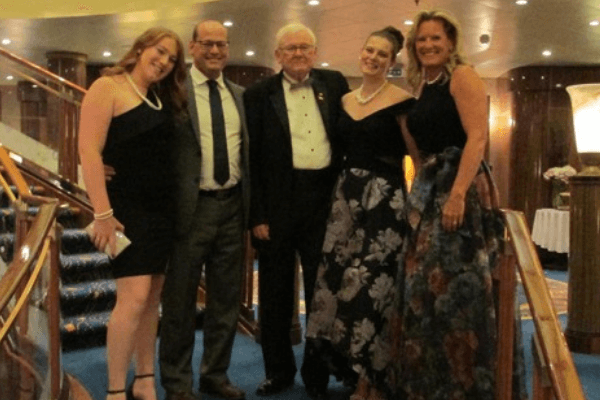 *Words from Ilana – I can't help but be reminded of life in Downton Abby right about now (only in the best way).
4. You've cruised with other "family-friendly" cruise lines. As a Mom, what did you appreciate about the experience of a Cunard Crossing?
As a Mom, the relax time I get with 7 days at sea is much needed. I'm not on Facebook, not reading emails, not reading the news. I can walk and and look at the ocean, all while knowing that everyone else is doing what they want to do.
Even the kids can appreciate the "specialness" of being on a BIG ship crossing the ocean.
5. People will ask, what can you do on a trans-Atlantic crossing for 7 days at sea?
You mean when I'm not eating? (It's a cruise right?)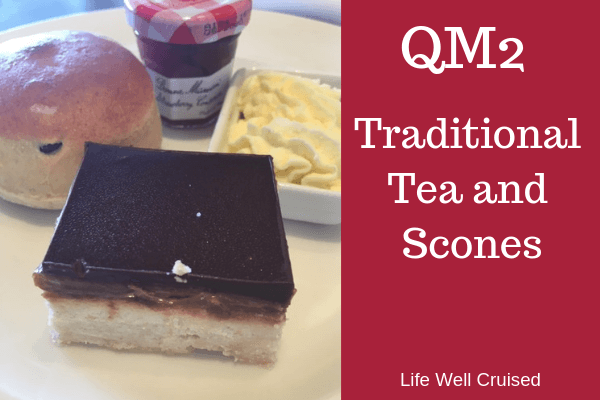 There are so many places to go! Where do you like best?
Everyone does something different during the day, but we really can relax.
Carinthia Lounge – Sitting in the Carinthia is my favorite thing. It's so beautiful and bright and there's always some form of musical entertainment. This was a change made in the recent remastering.There are large windows where you can look out day and night and food is also set up at different times.
Cunard Insights/Lectures – There's usually about 4 a day. There are often renowned and interesting speakers, authors and celebrities.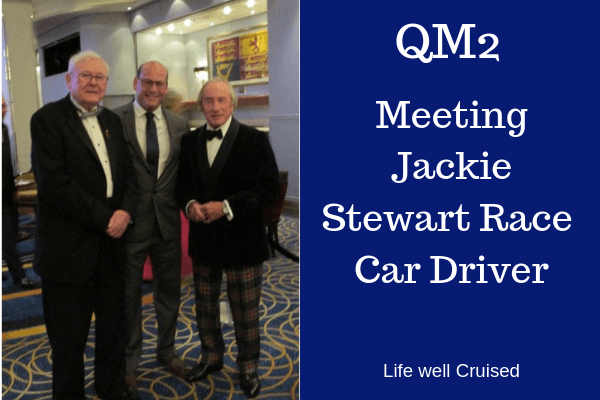 Movies – There are movies played during the day in a theater like setting in planetarium.
Commodore Club – A beautiful bar at the front of the ship, with nice comfy chairs in subtle yet rich tones of blue and grey. It's a quiet bar where people drink and talk.
Games – There are games and puzzles and people can always be seen enjoying time together.
Library – It is the most beautiful library, with large windows at the front of the ship. There are books you can take out and magazines you can sit and read. There's even a librarian.
Planetarium – You can actually go and see a show in the planetarium. My husband and son really enjoy this.
Pools – There are 3 pools, and several hot tubs. One of them is "indoor" in that it has a glass covering can be removed if weather is good.
Walking on deck – This is a big thing for many people. Some walk, others run. People come prepared with clothing for the weather.
I love this and can walk for an hour or more around the ship and its an incredible feeling being in the middle of the Atlantic. It's more than a vacation, more like an adventure. The solitude of being way out at the same time is difficult to describe.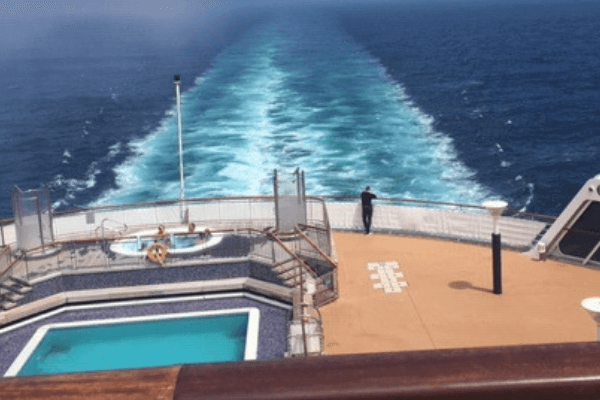 6. Most ships have a "hidden treasure" spot. Did you find one on the Queen Mary 2?
There's a little unexpected spot that's just perfect for playing board games and doing puzzles. As you make your way towards the planetarium there will be comfy seats and tables beneath nice big windows, with a beautiful view on the sea. It's definitely worth checking out.
7. Can you describe the service on Cunard?
The service is attentive, but subtle. It's completely unobtrusive, yet the staff are always there. For instance even in the King's Court (buffet), waiter will get you coffee or a drink and bring it to you, but never bug. If you're sitting in a bar or lounge, even if you're not having a drink, the service will be wonderful.
8. What was the traditional dining experience like on the QM2?
On Cunard there's an early seating or a late dinner seating, no "anytime dining". However, part of the cruising experience, and even the excitement is – Who are my dinner mate's going to be? It's kind of like the first day of school.
Every time we do it we meet great people. We talk about our day and different topics and get everyone's perspectives. There's a tendency towards friendliness, the fact that you'll be together for 7 days. Of course you can always change tables, but we've never had to.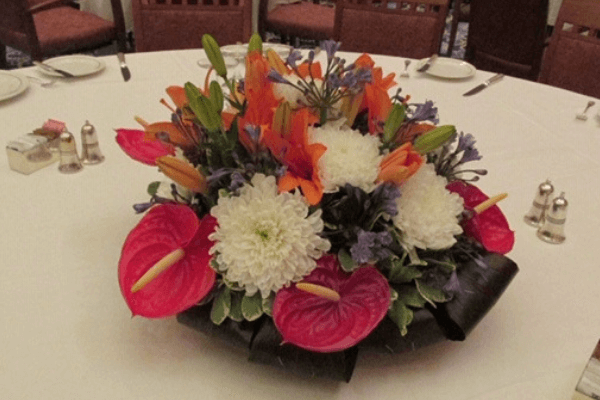 Tip from Heather: Consider late seating
We did this recently and loved it! You don't miss anything and this way the day isn't cut. You can take your time getting ready for dinner without rushing and the day just felt longer and fuller.
9. Cunard is known to have a strict dress code in it's dining rooms. How do you feel about dressing up for dinner?
I LOVE the dressing up! We live in such a casual world and I love the fact that on the QM2, you can't ever be TOO dressed up! My kids just adore choosing perfect outfits for the Queen Mary 2. My son and husband like it too, even though it was met with some trepidation before our first cruise.
On a 7 day crossing there are 3 formal nights where dark suit or tux are expected. The other evenings a sports jacket and collared shirt are required.
10. What's expected, in terms of the dress code during the day on Cunard?
It can be as comfortable and casual as you want to be during the day. People walk around in yoga pants an shorts, its very regular.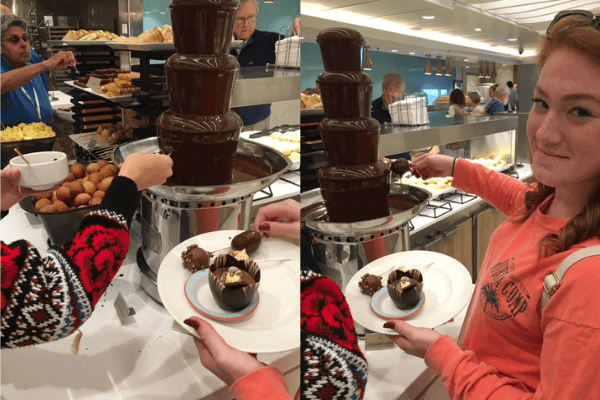 11. Cruising can described as "all about the food". So, what can you tell us about the food and dining on the QM2?
The food is simply phenomenal. It's the quality. On some other ships, it might be the quantity, but on Cunard its the attention to detail. You'll never get bored.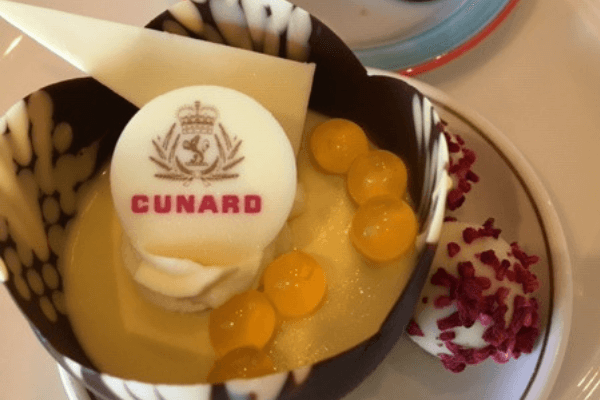 Main dining room – The main dining room is never repetitive and there's always a choice for everyone. the portions are good, but not large. It's fine dining and the staff is always wanting to please.
Lunch – In the King's Court (buffet) as well as food set out in Carinthia. There's even a Chef's galley section (to avoid cross-contamination) where there were gluten free choices and a nice choice of vegan foods.
King's Court (buffet) – Just because it's a buffet, doesn't mean the food is lessened. If you don't eat dinner in the dining room one night, you can still have all the main dishes and traditional favorites (not on formal night). Rack of lamb, filet mignon, duck, were all available in the meat section. There's also a large cheese section with any type of cheese you could want.
Desserts – The quality of desserts is worth mentioning. When the Cunard chef's make a dessert, they're using top ingredients. For instance when I had a donut, it wasn't made with just a sugar glaze. It was topped with rich, pure white chocolate.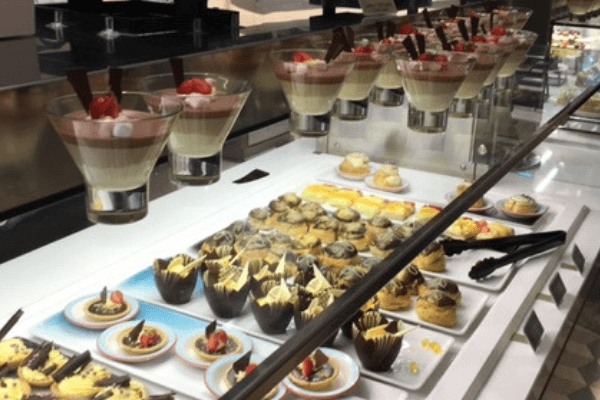 12. What special features will you find on the Queen Mary 2?
The planetarium: I haven't gone in myself, but my son and husband go and it's pretty interesting and cool.
The ballroom: It's just beautiful. Dancers do a show every evening and there's even a masquerade ball.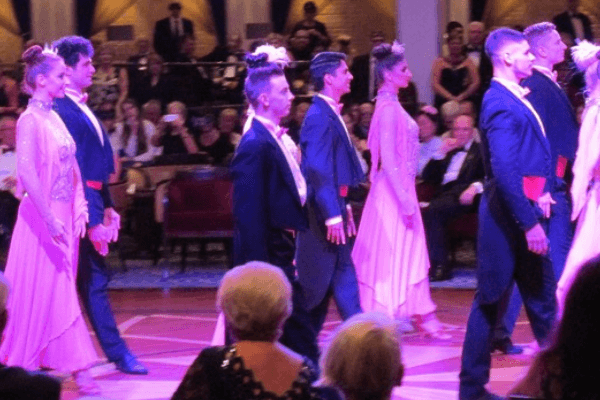 The kennel: The QM2 is an ocean liner, and many people use the ship to cross to and from Europe, especially when moving. Therefore their are some who bring their dogs and there's actually a kennel and a spot where the dogs are walked. It's very different. You can even go up and see the dogs on the top deck.
Midnight Buffet: Most cruise ships don't have this anymore. We always go to the King's Court (buffet) at Midnight where there's a variety of hot items, ice cream, dessert, fruit and its all so good! There's even a chocolate buffet! The food actually almost never stops in the buffet. It's open till about 2:30 or 3:00, then closes and reopens at about 5:30 am.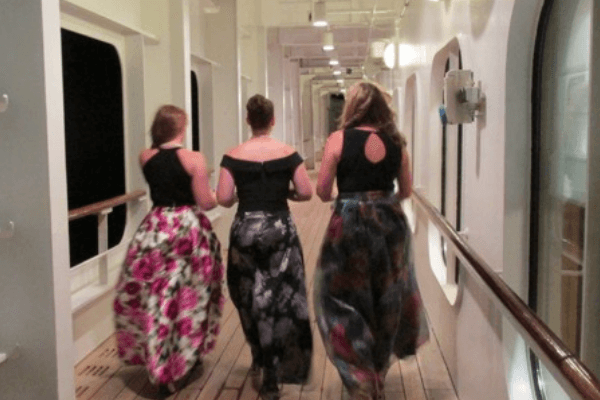 Cruise Travel Tips for a Cunard Trans-Atlantic Crossing
While you can do a crossing from NY to Southampton, our preference is to go Western, from SH to NY. There are some advantages for us as North Americans.
1. Firstly, consider flying to London a few days before your cruise. There are so many places to visit and this becomes a great travel addition to the crossing. You can even fly into Paris and then go on to London. There are a lot of itinerary options for what you can see and do in Europe before your cruise, depending on your preference.
Something to note, if you're cruising from Southampton, a day trip to Isle of Wight is a quick ferry ride away. It was Queen Victoria's summer home and you can visit in and around it. Pretty villages and churches and beaches.
2. An added bonus to crossing from Southampton to New York is the time change. To adjust to the time change, each day on the QM2 passengers are instructed to bring their watch backwards by an hour. In essence, you get an extra hour on 5 days of your cruise. This is such a benefit to return from Europe well rested and without any jetlag.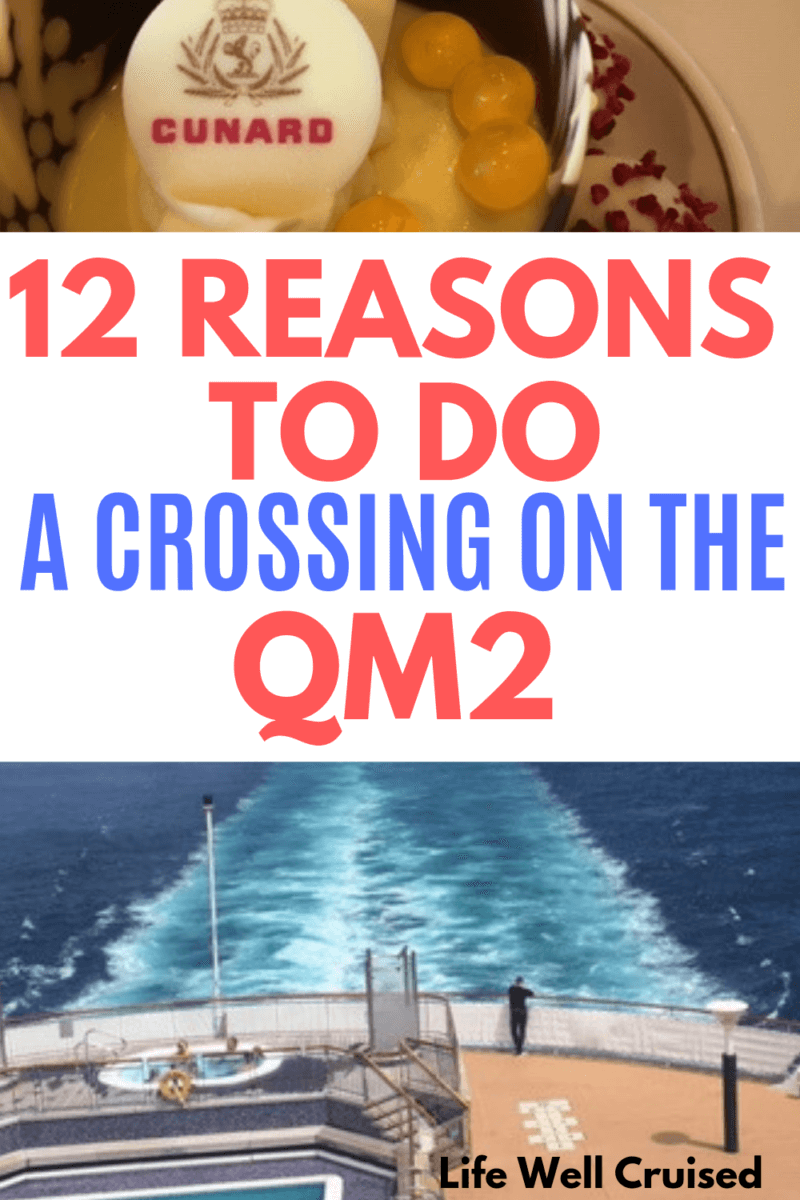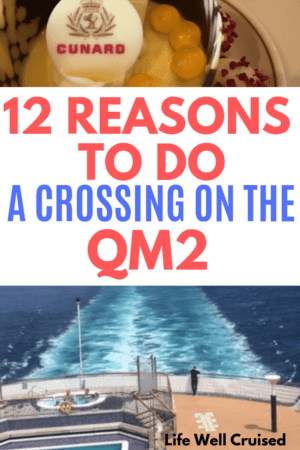 Words from Ilana:
Thank you Heather for describing in such great detail why you and your family love cruising with Cunard, and in particular the advantages of doing a Trans-Atlantic Crossing. I will absolutely have to try this as a new "cruise" experience!
Recap: 12 reasons for your family to do a crossing on the QM2
A crossing on the QM2 (an ocean liner) is the ultimate way to travel to and from Europe and America. Taking a voyage made by so many in the past will be a nostalgic and most meaningful travel experience that all cruise lovers should try at least once.
Have you considered doing a crossing on the Queen Mary 2? Does this type of travel interest you? I'd love to know what you think. Please let me know in the comments below.
Happy Cruising!!
Ilana
xoxo
Recommended reading: 15 Travel Bloggers Reveal Their Best Cruise Tips or how to organize your cruise cabin efficiently.
P.S. If you've enjoyed this and found it helpful, I'd appreciate if you could share it on social media. It helps me to grow my audience and share with others the joy of cruising.
Let's connect:
Follow me on Facebook at Life Well Cruised
Follow me on Pinterest at Life Well Cruised
Follow me on Instagram at Life Well Cruised