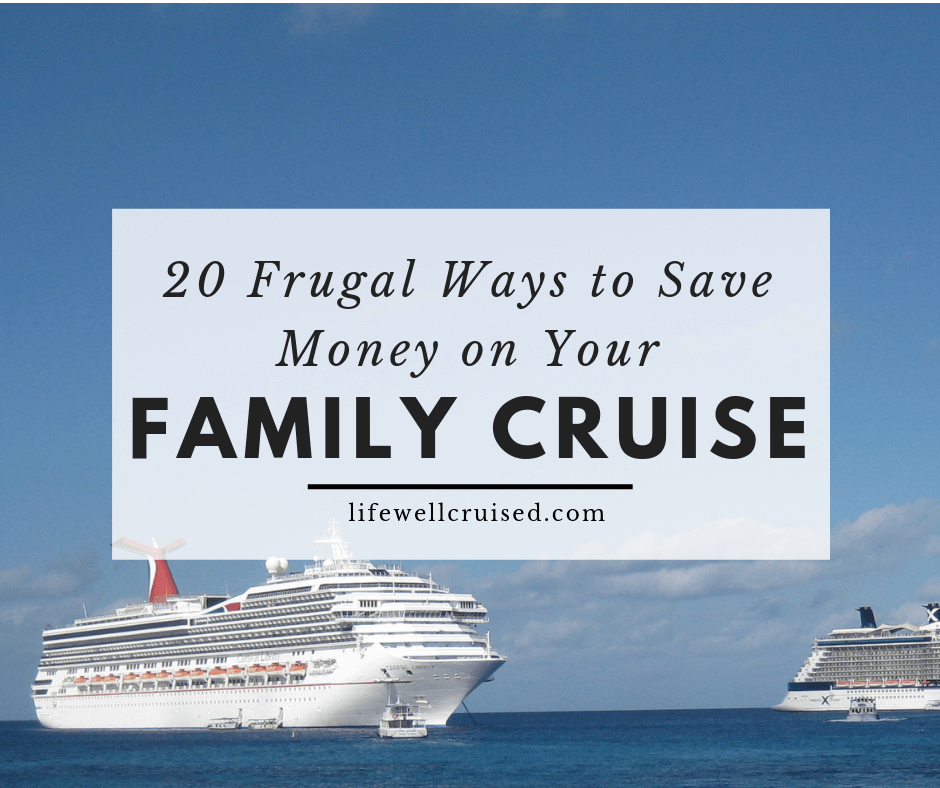 How to plan a family cruise on a budget; frugal money saving tips
Cruising doesn't need to be expensive. There are some great frugal ways to save on a family cruise vacation, for much less than what most people think. With so much included in your vacation, cruises are already a pretty good value, however, these tips will show you how you can really stretch those family dollars.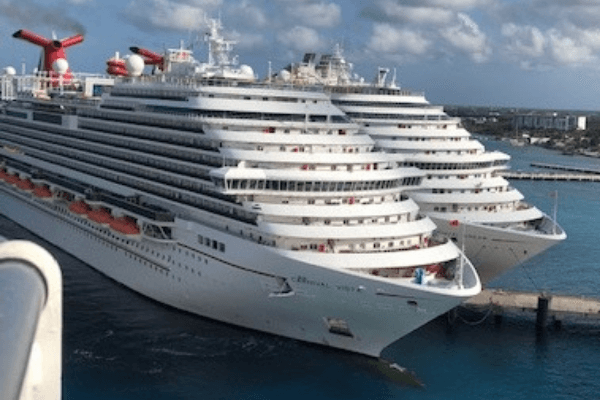 This post may contain affiliate links. Please see my full disclosure policy for details.
20 Ways to save on a family cruise (updated for 2019)
1. Book early
Start researching your family cruise a good year in advance. This will give you time to get an idea of pricing and all that's included, as well as what's extra. In this way you can budget accordingly.
But there's more. By booking early, you are more likely to find an amazing promotion that will save you lots of money and make the wait well worth it!
2. Book an Inside cabin
Consider the type of cabin you book. An inside cabin will almost always be the least expensive. If you're trying to keep to a budget, this is the easiest place to save.
My husband and I booked inside cabins for years when our kids were young and we never felt like we were missing out. As a matter of fact, it was one of the ways we were able to cruise once a year, even when we weren't making a lot of money.
I like to tell people it's like luxury camping on a cruise ship! Therefore, booking an inside cabin is one of the best ways to book an incredible cruise – at the lowest price point.
Tip: Something to keep in mind is that cruise cabins are mostly made for double, triple or quadruple occupancy. While you can sometimes find cabins for 5, on a few cruiseships, it's not very common. If you're a family of 5, you may need to book 2 cabins side by side or connecting.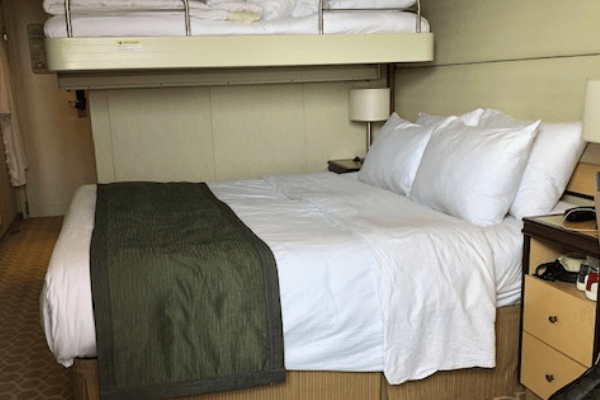 3. Book with an online or local travel agent
One of the best ways to save is to use a local or online travel agent (although do use one that specializes in cruises). It may surprise you, but cruise lines work closely with travel agencies and allow them to sell cruises at lower rates by booking groups of cabins in advance, as well as other incentives. This is especially true when booking 6 months or more before the cruise.
Travel agents will also often have promotions where they can offer you additional on board cash credits, free gratuities or other perks. It does pay to compare, so pick 3 you like and ask them for a quote.
4. Kids Sail Free promos
Cruise lines occasionally have these amazing sales, where kids under a certain age, or 3rd and 4th passengers sail for free, paying just the taxes. Keep in mind that the kids do need to be in your cabin.
I'll tell you something, I had to edit this very recently as I originally said that cruise lines don't usually offer this on peak travel dates, however I was wrong. Ok, not completely wrong, as most of the time this is the case, however it always pays to check. Very recently, my friends snagged a great deal on a 7 day Celebrity Cruise over New Year's with a Kid's Sail Free promotion. They are elated!! So it goes to show, it pays to look.
5. Ask for discounts
Did you know that sometimes cruise lines have discounts for seniors (which is often age 55), military, residents of certain states or provinces. It pays to ask if you're eligible for discounts.
6. Sail right before or right after Christmas or New Years
Another way to save money on a cruise vacation, is to travel a week or two before the Christmas holidays or the week after New Years. The fact is that holiday time is usually the most expensive time of the year to cruise. However, before and after are pretty cheap!
If you home-school, your children are young or you can add a week holiday after a school vacation week, consider extending your family vacation time with a well priced cruise. This is where you can find amazing deals!
One thing I love about most cruises after Thanksgiving week, is that they are beginning to be decorated for Christmas and have that holiday spirit! In the past, we've cruised the first week of January after discussing it with our children's teachers. Being honest, we often felt when our kids were young, that our travels offered a life experience that had value in itself. We've never regretted it.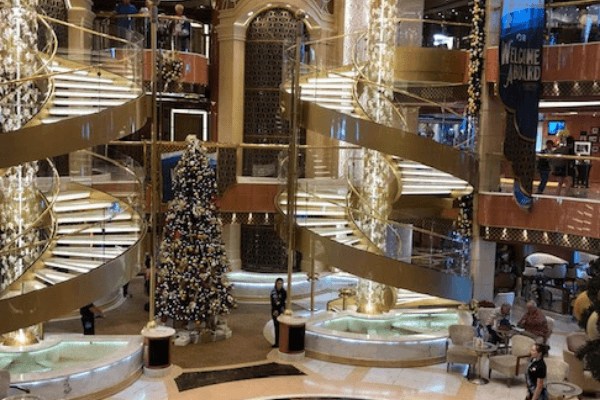 7. Drive to the cruise port
There's probably no better way to save money than to drive to a cruise port, if possible, rather than fly. This is especially true if you are cruising over the holidays or March break. There are many cruise ports – you might be able to drive to Miami, Fort Lauderdale, Port Canaveral, Baltimore, Gavelston, New York, New Jersey, New Orleans, Boston (did I get them all?). Why not add a little road trip to your cruise vacation?
This is my favorite frugal cruise travel tip of all, as it truly has saved us thousands of dollars over the years!
8. Cruise on older ships
Cruising on the newest ships will almost always be about 20% more expensive than an older ship. So, one of the best things you can do to save some money, especially when you're cruising as a family, is book a cruise that's just not so new anymore.
Now, don't worry. I'm not saying you should book a crappy ship (I'm really not). As a matter of fact, most cruise ships are refurbished at least once every 5 years.
Tip: If there's a cruise you're eyeing, ask your travel agent to find out when it was last updated, or call the cruise line yourself. If it was refurbished in the last year, it will probably feel almost like a brand new ship. Royal Caribbean, Celebrity and Carnival have got some incredible ship updates going on this year!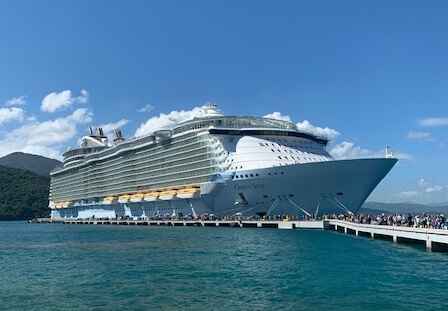 9. Don't book shore excursions (in every port)
When in a cruise port of call, sometimes it's pretty easy to take an inexpensive cab to the beach. However, not always. There are definitely times that you'll be happy you booked an excursion. However, here are a couple thrifty tips for families to save some money while cruising.
Always research your cruise ports (your cruise travel agent may even be able to help with this), and consider what you can do on your own and where you should really book an excursion. Certain ports, such as Cozumel, offer tons to do easily on your own. Other ports, like Falmouth, don't have much closeby and probably warrant booking an excursion if you're leaving the port area.
If you definitely want to book an excursion, check online in cruise Facebook forums or on cruise critic for recommendations. Generally, excursions booked through the cruise line will be more expensive, but they do come with a guarantee to get you back to the cruise port on time (and that the ship won't leave without you).
Tip: This isn't the case for every cruise line, however Princess Cruises has a best price match guarantee for shore excursions. If you've booked with Princess, check their website for this (under shore excursions). While there are conditions you'll need to meet, I can tell you from experience that they honor this, so check it out.
9. Monitor cruise pricing for price drops
Many experienced cruisers book early, and then monitor their cruise price for months. The way to do this is:
Find a cruise that you love at a price you can afford
Reserve by placing a deposit on the cruise (the amount will vary by cruise line and promotion)
Then sit and watch.
Actually, there's just a little more to it. Once the deposit is placed, it's a confirmed reservation. Your final payment will be due approximately 90-120 days before your cruise. From the date of the deposit, until the date of your final payment, cruise lines will usually honor a lower price should it become available.
One way to monitor this is on the cruise line's website, however do keep in mind that you need to be watching for your specific type of cabin. Another way to monitor pricing is by signing up for a service like Cruise Fare Monitor (which I'm told has a small fee, although I've never used them myself). Finally, if you've worked with a travel agent, ask them to monitor for you and get in touch with them when you see a promotion that may apply.
Tip: Remember that new promos may not include some extra perks you've received when you first booked. If you have your cruise "refared", always do your calculations so that the deal remains advantageous to you.
10. Bring your own wine
For real. Several cruise lines allow you to bring a couple of bottles of wine or champagne per stateroom. This is a great way to save money as alcoholic beverages on a cruise ship can be expensive.
Do bring a corkscrew with you. I actually keep mine in my travel bag all year round, so it's always ready and I never forget it.
11. Buy a beverage package/don't buy a beverage package
Did that sound contradictory? It is, as it really depends on you and how much you may drink, whether in alcoholic beverages or even in sodas or specialty coffees.
Let's face it, even when we're being frugal, we all have our favorite things that we just may splurge on when we are on holiday.
Alcoholic beverages in particular can really add up quickly, so you should probably check the cost of the beverage package and do some calculations. From my own calculations, if you think you'll drink more than about 6 drinks a day/per person, it's probably worth it.
Tip: Keep an eye on your online cruise planner. It's very common for cruises to offer specials directly to you via your email or on your cruise planner in the months before your cruise. I've seen 20% off on several cruise lines. So, book ahead of time if there is a promotion.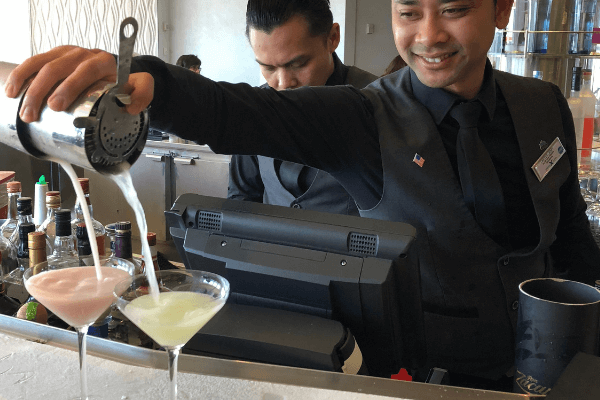 12. Sign your kids up for cruise line kids club
Most cruise lines have a pretty great kids club packed with tons of activities to do. One thing we found out, when we cruised with our kids when they were young, is how qualified and amazing the youth staff were! "Free" activities are usually available until 10 pm and there is a small fee after that, useful for a couple of date nights if you choose. Older kids and teens can come and go as they please, but have probably the coolest hang outs on the ship.
13. Don't eat off the cruise ship
While it can be great to eat some really special local foods, and I would never want to discourage that, the fact is that your food is payed for on the cruise ship. So we try to eat most of our meals on the ship when we travel.
One tip we use is to head to the beach or other activity early in the morning. Then we head back to the ship around 1 or 2 pm and grab a bite to eat at the grill or buffet. We enjoy a little air conditioned break, before we head back out for a couple of hours to look around or shop for souvenirs in the cruise port.
14. Skip specialty restaurants
You probably know that your cruise ship meals and snacks are included in your cruise fare, right? However, cruise lines do a great job promoting their alternative specialty restaurants where there's an extra charge.
Now, I can't tell you that they're not good, as I think most of the time they really are. But, do you need them? No.
Avoid extra charges for things like room service (some cruise ships have a fee, some don't), and specialty dining packages. Enjoy the main dining room, the buffet, as well as cafes and other casual dining venues which are included with your cruise.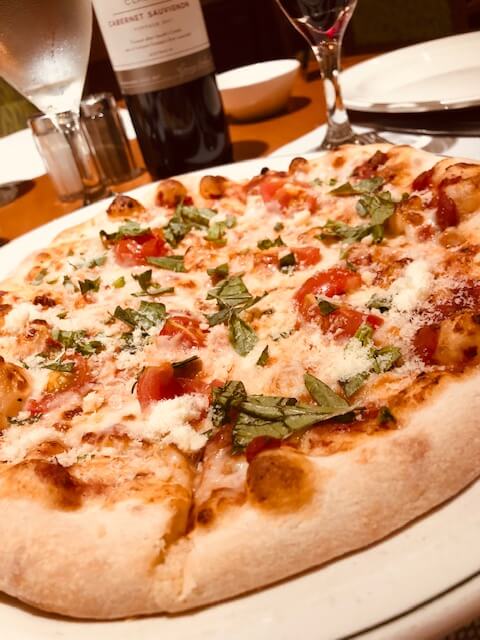 15. Check the internet packages (you may want to buy it)
Now, in the past I would have said to skip the ship internet as it's just too expensive. However, this is really starting to change.
In 2019 we're now seeing some ships, such as many from Princess Cruises, which are offering amazing fast and affordable internet. You can check out our OceanMedallion cruise review for the details.
Other cruise lines have some ships with a variety of internet cruise packages, that may be a good value now. Do check with your cruise line, as this may vary from cruise ship to ship.
16. Don't pay for fitness classes on your cruise
Your cruise ship will probably have a beautiful fitness center with tons of great equipment, so it's a good idea to use it to keep fit while you're on vacation. However the gym will also have some fitness classes such as yoga, cycling, stretching, zumba etc.
My advice is to take advantage of the free ones only, and skip those with a 10$ per class upcharge (unless you really want to do it, right?). If it's a chance to try something you've always wanted to do, it may be worth it to try it while on your cruise.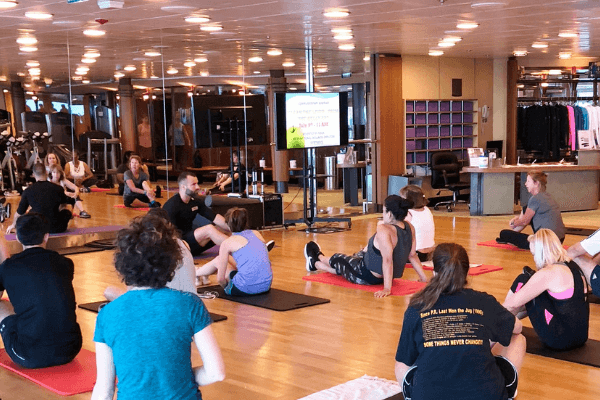 17. Book your spa appointments of port days
While heading to the spa may be an indulgence, maybe this is a special cruise and you really want to pamper yourself. I'm thinking, if you're a Mom (or Dad) you probably deserve it ;-).
Cruise ships often have specials on port days, or even on the first day of the cruise, when they're less busy. We've saved 20% by booing during promos and even have had bundles that are a great deal.
Tip: If you don't see a discount on the treatment that you want, as to speak with a manager and see what he or she can do. Sometimes they can extend a 10-15% discount at their discretion, so it's always worth asking.
18. Bring refillable water bottles from home
I'm not sure if everyone thinks of this, however buying water bottles on board or in cruise ports costs almost 3$ a bottle. By bringing your own refillable water bottles from home, you can fill and refill your own bottles, knowing you're always drinking safe and filtered water of course.
These are my favorite from Amazon as they are nice and large. Plus, you can get some different colors so everyone's is a bit different.
See my personal recommendation: Plastic Sports Water Bottle 3 Pack (35 oz)
. I love the strap handles and find these a great value for a practical large size.
If you know you should drink more water, but find it bland, consider adding some orange slices and strawberries from the buffet and infusing your water with natural fruit. These 32 oz. Fruit Infusion Water Bottles are fantastic (click HERE to verify price).
If you prefer not to use plastic, this Stainless Steel Water Bottle (32oz) also keeps liquids hot
which could be great for coffee or for use after the cruise.
19. Stock up on essentials before you cruise
Don't spend extra money on board for things that are just way cheaper back home or if purchased before your cruise. Examples of that are basics like first aid stuff, seasickness medication and prevention, sunscreen and a book to read.
My recommendations for seasickness prevention:
Sea-Band Wristbands – adult 4 pack
Sea-Band Wristband (Child)
Bonine (most recommended by cruisers)
For more information on preventing motion sickness while cruising, you may find this post helpful: 10 Ways to Prevent and Avoid Seasickness on a Cruise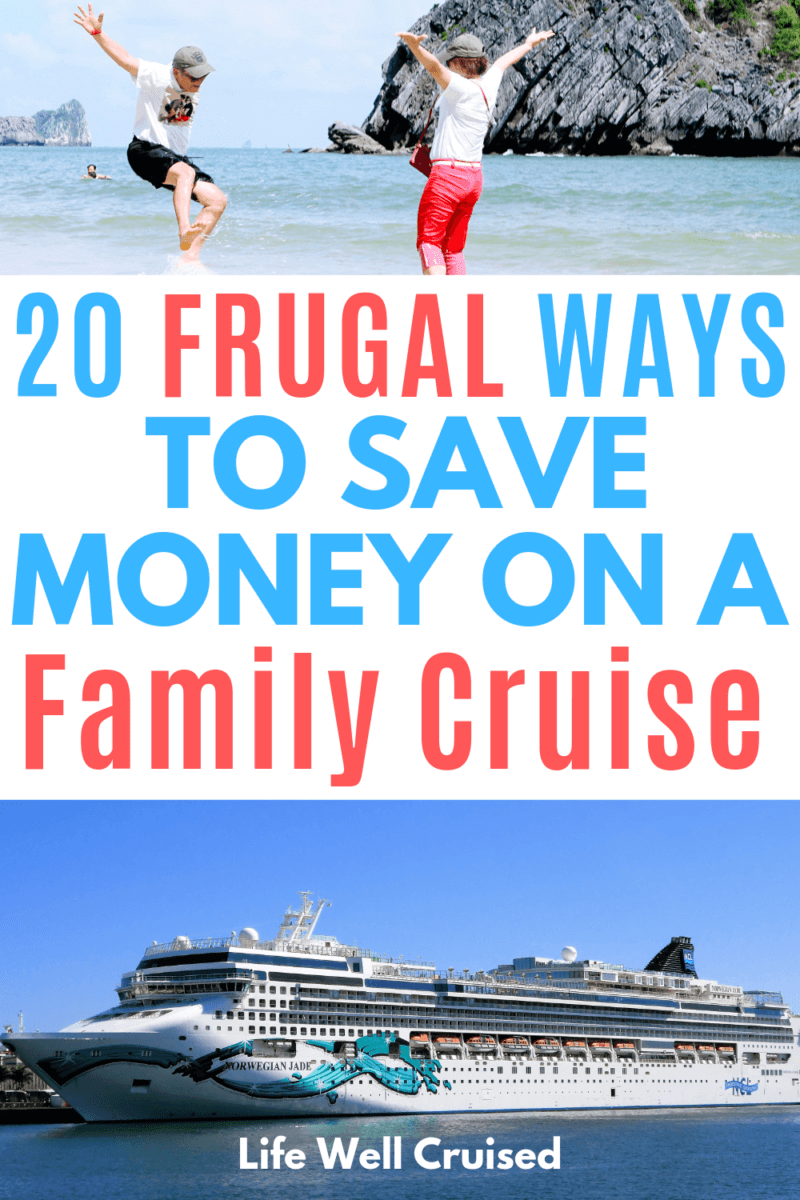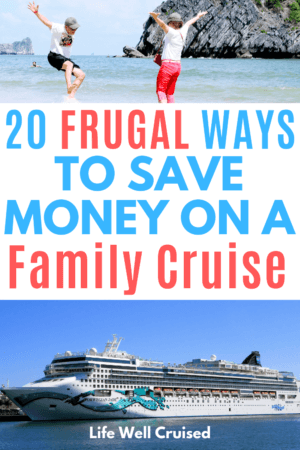 20. Book your next cruise onboard!
I know, I'm already talking about your next cruise. I tell this to everyone! If you love your cruise, and I think you will, put down a small deposit on a Future Cruise (you don't usually have to choose a date). The benefit is that you will either get an on board credit to use on this cruise (amazing!!) or you will have a nice on board credit to use on your next cruise! Win-win!
Do check the terms and conditions of sale. Often the deposit is refundable, but not always. Bookings made on board can be credited to your travel agent, ensuring you can still deal with the agency that hopefully served you well and gave you some extra amenities.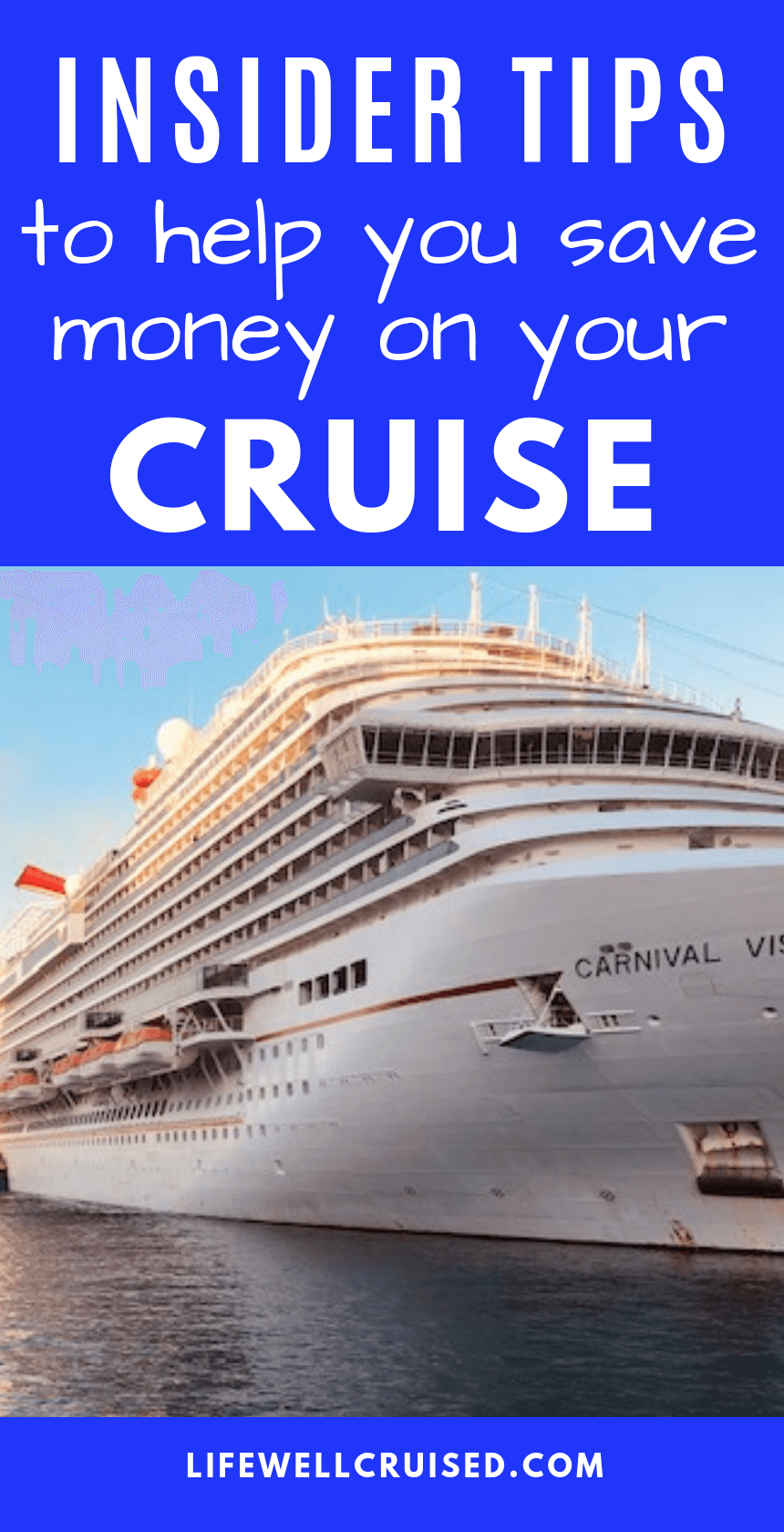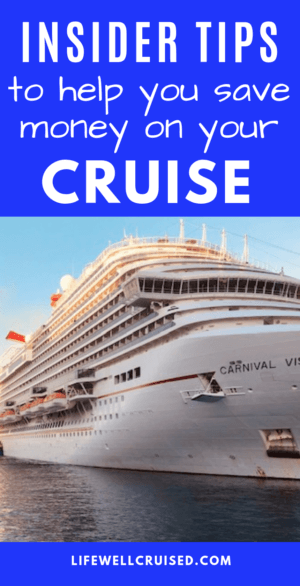 Recap: 20 frugal ways to save on a family cruise
We've gone through 20 ways to save money while booking and planning your cruise vacation. I hope many of these tips will help you to have an awesome family cruise, all within your budget!
Do you have any great frugal tips to share? If you've found these money saving tips helpful, please leave a comment below.
Happy Cruising!
Ilana
xoxo
Recommended post: Cruise cabin hacks (make the most of a small cabin)
If you've found this post helpful, help more people to see it by sharing it on social media. Thanks so much!
Let's connect:
Follow me on Facebook at Life Well Cruised
Follow me on Pinterest at Life Well Cruised
Follow me on Instagram at Life Well Cruised