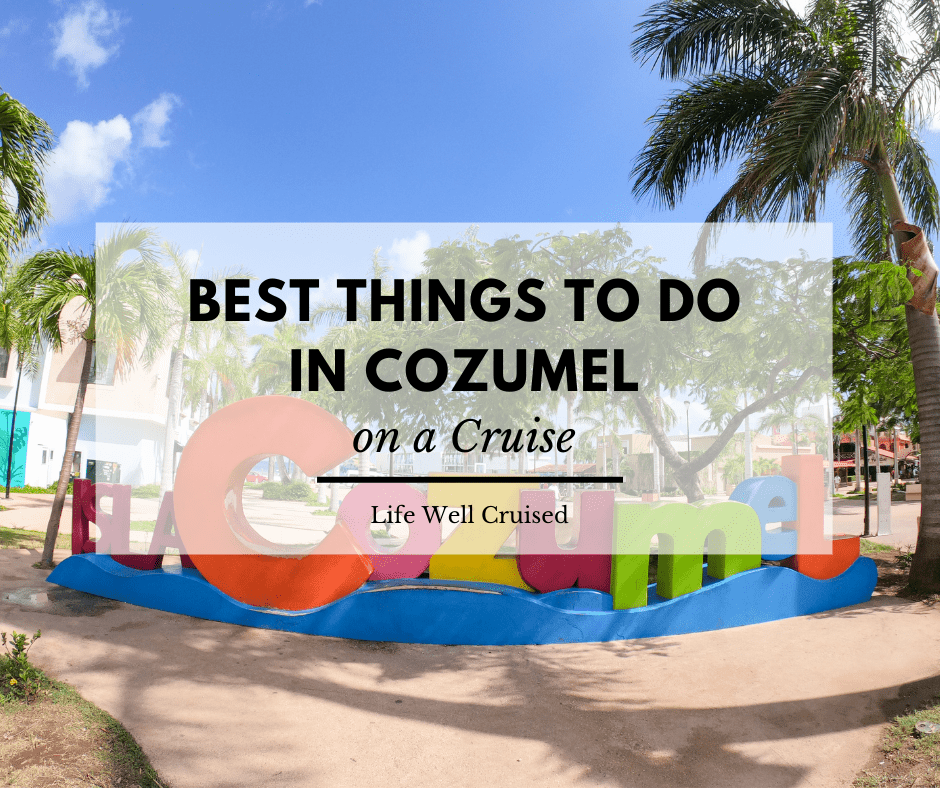 If you're going a Caribbean cruise and visiting Cozumel, you're in luck! There are so many fun and interesting things to do in Cozumel, many near the cruise port. Cozumel is a cruise passenger favorite and it keeps getting better.
After cruising to Cozumel many times over the years, I've put together a list of the best things to do in Cozumel on a cruise. Whether you're interested in beautiful beaches, water sports or Mayan ruins and archeological sites, Cozumel is the perfect place!
In this guide I've included some of Cozumel's main attractions, as well as useful Cozumel tips and port information cruise passengers need to know.
This post contains affiliate links which means if you click and buy that I may make a commission, at no cost to you. Please see my disclosure policy for details.
As an Amazon Associate I earn from qualifying purchases.
About Cozumel, Mexico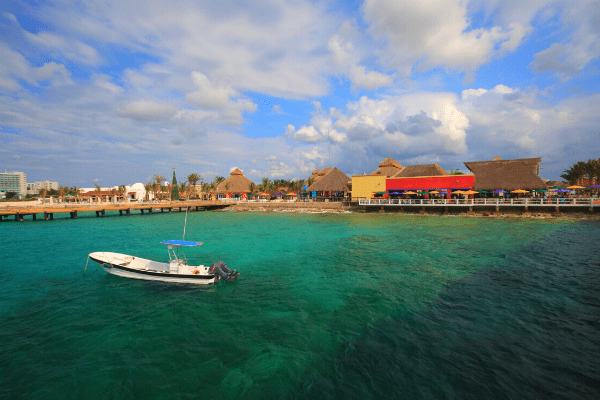 Before we get to the best things to do in Cozumel, here's some useful information about the cruise port that will be helpful when planning your day.
Cozumel is located in the Yucatan Peninsula, about 45 miles north of Cancun. Contrary to bustling Cancun, Cozumel is a quieter and somewhat less developed area to visit. It's also a ferry trip away from popular Playa Del Carmen.
Cozumel has some of the most beautiful coral reefs, clear water, tropical fish and marine life that rivals many Caribbean islands. In contrast to some other Caribbean cruise destinations, prices are reasonable at local restaurants and bars, and even souvenir shops.
There are often 5-8 cruise ships in port on a day in Cozumel, so you can expect it to be busy.
It's a good idea to research before you arrive at the cruise terminal. This way you know if you want to explore Cozumel on your own, get a local tour guide or plan a cruise line shore excursion.
Where Do Cruise Ships Dock in Cozumel?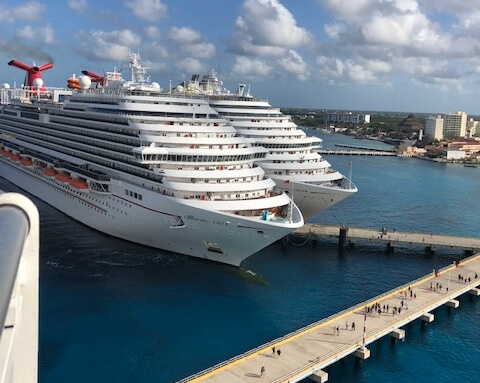 Cruise ships dock at one of 3 Cozumel piers.
Punta Langosta (downtown)
Punta Langosta is the cruise terminal closest to Downtown Cozumel, within a short walking distance. This is a great place if you simply want to walk around Cozumel, shop, eat in a local restaurant or do a bit of shopping. There are some free museums that you can visit nearby the cruise ship.
International Pier
International Pier is in the middle between Punta Langosta and Puerto Maya. You can certainly walk from this pier to the downtown area, however our experience has often been that it's really hot, and taxis are plentiful and cheap.
Royal Caribbean Celebrity and Norwegian Cruise Line often dock at this cruise terminal.
Pro tip: After an excursion, consider heading into the Royal Village Shopping Mall, right across the street from the pier. It's a good place for souvenirs, handicrafts and t-shirts. However the best part is that it is air conditioned!
Puerto Maya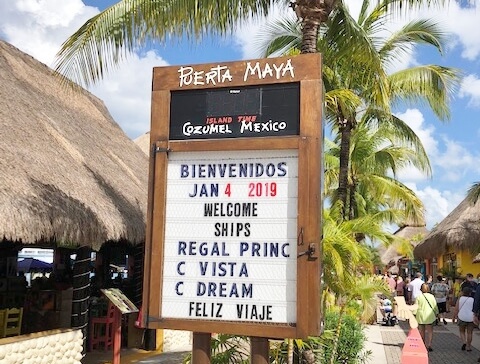 Puerto Maya is the cruise terminal farthest from Downtown, but closest some of Cozumel's most popular beaches. This cruise terminal has several restaurants and popular bars, and opportunities to shop for silver jewelry, pottery, t-shirts and vanilla to take back home.
Pro tip: Take note of your cruise terminal when you depart from your cruise ship so that when you return at the end of the day, there is no confusion.
Getting Around Cozumel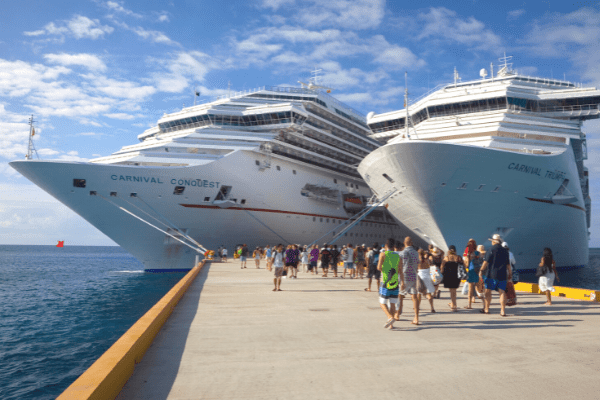 Cozumel is an easy great cruise port to visit with a shore excursion, or on your own.
The easiest way to get around Cozumel, when you're only there for a day, is to take a taxi or ferry. Be careful if taking a ferry on your own, and make sure to check the schedule carefully so that you don't risk not making it back to the ship before boarding time.
Some of the best beaches in Cozumel are only a 15 minute cab ride away.
When you exit the cruise port terminal building, you'll find the taxi area with the taxi fares displayed. Fares to most beaches on the west side will amount to about 5$ a person/per way. If you have more people in your party the price lowers. As an example, 1-4 people = 15$.
Currency in Cozumel, Mexico
The currency used in Cozumel is the Mexican Pesos, however US dollars are readily and happily accepted. Major credit cards are also accepted, however you'll want to keep some smaller bills 1$, 5$, 10$ handy for cab rides and for shopping at the local shops and markets.

25 Best Things to Do in Cozumel Cruise Port
Free Things to do in Cozumel
Overall, Cozumel is not an expensive island to visit. In fact, there are many inexpensive and even, free things to do In Cozumel for the day in port.
1. San Miguel
San Miguel is in the downtown area of Cozumel. It's closest to the Punta Langosta pier, so its actually an easy walk. If you're at one of the piers further west, you can either take a longer walk, or take a 10 minute cab ride. Since Cozumel tends to be very hot, a cab ride may be your best bet!
In San Miguel, you'll find many local shops selling souvenirs, local crafts, silver jewelry, beautiful white cotton casual and beach wear. You can also stop in at a local restaurant where you can find authentic Mexican cuisine.
If you enjoy just getting out and walking, the waterfront view is gorgeous, and of course, window shopping is free. You can also walk and stop in at Benito Juarez Park and visit the charming (and old) San Miguel Church.
2. Playa Corona Beach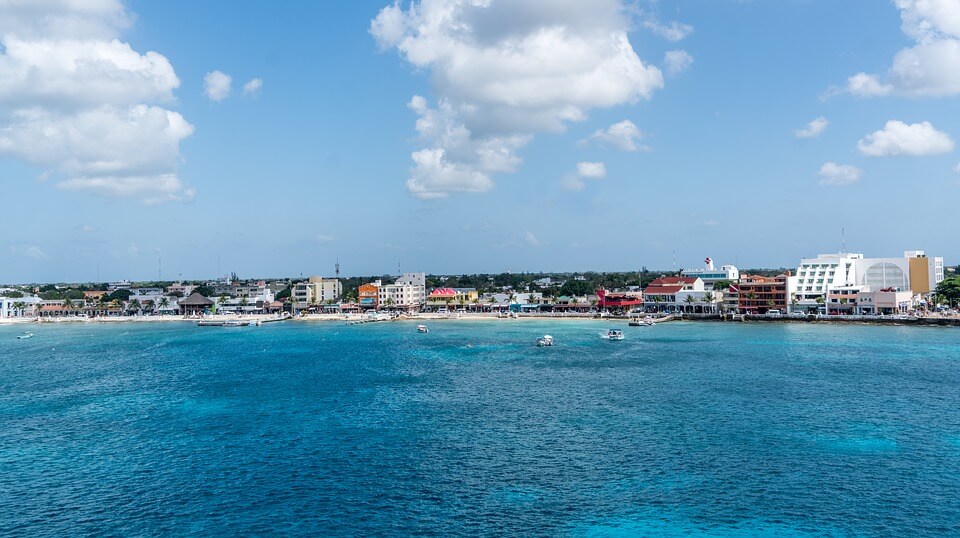 While you won't get all the bells and whistles that comes with some of the all-inclusive resort style beach resorts, this free beach has amazing snorkeling! Plus, its only a 15 minute cab ride away from the pier.
You can enter this beach for free and bring your own snorkel gear. They do also rent equipment if you need it.
There is also a family owned bar and restaurant on site if you decide to sit and grab a bite.
Pro tip: While other activities mentioned below are not free things to do in Cozumel, there are a few that are inexpensive. Cozumel is a port where you can enjoy and keep to a budget.
Family Friendly Activities in Cozumel
Cozumel has some of the best activities for families. Whether you're looking for a beach day or a family adventure, you'll find it here. The beach clubs in Cozumel are a popular day trip option for both adults and kids.
3. Playa Mia Grand Beach Park
If you're on a cruise, you've likely heard of Playa Mia. This is an excursion often offered by the cruise ship, however you can also book this on your own and even get transportation included.
This family friendly resort truly has a lot to offer.
Some of the main attractions with are included with your Beach Access Pass include a large pool, water-slides, young children's splash park, floating water park, paddle boats, underwater Mayan village for snorkeling and more!
The "included" attractions are some of the best available at any beach resort day pass, however there are other experiences available at an additional cost.
If you would like food and drinks included, you can opt for a package which includes this.
4. Mr. Sanchos Beach Club
Mr. Sanchos is a very popular beach club for both families and couples alike. If you like to pay one price for all the food you can eat and frozen margaritas you can drink, checl out Mr. Sanchos for the day in Cozumel.
The beach is gorgeous, the food and drinks are good, and it is a 15 minute cab ride from the cruise port. Along with this, you can also kayak and enjoy a pool with a swim up bar.
Please note that although a lot is included, there is an additional charge for wave runners, para-sailing and the use of an inflatable water park.
Related: What to Pack in a Shore Excursion Bag (packing list)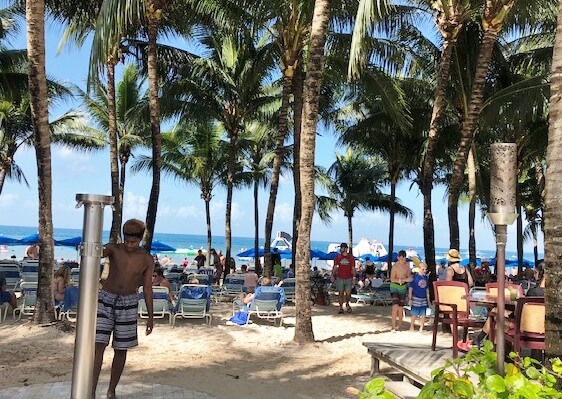 5. Paradise Beach
Located about 5 miles from International Pier, Paradise beach is a 10 to 15 minute cab away. Paradise Beach in Cozumel has been a fan favorite for years, and it just keeps getting better!
Here you'll find a beautiful heated resort style pool, a stunning beach front, and clean facilities. Paradise Beach now has an all inclusive option, great for a worry free day in Cozumel cruise port.
Additionally, you can purchase a fun pass for a large inflatable water park which is quite popular! Something fun to know is that if you do use the water park, you also get access to the kayaks, which is a nice additional activity.
My family has been coming here for years, and we genuinely love it! On a recent visit, we especially enjoyed the freshest and most flavorful mojitos we've ever had, made by Freddie at his Mojito Stand.
Related: Paradise Beach Cozumel Review with Directions from the Cruise Ship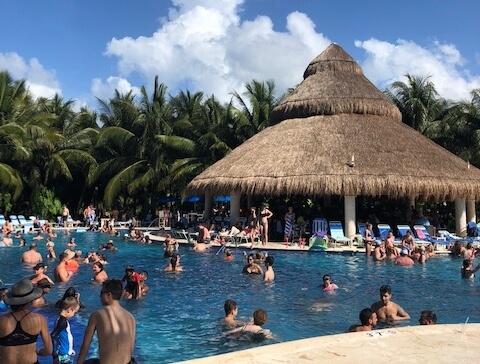 6. Chakanaab Beach and Snorkel Park – Dolphin Discovery
Chakanaab Beach and Snorkel Park is unique in a world of beach resorts with pools and water-slides.
It's actually a natural park located in the Marine National Park of Cozumel. If you are looking for a more authentic beauty in the marine life and botanicals, Chakanaab is a must!
At Chakanaab you can snorkel as well as swim and interact with dolphins and manatees.
This marine park is located about 15 minutes by cab from the cruise port.
Pro tip: Make sure to pack reef friendly sunscreen as Chakanaab Beach Adventure Park only permits reef safe sunscreen (all other sunscreens are banned)
7. Xcaret Park
While not located directly in Cozumel, Xcaret Park is a popular cruise excursion for both adults and kids. accessible via a ferry ride from the island. The park offers a mix of fun activities, natural wonders, cultural exhibits, and activities such as snorkeling in underground rivers and swimming with dolphins.
Something to note is that although this is a full day shore excursion, the park is approximately 1 and a half hours away from the cruise terminal.
8. Amazing Cozumel Race
Could this be any more fun for a family? Pretty close to the actual TV show, this is an off the beaten path family friendly scavenger hunt that cruise passengers rave about!
This is an active excursion which involves a lot of walking and even a boat ride, so just make sure the whole family is up for an enjoyable, but active day.
9. Cozumel Butterfly & Botanical Gardens
Located closeby to the cruise ship terminals, the Cozumel Butterfly & Botanical Gardens is a great activity for the whole family. The butterfly sanctuary has a netted tropical garden area with butterflies as well as beautiful botanical gardens and trees. In addition to seeing the colorful butterflies, there's a pool, beach and snorkel area that you can enjoy.
10. Mayan Bee Sanctuary
The Mayan Bee Sanctuary is interesting for people of all ages to discover the stingless bee and the Melipona honey. Learn about the bees and the Mayan culture, as well as have an oppotunity to enjoy delicious honey and artisan chocolate.
11. Cozumel Pearl Farm
A hidden gem in Cozumel is the Cozumel Pearl Farm. Take a guided tour of a pearl farm and learn about the fascinating process of pearl cultivation. Kids can discover how pearls are formed and even purchase their own unique souvenir.
Cozumel Pearl Farm is a unique family-owned pearl farm situated on the pristine north shore of Cozumel Island, accessible only by boat due to its location within a protected natural area. As the only active Pearl Farm in the Caribbean, it offers visitors an exclusive experience surrounded by untouched mangrove lagoons and the breathtaking turquoise waters of the Caribbean.
12. Punta Sur Eco Beach Park
If you're looking for an excursion that feels less "touristy", check out the Punta Sur Eco Beach Park. Located on the southern tip of the island, Punta Sur Eco Beach Park offers nature trails, lagoons, and a beach where couples and families can relax and enjoy the natural beauty of Cozumel.
Pro tip: Climb the historic lighthouse for an incredible panoramic view.
13. Atlantis Submarine
The Atlantis Submarine excursion is a great family activity. You can explore the Caribbean Sea from the most unique vantage point! The comfortable state of the art submarine is great for viewing colorful reefs, fish and turtles.
Get The Ultimate Cruise Planner
Regular price: $27 Now just $17!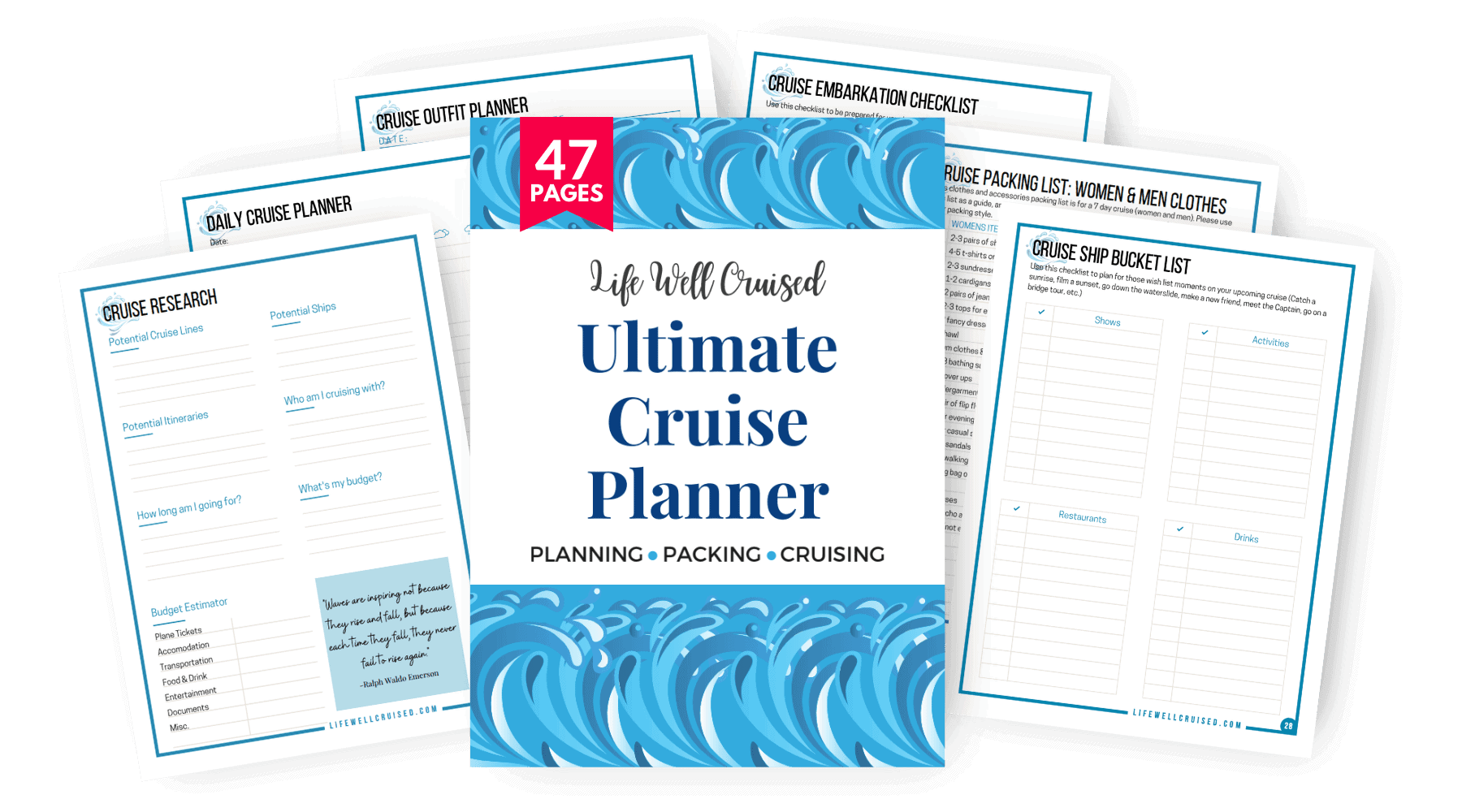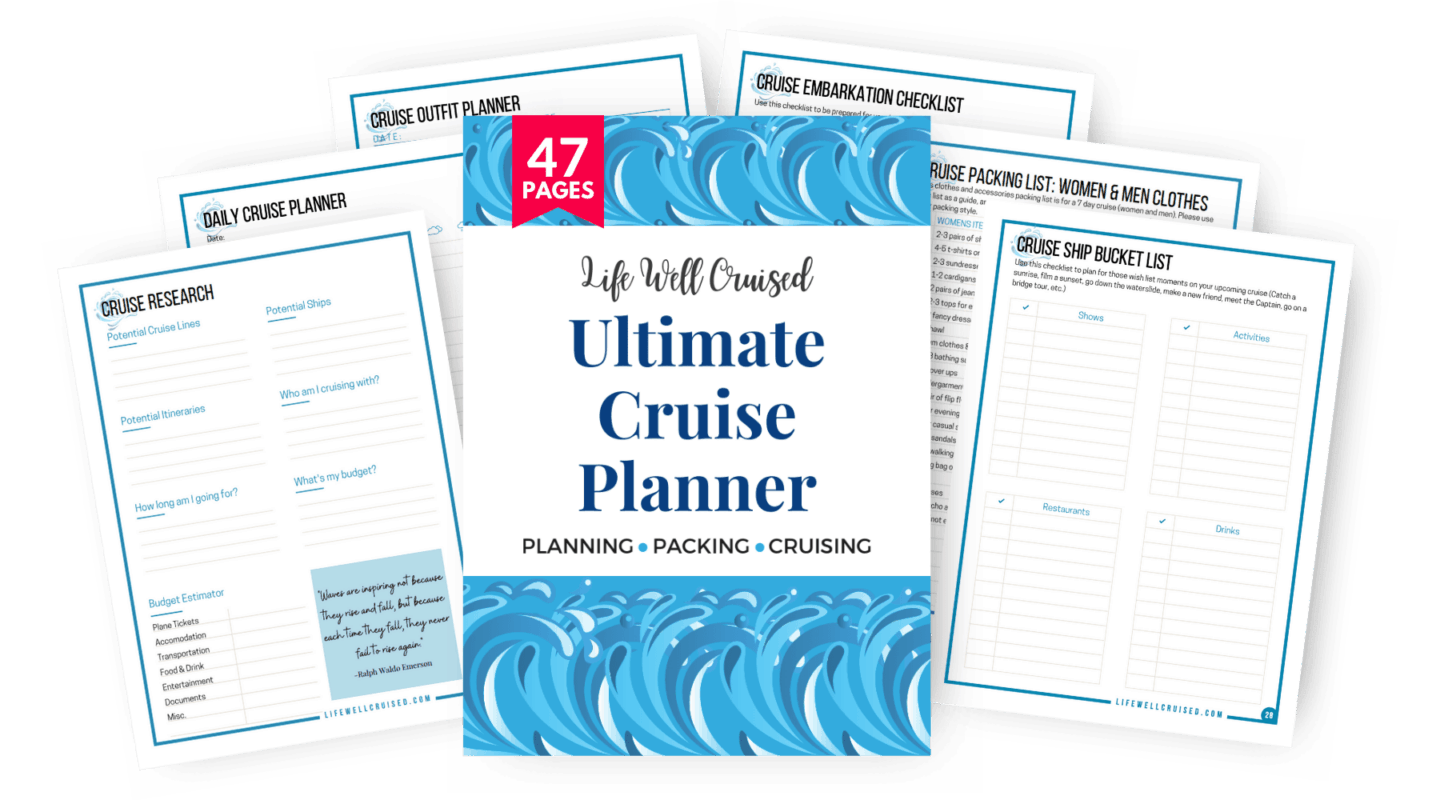 Best Cozumel Excursions for Couples
Many couples cruise to celebrate a special occasion like an anniversary, so why not plan a romantic day in Cozumel?
14. Nachi Cocum Beach Club
There are a lot of very beautiful beaches and resort areas. However, Nachi Cocum offers a more exclusive beach day experience than what you'll find at some of the more family friendly beach resorts.
At Nachi Cocum you'll get an all-inclusive beach break excursion. It offers a beautiful beach, pool and jacuzzi and more. However, what sets it apart is that is limits the number of guests to only 130. Cozumel beaches can get very crowded, so having a more secluded beach feel is extra special.
15. Champagne Catamaran Sail and Snorkel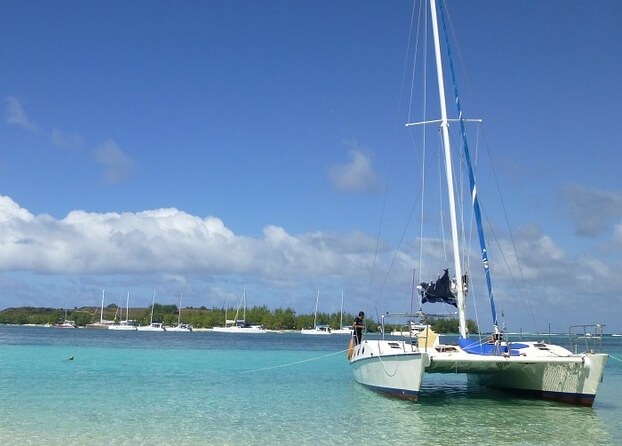 This is made for couples! Who wouldn't enjoy sipping champagne while enjoying a romantic sail around the turquoise waters of Cozumel?
Cozumel has some of the best snorkeling in the world (it is home to the world's second largest reef). If you don't usually snorkel, why not give it a try? You'll come back with amazing memories of your couples cruise.
16. Mr. Sanchos Beach VIP All Inclusive Romance Day
This is really a perfect day for those that are looking for a something romantic to do in Cozumel, while still enjoying one of the most popular spots close by to the cruise port.
Mr. Sanchos offers couples an all-inclusive food and drink package, along with a 30 minute massage, a beautiful cabana and some VIP treatment.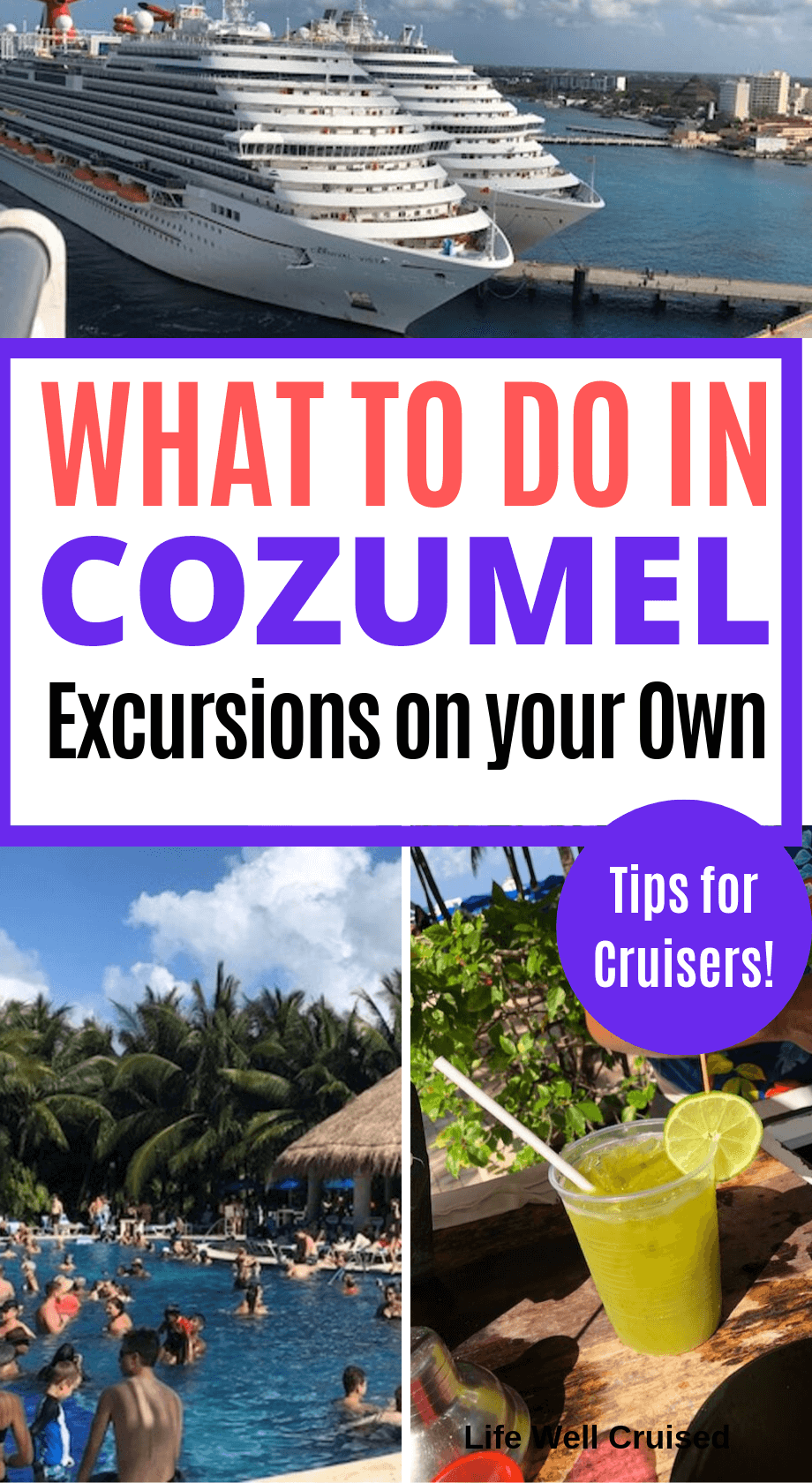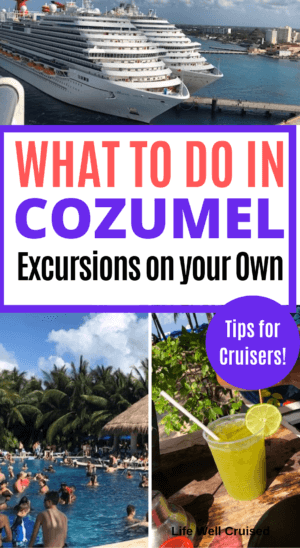 Mayan Ruins & Archeological Sites
Cozumel is well known for 2 archaeological sites. If you aren't into beaches and water sports, and prefer learning and experiencing the culture when cruising, you will enjoy either of these Cozumel excursions.
17. Mayan Ruins of Tulum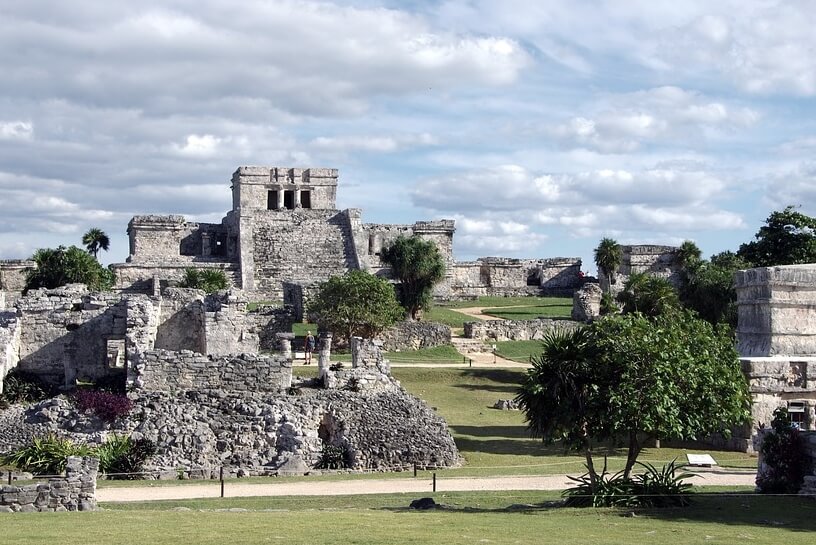 Visiting Mayan Ruins is a bucket list item for many! One of the most well known and well preserved ruins are the Mayan Ruins in Tulum.
It's known not only as an incredible archaeological site, and for it's preserved temples and hieroglyphs, but also for it's truly spectacular views overlooking the Caribbean Sea. This is definitely a place for Insta-worthy photos!
It's about an hour away from Cozumel to Playa Del Carmen by ferry and is considered a full day excursion. While you can book this on your own, depending on what time your ship is due to leave the port, you may want to book this with the ship.
18. San Gervasio Ruins
If you would like to visit Mayan Ruins which are closer to the ship than Tulum, opt for an excursion to San Gervasio. These ruins are considered to be significant to the Mayan culture and an interesting archaeological site, which is only about 30 minutes away from the Cozumel cruise port.
A bonus is that there is the small entrance fee of 5$, so this is a relatively inexpensive Cozumel shore excursion.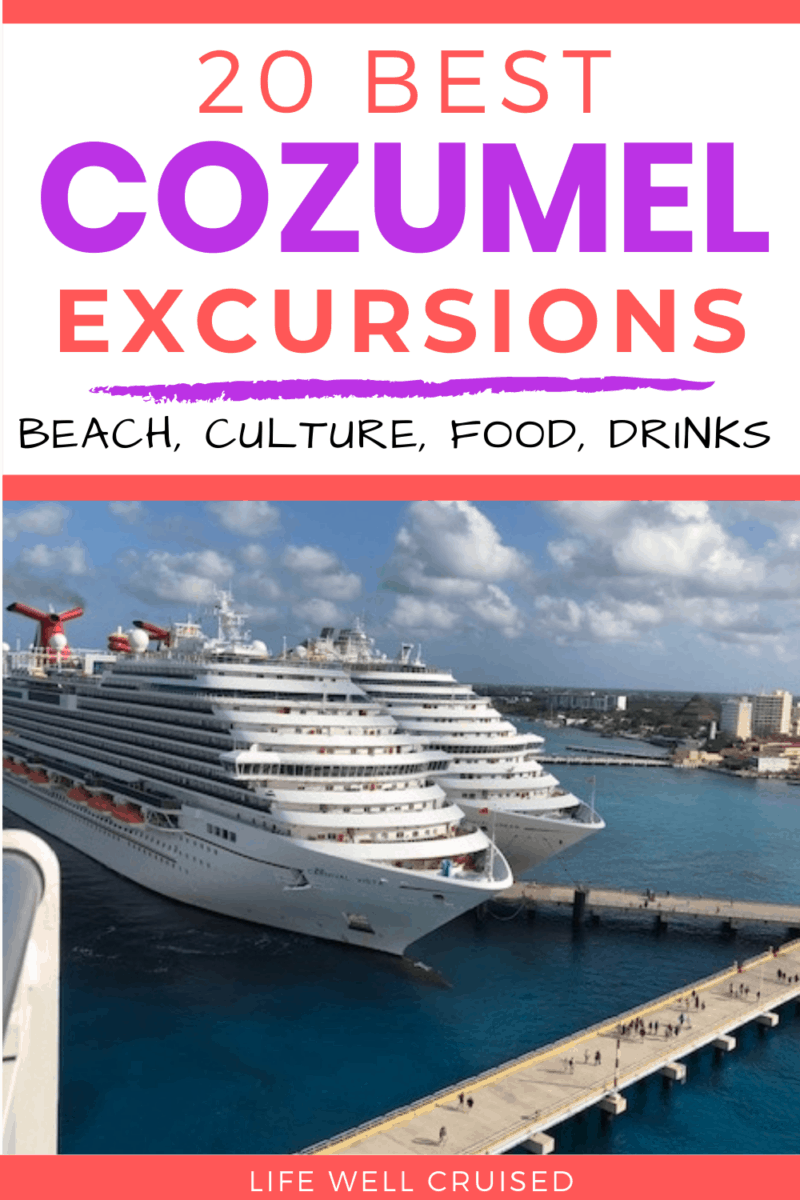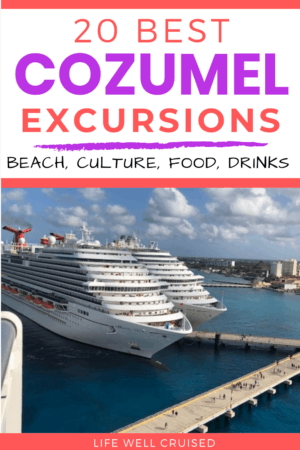 Museums and Mayan Culture
19. Discover Mexico Park Cozumel
There's quite a lot to do at this cultural theme park, located about 10 minutes from the cruise port. Things to do include a museum of Mexican traditional arts, a video experience room, a unique take on a botanical garden, and performances by Papantla Flyers.
On top of this, they offer some add-on tours for those that are interested. One tour that is quite popular is the Jose Cuervo tequila tasting.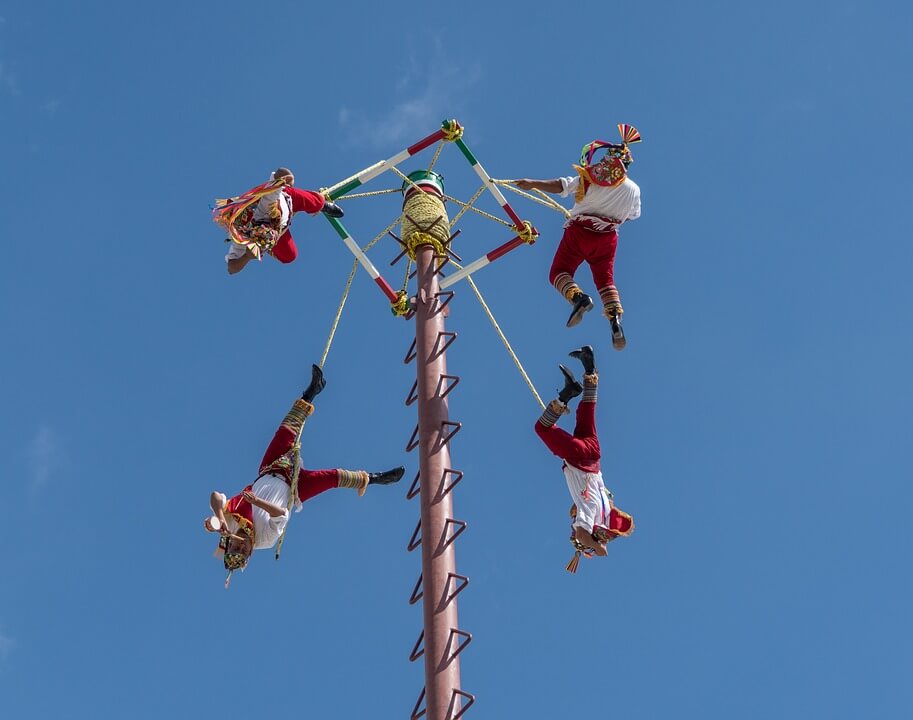 20. Museum of Cozumel (Museo de la Isla de Cozumel)
Located in the San Miguel area of Cozumel, this small museum offers great information about Cozumel's history including it's Mayan past, it's geography and it's ecological side. You'll also see ancient artifacts all for 4$ a person. There's a nice restaurant on site with a beautiful view should you decide to stay for lunch.
21. Amazing Secret River
For something completely different and unique, consider visiting Amazing Secret River. This is an underground river within stunning crystal caves where stalagmites surround you. This is a guided tour where you will get wet, as you'll be swimming or wading through the waters.
This is located in Playa Del Carmen rather than on the mainland, so you will have to take a boat-ride there. My recommendation is to book with the cruise line or ensure you book with a reputable tour operator.
22. Take a Jeep or ATV Tour to Jade Cavern
The ultimate fun excursion is an off-road trip over to Jade Caverns by Jeep or ATV. You'll see wildlife and vegetation along the way. Once you arrive at Jade Caverns, you'll enjoy swimming in the breathtaking natural pool. If you've been to a Cozumel beach in the past, this is be a fun way to see a different part of the island.
23. Cozumel Horseback Riding at Mr. Sanchos Beach Club
If you've always wanted to go horseback riding on the beach, check out the horseback riding tour at Mr. Sanchos. This is a 30 minute tour with a guide through the mangrove forests and jungle, before getting to the white sand beach and turquoise waters.
Pro tip: Make sure to sign up as soon as you get to the beach club, as there could be a waiting time.
24. Jeep or ATV Tour & Beach Break
Explore Cozumel's rugged terrain by jeep or ATV. You'll drive through the jungle, visit secluded beaches, and have the opportunity to snorkel in pristine waters.
25. Cozumel Highlights Tour
Can't decide what to do in Cozumel? Many cruise lines offer organized shore excursions that provide a comprehensive overview of Cozumel's highlights. These tours typically include visits to popular attractions such as the San Gervasio Ruins, beaches, and shopping areas.
Cozumel Food & Drink Tours
One of the best parts of travel is trying the local cuisine and enjoying the variety of food and drink. Cozumel has many restaurants and bars available, however if you want an authentic experience, these are 2 highly recommended Cozumel shore excursions for foodies.
26. Cozumel Food Tour
If you love food and culture, you'll really enjoy eating and learning about Yucatan cuisine. This is an opportunity to visit a few of the "best eats" in Cozumel and taste authentic Mexican cuisine. Enjoy beer and a local beverage agua fresca along with delicious pastries. My mouth was watering as I wrote this!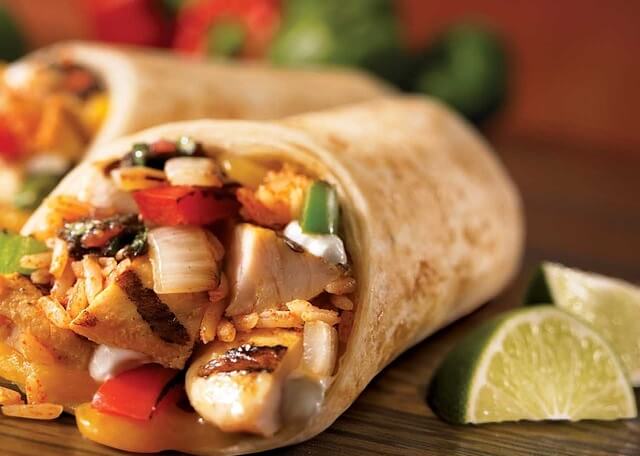 27. Tequila Tasting Tour
It wouldn't be Mexico if we didn't include a Tequila Tasting Tour. This tour is housed in Discover Mexico Park Cozumel and it's about more than drinking tequila.
While you'll taste several tequilas, you'll also visit the facilities and learn about how tequila is made. Cruisers report enjoying small margaritas and very tasty tacos, and even learning how to make margaritas at home.
28. Chocolate Workshop at Discover Mexico Park in Cozumel
If you're a chocolate lover, don't miss the Chocolate Workshop at Discover Mexico Park in Cozumel. During this popular excursion, you'll learn about the history and process of chocolate production, participate in a hands-on chocolate-making workshop, and sample different types of chocolate.
29. Eat & Drink at Fat Tuesdays or 3 Amigos
Located near the cruise ship terminals, head into Fat Tuesday's or 3 Amigos for awesome frozen drinks, music and tons of fun! Enjoy tacos and other yummy Mexican fare with your favorite beverage while watching the nearby cruise ships in port.
Cozumel Shopping
30. Best Cozumel Souvenirs
Cozumel is well known for having some of the best prices on souvenirs and other goods. If you're looking to take home more than memories, here are some of the best things to buy in Cozumel
Mexican Handcrafted Art: Beautiful ceramics, pottery, and textiles reflecting Mexican culture.
Silver Jewelry: Elegant necklaces, bracelets, rings, and earrings showcasing local craftsmanship.
Mayan-inspired Crafts: Intricately carved stone sculptures, colorful textiles, and symbolic masks.
Vanilla and Spices: Pure Mexican vanilla extract, vanilla beans, and aromatic spices like cinnamon and chili powder.
Mexican Tequila and Mezcal: Authentic spirits with distinctive flavors, perfect for savoring the taste of Cozumel.
Get The Ultimate Cruise Planner
Regular price: $27 Now just $17!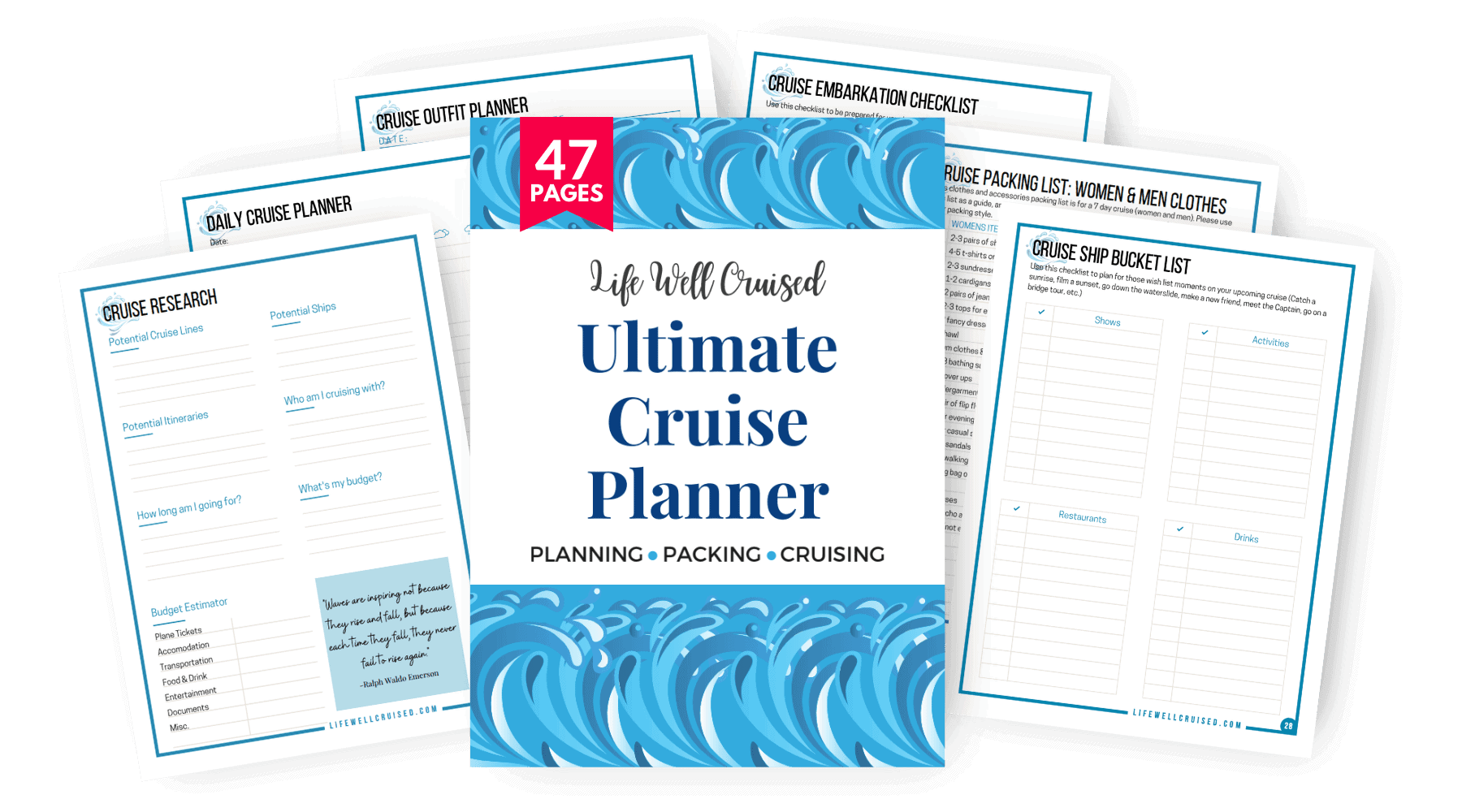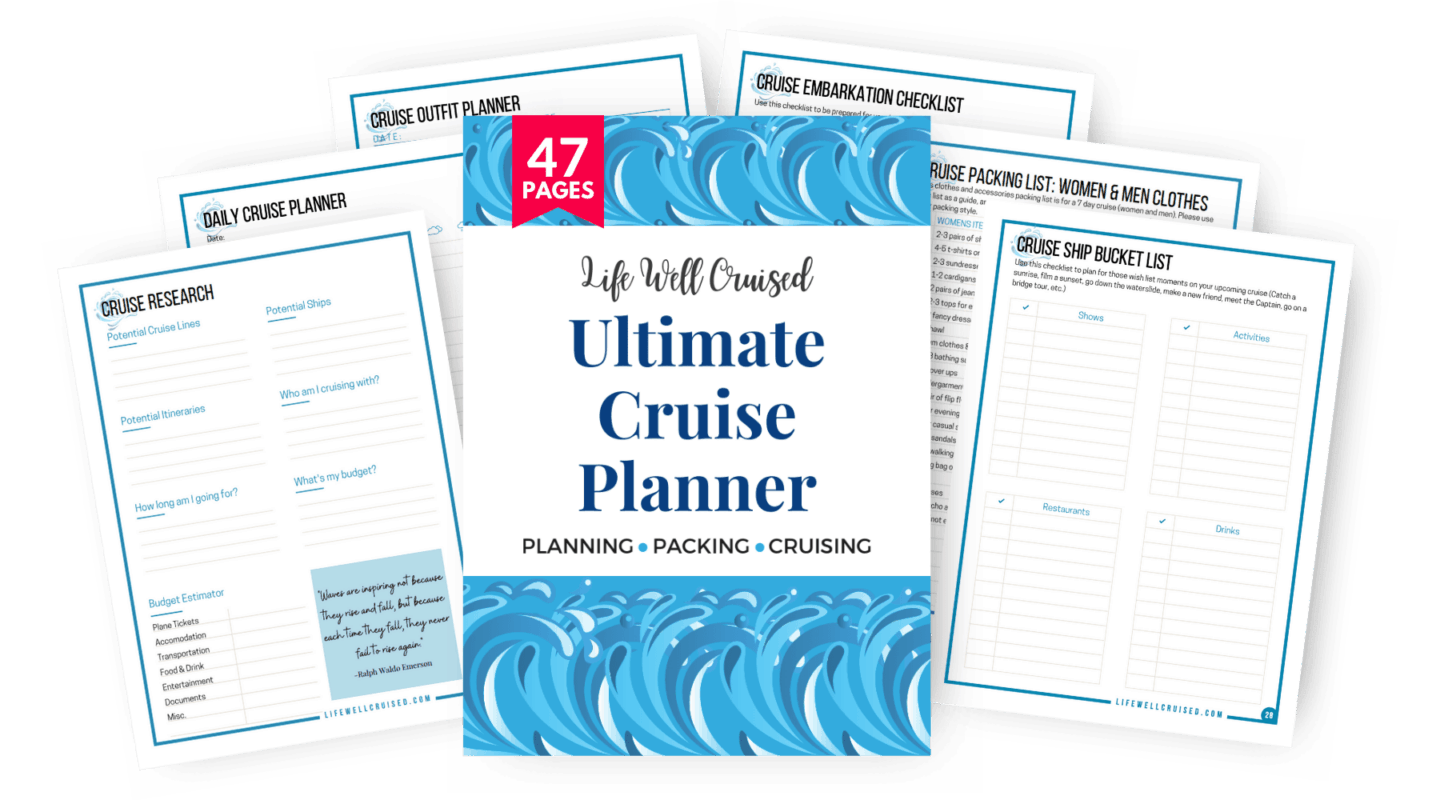 Popular & Related Posts
Final Thoughts on the Best Things to Do in Cozumel
Whether you book a shore excursion with the cruise line, a local tour or explore on your own, there's so much to do and see in Cozumel on a cruise!
Have you been to Cozumel, and if so, what do you like to do for the day in port? Please let me know in the comments below.
Happy Cruising!
Ilana
P.S. If you found this helpful, please don't keep it to yourself ;-). Please share on Facebook or PIN to your favorite Pinterest board (share buttons at the top). Thanks so much!
Let's connect:
Follow me on Facebook at Life Well Cruised
Follow me on YouTube at Life Well Cruised
Follow me on Pinterest at Life Well Cruised
Follow me on Instagram at Life Well Cruised