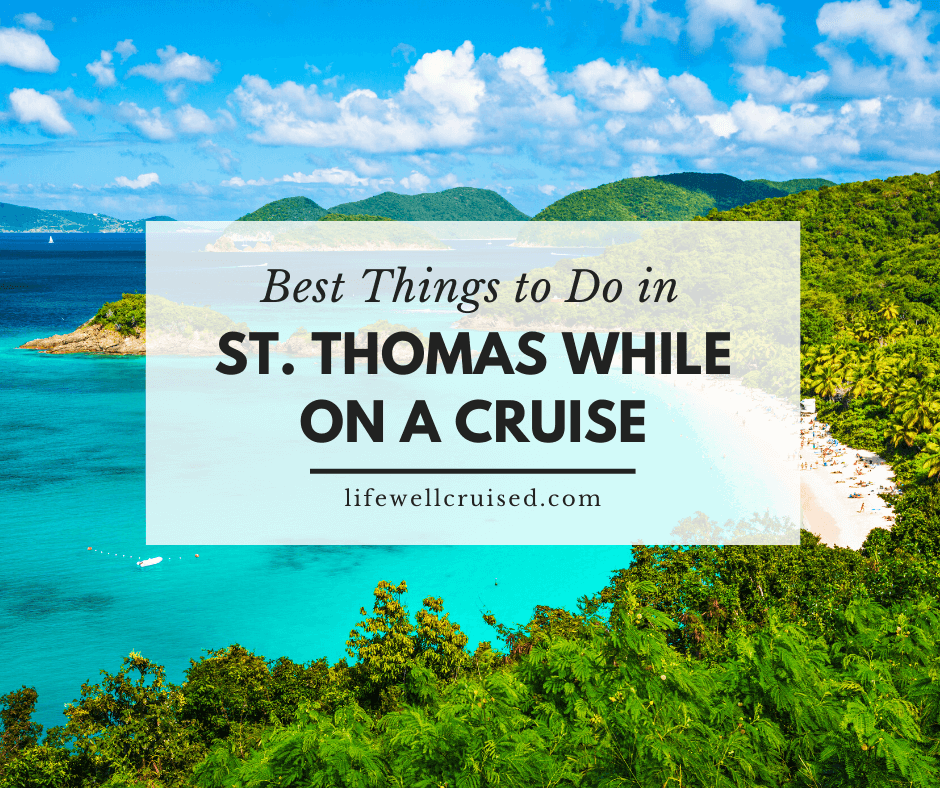 What to Do in St. Thomas While on a Cruise
If you're going on a Caribbean Cruise, and visiting beautiful St. Thomas, U.S.V.I., you're in luck! St. Thomas is an amazing Caribbean cruise port and a long time favorite of many cruisers!
There are so many fabulous things to do in St. Thomas, from dreamy white sand beaches, interesting sightseeing tours, snorkeling excursions, duty-free shopping opportunities, and more. Perfect for kids and families, as well as adults and couples, St. Thomas has a lot to offer!
One of the US Virgin Islands, St. Thomas is an Eastern Caribbean port of call, as is often included as part of many Southern Caribbean cruises as well. When you arrive by cruise ship, you'll be docking near the town of Charlotte Amalie, the capital of St. Thomas.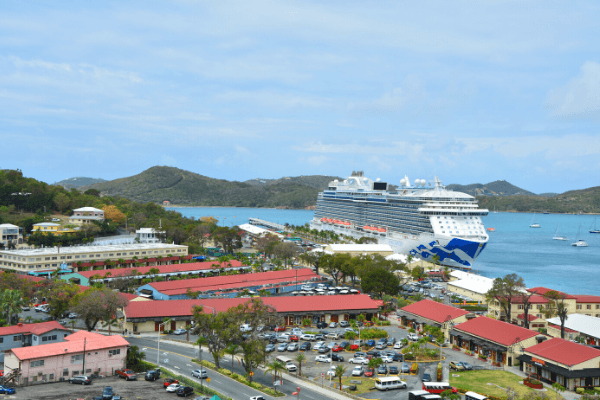 Arrival in Charlotte Amalie, St. Thomas – The Harbor
Have your camera ready as you sail into St. Thomas harbor. The view and landscape is picture perfect! You may even want to head up to the top deck of your cruise ship and take some amazing photos before heading ashore.
Depending on your cruise ship, ou'll either dock in Havensight or Crown Bay. Havensight is the older and more established cruise port of the two, and it's a bit easier to maneuver and get around in St. Thomas from here.
That said, both Havensight and Crown Bay have shopping close by, restaurants and bars, and transportation to the best attractions in St. Thomas.
If you're looking for things to do close to the cruise port, you can find a few, even some within walking distance (from Havensight in particular).
However, most activities will require either a shore excursion or tour, or transportation to a local beach or attraction. As you exit from the cruise port, you'll see that cabs, shuttles and tours sold through local vendors, are plentiful.
As in any port of call, always be mindful of the all aboard time and make sure to return to your cruise ship with ample time. A word of caution, cruise ships will not wait for late passengers unless you're on a ship sponsored excursion.
If you're wondering about the pros and cons of booking shore excursions with the cruise line versus on your own, I'll leave a link to a helpful article at the end of this post.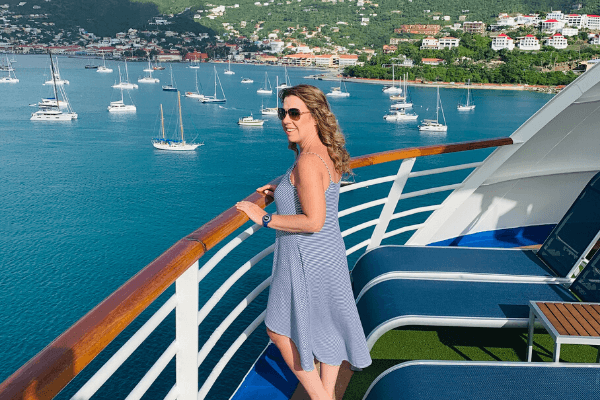 Currency in St. Thomas
Since St. Thomas is a U.S. territory, US dollars are taken. Major credit cards are also accepted widely.
Top Attractions, Activities and Excursions in St. Thomas
If you're only in St. Thomas for a day, it might be hard to choose what to do. While St. Thomas is known for it's stunning beaches and snorkeling, you can also find interesting sight-seeing tours full of culture and history, shopping and even some adventurous activities that will keep you busy as well.
Personally, we don't like to over saturate our port days and get too busy. So we remind ourselves that when we enjoy a cruise port, we'll make plans to take another cruise and return!
Here's a list of the very best things to do in St. Thomas while on a cruise
Things to do in Charlotte Amalie, Capital of St. Thomas
1. Charlotte Amalie
The bustling town of Charlotte Amalie is a main attraction in St. Thomas and is a 15 minute cab ride away from both cruise ports.
If you like, you can actually walk into town from Havensight. Although it's only about a 30 minute walk, the weather in St. Thomas is usually hot and sunny, so a cab or open air shuttle may be more comfortable.
If you enjoy an easy day of visiting on your own, you can create your historic own "walking tour", do some duty-free shopping, and stop in at a local bar or restaurant to soak in a bit of the St. Thomas island life.
3. Duty-free Shopping
St. Thomas is known for it's duty free shopping deals, especially for gold jewelry and gemstones and quality tablecloths and linens. You'll also find lots of items that make great souvenirs.
In Charlotte Amalie, you'll find hundreds of brand name and local shops along Main Street and the cross streets. You'll also find a local straw or flea market with some handmade jewelry, t-shirts and other souvenirs.
Downtown Charlotte Amalie National Heritage Sites
In the Historic district of Charlotte Amalie, there are several building and sights history buffs will enjoy.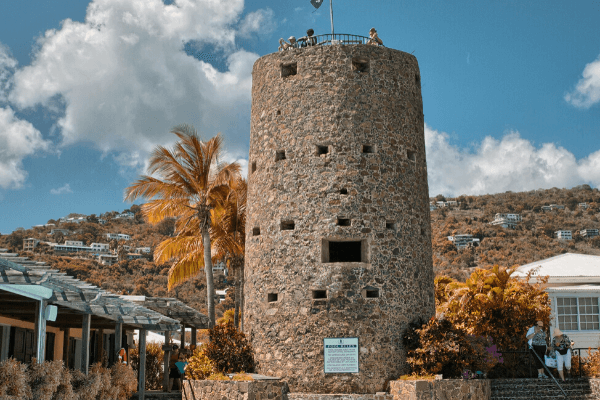 4. Blackbeard's Castle
Blackbeard's Castle, a historic site, is named for the famous pirate Edward Thatch (they called him Blackbeard because of his… you guessed it – black beard. The castle is really a watchtower, which overlooks Charlotte Amalie and boasts breathtaking views.
5. Fort Christian
Built in the late 1600's, Fort Christian is the oldest standing structure in St. Thomas. While this fort was built by King Christian V to protect Danish settlers on the island of St. Thomas, over time it's been used as administrative offices, a church and even a prison. It is now a museum, housing artifacts
6. St. Thomas Synagogue
The St. Thomas Synagogue is full of history and a must see for those of all faiths. In the heart of Charlotte Amalie, you'll find the synagogue located just two block up from Main Street.
Inside the Hebrew Congregation of St. Thomas, you'll get a brief history of the synagogue, the Jewish history of the island, and the significance of it's sand floor.
Although guided tours are available, this is an active synagogue and working congregation.
7. 99 Steps
Another tourist attraction located in Charlotte Amalie, closeby to the synagogue, is 99 Steps. Although 99 Steps is the most famous and most photographed, there are many of these "step" streets which cut through the hills in St. Thomas.
These step streets were originally built from ballast bricks of the tall ships coming from the Old World.
Funnily enough, there are actually 103 steps in this historic St. Thomas landmark.
Best Beaches in St. Thomas
St. Thomas' white sand beaches are gorgeous and each one has a special character. Depending on what you enjoy most, you'll likely have a preference.
8. Magens Bay Beach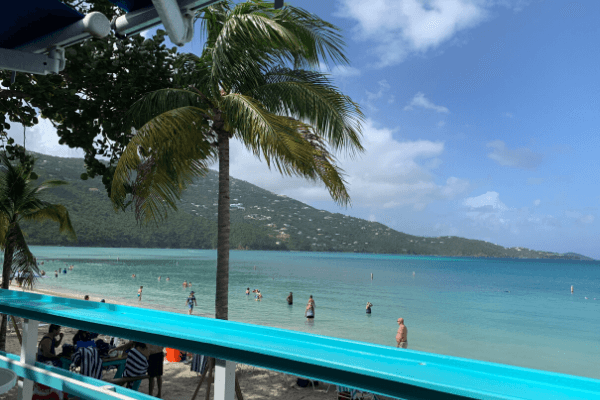 Without a doubt, Magens Bay is the most famous as well as most popular beach in St. Thomas for cruise passengers. For many years, it was on several top ten lists of most beautiful beaches in the world.
Magens Bay Beach is a horseshoe shaped beach with pristine, crystal clear and calm waters. The colors of the blues and turquoise waters set against the lush mountains where it nestles, is picture perfect!
Magens Bay has good facilities. You can rent chairs and loungers, and there's a nice beach bar and restaurant on site.
It does get crowded, but if you'd like to find a quieter spot to sit, head to either end of the beach and you'll be fine.
Read more: All You Want to Know About Magens Bay Beach (on your own)
9. Sapphire Beach
Sapphire Beach is known for it's stunning sapphire blue waters of course! However, you'll also get a beautiful view of the neighboring island of St. John.
Sapphire Beach is located on the Eastern end of St. Thomas, and has a lot to offer those who enjoy an active beach day. Not only is the snorkeling pretty good, but there's also jet skiing, parasailing and other activities available.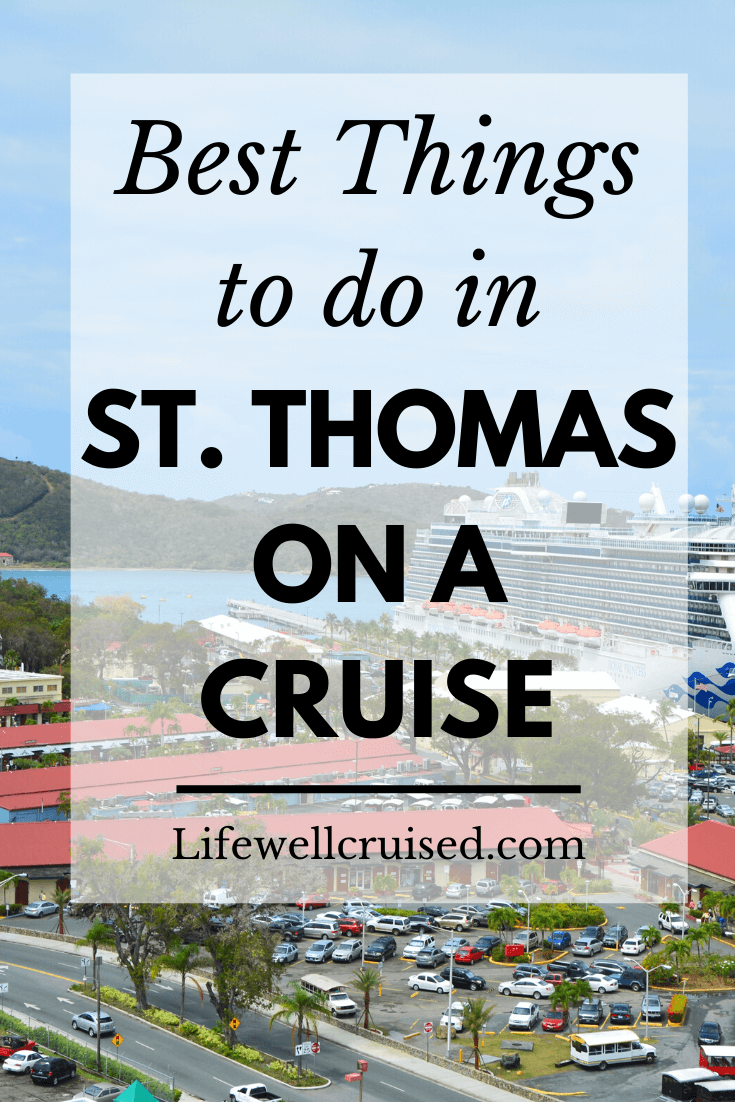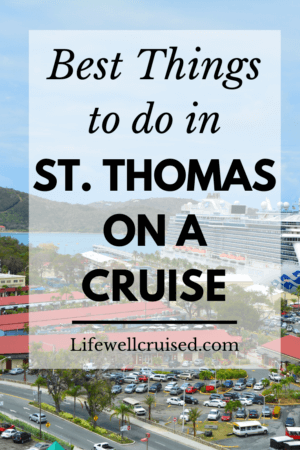 10. Coki Beach
Coki beach is another popular beach for cruisers. It's located on the Northern coast of the island and most enjoyed for it's snorkeling and diving.
Coki Beach is a bit smaller than Magens Bay, but does also have facilities, and is very pretty.
Coral World Ocean Park is located here, so this can make a great full day to combine a beach and aquarium visit.
11. Lindquist Beach
The quietest of the beaches, Lindquist Beach is known to cruise passengers who prefer to avoid the crowds. Located on the Eastern side of the island, this secluded beach has shallow and calm waters and a breathtaking view of the island of St. John.
While it has basic facilities, such as washrooms and picnic benches, other amenities are limited. You'll need to bring any food or drinks with you, if you decide to head to Lindquist Beach.
Neighboring Islands of St. Thomas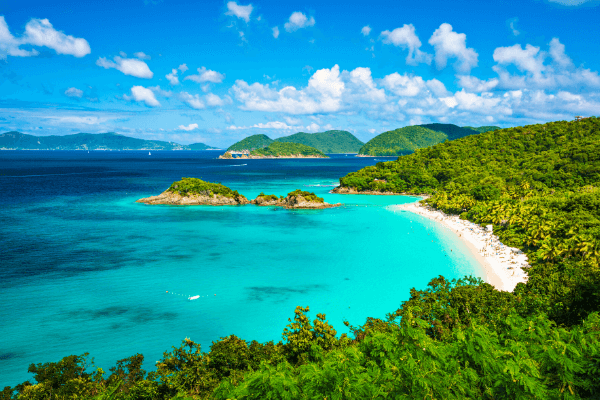 12. Trunk Bay, St. John
One of the excursions that comes most recommended, is a visit to the neighboring island of St. John. In contrast to bustling St. Thomas, St. John is a much less busy and not commercialized as most of the island is part of the US Virgin Islands National Park.
The most popular beach for cruisers and those who want to snorkel, is Trunk Bay. Perfect for families and kids, this beach has an underwater snorkeling trail that's accessible from the beach and close to the shoreline.
The island of St John is accessible by ferry and you can go your own, or book an excursion with your cruise line. If you do take the ferry on your own, do make sure to pay close attention to the ferry schedule so that you get back to the cruise ship on time (and avoid being a pier runner/missing the ship)
Recommended: 11 Cruise Shore Excursion Do's and Don'ts
13. Honeymoon Beach / Water Island
One of the quieter beaches you can enjoy is Honeymoon Beach on Water Island. It's a small and simple beach, but the water is beautiful and clear. There's a cute little hot dog and burger restaurant, where you can grab a bite to eat in paradise.
To get to Honeymoon Beach, you can either take a ferry to Water Island, or you can go with a cruise line excursion. During a past cruise we did a snorkeling excursion which included a stop at this beach, and we enjoyed it.
Things to do close to the cruise port in St. Thomas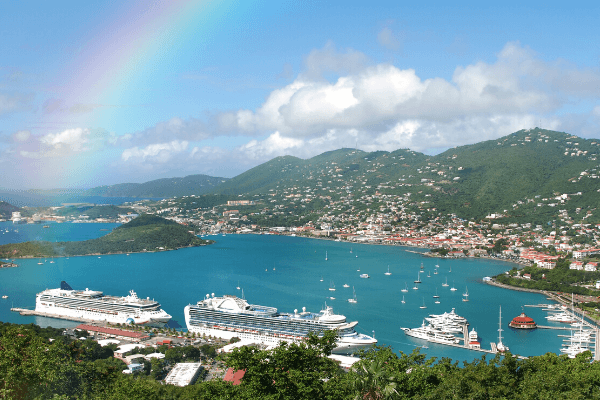 Closeby to the cruise port are bars and restaurants, as well as duty-free shopping. If you're looking for free or inexpensive things to do in St. Thomas, there are a few ideas.
The Havensight cruise port has a large shopping plaza right outside the cruise port gates, and has attractions that are close enough that you can go to your own with one of the local taxis or shuttles.
14. Skyride to Paradise Point
Just a few minutes walk from the Havensight cruise port, you'll find the Sky Ride to Paradise Point. Head up 700 feet to the top of the mountain by tram and experience incredible views of St. Thomas and the harbor.
This has been a favorite shore excursion for many cruisers over the years for taking Instaworthy photos of the stunning harbor. Plus, there's a gift shop, restaurant and bar where you may want to stop for a famous Bailey's Bushwacker.
You can easily visit in about an hour or two, and still have time for an afternoon excursion if you like.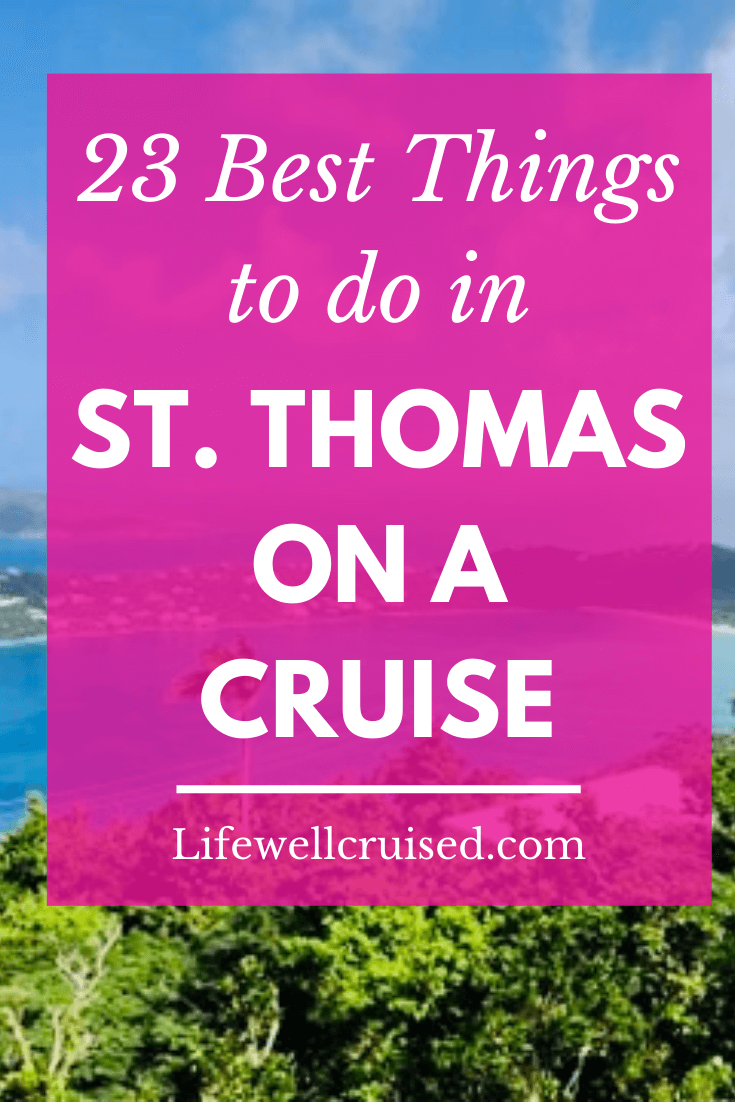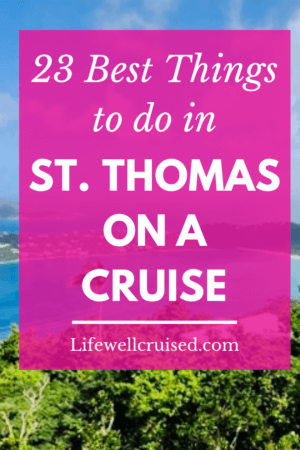 15. Havensight Mall
The Havensight Mall is made up of over 50 shops and boutiques. While you can head into Charlotte Amalie and shop on Main Street, if you're doing an excursion and time is limited, consider doing your duty free shopping close to the cruise port.
St. Thomas is a bit of a shopper's paradise; shops include jewelry and gemstones, liqueur and spirits, clothing boutiques and souvenir shops. You can find some bargains (don't be afraid to haggle a bit).
There's also a pharmacy in the area, if you need some essentials or over the counter medications you may have forgotten to bring on your cruise.
Noteworthy Shore Excursions in St. Thomas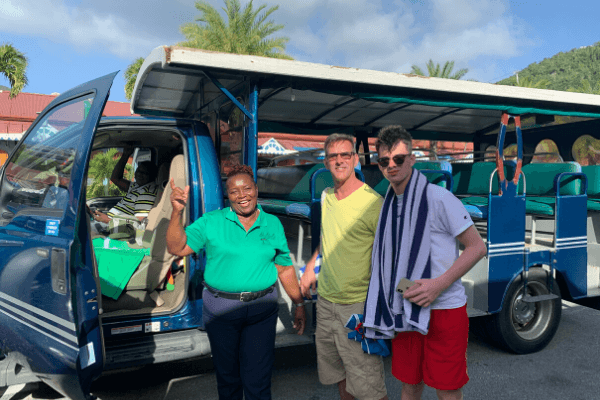 If you're in St. Thomas on a cruise, you may want to do an excursion either with your cruise line or with a local tour operator.
While you can easily head to the beach on your own, some activities and tours require a bit more organization, but the experience might be worth it!
16. Catamaran Snorkeling Excursions
St. Thomas has beautiful crystal clear water and underwater sea life, which makes snorkeling excursions quite popular. Some snorkeling excursions include at stop at one of St. Thomas' beautiful beaches.
17. Turtle Cove to Buck Island Snorkeling Excursion
If you've dreamed of swimming with turtles (me!), consider this St. Thomas snorkeling excursion. We actually booked this one in the past and enjoyed it.
I will say, we didn't see as many turtles as we hoped, but we still had a great time and it was a cool experience.
18. Sunset Sail
If your cruise ship is docked until late at night, consider the ultimate romantic excursion, a sunset catamaran sail.
Cruise Tip: If you're doing an evening activity, consider booking your shore excursion with the cruise line for peace of mind. The cruise ship won't wait for you if you're late and are not with a cruise line sponsored tour.
19. Coral World Ocean Park
Located at Coki Beach, the Coral World Ocean Park is one of St. Thomas' most popular attractions for families. This aquarium offers many opportunities to interact and learn about a variety of marine life, including sea lions, dolphins, and sea turtles.
If you're visiting with kids, they'll love the touch pool and turtle pool. You may aslo want to check out the Sea Trek Helmet Dive for a fun and different experience.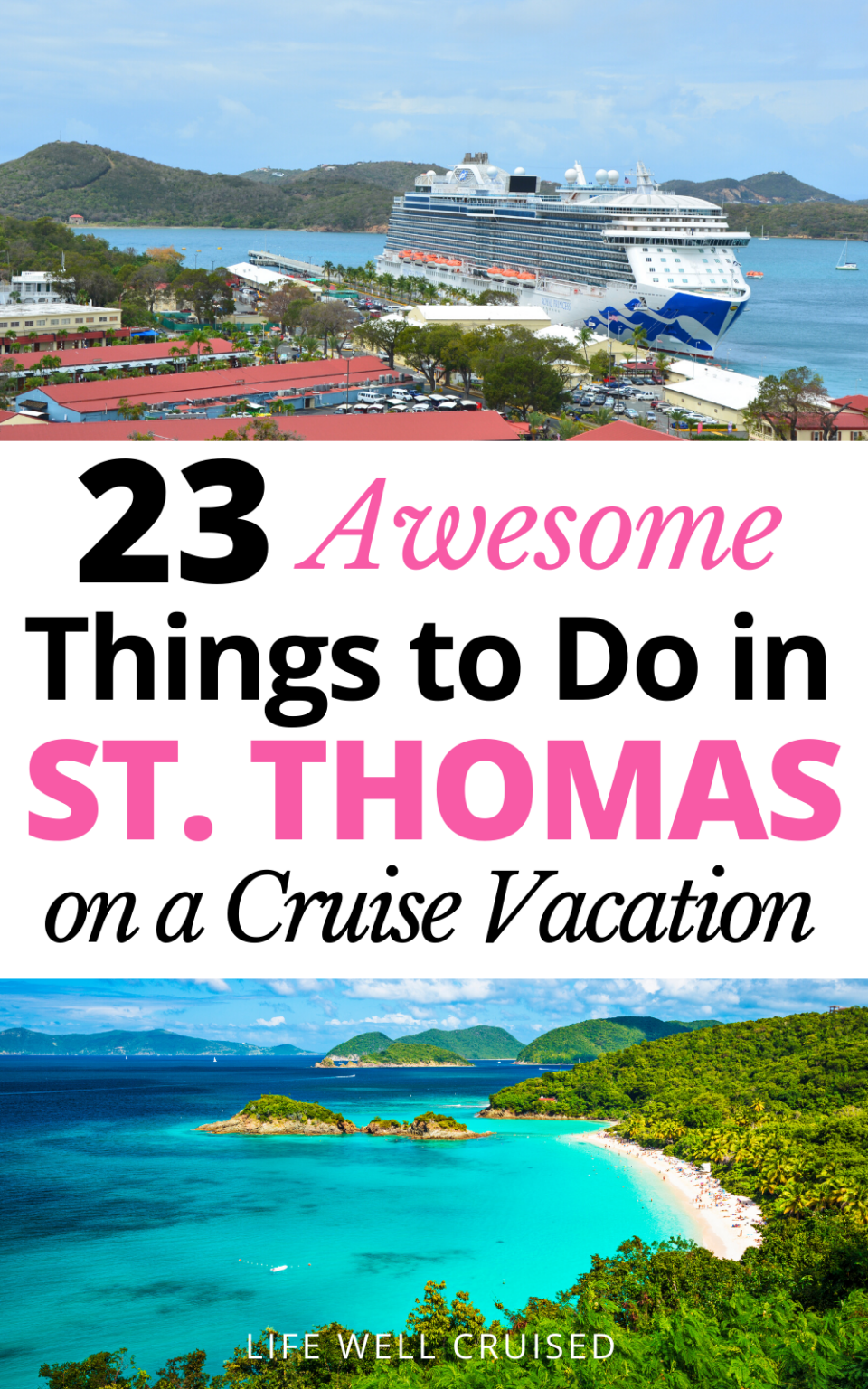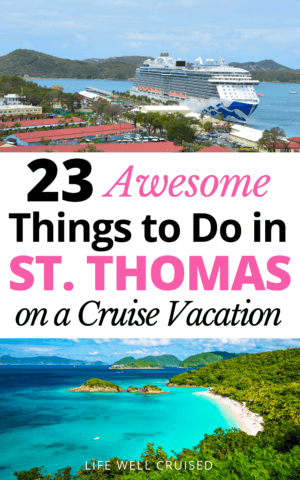 Sightseeing and tours
20. St. Thomas Island Tour
A tour of the island of St. Thomas is great for an overview of the whole island and visits to some of the most popular spots. You'll drive to Mountain Top, where you'll have amazing views of the island and a chance to take some photos. Some sightseeing tours will include a stop at Magens Bay or one of the other St. Thomas beaches.
It usually ends with a stop in Charlotte Amalie for some shopping time.
Adventurous Things to Do in St. Thomas
21. Tree Limin' Extreme Ziplining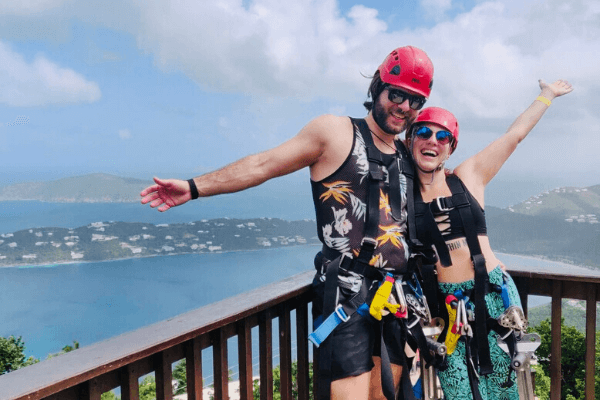 For solo travelers, couples or families that prefer a more adventurous activity while in St. Thomas, the Tree Limin' Extreme Ziplining is an awesome experience.
This large zipline course soars through St. Thomas' Caribbean rainforest and offers breathtaking views of the island and it's famous beaches.
If you enjoy a fun and off the beaten path activity, check out this shore excursion.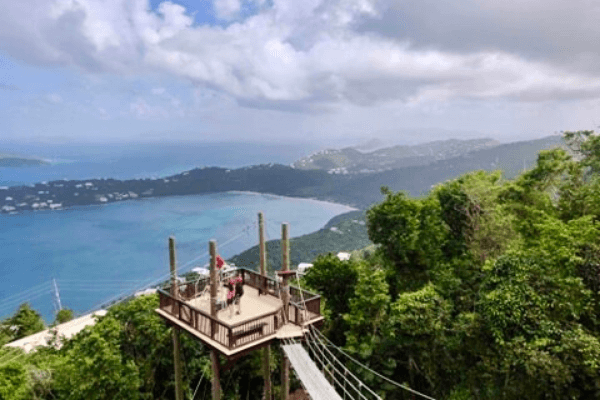 22. St. Thomas Mangrove Lagoon and Kayak Tour
As busy as Charlotte Amalie and St. Thomas beaches can be, there are actually amazing places that are off the beaten path, that are worth a visit. Check out St. Thomas' Mangrove lagoon Wildlife Sanctuary and Marine Preserve where you can for a moderately active kayak tour.
You'll have a chance to see local wildlife and learn about the local flora and fauna.
Foodie Experiences in St. Thomas
Along Main Street in Charlotte Amalie, there are many local restaurants and bars where cruise travelers can enjoy the day. There are also some food and drink tours that are available.
23. St. Thomas Food and Rum Tour
If you love sightseeing, food and culture, then a food and rum tour is a great way to visit and experience St. Thomas. This tour takes place in the Downtown Charlotte Amalie Historic district, and includes eating Caribbean dishes at local restaurants.
You'll also sample and learn to make one of the St. Thomas' local drinks, the Painkiller.
Here's a video about how we spent our day in St. Thomas at Magen's Bay on a recent cruise on Crown Princess
23 Best Things to Do in St Thomas on a Cruise
One you visit St. Thomas, you'll know why it's a favorite Caribbean cruise port for so many! This gorgeous Caribbean paradise has some of the most beautiful beaches and breathtaking mountain views. In addition, it's history, wide choice of activities and awesome shopping deals makes St. Thomas a cruise port that you won't soon forget!
Have you been to St. Thomas or will you be going there on a cruise? If so, what activity or excursion do you recommend? Please let me know in the comments below.
Happy Cruising!
Ilana xoxo
If you've found this helpful, please don't keep it to yourself ;-)! Please share on Facebook or Pin and save for later on Pinterest (buttons at the top). Thanks so much!