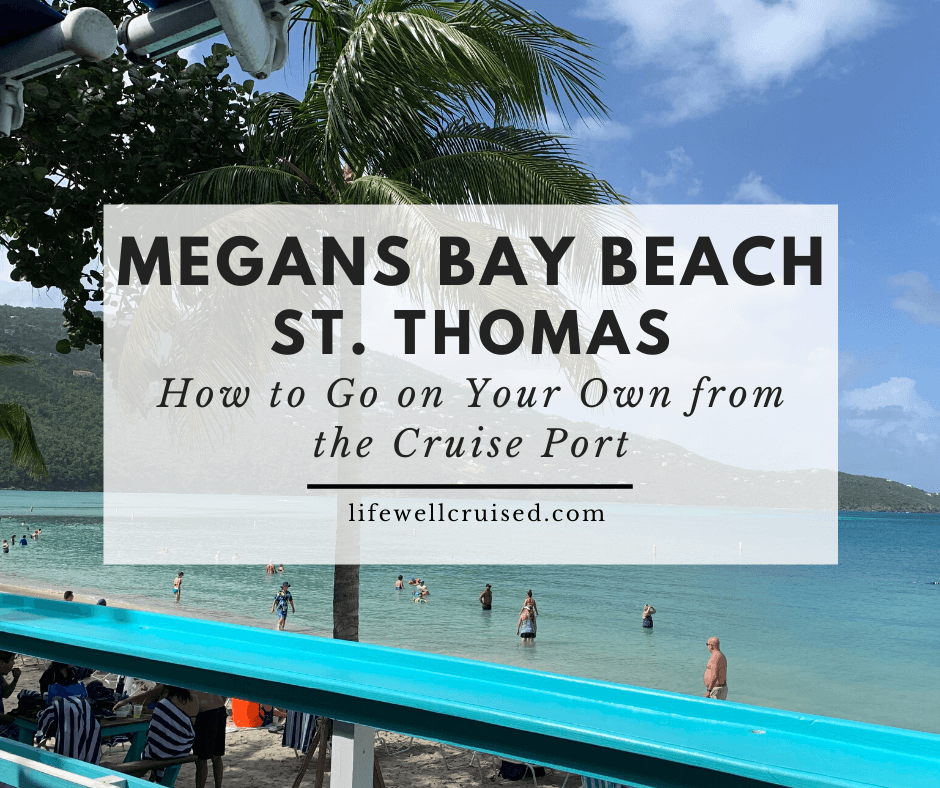 A Review of Magens Bay Beach, Saint Thomas, U.S.V.I. – Cruise Port Day Excursion
On our recent Caribbean cruise, we were lucky enough to visit Charlotte Amalie, Saint Thomas, U.S.V.I. Even though we've been to St. Thomas before, we just love this picturesque Caribbean paradise, so we were thrilled to return to this amazing cruise port!
While there are other beautiful beaches and interesting places to see in St. Thomas, on this day we opted to spend the day at beautiful Magens Bay Beach.
On past cruises, we've booked a cruise line excursion to Magens Bay. However, this time we decided to head to the beach on our own.
In this post, I'll go over how to get to Magens Bay Beach from the cruise port, without a cruise ship excursion.
I'll also let you know what you can expect to pay for transportation and beach entrance fees. Information about the facilities, restaurant and bar services will also be included in this review.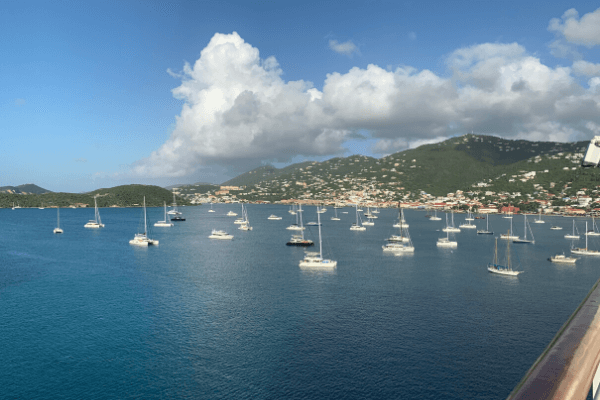 About Magen's Bay Beach, St. Thomas, U.S.V.I.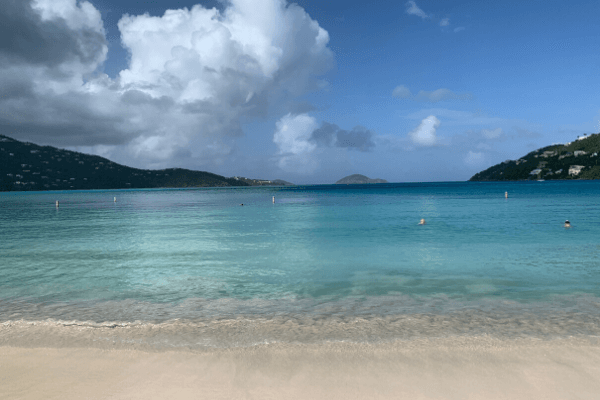 Magen's Bay Beach and Park is probably the most well known and most popular beach in St. Thomas. It's also widely considered to be one of the most beautiful beaches in the world.
In this calm bay, you'll find about a mile of soft white sand with pristine clear turquoise waters lapping calmly upon the shore.
Sometimes, Magens Bay gets a bit of a bad rap, as it can get crowded on days when several cruise ships are in port. This is because it's really THAT popular!
We were really lucky, as when we docked in Charlotte Amalie, only 2 ships were in port.
Despite possible crowds, which we've experienced on past cruises, Megan's Bay really just has something special and relatively "unspoiled". The waters are calm and it's a very relaxed beach environment.
Tip: If you arrive on a busy day, walk to the far left around the semi-circle and you'll be almost on your own with a small piece of paradise.
How To Go from the Cruise Port to Magens Bay Beach: Havensight Cruise Port and Crown Bay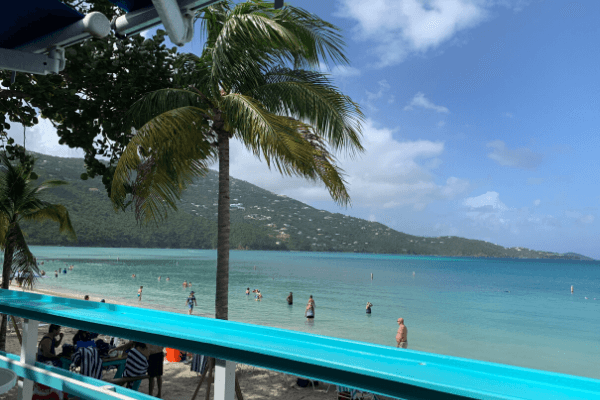 While on the Crown Princess, we were docked at the Havensight cruise port. Princess Cruises had a ship sponsored excursion to Megans Bay Beach, however we decided to go to the beach on our own.
We've done this excursion with the cruise line in the past, and it's great. In this case we wanted to have more time at the beach and be on our own schedule, which is why we decided to go independently.
It's also less expensive, which is a plus.
There are certainly advantages to both doing an excursion on your own, as well as booking with the cruise ship.
If you have a long day in port, and want to go on your own, it's actually super easy!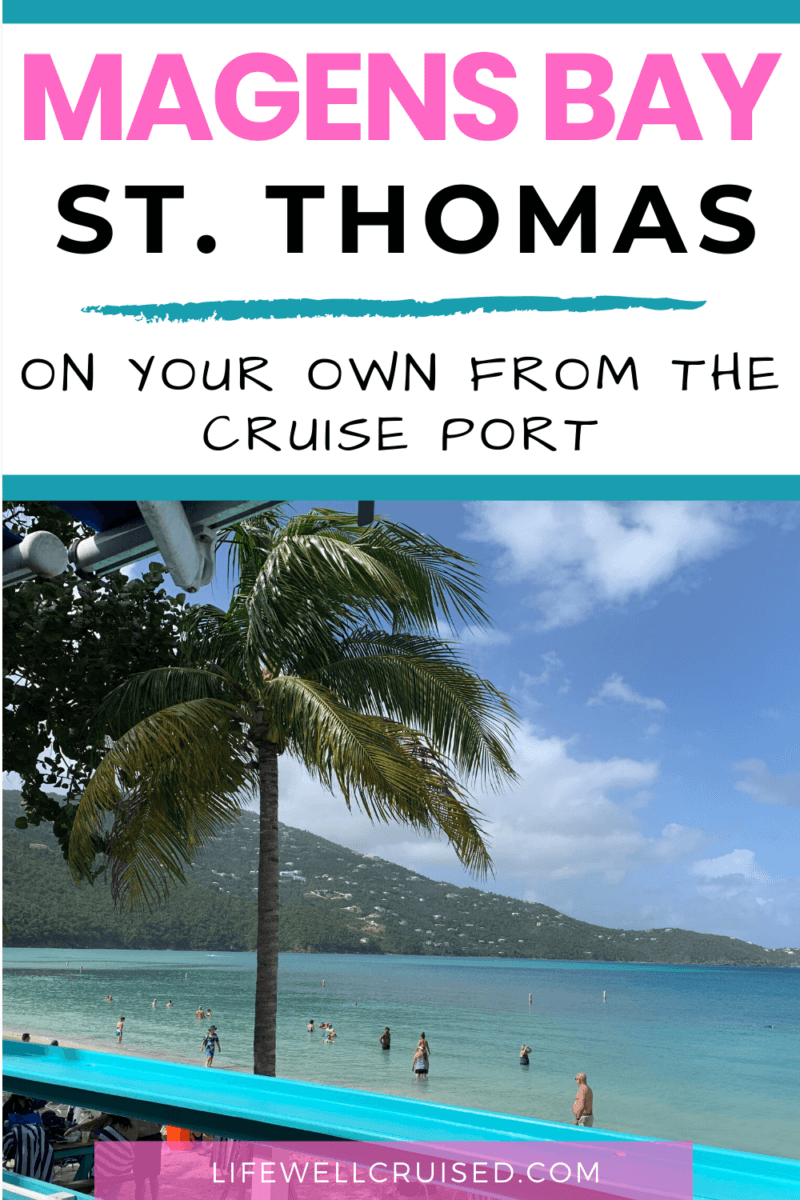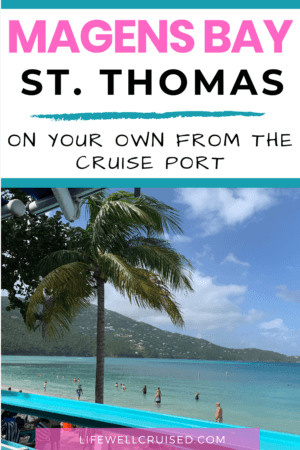 Transportation to Magens Bay
Taxis and shuttles are readily available from both the port of Havensight or Crown Bay, the two cruise ports in Charlotte Amalie.
Upon leaving our cruise ship, we walked through the Havensight Mall area. From there we met a taxi driver, who drove an air-conditioned van, who was heading to Magens Bay Beach with a few other cruise passengers.
The taxi fare from Havensight to the beach is eight dollars US a person. If you're a larger group, it may cost less.
It's about a 15-20 minute drive to Magens Bay, however allow some extra time for possible light traffic.
If you're going from Crown Bay the distance and cab fare is about the same.
Entrance fee to Magens Bay Beach Park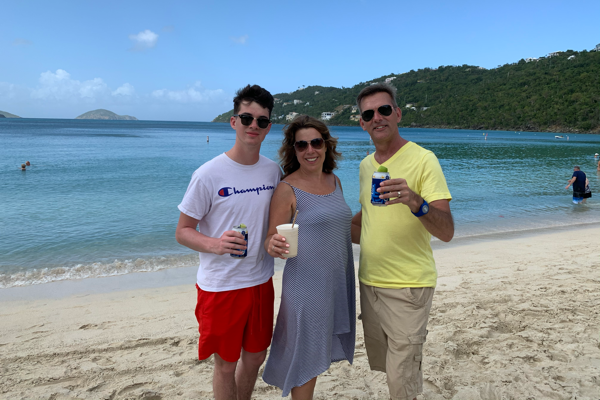 There's an entrance fee of $5 USD for non-residents to enter the beach area. For this reason, if you decide to go on your own, rather than take a ship excursion, make sure you have cash with you.
Note: US dollars are excepted in St. Thomas.
Facilities at Magen's Bay Beach
There are washrooms and showers at Magens Bay, as well as a restaurant and concession stand.and bar at the beach. You'll also find some waitstaff that walk along the beach and can actually bring you a drink. This was a really nice plus!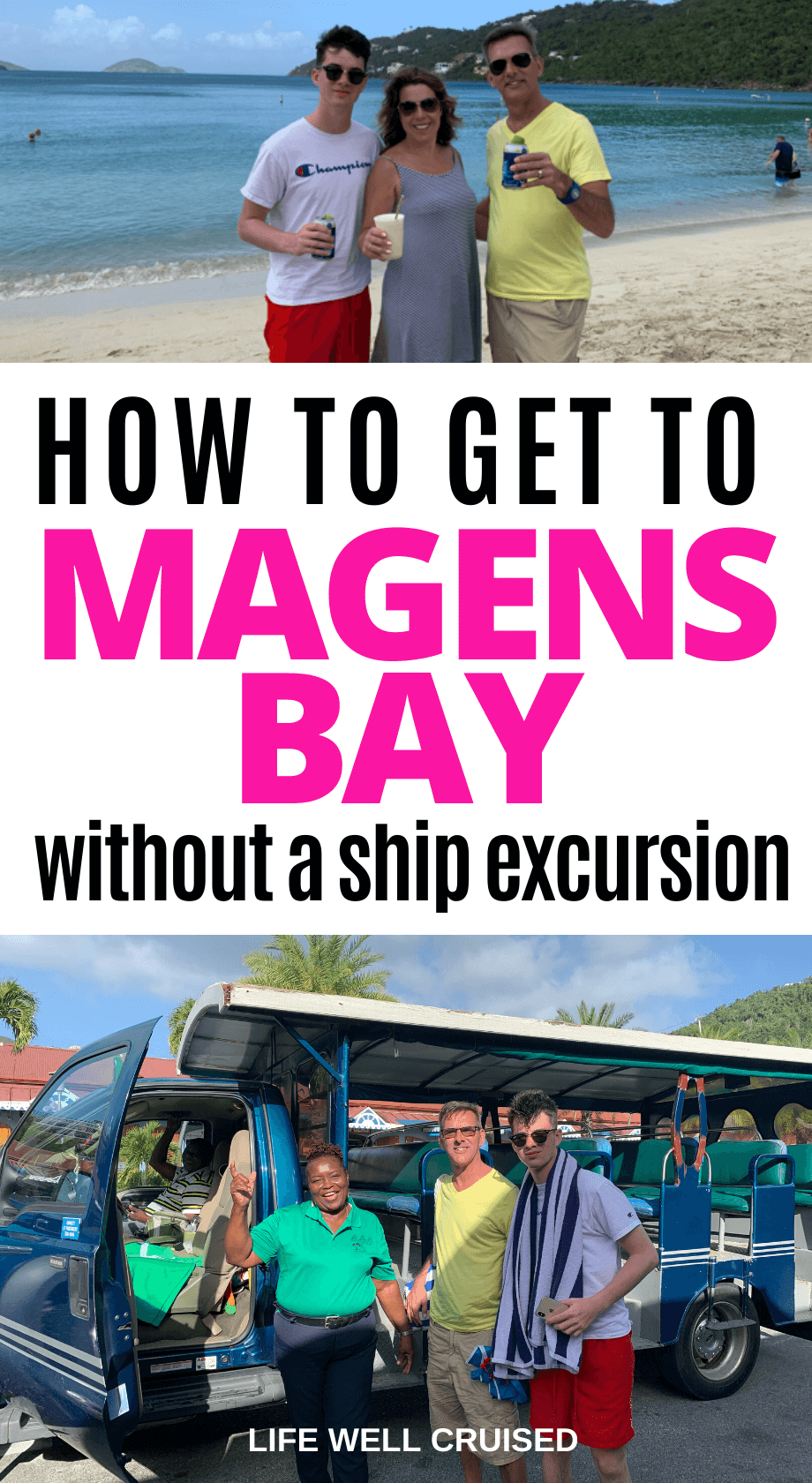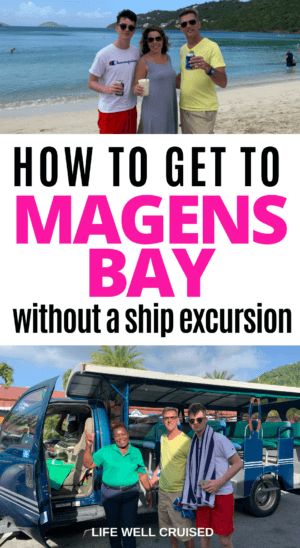 Equipment, chair and umbrella rentals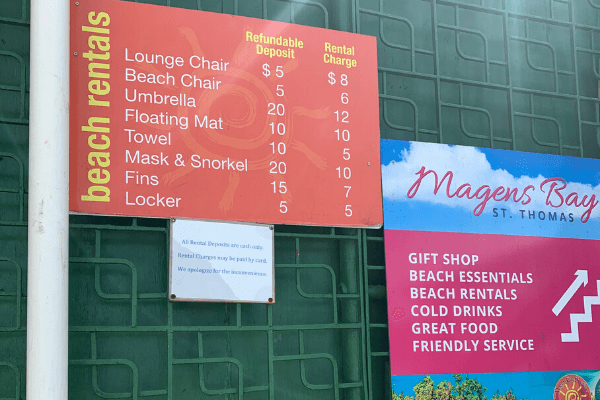 Lounge chairs, beach chairs and umbrellas are all available to rent. You can rent the items from the little gift shop right next to the restaurant.
Something to note is that you'll be asked to pay a deposit, however this deposit is returned to you when you return your chair. You'll receive a ticket, so do make sure you keep it.
Example: Lounge chair $8 plus $5 deposit = $13 per chair. When you return the chair $5 is returned.
What to eat and drink at Magens Bay Beach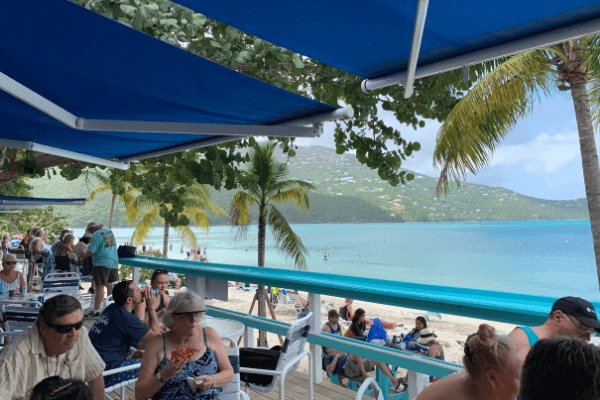 There's a variety of items you can order at the casual restaurant at Megan's Bay. We ordered chicken gyros and french fries to go and they were good. Our friends ordered the chicken burgers and found them decent as well, for casual food. Pizza and burgers were also available.
It was about $12-$15 a person for a "meal".
Drinks from the beach bar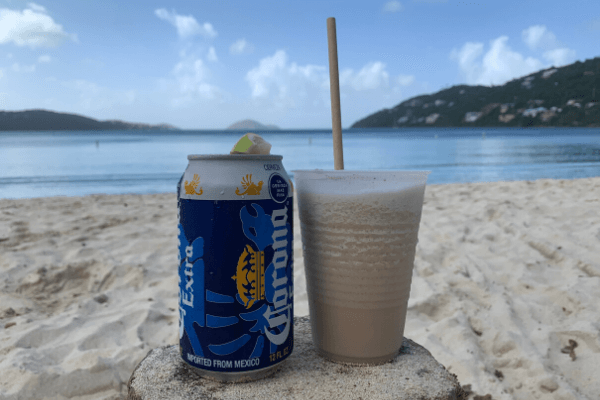 One of the things that was really nice at Megan's Bay was that a server actually walked along the beach and took your order, and even put it on a tab. It was a nice not to have to wait in line at the bar.
We ordered coronas and frozen drinks and had a great relaxing and fun beach day!
Getting back to the cruise port from Magens Bay Beach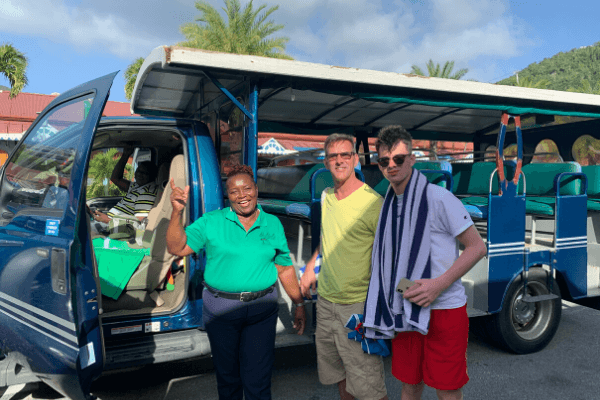 When we were ready to go back to the ship and to the have and site area it was actually really easy to grab an open air shuttle and head back to the port.
The cost was once again, eight dollars a person end it was a pretty fun open air ride. Everyone was in a good mood on our drive back, after an awesome beach day in St. Thomas!
Cruise Travel Tip: Remember to allow for extra time to head back to the cruise port. When not doing an excursion with the cruise line, always build in a couple of hours of buffer time, just in case.
Recommended: 11 Cruise Shore Excursion Do's and Don'ts
For more information and details about Magens Bay Beach, I think you'll enjoy this video which was from our last cruise on the Crown Princess
Recap: A Day at Magens Bay Beach St. Thomas (from cruise port)
We really enjoyed our day at Magens Bay and were happy we made the decision to go there on our own, using a local cab and shuttle. Since we had a long port day scheduled at Havensight cruise port, we had some time to do a bit of shopping before heading back to our cruise ship.
You can see more in this video on YouTube.
Will you be heading to St. Thomas on a cruise or have you been? If you've been to Magens Bay, what did you enjoy most? Please let me know in the comments below.
Happy Cruising,
Ilana xoxo