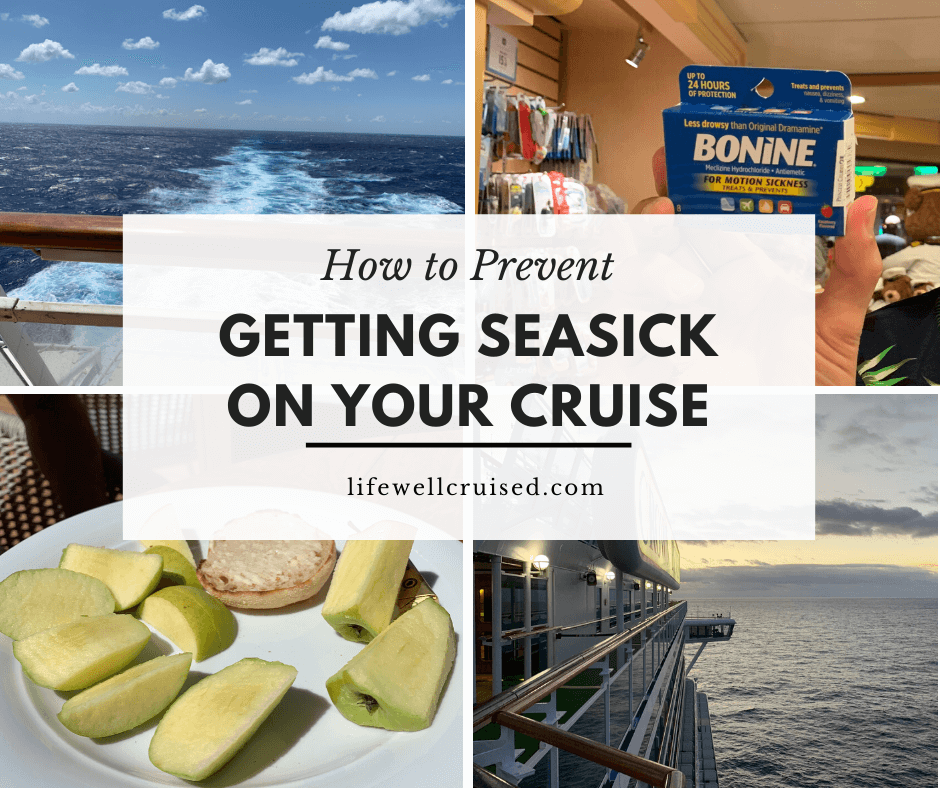 How to Prevent Motion Sickness on a Cruise
If you're going on a cruise and concerned that you might get seasick, you're not alone! One of the most common questions new cruisers have is, "Will I get seasick on my cruise vacation?"
While experiencing symptoms of motion sickness is far less common on today's large cruise ships, it's still a concern. After all, symptoms of seasickness include vomiting, dizziness, stomach cramps, headaches and queasiness. No one wants to experience any of this on a cruise!
The good news is, there are effective remedies for motion sickness that really work. From over the counter medications with minimal side effects, to natural remedies that work for mild cases of nausea – by being prepared you'll be able to prevent getting seasick on your cruise.
Motion sickness treatments: seasickness medication, natural products, and simple remedies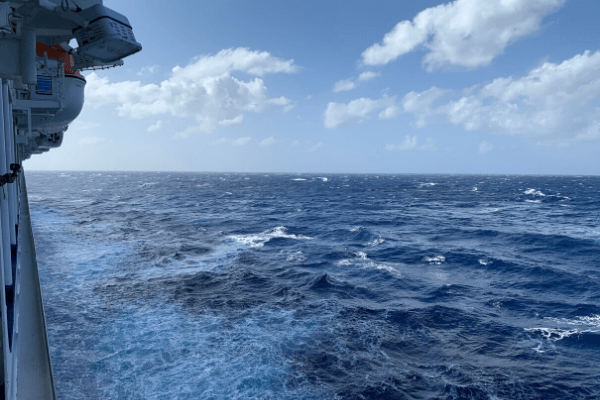 Why does motion sickness happen on a cruise ship?
Motion sickness happens due to repeated or continuous movement that affects our inner ear and sense of balance, which of course can happen on a cruise ship.
This feeling is sometimes called Mal de Mer, motion sickness or seasickness (but it's all basically the same thing).
How likely are you to get seasick on a cruise ship?
Many people worry that they may get seasick on a cruise. However, in reality, most people don't get seasick while cruising – at least not anymore…
Today's cruise ships have stabilizers. This prevents big up and down movements and as well as the side to side motion you would otherwise feel, especially if seas are rough.
If you're someone who often gets motion sickness while on a bus, boat or ferry, cruising is nothing like this, I assure you!
However, there are times when you might feel some vibration, or some slight motion.
It's also possible to hit rougher seas or just have areas where you are sailing, that you are more likely to feel "the motion of the ocean".
This is why even seasoned cruisers often cruise with some seasickness medication tucked away in their first aid kit, just in case.
Even if you've never experienced this before, and haven't been "seasick", it can still happen. This has been the case for us, even though we've been on over 20 cruises!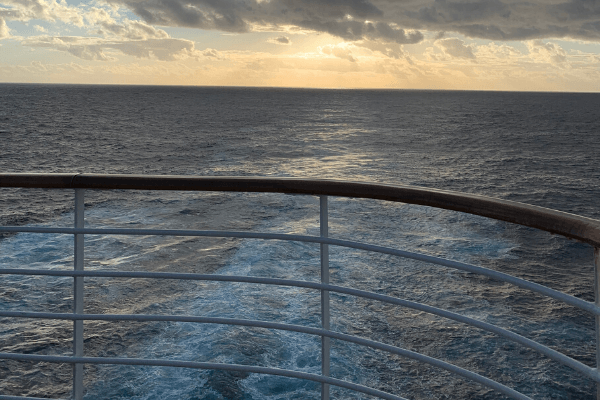 Our recent cruise experience – a tale of warning (best be prepared!)
Our family began cruising in 2004, and we've experienced easy seas most of the time.
On the odd occasion we've had a rough day at sea while cruising from Bermuda or while heading towards Aruba and entering the Windward Passage, but overall we hadn't ever needed seasickness medication.
I've been lucky and haven't been overly affected. However, my husband Frank tends to be a bit more sensitive to the movement and every so often it bothers him a little.
We've picked up a lot of tips and tricks over our cruising years, both from fellow cruisers and crew (which I'll share with you below). Plus, I usually pack a pharmacy of medications and natural remedies.
However, on our recent cruise on the Crown Princess we were experiencing rougher seas than usual.
There were many green faces, if you know what I mean. Being honest, we weren't totally prepared for it.
Even though there were some preventative steps we took and natural remedies I had on hand, I didn't pack anti-nausea medication (don't be like me!).
I swear there's a case for overpacking!!!
Thank goodness we were able to find our favorite seasickness medication in the cruise ship store, even if I paid a little more than if I brought it from home. Lesson learned!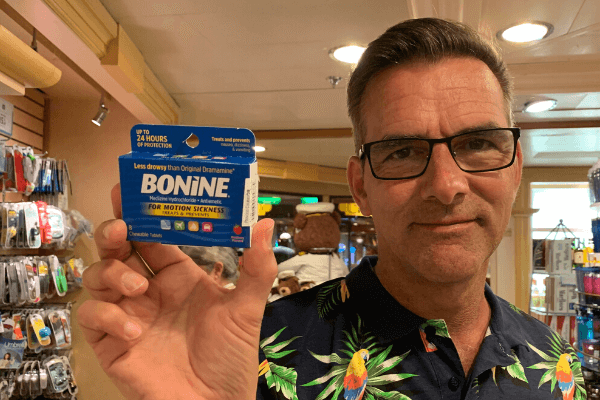 How to Prevent Getting Seasick on a Cruise – 10 Tips
This post contains affiliate links which means if you click and buy that I may make a commission, at no cost to you. Please see my disclosure policy for details.
1. Choose your cruise cabin location wisely
One of the things that you can do to to avoid getting seasick on a cruise, is to pick the best cruise cabin location possible.
If this is your first cruise, try and book a cabin as close to the middle of the ship as possible, often referred to as mid-ship cabins. This is a coveted location as experienced cruisers know, you will be less likely to feel the effects of motion sickness here.
If a mid-ship cabin isn't available, then opt for an aft cabin (back of ship) or mid-aft stateroom. If at all possible, try to avoid a forward cabin, as many cruise passengers report feeling more motion in this location.
Pack medications for seasickness
There are a few drugs available to treat motion sickness symptoms, that are quite effective. As with any medications, you may want to talk to your doctor to see what's right for you. Here are a few of the best and most recommended pharmaceutical options.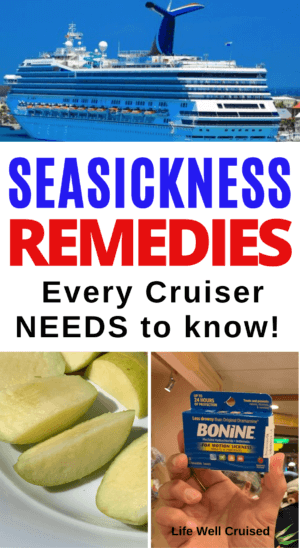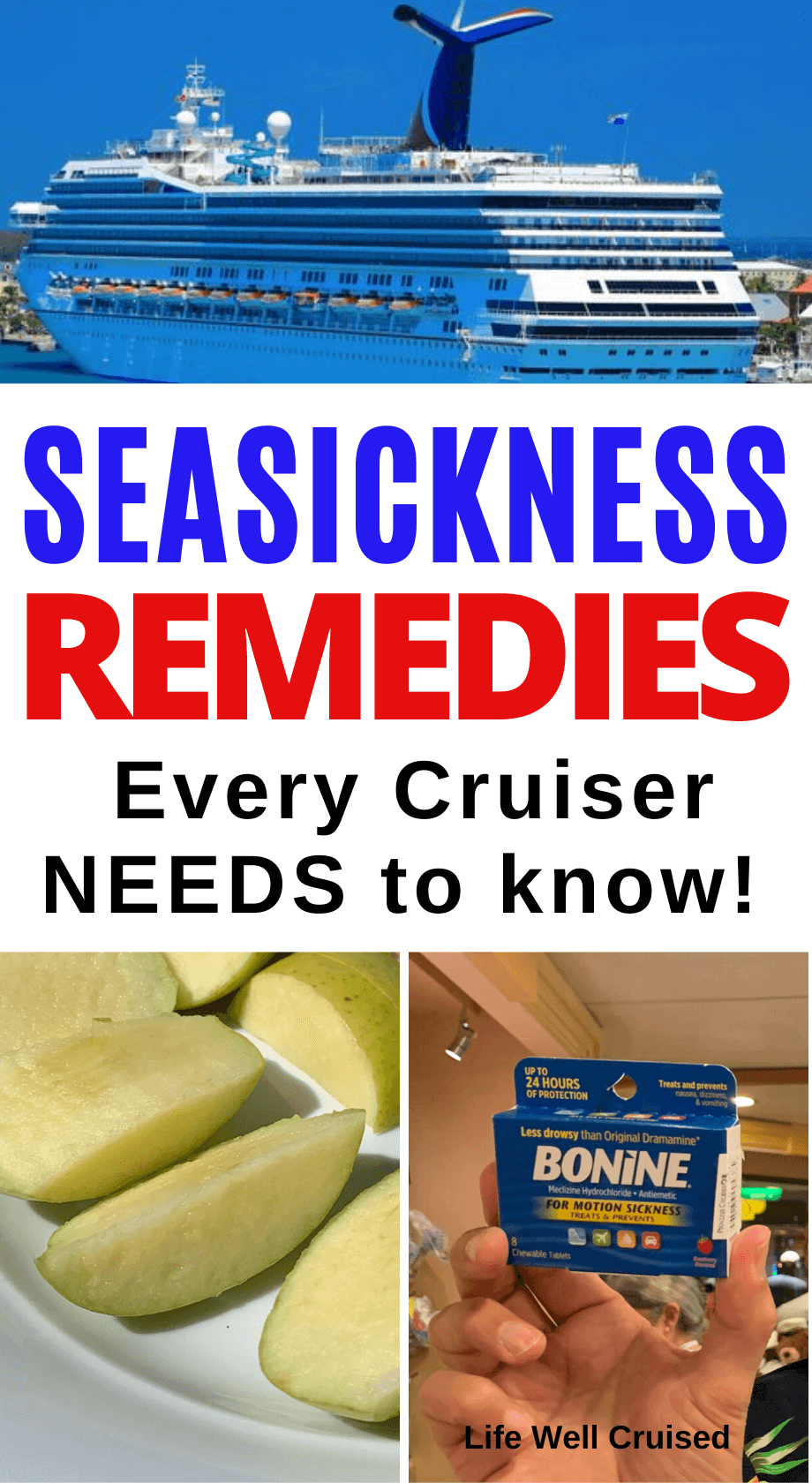 2. Motion Sickness Patch/Scopolamine
If you're prone to motion sickness, scopolamine patches, which are a small patch of medication placed behind the ear, are said to be very effective. You'll need to see your doctor, as in most places this is available only be prescription.
They are a preventative treatment, and should be used ideally before symptoms begin, and need to be changed every 3 days. There are some unpleasant side effects that some cruisers report, including a dry mouth.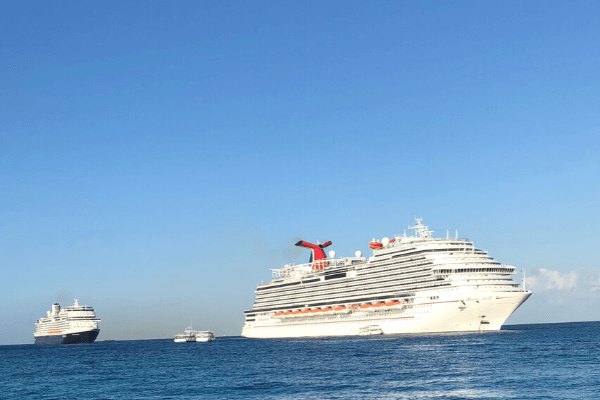 3. Seasickness medications in pill form
There are a few seasickness medications sold in pill form, for both children and adults, that treat the symptoms of motion sickness.
3 top choices are Dramamine, Gravol (non-drowsy) and Bonine .
Personally, we really like that Bonine doesn't seem to cause drowsiness or other unpleasant side effects and have had good results when using it. Try and take any medication as soon as symptoms appear for the best results.
Here are recommended seasickness medications to bring on your cruise:
Dramamine for kids (see choices on Amazon)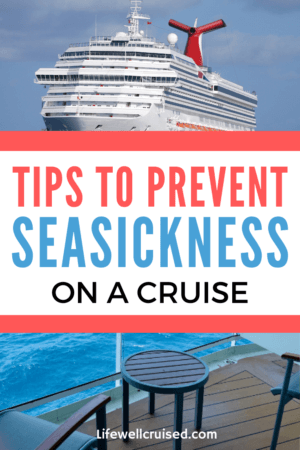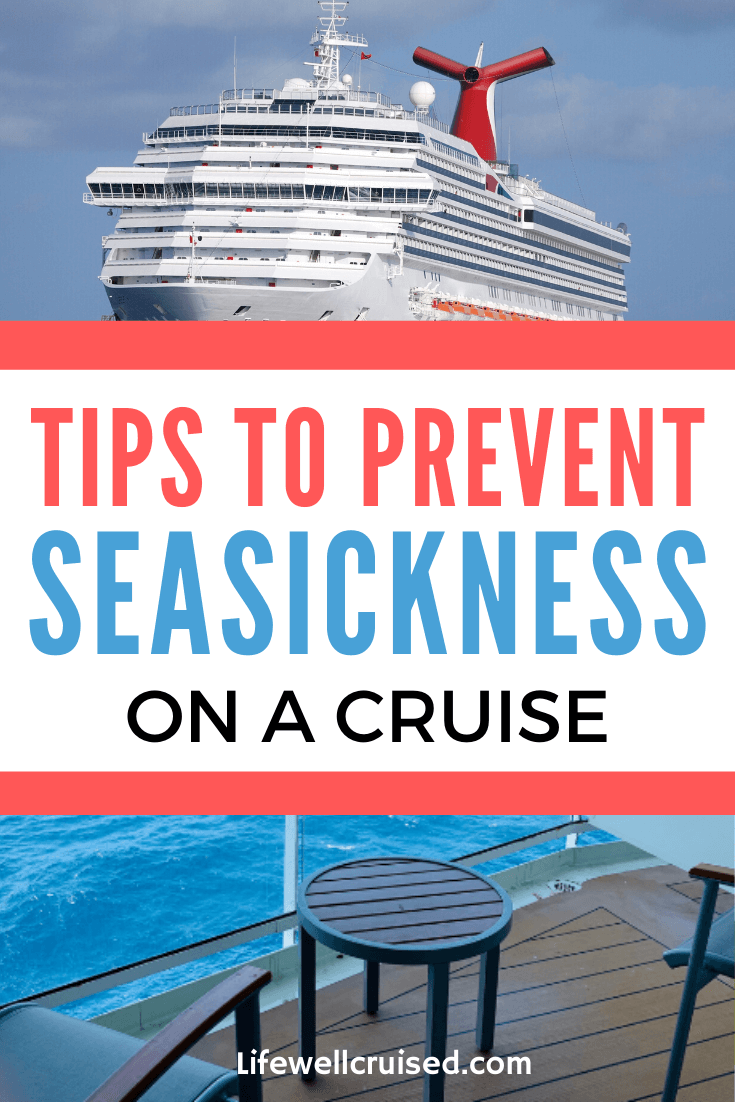 Drug-free treatments for seasickness
4. Seabands
Seabands are wristbands that alleviate motion sickness symptoms. They work with acupressure buttons to prevent symptoms of seasickness and many cruisers have very good results. Seabands are natural and contain no medication, plus, they're reusable.
If you're not sure how the seas will affect you, consider bringing seabands for both adults and children, in case.
Recommended: Seabands (check on Amazon for variety packs)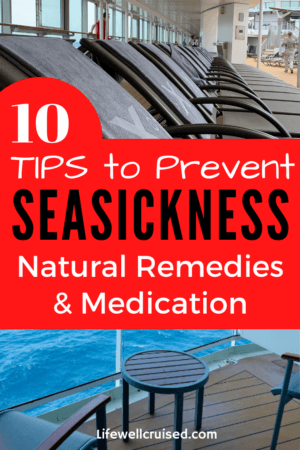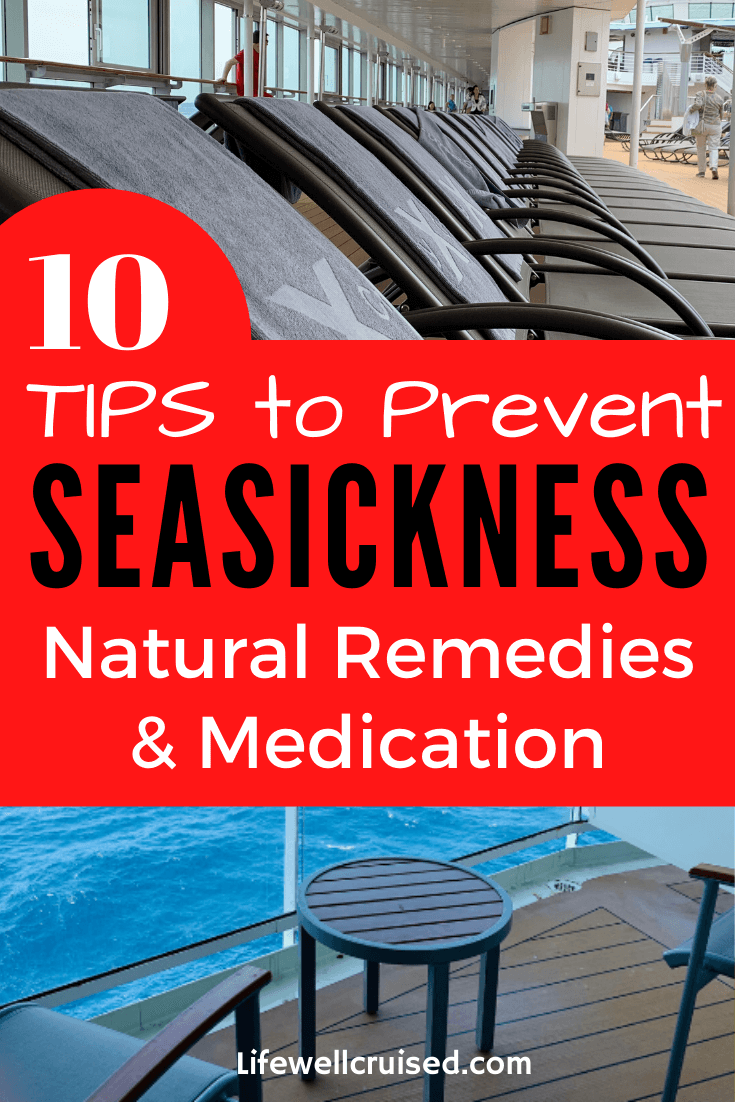 5. Acupuncture
Acupuncture is a less commonly known form of seasickness prevention, however it really does seem to prevent motion sickness before it happens.
If you're prone to motion or have suffered from vertigo, acupuncture may be an effective treatment.
True story: My mother in law suffered from vertigo over the years, as well as car sickness. Before cruising she would have an acupuncture treatment, and it worked wonderfully for her. It was honestly amazing.
As always, consult with your doctor to see what is right for you.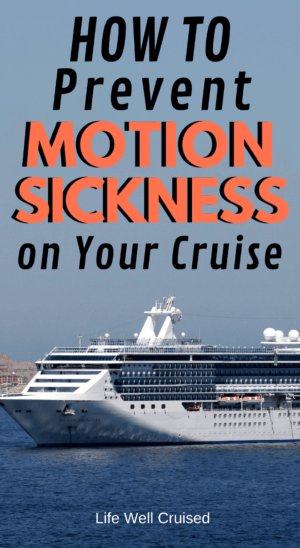 Natural treatments for seasickness symptoms
6. Eat green apples (a crew and passenger favorite)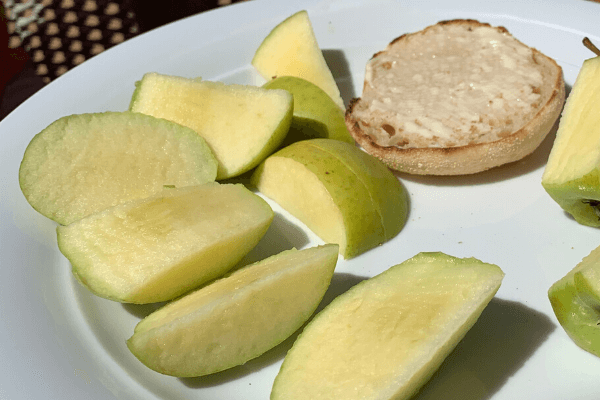 Did you know that eating green apples is actually effective when dealing with seasickness? This is a crew tip that really works!
Let's face it, when cruise ship crew tell you their secrets for living on a ship, you just have to listen!
If you're feeling the "motion of the ocean" and have little appetite, try combining a few green apple slices with some crackers or toast and see if your queasiness subsides.
Tip – Pick up a couple of green apples from the buffet the first day and leave them in your cabin, just in case. If you get a queasy stomach, you won't have to search for them.
7. Ginger (a natural remedy for seasickness)
A natural remedy for light seasickness and nausea is ginger. Although you can eat pieces of ginger, an easier way to have your ginger is through ginger candies
Since trying this a few years ago, I always bring some ginger candies in case we need them. I find them effective to ease feelings of dissyness, headaches and light queasiness .
Recommended: Ginger candies – organice and gluten free (Amazon)
8. Simple tips to deal with seasickness on a cruise
Here are a few simple tips to keep the ship's movement (no matter how small), from making you sick.
Firstly, when you're feeling some motion sickness, avoid staying inside your cabin. You'll actually feel more movement there, and any sick feeling will only be worse. If you have a balcony cabin, you may want to get some air.
Some good advice is to head to a large open public space. One of the best places is the pool deck in the middle of the ship.
Secondly, avoid looking at the water through the ship windows at the waterline and waves. When seated in the dining room or in the buffet area, choose a chair facing away from the windows.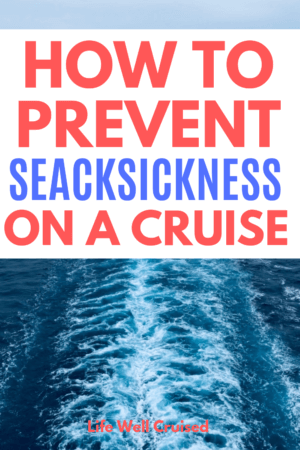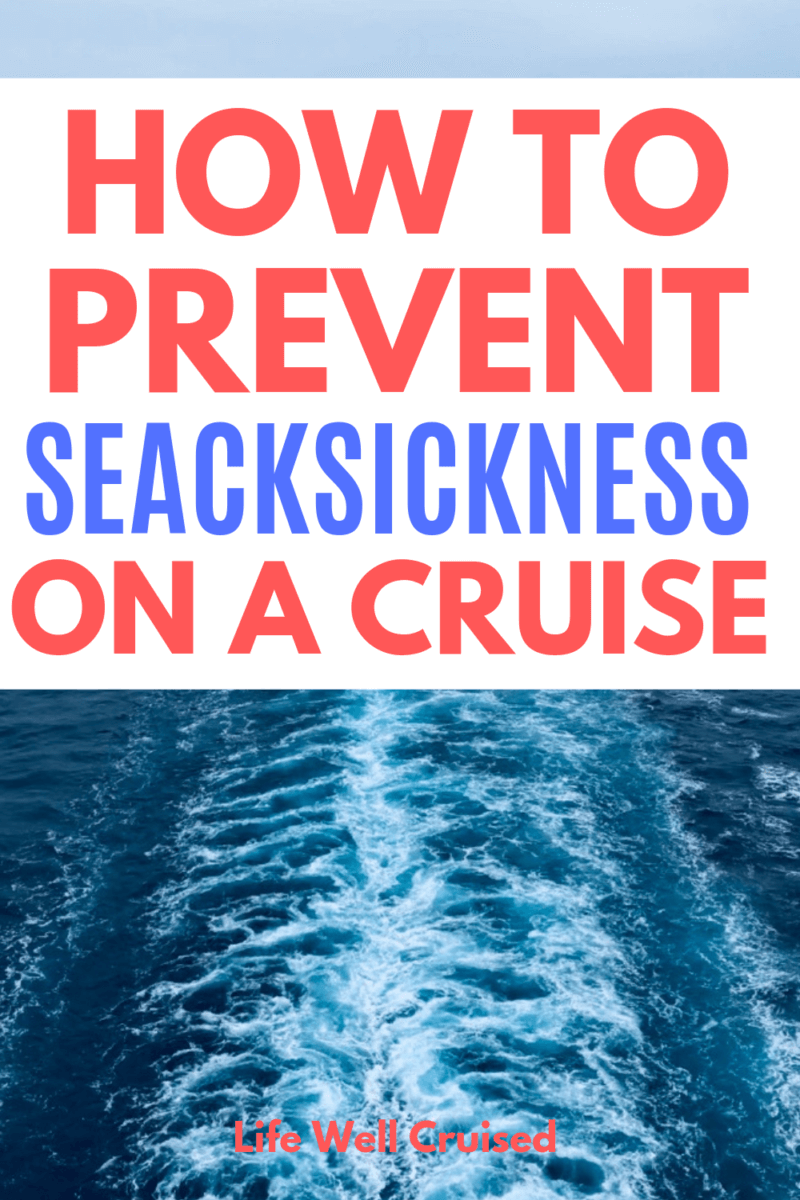 9. Keep busy and focus attention on other activities
It may seem like if you feel the ship move, you want to go and lay down or stay quiet. However, usually the best thing you can do is to relax and try to enjoy what the cruise ship has to offer.
I can tell you with 100% certainty, that if you are trying to notice that the ship is moving, you will. If you feel a little movement, grab a ginger candy and chat with someone.
10. Don't wait for symptoms of seasickness
If you're beginning to feel any signs of motion sickness, such as light headache and sight nausea, take action right away.
Do not wait for your seasickness symptoms to get worse – as it will only delay any relief. Many remedies are most effective when taken as the first symptoms appear.
Most popular seasickness medications and products on Amazon
A common regret that first time cruisers have, and even veteran cruisers, is not being prepared to deal with seasickness.
Here are some of the most recommended and purchased products on Amazon (to add to your cruise packing list):
Dramamine (long lasting nausea relief)
Final thoughts: 10 Ways to Prevent Seasickness on a Cruise
If you're concerned about getting seasick on a cruise, these tips to prevent motion sickness should help.
As a recap, try and stay as close to the center of the cruise ship as possible, by choosing a stateroom in the best location available. If symptoms occur, getting fresh air and staying in large open spaces can help.
Finally, be prepared with some medications and natural remedies, to deal with symptoms of seasickness should they occur.
Have you ever been affected by the movement on a cruise ship? What treatments did you use that helped? Please let me know in the comments below.
Happy cruising!
Ilana xoxo
P.S. If you found this helpful, please don't keep it to yourself ;-). Please share on Facebook or PIN to your favorite Pinterest board (share buttons at the top). Thanks so much!
Read more:
31 Cruise First Aid Kit Essentials You Need to Have
25 Cruise Essentials Most Popular on Amazon
21 Things People Forget to Pack for a Cruise (and regret)
30 Cruise Cabin Hacks Every Cruiser Needs to Know
Let's connect:
Follow me on Facebook at Life Well Cruised
Follow me onYouTube at Life Well Cruised (Vlogs and cruise tips)
Follow me on Pinterest at Life Well Cruised
Follow me on Instagram at Life Well Cruised