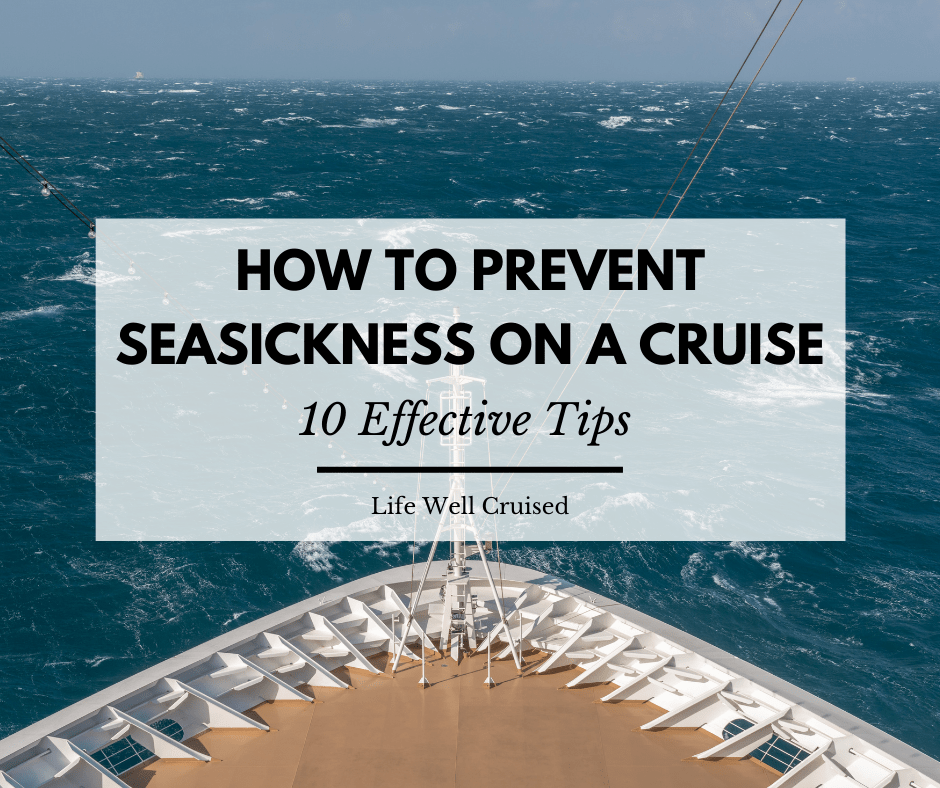 If you're going on a cruise and concerned that you might get seasick, you're not alone. Asking "how to prevent seasickness on a cruise", is one of the most common questions people have when planning a cruise.
After all, getting seasick really could ruin your vacation. While it's less likely to happen on today's large, modern cruise ships, I can tell you from personal experience, it does still happen.
The good news is that there are effective remedies for motion sickness, and these work very well on a cruise.
In this post, I share 10 ways to prevent, treat and ideally avoid seasickness altogether while cruising. I've included recommendations for seasickness medications, as well as natural remedies that really work.
As well, we'll go through some frequently asked questions about how to manage seasickness on cruise ships. With these tips, you'll be prepared to deal with the motion of the ocean, and prevail!
Seasickness on a Cruise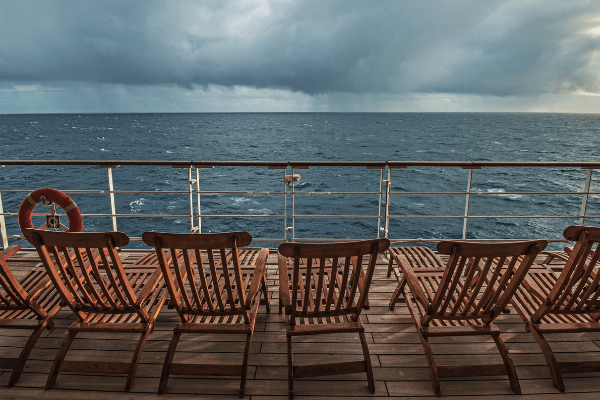 First, let's go through what to expect if you do get seasick while on a cruise.
What are the symptoms of seasickness?
The symptoms of seasickness on a cruise can include feeling dizzy or having a headache. You may have also feel nauseous, have stomach cramps and even vomit.
For me, early symptoms of motion sickness include lightheadedness and a mild queasy feeling. I try and catch it at this early point, and after more than 20 cruises, this has worked for me.
The tips that I share below will help you to manage any seasickness symptoms.
Why does motion sickness happen on a cruise ship?
How come people get motion sickness on a cruise? Motion sickness happens due to repeated or continuous movement that affects our inner ear and sense of balance. As the cruise ship sails, some people can be affected by this motion.
Seasickness is another way to motion sickness, but on a cruise ship. You may also have heard the expression, "mal de mer", which is French for sickness of the seas.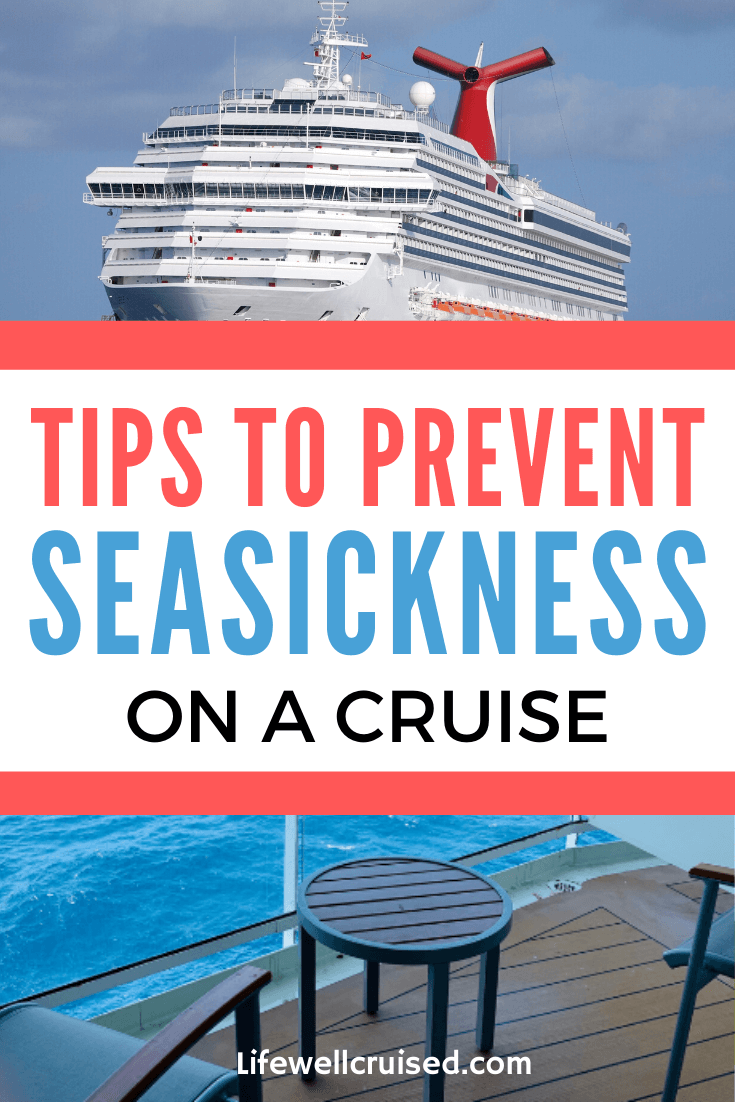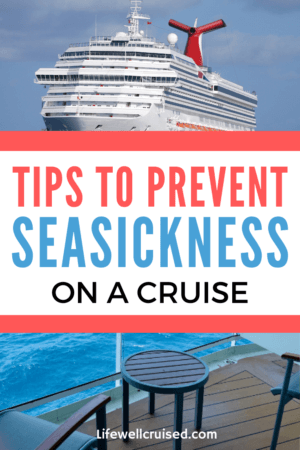 How likely are you to get seasick on a cruise ship?
Even though concerns about getting seasick on a cruise is a very common worry, especially for first time cruisers, most people will be fine. Modern cruise ships are built with stability and comfort in mind, and have stabilizers which are used, especially in rough seas.
However, you may feel some motion or slight vibration while on a cruise. I mention this as we were a bit surprised to find this out on our first cruise.
So many people said "you won't feel the ship move". They mean well, but on some cruises you'll feel more movement then others, so it's best to be prepared.
In some cases, the ship can hit rougher seas and high winds, and there will be some rocking. However, let me assure you that a large cruise ship will feel nothing like the movement on a small boat or even a ferry.
How to Prevent Motion Sickness on a Cruise
This post contains affiliate links which means if you click and buy that I may make a commission, at no cost to you. Please see my disclosure policy for details.
Life Well Cruised is a participant in the Amazon Services LLC Associates Program, an affiliate program designed to provide a means for sites to earn advertising fees by advertising and linking to Amazon.com.
One of the best ways to deal with seasickness on a cruise, is to prevent and avoid it if at all possible. These 10 seasickness prevention tips are ones that have worked for us, as well as many avid cruisers and crew.
1. Pick the right cruise cabin location
Before we get into what seasickness medications work best and some other tips and tricks, we should talk about cruise cabin locations.
To prevent seasickness, be sure that you choose the best stateroom location possible. If you're new to cruising and unsure how you'll feel, choose a mid-ship location.
These are the most desirable cabins because there will be less movement in the middle of the ship. Whether you choose an inside cabin, or a balcony cabin, try and choose a cabin that is as center as possible.
If a mid-ship cabin isn't available, then opt for an aft cabin or mid-aft stateroom. If at all possible, try to avoid a forward cabin, as many cruise passengers report feeling more motion in this location.
A travel agent can help you to pick the best cabin for you, and look out for any other cabins to avoid.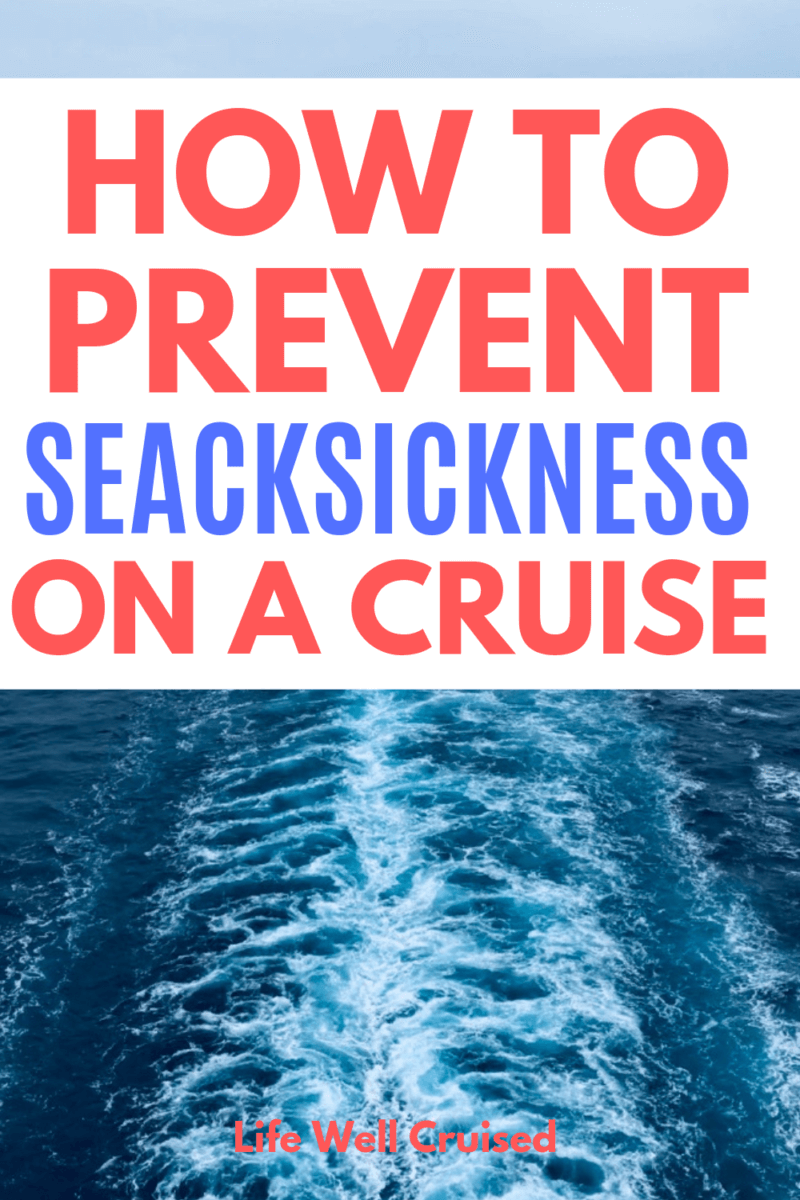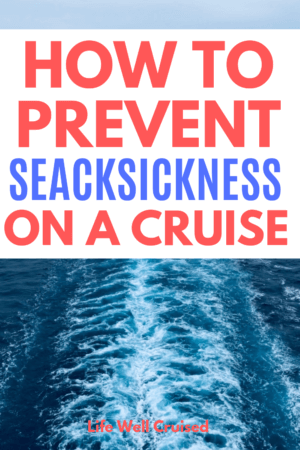 2. Pick a "calm" cruise itinerary
While the seas can be unpredictable, there are some cruise itineraries that generally have calmer seas, than others. If you're concerned about getting seasick, avoid trans-Atlantic crossings and other itineraries where the seas can be fierce.
Your travel agent will be able to help you navigate the possibilities (pun intended), as a rule of thumb, the Western Caribbean and the Gulf of Mexico tend to have more stable seas.
3. Green Apples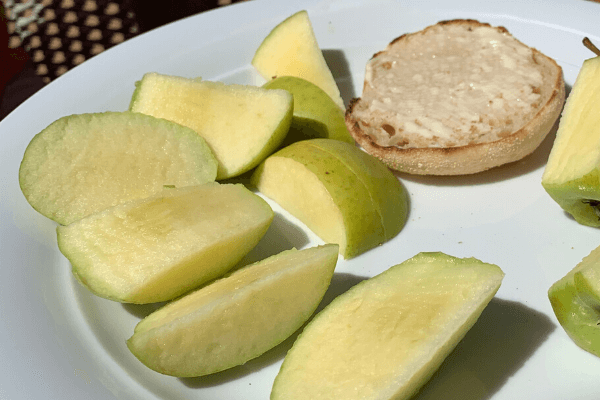 Would you like to know a cruise tip that really works to get over seasickness on a cruise? Eat a granny smith or green apple.
This has long been a favorite crew and passenger tip. In our experience, it really does help.
Often, eating a green apple will settle the stomach if you start to feel nauseous due to seasickness. Apparently, the pectin in green apples helps to neutralize acid in the stomach, and the natural sugar helps settle the stomach
You'll find green apples in the buffet, so it's a good idea to take a couple back to your room, in case you need them later on in the cruise.
4. Ginger candies
Another natural remedy for dealing with motion sickness while cruising is ginger. If you don't want to eat raw ginger, you can buy ginger candies or even dried, sugar coated natural ginger.
Some cruise lines, such as Cunard, even give out ginger in the evening with dinner when the seas are rough.
While I prefer not to eat raw ginger, I always bring some ginger candies and usually find them very effective in preventing seasickness before it starts.
Recommended: Ginger candies – organic and gluten free (Amazon)
5. Bonine or Dramamine
An over the counter medication like Bonine or Dramamine, can be highly effective to deal with symptoms of seasickness, so you can enjoy your cruise.
In our experience, worked very well, alleviating seasickness symptoms without drowsiness.
Make sure to bring a pack or two your toiletry bag or cruise first aid kit. This way, if you need it you won't have to hope the shop is still open on the cruise ship.
Recommended: Bonine Motion Sickness prevention tablets (see Amazon reviews & price here)
6. Seabands
A favorite cruise essential for many, seabands are wristbands that alleviate motion sickness symptoms. They work with acupressure buttons to prevent symptoms of seasickness and many cruisers have very good results. Seabands are natural and contain no medication, plus, they're reusable.
If you think that you may be prone to motion sickness, it's a good idea to take along seabands for both adults and children, in case.
Recommended: Seabands (check on Amazon for variety packs)
7. Motion Sickness Patch/Scopolamine
If you're prone to motion sickness, scopolamine patches, which are placed behind the ear, are very effective in preventing seasickness.
They are a preventative treatment, and should be used ideally before symptoms begin, and need to be changed every 3 days. They may only be available by prescription, so talk with your doctor to see if they're right for you.
There are also non-prescription seasickness prevention patches available, that many use and find effective. Check out the information and reviews to learn more.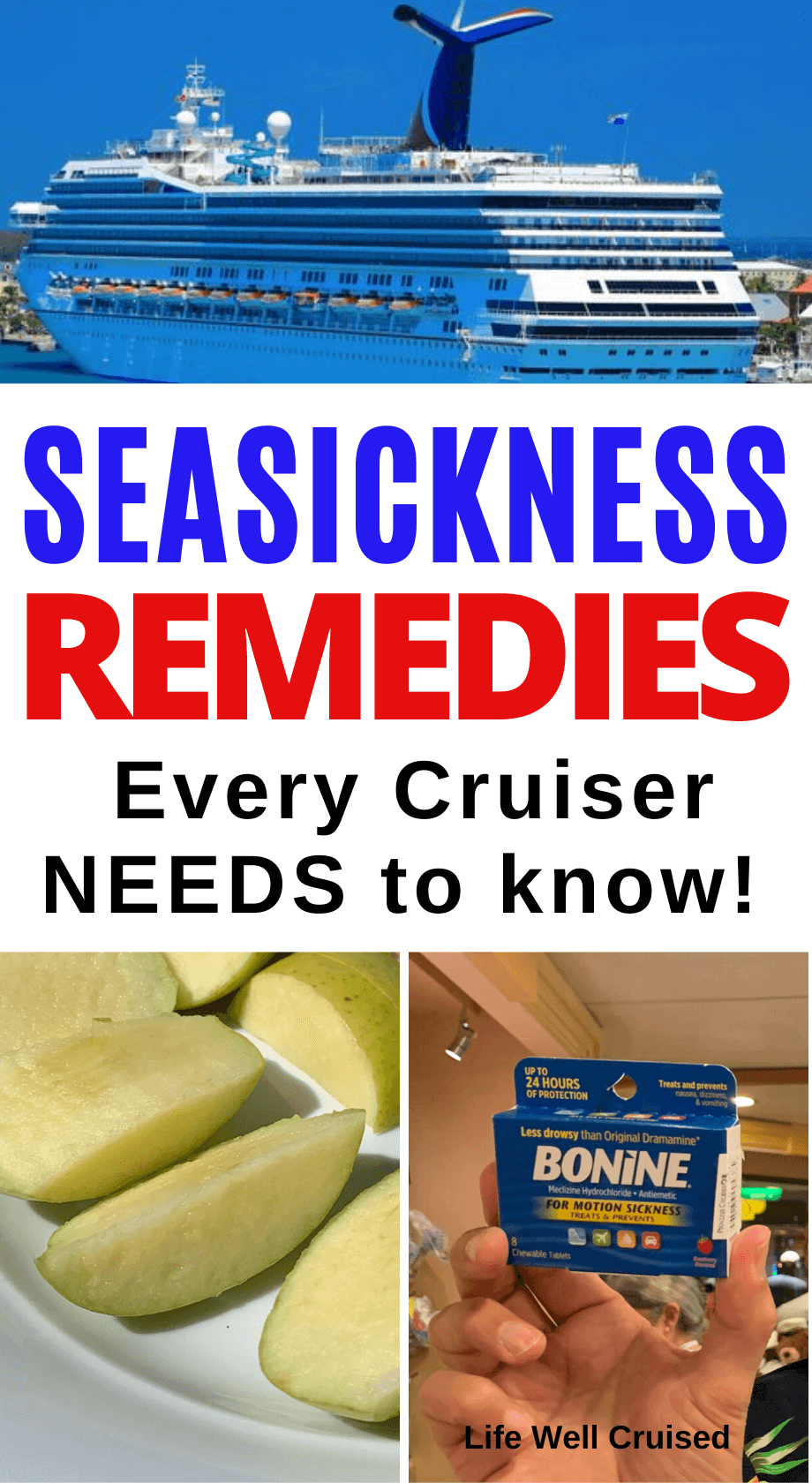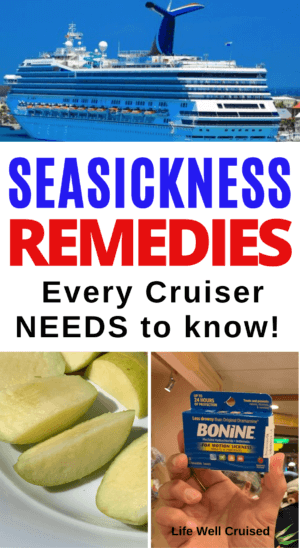 8. Acupuncture
Another preventative treatment for motion sickness on a cruise is acupuncture. An alternative treatment, it's effectiveness isn't conclusive. Anecdotal reports suggest many patients have had good results.
My mother-in-law, who also suffers from vertigo periodically, uses acupuncture before she goes on a cruise. I've been on cruises with her, and have seen how it definitely worked for her. She was well and unaffected, even while others were swaying and turning green during an evening of very rough seas.
If you already use acupuncture, you may want to ask your practitioner if he or she thinks it will help to prevent seasickness on your cruise. As always, please do check with your physician.
9. Keep hydrated
It may sound simple, but keeping hydrated by drinking a lot of water will help prevent feelings of seasickness. While on a cruise you may be getting too much sun and even drinking too many alcoholic drinks, which can lead to becoming dehydrated.
By keeping hydrated, your body will be at it's best and less prone to nausea, headaches, dizziness and upset stomach. It's also helpful to avoid very fatty or spicy food.
Cruise tip – Bring along a refillable water bottle, to stay hydrated on your cruise.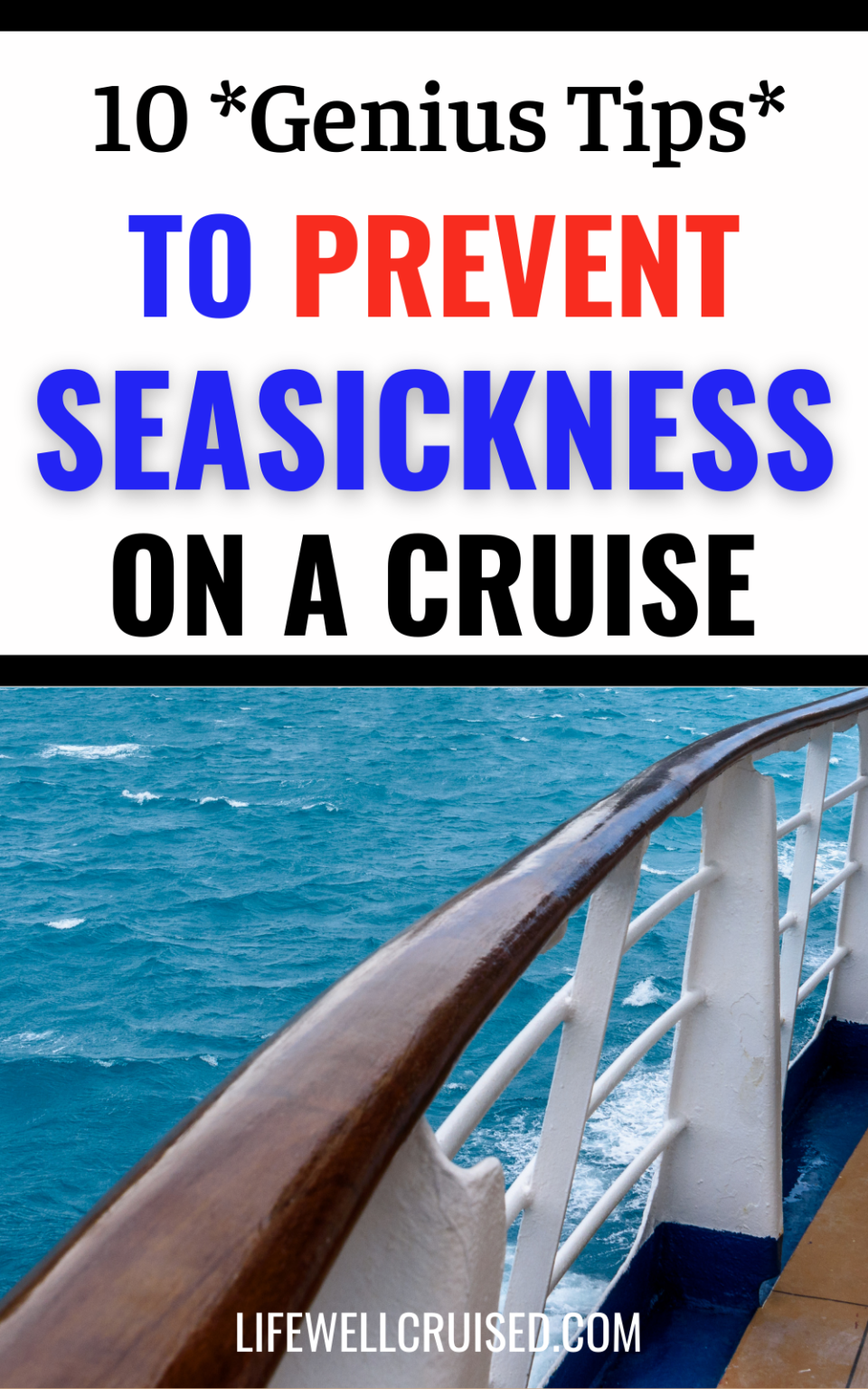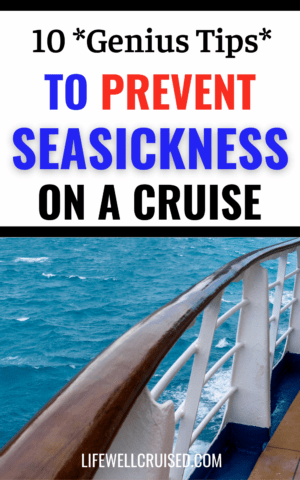 10. Get fresh air
If you suddenly start to feel unwell, with symptoms dizziness and nausea, try and get fresh air as soon as possible. A good place to sit is on the Lido deck, near the mid-ship pool. This location, in the open space and with a sea breeze, is probably the best place to grab a green apple and wait for symptoms to subside.
There is also advice to look at the horizon. This may work for some, however in our experience, if there are large waves, this may do more harm than good.
A word of caution – often taking medication to remedy or even prevent motion sickness symptoms as soon as they start is most effective.
Best Motion Sickness Medication for a Cruise
As a recap, these are the most effective and recommended seasickness medications and natural remedies for a cruise (all Amazon links).
Dramamine (long lasting nausea relief)
Dramamine for kids (see choices on Amazon)
Watch our YouTube video below for more tips on preventing seasickness while cruising
Recap: How to Prevent Seasickness on a Cruise
A common concern for new cruisers, is how to avoid and prevent getting seasick on a cruise. In this post, we went over what to expect on a cruise, and how likely it is to feel symptoms of motion sickness on a modern cruise ship.
We also shared 10 effective tips for preventing and dealing with seasickness on a cruise. The remedies include both seasickness medication and natural remedies, that have been shown to be useful and helpful for cruisers.
Don't forget to pack some seasickness medication or prevention treatments to bring along on your cruise vacation.
Have you ever been seasick on a cruise? What tips, medications or treatments did you find worked best?
Happy cruising!
Ilana xoxo
P.S. If you enjoyed this post and found it helpful, please don't keep it to yourself ;-). Please share on Facebook or PIN to your favorite Pinterest board (share buttons at the top). Thanks so much!
Read more:
What to Pack for a Caribbean Cruise
31 Cruise First Aid Kit Essentials You Need to Have
What Toiletries to Pack for a Cruise (packing list)
25 Cruise Essentials Most Popular on Amazon
21 Things People Forget to Pack for a Cruise (and regret)
30 Cruise Cabin Hacks Every Cruiser Needs to Know
Let's connect:
Follow me on Facebook at Life Well Cruised
Follow me onYouTube at Life Well Cruised (Vlogs and cruise tips)
Follow me on Pinterest at Life Well Cruised
Follow me on Instagram at Life Well Cruised