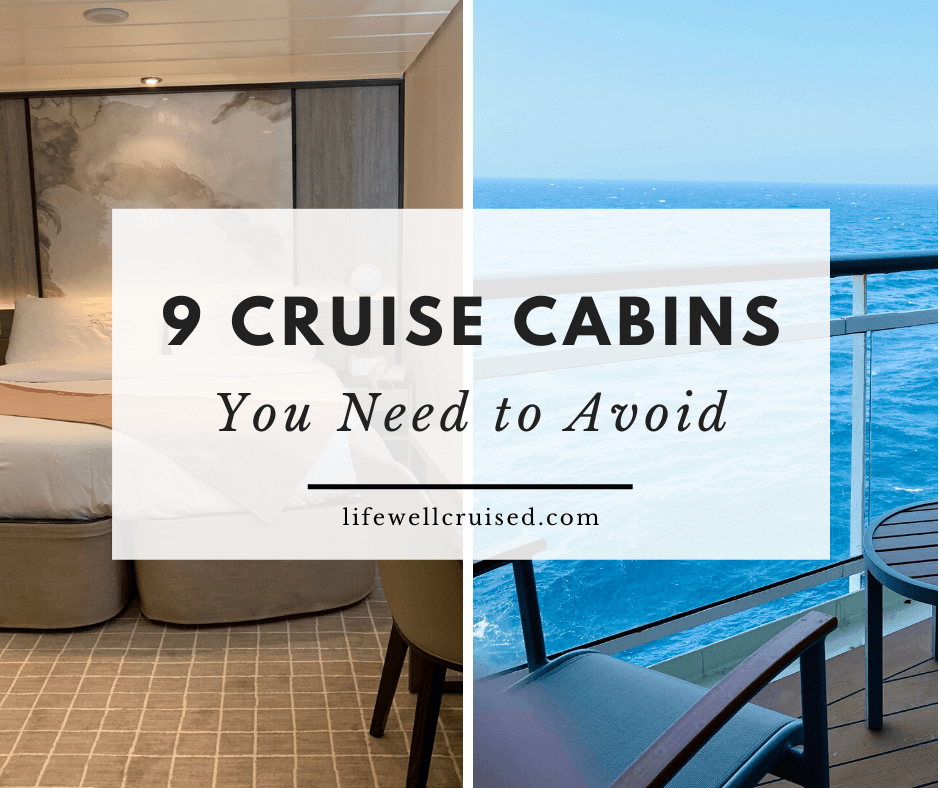 9 Worst Cabins on a Cruise
If you're a new cruiser, you might be wondering what's the best cruise cabin to book, and which are the worst cabins that you want to avoid.
Being honest, my attitude is usually that as long as I'm on a cruise, I'm pretty happy. But still, if you're a light sleeper, or having difficulty walking, or are worried about motion sickness, there really are some cabins that are better than others.
In this post, I'll go through the 9 worst cabins on a cruise, and give you some easy tips on how you can book the best possible cabin for you.
9 cabins to avoid on your cruise vacation
1. Some Cabin Types – Inside or Balcony (and more)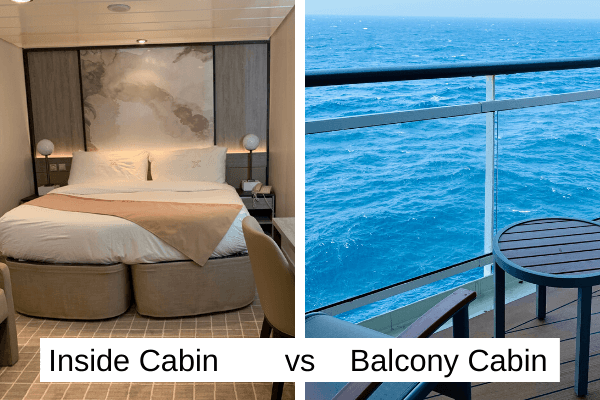 I'll get this one out of the way first, because choosing your type of cabin is a personal one, but it can make a huge impact on your cruise vacation enjoyment.
Some people say you must cruise in a balcony cabin while others insist an inside is best.
Should you take a balcony, ocean view or interior cabin or even splurge for a suite? This is a matter of budget and expectation for this cruise vacation.
If you know that you'll love the extra space and your own romantic ocean view veranda, choose this and you won't regret it.
If you don't think you'll be in the cabin much and would rather use your vacation dollars on excursions and extras you like, consider an inside stateroom.
In my Life Well Cruised Facebook Community, people left their passionate reasons why they preferred one cabin type over the other. All the reasons are valid, but subjective and personal.
What I've learned is that there isn't a right or wrong answer on this one, so choose the option that's best for you.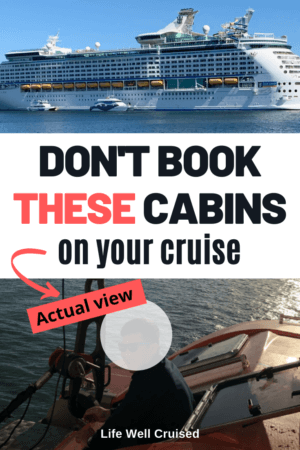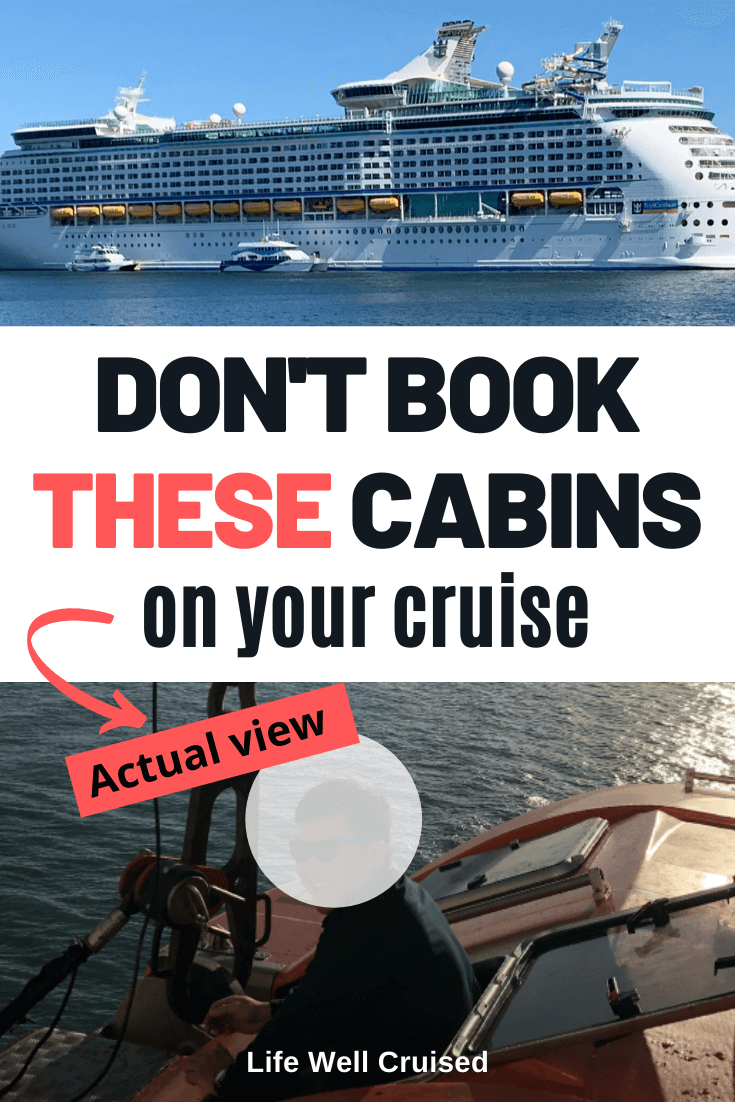 2. Less desirable cabin locations
You cabin location and type of cabin may have a large impact on your overall cruise experience, so best to choose wisely on this one. I'll go through the best to the "worst" cabin locations on the cruise ship.
Best cabin location option – Mid-ship
If this is your first cruise and you're concerned about getting motion sickness, remember these 2 words – middle/middle.
Pick a mid-ship cabin, that is not too high and not too low.
By choosing the center area you'll have the best chance of the most stability on the cruise ship.
The very top deck tends to catch the wind and will have more movement than other decks.
Second best cabin location – Aft (back of ship) or mid-aft
When mid-ship cabins aren't possible (staterooms may be sold out or much higher priced), opt for a mid-aft or aft cabin (in the back of the ship)
The back of the ship, will usually have only slightly more movement than the middle. In our personal experience it has been a very good location.
Cabin location to avoid – Forward cabins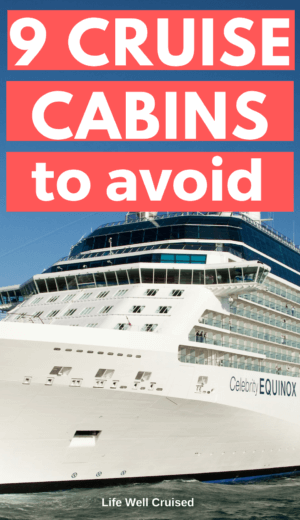 If at all possible, avoid forward cabins. Staterooms in the front of the ship will pick up on more movement of the ship as it goes through the sea.
This won't be an issue most of the time, but if your ship has some rougher seas, which does happen sometimes, unfortunately forward cabins feel it most.
We experienced this a few years ago cruising from Cape Liberty, New Jersey to the Caribbean. We had one day at sea where the waters just weren't very calm, and we used all our natural seasickness prevention tips and tricks (like green apples).
Well, we had to avoid going back to our forward cabin for hours, and stay within the mid section public areas. Our cabin seemed to be rocking and rolling, and yet in the ship atrium it was hardly noticeable.
Tip: If you are in the forward section, try finding a cabin that's mid-forward for less potential movement
Recommended: 10 Tips to Prevent Motion Sickness on a Cruise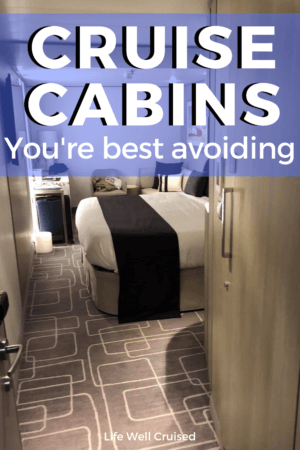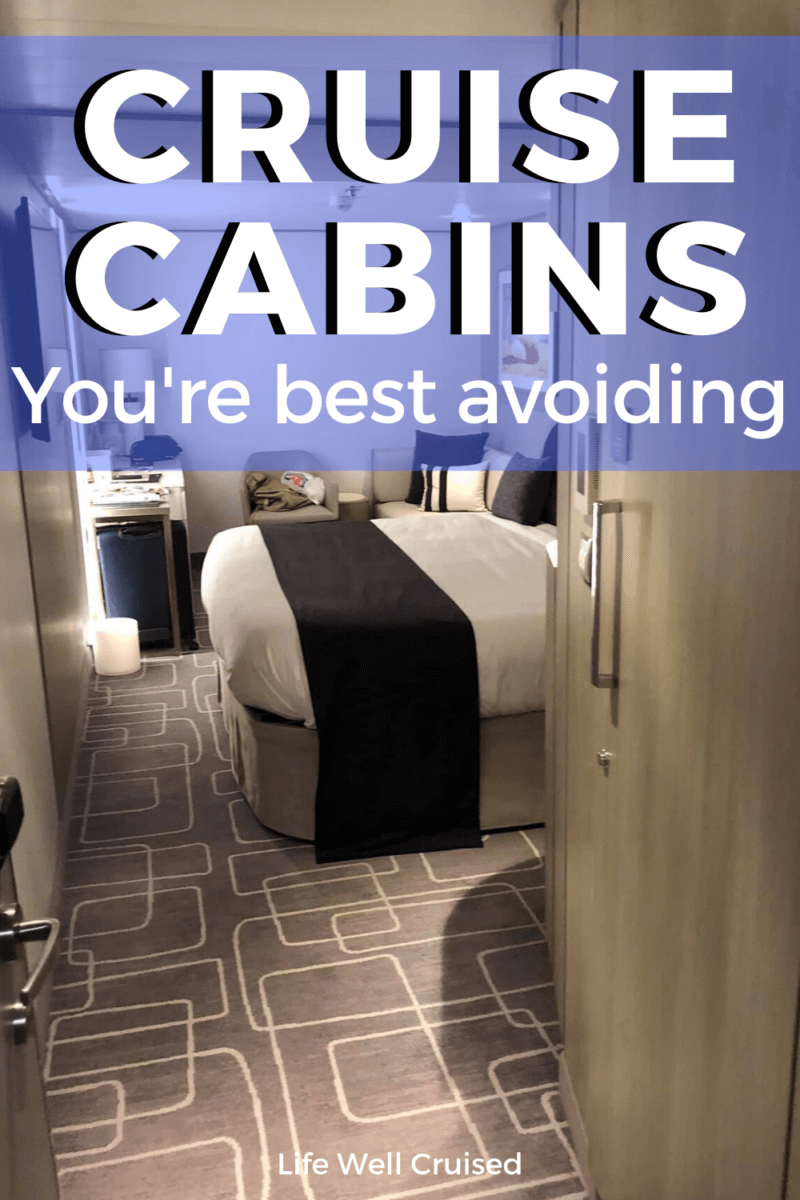 3. Guarantee Cabins
Guarantee cabins are unassigned cabins that are often sold for less than an assigned cabin.
Basically you choose either an inside, ocean view, balcony, mini-suite or other cabin type and categoty, and the cruise line guarantees you that type of cabin or higher.
So if you book an inside, technically you have a chance of being upgraded to an oceanview for instance. However, if you book an ocean view, they can't give you an inside. It must be your category or higher.
To be clear, Guarantee cabins aren't necessarily bad.
The problem is that you really have no control over cabin location. Plus, most of the time the cruise line won't move your cabin if you're not happy, as that's part of the terms and conditions.
If this doesn't bother you, it can be a great way to save money on your cruise.
This post explains more about the benefits of guarantee cabins: The Pros and Cons of Booking a Guarantee Cabin
4. Obstructed cabins
These are the worst, in my opinion, especially if you don't really understanding what you are booking.
To be fair, they aren't really that bad… but they can be a bit disappointing.
Our family had an obstructed balcony cabin on the Regal Princess (I'll leave a photo below) and it was great to have the extra balcony space and a place to feel the fresh air and ocean breeze. We did enjoy coffee on our balcony and were able to relax on our own space.
We totally knew what we were booking – an Obstructed balcony guarantee cabin, so this isn't a complaint. But I did wonder, how obstructed can it really be? Take a look…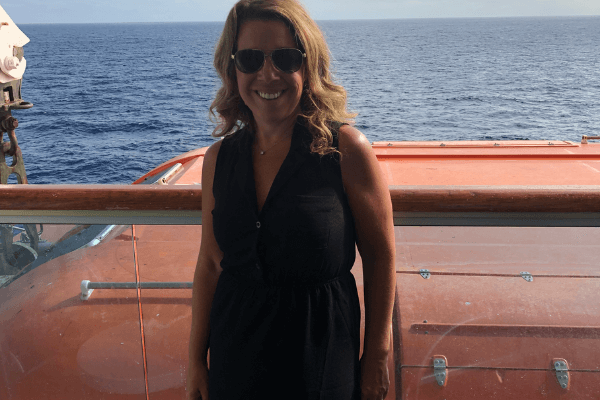 I know someone who booked a ocean-view obstructed guarantee who was even less happy that me. Why? Her view was the full side of the lifeboat. She told me that she would have preferred an inside cabin as she literally saw nothing outside her window.
So, the lesson here is just know what you're booking. It's likely to be a very good price, so it can be worth it, but you'll want to make an informed decision.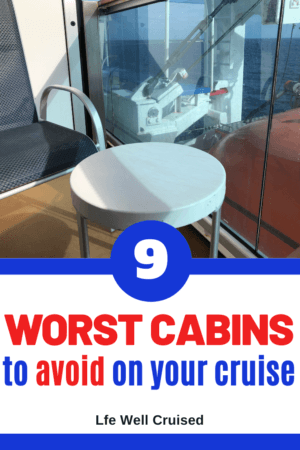 5. Cabins next to the laundry room
Some cruise ships have a couple of laundry rooms on passenger decks. While it might be convenient to be close by if you're doing a long cruise, you probably don't want to be too close and be woken up by the early birds.
In addition to laundry rooms, check the cruise ship deck plan to see what else may be nearby your cruise cabin location that might be noisy.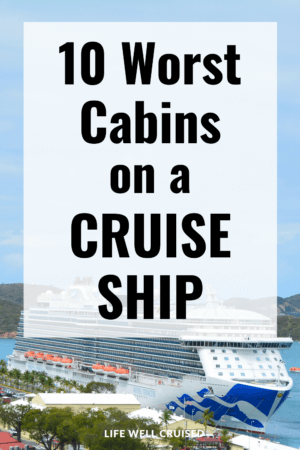 6. Cabins under the disco or near other "noisy" public areas
Cruise cabins near theaters, close by the disco or even right under the pool deck can be noisy at different times of the day.
You may want to avoid cabins right next to the kid's club (for obvious reasons).
To find the best cabin location, use this trick.
Choose a cabin that's between 2 passenger decks. So, if deck 12 is the pool, choose deck 10, rather than 11.
Keep in mind that many cruise ships don't have a deck 13. So if the pool is on deck 14, and you choose a cabin on deck 12, you are likely right under the pool. Do check on that.
The article below shares why if you're curious.
Recommended: 25 Surprising Things You Didn't Know About Cruise Ships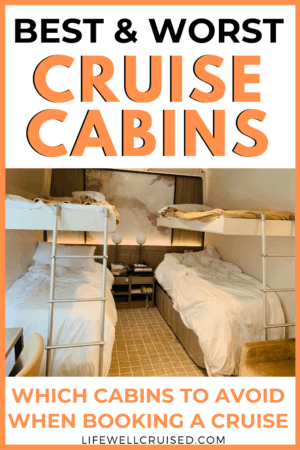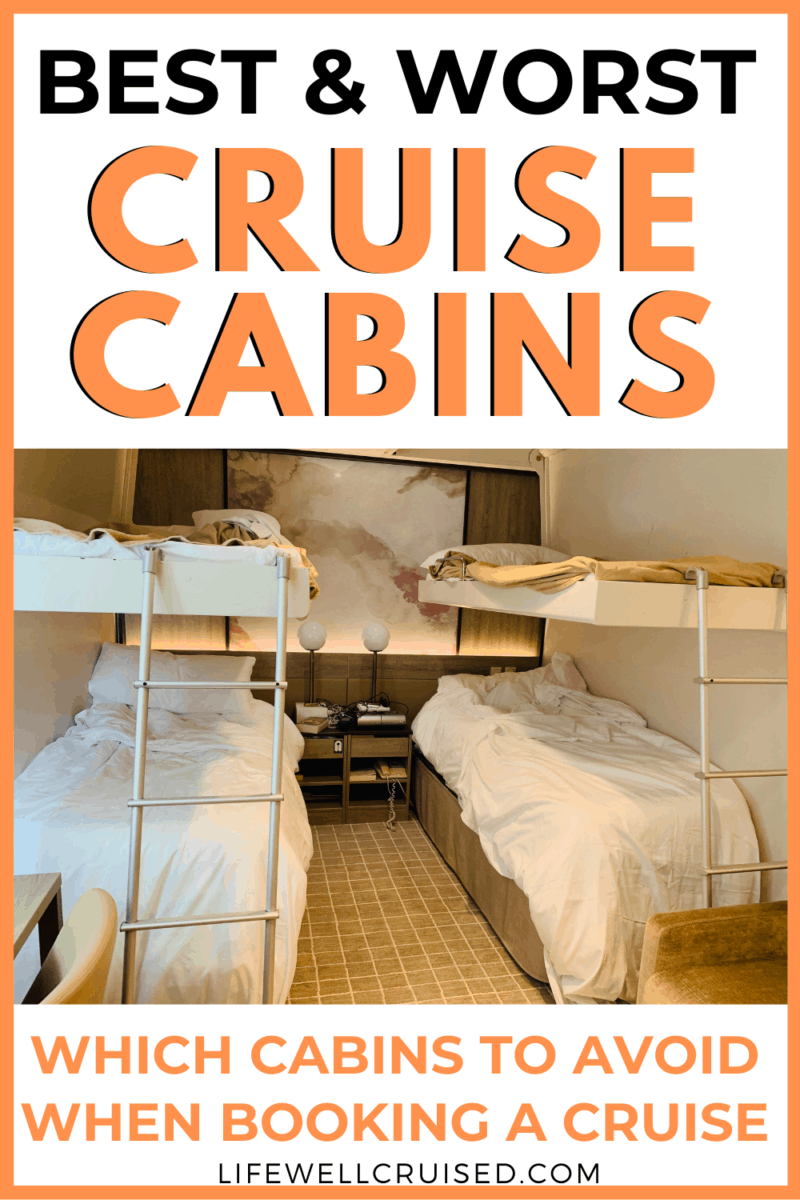 7. Cabins too close or too far from the elevator
Everyone is different. Some people have some difficulty walking too far and really don't want to be 30 cabins down the hall.
Others would rather stay farther away from the main stairway and elevator area. It's not overly noisy, but it's a matter of choice.
A good rule of thumb is if you are 5-10 cabins away, you really are unlikely to hear anything at all.
8. Connecting cabins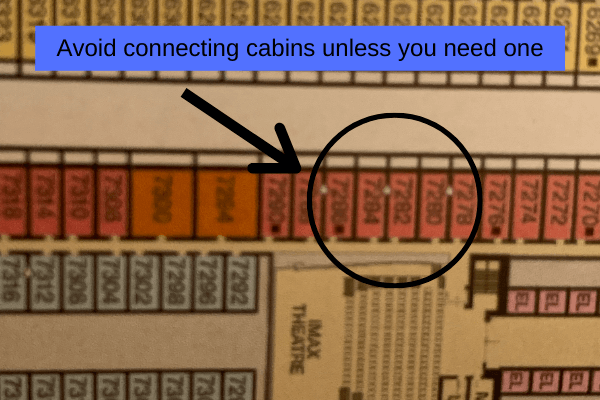 Unless you're in need of connecting cabins your family cruise, avoid these cabins if at all possible. There's a door in between, and although cruise lines say they are sound proof, many who've stayed in these cabins would disagree.
You can be next a family with 1 year old twins who aren't sleeping through the night, a couple that has the tv on too loud or any other bedroom sounds.
If you prefer quiet, or just the noise of your own family, avoid connecting staterooms.
9. Cabin upgrades
This one might sound surprising, but many cruise passengers who receive a "free upgrade" end up being disappointed in their new cabin.
If you're not picky, this can be great. If you are even a little bit picky… not so much.
Once you've taken the time to find your perfect cabin and book it, make sure you mark it "no upgrade" with the cruise line or travel agent.
As you can imagine, many people think they want a free upgrade. Who wouldn't, right? So when the travel agent or cruise line asks "would you like an upgrade if one becomes available", most people say yes.
The problem is that just like the guarantee cabin, this means that the cruise line can upgrade you to a higher category, but it may be anywhere on the ship.
Plus, a higher category doesn't necessarily mean a balcony to a suite. It can simply be what the cruise line categorizes as higher.
If you're in any cruise Facebook groups, you know that this comes up every few weeks.
Most of the time, once the cruise line changes your original cabin by upgrading you, you can't change back, so beware of this when picking a cabin.
Here's a YouTube video where we go through some updated tips for avoid bad cabins on cruise ships.
BONUS – #10 Cruise cabins near the ship's anchor
I had to add in this extra tip! In truth, I hadn't heard it before, but it seems it can be a real problem, especially if you're bothered by noise and vibrations.
A member of my Life Well Cruised community shared this tip, which unfortunately was experience gained from her own cruise experience. She explained how she could hear the anchor (loudly) early in the morning when docking at ports, as well as when departing.
If you think this might bother you, check with the cruise line or travel agent to try and avoid this cabin location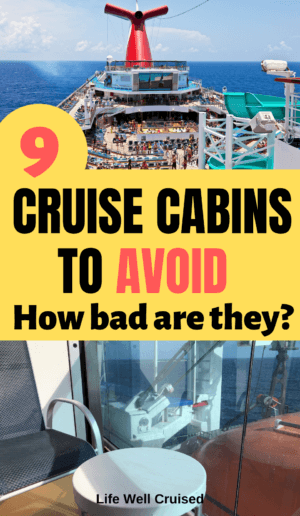 Recap: 9 Cruise Ship Cabins to Avoid
In this post we've gone over 9 tips to avoid the least desirable cabins on a cruise ship. From not-so-great cabin locations to obstructed cabins and beyond, I hope that this post can help you to identify which staterooms you'll most enjoy.
One of the most important things when booking a cruise, is choosing the cabin that works best for you. If you're booking early and have a lot of choice, why not avoid the worst ones and pick the very best!
Have you ever had a cabin that you were disappointed in? Is there a cabin location or type that I should add to this list of worst cruise cabins?
Happy Cruising!!
Ilana xoxo
P.S. If you found this helpful, please don't keep it to yourself ;-). Please share on Facebook or PIN to your favorite Pinterest board (share buttons at the top). Thanks so much!
Read more:
30 Cruise Cabin Hacks Every Cruiser Needs to Know
25 most recommended Amazon Items to Bring on a cruise
20 Cruise Packing Tips all Cruisers Need
21 Essential Things to Pack in Your Cruise Carry-On
Let's connect:
Join me on Facebook at Life Well Cruised
Join me on YouTube at Life Well Cruised (Vlogs and cruise tips)
Join me on Pinterest at Life Well Cruised
Join me on Instagram at Life Well Cruised