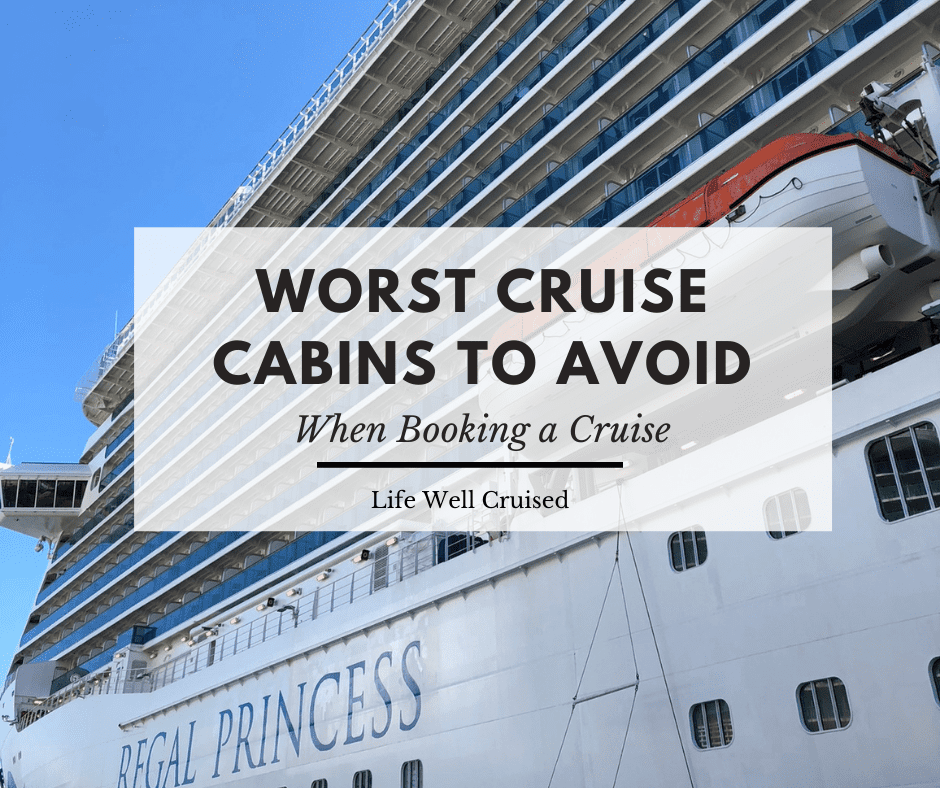 If you're planning a cruise, you might be wondering about the best and worst cabin locations, and which staterooms you should avoid.
I've been on more than 25 cruises, and while I'll take any room as long as I can cruise, there have definitely been a couple of cruise cabins that I'll try to never book again.
In this post, I share the 17 worst cabins on a cruise, including which cabin locations you should avoid on a cruise ship. I'll also share a few cruise tips to help you as you're deciding on the best cabin to book on your next cruise.
Cabins to Avoid on a Cruise
1. Some Cabin Types – Inside or Balcony?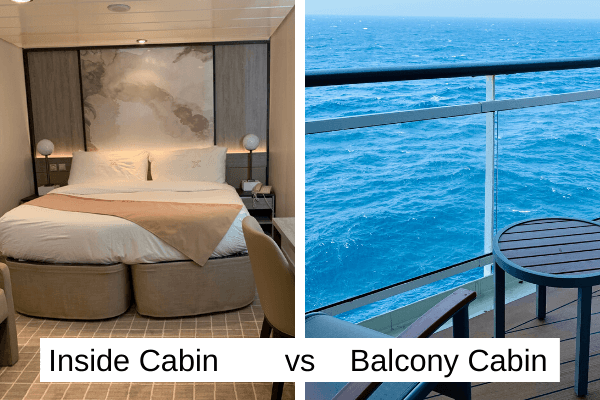 Many people have strong opinions about the best type of cruise cabin. Some will say you must cruise in a balcony cabin or not at all! Others insist they're only there to sleep, and an inside cabin is perfect.
However, this is always a personal choice and there's no right or wrong answer here.
For some people, an inside cabin will be a mistake. You may feel claustrophobic and miss the natural light that will come from a window or balcony door. Others won't be bothered at all.
Wondering is an inside stateroom is for you? Read this post about the benefits of inside cabins to find out: 7 Reasons to Book an Inside Cabin
Related: Are Balcony Cabins Worth it on a Cruise?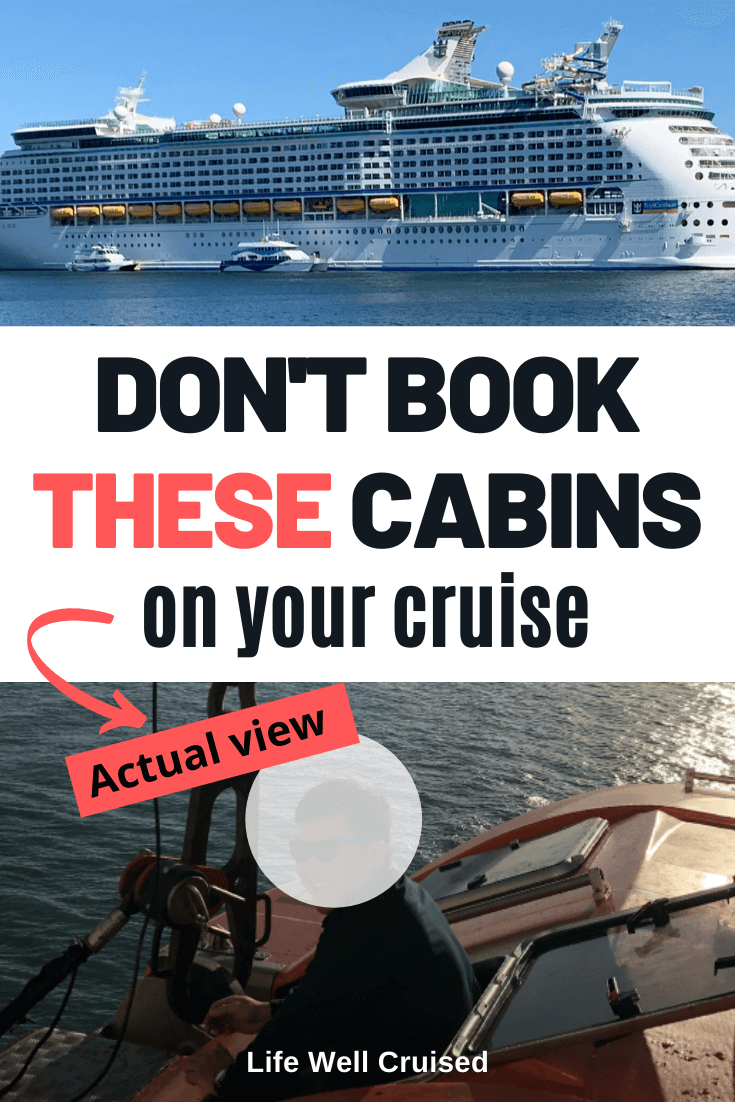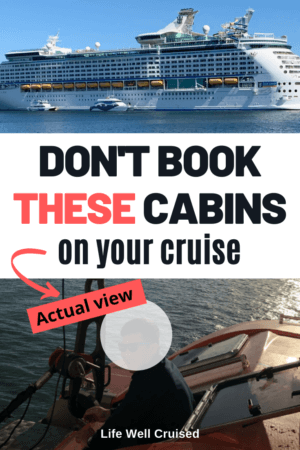 2. Cabins Under the Lido Deck
When it comes to some of the worst cruise ship cabin locations, cabins under the lido or pool deck should be avoided. This is especially true if you have a balcony cabin.
Why are these cabins so bad? Early in the morning, crew will be cleaning the pool deck and it down. Then, they'll be placing the lounge and deck chairs around the pool and deck space. This shuffling and scraping can go on for an hour or more.
Add to this the noise of the cruise music by the pool, you may find this disturbing if you'd like to read a book or quietly relax on your private balcony during the day.
The best and most desirable cruise cabins will be on decks sandwiched between two passenger decks. In other words, make sure to have cabins above and below your stateroom.
Related: Aft Balcony Cruise Ship Cabins Pros & Cons
Get The Ultimate Cruise Planner
Regular price: $27 Now just $17!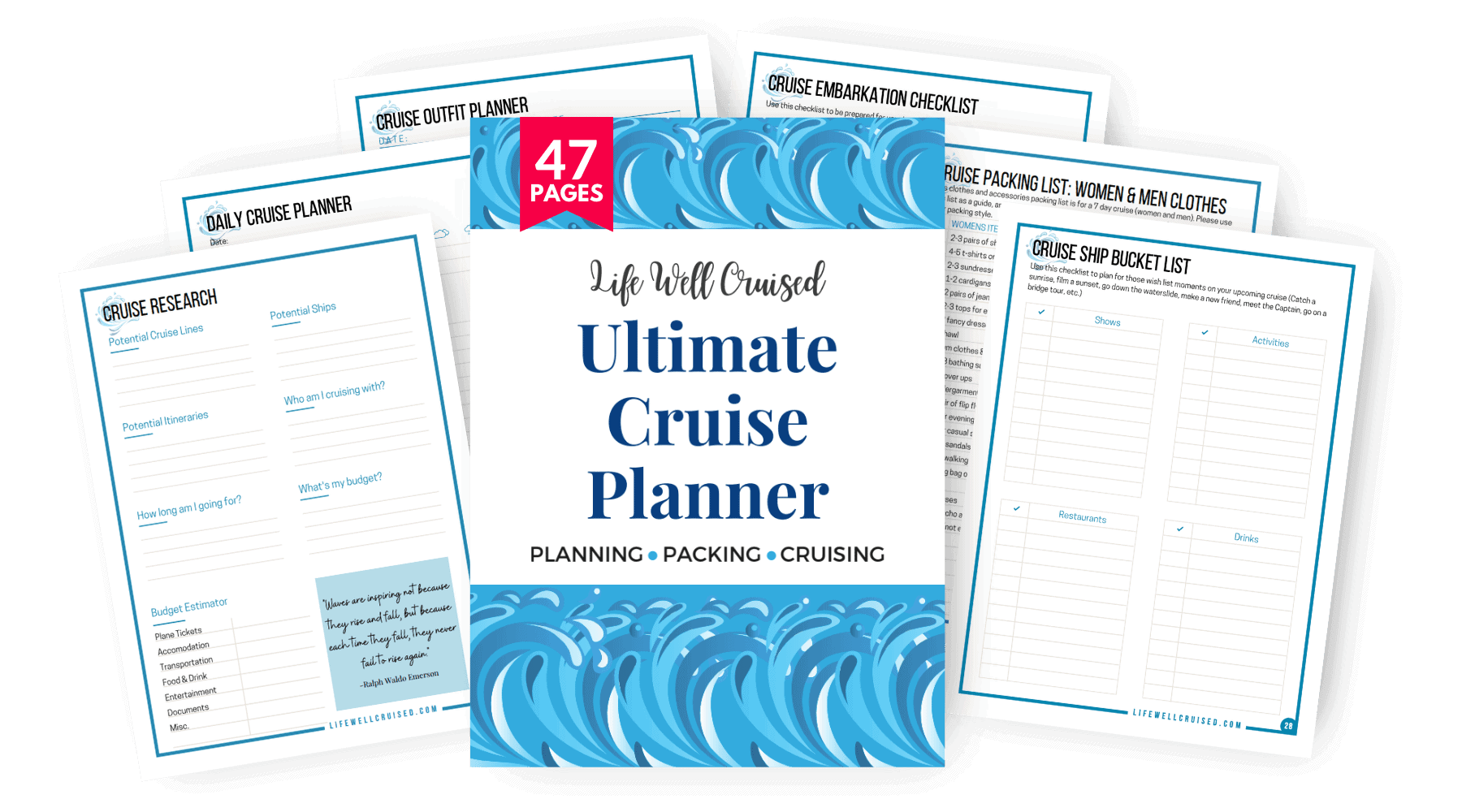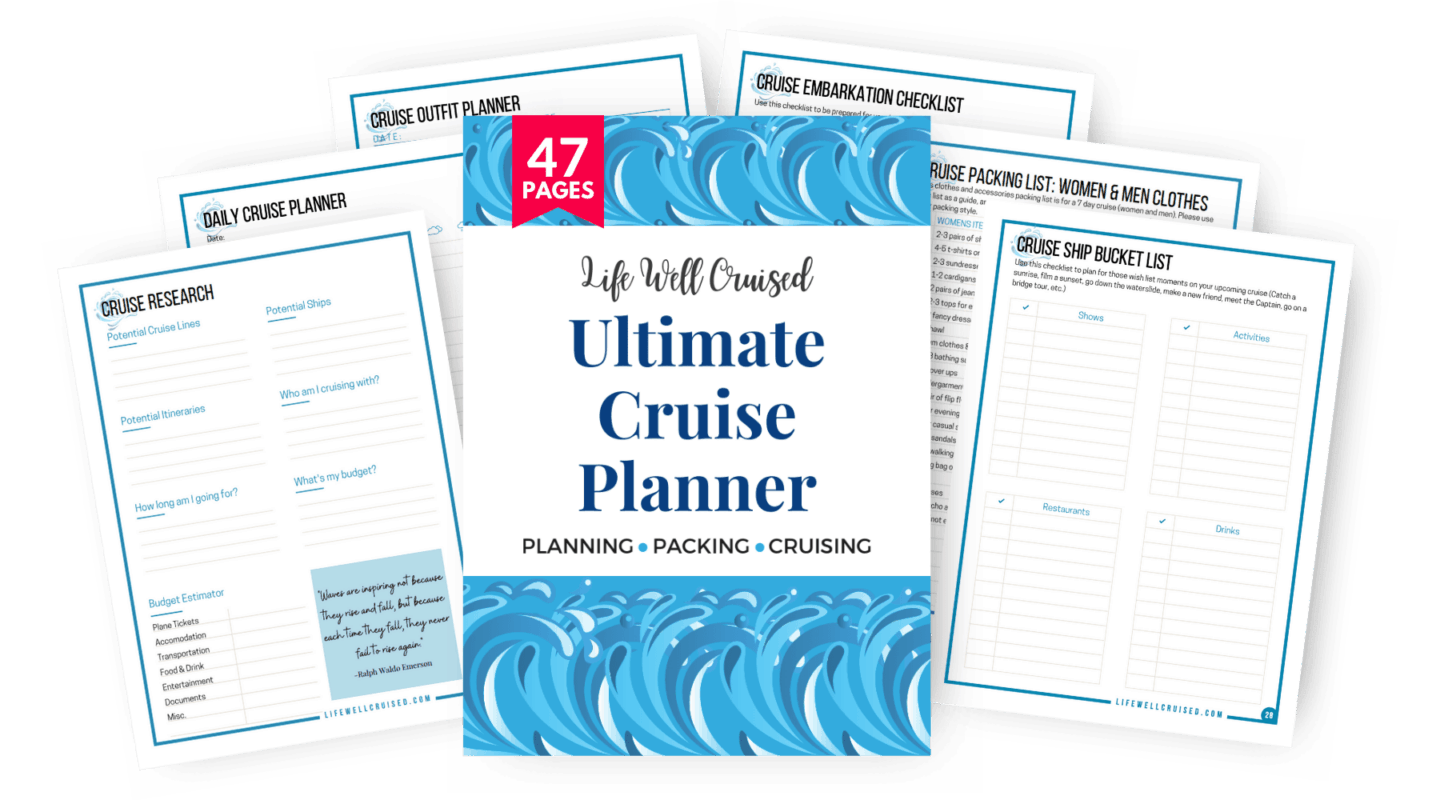 3. Cabins at the Front of the Ship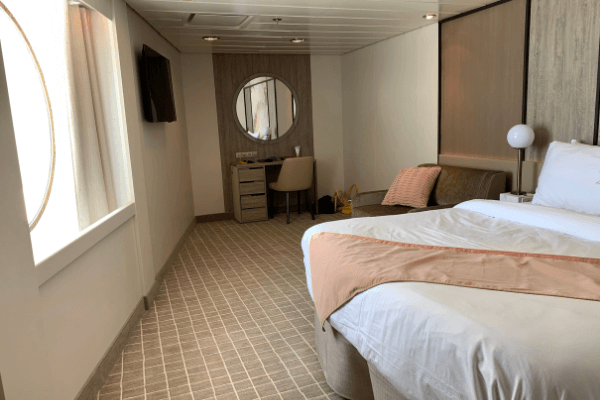 If you tend to get seasick, avoid booking cabins that are all the way forward on a cruise. Cabins at the front of the ship tend to have the most movement, especially in rough seas.
Although I'm not usually affected by motion sickness while cruising, on a past cruise leaving from New York, I could definitely feel the swaying and rocking in my forward cabin, much more than elsewhere on the cruise ship.
The best cruise cabin locations in terms of movement will be those that are midship. If you want to prevent motion sickness, make sure to book cabins in the middle of the cruise ship.
Related: Bonine vs Dramamine: Which is the Best Motion Sickness Medicine on a Cruise
4. Guarantee Cabins
While guarantee cabins aren't always bad, they do come with some risk. When you decide to book a guarantee cabin, you're booking an unassigned cabin in a certain category, such as inside, oceanview or balcony.
These cabins are less expensive, as the cruise line will choose the cabin for you. You may get a cabin upgrade, but you have no control over your cabin location. If you don't like your cabin or it's location, there's very little you can do.
So, if you're picky about your cabin for any reason, never book a guarantee cabin!
Related: The Pros and Cons of Booking a Guarantee Cabin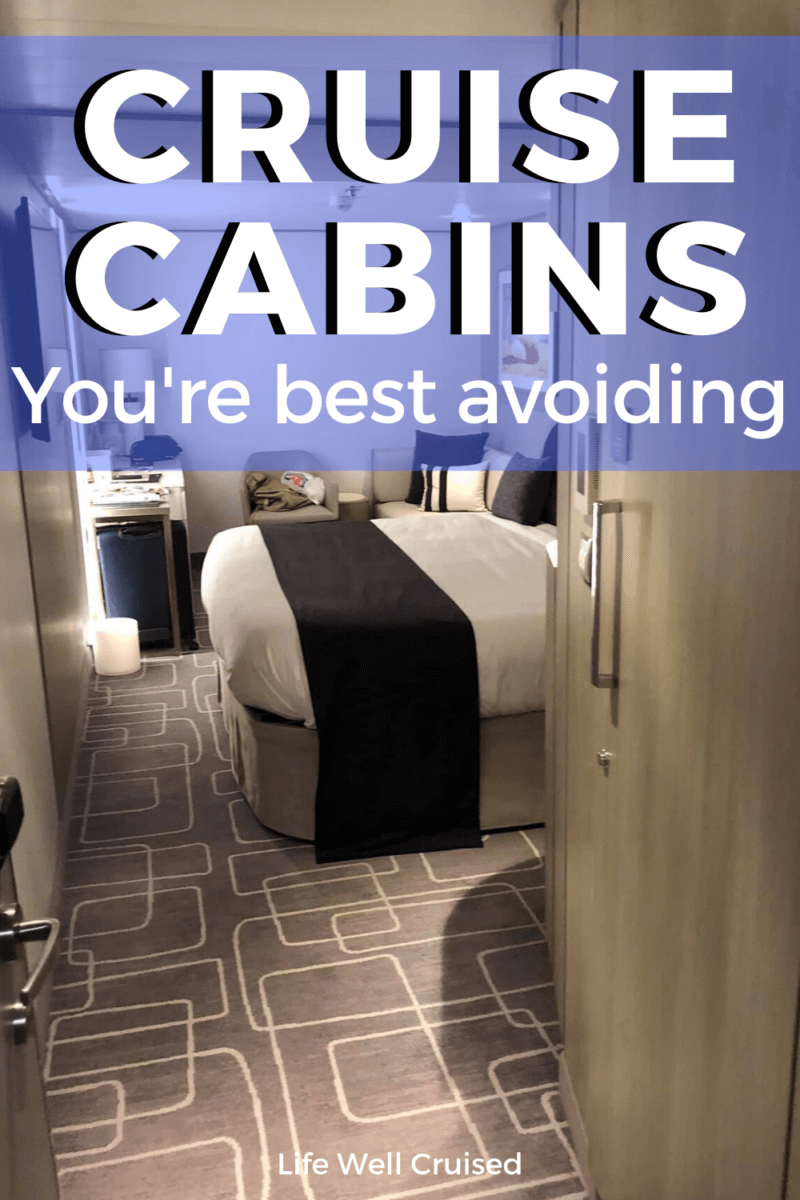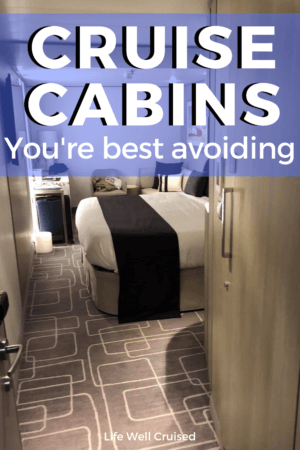 5. Obstructed cabins
Some of the worst cruise ship cabins are obstructed cabins. In fact, if there's any cabin I definitely try to avoid, it's these.
To be fair, they aren't really that bad… but they can be a bit disappointing.
Our family had an obstructed balcony cabin on the Regal Princess (see photo below) and it was great to have the extra balcony space and a place to feel the fresh air and ocean breeze. We did enjoy coffee on our balcony and were able to relax on our own space.
We knew what we were booking – an Obstructed Balcony Guarantee Cabin, so this isn't a complaint. But I did wonder, how obstructed can it really be? Take a look…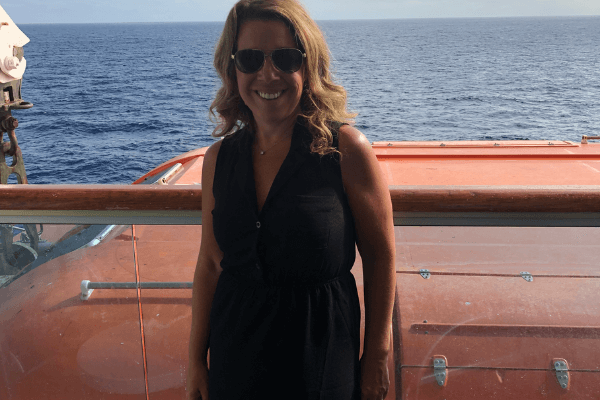 I know someone who booked an ocean-view obstructed guarantee cabin who was even less happy that me. Why? Her view was the full side of the lifeboat. She told me that she would have preferred an inside cabin as she literally saw nothing outside her window.
So, the lesson here is just know what you're booking. It's likely to be a very good price, so it can be worth it, but you'll want to make an informed decision.
Related: How to Save Money on a Cruise: 27 Tips, Tricks & Hacks
6. Connecting Cabins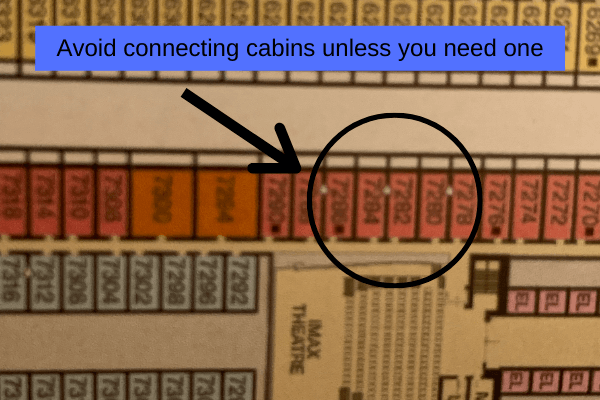 Unless you're in need of connecting cabins for your own family cruise, avoid these cabins if at all possible. Connecting cabins have a door in between, and it's far from soundproof! Just imagine the sounds of a loud TV or music playing, couples arguing or a baby that doesn't sleep.
In speaking with many cruisers who've unfortunately had these types of cabins, we know to check the cruise ship deck plan and avoid these cabins at all costs! Your travel agent can also help you with this, just make sure to ask.
Related: 17 Cruise Cabin Essentials Every Cruiser Needs
7. Cabins too Near or Far from the Elevator
Cabins too close to the elevators do have some drawbacks. On most cruise ships, the area in front of the stairway and elevators can be a gathering place and it may get loud at different times of the day or night.
If you think this might bother you, you're best avoiding cabins close to the elevators.
However, these days cruise ships can be really big with long hallways. Having a cabin near the elevator or stairs may be really convenient. If you have some difficulty walking, you may even prefer cabins in this area of the cruise ship.
8. Cabins Next to the Laundry Room
Some cruise ships have a couple of self service laundry rooms on passenger decks. Before you book your cabin, make sure to check where these are located on the cruise ship deck plan.
While it can be convenient to have a place to wash and iron clothes during your cruise, you probably want to avoid cabins that are just too close!
9. Cabins Near the Kid's Club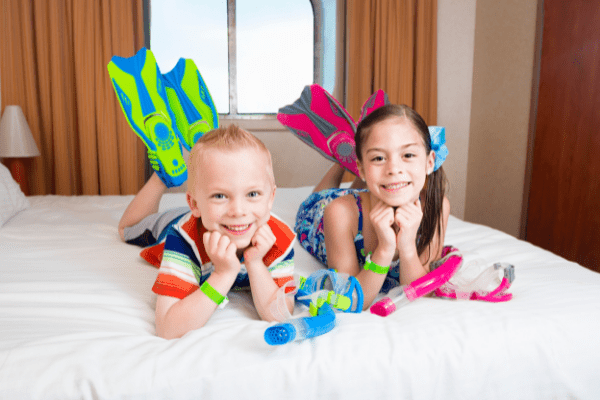 Did you know that many cruise ship have some cabins located near the kid's club? While these staterooms can be fantastic for families with kids and teens, they are best avoided by everyone else!
Cabins located near the cruise ship kid's camp will have kids coming and going, parents chatting, babies crying… you get the idea. The kid's club can usually be found at the back of the ship, on the highest decks.
Related: 20 Ways to Save on Your Family Cruise
10. Cabins Under the Disco or Night Club
Are you a light sleeper? Another bad cruise cabin location is directly under the disco or nightclub. While cabins are relatively soundproof, you will probably still hear the thumping of the music. Unless you're going to be partying all night, you can find a better cabin to book.
Recommended: 25 Surprising Things You Didn't Know About Cruise Ships
11. Cabins Near Designated Smoking Areas
I don't like the smell of smoke much, so I try to avoid it when I can. While most cruise ships don't allow smoking on balconies, they do have some designated smoking areas around the ship. Often, there will be one located on the port or starboard side of the main pool, and one at the aft pool area.
If you're sensitive to the smell of smoke, take this into account when picking your cruise cabin. Avoid balcony cabins located near smoking areas.
12. Cabins Under or Over the Casino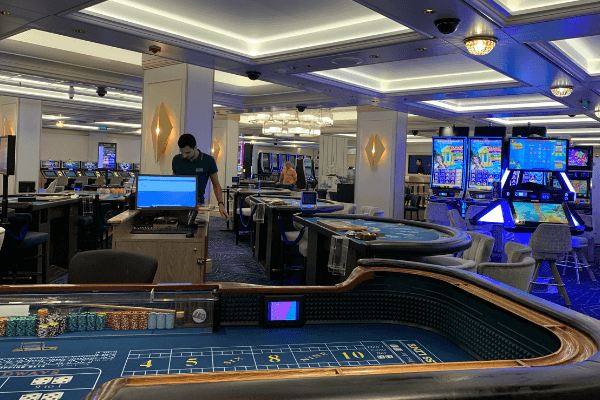 Cabins near the casino can be noisy and sometimes smoky. Try to avoid cabins above, below or nearby the casino for the most comfort.
13. Cabins Under the Buffet
Cabins located under the buffet can be noisy with foot traffic during the day, and it may be noticeable during the morning, especially if you're a light sleeper.
We actually had a funny situation that happened to us on a past cruise, in our cabin under Princess Cruises Caribe Cafe. There must have been a rolling cart that wasn't attached, as one night we kept hearing the sound of rollin back and forth above our heads!
It was really the only time during all our cruises, so this doesn't happen often. However, it's a good reminder that booking cabins flanked between two passenger decks is always a good idea.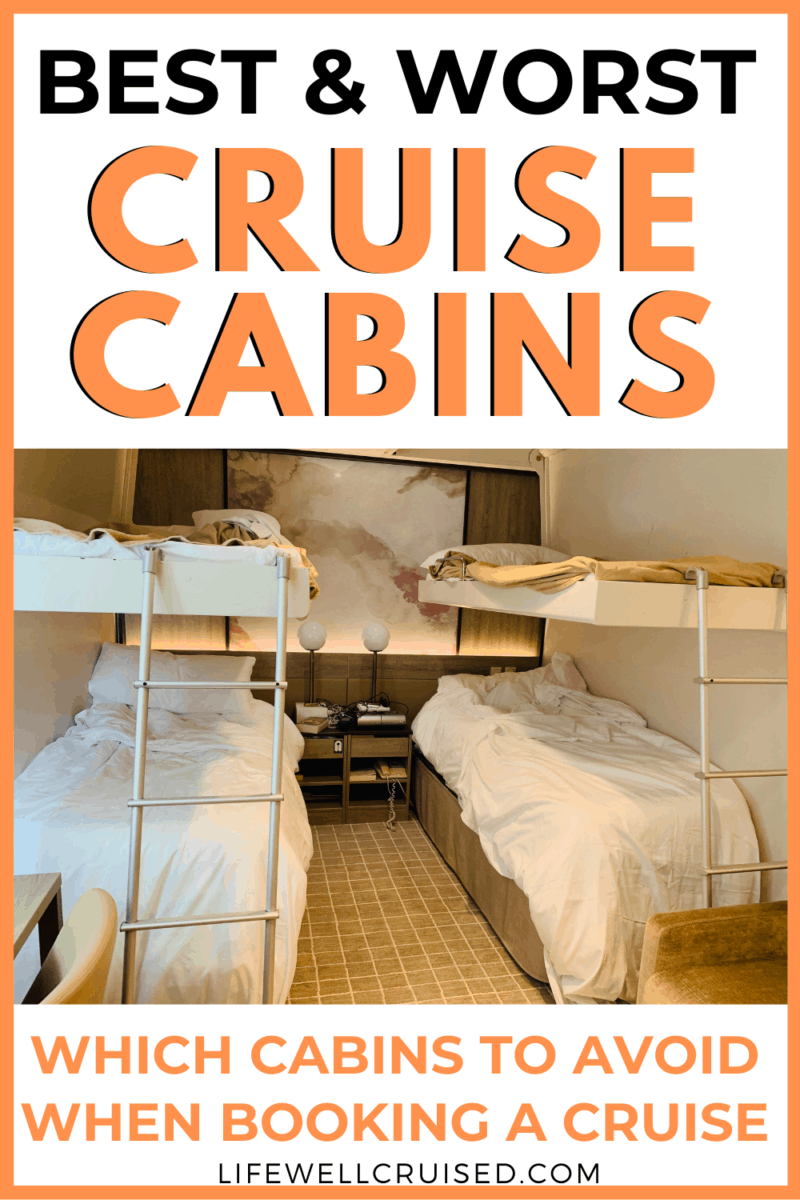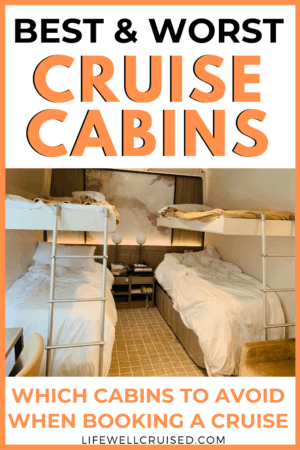 14. Cabins Near Crew Stairs & Work Areas
These cabins be a tricky to spot, but you'll want to try not to book any cabins located near crew doors, entrances and work areas. Crew will often use their own stairways to access passenger hallways, and if this door opens a lot, it can be a bit noisy.
Another area to avoid is anywhere near crew work areas or entrances. Sometimes, there are small work areas tucked into passenger hallways, where the crew and housekeeping may wash or store items. The way to find these spaces is to look on the deck plan and see where there are empty spaces that are undefined.
Related: Tipping on a Cruise Ship – The Ultimate Guide to Cruise Gratuities
15. Cabins Near the Ship's Anchor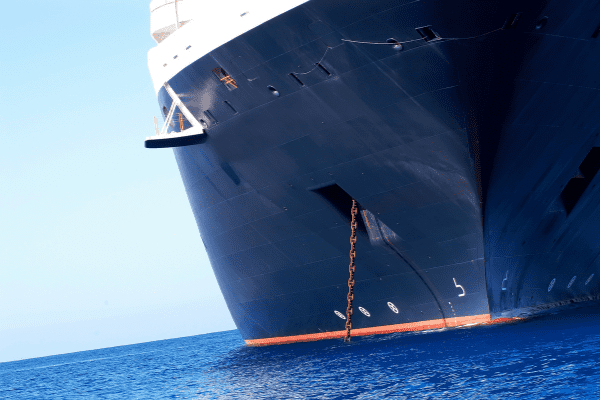 Having a cabin located near the ship's anchor might be disturbing on port days. If you're bothered by noise and vibrations, this can be a real problem.
A member of my Life Well Cruised community shared this tip, which she unfortunately experienced on a past cruise. She explained how she could hear the anchor (loudly) early in the morning when docking at ports, as well as when departing.
I've also been told that you may hear the pop down platform door, and crew talking loudly as they manoeuvre in and out of port.
If you think this might bother you, check with the cruise line or travel agent to try and avoid this cabin location.
Get The Ultimate Cruise Planner
Regular price: $27 Now just $17!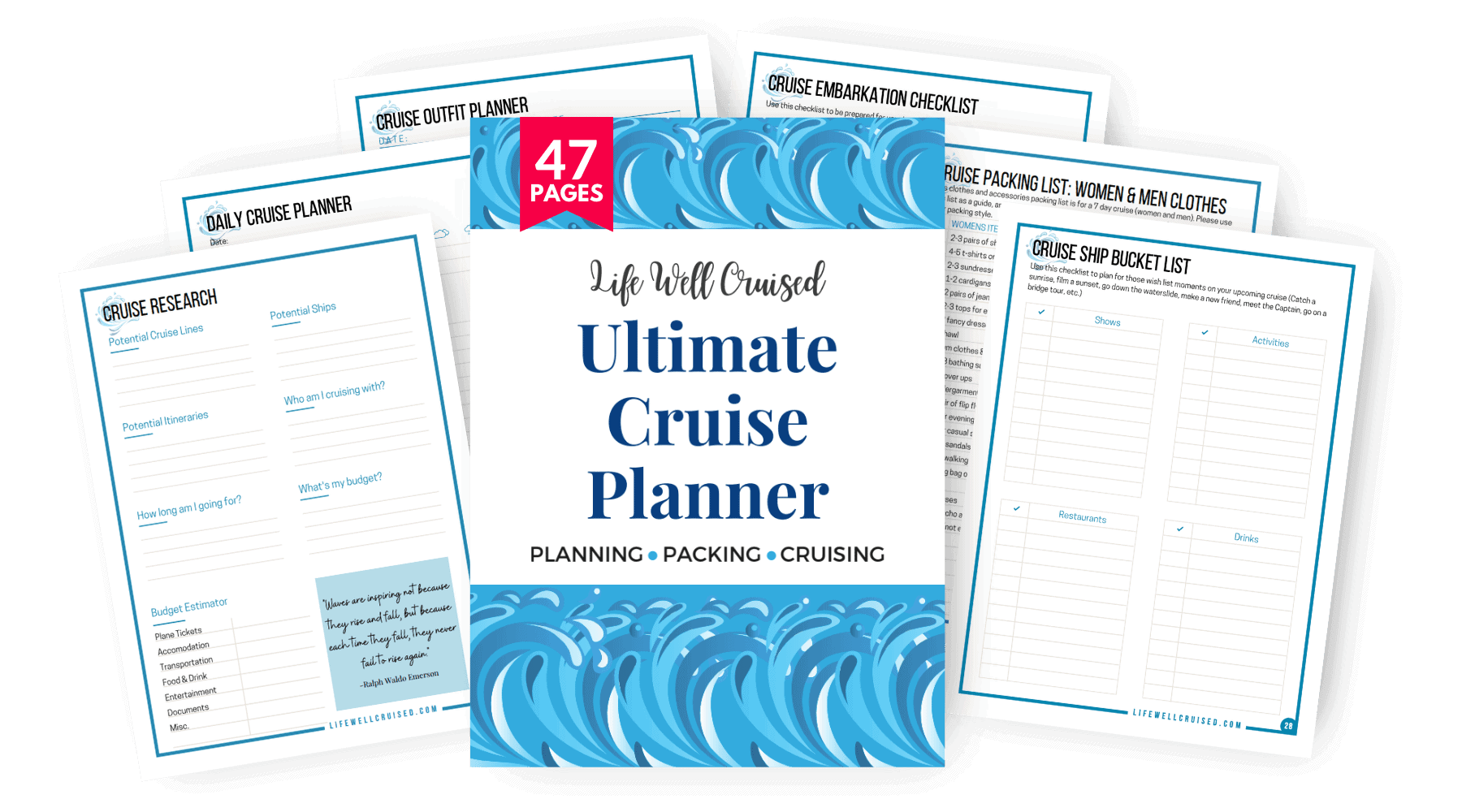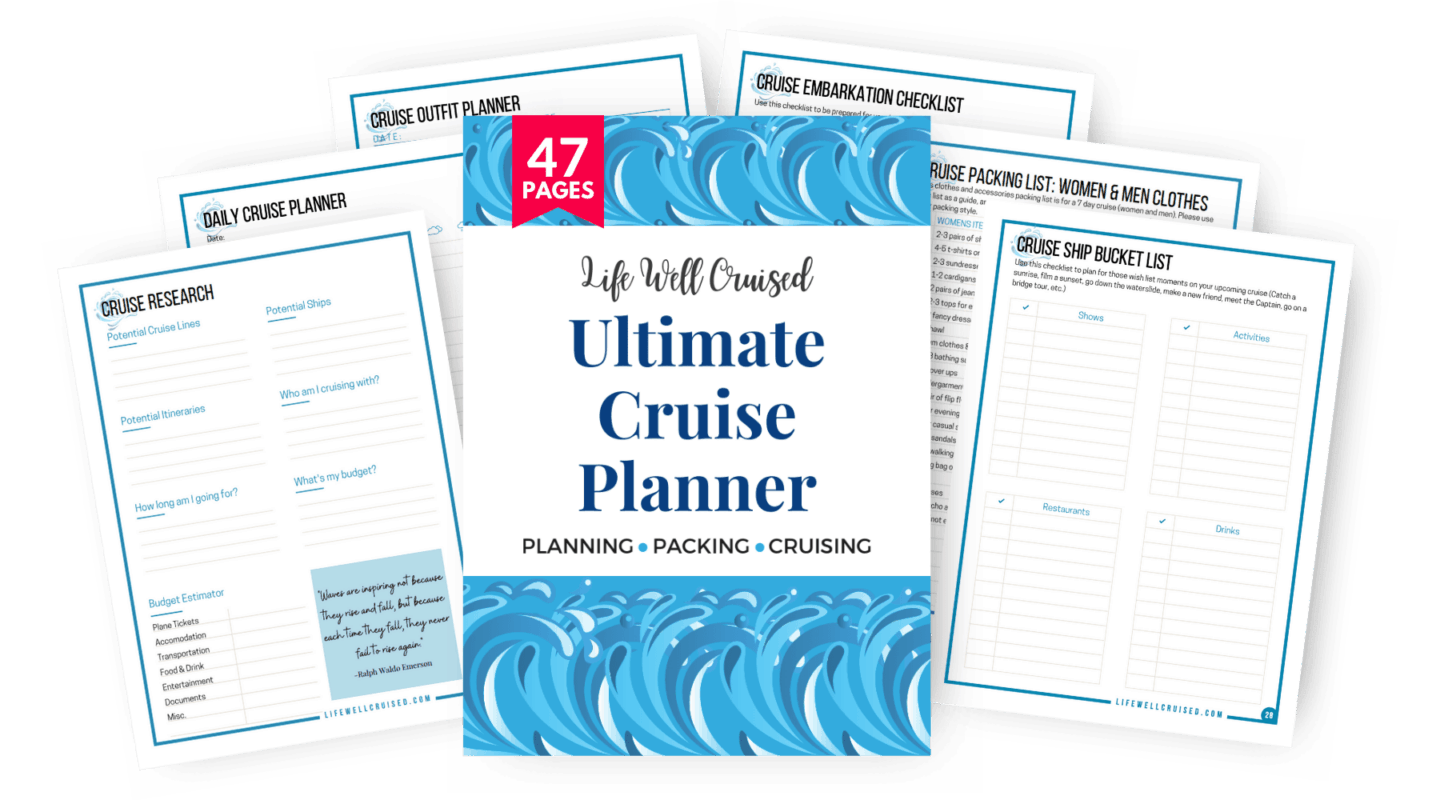 16. Interior Facing Balcony Cabins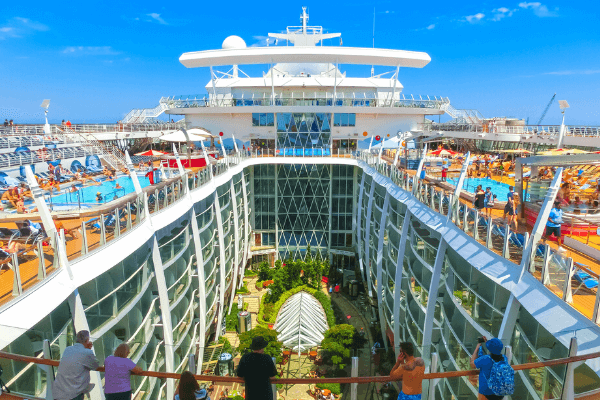 On Royal Caribbean's Oasis class cruise ships, there are some unique balcony cabins that you may just want to avoid. These balcony cabins face into the "neighbourhoods" of the cruise ship. While these cabins certainly have an appeal, if you like any privacy or enjoy an ocean view, these just aren't the best.
In fact, when we cruised on Oasis of the Seas, we consider booking a Boardwalk balcony cabin to be one of our past cruise mistakes, that we wouldn't repeat.
Related: 17 First Time Cruiser Mistakes to Avoid
17. Free Cabin Upgrades
This might be surprising, but many cruise passengers who receive a free cabin upgrade end up being disappointed in their new cabin. If you're not picky about your cabin, this can be great. However, if you're even a bit choosy, not so much.
Once you've taken the time to find your perfect cabin and book it, make sure you mark it as "no upgrade" with the cruise line or travel agent.
As you can imagine, many people think they want a free upgrade. So when the travel agent or cruise line asks "would you like an upgrade if one becomes available?", most people say yes. The problem is that just like the guarantee cabin, this means that the cruise line can upgrade you to a higher category, but it can be in any location on the cruise ship.
Plus, a higher cabin category doesn't necessarily mean that you'll be upgraded to a balcony or a suite. You may only be upgraded to a higher category within the same cabin type.
Most of the time, once the cruise line changes your original cabin by upgrading you, you can't change back, so beware of this when picking a cabin.
Video: Best and Worst Cabins on a Cruise
Need more information about how to avoid the worst cruise cabins and choose the best? In this video we share the tips and secrets you want to know.
Get The Ultimate Cruise Planner
Regular price: $27 Now just $17!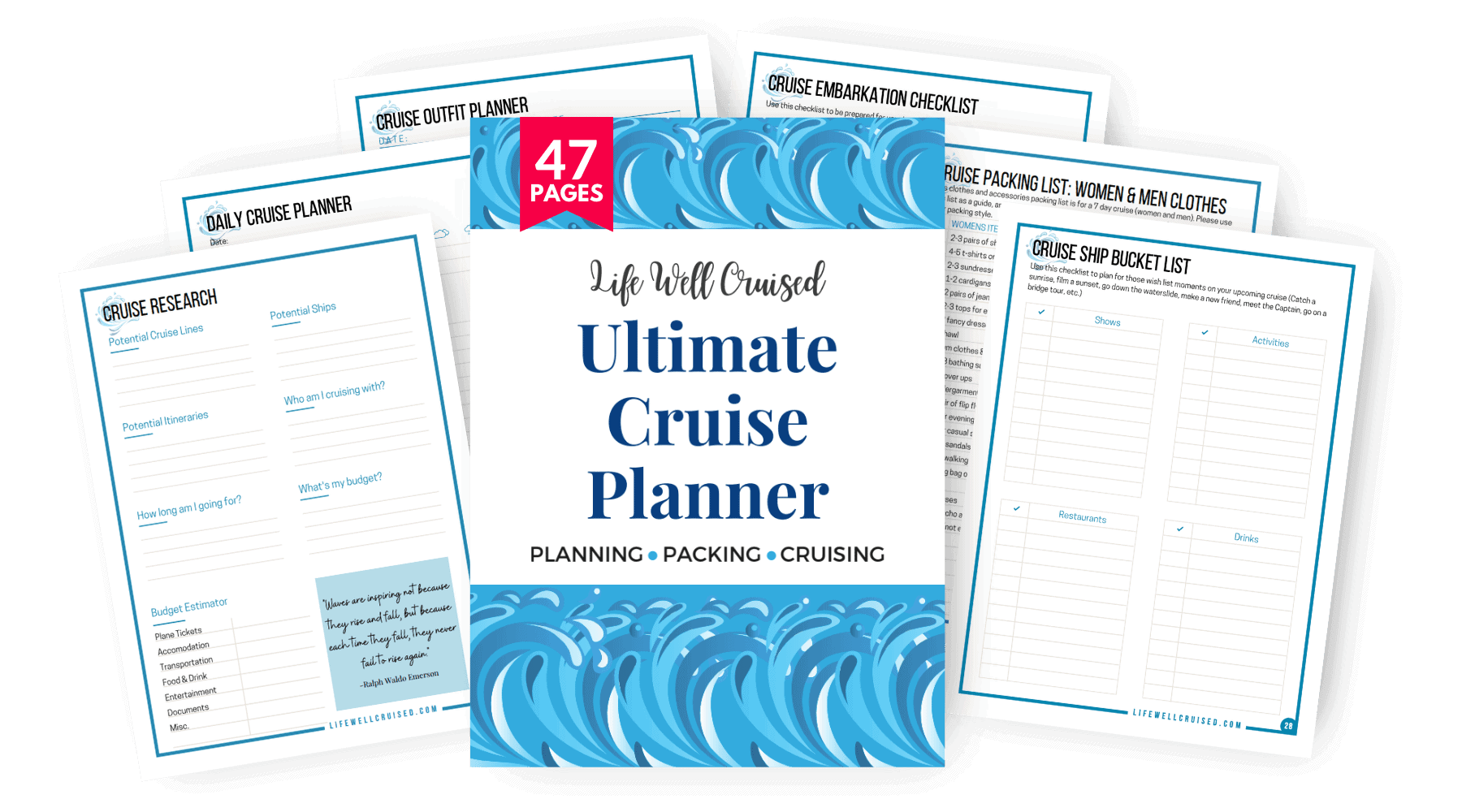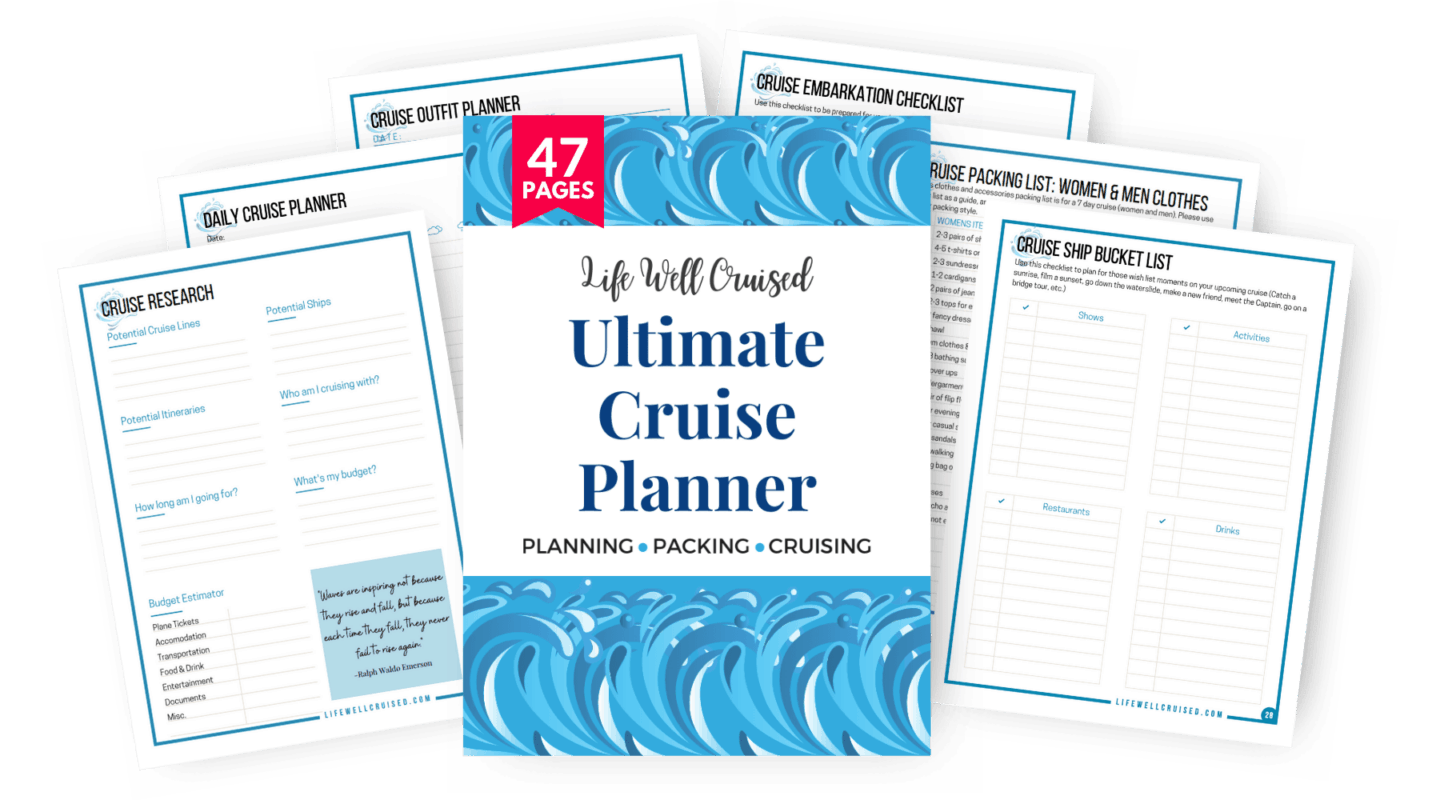 Popular & Related Posts:
50 Most Recommended Amazon Items to Bring on a cruise
What to Pack for a Caribbean Cruise (with packing list)
30 Cruise Cabin Hacks Every Cruiser Needs to Know
Cruise Packing Tips all Cruisers Need
21 Essential Things to Pack in Your Cruise Carry-On
How to Book a Cruise for the First Time
7 Cruises to Avoid and What to Do Instead
Final Thoughts on the Worst Cruise Cabins to Avoid
In this post we've gone over 7 tips to avoid the worst cabins on a cruise ship. From not-so-great cabin locations to obstructed cabins and beyond, I hope that this post can help you to identify which staterooms not to book.
One of the most important things when booking a cruise, is choosing the cabin that works best for you. If you're booking early and have a lot of choice, why not avoid the worst ones and pick the very best!
Have you ever had a cabin that you were disappointed in? Is there a cabin location or type that I should add to this list of worst cruise cabins?
Happy Cruising!
Ilana
P.S. If you found this helpful, please don't keep it to yourself ;-). Please share on Facebook or PIN to your favorite Pinterest board (share buttons at the top). Thanks so much!
Let's connect:
Join me on Facebook at Life Well Cruised
Join me on YouTube at Life Well Cruised
Join me on Pinterest at Life Well Cruised
Join me on Instagram at Life Well Cruised