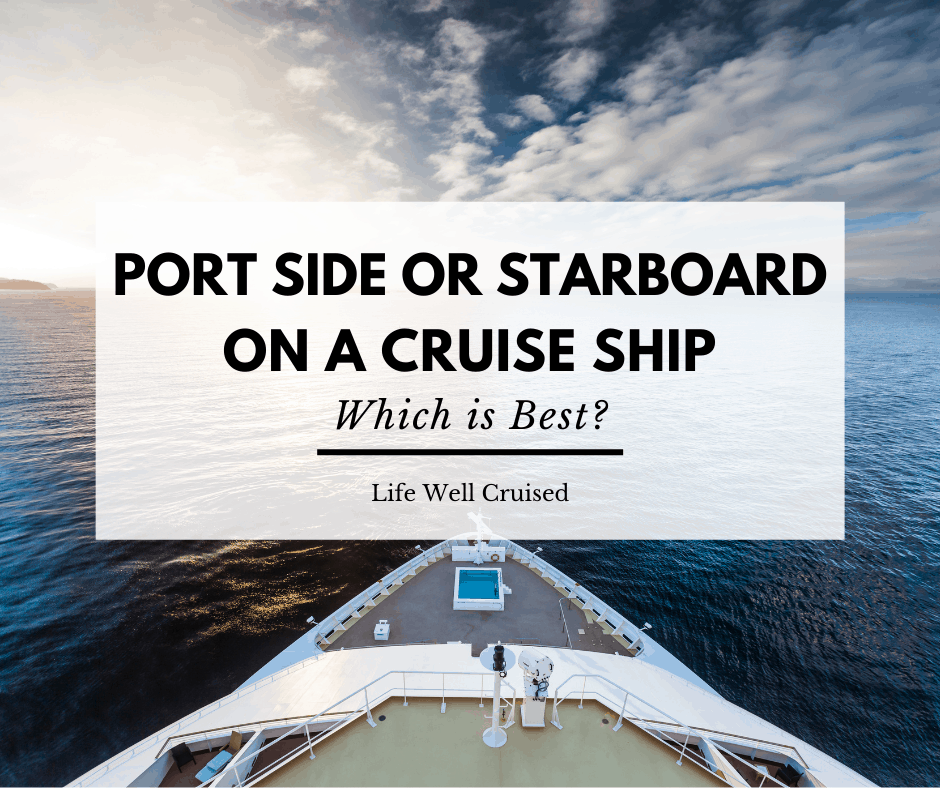 There are many things that make cruises different than other types of vacations. For starters, you're living on a cruise ship rather than a hotel and nautical terms are used frequently. Two important ones are starboard and port side.
In fact, when choosing a cabin location, many people wonder if the port or starboard side is better on a cruise ship.
In this post, we'll go over everything you need to know about port versus starboard on cruises, including the answers to the most common questions people have.
Port versus Starboard: Explained Simply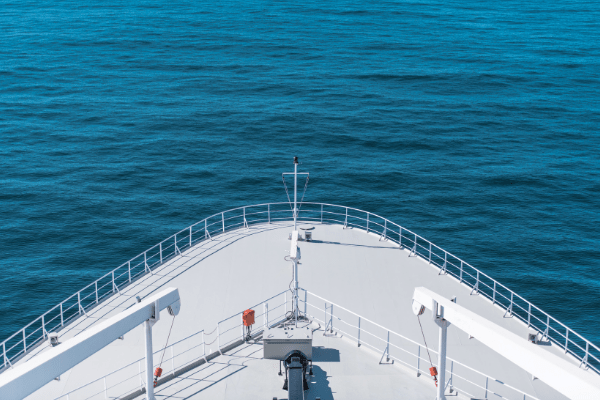 Since cruise ships use nautical terms or cruise lingo, here are a few things to know about the parts or directions of the ship that are used most often. While these are navigational terms, you'll also notice that they are used by crew and guests on the cruise ship (aft pool, forward cabin, port side balcony etc.).
Bow (front of ship)
Forward (direction towards the bow)
Stern (back of ship)
Aft (direction towards the stern)
Port (left side of ship when facing forward)
Starboard (right side of ship when facing forward)
Read more: The Ultimate Cruise Lingo Glossary: 85 Nautical Terms You Need to Know
Why don't cruise ships simply use "left" and "right"?
The words port and starboard have been used in the maritime industry for many years for very practical reasons. The words left and right are subjective and as it's dependant upon each sailors own point of view. To avoid confusion, the nautical terms, port and starboard, were adopted as these terms indicate the direction which a sailor is facing.
Port side is the left-hand side of a cruise ship when facing towards the front or bow of the ship, while Starboard is the right-hand side of the ship. These are fixed locations of the cruise ship, which are meant to avoid any confusion in particular for sailors when simply using "left" or "right".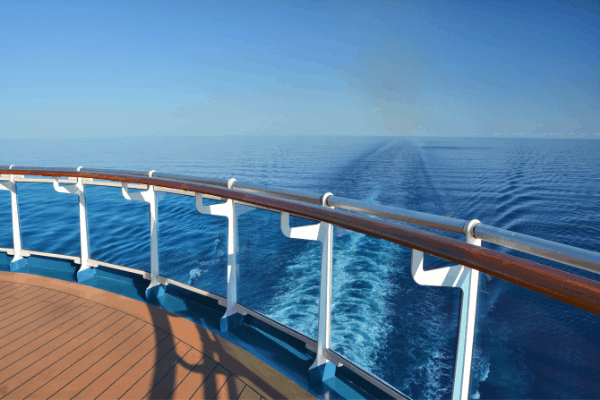 Origins of "Port" and "Starboard" on Ships
It's interesting to know that the origin of the word starboard comes from the Old English words "Steor" and "Bord". Most sailors were right handed and the right side was the steering side, which later became Starboard. The left side was the loading side, and called "Larboard". Since it was easily confused with the word Starboard, and the left side faced the port, the term Port was adopted and those loading supplies were called porters.
Which Side of the Cruise Ship is Best? Port Versus Starboard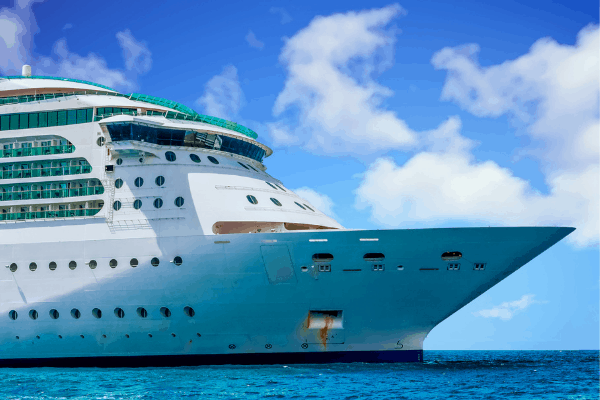 Is it Better to Have a Cabin on the Port or Starboard Side of the Ship?
Many people wonder if it's better to have a cabin on the port or starboard side of the cruise ship. This won't make a difference if you're booked in an inside cabin. However, if you're in an ocean view or balcony cabin, you may have a preference for one side of the ship versus the other.
When in a port of call, some people prefer to have a view facing the cruise port or city, while other people prefer the quieter view of the landscape and sea. Personally, we like the hustle and bustle of what's going happening on land. Unfortunately, this isn't easy to predict and can change in every cruise port.
On some itineraries, being on the starboard side or port side, may give you a more scenic view as you sail. I'll share some tips for Alaska, Hawaii and Transatlantic itineraries, however it's always a good idea to ask your travel agent or cruise vacation planner for specific advice.
Related: Worst Cruise Ship Cabins to Avoid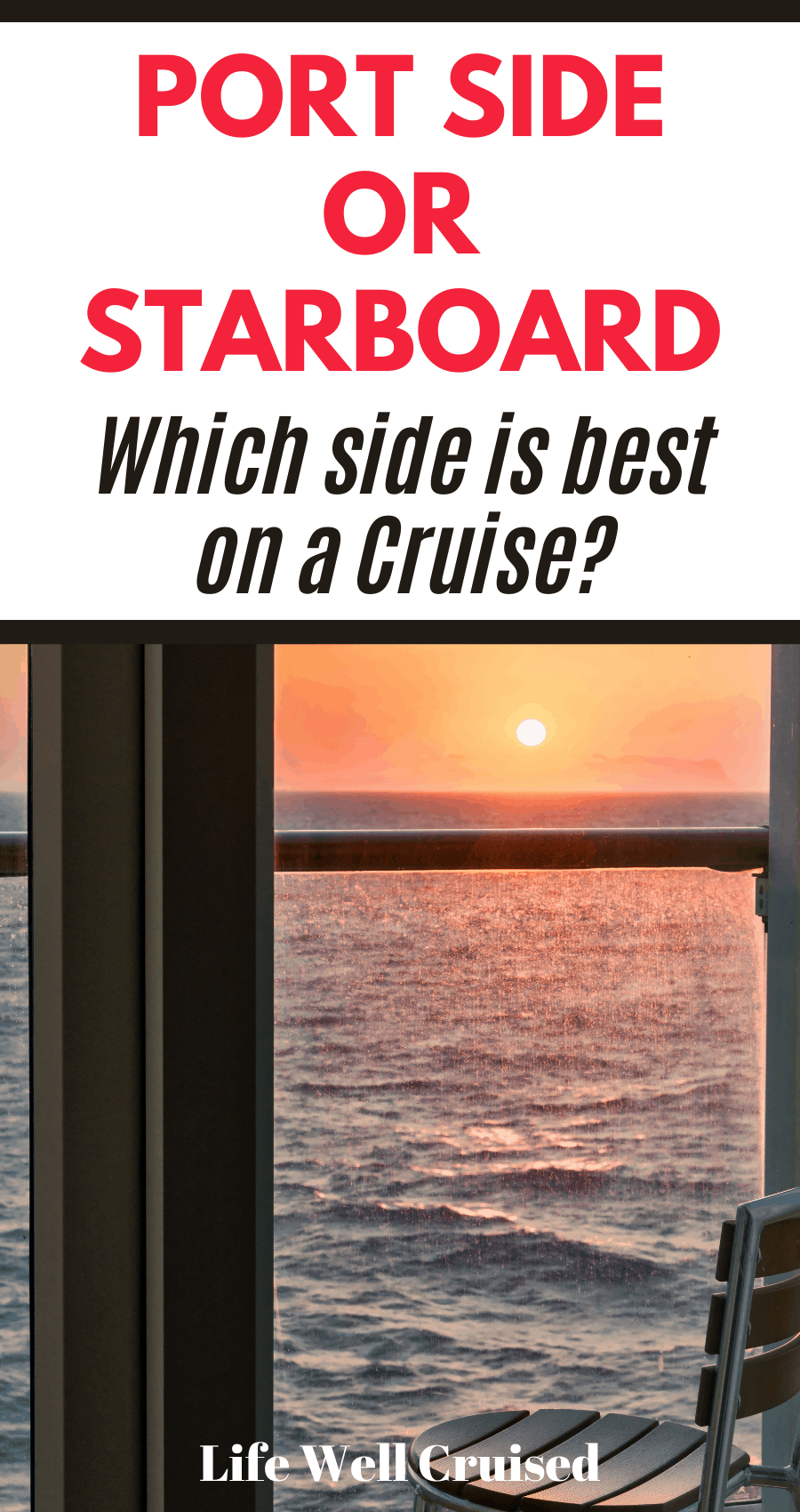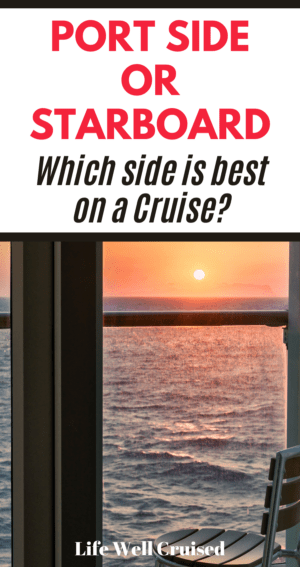 Do Cruise Ships Always Dock Portside?
When docked, the port side of the ship is usually closest to land, while the starboard side is typically closest to open water. However, this isn't always the case. In fact, these days, cruise ships might be docked with the starboard facing the cruise port, and vice versa.
This can be dependent on a few factors including the number ships that will also be in port, the direction that the ship is sailing in, government regulations and the discretion of the ship's Captain.
While you can join message boards and Facebook groups to try to figure out which side the ship will most likely be docked on, we've noticed there are no guarantees.
How to Remember Port and Starboard Side on a Cruise
I learned this easy tip for remembering Port and Starboard on my first cruise and it always stuck with me.
PORT has 4 letters and ends with the letter T, just like the word LEFT. The word STARBOARD has an R in it, just like RIGHT.
How to Find Your Cabin: Port or Starboard
When on the cruise ship and get off the elevators, it's easy to get disorientated and forget if you're on the port or starboard side. Many cruise ships make this easier by using two slightly different patterns on the hallway carpets. The port side may be mainly blue with red details, for example, and the starboard side carpet may be mainly red with blue details.
Learn this quickly and it will be much easier to find your way back to your cabin.
Related: 75 Genius Cruise Hacks and Tips: Get Organized, Save Money, Cruise Better
Starboard or Port Side? Which Side is Best by Cruise Itinerary
Is one side better than the other when on the open sea? Most cruisers don't have a strong preference between starboard and port side, as both sides of the cruise ship are equally good for most itineraries. If you're sailing round trip to and from the same embarkation port, you'll get an equal opportunity to see any land portions.
While there are a few itineraries where being on the port or starboard side it can make a difference in the scenic view, most cruise ships are sailing round trip and this isn't the case.
Which Side of the Ship is Best for Cruises to Alaska?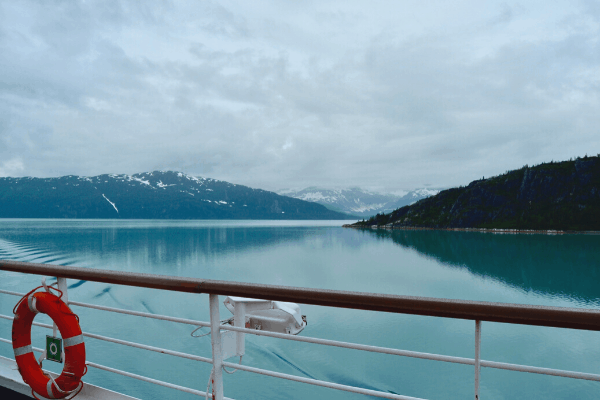 When sailing round trip to Alaska from Seattle or Vancouver, you'll see different parts of the coast at different times, so either starboard or port side is just fine. When scenic cruising in Glacier Bay, Endicott Arm or Dawes Glacier, the Captain will turn the ship around slowly, so you won't miss a thing.
However, if you're going on a Northbound or Southbound Alaska cruise, you'll be on one side of the cruise ship the whole time. On Northbound Alaska cruises, many people prefer the Starboard side of the ship, where you'll see the rugged coastline.
For Southbound cruises, you may want to have a Port side cabin. The view on the opposite side is the Gulf of Alaska, also peaceful and beautiful.
Something to note is that on Northbound sailings, you'll get sunrises and morning sun on the starboard side and sunsets on the port side. On Southbound sailings you'll get sunrises and morning sun on the port side and sunsets on the port side. While neither is better, this information may help you to decide what you prefer.
Related: Going Whale Watching in Alaska? Here are 5 Tips You Need to Know
Get The Ultimate Cruise Planner
Regular price: $27 Now just $17!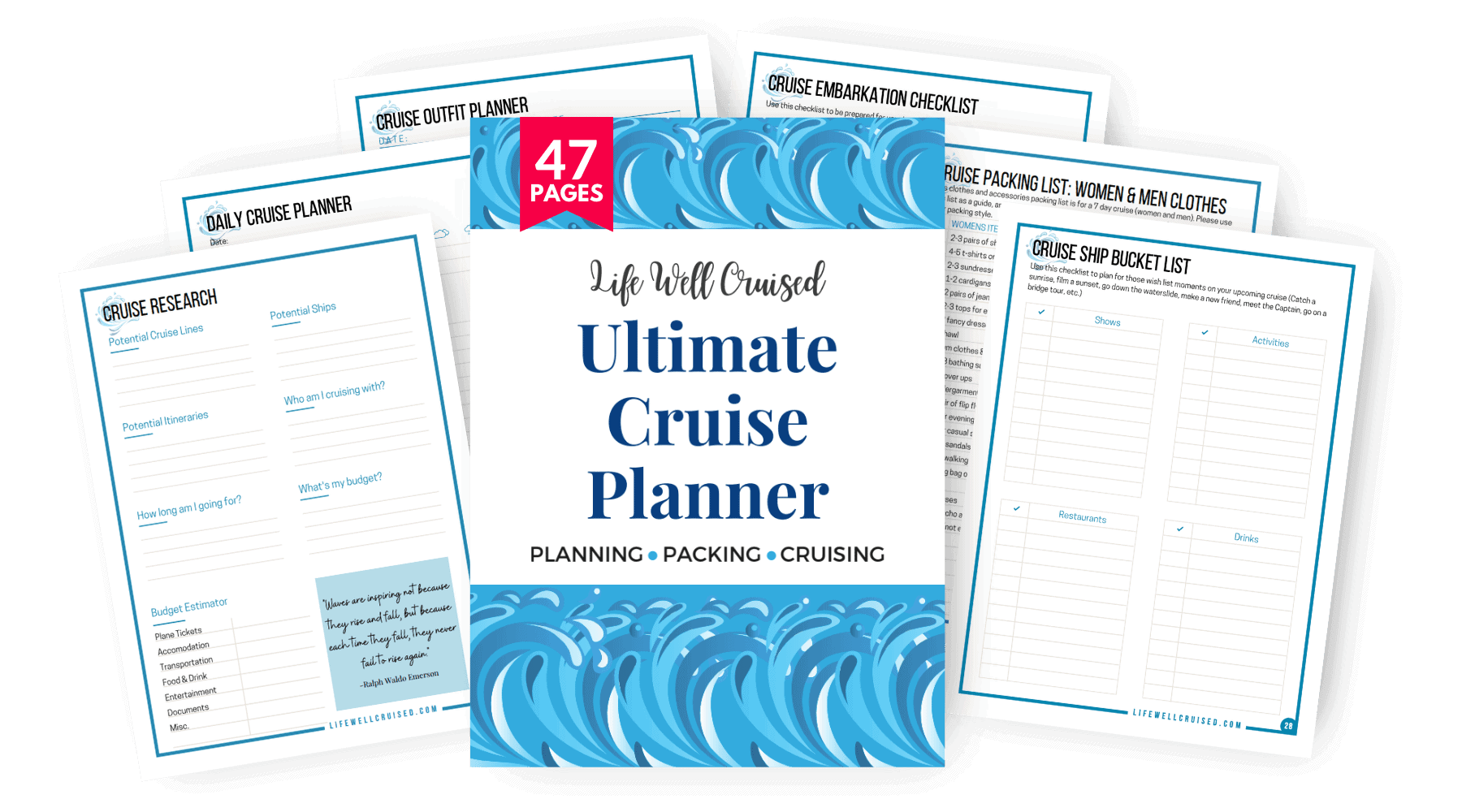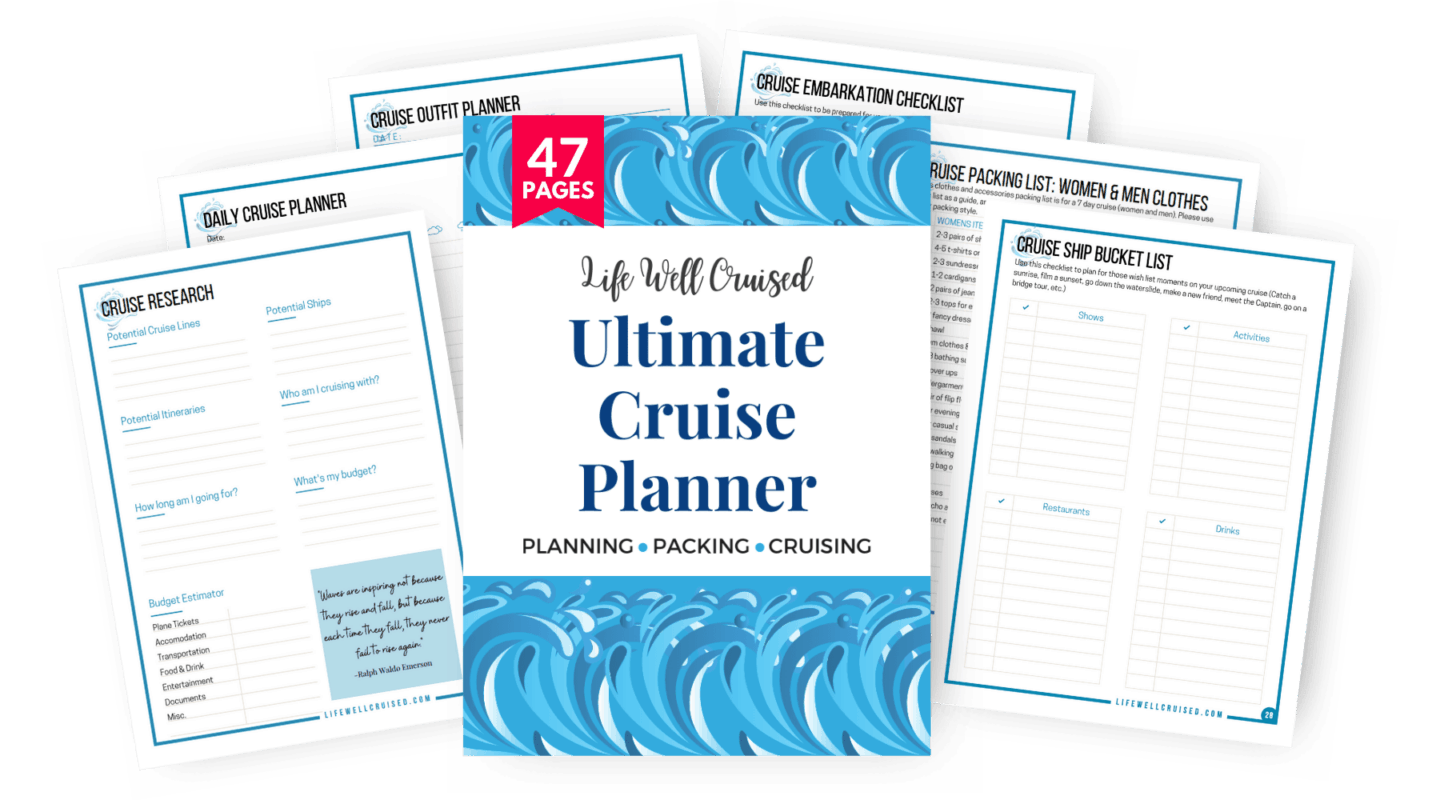 Which Side of the Ship is Best for Cruises to Hawaii?
Many people wonder what side of the ship is best for Hawaii cruises, in particular the amazing port intensive 7 day Norwegian Cruise Line Pride of America. While the cabins on port and starboard side will both be good, you'll see the best view of the Napoli Coast from a port side balcony cabin.
Which side of the ship is best for Mediterranean cruises?
Most Mediterranean cruises sail at night and there isn't much land to see, so the consensus for most cruise passengers is that the side of the ship doesn't really matter. However, on Eastern Mediterranean cruises, you'll likely have more sun than shade on balcony cabins.
Which Side of the Ship is Best for Transatlantic Cruises and Crossings?
Which side of the cruise ship is better for transatlantic cruises or crossings? If you're doing an Eastbound transatlantic sailing, for example New York to Southhampton, choose a starboard cabin for more sun than shade. Westbound crossings will get more sun on the port side of the ship.
However, many people who have done repositioning and transatlantic crossings caution that the sun's position, and therefore how much time you'll actually have sun on the balcony, does depend on the time of year of your sailing.
Related: Queen Mary 2 Crossing Review and Tips
Which Side of the Cruise Ship is Best for Sunrises and Sunsets?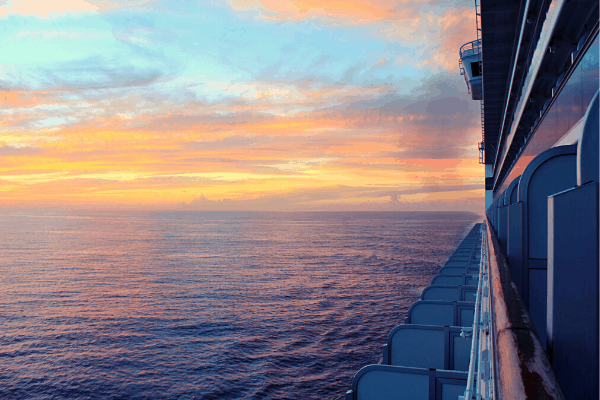 On most itineraries which are round trip, leaving and returning to the same embarkation port, both sides of the cruise ship will be equally good for a combination of sunrises and sunsets.
However, if you are sailing a one way itinerary or simply want to check, something to note is that the sun rises in the East and sets in the West. You'll need to look at your itinerary to know the direction you'll be sailing.
I admit to being a bit directionally challenged, so I always need a few specific tips. A good suggestion is to join a roll call for your specific cruise where you can discuss all things related to your cruise, and get some great advice and share information with others on your sailing.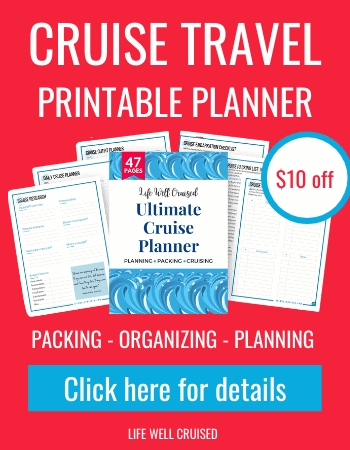 *Ultimate Cruise Travel Planner*
Over the last year, I put together a 47 page cruise travel planner that has everything you need as you plan and get ready for your cruise.
If you could use cruise packing lists, to-do checklists, shore excursion forms and more, you'll love the Life Well Cruised Ultimate Cruise Planner.
Plus, for a limited time, it's $10 off. Hope you enjoy!
See details here: Ultimate Cruise Planner -What's Included
Related and Popular Posts:
50 Most Popular Amazon Cruise Essentials
25 Cruise Embarkation Day Tips You Need to Know
27 Cruise Packing Mistakes You Might be Making
23 Essential Things to Pack in Your Cruise Carry-On Bag
30 Cruise Cabin Hacks Every Cruiser Needs to Know
What to Pack for a Caribbean Cruise
10 Worst Cabins to Avoid on a Cruise
Final Thoughts: Starboard or Port Side on a Cruise Ship
When booking and planning a cruise, it's clear that there are many things to consider. Depending on your cruise itinerary, you may have a preference for a port side or starboard side balcony cabin.
In this post we went over some information about the nautical terms PORT and STARBOARD, how to remember them, as well as some useful information on choosing a cabin based on your itinerary.
Please let me know if you prefer a starboard or port side cabin, and share any tips for the the best cabins for Alaska, the Caribbean and other itineraries. Your comments will surely help others!
Happy cruising!
Ilana
P.S. If you found this helpful, please don't keep it to yourself ;-). Please share on Facebook or PIN to your favorite Pinterest board (share buttons at the top). Thanks so much!
Let's connect:
Join me on Facebook at Life Well Cruised
Join me on YouTube at Life Well Cruised (Vlogs and cruise tips)
Join me on Pinterest at Life Well Cruised
Join me on Instagram at Life Well Cruised