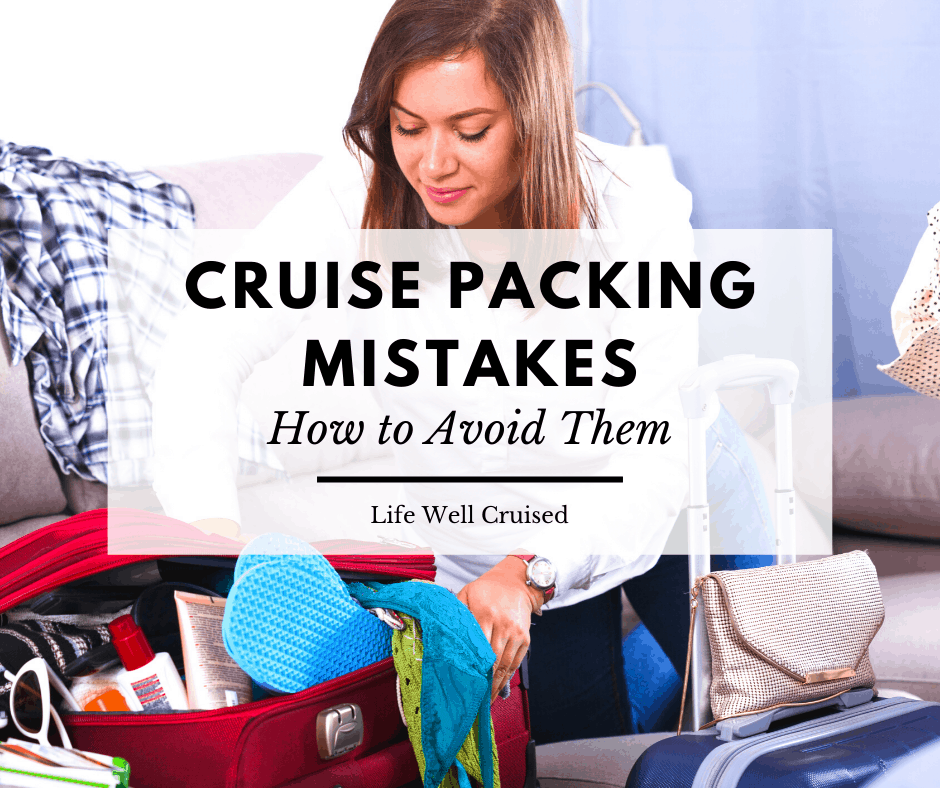 As organized as we all want to be, it's likely that you've made some of these cruise packing mistakes at some point. I've definitely been guilty of overpacking and my husband forgot his suit for formal night once!
However, I want you to avoid mistakes when packing for your cruise and have everything you need. So in this post, I'm sharing 27 of the worst cruise packing mistakes that unfortunately cruise travelers sometimes make.
This post contains affiliate links which means if you click and buy that I may make a commission, at no cost to you. Please see my disclosure policy for details.
As an Amazon Associate I earn from qualifying purchases.
Worst Cruise Packing Mistakes to Avoid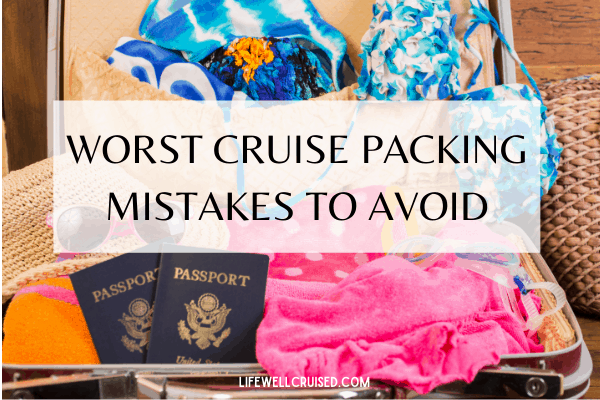 Packing Your Passport or Government ID
Whenever I read a story of people being denied boarding because their passports were in their luggage, I feel awful for them! Some people put their passports or government ID in the front pocket of their luggage, to keep it closeby.
This is a big mistake. Not only can your luggage or ID get stolen, but if your luggage is taken by the porters at the cruise terminal and brought to the cruise ship, it will likely be impossible to find it before the cruise departs.
Unfortunately, cruise lines cannot allow people to board the ship without the proper identification.
Make sure your passport is on you, either in your handbag or in a passport wallet.
Recommended: Passport wallet RFID and document organizer (see excellent Amazon reviews)
Forgetting to Bring Cruise Documents, Test Results or Proof of Vaccine
Having your cruise boarding documents is important, even if you've done your online check-in. These days, you need to make sure that you also have your test results and/or proof of vaccine with you for embarkation as well.
Make sure to check with your cruise line for their current boarding day requirements.
It might be a good idea to have your vaccine card in a plastic protector and lanyard for your cruise.
Recommended: Vaccine card holder and lanyard (see product details on Amazon)
Overpacking
Packing too much is a common mistake for many cruisers, and I admit this is a mistake I make again and again. I'm working on it and improving with each cruise.
It does help to have a clothing packing list and I've found packing cubes to be helpful as well for organizing.
*Looking for a printable cruise travel planner to keep organized? See what's included in the 47 page Life Well Cruised Ultimate Cruise Planner
Under Packing
Under packing is a packing mistake that isn't talked about enough. However, in a quest to pack light for a cruise, some people underestimate what they'll need.
Cruising is different than a land vacation where it may be easy to pick up things you may have forgotten. As well, many cruise ships don't have self serve laundry rooms, so having clothing washed and pressed can get pricey.
Important things to remember include having a bit more clothes than you think you'll need, bring basic first aid items, enough underwear and sleepwear.
Not Bringing Over the Counter Medication
A few over the counter medications to remember include pain reliever, antacids, Imodium, laxatives, throat lozenges – to name a few. While some of these items will be available in the cruise ship's convenience store at a premium price, others will not. If you need certain over the counter medications, you'll need to visit the medical centre which is often expensive.
Recommended: First aid kit for travel (see Amazon reviews here)
For more first aid and over the counter medication suggestions, read this post next: First Aid Essentials to Bring on a Cruise
Not Planning for Poor Weather
While we all want to make sure that we pack clothing for our itinerary and weather, sometimes the weather is cooler or rainier that what we plan for.
It's a good idea to check the weather forecasts a few days before, and adjust any clothing if you need to.
Make sure to bring a sweatshirt or sweater, or a warm outfit of choice, just in case the weather does get cooler than you expect. This even happens on Caribbean cruises from time to time, so best be prepared.
Forgetting an Umbrella or Rain Jacket
Unfortunately, I've forgotten to pack an umbrella in the past. Lesson learned on a Bermuda and New England cruise. We got caught in a bit of rain in Portland, Maine, and this would have been convenient.
Now, I have an umbrella and light rain jacket on my cruise packing list, just in case.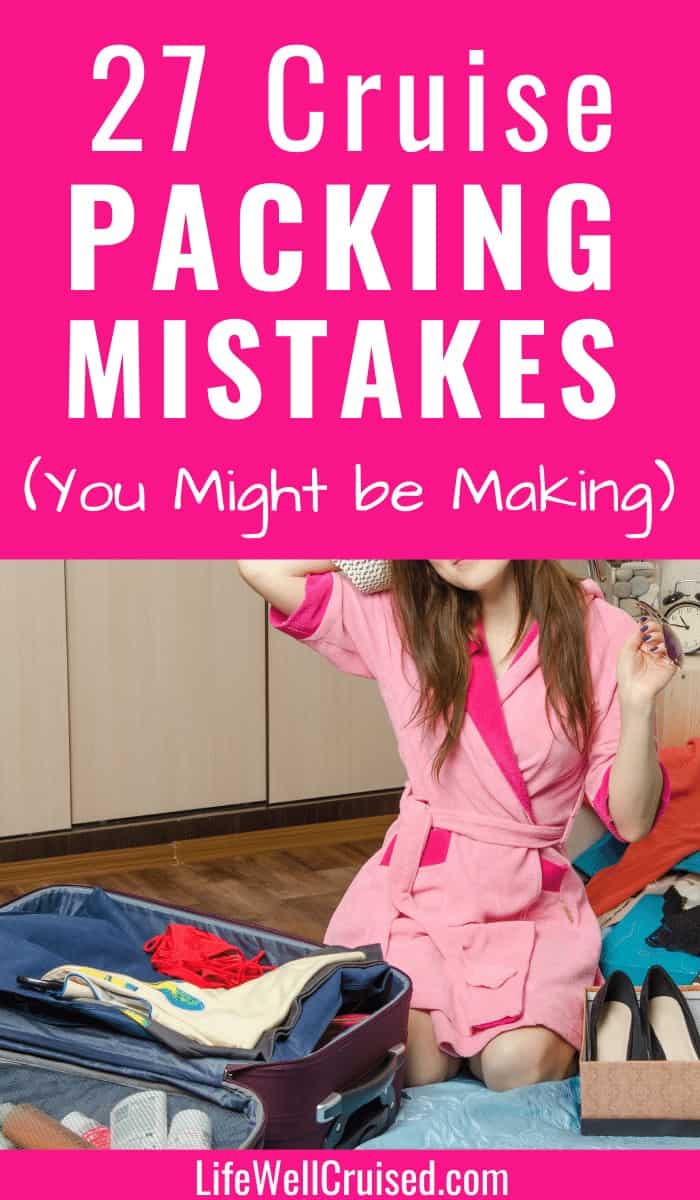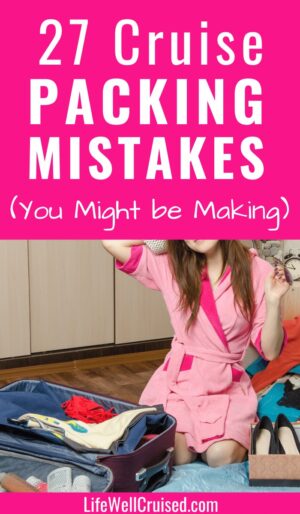 Delaying Unpacking
Not unpacking your suitcase on the first day of your cruise – is this a mistake you've ever made?
Embarkation day is exciting, and many of us want to enjoy the pool, explore the ship, and even have a couple of drinks. However delaying unpacking on the first day of your cruise will be annoying and you'll end up with more wrinkles on your cruise outfits than you'd like.
Forgetting Formal Wear (or accessories)
Many cruisers name forgetting to pack their formal wear as a common cruise packing mistake. In fact, my husband forgot his suit on a past cruise, which we left hanging next to out suitcase!
Thank goodness he still had dress pants and a dress shirt packed, and we weren't sailing on an overly formal cruise line. However, we're pretty careful since then.
Other items to remember are belts, dress shoes, ties and even cufflinks if needed.
Forgetting Swimwear or a Cover Up
Whether you're on a Caribbean cruise or another destination, you'll probably regret not packing a bathing suit and cover up. Make sure pack these items, along with flip flops or pool sandals for pools and hot tubs.
This swimsuit cover up is available in several colours and gets great reviews on Amazon.
Recommended: Swimsuit cover up (verify pricing on Amazon)
Not Bringing a Carry-On Bag
A common rookie cruiser mistake is not bringing a carry on bag on embarkation day. A change of clothes, medication, valuables – all the most important items you may need for the first day of your cruise.
Related: 23 Essential Items to Pack in Your Cruise Carry-On Bag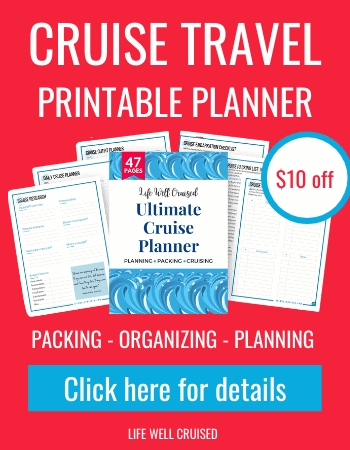 Not Packing Socks
Don't forget to pack socks, even for a warm weather cruise. You may need dress socks for formal nights or athletic socks for some of the more active activities on the ship including going to the gym, ice skating and a ropes course.
Bringing Banned Items
Many times people don't realize that they are bringing items that aren't allowed on a cruise ship. Cruise lines have lists of things that are actually prohibited and will be confiscated, so it's a good idea to check if you aren't sure.
One item that gets confiscated a lot is power bars. Cruise lines don't allow you to bring surge protected power bars, basically the ones we usually use at home.
Instead, be sure to pack a non-surge protected power bar with extra electric outlets and USB's. This one is a recommended cruise accessory that gets 5 star reviews on Amazon.
Recommended: Non-surge protected power bar (see 4000+ 5* Amazon reviews here)
Related: Things NOT to Pack for a Cruise
Using an Old Suitcase
If you haven't traveled in a while, you may have an older suitcase and figure, "why not?". However using an old, heavy suitcase can be a mistake you regret.
Today's suitcases are lightweight and most have 4 wheels on the bottom that swivel. You don't need expensive luggage, however it's absolutely worth getting luggage that's more functional and easier to travel with.
Related: 21 Best Cruise Luggage and Accessories (all on Amazon)
Not Making a Packing List
The best way to make sure that you don't forget anything and don't overpack either is to make a cruise packing list. List everything from clothing and shoes, to toiletries, items you'll need for shore excursions and cruise cabin organization.
If you check things off as they get packed, you'll be set and it will make packing easy and stress-free.
Need a good packing list, pre-cruise checklists and more? Check out the Ultimate Cruise Planner. It's 47 pages of everything you need to plan and prepare for your cruise!
See what's included here: Ultimate Cruise Planner ($10 off for a limited time)
Leaky Items
Many cruisers have had the unpleasant experience of finding out that their toiletries leaked all over their clothing or shoes in their suitcase. A good way to prevent this is to use leak proof travel size containers and double pack your items in ziplocs or plastic bags.
Recommended: Travel bottles set (TSA approved & leakproof)
Broken Wine Bottles
While many cruise lines will allow you to bring a couple of bottles of wine onboard, don't make the mistake of packing wine in your suitcase. Just imagine what would happen if a bottle of red wine broke in your suitcase, all over your cruise wear. Not good…
Instead, bring your wine bottles in your carry on or tote bag as you board your cruise on embarkation day.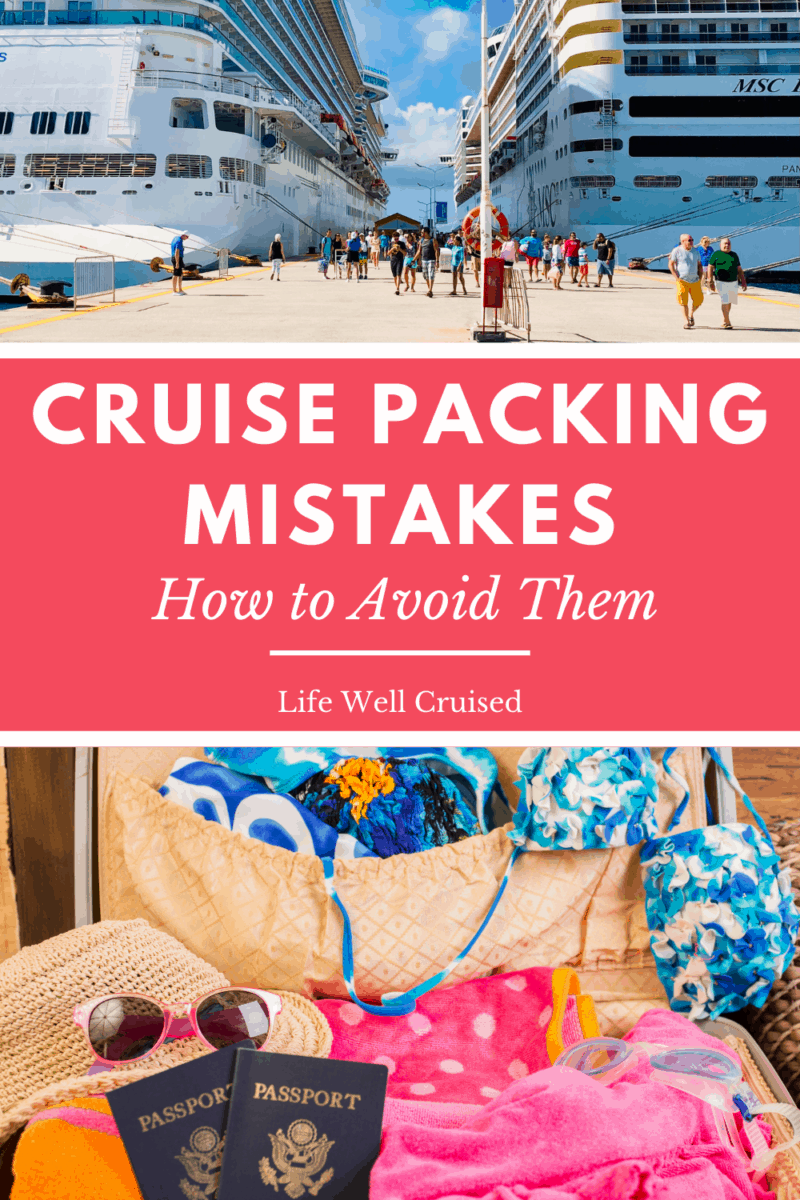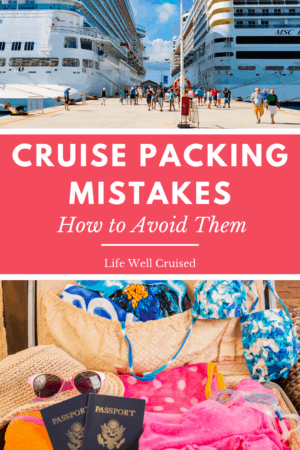 Not Packing a Shawl or Scarf
Forgetting to bring a shawl or scarf. This is a mistake many ladies make, especially on Caribbean or warm weather cruises.
The air conditioning can be very cool on the cruise ship, especially in restaurants and in theatres. If you might be wearing an off the shoulder dress or something with thin straps, make sure to have a shawl, scarf or light cardigan to cover your shoulders.
This can come in very handy as well when you're flying (it gets cool in airplanes) and even when sightseeing on cruise excursions.
Related: What to Pack in Your Cruise Shore Excursion Day Bag
Not Bring a Travel Luggage Scale
Don't make the mistake of paying a fee for overweight luggage on your flight home after your cruise. Pack a small electronic luggage scale to use for any travels.
Recommended: Travel Luggage Scale (Amazon link)
Not Planning for Souvenir Purchases
If you're going on a cruise, there's a good chance you're going to bring home more than you came with. Maybe you'll be buying gifts for your loved ones, souvenir t-shirts or other duty-free items you now need to pack in your luggage.
A good tip is to pack an extra lightweight duffle or tote bag that can be folded in your luggage and only used when you need it.
Not Packing a Disembarkation Day Outfit
Make sure to plan what you'll be wearing on the last day of your cruise, especially if you're flying home right after your cruise. It's a good idea to pack a comfortable disembarkation day outfit. Make sure not to pack it in your suitcase if you do traditional disembarkation.
Get The Ultimate Cruise Planner
Regular price: $27 Now just $17!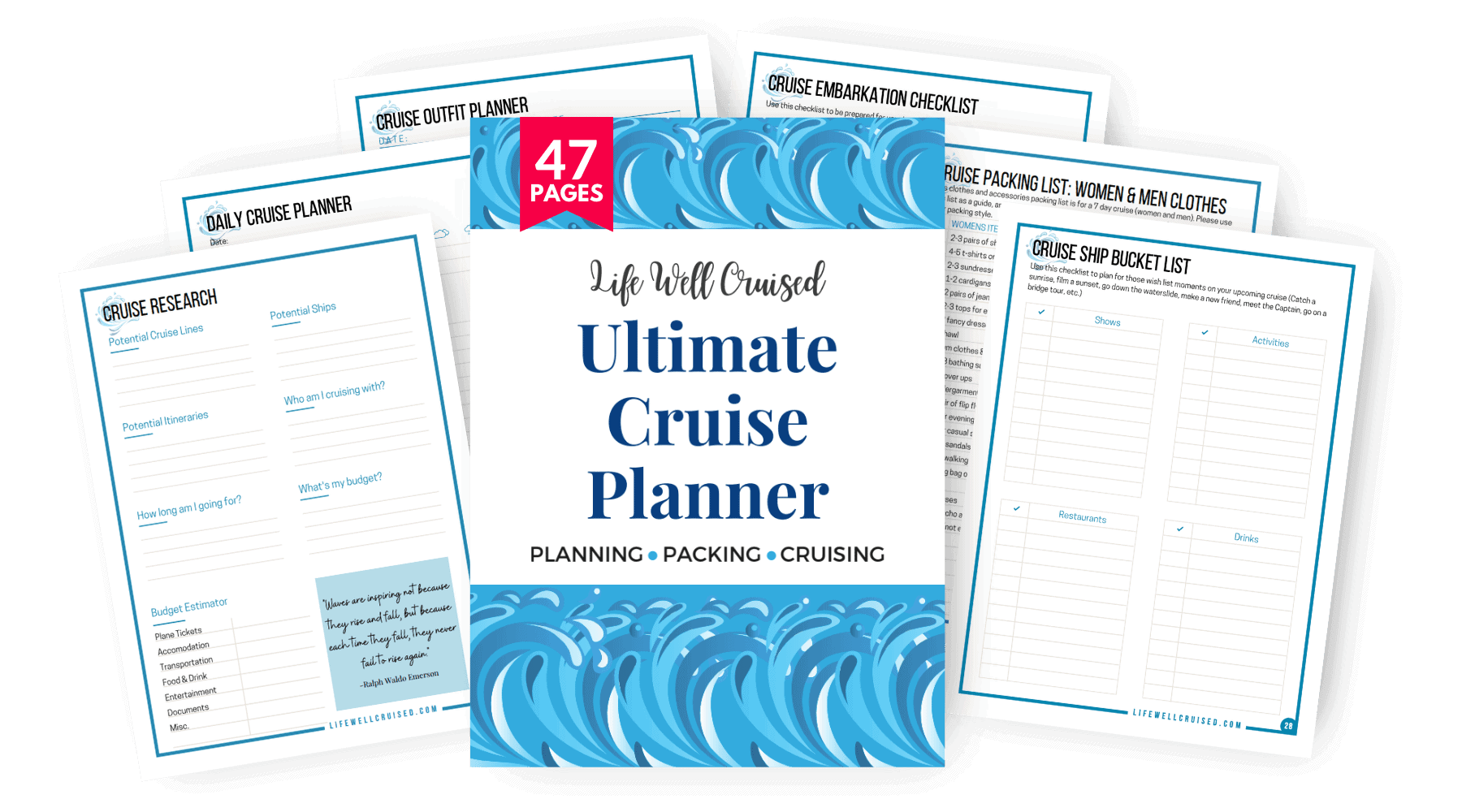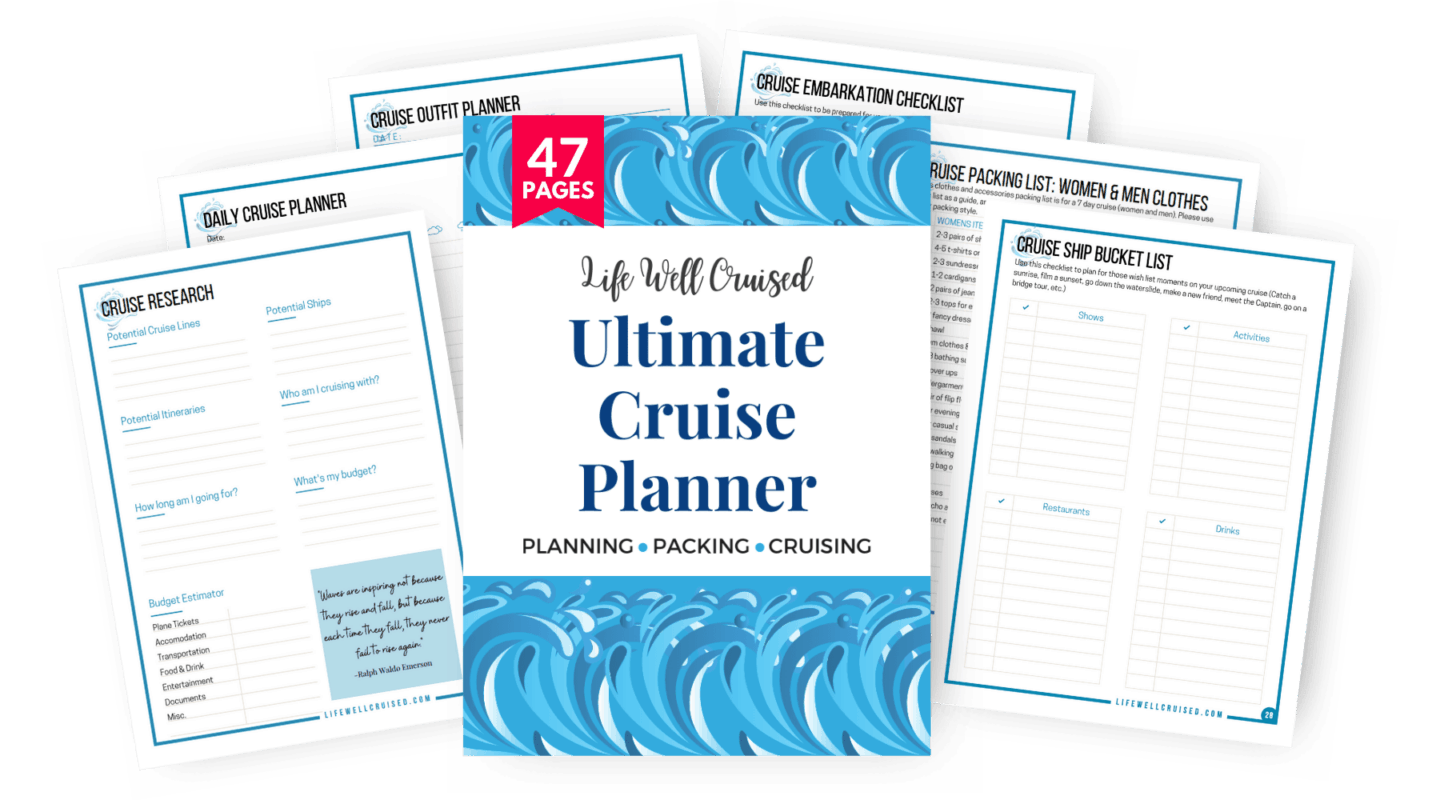 Not Planning Your Cruise Outfits
Part of getting organized for your cruise is planning out what outfits you're likely to wear on your cruise vacation. While you don't have to overplan, having cruise outfits planned for formal nights and a pieces that can mix and match for day and evening is helpful.
Related post: What To Wear on a Cruise Vacation (day, evening & formal night)
Not Bagging or Covering Your Shoes
It's so simple to cover your shoes in your suitcase with this awesome packing hack I recently learned. Use cheap plastic shower caps to cover your sneakers, flip flops and dress shoes so your "dirty" shoes aren't touching your clean clothes.
Forgetting a Laundry Bag
Don't forget to pack a mesh laundry bag or pop up hamper for your cruise. This will be useful as you pack up at the end of your cruise.
Here's a little tip – pack a couple fabric softener sheets to throw in your dirty laundry, to keep unpleasant smells to a minimum.
Recommended: Mesh pop up laundry hamper
Leaving Packing to the Last Minute
It's always a mistake to leave packing for your cruise to the last minute. If you don't plan your clothing and other essentials, you'll be more likely to forget something or overpack. More than likely, it will be both ;-).
Not Packing the "Right" Shoes
Of course, I'm not the fashion police. So, when I say you might make the mistake of not packing the right shoes for your cruise, I mean that you want to make sure that you have at least one pair of closed toe shoes for certain activities on the cruise. As well, make sure to bring your dress shoes and some shoes to wear to the beach or pool.
A final word of advice on shoes – never bring shoes that are uncomfortable, even if they're cute.
Not Using Luggage Tag Holders
These days, cruise lines ask you to print paper luggage tags and then fold and staple them to your luggage handles. While this works, there are cases when the paper tags tear off and it's inconvenient.
Reusable plastic luggage tag holders are convenient and inexpensive and many cruisers, including myself, swear by them.
Recommended: Cruise luggage tag holders by cruise line (Amazon link)
Cruise Packing Mistakes Video
We share more cruise packing mistakes as well as cruise packing tips in this video. If you enjoy cruise content on YouTube, I'd love it if you'd subscribe to our Life Well Cruised YouTube channel.
Related and Popular Posts:
50 Best-Selling Amazon Cruise Essentials
101 Awesome Things to Do on a Cruise
Cruise Cabin Door Decorations: The Ultimate Guide for Cruisers
30 Cruise Cabin Hacks Every Cruiser Needs to Know
Cruise Wear over 50: Flattering Cruise Outfits for Women
What to Pack for a Caribbean Cruise
10 Things NOT to Pack for a Cruise
Final Thoughts: Cruise Packing Mistakes You Might Be Making
We've probably all made some of these cruise packing mistakes at one point or another. From packing too much to forgetting to bring things on our cruise, it happens to the best of us!
I hope this post was a good read and reminder to pack as efficiently as we can.
Have you made any of these cruise packing mistakes or are there some things I should have added? Please let me know in the comments below.
*Ultimate Cruise Travel Planner*
Over the last year, I put together a 47 page cruise travel planner that has everything you need as you plan and get ready for your cruise.
If you could use cruise packing lists, to-do checklists, shore excursion forms and more, you'll love the Life Well Cruised Ultimate Cruise Planner.
Plus, for a limited time, it's $10 off. Hope you enjoy!
See details here: Ultimate Cruise Planner -What's Included
Happy Cruising!
Ilana
P.S. If you found this helpful, please don't keep it to yourself ;-). Please share on Facebook or PIN to your favorite Pinterest board (share buttons at the top). Thanks so much!
Let's connect:
Follow me on Facebook at Life Well Cruised
Follow me on YouTube at Life Well Cruised
Follow me on Pinterest at Life Well Cruised
Follow me on Instagram at Life Well Cruised