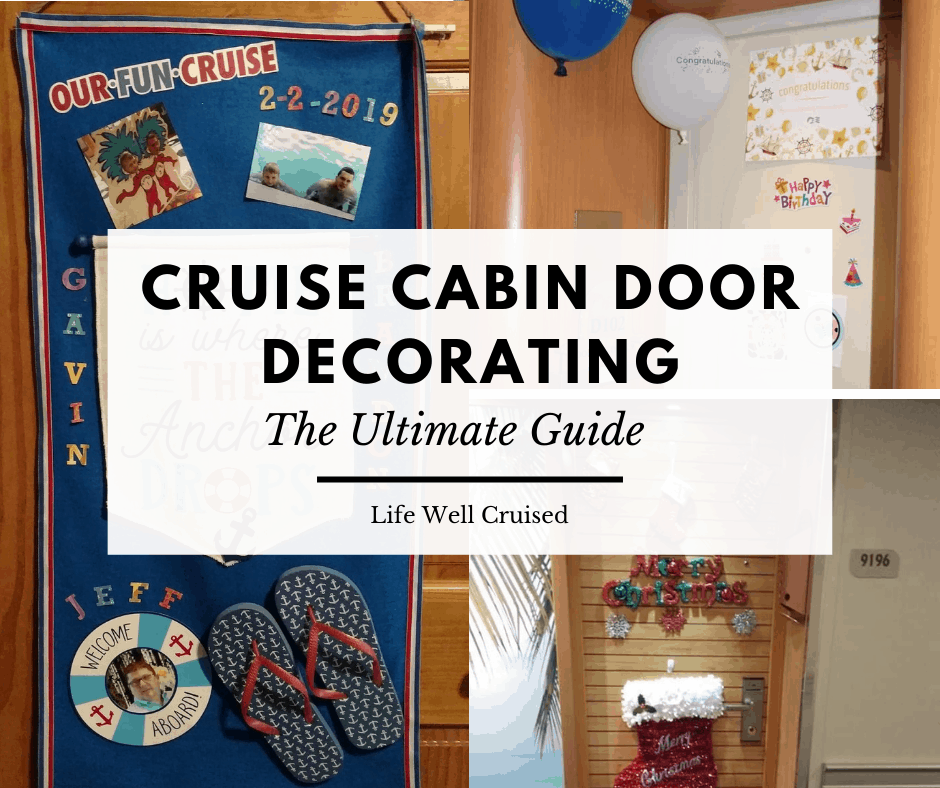 A Guide to Cruise Ship Door Decorating
Are you going on a cruise and planning to decorate your cruise cabin door? Decorating your stateroom door is a great way to make sure you always find your cabin, and have a little fun along the way.
However, there are a few things you'll need to know before you go out and buy any cruise door decorations.
In this post, we'll go over the cruise line rules and policies for cabin door decorating, as well as some frequently asked questions. You'll find some tips and great ideas for decorating your cruise cabin door, as well as photos from real cruisers which are included throughout this post.
Should You Decorate your Cruise Cabin Door?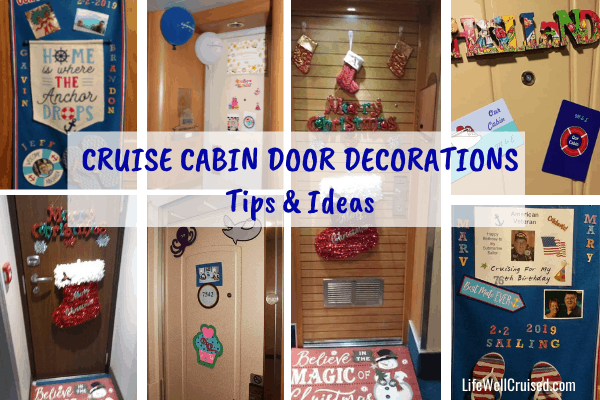 As long as your cruise line allows it and you follow the rules, why not? Decorating your cabin door is a fun thing to do, especially if you're going on a family cruise, group cruise or even if you want to celebrate a special occasion or anniversary.
Benefits to Decorating your Cruise Cabin Door
In my Life Well Cruised Facebook community, many people who decorate their cruise cabin doors, cited the benefits.
It makes it easier to find your cabin, even if you've had too much "drink package".
You can personalize your stateroom door, as they all really look the same
It's fun to participate and see many doors that are uniquely decorated, like looking at store windows
It's a great way to celebrate birthdays and anniversaries
You can decorate for Christmas and other holidays
It's a focal point on a long hallway
It's a great activity for a group or family cruise (door decoration contest)
It makes it feel even more like home
Can You Decorate Your Stateroom Door on All Cruise Lines?
Cruise cabin door decoration is quite popular on Carnival and Disney Cruise Line, however you'll find people who enjoy decorating their cabin doors on many cruise lines including Royal Caribbean and Princess Cruises.
The exception is Norwegian Cruise Line. In August 2019, Norwegian banned cruise cabin door decorations, citing safety concerns.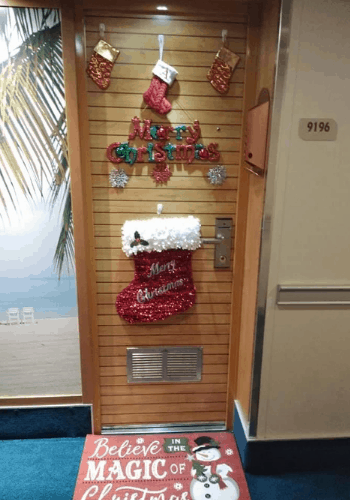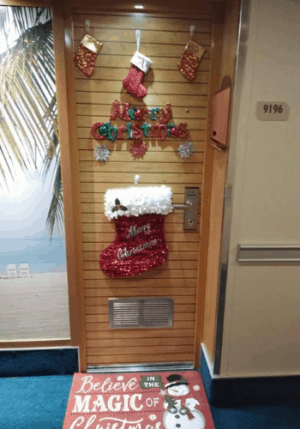 Guidelines for Cruise Ship Door Decorating
Here are the rules and guidelines to follow if you decide to decorate your cabin door.
Firstly, make sure that your decorations are not placed on the door frame, wall, railings or light fixtures. To avoid damaging your cabin door, use magnets or command strips. Tape, glue and other adhesives are forbidden.
For safety reasons, all decorations must be made of flame retardant materials. No string lights are allowed on the door or in the hallway.
Most cruise cabin doors, like the walls in your stateroom, are metal. This makes decorating with magnets a preferred way to adhere the decorations. Many cruisers even make their own personalized magnets at home from photos and pictures.
However, suites on some cruise ships may have wood doors. Make sure to check your cruise line website for their current cruise cabin decoration policy.
Cruise Line Door Decoration Official Policies:
Carnival Cruise Line stateroom decoration policy
Disney Cruise Line door decoration policy
Read next: 30 Cruise Cabin Hacks All Cruisers Need to Know
Cruise Cabin Door Decoration Ideas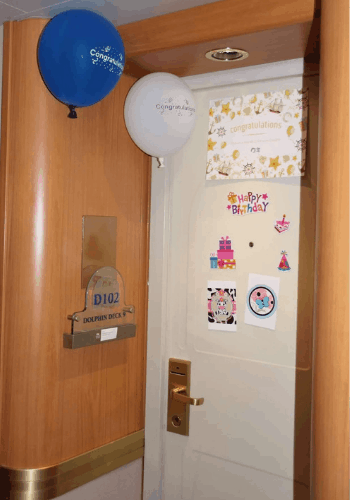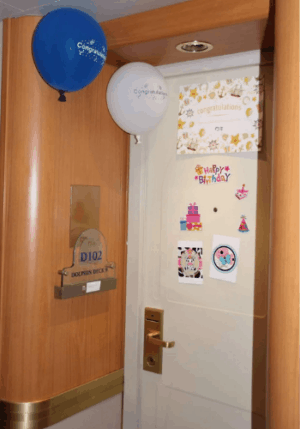 This post contains affiliate links which means if you click and buy that I may make a commission, at no cost to you. Please see my disclosure policy for details.
Life Well Cruised is a participant in the Amazon Services LLC Associates Program, an affiliate program designed to provide a means for sites to earn advertising fees by advertising and linking to Amazon.com.
In addition to the cruise door decoration pictures included throughout the post, here are some of fun door decoration magnets that you can order, and in many cases, personalize for your cruise.
10 Fun Cruise Door Magnets and Banners
This magnet sign is a lot of fun, whether or not you've got the drink package. Of course, personalizing it with your family name makes a great photo!
Check on Amazon here: CAUTION We got the drink package sign
A great buy or gift for any Carnival cruise fans, these magnets are also great as cabin door decorations.
Check on Amazon: Personalized Carnival funnel magnets (see details here)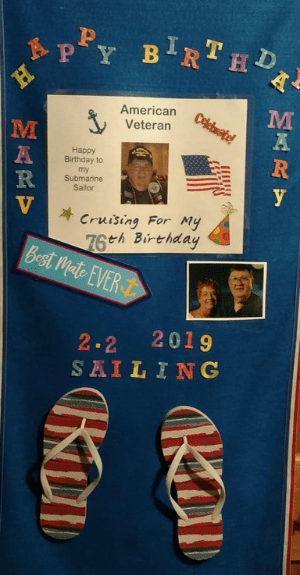 If you're a Royal Caribbean fan, how cute are these personalized magnets?
Check on Amazon: Royal Caribbean magnet decoration (see info & reviews here)
I love this Disney magnet door sign set, which can be personalized for the entire family.
Check on Amazon: Personalized Disney door decoration (see awesome reviews here)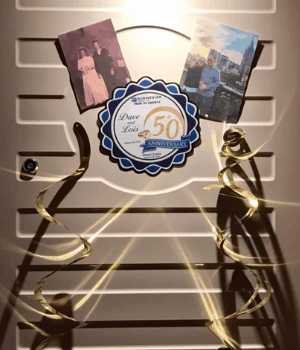 This nautical magnet decoration is available for Carnival, Royal Caribbean, Holland America and most popular cruise lines. You can personalize with a family name, or even "Girl's trip" or "Anniversary Cruise".
Check on Amazon: Nautical cruise door magnet decoration (see options)
If you're a first time cruiser, this cruise cabin door sign is perfect. Like any of the other magnetic door decorations, it can be personalized.
Check on Amazon: Our First Cruise Magnet Door Decoration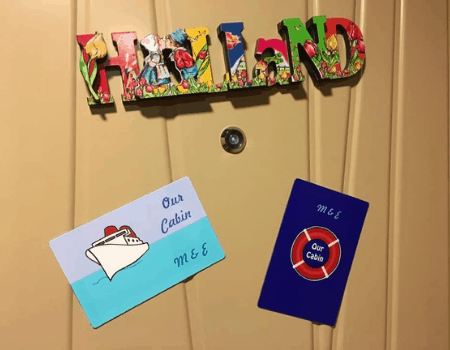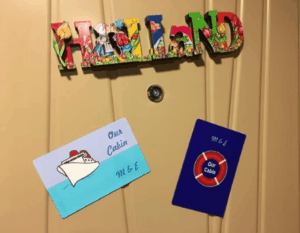 Decorate your cabin and door for a birthday on a cruise!
Check on Amazon here: Cruise theme Happy Birthday Banner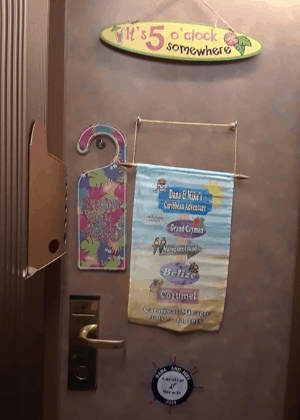 These removable adhesive frames are perfect for photos, pictures, collages and printed signs. They can also be used inside your cabin on the walls to keep your cruise itinerary or any other information.
Check on Amazon: Cruise door decorations – sticky frames (no damage, see details here)
If you're going on a Disney cruise, then you've probably heard of the tradition of decorating your cabin door with a fish extender for fish exchange extender gifts. You can also decorate your Disney fish extender with personalized items. This is a great family activity as well as a great roll call or group cruise activity. See details here.
Check on Amazon: Disney fish extender (see info & pricing on Amazon)
"I have no cruise control… It's like the cruises book themselves!"
If you're a cruise addict, you'll love this sign to decorate your cruise cabin door, or inside your cabin or even to use at home.
Check on Amazon: Cruise control sign (verify price on Amazon)
Read more: 50 Best Gifts for Cruisers (that are unique & practical)
Get The Ultimate Cruise Planner
Regular price: $27 Now just $17!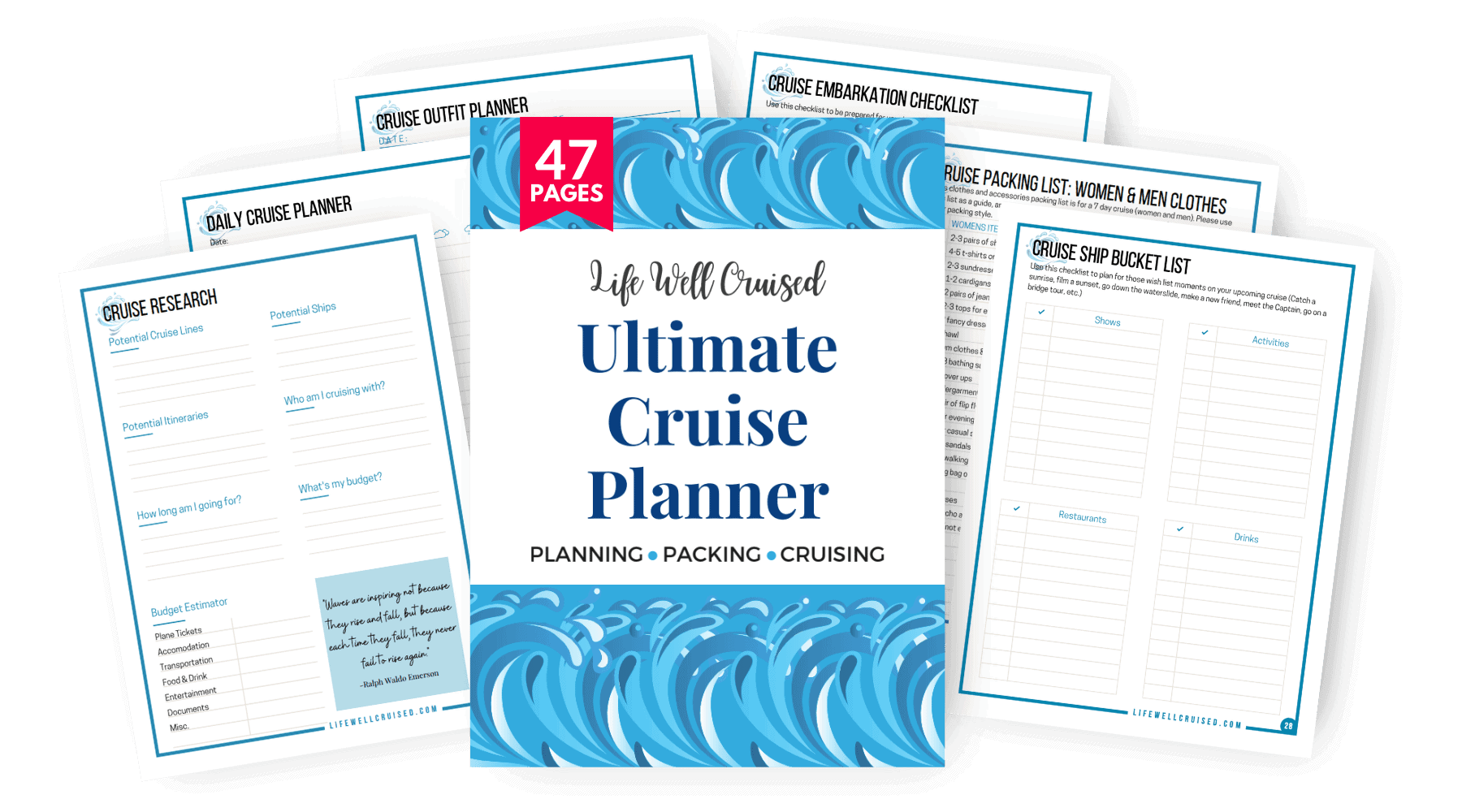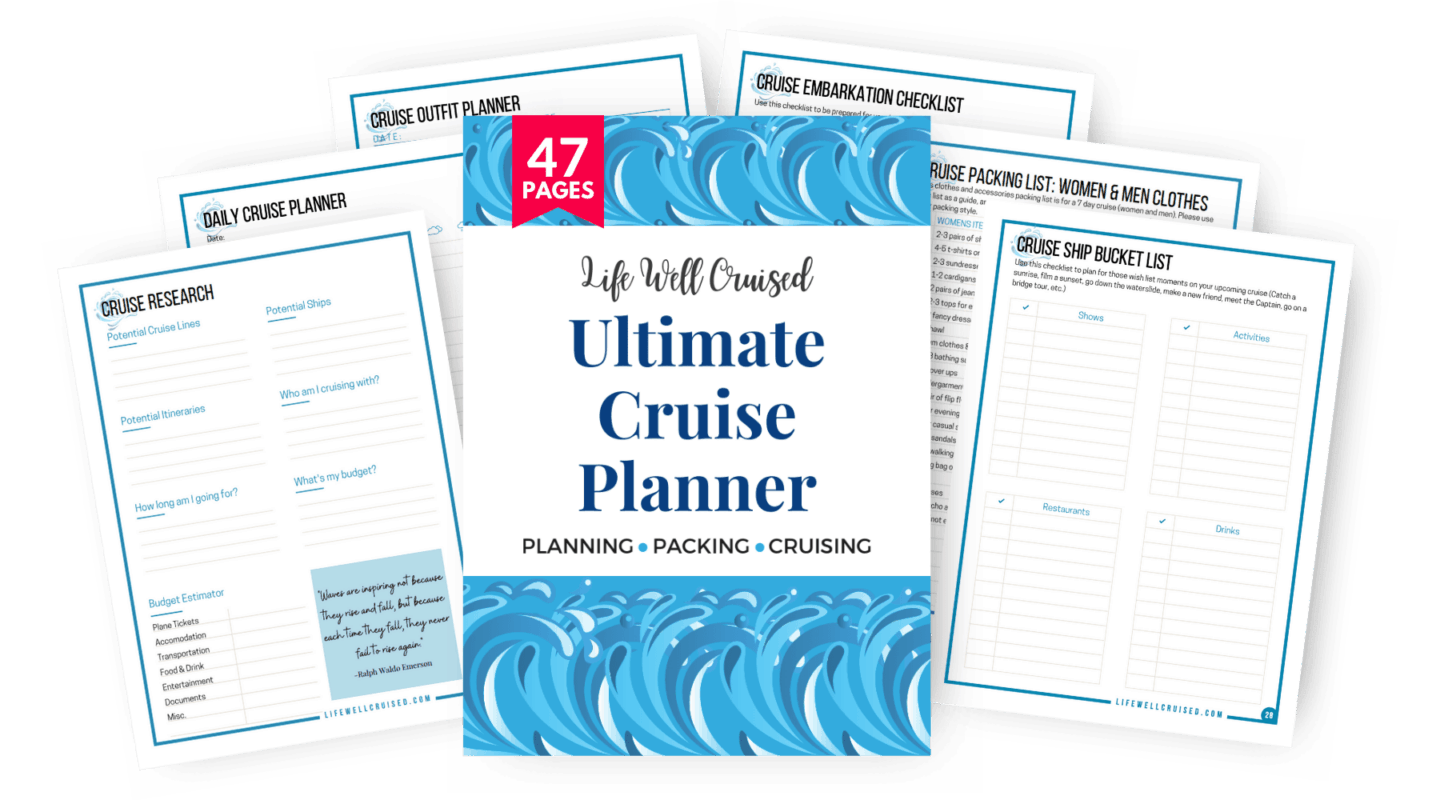 Cruise Cabin Door Decoration Tips (from real cruisers)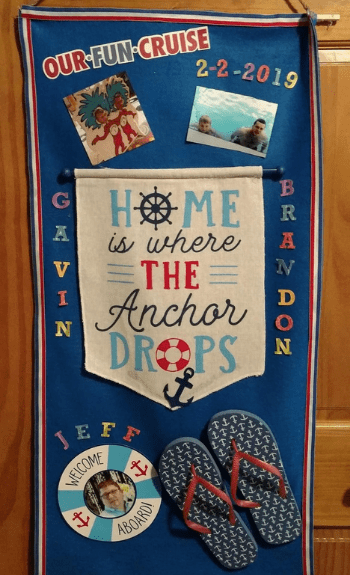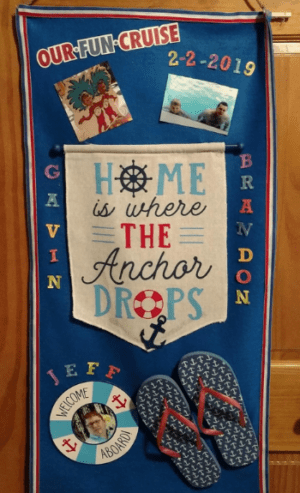 Traveling with magnets
If you have your magnet decorations in your luggage, cruisers suggest labeling the items in an envelope or bag with "magnets" written. As well, if you have your magnet decorations in your carry on bag at the airport, let the TSA agents know that you have magnets in your bag.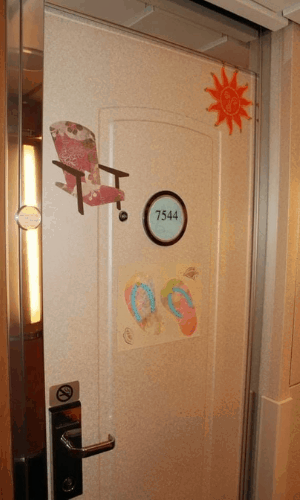 Cabin Door Decorating Contents
Group cruise
If you're planning a group cruise with family or friends, consider organizing a fun cruise cabin door decorating contest. As everyone to make their decorations different, and have a fun prize like a bottle of wine or champagne, a cruise t-shirt or even a $25 on-board credit (OBC).
If you use one comment element, like a group cruise logo magnet, it can also be a good way to identify those in your cruise.
Read more: Cruise On Board Credits (OBC): How Can You Use Them?
Roll call
Even if you're not on a group cruise, if you're part of a cruise roll call on Cruise Critic or Facebook and you have an active group, a cabin door decorating contest can be a lot of fun!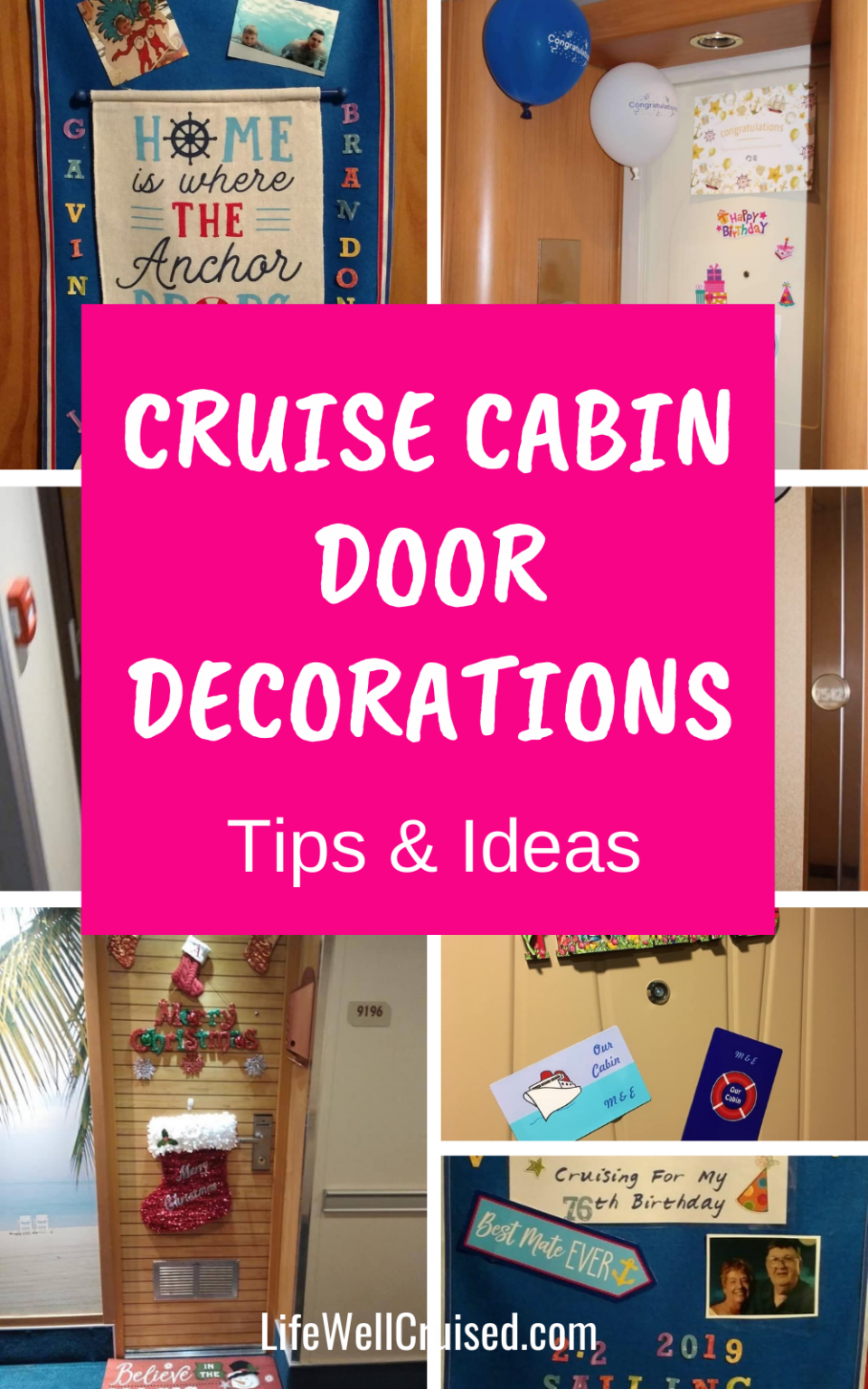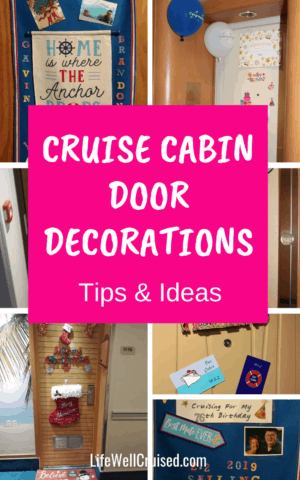 Leave Notes on Your Door
Some cruisers place a small whiteboard on their cabin door so that people can leave notes. Others may write a message or a joke that gives people a smile as they pass the cabin.
Decorate for the Holidays
Even if you're not part of a group, if you're cruising over Christmas or Halloween, you'll find that many people decorate their cabin doors or even their cabin.
Even if you're cruising over the New Year or Thanksgiving (or any other holiday), decorating can add to the cruise experience and travel memories!
Read more: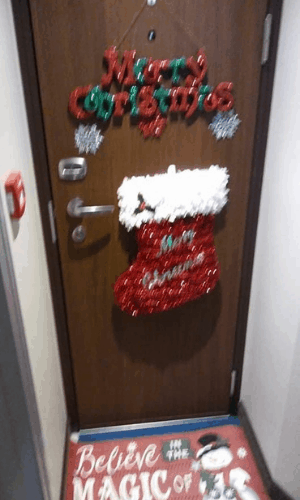 What Should You NOT Do When Decorating Your Cruise Cabin Door
Sometimes people ask if anything is off limits when it comes to decorating your cabin door. Cruise lines that allow door decoration ask that you "keep it clean". In other words, don't include profanity or "adult" photos on your cabin door. This is especially true if you're on a family cruise.
What about pineapples? You may ask
I find this mildly amusing, as I like pineapple decor. However, ever since I learned of what pineapples on a door can actually mean, I cannot look at pineapples in the same way.
While I could send you to google this, I may as well explain if you haven't heard this yet.
Pineapples on a door mat or as a door decoration are supposed to signify hospitality and welcome. However, it has more significance for those that know…
Pineapples on a door is a code that "swingers" use to let others know about their "interests". Upside down pineapples are said to mean the couple is actively looking for more than friendship.
So, on land, and on cruises, if you see pineapples on a door, it may mean more than you know. Of course, it may just be that they like pineapple decorations or that they have friends with a sense of humor ;-).
Read more: 25 Strange and Surprising Cruise Ship Facts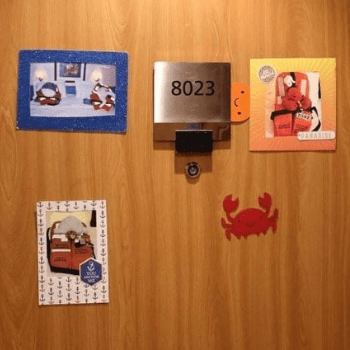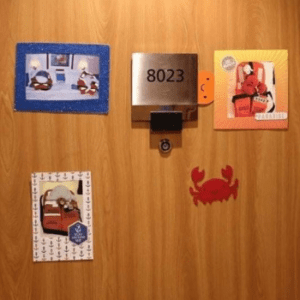 More Useful Items to Bring on a Cruise
Here are 8 cruise essentials that many cruisers bring on each and every cruise.
I've included Amazon links so you can click and verify pricing and reviews of all items.
Packing cubes – They really just make packing and unpacking easier, and nothing will make you feel more organized for your cruise (or any type travel)
Reusable luggage tags– It's a good idea to buy luggage tag holders before you cruise. You'll simply slip the printed luggage tags (from your cruise line) into the durable plastic sleeves and attach them to each suitcase.
Magnet hooks – Cruise cabin walls are metal. This is why magnet hooks are a top recommendation by avid cruisers to add extra hooks and storage to your stateroom.
Over the door organizer – A cruiser favorite, you can fit a lot of items in the organizer, and hang it on the bathroom door or cabin wall. This is really helpful for families cruising with kids.
Hanging toiletry bag – this toiletry bag is a huge space saver, as it can hang on bathroom door or even magnet hooks.
Large zippered nautical stripe beach bag – an awesome beach bag that can hold 4 big towels and everything you need on shore excursions. I use it as a cruise carry-on bag as well.
Bonine (seasickness meds) – Make sure to bring along your favorite non drowsy motion sickness medication. Personally, I find Bonine to be very effective without negative side effects (for my family).
Power bar (non-surge cruise approved)
– Inevitably you'll need more electric outlets and USB outlets on your cruise. Do not bring a power strip from home as it is prohibited and will be confiscated. Instead, pack a cruise approved power bar (see details here)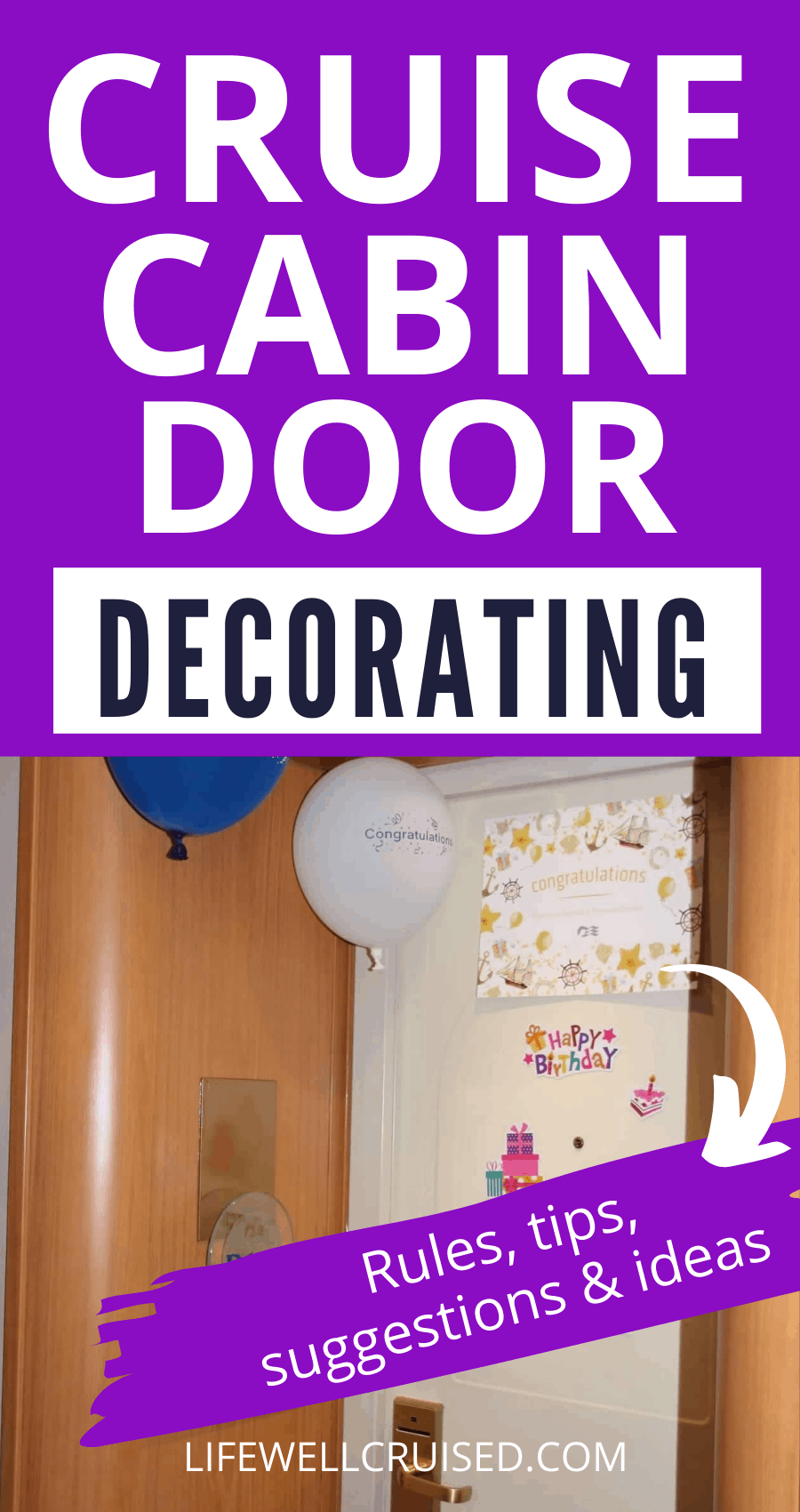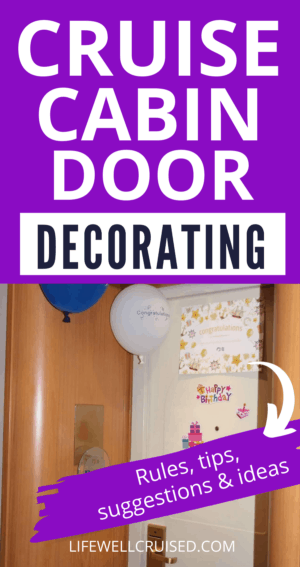 Get The Ultimate Cruise Planner
Regular price: $27 Now just $17!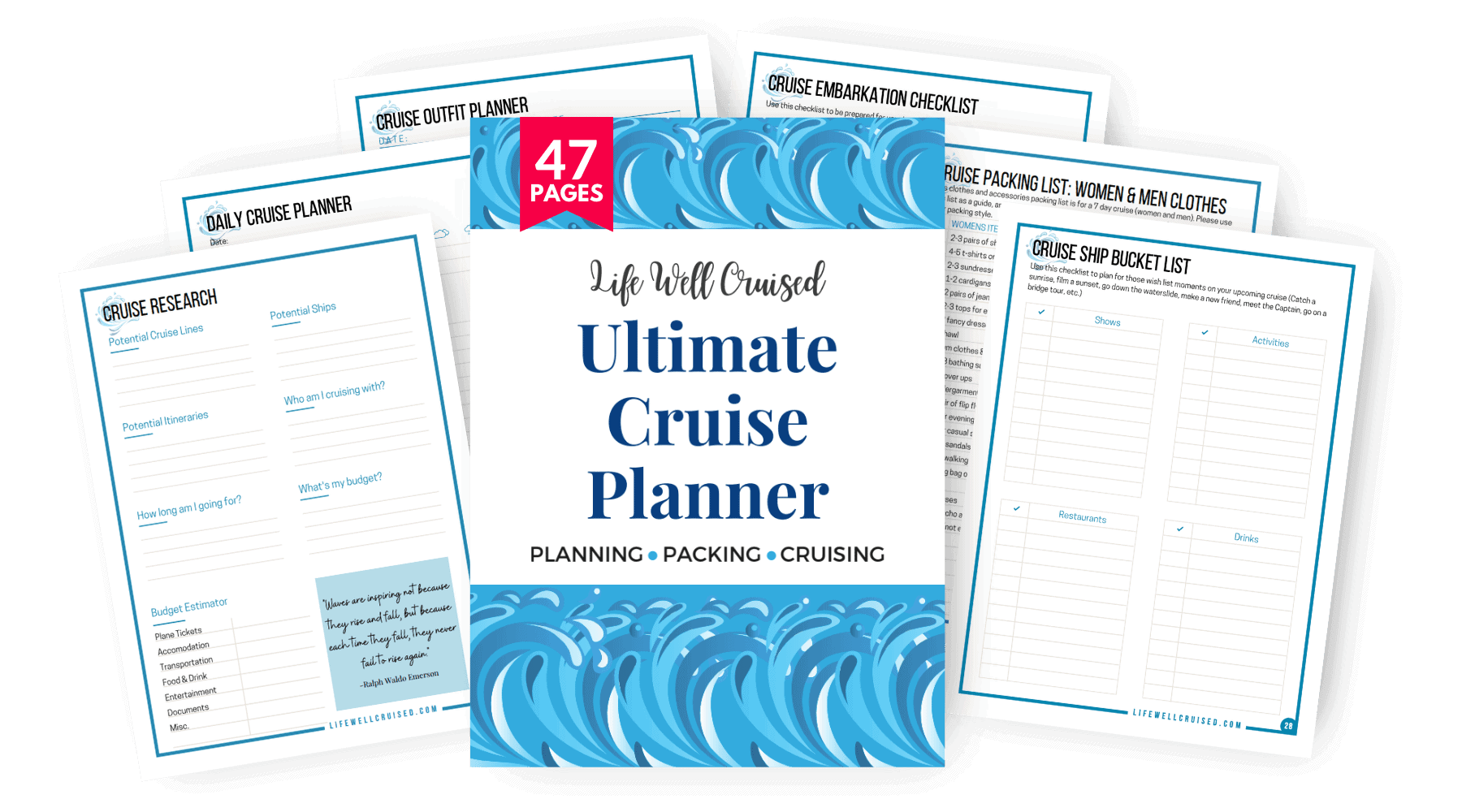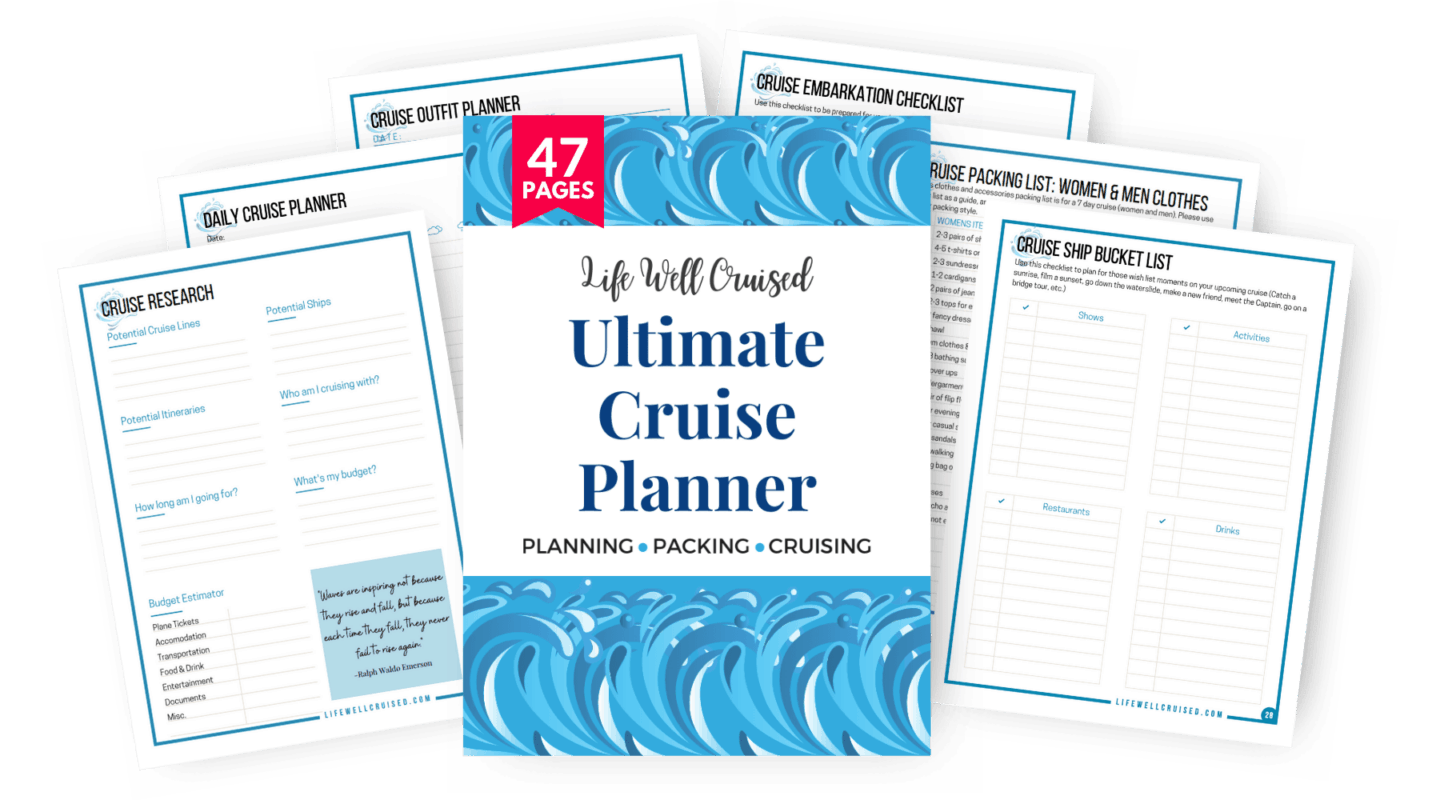 Going on a cruise? Here are some articles to read next:
What I Wore on a 7 Day Caribbean Cruise (Cruise Outfits with Photos & Links)
How to Prevent Seasickness on a Cruise: 10 Tips that Work
17 Cruise Cabin Essentials to Organize (& more)
What To Wear on a Cruise Vacation (dress codes & more)
50 Must-have Cruise Essentials from Amazon
15 First Things to Do on a Cruise Immediately After Boarding
Cruise Luggage Tags and Holders (info & tags)
Final Thoughts: Cruise Cabin Door Decorations – The Ultimate Guide for Cruisers
Decorating your cruise cabin door can be a lot of fun, and a great way to highlight a special occasion like a birthday, anniverasy or graduation. Many cruisers buy door decorations, however you can get creative and make your own as well.
Have you ever decorated your cabin door on a cruise? If not, is this something you'd like to do in the future? I would love to hear about your experience! Please share your tips in the comments below.
Happy cruising!
Ilana
If you found this post helpful, please don't keep it to yourself ;-). Share it on Facebook or Save for later Pinterest (share buttons at the top). Thanks so much!
Let's connect:
Follow me on Facebook at Life Well Cruised
Follow me on Pinterest at Life Well Cruised
Follow me on Instagram at Life Well Cruised