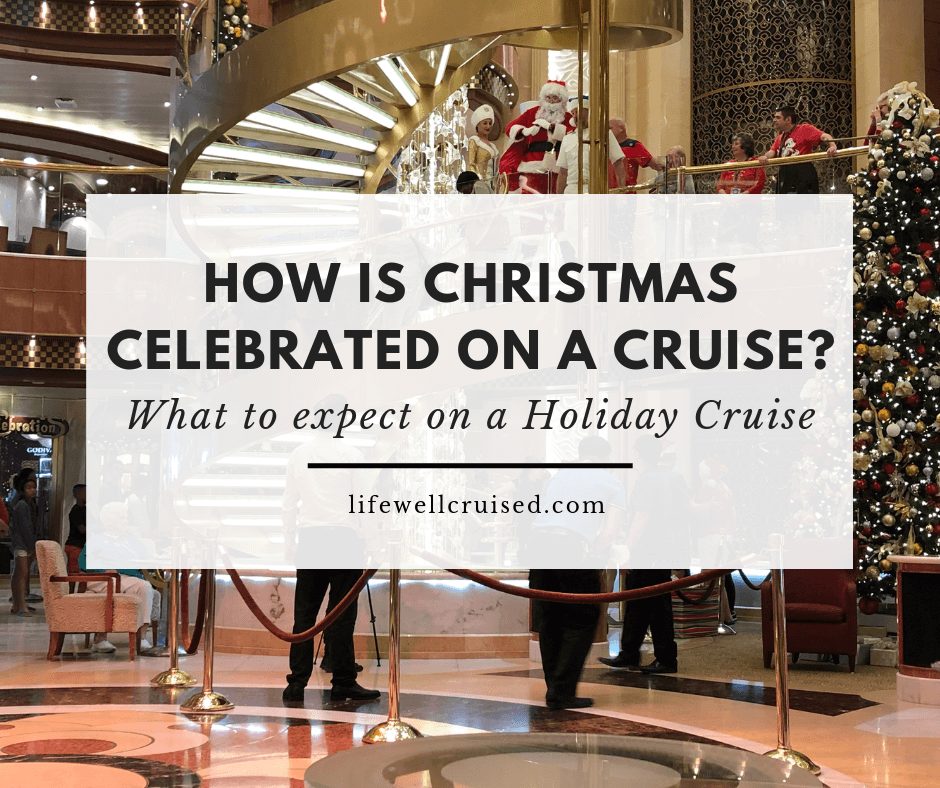 What Can You Expect on a Christmas Cruise?
Have you been wondering how Christmas is celebrated on a cruise, and what to expect? In this post, I'll go through the various festivities and activities available on a holiday sailing, as well the magical feeling that is ever present on board.
Last holiday season, our family did a Christmas sailing on the Regal Princess, which we loved. I'll be sharing our experience and what we saw, so that you can have a better idea what to expect.
While our personal experience was on a Princess ship, in researching other cruise lines and speaking with cruise passengers who've experience holiday celebrations on a cruise, the festivities seem quite universal.
We've also cruised on other cruise lines, a couple of weeks before Christmas and have done New Year's Cruises, and the cruise ships have definitely had a holiday mood!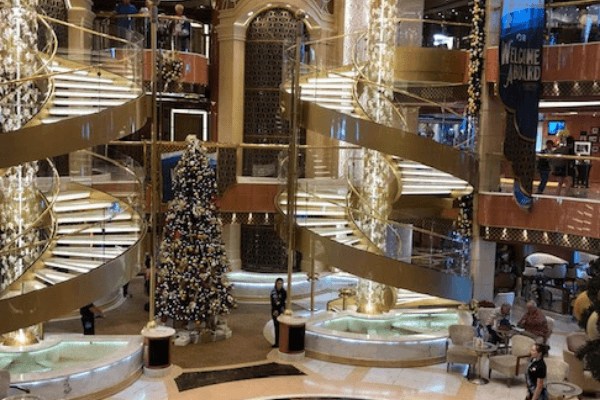 Why you should book a Christmas Cruise
I'm not sure if this is you, but I know for some people it can seem strange to be away from home during the Christmas holidays.
If you need a little bit of gentle encouragement, here are some reasons why you should do a holiday cruise:
Spending Christmas on a cruise vacation with your family will probably be the most relaxing Christmas ever! Plus, it's a Holiday for all (yes, I'm talking about you Mom 😉.
Families we met on board told us how it was quite magical and that they could truly enjoy the holiday and family time, and everyone had so much fun! Whether you are celebrating with immediate family, or even doing a multi-generational cruise, there is something for everyone.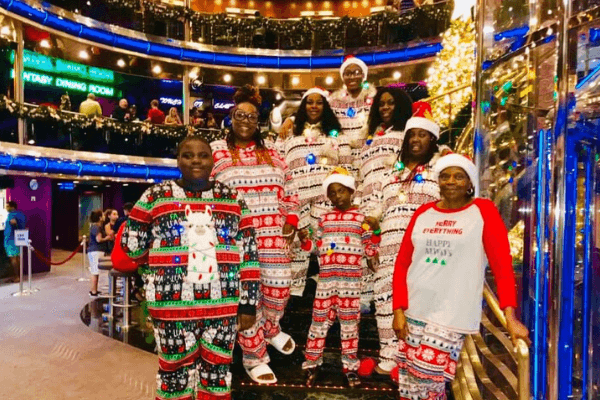 We also met couples that were celebrating the holidays on board, and then heading to see their kids or grand-kids for New Years, due to schedules.
Finally, it can be a chance to start new traditions. Sometimes spending the holidays at home can be difficult. Things may have changed… and celebrating Christmas on a cruise ship might be just what you need.
So, if you're ready to spend a holiday where no one is cooking, cleaning up and stressed, this is what you can expect from celebrating Christmas on a cruise!
How to make the Holiday celebrations on a cruise even more fun? Check out this post: 15 Special Ways to Celebrate Christmas on a Cruise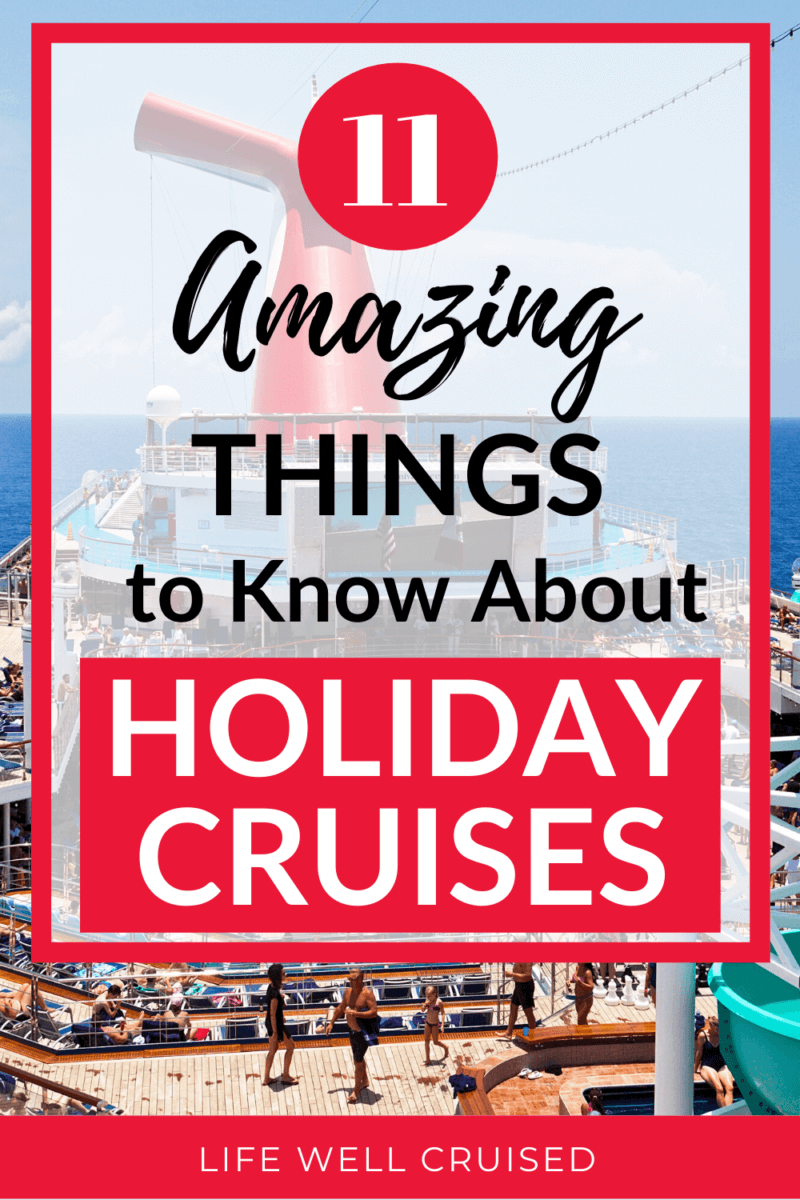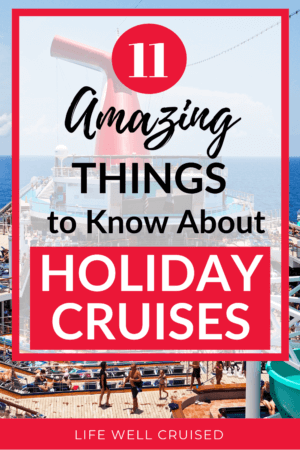 How the Holidays are celebrated on a Cruise Ship
Cruise ships start the holiday season a few weeks before Christmas, so even if you're not on the ship on December 25, you'll get to experience the be Christmas decorations and the festive atmosphere.
Cruise Ship Christmas Decorations and atmosphere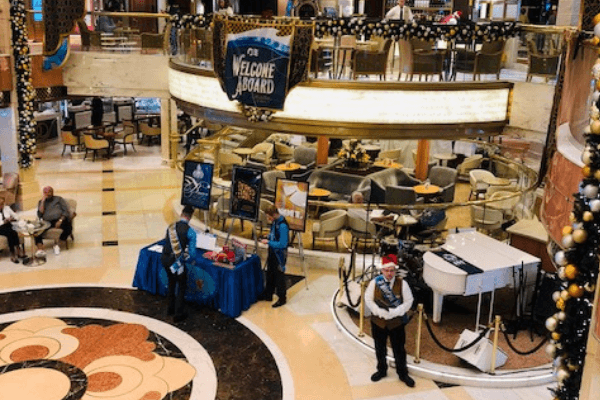 When we boarded the Regal Princess, the large atrium was decorated beautifully with garland and Christmas balls and more. There was a stunning tall Christmas tree displayed, sparkling with silver touches.
Truly, as cruise passengers entered you could see the smiles on everyone's faces. Some of the ship staff wore Santa hats and at one point some Carolers were singing. It really felt like a Christmas cruise!!
Tip: Take some family photos in front of the gorgeous Christmas tree. Take home some great memories and relive those moments!
Christmas Activities on a cruise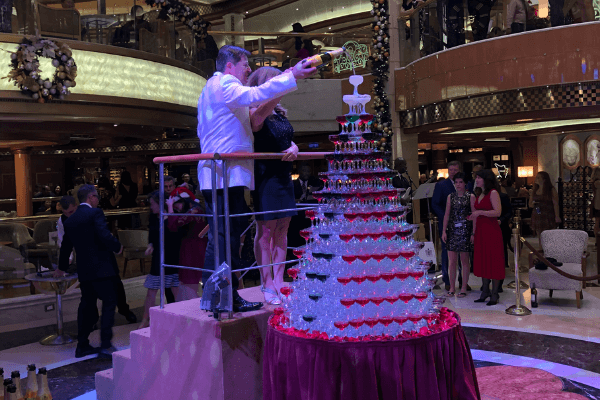 Throughout the 7 day cruise, there were many holiday activities to join. Here's some of them, although it's possible some activities might differ on your cruise.
To note: Although the Christmas and holiday activities were available, all of the other regular cruise activities were still going on. So, if people wanted to hang out by the pool, play bingo, join a Zumba class, or do anything else on a sea day, there was plenty to do.
Christmas themed festivities on the cruise
Gingerbread house decorating
Kids and families were able to participate in gingerbread house decorating. These were displayed later on a table in the Piazza.
Christmas Movies on the large outdoor screen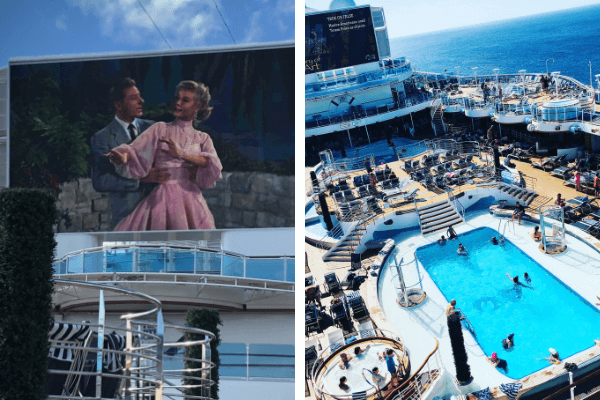 On the Regal Princess, there is a large outdoor movie screen (Movies Under the Stars). During the day (and possibly evening), a schedule of classic Holiday Movies were playing.
There was Home Alone (total classic now!), Christmas on 42nd Street and more.
Christmas Music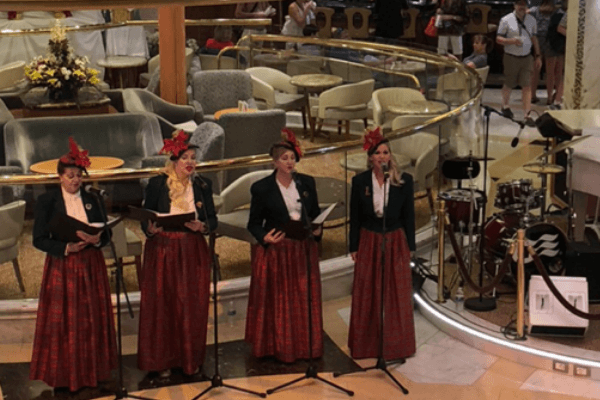 If you're worried that it won't feel like "Christmas" on a cruise, Christmas music played in various parts of the ship keep the festive atmosphere alive, even in the Caribbean.
One of our favorite cruise moments happened a few years ago, when we realized you don't need snow for it to "feel" like the Christmas season. We were on a water taxi in St. Marteen and "Santa Claus is Coming to Town" was being played in Calypso (and it was great!!). It took us a few minutes to realize that all the "Caribbean" music we were hearing were actually Christmas songs!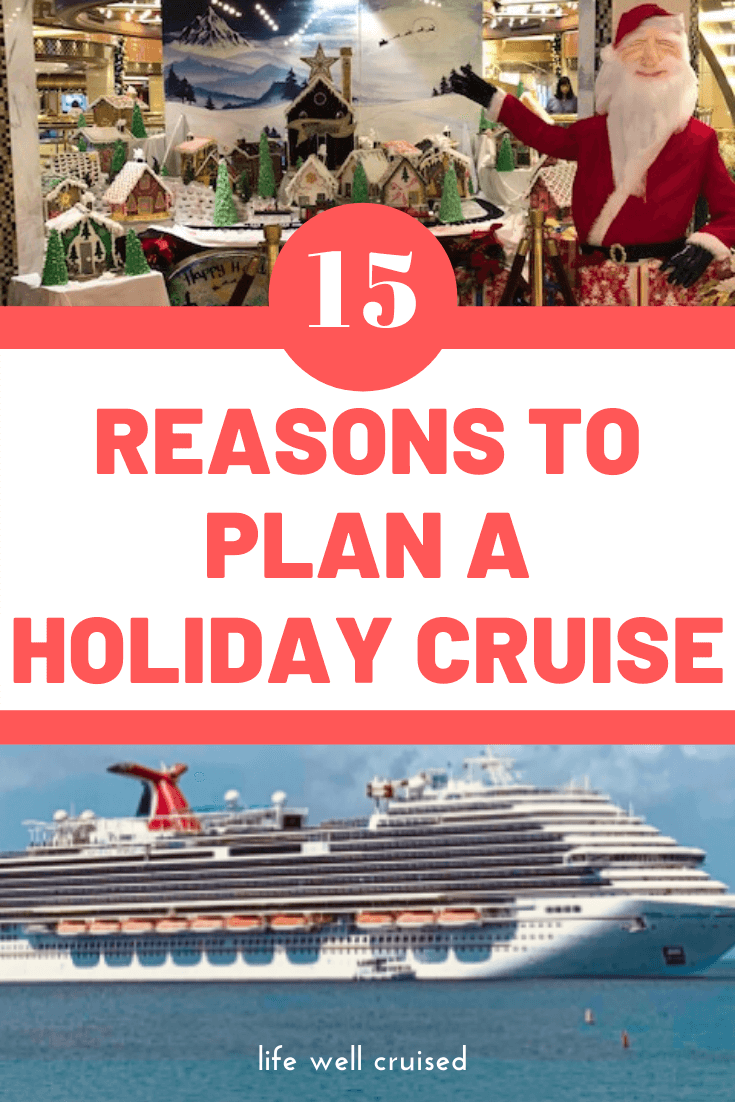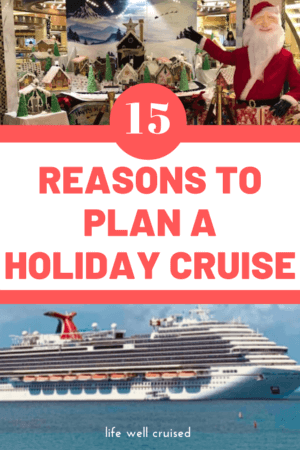 Holiday Theme Shows
There were a couple of Holiday shows featuring the cruise line singers and dancers in the main theater.
Something that was a lot of fun and very sweet was a little video that was shown at the beginning or the show, featuring many of the children that were on the cruise. Totally warmed your heart!
Christmas Carolers
On embarkation day, as well as on Christmas eve and day, the ship's singers were dressed as Carolers and sang in the beautiful Piazza (ship's atrium).
Holiday Choir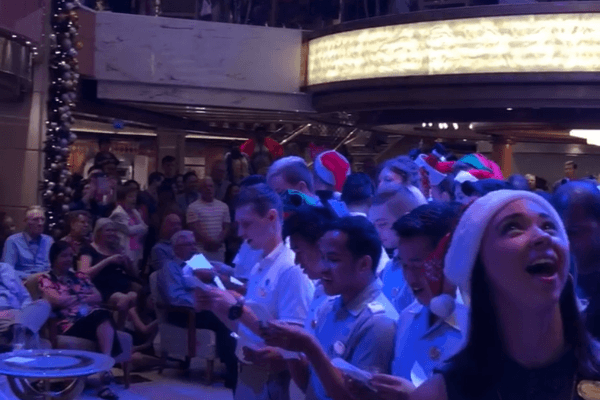 Men, women and children who wanted to sing in the choir were able to. Information about how to join is in the daily cruise planner, so do check that out if it interests you.
They did a performance on Christmas, along with so many other Christmas festivities that were going on.
Christmas Morning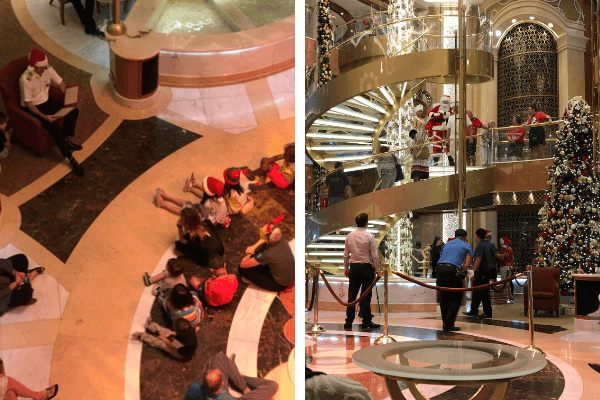 Christmas morning was really special, especially for anyone with children. My own son was 18, so truthfully he was likely sleeping in, but I watched in the Piazza and it was awesome!
Santa Claus visit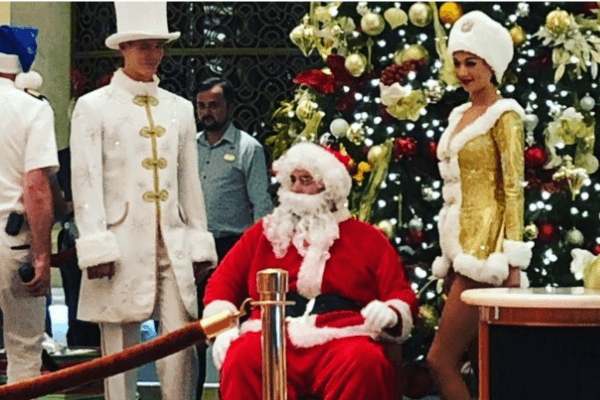 Santa Claus and his helpers came down the grand stairway in the Piazza to at least a couple of hundred kids, many of them dressed in their pajamas.
Children were lined up for a chance to be greeted by Santa and take a photo if they wanted. Gifts were given to each child (although I'm not sure what it was).
For those that wanted an official photo with Santa, the ship's photographer was there. However, you could take your own photos as well.
Looking around during this time, we could see children of all ages who were giddy and smiling. Mom and Dads and even grandparents were beaming with camera in hand, as they also had a coffee and pastry, or milk and cookies from the International Cafe. Beautiful moments.
Families, if this is on your Bucket List, do it now. Don't wait.
Storytime
As part of the Christmas Day activities for children, one of Santa's helpers read stories aloud to children sitting listening intently (and some less … the excitement of the day lol!).
Traditional Christmas Dinner
Dinner in the main dining room included a special Christmas menu with some holiday classics including Turkey and Cranberries. Most people dressed up, even though it wasn't "formal" night.
Answers to common questions people ask about cruising during Christmas time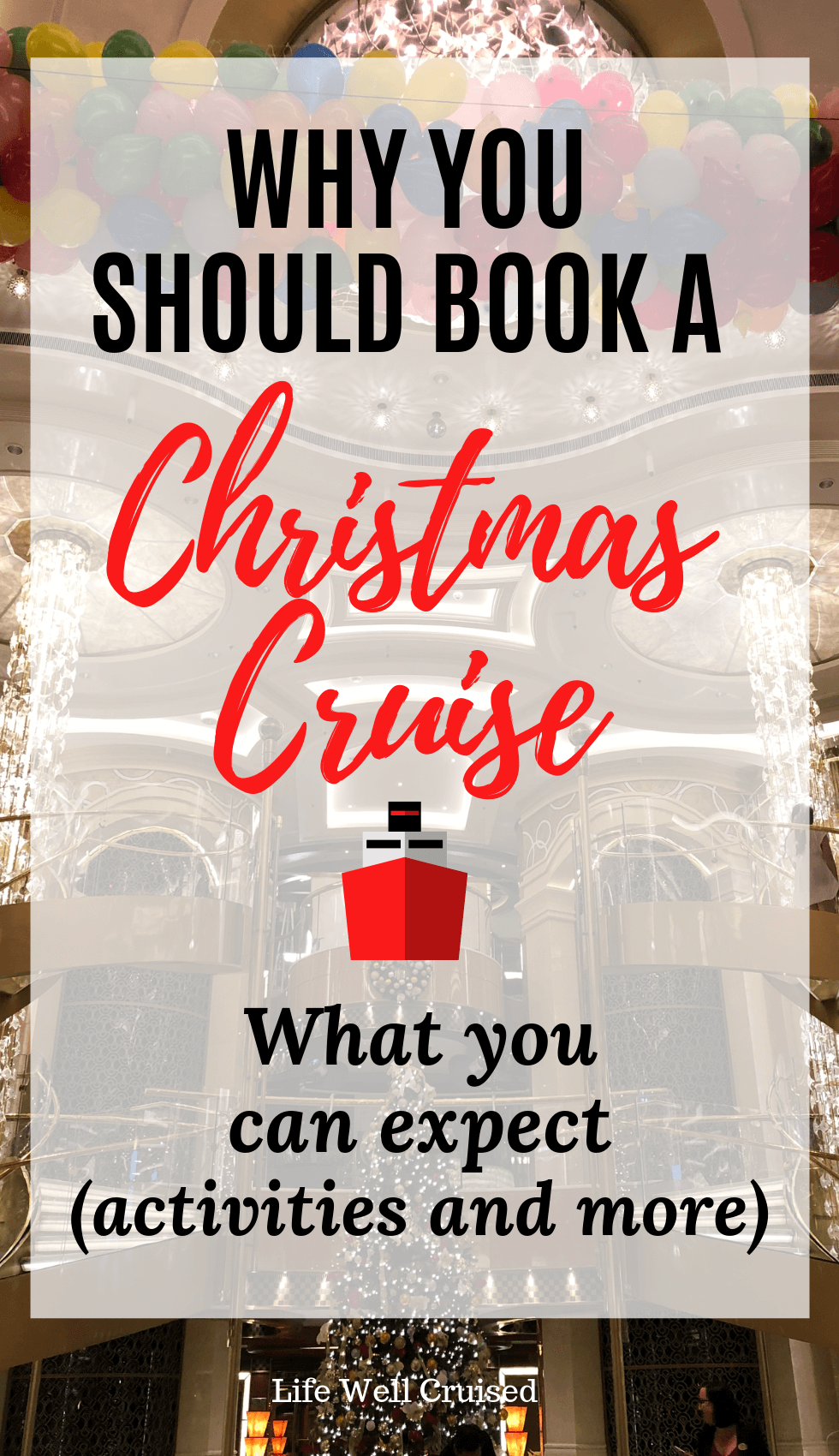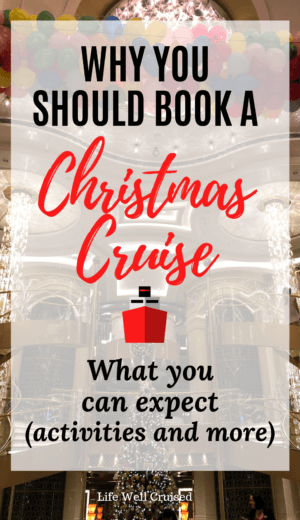 How is Hanukah celebrated on a cruise?
We haven't cruised during the 8 days of Hanukah, however we have been told that many cruise ships will have a large Menorah displayed, a nightly candle lighting and some traditional Jewish holiday foods as options in the diningroom.
On our cruise, Hanukah had already passed (Jewish holiday dates change from year to year), however during the Christmas and holiday shows there was often a Hanukah song included.
We also found a lunch option on Saturday with matzoh ball soup and potato latkas (super yummy), but I'm thinking this may have just been a regular part of the main dining room lunch menu.
If you have experienced Hanukah on a cruise, please let me know how it was celebrated.
Is it worth it to take a Christmas cruise?
Online, I sometimes see people ask this question, "Is a Christmas cruise worth it?", after all, it's one of the most expensive times during the year to cruise.
While, I can't answer this question, as it is a personal one, I can give you my thoughts. If this is when everyone in the family is available and it will be truly a special experience for all, then yes, I think it's "worth it".
Experiences and memories are priceless.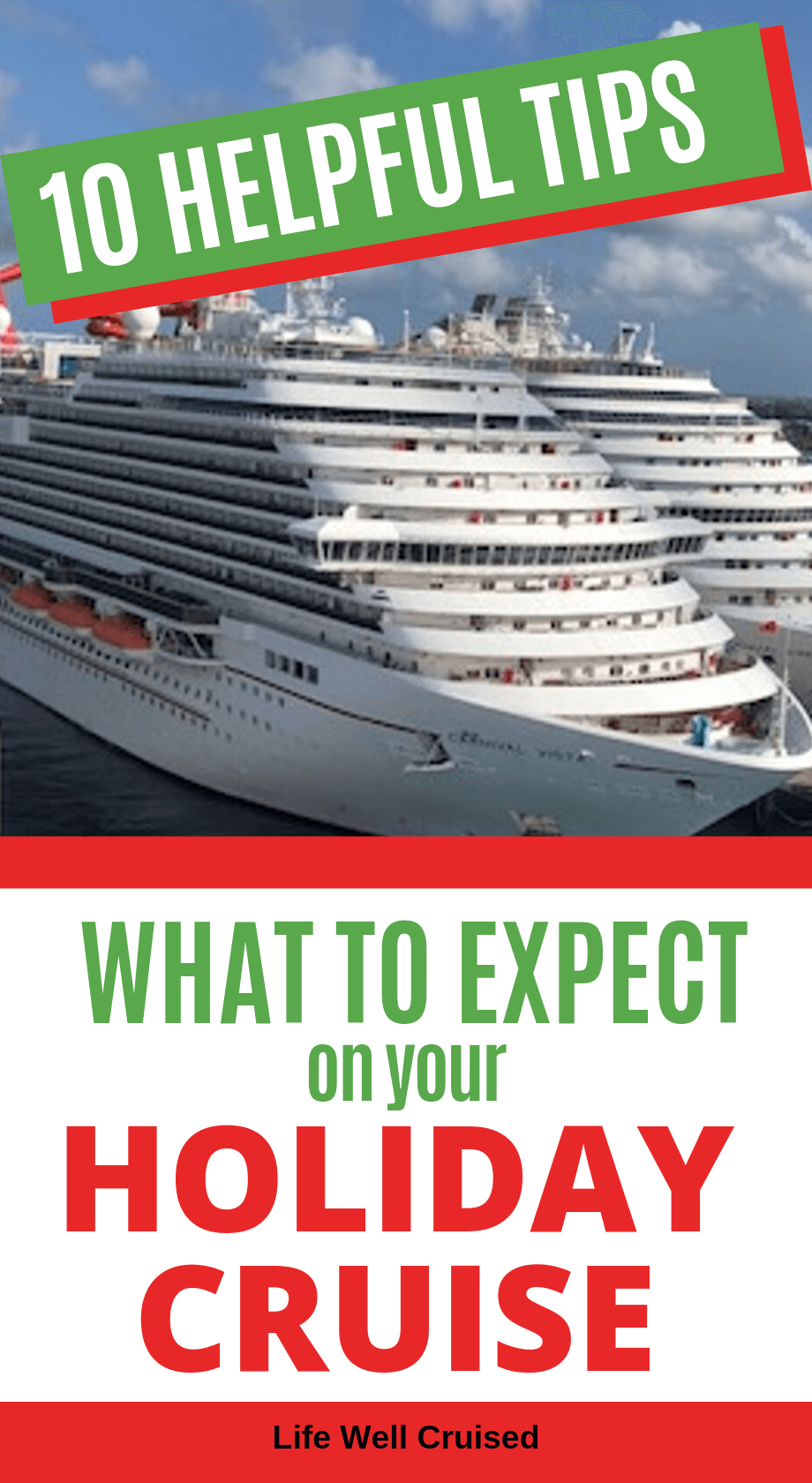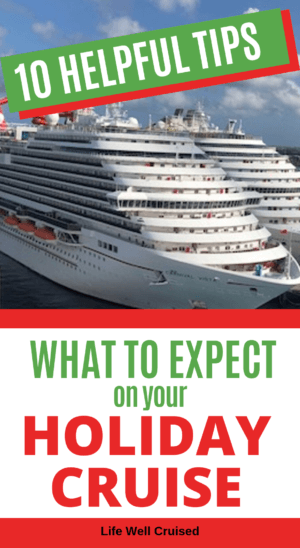 Is a Christmas Cruise crowded/are there a lot of kids on board?
Christmas and holiday cruises are very popular with families and children, and the cruise ship will be sailing at full capacity.
While we found that there was more than enough deck chairs (this was Princess) and space around the ship, it certainly did feel more full than other sailings. If you don't love that busy feeling, you may prefer sailing a week or two before Christmas.
When are cruise ships decorated for the holidays?
I often see people ask in cruise Facebook groups about when certain cruise ships will be be putting up their Christmas decorations.
Cruise ships are usually decorated by early December, and in some cases by Thanksgiving.
Carnival Cruise Lines recently put out a schedule of when their ships will be decorated. I love that John Heald recently (August) posted this on his Facebook page.
If you aren't able to make it for a cruise on Christmas, perhaps consider sailing a week or two prior and enjoying that Holiday Spirit on board.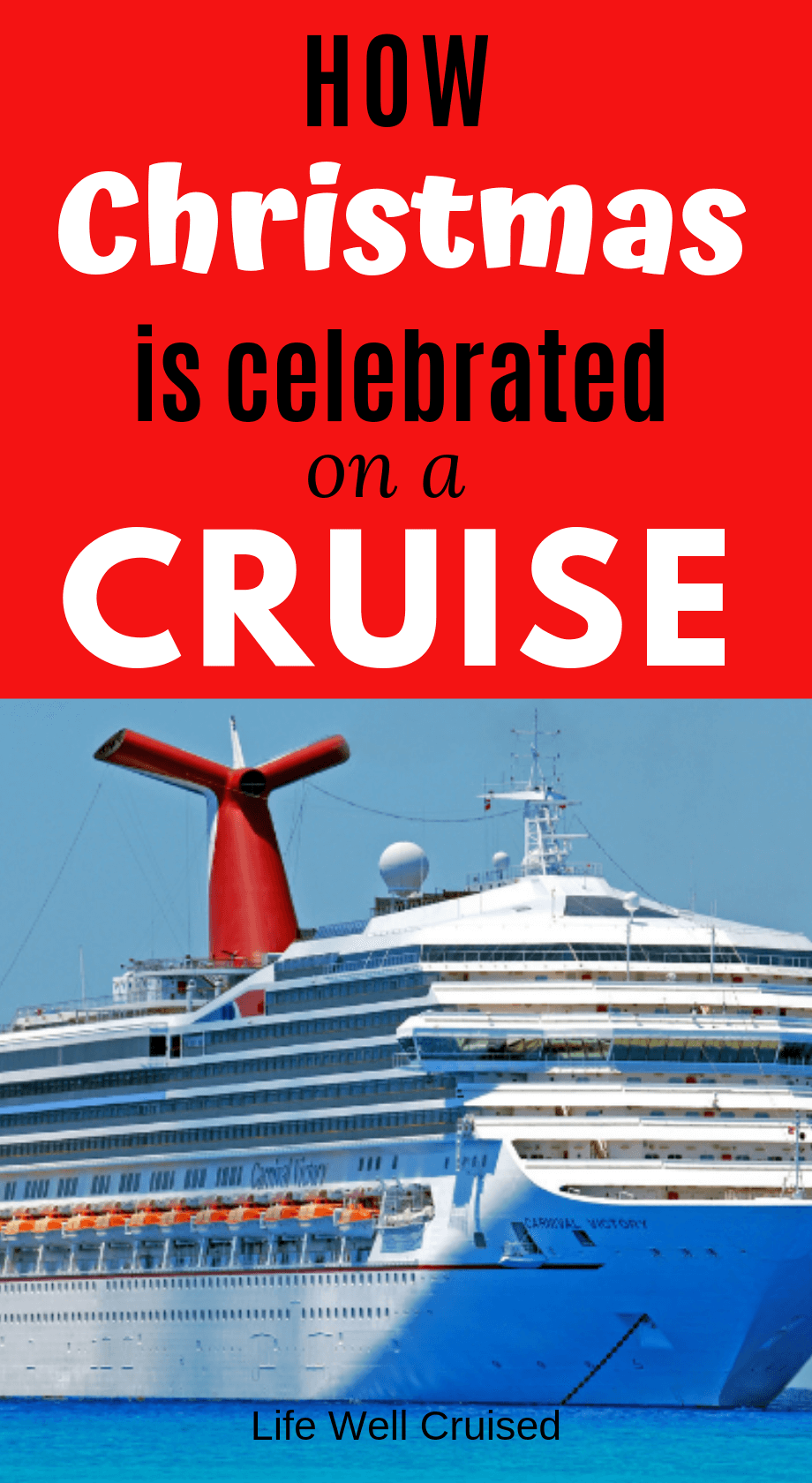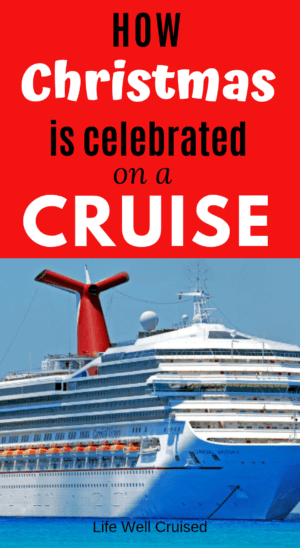 Recap: How Christmas is celebrated on a cruise ship
In this post, we've gone over the various festivities, activities, as well as how the cruise ship will be decorated for Christmas and the holiday season.
If you're interested in our full review of the Regal Princess – Back to Back sailing Christmas and New Year's, you can read it here: Regal Princess Cruise Review Holiday Sailing
You might also enjoy: 15 Special Ways to Celebrate Christmas on a Cruise
Have you cruised during this time of year, or is a Holiday cruise on your Christmas Wish List?
Happy cruising!!
Ilana xoxo
Popular posts you might enjoy:
30 Cruise Cabin Hacks Every Cruiser Needs to Know
21 Essential Things to Pack in Your Cruise Carry-On
Let's connect:
Follow me on Facebook at Life Well Cruised
Follow me onYouTube at Life Well Cruised (NEW)
Follow me on Pinterest at Life Well Cruised
Follow me on Instagram at Life Well Cruised