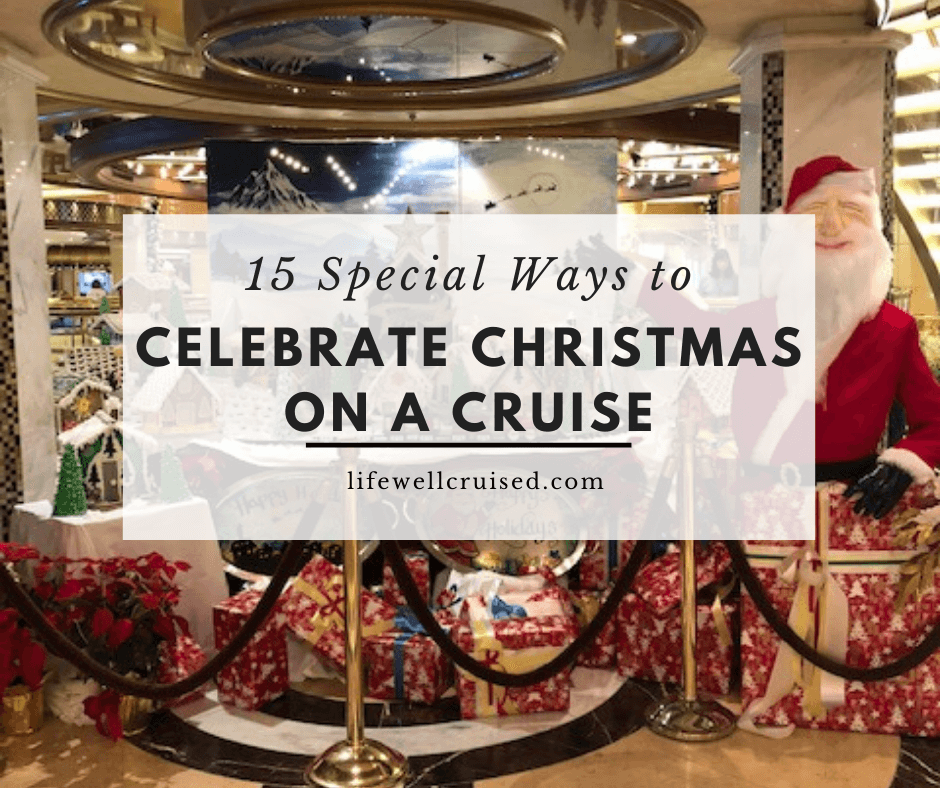 Fun Ways to Celebrate Christmas on a Cruise
Taking a Christmas cruise is a fun and festive vacation for the whole family! But how can you make it even more meaningful, than an average Caribbean cruise?
In this post, I've listed 15 ways to bring some Holiday traditions on board, to make it extra special to celebrate Christmas on a cruise.
Last year, our family took our first Christmas cruise and it was awesome!
The cruise ship was decorated beautifully and there were some special activities – such as decorating gingerbread cookies, Holiday movies, traditional meals and desserts (like a Christmas log) and a visit from Santa of course!
If you'd like to know more about what to expect when cruising during Christmas, I'll leave a link at the bottom of this post.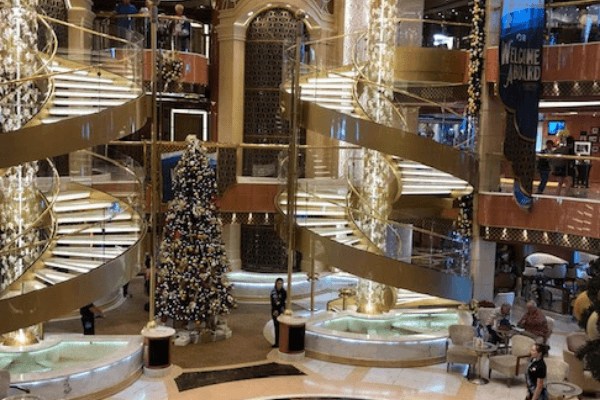 15 ways to make celebrating Christmas on a cruise even more special
This post contains affiliate links which means if you click and buy that I may make a commission, at no cost to you. Please see my disclosure policy for details.
1. Decorate your cabin
One reason that some people hesitate to leave home during the holidays, is that it just won't feel like Christmas. Let's face it, at home we have the Christmas tree and all the decorations and lights.
So how can you get this on a cruise?
Firstly, your cruise ship will be decorated with a big Christmas tree (sometimes more than one), and lots of gorgeous festive decorations.
However, nothing stops you from decorating your own stateroom with Christmas decorations. Some people even bring a miniature Christmas tree that props up on a coffee table or the desk!!
If you do bring a tree, consider one that's battery operated, if you choose one with lights like this one (sold on Amazon): Tabletop Mini Artificial Christmas Tree
Rather than bringing a lot of stuff that takes up a lot of room in your suitcase, consider easy things such as Christmas theme or snowflake decals for glass balcony doors. Make your cabin as festive and fun as you can handle!
Recommended: Snowflake window decals (Amazon – Verify reviews and price)
2. Wear Santa hats
Why not have some fun and pack some Santa hats to wear?
On our Christmas cruise last year, many passengers and crew wore Santa hats on Christmas day (or before). It was so festive to see this holiday spirit.
Even if you don't wear them the Santa hats all day, they can be a lot of fun Christmas eve or Christmas morning. They could even be fun worn with a bathing suit ;-)!
There's something about seeing so many Santa hats in red and green on a Caribbean Cruise that's pretty fun!
Recommended: Plush Santa Hats (Amazon 4.5* rewiews)
If you love the head wear idea, but think it may be hot in Santa hats, consider these fun Christmassy headbands.
Recommended: Headbands for Christmas (Women, Kids & Adults) Amazon link
Why do a Christmas Cruise?
When I asked about Holiday cruises on the Life Well Cruised Facebook page, community members had lots to say!
"This was the best cruise EVER! No other cruise could top Christmas. The shows, the decorations, the smiles, the music… EVERYTHING was perfect!" explained Saeed Seed. Thank you Saeed for sharing this amazing family photo!!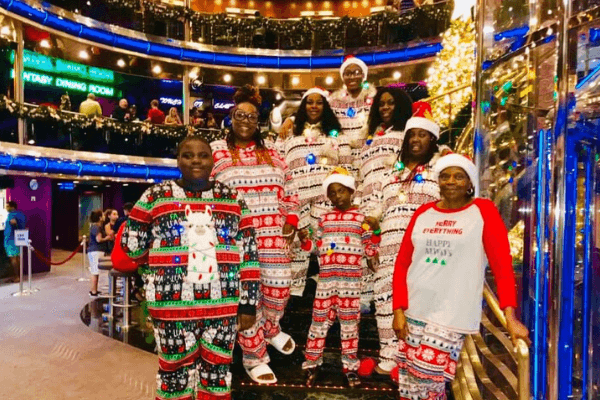 3. Bring your Christmas gifts onboard
Families may want to bring gifts on board and open them in your cabin Christmas morning, later in the day, or on Christmas Eve. If you have room in your luggage, a little gift exchange on your cruise can be a great way to adapt a tradition.
If you're cruising with your kids, perhaps bring one small gift on board that can be useful during the cruise, like snorkeling equipment or a new bathing suit.
Do you have a surprise gift for your kids? Let me know in the comments below :-)… they won't see, lol.
4. Christmas shopping on your cruise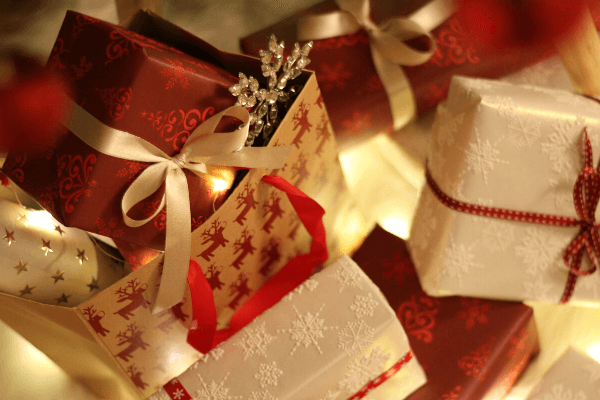 Rather than bringing gifts on board, you may find something special on the cruise ship or even on an island.
Outside of fun souvenir type stuff, there's some great duty-free deals to be had!
Tanzanite jewellery, brand name luxury watches, and other gems can be really well priced on-board your cruise ship. A special handbag or perfume purchased on board may always remind you of this special time.
Always use due diligence when making a large purchase on the ship or in a port of call.
Tip: Check for Christmas specials on board. On our recent Princess Cruise, the watch my son was eyeing (he had saved his money), was an additional 10% off an already great price!
5. Give a gift of a special activity or shore excursion
This might be the year of minimalism and you don't need lots more "stuff" in your house.
Some families we spoke to told us they decided to lots of gifts and enjoyed the cruise and excursions as a family instead.
Bucket list or wish list experiences like swimming with dolphins can be really expensive, and can be an amazing gift to share together.
There's something about memories – they last longer than any things we can buy.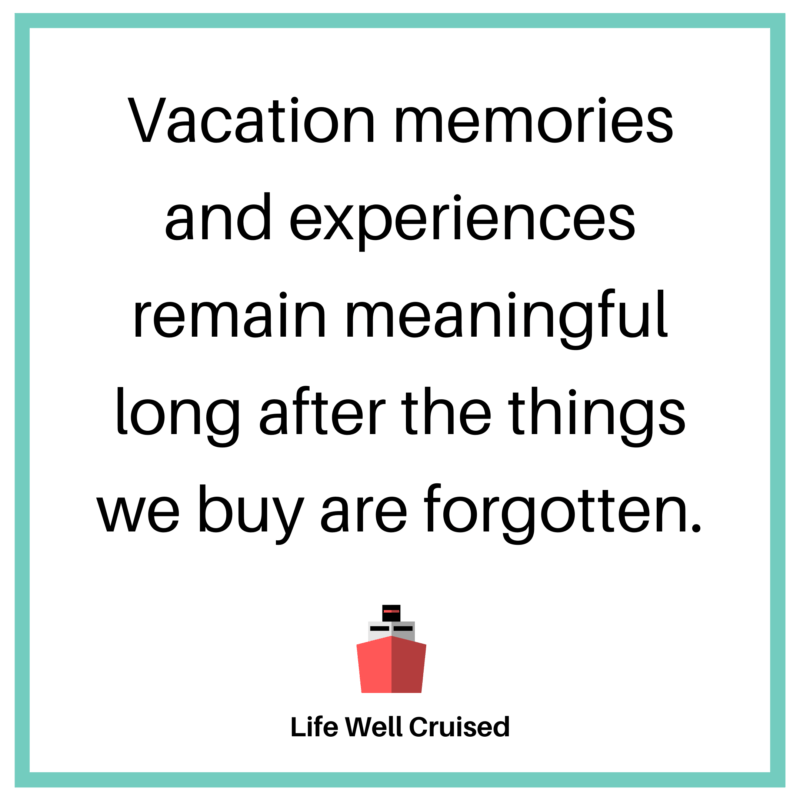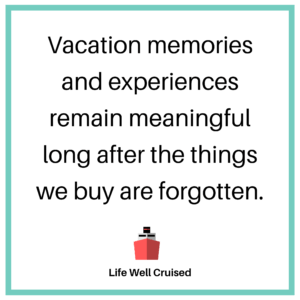 6. Christmas gifts for your cabin attendant (or other special crew)
During our holiday cruise, something we thought about is how for many staff, they're spending Christmas and the holiday season without their families.
Consider bringing a small gift to say Merry Christmas or Season's Greetings to some of the ship staff or your cabin steward. Even some special candy or chocolates can be a special treat for those working on board.
A note of thanks in a Christmas card, with a gift of cash is always appreciated, though not expected, by staff.
Tip: I've seen some comments from well meaning cruise passengers, noting that not all cruise staff celebrate Christmas. While this is very true, the sentiment of the season and good wishes are well received, I believe.
7. Hang Christmas stockings in your cabin
Bring Christmas stockings that you prepare at home and hang on your cabin walls or balcony doors. Many families do this and it's so much fun!
If you're wondering how can you hang stockings in your stateroom, the cabin walls are metal, so anything magnetic works.
You can do this by purchasing heavy duty magnet hooks from Amazon (link here) or your favorite store.
Do make sure that they are "heavy-duty" to hold up the weight. They can be used on future cruises to hang backpacks, extra sweaters and more.
Recommended: You can find more Cruise Cabin Hacks in this post.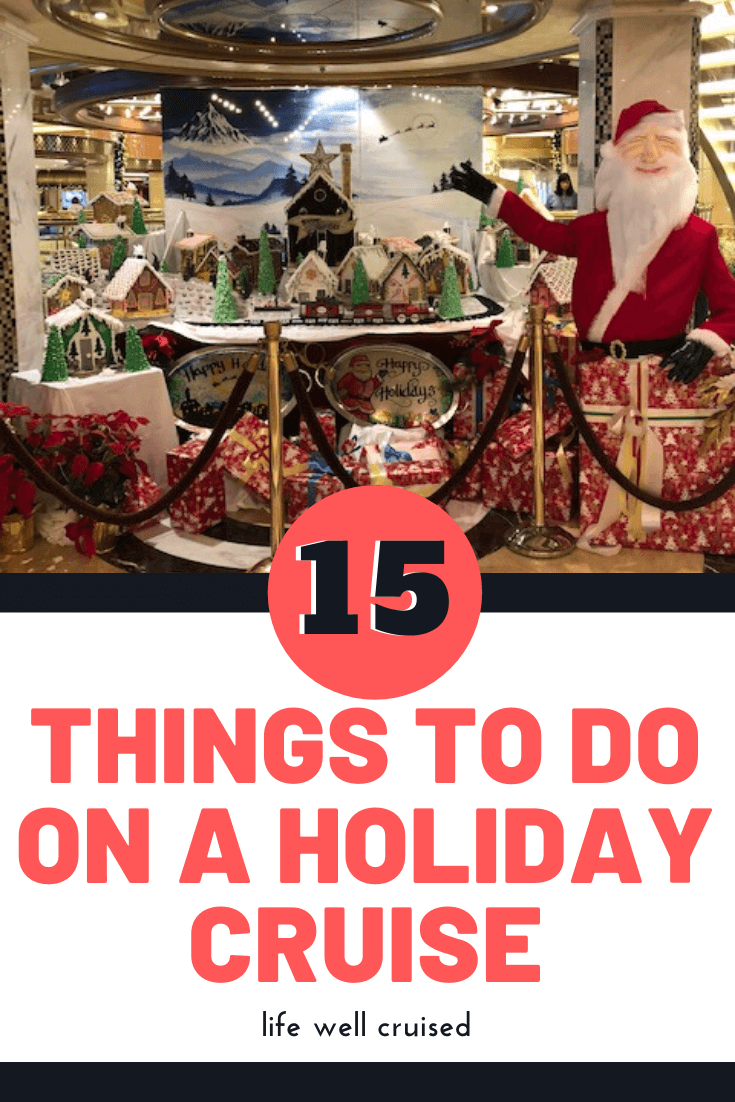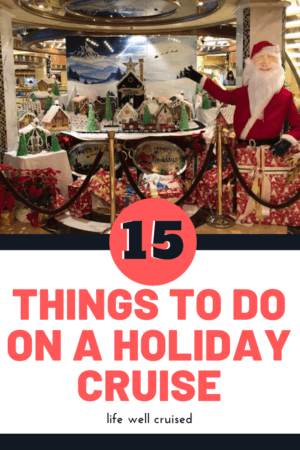 8. Cabin door decorations
You can decorate your cabin door with festive Christmas decorations or personalize with something custom made.
I' loving these cute banners, that are available in lots of different designs and can be personalized. It makes a nice Christmas gift too, as it can be reused in the future. This one below is from Amazon.
Recommended: Personalized cruise cabin door banners (check for different styles)
Tip: Some cruise lines have restrictions on cruise cabin door decorations, so check your cruise line policy.
9. Participate in decorating a Gingerbread House and other Holiday traditions
So when you're not celebrating Christmas at home, you may think that your kids will miss out on some of the fun Holiday traditions. However check your daily schedule for all the different types of Christmas themed activities you can participate in.
From decorating a gingerbread house to joining the cruise ship Holiday Choir (and performing!!), there are ways to bring Christmas into your cruise days on board.
10. Order milk and cookies for Santa Claus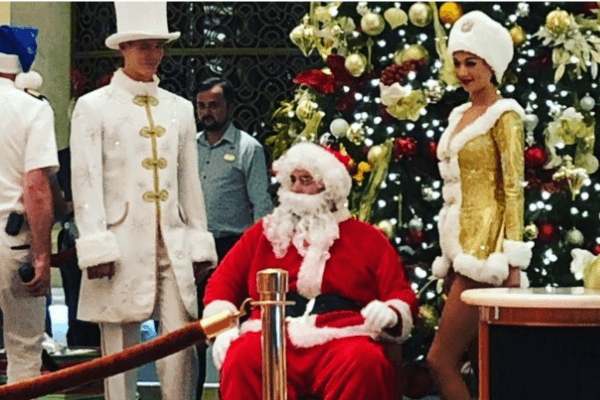 Yes!! Santa will visit on Christmas morning!
Do your children prepare milk and cookies for Santa at home?
Keep that tradition and make it extra special by ordering milk and cookies from room service on Christmas Eve, as of course Santa will come down the ship chimney and love it ;-)!
Something to note is that some cruise ships do have an extra charge for room service, so here's a tip.
Pick up some cookies from the cruise ship buffet or cafe, along with a carton of milk at breakfast. Store the milk in your cabin fridge and get it ready on Christmas Eve before bed.
11. Wear your Christmas Jammies
If you're cruising with your kids, bring the Christmas Jammies. Santa will usually visit (check the cruise schedule for time and location) on Christmas morning.
He may even have some small gifts for the children. Keep your phone charged to catch great photos and video.
12. Dress up in Holiday cruise outfits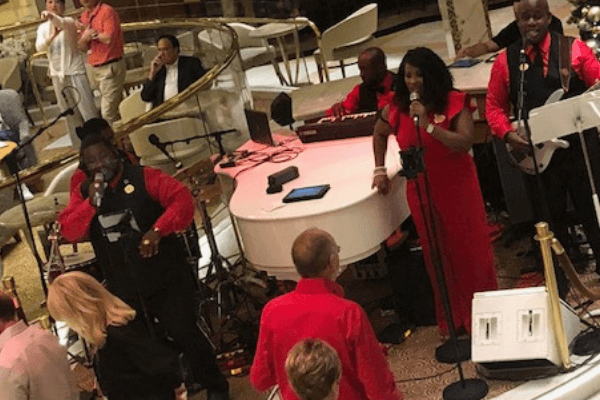 Consider bringing some special outfits for Christmas eve or Christmas Day. Many cruise lines will have a formal or chic dress code that evening, but do check with your cruise line.
Ladies, if you've been wanting to wear that gorgeous red dress, now is your time to shine! If you can convince the family to dress up, consider having a professional photo take.
Most cruise lines charge between $20-25 for a single photo. Even though we can all take out own with our smartphones, there's still something to getting a professional photo done. It will be a great mememto and can even be used on future Christmas Cards.
**Don't forget to also bring your comfy clothes (Christmas Jammies for the fam?) or your ugly Christmas sweaters for a late night buffet visit. It's the holidays after all ;-)!
13. Sing Christmas Carols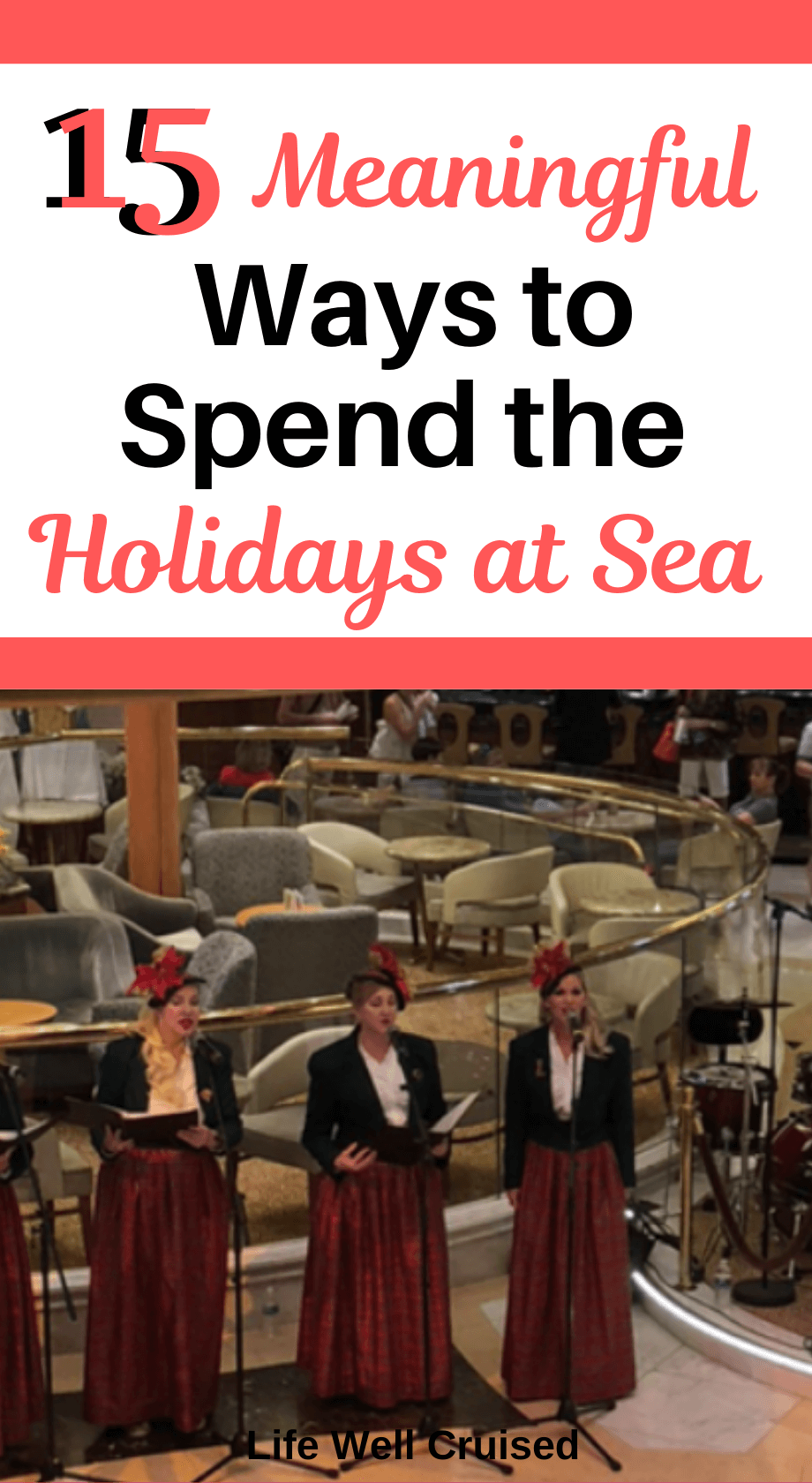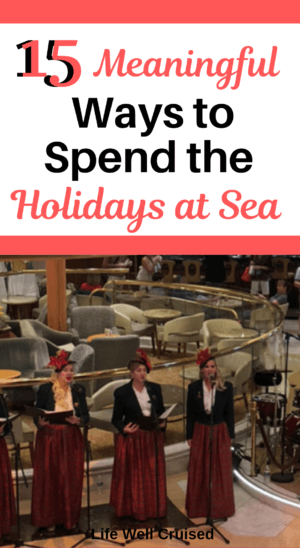 This might sound really corny, but when many cruise passengers and crew gathered and sang Christmas carols in the cruise ship atrium, it was one of the most meaningful moments during our Christmas cruise.
Children and adults, officers, entertainers and bartenders – everyone singing together was very special (definitely film this for the family vacation video).
For those that wonder, "How religious this is?", in our experience it is not.
Those of different faiths could feel comfortable as holiday celebrations felt very inclusive. There were a couple of Hanukah songs both during the carols and during the Holiday show onboard that evening.
For those that did want a more religious experience, there may have bee services in the chapel, however I'm not aware.
14. Family Cruise t-shirts
Is this a large family and friends cruise? If so, or even if you're a smaller bunch, consider your own cruise t-shirts.
There are so many fun ones that will might make celebrating Christmas on a cruise even more special.
Whether you wear it on embarkation day, Christmas day, or for a special excursion day it will be fun to look back on the photos and have a great souvenir!
Recommended: Christmas Cruise T-shirt (Amazon)
15. Create a family vacation video
Take photos and videos create a special Christmas vacation video to share with the family. If you're taking a multi-generational cruise, you'll likely be so happy to have captured these times when everyone is together.
I wish we had taken more video when our kids were younger. However we didn't have smartphones several years ago. Now it's so easy, so why not?
If you've done family and friends cruise, or even if you simply want to share with friends and family, consider starting a free YouTube channel where you can easily upload your vacation videos.
Tip: Don't forget to turn your phone sideways (yes, I learned this the hard way ;-).
P.S. Did you want to see our YouTube videos? If you like cruise tips, cruise fun and vlogs, please check it out (and subscribe if you want to see more).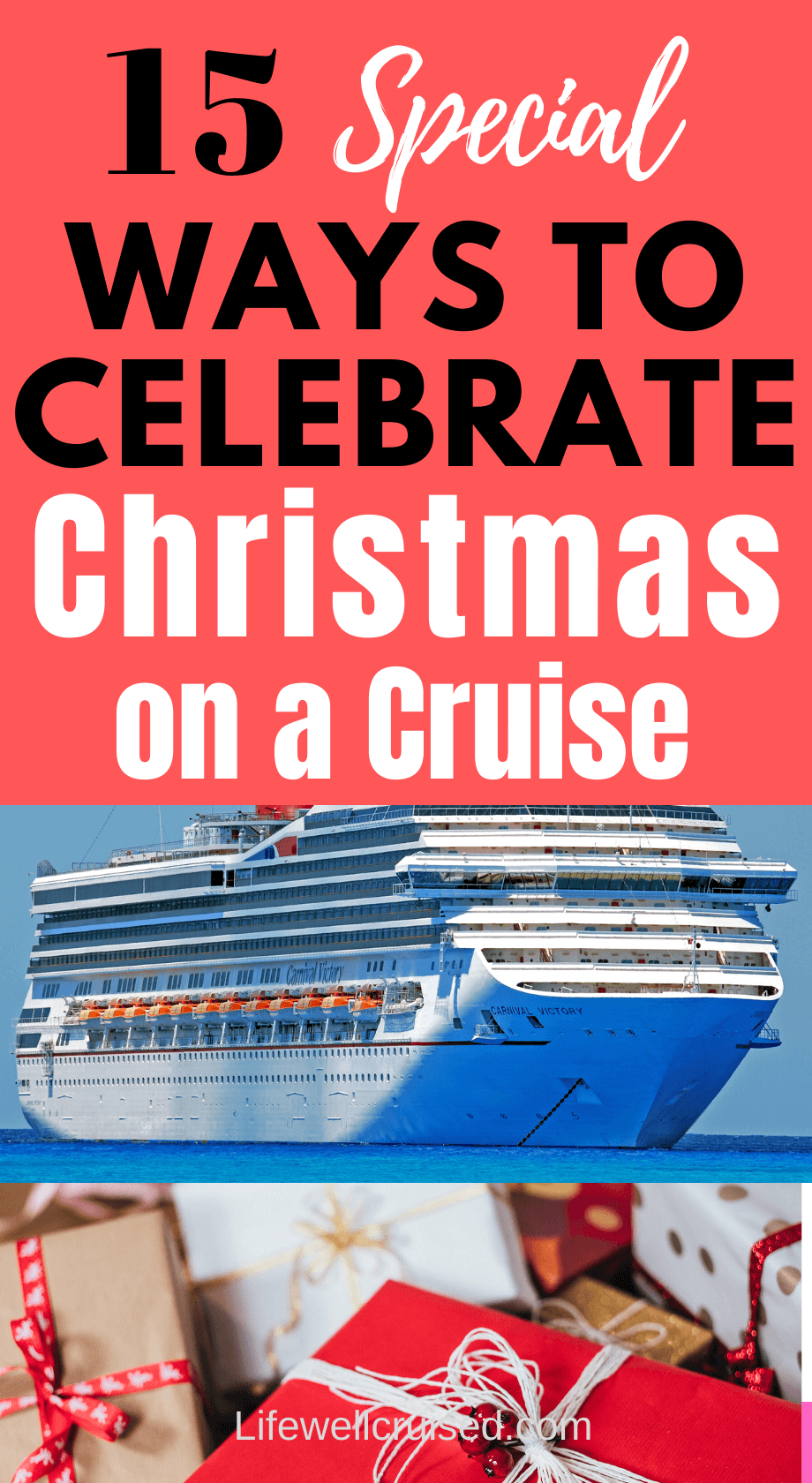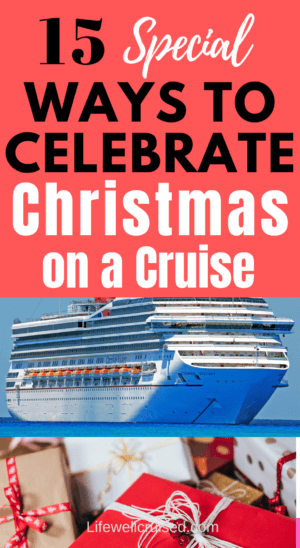 Recap: 15 Special Ways to Celebrate Christmas on a Cruise
I hope these ideas have been helpful if you are planning or thinking about a cruise over the Christmas Holidays.
In this post we went over how Christmas is celebrated on a cruise, as well as how you can bring your holiday traditions with you on your vacation.
Here are the links to the other related posts I mentioned earlier:
How is Christmas Celebrated on a Cruise (with details)
Regal Princess Cruise Review; A Back to Back Holiday Sailing
Here is our Youtube channel, if you enjoy cruise tips and vlogs on video: Life Well Cruised YouTube Channel
Have you cruised during Christmas before or will you be taking a holiday cruise this year? What ideas do you have to bring along family traditions and make it feel like Christmas on a cruise?
Happy Cruising!!
Ilana xoxo
P.S. If you found this helpful, please don't keep it to yourself ;-). Please share on Facebook or PIN to your favorite Pinterest board (share buttons at the top). Thanks so much!
Read more:
What To Wear on a Cruise – The Ultimate Guide 2019
30 Cruise Cabin Hacks Every Cruiser Needs to Know
25 most recommended Amazon Items to Bring on a cruise
20 Cruise Packing Tips all Cruisers Need
Let's connect:
Follow me on Facebook at Life Well Cruised
Follow me onYouTube at Life Well Cruised (Vlogs and cruise tips)
Follow me on Pinterest at Life Well Cruised
Follow me on Instagram at Life Well Cruised