10 Tips to Help Lose Weight Before Your Cruise
Do you have a goal to lose weight before your cruise? You're not alone. Many people want to get in shape and drop a few pounds before that cruise vacation starts!
The fact is for many of us we want to either leave a little buffer room, as we know we'll inevitably put on a little "cruise happiness" weight. Plus, we also want to look and feel our best as we board that cruise ship and put on some of our cruise outfits.
Just so we're clear, I'm not suggesting anyone embark on a crazy diet to "lose weight fast" or anything like that. Plus, being totally honest, I don't know how to do that.
In this post, I'll go over some things that I am doing take off a few pounds before my cruise, and offer some suggestions that might help you too.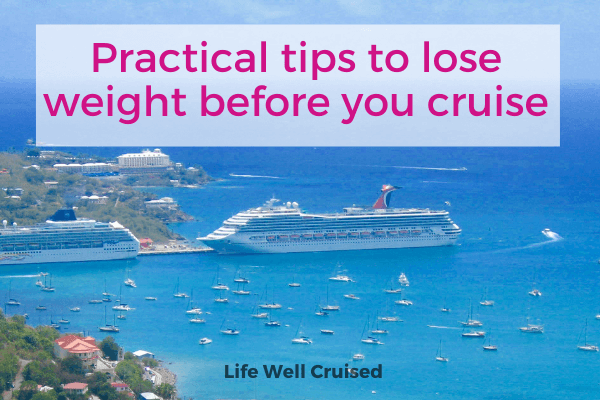 This post contains affiliate links which means if you click and buy that I may make a commission, at no cost to you. Please see my disclosure policy for details.
How to lose weight before your cruise (and not gain it all back)
1. Find your why
Before you start with a plan to lose a few pounds and get in shape before your cruise, ask yourself "why" you want to lose weight?
Is it part of a greater goal to be healthier and you've already made some changes in your life and eating habits?
Is it because you know you've put on a 5-10 pounds and you want to take it off before you put on more?
Is it simply that you want to look and feel better in a bathing suit again or a sexy dress?
There's no wrong answer, but be honest with yourself.
There's nothing wrong with a weight loss or fitness goal that is motivated by a vacation (or any other special occasion).
There are times, as human beings, that we need something that lights a fire under our butts, so to speak. Having a cruise or vacation coming up can give us an extra motivation for something we've been wanting to do.
In my case, I've put on about 10 pounds over the last several months and truthfully haven't been eating well nor exercising. I' usually better about these things, especially eating.
However, I'm not going to beat myself up over it, and you shouldn't either!
Life happens and if you're like me, you've got a lot other stuff on your plate. But this can be the perfect time to get back on track.
I'm happiest when I'm not feeling bloated and when I feel my best in my clothes. Plus, I love cruise clothes and outfit shopping, so an upcoming cruise is a perfect excuse to buckle down and take care of myself.
If this is you, tap into it to meet your goals.
2. Set a realistic goal
This part is so practical, but it's important to set a weight loss goal that's realistic for your time frame and starting weight.
Losing 10 pounds in 2 weeks just isn't going to happen.
Set a time frame that's realistic and that can be healthy for you. The more time the better, so that you can maintain your weight before your cruise. Ideally, you have a good few weeks at the least.
This will just make it easier to not gain all that weight back on your cruise.
Most healthy eating and weight loss plans aim for a weight loss of about 1 to 2 pounds a week, so use that as a bit of a guide.
However, everyone is different, so keep that in mind and talk with your doctor or health professional about your specific situation.
MEME – The cruise is coming, don't eat for 3 weeks (create)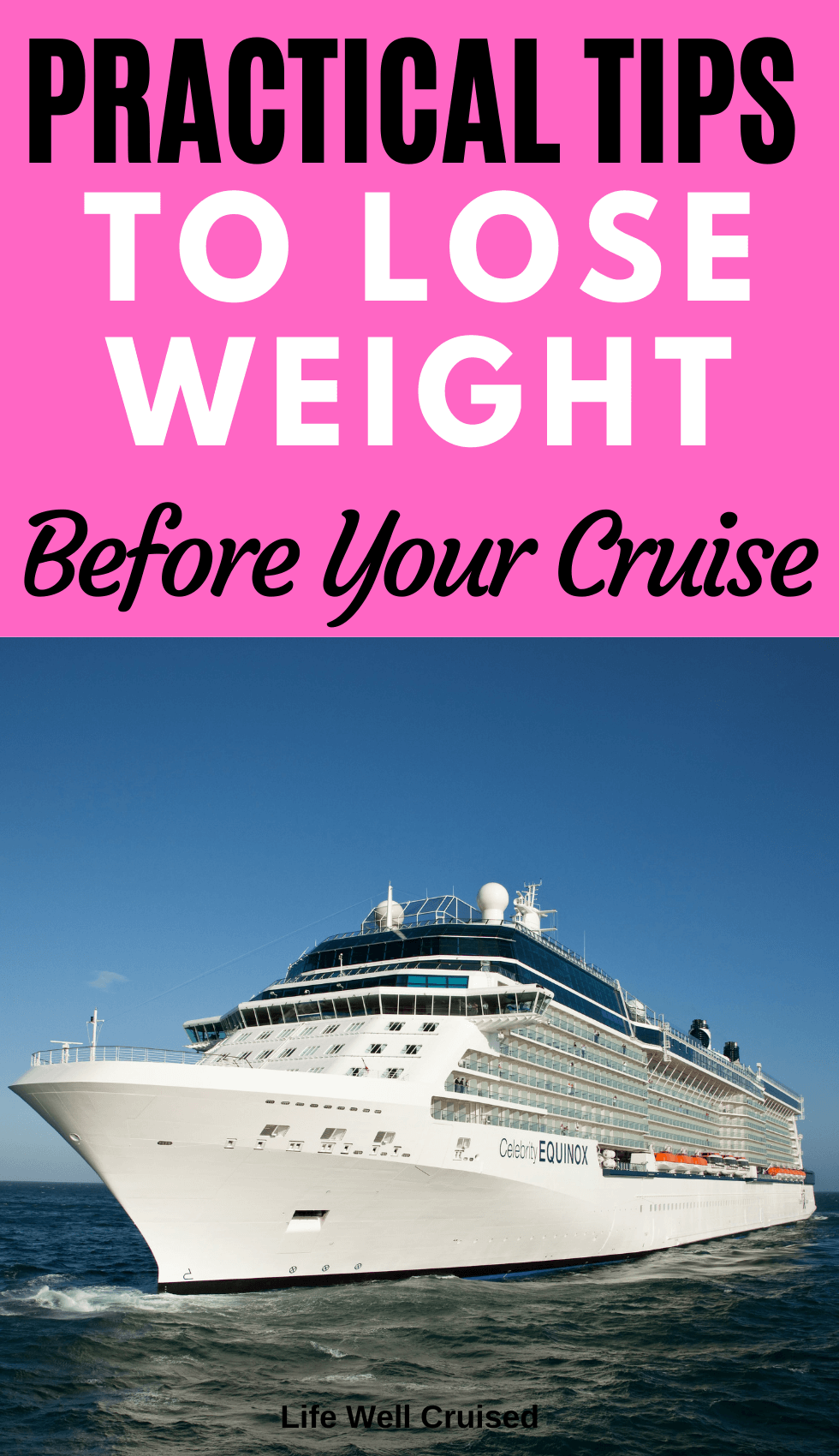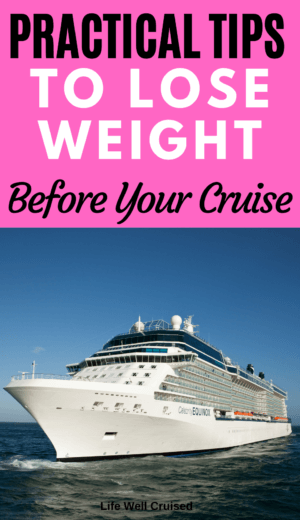 3. Practical tips
If you want to lost weight before a cruise, or for any other reason, remember these practical tips. We probably all know them, but I know I need to remind myself every time I gain an extra 5 pounds!
Drink water and other fluids
6-8 glasses of water a day is what I aim for and fail miserably if I'm not intentional about it. I notice when I do it I definitely feel less hungry.
Watch your alcohol intake
I once asked a friend who lost weight and was looking pretty fabulous how she did it, and if she gave up wine (priorities right ;-). Her answer was perfect.
She told me with a straight face, "I still drink wine. but not because it's Tuesday".
Cutting back to one glass rather than two, or saving wine for Saturday night, can be helpful especially if you only have a few extra pounds in the weeks before your cruise.
Eat more vegetables
Seriously, our moms told us this one! Fill up half your plate with salad and veggies. I love putting some raw spinach under my chicken or salmon.
Weird but surprisingly good. Find your own tricks to add more veggies to your diet.
Cut back on "junk foods"
Do you ever notice that eating junk food never actually feels satisfying? It's crazy that it tastes good in the moment, but cutting back on high calorie, sugary or salty foods is one thing that can actually drop weight fast.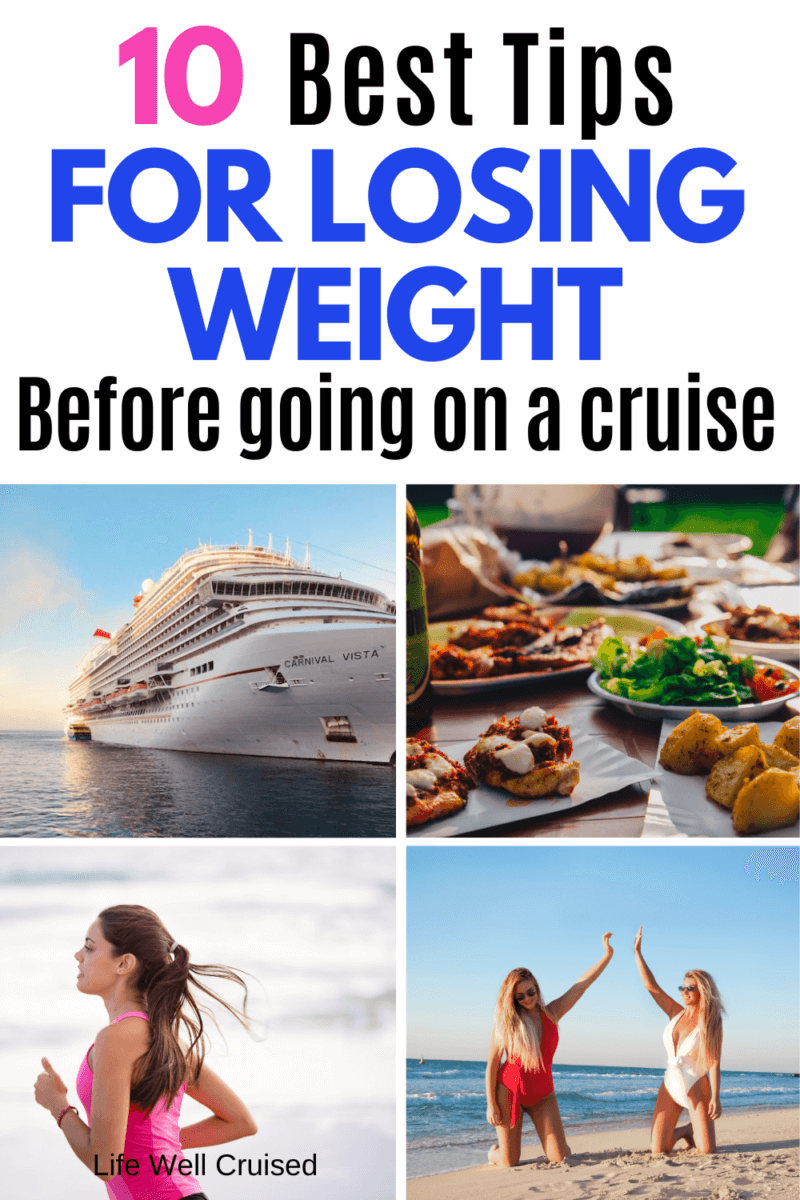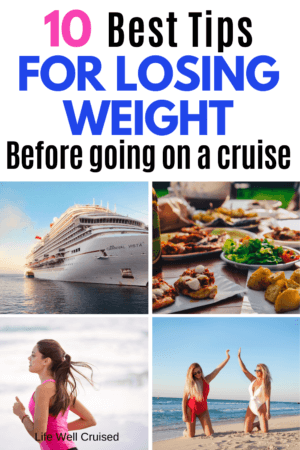 4. Pick a weight loss program
While you can do this on "your own", picking a healthy eating plan that will guide you and set up parameters can be really helpful to help you meet your goals.
Whether it's Weight Watchers, a Keto plan, Zoom, intermittent fasting or something else, the benefit is that it's a guide and a plan.
Most of us do better when we follow a plan. It's kind of like following a map or GPS, we're just more likely to get where we want to go than if we drive around with "a bit of an idea". Shout out if you've ever driven this way (I totally have and it took 3 times as long!)
Personally, I like Weight Watchers for the fact that it's not restrictive and steers you toward healthier, lower calorie choices combined with an incredible amount of leader and peer support.
I lost about 30 pounds of on Weight Watchers about 15 years ago (I'm a small girl so this was a lot of extra weight for me). I'll be getting back to this.
However, I know others who have been loving Keto and the eating plan works for them. Others have used intermittent fasting and have seen great results.
I do suggest doing a bit of research and reading about the plans, and finding the one that suits your lifestyle and preferences. If you go it alone, take time to write out your own plan.
5. Take your measurements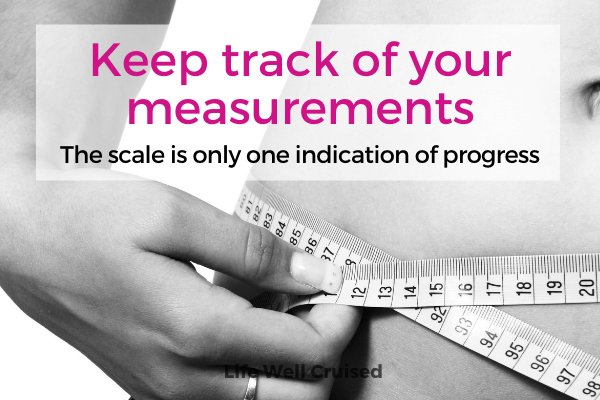 As you're starting your weight loss plan, it's so helpful to measure not only weigh yourself, but take a few measurements.
The fact is, sometimes a weight loss of a pound may not sound like much, but when you measure yourself and see that your waist, arms or hips are getting smaller, you'll appreciate seeing the measurable results.
Something you may want to do as well, is get a good digital scale , that shows you the points. It's much more fun to see results, even if small. Plus, weighing is a good way to keep track of how we're doing and if we need to make adjustments to our plan.
Recommended: Digital Scale (verify price and reviews on Amazon)
6. Add exercise into your weight loss regimen
Speaking from personal experience, exercise alone won't make you lose weight, However, there are other advantages and reasons you should add movement and fitness into your strategy for losing weight before your cruise.
Firstly, movement is good for our bodies and minds. Studies show that people are more productive and happier when we exercise.
I've personally seen 2 things happen every time I add even 20-30 minutes of exercise a day into my life.
Firstly, a good 30 minute workout (even fast walking) actually makes my body more toned. I love walking, so this is my go to!
Secondly, and this one works even when I'm on a cruise. When I put exercise more, my metabolism seems to be at it's best. I can see that my weight loss will usually be more significant if I also incorporate some fitness into my day.
Plus, it really feels good!
7. Visualize your weight loss results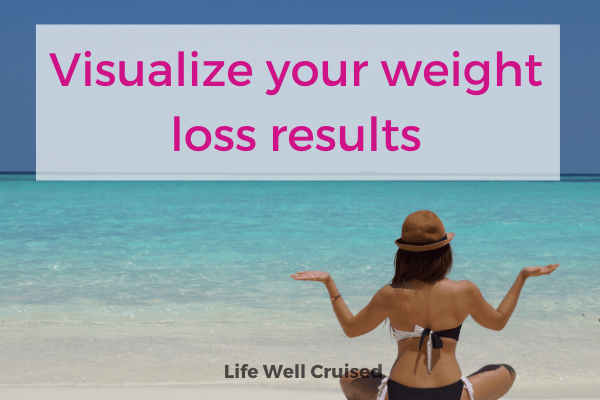 Sometimes, it's not about the number on the scale. It's about how you're going to look and feel when you drop those extra pounds or get toned up.
So visualize what you want to look and feel like.
It sounds hokey, but visualization works and keeps you in a positive mind frame as you have some tough days when following a plan isn't easy.
If you have a photo of yourself at your goal weight, consider keeping in in your purse or on your bathroom mirror.
If you've never been at your goal, that's ok, I have a little mind trick that I've found works.
Find a photo of someone (like in a magazine) else that's about your height and age, as an inspiration. If they have a story of weight loss that resonates with you, even better.
Rip that photo out and so the same visualization – keep that picture in your handbag or bathroom mirror as a reminder of your goal.
Know that these are the approximate results you want to achieve, and it's ok if you don't look exactly that way. But feel confident that this is how you'll feel in that dress or bathing suit.
8. Keep track of what you eat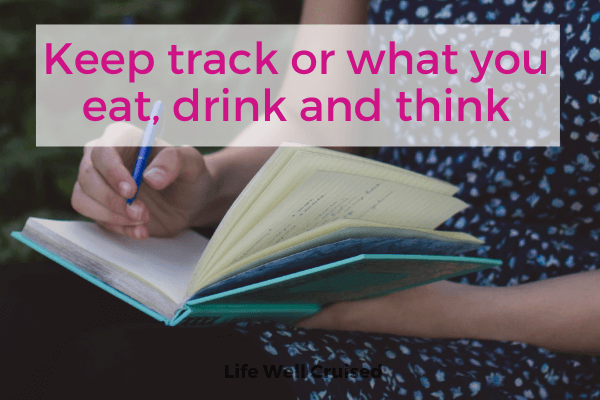 Most weight loss guides and programs, from weight watchers to an individualized plan from a nutritionist or weight loss coach, will tell you to track what you eat.
For you this might mean writing down the foods you eat and keeping a daily log, or it might mean tracking on an app of some sort on your phone.
Why? Keeping track of what you've eaten keeps you accountable to yourself. Even small bites or tasting (a lot) while we're cooking can add up.
Plus, you can use this to plan. If you know you're going out to dinner, plan your day so that you eat lighter throughout the day and have a ore calorie rich meal in the evening without guilt.
Remember to also keep track of what you drink, including water. If you have a goal of exercising a few times a week, keep track of that as well.
9. Journal your journey
This may or not be for you, but if you have a bit of a mindset issue, journaling as you work on your goal to lose weight can help.
There will be good days and days that are harder, but writing down your feelings, goals and accomplishments can help you to acknowledge your progress.
Not a size 2? Who cares?
You're looking great and feeling great, on your own terms. That's what matters!
Be grateful for a body that can move and walk and for good food to enjoy, and for an upcoming cruise of course!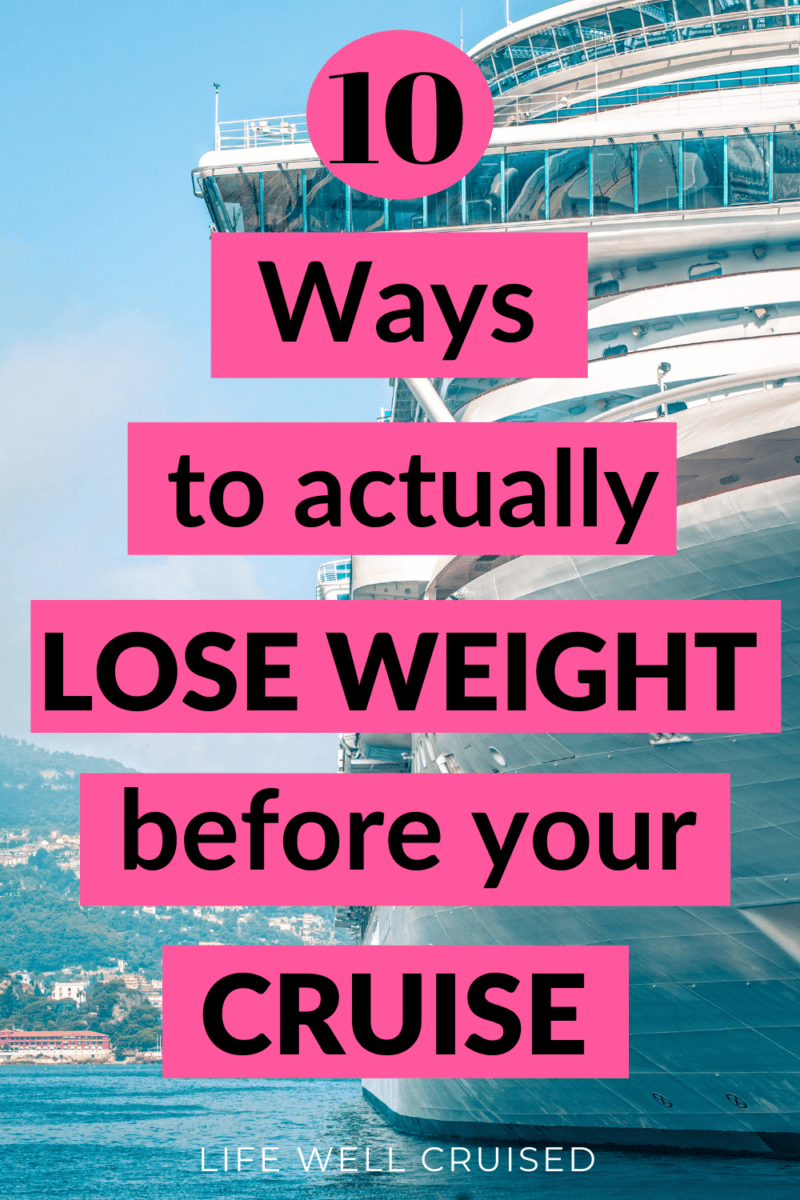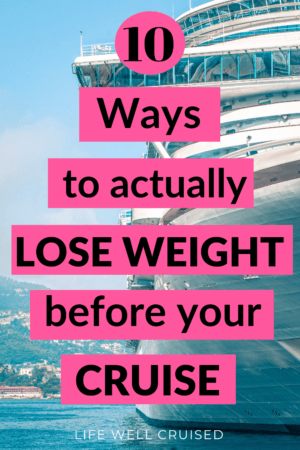 10. Make it real
Have you ever seen that reality show "10 pounds weight loss"?
One of the things they did was actually pick a dream outfit that looked pretty great, and then buy it in a smaller size.
I've totally done this, and it works for me.
Whether it's buying a new outfit for your cruise, or taking out a dress you love and have worn in the past, try it on and imagine how great you'll look and feel on that cruise ship.
This requires some imagination of course, but trying that goal outfit on about once a week, can keep your ultimate goal feeling real and achievable.
If you've lost those few pounds before your cruise and are a bit worried about gaining it all back on your cruise (cause let's face it, cruise food is good!, you might enjoy this post: How NOT to gain weight on your cruise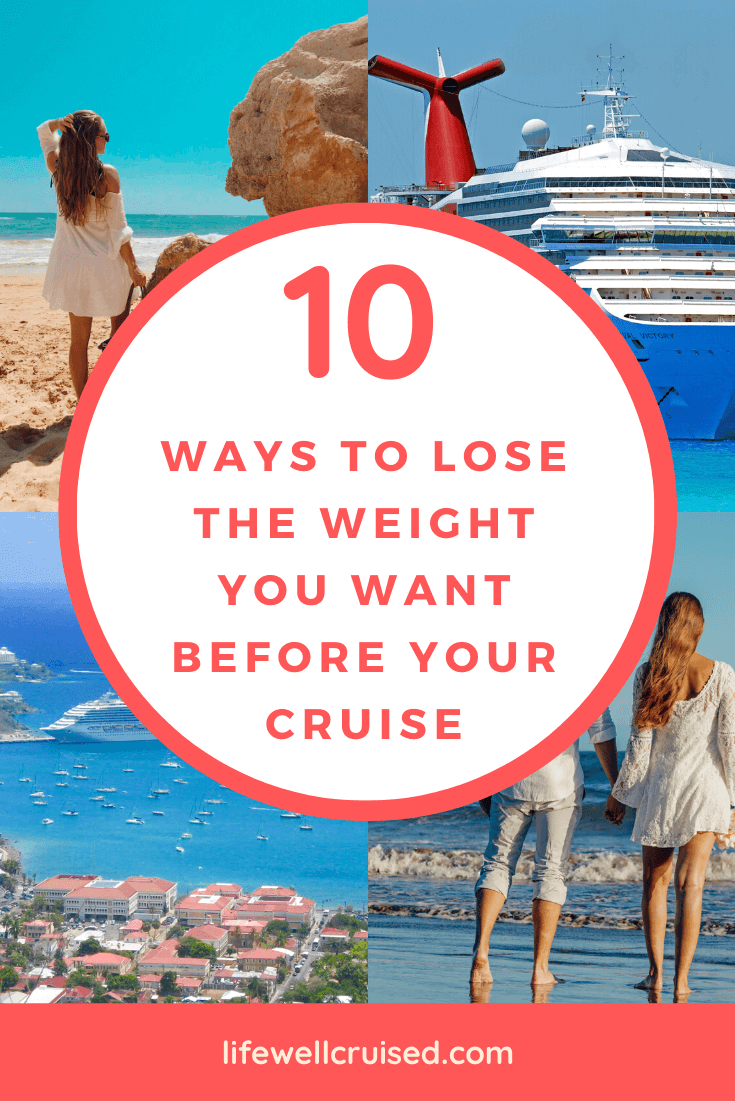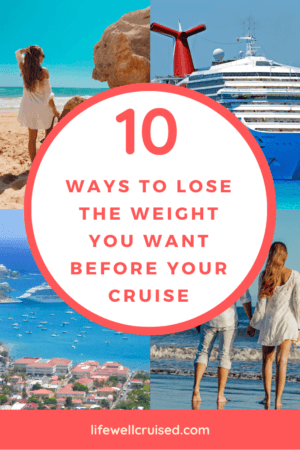 Recap: Tips on how to lose weight before your cruise vacation
So many of use get into a bit of diet mode before a cruise. In this post, I've gone over some practical tips to help with losing weight before your cruise. Plus, to feel like your best self both before and during your cruise.
If it helps, I'm in the same boat (cruise pun intended) and eating some baby carrots at this very moment ;-)! Let me know if this is you too.
I hope that these tips on what to do to lose weight before your cruise has been helpful. Do you have any tips that you've used? Please let e know in the comments below.
Happy cruising!
Ilana xoxo
P.S. If you found this helpful, please don't keep it to yourself ;-). Please share on Facebook or PIN to your favorite Pinterest board (share buttons at the top). Thanks so much!
Popular Posts:
How NOT to Gain Weight on a Cruise (and still enjoy!)
20 Cruise Packing Tips all Cruisers Need
30 Cruise Cabin Hacks Every Cruiser Needs to Know
15 Cruise Embarkation Day Tips Straight from the Pros
Let's connect:
Follow me on Facebook at Life Well Cruised
Follow me onYouTube at Life Well Cruised (Vlogs and cruise tips)
Follow me on Pinterest at Life Well Cruised
Follow me on Instagram at Life Well Cruised