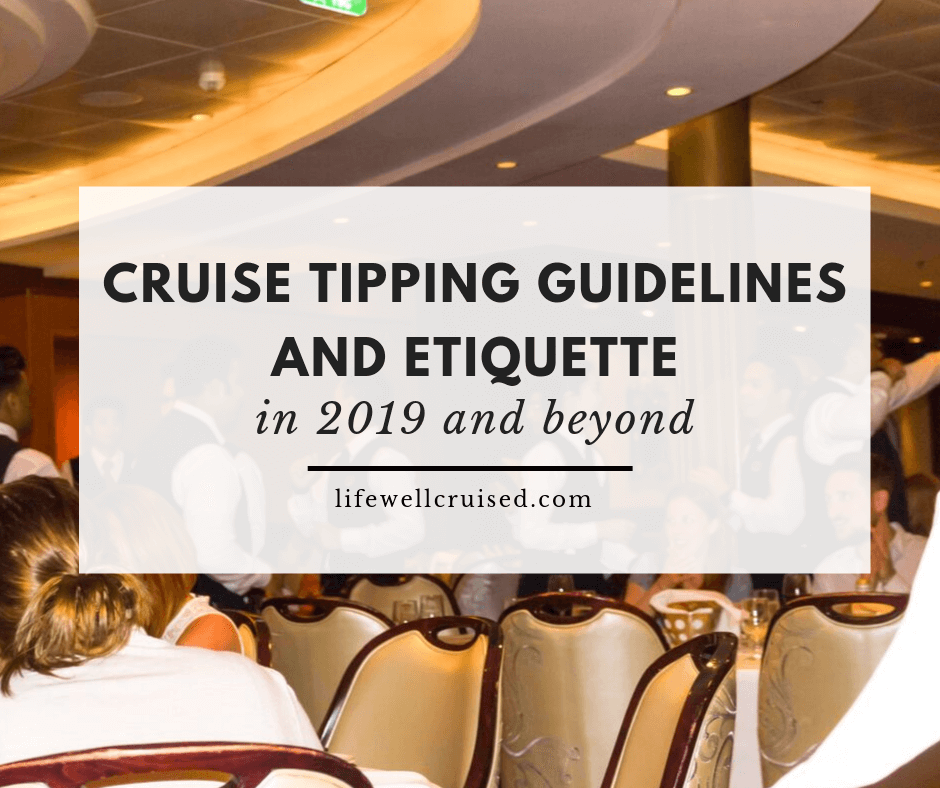 Cruise Tipping Guidelines and Daily Service Charges
If you're a new cruiser, knowing about and understanding cruise tipping guidelines is important. Even though cruise ship gratuities technically aren't mandatory, they are customary and expected on most mainstream cruise lines.
In this post, I'll be going through the cruise tipping guidelines, so that you can know what to expect with regards to gratuities and on board service charges on a cruise.
Cruise Vacation Gratuities and What to Expect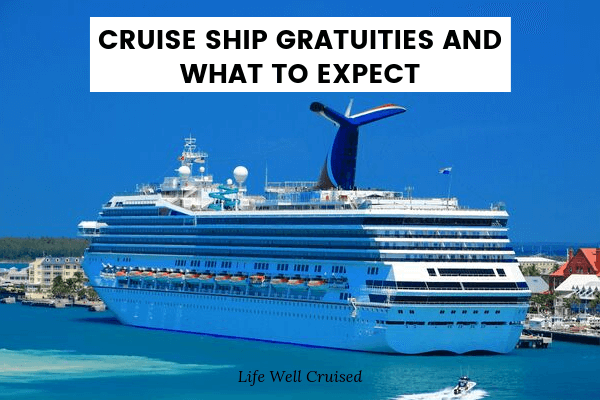 Cruise tipping might be one of the most controversial topics for cruisers. In my experience, cruisers are pretty happy, friendly travelers… except when the subject of gratuities comes up.
People definitely have strong opinions about this topic!
In this post, I'll try to give you as much information as I can about cruise ship gratuities and tipping, so that you know what to expect when you're on a cruise.
How do gratuities (aka tipping) work on a cruise?
When you book your cruise, you'll be charged your cruise fare, port fees and taxes. However, your cruise vacation expenses won't end there. You'll want to factor in the cruise line gratuity charge, sometimes called on board service charges (Norwegian Cruise Line).
Once on board, your cruise account will be charged automatically the set daily gratuity amounts, per person in the cabin. Although cruise lines have different suggested amounts, they're in the range of about 15$ per person a day for a regular cabin (inside, ocean view, balcony), and about $18 p/p a day for a suite.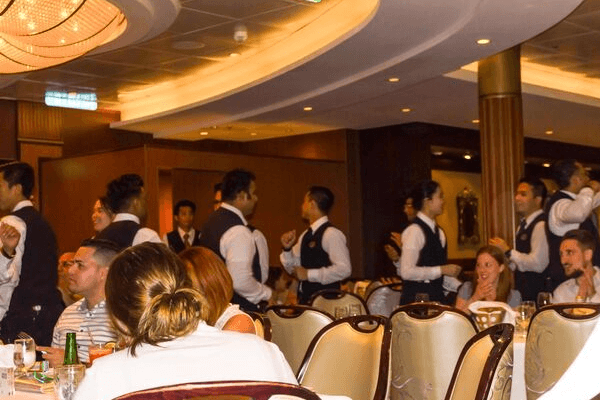 The money is divided up between the main staff members who serve you during your cruise:
Your cabin steward – your cruise cabin is cleaned twice a day, morning and evening for turn down. Depending on the cruise line, your cabin attendant may leave chocolates on your pillow or towel animals in your cabin, along with taking care of your needs during your cruise.
Dining room staff – You waiter, assistant waiter and Maitre'd (and possibly others) will all receive part of the gratuity amount.
If you choose Select, Anytime or any open dining options, or even if you eat in the buffet, waitstaff get a share of these gratuities.
Something to note is that waiters in the main dining room can be seen working at the buffet in the morning or at lunch. So even if you eat in the buffet and skip the Main Dining Room altogether, rest assured that your tips are being divided among staff that have served you in some way.
In our experience, the service on our cruises has been excellent. We've never felt more "taken care of" on vacation, then when on a cruise.
*Please check with your travel agent or cruise line for the specific details and gratuity amounts of your cruise booking.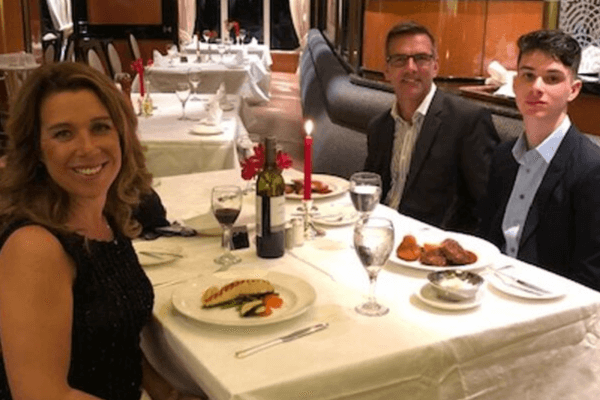 How are gratuities charged to your cabin?
When we first started cruising, about 15 years ago, we were given small envelopes in our cabin along with suggested amounts to tip to our cabin steward, waiter, assistant waiter and Maitre'd.
When we booked, our travel agent explained how this worked and so we brought cash with us knowing that we would need to distribute this money at the end of the cruise. We were literally counting out cash and dividing it up in our cabin.
In recent years, cruise lines have started to charge a set amount automatically to your account during the cruise. Typically it's charged to your credit card on file.
If you prefer, you can prepay your gratuities, before your cruise. This can be great if you want to don't want to worry or think about any extra expenses once on your cruise vacation.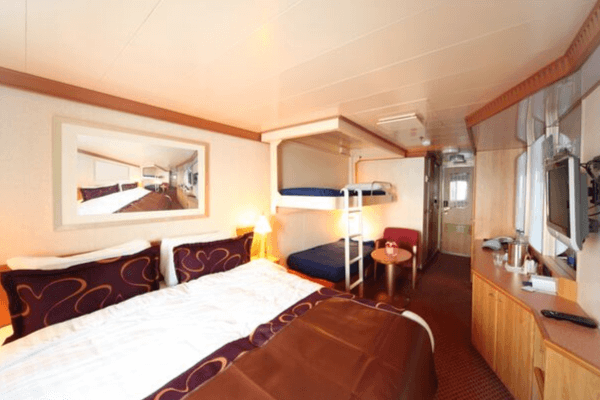 Can I opt out of automatic gratuities and pay tips in cash?
If you'd rather not use your credit card, and instead prefer to use cash, simply go to guest services and arrange payments.
If you want to opt out of gratuity charges altogether, in some cases you can ask at guest services to have these removed. Then you can tip in cash at your discretion. There may be some envelopes available if this is your preference.
Is tipping on a cruise mandatory?
"Do I need to tip on a cruise or pay service charges", is a question that I see on occasion in some cruise Facebook groups.
Although it's not mandatory, and you can go to guest services and have the amount adjusted (in most cases), most cruise lines do tend to discourage it.
Something to note is that Norwegian Cruise Line doesn't have "suggested tips", and instead opt for an "onboard service charge". According to their website, the service charge will be charged automatically for guests 3 and up, and distributed among staff that serve you in various ways.
Rather than reducing the amount payed, they point out on their website that they will work to resolve any service issues experienced.
In the end, cruise lines do hope that cruise passengers will tip/pay on board service charges.
*Always check with your cruise line or travel agent for the specific details of your booking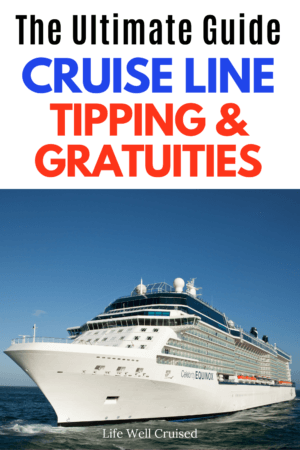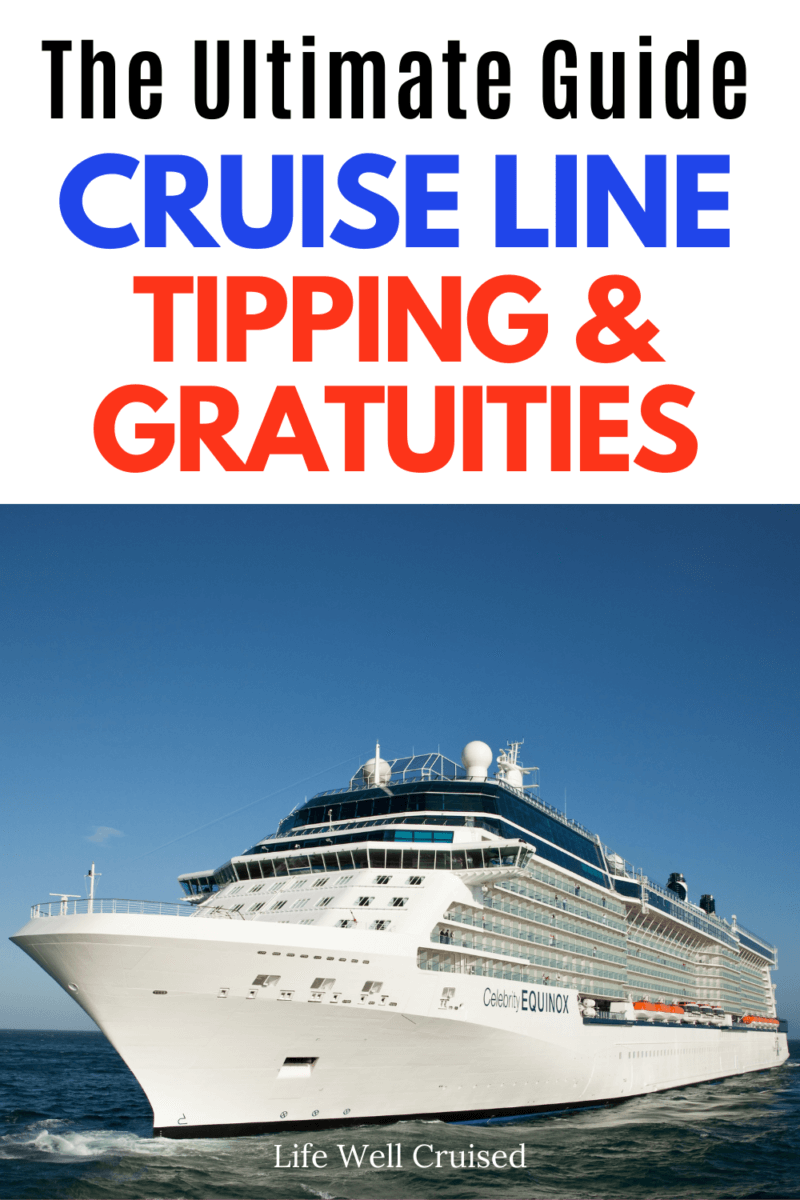 Why is tipping so controversial?
I really hesitated before I wrote this blog post, because it's genuinely a hot topic and kind of controversial among cruisers.
I really think cruisers are some of the friendliest and nicest people, and of course I don't want to offend anyone. That said, gratuities are one part of cruising, so we do need to talk about it.
These are my personal opinions on this, that I've gathered over the years by reading comments and listening to cruisers in person.
I believe tipping is controversial for a few reasons, and I say this with respect. If you disagree or have more to add, let me know in the comments below.
1. Cultural reasons
The reality is that not every culture values tipping for service rendered (or at least not at a set amount). In North America tips are customary and expected. 15%, 18% and even 20% is a standard gratuity at restaurants and other service based venues. Often, staff working in these environments are payed less than the average salary with this understanding.
Many countries in Europe (and other places) have a different system and in our experience, it's customary to tip a little by rounding up a bit, or on occasion if service is above and beyond. The base salary of employees may have something to do with this.
Most mainstream cruise lines are American, and this has been the custom in cruising for a long time. The staff count on gratuities from passengers for their income, as their base salary isn't very high.
While those who are used to this, value tipping and may feel strongly about it, others feel just as strongly that they should be able to "tip" those who have served them directly, and have gone somewhat above and beyond.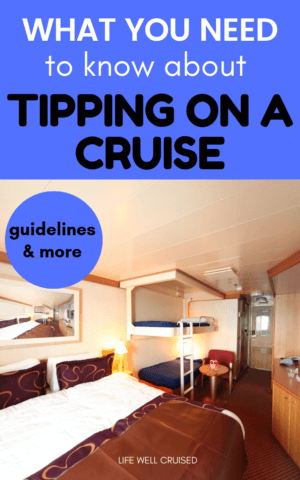 2. Financial reasons
There are people who budget for the cost of a cruise, and the gratuities add an extra expense that for some is beyond what they are willing to pay for this vacation.
Cruise lines advertise the cost of a cruise, and for some, this is what they want to spend. Gratuities for 2 to 4 people or more might be more than people expected to pay. If it's not mandatory, some people may choose to tip less than the suggested amount.
Recommended: 20 Simple Ways to Save on Your Family Cruise
3. Tipping directly to staff
Some people explain that they want to choose who gets a tip and give money accordingly. They may not like the system where the cruise line distributes it.
Why isn't tipping built in the cruise fare or price of the cruise?
Recently I've seen and heard this asked. How would you feel if tipping or service charges were simply included in the cruise fare?
Who else should I tip on a cruise?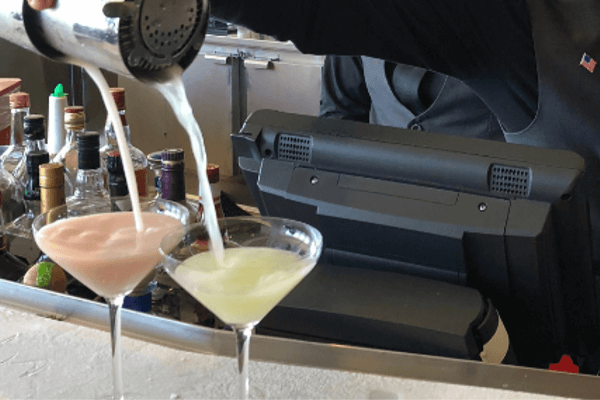 Here are a few extra tipping tips (lol). Although we've gone over the automatic gratuities cruise lines charge, there are a few other times you may want to tip on your cruise or even at the cruise port.
Cruise porters: We like to keep a few dollars handy to tip the porters who take our luggage when we board our ship.
Room service: You may want to give a small tip to the person who delivers your room service order.
Bartenders: Do note that when you order a drink, there is a gratuity charge added on (you'll see it on your bill). It's up to you if you want to add more to this.
Specialty Restaurant waitstaff: If you opt for a specialty restaurant, the tip isn't usually included. It's customary to tip the waitstaff.
Shore excursion guides/crew: You may want to give a few dollars to the tour guide or crew on a shore excursion or the shuttle driver.
Youth staff: Some cruise lines point out that you may wish to tip the kid's club staff. If your kids have had a great time and you've appreciated the service, a few extra dollars are surely appreciated.
Please note that all these suggestions at your own discretion and are not "expected"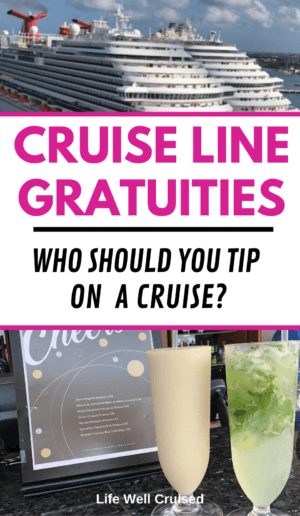 Cruise Tipping Etiquette – Should I give more than the recommended or suggested amounts?
As much as some people opt to remove gratuities on their account, some give extra. If you feel that you want to tip above and beyond the cruise tipping guidelines, go for it.
This is a personal decision and I'm not sure if there's a tipping etiquette for it. If you feel that you wish to give an extra amount to anyone who you feel has done a great job, they will be appreciative.
What I can say, on a personal level, is that we have found that the majority of cabin stewards, waiters, assistant waiters and ship staff have given us amazing service. In fact, I think most would agree that cruise line staff make a huge difference in the cruise experience.
What to do if you're not satisfied with the service
This may be rare, however if there are issues with service or where you are unhappy with something, that you should bring this to the attention of the staff member, supervisor, or guest services when it occurs. The worst thing you can do is wait until you are home from your cruise to address it. It's unlikely to do any good by this point.
In reality, the cruise staff on board want you to be satisfied, so this is the time address a problem. Not only will it improve your cruise experience, but you're also allowing the cruise ship staff the opportunity to make things right.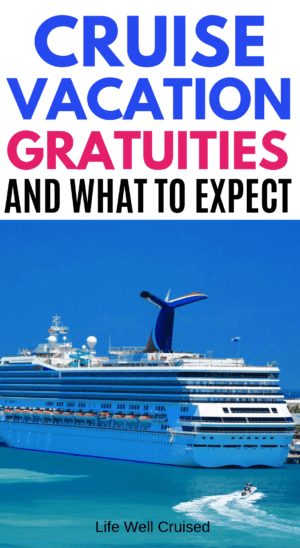 Recap: Cruise Tipping Guidelines and Etiquette – What you need to know
In this post, we've gone over how cruise ship gratuities work and who receives them, as well as how much to expect in terms of a daily gratuity charge. As a cruise passenger, you'll want to be aware and set your budget expectations to include these amounts for the cruise ship staff.
If you do have an issue or want to adjust gratuities up or down, you can do so by talking with guest services on board.
What do you think about cruise line gratuities and service onboard? Do you prefer to prepay your gratuities or to pay in cash? Please let me know in the comments below.
Happy cruising!!
Ilana xoxo
P.S. If you found this helpful, please don't keep it to yourself ;-). Please share on Facebook or PIN to your favorite Pinterest board (share buttons at the top). Thanks so much!
Popular Posts:
20 Cruise Packing Tips all Cruisers Need
27 Cruise Travel Hacks Repeat Cruisers Swear By
30 Cruise Cabin Hacks Every Cruiser Needs to Know
15 Cruise Embarkation Day Tips Straight from the Pros
Let's connect:
Follow me on Facebook at Life Well Cruised
Follow me onYouTube at Life Well Cruised (Vlogs and cruise tips)
Follow me on Pinterest at Life Well Cruised
Follow me on Instagram at Life Well Cruised