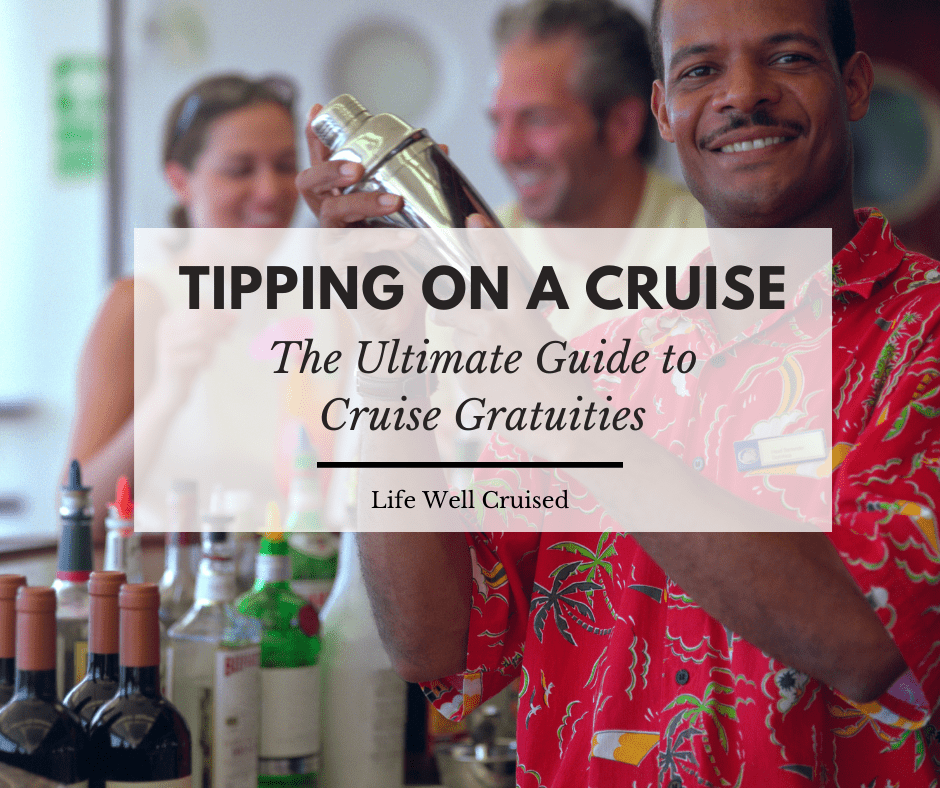 Cruise line tipping policies vary from one cruise company to another. However, there are a few common practices and guidelines. Even though cruise gratuities technically aren't mandatory, they are customary on most mainstream cruise lines.
If you're new to cruising, you might be wondering who to tip on a cruise, how much to tip, and exactly how onboard gratuities work.
I've got you covered! I've been cruising for over 15 years, and the practice of tipping on a cruise has certainly evolved. Cruise lines have implemented automatic gratuities, options to prepay gratuities and some popular cruise lines have begun including tips in your cruise fare.
In this post, I'll be going through the cruise tipping policies by cruise line and answer some of the most common questions people have about gratuities on a cruise.
This post contains affiliate links which means if you click and buy that I may make a commission, at no cost to you. Please see my disclosure policy for details.
As an Amazon Associate I earn from qualifying purchases.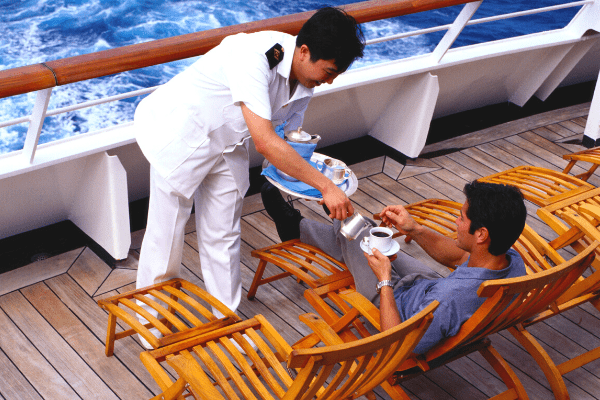 How Gratuities Work on a Cruise
If you're going on a cruise, you can expect daily gratuities to be charged automatically to your onboard account. This amount varies by cruise line, however the average daily gratuity is $14-15 US per day, per passenger for a standard cabin and $17-18 a day for guests in suites. Cruise gratuities are divided among your cruise cabin steward, waiters and other crew members who work as support behind the scenes.
Some cruise lines refer to the gratuities as a crew incentive or a service fee, but essentially these are tips for crew members that are used to augment their low wages. In addition to the automatic daily gratuities, a tip or service fee of 15-20% is added to drinks and/or drink packages as well as spa services on a cruise.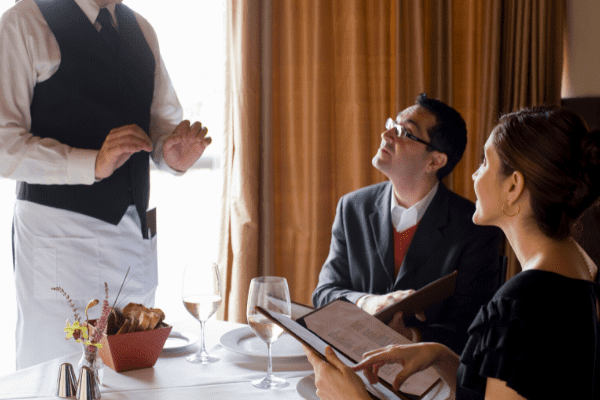 Get The Ultimate Cruise Planner
Regular price: $27 Now just $17!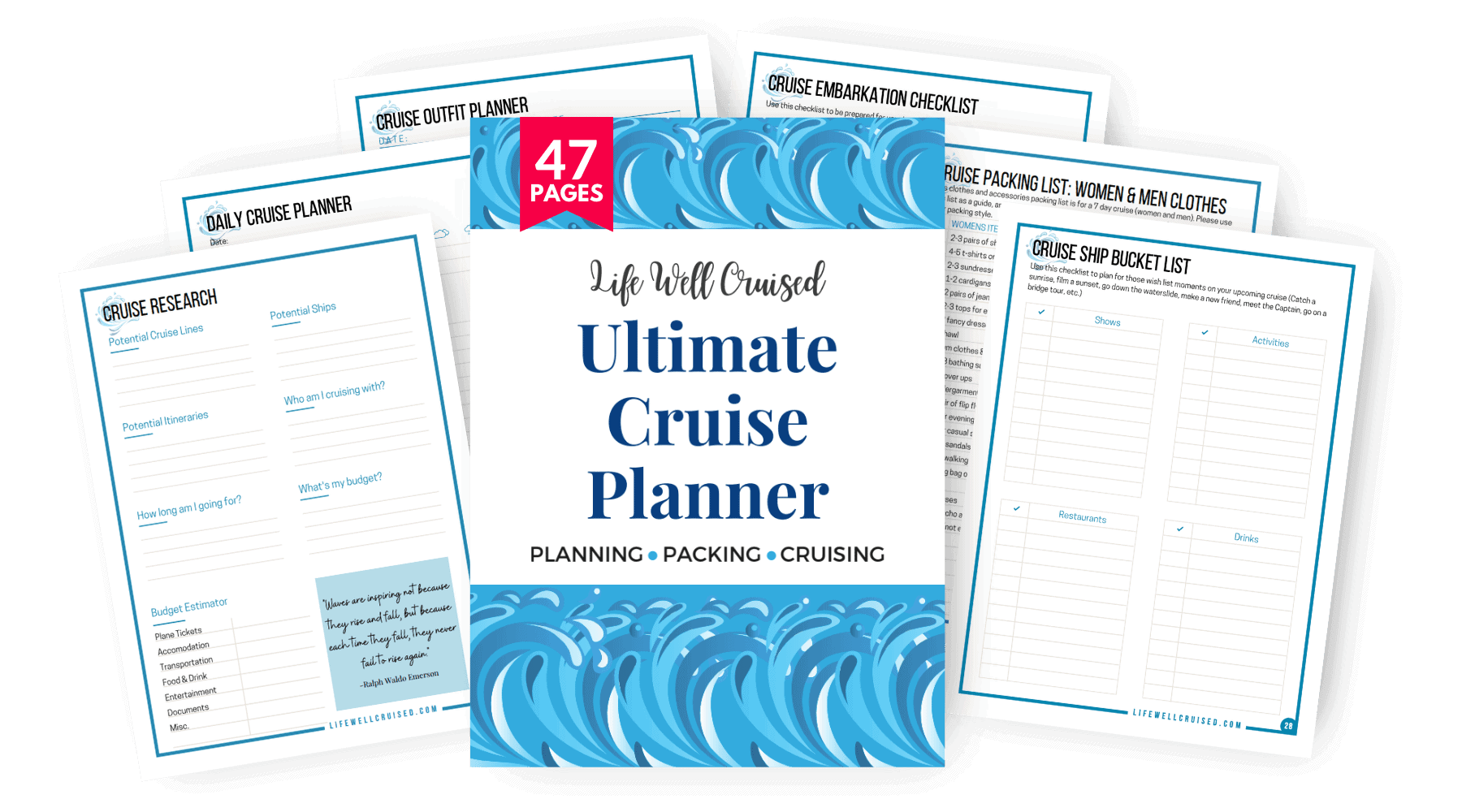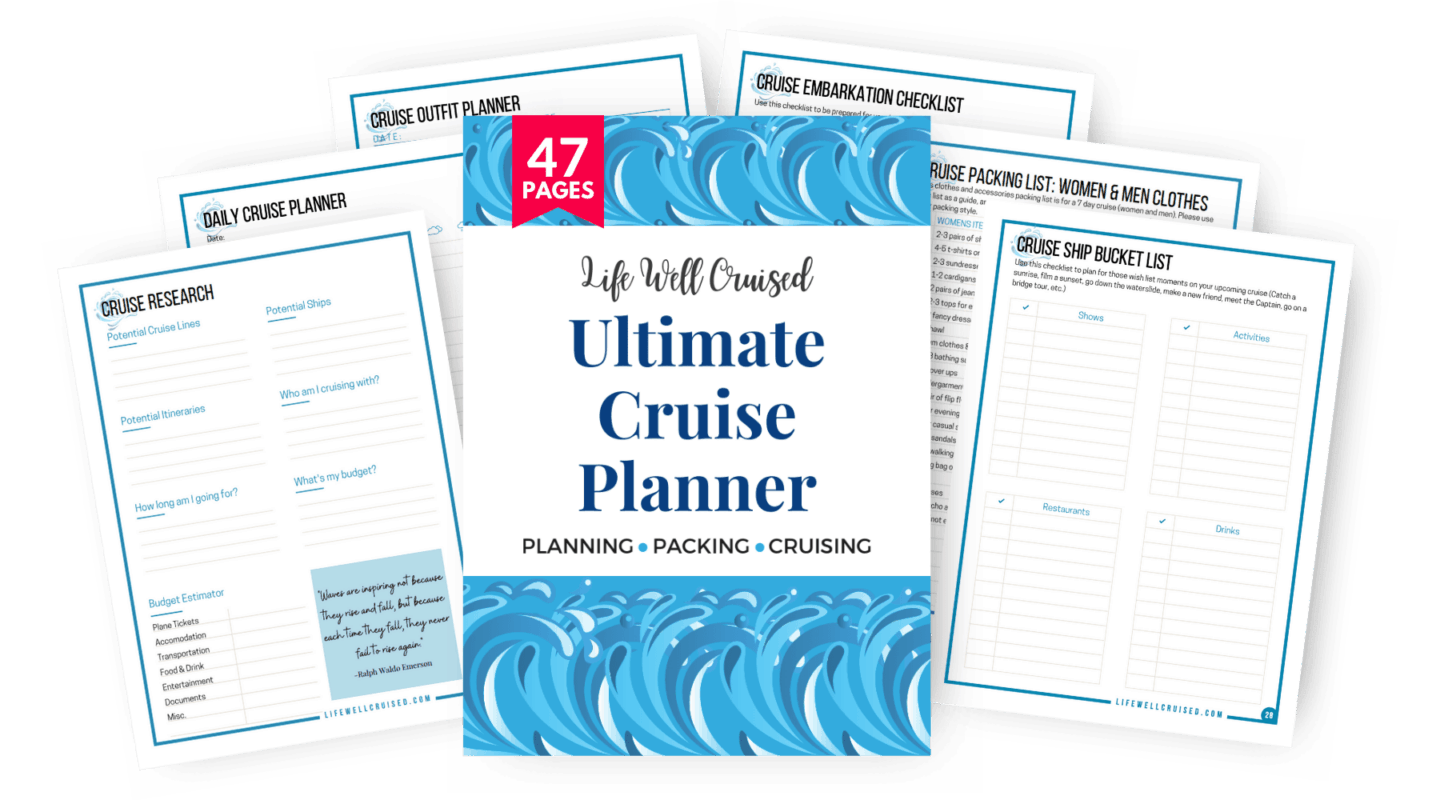 Can You Prepay Cruise Ship Gratuities?
You also have the option to prepay your gratuities before your cruise. This is a convenient option for cruise passengers that don't want to think about extra charges once onboard. We like to prepay gratuities when we make our final payment for our cruise, but this is optional.
Read more: Should You Prepay Gratuities on a Cruise or Pay Onboard?
Can You Pay Tips in Cash?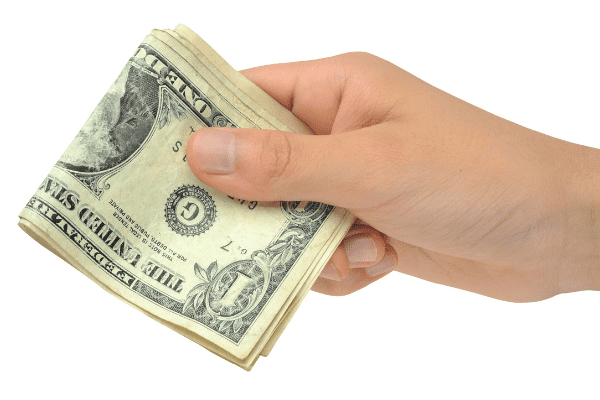 If you don't prepay your gratuities, they will be added to your onboard account. Typically, this is associated with your credit card which you'll be prompted to set up when you complete your online check in. However, if you prefer to pay off your account and daily gratuities in cash, you can do so by going to guest services.
When you book your cruise, you'll be charged your cruise fare, port fees and taxes. However, your cruise vacation expenses won't end there. You'll want to factor in the cruise line gratuity charge, sometimes called on board service charges (Norwegian Cruise Line).
How Much Should You Budget for Cruise Gratuities?
The average daily gratuity on a cruise is $14-15 USD per person – approximately $30 per day, per couple in a cabin. A couple should budget about $200 in gratuities for a 7 day cruise. Most cruise lines charge for children as well, although there are some exceptions for very young children on select cruise lines.
Cruise Tipping Guidelines by Cruise Line
Wondering how much gratuities are on a cruise? Here is a list of the daily gratuity charges by major cruise lines.
Prices are in US dollars unless otherwise noted and cruise line gratuities may be referred to a daily service charge or crew incentive.
Carnival Cruises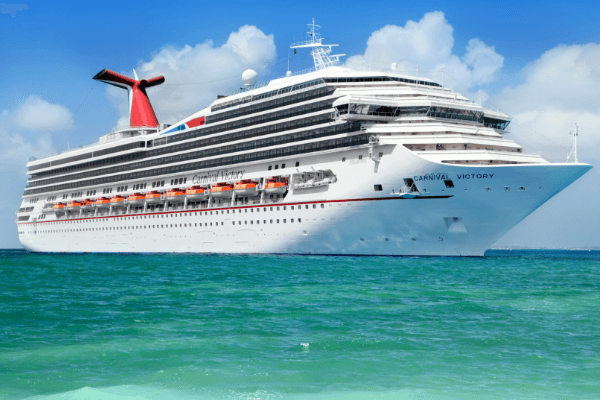 Carnival's daily gratuities are $13.99 per person, per day for guests in standard cabins. $15.99 per person per day for guests in suites. There is no charge for children under 2 years of age.
Celebrity Cruises
Celebrity Cruises now includes daily gratuities in it's Always Included cruise fare.
Costa Cruises
On Costa Cruises, service charges of $12.50 per person, per day are charged for cruises departing from the US. Cruises in Europe, World cruises and those departing from a non-US Caribbean port charge 10 Euros per person, per day. Other itineraries may differ. Please check Costa's website for details.
Service charges for guests ages 4-14 are half of the adult rate. Children under 4 are not charged.
Cunard
Cunard's daily gratuities are set at $11.50 per person, per day for guests in standard cabins. The cost is $13.50 per person, per day for guests in Grill Class suites.
Disney Cruise Line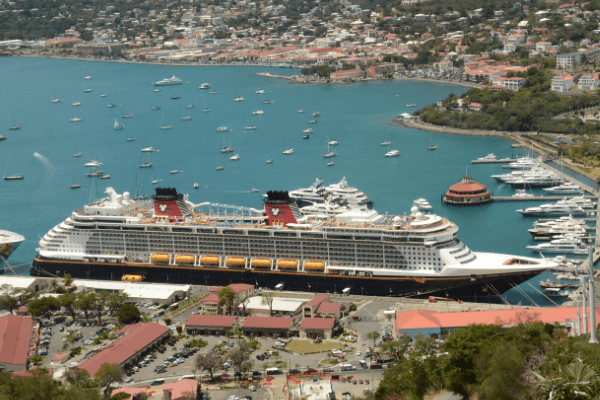 Disney cruises has a suggested daily gratuity charge of $13.50 per person, per day for all guests.
Holland America Line
Holland America's daily gratuity is $14.50 per person, per day for guests in standard cabins and $16.00 per person, per day for guests in suites.
MSC Cruises
The service charge on MSC Cruises is $12.50 per person, per day for guests in standard cabins. Children aged 2-11 will be charged $6.25 per day. There is no service charge applied for children under 2 years of age.
Please note that gratuities are charged in US dollars for Caribbean, US and Canada cruises. Cruises in Europe are charged in Euros. There are different service charges for certain itineraries. Please check MSC's website for details.
Oceania Cruises
The gratuities on Oceania Cruises are $16.00 per person, per day for most staterooms and $23.00 per person, per day for guests in suites.
Norwegian Cruise Line
Norwegian Cruise Line charges a daily service fee of $15.50 per person, per day for guests in standard cabins and $18.50 per person per day for guests in suites and The Haven. There is no charge for children under 3 years of age.
Princess Cruises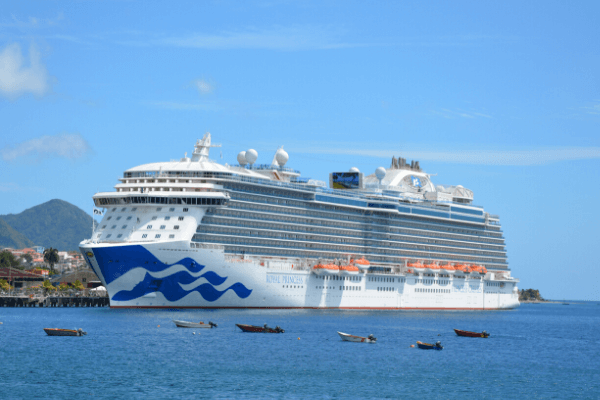 Princess Cruises will automatically charge a crew incentive of $14.50 per person, per day for guests in inside ocean view and balcony cabins. The gratuity is $15.50 per person, per day for guests in mini-suites and $16.50 per person, per day for guests in suites.
Princess Cruises also has the Princess Plus fare, which includes gratuities or the crew incentive, Medallion Net wifi and Princess' premium beverage package.
Royal Caribbean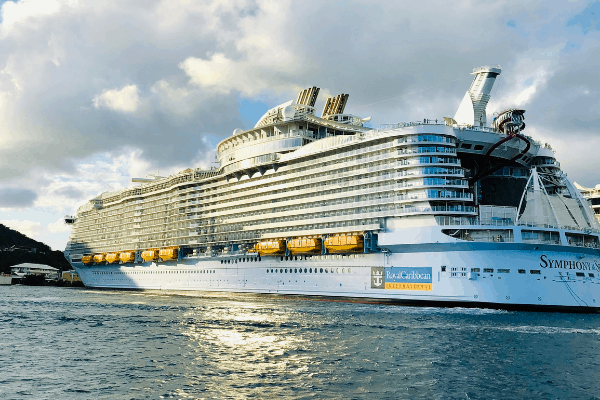 Royal Caribbean's daily automatic gratuities are set at $14.50 per person, per day for guests in standard cabins and $17.50 per person, per day for guests in suites.
Viking Cruises
Viking Cruises gratuities are $15.00 per person, per day for all staterooms.
Windstar Cruises
Windstar Cruises daily gratuities are $12.00 per person, per day for all cabin types.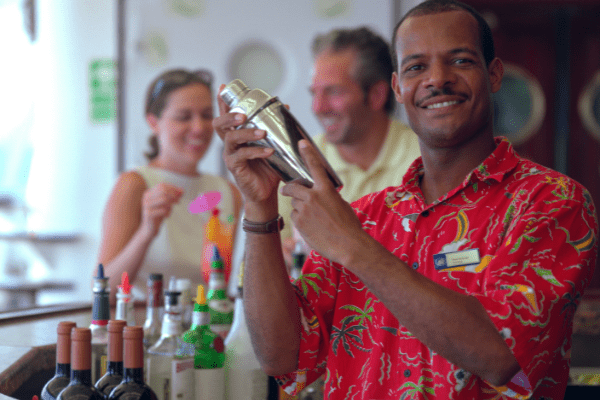 Cruise Lines that Include Gratuities
With the exception of a couple cruise lines on this list, most cruises that include gratuities are luxury lines.
Luxury cruise lines have a higher upfront cost than most popular cruise lines, however they'll often include many valuable extras. While each cruise line is different, many include alcoholic drinks, soda and specialty coffee, gratuities, specialty dining and some shore excursions.
Here's a list of cruise lines that include gratuities:
Something to note is that although daily gratuities aren't charged, there may be a service fee or tip added to certain services onboard.
Azamara
Celebrity Cruises
Celebrity Cruises isn't a luxury cruise line, however it is a top premium cruise line that markets itself as "modern luxury". When booking a Celebrity cruise, tips are included in their Always Included program. A cruise only rate may be available on select cruises, which would not include gratuities.
Crystal Cruises
Paul Gauguin
Ponant
Regent Seven Seas Cruises
Scenic
Seabourn
Seadream Yacht Club
Silversea
Virgin Voyages
Virgin Voyages does a lot of things differently than it's mainstream peers. One of these differences is that cruise gratuities are included.
Cruise Gratuities: Who to Tip on a Cruise and How Much
When paying the automatic daily gratuities, cruise lines tell us this amount gets divided by your cabin attendant, waiter and other dining staff. In addition, a portion of the tips are given to those who work behind the scenes or may serve you in different areas of the ship.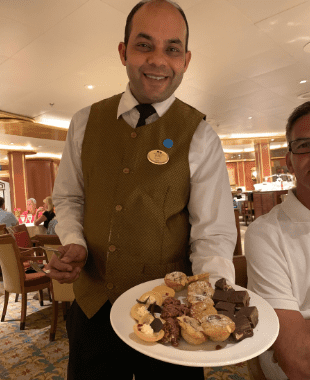 Are there additional tips charged onboard a cruise?
Gratuities or a service charge are added onto some onboard services. This includes drinks at the bar or cafe, spa services and salon visits. A tip of 15%-20% is common, so check the bottom of your bill before adding an additional amount.
Who Else Should You Tip on a Cruise?
While not obligatory, there are some of the workers you may want to recognize with a tip when cruising.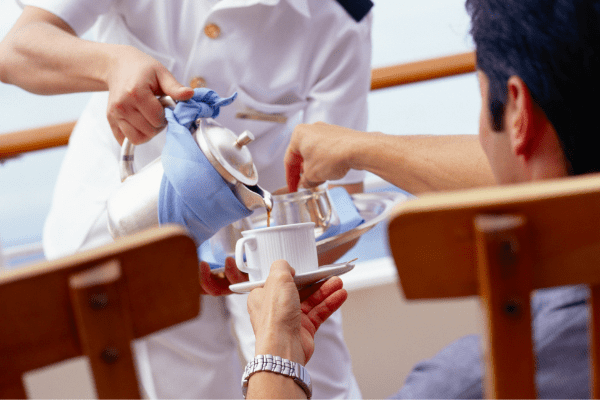 Porters
Keep a few dollars handy to tip the cruise porters on embarkation day. The porters will assist with your luggage and it's customary to tip for their service.
We like to keep a few dollars handy for this purpose as we board our cruise ship.
Room Service
You may want to give a small tip to the person who delivers your room service order.
Bartenders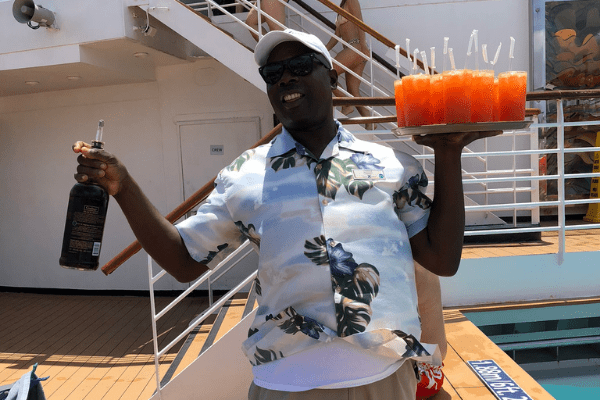 Do you have a favorite bartender? You may want to give them a tip per drink or a larger tip at the end or even the beginning of your cruise. There will be an 18-20% tip automatically charged when ordering an individual drink, so no need to add more in most cases.
Specialty Restaurant Waiters
If you opt for a specialty restaurant, the tip isn't usually included. It's customary to tip the waiters generously at specialty restaurants.
Shore Excursion Staff
If you go on a tour or shore excursion, it's nice to tip the driver or shore excursion staff if you've appreciated their service. Have some small bills handy for these times.
Youth staff
Some cruise lines point out that you may wish to tip the kid's club staff. If your kids have had a great time and you've appreciated the service, a few extra dollars are surely appreciated.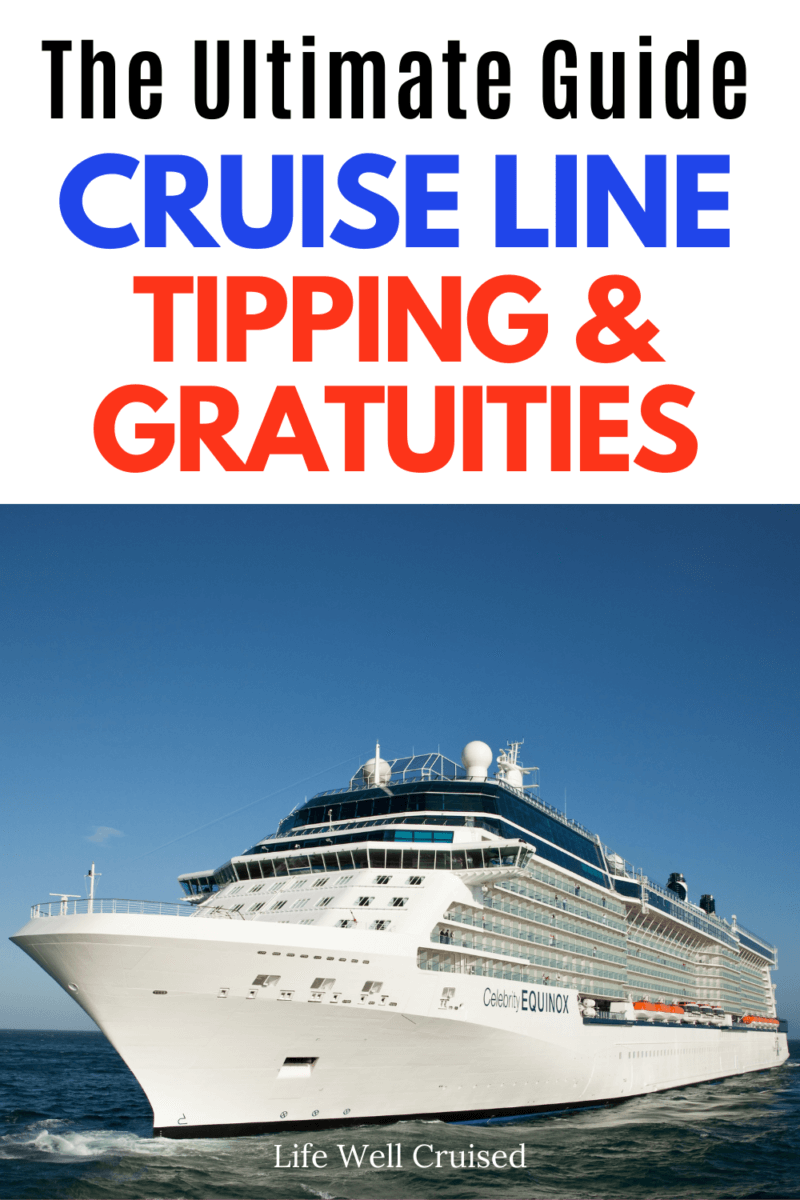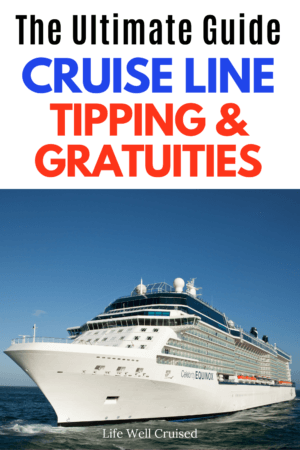 Cruise Gratuities Frequently Asked Questions
Can I opt out of paying gratuities or have them adjusted?
Most cruise lines allow guests to remove automatic gratuities. You can do so by going to guest services and making the request. You can also adjust your gratuities up or down. If you choose to pay tips in cash, there are usually some envelopes available at the guest service desk.
There are some exceptions. Norwegian Cruise Line has onboard service charge will is charged automatically for guests 3 and up, and distributed among staff that serve you in various ways. Rather than reducing the amount payed, they point out on their website that they will work to resolve any service issues experienced.
The fact is, the tips that crew get from passengers make up a good part of their wage. Crew members work really hard and make the difference between an ok and a memorable cruise vacation. Since this is the current pay structure for most major cruise lines, removing tips really affects the cruise line workers.
I go into more detail about this topic in this post: Can You Refuse to Pay Gratuities on a Cruise?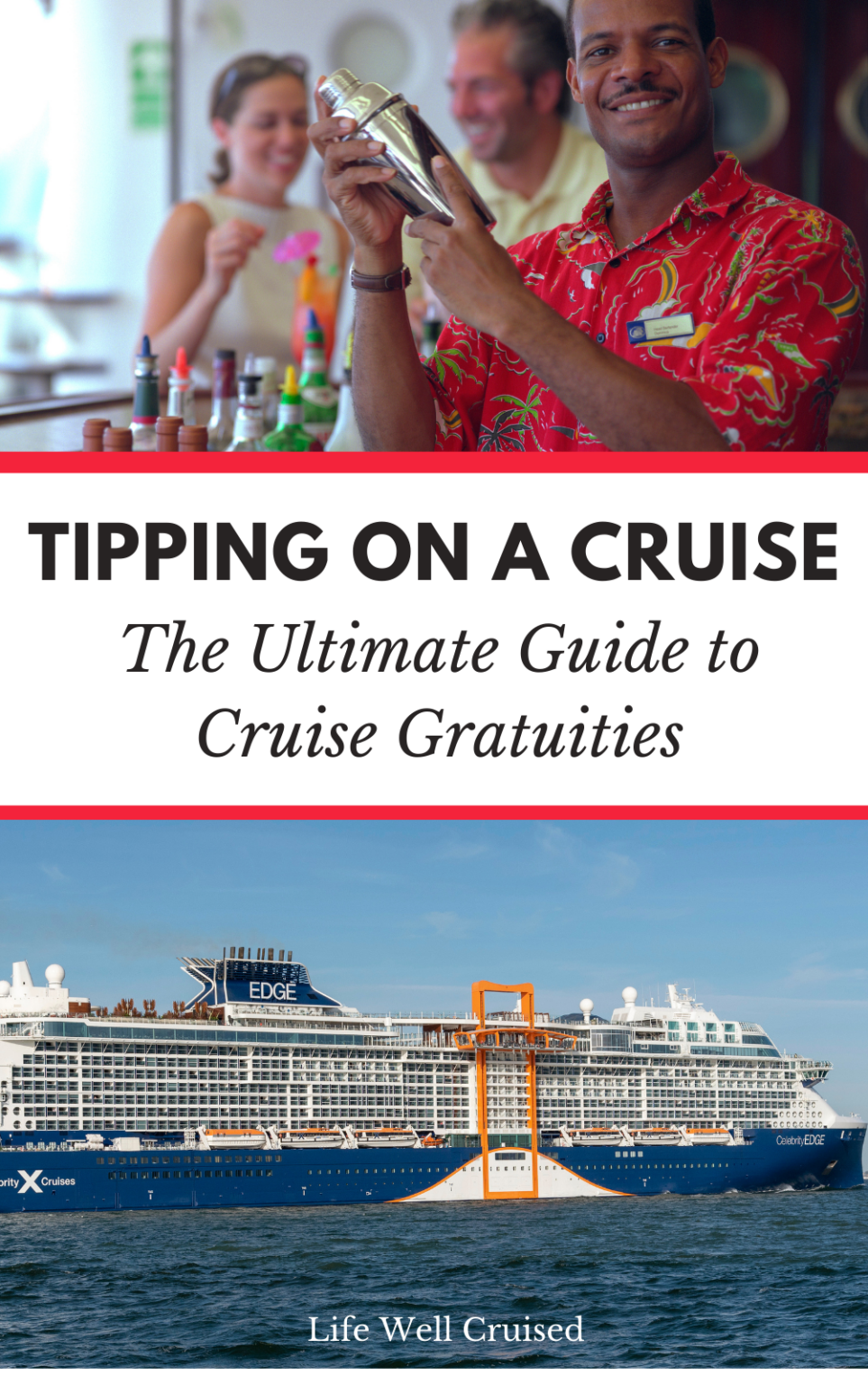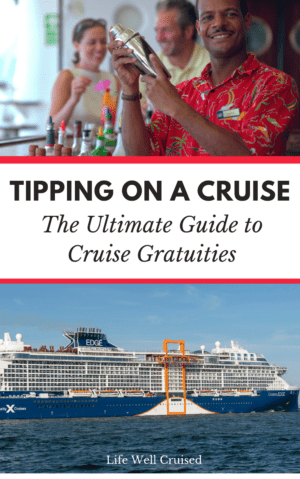 Is tipping on a cruise mandatory?
"Do I need to tip on a cruise or pay service charges", is a question that comes up often. Although gratuities aren't mandatory, and in most cases you can go to guest services and have the amount adjusted, most cruise lines do tend to discourage it.
Cruise Tipping Etiquette – Should I give more than the recommended or suggested amounts?
As much as some people opt to remove gratuities on their account, some give extra. If you feel that you want to tip above and beyond the cruise tipping guidelines, go for it.
This is a personal decision and I'm not sure if there's a tipping etiquette for it. If you feel that you wish to give an extra amount to anyone who you feel has done a great job, they will be appreciative.
What I can say, on a personal level, is that we have found that the majority of cabin stewards, waiters, assistant waiters and ship staff have given us amazing service. In fact, I think most would agree that cruise line staff make a huge difference in the cruise experience.
Get The Ultimate Cruise Planner
Regular price: $27 Now just $17!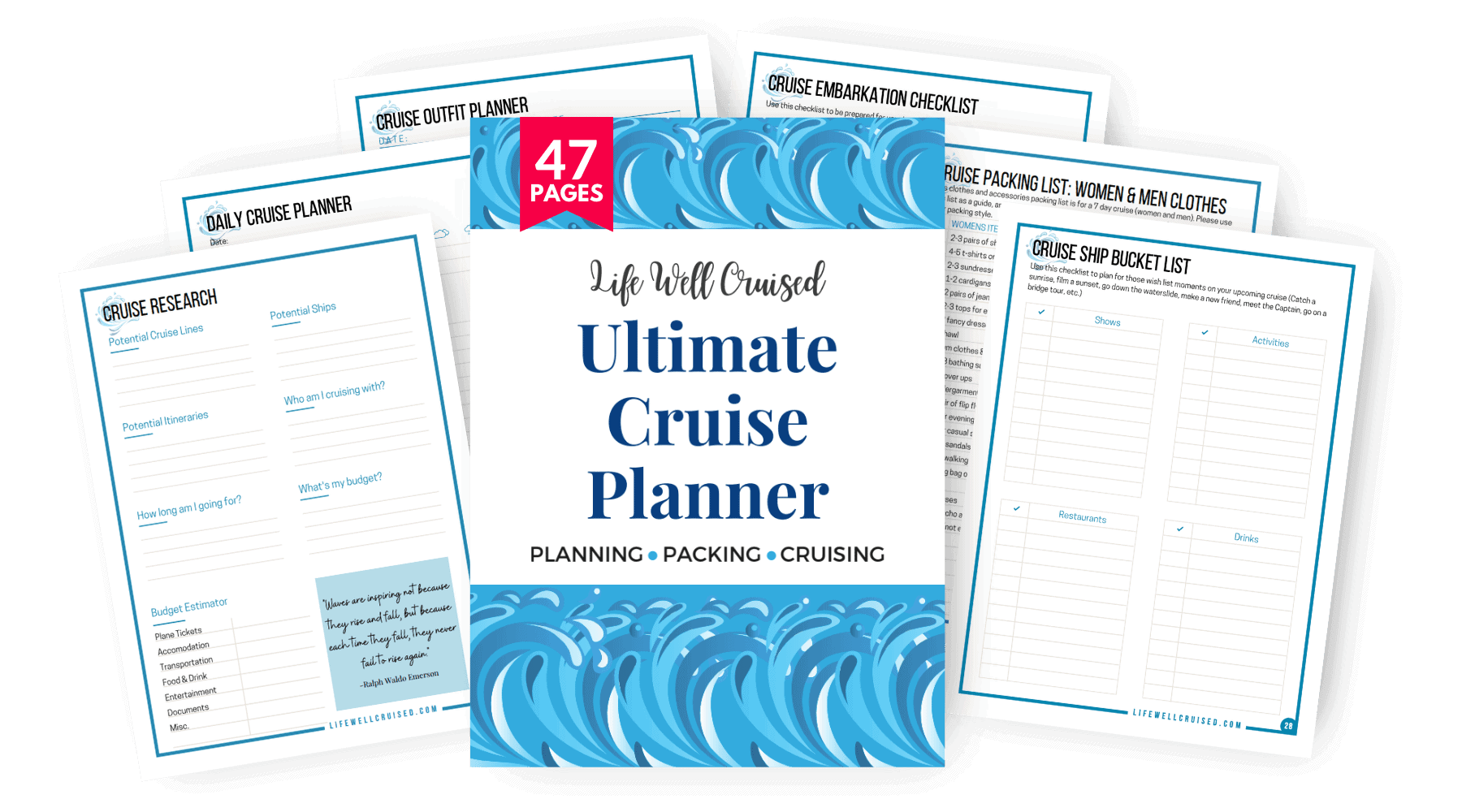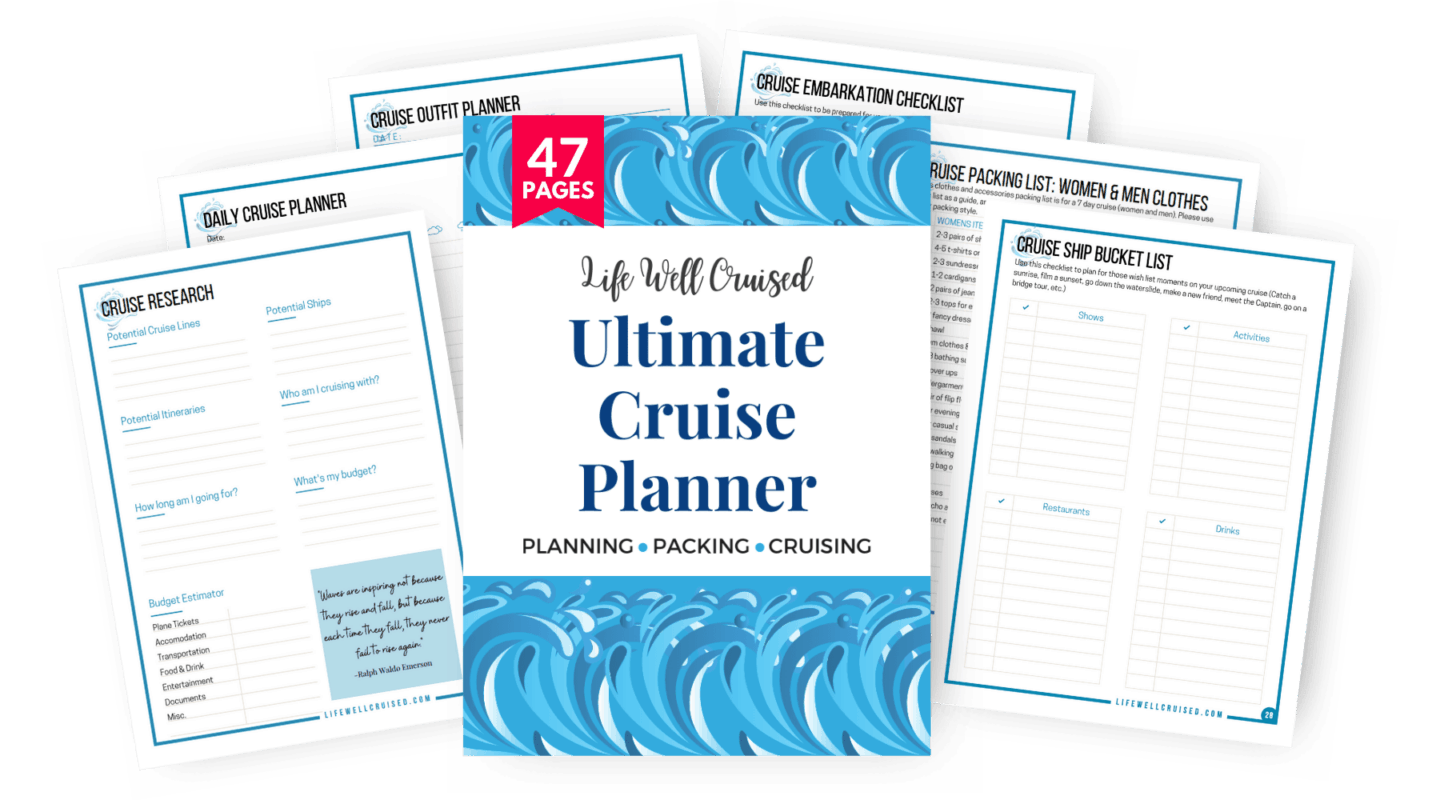 What to do if you're not satisfied with the service on your cruise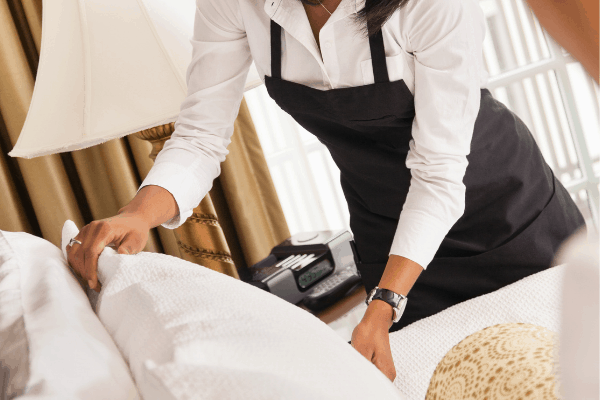 This may be rare, however if there's a problem with service or you have a complaint on your cruise, that you should bring this to the attention of the staff member, supervisor, or guest services when it occurs. The worst thing you can do is wait until you are home from your cruise to address it. It's unlikely to do any good by this point.
In reality, the cruise staff on board want you to be satisfied, so this is the time address a problem. Not only will it improve your cruise experience, but you're also allowing the cruise ship staff the opportunity to make things right.
Video: Cruise Gratuities Explained
Here's a video which answers many questions that you may have about cruise gratuities and tipping on a cruise ship. It includes who to tip, who not to tip, and some tips to help as you plan your cruise vacation.
Get The Ultimate Cruise Planner
Regular price: $27 Now just $17!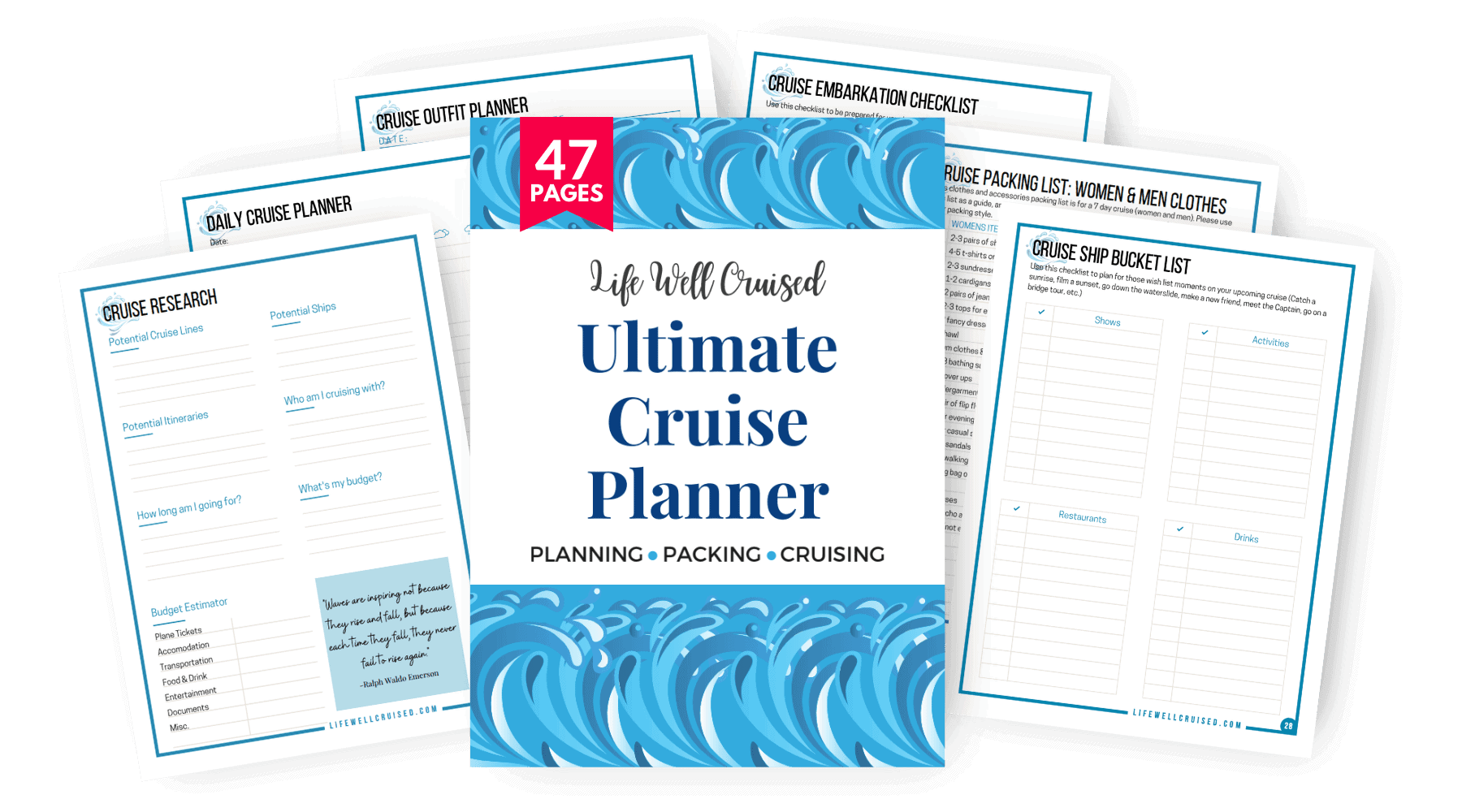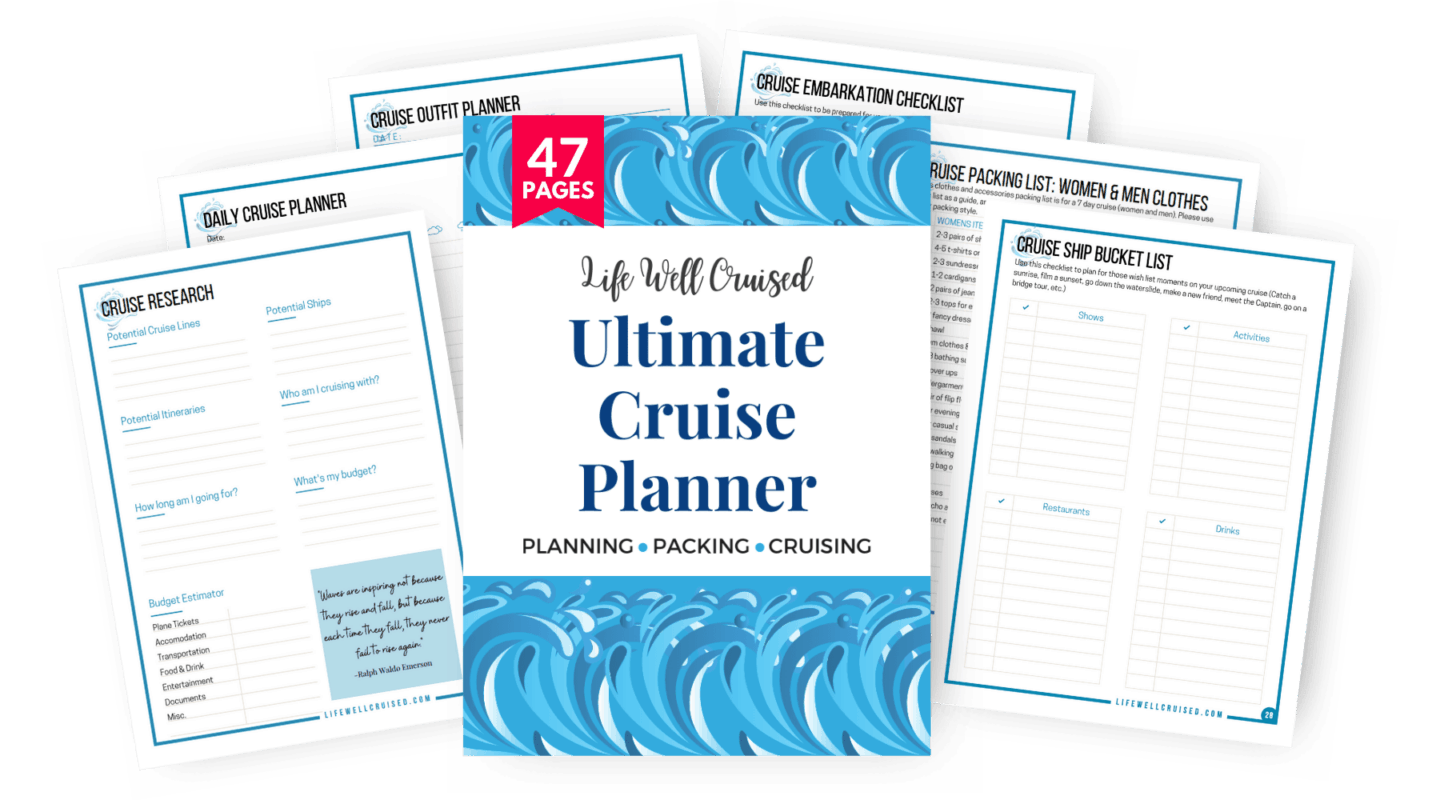 Popular & Related Posts:
What to Pack for a Caribbean Cruise (with packing list)
50 Best Selling Amazon Cruise Essentials
How to Book a Cruise for the First Time
7 Cruises to Avoid and What to Do Instead
17 Cruise Ship Cabins to Avoid
Cruise Line Stocks – Shareholder Benefits for Cruisers (FREE onboard credit)
Final Thoughts on Tipping on a Cruise & a Guide to Cruise Gratuities
In this post, we've gone over how tipping works on a cruise. In addition, we've included a list of daily gratuities per cruise line and who else you may wish to tip. As a cruise passenger, you want to be aware and set your budget expectations to include these amounts for the cruise ship staff.
What do you think about cruise line gratuities and service onboard? Do you prefer to prepay your gratuities or to pay in cash? Please let me know in the comments below.
Happy cruising!!
Ilana
P.S. If you found this helpful, please don't keep it to yourself ;-). Please share on Facebook or PIN to your favorite Pinterest board (share buttons at the top). Thanks so much!
Let's connect:
Follow me on Facebook at Life Well Cruised
Follow me onYouTube at Life Well Cruised (Vlogs and cruise tips)
Follow me on Pinterest at Life Well Cruised
Follow me on Instagram at Life Well Cruised