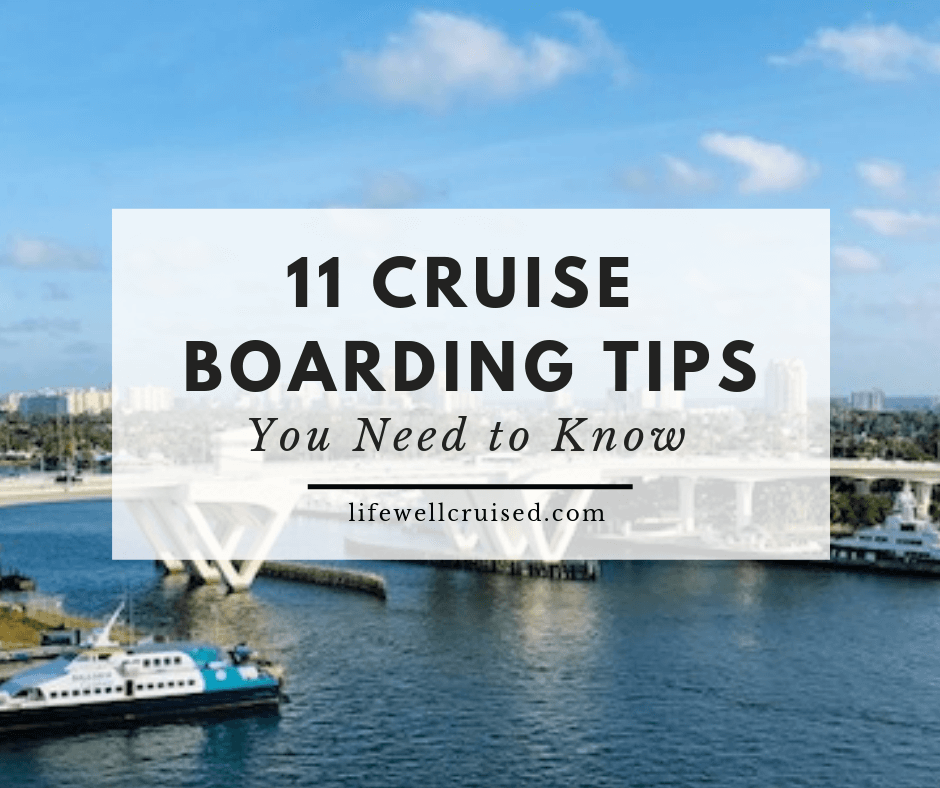 All You Need to Know About the Cruise Boarding Process
As you prepare for your cruise, you probably have some questions about the cruise ship boarding process. If it's your first cruise, you may want to know the specifics, like exactly what happens and what you can expect on embarkation day.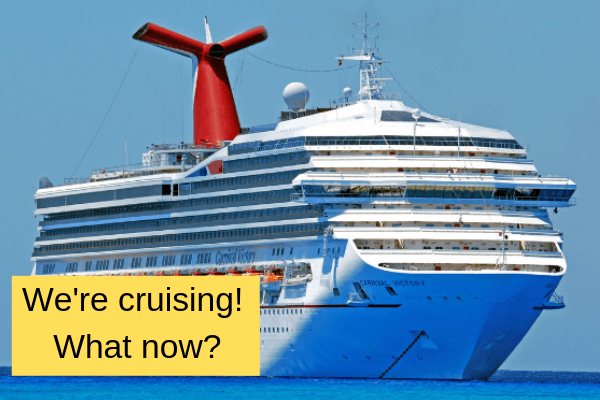 I've been cruising for awhile, and the truth is, sometimes those of that have cruised a fair amount, forget what its like to do this for the first time.
This occurred to me recently when my clients asked me some cruise questions that I had glossed over.
Things like:
How do I get to the cruise port?
Can my luggage get lost if I leave it with the porters?
Is it better to arrive at the ship early or later?
What can I expect when boarding my cruise ship?
and more…
So, I wrote this to cover the A-Z of the cruise boarding process, and answer every question first time cruisers may have about this. If you still have a question at the end, please leave it in the comments section and I will answer it, and possibly even include it in this post.
This post may contain affiliate links. Please see my full disclosure policy for details.
What to expect from the cruise boarding process
1. Cruise ship boarding passes
Before you even arrive at the cruise ship on your cruise embarkation day, there are some steps you need to take.
Make sure to complete your online check in and print out your cruise boarding documents. I recommend getting this done about 2-4 weeks before your cruise. In this way, if you notice any little issue, you still have time to get it fixed.
To do your online check in, simply have your cruise reservation number on hand and go on your cruise line's website. Then follow the instructions until you can print out your cruise documents. This only takes about 15-30 minutes, so don't put it off.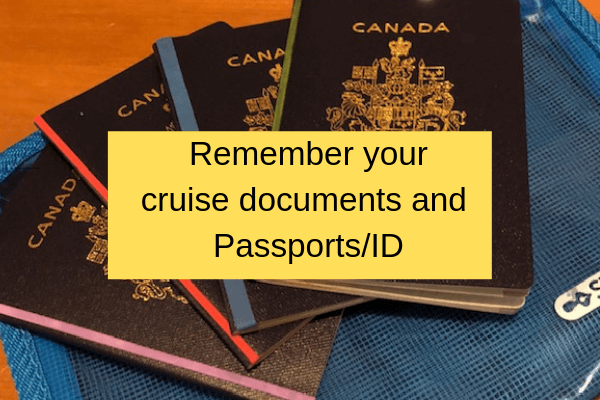 2. Cruise ship luggage tags
Once you've completed your online check in and have printed out your cruise documents, you'll be able to print out your luggage tags. Yes, your luggage tags will printed on be a piece of paper, but we'll get to this in a minute.
On the luggage tag, you will see the cruise ship, sail date and your cabin number. Once your luggage is on the ship, it will be delivered to your stateroom.
If you're wondering how these printed paper luggage tags will stay on your luggage, you're not alone. There are instructions on how to fold and staple them so that they hold up and don't rip. Overall, they're actually pretty good and surprisingly sturdy.
However, if you would rather not worry about this and travel with a stapler, I recommend buying and using reusable plastic luggage tag holders, which are made to fit the printed cruise luggage tags. Beware that some are only good for specific cruise lines, due to size.
See my recommendation for reusable cruise luggage tag holders that can be used for several cruise lines: Luggage Cruise Tags are available on Amazon.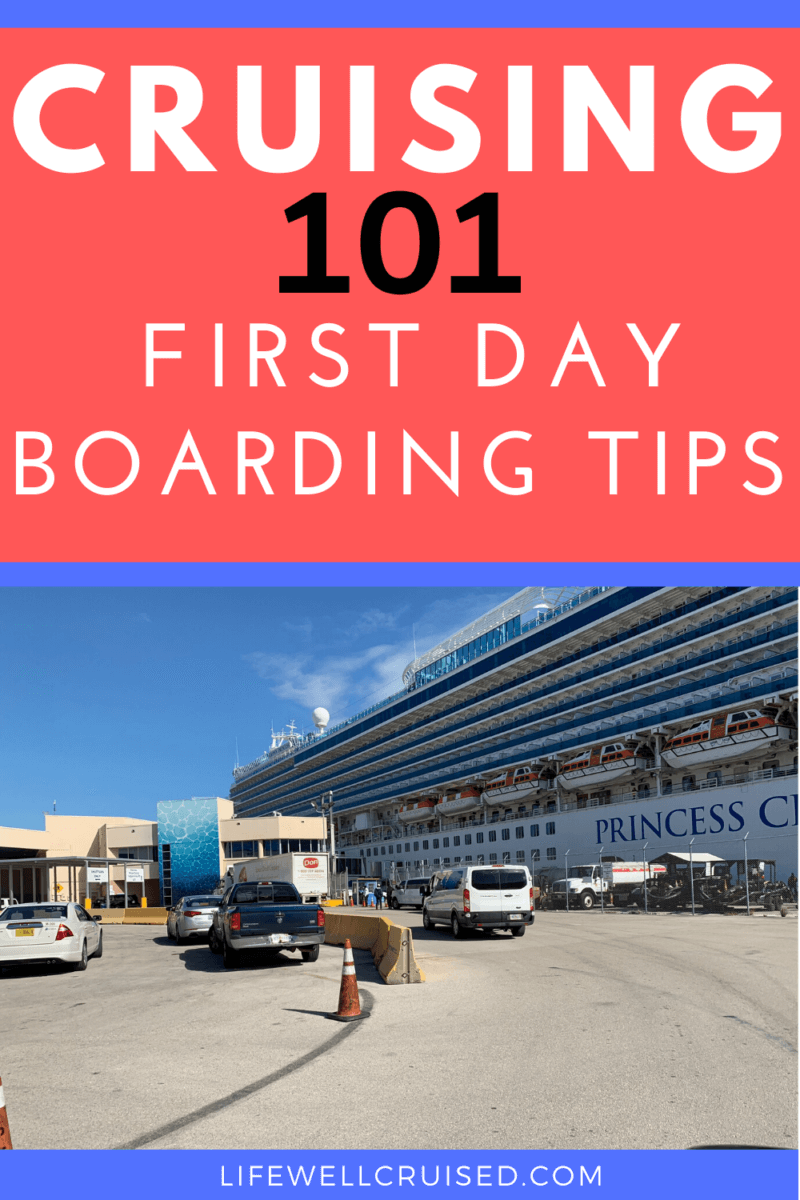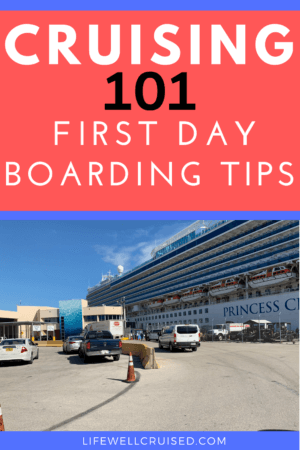 3. Cruise ship luggage restrictions
Cruise lines really don't restrict how much luggage you can bring, although they do have guidelines. Most cruise lines suggest you limit your luggage to one or two pieces per passenger, with a luggage weight limit of 50 lbs.
That being said, your luggage won't be weighed so don't over-stress about it. However, you don't want your luggage to be too heavy. If you're flying in, just follow the airline's guidelines. If you're driving the port, use some common sense (you or the porters need to carry it).
On a 7 day cruise, 1 suitcase per person will be more than enough. I overpack (really I do) and we can do it! Here's my easy and simple packing list that may be helpful.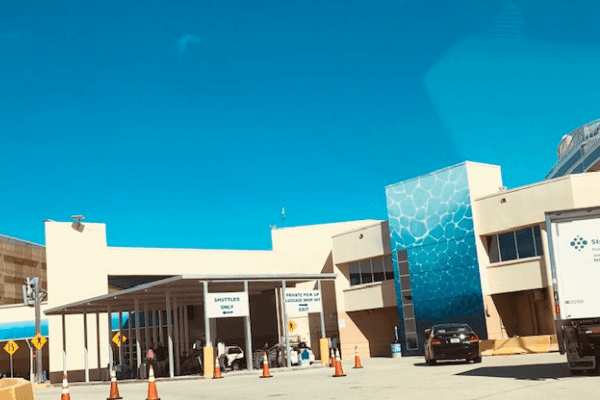 4. Cruise line prohibited items
Obvious items that you are not allowed to pack or bring on your cruise include weapons and illegal drugs. I'll let you check the cruise line's website if you need more info on that.
Less obvious items that are not allowed on your cruise include irons, clothes steamers and candles as they are fire hazards. Power bars with surge protectors are also prohibited and will be confiscated.
Tip: If you think you'll need extra plugs (and you may), this is the Cruise Power Strip (with USB Outlets) – non surge protected & cruise ship approved that I recommend
.
It actually gets all 5 star reviews and has 2 USB outlets along with extra plug spaces- check for current price on Amazon HERE
.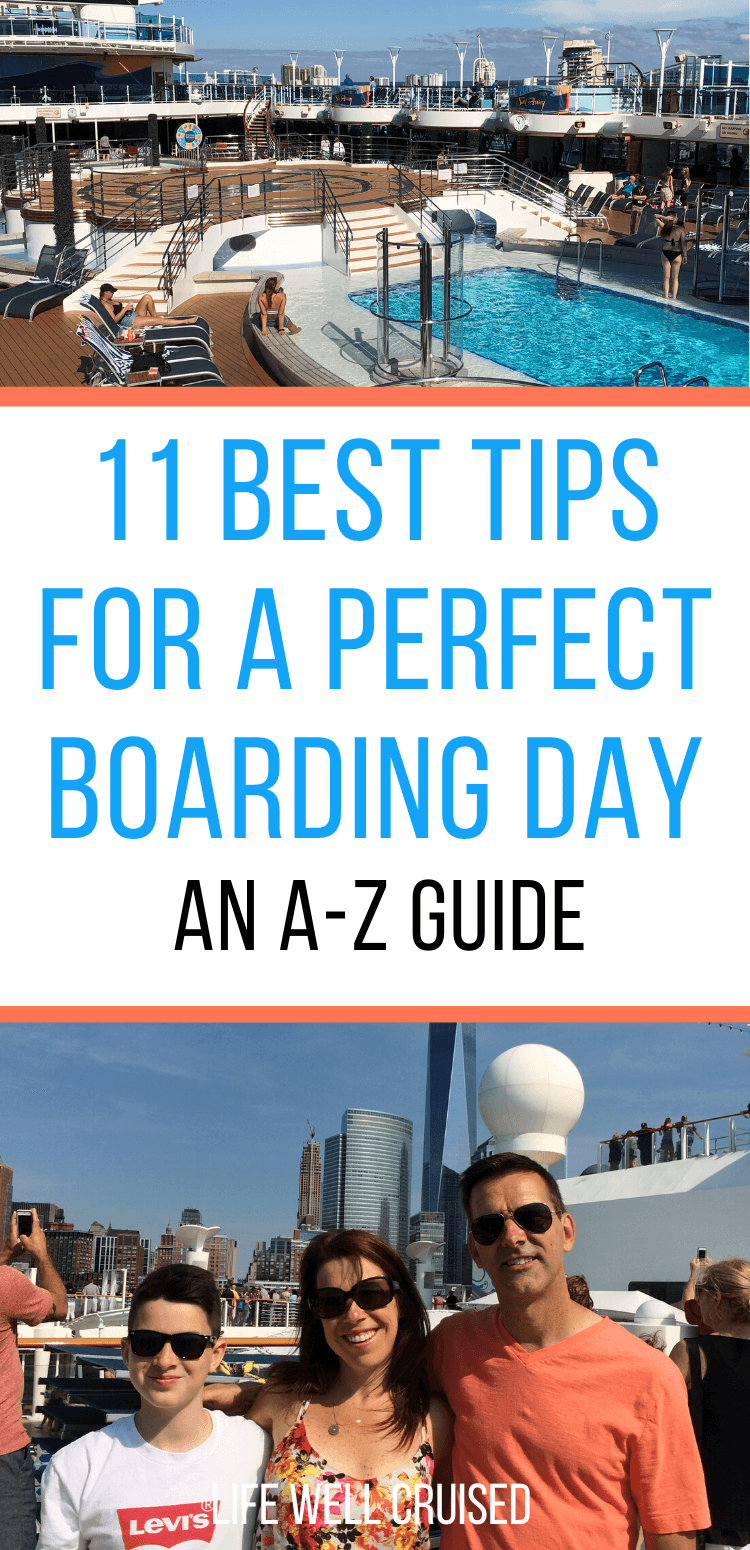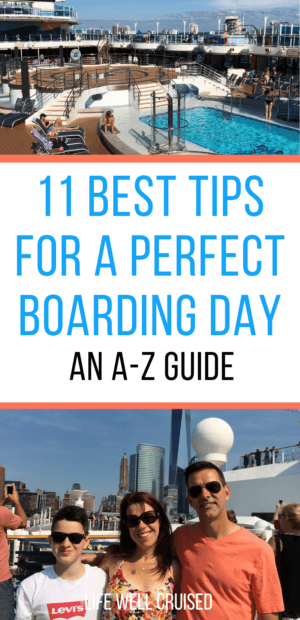 5. Cruise carry-on luggage
In addition to your checked luggage, you'll want to bring along a carry on bag of some sort. You'll want to make sure that you keep your valuables and electronics in your carry on, as well as medications and anything that you may need for the first few hours of the cruise.
I have an entire post that goes into a ton of detail, so if you do want to know more its a good reading suggestion.
Recommended: Cruise Carry on Packing Tips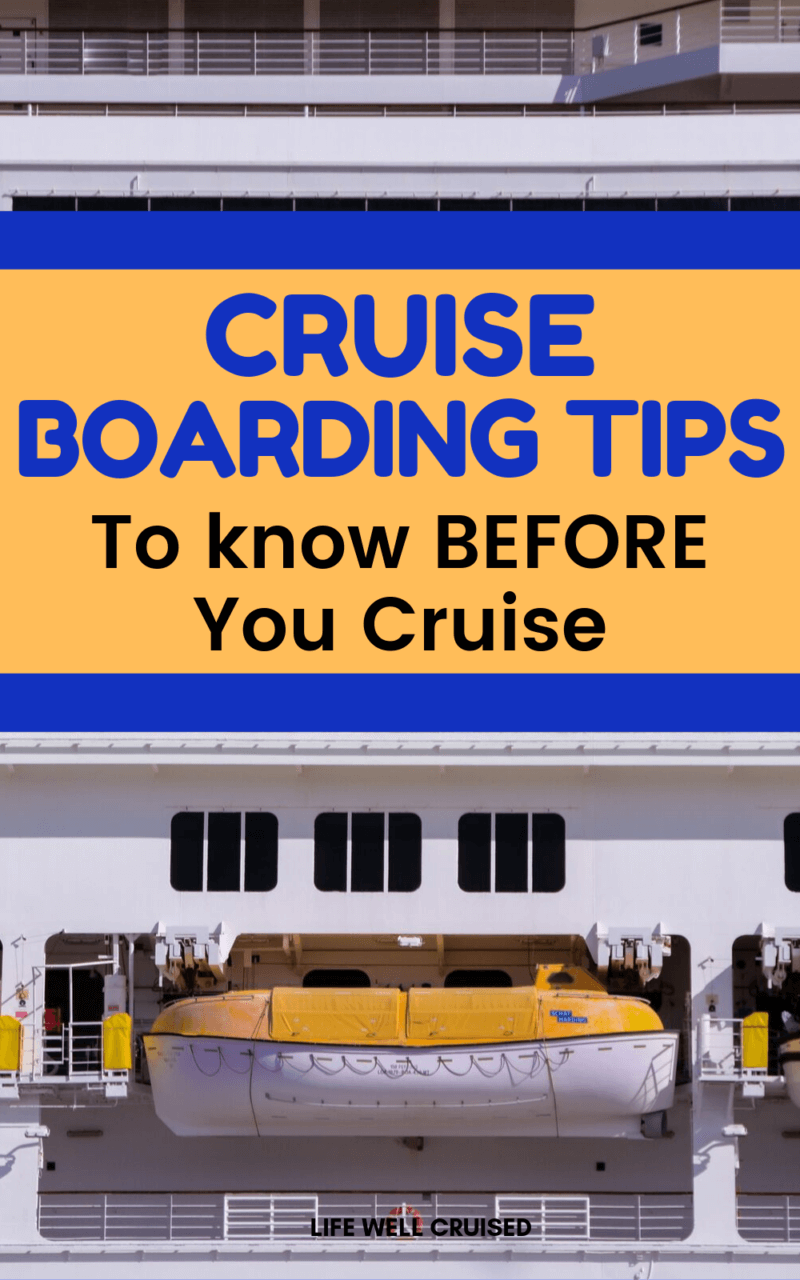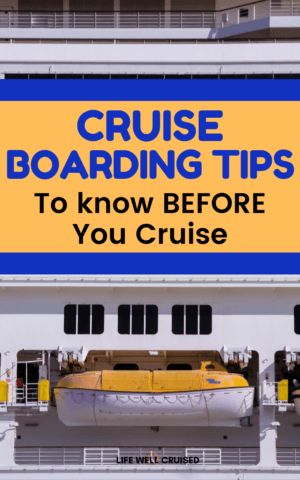 6. What time should you plan to arrive at the cruise port?
Although cruise lines may give you recommended boarding time, you can usually board your cruise ship anytime between about 11 am and 2 hours before your ship is due to leave the cruise port. So plan on arriving at the cruise port within those times, possibly a little bit earlier if you need to park at the cruise port.
My personal recommendation is to plan on arriving at the cruise port early, so you can get on board as soon as possible, and fully enjoy the first day of your cruise vacation.
These days the embarkation process is much quicker and better organized than years ago, so don't worry too much about long lines. Arriving between 12-1 will likely be the busiest so plan accordingly.
7. What to expect when arriving at the cruise port
You may be arriving by taxi, uber, hotel or cruise line shuttle (if you've flown in on the day of your cruise). You can also drive to to the cruise port and park on site in secure parking garage.
No matter how you arrive, be sure to have your cruise boarding documents and passports/government issued ID on hand. There may be security as you enter the port area and this will be requested.
If you drive in on your own, you'll find ample parking on site. Check with your cruise port for parking rates (as they vary) and other specific information.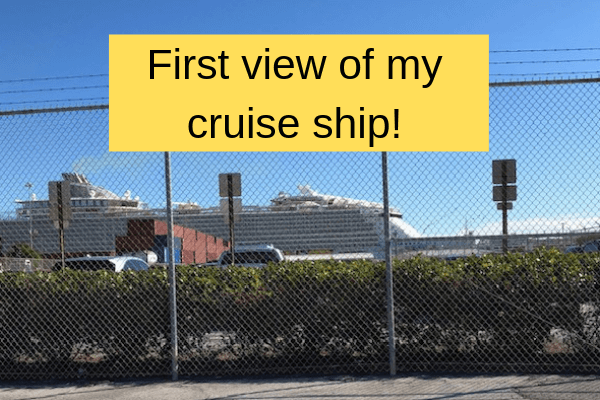 Luggage drop off
Once you are at the cruise port, you'll notice that there are several cruise terminals. Your ship's berth or terminal will be clearly indicated on signs and local drivers will be well aware.
I will let you in on a little secret. It is soooooo exciting when you see your ship for the first time – so look out for it! Heck, take a picture.
As you arrive at your ship's terminal, it may be well organized chaos, but these folks know what they're doing. You'll be guided to drop your luggage with the porters before entering the building for check in. It's a good idea to have a few small bills on hand as its customary to leave a small tip.
I've been asked before if this is secure and yes it is. Plus, your luggage is being put directly onto your ship so don't worry – you'll see your luggage again in a few hours when it's delivered to your cabin.
Important: Remember to keep your cruise documentation, passports and ID and carry on with you. Do not give it to the luggage handlers in the midst of the excitement.
Luggage screening process
There is a screening process and luggage will be scanned and xrayed. In some cases suitcases may be opened so make sure not to lock them. Don't pack any prohibited items to avoid any issues.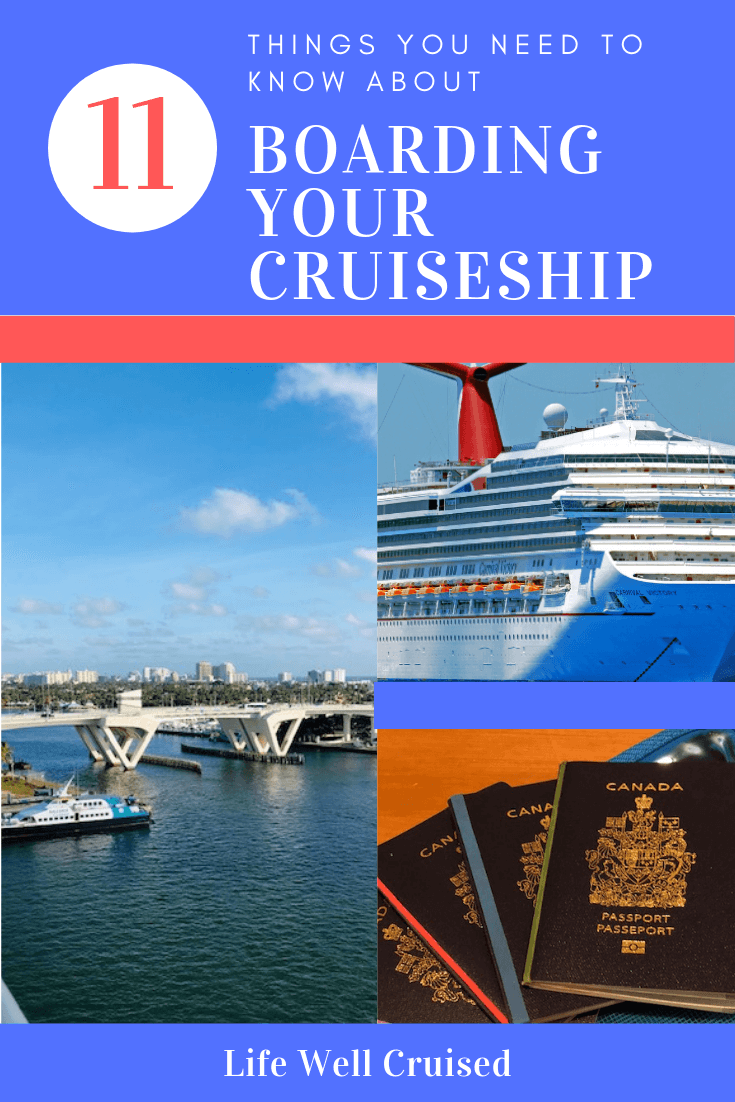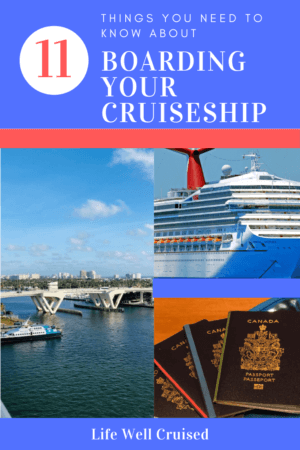 8. Cruise ship boarding security
Yes! Time to board your cruise ship! Almost…
Before you are officially allowed onto your cruise ship, you'll go through a cruise ship boarding security as you enter the cruise terminal. The security check is similar, but less intrusive then at the airport. Basically they're scan your carry on bags and any other items you have with you, and you'll walk through a scanner as well.
9. The cruise check-in process
Checking into a cruise ship is way more fun than boarding a plane! Plus, cruise port staff is so helpful at guiding you to check in quickly, give you directions and answer any questions you may have.
There will be several check-in stations and usually some roped off lines where you'll wait to check in. We have rarely had a long wait, and usually arrive before 11 am.
Once at the check in desk, you'll need to show your cruise documents and identification, as well as to secure your credit card on the reservation for any additional expenses.
You'll receive cruise cards which will be your stateroom key, onboard credit card and personal ID. In this way you can put away your cash and other identification while you're on the ship.
I LOVE this! It's so freeing not to have to walk around with cash and a purse or wallet. Cruising is the best!
To note: some cruise lines, like Princess Cruises, are beginning to use a new technology and system rather than a cruise card. However the basic check in process is the same, although you'll likely find it even faster. If you're cruising with Princess, you can read about our Ocean Medallion cruise experience.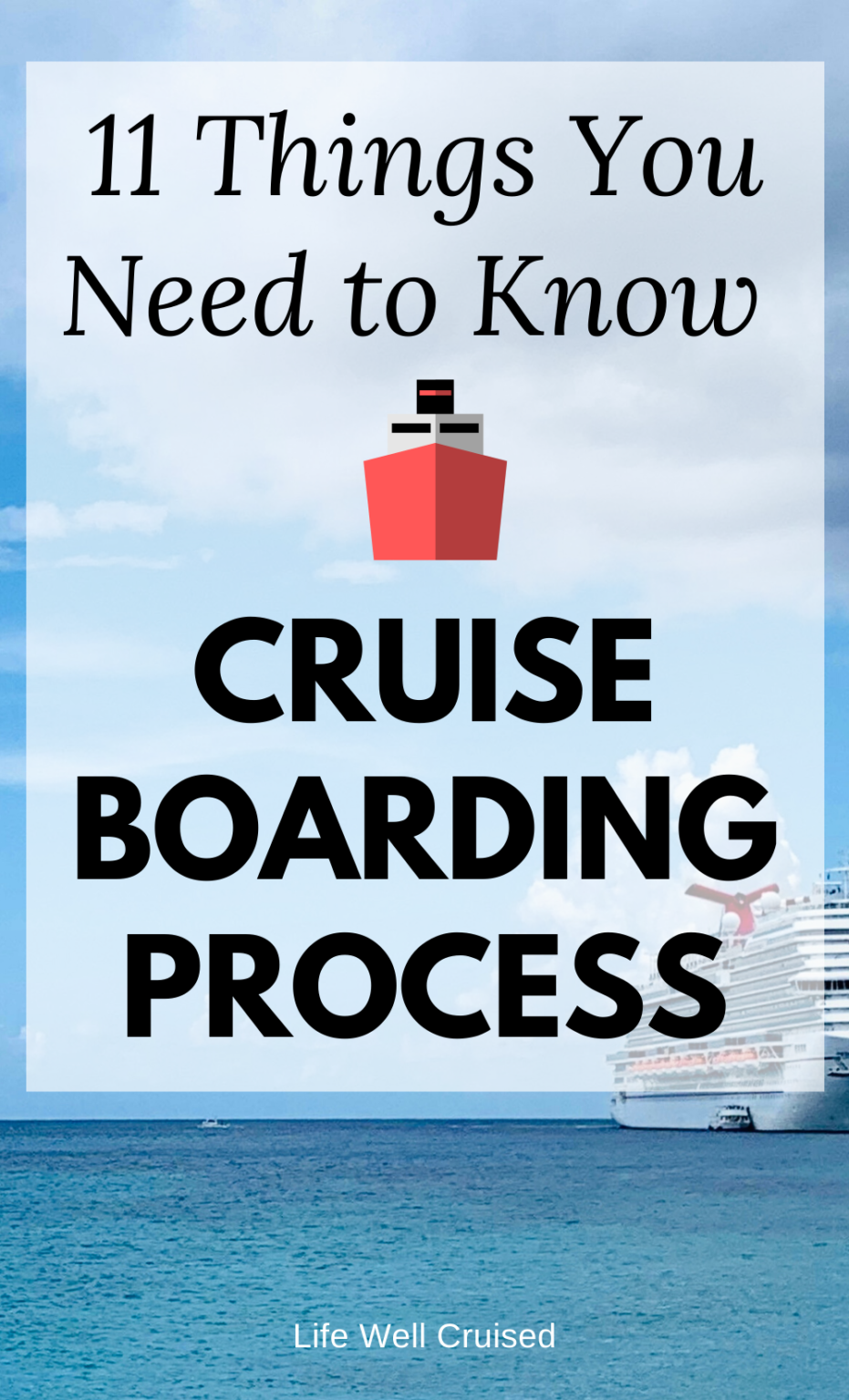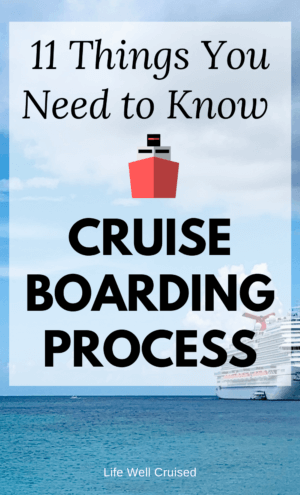 10. Boarding your cruise ship
With your cruise cards in hand, you'll be boarding your cruise ship soon! There may be a short wait, but there is lots of seating.
Tip: You'll often receive a little folded cruise ship map along with your cruise card. That's super handy to help get around for the first few hours on the ship, or day if you're like me ;-).
Boarding time
This is always an exciting time for us that just never goes away. When we are finally called to board, we hop up like its our first cruise!
As you head towards the enclosed gangway (in most cruise ports), you'll pass the ship's photographer's who'll encourage you to take a boarding photo. We often still take a photo, as for us its a great souvenir. However, you can simply pass by and opt not to have a photo take.
As you enter your cruise-ship, you may have a quick photo taken as the security scans your cruise card.
And voila – welcome aboard – you're on your cruise vacation!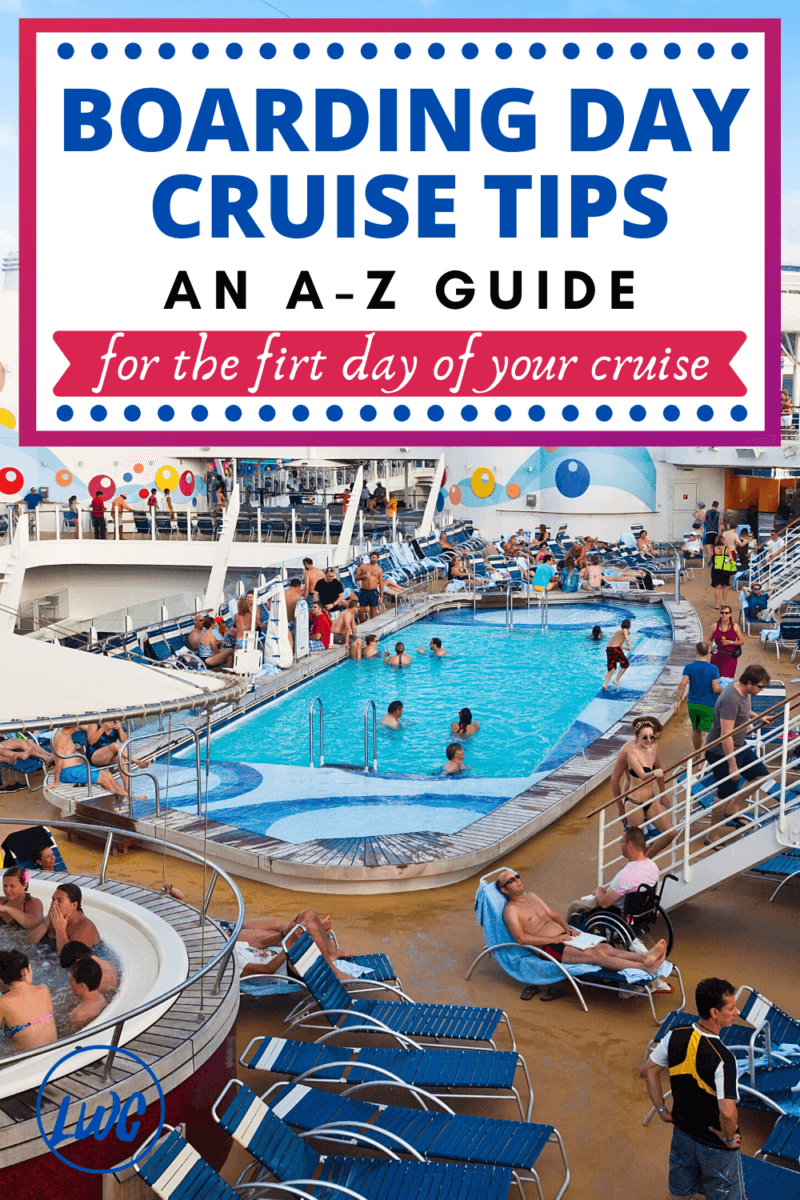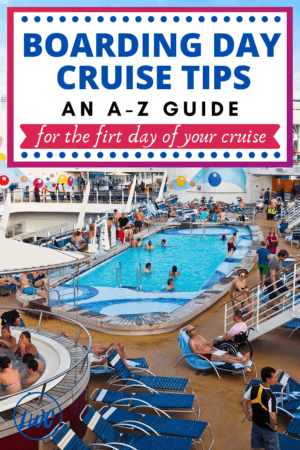 11. What to do when you first get on your cruise ship?
Keep in mind that often the cabins are not ready for passengers, and are off limits until about about 1 pm. However, you are able to go around the rest of the ship and grab some lunch, which is what most people do.
Want a Tip? Research your ship ahead of time and find out what restaurants, other than the buffet, are open for lunch. It's a great way to avoid the crowds and try out a restaurant while it's still a well kept secret. We did exactly this on our recent Regal Princess cruise when we enjoyed a delicious lunch at Alfredo's.
Recap: 11 cruise boarding tips you need to know
We've gone through the cruise boarding process; from doing your online check in, to embarking on your cruise ship.
Have you cruised recently? Are you going a cruise soon? Let me know your tips and ask me any questions (I respond to every comment).
Happy Cruising!!
Ilana xoxo
If you enjoyed this, you may want to know more about what happen's next. Read this post to get some great embarkation day tips.
P.S. If you found this post helpful, I'd really appreciate if you'd share it on social media so others can see it as well. Thanks so much!!
Let's connect:
Follow me on Facebook at Life Well Cruised
Follow me on Pinterest at Life Well Cruised
Follow me on Instagram at Life Well Cruised