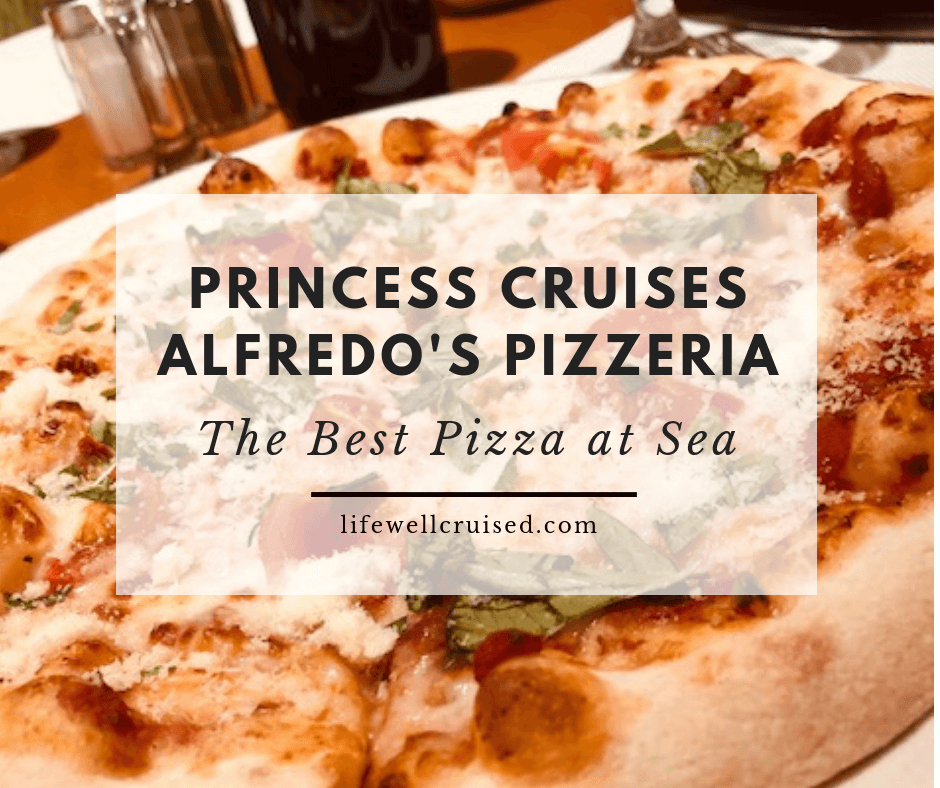 Princess Cruises Alfredo's Pizzeria is the the Best Kept Secret at Sea
My family and I recently had a wonderful cruise over Christmas and New Year's on the Regal Princess. If you've ever considered celebrating the Holidays at Sea, you should! A full cruise review is coming soon – but today I wanted to talk food, cruise food that is: Princess Cruises Alfredo's Pizzeria.
One of the things we liked best about cruising on the Regal Princess was its "casual food". This may have been the very best casual food we've had on any cruise, so far. Alfredo's Pizzeria was the icing on the cake (so to speak)!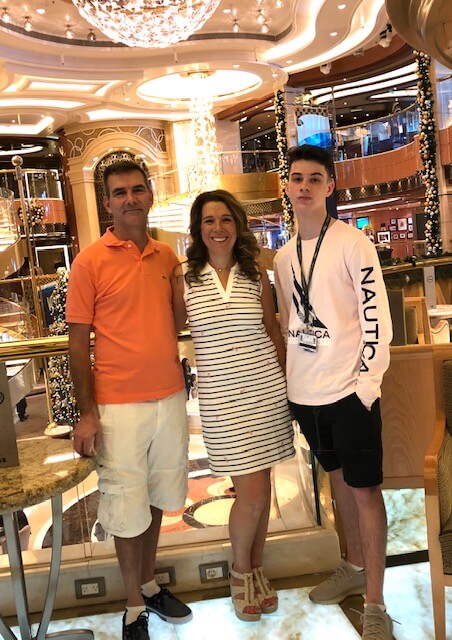 If you're interested in seeing more about my cruise travels, you can head over to my Facebook page at Life Well Cruised (but don't go yet, I'll remind you at the end).
Princess Cruises: Excellent Casual Food
Seriously, there is some really GOOD casual food on the Regal Princess.
International Cafe, Poolside Grill, Horizon Court Buffet, Room Service (hello, I love this!) just to name a few. These free venues all have great food choices and offer really tasty options.
However, I wanted to let you know about one of Regal Princess' best kept secrets. While many cruisers know and agree that Princess has the Best Pizza at Sea (even USA Today says so), many of us are thinking take-out, poolside Pizzeria. Hey, that's good too – but Alfredo's Pizzeria – we're talking gourmet and delish!
Princess Cruises: Alfredo's Pizzeria
Alfredo's Pizzeria is soooo good… for lunch, dinner or anywhere in between. It stands out as a bit of a special experience, so much so, that many passengers on our ship thought it was an extra "specialty" restaurant, which was not included in the cruise fare.
Tip: Why not eat at Alfredo's on your embarkation day? Most people will be running to the buffet, and you can have a leisurely lunch here before word gets out later in the cruise. Read about our experience below.
What makes Alfredo's Pizzeria so Special?
1. It is a casual sit down restaurant where you will be served.
Alfredo's takes up a large space on deck 6, and has ample spacious seating where you can sit in small groups. On a cruise, its nice to be able to sit down and be served, without necessarily going to the dining-room.
2. It has an upscale, yet comfortable decor and table settings.
I really enjoy sitting in a space that's pleasing to the eye. Alfredo's Pizzeria has the feeling of being at a comfortable restaurant, with a combination of warm wood and neutral but warm tones.
3. It has a nice menu with a variety of freshly made, Italian Specialties.
Pastas, pizzas, salads and desserts which taste homemade and flavorful is what you can expect
4. It's included! Isn't that fabulous!?!
I just love more food options which are included in the cruise fare. While I don't mind paying for an occasional meal at a unique specialty restaurant, I'm not a big fan of having to pay an extra few dollars for simple or casual food. Given all that is included, Princess Cruises offers a very good value.
About Alfredo's Pizzeria
Alfredo's Pizzeria is named after Master Chef Alfredo Marzi, who has created his thin crust Neapolitan Style Pizza (from scratch) for Princess Cruises. It is truly casual, yet "gourmet" pizza, and it is worth making time for a meal at some point during your cruise.
Alfredo's Pizzeria is located on Deck 6 of the stunning 3 story Piazza (atrium for Princess Cruises). The Piazza is a hub for entertainment, restaurants, and shops.
Tip: Since Alfredo's is located in the Piazza area, there are times when it will be fairly quiet, and other times where is will be noisier. When we sat for a later dinner one evening, we could hear the band play. It didn't bother us and added to the "night out" ambiance, but its good to be aware in case this may bother you. Generally lunch, afternoons and early evening are pretty quiet times to eat there, if that's your preference.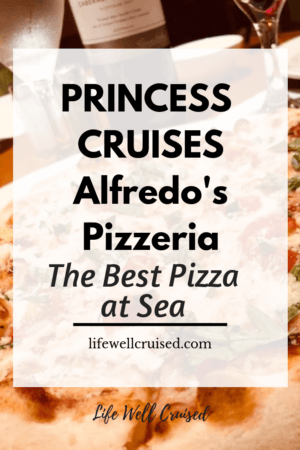 Alfredo's Pizzeria review
On the first day of our cruise, we got on around noon, and opted to sit down at Alfredo's before the ship got too busy. We'd heard that Alfredo's was good, and we are pizza fans, so we were excited to try this "free" venue.
We were seated by the very pleasant Maitre'd in a comfortable round booth style table. Let me just tell you, not only is the food great, but this is a really nice and comfortable spot to sit and eat.
Looking at the menu, we made a few choices and decided to share. We went back a couple of other times during our cruise, so we eventually tried about half of the menu items. However, because we had our favorites, we ordered some again. I am also a big Margherita Pizza fan and order this just about wherever we go!!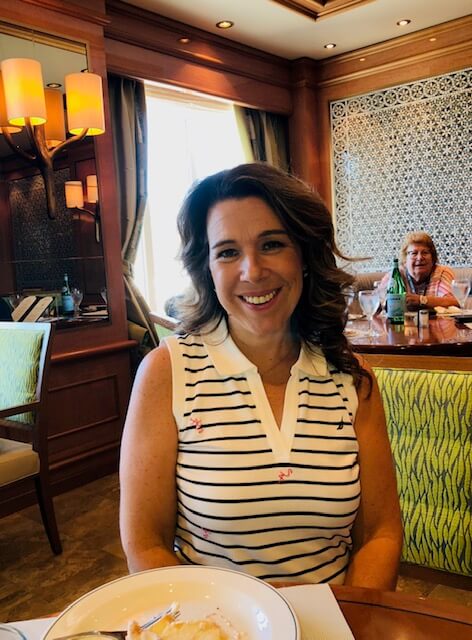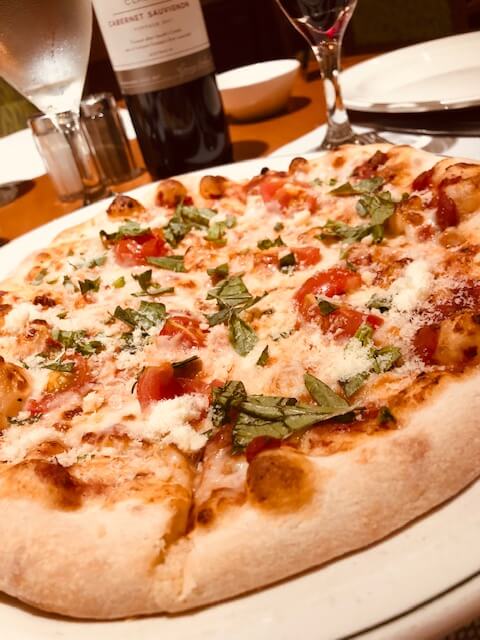 Alfredo's Pizzeria – the Menu
Appetizers: We ordered the Antipasto Assortito Di Magro, which is a tomato, soft mozzarella and pesto salad and it was truly delicious! This is an item I ordered again and again. Another time my husband ordered an Antipasto Mari de Monte, a platter consisting of cold meats including parma ham and genoa salami and a little bowl of shrimp salad. This was very good as well.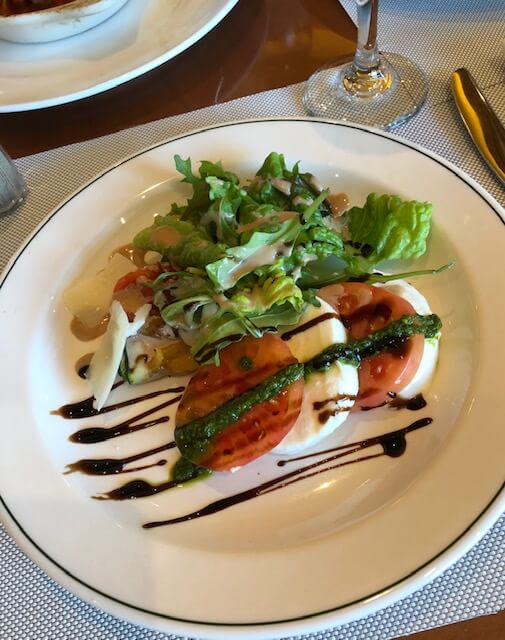 Main dishes: For our main dishes, we ordered a Margherita Pizza and a Calzone, and shared.
There were a lot of pizza choices, however I just love a classic Margarita Pizza! Since I enjoy fresh basil on my pizza, I asked for this to be added, and it was. If you have a "customization" request, just ask and you can have your own pizza creation.
The calzone was really big, so we were glad we shared! It was one of the best things I've eaten, filled with a delicious combination of ingredients that was perfect, as is.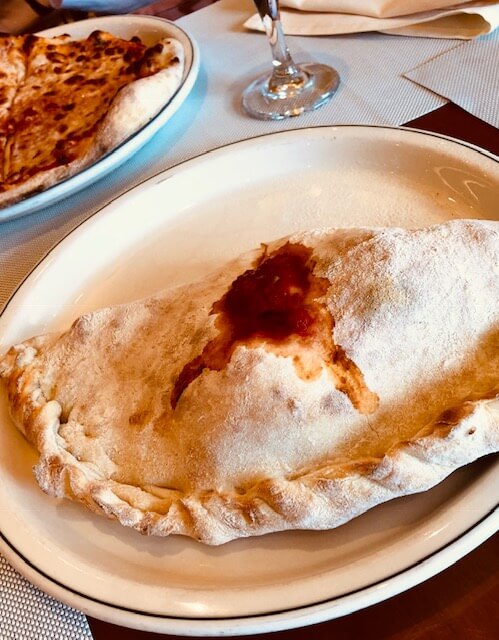 Pasta Dishes: We also ordered as "sides" the Agnolotti Gratinati Alla Piemontese, which was a baked veal stuffed ravioli dish that my husband and son raved about. They actually ordered another, they loved it so much!! I'd say its a must-try.
We also ordered the Rollata di Melanzane, which was a nice baked eggplant dish filled with angel hair pasta with a marinara sauce. Although I love eggplant, and this part was tasty, the pasta which was filled inside just wasn't remarkable. I would have preferred an eggplant dish without the addition of pasta, personally.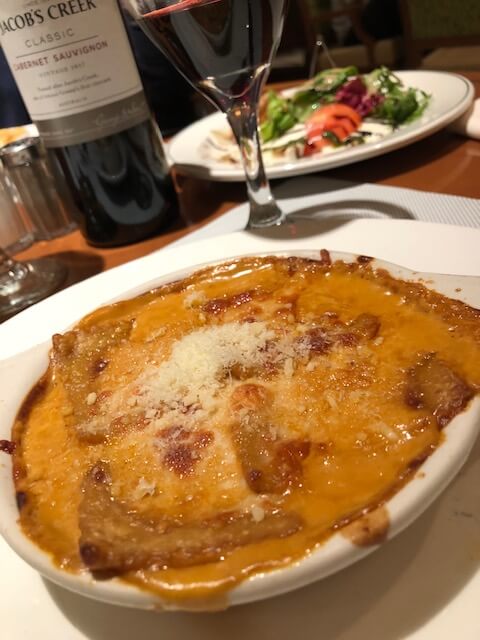 Dessert:
So the first time we went to Alfredo's on embarkation day, we opted out of dessert. We were honestly stuffed. However, we did return another evening, and ended our meal with the Tiramisu, and it was quite delicious (actually better than the one in the dining-room, in my opinion). We also tried the Apple Torte with Apricot Jam and vanilla sauce and this was also very yummy.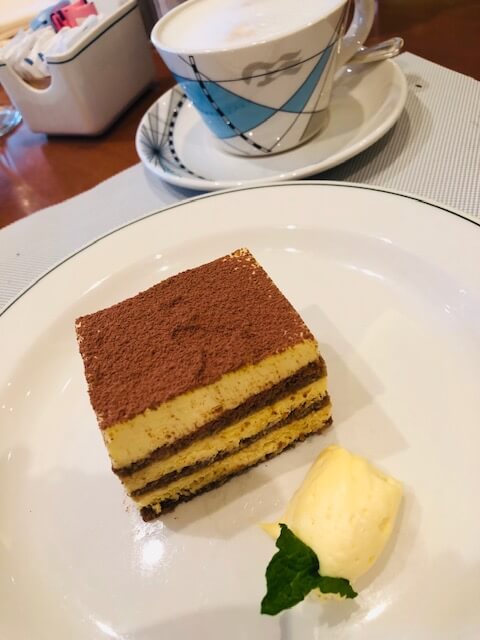 We really loved Alfredo's Pizzeria and ate there both for lunch, as well as for a late dinner. On a port day, we came back to the ship around 2:00 pm and had a late lunch, and it was perfect. Surprisingly, not may people do this, so take advantage of these times that just aren't very busy.
One thing we love to do when cruising, is trying to find an alternative to the cruise ship buffet, and Alfredo's is one of the very best casual places we've found on any ship.
I hope that this review has been helpful. If you've eaten at Alfredo's, what are your favorite dishes? Let me know your thoughts in the comments below.
Happy Cruising,
Ilana
xoxo
If you enjoyed this, you may also enjoy reading about our OceanMedallion experience.
P.S. Did you enjoy this? I'd really appreciate it if you could share it on social media so others can see it too. Thanks so much!!
Let's connect ( I promised I'd remind you 😉
Follow me on Facebook at Life Well Cruised
Follow me on Pinterest at Life Well Cruised
Follow me on Instagram at Life Well Cruised