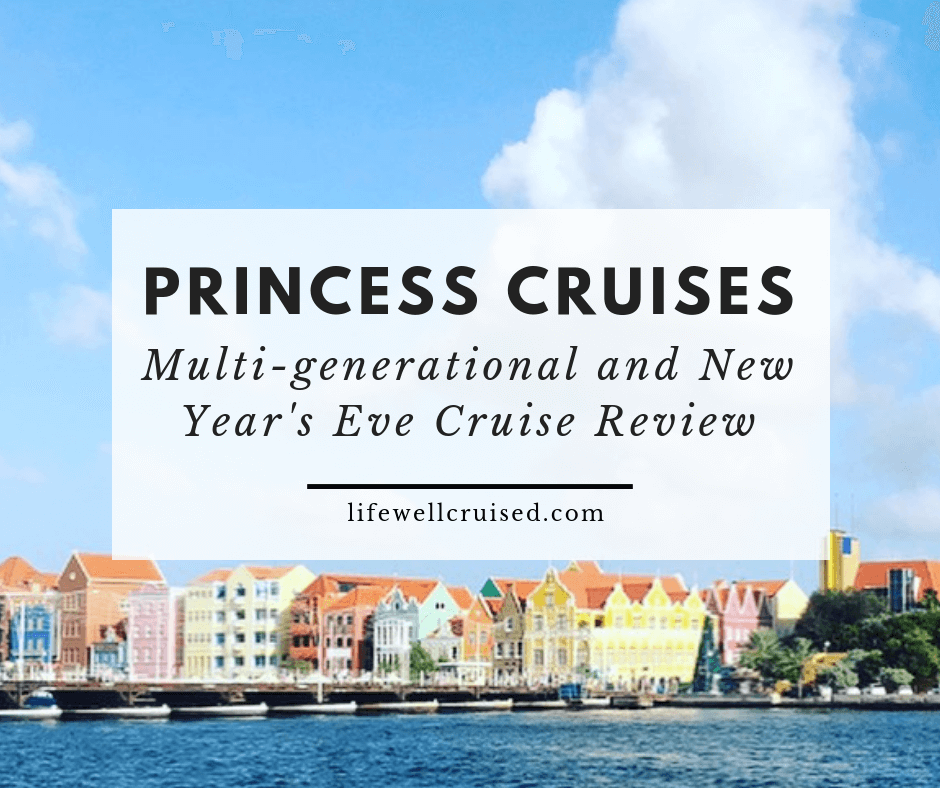 Princess Cruises New Year's Eve Multi-Generational Cruise Review
Crown Princess – 8 Day Southern Caribbean (ABC Islands)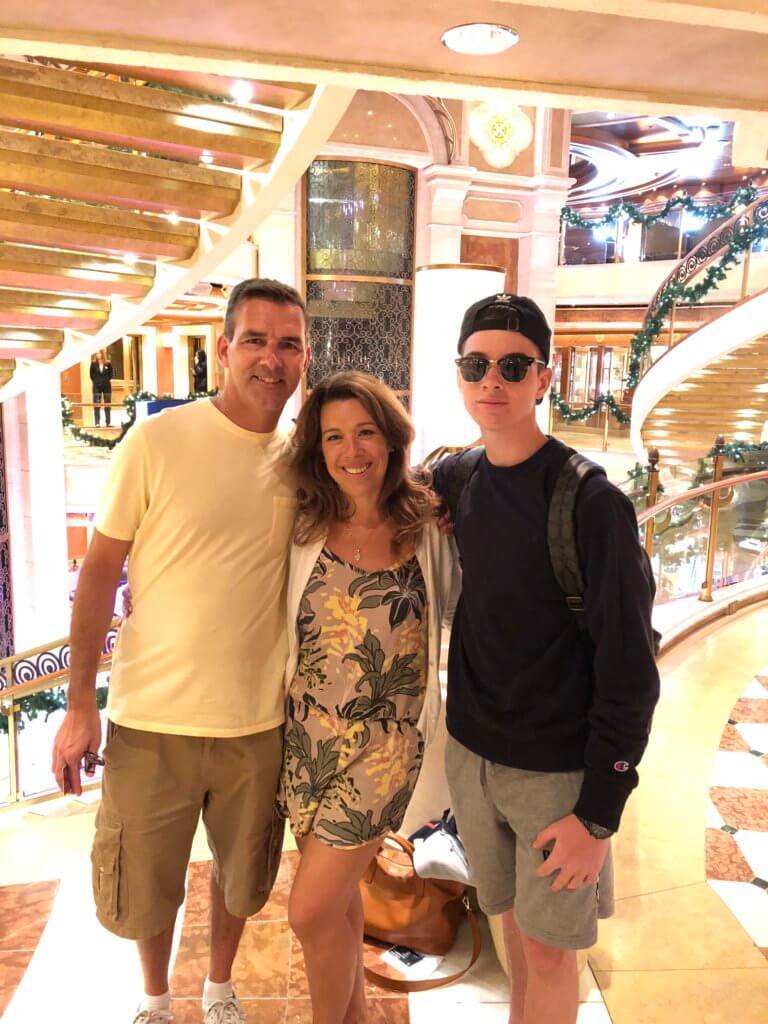 This past December we took a Princess Cruises New Year's Eve multi-generational cruise. This was our 5th Princess Cruise, but a first for some of our friends and family. This was this was our first multi-generational cruise and we chose this ship and sailing as it sailed over New Year's and the itinerary was fabulous. Aruba, Bonaire and Curacao were all on this 8 day Southern Caribbean Itinerary.
We always enjoy Princess Cruises and somehow really appreciate the Crown Princess in particular. The size and layout of the ship is perfect for us – large enough to always have somewhere to go that feels different and yet small enough to feel comfortable and not overwhelming.
We did this cruise about 3 months before it's recent dry-dock and I have read that the ship is updated beautifully and complete with luxury beds. I won't address any areas of the ship that needed up-keeping at that time as obviously this isn't useful to anyone now 😊.
Celebrating New Year's Eve on a Cruise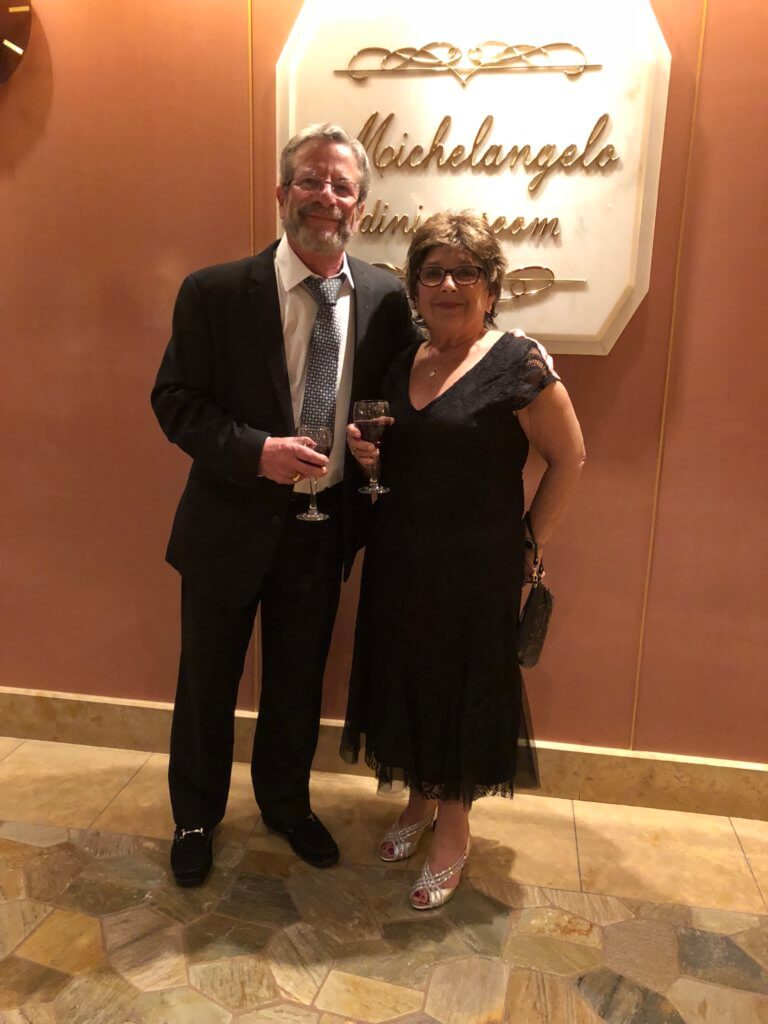 My parents were celebrating their 50th Anniversary in December and our family was looking for a trip that we could all do and enjoy. We all agreed that celebrating New Year's Eve on a cruise wasn't a bad way to ring in the New Year either! I have sailed on New Year's before, and know that nothing compares. When you consider how expensive it can be to go to restaurants, clubs and special parties, a Princess Cruises New Year's Eve multi-generational cruise was a great value. To top it off you actually have a great time, rather than possibly sitting at home and being asleep before midnight!
By the time we had set sail, we had over 30 friends and family joining our informal group, all with the same idea. We had children ages 6-17 and adults in their 30's, 40's, 50's and 70's and we had a great time! We even had some new cruisers with us and they are now hooked.
Crown Princess Impressions
The Crown Princess has a beautiful and elegant 3 story atrium, which they refer to as the Piazza. We entered into this area and took some photos. It was gorgeous and still decorated for the Holidays! Some of what we love in the Piazza is the Promenade Cafe (where we had many complimentary tomato and mozzarella paninis over the course of the cruise), Crooners (oh many fab martinis) and some nice entertainers in the center which meant there was always something happening.
Other public areas such as the Explorers Lounge and Club Fusion, where many games and shows occur, are beautiful as well. My absolute favorite area (always has and always will) on the Crown Princess is the Terrace Pool, the aft of the ship. I love to watch the ship wake from here any time of day, but especially in the morning while having breakfast at one of the tables outside the buffet.
Princess Cruises New Year's Eve Multi-Generational Cruise Celebration!
For those wondering what there is to do on New Year's Eve on a cruise – there was so much and it was a blast! Firstly, dinner was excellent with a great choice that evening in the dining rooms. We were also given fun New Year's celebratory "head-wear" lol, sparkly top hats for men and crowns for the ladies. There was champagne waterfall with complimentary sparkling wine in the Piazza. After dinner there were several parties going on the the different lounges and bars, but the biggest celebrations were on the top deck with the DJ and in the Piazza with a live band.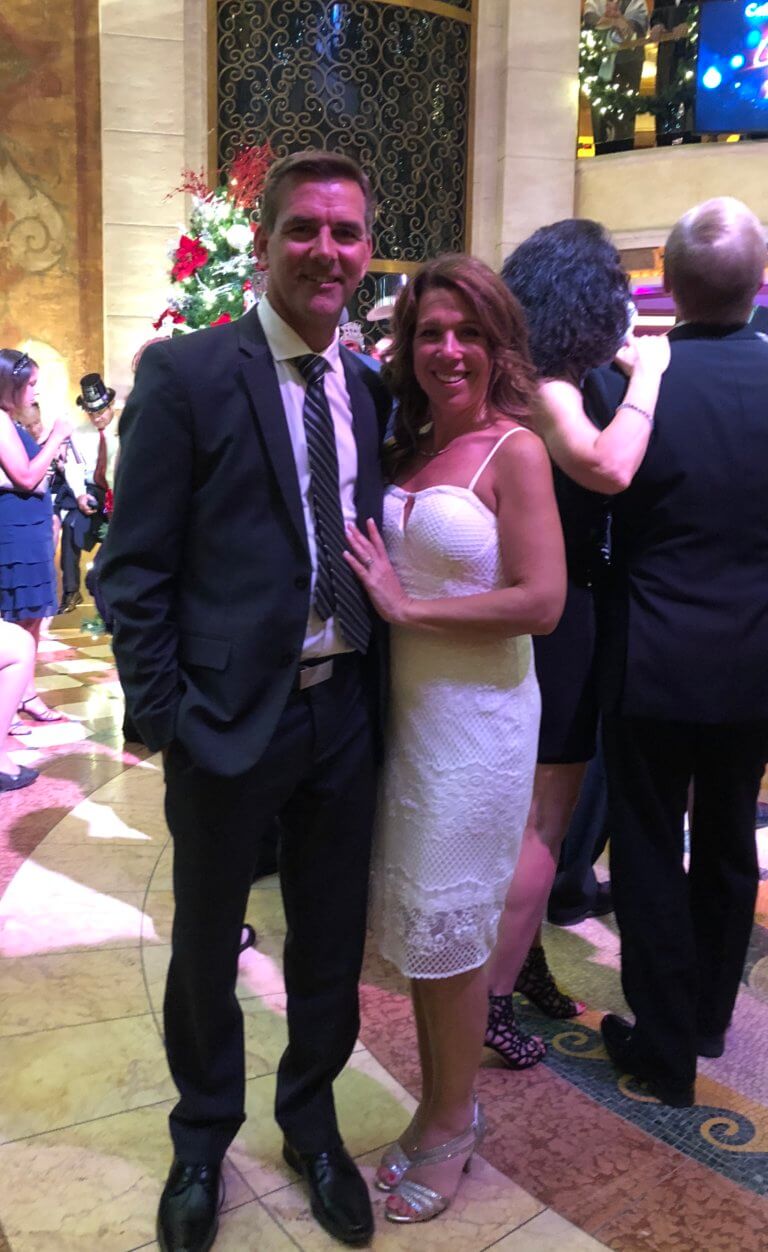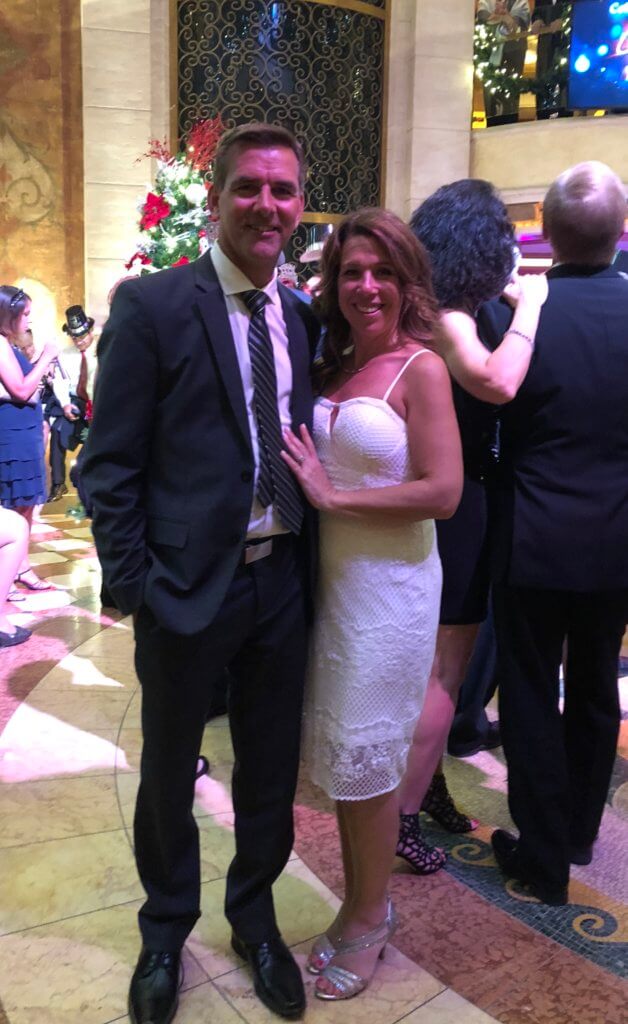 Pools
The 4 pools were just the right size for this ship and a serious bonus – there were always deck chairs to be found! We spent most of our time at the Neptune pool which often had music and a band and occasionally some pool games with the Princess entertainment staff. We love the Lotus Spa and Terrace (aft) pool but didn't swim or sit there this cruise. The Neptune Pool, with its Movies Under the Stars screen was used for parties at night and was lots of fun. This pool had movies and videos playing all day which seemed nice for some families.
Cabins
This cruise we were 3 in an inside cabin, which is small but we know what to expect and like the layout of the Crown Princess Inside cabin. There is a separator wall between the bathroom and closet area and the main bedroom, so it adds a bit of privacy when someone is getting ready. I really like the large open closet facing the bathroom with the full length mirror. It just makes cruising in a small cabin better.
We were on Riviera Deck (deck 14) towards the Aft. This is one of my favorite locations as we can just walk a few yards and go out the back door to the Terrace Pool and back of the buffet area. It is like having our own semi-private big balcony at the back of the ship. This also happens to be my favorite place to sit and have breakfast each morning. We sit at a table outside by the aft pool watching the ship's wake before it gets too hot and it is just a perfect way to start our day.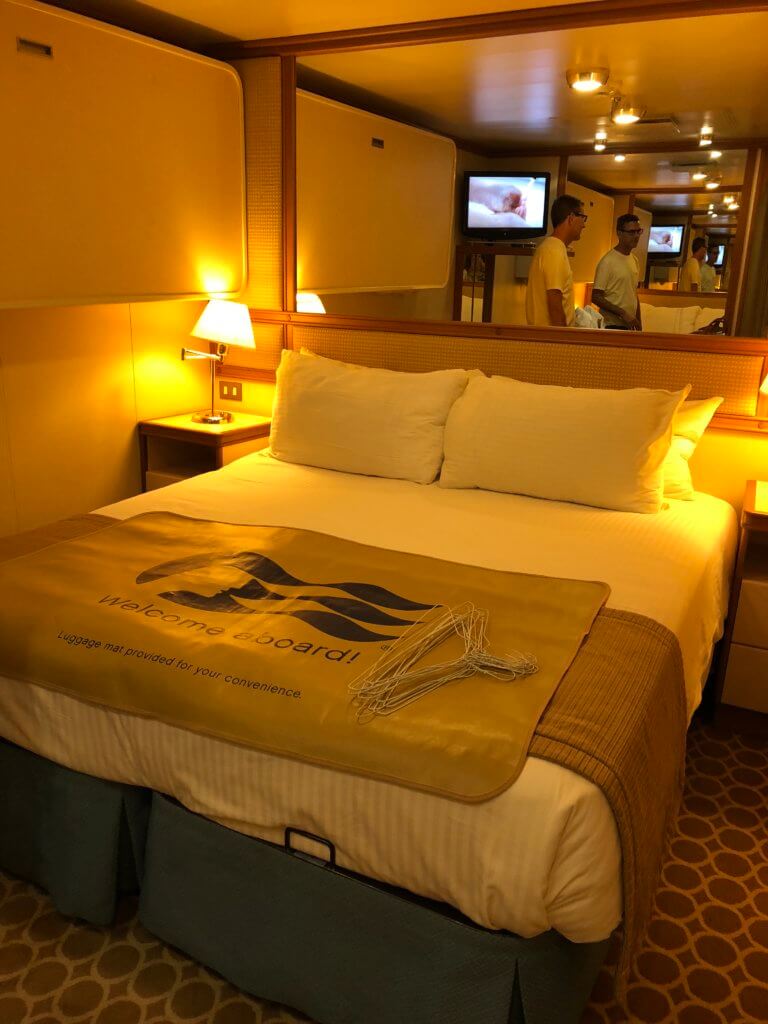 Food and Dining – Casual Eats
The casual food on this ship was very good and offered quite a lot of choice. As an example, there is the Windjammer (buffet), the Promenade Cafe, the Pizzeria, the Poolside Grill, and complimentary room service. In a time when some cruiselines are doing away with this, we still appreciate it (*I will tell you why a bit later!).
Our favorite? The International Cafe. This place is sooooo good and we found out that many passengers on the ship actually thought that there was an upcharge for it, so they only tried it on the last day or two. That's how good it was! They had pastries and donuts, excellent breakfast sandwiches and fruit and yogurt parfaits in the morning. During the day the variety of gourmet salads and sandwiches made it a favorite place to grab a bite and avoid the buffet. The Shrimp and Spinach Salad and the Watermelon and Goat Cheese Salad were two highlights, plus the Tomato Mozzarella Panini of course!
Specialty Coffee Card
For less than 40$ we were able to get a coffee card to purchase 15 specialty coffees (including frozen concoctions) or teas. I love this as it can be shared if you like, and also included unlimited fresh brewed coffee. This alone is so worth the price. If you enjoy good coffee, this is a must!
Dining – Diningroom and Specialty restaurants
We had the Anytime Dining, which suits us best when sailing with Princess. We like the flexibility to eat at 7:00 one night and 8:00 another. Also, since we were a large group, we were able to switch up who sat where each night. This fit our party for our Princess Cruises New Year's Eve multi-generational cruise. Something to keep in mind however, is that if you will need a large table, you do need to make arrangements with the Maitre'D as there are very few tables for 10. For those that want to eat together every night, having a set time might work better for you.
Overall the dining was very good in terms of menu selection and food quality and taste. We had some excellent fish dishes and the rack of lamb was superb. We always love the fettuccine alfredo and often ordered it as an appetizer. We were a bit dissapointed with the dinner on the second formal night. The menu just seemed less interesting and most of us agreed the dinners were just ok that night. Personally I feel if Princess is asking passengers to dress up, the meal should reflect that it is a special night.
On another note, Princess had some phenomenal "Chocolate Journeys" by Norman Love desserts. Our waiter would often bring us a second choice to share and we totally indulged! We also found that despite having Anytime dining (which means that our table and wait staff change daily), our service was very good to excellent most nights.
Specialty Dining – The Crown Grill
The Crown Grill, is just one of the specialty restaurants on the Crown Princess. We have eaten in the Crown Grill on previous Princess Cruises and found it to be so incredible that we were excited to bring our friends, first time cruisers, there for dinner one night. Unfortunately we just didn't have the best experience. I actually don't enjoy writing the negative stuff, but I think it is important to be real.
The waiter tried really hard, but was on his own serving six of us, which made our dinner feel somewhat hectic. Our meal just wasn't great. The appetizers were quite good, however the soup was just ok. 4 of 6 main meals (steak) had to be returned as they were overcooked and when new ones were brought they just weren't that tasty. It just didn't feel worth the money and we actually regretted going. However, we did speak with the Maitre'D and felt like it was dealt with fairly. I think this wasn't usual for the Crown Grill and that we unfortunately had an off night. We will try the Crown Grill again and hope it will be a better experience.
Kid's Club – Family Activities
We were with children ages 6-17 and everyone had a really fun time. Since we had some kids that have cruised with other lines, there definitely was some disappointment that there were no water-slides. However the kids club offered great activities and was well run. There were crafts, games, science activities and parties. Older kids had a relaxed hangout and a variety of group activities and parties organized that were well attended. It seemed the pool parties at night were (no surprise) the most fun.
There were also fun and engaging family activities for parents and kids, from a scavenger hunt on embarkation day to a fun Carnival (with face painting and balloon animals) the last sea day in the Atrium. This just made our Princess Cruises New Year's Eve multi-generational cruise the perfect vacation from the beginning to the end.
Kids/teens and Why I love Room Service
So early on in this review, I mentioned that I LOVE cruise lines with complimentary room service. In a time when some family focused cruise lines are doing away with free room service, this stands out as a huge plus for Princess! I will tell you why.
First of all, it really does feel llike a luxury for us all. I never order room service in a hotel! It is just too expensive. So, I appreciate waking up to a fresh pot of coffee brought to my cabin in the morning. When my kids were small we would get milk and cookies at night as we settled down before bed together. It is just something special we could only do on a cruise.
Then, when my kids were teens, we started a new ritual. I will tell you what I do. It is a little trick that keeps us all happy on a cruise and me feeling a bit like Supermom (or Crazymom when I think about it!).
When cruising, I order my teen son food for when he gets back in the cabin at about 12 or 1 am. Why does he eat at 1:00 am? Because he is a teen boy!! For sure, he can order it himself, but that means ordering it and then waiting for it, which will wake us up. Instead, before I go to bed, I order a burger and fries, club sandwich, grilled cheese or whatever. It is there when he comes back. I even laugh at myself, but it is just a fun thing we do when cruising! And just so you know, the Room Service menu is great on Princess!
Entertainment
We saw a couple of shows and found the guest entertainers to be very good. The comedians in particular were most entertaining. We opted not to see Magic to Do, but of our friends/family some loved it and some didn't. It is pretty amazing that this is a Stephen Schwartz production (think Wicked on Broadway) that you can only see when sailing on Princess.
What is fabulous about this ship is that there was always something happening, and something for everyone (both day and night). This ship always felt alive, whether it was that people were coming and going from a show venue, sitting at Crooners having a drink, sitting at the International Cafe having coffee and a snack, at Skywalkers or at a deck party dancing or catching a movie or having a swim at the pool deck.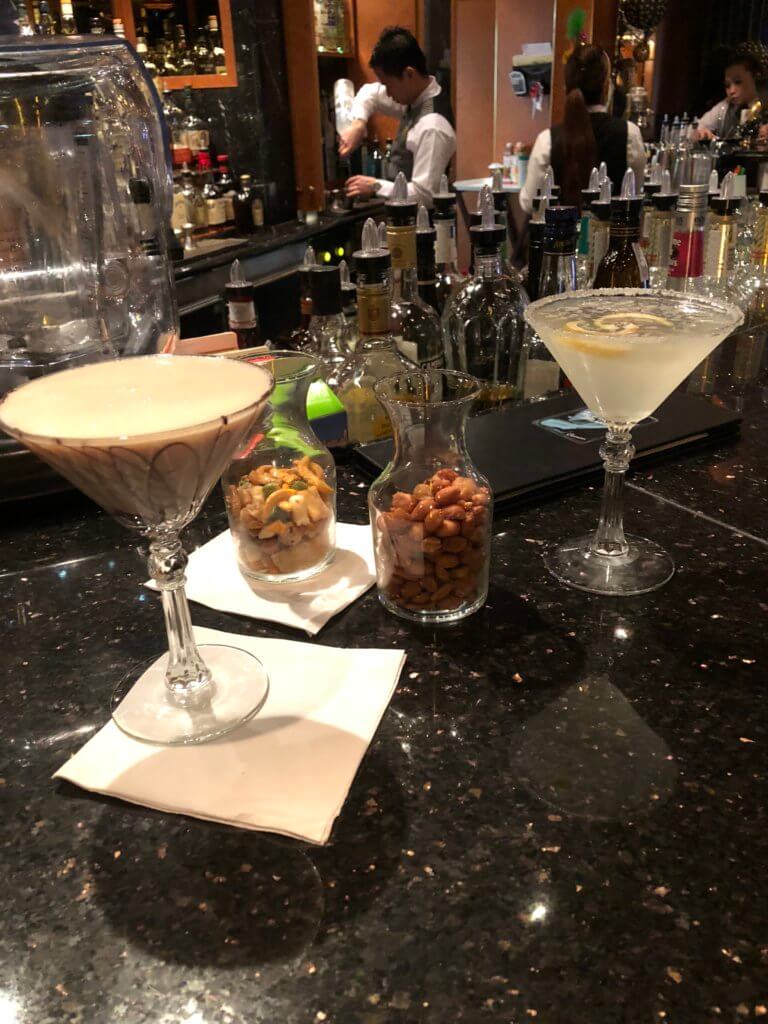 Movies Under the Stars
How fun to see a movie on a big screen complete with popcorn and comfy blankets! It is nice to have this option on a Princess Cruise if you're not up to a big production show.
The Love Boat Disco Deck Party
I know it's cheesy but I love this stuff. We just had a great time line dancing to some old disco hits. The Princess Entertainment staff were dressed up in some crazy outifts, but its all in good fun so best join 'em and enjoy the Love Boat nostalgia.
Something for Everyone
One of the things I loved most about this cruise was that everywhere we went and everywhere I looked, people were enjoying themselves doing different things. Since we were sailing with people or varying age groups and interests on our Princess Cruises New Year's Eve multi-generational cruise, this was definitely appreciated. For example, often there was a group of people mid-day (kids and adults) watercolor painting in the Atrium. There were popular art auctions that were attended by others. Others were at a port lecture or at a wine tasting. I often hung out by the pool with a few friends and we sat and listened to music or participated in a few contests. At the risk of complete embarrassment I've included a picture of my part in a drink making competition. One day I'll get around to showing the video!! Yes, I won the drink!! All this to say, we did enjoy and found that this was a perfect multi-generational cruise!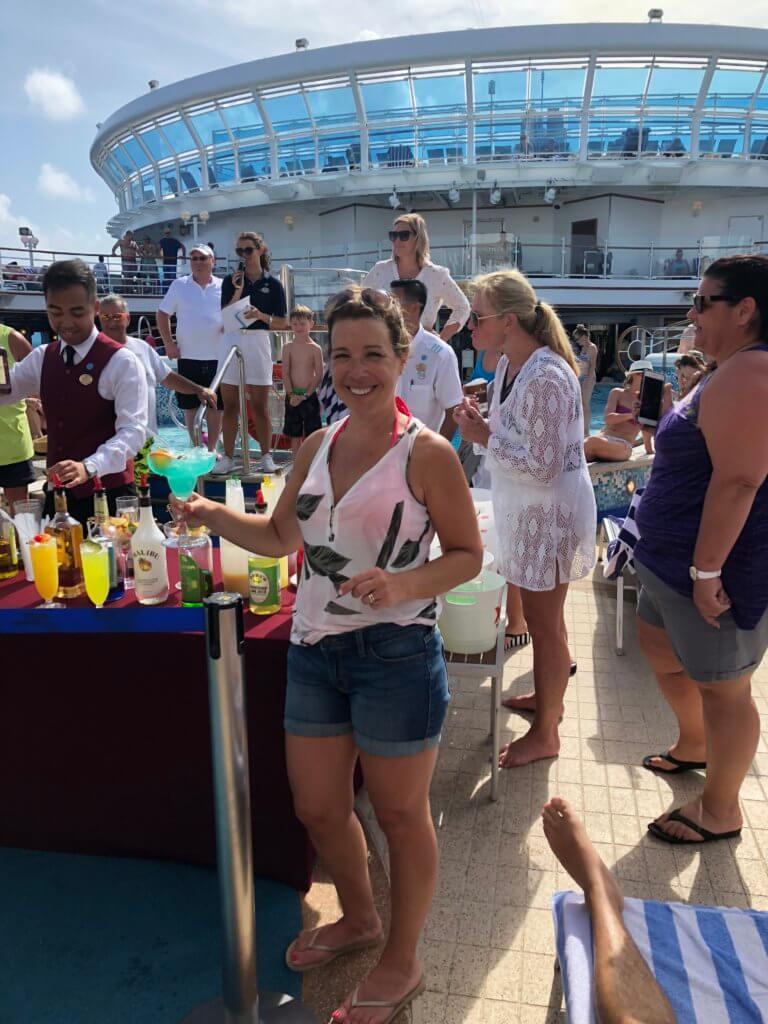 I will be reviewing the ports of Curacao, Aruba and Bonaire in Part 2 and letting you know about the best things to do on your own and with the cruise line. Plus, I have a money saving Princess Cruise Excursion Tip ahead!!
If you would like to know more about Princess Cruises or how we planned our multi-generational cruise, please just let me know in the comments below. Have you sailed Princess lately? I would love to know your thoughts (the good and the bad).
Related posts and Princess Posts
Aruba review can be found HERE
Published as Guest Post on GO AND CRUISE: The Best of Curacao by Cruise can be found HERE
Ocean Medallion : A Cruiser's Persective on the Best New Tech at Sea
Princess Cruises Alfredo Pizzeria Review
Thanks for reading about our cruise and Happy Cruising!
Ilana xoxo
If you enjoyed this review, please share with friends 🙂
If you'd like to connect:
You can follow me on Facebook at Life Well Cruised
You can follow me on Instagram at Life Well Cruised
You can follow me on Pinterest at Life Well Cruised