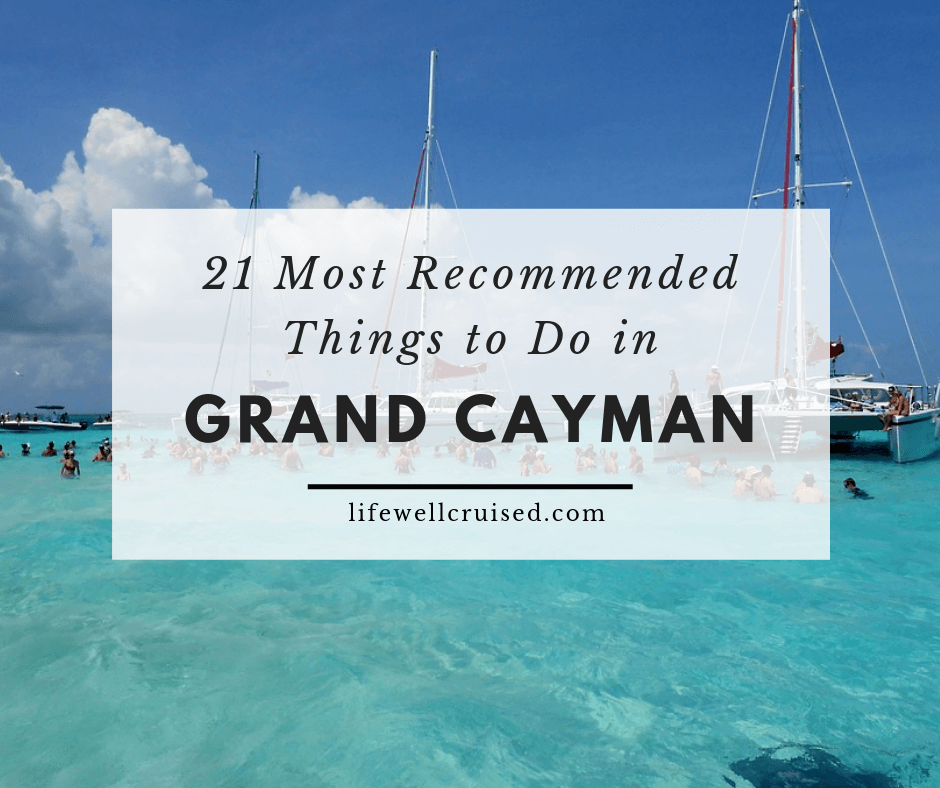 What to do in Grand Cayman on a Cruise
If you're heading on a Caribbean cruise, there's a good chance that you're stopping in Georgetown, Grand Cayman for the day.
You're very lucky!
1. It's awesome
2. There are amazing and unique things to do in Grand Cayman
Before we get into the best excursions and activities to do in the Cayman Islands, let me give you a bit of info so you can get idea of what to expect when you arrive by Cruise Ship.
Grand Cayman is a tender port. This means that you won't be arriving and "parking" at a dock or pier. Instead, cruise ships must anchor in specific sports just outside of Georgetown, Grand Cayman's capital.
Although there are plans to build a cruise ship pier that will accommodate large cruise ships, for now cruise passengers can expect a 10-15 minute tender ride from ship to port.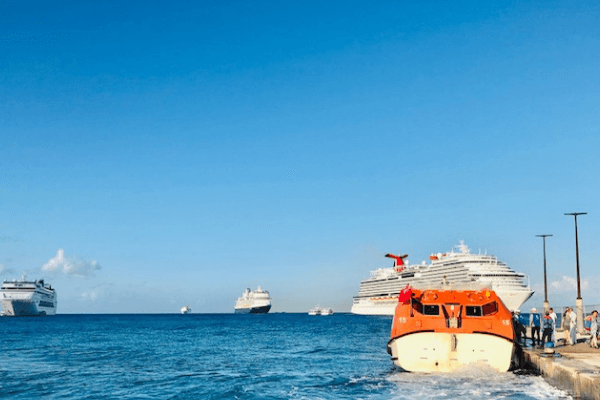 This post may contain affiliate links. Please see my full disclosure policy for details.
Grand Cayman Cruise Port
When your tender boat drops you off, you'll be at one of Grand Cayman's 3 cruise terminals. However, each is in very close walking distance of main town, Georgetown.
When you arrive in the port area, you can meet your booked excursion if you've reserved one with the ship or through another tour company. Do pay attention to any directions or instructions your tour company may haven given you, as to where to meet.
Grand Cayman Currency
The Cayman Island Dollar is the official currency, however US dollars are readily and happily accepted.
What to expect in Grand Cayman
Grand Cayman is one of the wealthiest islands in the Caribbean, due to it's banking and tourism industries. It's clean, safe, easy to get around and there are great things to do, see and buy in and around Georgetown.
It's been our experience that the people are friendly and genuinely helpful and enjoy giving information about their beautiful island.
When you get out of the port area, you can either walk around the town and do some shopping, or you can take a tour or do an activity. There are taxis and van type shuttles that can bring you to the beach, and they are truly some of the most beautiful beaches you can find in the Caribbean.
As in any port, if you are taking an excursion on your own, take some time and research to choose a reputable vendor or tour company.
Here are some of the most recommended things to do in Grand Cayman (especially if you're on a cruise)
When coming into Grand Cayman by cruise ship, you'll often have from about 9-4 pm on shore. Factor in lining up and taking a tender back to your ship, and this makes the day a bit limited on time. For this reason, cruisers have to be especially time conscious when planning their day and activities in Grand Cayman.
Things to in Grand Cayman on your own
1. Seven Mile Beach
Not only can you easily go to Seven Mile Beach on your own, but it's also one of the free things you can do in Grand Cayman. Beaches are public in Grand Cayman and they are truly so beautiful. Soft light sand and the clearest emerald waters make it a beach lover's dream.
Seven Mile Beach is one of the closest beaches to the cruise port, which is a huge bonus. To get to Seven Mile Beach, simply take a cab or shuttle which is available for a few dollars just outside the cruise port. There are some public buses as well, should you decide to go that route.
2. Walking tour of Georgetown, Grand Cayman
Walking around quaint Georgetown is quite pleasant. If you're feeling like an easy day of walking and browsing, the main town is right outside the cruise port, so this is a nice walkable port of call. While you do some window shopping or get some souvenirs, you'll get a chance to enjoy the sights as well.
Tip: Pick up a local map at the little tourist booths right at the pier, and you'll be guided through the main streets where you can see colorful cultural murals, beautiful fountains and replica canons.
Things to do in Grand Cayman for families
3. Cayman Turtle Center
One of the most popular family activities in Grand Cayman, the Turtle Farm and wildlife center offers interactive encounters, educational presentations and more. Kids really enjoy the turtle touch tanks and the opportunity to watch a crocodile feeding!! You'll find exhibits, media presentations, as well as a chance to get in the water in a play area with a small waterslide for families and kids.
4. Dolphin Discovery Grand Cayman
If swimming or interacting with Dolphins is on your families' wish list, Dolphin Discovery provides a variety of experiences depending on your budget. You can access the center by taxi on your own or with your cruise ship excursion. This is quite popular and it's suggested to book ahead of time to make sure you get a spot.
5. Watersports at Seven Mile Beach
Heading to the beach is one of the most fun, easiest and most economical activities for a family coming to Grand Cayman on a cruise. Seven Mile Beach is closeby and arguably one of the most beautiful beaches you'll see in the Caribbean.
Seven Mile Beach has a variety of watersports available including jetskis and banana boat rides. We've done Banana Boating (at least my kids have) and its been a lot of fun – plus, all in all one of the least expensive activities we've done while on a cruise.
Best Beaches in Grand Cayman
6. Seven Mile Beach
Did you know that Seven Mile Beach is said to be just over 5 and half miles long? That's a little fun fact about Grand Cayman.
This beach is gorgeous beach is closeby the port and offers a lot to do. It's an inexpensive taxi or shuttle ride (or public bus) to get there. A tip is to get dropped off in the Royal Palms area.
Note: The busiest beach in Grand Cayman, be aware that it's not the quietest or most secluded beach on the island, although it's still quite beautiful
7. Rum Point Beach
Rum Point is lovely beach with far less crowds than popular Seven Mile Beach, located on the North Coast about 50 minutes from the cruise port. While there you can visit the somewhat famous Wreck Bar, which is said to have invented the Mudslide.
Tip: Head back to the ship with a little extra time to spare, should you have some traffic heading back to port at the end of the day.
8. Smith Cove
A popular favorite among the locals, this beach is quite spectacular in that it has stunning rock formations. It's a real contrast to long, sandy Seven Mile Beach. It's about 15 minutes from the cruise port in Georgetown and is best reached by taxi.
Best Snorkeling Excursions in Grand Cayman
The Cayman Islands are well known for world class diving and snorkeling.
9. Stingray City Sandbar
If you chose only one excursion while on your cruise, it would be a trip to Stingray City Sandbar, Grand Cayman. You'll be rewarded with incredible memories and seriously have the best cruise vacation photos! It's hard for me to hold in my enthusiasm. This is truly something unique to Grand Cayman and one of our personal favorite shore excursions in the Caribbean.
You'll be heading out about 30 minutes by boat to a shallow sandbar (3-4 ft), and you'll see many stingrays swimming all around you. You'll learn a bit about them and realize they're gentle and safe. You can even touch and "pat" them and take a photo with a stingray kiss. While I was a little freaked out, we had the best day!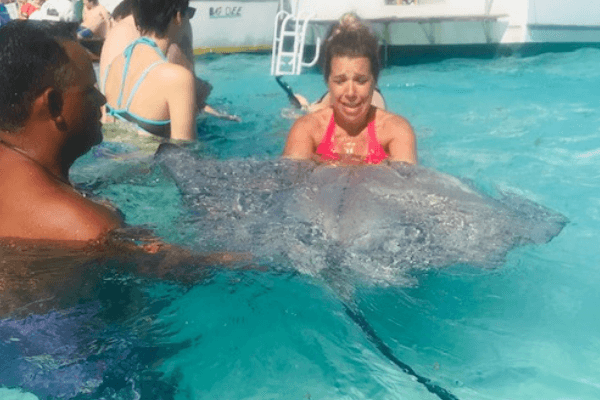 Note: This is a popular cruise excursion and does tend to get crowded when several cruise ships are docked. If you prefer less crowds, you may want to choose another snorkeling excursion.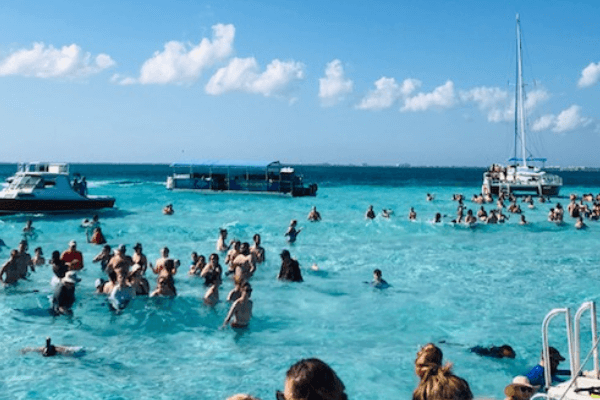 10. Stingray City Snorkeling
If you want the experience of snorkeling with stingrays in slightly deeper water (and less people), a good suggesting is Stingray City Snorkeling. There are a variety of boats and catamarans that you can book, either with the cruise line or with a local tour company.
11. Snorkeling Barrier Reef
There are a variety of snorkeling tours that will take you along the barrier reef where you'll see many types of fish, marine life and coral.
12. Snorkeling off Seven Mile Beach
There are snorkeling excursions off Seven Mile Beach that will bring you our to see shipwrecks, as well as other snorkeling spots in Grand Cayman, including Barrier Reef, Stingray City, Rum Point and more. Inquire with the cruise line shore excursion desk or with local reputable vendors.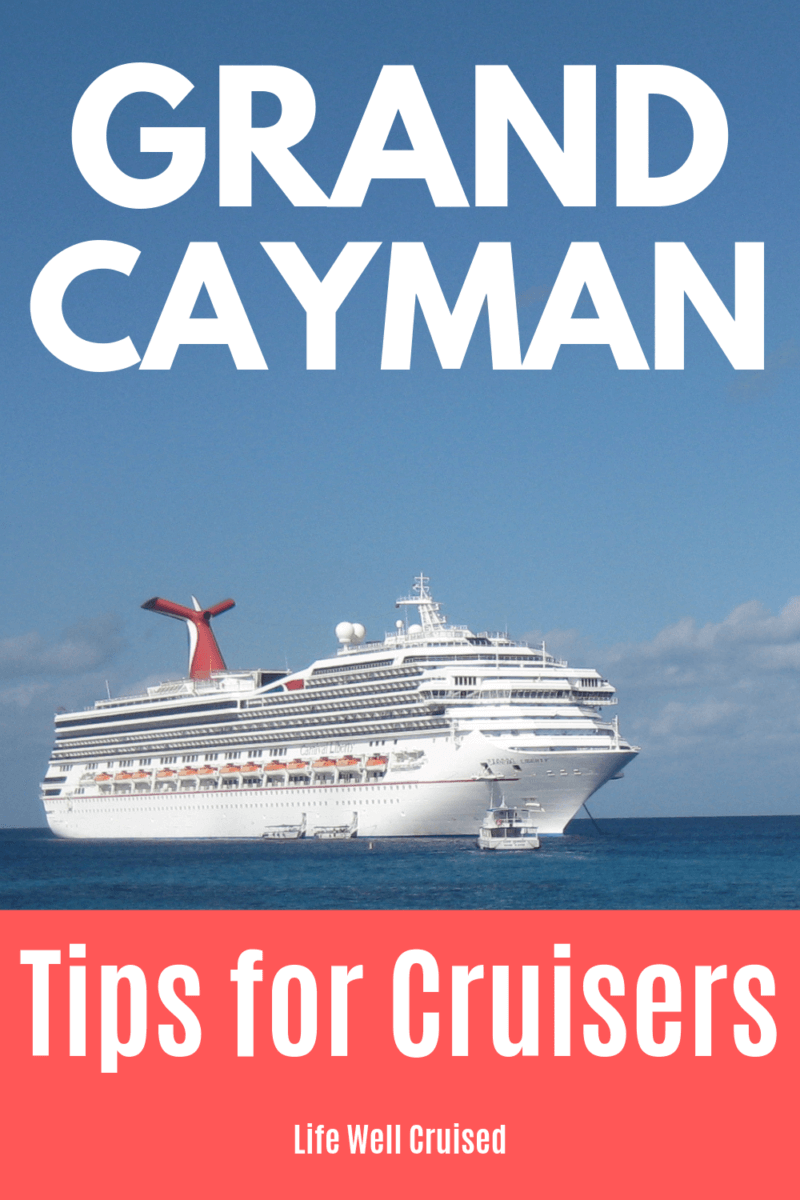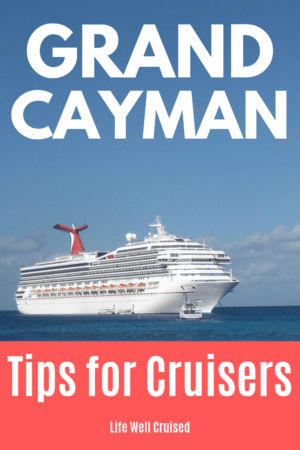 Boat Excursions in Grand Cayman for those that don't want to swim
If you want to to experience Grand Cayman's underwater views, these excursions are great options.
13. Glass Bottom Boat
Glass bottom boat tours offer the option to get out and snorkel or dive, or to stay on the boat. This is a great excursion if you have some in the family who want to get right in the water, and some who's rather not. You'll see marine life and coral and sit comfortably while viewing tropical fish and in shipwrecks (depending on the tour).
Looking at some of the options of boats, these glass bottom boat tours have come a long way from years ago. Many now offer new modern boats and very comfortable seating.
Tip: Do some research or vendors ahead of time whether you book with your cruise line or with a local tour company.
14. Atlantis Submarine Expedition
A unique way to see Grand Cayman's underwater life. This real life submarine actually goes down about 100 feet so guests can view all sorts of fish and marine life. This is definitely a tour to book ahead as space tends to be limited.
Tip: There are some reports that due to some bobbing from the submarine, you may wish to take a little Bonine
or wear a Sea-band to prevent an motion sickness.
For more tips on preventing seasickness while cruising: recommended reading How to Prevent Seasickness on a Cruise.
Sightseeing in Grand Cayman
You can often find a tour that will include visiting some of the main points of interest (listed above), along with a visit to one of the most unique things to do in Grand Cayman for the day – visiting Hell.
15. Town of Hell, Grand Cayman Islands
Yes, this is really a thing. You can say you've been to Hell and back!
Now I need to warn you, the town of Hell is really small and there isn't too much too see. There are black/grey limestone rock formations and a touristy post office where you can have postcards stamped from the town of Hell, Grand Cayman islands. You can also grab some t-shirts to prove you've been. That being said, if you're on a sightseeing tour, and this is part of it, it's a bit of touristy fun.
Grand Cayman culture and historical activities
16. National Museum of Grand Cayman
Located quite close to the cruise port on Harbour drive, this museum is housed in a picture perfect 1800's former government building. It has several exhibits that emphasize Grand Cayman's culture and heritage. If a day at the beach isn't your thing, spending a couple of hours learning about Grand Cayman's history can be really enjoyable. There's a small entrance fee, but certainly less expensive than the majority of other excursions and it gets great reviews from those who are interested in learning about Grand Cayman history and culture.
17. Pedro St. James National Historic Site
Located about 20 minutes away from the cruise port in Georgtown, this restored former Great House, built in the 1800's, offers a look back into the history an heritage of Grand Cayman. There are interactive and media exhibits and visitors can view the building filled with authentic period furniture and artifacts.
18. National Gallery of the Cayman Islands
This art gallery that focuses on the visual arts is definitely worth a visit should you be keeping it local and staying around Georgetown and nearby the Grand Cayman Cruise Port. The entry is free and there is a great exhibit of local artist's work, not to mention other rotating exhibits.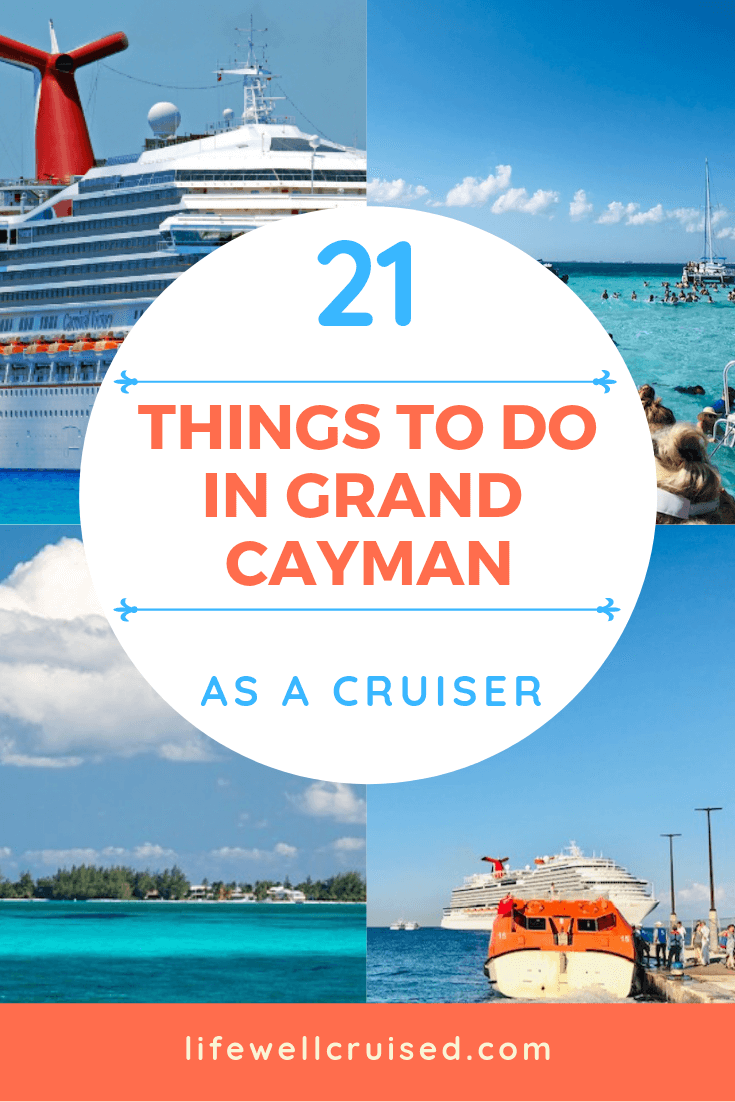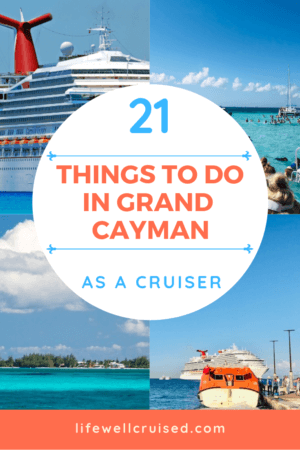 Grand Cayman excursions that are off the beaten path
19. Horseback riding on the beach
This unique excursion gets rave reviews. If you love horses and want to experience the natural beauty of Grand Cayman, this West Bay Beach horseback riding excursion might be perfect for you.
20. Deep sea fishing
There are some great spots for deep sea fishing just about a quarter mile from shore, where the ocean depths reach 2000 feet. Not far from there, there is another huge drop to 20,000 feet. These deep waters lend themselves to some fantastic deep sea fising. Several boat charters offer passengers who wish to do some deep sea fishing, a great opportunity.
Fun things to do in Georgetown
21. Margaritaville
I have to mention Margaritaville. It has the unique position of always being a great, fun place to get a bite to eat and a great drink (I'm partial to the Mango Daiquiri), while also having some entertainment and a pool. There's a DJ, a small dance floor (inside a boxing ring?) and an outdoor pool with a small waterslide. All this on the second floor of the building about 3 minutes walk from the Georgetown Cruise Port. It's a fun place to go as adults or even to bring the kids.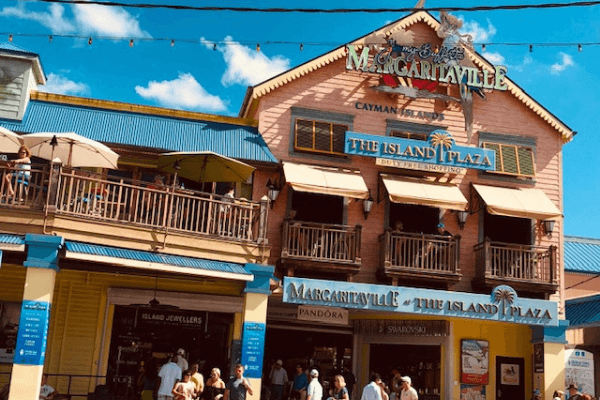 Before heading back to the cruise ship
Before you head into line to take the tender back to the ship, take a little time to check out Georgetown.
The Bayshore Mall is a few steps from the cruise port, as well as streets filled with high end jewelry stores, and lower end, souvenir shops, clothing stores, pirate stuff, and more. You'll find great tax-free shopping on many luxury items. If you've been wanting a luxury brand watch, this is the place to do some shopping.
What Souvenirs Should You Buy in Grand Cayman
Grand Cayman has it's specialties, among them Tortuga Rum and Tortuga Rum Cake.
Items you may want to take home from Grand Cayman include:
Luxury and higher end watches
Name brand and quality jewelry
Jewelry made of Caymanite, a semi-precious local stone
Antique or replica shipwreck items (coins)
Crafts
Hot sauce
Tortuga Rum
Tortuga Rum Cake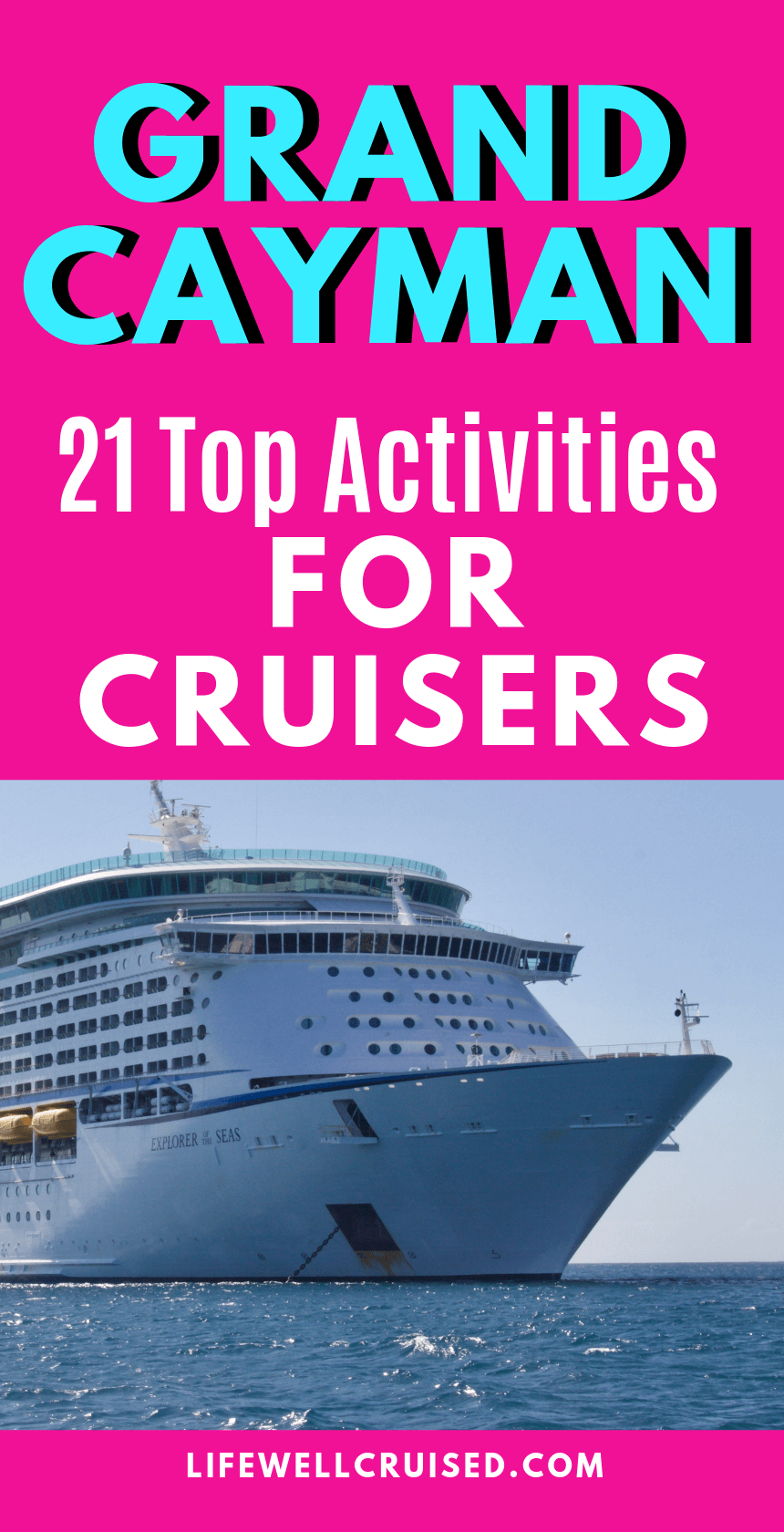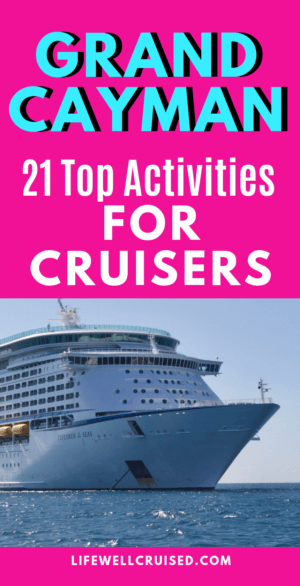 Going on a Caribbean Cruise? Here are some articles to help you plan:
Amazon Cruise Accessories List (Most Popular Items)
What to Pack for a Caribbean Cruise (with packing checklist)
Cruise Wear over 50: Flattering Cruise Outfits for Women
23 Essential Things to Pack in Your Cruise Carry-On Bag
15 Cruise Embarkation Day Tips for the Perfect First Day
Recap: 21 Most Recommended Things to Do in Grand Cayman While on a Cruise
I hope that this post has given you a good idea of what to expect when you come in by cruise ship to Georgetown, Grand Cayman. There's definitely something for everyone – whether you crave a beach day, sightseeing or a little more adventure.
If you enjoyed this and are doing a Western Caribbean cruise, you may also want to read 21 Most Recommended Things to Do in Cozumel.
If you're planning for your first cruise, I recommend getting prepared by reading (or saving for later), my cruise packing tips and cruise carry on essentials.
Have you cruised to Grand Cayman? What did you enjoy most? Let me know by leaving a comment below.
Happy Cruising,
Ilana xoxo
P.S. If you've found this post helpful, I'd really appreciate if you would share it on social media. Thanks so much!
Let's connect:
Follow me on Facebook at Life Well Cruised
Follow me on Pinterest at Life Well Cruised
Follow me on Instagram at Life Well Cruised