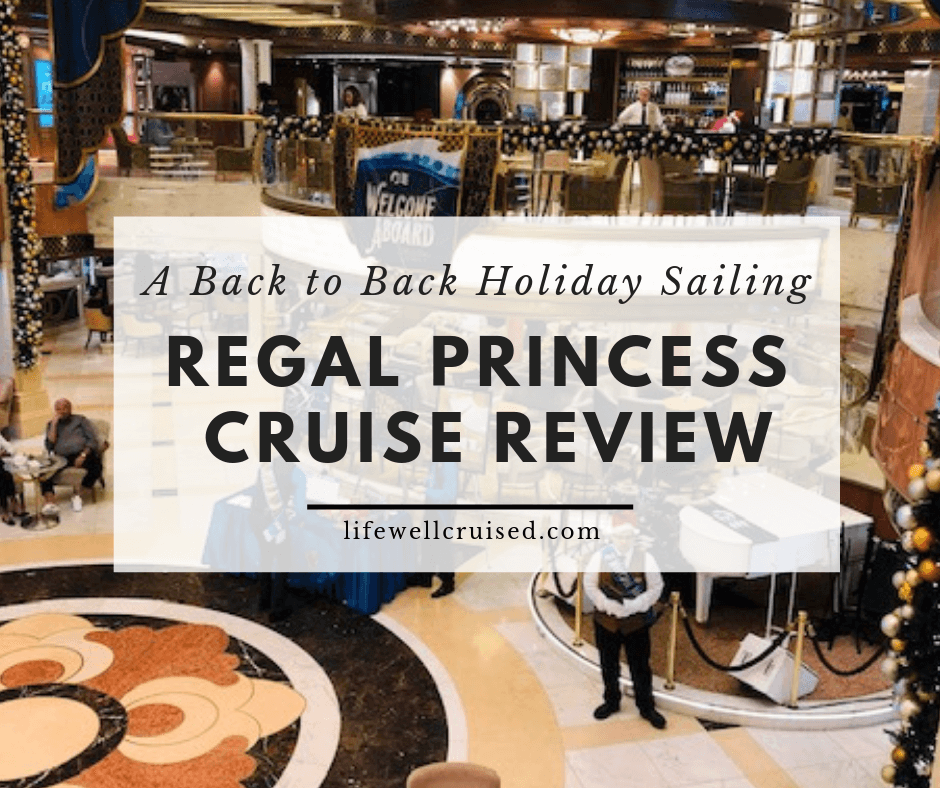 Regal Princess Cruise Review – A Back to Back Holiday Sailing
We recently cruised on the Regal Princess over Christmas and New Year's and had a wonderful time. We've cruised with Princess before, and it's one of our families' preferred cruise lines. In fact, we celebrated my parent's 50th wedding anniversary with a multi-generational cruise on the Crown Princess last year.
This time, we decided to do a back to back cruise. Like most cruisers, this has been a dream for several years.
Finally, this year we did it!!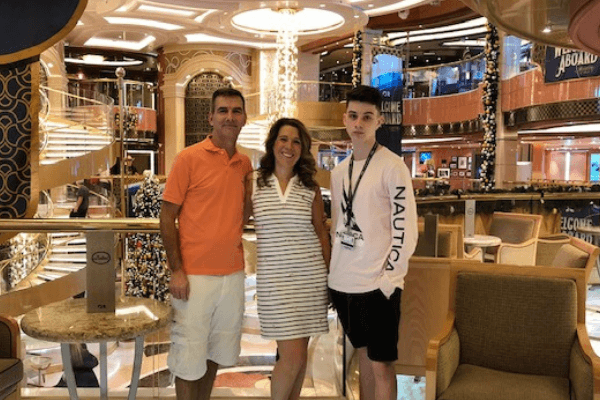 Due to everyone's schedules, as a family, we often travel and cruise over the Holidays. This time, in addition to New Year's, we were on for the Christmas week.
If you've considered cruising during the Holidays, I highly suggest it. I'll touch on some of the highlights in this cruise review, but since there is so much to say and show, the details of how Christmas is celebrated on the ship are in this post: Holiday Festivities on the Regal Princess
I'll go through many points about the ship experience on the Regal Princess on both week 1 (Christmas) and week 2 (New Year's), as well as the ports, which were Eastern then Western Caribbean (port reviews at bottom)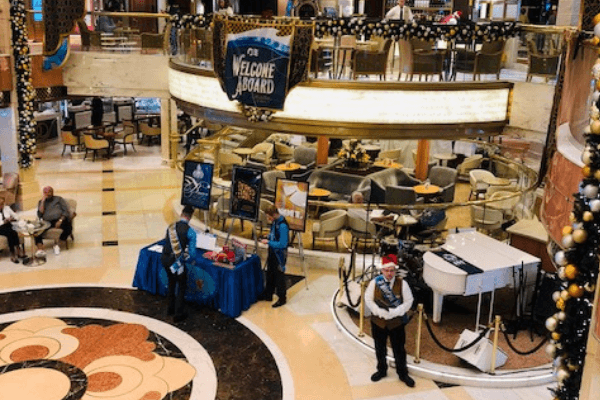 Regal Princess – Main Areas of the Ship
The Piazza
One of the largest ships in the Princess fleet, the Regal Princess is stunning. Entering into the Piazza, Princess's atrium, it was decorated elegantly for the Christmas holidays. The 3 story atrium was as beautiful (but even more so) than other Princess ships we've been on. In the case of the Royal class of ships, the piazza is grand and spacious, with 3 elegant staircases and touches of glass and gold.
Since it was the holiday season, on the first level of the Piazza, stood a tall Christmas tree decorated in jewel tones. It was a great backdrop for people to take photos during the week.
In the Piazza there are a few shops, a couple of bars, the entrance to the casino, Alfredo's Pizzeria and the International Cafe. There's plenty of comfortable seating and has a nice dance floor in the middle, where we often saw people dance to the live bands. It is the central hub of the Regal Princess and there was always something going on.
Truly it was on one our favorite parts of the ship.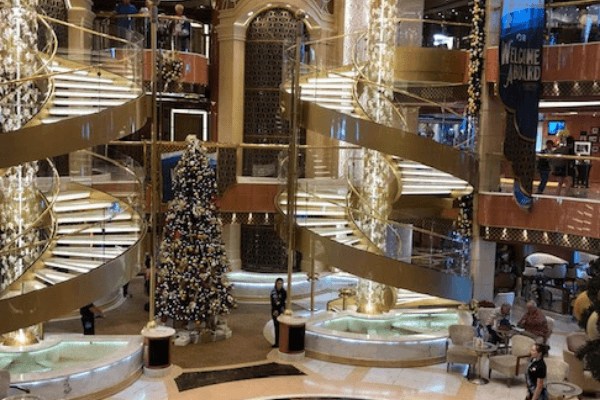 Pool Decks
The main pool areas were very nice, and in keeping with everything on Regal Princess, the attention to detail in the beautiful ship design is constant.
There are 2 main pools, a spacious adult only pool area and a much smaller pool at the very back of the ship (which is on Regal and not on Royal Princess).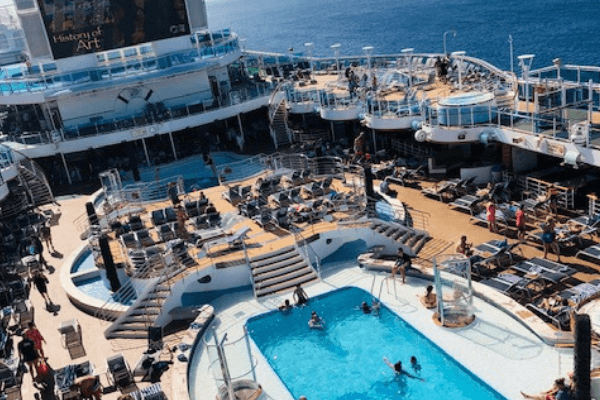 Main Pools
The central part of the lido deck had 2 pools (one larger and one small), with a platform with fountains in the middle. It also housed the Movies Under the Stars Screen. There were also quite a few hot tubs, including a couple on the upper deck above the pool. There is ample seating and space around the entire pool area.
This was definitely the busiest area of the ship. It may have been due to the fact that the holidays just brings so many people and families, but we didn't enjoy this area much during this cruise.
Some great things about it, are that the grill and pizzeria are in this area, and there is a lot of lounge seating as well as tables and chairs to eat outdoors in the shade. It's really beautiful with the Seawalk and bar, however the movies (from Movies Under the Stars) were extremely loud so we opted not to stay in this area.
My personal preference is the Crown Class of ships where the two main pools are separated so that the Movies Under the Stars is at one pool, and music and games are at the other.
That said, families with kids looked like they were having a great time, and we spoke to many people who love watching movies and videos all day.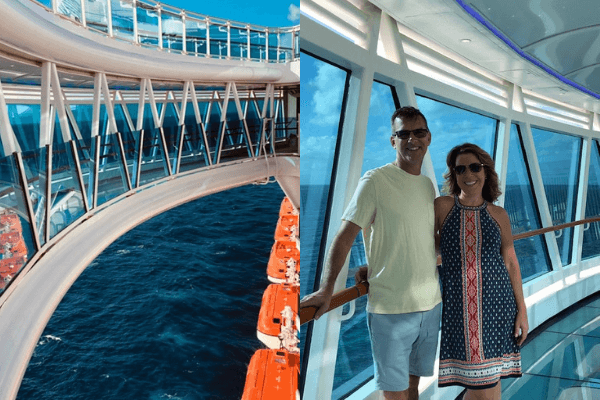 Adult Pool (Retreat)
The Retreat Pool was so relaxing and just perfect. We loved it!
The rectangular shaped pool was spacious. The lounge chairs and cabanas surrounding it gave the feeling of being at a high end resort with a 5 star sea view! It was honestly never overcrowded and for us it was the perfect spot to spend a sea day. There were 2 good size hot tubs as well.
Cabanas were available to rent for 50$ a half day and 80$ for a full day, and they included a nice special menu, which I believe was the same as the Sanctuary.
This is something I really appreciate about Princess Cruises – there is something for everyone that feels just right.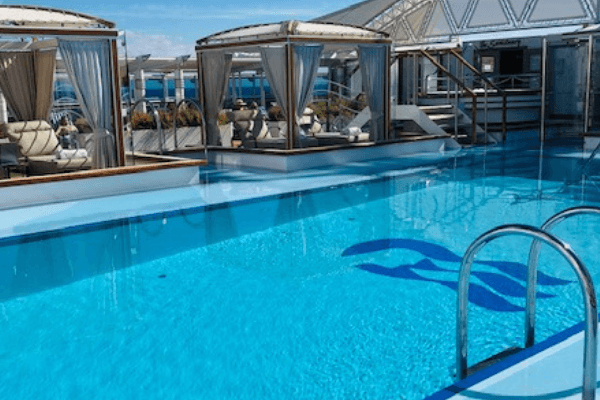 The Sanctuary
Just off the Retreat adult pool, is the private adult only Sanctuary. An oasis of quiet located at the very front of the ship. We did a little tour on our first day, and it is luxurious and beautiful. However, we like a bit of a action and don't usually go for the quietest spaces. That may change one day, but for now it wasn't a huge temptation.
Regal Princess Cabins
Having cruised in inside, oceanview and balcony cabins, I particularly like the overall practicality of Princess cabins. On this cruise we had an obstructed balcony cabin.
When you walk into the cabin, there is a front area with an open closet that acts as a wall or separator from the rest of the cabin. There's also a good size long cupboard with about 5 shelves to place clothes, and the stateroom safe is there as well. Right across from the open closet is the bathroom. With a couple of full size mirrors, it makes a great spot to get dressed and ready while others in the cabin are doing their own thing.
In our cabin, we had our bed as well as a pullman bed (bunk that came out of the ceiling), for our son, as we were 3 in the cabin. Finally, a desk and chair, as well as a small low cupboard and fridge were also in the cabin. The cabin wasn't super large, but does have pretty comfortable space and great storage which I find really helps to keep a cabin organized.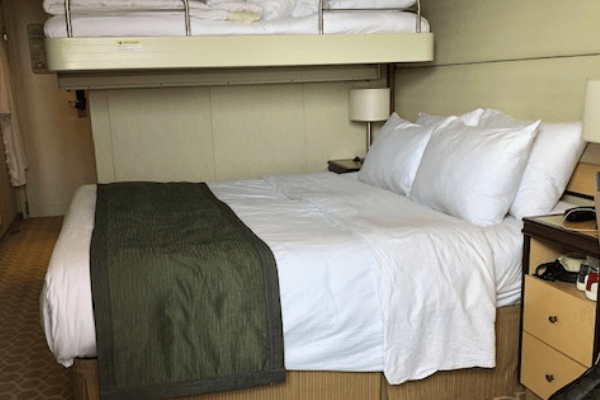 We had an obstructed balcony cabin on Deck 8, and if you're wondering how obstructed it is, it will depend on the cabin location. I would not suggest anyone get this type of cabin if having a full ocean view is very important to you.
In our case, we felt that the obstructed balcony cabin was a good value, and we were glad to have the outdoor space and view when we stood up. However the view when sitting was almost 100% blocked, by an orange lifeboat. Our neighbor however just had a low beam and wire obstructing his view. I say this only to give a realistic review of the cabin. Personally, I believe we're not likely to be disappointed if we know what to expect.
We did still get an incredible view of the ocean and islands though (when standing lol) see video on Life Well Cruised facebook here.
Our mattresses were comfortable, and overall we were very happy with our cabin. Our cabin steward was amazing! Honesty so helpful and nice, and she did a wonderful job.
Funny story
On the morning we arrived in Falmouth, Jamaica, I went out on our balcony and was admiring the sun hitting the water and the landscape, when suddenly, out popped a head from the lifeboat about 6 feet in front of me.
Oh… they were doing some maintenance on the lifeboats that day, I came to find out. "Hello" said the crew member shyly. "Good morning", we laughed… and went inside and about our day. I have to say, I'm one of those people who could never be inconvenienced by ship maintenance and safety drills, right?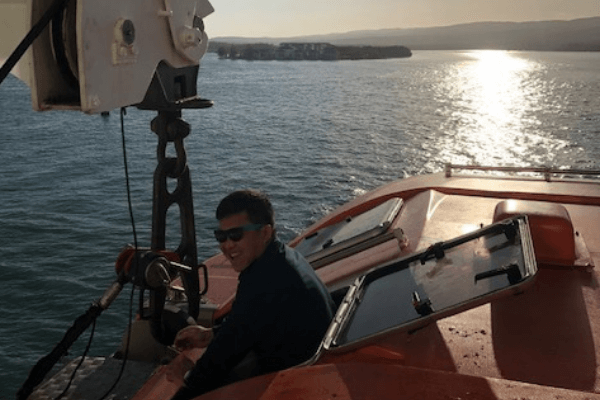 Regal Princess Dining
Casual food
If you've followed any of my Instagram or Facebook posts, you'll know how highly I speak of the casual food on the Regal Princess. From the buffet, the grill and pizzeria on the pool deck, the International Cafe and Alfredo's Pizzeria in the Piazza, and room service, I couldn't suggest any way they could improve. The casual food choices, quality and taste were fantastic.
Alfredo's Review: Princess Cruises Alfredo's Pizzeria Review with Menus
We really enjoyed a couple of fun experiences that I recommend. If you have not yet done this, give it a try next cruise.
1. British Pub Lunch: This was held on a sea day, so check your Princess Patter for it. Basically, we had a yummy lunch of fish and chips and prawns in the lounge at the Crown Grill. It gets pretty busy as it is popular, so show up on time (hours are in the daily schedule). It was really good!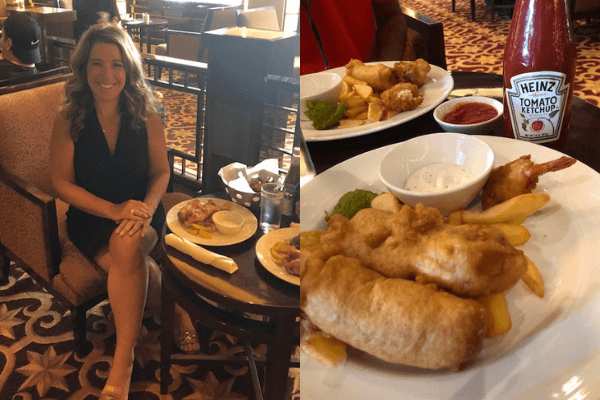 2. Afternoon Tea: This was the first time we went for afternoon tea in the diningroom, eve though we'd been meaning to do it for years. We really liked it and enjoyed scones with cream and jam, little sandwiches and cookies. It was really quite nice.
In the Piazza, the International cafe has some delicious salads and sandwiches, and we enjoyed lunch there instead of the buffet a couple of times. I particularly like the shrimp fennel salad, while my husband enjoys the Greek salad. Sandwiches were delicious as were bowls of fruit salad for something healthier. We would often end the evening with a little dessert from the International Cafe – it's just so good!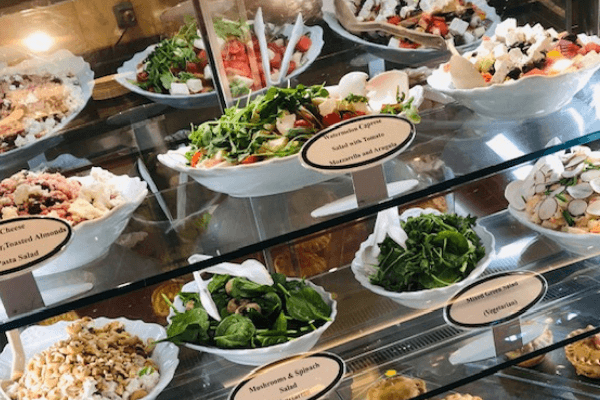 Tip: One of our favorite places to eat was Alfredo's Pizzeria in the Piazza, not to be confused with Pregos, which was poolside. Why not head to Alfredo's for lunch, instead of the buffet, on the first day of your cruise? It will be much less busy and you'll be one of the first to try it.
Recommended reading: Princess Cruises Alfredo's Pizzeria – the Best Pizza at Sea
Main Dining Room
We found the main dining rooms to be quite beautiful and elegant and enjoyed a feeling of spaciousness in that one table wasn't glued to the other. We had Anytime dining and for the first time, felt that maybe going back to traditional dining might be an idea.
Let me explain. Firstly, our servers were hard working and nice and we can't complain. However, perhaps due to the fact that the Regal Princess is a very large ship and it was sailing very full due to the Holidays, it often felt like a bit of a hectic overall dining experience. If you've cruised with Princess and had an experience either similar or different please do let me know so we can decide for next time.
In terms of the food and menu, most of our meals were very good and there are items I really like, such as the salmon which is available every night. M husband really enjoyed the prime rib and my son the shrimp cocktail as well as other shrimp appetizers available on the menu. The desserts, especially chocolate journeys were delicious and some very memorable.
One thing to note, is that on the menu we've always appreciated having a few choices that varied nightly, while others were "always available". There have been changes to the "always available" portion of the menu, and some items are no longer offered. While I'm so happy my salmon is still there, it was disappointing for my husband and son that the everyday steak and fries was removed. I do hope Princess considers how some people really liked this option and will return it to the menu.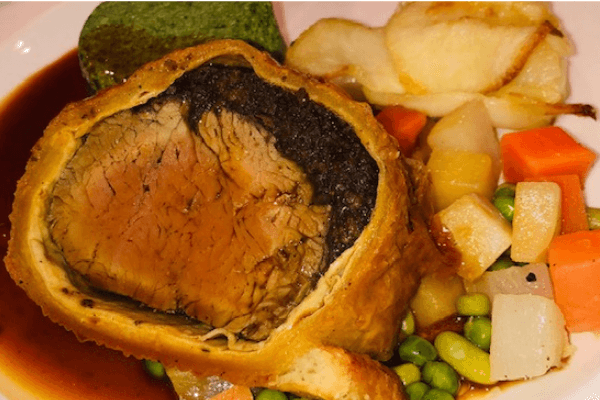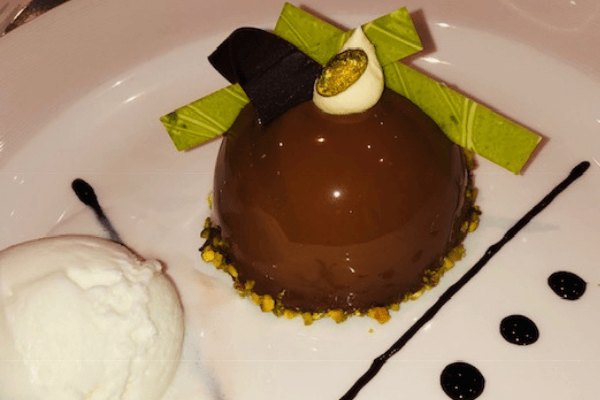 Entertainment
There was a lot to do and many choices on the Regal Princess. Cruise Director Dan Falconer and his activities staff did a great job at connecting with guests and providing a lot of fun activities.
Some of the evening entertainment worth mentioning is Born to Dance, which was very good as a production show. There were a couple of others with singing and dancing, however it's just not our preference, so we often opted to to hang out in the Piazza where there was live music.
The live music was truly phenomenal with Xcite the Band and Ella Ryan performing, as well as other talented musicians. This was a real strength of this ship.
The Voice of the Ocean really looks like the set of the Voice and was pretty incredible. We caught a few minutes of one show, however since this was during the day we unfortunately didn't make it any other times.
In the evening, there were also fun game show style activities in Princess Live as well as in the Piazza, which were a lot of fun. We did miss the illusionists and guest entertainers we've seen on past Princess cruises, although there was a comedian I can't recall the performance.
However, one thing we really like about cruising with Princess, is that there's really something for everyone. We always found something we enjoyed.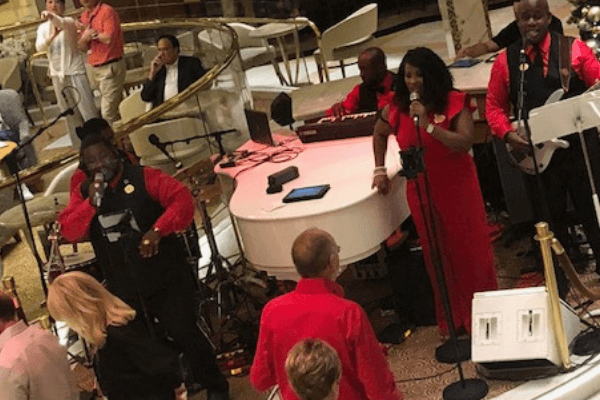 Ocean Medallion
We were, I believe, the first full Ocean Medallion cruise, which was still in the testing stages. While it wasn't 100% functional, most important elements were in place. The staff was very helpful at assisting passengers with any set up or internet questions and issues.
You can read about our experience here: Hello Ocean Medallion!! A Cruiser's Perspective on the Best New Tech at Sea.
Speaking of Ocean Medallion, along with this new technology, came Medallion Net, basically the ship's internet or wifi. Let me tell you, this is amazing, fast and affordable wifi.
We were also able to share between devices, as long as you use one device at a time. For those that don't really want to be on the internet a lot but still want or need some access (as I know many, including myself, like to unplug when they cruise), this is fantastic for the price.
Updated Ocean medallion info: 21 Things You Need to Know About Ocean Medallion
Sports Deck and Fitness Center
The amazing large sports deck really surprised us, as it's just not a big focus on other Princess ships we'd been on in the past. My husband and I loved to walk most mornings on the large walking and jogging track. There were outdoor Zumba classes and other activities going on in the sports court. Mini-golf and shuffle board were on upper decks above the sports court. All this at the aft of the ship made for a gorgeous sea view.
The fitness center had great equipment, although I really use the treadmill and elliptical machines. I joined a couple of classes and the instructors were super.
I highly recommend doing a class or two while on a cruise. I usually pick a stretching class as I know I can do it. It's so great for getting some of the stress of our daily routine out and it's also nice to carve an hour or so out of the day just for you.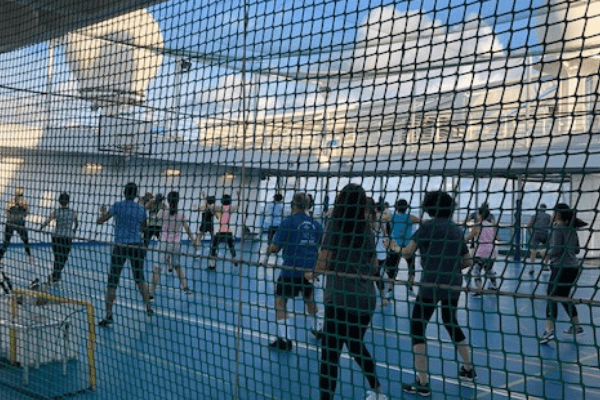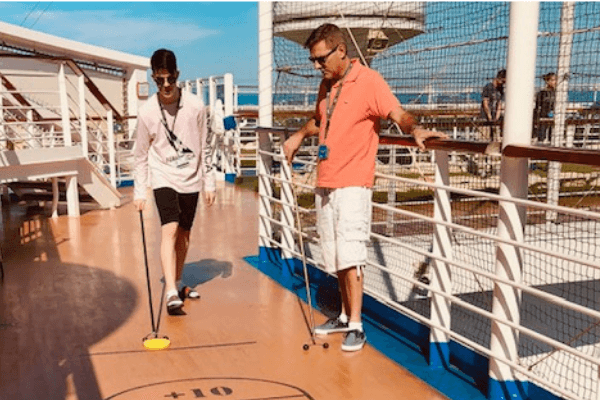 Service
We really find that Princess has some of the most professional, warmest and friendliest staff around. Our cabin attendant was so helpful and did a phenomenal job. Guest services were helpful when we had any small issues.
Shopping on board
I don't often point this out in my cruise reviews, but I felt this warranted mentioning. Shopping on board in the jewelry and other shops can be a tremendous value. We were able to purchase a brand name watch which we were eyeing before the cruise, and knew our prices, for less than 50% of the cost elsewhere, including the islands. As well, the salesperson was so informative and helpful that it was a very pleasant buying experience.
Celebrating Christmas and New Year's on the Regal Princess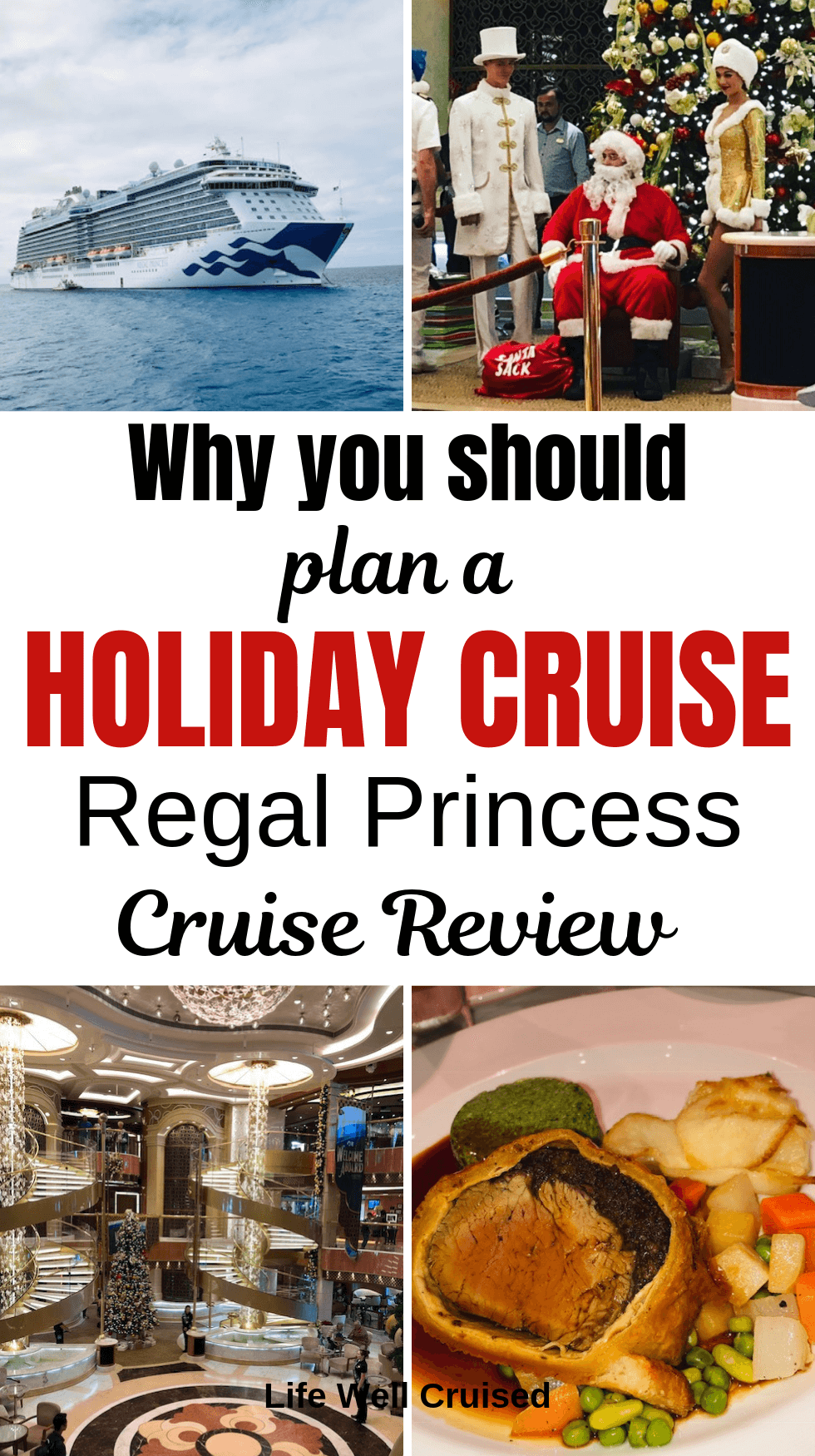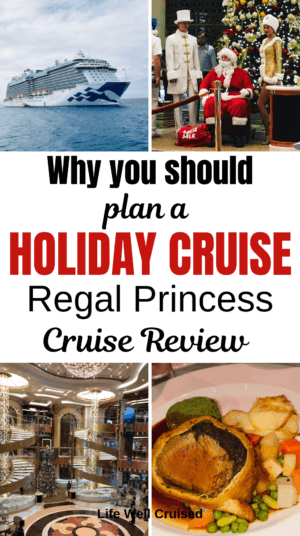 Christmas on a Cruise: Decorations and more
From the moment we boarded the ship on December 23, the atmosphere was festive and beautiful. There were carolers performing in the Piazza, there was a visit from Santa for the kids Christmas morning, there was a storytime for the little ones – and more. Truly magical for anyone on board.
There was also Christmas movies on the big outdoor screen and lots of Christmas music.
If you'd like to read more about what to expect from a Christmas Cruise in greater detail, you may enjoy this post.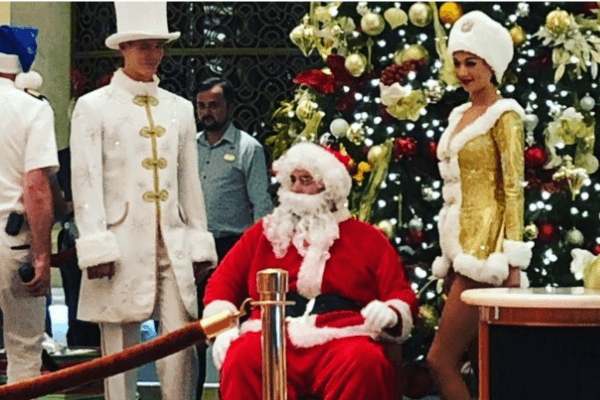 A short anecdote
I like Christmas music. It's festive, it's fun, it's nostalgic. I totally get into the Holiday spirit!
However, once Christmas is over, I start to tire of the music – quickly.
So, on December 26 we were in the buffet in the morning, where festive and very traditional Christmas music played over the speakers, and I asked my husband, quietly, "so… when do you think they'll stop the music?".
He thought likely they were leaving it for December 26, after all it was the day after Christmas. Then the 27th, it would be either finished or reduced – like maybe a mix of Christmas music and other songs, he explained. That made sense…
So, on the morning of December 27th we were sitting outside in the back of the buffet, our favorite spot to eat, and we heard this… "Ì'll be home for Christmas…". In 363 days I thought… oh no!
Yep, there was Christmas music (and traditional at that) pretty much until at least the 29th, maybe 30th of December. In fairness, it wasn't played everywhere – basically the buffet seemed to be the spot to keep the Christmas spirit alive through song.
I probably could have fared better if the Christmas music had been in Reggae ;-), just sayin'.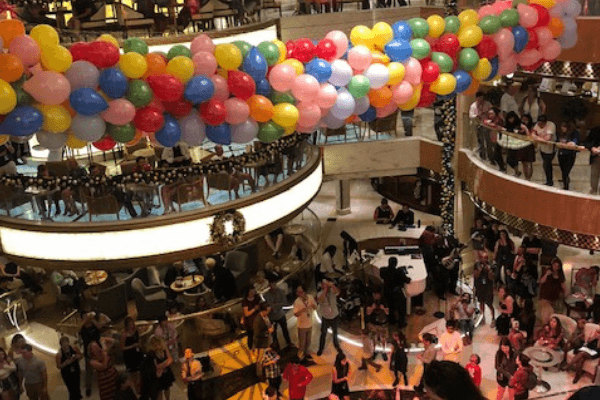 New Year's Eve Celebrations
What a party! I cannot think of anything better than celebrating New Year`s on a cruise. We've celebrated New Year`s with Princess Cruises 3 times, and we love it!
Their was a special New Years' dinner and as we entered the dining room, ladies were given festive tiaras and men fun top hats, and we were all given blowers.
There were 2 bands playing and the house DJ all at different parts of the ship. There was a party with a balloon drop in the Piazza and fireworks on the big screen at the party on the pool deck. It was a fun night!
If you'd like to read about our New Year's Cruise on the Crown Princess, you may enjoy this post: Princess Cruises New Year's Eve Multi-Generational Cruise Review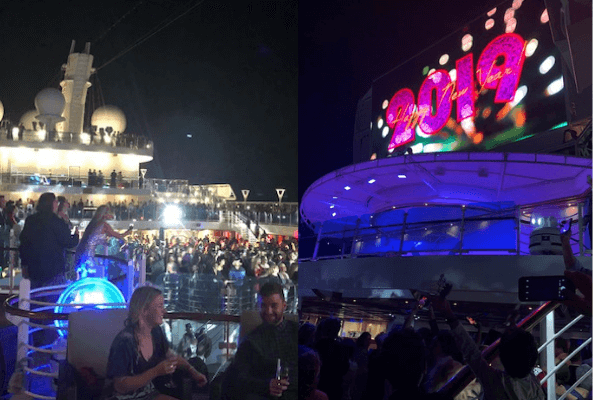 Cruise Ports of call
Since we were on a Back to Back cruise, we did Eastern Caribbean ports first and then Western Caribbean cruise ports.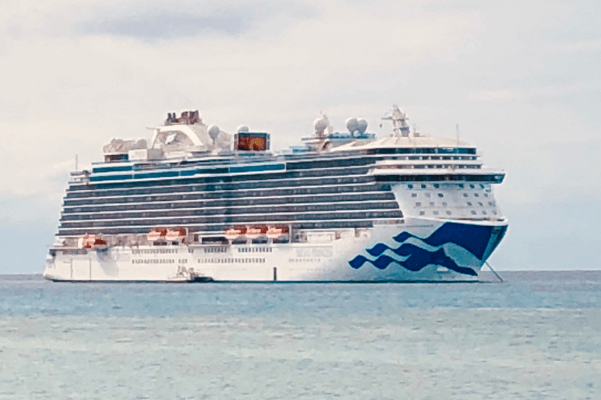 Eastern Caribbean ports
Princess Cays
Our first stop was Princess Cays, where we tendered and had a great beach day at the ultimate Love Boat Island. There is a nice beach barbecue on the private isalnd, however we decided to go back to the ship in the early afternoon and eat on board at the poolside grill.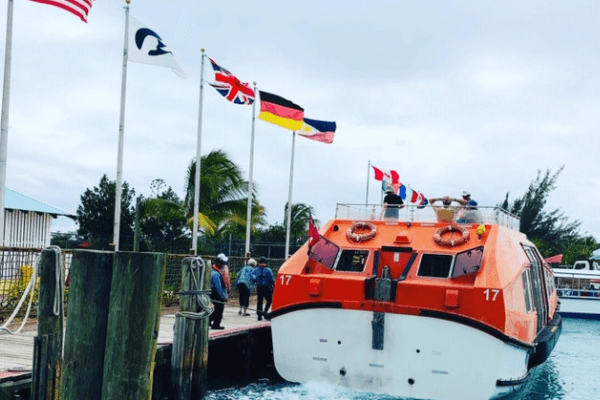 St. Thomas, USVI
In St. Thomas we docked in Havensight and it had been years since we'd been and we were happy to be back. Since we had a nice long day in St. Thomas, and were in port until 10 pm, we booked an afternoon excursion with Princess.
In the morning we let our Prince Charming sleep in (our son is 18 so he had some late nights) and my husband and I shopped and walked around right at the port. After having a quick bite on the ship, we went off for a boat excursion which included snorkeling with turtles at Buck Island and a beach break at Honeymoon Beach.
The snorkeling was nice and clear, and we saw 4 turtles as well as some fish swimming through the coral. Sometimes there are more turtles we were told, however it was still a great experience. This excursion came with an excellent, albeit potent rum punch, once the snorkeling was done. Honeymoon beach was simple but very pretty.
Philipsburg, St. Marteen/St. Martin
In St. Martin, our first thought was to go to Orient Beach on the French side of the island, as we have enjoyed that beautiful beach in the past. However, since the hurricane of 2018 really affected the island, the infrastructure wasn't yet ready to accommodate large amounts of tourists and we were cautioned about heading there.
So, what did we do? We went to Maho Beach on the Dutch side of course finally experience THE airplane beach. Although not a relaxing beach, it was definitely a memorable and fun day and something to see even once. I was actually expecting sand to really blow, however it wasn't overly blowy, perhaps because of the size of the aircrafts.
If you head to Maho Beach, stop in at the Sunset Bar for drinks. If you can sit at a table near the water, you'll get a gorgeous and unique view. Clear blue ocean, sand and sky, and then quite suddenly, a plane appears coming in for a landing. Although I'll probably do this just once, it was worth seeing.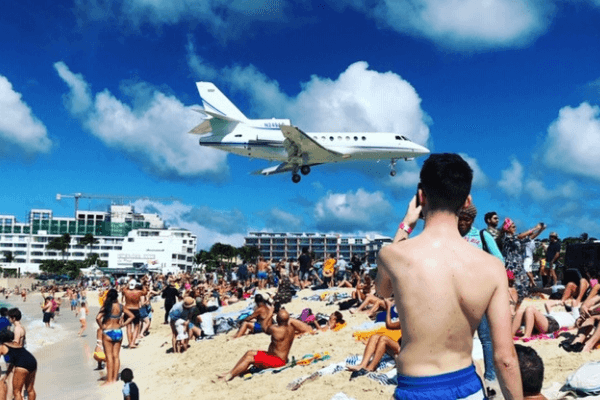 Fort Lauderdale/Turnaround day
Since we had a B2B cruise, we were able to get off in Fort Lauderdale and visit and re-board the ship. We decided not to, as we thought we'd enjoy a quiet morning on the ship. However, in hindsight it could have been a nice thing to do.
While normally we are told the process to get off and re-board (there is a process due to customs) should be easy and take about 15 minutes, there was an issue that day that we were unaware of. It actually took more than 2 hours. Unfortunately, we had some bad luck here as we were told it was a very unique situation.
We did re- board and had a nice day as new passengers embarked.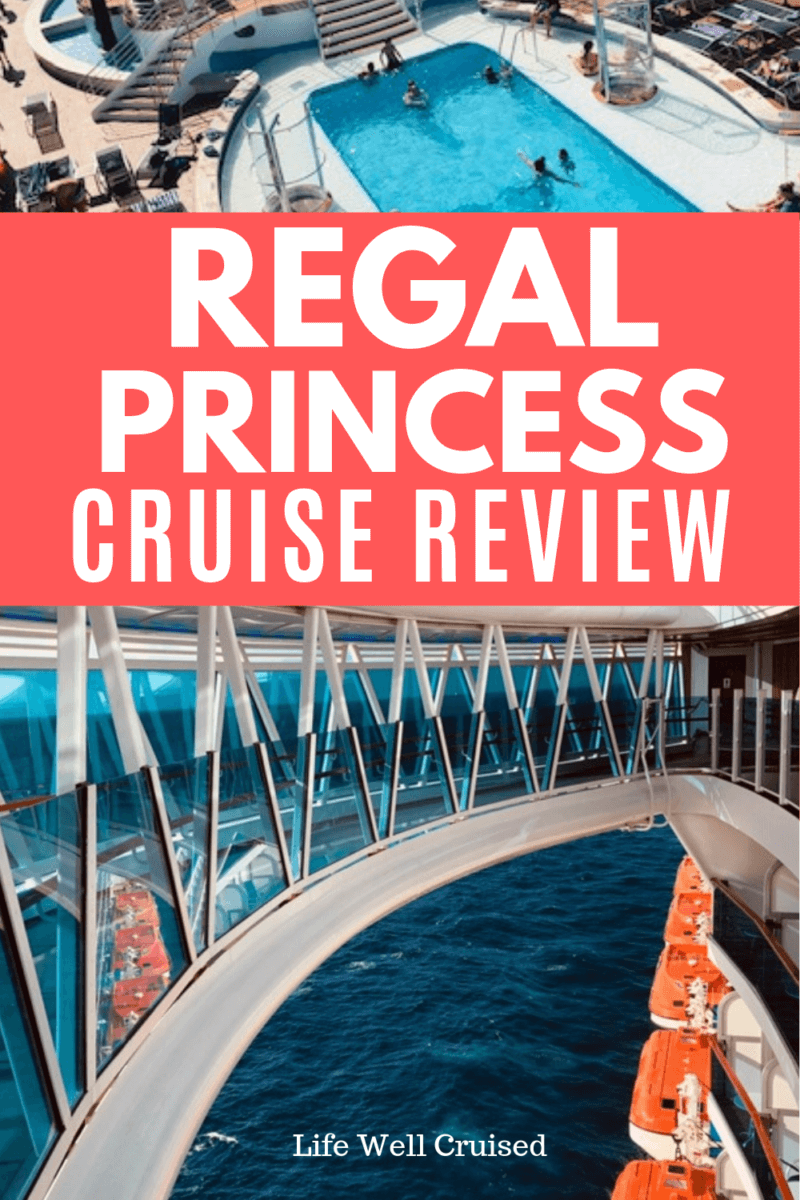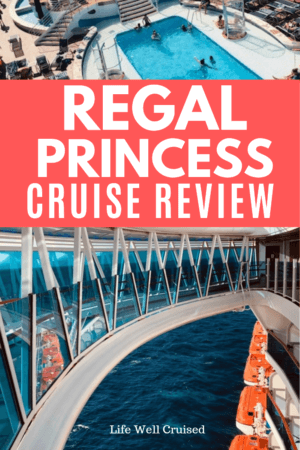 Western Caribbean Ports
Princess Cays
Since we'd been at Princess Cays the previous week, we decided to stay on board – best decision ever! While we like cruise ports and getting off the ship, it's amazing to be one of a small percentage of people staying on the ship itself. We loved having the (delusional) feeling that the ship was all ours.
Tip: On occasion, stay on the ship instead of getting off at a port of call. It's a pleasure to have so much space wherever you go. Often, things like spa services are reduced or have an extra promotion, so it's worth doing sometimes.
Falmouth, Jamaica
We hadn't been here since 2012, and at that time, little was built in the port area itself. Falmouth is growing into a really nice cruise port.
We really like Jamaica and have gone to Dunn's River Falls in the past, as well as an all-inclusive beach resort day on past cruises. This time we decided to walk around the port both outside and inside the gates.
While we didn't feel unsafe outside the gates, we did keep our walking to a few blocks where there were many tourists. I think in the future it would be worth taking a tour to discover more. I wouldn't want to go to far on our own.
When we returned to the cruise port area, we went to Margaritaville ( 3 minutes from the ship) for the afternoon and had a great time. It`s always such fun and the drinks are great. Do come with a bathing suit and enjoy a great pool day.
Jamaica Love Locks – we purchased a love lock to place on the large art display ONE LOVE. It's fun to know that a little bit of us is part of it.
We also went through the craft market and bought a couple of wooden pieces for our sun room, which we decorate with things from our holidays.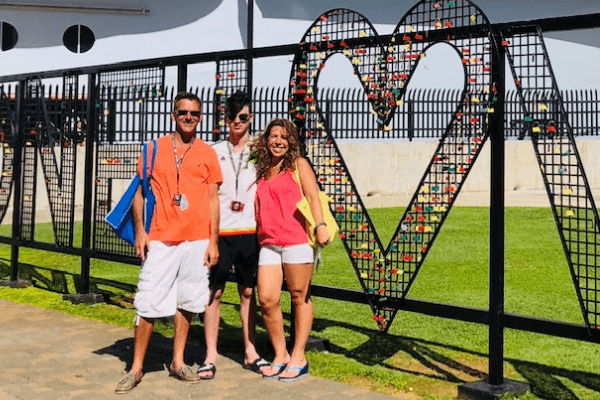 Georgetown, Grand Cayman
What's not to love about Grand Cayman? Clean, beautiful, with incredible beaches and shopping, it's the quintessential Caribbean Cruise port of call! After tendering, we met our excursion group, which we booked through Princess, for our Stingray snorkeling excursion. Although it was very crowded over at Stngray City Sandbar, it was a great experience nonetheless and I highly recommend it.
In the past we've also enjoyed the day at 7 Mile Beach. For more great ideas of what you can do in Grand Cayman, you might enjoy reading about these excursions, plus some tips on what to expect in Grand Cayman.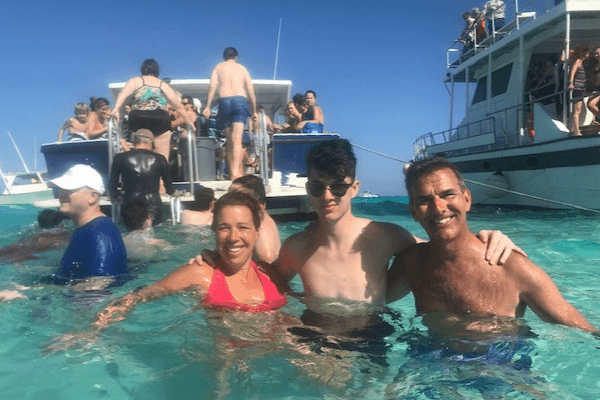 Cozumel, Mexico
This is one of our favorite cruise ports, as it's just so easy to have a great beach day, and we pick up any little souvenirs we need right at the little shops at the cruise port. On this cruise itinerary, we were in Cozumel until 10 pm. Although we didn't stay out very late, it's always nice not to rush back.
We went to our favorite place in Cozumel, which we have been going to for years, Paradise Beach. However there are a lot of other beach experiences and other activities in Cozumel, which makes it a great place to visit on a cruise.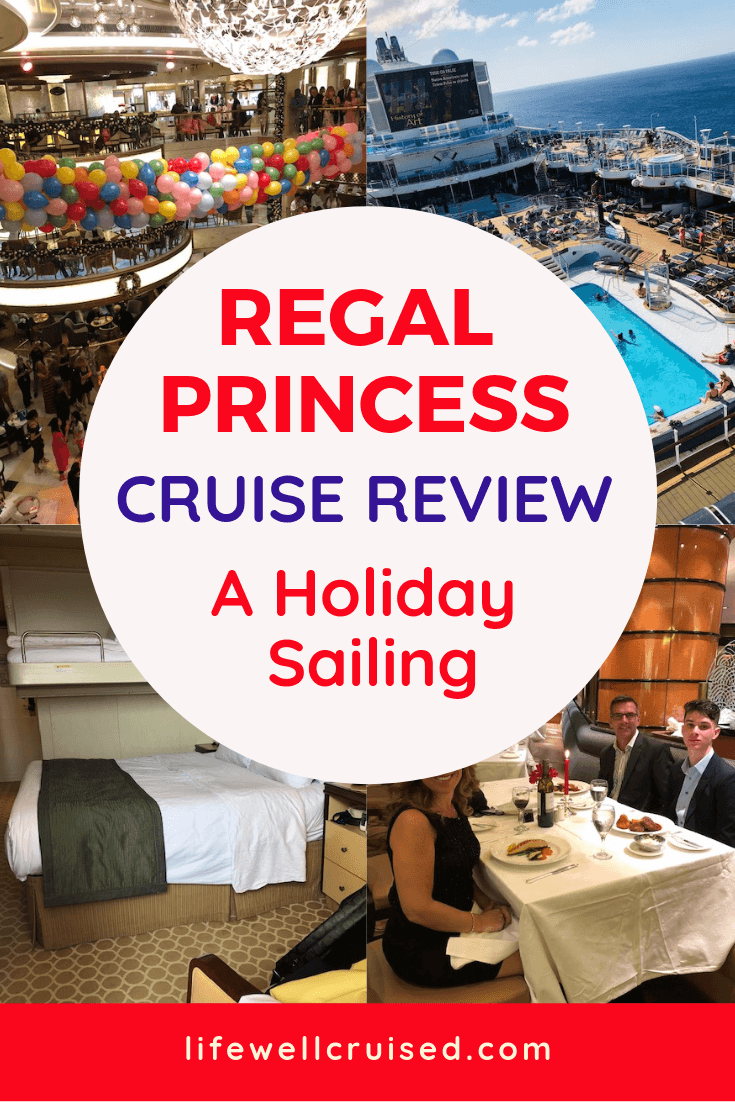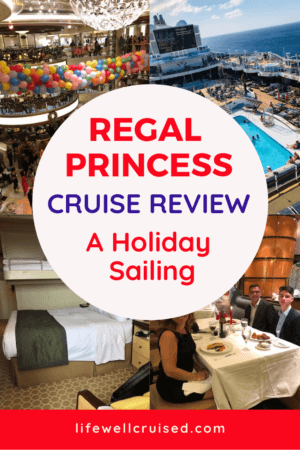 Recap: Regal Princess Back to Back cruise review
We really had a wonderful cruise on the Regal Princess and I think she is a gorgeous ship! The Seawalk, retreat pool and Piazza are all so beautiful. Other venues like the theater and lounges are also elegant. Princess has really created a beauty.
On a personal level, I usually prefer a bit of a smaller ship, however there are always trade offs for that. Smaller ships can't have all the choices this ship has, nor as much space. For a large ship, there was much more open space than we've experienced on other very large ships..
So, all in all I recommend the Regal Princess and think this is a great ship for couples, families as well as multi-generational trips. There's really something for everyone!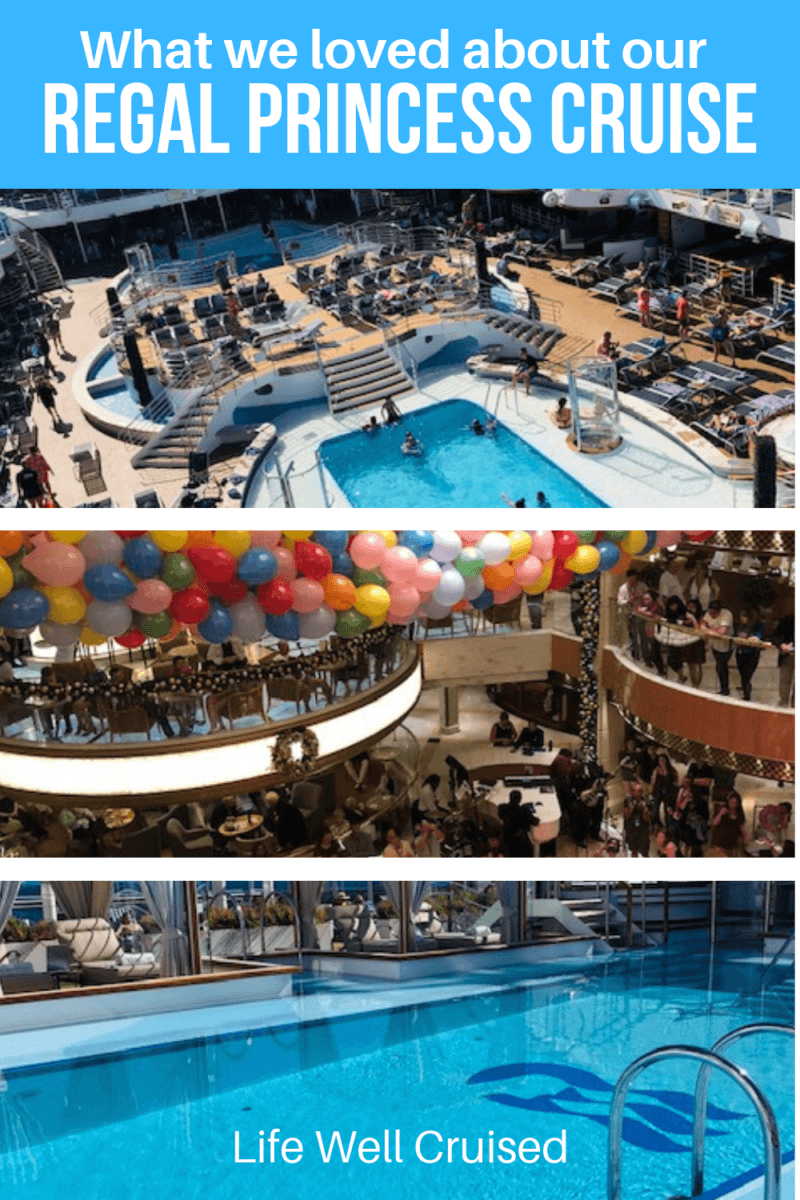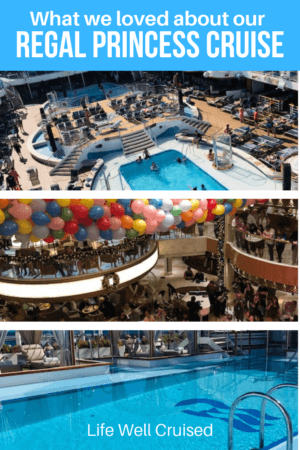 Have you cruised on the Regal Princess? What did you like best? Do you prefer bigger or smaller ships and why? Please let me know in the comments below.
Happy Cruising,
Ilana
P.S. If you've found this post helpful, please share on Facebook or PIN to save for later on Pinterest. Thanks so much!
Related posts:
21 Things You Need to Know About Ocean Medallion
21 Essential Things to Pack in Your Cruise Carry-On
What To Wear on a Cruise; The Ultimate Guide
Let's connect:
Follow me on Facebook at Life Well Cruised
Follow me on Pinterest at Life Well Cruised
Follow me on Instagram at Life Well Cruised
Follow me on YouTube at Life Well Cruised